You guys, I've found a hostel in Brisbane that is MADE for digital nomads and remote workers.
I KNOW, right? Where has this been all my life?!
Allow me to introduce you to Selina Brisbane:
CLICK TO BOOK A ROOM OR BED AT SELINA BRISBANE
1. Very Central Location
First off, Selina Brisbane enjoys a very central location in the CBD, just a few minutes' walk from Roma Street Station. This makes it super convenient to get around Brisbane as well as to/from Brisbane Airport, which is just 40 minutes away by train.
The downside to being in the middle of a major city? Parking is not easy, particularly if you're staying overnight. Selina does not offer onsite parking, so your best bet is to park at the Secure Parking Barracks Car Park which is a 10 minute walk from the hostel and cost us only $30/night because we booked in advance.
Once we were at the hostel, I didn't find any need to drive or take transport anywhere because there was so much to see and do within walking distance. From Selina, you can walk across the river over to Southbank in under 10 minutes, or to the famous Story Bridge and nearby waterfront restaurants in under a half hour. There are heaps of cafes and parks around the CBD that are easy to walk to from the hostel as well, and a small Woolworths is just a couple blocks away.
Not keen on walking so much? Fortitude Valley, aka the hippest area to shop and dine in Brisbane, is just a 7 minute train ride from Roma Street Station.
2. Caters To Remote Workers / Digital Nomads
For me, the #1 selling point not just for Selina Brisbane but the Selina brand in general is that they cater to digital nomads and remote workers at their properties.
At Selina Brisbane (and I believe most if not all of their other properties), there is a coworking room that you can use to get work done in a quiet, comfortable, and well-equipped space. With a variety of different seating options, you can claim a spot at whatever table suits you.
The coworking room has its own bathroom and comes equipped with a printer, water jug, and coffee maker. My favorite feature, though? The abundance of outlets all over the room! I swear, it's engrained in me now to automatically scan any cafe or workspace I enter so I can claim the seat closest to an outlet. But in this coworking room, every seat is close to an outlet (or 4). It's digital nomad heaven!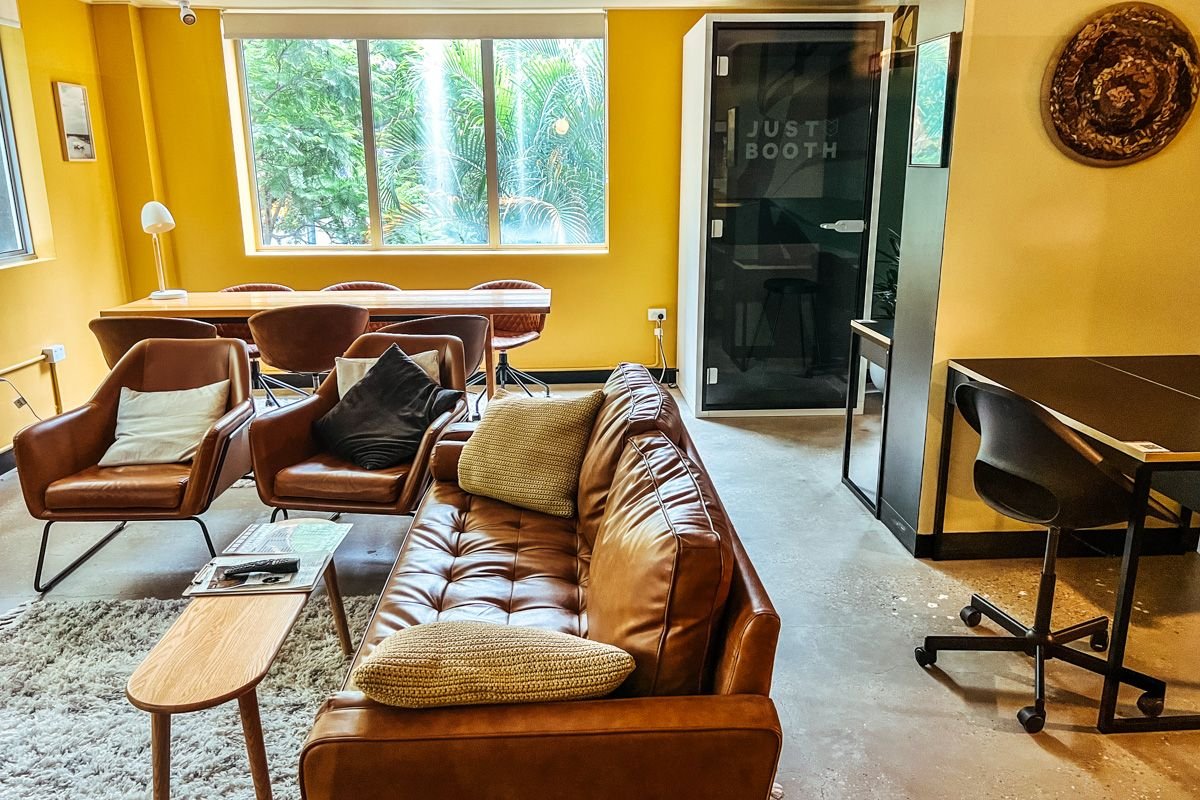 You do have to pay to access the coworking room from 9am-5pm, but it's only $10 and includes faster WiFi and a free coffee from the HOWM cafe downstairs. I think it's a small price to pay to have a quiet and convenient spot to work for the day. After 5pm, the room is unlocked for all guests to access.
My only gripe is that you have to get someone from reception to unlock the door for you every time you want to enter the coworking space. It's a little bit annoying having to do this when you just want to run up to your room to grab something really quick, or duck out briefly to prepare yourself some lunch in the kitchen down the hall. Hopefully at some point they will set up keycard access to the room so that those who have paid for access can come and go freely during the day!
But honestly, a hostel with a coworking space is an absolute game changer for those who work while traveling. Where was this when I was in my 20's, backpacking Europe and Southeast Asia, awkwardly trying to work on my laptop in the hostel lounge when everyone else around me was watching TV or getting ready to go out?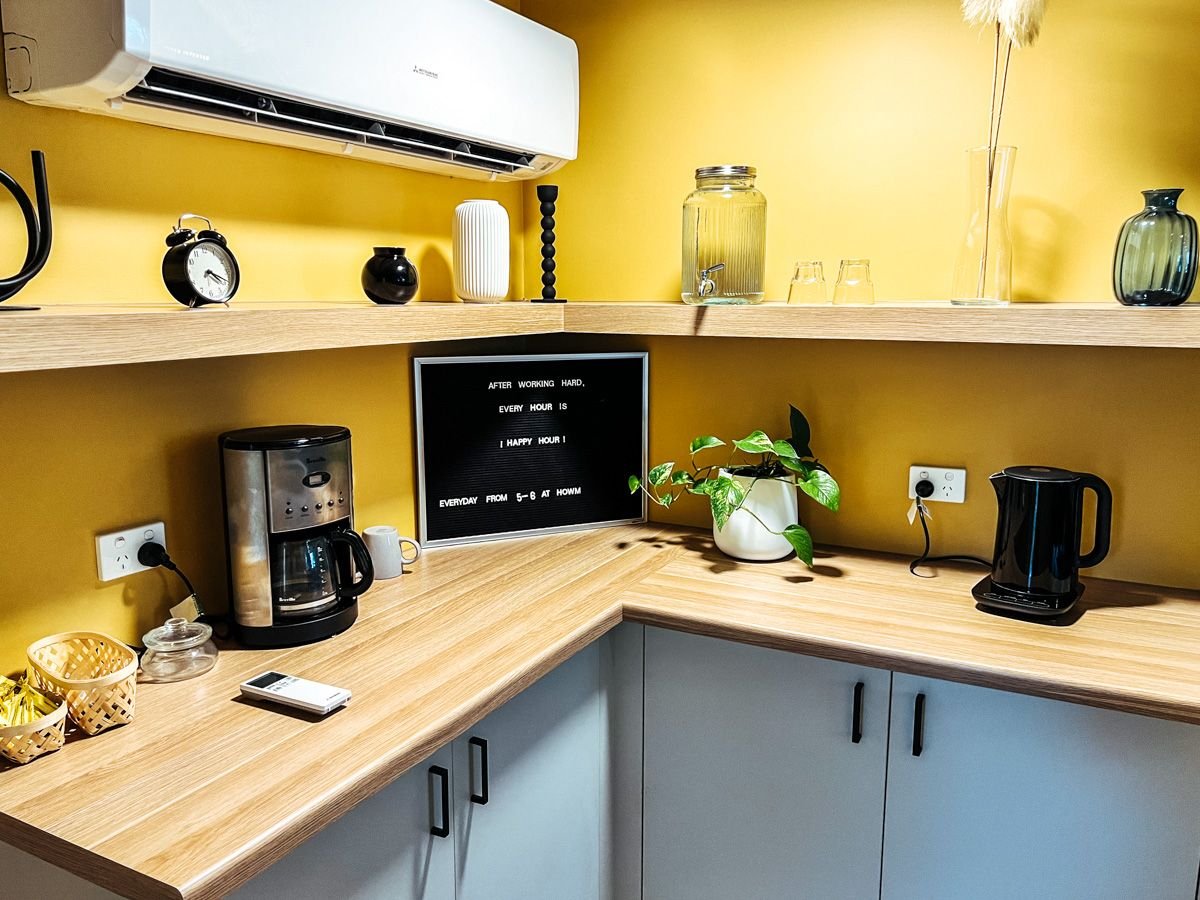 One more thing: Selina also caters to long term travelers with their CoLive program, which provides accommodation and coworking on a monthly basis. You're allowed to switch properties up to 3 times per 30 days, which is perfect if you wanted to explore a few different cities in one country or region while working remotely.
Could you travel long term and DIY without the CoLive program? Of course, but if you've done it yourself before, you know that it can often require more effort and frustration than you bargained for because not every accommodation is well set up for digital nomads, and then you find yourself having to find an alternate place to get work done. With Selina's CoLive program, you know that no matter which property you book, you will be able to get your work done without hassle. And at the ripe old age of 37, I am very willing to pay to remove hassle from my life, so I'll definitely be looking into doing Selina's CoLive program the next time I'm traveling overseas for an extended period.
CLICK TO BOOK A ROOM OR BED AT SELINA BRISBANE
3. Yoga/Cinema Terrace
One really cool thing about Selina Brisbane is the little outdoor terrace they use for yoga in the mornings and movies in the evenings.
I enjoyed a virtual yoga session one morning on the terrace – yes, virtual yoga, as in following along with a video playing on the TV. I didn't realize this would be how it worked, but I actually LOVED it! They had a class from the Yoga With Adriene YouTube channel all queued up and ready to go at 9am, so I pressed play once I realized how it all worked and had myself a lovely solo class.
(Sidebar, I did a LOT of Adriene's yoga classes in 2020 in Pete's tiny studio apartment in Sydney… they're so good!)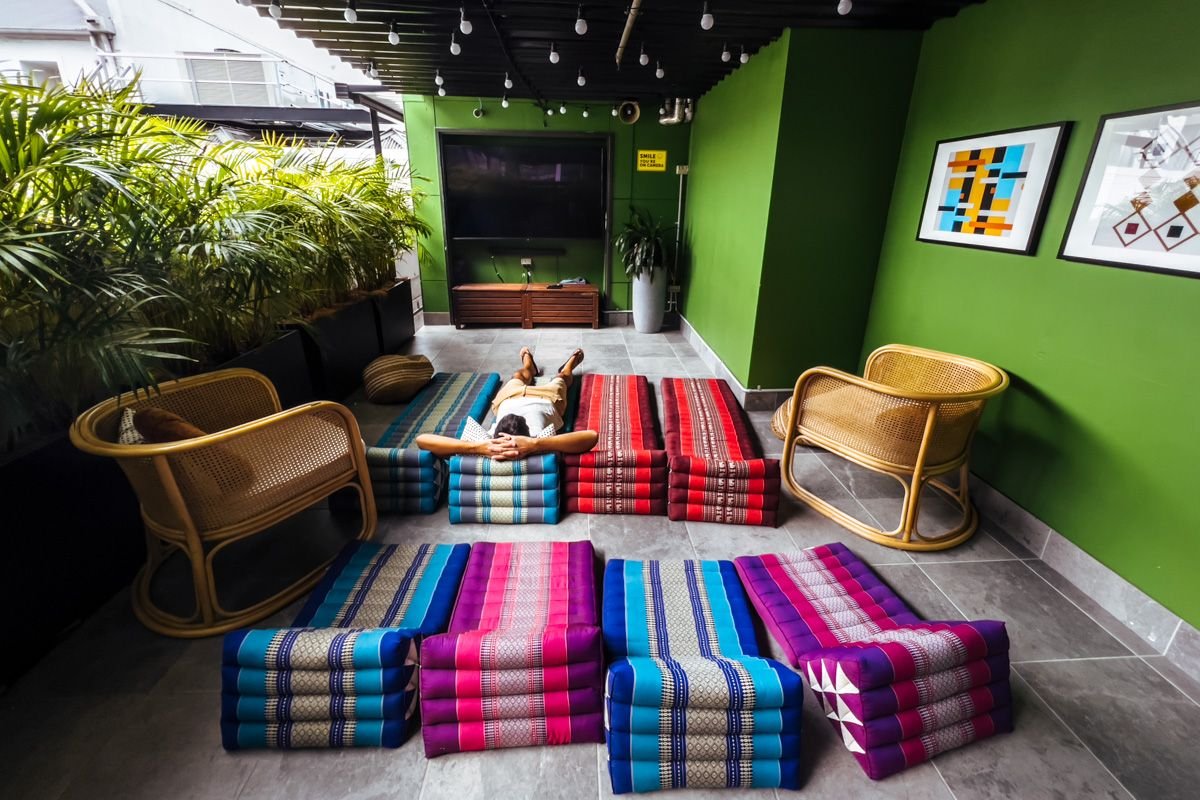 By night, the terrace transforms into a little cinema with comfy cushions to lounge on. There's a signup sheet outside the coworking space where you can write what movie you plan to watch on a given night, and other guests are free to join you.
4. Dogs Are Allowed!
More and more hotels these days are allowing guests to bring their dog with them, which I can't WAIT to take advantage of someday (y'know, when I hang up my nomadic shoes and get myself a pup of my own).
But I don't think I've EVER seen a hostel that allowed dogs – not until I found Selina Brisbane, anyway!
Yes, you can travel with your dog and they can stay in your room with you at Selina… as long as you book a private room and not a dorm.
I very much enjoyed watching pups come and go at the hostel whenever I was hanging out on the chairs by the elevator 🙂 Here's hoping other hostels will follow suit and allow dogs as well!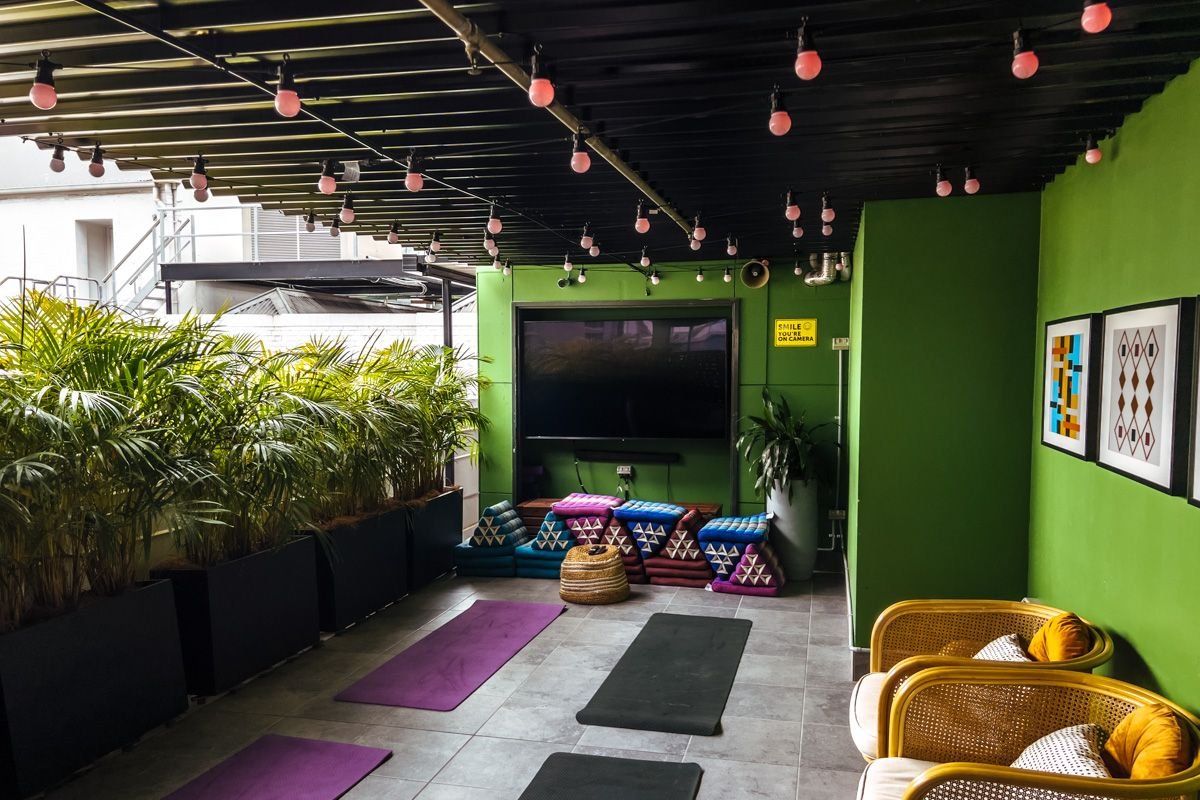 CLICK TO BOOK A ROOM OR BED AT SELINA BRISBANE
5. Events That Encourage Making New Friends
Selina Brisbane makes it super easy to befriend fellow travelers with the myriad of social gatherings they organize at the hostel.
For instance, these were the events taking place the week of our visit:
Every evening they host welcome drinks for new guests to meet and mingle, over at HOWM (the onside bar/cafe). In addition to that, during your stay you might have speed friending, group breakfast/dinner, or a walking tour on the schedule that you can sign up for.
All the events are organized with the intention of guests meeting one another and having fun, something you really crave when you're traveling solo for an extended time. Back when I was backpacking extensively in my 20's, hostels mostly just had bar crawls as the sole event for guests to meet each other. I love that Selina Brisbane offers other options for those not looking to go out and get drunk!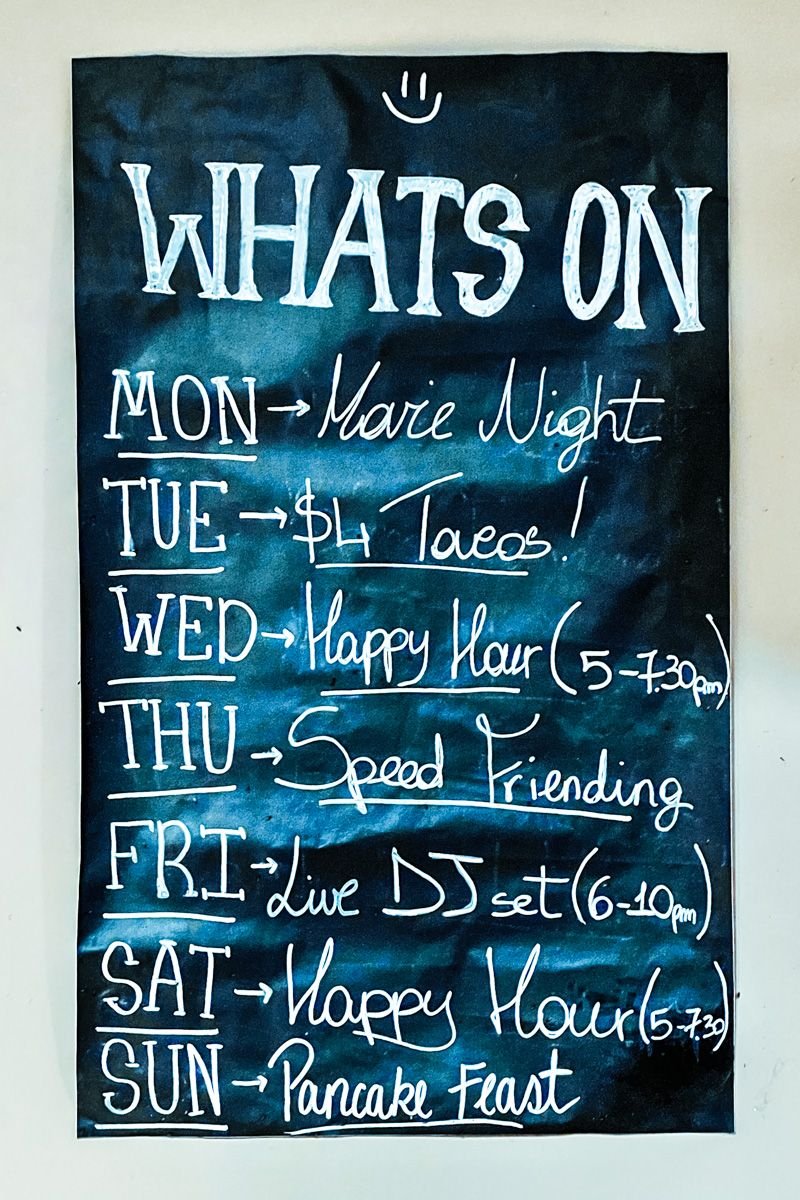 6. It Feels Fresh & New
I've stayed at many a hostel in my day, and the sad truth is that most of them look pretty dated (and maybe a little sterile). I usually don't have any trouble finding hostels that look nice and clean, but it's clear that renovations and decorations aren't high on the priority list for most of them. And honestly, that's fair because backpackers aren't paying for a shiny new modern room to sleep in.
But one thing I appreciated about Selina Brisbane is that they made the effort to spruce up the hostel in small ways, such as with wooden furniture in the private rooms, simple hanging decorations in the seating area outside the elevator on each floor, and a funky vibrant reception area. These little things make a big difference in how it FEELS to call a place home for a little while.
7. In-House Cafe/Bar
HOWM is the aesthetically pleasing bar/cafe attached to Selina Brisbane. Unlike other hostel bars, this is one I would actually want to hang out in because it's not too loud or dirty or full of rowdy backpackers. It's open to both hostel guests and non-guests.
Every time I passed by HOWM it was always bustling, no matter the time of day. There's a variety of seating available: long tables, bar seats, window seats, even comfy chairs and sofas. It's the kind of place you could grab a drink, enjoy a meal, kick back with a book, or just people watch. I'd have felt very comfortable here working on my laptop during the day as well.
Selina hosts various social events at HOWM, including daily welcome drinks, family dinners, speed friending, and live music.
CLICK TO BOOK A ROOM OR BED AT SELINA BRISBANE
8. It's Very Quiet
Selina Brisbane is definitely not a party hostel, so you don't have to worry about it being overly loud.
Though it's normal to have some noise when you're sharing space with other travelers, we found it VERY quiet in the hostel. We never heard a thing from our room, not even the night there was a DJ at the bar downstairs.
9. Day Trips To Nearby Attractions
One thing to note about Australia in general is that it's not always so easy to get around the country without a car. Public transport here is nowhere near as robust as it is in Europe, let's put it that way.
So when it comes to adventuring around Brisbane, Selina makes it 1000x easier to knock out your bucket list day trips. They offer day trips to Moreton Island, Springbrook, and a few other destinations near Brisbane, which you can book at reception.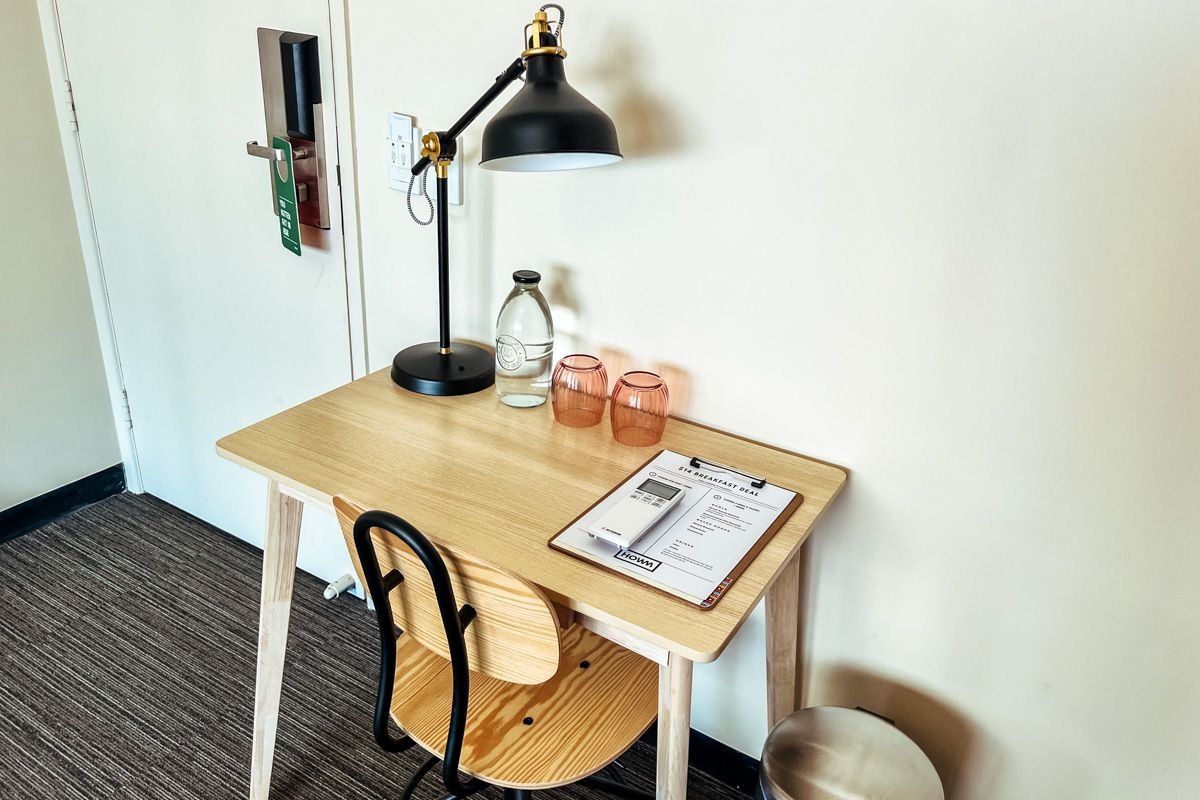 10. A Variety of Common Areas
Something I noticed right away was that there seemed to be no lounge room at Selina Brisbane. You know, the big multi-purpose room you find at most hostels where all the guests go to eat, chill, watch TV, work – basically, it's where you go when you don't want to go out, but you also don't want to hole up in your bedroom.
When I travel solo, my MO is to spend the day exploring, and the evening inside working or decompressing. Basically, you can find me in the hostel lounge room every night, trying to concentrate on work or a book while the TV is blasting and everyone around me is chatting.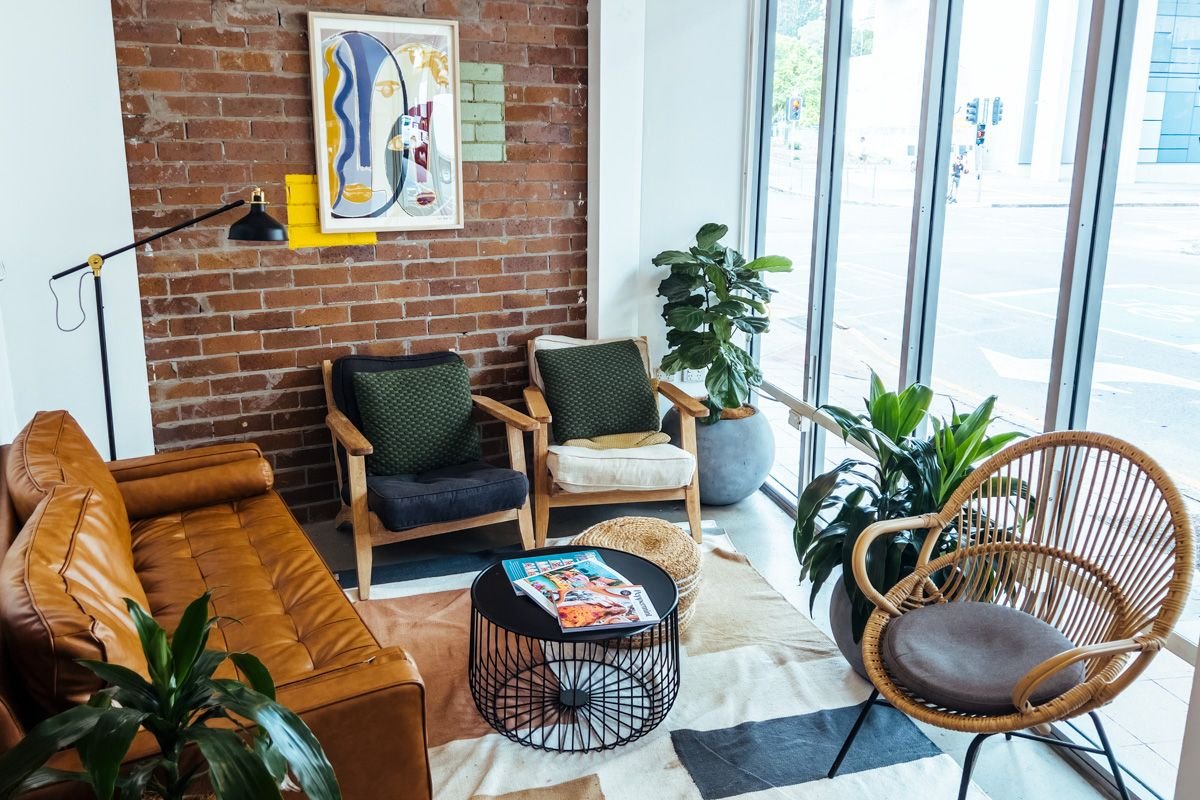 So at first, I was like WHERE IS MY LOUNGE ROOM? But then I realized that, rather than one big lounge room, there are several smaller common areas for guests to spread out in across the hostel, including:
the seating area outside the elevator on each floor
the coworking room (there are couches and tables, and after 5pm it's unlocked for all guests)
the little nook just inside the entrance
the terrace
HOWM (the onsite cafe/bar)
CLICK TO BOOK A ROOM OR BED AT SELINA BRISBANE
Thank you to Selina for gifting us with a 3 night stay in a standard room at Selina Brisbane. Note that all opinions expressed here and elsewhere on this blog are my unbiased own, and are uninfluenced by any gifts or incentives I may receive.