Along with a Great Barrier Reef scenic flight, a Whitsundays sailing trip was one of those *Australia Must-Dos* that I ignored when I was here back in 2006 – partially because I was too busy galavanting in the Outback instead, but mostly I was hesitant to test my propensity for motion sickness. Most Whitsundays sailing trips last 2-3 days. My personal hell would be to be stuck on a boat for that long feeling nauseous with no escape.
But you know, I feel like I've gotten the ol' motion sickness beast mostly tamed these days, so I was willing to take a gamble on this overnight Whitsundays sailing trip. After all, if I got sick, I'd have basically the most beautiful backdrop to console me, right? It could be worse.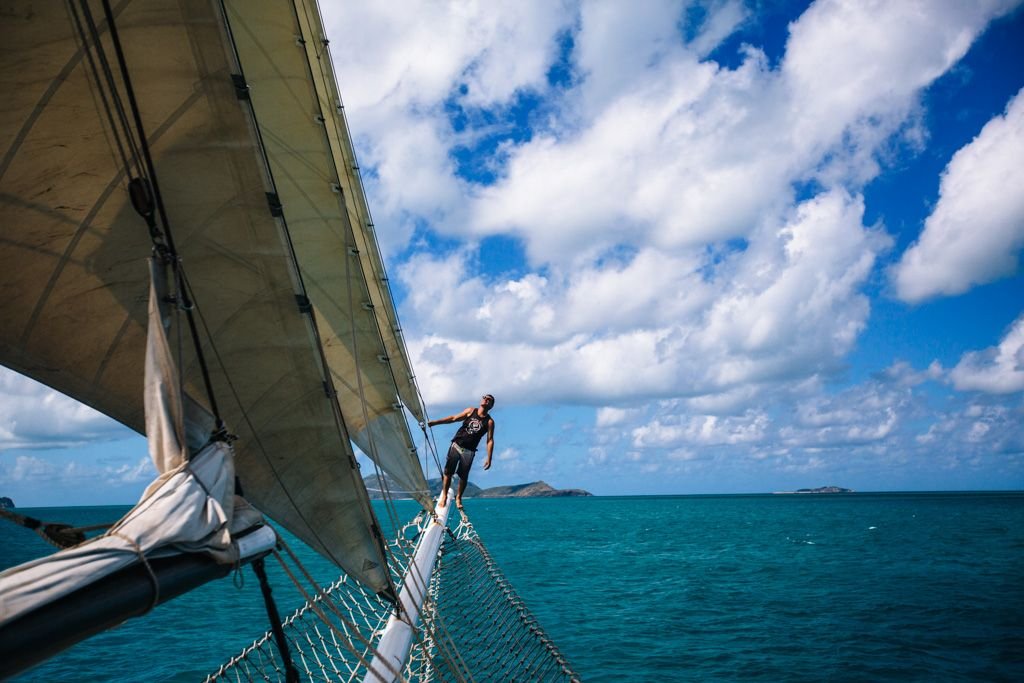 Whitsundays Sailing on Solway Lass
For me, it's painful enough enduring any semblance of a group trip. (There's a reason why I tend to travel solo, people! It's called EXTREME INTROVERSION). I figured I'd try to minimize the pain by NOT signing myself up for an unofficial Whitsundays booze cruise. A good number of the Whitsundays sailing trips are basically party boats, so if that's your jam you can take your pick of the litter. But if you're anything like me (i.e. a light drinking introvert) and just want a chilled out trip, you might opt for Solway Lass.
We departed the marina after dark on the first night, leaving just enough time for introductions before heading to bed. Of the 30ish passengers on board, almost all were either families or couples. About a third were Dutch, another third were American, and the rest were a smattering of Europeans. Our crew of 6 was a delightful blend of Aussie, Kiwi, and Irish – they were just fantastic throughout the whole trip.
The Dutchmen doing some filming on board.
I was skeptical of our sleeping arrangements when I first saw the boat, wondering: how could we all fit comfortably in the cabins below? You'd be surprised at the amount of space available below a ship deck. We all slept cozily in bunks. Granted I'm comparing it to many uncomfortably hot nights in a tent on either side of this trip, but these 3 nights on Solway Lass were the best sleep I've had in Australia – and I'm nearly 2 months in now!
The next day was absolutely brilliant. The crew wasted no time in escorting us to the famous Whitehaven Beach first thing. In case you aren't 100% convinced from any photos you've seen of it thusfar that Whitehaven Beach is completely gorgeous and deserving of its various Top 10 Best Beaches in the World accolades, allow me to add to the argument: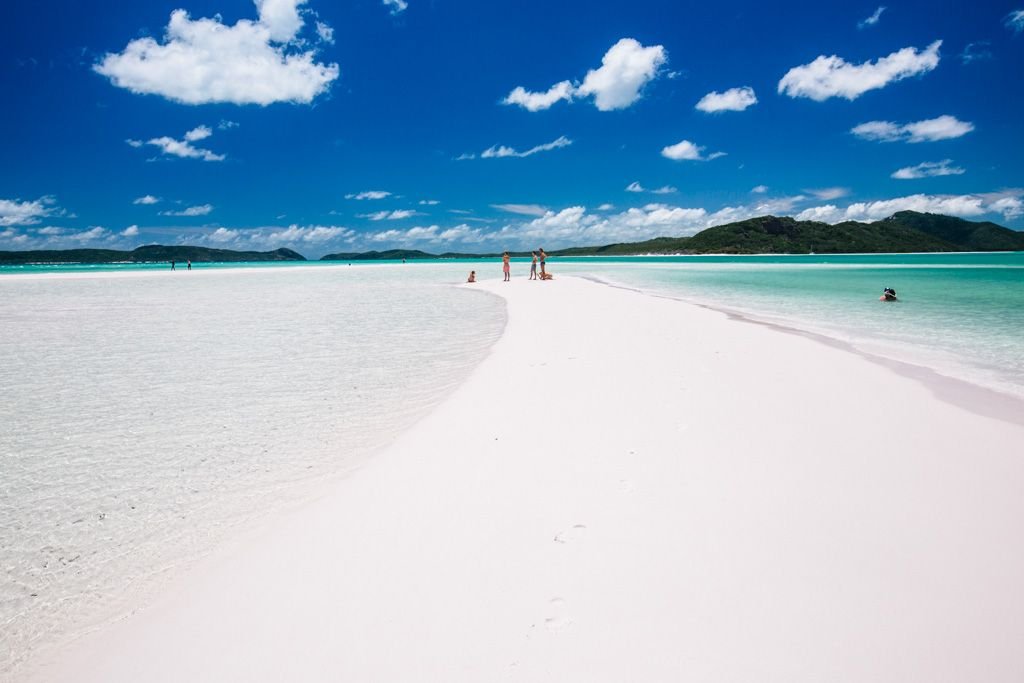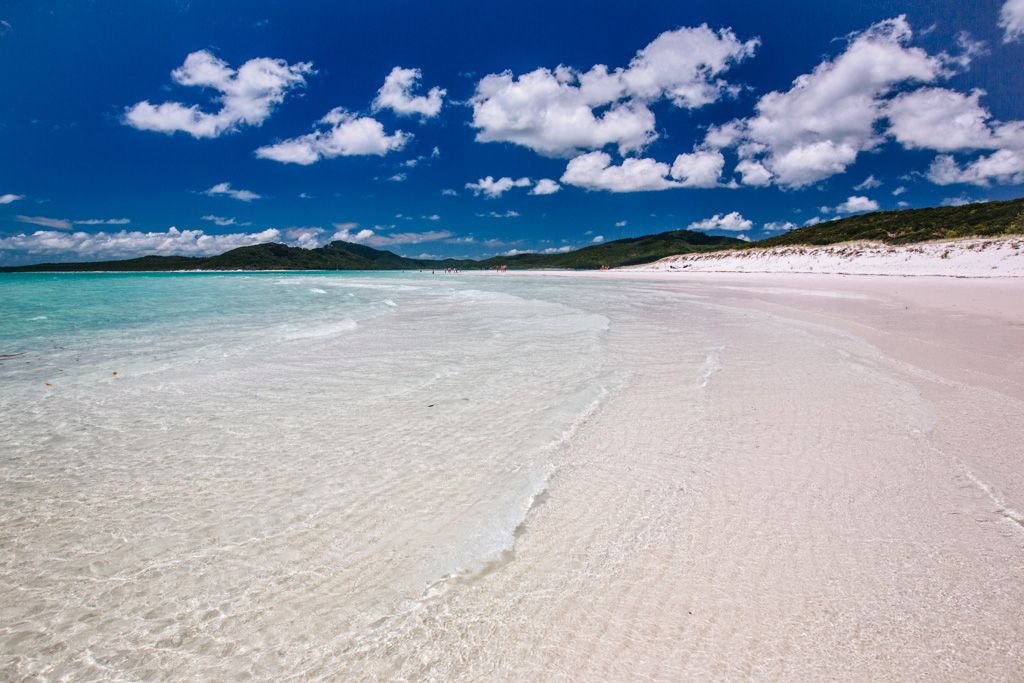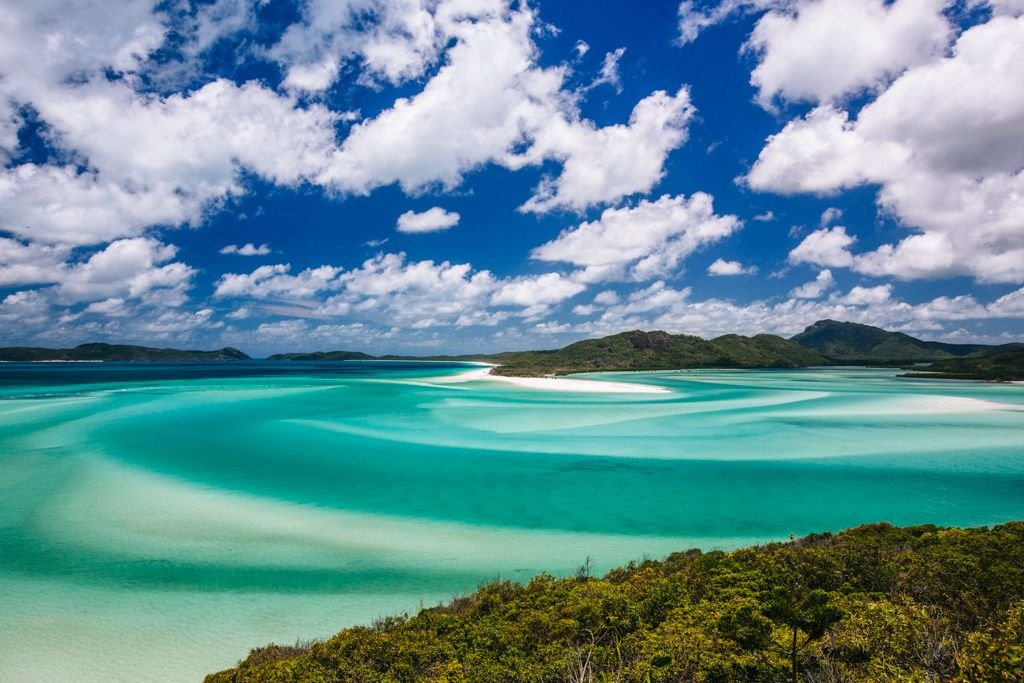 One thing to note is that Solway Lass, as well as many other boats, take passengers to Hill Inlet where they can both swim at the beach and scurry up to the famous Hill Inlet lookout point. Totally makes sense, right? Just know you'll be sharing this small section of Whitehaven Beach with heaps of others. Unless you're there at low tide you won't be able to walk very far down Whitehaven Beach, which spans over 7km when the tide is out. And tours aren't likely to take you at low tide because then you won't be able to swim.
After the thrill of Whitehaven Beach, we moved to another location to have a go at snorkeling. I generally turn my nose up at this activity because I know nothing will ever top the snorkeling on Lady Elliot Island that I did in 2006, but since we'd have 3 chances to snorkel on this sailing trip I figured I might as well try it. I feel like a complete assmunch for saying the reef was underwhelming, but for me it was. I assure you, though, it's well worth snorkeling around the Whitsundays if Lady Elliot Island hasn't wrecked snorkeling for you like it has me! And if you know how to properly fit a mask on your face so that it doesn't continually fog up and/or leak (I still haven't mastered this yet, maybe that's part of my problem). You'll see some cool reefs and colorful fish here, but for the really mind blowing stuff you'll need to book a separate snorkeling trip on one of the pontoons that takes you far out into the reef (or alternatively, book a retreat on Lady Elliot Island!).
We spent the remainder of the afternoon sailing – motor off, all sails up. In addition to being a more chilled out sailing trip, the other main reason I went with Solway Lass is because it looks awfully like a pirate ship! In fact, it's got quite a colorful history: in its 113 years of existence, it's survived both World Wars and lived in Europe and the South Pacific before making it to Australia in 1983. Getting all its sails up is nothing short of an orchestrated production, which we were all encouraged to participate in. Rather than heave-ho, I preferred to sunbathe on the deck as we set sail.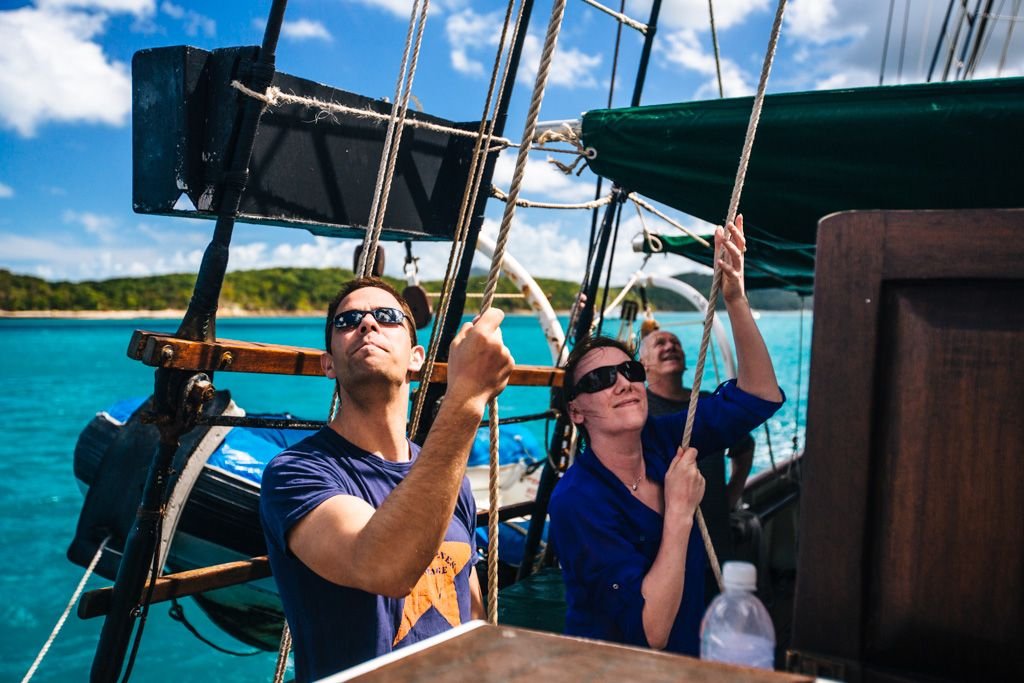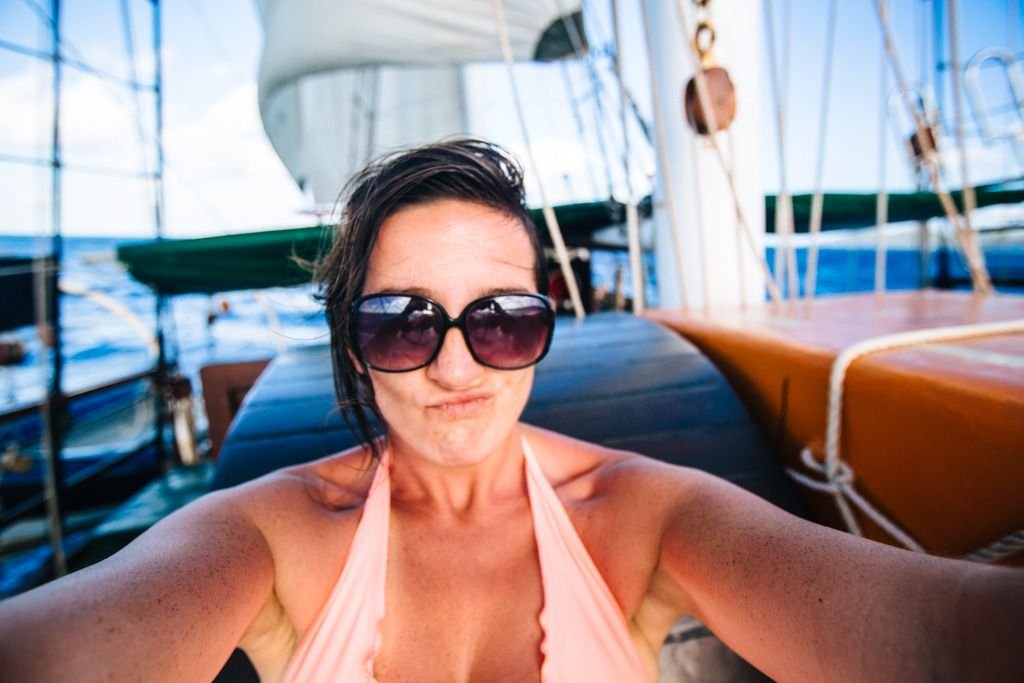 The afternoon sailed by (see what I did there?) with me in a blissful daze, soaking up rays while reading a book. I drifted in and out of a snooze until I started feeling slightly dizzy late in the day. Ah, no cause for alarm, I thought – I'll just put Sherlock Holmes away for a bit and maybe cool it on the sun intake. But when I was unable to enjoy what looked like a delicious pre-dinner snack of nachos (seriously, I LOVE nachos), I knew I had to be horizontal and stat. I could only manage to make it to the saloon just before the staircase leading down to the cabins, so there I lay on a bench next to the bar, watching my fellow passengers step in to order their gin and tonics. NOT FAIR. What's worse is that I was actually smart about preventing this from happening: I took my motion sickness pills, I was wearing my magnetic wristbands. WHY WAS I MOTION SICK?!
Thankfully it wasn't a severe bout. I didn't actually *get* sick, and at least it happened at the end of the day so all I missed was dinner. I slept it off and was fine the next morning!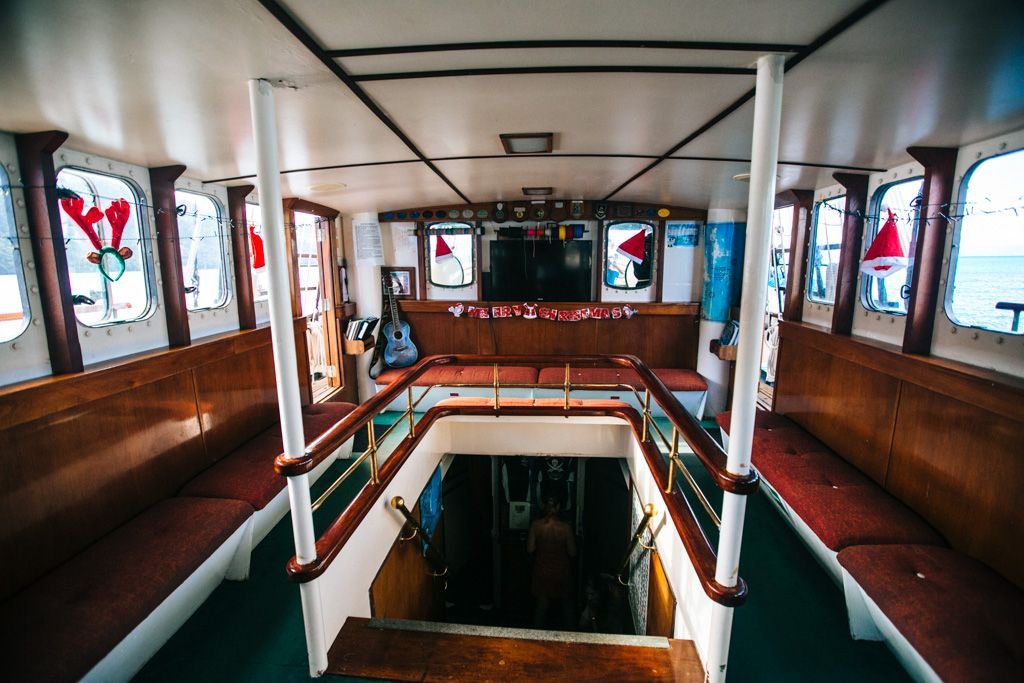 My temporary recovery bed in the saloon.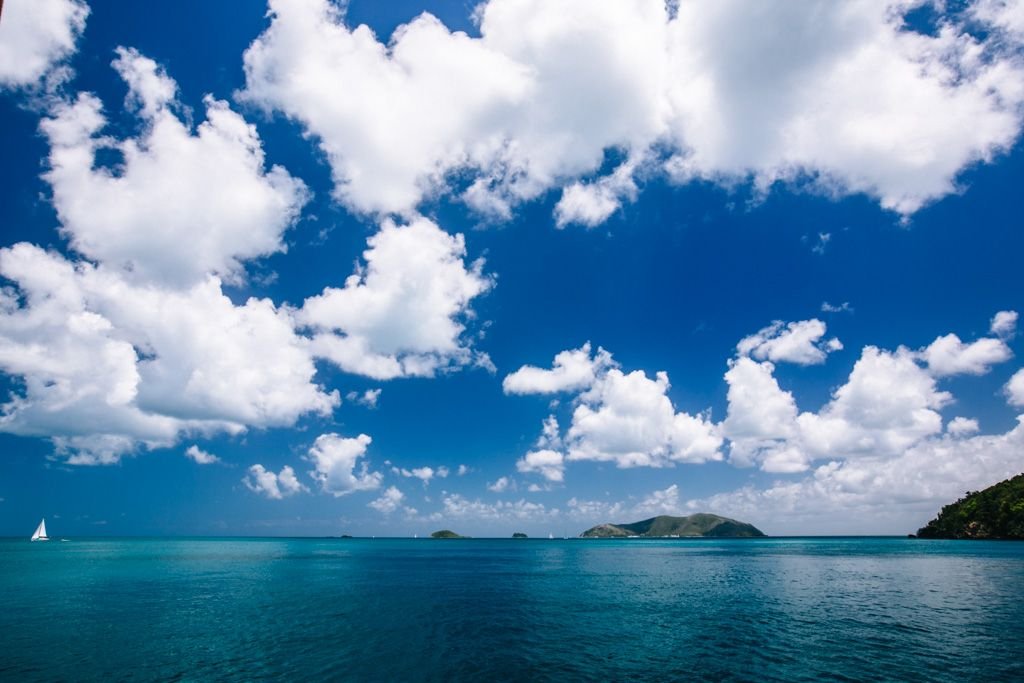 The next two days were a beautiful blend of snorkeling and sailing, with a little island hopping and rope swinging thrown in too. We had great fun swinging from the deck into the sea. I say we, but that's excluding me because I basically did nothing these two days other than sunbathe on the boat. I don't regret it – it felt amazing. I did enjoy watching some of the guys ham it up and do flips into the water, though.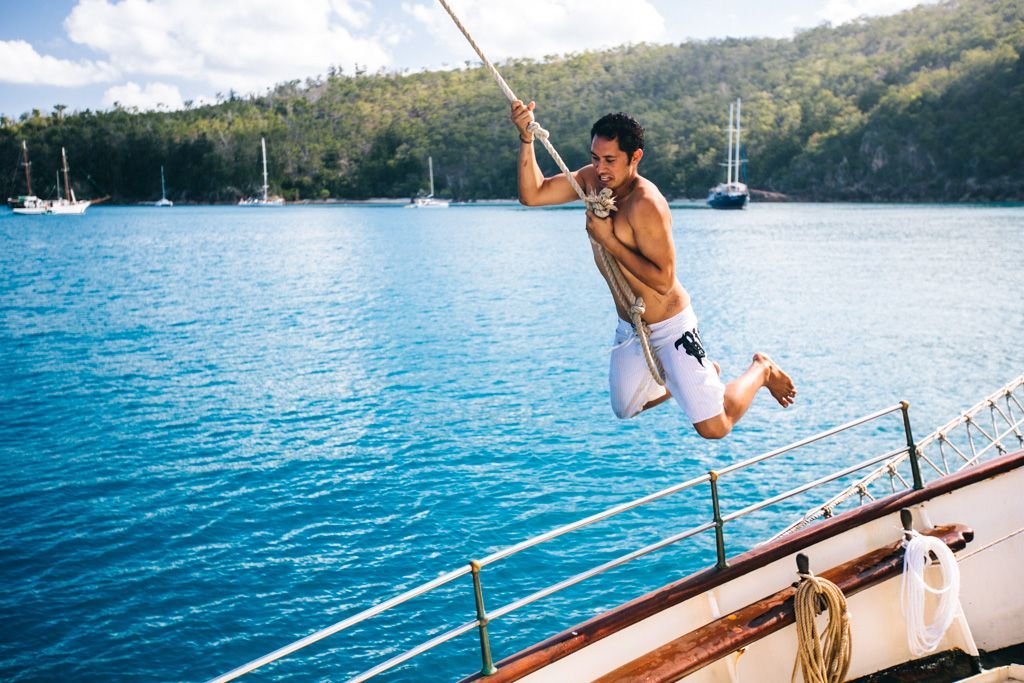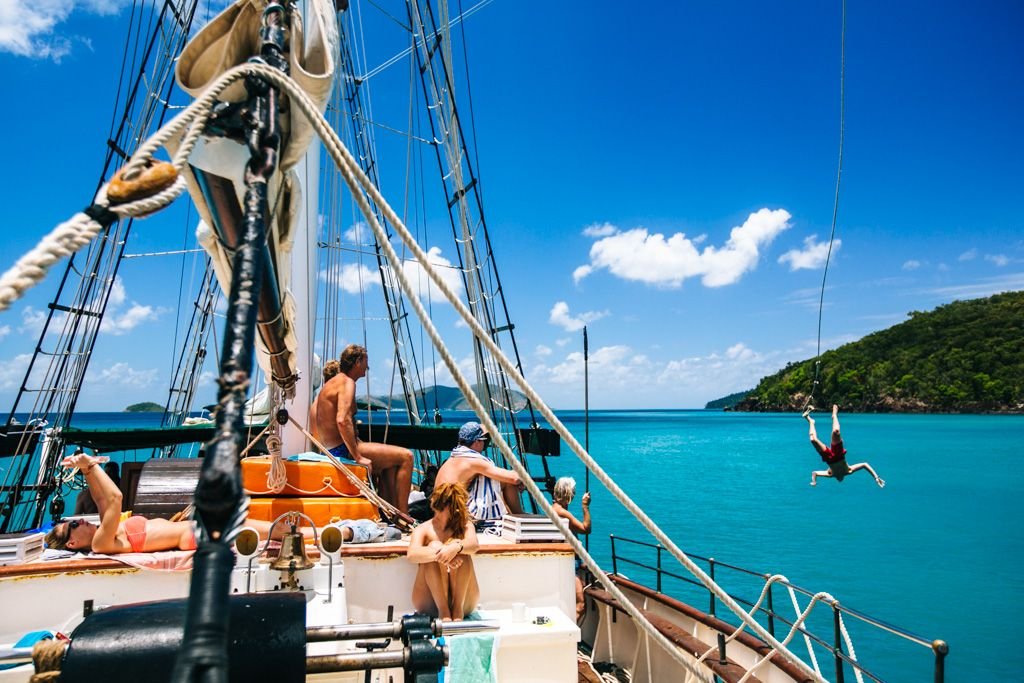 Our other island adventures included checking out an aboriginal cave with some drawings inside, and hanging out on a windy beach. It was good to get off the boat for a bit, but the best part of sailing on Solway Lass was exactly that – sailing. Just being on a cool old pirate(esque) ship sailing through the Whitsundays was the highlight for me.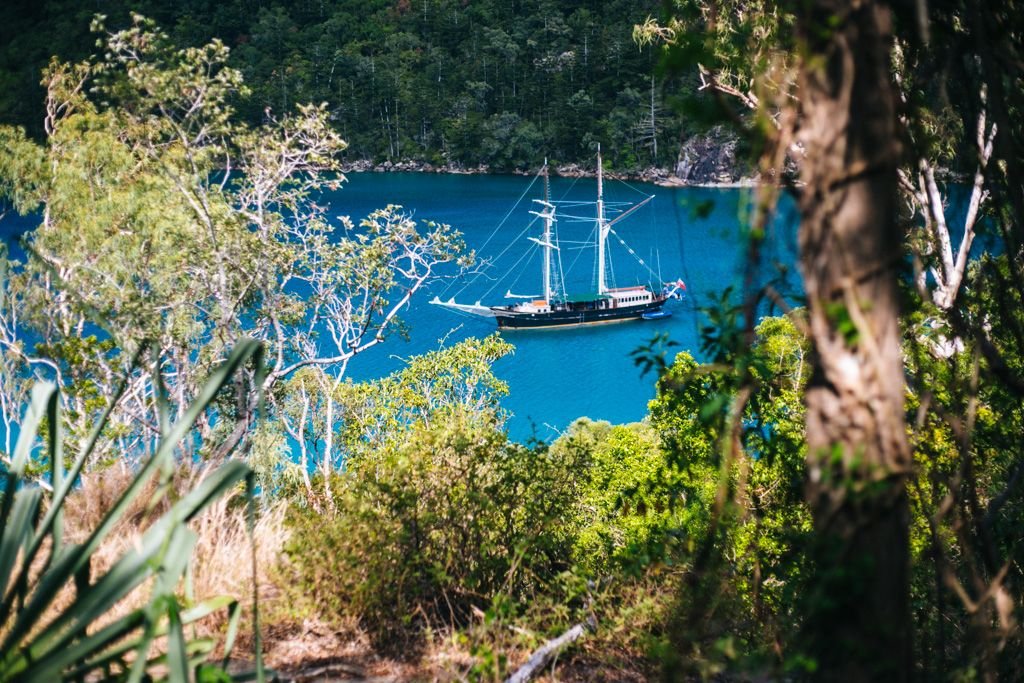 Here's my final take on sailing in the Whitsundays:
If thoroughly seeing the best of Whitehaven Beach and the Great Barrier Reef are top priority for you, book a separate trip devoted to snorkeling and consider camping on or flying over Whitehaven Beach. Sailing trips give you a good taste of both, but not the best of both.
If you want something different than the standard party-on-a-catamaran type Whitsundays sailing trip, consider Solway Lass. A chilled out sail on a tall ship in the Whitsundays is one of the best things I've ever done in my travels!
Want More To Do In The Whitsundays?
Check out these blog posts:
Thank you to Explore Whitsundays for providing me with a discount on my sailing trip. Note that all opinions expressed here and elsewhere on this blog are my unbiased own, and are uninfluenced by any gifts or incentives I may receive.
Pin it!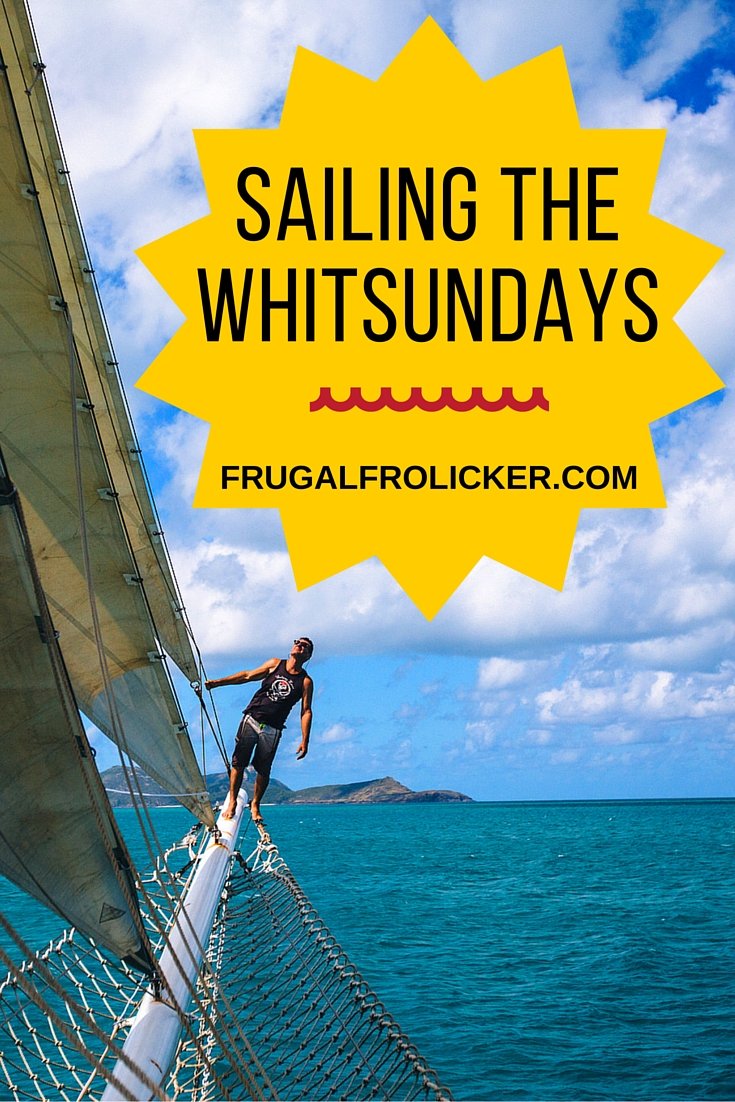 Frugal Facts
As of December 2014 —
A 3 day / 3 night sailing trip on Solway Lass costs $579 AU ($450 US) for one adult in a 4-share bunk cabin, and $1218 AU ($947 US) for 2 adults in a private double cabin. Price includes all meals, accommodation, and activities, though alcoholic drinks and scuba diving are available at an additional cost (cocktails were only $7.50 AU [$6.50 US]).