It took just a few hours of pacing around Airlie Beach before I decided: I have to get out of here.
Don't get me wrong, you could do far worse than a town blessed with an endless summer. Airlie's just completely dominated by tourism – it's merely a place to crash on either side of your overnight sailing trip. Young backpackers hit up Magnums and Beaches, the infamous bar/hostel/restaurant hybrid establishments on the main strip that tempt with their $15 meal combo deals and nightly drinking games and DJs. Then they return to their hostels super late and make all sorts of drunken racket with no regard for those sleeping in tents nearby (AHEM, #notbitter).
When you strip away all the touristy bits, there's not much left to Airlie Beach. The restaurants leave something to be desired, and I speak authoritatively when I say that there is NO GOOD COFFEE in town. Obviously a dealbreaker for me.
Much like I did in Delhi, I stumbled into a tourist office in hopes of them catapulting me somewhere more awesome – except this time I was less desperate and actually had an idea in mind:
I wanted to go camping on an island, all by myself. Just me, my tent, my gear, and some food.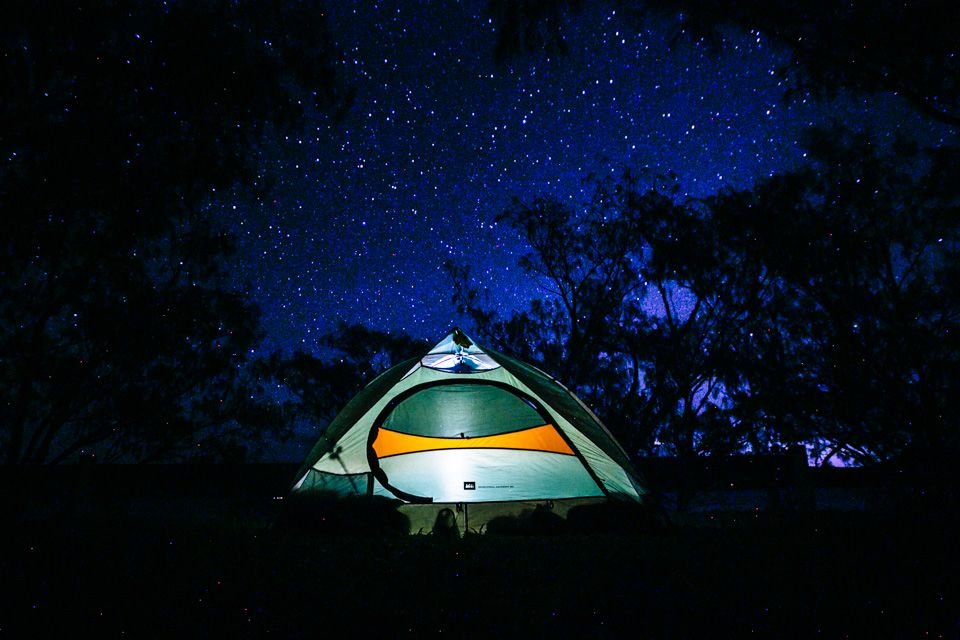 I knew this was doable because I'd discovered Scamper while doing research for my Whitsundays trip a couple months earlier. They organize transport to campsites on several islands in the Whitsundays, and rent out all the gear you could possibly need for a camping trip. The best part? They provide you with jugs of water! I'd had visions of myself lugging my massive backpack, camera bag, food, and multiple gallons of water around town and to the port. As much of a hoot as that would have been, I was happy to have my water waiting for me when I boarded the island boat.
With a quick phone call, the travel agent had me sorted for my Whitsundays camping trip with a boat transfer to South Molle Island at 7am the next day!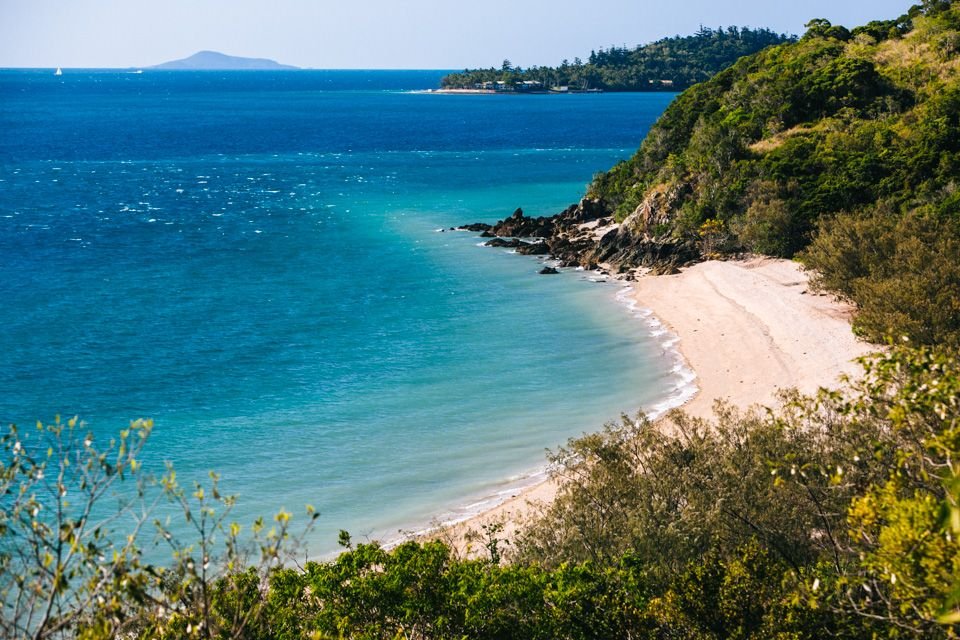 I was a little wistful for the famous Whitehaven Beach on Whitsunday Island, but I figured I'd save $90 and camp somewhere closer since I'd be hitting it on my upcoming Whitsundays sailing trip. By contrast, South Molle is only a 10 minute (rather than one hour) boat trip from the marina – and close enough to the mainland that I had stellar phone reception. That somehow made me feel a little safer being the ONLY ONE on this island! Unbeknownst to me when I booked, no one would be joining me at the Sandy Bay campsite during my two days there.
So I put up my tent and hammock, and took off my clothes!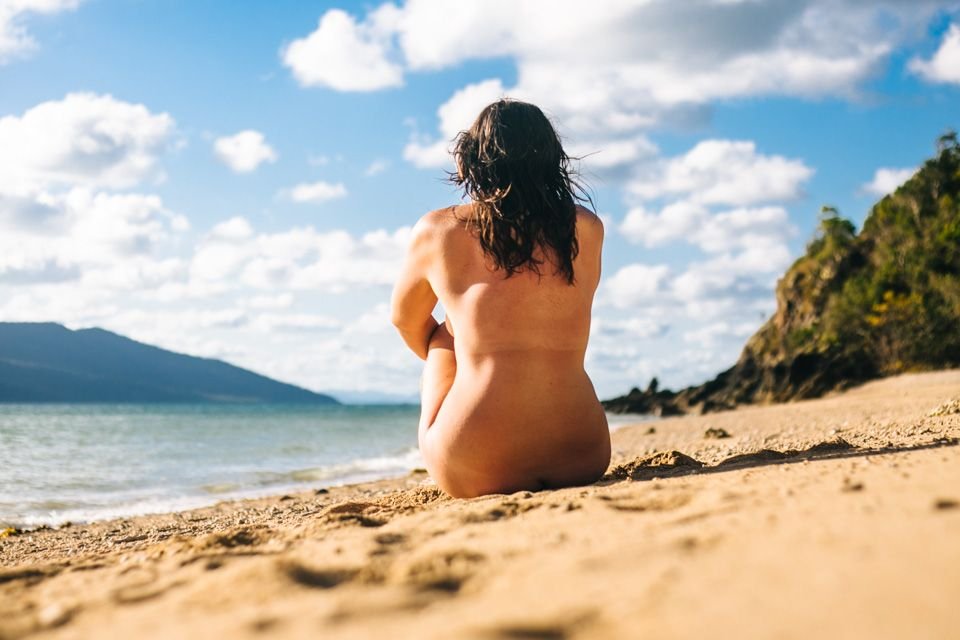 You might be thinking, well DUH, of course you get naked whilst on a deserted island. I'm no prude, but I also don't have the impulse to shred articles of clothing the second I get home from work (lookin' at all you girls who de-bra and de-pants – I know you're out there!). I might swap jeans for sweats, but I'm not wearing any less clothing. What I mean is: I'm ok with wearing clothes. They don't really bother me. And it's definitely not typical of me to, er, get naked outside of the shower or bedroom.
But on South Molle, I got island fever and stripped. I was naked for two straight days and it felt pretty dang great.
A strategically placed sarong, hat, and sunscreen kept me from getting burnt to a crisp. But I mean, I had skin that had never before seen the sunlight. It's kind of a miracle that I didn't transform into a ripe tomato.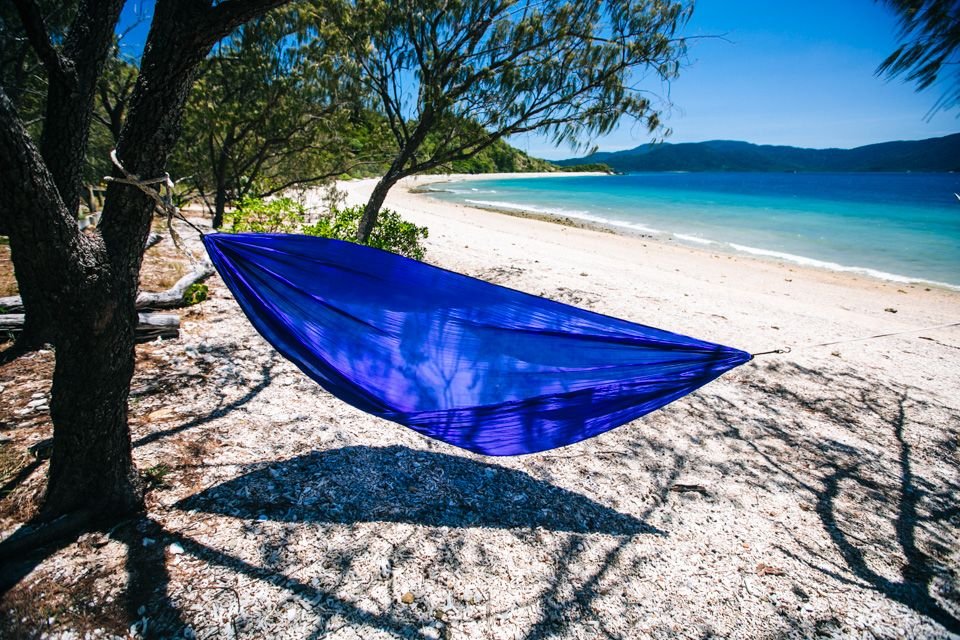 My Whitsunday camping trip was a lovely blend of slothdom and physical overexertion. More often than not, I was sunbathing on the beach or laying in the hammock reading the Mindy Kaling book. Soon I started feeling like a real lazy ass, so I instated a rule where every time I crossed over the fence to get from the beach to my campsite, I had to do 10 pushups and 10 squats. I'm telling you, I'm the worst at being lazy – but you know I care about staying fit while traveling. You can take the girl out of crossfit, but you can't take crossfit out of the girl!
One afternoon, I put on some clothes and set off to trek to the other side of the island. I was drenched in sweat within minutes of starting what was a pretty easy uphill climb. Behold the power of the Australian sun! It feels so nice when you're laying on the beach enjoying the sea breeze, or are shaded by trees – but take away the breeze and the shade and you pretty much want to die.
Still, it was totally worth it for the near-360 degree view of the surrounding islands from above. I was entranced by the deep blue giving way to light blue as the sea met the reef just offshore from some of the beaches. The blues contrasted beautifully with the greens and yellows of the open eucalypt forest along the hiking trail. Just look at it!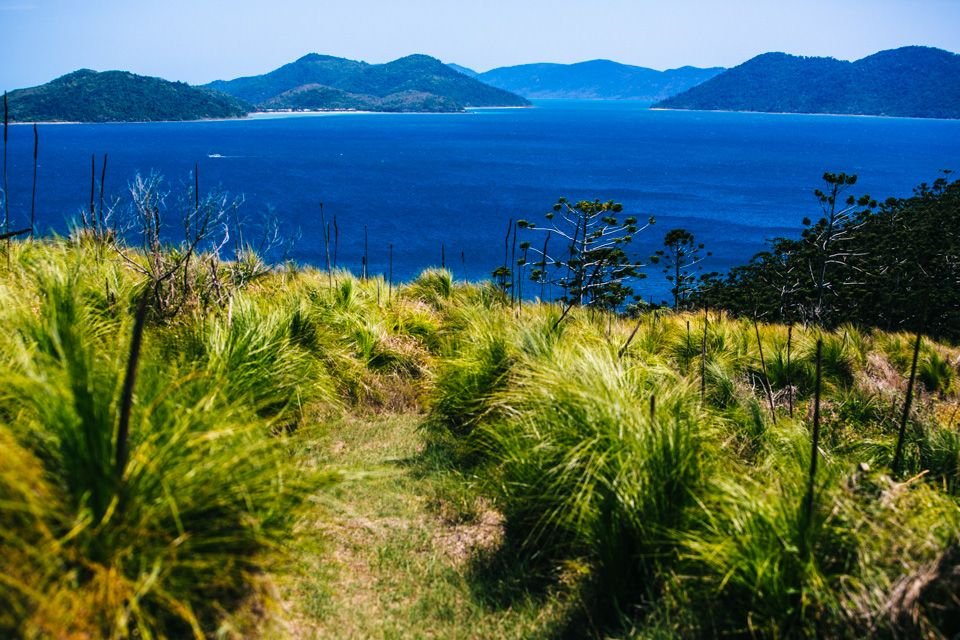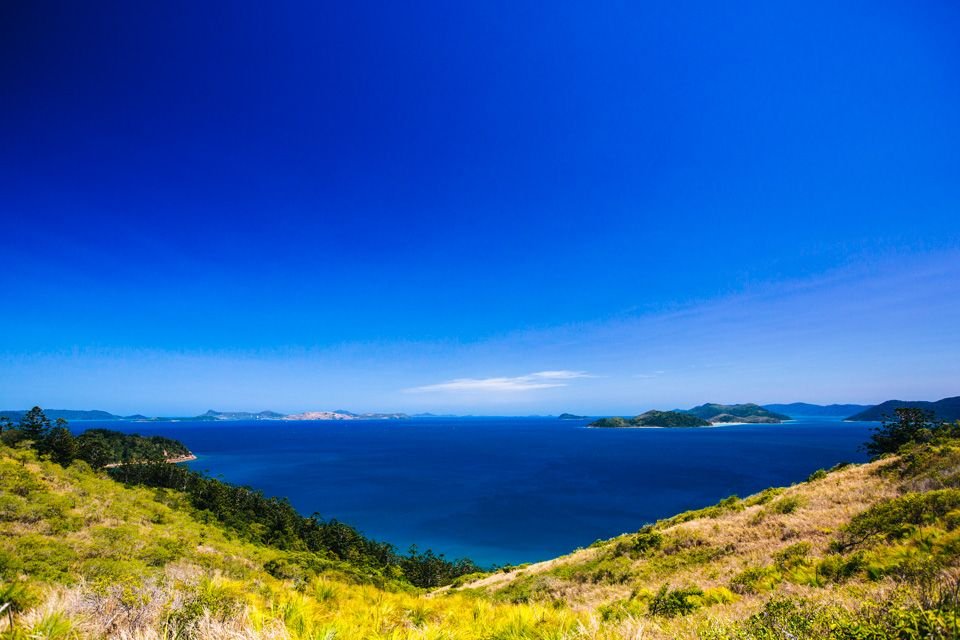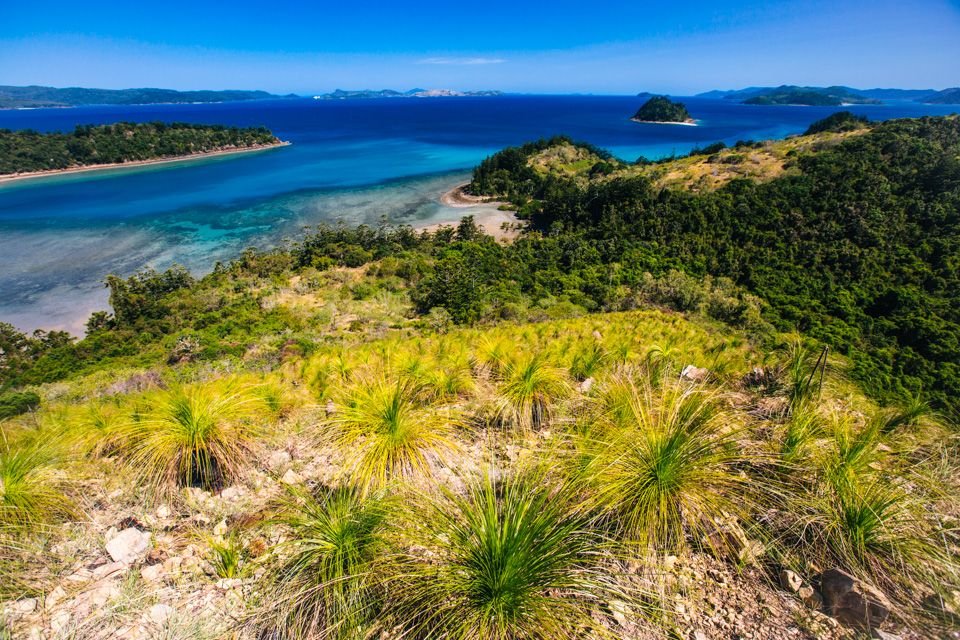 About the South Molle Island walk
The walk I did was from Sandy Bay to Spion Kop. I found the first half of it was a thousand times more fantastic than the second half – in fact, literally all of the above photos are from it. The second half passes through some rainforest, so if nothing else it provides some shade from the relentless sun. From the Spion Kop lookout you can see several of the nearby islands from a distance, but they all look layered together as one mass of land – pretty anticlimactic, in my opinion. If you ever find yourself trekking on South Molle Island, I say save your sweat and only venture halfway down the trail, then turn around and head back to Sandy Bay. Or alternatively, head to Mt. Jeffreys instead of Spion Kop. I didn't do the Mt. Jeffreys segment of the trail, but it's supposed to culminate in magnificent 360-degree views.
Want More To Do In The Whitsundays?
Check out these blog posts:
Frugal Facts
As of December 2014 —
Scamper is the only company that provides connections to the Whitsunday island campsites. Return tickets range from $65 AU (South Molle Island, 10 minutes) to $155 AU (Whitsunday Island/Hook Island, 1 hour). They also have camping gear available for renting and provide free water on all trips.
You must have a valid Whitsundays National Park pass in order to camp on the islands. You can book online for $5.50 AU/night per person, or Scamper can arrange it for you.
Pin it!