When I moved to Australia, the very first thing I ticked off my bucket list was a trip to the Whitsundays. I'm not sure how I managed to miss it the first time around (11 years ago when I studied abroad in Sydney), but I made up for it this time with a truly epic sailing trip around the Whitsunday islands and a solo camping trip on one of them.
Then this past month, I had the opportunity to return to the Whitsunday coast and experience some of the lesser-known aspects of it. In fact, it ended up being the perfect complement to my prior trip because we didn't go sailing or camping at all!
So now that I've more thoroughly explored the Whitsundays, I thought I'd compile a list of all the fun-tastic things there are to see and do in the region aside from the obvious (i.e. sailing and Hamilton Island). Here we go!
Stop At The Big Mango
So, Australia has this preoccupation with big… things. As in, massively large, delightfully tacky iconic structures that seemed to be dropped in random towns throughout the country. Mostly fruit, it seems.
If this sounds up your alley, stop in at the visitor's centre in Bowen to pay homage to the Big Mango. Otherwise, it's worth a stop anyway to sample the mango sorbet – a delicious treat, especially on a hot day!
Do Brunch (or Brekky)
First, let me clarify that Australia doesn't really do brunch; it does brekky (which by the way, I just spent way too much time Googling for the proper spelling – I'm still not convinced that's right). But I thought I should use the American term here, since most of y'all are from my homeland.
Anyway, seeking out some good brunch or brekky spots is key to any Australian holiday. The Whitsunday Coast has plenty to choose from, a few of which I can recommend:
Le Sorelle in Bowen has an extensive menu stocked with both comfort food and healthier dishes (re: the former – OMG their chips!).
The Deck in Airlie Beach has THE BEST COFFEE in the Whitsundays, namely because they use St. Ali beans which are by definition heavenly.
The Fat Frog in Cannonvale offers the best of both worlds: fantastic food and coffee, and therefore my pick for overall best breakfast in the Whitsundays.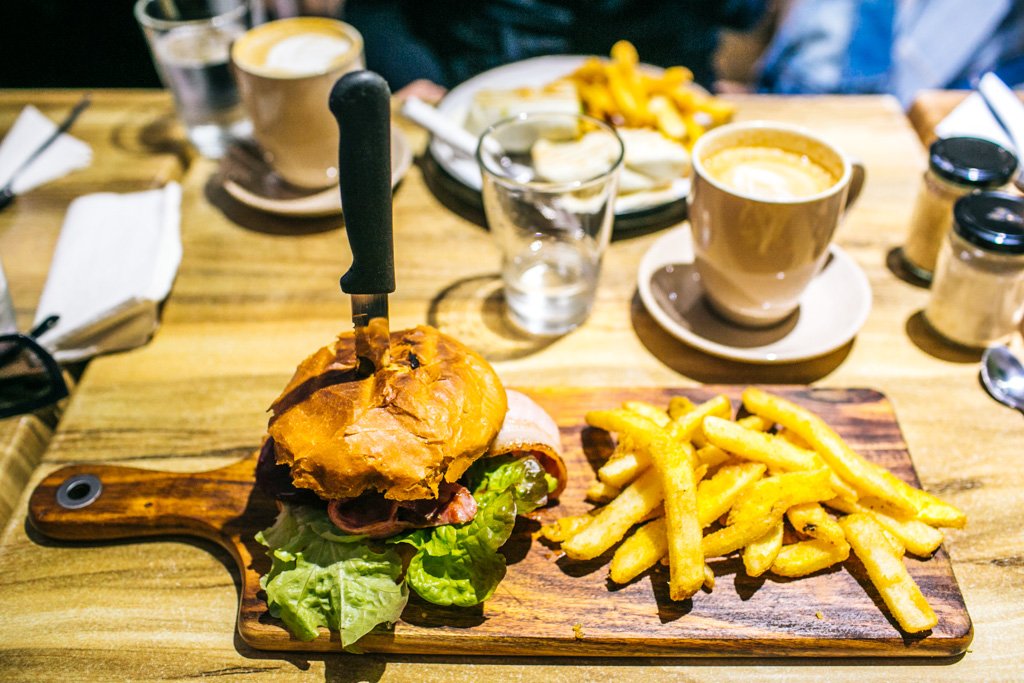 Brunch/lunch at Le Sorelle.
Take A Day Trip Around The Whitsunday Islands
Let's be honest, most everyone comes to the Whitsundays to sail around the islands. Most Whitsundays sailing trips are overnighters lasting about 3 days, and it's absolutely something you should do on your big trip to Australia.
But suppose you've already done it, or only have one day to explore the Whitsunday islands. What other options do you have?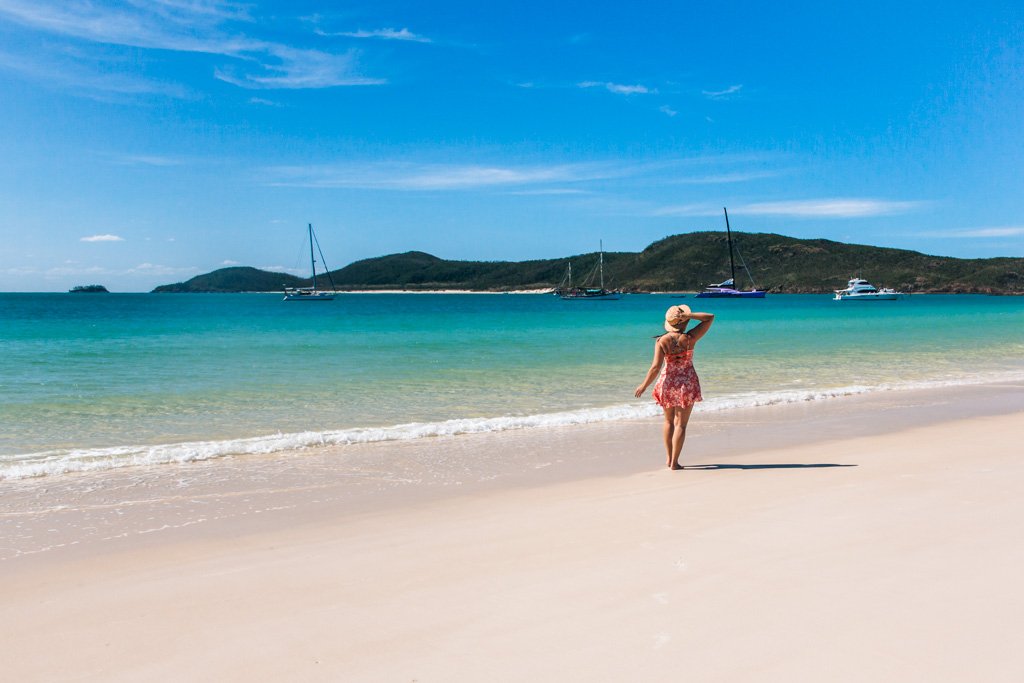 If you're dead set on stepping foot on Whitehaven Beach and seeing Hill Inlet, you can book a 1-day Whitsundays Trip with Red Cat Adventures (AU$169). You'll also stop at a snorkeling spot or two along the way.
Note that most day trips to Whitehaven are very much about the destination, not so much the journey. It's a bit of a trek to reach Whitsunday Island, and with limited time you can't really afford to take your time getting there and back. So if being able to enjoy cruising around the islands in a boat is important to you, definitely budget more time and money to take an overnight sailing trip instead. Solway Lass is the boat I took 2.5 years ago and I had a phenomenal time on that sailing trip!
Or, Whitsunday Paradise Explorer (AU$235) is an option for day trips around the Whitsundays that don't stop at Whitehaven Beach. They run private eco tours to some of the closer islands and allow time for walks, beach combing and snorkeling. We got to take a little sunset cruise around Bowen in the boat that's used for these day trips and got pretttttty lucky with the sky: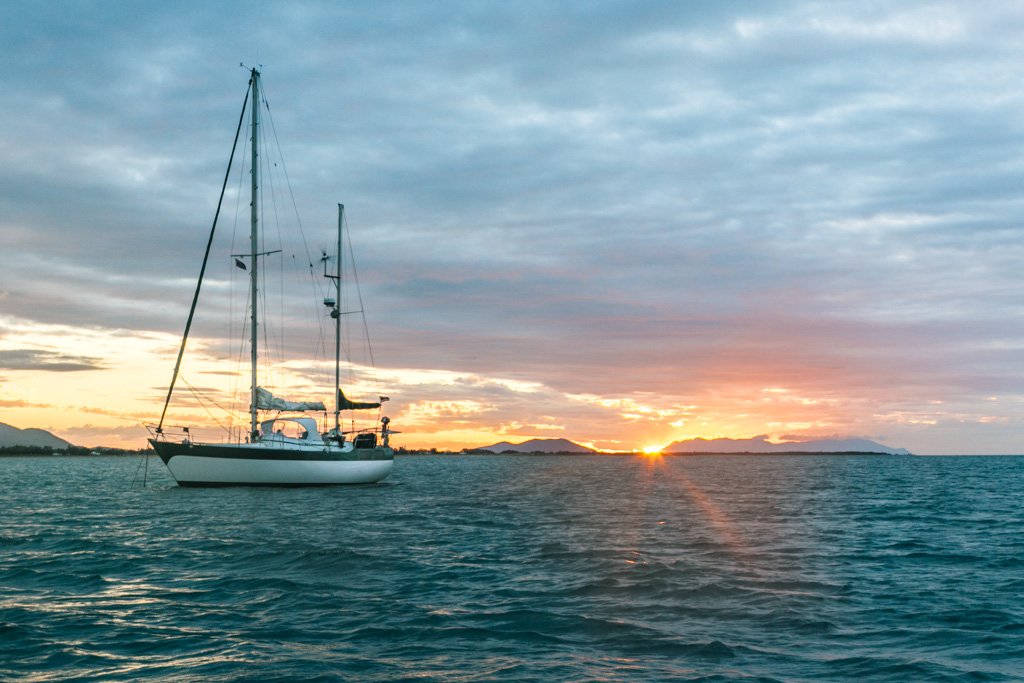 Taken while on the Whitsunday Paradise Explorer.
Lounge By An Infinity Pool
Up for a splurge? Book into one of the fancy-pants hotels in Airlie Beach that has an infinity pool: Peppers Airlie Beach, Pinnacles Resort, or Martinique Whitsunday.
I visited some blogger friends at the Pinnacles one afternoon and had THE BEST time just laying out by the infinity pool, enjoying the views of the Coral Sea and nearby islands. It was just what I needed after a few intense days of touring the Whitsunday coast, not to mention several weeks of non-beach weather in Sydney. Is there anything more glorious than winter sunbathing?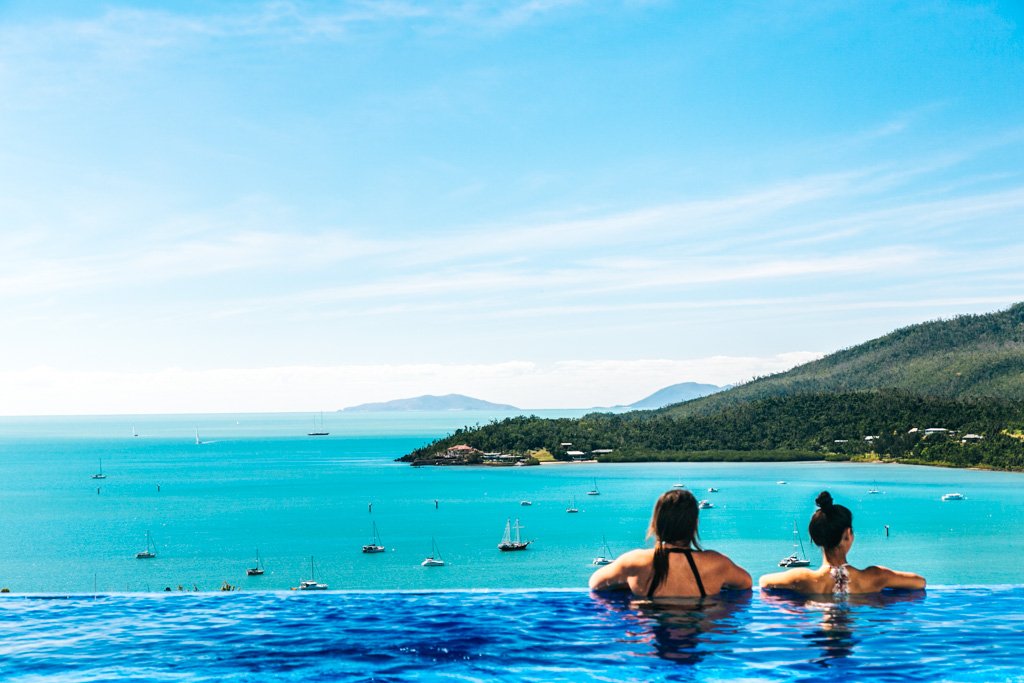 Photo by Laura of Mapping Megan.
Ride a Segway
Never in my life did I expect to enthusiastically recommend a segway tour, but hear me out on this one!
Whitsunday Segway Tours offer a boardwalk tour between Cannonvale and Airlie Beach ($99), as well as a rainforest tour in Conway National Park ($129). We opted for the boardwalk tour due to time constraints and lucked out with the most beautiful sunny morning for it. I'm kicking myself for not having a camera on me to capture the incredible blue water we rode past, but I half-expected myself to faceplant on my first-ever segway ride so therefore erred on the side of caution.
Turns out, segways are easy, safe, and FUN to ride! Now that I know this, I will no longer turn my nose up at them when I see others riding by. It actually reminded me a lot of SUP-ing, as you use your core to balance and then kind of zen out as you go.
I loved my boardwalk tour, but if you want something different I'd opt for the rainforest tour instead. You can always frolic along the boardwalk on your own, but I think getting to explore the rainforest by segway would be a totally unique experience.

Photo by Madelin of Never Leaving.
Dine on Local Seafood
You know what else, aside from glorious islands and hot sunny weather, the Whitsundays region is blessed with?
FISH. And lots of it!
Definitely don't leave the Whitsundays without sampling some of Australia's finest seafood. A few recommendations:
Walter's Lounge – Ok, admittedly their menu is not seafood heavy, but this is the #1 ranked restaurant in Airlie Beach and they served me the best meal I've had in at least the past year so I had to mention them.
Bird's Fish Bar – Awesome fish and chips (and other seafood, too) in Bowen.
Hemingway's – A brand new restaurant on the waterfront in Airlie with a "stylish coastal chic design" and a very seafood-heavy menu. Even if you don't eat fish, come here for the instagram fodder.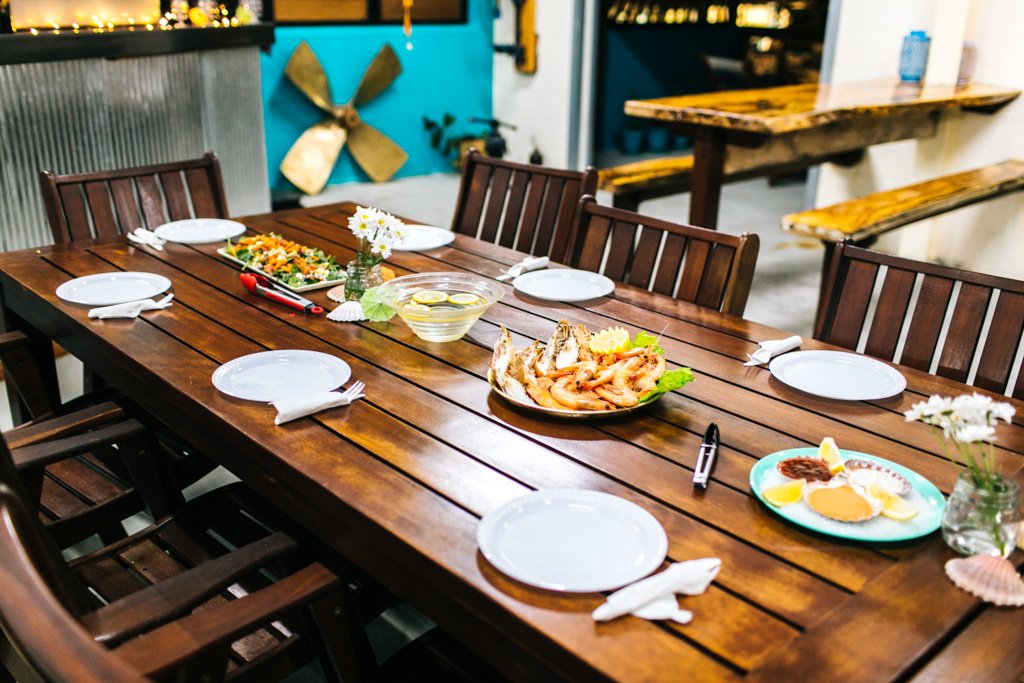 Seafood dinner at Bird's Fish Bar.
Drink Some Rum
Airlie Beach is a big backpacker hub, so obviously it's a good place to get your drink on. There's no shortage of bars in town, should you fancy a drink or five.
Unfortunately I'm not much of a drinker, so my research here did not extend too far. In fact, the only reason I'm mentioning it at all is because I had the best mojito of my LIFE at The Rum Bar, which boasts a collection of over 500 different rums. Highly recommend stopping in for a rum cocktail or tasting while you're bumming around Airlie Beach.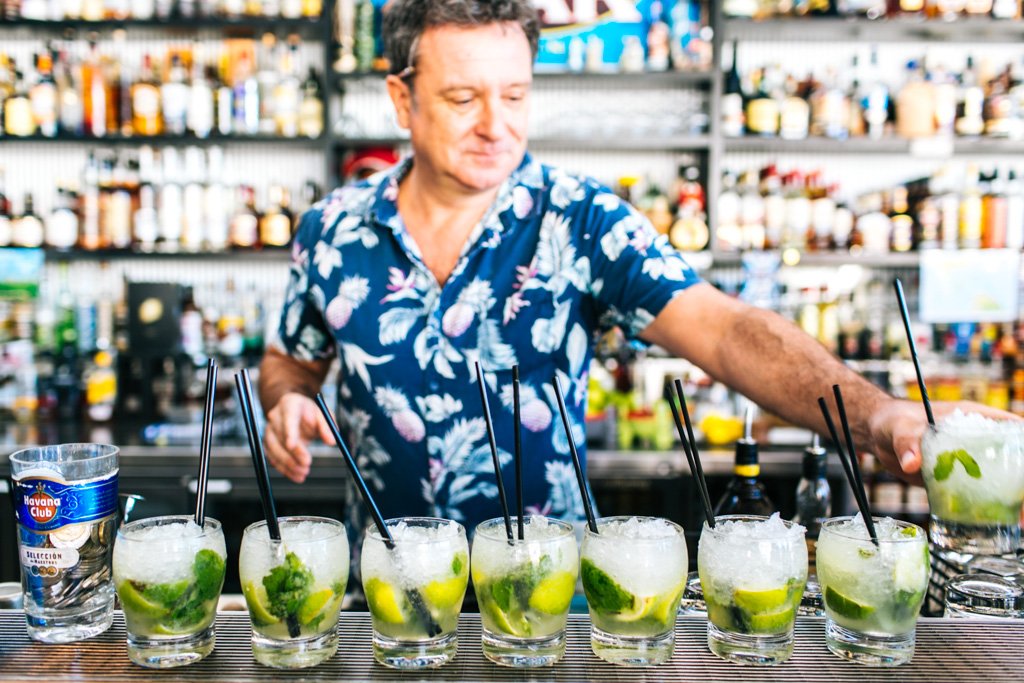 Take a Sunset Cruise
You're definitely not short of choices when it comes to boat trips in the Whitsundays. If you're looking for something a little more chilled out than a sightseeing or island hopping cruise, consider booking a sunset cruise in Airlie Beach with Sundowner Cruises.
As much as I adore my beach adventures, it was really nice to ditch my bathing suit and towel for a dress and glass of prosecco on the Sundowner for our last night in the Whitsundays. We watched the sun set and the moon rise from the boat while cruising from Airlie to Cannonvale and back.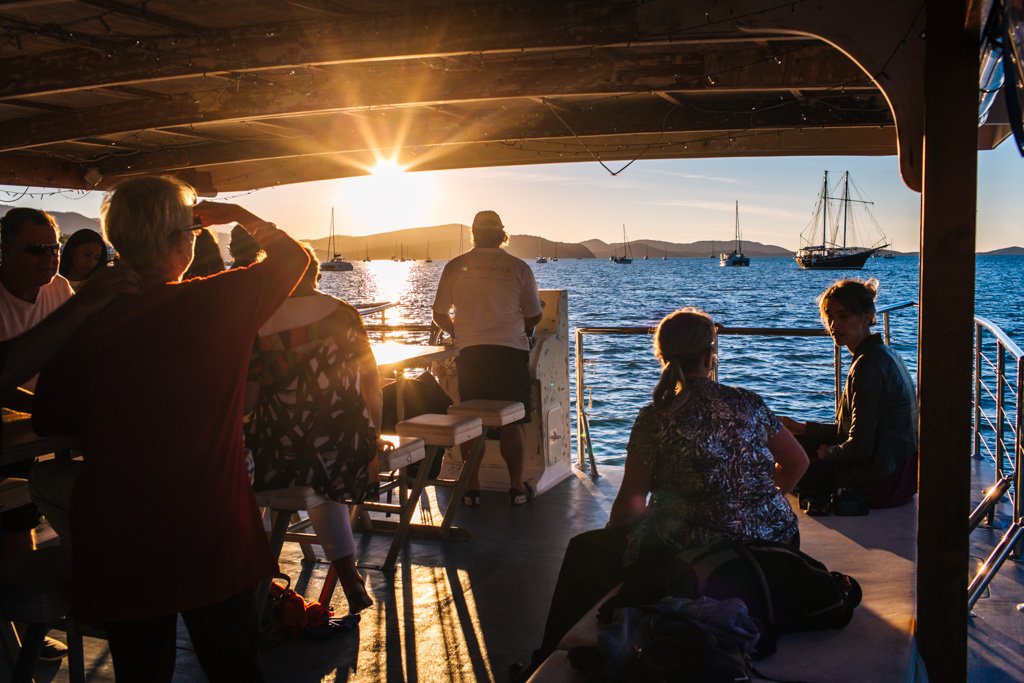 I think the Sundowner sunset cruise is ideal for couples and small groups of friends, and best capped off with a nice dinner in town. And at just AU$55/person, this is one of the best value experiences you can have in the Whitsundays.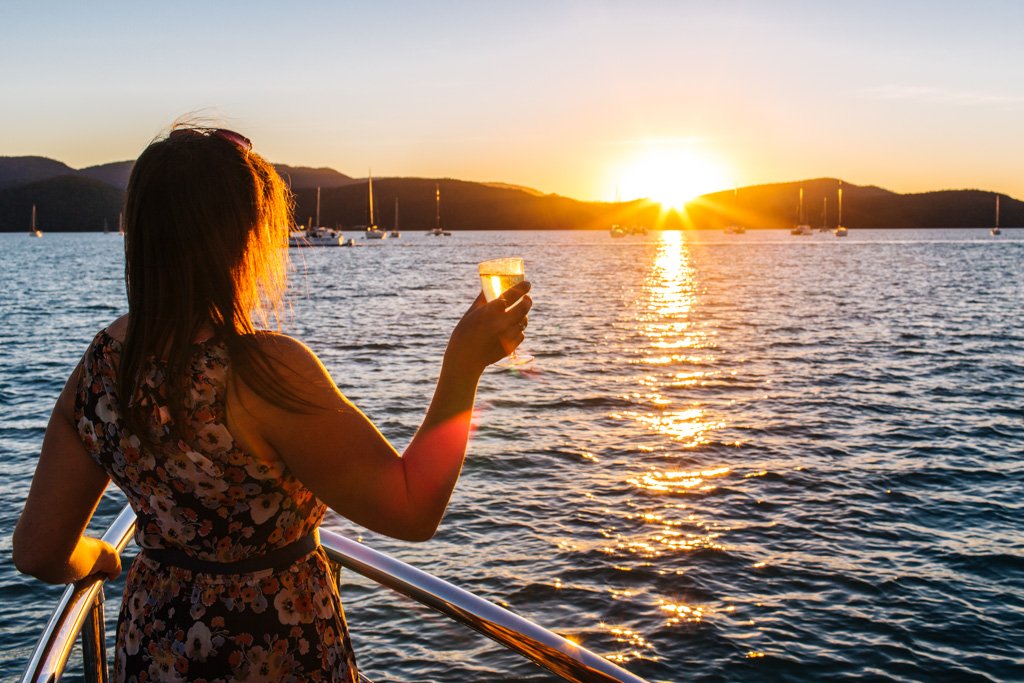 Go Camping In The Whitsunday Islands
Hands down one of the best things I've done in ALL my Australian travels is camp on an island in the Whitsundays. A couple years ago I pitched my tent on South Molle Island and had the whole thing to myself for two days. It was absolutely glorious.
You can do the same by booking a boat transfer and permit and even all your camping gear through Scamper. They can drop you off at a number of different island campsites, including one on Whitehaven Beach (!!). Transfers range from AU$65-160 return.
Read all about camping in the Whitsundays in this blog post I wrote a couple years ago.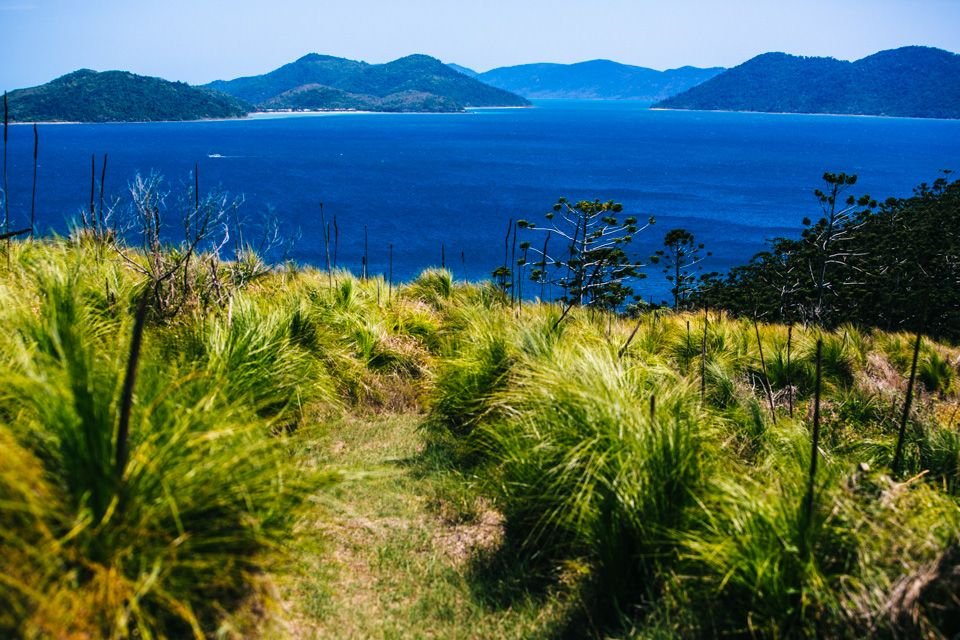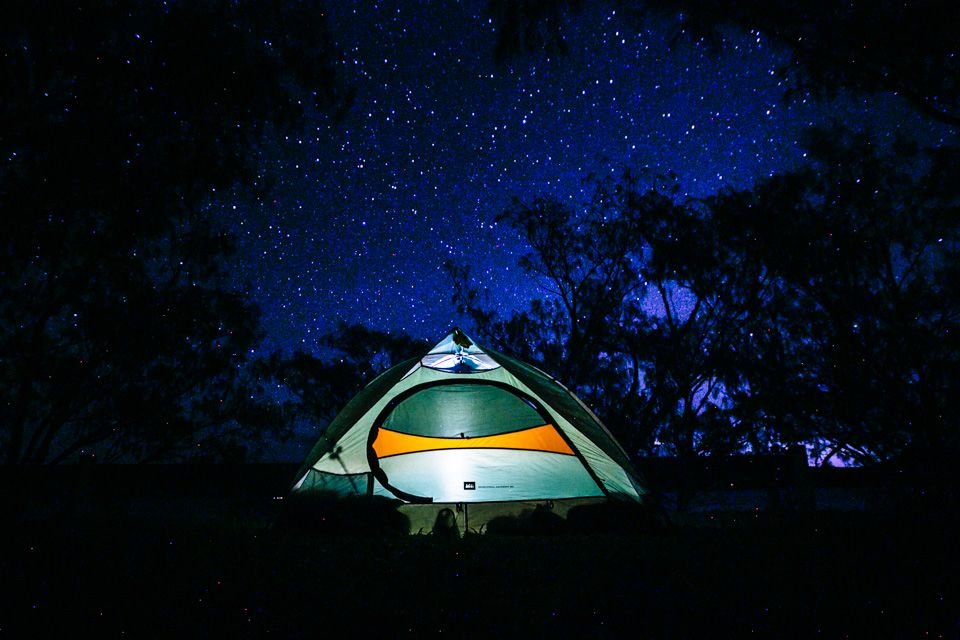 Stand-Up Paddleboarding
Admittedly I opted for an afternoon at the infinity pool instead of on a paddleboard, but had I had more time in the Whitsundays I definitely would have gone stand-up paddleboarding. You can hire a board for $30/hour at Shingley Beach and paddle around Abell Point Marina. The water around Airlie Beach is flat and a pretty deep blue color, aka super ideal for paddling.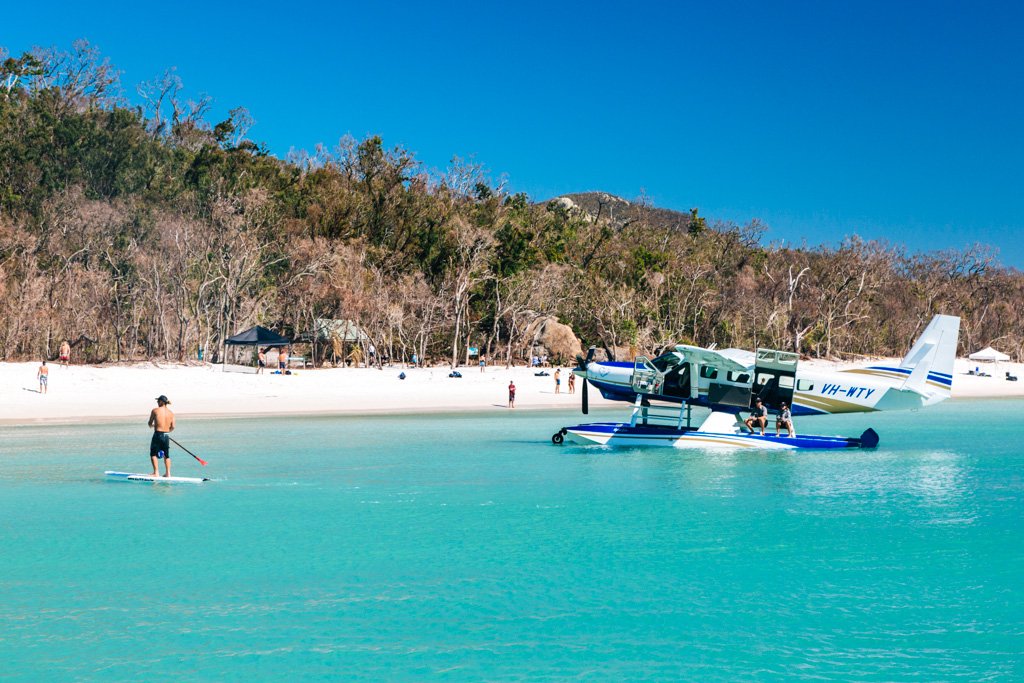 SUP-ing at Whitehaven Beach (not Airlie Beach, but you get the picture).
Fly Over The Great Barrier Reef
If you want to take a scenic flight over the Great Barrier Reef (which by the way you 100% should), the Whitsundays is one of the best places to do it from. Why, you might ask? Because this is where you can glimpse the famous and oh-so-romantic Heart Reef from above!
I took the 60 minute Reef and Island flight ($199) with GSL Aviation. If you really want to splurge, book the Panorama Tour ($625) with Air Whitsunday – this one includes 1.5 hours of flying plus time at Whitehaven Beach and snorkeling in a private lagoon. Both these tours fly over Heart Reef.
Read all about the Whitsundays scenic flight I took in 2014 in this blog post.
Go For A Walk or Hike
The Whitsundays aren't exactly known for their plentiful hiking opportunities, and to be honest you're probably not looking to break an extra sweat during the hotter summer months here. But if you're here during winter or shoulder season, the weather should be ideal for walking.
A few solid hike options in Airlie and surrounds:
The Bicentennial Boardwalk from Cannonvale to Airlie Beach (3.7km) is an easy waterfront walk offering beautiful sea views.
The Honeyeater Lookout hike requires 4km of walking each way, and leads up into the hills over Airlie Beach. The uphill portion I've heard is pretty killer, but the incredible views from the top make it well worth the effort.
The Cape Edgecumbe walking track (5km circuit) in Bowen runs from Horseshoe Bay to Murray Bay and the Mother Beddock Lookout. This hike is all about the beautiful beaches in Bowen, which you'll glimpse both from above and from ground-level.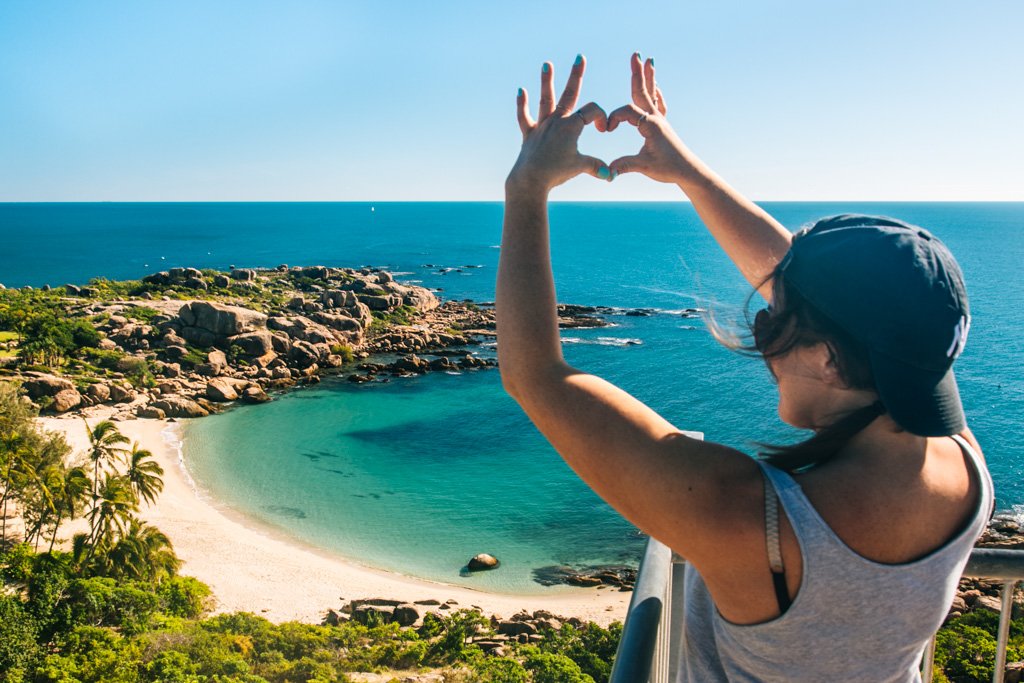 View of Horseshoe Bay from the Rotary Lookout, on the Cape Edgecumbe walking track.
Swim At Cedar Creek Falls
I can think of few better ways to cool off on a Queensland's summer day than by going for a swim beneath Cedar Creek Falls. Being winter when we visited, none of us felt the need to plunge into the cold water; going in up to my knees was more than enough, I think!
The falls are about a 30 minute drive from Airlie Beach. Aim to visit within a couple hours before sunset, when the crowds are low and the sunlight is superb.
Beach Hopping in Bowen
The thing that most surprised me about the Whitsundays coast was how many gorgeous beaches there are to explore around Bowen, just an hour's drive north of Airlie.
You might think that the Whitsundays are chock full of stunning beaches, but there actually aren't many aside from the epic Whitehaven Beach. Airlie Beach, despite its name, is not the place to go if you want quality beach time.

Murray Bay, from the Rotary Lookout.
But Bowen? Oh yeah, definitely a beach bum's paradise. Bowen's beaches all seem to have these cool-looking boulders strewn around their headlands, which reminded me a lot of the beaches on Magnetic Island.
Be sure to walk up to the Rotary Lookout from Horseshoe Bay for some sensational coastal views.
Horseshoe Bay in Bowen.
Go Shopping
I don't cite shopping as one of my interests, so like drinking, there won't be extensive coverage of this topic here (sorry, guys!).
However, I did want to point out that there are numerous shopping opportunities (shop ops?) in Airlie Beach. Whether you need some Aussie souvenirs to take back with you or want to splurge on some new clothes, you'll find plenty of shops to meet your needs in town. Baku is my go-to back in Sydney for high quality Aussie swimwear, and they also have a shop in Airlie – highly recommend!
You'll also find the Community Markets on the Airlie waterfront from 7am-1:30pm every Saturday – perfect for snagging some local crafts and treats.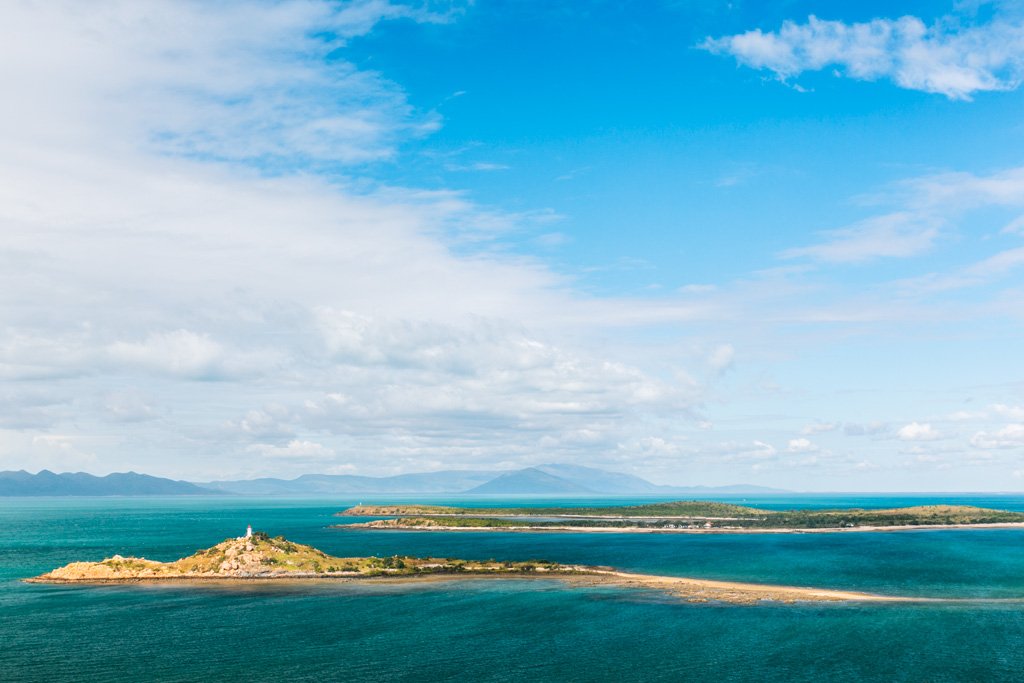 Want More To Do In The Whitsundays?
Check out these blog posts:
Thank you to Tourism Whitsundays and Jetstar Australia for hosting me on the Whitsunday Coast! Note that all opinions expressed here and elsewhere on this blog are my unbiased own, and are uninfluenced by any gifts or incentives I may receive.
Pin it!