Most sensible people treat a beach holiday as an opportunity to relax on the beach – i.e. *a* beach, singular. One beach, max relaxation.
But, since the Eagles basically wrote the song "Learn To Be Still" for me without knowing it, it almost goes without saying that this is not how I do a beach vacation. I can't sit for more than a couple hours in the sand before I get the itch to go exploring. I have to walk the entire length of the beach at least once. And if there are several beaches, then I've got to see them all.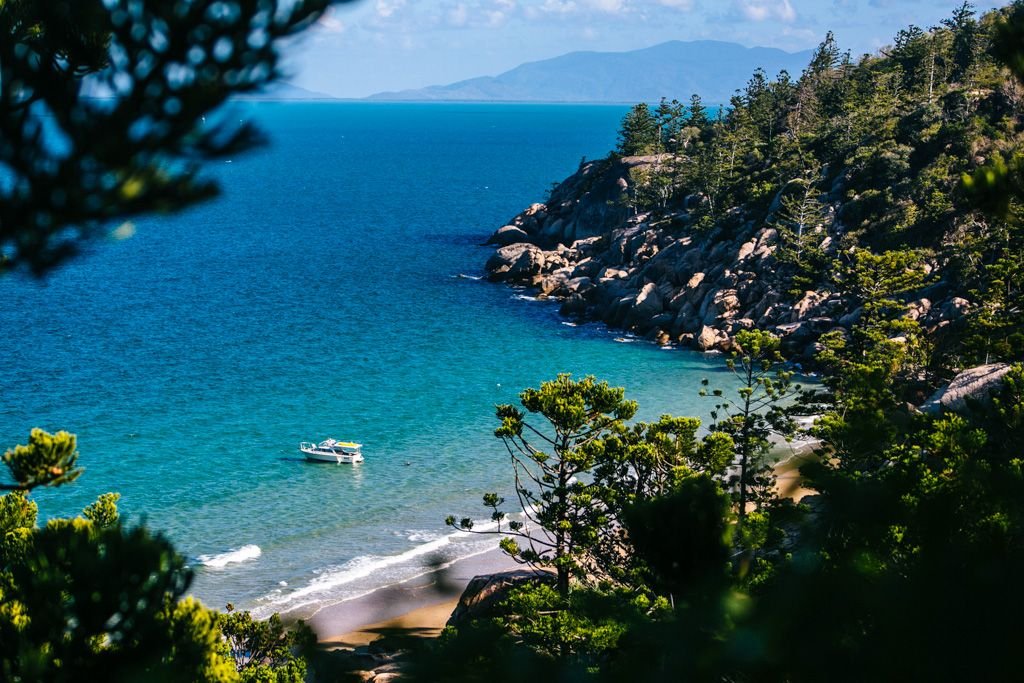 I really outdid myself on Magnetic Island, though. I managed to see (and step foot on almost) ALL THE MAGNETIC ISLAND BEACHES. Well, at least all the ones accessible on foot, which is just about the entire east coast.
There are two lengthy walking tracks that hit all the beaches on Magnetic Island (from south to north):
Picnic Bay to Alma Bay: A walking path along the main road leading to Picnic Bay, Nelly Bay (where the ferry terminal is), Geoffrey Bay, Alma Bay
The Forts to Horseshoe Bay: A wooded track leading to Arthur Bay, Florence Bay, Radical Bay, Balding Bay, Horseshoe Bay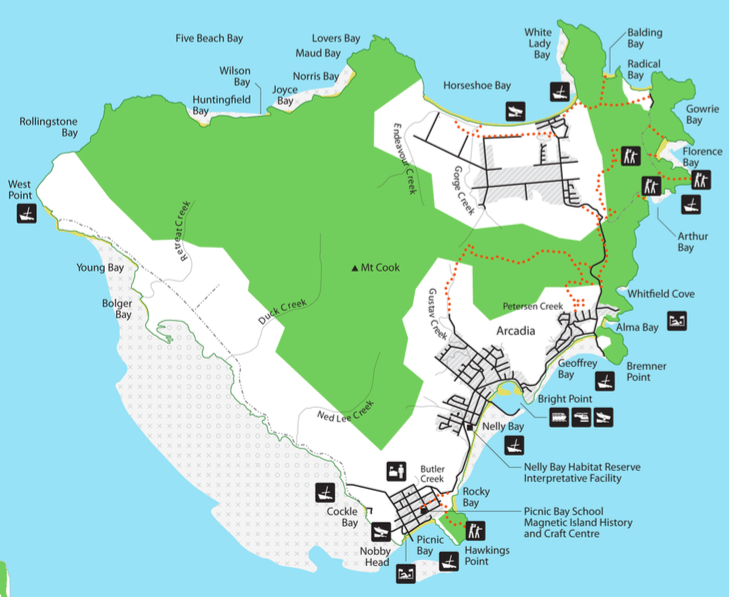 Magnetic Island map courtesy of Sealink QLD
Each track is doable in an afternoon, but you won't have much time to devote to every Magnetic Island beach if you want to see them all. Better to stop off at just one or two along the way for maximum enjoyment.
Now, which Magnetic Island beaches should you visit? Take a look at them and decide!
Magnetic Island Beaches
Picnic Bay
Picnic Bay has a jetty, a protected swimming area, and – not surprisingly – some nice picnic areas. Beyond that, it's not one of the prettier Magnetic Island beaches. But from there, you can walk up to a lookout point that yields 360-degree views of Magnetic Island and Townsville in the distance. It's worth doing, in my opinion.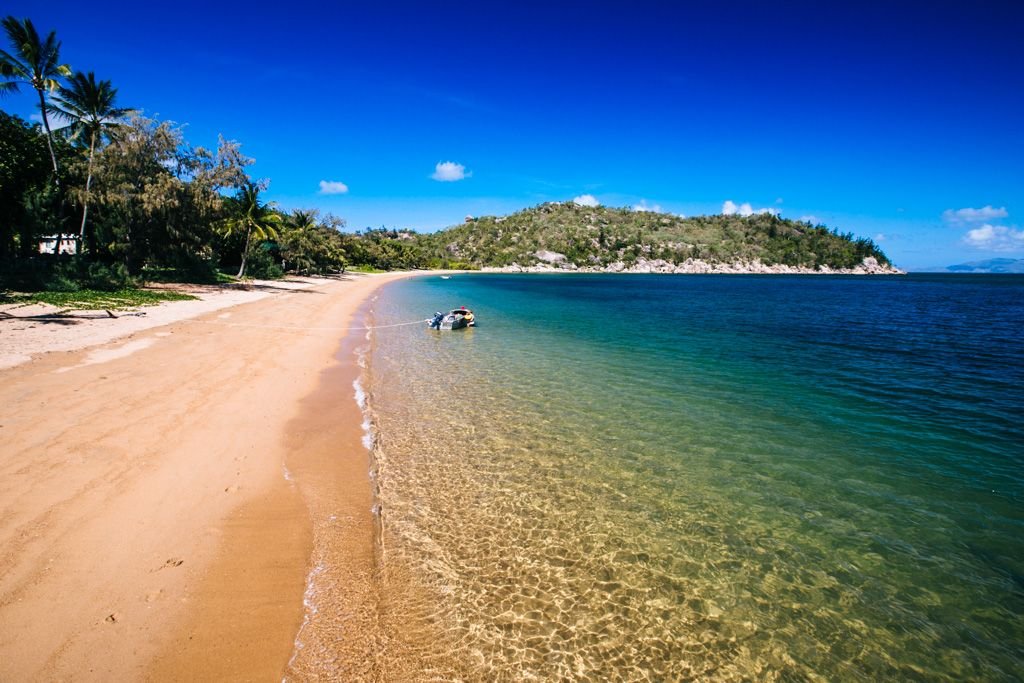 Nelly Bay
Nelly Bay is where the ferry terminal is located, but there's a large stretch of quiet, uninterrupted beach just south of it. Aside from the backpackers at the Base hostel on the south end, you're not likely to run into many folks here.
Geoffrey Bay
Geoffrey Bay is great for taking long walks at low tide. The north end of the beach has some nice tidal flats at this time, with the same rippled texture that Cape Cod's bay beaches are blessed with. As an added bonus, Geoffrey Bay is in the village of Arcadia, which makes for some fun wandering with its shops and cafes.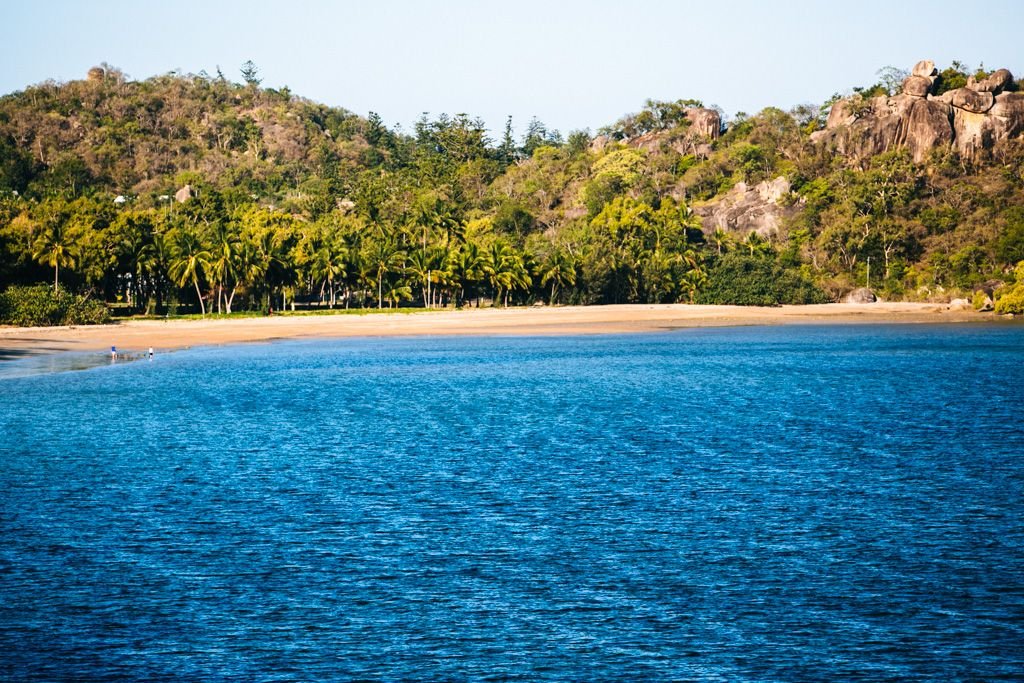 Alma Bay
Alma Bay is a small cove close to Geoffrey's. It's beautiful, but can be crowded since there's a Surf Lifesaving Club situated there. Alma's also located in Arcadia, right across from where the weekly market is held.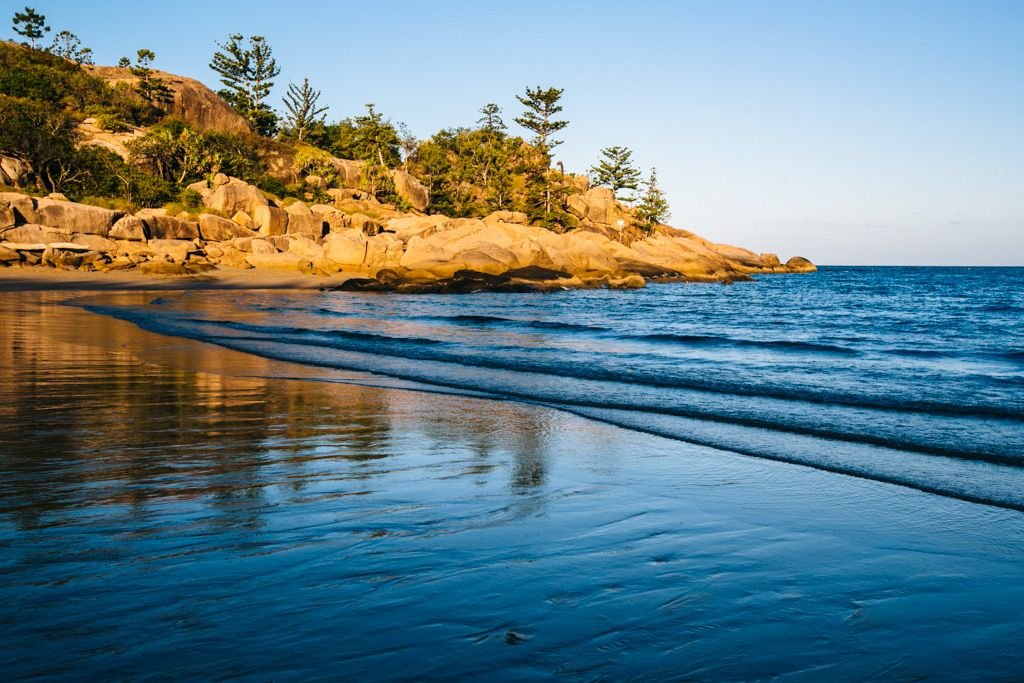 Arthur Bay
Arthur Bay is the first Magnetic Island beach you reach on the track from The Forts bus stop and entails a walk through swampy mangroves. You can either ford the creek or walk the long way around it. The latter option will take you to a bunch of boulders and a little pond you can wade through to get to the beach. I think this is the best part of Arthur Bay; the beach itself is not the best.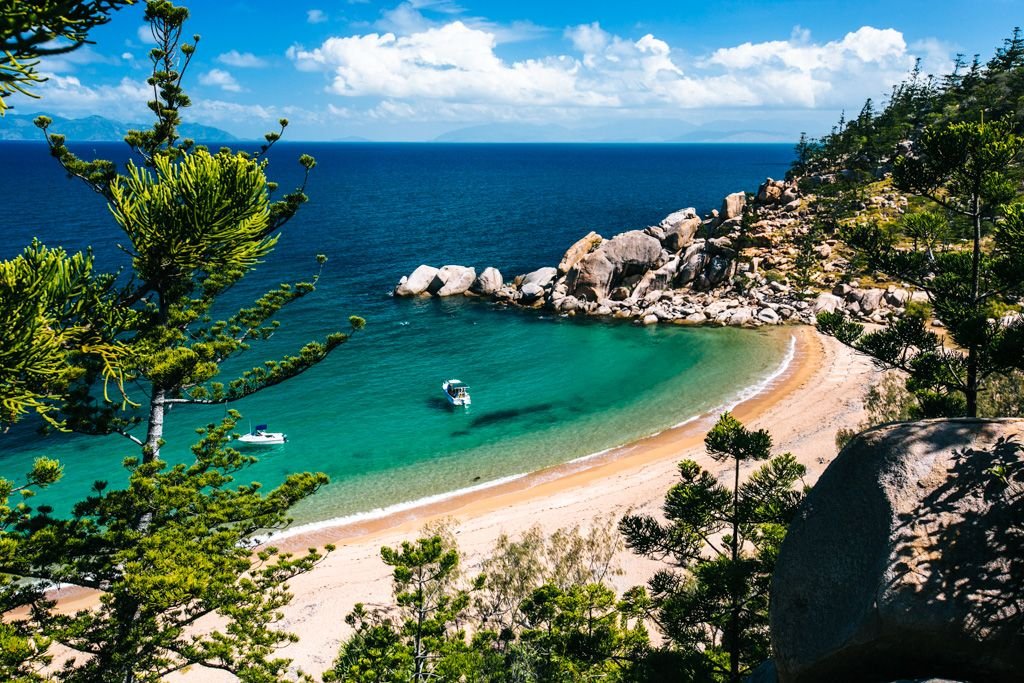 Florence Bay
Florence Bay is a local favorite, and it's easy to see why. A smooth sand beach backed with trees makes it one of the few beaches on Magnetic Island where you can escape the sun and lay in the shade.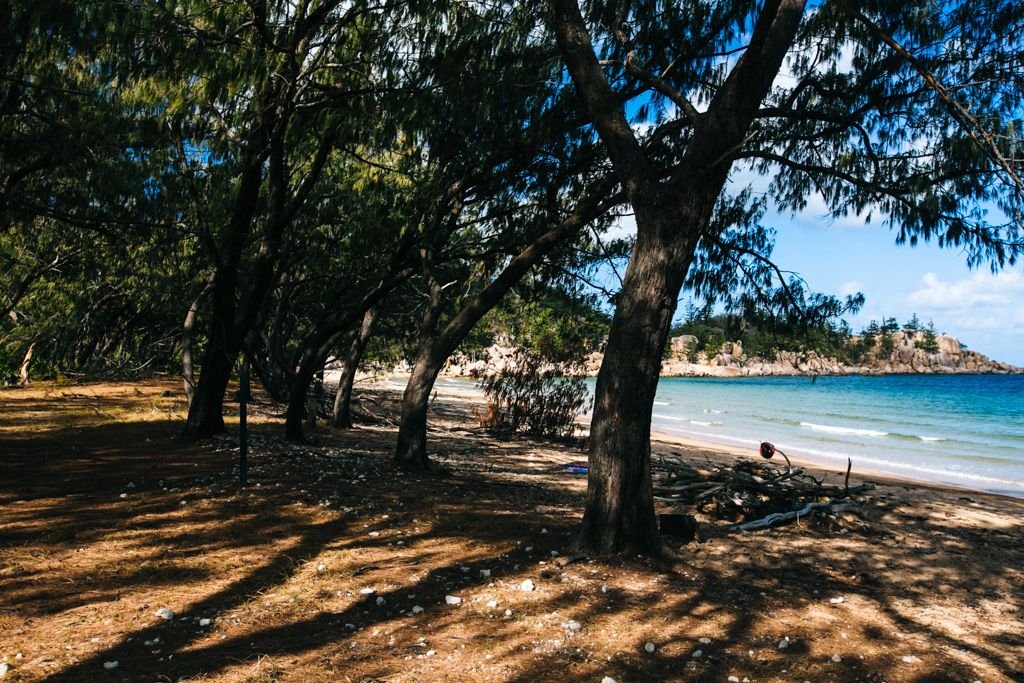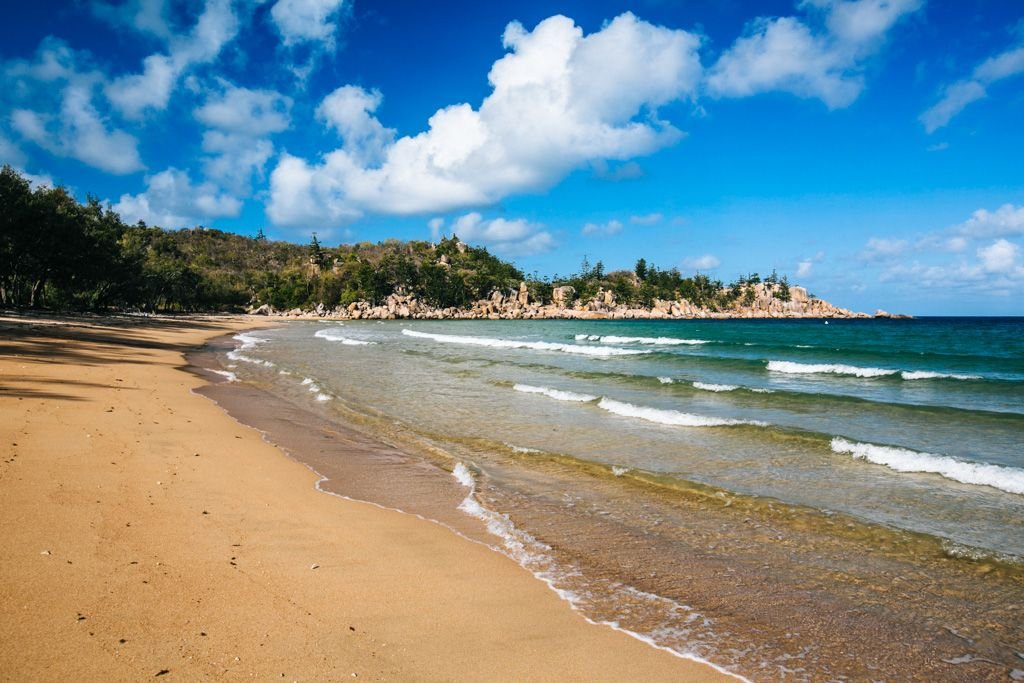 Radical Bay
Radical Bay is one of the best beaches on Magnetic Island. I got a very Robinson Crusoe feel when I wandered around here, thanks to the tropical flora and rocky cliffs surrounding it. It's very similar to Balding Bay, albeit slightly bigger. This is the one beach I really wish I'd had more time on.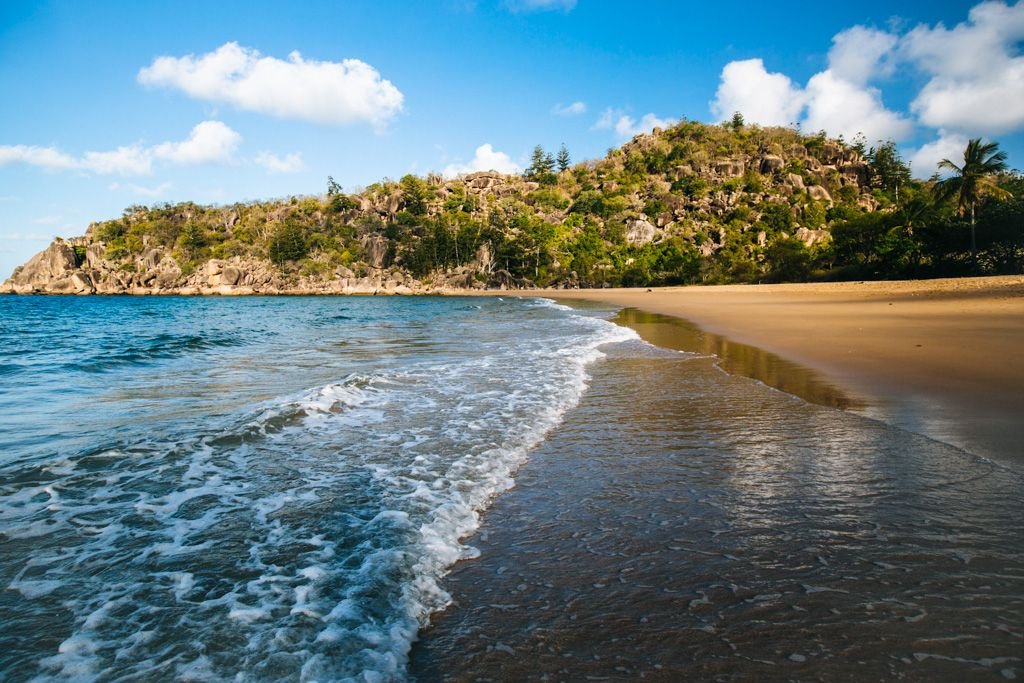 Balding Bay
Balding Bay is tied with Radical Bay for Best Beach on Magnetic Island. It's the only beach that's not accessible by vehicle, so you really have to earn its magic. Let me tell you: IT IS WORTH IT. It's a small beach, but loaded with boulders and nice smooth sand.
One thing it doesn't have? Many (if any) other people, because getting there entails a steep uphill climb from either Horseshoe Bay or Radical Bay. I spent Christmas afternoon here and it was fabulous and peaceful.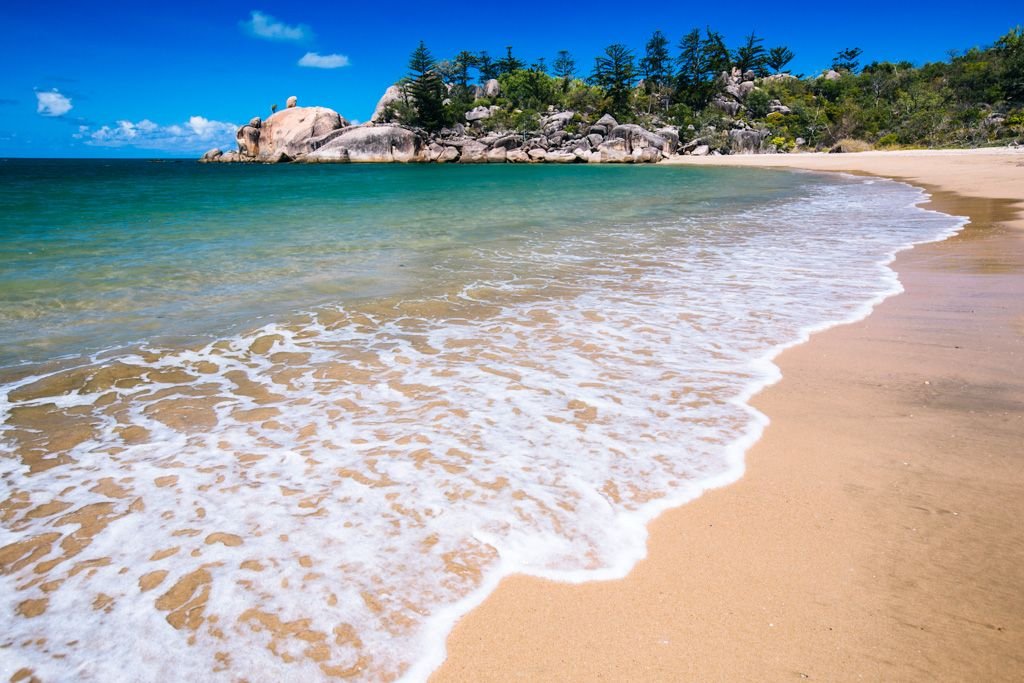 Horseshoe Bay
I stayed at Bungalow Bay YHA at Horseshoe Bay, which has a woodsy walking track leading to several beaches en route to The Forts. I think it's the best beach to base yourself at, simply because you'll be in close proximity to the two prettiest slash best beaches on Maggie: Balding Bay and Radical Bay (mentioned above).
CLICK TO BOOK ACCOMMODATION AT BUNGALOW BAY YHA
If you're into water sports, Horseshoe Bay is where it's at. You can hire boats, ride jetskis, and go on tube rides at this beach.
There's also a sheltered pool here, providing protection from stingers while you swim. Sure, you could take the risk and swim at any beach on Magnetic Island -. but as a solo traveler on a budget, about the last thing I wanted was to pass out from a sting without anyone to take care of me and have to be airlifted to the nearest ER on the mainland. Can you say life-ruiner?
Surprisingly, the most popular activity at Horseshoe Bay is horseback riding! Horseshoe Bay Ranch offers 2-hour-long Bush and Beach rides. I still have mild PTSD from the time I rode a horse in Italy and it wanted to drown me and my camera while fording a river, so I passed on it this time.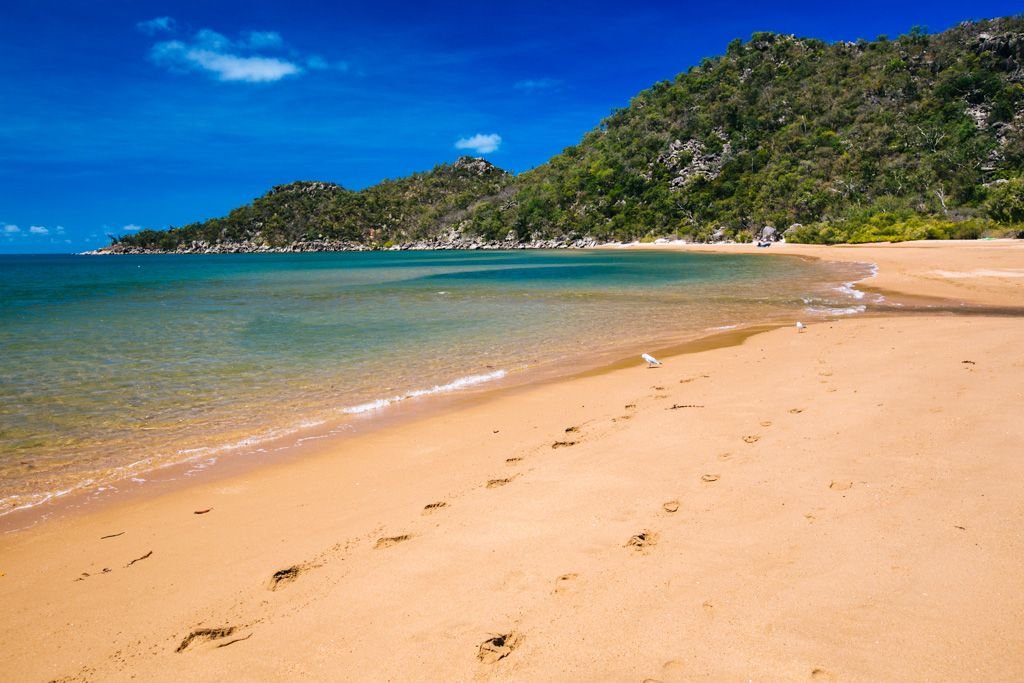 The Best Beach on Magnetic Island
My vote's for Balding Bay and Radical Bay as the most beautiful beaches on Magnetic Island. However, if you're looking to swim, only two beaches have a swimming area that's protected from stingers; the better of the two is Horseshoe Bay.
Therefore, I recommend basing yourself at Horseshoe Bay. If you want to swim, hang out at the beach there. When you want to explore or lay out on smooth golden sand, head up the walking path from the end of the beach and take the trail to either Balding Bay or Radical Bay – you'll reach either one in about a half hour.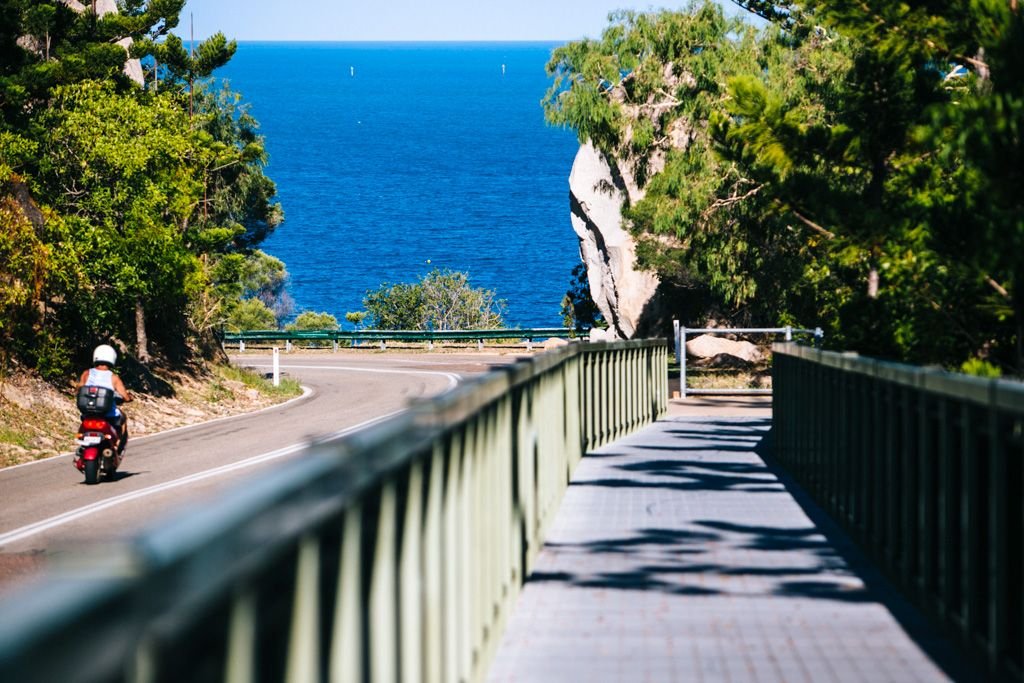 Magnetic Island Accommodation
Looking for Magnetic Island accommodation in Horseshoe Bay and beyond? Here are a few of my top picks:
Bungalow Bay Koala Village YHA – I stayed at this YHA on Magnetic Island, which is very well kept and offers both bungalows and campsites for more budget-minded travelers. It's also adjacent to the koala sanctuary: you can book the bush tucker breakfast with the koalas for $32, + $25 if you want to hold and snap a photo with a koala.
True North B&B – An affordable hotel option just a minute's walk from the beach at Horseshoe Bay.
Use the map widget below to search for additional Magnetic Island accommodation during your trip dates:
Magnetic Island Ferry
Magnetic Island is just a 20 minute ferry ride away from Townsville, making it a quick and easy trip on the Magnetic Island ferry.
Magnetic Island ferries are operated by Sealink and Fantasea. As of March 2020, a return ticket costs AU$30 when you purchase online in advance. With Fantasea, you can take cars and motorcycles on board the Magnetic Island ferry (for an extra fee).
Ferries to Magnetic Island run from 6:30am – 10:30pm daily (on some days, there might be a 5:30am or 11:30pm departure).
Pin it!