The Down Under Report is a monthly recap of my time and money spent in Australia on the Work & Holiday Visa in 2015. Be sure to check out the other monthly recaps as well!
Month 1 in Australia
Holy wowzers, I've already been in Australia for a month! When I look back on everything I've done, I guess that makes sense – 'cause boy did I hit the ground running here.
On that note, I thought I'd do a recap of each month I spend Down Under. The format may evolve over time, but I'm thinking I'll share highlights and expenditure per month of my year in Australia on the Work & Holiday Visa. This whole year is an experiment of sorts for me: I want to see just how much money I spend in a year as an aspiring digital nomad. Do I need the comforts of a steady corporate paycheck and a cushy apartment in order to live happily and make ends meet? My hypothesis says NO, but we'll see if I can prove it later this year.
If you guys have any requests for things you'd like to read about in future monthly recaps, let me know in a comment below!
Favorite Moments From Month 1
Waking up jetlagged at 5am on my first morning in Sydney and walking down to Sydney Harbour to catch the sunrise.
Turns out the sun rises crazy-early in Sydney during summer – and while I missed the sun coming up, I got to enjoy the delicious early morning light (and clouds!) that followed. It's so rare that I'm up and functioning that early in the morning – I can't help it, I'm a night person. But I loved the calm of this morning and having the Opera House all to myself!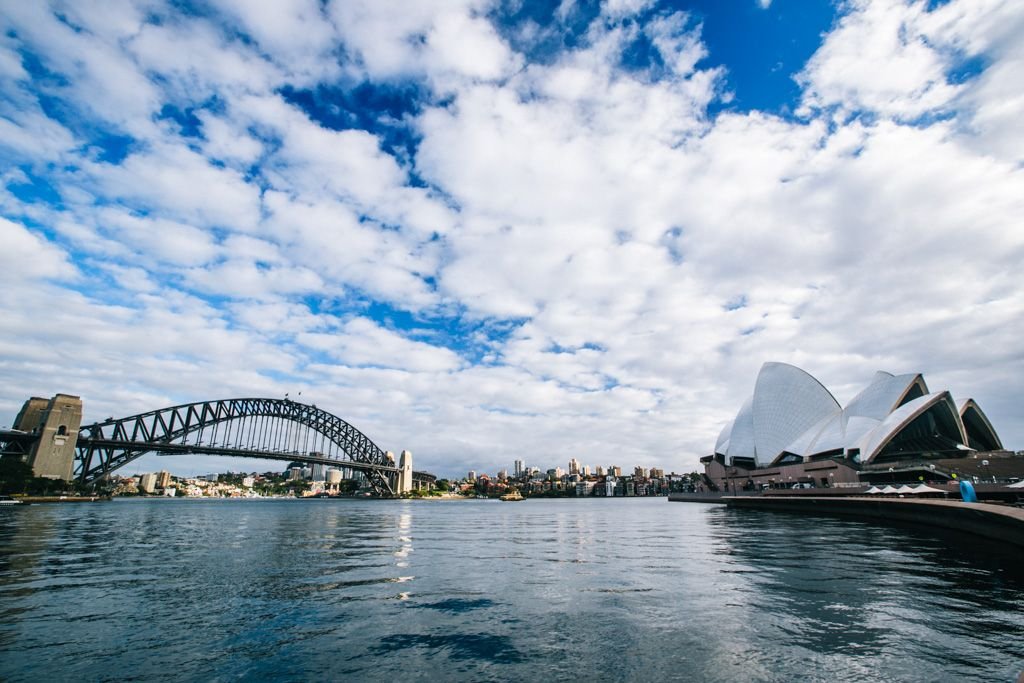 Revisiting my old stomping grounds from 2006.
I've ruminated on the comfort vs adventure debate on the blog before, and while I'm generally a fan of keeping a balance, I all but made a beeline to my familiar old neighborhoods, Newtown and Glebe. It was such a trip roaming around the Sydney Uni campus: walking through the Harry Potter-esque quad, peeking into Ralph's Cafe which evidently stays open all summer, sitting on the hill cluelessly watching a cricket match just as I did when I first arrived in Sydney 9 years ago. It's funny, I couldn't for the life of me remember where any of my classes were held. I walked past every building on campus and none sparked any recall – and yes, I regularly attended my classes! Except for one, held on Fridays at 8am, which I regularly did NOT attend – honest to god it was the only class in my 4 years of university that I ever cut!
Finding Sappho Books Cafe exactly how I'd left it 8 years ago.
I have vivid memories of this coffee shop, from its distinct tantalizing aroma of herbed bread, coffee, and books to the graffiti-adorned courtyard in which I used to do my studying. This cafe is where my coffee obsession began – it's where I'd hang out multiple afternoons each week in blissful solitude. I didn't know coffee could taste so good til I met Sappho, and I've been hooked ever since. I've since swapped out my old cappuccino for a flat white, but their coffee is just as delicious as I'd remembered it to be. This makes me immensely happy.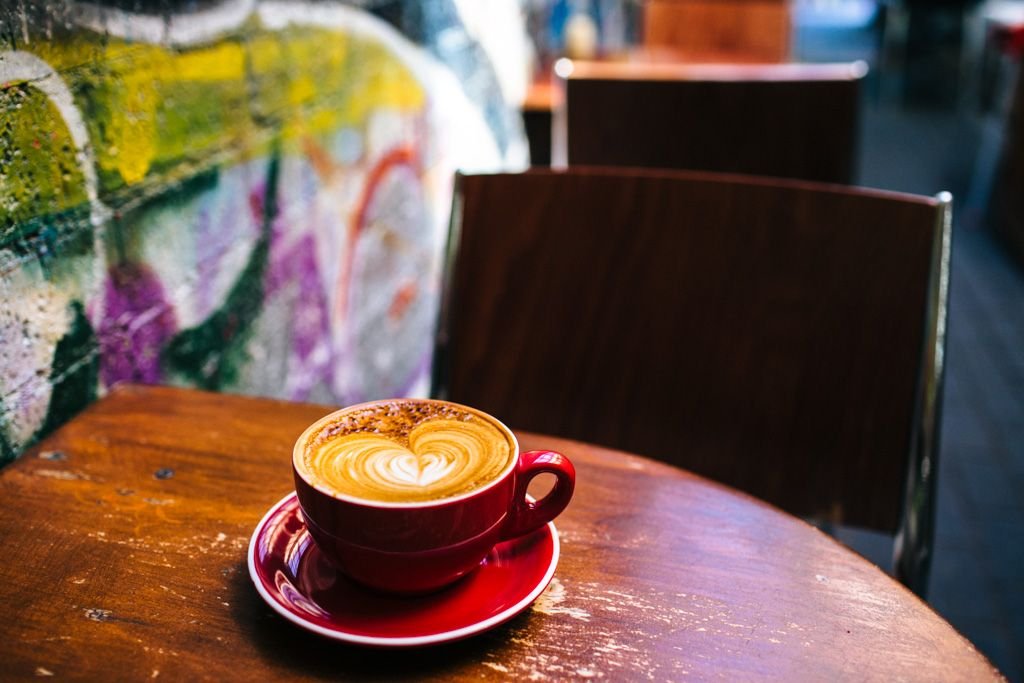 Walking from Watsons Bay to Rose Bay.
I had myself a perfect day when I completed one of Sydney's finest coastal walks. With the dramatic cliffs at Gap Bluff, little cove beaches around Watsons Bay, historic sites and lavish homes in Vaucluse, and the ever-changing view of the city skyline all along the way – this walk encompasses the best of Sydney. Totally worth the splotchy sunburn I earned for it!
Having South Molle Island all to myself.
As much as I like the project an image of myself as fearless, I leapt into my Whitsundays camping trip with slight trepidation. I'd never camped somewhere so remote on my own before, nor did I have a clue how to work a gas stove. But one thing I unquestionably am is confident, and so I knew that if I just threw myself into this slightly scary situation, I'd be ok. South Molle Island is only a 10 minute boat ride from shore, so close that I still had phone reception – that instantly put me at ease. I got my Robinson Crusoe on, figured out that damn stove (I may have googled 'how to use a bic lighter'), and took off all my clothes. T'was quite a satisfying 48 hours.
Sailing the Whitsundays.
This goes down as one of the best things I've EVER done on my travels. I embarked on a 3 day/3 night trip on Solway Lass, where we sailed around the Whitsundays and made several stops to snorkel and check out some island beaches. Laying my eyes on the world famous Whitehaven Beach and Hill Inlet for the first time was every bit as magical as I'd hoped. My favorite thing, though, was simply laying out on the deck in my bathing suit, wind in my hair, good book in my hands, watching the islands pass by as we sailed on. Can't recommend Whitsundays sailing on Solway Lass enough!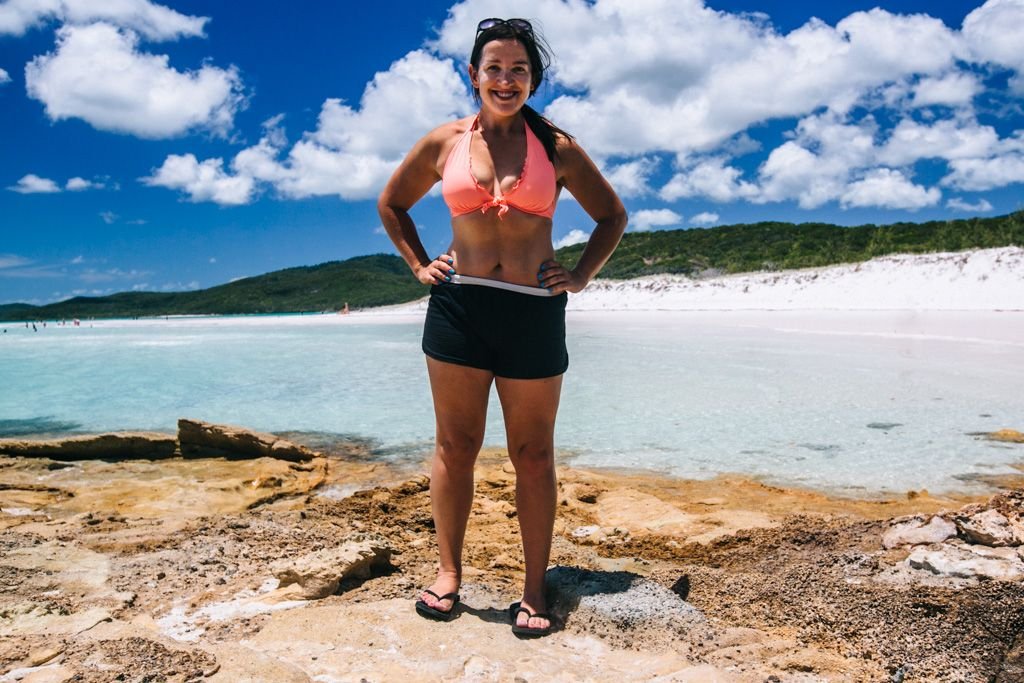 Finding the perfect beach on which to spend Christmas at Magnetic Island.
I was a little tripped out over this 93-degree solo Christmas thing. It just didn't feel like Christmas as I was dozing on the beach at Horseshoe Bay, with classic holiday tunes like "Let it Snow" belting out from a boat anchored just offshore. I was surrounded by Aussie families barbecuing, playing cricket, and swimming – they were celebrating Christmas while I had, in a way, run away from Christmas. It was weird. And the beach I was on wasn't even that pretty – I knew there were nicer beaches on Maggie, but I'd just arrived and wasn't sure where they were. I popped over to the next beach – and by that, I mean I endured a steep uphill climb in flip flops and blistering heat, before finally descending to Balding Bay a half hour later. There were only a couple of others there who had made the trek, and boy did it earn us an incredible beach. Smooth golden sand, big boulders lined along the edge of the bay and randomly strewn about on the beach, that gorgeous late afternoon light – yep, Balding Bay saved my Christmas in a major way.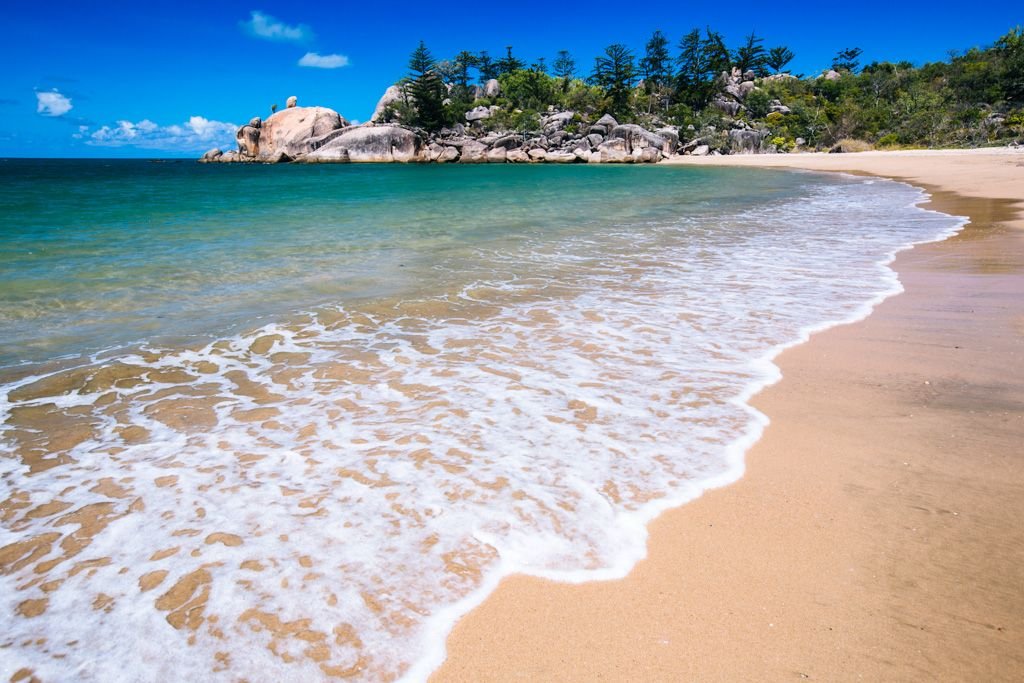 The Sydney New Years Eve Fireworks.
It wasn't so much the actual fireworks, or the fancy party I attended in order to get that million dollar view of the show. It was more the few seconds of bliss I experienced upon seeing the first burst of fireworks erupt over the Sydney Opera House and Harbour Bridge. I had a massive smile on my face, thinking: This is it! I'm in my beloved Sydney, witnessing the NYE fireworks I'd dreamed of seeing in person, big empty canvas in front of me for the new year. In that moment, I felt so alive and happy.
Scoring my first gig at Bondi Beach.
I was laying out on the beach here when I got an email response to the first HelpX gig I applied for. The host enthusiastically invited me to move into her beach house (which, unbeknownst to me, was a mere 2 blocks from where I was at the time) in exchange for a few hours a day of helping her with her website, content, and business development. Naturally I said hell yes, then celebrated with a little jaunt along the coast from Bondi to Coogee Beach, an exceptionally gorgeous trail. I felt so relieved knowing that soon I'd be able to stop hemorrhaging money in Australia!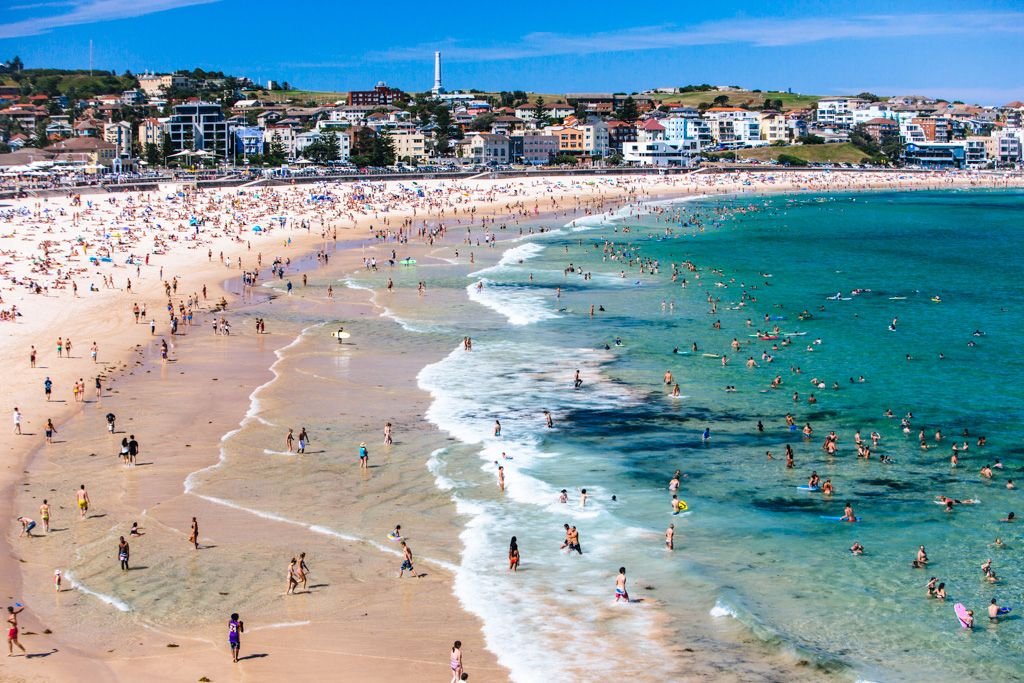 A Kick Ass Tinder Date.
I've had to adjust my Tinder strategy now that I'm out of New York and in the land of hot accents and beach bums. One key difference I've found between New Yorkers and Australians? New Yorkers are always tight on time and overloaded with options: it breeds flakiness and too-short hangouts, both with dates and with friends. In my limited data here, I've found Aussies to be very generous and laidback with their time. Hangouts have ranged from 4-8 hours; on the latter end of that scale was a particularly excellent date I had that started off with a bit of frolicking around my neighborhood, followed by a late afternoon swim at one of Sydney's northern beaches, then a really great Thai dinner, capped off with a photo excursion on the north side of the Sydney Harbour Bridge where we broke out our tripods and shot the Sydney skyline at night in the rain. It was one of the best dates I've ever had!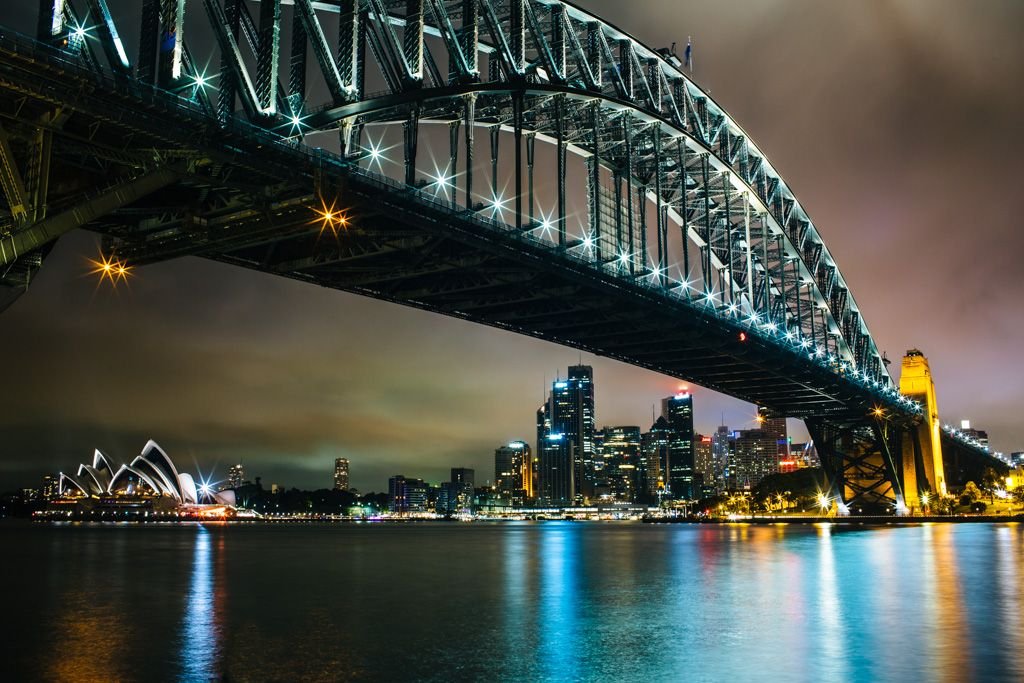 Month 1 Numbers:
I expect Month 1 to be an anomaly – I'm calling it 5 weeks long rather than 4, and it included a few big splurges that I don't expect to repeat for the remaining 11 months. If you exclude those, I've spent just under $50/day so far in Australia. Not too shabby!
Sydney
Dates: 12-14, 29-31 December 2014 – 1-14 January 2015
# of Days: 20
Total $ Spent: $1288.08 US
Top Expenses: Tickets to see the Sydney NYE Fireworks – $318.62 US
Average $ Spent: $64.40 US/day
Average $ Spent without splurge: $48.47 US/day
Queensland: Airlie Beach, Whitsundays, Townsville, Magnetic Island
Dates: 15-29 December 2014
# of Days: 15
# of Nights Spent in a Tent: 10
# of Nights Spent on a Boat: 3
Total $ Spent: $1376.51 US
Top Expenses: Whitsundays sailing trip – $308.74 US, Flights to/from Sydney – $329.40 US
Average $ Spent: $92 US/day
Average $ Spent without splurges: $49.22 US/day
TOTAL
Dates: December 12, 2014 – January 15, 2015
# of Days: 35
Average Miles Walked: 6 miles/day
Total $ Spent: $2664.59 US
Average $ Spent: $76.13 US/day
What's Next:
Month #2 in Australia will see me roadtripping and trekking in Tasmania for two weeks, then kicking off February living on Bondi Beach in Sydney with my first HelpX gig. My expenses should drop significantly with fewer splurges and only a few nights of paid accommodation needed (the rest will be spent either in a tent or living with my HelpX host).
Month #3 looks to be my first 'settled down' month, where I hope to take on more work: ideally some freelance projects, but I'm also open to finding casual employment at a hostel or cafe.