I spent much of my three days in Hobart recovering from either the roadtrip or the Overland Track. Between my intense need for chillaxation and the crummy weather at the tail end of my Tassie trip, I wasn't quite in sightseeing mode in Hobart. I didn't wander aimlessly on foot for hours at a time like I normally do when I find myself in a new city.
But you know, I feel pretty ok about that because I somehow managed to maximize what little time I did spend out and about. Here are the best things I did in Hobart that I would enthusiastically recommend to all Hobart-goers:
1. Go up, up, up Mt. Wellington
You really need a car to reach the summit of this 1271m gem; otherwise a bus can get you part of the way up, and then you're left to walk the rest of it. And just to warn you: it is steep and windy as hell up there. Wearing shorts was a blatant mistake on my part. Thankfully there's a little observatory at the top to retreat to when you can't take the cold anymore.
Is it worth it? Definitely! The view of Hobart and the surrounding land is magnificent. If you're feeling adventurous, you can spend the day hiking one of the mountain trails or even mountain biking downhill. We witnessed cyclists speeding past cars on the way down, that's how fast they were going – yikes!
Related: Check out these Hobart hotels with picturesque views.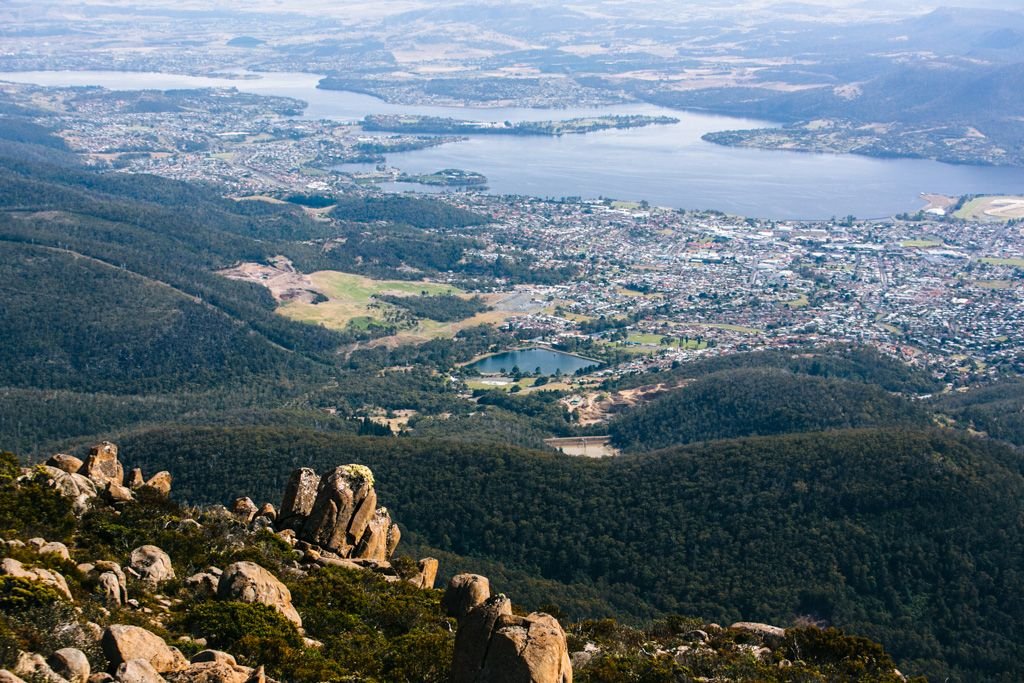 2. Go seafood crazy at Blue Eye
Holy geez, I had one of the best value meals of my LIFE at this waterfront seafood restaurant in Hobart. I'm no foodie, and my Aussie friend Teresa isn't one to get excited about things, but at the end of our fish feast we were both THE. HAPPIEST. She ordered the classic blue eye, while I enjoyed two appetizer-sized dishes: one was a special chorizo and scallop bowl, the other was BBQ octopus. We split a totally frivolous chocolate and churros dessert as well. My total bill? $38 AU. That's just under $30 US. Unreal. I have nothing else to say other than EAT AT BLUE EYE. It is seriously fantastic.

Photo credit: Blue Eye
3. See some unique "art" at MONA
Admittedly, we really only visited this museum because we didn't want to pay for street parking on a weekday morning in the city. But what little we were able to glean about this institution from various internet sources had us intrigued enough to drop the $25 AU on admission. A so-called "subversive adult Disneyland"? Uh yeah, that sounds like something worth checking out.
The Museum of Old and New Art is… unique, let's say. There's some really evocative stuff on display (I won't even call it art), some of which I thought was terrible. And then there's the line of 79 vagina sculptures hanging on the wall as you pass through one floor of the museum. That's an awful lot of ladybits on display – but like a trainwreck, it's so bad you can't help but look. Yowza. I had to stare at the far more aesthetically pleasing rainbow snake to get those images out of my head: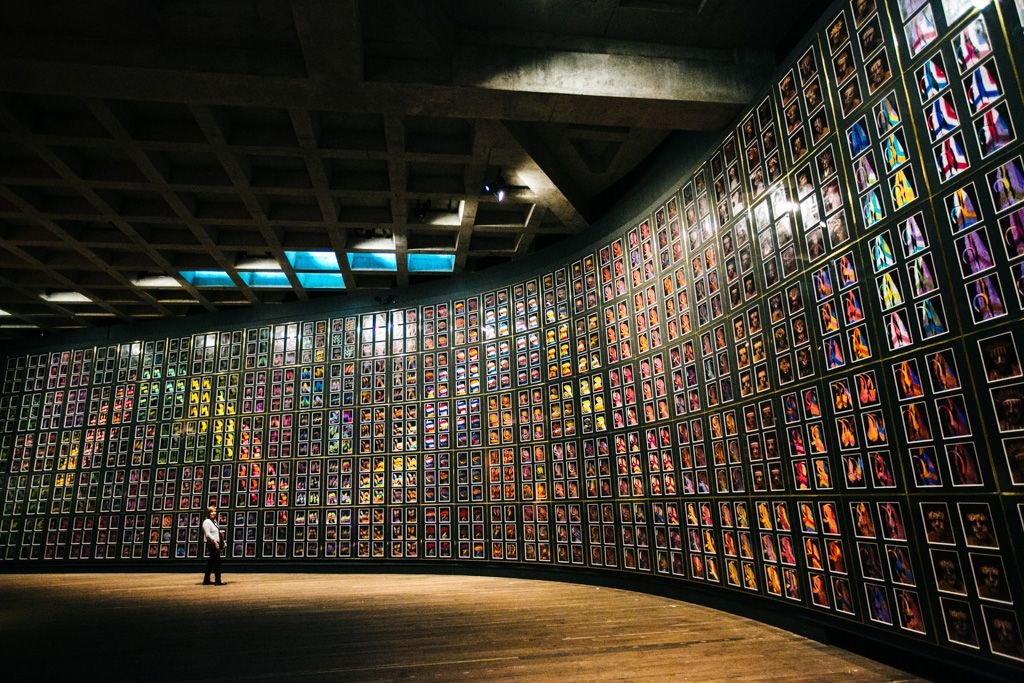 Yet somehow, I found myself happy to have made the trek out to MONA. It's very well put together, engaging, and unlike any other museum I've visited. I especially loved the way you can interact with the art. Using the iPod you're given as you enter, you can pull up nearby exhibits on the screen and learn more about them, vote yes or no on whether you liked each one, and see what others are saying about the art. Then at the end of your visit, you can email a copy of your museum tour to yourself so that you can perpetually be haunted by those vagina sculptures… *shudder*.
4. Grab a cuppa at Pilgrim Coffee
As per usual, I googled "best coffee in Hobart" and the Google Gods answered with Pilgrim Coffee, which couldn't have been more convenient to where we were staying as it was literally just across the street. It fast became my go-to coffee joint. I found their takeaway flat white to be delicious but a little weak; ordering it "strong" for an extra 50 cents brought it up to the right level of jolt. Their dine-in flat white is served in a smaller cup and has just the right espresso-to-milk ratio as is. I loved hanging out in this exposed brick space with my laptop (which coincidentally is where I'm writing this post!).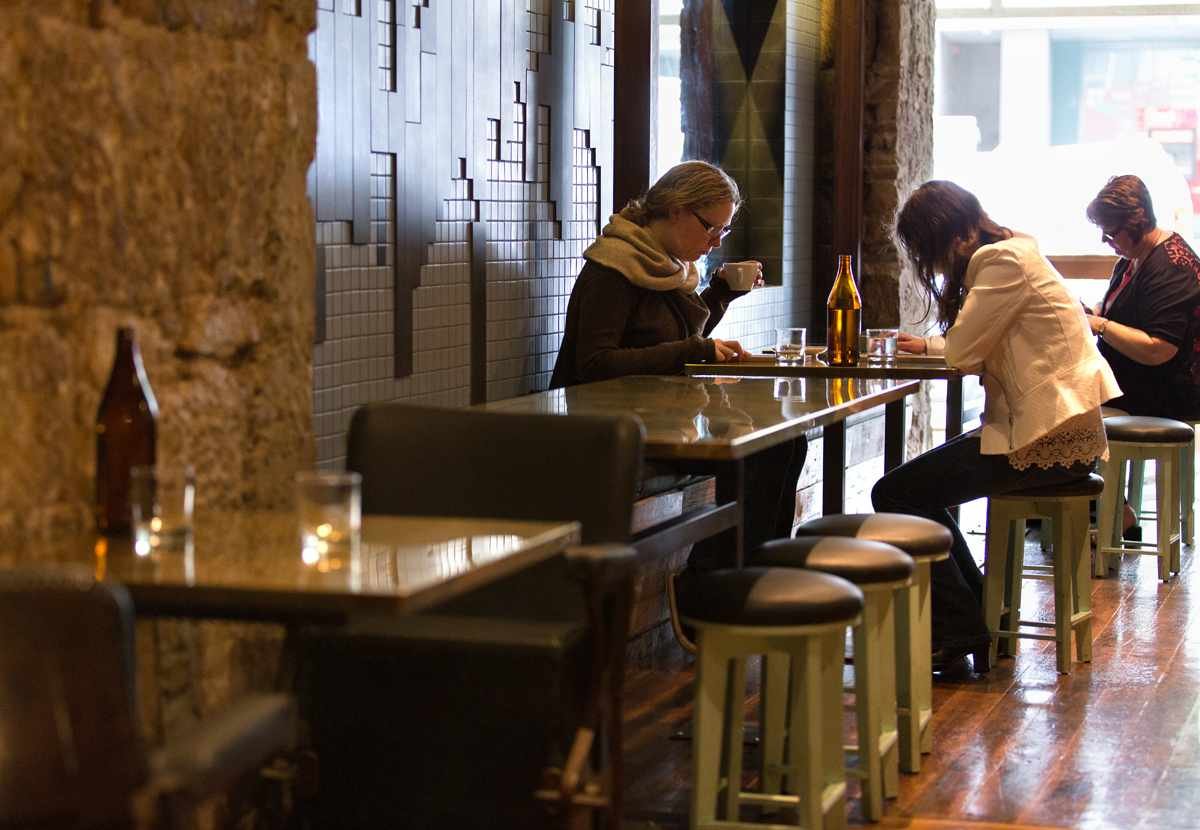 Photo credit: Dock4 Architects
5. Wander Salamanca Market
Every Saturday morning the people of Hobart converge on Salamanca Place to peruse stall after stall of goodies and crafts. I didn't love the Salamanca Market as I'd hoped to, but I'm not usually big on markets anyway so no big surprise here. PLUS, wandering in the rain and ogling items you've vowed not to spend any money on because you're currently unemployed is kind of depressing.
But I think most other people would enjoy Salamanca Market for its sheer variety of goods. It's one of the better balanced markets I've perused in my travels, not too heavy on jewelry or food trucks or any one type of item. So if you're in Hobart on a Saturday and have money to spend, go! Wander. Shop. Nibble. The Salamanca Market in Hobart is not to be missed!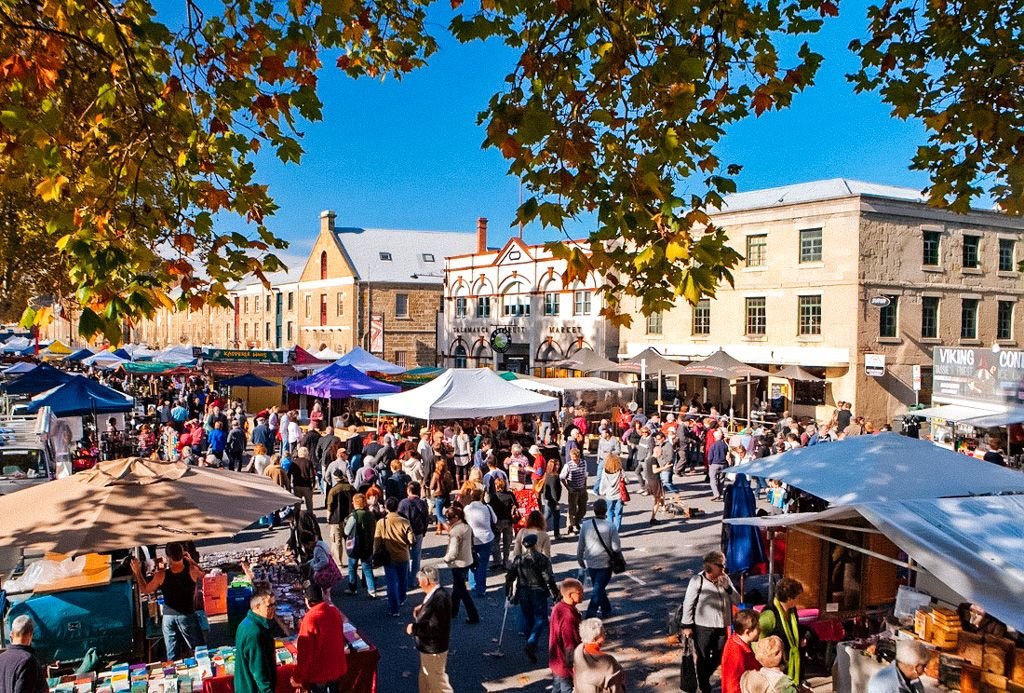 Photo credit: Tailored Tasmania (edited by me)
Note: This post contains sponsored content.
Pin it!