Sometimes you build a place up in your mind and then it doesn't quite measure up when you finally travel there.
Other times, it is exactly as amazing as you dreamed it would be.
For me, thankfully, Milos fell into the latter bucket. I had especially high hopes for this Greek island because of how renowned it is for its epic beaches, but it also ended up ticking off other boxes I didn't even know I had.
A destination that meets your expectations AND manages to surprise you? Now that's worth writing home about (or in my case blogging about!).
Milos ("mee-lohs") is part of the Cyclades islands, which is the most touristed island group in Greece and known for its whitewashed buildings with blue accents (it also includes a few islands you may have heard of, like Santorini and Mykonos).
Spanning about 58 square miles, the island is small and horseshoe-shaped, and only the eastern half of it is accessible by car. It's quick and easy to get around, with all points of interest being within a 20 minute drive no matter where you are.
There is a public bus on Milos, but it's quite infrequent and will severely limit the amount of places you can cover in a day (and on a trip). In fact, I'd go so far as to say that you MUST rent a vehicle on Milos – trust me on this. There is way too much to see on this little island, and you'd really be doing yourself an injustice by relying on the bus. Note that Americans (and others) are required to have an international drivers license in order to rent vehicles in Greece, so make sure you apply for one before your trip!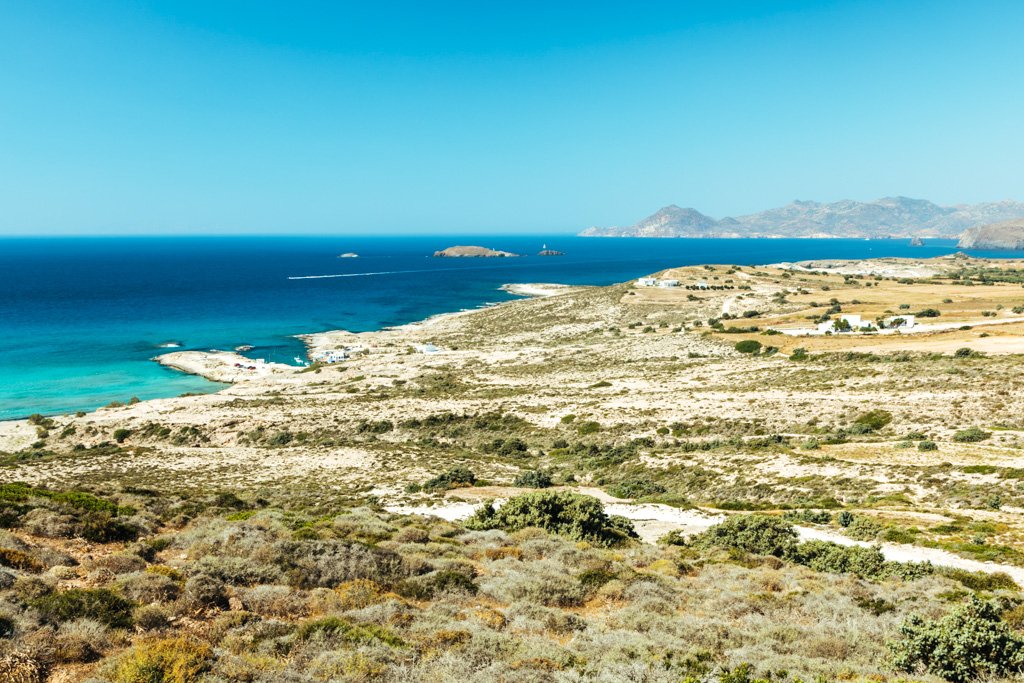 Milos is a volcanic island, formed over 2 million years ago by volcanic eruptions. As a result, its coastline is dotted with caves and interesting rock formations, and some of the beaches in Milos are colored by various mineral deposits.
Translation: Milos was made for adventures!
With over 70 beaches and lord knows how many caves, Milos is the kind of island where there's always something new to see and explore.
Due to a scheduling snafu, my 7 allotted days got cut to 4 and I was devastated to have to leave Milos so soon. Plus, I spent the entire 4 days battling bronchitis and commuting to the island clinic in-between beach hangs. But in a way, I think it worked out well because of all 4 Greek islands I visited, Milos is the one that really made my heart sing and the one that I know I'll return to someday. So it's probably better that the other islands got more of my time, since I likely won't go back to them.
I've compiled a list below of what I consider to be all the best things to do in Milos – the must-dos, if you will. You'll need a minimum of 4 full days to cover them all, but if beach bumming and sailing are your adventures of choice then believe me when I say you'll want more time on this island.
Rock Beaches in Milos
I'm not sure what else to call them, but I'm referring to the beaches in Milos that aren't long stretches of sand. The ones that are more like channels of water that you might jump into off, or climb down to access. The beaches where you're more likely to be exploring the nearby caves and inlets or sprawling on the surrounding rock than on the actual (teeny tiny) beach itself.
These "rock" beaches in Milos are a large part of what makes it such a unique Greek island and an incredible summer destination. These are the ones you'll definitely want to hit up: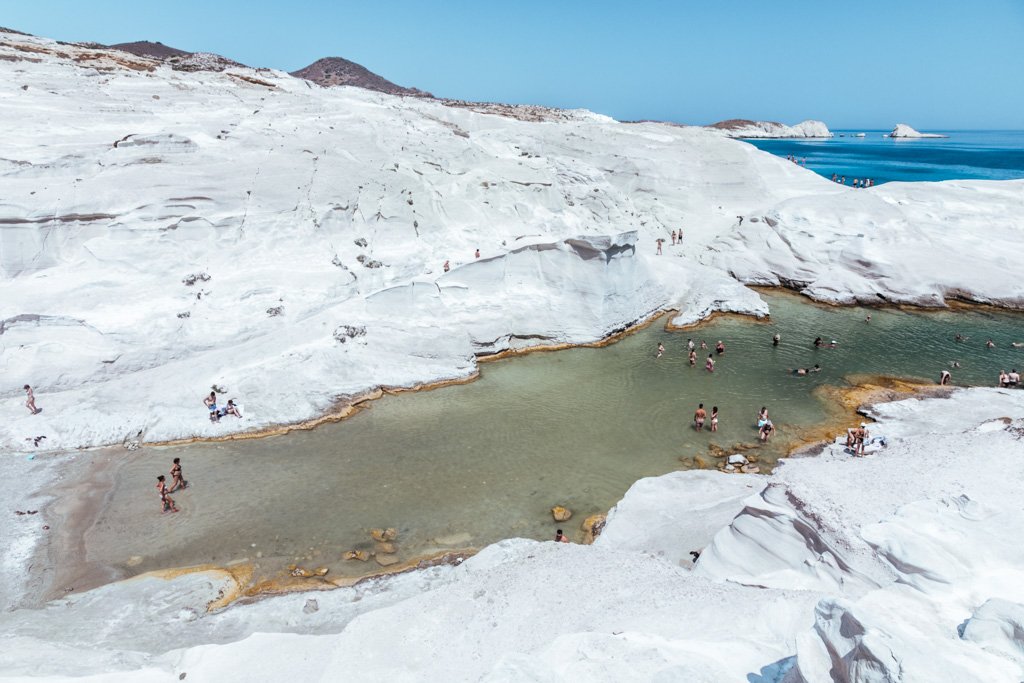 Sarakiniko Beach
Sarakiniko is an absolute must-do in Milos because it's so unlike any other beach. Picture textured white rock with pockets of deep blue water swirled in.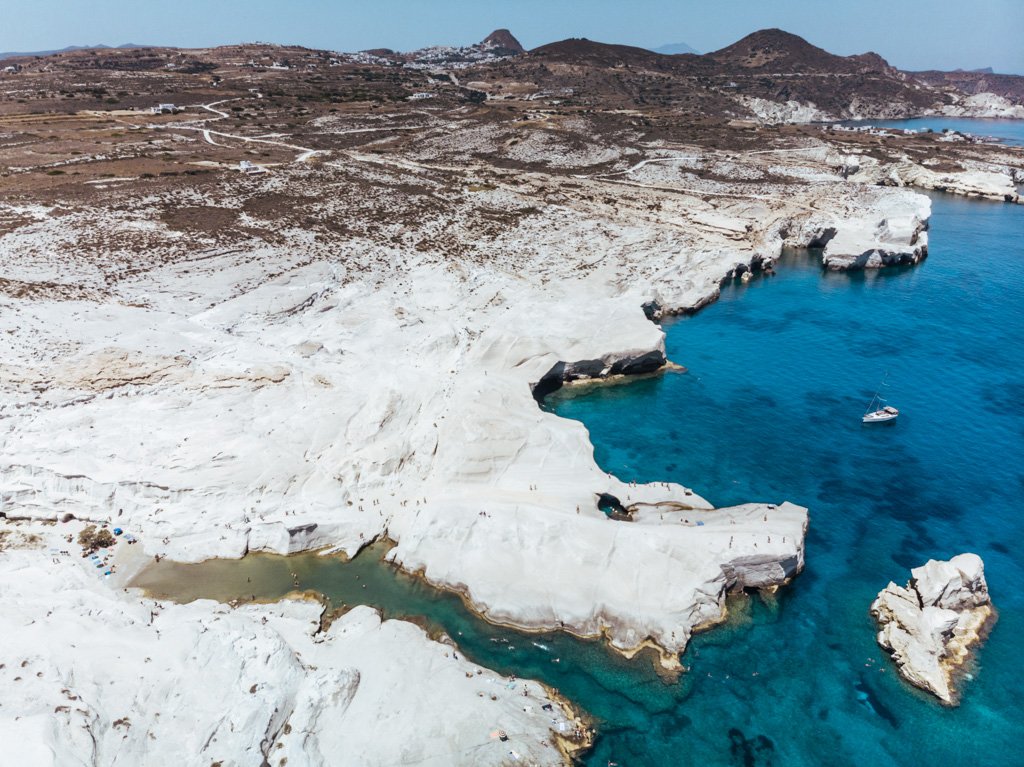 Whether you sunbathe on the rock or jump off of it into the sea, Sarakiniko is like a natural playground. There's plenty of rock space to spread out on even if it's crowded, and plenty of caves and nooks to explore from the water.
As for when to visit? Go early in the morning to see the rock looking all glow-y and golden, or midday to see the water at its bluest.
Papafragas Beach
There are two "beaches" at Papafragas: the one right next to the little parking lot, and another one just west of it (you'll likely see cars parked on the side of the road here). Both of them have two narrow channels of water that feed into the sea.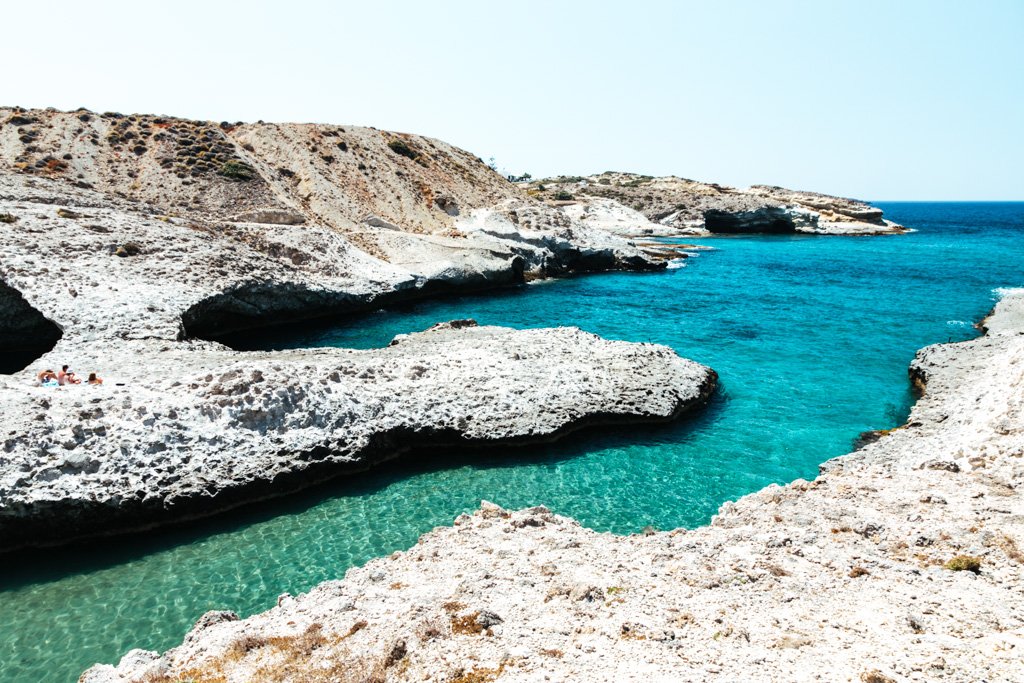 The beach by the parking lot requires you to walk past the danger sign and embark on a dodgy hike down to the water. Once you're down there, you can hang on the tiny beach, seek shade in the cave, or swim through and even out of the channel to the sea.
The other beach nextdoor is much easier to access and can accommodate many more people than the other one. Despite the slight crowd, I enjoyed this one more because of the cool rock around it and the little rock archway you could swim under.
Tsigrado Beach
Tsigrado is super close to Firoplaka Beach, so it makes sense to stop at both while you're out this way.
Tsigrado is known as the ladder-access beach on Milos. That automatically limits the number of people that make it there, as the climb down is a little tricky. But once you're down there, you have a small strip of beach and a handful of caves to explore.
I arrived late-morning and the beach was quite crowded, so I soaked up the view from above and moved on. I'd recommend doing Tsigrado earlier in the morning if possible!
Sand Beaches in Milos
Of all the beaches in Milos, I chose to visit two sandy beaches on the south coast. Both of them are lined by rainbow-colored cliffs and dotted with small rock formations just offshore.
In a word, they are STUNNING. If you only have time for a couple of beaches in Milos, the are the two you should hit: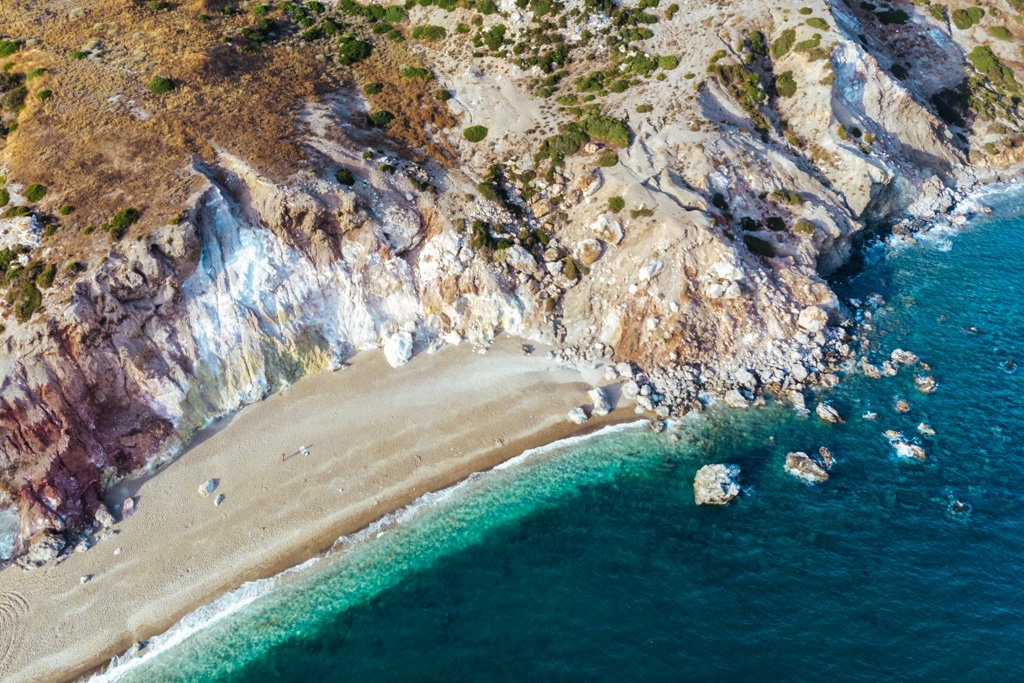 Paliochori Beach
Here's how you do Paliochori: take a left when you hit the sand and walk all the way to the end, past all of the lounge chairs. You won't have to share this stretch of beach with many others (if any!), and it's SO DARN GORGEOUS down this end with colorful cliffs on two sides. I recommend going in late afternoon, a couple hours before sunset when the rock is aglow and the sun is warm but not so strong.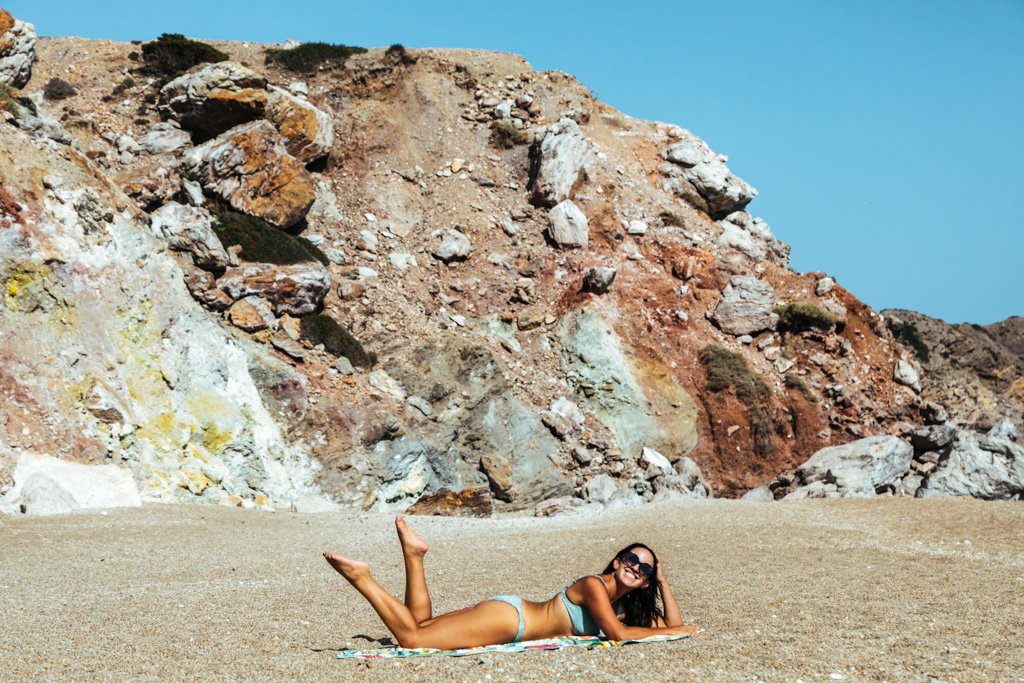 Firoplaka Beach
Oh lordy, this beach knocked my socks off before I even stepped foot on it. The view from the bus stop (top of the hill, before you drive down to park – right by the turnoff to Tsigrado) and the view from the little parking lot just above the path down to the beach are some of the best you'll have on the whole island.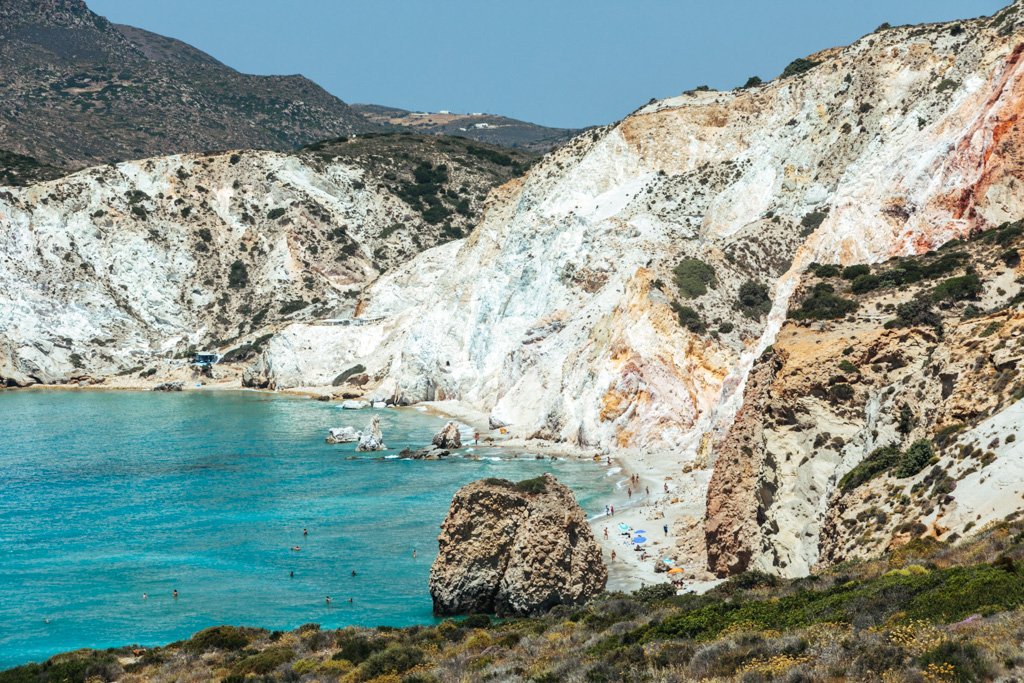 When you first walk down the path to the beach, you'll pass by some pretty rock pools that might tempt you to stop for a dip. The beach itself is long enough that you can easily have a patch of sand to yourself if you walk down a ways. The water here is calm and shallow and just so beautiful.
I loved the hell out of Firoplaka, but I visited around midday aka peak sun which meant my time there was limited unless I was cool with melting into my beach towel (NO THANKS). I also had a terrible coughing fit where I nearly choked, so I had to cut my time a little short and head to the clinic which was a bummer.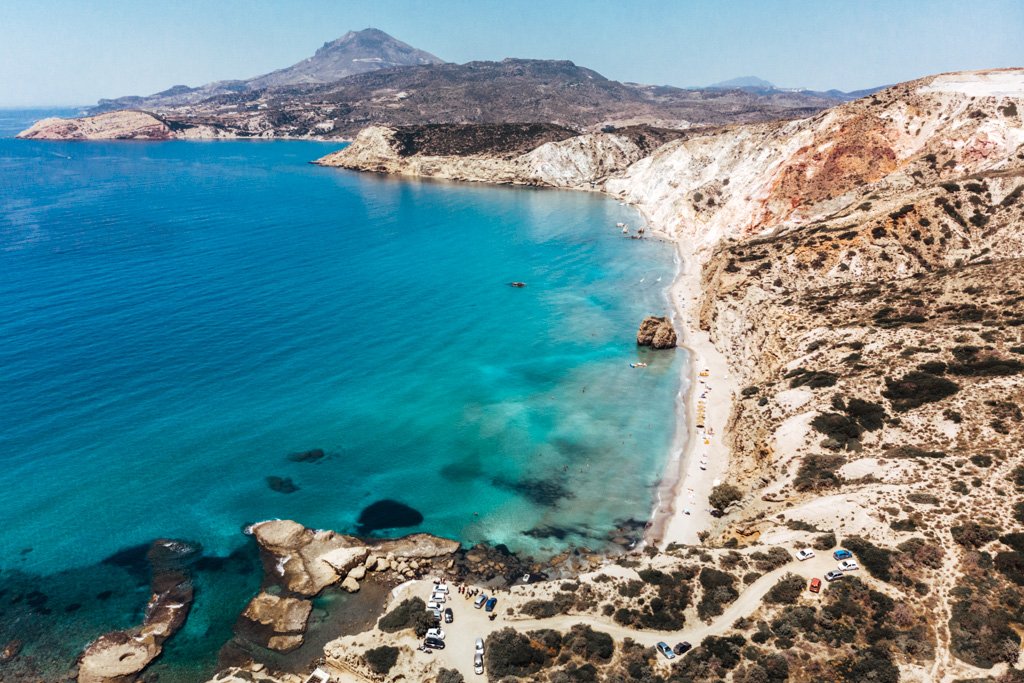 Towns in Milos
Adamas
Adamas (or Adamantas) is your first port of call if you arrive in Milos by ferry, which most people do (although there's also an airport 5km away). It's also probably where you'll pick up your rental car.
Because Adamas is a transit hub it's perpetually swarming with tourists going to and from boats, and because I don't enjoy crowds I avoided spending any extra time around the port. But if you do find yourself lingering in Adamas, here are a few things you can do there:
Things to do in Adamas:
Book and catch your ferry or boat trip around the island
Eat at O! Hamos!, arguably the best restaurant in Milos
Sunbathe on the waterfront and take a dip in the calm waters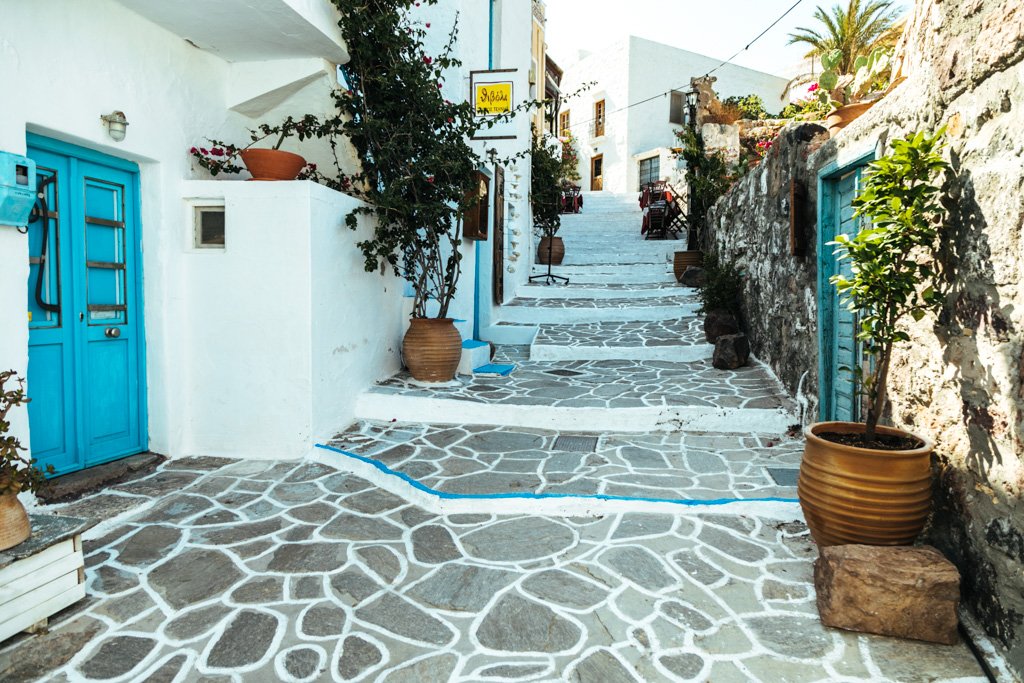 Plaka
Plaka is the capital of Milos and definitely the town with the most to see and do. If you're keen to stroll cobblestone laneways lined with whitewashed buildings and bougainvillea, this is the place for it.
Things to do in Plaka:
Catch sunset from Utopia Caffe (a chic bar); alternatively, watch from outside the Panagia Korfiatissa church with practically the same view for free
Eat breakfast at Kokkino (açaí bowls!) and dinner at Avli-Milos (the vegetarian lasagna was incredible and provided me with 2 days of leftovers)
Climb Kastro hill to tour the Venetian castle and take in the views from the island's highest point
Walk down to the nearby village of Trypiti and tour the catacombs and the amphitheatre
In general: wander the laneways, shop, eat, and drink!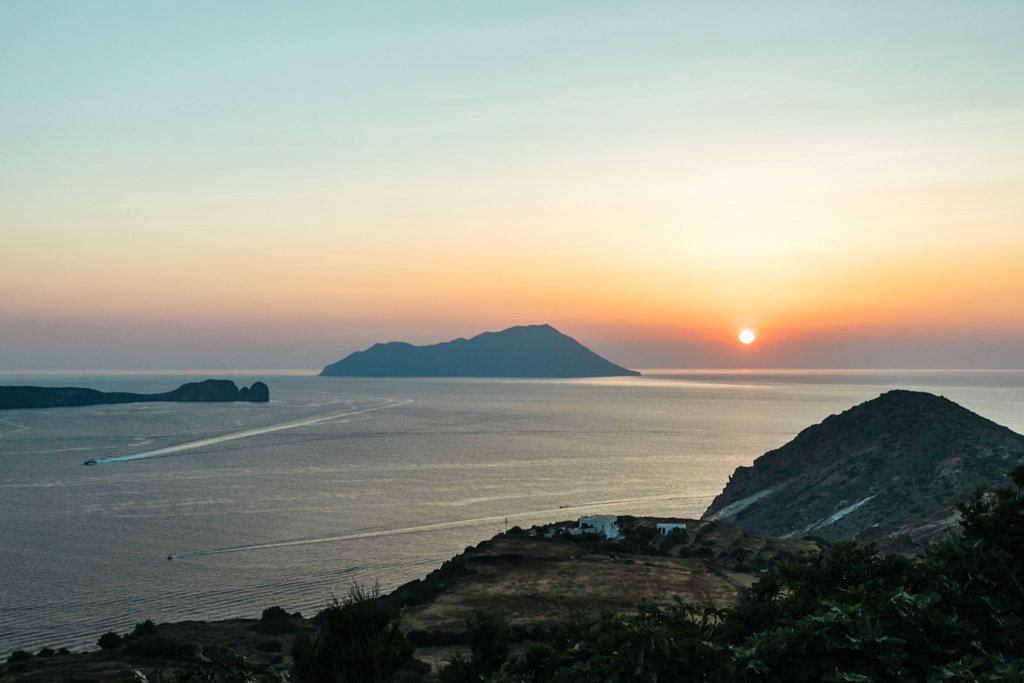 Sunset from Utopia Caffe in Plaka.
Pollonia
Pollonia is a resort village-meets-fishing town, which naturally means it's full of tourists and fishing boats. There's a beach you can easily walk to from the center of town, but Pollonia is better visited for the purpose of strolling, eating, and drinking.
Things to do in Pollonia:
Order seafood at one of the excellent restaurants in town
Eat some sweet treats at Kivotos ton Gefseon (I was told to try the chocolate cake – it did not disappoint!)
Visit Kostantakis Winery, the only official winery on Milos
Fishing Villages in Milos
Milos is also known for its picturesque fishing villages, distinguished by their colorful waterfront buildings: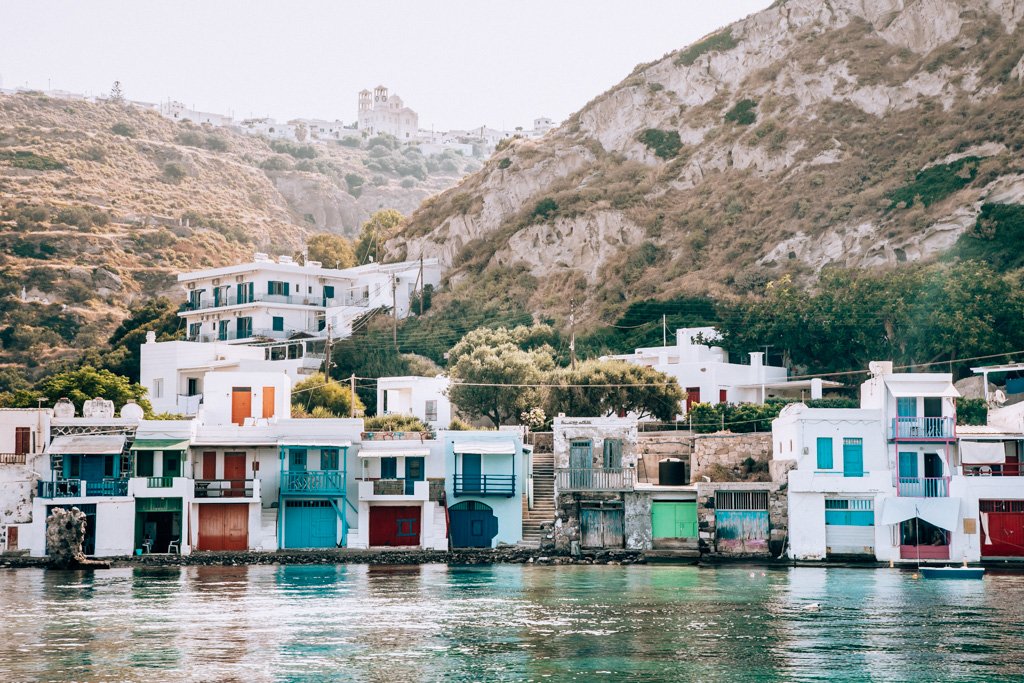 Klima
Klima is the most renowned fishing village in Milos and a popular sunset spot. You can either walk down from Plaka (takes about 30 minutes) or drive down the narrow streets to reach it.
You might be tempted to linger for dinner at Astakas, Klima's seaside restaurant, so you can continue enjoying the view. However, I can't recommend it due to the poor service and mediocre food I had there. The best thing about it was all the cats wandering around!
A better option is to rent out one of the fisherman houses. Many people don't know that a few are actually available to book on Airbnb. They do book out fast though, so if this is something you want to do then you need to reserve several months in advance.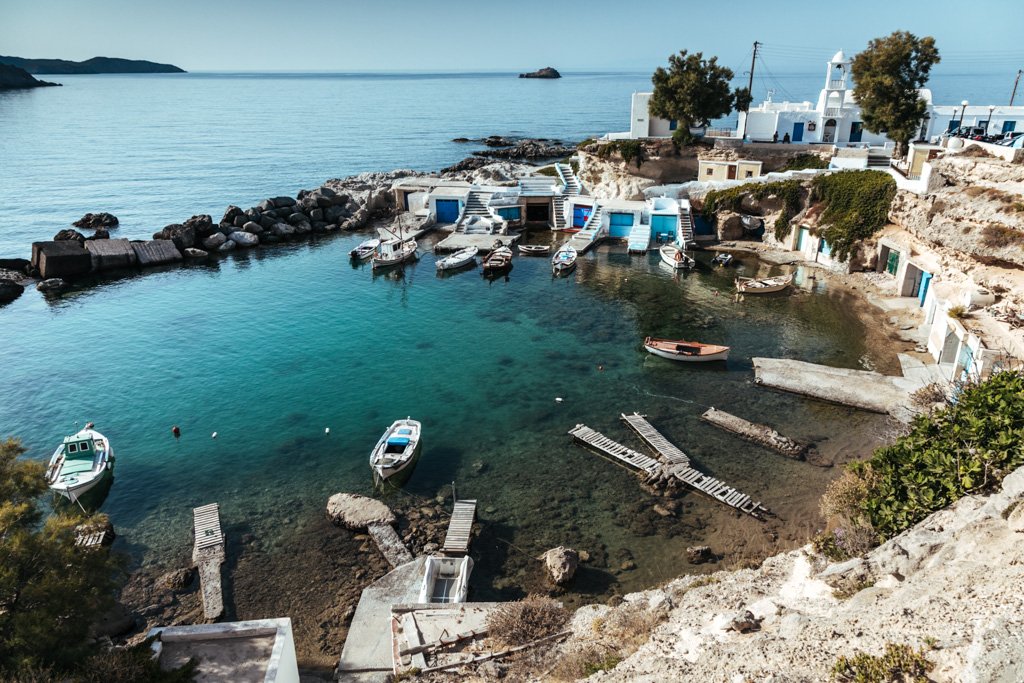 Mandrakia
I LOVED my pre-sunset hang in Mandrakia, which is just a few minutes' drive from Plaka. There's a little lagoon lined with fishermen houses, but then if you walk around to the other side of the waterfront restaurant you'll see a sizable inlet where people will likely be swimming.
I did some exploring and carried on further, walking around the inlet and up some rock to see what was on the other side. I wasn't expecting to find a gorgeous lunar landscape dotted with narrow channels, but wow did it make for a blissful golden hour! And I had it all to myself, save for a small yoga class practicing out on the flat rock. What a spot for it!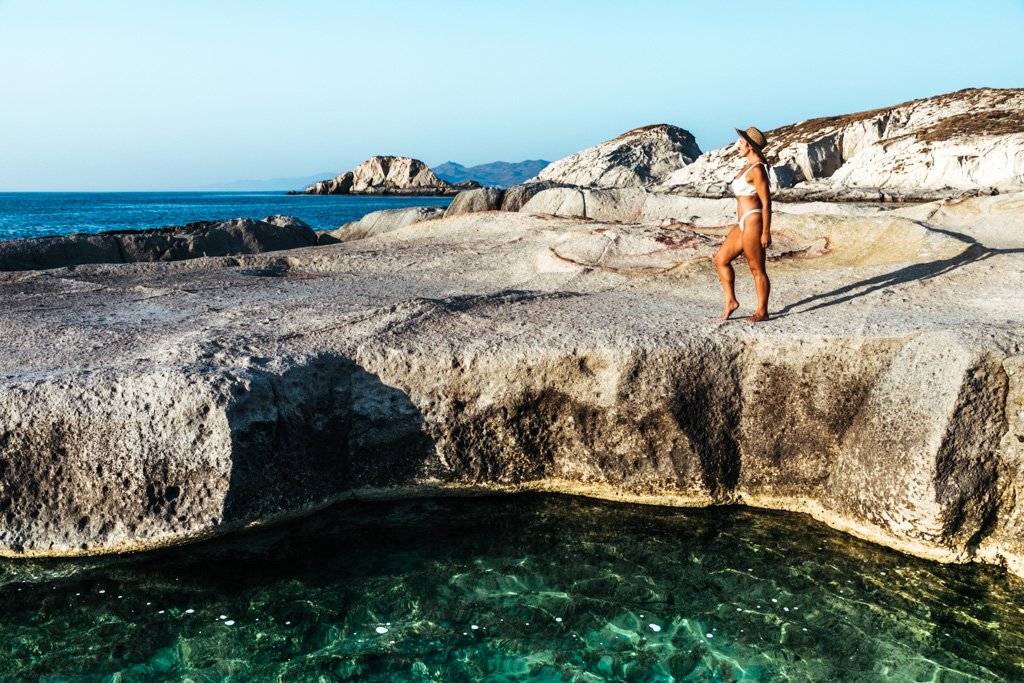 Firopotamus
Firopotamus is about a 10 minute drive from Plaka and has both a beach and a cluster of colorful fishermen houses. The dock by the houses is the best place to be late in the day, because when the beach falls under shade, the dock is still lit by the sun for awhile.
I had the best time sunbathing and swimming here, even if the kids kept splashing me while jumping off the dock!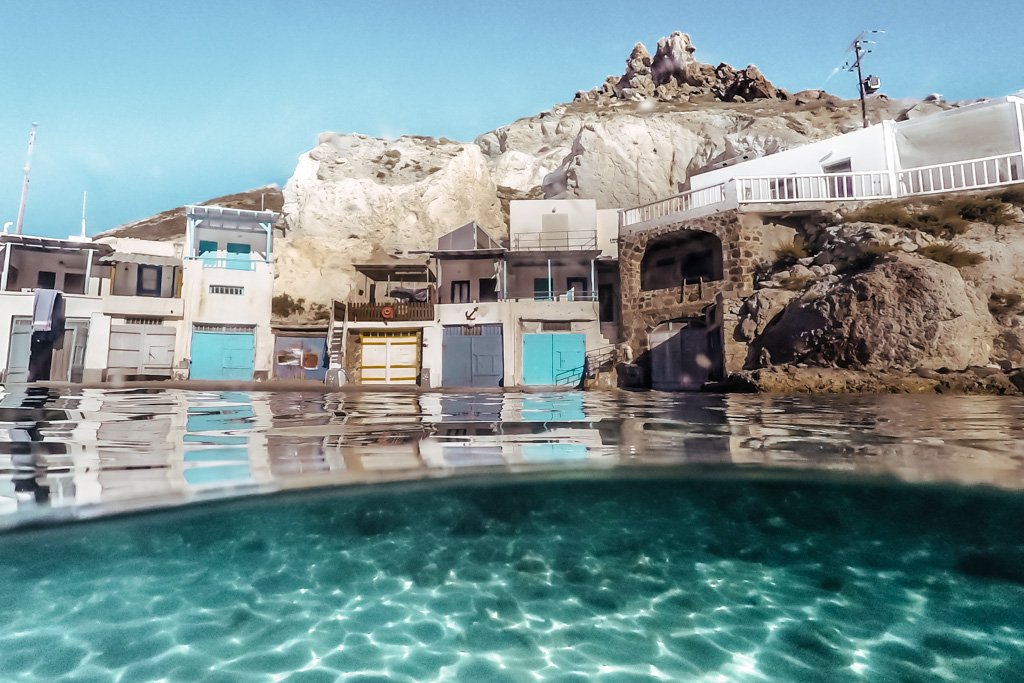 Boat Trips Around Milos
A Milos boat trip is a hugely popular thing to do when visiting the island, and not just because sailing around the Greek islands is objectively amazeballs. You see, one of Milos' best natural attractions is Kleftiko, an impressive white rock formation with various caves and coves around it – and it's only accessible by boat.
There are numerous tour operators offering boat trips around Milos, which you can either research and book online in advance, or book at Adamas port the day before. Of course I researched and booked my boat trip with Oneiro a few months before I even arrived, based on the rave reviews it's received on TripAdvisor. Seriously, I don't think I've ever seen anything with more glowing reviews – and so therefore I felt pretty confident that my experience would be magical and rave-worthy as well.
Unfortunately I got a bit seasick halfway through, which kinda tainted the day for me. The crew was nothing but sympathetic and helpful, which I really appreciated – and thankfully I didn't actually get sick until I'd disembarked at the end of the day.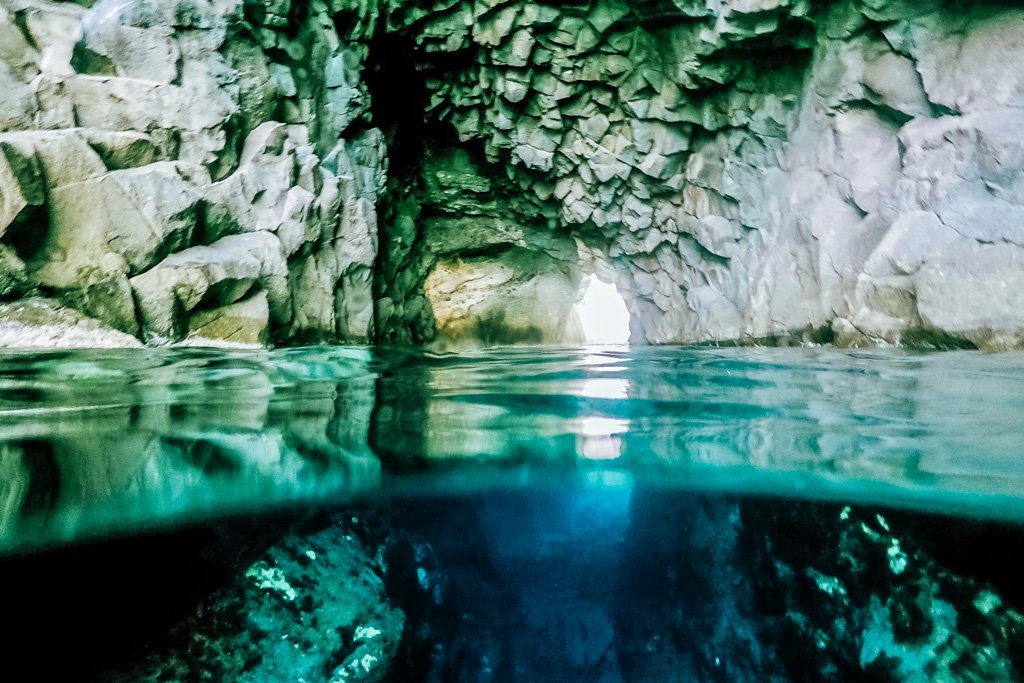 I can definitely see why Oneiro Milos has received so much praise, and I'd absolutely recommend it for couples who want an authentic Greek experience and a full day leisurely exploring the coast of Milos in a small boat setting. It's probably the best value boat trip in Milos.
For me personally though, I don't think it was the right fit. Oneiro is a small boat, which is great in that it keeps the group small but not so great in that there's not much room to lay out or move around. I felt like I stuck out more as the only single person on the boat (something I'm not usually self-conscious about), and honestly all I wanted to do was lay out on the deck and swim at my leisure.
I didn't want to partake in group dancing or family-style dinner or shot-taking, and I didn't necessarily need the constant commentary on what we were seeing and the history behind it. And I didn't know this beforehand, but I think I would have preferred a half day trip rather than a 10 hour excursion. It's just too damn hot to be in the sun all day in the middle of the Greek summer.
So for me, a shorter trip on a larger boat where I could've had more space and anonymity would have been the ideal setup. But like I mentioned, I would absolutely recommend Oneiro Milos to anyone else.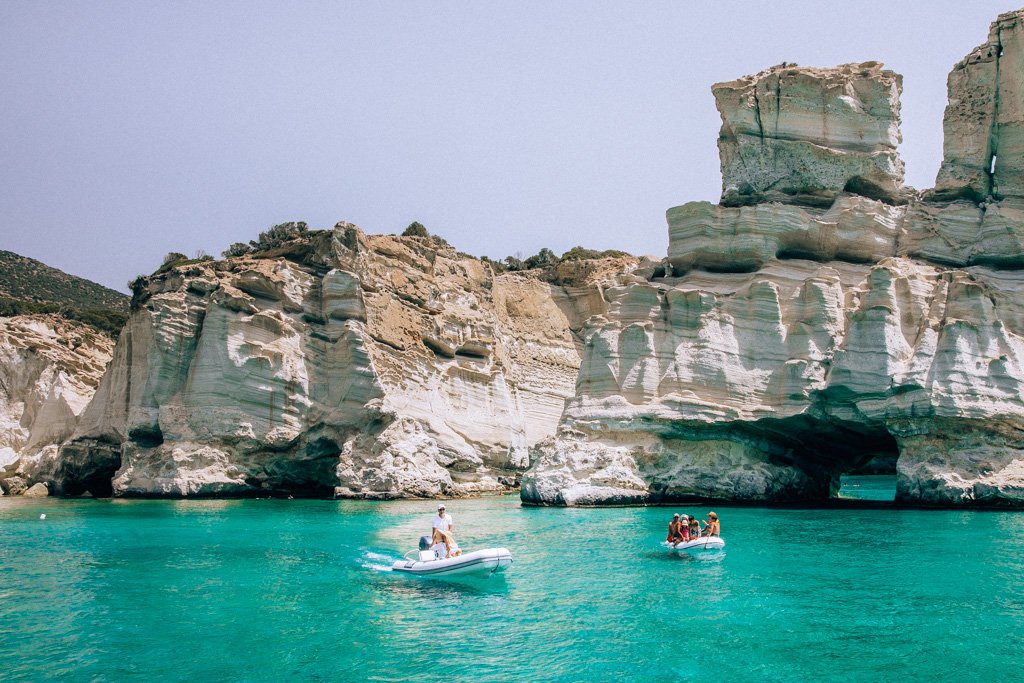 That said, we did see some pretty epic stuff on the boat trip. We got to swim through some caves, and took a smaller boat to explore some others. There was much snorkeling and jumping off the boat. Even just sailing down the coast was sensational.
If you're going to book a Milos boat trip, here's what you should consider when comparing the options:
How long is the trip? (Full day vs half day)
How big is the boat and how many people will be on it? (Small boat with a more intimate experience vs bigger boat with 50+ people)
Price (naturally longer trips with fewer people on board will be pricier options)
Sailing route (can change at the last minute depending on the weather, but some sail to Kleftiko while others go a bit more off the beaten path)
My boat trip with Oneiro was a 10 hour experience, hosts 16-18 people on board a small boat, and cost 110€.
Pin it!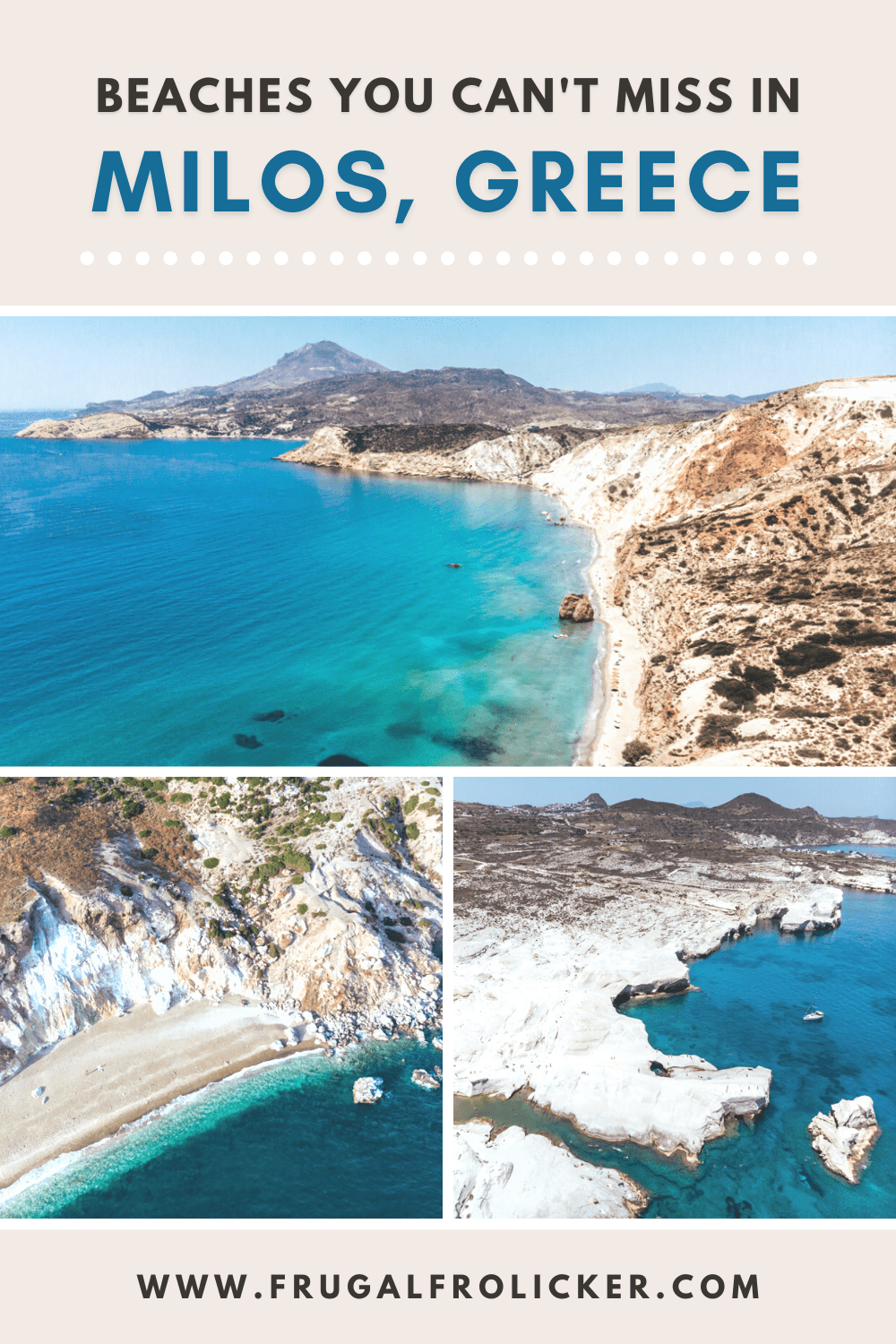 Frugal Facts
As of August 2019 —
To get to Milos, you can either fly from Athens or take the ferry from Athens, Crete, or one of the other Cyclades islands. I booked my ferries via Ferry Hopper: Santorini to Milos was 52.90€, and Milos to Crete was 41€.
In terms of Milos accommodation, I stayed at Agnanti Rooms, a guesthouse that I'd highly recommend. It's pretty centrally located on the island, about 5 minutes from Pollonia, 10 minutes from Plaka and Adamas, and very close to some of the best beaches in Milos. My room cost 60€/night and had a patio with a sea view.
Having a vehicle is a MUST on Milos, as the public bus is infrequent and relying on it means you won't be able to see as much as you could if you had your own transport. Most of the car rental companies are based by the port in Adamas, but some offer vehicle delivery/drop-off at your accommodation. Milos is ideal for getting around in an ATV and many visitors do this, but motorbikes and cars are also options. I ended up renting a car through RAC SA and paid 151.20€ for a 4-day rental. ATVs and motorbikes are a much cheaper option.
My boat trip with Oneiro to visit Kleftiko Milos cost 110€.
IMPORTANT NOTE: Depending on where you're from, you may be required to obtain an international driver's license in order to drive in Greece. Americans DO need this. Be sure to apply for one well in advance of your trip so that you have it in time.