Anyone remember their high school superlatives? I never got voted in for anything, which I was quite happy about (cause y'know, can't put homegirl in a box). But if I had to give my 17-year-old self a title, I probably would have been the Most Determined (to get the hell out of my hometown and make it into a top college), or Most Serious (a far cry from the goofball I am today, but back then I had no time for LOLs, chats, or fun).
Anyway, I thought it would be funny to share some highlights from my recent trip to Provence in a similar vein. There are a LOT of towns and cute little villages all around the south of France and it can be overwhelming trying to decide which ones to visit. I hope this list helps you narrow it down to the places you absolutely must see in Provence!
Best Hill Town Skyline: GORDES
If you're looking to get that iconic shot of a Provençal village on a hill, Gordes is where you want to go. Most other hill towns in Provence require a steep walk up to get to them, but Gordes is reached via a road that's about level with the hill. And then you turn a corner and get smacked with a 5-star view of the town: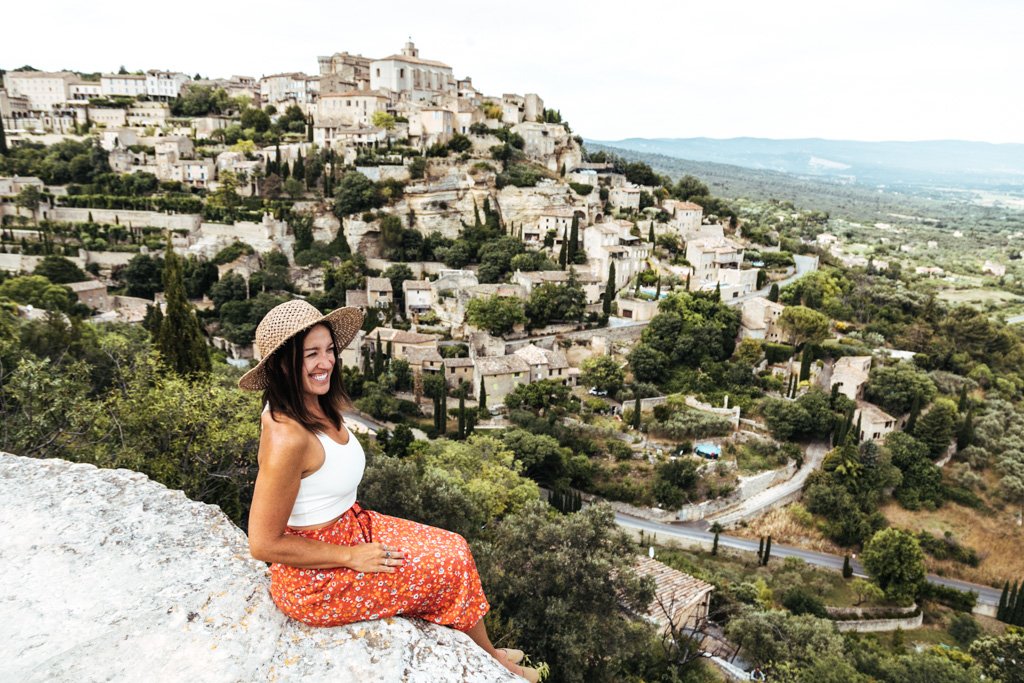 Here's what you do: start in the middle of Gordes and walk down the road leading out of town. There are views aplenty along the road, but most of them are partially obstructed by bushes and fencing. Keep going until you reach the open space with some big flat rock (past the turnoff to Senanque) – it'll likely be marked by other people grabbing their insta-shots 😉 On Google Maps it's labeled as "Town View Point Gordes".
CLICK TO BOOK AN AIRBNB IN GORDES & SAVE $40 ON YOUR FIRST BOOKING
Things to do in Gordes
If it's lavender season, definitely stop at Abbaye Notre-Dame de Sénanque. This is one of the most picturesque locations where you can view lavender, in front of a gorgeous old abbey.
The Gordes Market, held every Tuesday morning in the center of town. Grab some produce at the stalls and have yourself a picnic nearby.
Visit the Château de Gordes.
Stop by the nearby Bories village, now an open-air museum comprised of huts made of small limestone rocks (similar to a cave). The village is just 1.5km west of Gordes.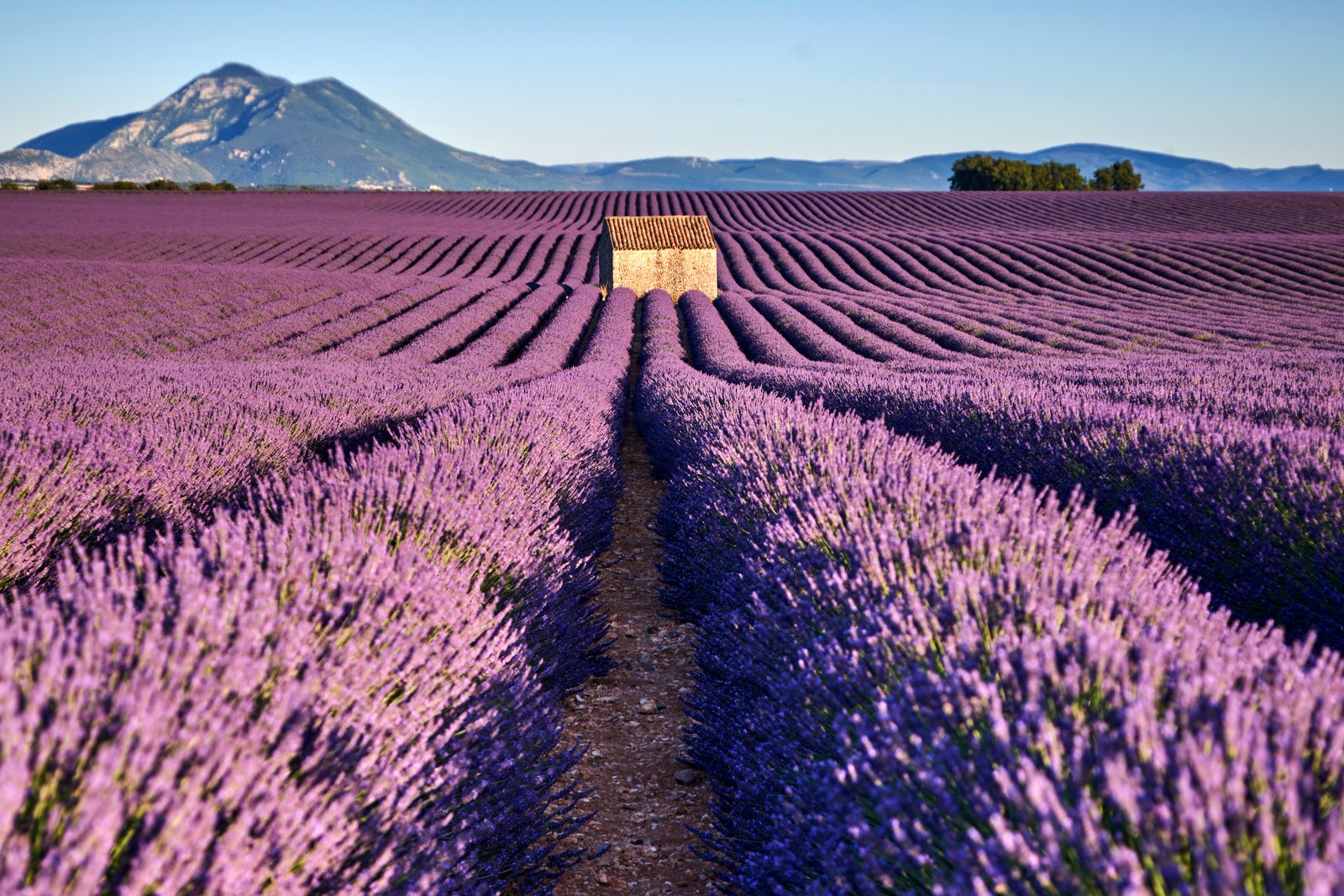 Lavender in bloom in Valensole. Photo via Adobe Stock.
Best Place To See Lavender: VALENSOLE
There are tons of places to catch the south of France's legendary lavender in bloom, but Valensole is one of the best in terms of sweeping landscapes. It's where you can find dozens of rows of purple lavender with a couple of lone olive trees in the background. In short, this is where you can get killer shots of the lavender fields… if you time your visit right (which sadly, we did not).
Valensole is said to be one of the earliest to experience the lavender bloom. The last week of June through the first week of July is typically when peak bloom hits this part of France, but you might be able to catch a bit of purple in mid-June, depending on the year. This blog post dishes on all the best places to see lavender in Valensole.
CLICK TO BOOK A HOTEL IN VALENSOLE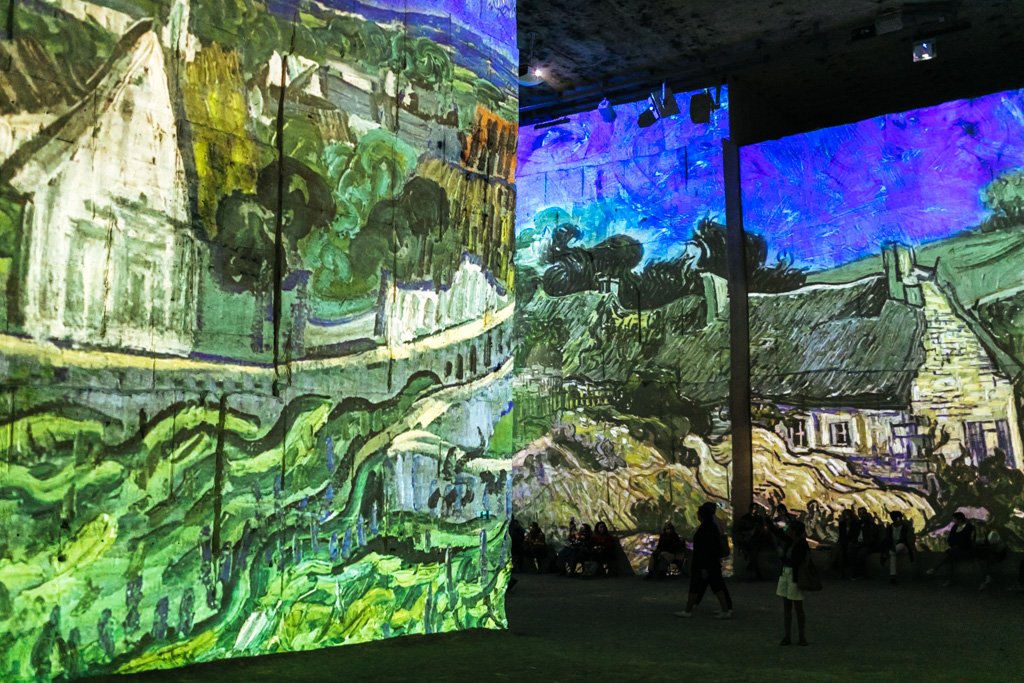 Town With The Light Projections: LES BAUX-DE-PROVENCE
I may have written off Les Baux-de-Provence as Provençal Disneyland (translation: crowds aplenty, charm a-lacking), but if you do one thing in this town… make it Carrières de Lumières.
Carrières de Lumières is an immersive light installation projected onto 7000 square meters of limestone in an old quarry. You can walk around the space taking in the show, or stay in one place – the light paintings move around, so you can catch the entire show from anywhere in the venue. The show changes every year; in 2019 it's paintings from Van Gogh (speaking of Van Gogh, see the next town on the list!).
And if you want *3* things to do in Les Baux-de-Provence, check out this blog post I wrote or the cliffs notes version of it below.
CLICK TO BOOK AN AIRBNB IN LES BAUX & SAVE $40 ON YOUR FIRST BOOKING
Things to do in Les Baux
See the light show at Carrières de Lumières.
Tour the Château des Baux de Provence, which has the most sensational view of the Alpilles.
Stop for lunch at Les Baux Jus, one of the healthiest (and perhaps only Vegan) restaurants in Provence.
Van Gogh Town: ST. REMY-DE-PROVENCE
Just a 15 minute drive from Les Baux is St. Remy-de-Provence, a pretty town known for once being Van Gogh's stomping grounds and the inspiration for much of his work. I would classify it as one of the more touristy Provençal towns, but it's still worth a quick look.
Definitely make a point to head up to Glanum, which is where Van Gogh lived and worked. You can do the 1km Van Gogh walk which will lead you here from the town center. Glanum is a beautiful spot for a picnic amidst the olive trees with views of the Alpilles mountains – afterwards, you can tour the nearby ruins and monastery.
CLICK TO BOOK A HOTEL IN ST. REMY-DE-PROVENCE
Things to do in St. Remy-de-Provence
Site Archéologique de Glanum – Greek/Roman ruins set in the Alpilles mountains. 8€ admission.
St. Paul de Mausole – a monastery-turned-psychiatric institution with beautiful grounds and gardens you can wander around. Van Gogh was confined here for a year and ended up painting many of his famous works while committed. 6€ admission, which includes entry into Van Gogh's old room.
Musée Estrine – A must-visit to learn more about Van Gogh's life and works; however, there aren't currently any of his paintings on display in this museum, just copies. 7€ admission.
Best Roman Town: ARLES
Continuing on the Van Gogh train, Arles is another town in which the anguished artist spent considerable time. He lived and worked in the (since torn down) Yellow House for just over a year and suffered a few mental breakdowns (including the infamous cutting-off-the-ear incident) in Arles before being committed to the psychiatric institution in St. Remy.
Van Gogh made more of a mark in St. Remy than in Arles, though. Arles is actually more known for its Roman ruins, particularly its impressive Amphitheatre.
CLICK TO BOOK AN AIRBNB IN ARLES & SAVE $40 ON YOUR FIRST BOOKING
Things to do in Arles
Walk around the Amphitheatre, Roman Theatre, and other Roman ruins. Stroll along the river and relax in the Place de la Republique (main square).
Explore the Musée Départemental Arles Antique, an archeological museum tracing Arles' Roman heritage. 8€ admission.
Visit Abbaye de Montmajour, a stunning abbey just outside of town. 6€ admission.
Take a (half) day trip to the Camargue, a wetlands region just south of Arles. This area is known for its white horses and flamingos and is fantastic for bird watching.
Dine at Le QG, a quirky restaurant with incredible dishes. We did the 3-course meal for 26€ and it was some of the best fish and creme brûlée I've EVER had.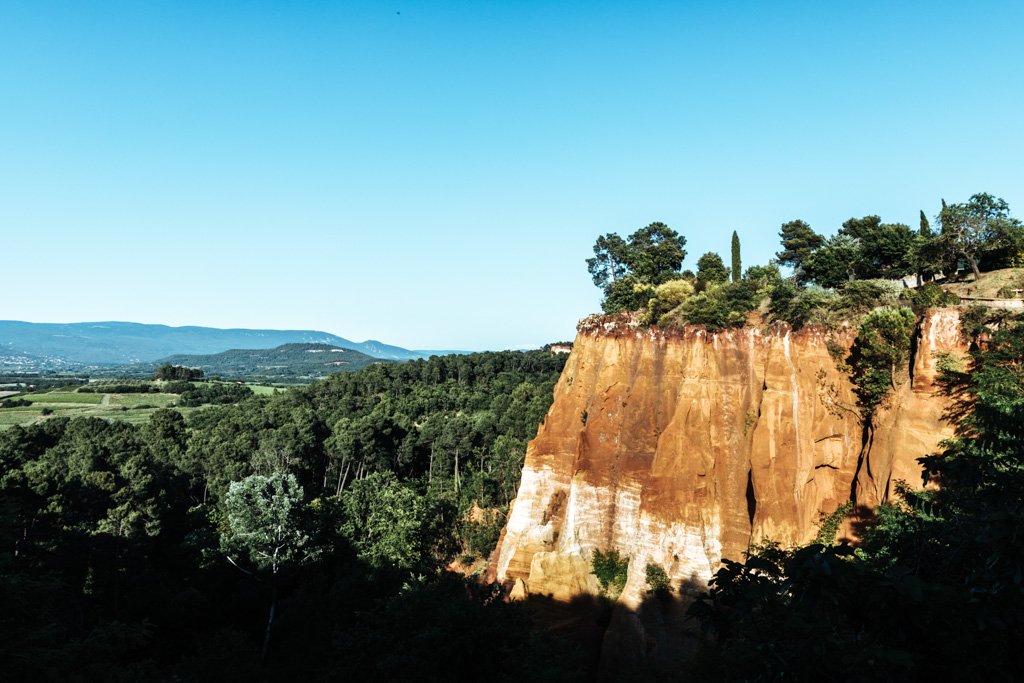 Most Colorful Town: ROUSSILLON
Most Provençal towns are subtly colorful: think light pastel-colored buildings in warm tones. But Roussillon? Not so subtle.
Roussillon is BRIGHT and VIBRANT. The village sits on a hilltop alongside a red ochre quarry, its buildings saturated in part by colorful dye sourced from processed ochre. It's beautiful, it's a bit touristy, but it's SO worth a stop.
My best memory from Roussillon is just aimlessly wandering the streets late in the day, ogling all of the gorgeous buildings, discovering little laneways, and stealing cherries off of trees along the way.
CLICK TO BOOK A HOTEL IN ROUSSILLON
Things to do in Roussillon
Walk the Ochre Trail (Le Sentier des Ocres) – there are a couple of short walks through the red ochre that you can complete. 3€ admission.
Frolic the colorful streets!
Visit Tapiezo, a unique little art gallery with works created from locally sourced materials.
Hit the farmer's market if you happen to be there on a Thursday morning.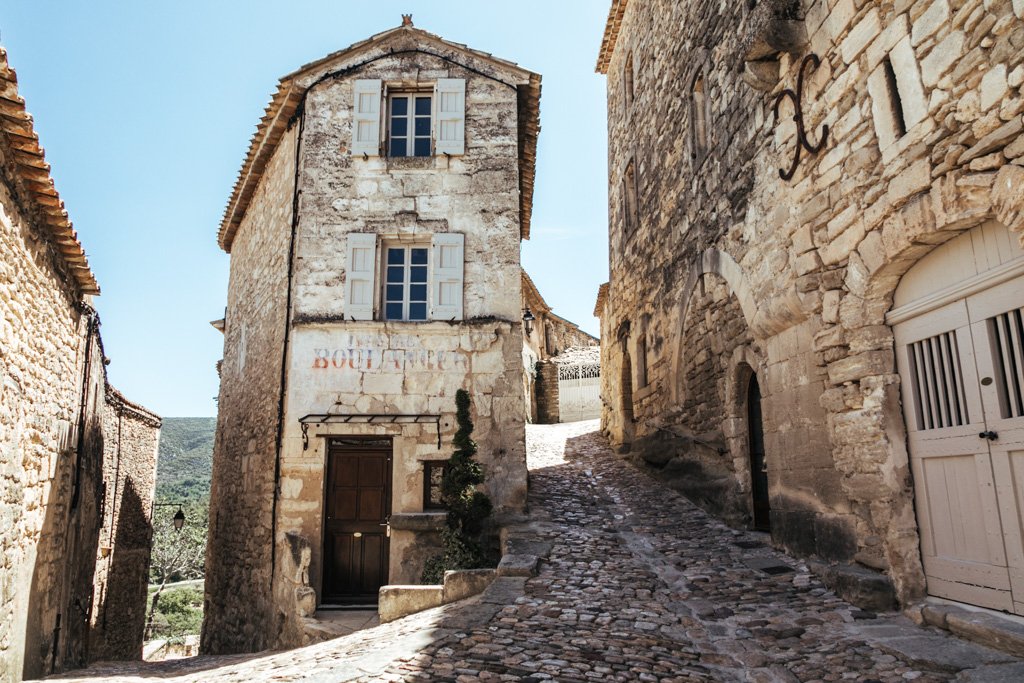 Greenest Town: LACOSTE
Ah, Lacoste. This town is definitely one of Provence's gems, beloved by my friends and I for being non-touristy and so dang GREEN. Not only is there greenery aplenty dotting the buildings, but the hill on which the town sits is covered in trees and grass – and the valley below is lush and vibrant. It's green everywhere you look.
I'm not sure exactly why Lacoste hasn't veered toward the Disneyland end of the spectrum like other Provençal towns have, but I can hazard a few guesses. For one thing, cars are not allowed in town which means you have to park at the bottom of the hill and make the steep hike up into town. And for another, Lacoste is somewhat of a student town thanks to the SCAD campus.
Either way, Lacoste is a must-see in Provence. Wandering this quaint medieval village brought me so much joy. It felt so unspoiled and not as restored as many other villages in the area are.
Things to do in Lacoste
Visit the SCAD shop, full of arts, crafts, jewelry, and other unique items created by students.
Climb up to the Château de Lacoste and take in the sensational views of the valley below. Depending on the time of year, there may be sculptures outside and art exhibitions inside.
CLICK TO BOOK ACCOMMODATION IN LACOSTE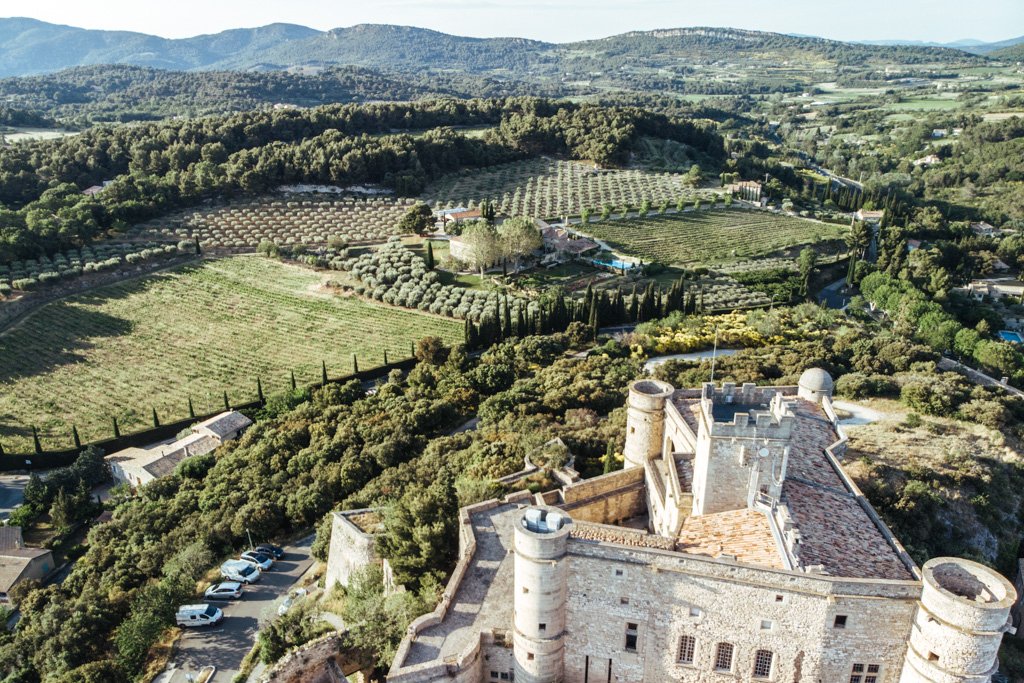 Least Touristy Town: LA BARROUX
If you really want to go off the tourist trail, La Barroux is a tiny hilltop village in northern Provence where you're likely to have the streets all to yourself. I delighted in aimlessly wandering through town, admiring the colorful doors and windows, and chasing after kitties (really, would you expect anything else from me?).
At the top of the town is an old castle which you can wander around, but I think the 360-degree view from up there is the real highlight. You have the town, the valley below, and the surrounding vineyards and mountains to take in. Just maybe don't fly your drone from this spot (we got yelled at by a local for doing so, oops!).
Best Wine Town: CHATEAUNEUF-DU-PAPE
I was absolutely kicking myself when we cycled through Châteauneuf-du-Pape early on in our first day of the cycling trip: one, because we had too much ground to cover that day and not enough time to stop here; and two, because drinking wine with 8 hours of cycling ahead of me on a 90 degree day would have been colossally stupid.
So sadly, I didn't get to spend much time in this wine town or sample its world-famous namesake wine, but I can vouch for how stunning the surrounding countryside is. If you're at all into wine, be sure to allot some time for hopping between the various wine tasting cellars in town, then grab a bottle of your favorite wine and enjoy it (ideally with some cheese) in the fields just outside of town.
CLICK TO BOOK A HOTEL IN CHATEAUNEUF-DU-PAPE

One friend is wearing my jacket, the other is wearing my linen shirt. Maybe I should've been voted Most Stylish?
Best Seaside Town: CASSIS
Cassis felt like the sweetest reward after a week of cycling around Provence and then a day of nonstop rain. We rented the sweetest Airbnb with a massive balcony facing the sea, kicked back, and immediately began plotting a way to secure a holiday home of our own here.
Cassis is a colorful fishing port on the south coast of France, situated just southeast of Marseille. Apart from being absolutely beautiful and downright delightful to stroll through (hardly any tourists!), it's a great base for exploring the nearby Calanques, which are basically France's version of Norwegian fjords.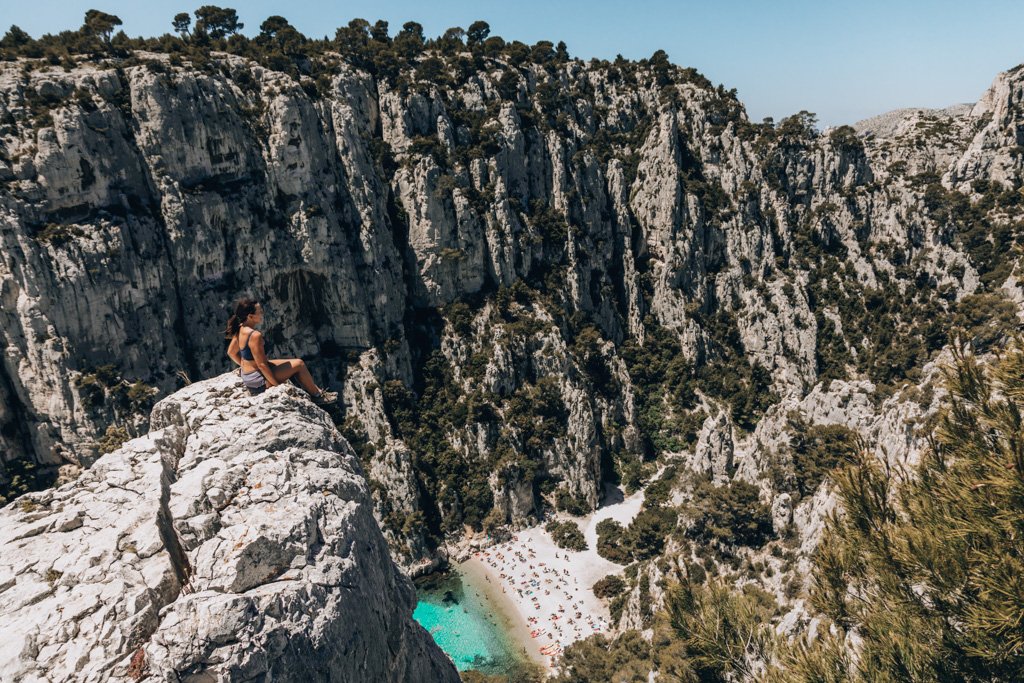 Things to do in Cassis
Hike to Calanque d'En-Vau, said to be the most beautiful of all the calanques. I recommend hiking the blue trail to get there, which goes along the waterfront and offers spectacular views of the calanque as you walk its perimeter. Allot some time to hike down to the beach there, then take the more-direct red trail back to the start.
Dine at Le Poisson Rouge, a cute restaurant with beach-chic vibes and incredible local seafood dishes (the ceviche and tuna were to die for).
Go wine tasting at the nearby wine cellars (you'll pass by several on the drive into town).
CLICK TO BOOK AN AIRBNB IN CASSIS & SAVE $40 ON YOUR FIRST BOOKING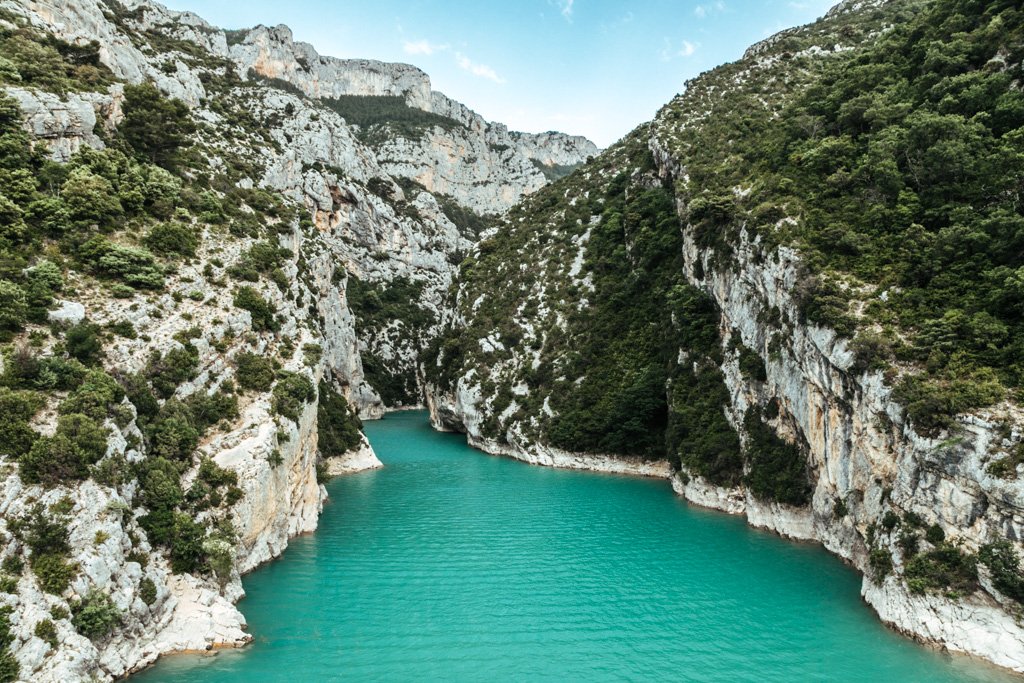 Best Mountain Town: MOUSTIERS SAINTE-MARIE
I stumbled upon this village while driving around Verdon Gorge and fell in love almost immediately. Let me tell you, Moustiers Sainte-Marie was MADE for frolicking.
Though it felt so small, I kept stumbling upon new streets and alleys to wander down. One of them led me out of town and into the surrounding hills, and I soon found myself in the midst of a hiking circuit. There were a number of trails leading down into the countryside and around the mountains which really made me regret my choice of footwear for the day (flip flops, of course).
Even if you don't do any hiking, you can still soak up the peaceful mountain vibes from this town. Everywhere you look, there they are.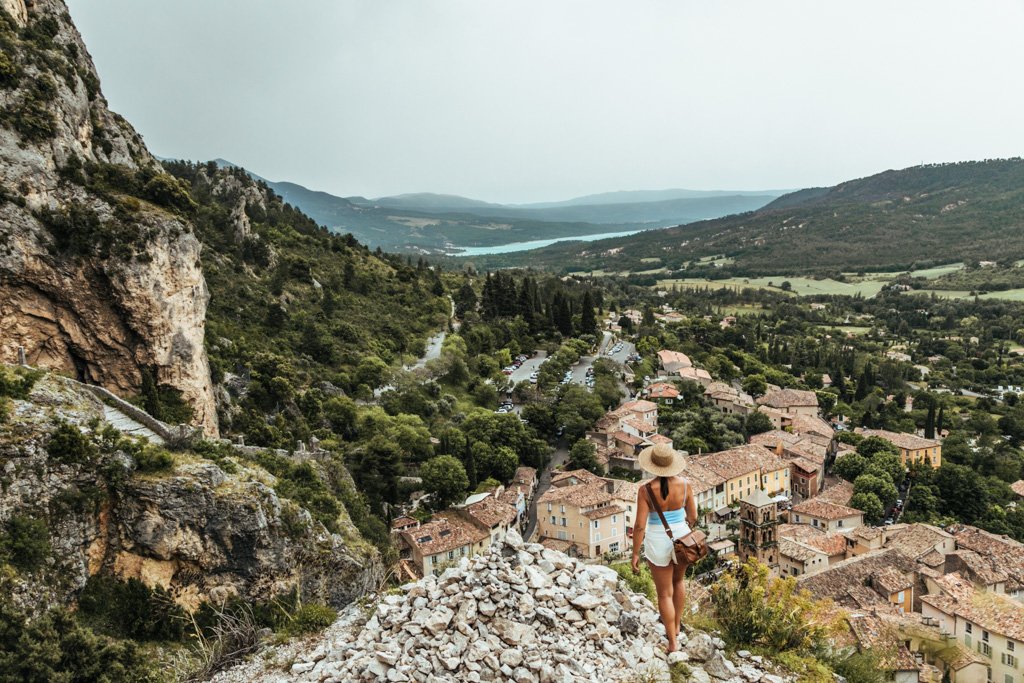 Things to do in Moustiers Sainte-Marie
Verdon Gorge – It's just a 10 minute drive south to Pont du Galetas, which offers sensational views of the gorge with its milky turquoise water. From here, you can walk down to the beach or rent a boat to explore the gorge and lake.
Hiking – Start walking away from the town center and you'll soon see signs for some hiking trails that lead out into the surrounding hills. You'll enjoy views of Moustiers Sainte-Marie, the countryside, and even of the lake from afar.
Notre Dame de Beauvoir – A beautiful church in the mountains that you can only access by walking trail from town. Amazing views from up here as well.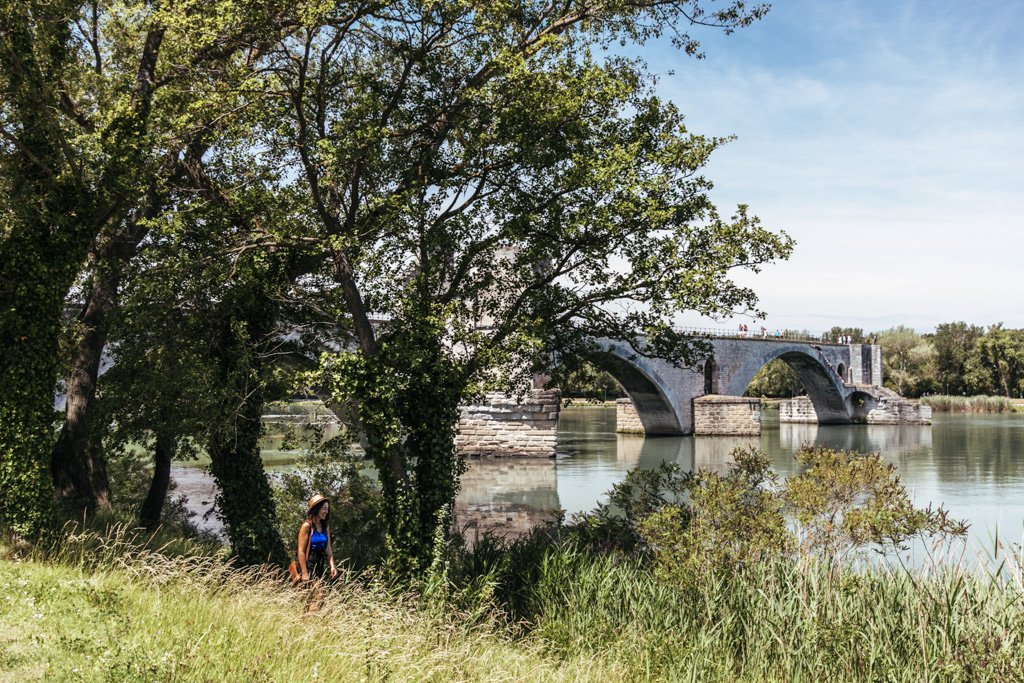 Best Palace: AVIGNON
I'm no palace snob, but I'd like to think I know a good palace when I see one. Avignon's Palais des Papes knocked my metaphorical socks off – and I didn't even go inside!
The Palace of the Popes was built for the popes that fled from Rome to Avignon in the 14th century. Today it's a UNESCO World Heritage Site. You can buy a ticket that gives you access to 20+ rooms inside, or just admire the majestic building from the outside like we did. I highly recommend ogling it from the Place du Palais with a lavender gelato in hand ;)
Oh and also, Avignon makes for a fantastic base from which to explore Provence. It's an easy train ride from Paris and the major towns in the South of France, accommodation is pretty affordable, and there are plenty of cars and bikes for rent. We stayed in Avignon both before and after our cycling trip and rented our bikes and a car from outlets in town.
CLICK TO BOOK A ROOM AT THE REGINA BOUTIQUE HOTEL IN AVIGNON
Things to do in Avignon
Palais des Papes – It's said to be the largest medieval fortress and biggest Gothic palace in Europe. 12€ admission.
Pont Saint-Bénézet – Walk across this famous medieval bridge, which was rebuilt and then abandoned in the 17th century… and as a result, ends abruptly about halfway across the river. 5€ admission, or 14,50€ when combined with the palace.
Musée de Petit Palais – a UNESCO World Heritage Site aka gorgeous old building which now houses a quality collection of paintings
Pont du Gard – about a half hour drive west of Avignon is this really cool Roman aqueduct bridge. It's a popular swimming spot during summer.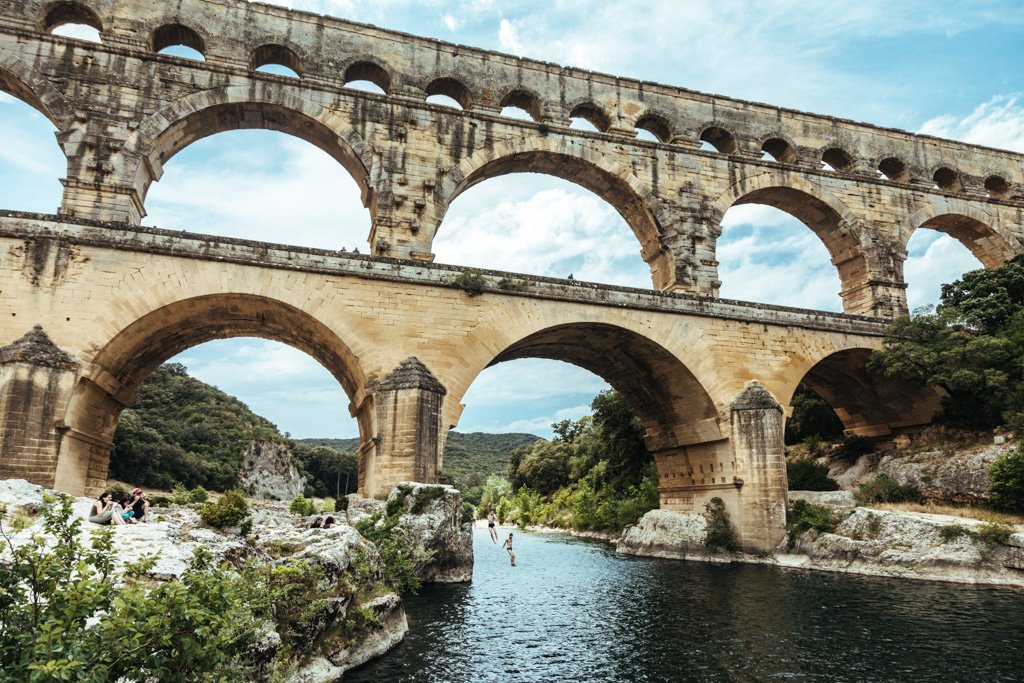 Cezanne Town: AIX-EN-PROVENCE
You can't go to Provence and skip Aix (surely that's a rule, right?). Therefore, it made the cut even though I didn't get to see much of it on the rainy afternoon we visited.
Aix-en-Provence is known for being the hometown of artist Paul Cezanne. Much like in St. Remy with Van Gogh, there's a Cezanne Trail you can follow around town to hit all of the artist's old haunts. A little further afield, there's also the Route Cézanne (aka Route D7), a stretch of road passing through some especially stunning landscapes which – you guessed it! – Cezanne immortalized in his paintings. It runs for about 7.5km from Aix to Le Tholonet and is the only road in France that is listed as a Historic Monument.
CLICK TO BOOK A HOTEL IN AIX-EN-PROVENCE
Things to do in Aix-en-Provence
Musée Granet – an impressive museum with a solid collection of Cezanne paintings. €6 admission, or €8 during the summer exhibition (mid-June to mid-October).
Montagne Sainte-Victoire – the mountain that inspired many of Cezanne's works (aka it's a beaut). The thing to do is hike up and touch the cross at the top.
The markets – if you're in town on a Tues/Thurs/Sat, you'll have the local produce market, the big market, and the flower market for shopping, and all within as 5 minute walk of each other.
Atelier Cezanne – Tour Cezanne's studio; note that you must book your ticket in advance, which includes a 30 minute tour. €6,50 admission.
Pin it!