I don't know about you, but when I think about the south of France, I picture hilltop villages, lavender fields, herbs and fresh fruit, castles, and the French Riviera.
If you described to me a 15-mile-long gorge with an accompanying milky neon aqua-colored lake, I'd assume you were waxing poetic about Slovenia. And yet, such a place exists – in the south of France.
Allow me to introduce you to the so-called Grand Canyon of Europe, Gorges du Verdon (aka Verdon Gorge).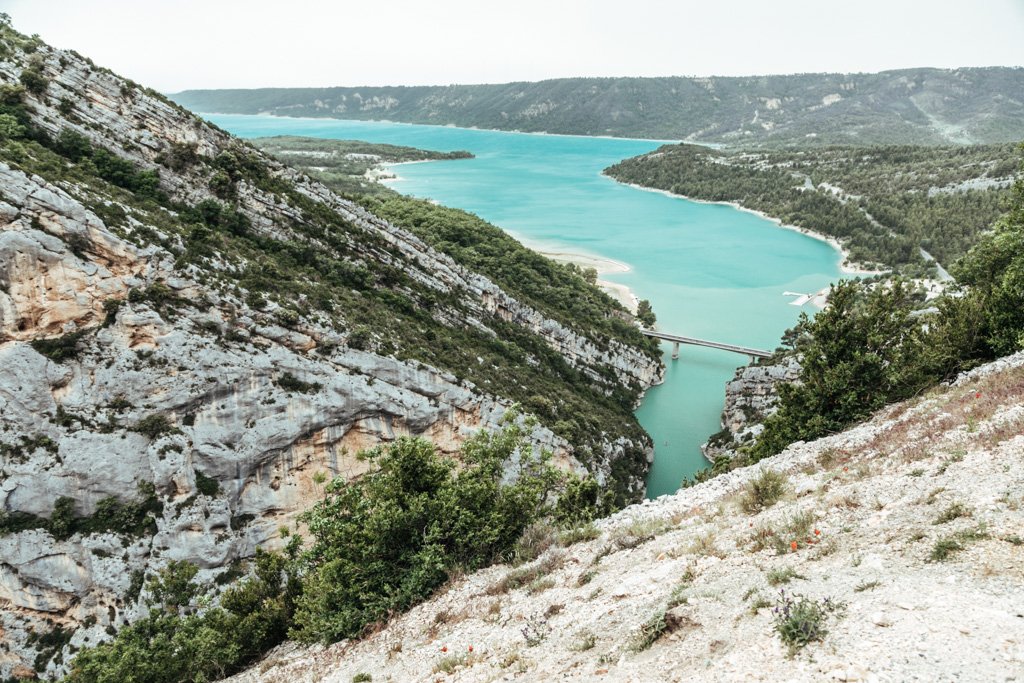 The best way to experience Gorges du Verdon is to do the loop drive around the canyon (see blue loop in the map below). If you're traveling to Verdon Gorge from the east or south (i.e. from the French Riviera), then Trigance will likely be your point of entry to the Verdon Gorge loop.
Get ready for a real adventure, because let me tell you: this drive is NOT for the scaredy-pants or nervous drivers among us. The roads you'll be driving are narrow and twisting, and your driving skills will be tested over and over again as you maneuver around tight turns and reverse to let oncoming cars get around you on a one-lane stretch. But oh my word, the terror and adrenaline spikes are SO worth it for the stunning gorge views.
The Verdon Gorge loop and various stops I've highlighted in this post can be done in one full day, but allow more days if you want to do any hiking or explore the region deeper.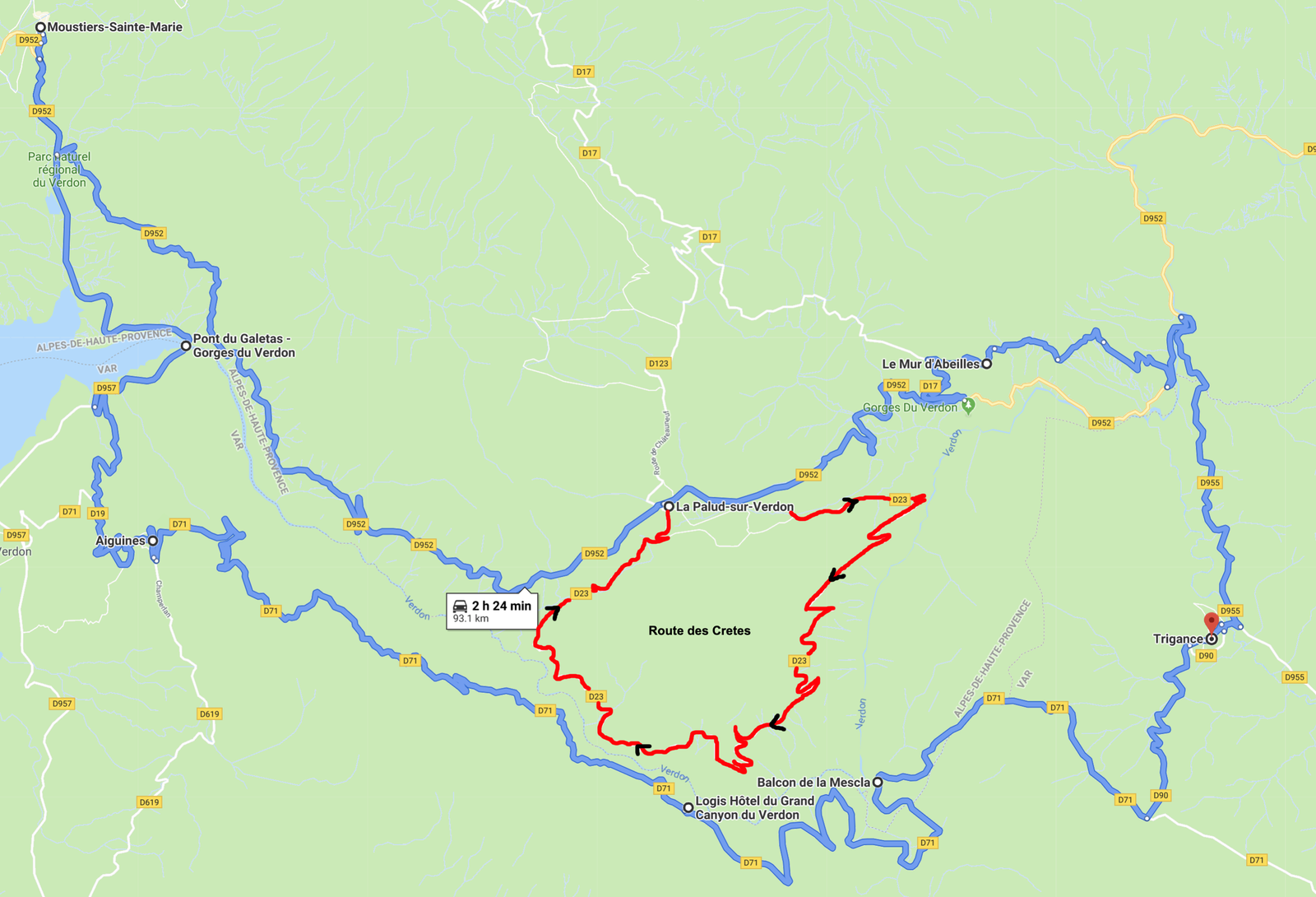 And now for all of the best views and stops to make at Gorges du Verdon:
North Rim of Gorges du Verdon
There's not much in the way of towns or attractions on the northern rim of Verdon Gorge, but there are a few spots you'll want to check out for some absolutely sensational views of the gorge:
Rougon
If you're beginning the D952 North Rim drive from the east, this is around the area where you first glimpse a clear view of the gorge. Look out for Auberge du Point Sublime Gorges, which will likely have its terrace full of view chasers like you.
For a less crowded (and perhaps even more impressive) viewing experience, turn off of the road onto the D17 and drive up to Le Mur d'Abeilles, a creperie in Rougon.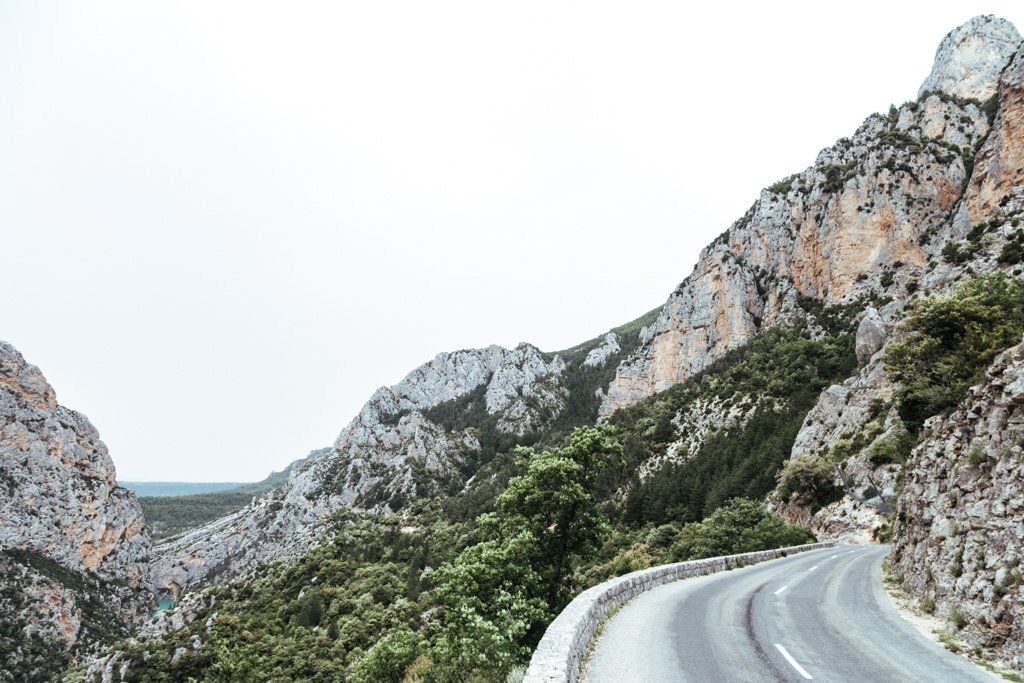 La Palud-sur-Verdon
Back on the main road around the rim, your next stop will be La Palud-sur-Verdon, one of the main towns around Verdon Gorge. It serves as an adequate lunch stop, but apart from that I wouldn't spend much time here. Instead, carry on toward the lake, OR take the detour below:
Route des Cretes
From La Palud, you can embark on a little side trip down a 24km scenic loop known as Route des Cretes or Ridge Road (see red loop in the map above), which is as nerve-wracking to drive as it is a feast for the eyes. If being very close to the cliff edge frightens you, then this is probably not the excursion for you.
The road is so narrow in parts that traffic can only go one-way, so it's recommended to drive it clockwise. Between driving carefully and stopping often for photos, this is a drive not to be rushed – allow a minimum of 2 hours to fully enjoy it. Chalet de la Maline is said to offer one of the best views on the whole route.
Pont du Galetas / Lac de Sainte-Croix
The bridge and the lake are the heart of Verdon Gorge, so if you only have time for a quick peek of the gorge… this is the one spot you should hit.
From Pont du Galetas, you have an optimal view of the milky neon blue water you came here to see. On one side is the gorge entrance, and on the other side is Lac de Sainte-Croix. You'll be able to spot a few beaches on the lake from the bridge, so take your pick if you came here to swim and sunbathe.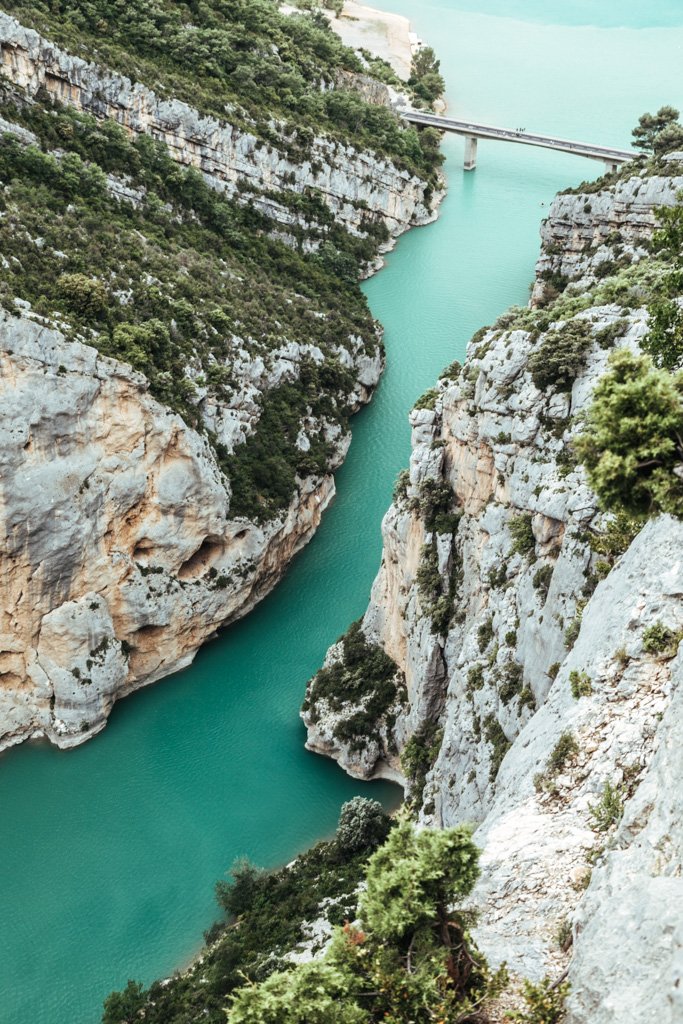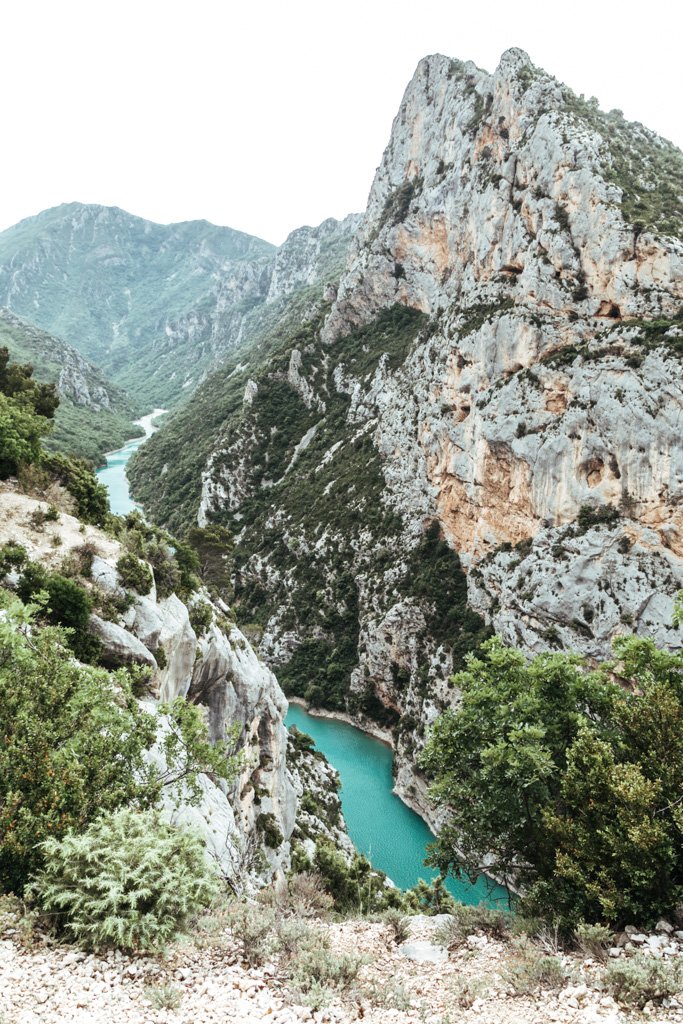 The top thing to do at Verdon Gorge is rent a boat and explore the lake and gorge. This outlet at Montmeyan Plage rents out pedal boats, electric boats, canoes, and paddle boards starting at 8€/hour. Beware that the area around the bridge is usually super crowded during summer, so aim to get here as early as possible. Note: I visited in mid-June on an extremely windy day and there was literally no one in the lake or in boats, despite it being hot and sunny. Great for snapping photos without people in them, but not so great as I couldn't take a boat or my drone out due to the heavy winds.
Moustiers Sainte-Marie
Very close to Pont du Galetas is the adorable village of Moustiers Sainte-Marie, which was honestly one of the highlights of my 2 weeks in the south of France.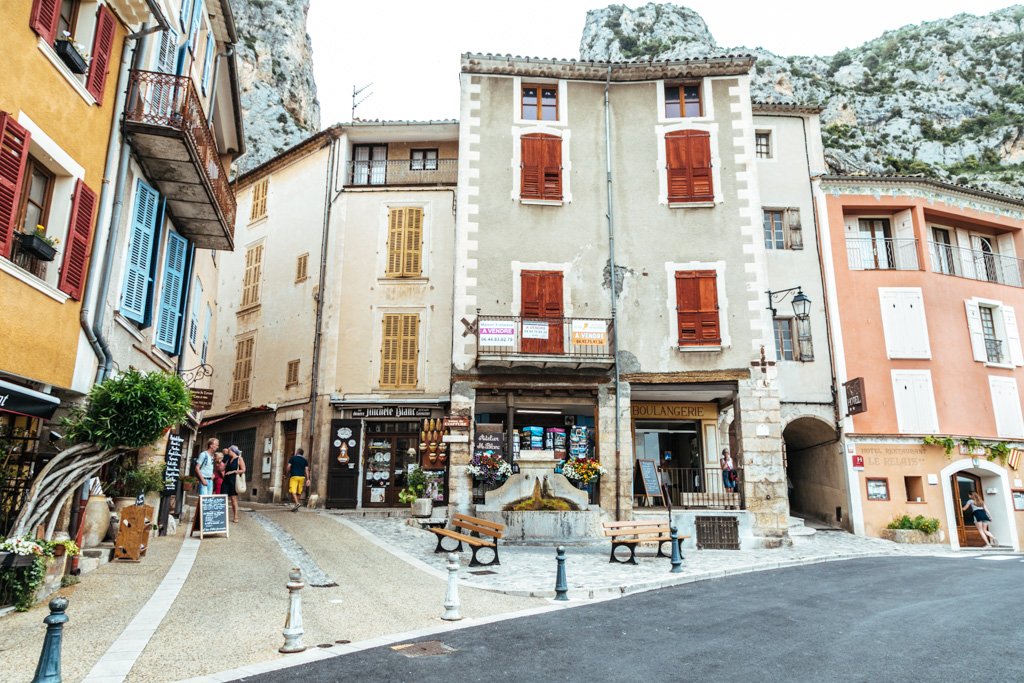 This little mountain town is bisected by a stream that runs from the mountains down toward Lac de Sainte-Croix, creating a few little waterfalls in the middle of the village. Overall it's really, really pretty, and a great place to spend a couple hours of your Verdon Gorge trip. The best things to do in Moustiers Sainte-Marie are wander down the dozens of little streets in town, and walk up to Notre Dame de Beauvoir, a church with one hell of a view over town.
But be warned, you'll definitely want to allow more time if you want to wander down any of the walking trails that lead out of town and around the countryside. Just walk down Rue de la Clappe toward Cascade du Riou and you'll find lots of trailhead signs along the way.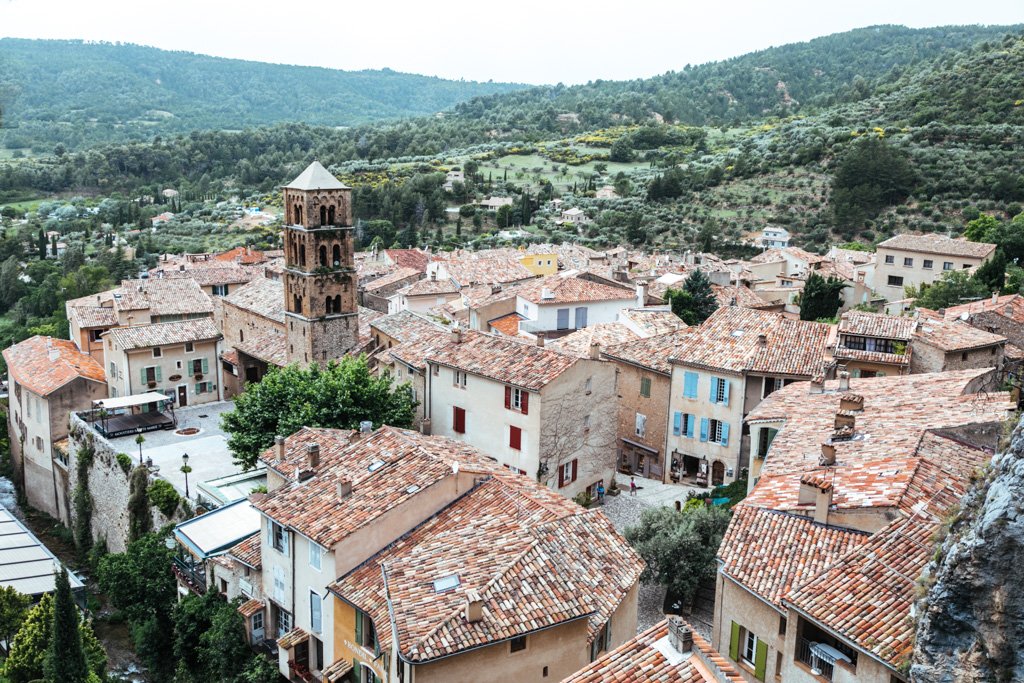 South Rim of Gorges du Verdon
Be aware that the south rim involves a slightly more harrowing drive than the north rim. The road seems a bit narrower in parts, and definitely more zig zaggy, but it's well worth the terrifying drive for the sensational gorge views. There were so many times where I lost my sh*t over the view, but had no safe place to pull over to stop for photos – so you'll just have to trust me on this.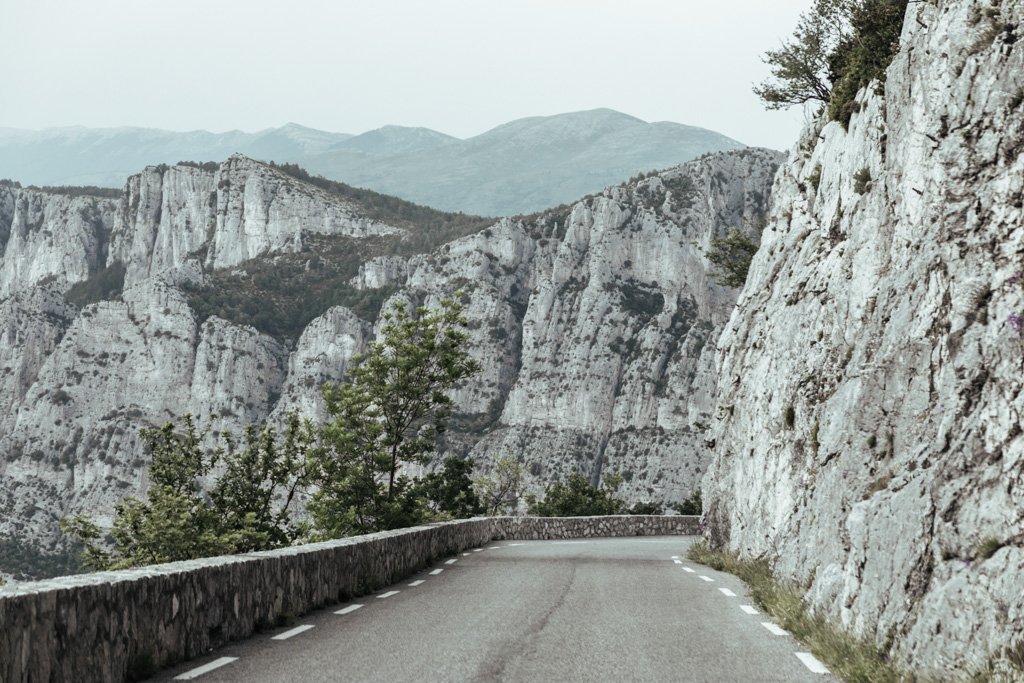 This is entirely subjective, but I found the south rim more scenic (/better) than the north rim. If I were to visit Verdon Gorge again, I'd head clockwise around the gorge loop and tackle the south rim first before the views get covered in late day shadows.
In other words, reverse the order of the hotspots I've listed below for optimum enjoyment! 😉 I did this segment of the Verdon Gorge loop late in the day and didn't have as much time as I'd have liked to explore it. Learn from my mistakes, y'all!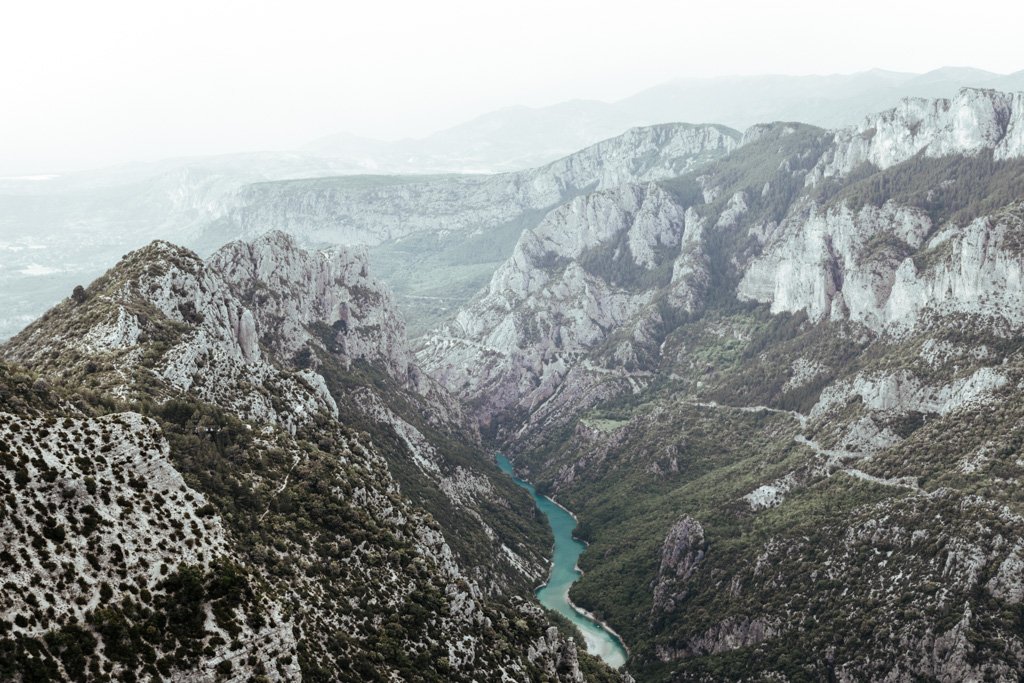 Aiguines
I unfortunately had to drive through this town without stopping, but it's adorable and not too touristy and just way more appealing than La Palud to the north. If you heed my advice and drive clockwise around Verdon Gorge, stop in Aiguines instead for lunch. You'll get to enjoy gorge and lake views from town.
If you have time for more than just a quick lunch, it's worth checking out the castle and the hiking trails that start from the village.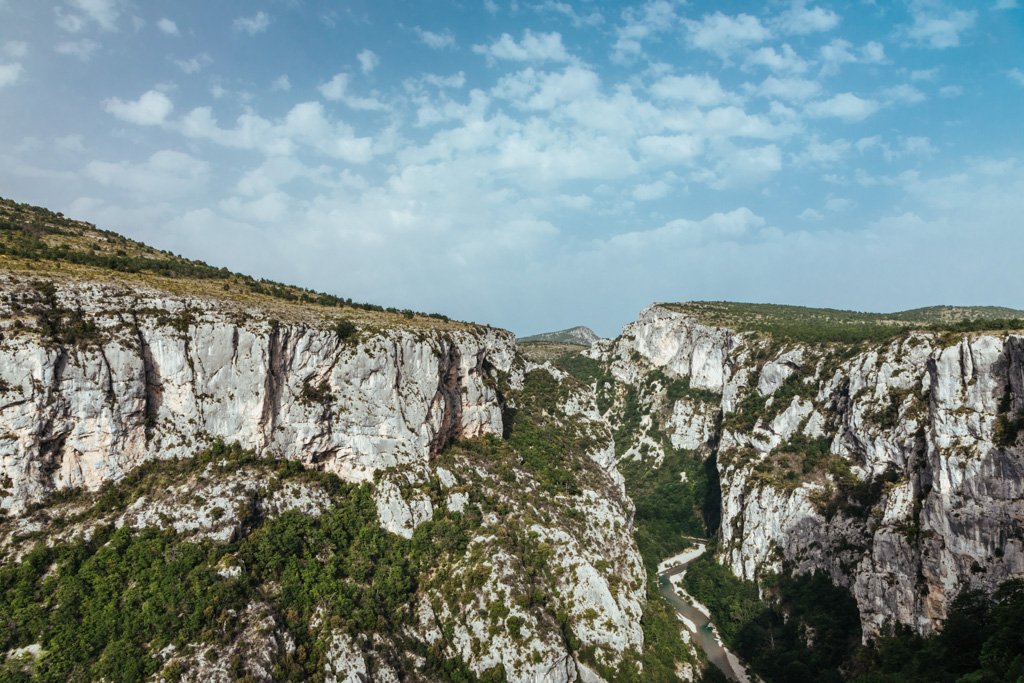 View from the restaurant terrace at the Grand Canyon Hotel in Gorges du Verdon.
Hotel du Grand Canyon du Verdon
Speaking of lunch stops, the restaurant at the Hotel du Grand Canyon du Verdon boasts one of the best views around. I was just going to stop and have a look right next to the hotel, but there were signs around warning people not to get any closer to the gorge and directing them to a free viewing platform from the restaurant terrace.
So yes, you can walk right through the restaurant, strut out onto the outdoor terrace to snap a photo, and leave without ordering a thing. No shame!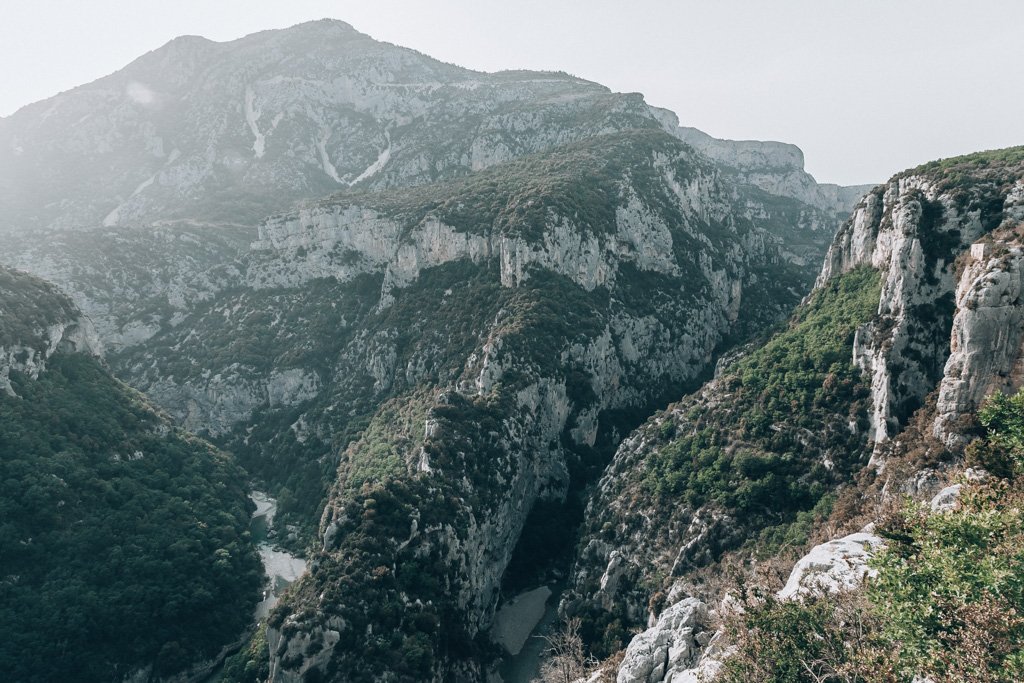 View from Le Relais des Balcons.
Balcon de la Mescla
Another of the best views of Verdon Gorge comes from outside Le Relais des Balcons cafe, and from the viewing platform at the nearby Balcon de la Mescla. You can look straight down and glimpse the bottom of the canyon with its braids of sand and milky blue water (again, it was all covered in shadows when I got there late in the day, so aim to get here earlier!).
Trigance
It's hard to miss the majestic bridge that crosses the gorge in Trigance. In fact, Pont de l'Artuby is a popular spot for bungee jumping (book here for jumps starting from US$118).
Another focal point in town is Château de Trigance, a castle on a hill that now functions as a hotel in Gorges du Verdon. Prices vary depending on day of the week and time of year of course, but if you time it right you can snag a room for US$133/night. Not bad for spending a night in an old French castle!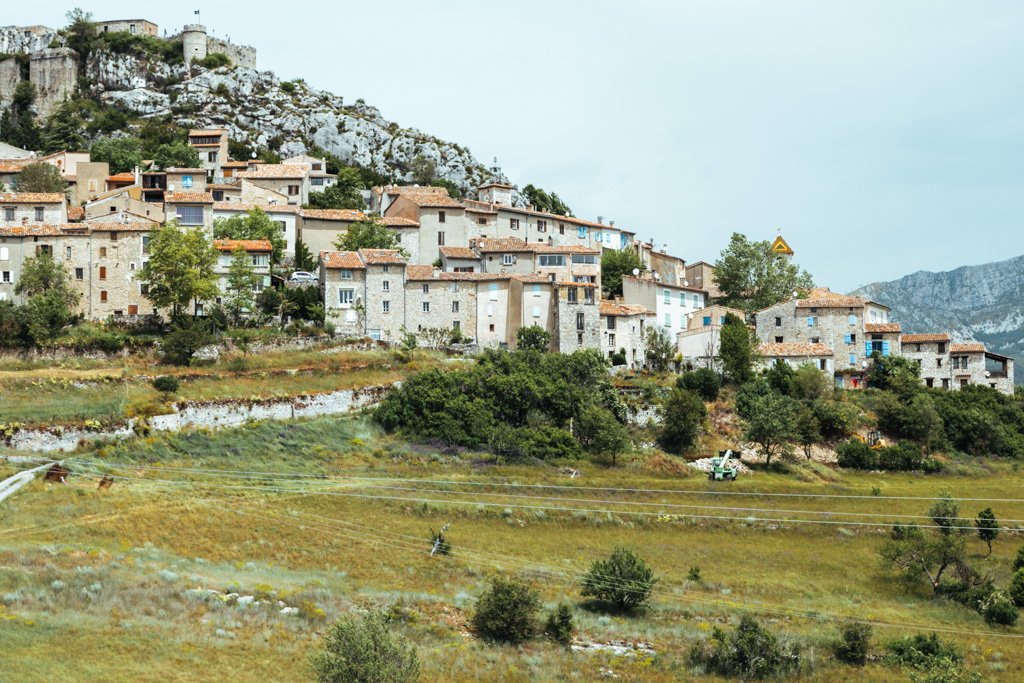 Trigance.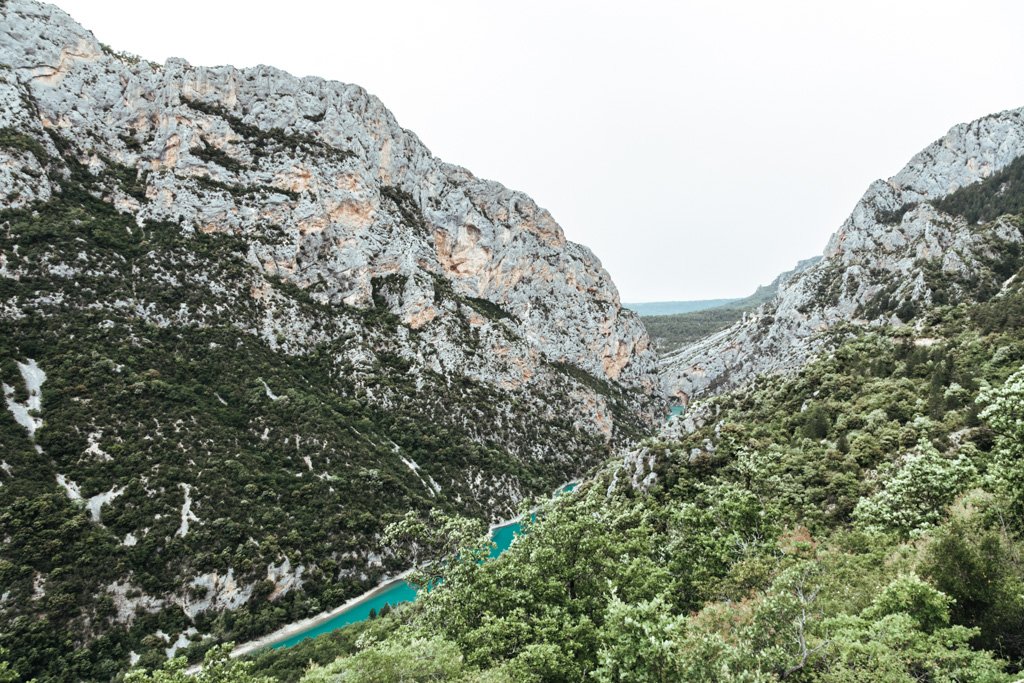 Pin it!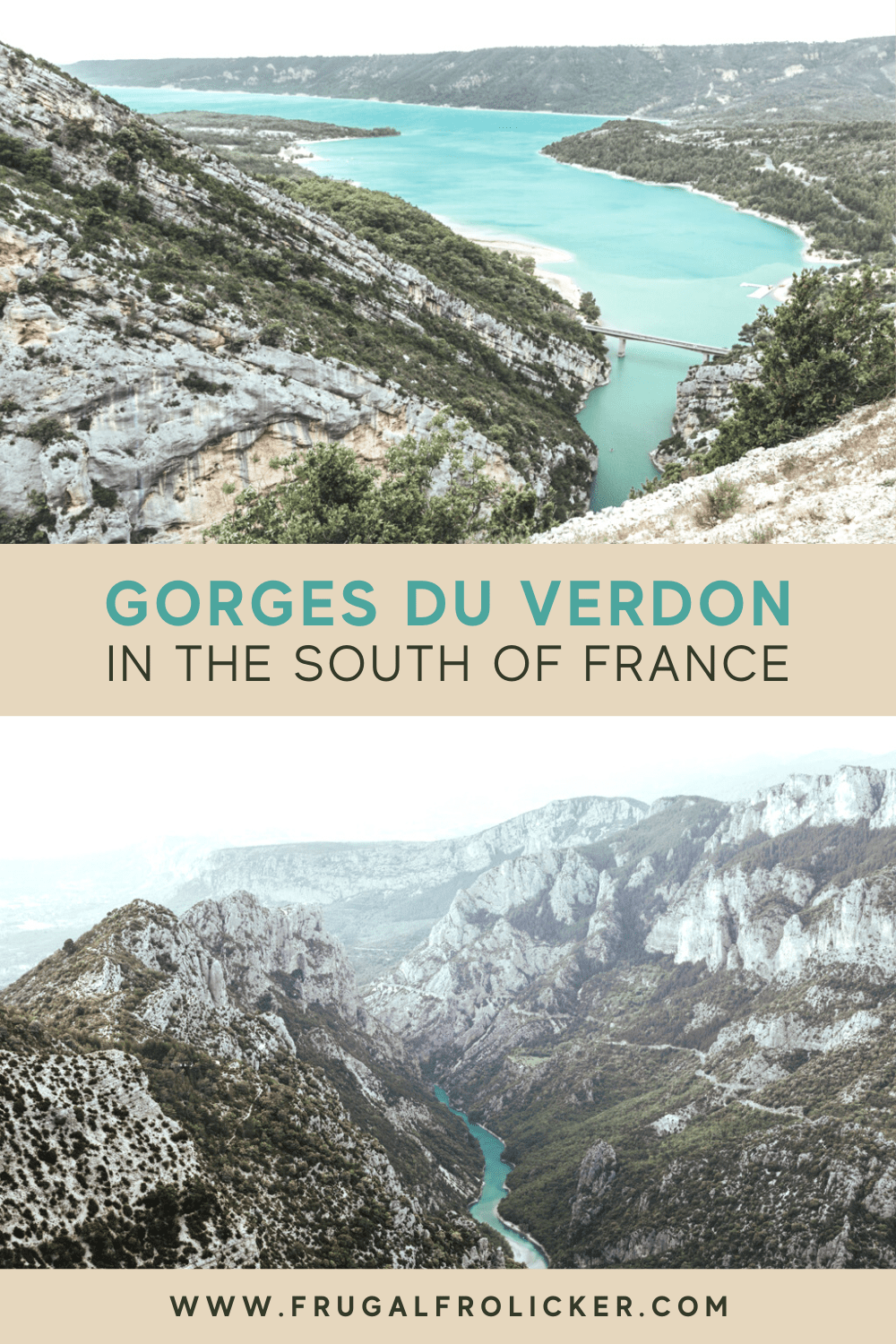 Pin it!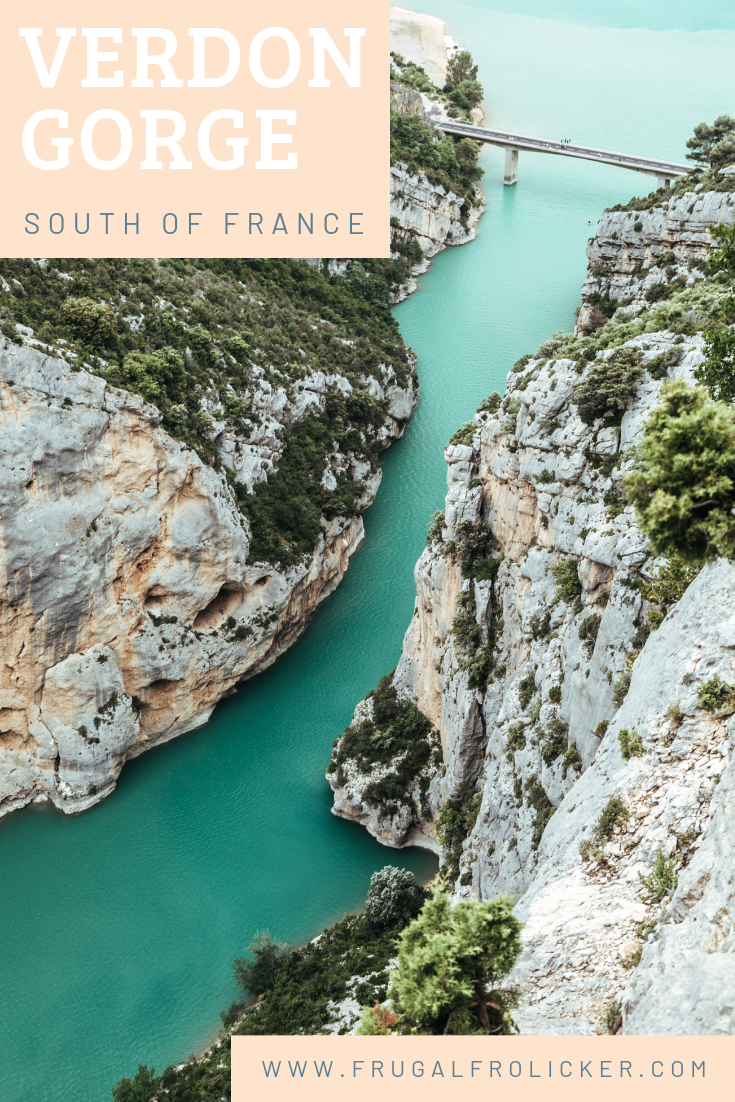 Frugal Facts
As of August 2019 —
I stayed in a fantastic guesthouse about 40 minutes south of Trigance called B&B Chez Max. I had my own little studio apartment with a kitchen and outdoor terrace and paid about 78€/night. Though the owner Max doesn't speak any English, he's fluent in French, Italian, and Spanish, so if you can speak a little of one of those languages you'll be fine communicating with him. Click to book a stay at B&B Chez Max. 
Alternatively, you can book an Airbnb near Verdon Gorge. Use this link for $40 off your first Airbnb booking!
To explore Verdon Gorge, you'll definitely need a car – the smaller the better. Click here for up to $15 off your next car rental with Hertz. Fellow Americans, take note: most cars in Europe are manual, so if you need an automatic car you should book well in advance to ensure there's one available during your trip.