Usually when I hear that a place is super touristy, I roll my eyes, adjust my expectations, and find that it's really not that bad (see: Cinque Terre). I really do believe that you can find good in anything if you look for it, but maybe that's the extreme optimist in me.
I think in this case though, I didn't really give myself time to think about where I was going. My little half-day trip to Les Baux-de-Provence (which btw is absolutely hilarious to hear the Google Maps GPS pronounce in an American accent – she says "lez boo day PC") was pretty spontaneous. I did little research and no planning for it, and more or less just rocked up with my shiny new rental car.
I guess I was expecting Les Baux to be similar to the other Provençal hill towns I'd visited the week prior during our cycling trip. I was not ready to rub arms with school groups and hoards of retirees on holiday. Fair enough, I'm not the only one keen to wander around one of the cutest towns in Provence.
I think it was the combination of the crowds + having limited space in which to wander (short, narrow streets) + everything looking all nice, shiny, and tourist-friendly that made me recoil. Nothing about Les Baux seemed authentic or quaint – it felt a little too Disneyland-esque to me.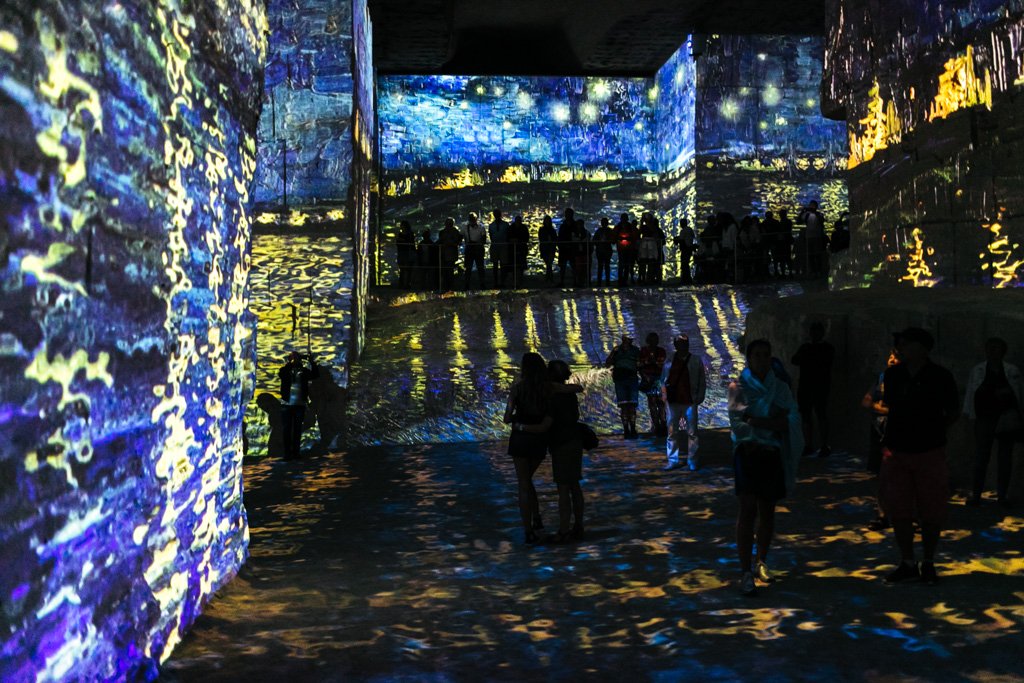 HOWEVER.
I am so glad I did visit Les Baux! I think it's well worth a stop; the key is to know that it's not a place where you can aimlessly amble down streets and get those *omg I'm in Provence and everything is magical* feels (at least not during summer, when I visited). Les Baux is more of a place you go with the intention of visiting a few specific attractions, which I'm about to highlight for you in this post.
Here are 3 things you absolutely must do in Les Baux-de-Provence: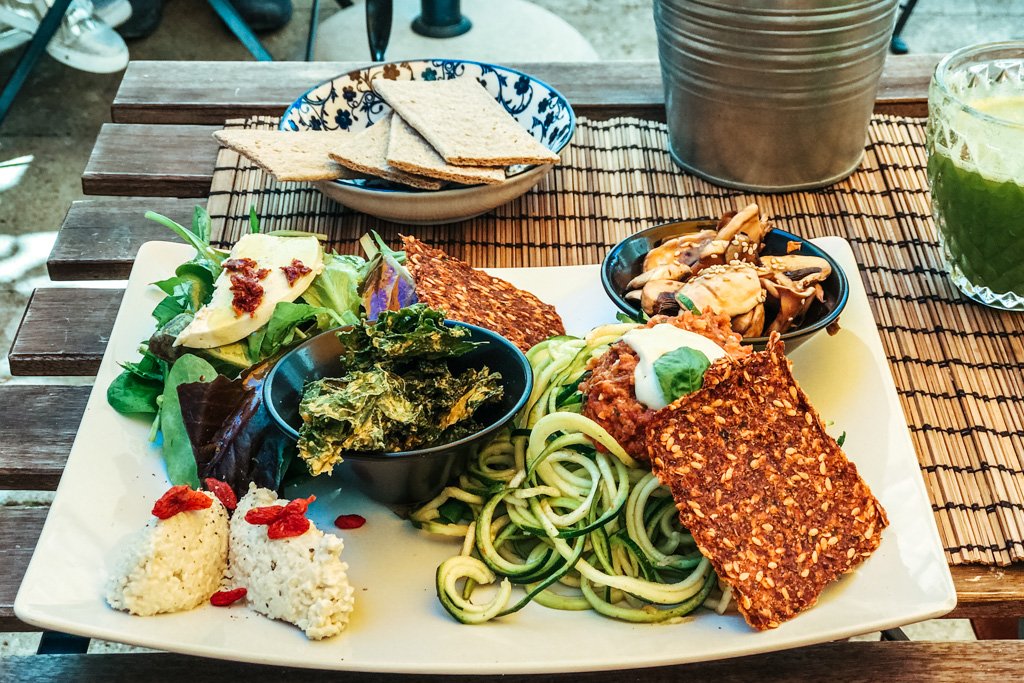 Les Baux Jus
After two weeks of travel where I was more or less reduced to eating pastries every day for lack of anything else available for breakfast, I was craving veggies and superfoods like no other. I mean, can a girl get an açaí bowl anywhere in France? (answer: apparently only in Paris and Nice).
Les Baux may not have made my smoothie bowls come true, but it did inject a generous amount of nutrients into my system thanks to organic raw food cafe Les Baux Jus. They have an array of fresh cold pressed juices on offer, as well as their popular discovery plate which comes with about 6 different items. I devoured everything within minutes: zucchini noodles, cauliflower risotto, and the green detox juice were my faves.
Definitely make a point to stop by Les Baux Jus if you're a fellow health food nerd or need a break from all those French pastries and bread!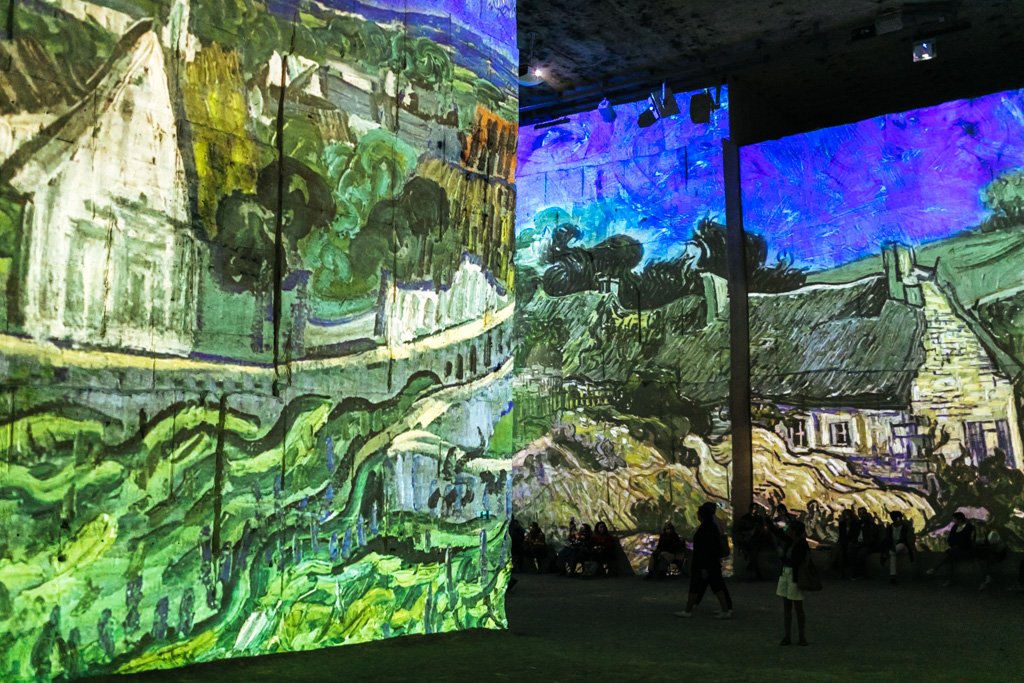 Carrières de Lumières
Whoever first conceived the idea of utilizing an old quarry as a backdrop for a sound and light show is bloody brilliant, as far as I'm concerned.
Carrières de Lumières is an immersive art installation that opened in Les Baux in 2012, featuring 7000 square meters of limestone onto which colorful light paintings are projected – including both the floor and ceiling. The venue felt like a mix between a cave and a warehouse, with ample nooks and corners to explore and enjoy the show from.
The projections are the same throughout the quarry, so you could opt to stay in one spot for the entire show and be able to see the whole thing. And trust me, you'll want to watch the full show – it's absolutely mesmerizing watching the paintings morph and move with the soundtrack.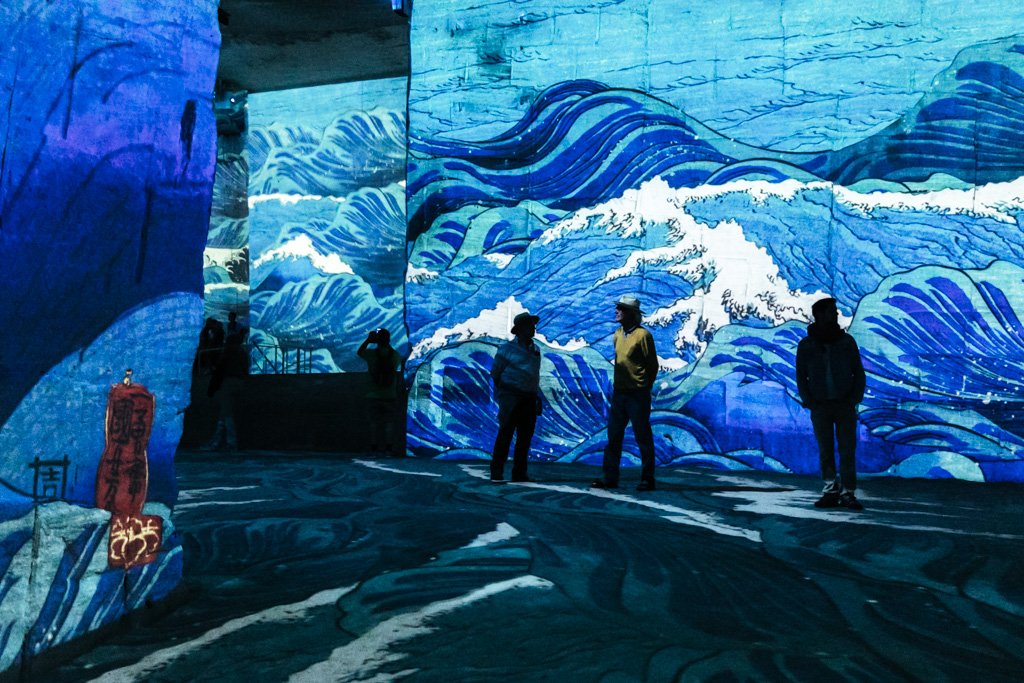 The show changes every year; in 2019 it's Van Gogh "Starry Night", which is rather fitting seeing as the artist lived and worked in the area.
A ticket costs €13, or it's €16.50 for a combined ticket that also includes the chateau + a museum (*ahem*, you're gonna wanna go for the combo ticket if you follow the rest of this post!). They recommend booking a time slot online in advance of your visit because it does get very busy (especially on weekends) and they stagger entry by the hour. I was able to get in without a booking in the middle of a Thursday afternoon, but there was a line at that time.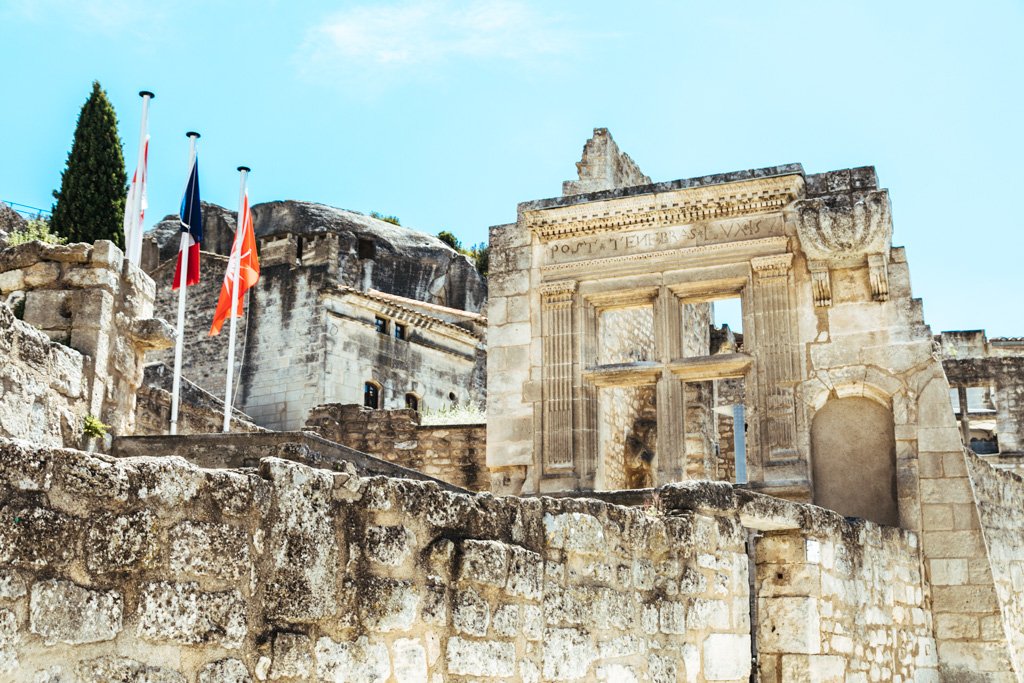 Château des Baux de Provence
Traveling to France and not visiting a chateau is like going to New York City and not having any pizza there. Don't be silly and skip the castles! They are gorgeous, full of history, and so much fun to explore.
Château des Baux de Provence is a good'un and well worth a visit. You'll know you made the right call when you walk to the top of the hill and catch the view of the surrounding countryside backed by the Alpilles mountain range. How lucky were the lords of Les Baux for getting to live in a castle with a view like this?
It's really fun walking around the castle ruins and imagining what it must have looked like when it was fully functioning. Apparently there used to be a hospital, bakehouse, chapels, and other military architecture on the grounds.
You can climb up the steep and slippery steps to the top of the old towers for a view of the ruins from above, as well as of the landscape below the town (basically the same jaw-dropping view you saw near the castle entrance).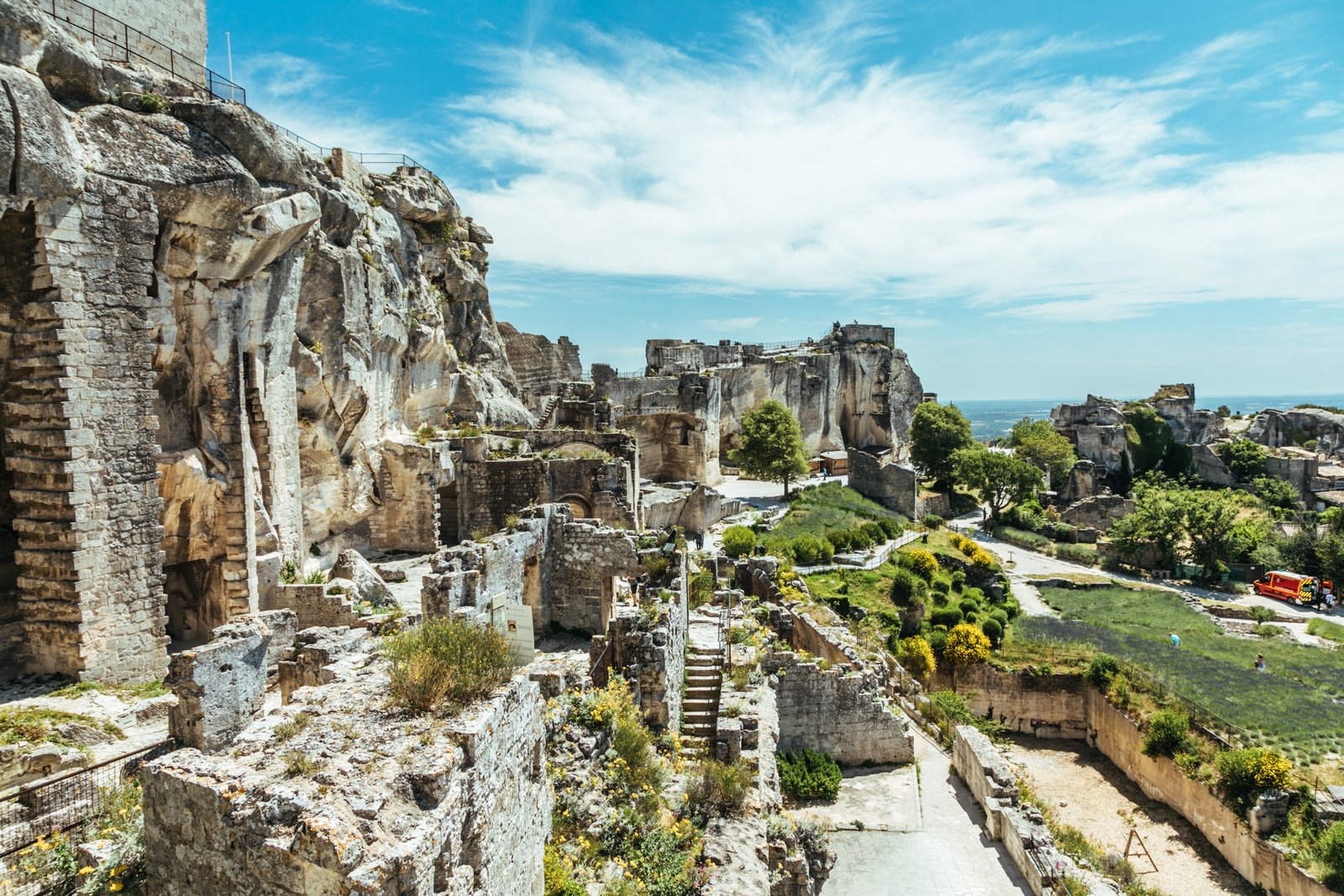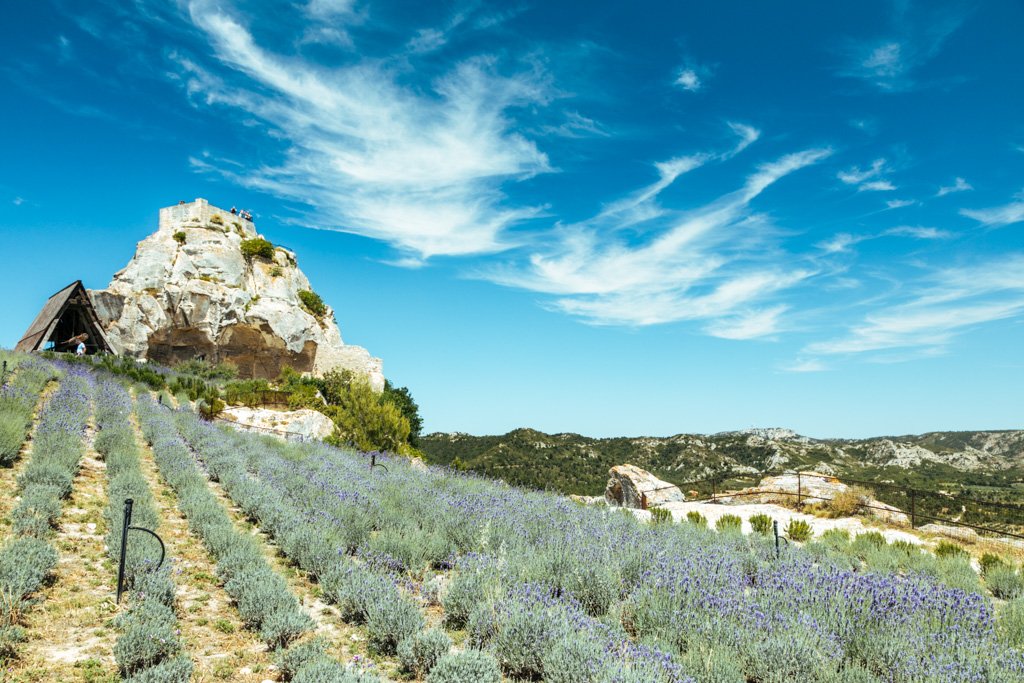 One other thing I enjoyed? All the lavender in bloom around the chateau! I was in Provence just a week or two before all the lavender fields typically start to bloom in late June, so I missed out on all of that lavender action while cycling past those fields the week prior. But here at the chateau, there's plenty of purple to ogle.
A ticket to Château des Baux de Provence costs €8, but if you're also hitting up Carrières de Lumières then you'll want to get the combined ticket for €16.50.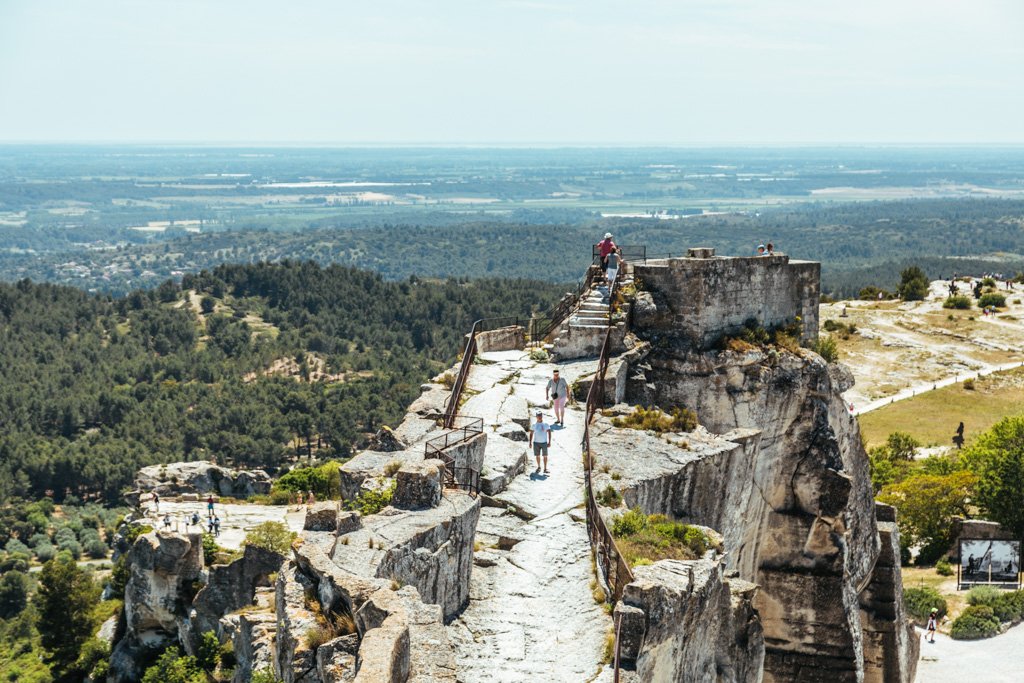 Pin it!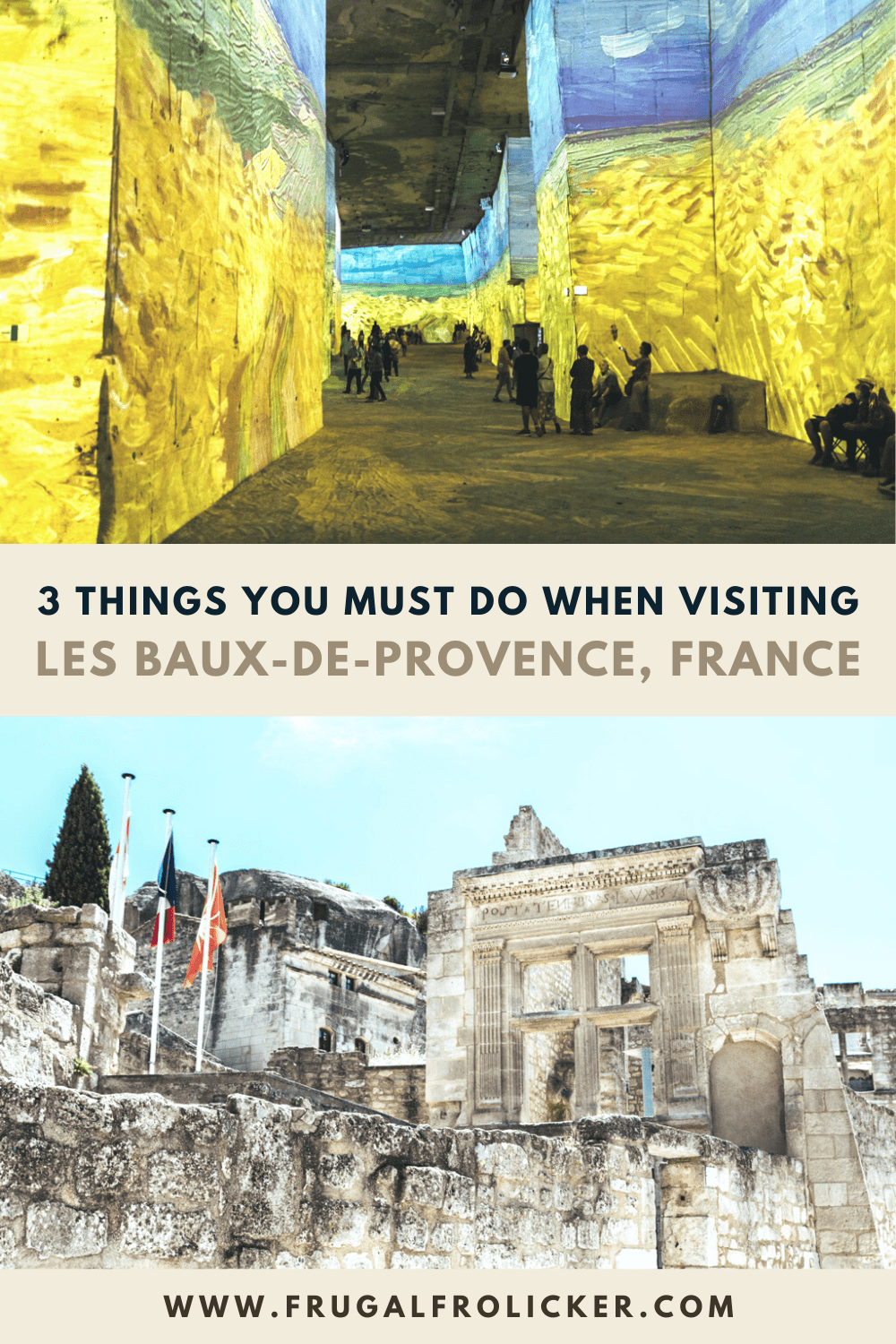 Pin it!