When planning my 2019 summer EuroTrip, I decided to treat myself and book a flight to Europe on a quality airline (rather than booking with a budget airline or redeeming my credit card points for a free flight, my usual go-to methods for flying across the world affordably).
I knew Etihad was legit, but what I DIDN'T know is that they often offer a free Abu Dhabi stopover with their flights. These days I'm all about going easy on myself, and that means breaking up my long haul flights so that I'm not a total zombie when I arrive at my destination – aka I was ALL over this free stopover business.
When I booked, Etihad holidays was offering a pay one night, stay one night free deal on select Abu Dhabi hotels – which is how I ended up with two nights in a 5-star hotel for around US$100 total. A few months later, I noticed they were offering TWO free nights with the Abu Dhabi stopover – seriously, how can you pass that up?
While I spent my two days in Abu Dhabi alternating between napping, sightseeing, and ordering room service for most meals, the noteworthy things I did can definitely be done in one day in Abu Dhabi if all you have is a quick layover before catching your next flight out.
VISTING FROM DUBAI? CLICK TO BOOK AN ABU DHABI FULL DAY TOUR.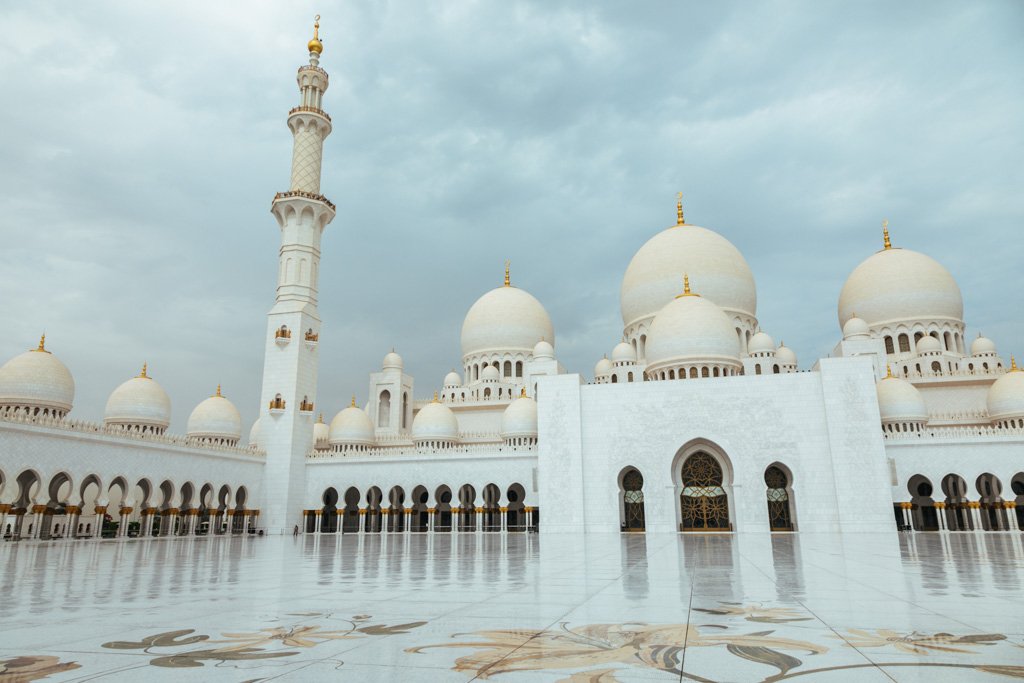 Here's my guide for what to do on an Abu Dhabi layover:
Sheikh Zayed Grand Mosque
The number one thing to do in Abu Dhabi, and one of the best places to visit in the Middle East, has got to be the Grand Mosque. It is absolutely majestic and unlike any other building you've ever seen before. So go, walk around with your jaw dropped, and take it all in.
If you're female, you'll be shown to a dressing room before entry and given a traditional robe to don for your visit (there are a few color options to choose from). You must wear the hood to cover your hair.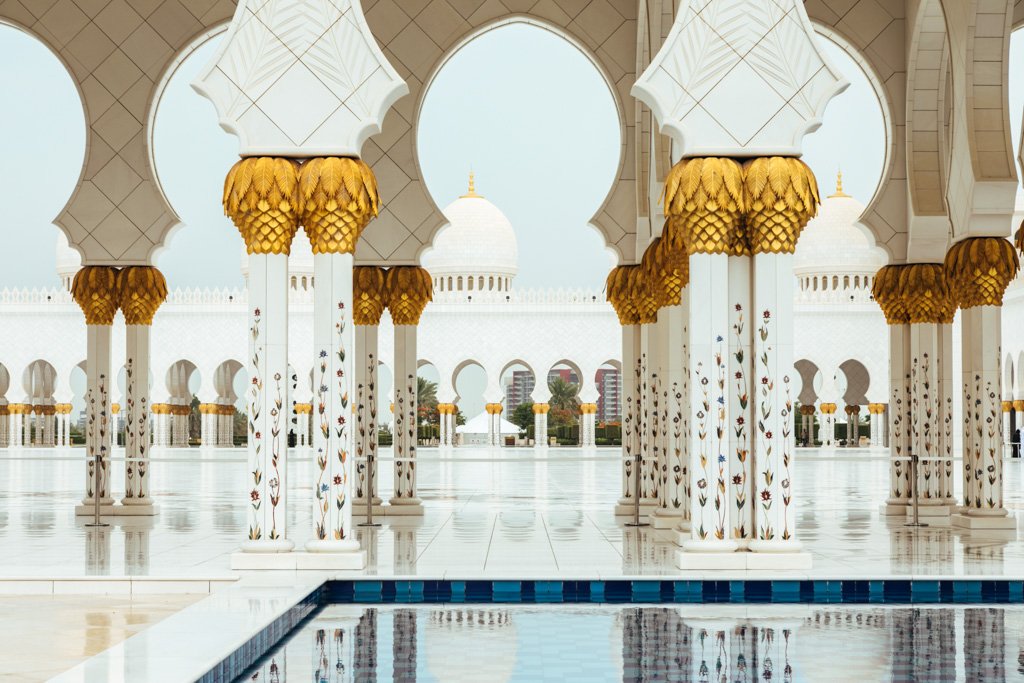 Entry to the Grand Mosque is free! Visitors can walk around half of the perimeter of the mosque and peek into the prayer halls, but no access is allowed inside these rooms or in the middle of the mosque.
Do yourself a favor and get there EARLY: it opens at 9am daily (except on Fridays, when it opens at 4:30pm) and closes at 10pm, so I'd recommend arriving around 8:30 or so to avoid the queue. I did this when I visited in late May on a Tuesday and was one of the first ones in, and I was able to breeze right through the mosque without having to deal with any crowds. By contrast, when I was exiting the venue just after 10am, there were hoards of people making their way in.
Alternatively, you could visit the Grand Mosque around dusk, when the lighting is soft and glow-y. Check here for the most up-to-date opening hours.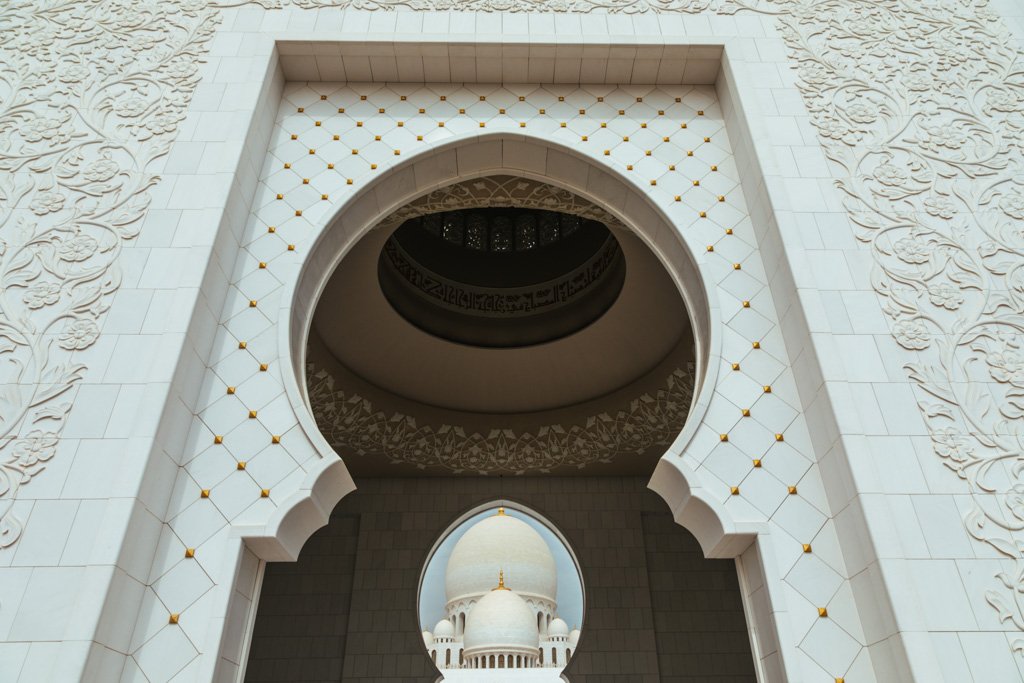 Coffee & Brunch at Jones The Grocer
If you're anything like me, you may need a pick-me-up after enduring a long-haul flight and touring the mosque.
I did my usual "best coffee in ______" Googling upon arrival in Abu Dhabi, which turned up a few promising cafes. I ultimately went with Jones The Grocer, which has 3 locations in the city (I went to the one in the Holiday Inn).
I can honestly say that the aeropress coffee I had was some of the best black coffee I've EVER ordered in all my travels. Seriously, so so good that I'm still not over it. Their coffee menu has all sorts of options, from French press to aeropress to flat whites and beyond, and they have a smattering of different beans you can select from.
My only regret is that I didn't come hungry because their menu is full of all the healthy dishes – like ALL of them. So many veggie dishes and brunch dishes and bowls of goodness.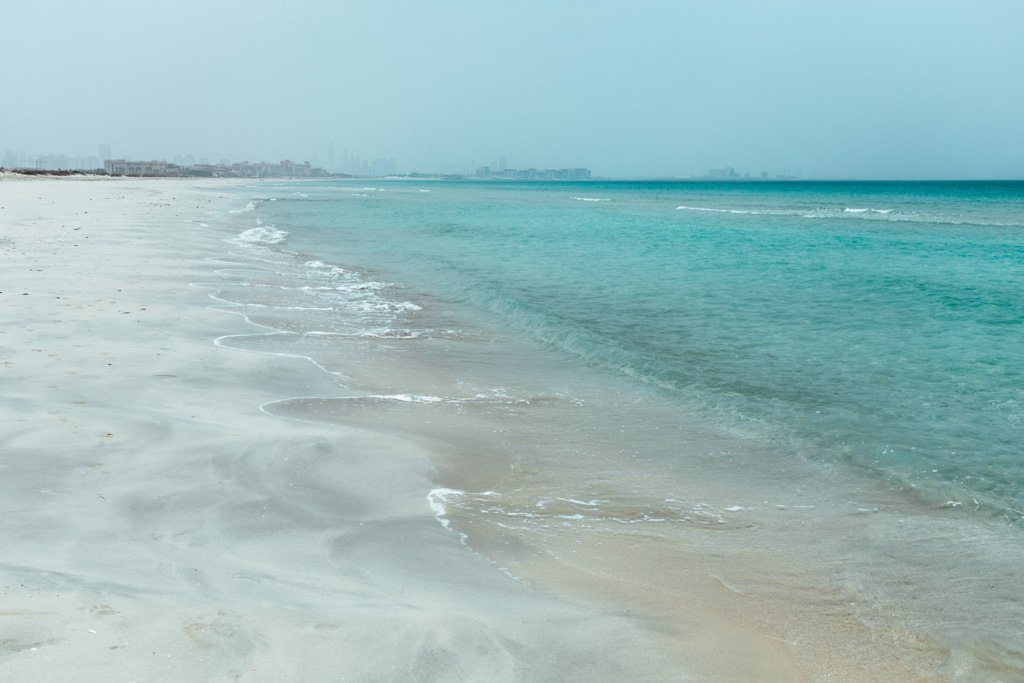 Saadiyat Beach Club
The beach probably isn't the first thing that comes to mind when you think of Abu Dhabi, but it might be when it's over 100F (40C) out.
One excellent way to deal with the extreme heat in this city is to head to the Saadiyat Beach Club. Even if you're not staying at the hotel, you can snag a day pass (250AED/US$68 on weekdays, 375AED/US$102 on weekends, or 90AED/US$25 on Mondays for Ladies Day – the day I visited) which gives you access to the beach, pool, sun loungers, gym, and spa. You can order drinks and food to your lounger throughout the day (prices were pretty reasonable from what I saw).
I started out on the beach, where the sand was hot enough to torch the soles of my feet and the water was about as warm as a bath. Still, the beach was quite picturesque with its pale turquoise water and hazy city skyline in the distance. I set up camp under an umbrella and made frequent trips to the sea to cool off.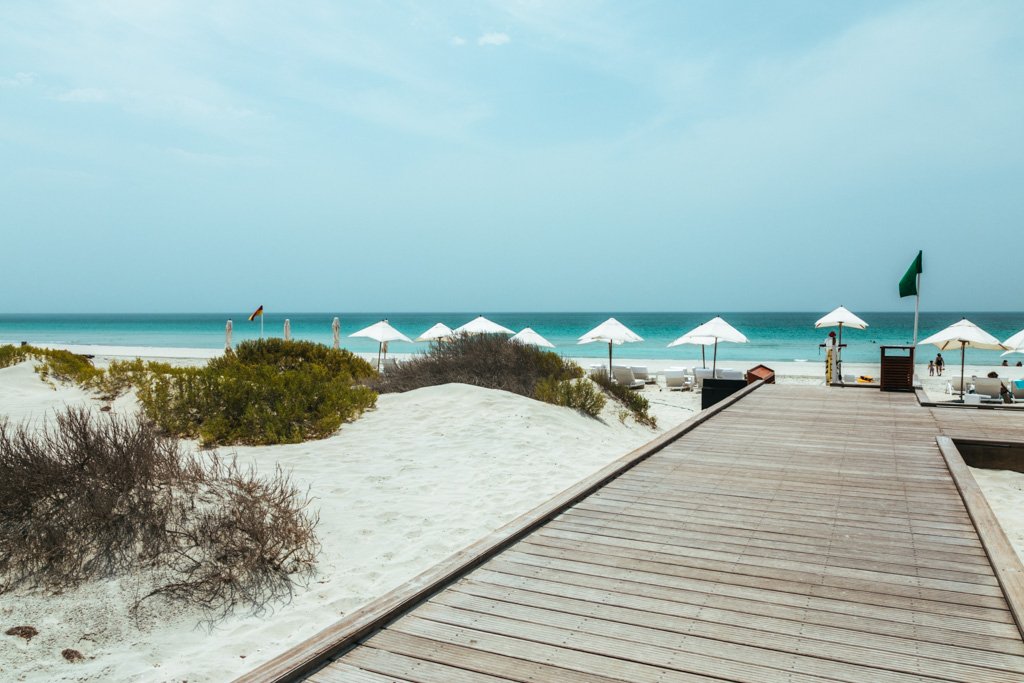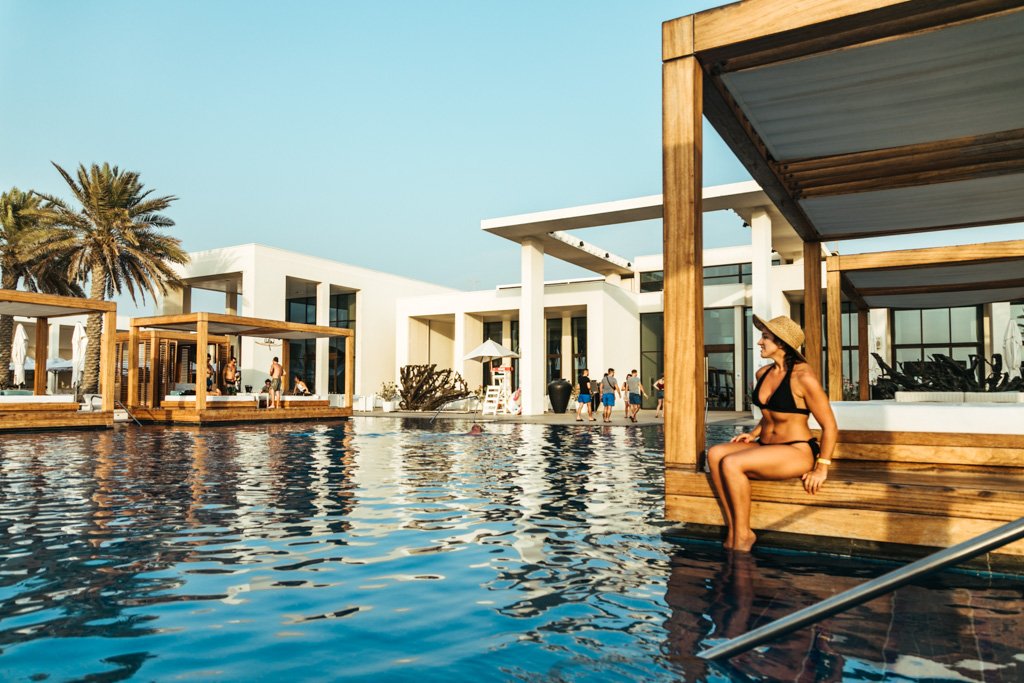 The pool is where all the bustle is at Saadiyat, so I made my way over there later on in my visit. Thankfully the pool water was much more refreshing than the sea. If you're keen to splash out, there are cabanas for hire (prices here – spoiler alert, they are not the slightest bit affordable if you're flying solo).
If you're thinking a day pass is too pricey and maybe not worth it (particularly on any day other than a Monday), rest assured that you can squeeze lots more value out of it by spending time in the spa. The facilities at the Saadiyat are super swish and the spa includes a hot tub, cold plunge pool, sauna, and steam room… plus showers to clean up in afterwards. It felt quite luxurious to me, and was just what I needed to combat jet lag.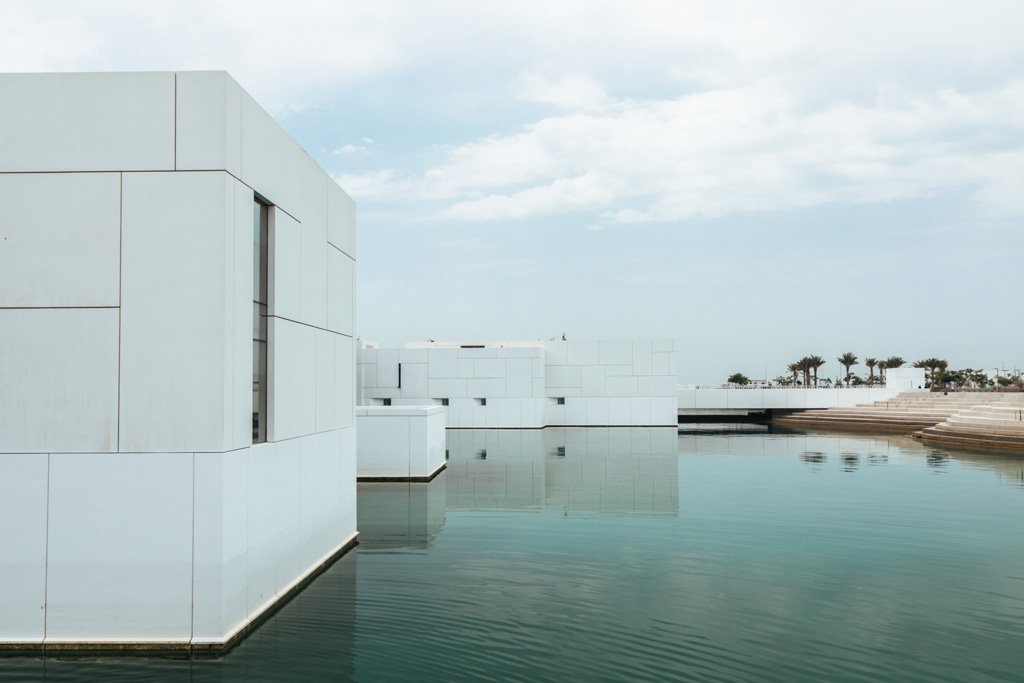 Louvre Abu Dhabi
Another obvious way to beat the heat? Stay indoors in the air con ;)
The Louvre Abu Dhabi is a good choice of things to do in Abu Dhabi because in addition to staying cool, you get to check out some art and some really cool architecture (the building itself is a work of art). The museum is open pretty late as well, which could work well if you've got a red eye flight out of Abu Dhabi.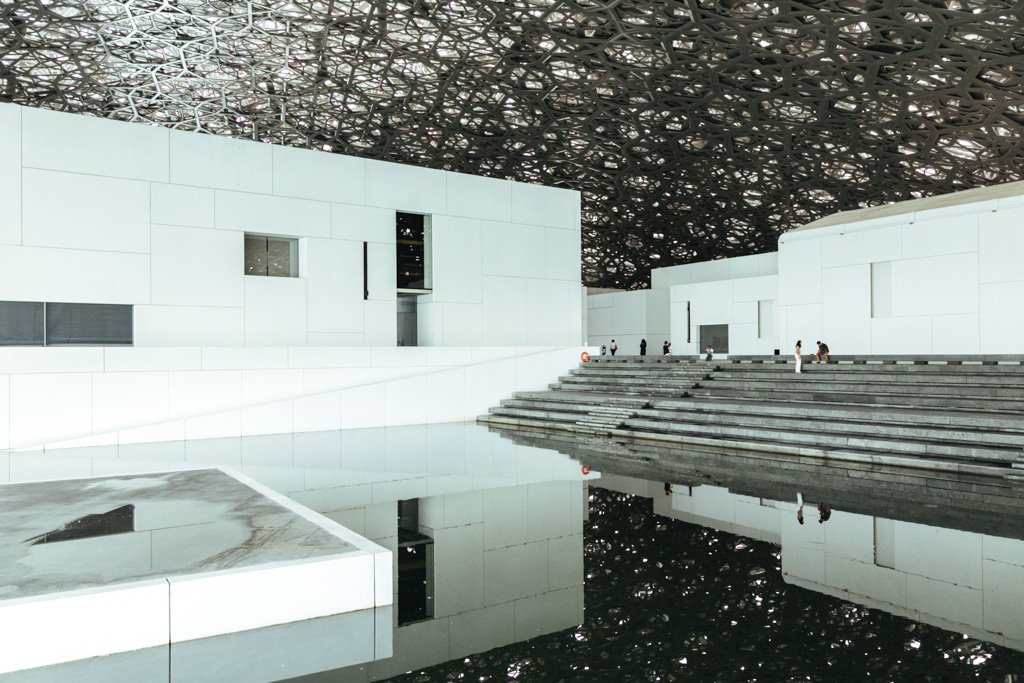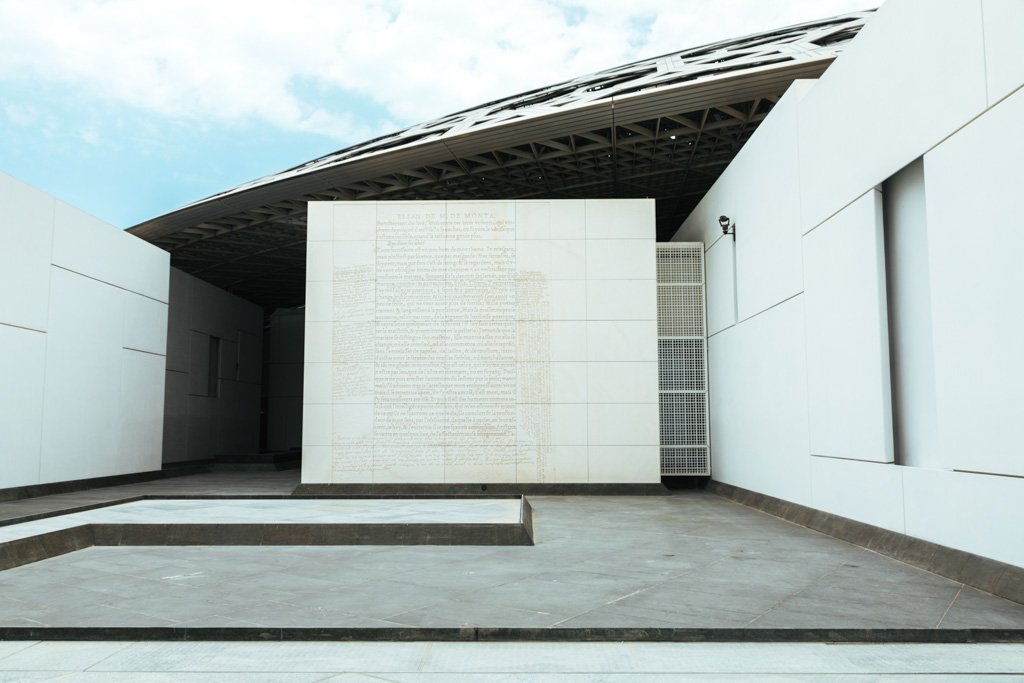 Admission to Louvre Abu Dhabi costs 63AED/US$17. It's open from 10am-8pm (Sun, Tue, Wed, Sat) or 10am-10pm (Thu, Fri), and closed on Mondays.
Where to Stay in Abu Dhabi
I stayed at Le Royal Meridien Abu Dhabi, a 5 star hotel in a really central location. Depending on the dates and type of room, you can book for as low as US$85 – an absolute steal considering how nice the hotel is.
I also highly recommend adding on the continental breakfast – their buffet spread is extensive and tasty, particularly the juices and bircher muesli.
CLICK TO BOOK A STAY AT LE ROYAL MERIDIEN ABU DHABI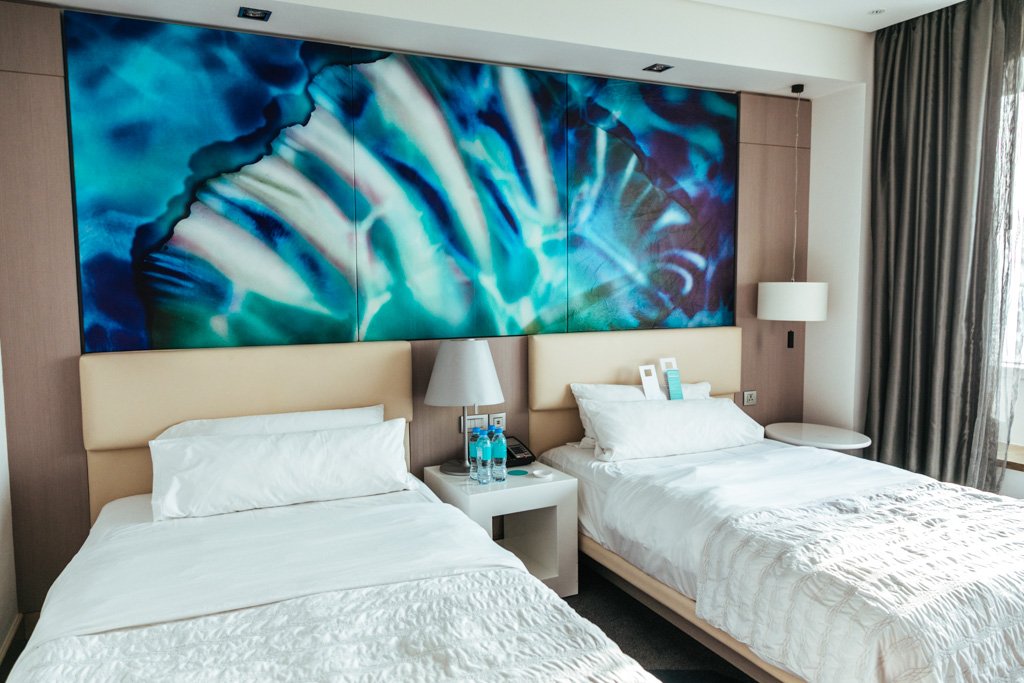 VISTING FROM DUBAI? CLICK TO BOOK AN ABU DHABI FULL DAY TOUR.
Pin it!