In what may have been the most spontaneous trip I've ever taken, last week I decided to join my good friend Marijs on a road trip from Sydney to Byron Bay. Both of us were eager to escape Sydney's windy wintry weather and just wanted a break from city life.
We've both spent time in Byron before, so this time we resolved to venture outside of the bubble and explore more of the Byron Bay hinterland. Turns out there's enough there to fill up an entire Byron itinerary without even spending any time in Byron proper.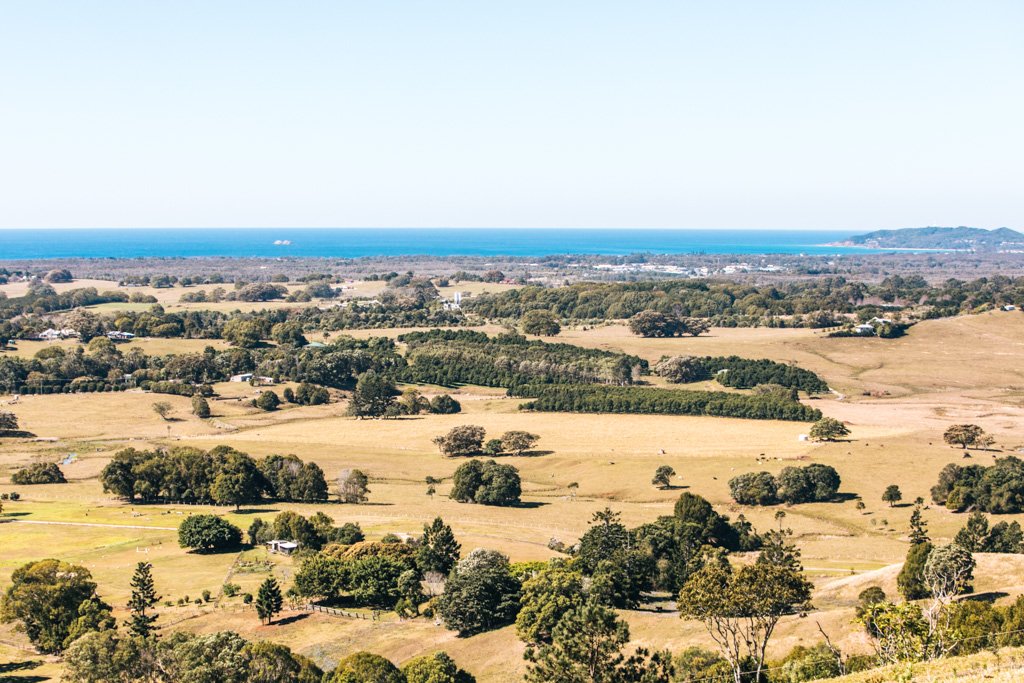 "The hinterland" is a term I hear thrown around a lot in Australian travel. Officially, it's defined as "the remote areas of a country away from the coast or the banks of major rivers" – so yeah, not all that surprising given how remote Australia and many of its natural wonders are.
In particular, the Byron Bay hinterland is quite well known in Australia.
From untouched beaches to hippie towns, here are 13 things to do in and around the Byron Bay hinterland:
Scenic Drive
One of the best things to do in Byron Hinterland is drive through the picturesque countryside, taking in the rolling green hills, farms, and distant views out to the sea.
If you drive south toward Newrybar, you'll likely pass by numerous produce stands on Broken Head Road and Midgen Flat Road. And if you drive from Mullumbimby up to Crystal Castle, you'll get to enjoy stunning views from high up above the landscape.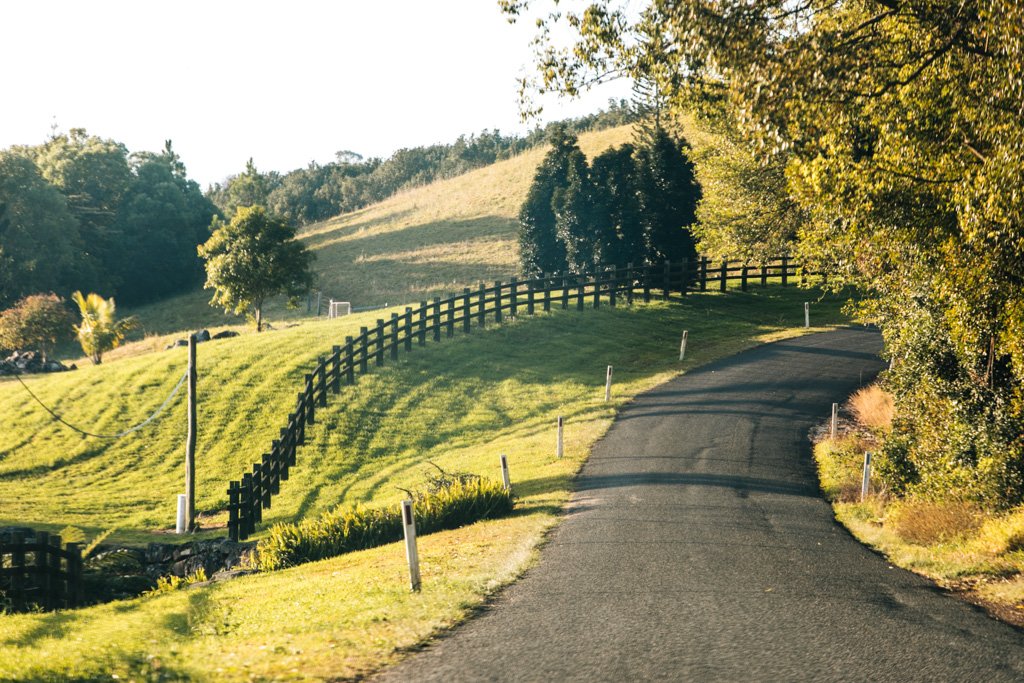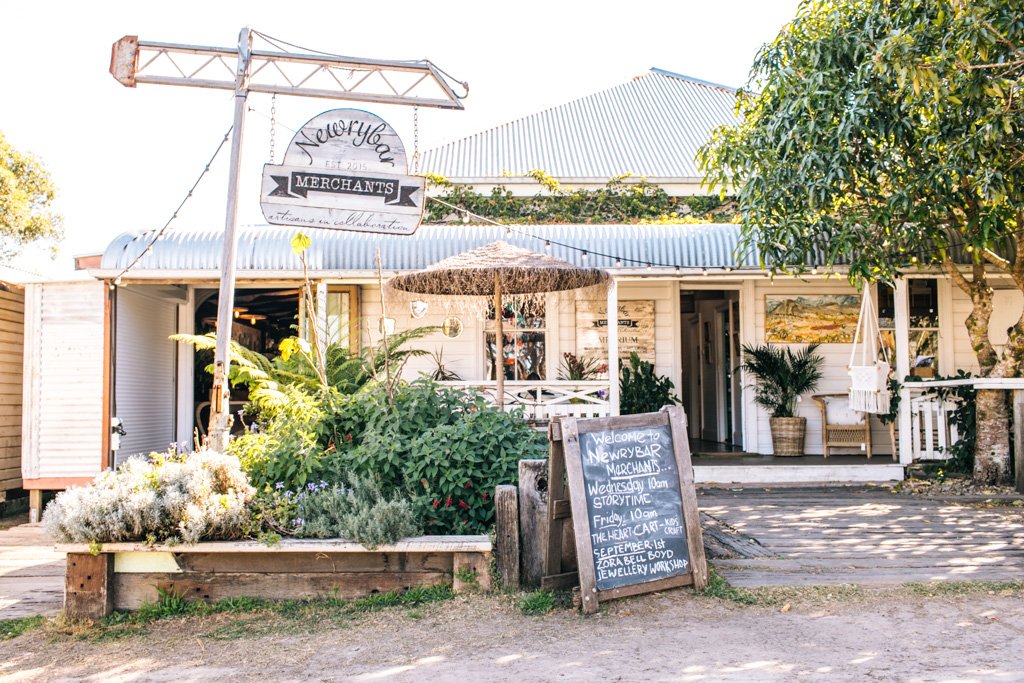 Newrybar
A historic Byron Hinterland village just 15 minutes' drive from Byron, Newrybar has one main street and two particular attractions worth stopping for: Harvest Cafe, a restaurant sourcing ingredients from local producers, and Newrybar Merchants, a collective of local artisans selling goods in a huge 1890s house.
Neither is very budget-friendly, but at the very least it's worth strolling through the beautifully-decorated Merchants building. So much home decor inspiration in there!
Personally, I spent a grand total of $5 in Newrybar and that was at the General Store, where I had what was quite possibly the best pie of my life (a bolognese one). Australia loves its pies – and by that, I don't mean the large apple or fruit pies you traditionally see in the US, but the single serve-sized savory pies often sold in Aussie cafes or petrol stations.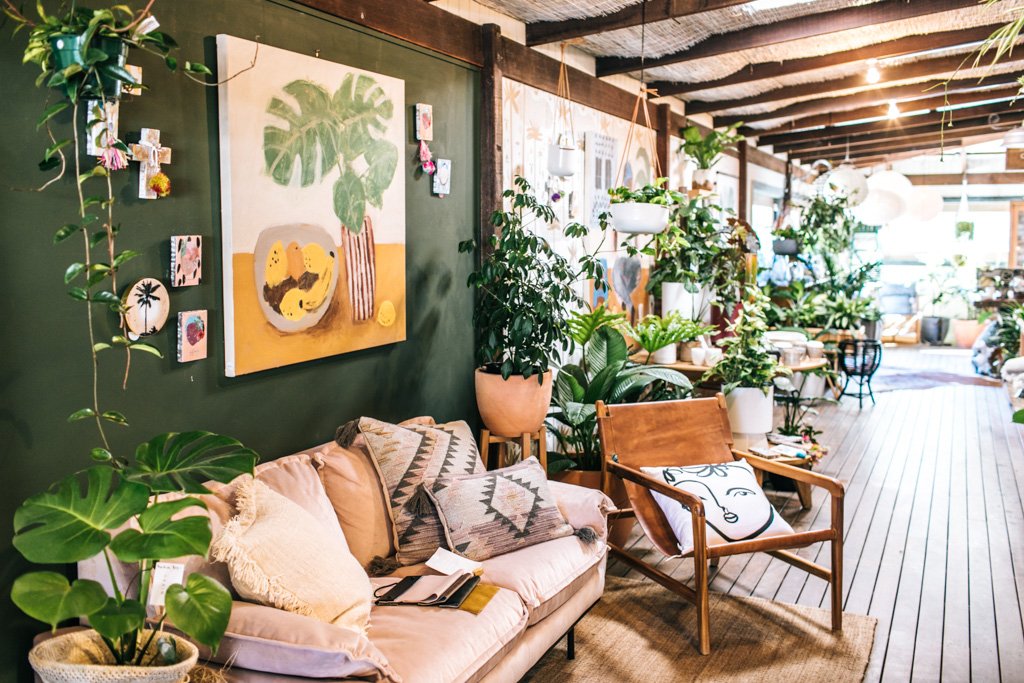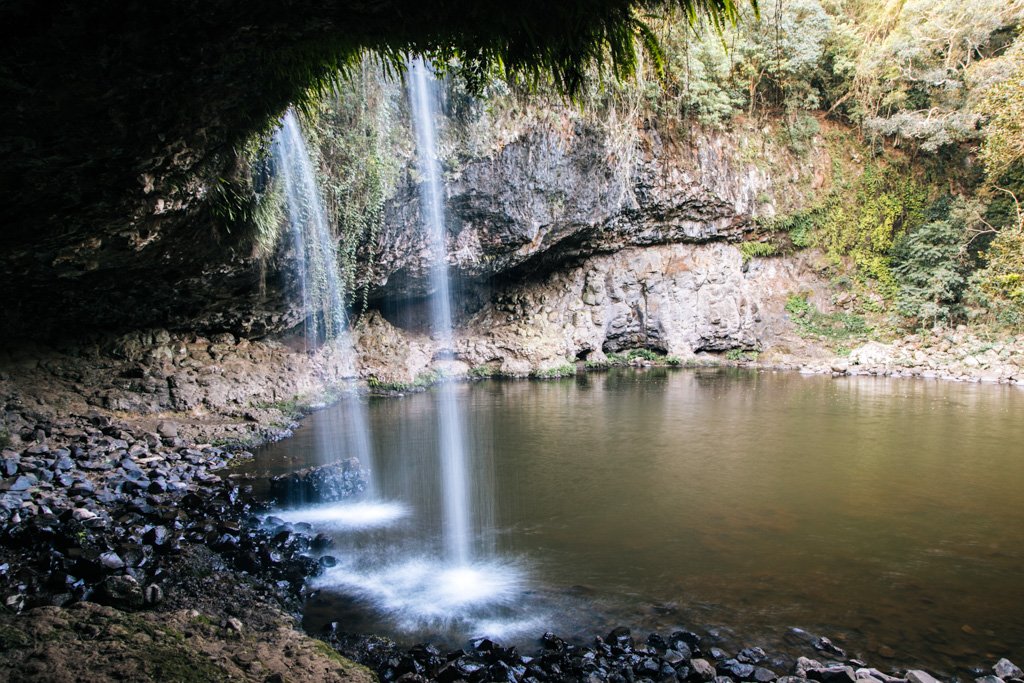 Killen Falls
An 8 minute drive from Newrybar takes you to the car park for Killen Falls, where you can follow a short track that leads to the bottom of the falls. With a spacious cave behind the falls and a sizeable pool before it, Killen Falls makes for a fabulous summer swimming spot and is definitely one of the best Byron Bay hinterland waterfalls.
Broken Head Reserve
My favorite and also most surprising find near Byron Bay was Broken Head Reserve. This area boasts several secluded beaches that you can hike down to from a dirt road. Supposedly Chris Hemsworth owns a house nearby, so you KNOW it's a pretty special location.
We spent a few blissful hours down at Whites Beach, an insanely picturesque beach with a little cave you can walk into, and easy access (especially at low tide) to neighboring beaches that are tiny and typically empty. I could have spent the entire day relaxing and exploring down here!
Other worthwhile stops in Broken Head Reserve are Kings Beach and the Three Sisters walking track which leads to a pretty lookout point.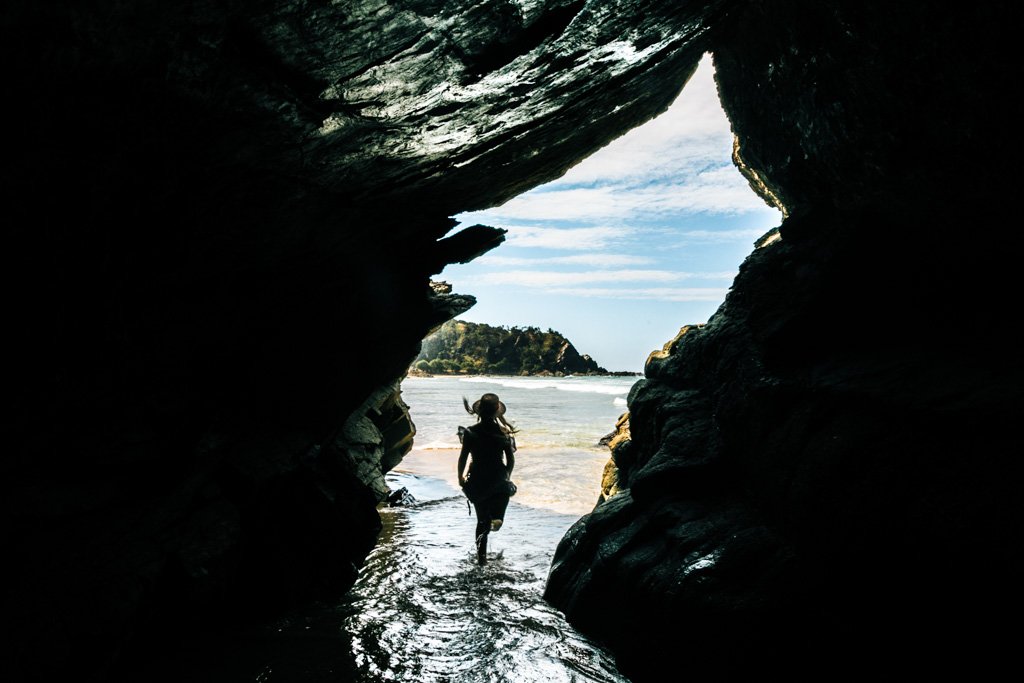 Bangalow
Bangalow is one of several Byron Bay hinterland villages, about 15 minutes southwest of Byron Bay. It's a joy just to amble down its old-timey main street, stopping into shops, galleries, and cafes whenever the mood strikes.
We were super excited for brunch at Woods, the sister cafe to the beloved Folk in Byron Bay. The space is beautiful at both venues, but I was quite underwhelmed by the menu options and portion sizes at Woods and the coffee was nowhere near as good as it is at Folk. Not sure if we visited Woods on an off-day or if it's like this all the time, but after experiencing both venues I'd say Folk is a better bet.
Also, the Bangalow Market is held on the 4th Sunday of every month with heaps of local goods and eats on offer.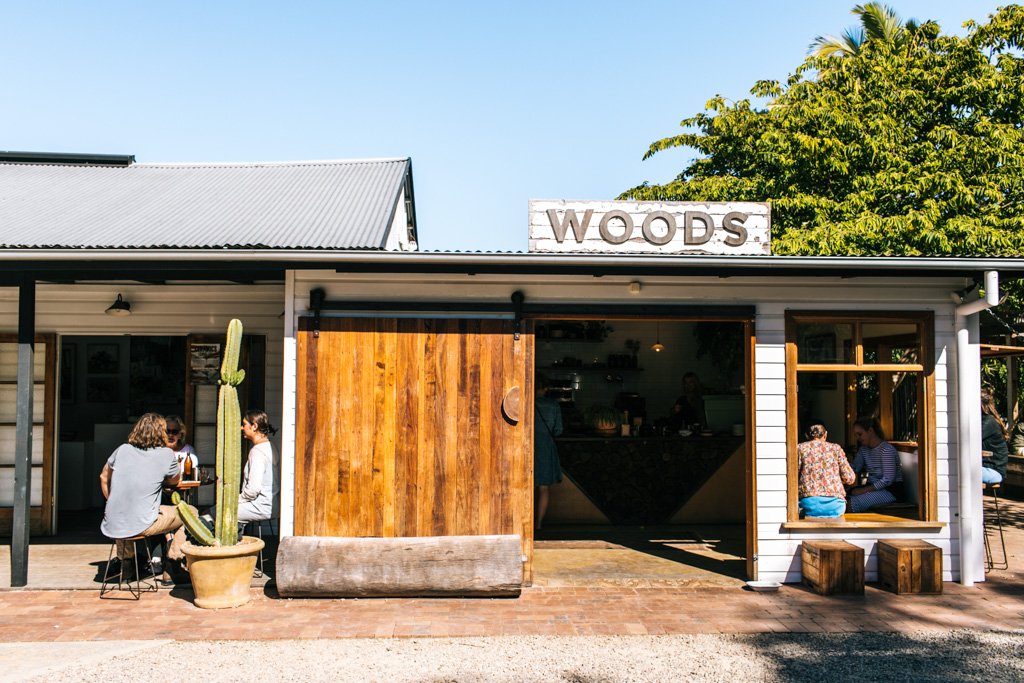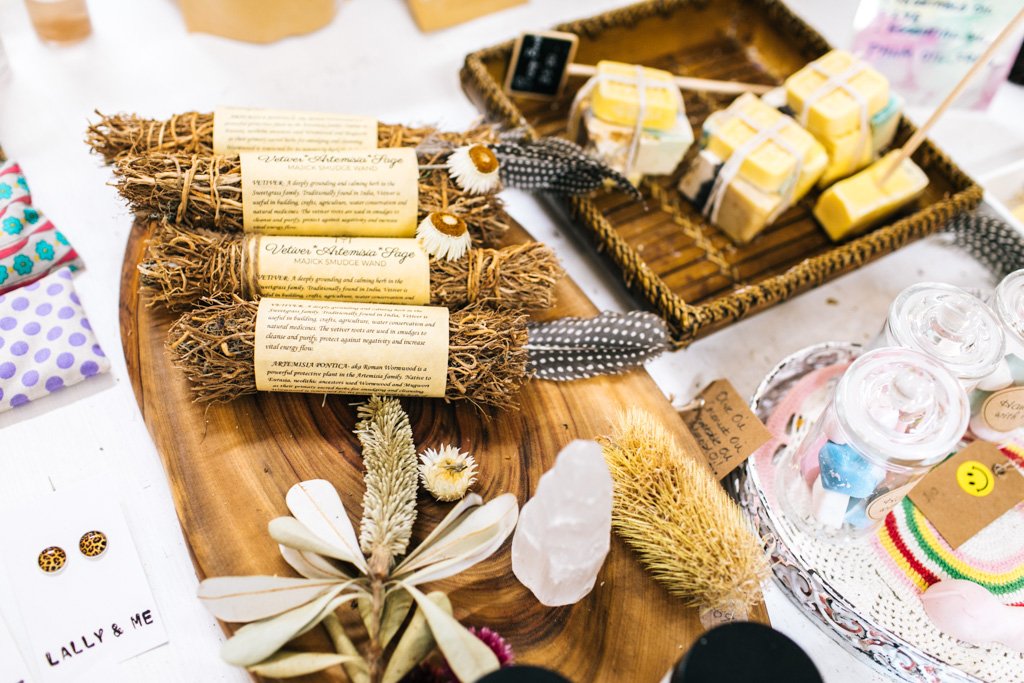 Nimbin
Nimbin is a popular day trip from Byron, so odds are that you've heard of this hippie enclave and alternative culture hotspot before. This is where you go if you want to easily procure weed in various forms (note: marijuana is illegal in NSW, but apparently they turn a blind eye to it here). The cookies are supposedly pretty popular.
Nimbin is an easy drive from Byron, just over an hour west. There are plenty of tour buses that make the trip out there too, should you wish to indulge and not have to worry about driving back from the Byron Bay hinterland afterwards.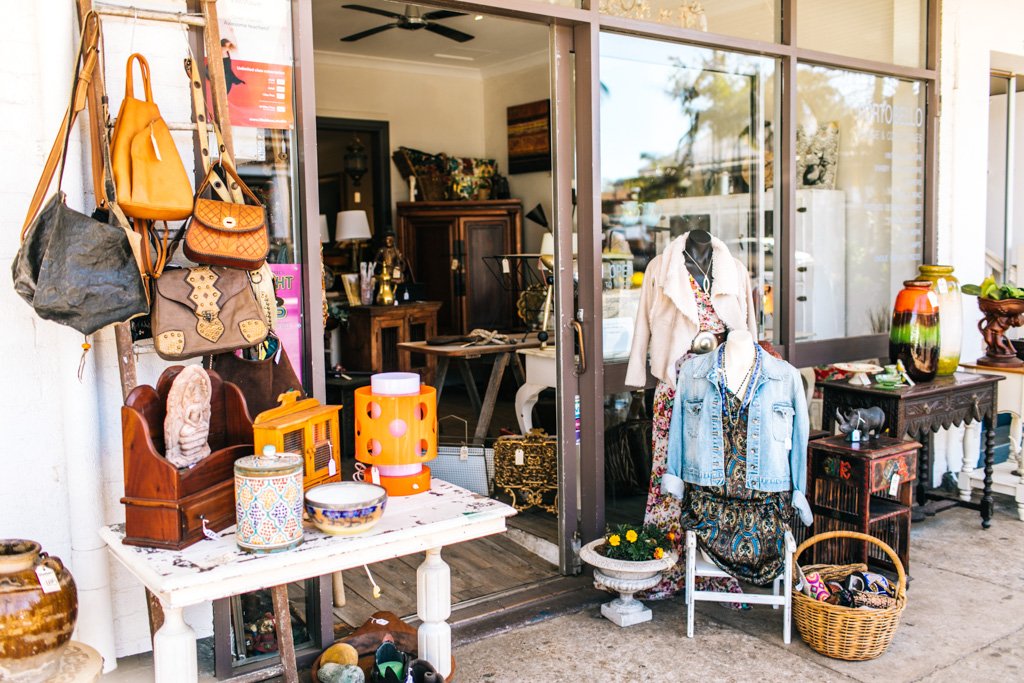 Mullumbimby
They say that Mullumbimby is "the biggest little town in Australia". And at just a 20 minute drive from Byron, there's no reason not to pay a visit to this scenic Byron Hinterland village.
Mullum's fully embraced the counter culture, but unlike Nimbin it's not so showy about it. Walking down the streets, it just feels like a cute little town – just with heaps of local produce, kombucha, incense, essential oils, pre-loved clothing and housewares, and crystals for sale about every other storefront.
I think the perfect way to do Mullum is to stop by in the morning for coffee and breakfast and do a bit of shopping afterwards. If you can time your visit to coincide with the third Saturday of the month, you'll be able to check out the Mullumbimby Market too. There's also the Kiva Spa, which looks like something straight out of Bali: $25 gets you an hour in the bath house, and there are loads of other spa services on offer that focus on healing.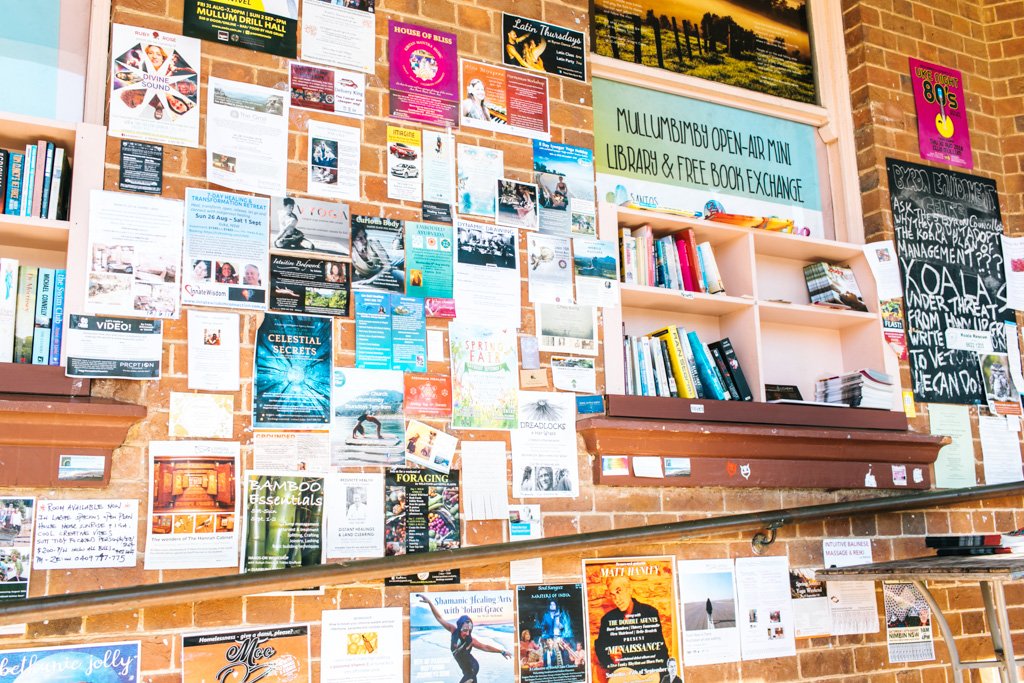 Minyon Falls
If hanging out at the bottom of a 100-meter waterfall is your idea of an adventure, then you'll want to hike to the base of Minyon Falls. Allot at least a half day for it, as the hike is 4km one-way and you'll likely want to spend plenty of time enjoying the falls from below.
Don't have enough time to hike? You can still stop and view the falls from above at the viewing platform.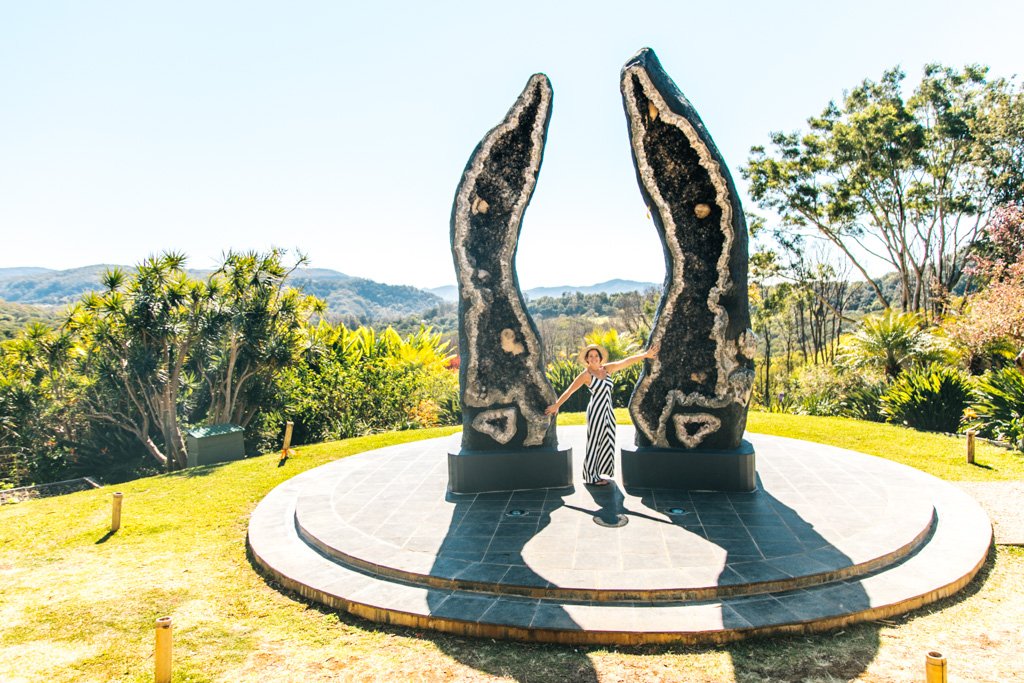 Crystal Castle
Up in the Byron Bay hinterland above Mullumbimby is Crystal Castle, home to some of the biggest crystals in the world (including a pair of geodes and an amethyst cave). Admission is a bit pricey at $29, but includes entry to the Shambhala Gardens and rainforest and plenty of healing opportunities.
If crystals and spirituality aint your thang, you may want to give this attraction a miss; however, if you're open to it, I think it's definitely worth a visit. The grounds are incredibly peaceful even on a busy weekend, and it's quite easy to zen out while stepping on the reflexology rocks, walking around the labyrinth, or circling the peace stupa.
You can also opt for an aura reading ($60), tarot reading ($85), or cave immersion ($80).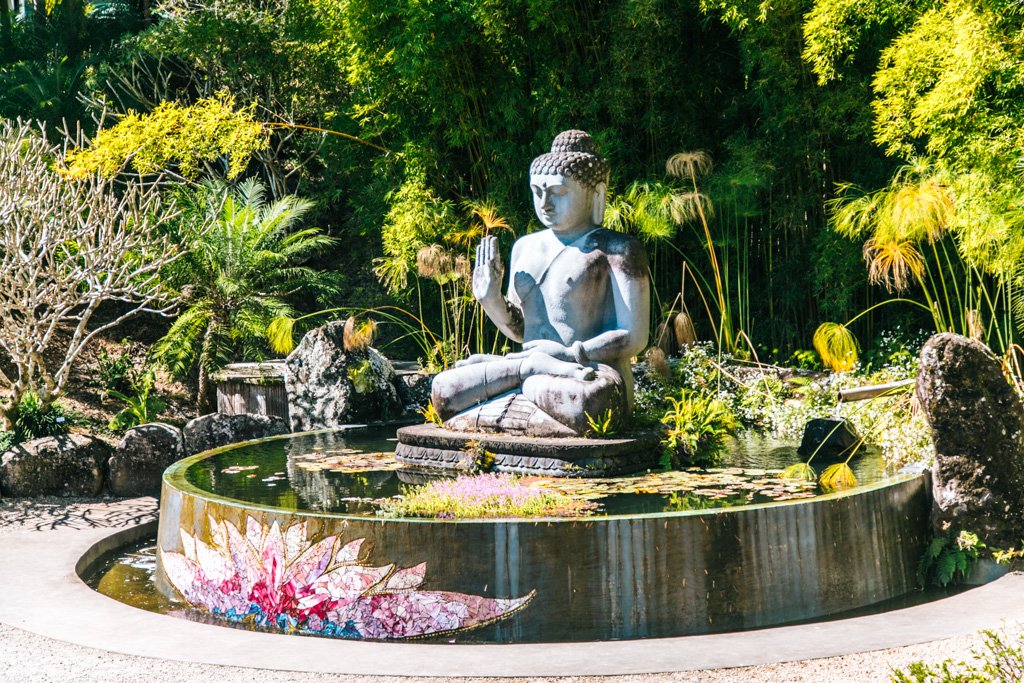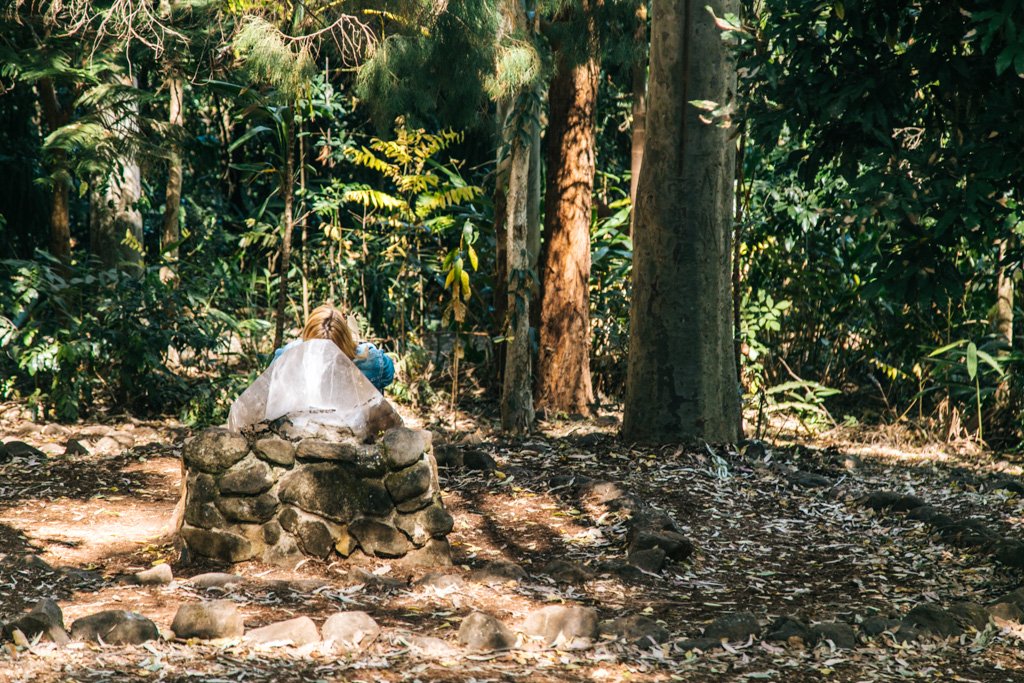 Mt Warning
Morning people, this one's for you! Hiking to the summit of Mt Warning for sunrise is one of the best outdoor adventures in Byron Shire. Of course, you can do this hike at a more reasonable time of day as well and still enjoy 360-degree views over the Byron Bay hinterland and towards the ocean.
Byron Bay Adventure Tours offers an overnight trip to Mt Warning, where you camp in Mt Warning National Park, then set out before dawn the following morning for a sunrise hike.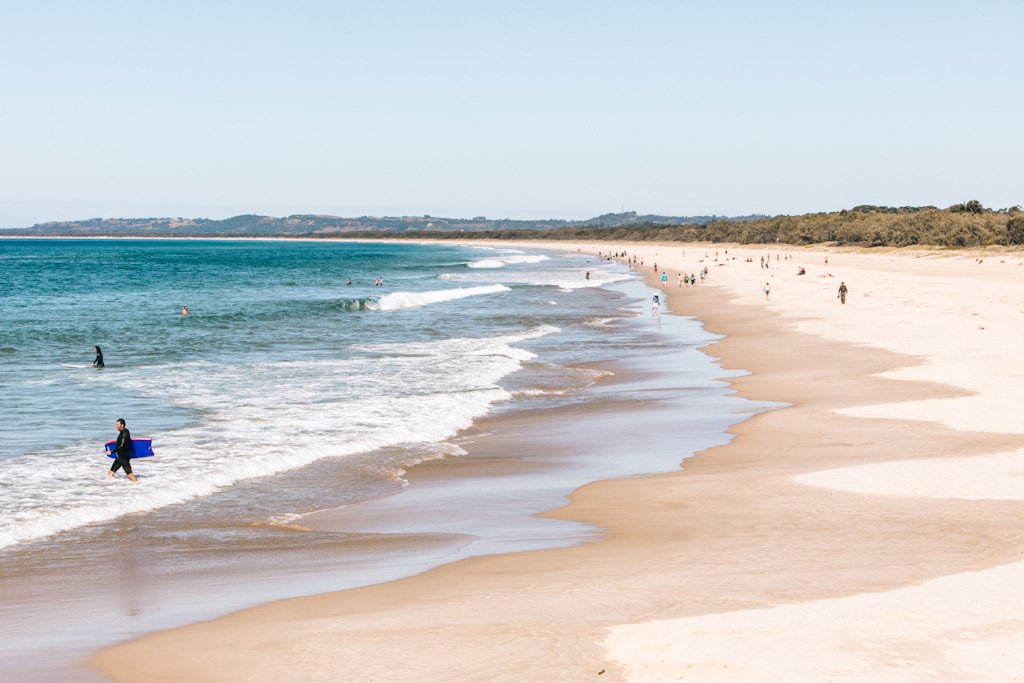 + BONUS: Here are 3 other stops I recommend making if you venture north from the Byron Bay Hinterland, towards Queensland:
Brunswick Heads
Brunswick Heads is just 20 minutes north of Byron and is often touted as a more low-key and affordable version of Byron Bay. With gorgeous beaches, unique shops, and hip cafes, there's plenty to love here.
What I loved most, though, was how you have a river running into the beach. You can paddle or jump off the bridge into the calm and clear water of the river, or you can hang out amidst the sand dunes and swim in the ocean.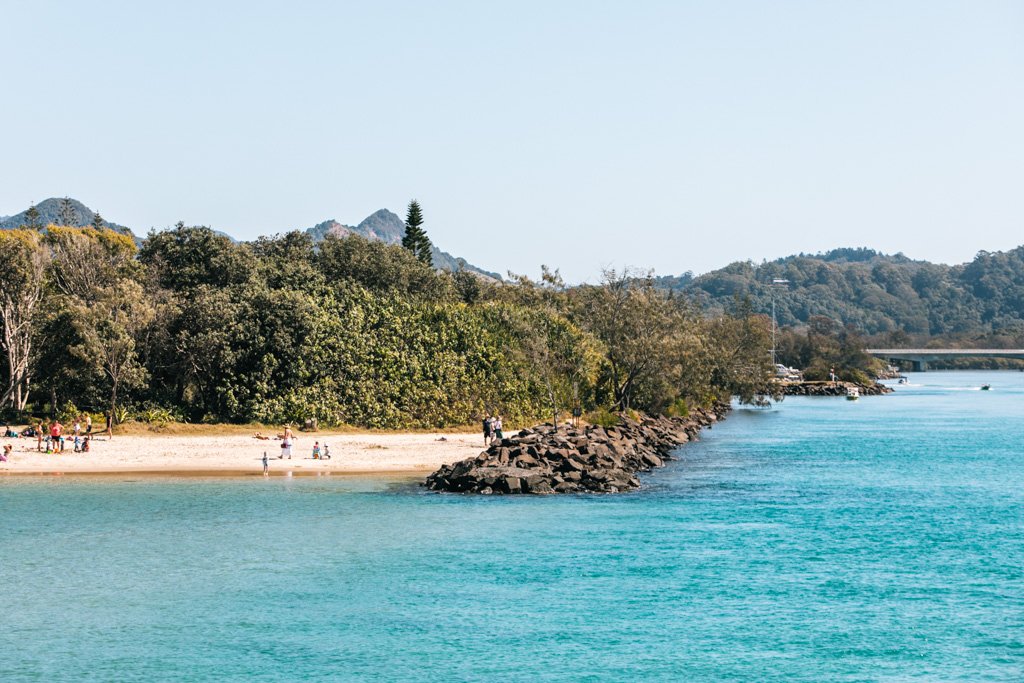 Tweed Heads
This coastal hamlet at the NSW-QLD border is a lot like Brunswick Heads in that it's got both ocean and river, but it's bigger and offers a bit more to do. Whether you hit one of the surf beaches, go fishing or crabbing, take a river cruise or paddle, or do some dolphin and whale spotting from Point Danger Lookout, there's no shortage of aquatic activities here.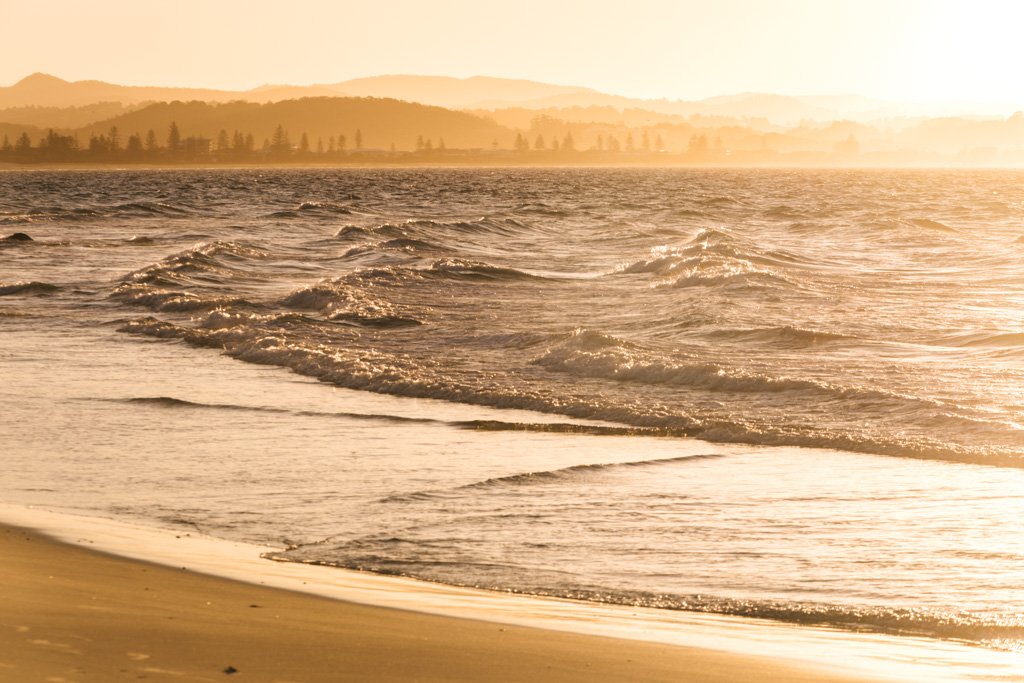 Rainbow Bay
If you don't mind crossing the border into Queensland, Rainbow Bay is just at the start of the Gold Coast in Coolangatta and only an hour north of Byron. From this beach, you can stare straight across to the Surfers Paradise skyline, and to the left towards the Gold Coast Hinterland.
Highly recommend Rainbow Bay for a sunset stop – watching the sun go down over the hinterland is pretty magical!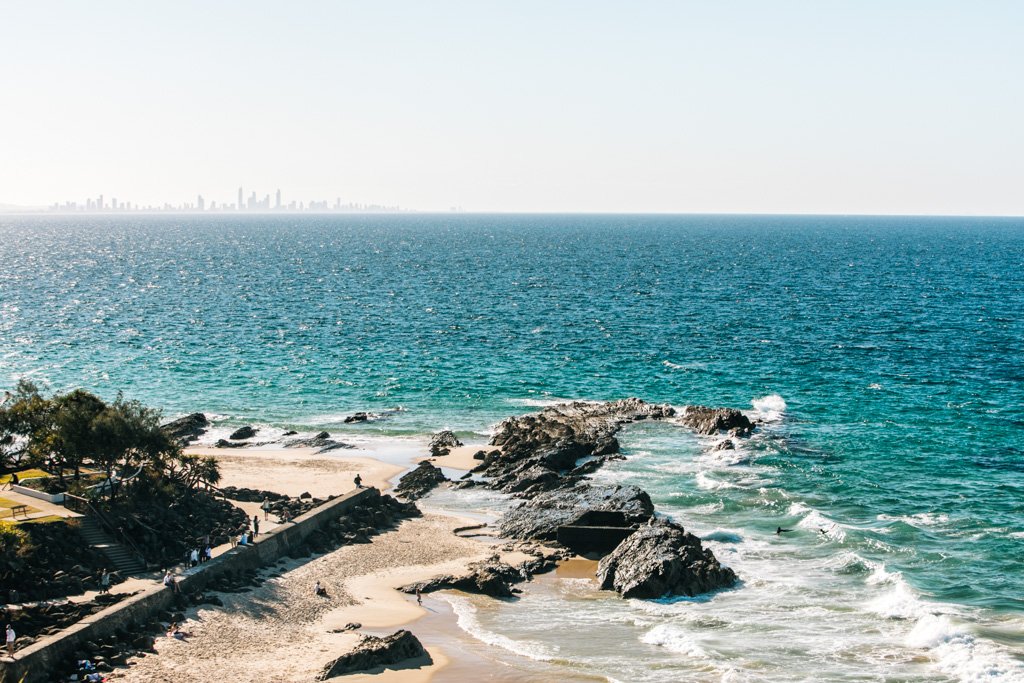 If you can manage it, I'd recommend getting there a bit earlier so that you can watch the changing light over the hinterland. During our winter visit, we were able to spot several whales jumping offshore just before sunset. If you're there during warmer months, you can enjoy a swim or a float in the rock pools around Snapper Rocks.
Thank you to YHA Australia for hosting us during our trip to Byron Bay. Note that all opinions expressed here and elsewhere on this blog are my unbiased own, and are uninfluenced by any gifts or incentives I may receive.
Pin it!
Pin it!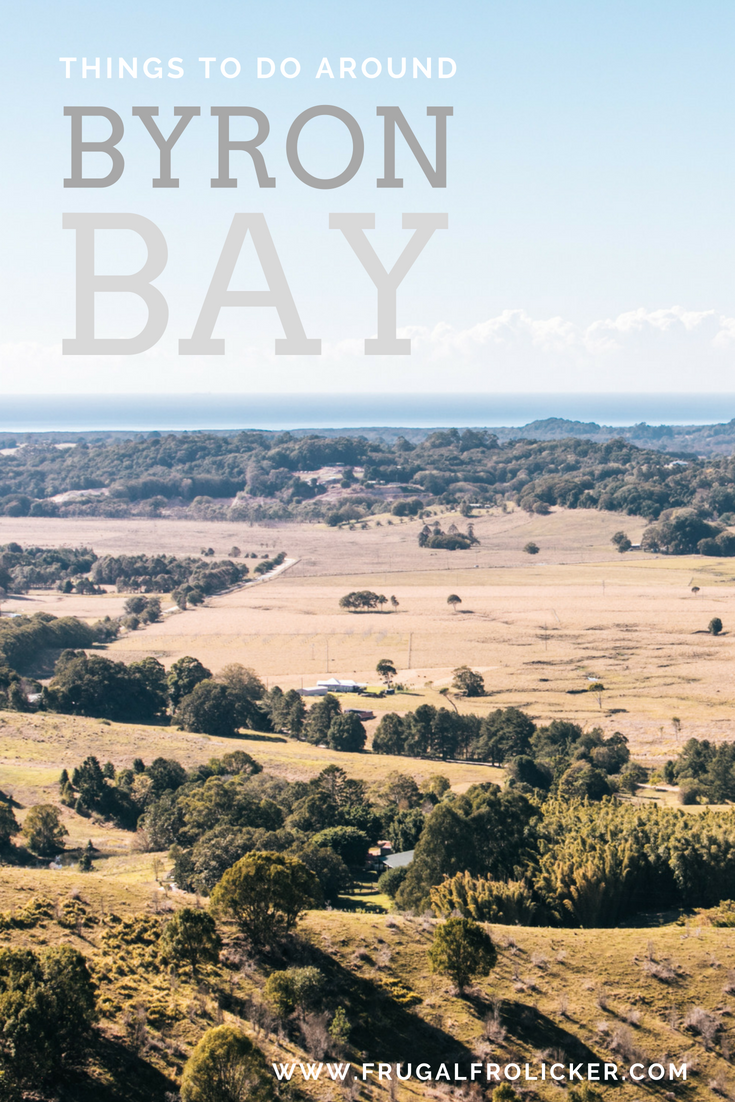 Frugal Facts
How to get to Byron Bay
If you're doing a Sydney to Byron Bay road trip like we did, it takes about 9 hours to drive the whole way without stopping. If you're looking to save time, a better option is to fly from Sydney to Ballina which takes about an hour. From Ballina Airport, you'll then need to arrange for transport to Byron Bay or Byron Bay Hinterland – this drive takes about 35 minutes.
Where to Stay in Byron Bay
We stayed in a private room at Byron Bay YHA, a boutique-style hostel in the middle of town that just completed a $7M renovation in March. It's the nicest hostel I've ever stayed in – it's open air and decorated with plants and colorful artwork, there are lots of tables and chill out areas to hang out in, and everything is nice and new. We'd have moved right in if we could've!
Rooms in the older wing are slightly cheaper than rooms in the new/renovated wing, but they're all extremely affordable given the great value you get staying here. En suite private rooms in the new wing start at $90/night.
Book your stay at Byron Bay YHA here.