If you're into road trips and van life, then you know how important it is to have a good boho picnic rug (or 5) on hand for the next adventure.
Whether you're having a sunset picnic, a beach day, or a night in watching movies, boho rugs can add to both your comfort and enjoyment of the activity.
I've gone through my fair share of cheap K-mart picnic rugs and they're kind of the worst. You can't really wash any stains out, they're super thin, and (it has to be said) they're just plain ugly. And like most other cheap goods from stores like that, they inevitably end up in landfill.
I don't know about you, but these days I'd much rather invest in a higher quality item and have it forever. Picnic rugs are no exception.
Don't worry, I've done all the hard work for you and have tried out 5 of the best boho picnic rugs in Australia. All of them are versatile, beautiful, and high quality – and what's more, they're all sustainable!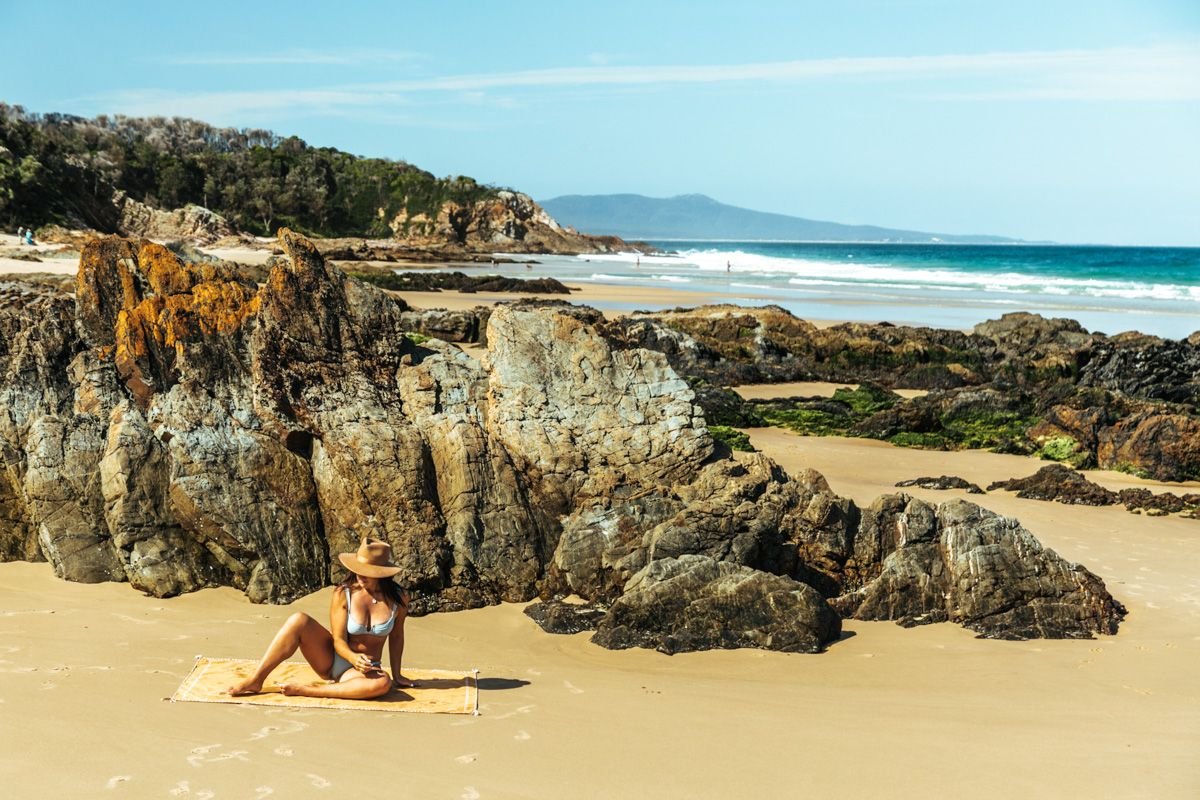 From using recycled materials to donating profits to charities, all 5 of the boho picnic rug companies I highlight below are doing their part to help preserve the environment. It's so important to "vote with your dollars" these days, and one way you can do that is by supporting sustainable brands and companies rather than big corporations that don't give a damn.
Think about it: if people stop buying crappy products that don't last and end up in landfill within a year, then companies will stop selling them!
And if people start spending their money on sustainable goods instead, then more businesses will start caring more about sustainability!
You can start by bypassing the cheap K-mart picnic blankets and instead invest in a sustainable boho picnic rug from one of the Aussie makers listed below.
Wandering Folk
First up, we have the granddaddy of boho picnic rugs: Wandering Folk.
I gave them that title because they're a pretty big name here in Australia as far as boho picnic goods go. They've done lots of big collaborations, they're carried by numerous stockists around the country, and they've got a bit of a cult following (+ over 100k Instagram followers). In short, they're epic.
Wandering Folk is your one-stop shop for your boho picnic needs, offering some of the most gorgeous, intricately-designed rugs you've ever seen, as well as picnic baskets, cooler bags, glassware, and other picnic accessories.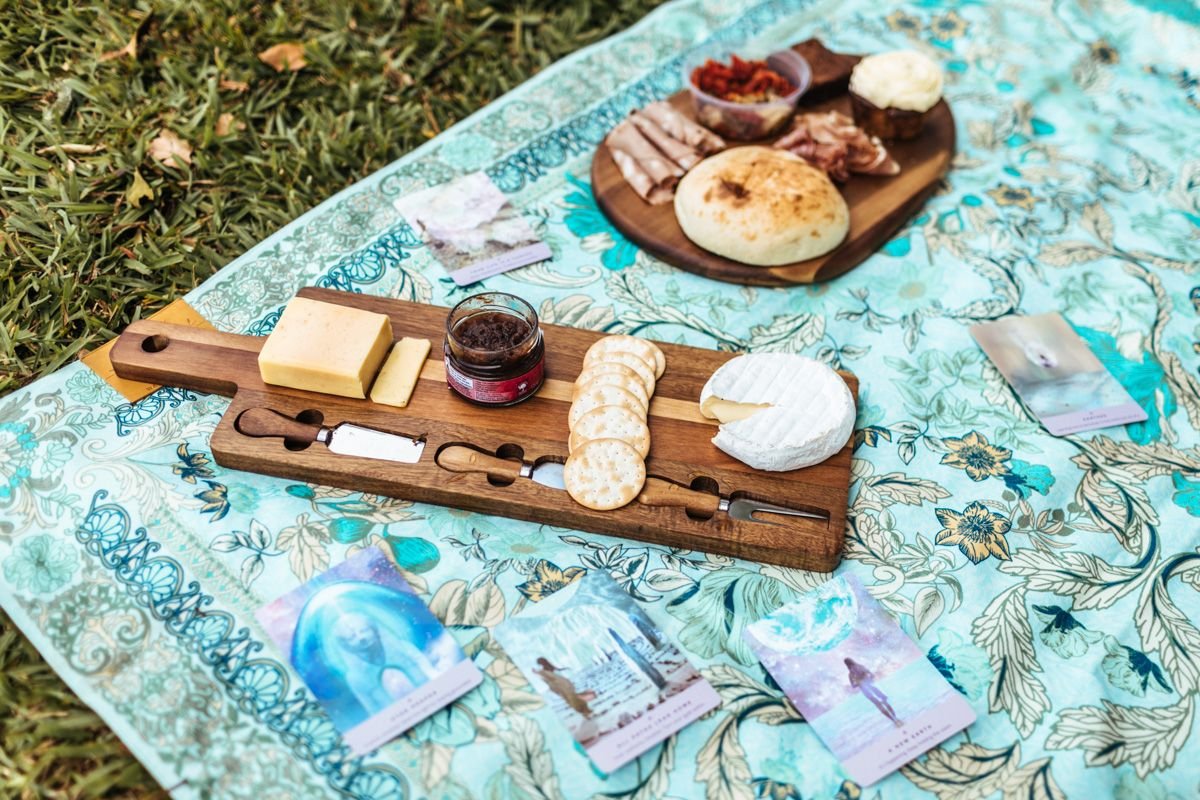 I tried out their crystal forest picnic rug. Ok, the first thing that needs to be said is that it's absolutely STUNNING. Wandering Folk hand illustrates all of their boho picnic rugs and my goodness are they impressive close-up. The design is just so intricate!
Also, their boho picnic rugs come with a stylish carrying strap (and there's a quick and easy tutorial on their website for how to use it). As someone who is literally always carrying a bag that's packed to capacity, being able to sling the boho rug over my shoulder earns bonus points from me.
Next, what really appealed to me was that the bottom of this boho picnic rug is waterproof. I can't tell you how many times I've used a towel or throw on what I thought was dry sand or grass, only to have a soggy butt moments later from moisture that soaked through from beneath it (ugh, worst). No more soggy bum with the Wandering Folk waterproof picnic rug!
One other thing that differentiates Wandering Folk boho rugs from others is the big tassel on each corner. I didn't realize how useful they were until I was sitting on this boulder on Fitzroy Island, battling the wind for photos of me on the rug. Literally the only reason the boho picnic rug isn't folded up on itself in this photo is these big tassels, which helped weigh the blanket down and keep it from blowing up (my straw hat wasn't so lucky and nearly ended up in the sea a few seconds before I took this photo).
I reckon these are the best picnic-specific boho rugs out there. The other picnic rugs mentioned in this post are more multi-purpose boho rugs, while the Wandering Folk waterproof picnic rug is built for picnics specifically (though they do offer woven throws if you plan on using your boho rug for both picnics and cozying up). They also have a luxe feel to them, which makes them feel just a bit more special than the average picnic rug.
GET 10% OFF YOUR FIRST PURCHASE WITH WANDERING FOLK BY SIGNING UP TO THEIR MAILING LIST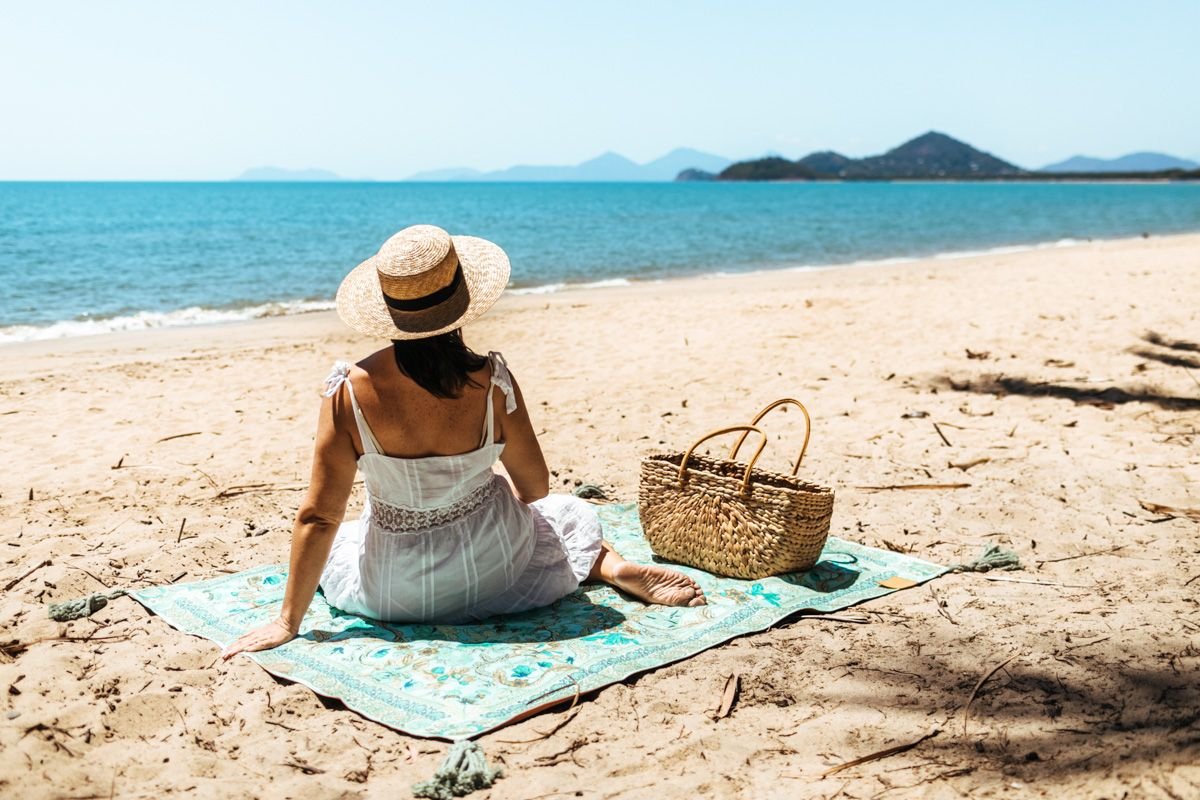 More About Wandering Folk
Price: Picnic rugs are AU$190 (woven throws are AU$140)
Size: 164cm x 147cm
International Shipping? Yes, for AU$40
Washable?: No; spot clean only
Waterproof?: Yes, their picnic rugs are waterproof
Sustainability: 1% of each sale goes to Rainforest Rescue. Their woven throws (though not their picnic rugs) are made from 100% recycled cotton.
Best for: Their picnic rugs are best for picnics. If you want a softer rug for cozying up or laying on the beach, their woven throws are a better choice.
Isla in Bloom
Next we have Isla In Bloom, a one-stop shop for all your beach bummin' needs – including bohemian picnic rugs.
Across all their picnic rugs, bathing suits, beach towels, and beach umbrellas you'll find the most intricate hand-drawn floral designs in a myriad of feminine color combinations.
I'd say their unique designs and luxe feel is what makes the Isla in Bloom boho rugs stand out from the rest. The one-color subtle tassel around the edge also gives it more of a premium and polished look.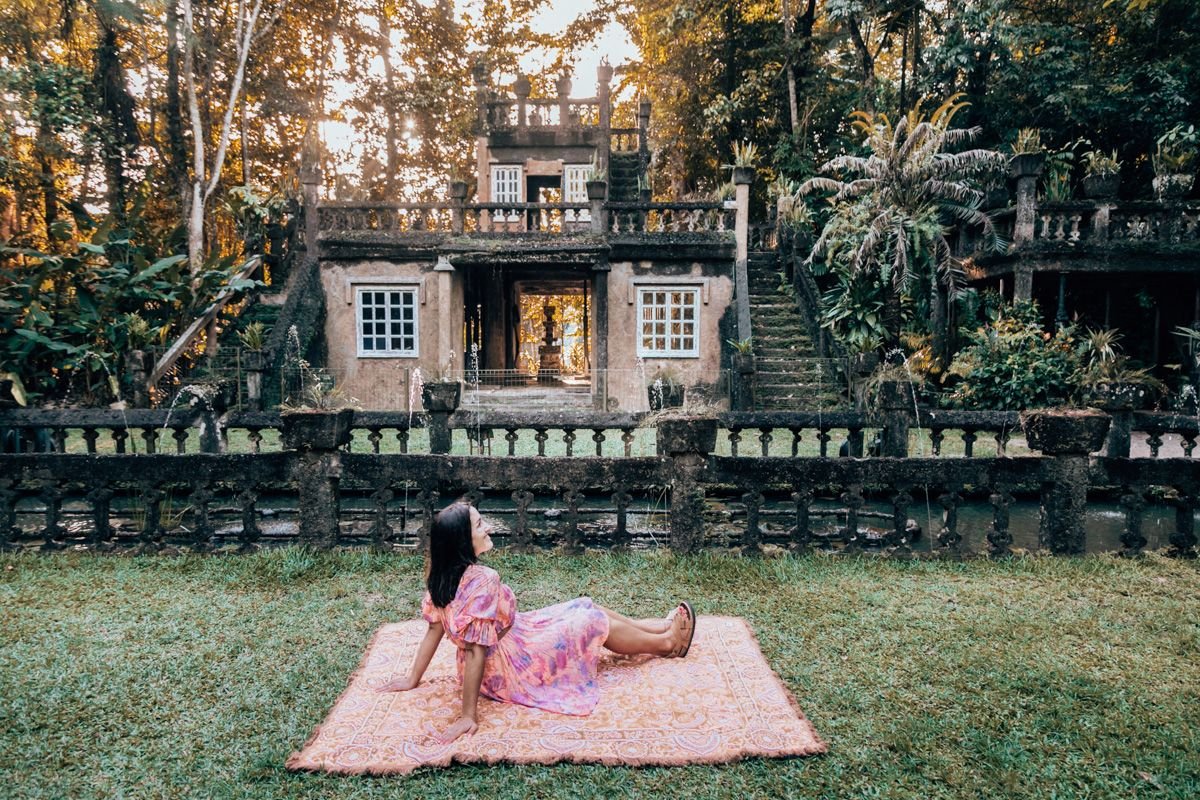 What's also really cool is how the rug can appear different colors in different light, or even from different distances. I constantly find myself thinking it's just a plain orange picnic rug when I see it close-up or rolled up in my beach bag, but then when I take it out and lay it down on the ground it looks 1000x more vibrant and detailed and impressive.
Oh and by the way, their boho rugs are reversible! There's a completely different set of colors on the reverse side of each rug, so you might want to take that into account when choosing which large picnic rug you want to add to your collection.
I chose their Indie picnic rug which they say was inspired by "the warm colors of the Australian desert" with its beautiful brown, orange, and cream colorway. For some reason I'm really vibing earthy colors these days, and the peach accents on this rug are what really sold me on it.
Actually to be honest, when I saw this rug my immediate thought was "I WANT THAT ON MY FUTURE BED". It's almost too beautiful to dirty up outdoors, you know?
The reverse side of the rug is blue and green, pretty much the inverse of the front side.
GET $20 OFF YOUR FIRST PURCHASE WITH ISLA IN BLOOM BY SIGNING UP TO THEIR MAILING LIST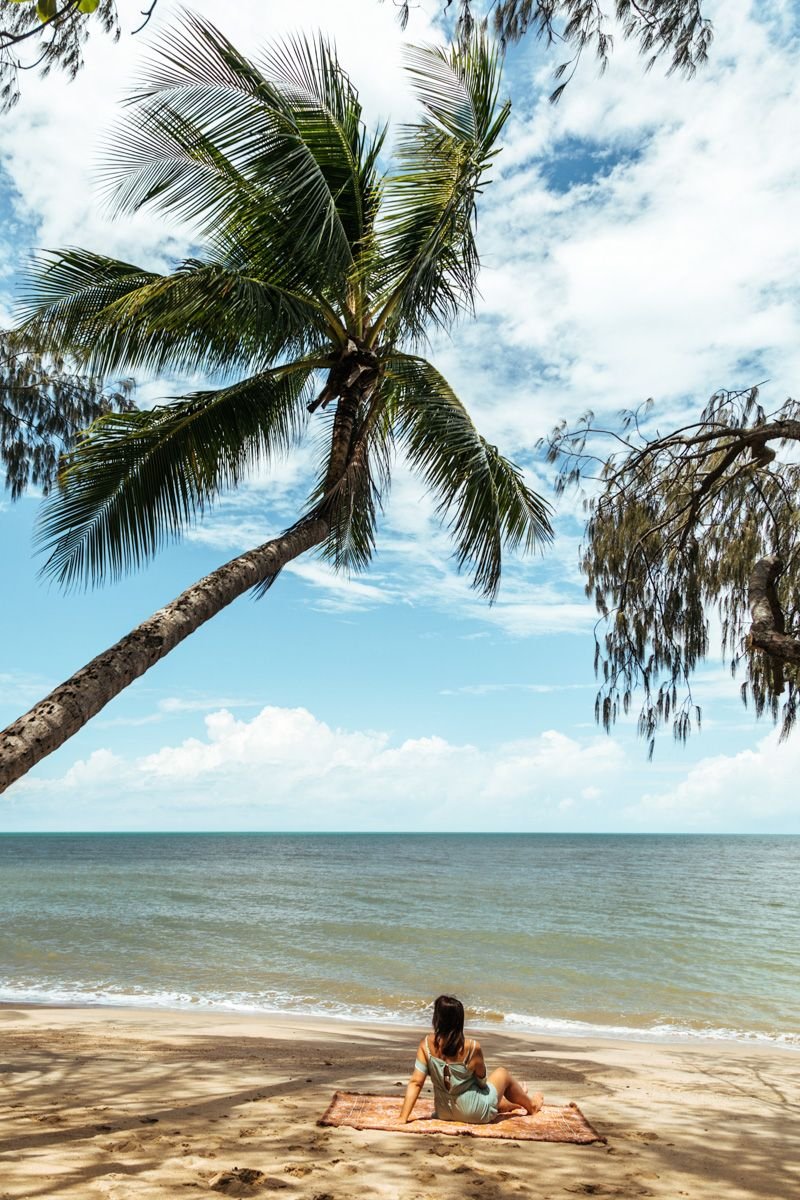 More About Isla in Bloom
Price: AU$209.95
Size: 190 x 160cm
International Shipping? Yes
Washable?: Hand wash only
Waterproof?: No
Sustainability: Rugs are made with 100% recycled cotton
Best for: Everything, but particularly home decor + bedding
Hendeer
Of the 5 boho picnic rugs highlighted in this blog post, Hendeer was the only one I hadn't heard of before I set out to do some research on bohemian picnic rugs in Australia.
But you know what one of my greatest life joys is? Having low (or no) expectations for something, only to have my socks knocked off in the end. And guys – I am IN LOVE with my Hendeer rug!
Ok first off, all of their boho rugs are named after Beatles songs, so that's kind of amazing. I went with the Strawberry Fields rug in large.
I had no idea that this blue/pink/orange color combo was what I needed in my life, but I keep staring at it thinking about how freakin' PRETTY it is. Like, I want to wrap myself up at it, but equally I want to drape it over my nonexistent couch ('cause I currently live in a caravan) and gaze at it all day long.
And the pattern! I think it speaks to me because of the combination of lines and curves. It's feminine and it's masculine. Between the colors and the patterns, it just feels like ME (also, notice how my blog colors are blue and orange… maybe I should consider adding some pink to it?).

Oh and PS, it's reversible.
In addition to bohemian picnic rugs, Hendeer sells cushions and cushion covers with designs that match their rugs, and carry straps for the rugs.
GET 15% OFF YOUR HENDEER RUG WITH SPECIAL DISCOUNT CODE: FRUGAL15 (Expires 1 Jan 2022)
More About Hendeer
Price: Regular AU$109, Large AU$159.
Size: Regular 130x160cm, Large 170x200cm
International Shipping? Yes
Washable?: Yes, can be machine washed on delicate cycle
Waterproof?: No
Sustainability: The rug is made from a blend of cotton and recycled polyester "sourced from plastic bottles and waste diverted from landfill and our oceans". Hendeer also gives $1 from each purchase to a cause of your choice.
Best for: Anything! You can use it as a boho picnic rug, a floor rug, a blanket, a decorative throw, a beach towel, etc.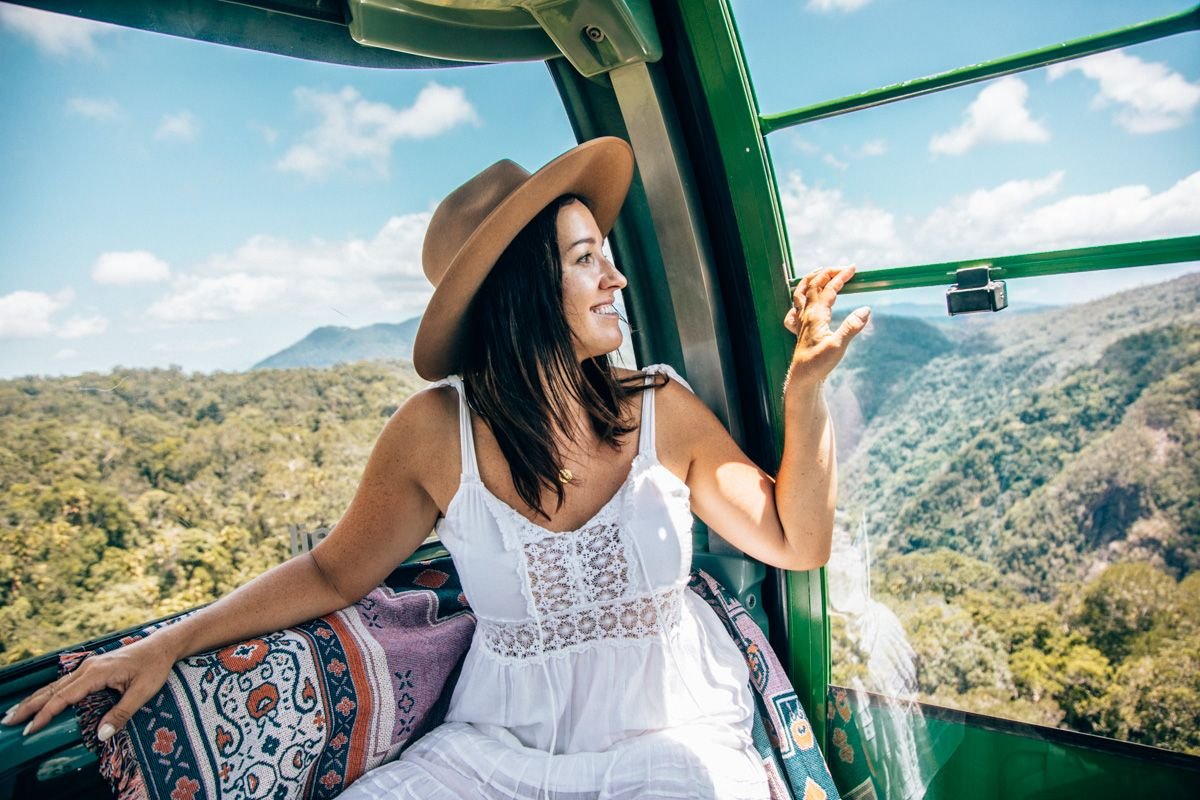 Wild Throw Co.
So Wild Throw Co. is a little different from all of the other boho picnic rug makers in this post. Instead of intricate, colorful patterns, their throw style is more neutral and minimalist.
I really love how they've gone against the grain rather than making similar rugs to many of the other boho picnic rug makers in Australia, and I think that's what drew me to them earlier this year. I snapped up a few of them at the start of our big Aussie caravan trip and have been using them in all sorts of scenarios and terrains.
We've been using both the Wild Moonshine and Wild Golden as blankets in the evening, whenever we're watching TV in bed (or we were before we got to the Northern Territory and Far North Queensland, where it's too hot to wear clothes much less blankets). They're both on the smaller side and probably too small to share, so it's been good to have one throw per person.

Wild Tawny.
I've used the Wild Tawny a lot at the beach and LOVE how flat and spacious it is! It feels a bit like a tapestry, very smooth to the touch. However, this is one you don't want to lay on damp sand because it'll soak right through. It's also not one to leave in the sun for too long as the sun will fade the color a little bit. And yep, I learned by experience in both cases. So maybe stick to sunset beach picnics or cloudy beach hangs, rather than sunbathing, with this one.
The Wild Moonshine would look SO GOOD as a bed throw, and I can't wait to use it for exactly that when I'm living in an apartment again. It's the softest of the 3 boho rugs and I love it as a blanket. I know it's pretty popular to use at the beach as well, but the texture is a bit bumpy with the raised shapes and lines so I'm not sure if it's the comfiest option for sitting on. I also wouldn't trust myself to sit on a white throw and not stain it in some way, so for me personally, I prefer to have it either on me, or on a piece of furniture as decoration.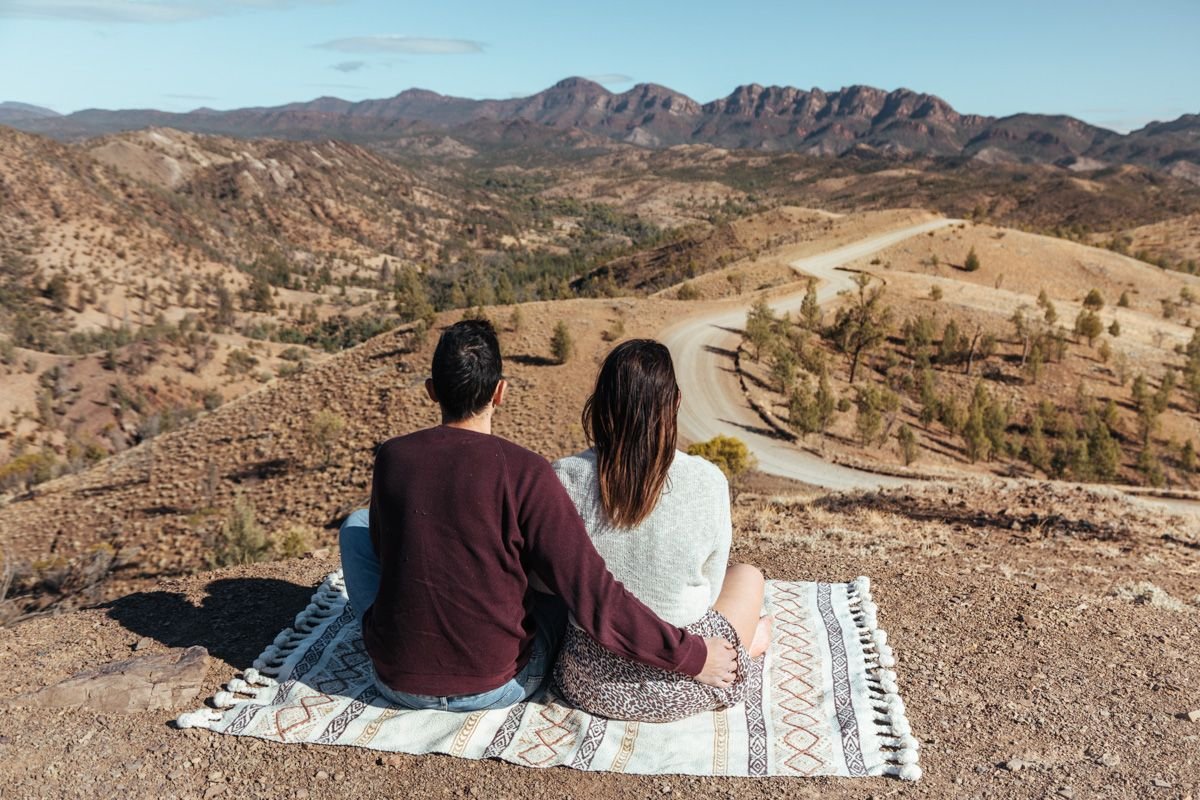 Wild Golden.
The Wild Golden is thicker/warmer and has the coolest little pom pom tassels down two edges! I don't think I've ever seen any other boho picnic rug with tassels like these. Very cool, very unique. I love this throw as a blanket, and for photos because it goes with pretty much any landscape or outfit you might wear.
Note that the pattern on the Wild Golden is not fully embroidered – it's just the red diamonds that are. The purple/yellow patterns look to be painted on instead, which I'm guessing keeps the boho rug at an affordable price point which is fair enough. You can't tell at all through photos, it's just when you're handling the throw that it becomes obvious.
Wild Throw Co. boho picnic rugs are ethically handmade in India, which means that each one is slightly different from the next. They also sell Moroccan cactus silk cushion covers that pair perfectly with the throws.
GET $10 OFF YOUR PURCHASE WITH WILD THROW CO. WITH SPECIAL DISCOUNT CODE: FRUGAL10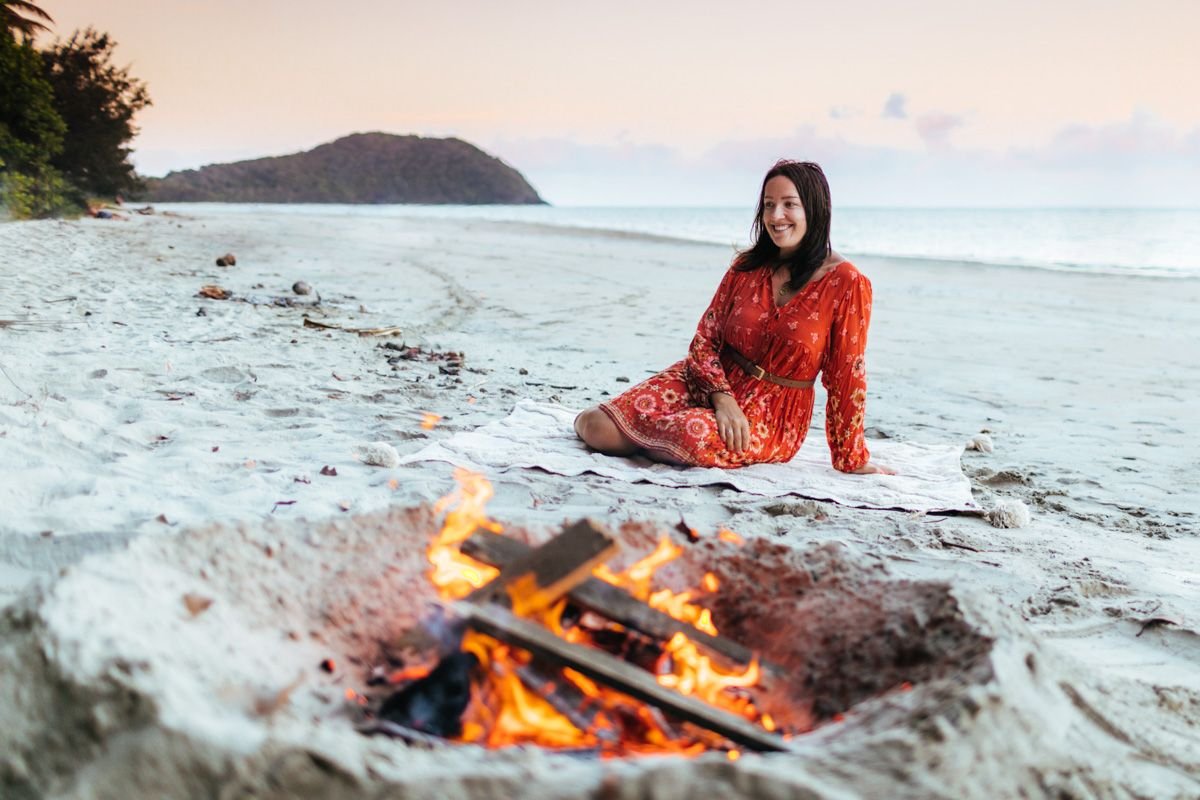 Wild Moonshine.
More About Wild Throw Co
Price: AU$149
Size: Wild Moonshine 140 x 166cm, Wild Golden 140 x 166cm, Wild Tawny 130 x 160cm
International Shipping? Yes
Washable?: Yes, machine washable on the delicate cycle
Waterproof?: No
Sustainability: Throws are made from 100% natural cotton. The Wild Tawny uses natural dye made from vegetables, iron, and tree matter. They also plant one tree for every order placed and donate a portion of their quarterly profits to an environmental organization.
Best for: Sunset picnics, or as a blanket, decorative throw, or floor rug
Salty Aura
Last but most definitely not least, we have Salty Aura, a favorite among van lifers.
Salty Aura boho rugs are easily distinguishable by their colorful retro designs – think intricate geometric patterns and 70's-style flowers. They easily brighten up any room, van, or photo.
But beyond the aesthetics, these boho picnic rugs are just so damn versatile. You can use them for pretty much anything – as a beach towel, picnic rug, blanket, floor rug, or decoration.
And you can feel good about your purchase because their picnic rugs are made with 100% recycled cotton, 10 trees are planted with every rug sold, and they donate 40 water filters a month to Opblue charity. Of all the sustainability-minded rug makers highlighted in this blog post, Salty Aura seems to be doing the most in terms of lightening their ecological footprint, which we love to see.
I went with the Yogi Peace Club rug, which is a limited edition collaboration they did with the Yogi Peace Club and may or may not still be available right now. I felt like this boho rug was different from most of the other rugs they have on offer and just fell in love with the pink/orange colorway when I saw photos. It just feels really special.
Oh and did I mention that Salty Aura boho rugs are reversible? The backside of the picnic rug is just as beautiful, with more of a gray/green colorway – I love that you have the option to go from loud/bright to more subdued just by flipping the rug over. Pete (and probably a lot of guys, let's be honest) hates the color pink, so it's great to be able to use the other side with him and not have the pink so in-your-face.
Besides boho rugs, Salty Aura also offers a selection of tees, cushion covers, and tote bags to accompany you and your rug on adventures.
GET 10% OFF YOUR FIRST SALTY AURA RUG WITH SPECIAL DISCOUNT CODE: frugalfrolicker
More About Salty Aura
Price: AU$124 for the small rug, AU$177 for the large rug
Size: Large rugs are 160x200cm, small rugs are 130x180cm
International Shipping? Yes, to select countries (including US and Canada)
Washable?: Yes, machine washable on delicate cycle
Waterproof?: No
Sustainability: Rugs are made with 100% recycled cotton, they plant 10 trees for every rug sold and donate 10% of their profits to charity, and they're carbon neutral.
Best for: EVERYTHING
Thank you to Wandering Folk, Isla in Bloom, Hendeer, and Salty Aura for gifting me with a rug each from their collection for this review.
Note that I purchased my Wandering Throw Co. boho rugs myself, and that all of the promo codes and first purchase offers mentioned in this post are NOT affiliate links (i.e. I do not make any commission off of them if you decide to make a purchase).
Also note that all opinions expressed here and elsewhere on this blog are my unbiased own, and are uninfluenced by any gifts or incentives I may receive.
Pin it!
Pin it!