Ever since I was a little kid, I've associated hammocks with camping. The campsite just isn't complete without a hammock hanging in the trees, as far as I'm concerned!
In my adult years, I've owned a hammock that sadly hasn't seen much use… mostly because I spent my 20's living in a concrete jungle (though I did hang it in Hudson River Park a few times…), but also because that hammock was kind of a pain to hang up. It didn't come with straps, so I sourced my own rope. This rope barely fit into the hammock sack and would always get tangled up, which meant I'd have to untangle it before I could even use it to hang up the hammock. Ugh, SO annoying.
And THEN once the hammock was hung, after awhile I'd get the inevitable sagging, where the rope would gradually start to slip down the tree trunk and my bum would get closer and closer to the ground.
It shouldn't be this hard to hang a hammock, right? Was I doing something wrong? (I mean, quite possibly I was – but c'mon, shouldn't these things be dummy-proof?)

My old traveler hammock in Hawaii (NOT the Nakie hammock!).
Anyway, fast forward to 2021: I'm about to embark on a road trip around Australia in a caravan. It's going to be the sort of trip where we stay in one place for at least a week at a time and spend a good portion of our days at the campsite, working, relaxing, and just living. A hammock is a non-negotiable for our travels.
In my search for a traveler hammock that can comfortably fit two people and is quick and easy to hang, I came across Nakie, the world's first recycled hammock (says their website). All I had to know was that each hammock is made of 37 plastic bottles and I was sold; the fact that they also plant 4 trees for each hammock they sell makes it even sweeter.
These days, I'm all about investing in eco-friendly, ethically made goods whenever I can, rather than automatically going for the cheapest option. You gotta vote with your dollars, ya know? Put your money where your values are. Imagine if we all did that: there would be MORE demand for sustainable goods, so much so that it might motivate more companies to start caring about sustainability.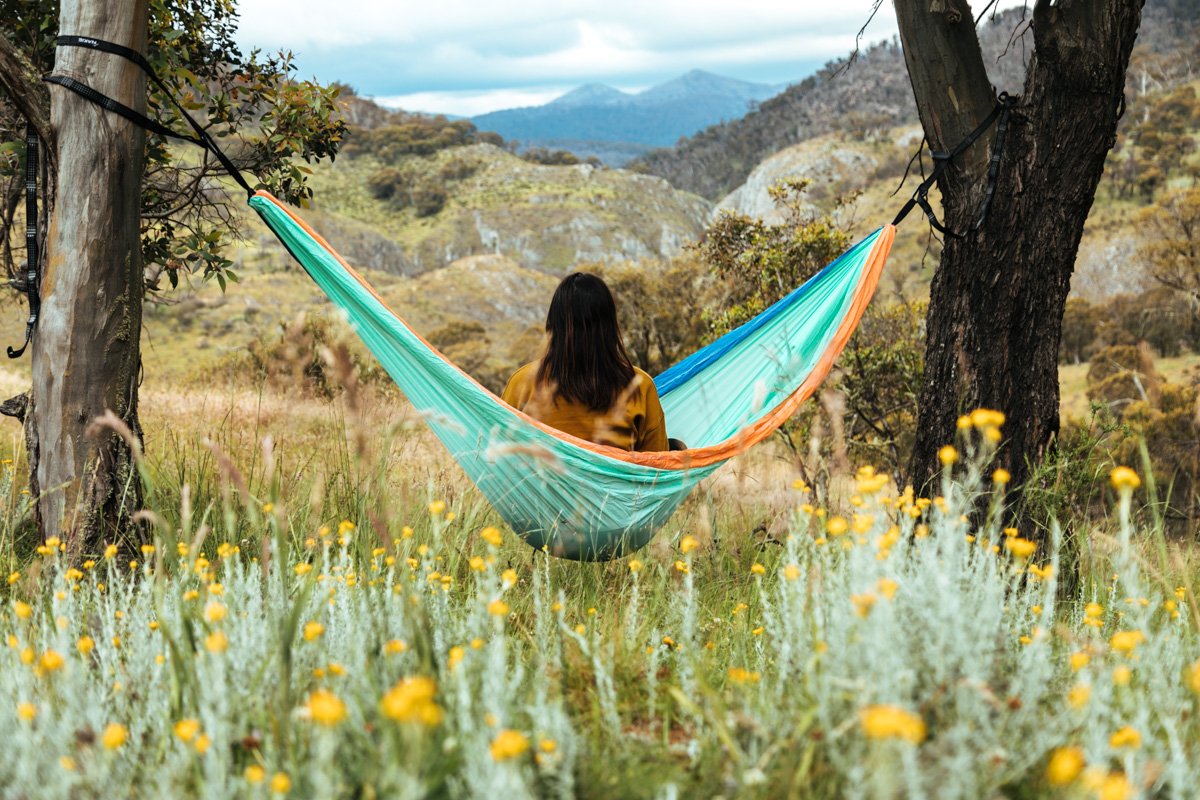 Sustainable, check.
Ok, so we know Nakie is doing their part to save the planet. But how good are their hammocks?
I put one to the test over Christmas and New Years, while camping in Kosciuszko National Park. I realized, while about an hour's drive away from mobile phone reception, that I hadn't looked up any instructions for how to hang the hammock. Oops!
So with me in middle-of-nowheresville, I had the hammock, two straps, and two carabiners. How hard could this be?
Unlike my old hammock, which involved tying rope to a tree, the Nakie hammock requires no tying at all. The straps have a single loop on one end, and a series of loops on the other end. It didn't take me long to figure out that I had to wrap the strap around the tree, and then pull one end through the single loop and tighten.
Then there's the end with all the small loops hanging off the tree, which I clipped the hammock's carabiner into. This strap is brilliant because it gives you so much flexibility with how far apart the trees can be. You can get away with having them prettttty distanced, you'd just clip the carabiner into the last loop on the strap. I'm eager to experiment with this over the course of our trip!

Quick and easy setup, check. (These are seriously the best hammock straps!)
Nakie hammocks are designed to fit two people and up to 225kg (500lb) total. The straps and carabiners can hold even more weight than that, which put me at ease compared to my old hammock with frayed ropes that could support lord knows how much weight (probably not much). Pete and I both fit in the hammock, no problem.
The hammock material feels silky smooth against your skin and is super comfortable to lay in. I had no problem spending hours at a time in it, absorbed in a book (I managed to finish two during our 9 day trip!). I even fell asleep in it once, and I'm not someone who ever naps, so I feel like that really says something about how comfy the Nakie hammock is.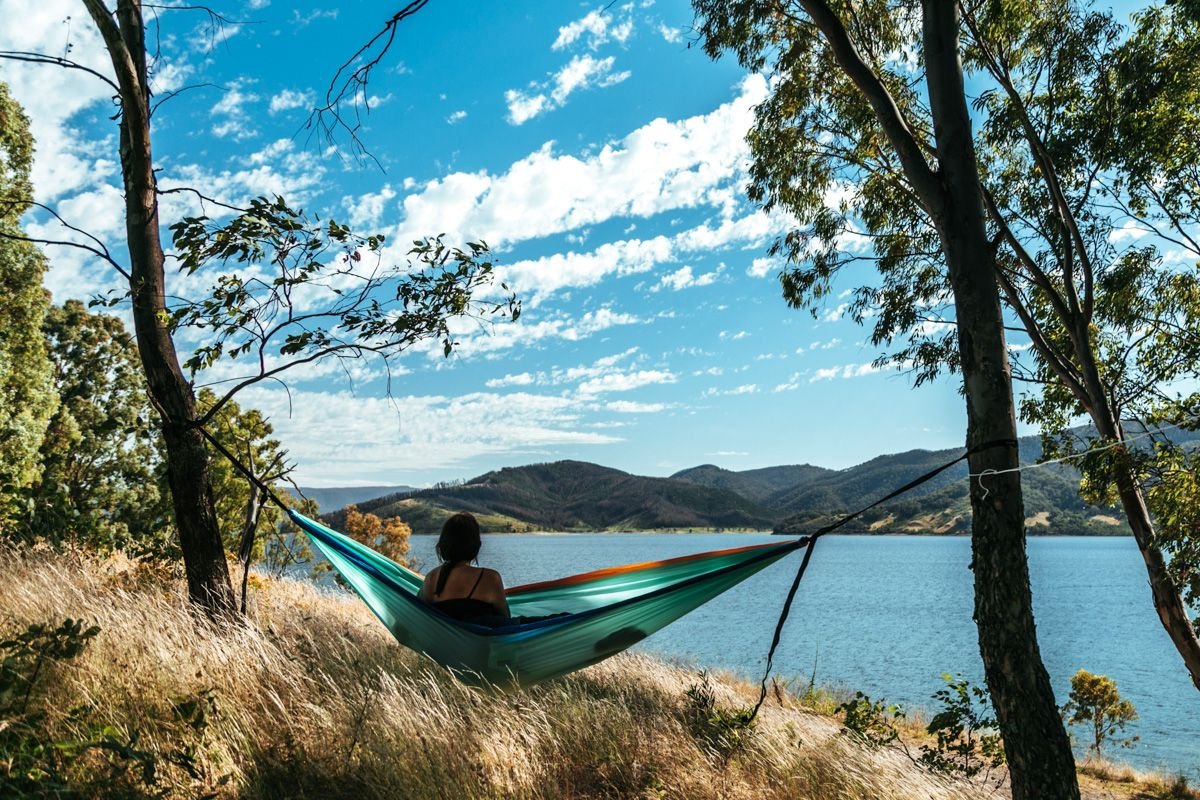 Comfortable and fits two people, check.
If you want to be even comfier, you can opt for some of their add-ons like a puffy blanket (which is also made with recycled plastic), rain tarps, or bug net.
With or without the accessories, Nakie makes the best traveler hammock that I've come across thusfar. I love it for camping, I love it for traveling, and I can't wait to return to Hawaii to try it out there someday!
Thank you to Nakie for gifting me with a hammock to try out! Note that all opinions expressed here and elsewhere on this blog are my unbiased own, and are uninfluenced by any gifts or incentives I may receive.
Pin it!
Frugal Facts
As of January 2021 —
A Nakie double hammock costs 129 AUD (99 USD) and comes with straps. The two-hammock bundle costs 219 AUD (168 USD).
Click here to peruse Nakie's selection of traveler hammocks and accessories.