Earlier this year, I received an e-mail that immediately piqued my interest.
You'd think that a travel blogger would be receiving all sorts of riveting e-mails with offers to travel the world and experience all sorts of fun activities and unique accommodations, but honestly… the vast majority of my e-mails are spam that I can't hit the Delete button fast enough on.
Not this one, though. This e-mail was from a company called AmazingCo, "an experience design company on a mission to create better connections through unique experiences… Mystery Picnics, Food & Wine tasting experiences, and most recently, At-Home experiences."
Ok, I'm listening!
At the time I received the e-mail, I was on my way through South Australia, which is known for some of the best food and wine in all of Australia. That would have been SUCH an ideal place for a food and wine tasting experience, but unfortunately we couldn't make it work with the travel timeframe I had.
I then spent the next several months traveling through the Outback before finally reaching the east coast, and the next AmazingCo city on my road trip route: Cairns. Tropical North Queensland isn't exactly known for its food and wine, but it is renowned for its tropical fruit and produce. An ideal place for mystery picnicking, really.
All that to say, this collaboration has been a LONG time coming, and I'm so glad I finally got to try out an AmazingCo experience!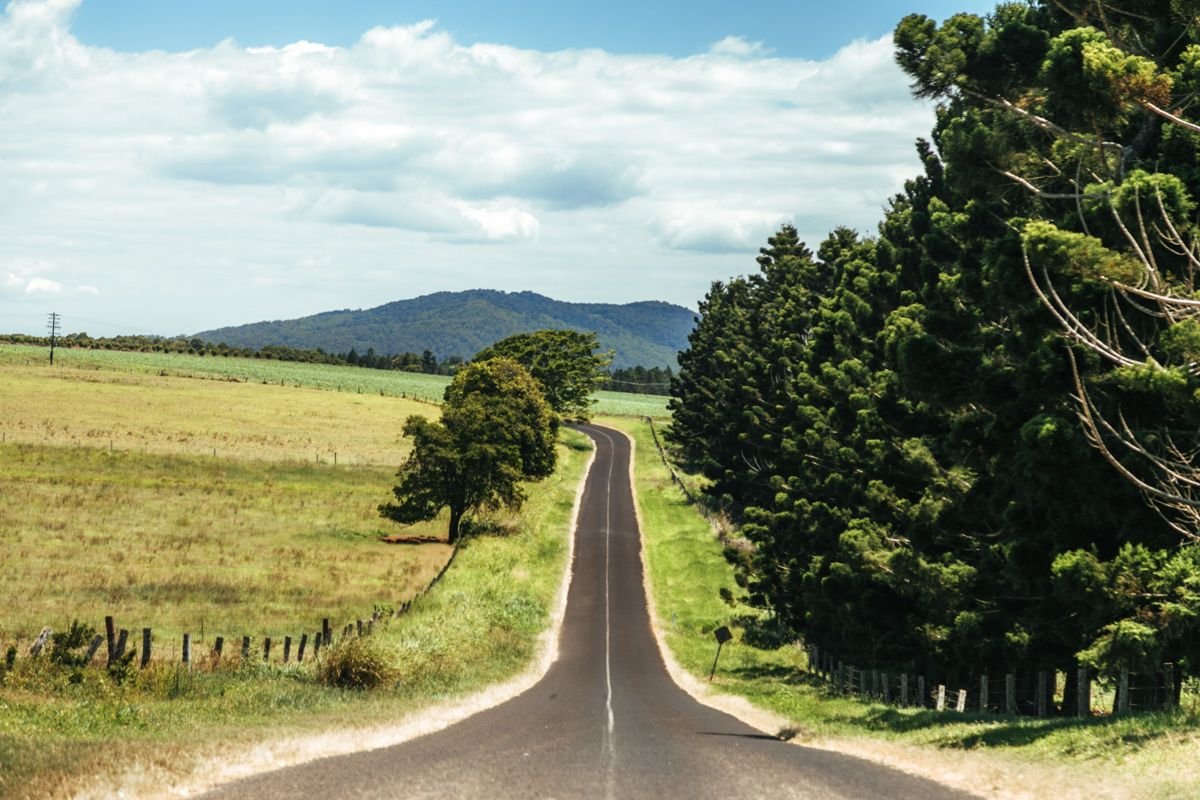 AmazingCo Mystery Picnics
So what exactly is a "mystery picnic" anyway?
The idea behind the AmazingCo mystery picnic is that you have to follow a series of clues that lead you to different stops along the way, before reaching the final destination where you can sit and enjoy your picnic. The stops are either to pick up locally-sourced picnic ingredients, or to enjoy some sort of view or attraction in the area.
The day before, you're sent an e-mail with a link to the first clue so that you know exactly where to start your mystery picnic experience. Then throughout the day, you solve the clues on your smartphone that reveal the next location in your experience.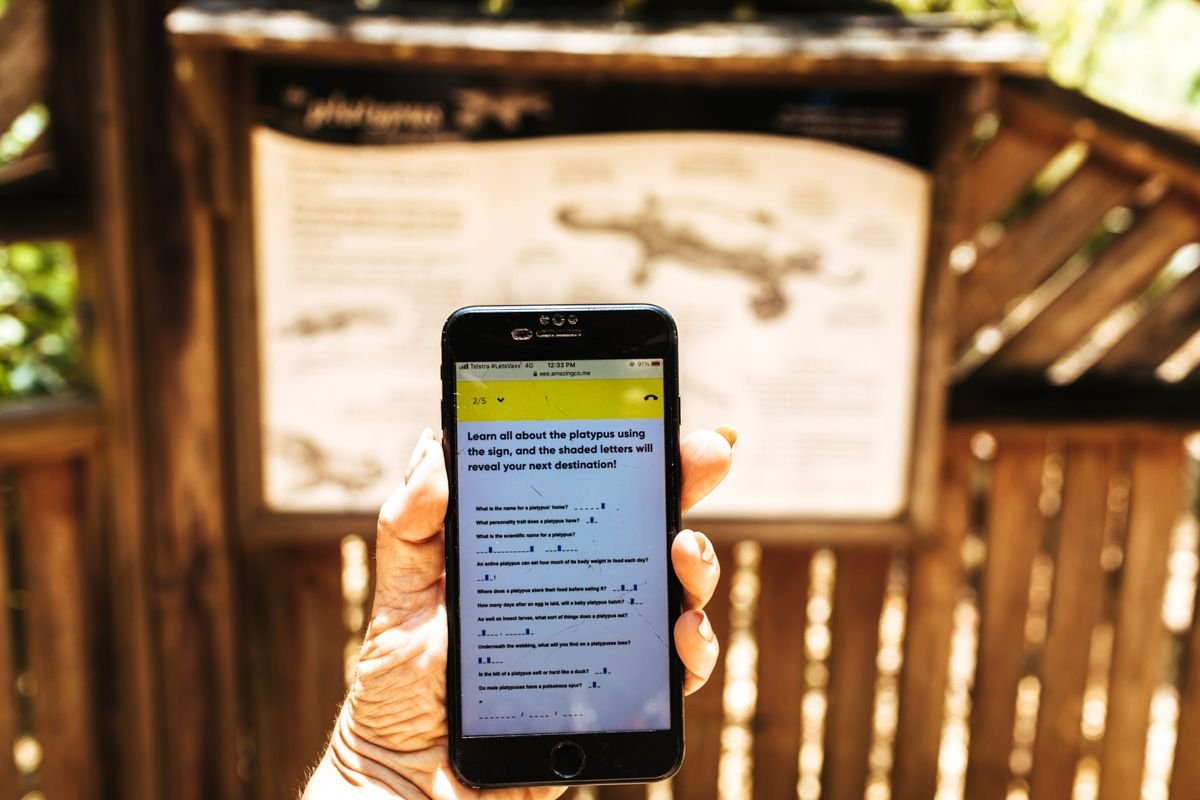 You can do it at your own pace, whether that's taking your time and spending the whole day on the experience, or rushing through so you can enjoy the feast sooner (hm, does doing it one way or the other say something about how you live your life? I'm thinking yes).
And no need to worry if one of the clues has you stumped – you can skip straight to the answer and be on your way to the next stop. The clues we had were all pretty easily solvable, but I'm glad that there was never any chance of being stuck and not making it to the final picnic spot!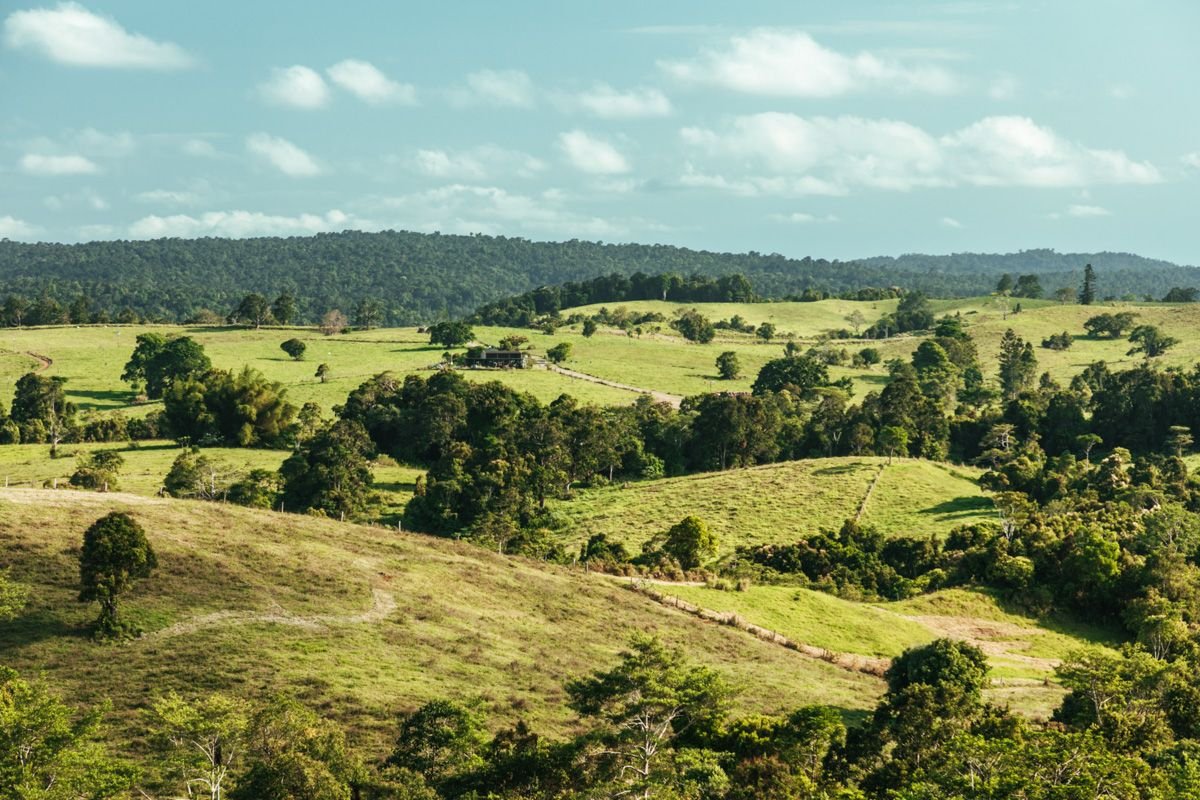 Along with a fully charged phone, you'll also want to bring a few other items to maximize your enjoyment of the picnic:
Picnic blanket (might I suggest one of these boho rugs?)
Cooler bag with ice pack (to keep meat/cheese cool)
Plates + knives
Bottle of wine, if desired (or you can choose to add one onto your AmazingCo booking for AU$40)
Water
At the moment, mystery picnic experiences are available in cities across Australia, USA, New Zealand, Canada, and the UK.
CLICK TO BOOK AN AMAZINGCO MYSTERY PICNIC EXPERIENCE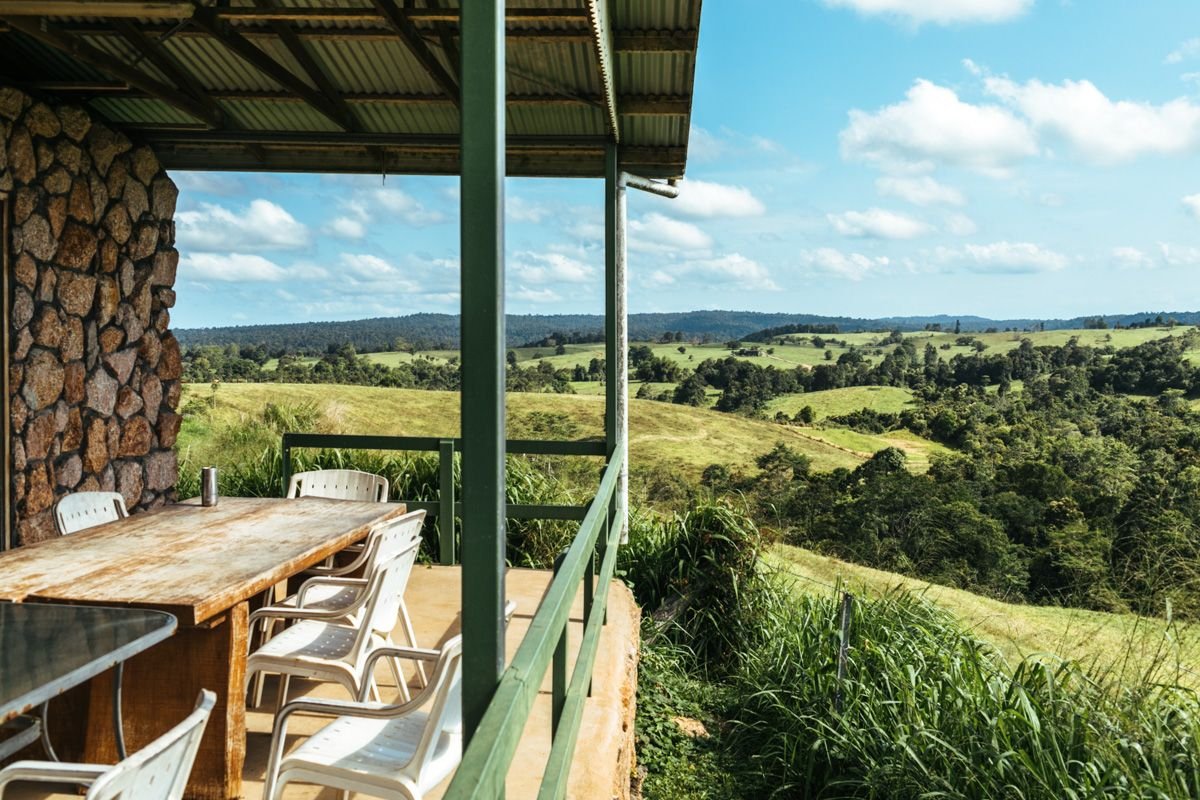 The Atherton Tablelands Mystery Picnic
While in Cairns, I booked the Atherton Tablelands mystery picnic experience for us. At that stage, I hadn't yet explored much of the region and thought it would be a great opportunity to see some of it.
I don't want to give away too much about where we stopped, but I will say that we sampled some of the best dairy products the region has to offer and enjoyed several rolling hill landscapes along the way. The cheese we got to taste was definitely the most delicious part of the whole picnic.
Speaking of cheese… if you're vegan, lactose intolerant, or have any other dietary needs, you can specify those when you book and you'll be accommodated for. Some of the picnic stops might change, depending on what you can/can't eat.
I mentioned on the booking that we don't eat olives or pickles and that vendors could leave those out of our order so that we don't have to waste them. I was surprised and happy to see that this little request had been accounted for!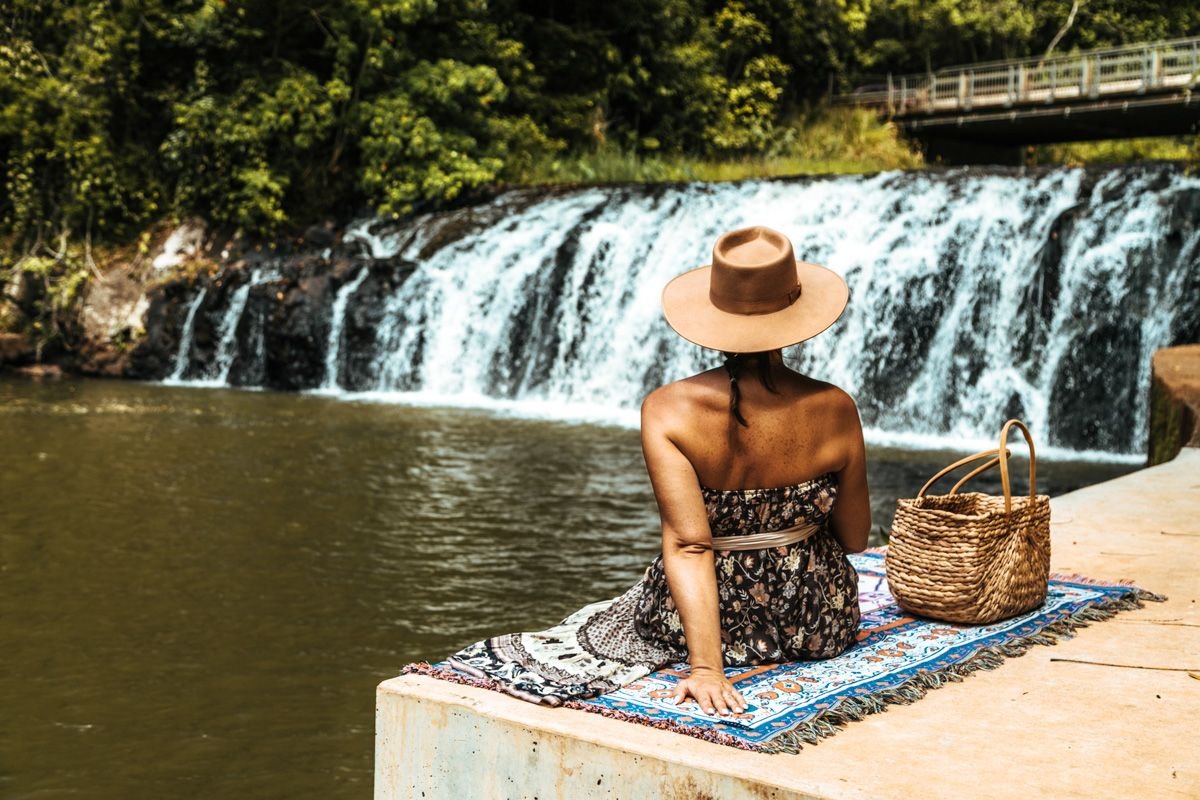 One of the stops where we got to do some sightseeing.
Of the stops we made, 2 were just to sightsee and 4 were for food pickup – the last of which was our final picnic spot.
And yes, as promised, the picnic spot comes with some exceptional views. Ours also had picnic tables, which we did end up using over our picnic rug due to all the ants that decided to invade our space.
You can expect a generous spread of cheese, meat, bread, crackers, antipasto, and sweet treats for your picnic. The one thing that was lacking at ours, which I was actually really surprised about, was fruit.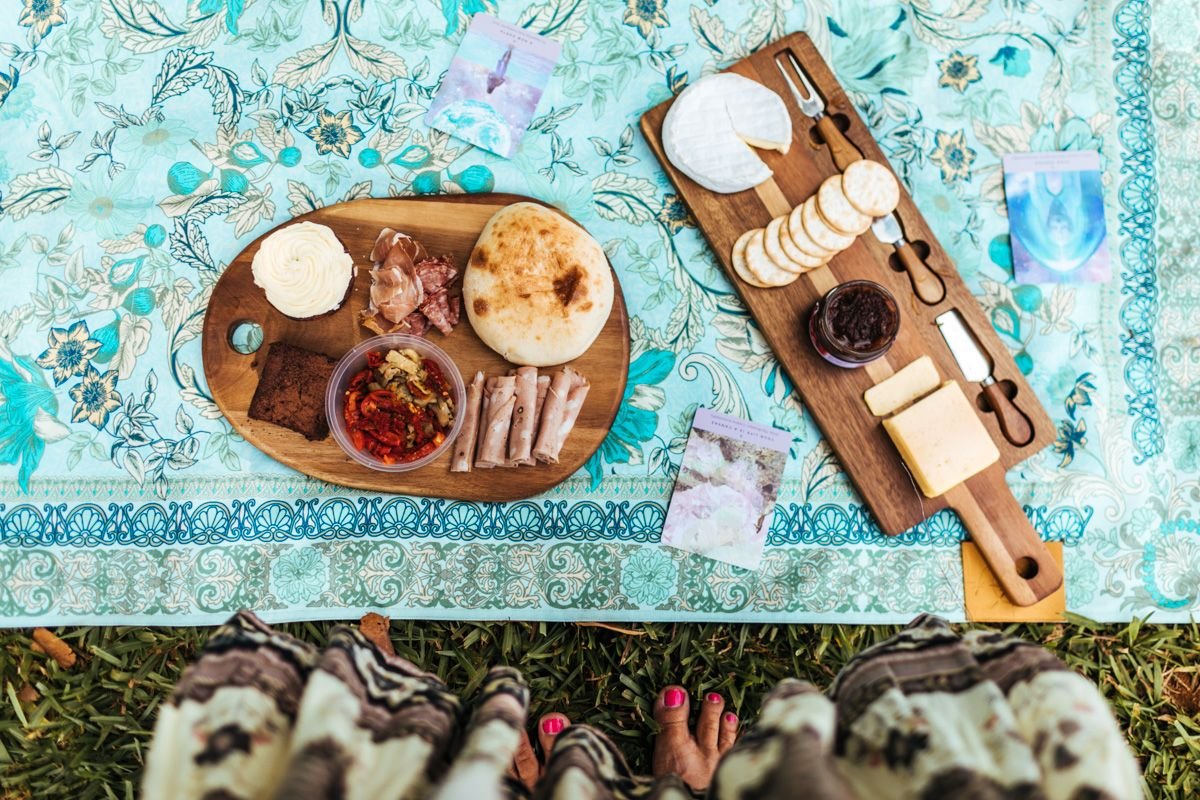 My Wandering Folk picnic rug was PERFECT for this!
Midway through the experience, we passed by a strawberry farm that does pick-your-own berries, and I thought FOR SURE that one of the clues would lead us there… but they didn't. Nor did they take us to the tropical fruit winery in the Tablelands, nor anywhere else that doled out fresh fruit. Given that tropical fruit is THE THING that this region is known for, I was shocked that we didn't have any at our picnic.
But hey, there could be a good reason for it – maybe they're not able to find a suitable fruit vendor? Or maybe they only include a fruit vendor if the customer is vegan and they have to cut out some of the other stops?

To be fair, we were given fruit smoothies at one location… so technically we did have a little fruit. But does it really count if it's in frozen form?
Anyway, that's my only critique of our AmazingCo experience, everything else about it was perfect! I especially loved the sightseeing stops we got to make, as they were places I had mentally bookmarked but likely wouldn't have made time to see on this trip to Cairns. It was such a nice surprise to be led to those spots!
CLICK TO BOOK AN AMAZINGCO MYSTERY PICNIC EXPERIENCE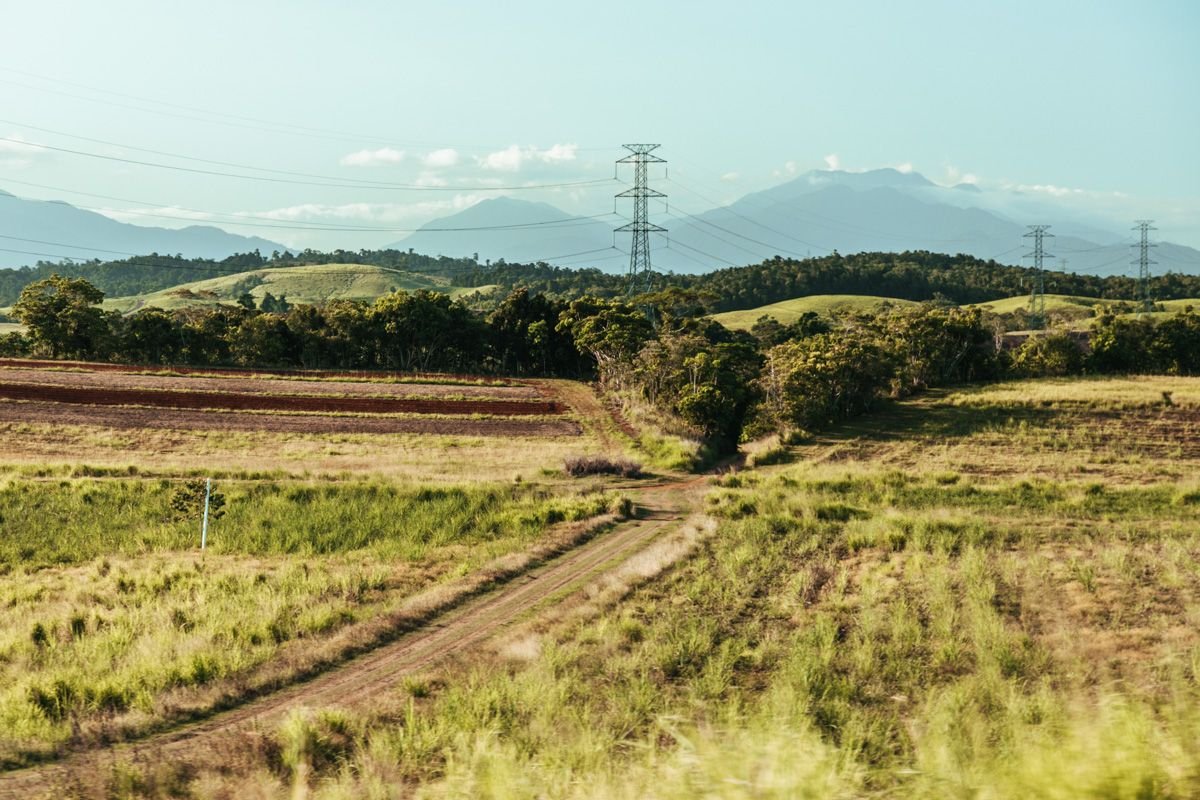 Booking An AmazingCo Mystery Picnic Experience
I LOVED my AmazingCo mystery picnic, and the whole time I was thinking: this would make SUCH a great gift for… pretty much everyone I know. And when it comes to gift giving or receiving, I always prefer a fun/meaningful experience over something store-bought.
So if you're stumped on what to get someone for Christmas or their birthday, an AmazingCo mystery picnic experience would make for a unique gift!
CLICK TO BOOK AN AMAZINGCO MYSTERY PICNIC EXPERIENCE
Thank you to AmazingCo for gifting me with a complimentary mystery picnic experience. Note that all opinions expressed here and elsewhere on this blog are my unbiased own, and are uninfluenced by any gifts or incentives I may receive.
Pin it!