I'm usually skeptical about things that are uber-popular, but after a good long while of being stubborn I often come around and jump on that bandwagon. Like when I started watching Friends during the 10th and final season, and started reading the Harry Potter books right before Book 7 came out. How silly is it that I was needlessly hating on what are now two of my most loved creations in the entertainment world?!
I'm like that when I travel as well. I thought I'd hate the overpriced and overhyped Blue Lagoon when I traveled around Iceland last year, but I freaking LOVED it. It's the same idea: sometimes things are popular because they actually are super awesome. I need to get better about subduing the hipster in me and just turn off my auto-hate mode!
Somehow, though, my normal rules never applied to the Great Ocean Road. I knew it was a land fraught with tour buses that inevitably carried tourists sporting nametags and/or selfie sticks, but I didn't care. I had to experience one of the world's best road trips!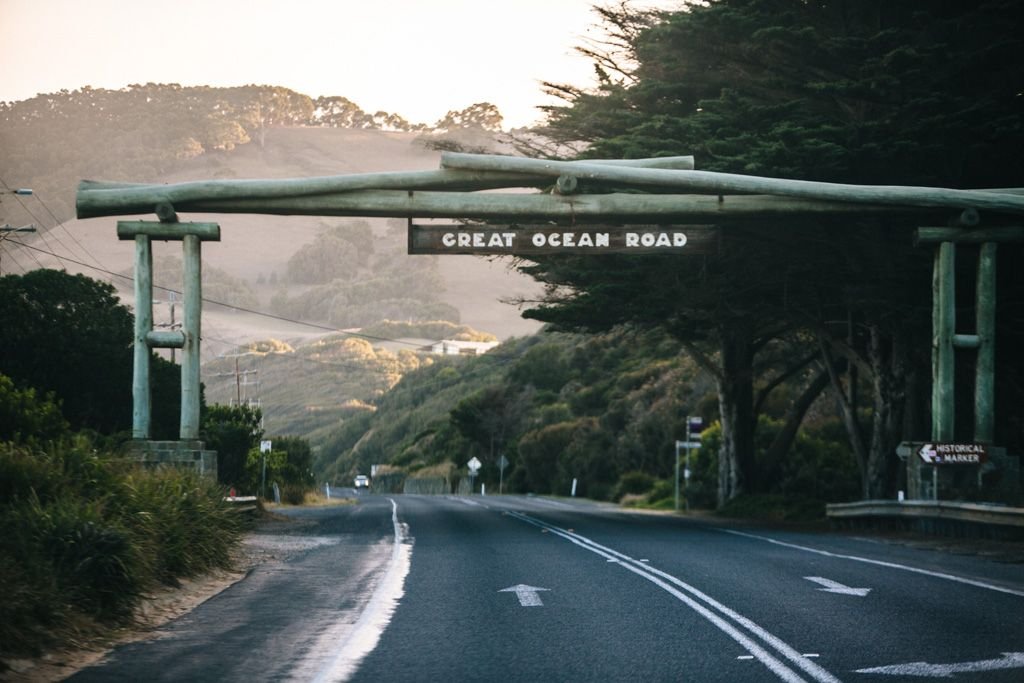 After doing so twice last month, I can highly recommend taking on the devastatingly scenic Great Ocean Road. A few pro tips, if you do:
You'll need a minimum of 2.5 days to make the roundtrip from Melbourne, but I'd recommend 4 days/3 nights so you can take your time and spend more than a hot minute at each stop-off point.
Aim to travel during the week when there are far less tourists than on weekends – trust me, the difference in crowds is MASSIVE.
Expect to be cold and bring your layers! A sunny day can quickly turn to rain, and wind is pretty much guaranteed no matter what, so you'll be glad to have a hat and a warm jacket.
Rent a room in a house on airbnb. I'm always an advocate for camping, but the nights down here are COLD year round and well suited for indoor accommodation. You can find a room with two double beds for AU$40-45/night – cheaper than staying in a hostel dorm!
Logistics aside, here's what you can expect on a Great Ocean Road trip (from east to west) —
The Surf Coast
The Great Ocean Road kicks off at Torquay, a proper beach town. We stopped here to pick up wine and coffee and had a picnic lunch by the beach, but there are plenty of restaurants and boutiques to enjoy here if you're so inclined.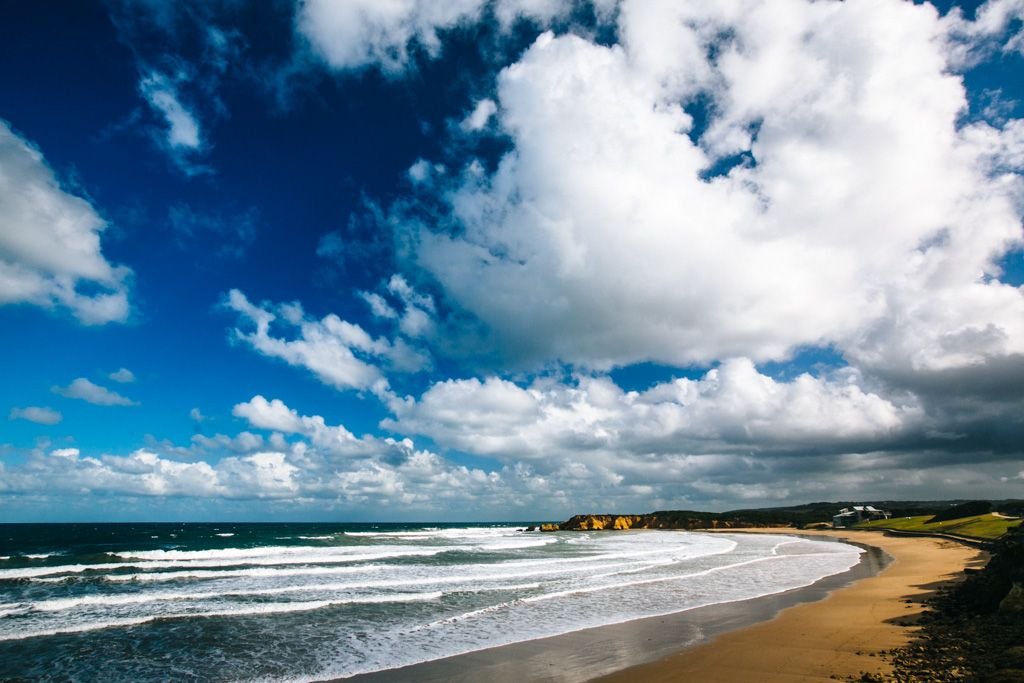 Torquay is also home to the famous Bells Beach, which hosts the annual Rip Curl Pro surfing competition – maybe you've heard of it? There were bleachers assembled at the beach because, unbeknownst to us, the event had just wrapped about a week earlier.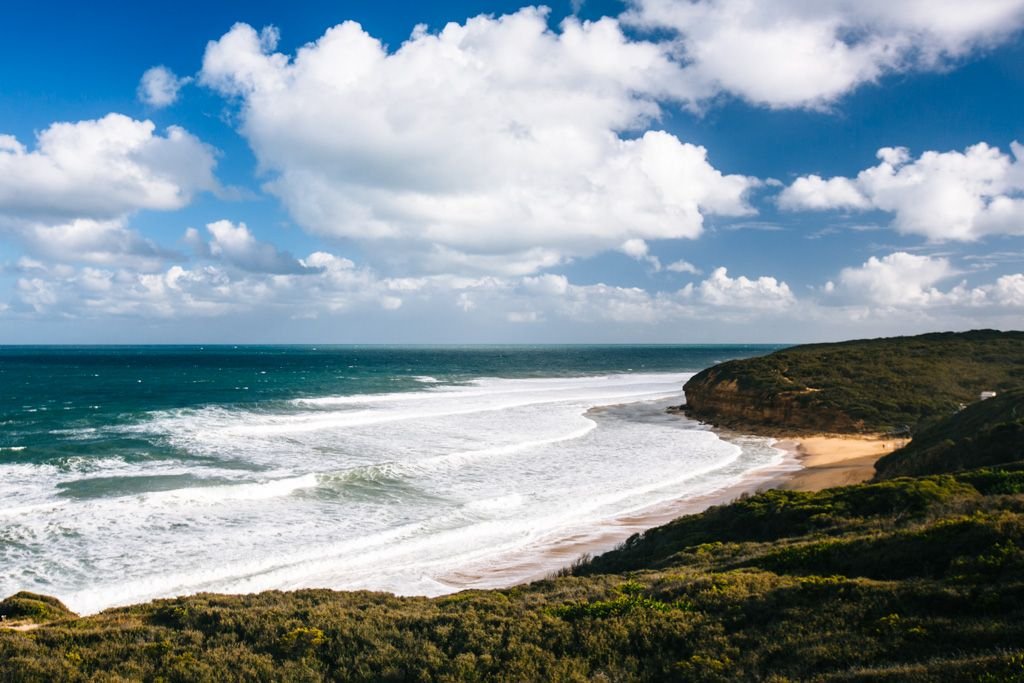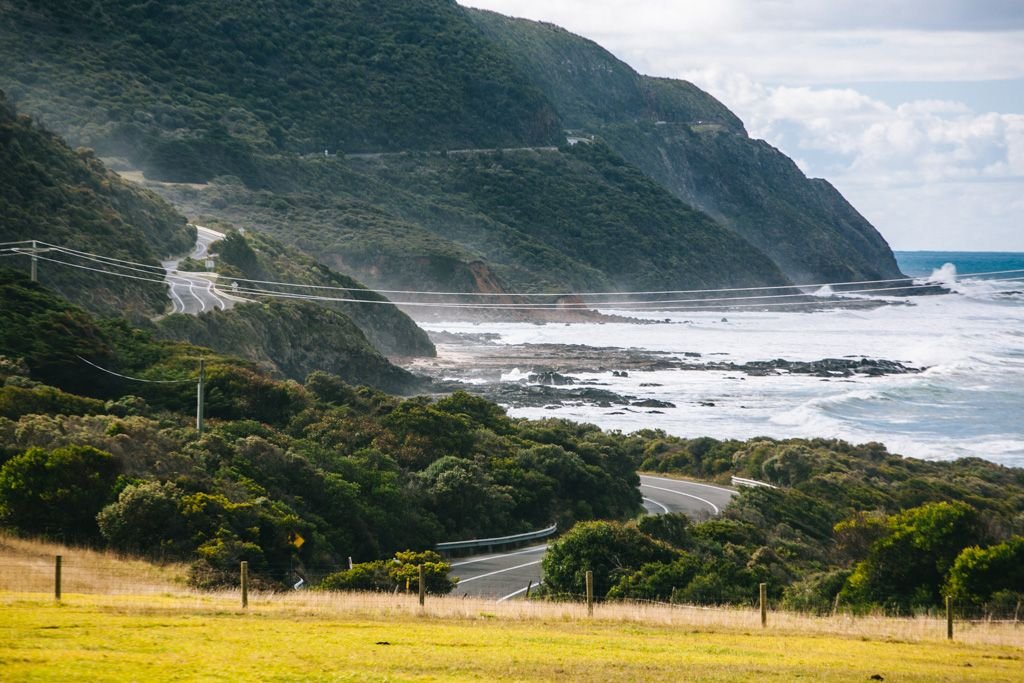 You'll enjoy the best coastal views along this segment of the road, from Torquay to Apollo Bay. Allow plenty of time to take it slow around those curves and enjoy the ridiculous scenery. There are also heaps of beaches to stop off at along the way. If your itinerary permits, you should definitely spend some time in Lorne, an adorable seaside town about halfway between Torquay and Apollo Bay. We'd have stayed here had we not prebooked a room in Apollo Bay.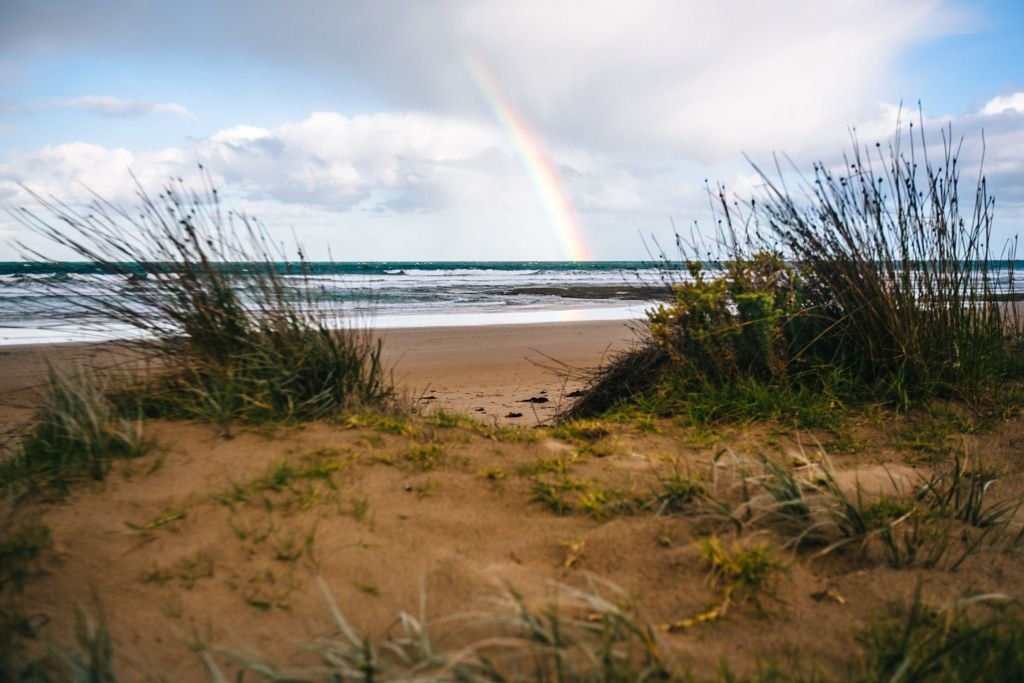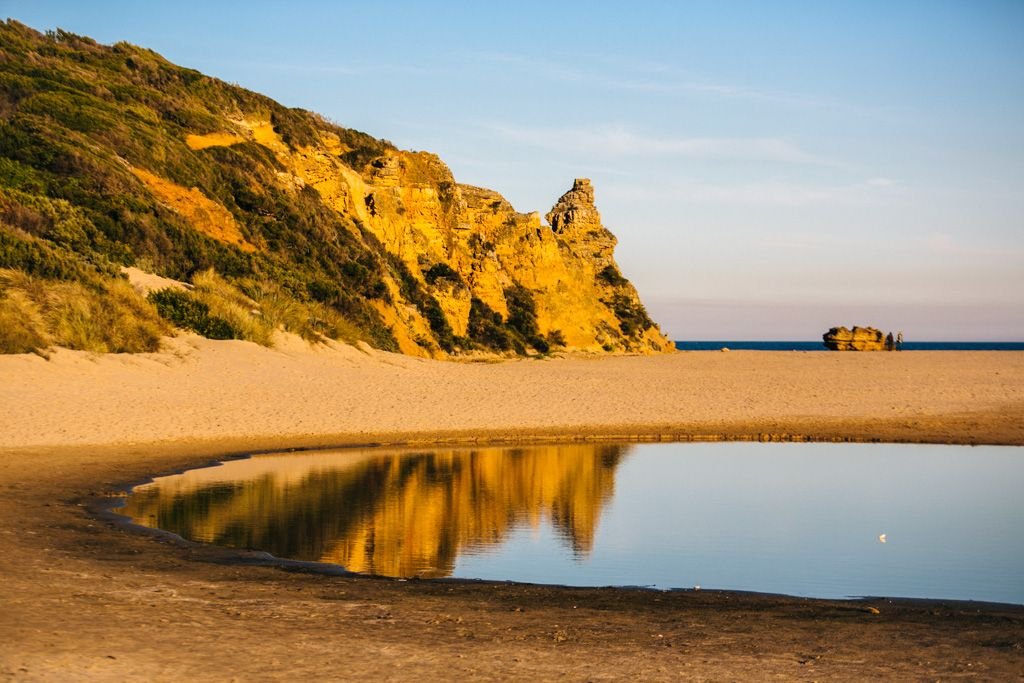 OH OH OH, and you can see koalas in the wild here! Look for the sign for Kennett River and turn off into the caravan park lot (thank you, Lonely Planet tip). These cutie pies sleep some 22 hours a day, but we saw one wide awake chomping away on some leaves (unfortunately it was too dark to get a decent photo).
The Otways
If you have limited time to do your Great Ocean Road Trip, I wouldn't prioritize the Otways as a must-do; however, if you can swing it, it's well worth the inland detour. Definitely budget some time for the Otways if you're into rainforests and waterfalls.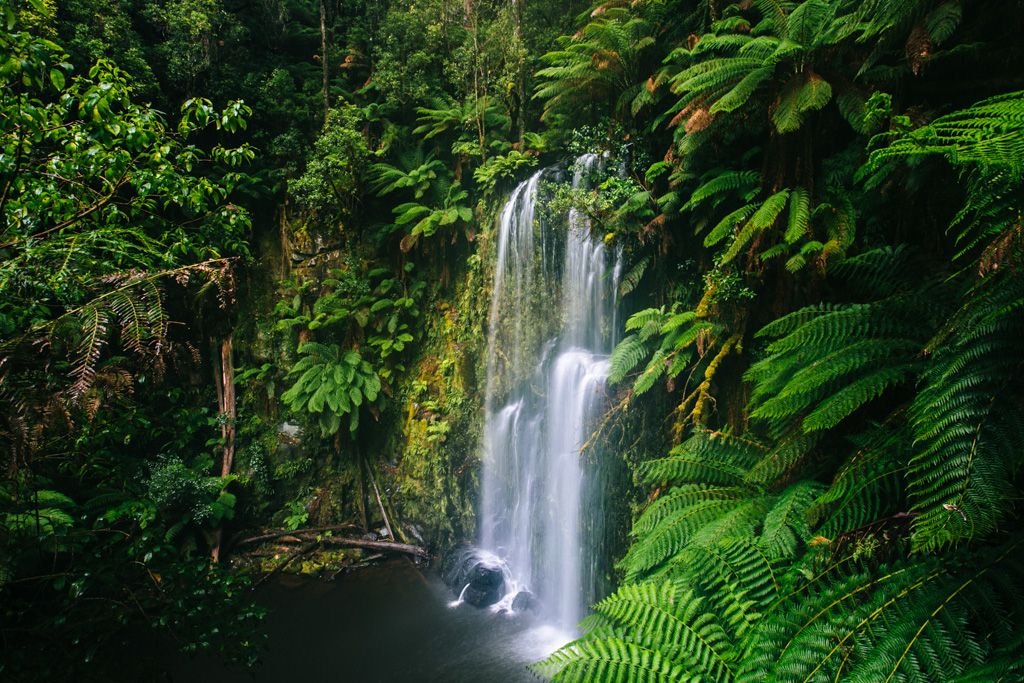 Great Otway National Park expands inland from the coast and covers the bulk of the eastern half of the Great Ocean Road. In other words: if you turn off the Great Ocean Road at any point east of Cape Otway, you're basically in the forest. The roads are windy and hilly – great fun to drive after dark with a clutch, let me tell you. During the day you'll see nothing but insanely tall trees framing your path. We camped at a free campsite near Beauchamp Falls, and at night when we layed silent in bed, we could hear the gentle creaking of the trees swaying in the breeze.
If you have the luxury of both time and money, book some rainforest activities with Otway Fly Tree Top Adventures. Their famous Treetop Walk and Zip Line Tour are meant to be out-of-this-world awesome! Otherwise, save your money and do some waterfall treks instead.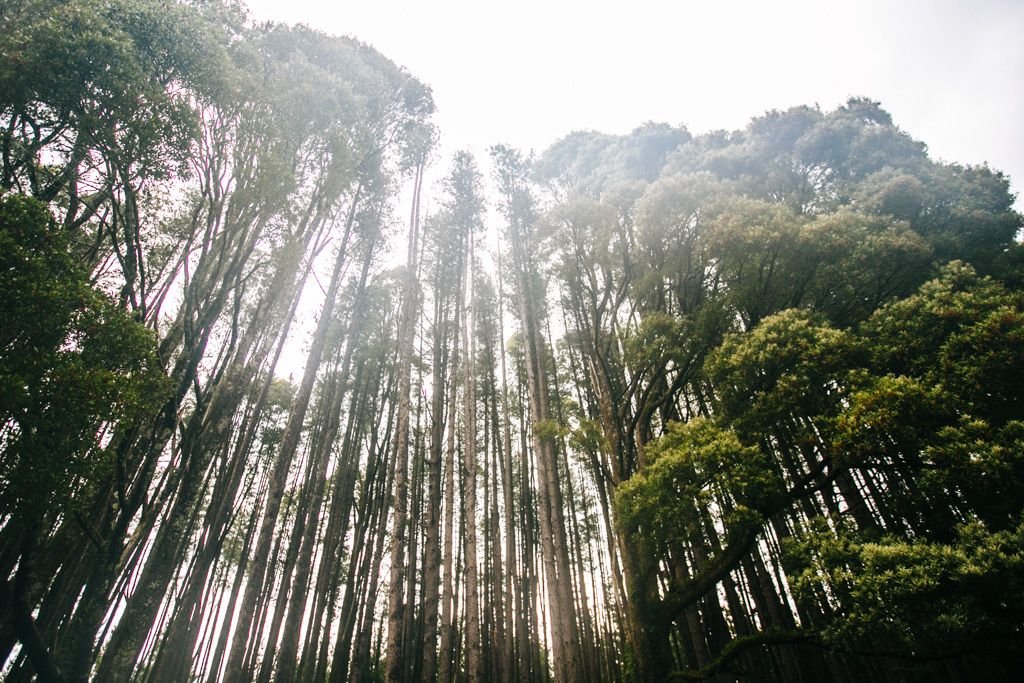 Port Campbell National Park
This is why you do the Great Ocean Road – to see all of the good stuff inside this national park. All those photos you've seen of arches, bridges, and various other rock structures in the water along a stunning coastline? Yep, they were taken here!
In order from east to west, here are the stops worth making:
Gibson Steps
I'm not entirely sure why this is a thing, but it's the first major stop in this region so everyone makes a point to stop off here. Yes, there are indeed steps leading down to a beach – but the views don't hold a candle to what lays ahead down the road.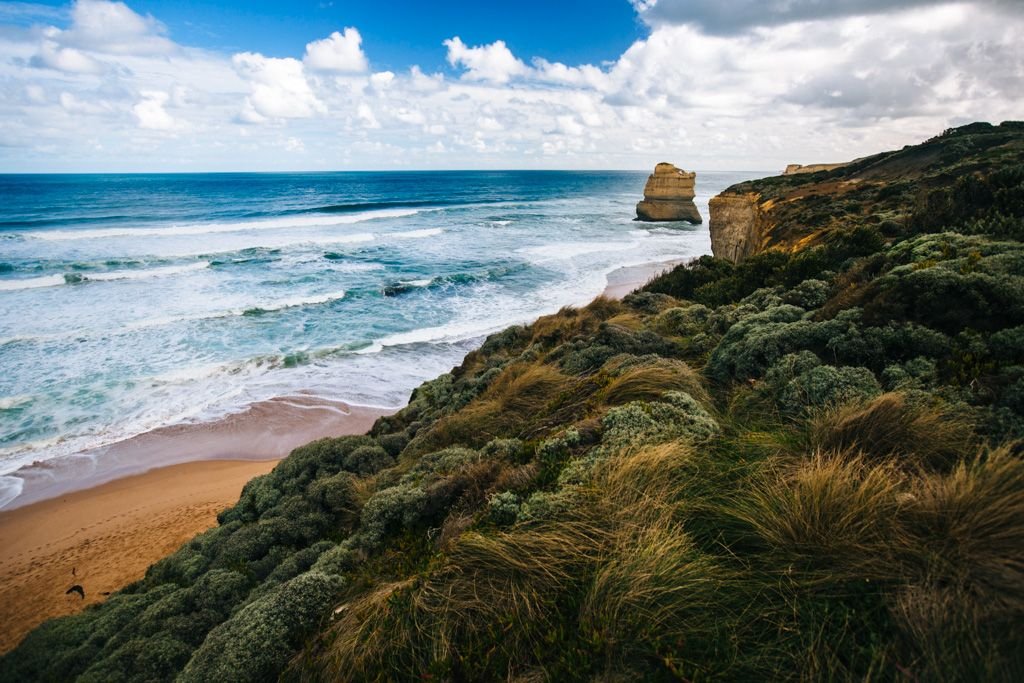 The 12 Apostles
Really, is any caption needed here? There are actually only 7 apostles now, so there's that.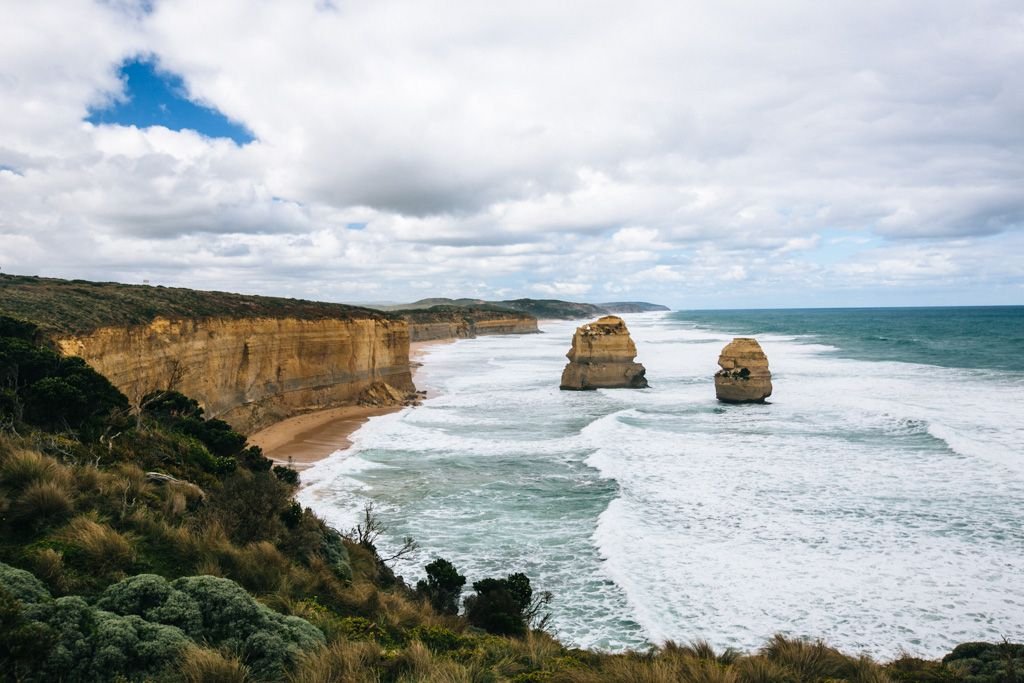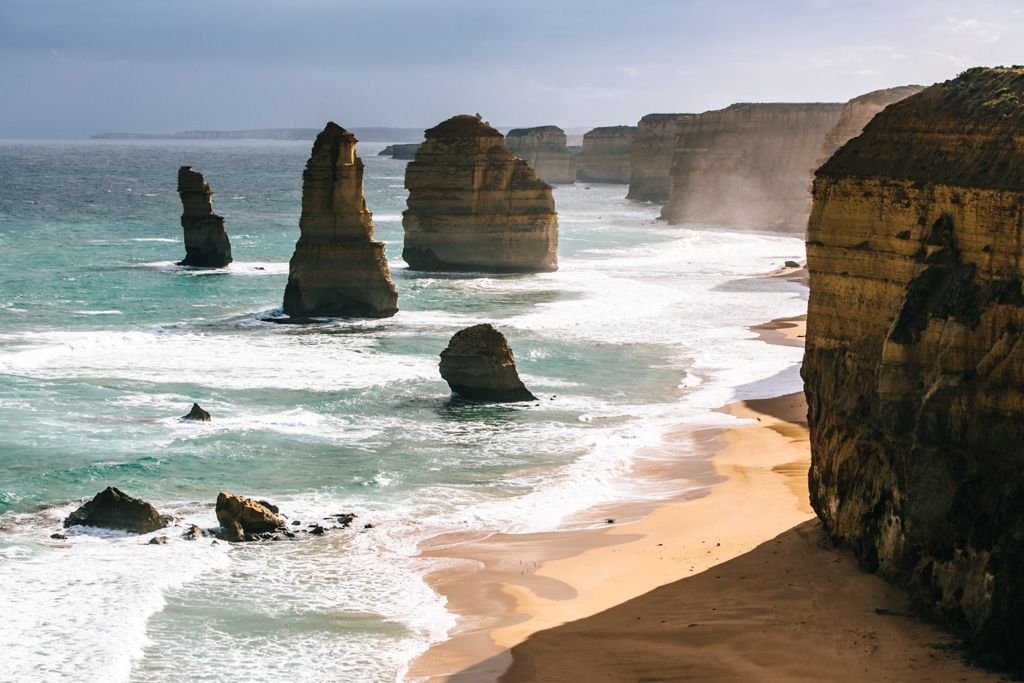 Loch Ard Gorge
I can't say enough good things about Loch Ard Gorge – in fact, I'm calling it as the best sight along the Great Ocean Road. There are a few walking paths you can take from the car park; on my first Great Ocean Road trip, we only took the easternmost path, which led to some really spectacular coastal views and rock formations.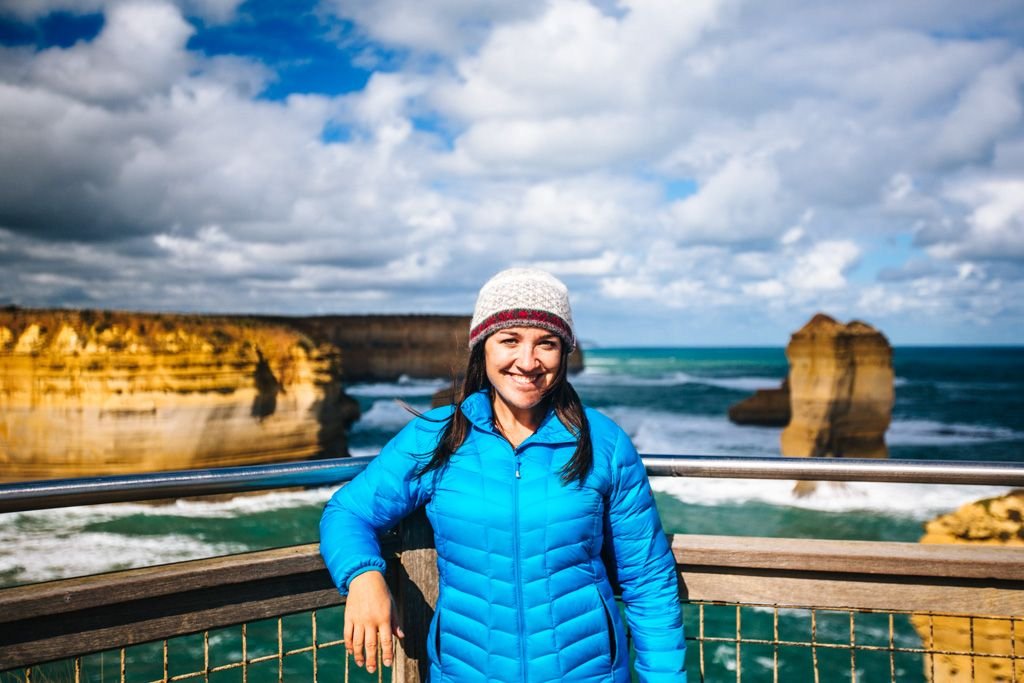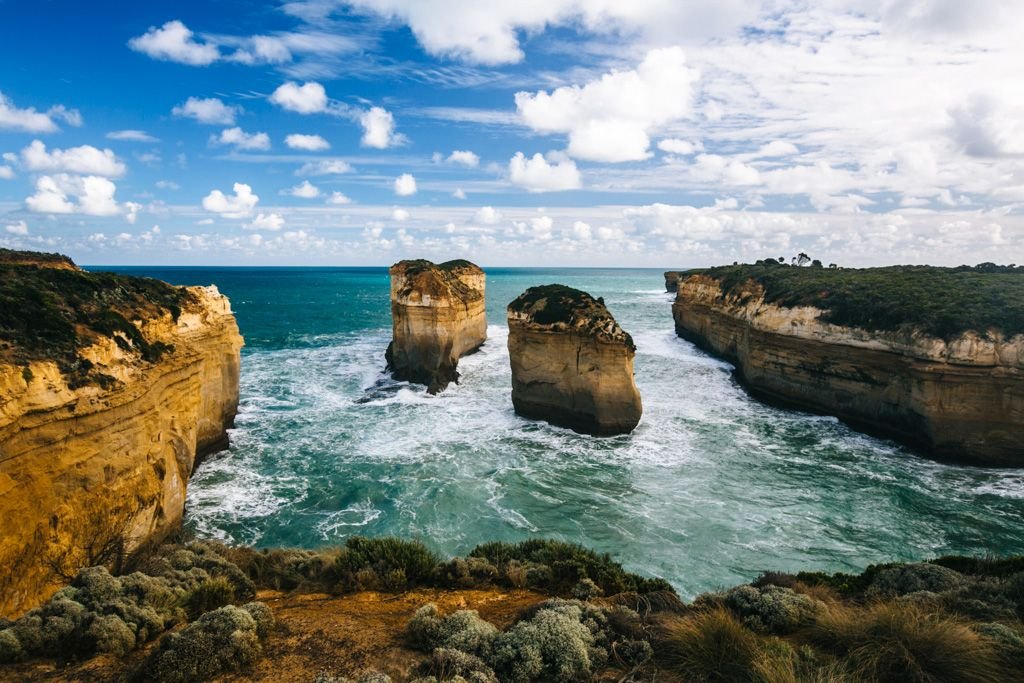 It was only after the fact that I realized we hadn't actually seen the gorge itself! I was sure to remedy this during my second roadtrip. Look at what I'd missed before!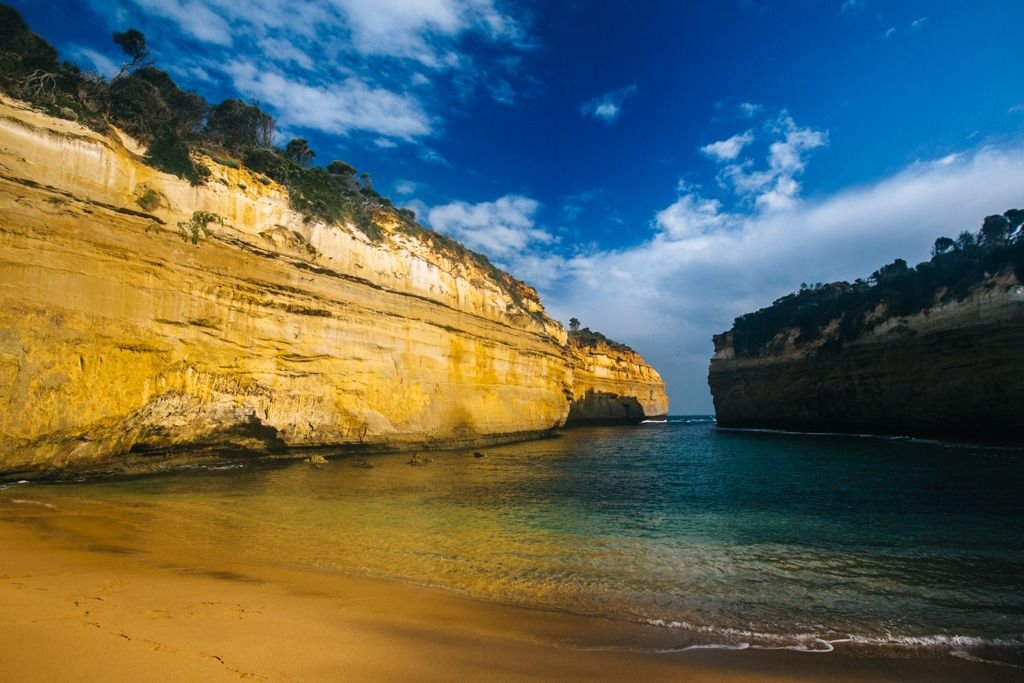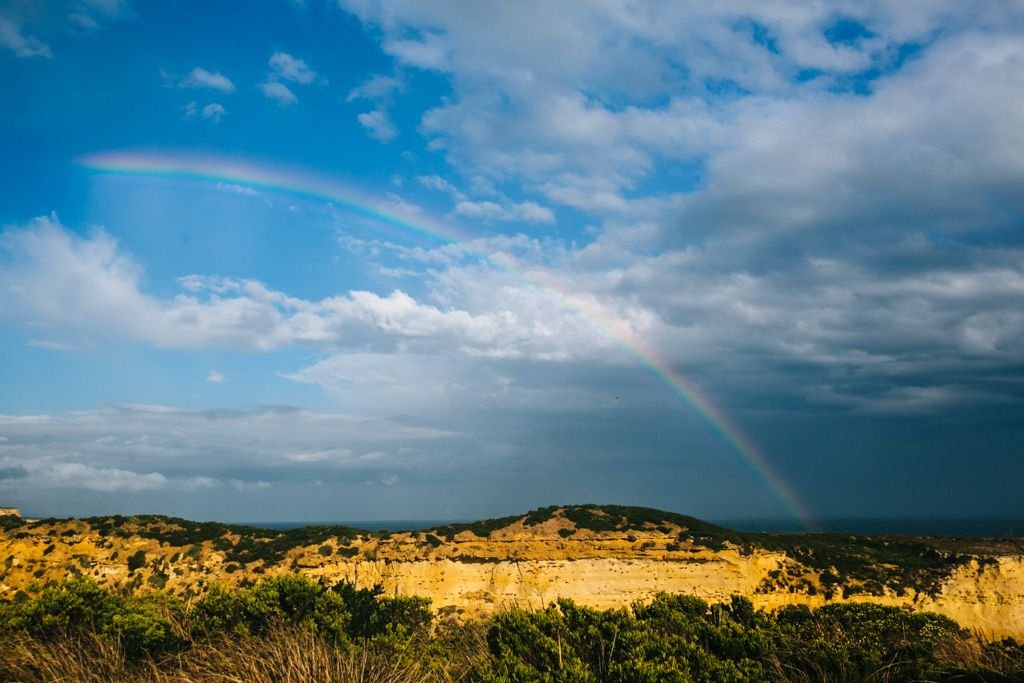 The Arch
No caption needed for this one, either. An arch is an arch (is an arch…).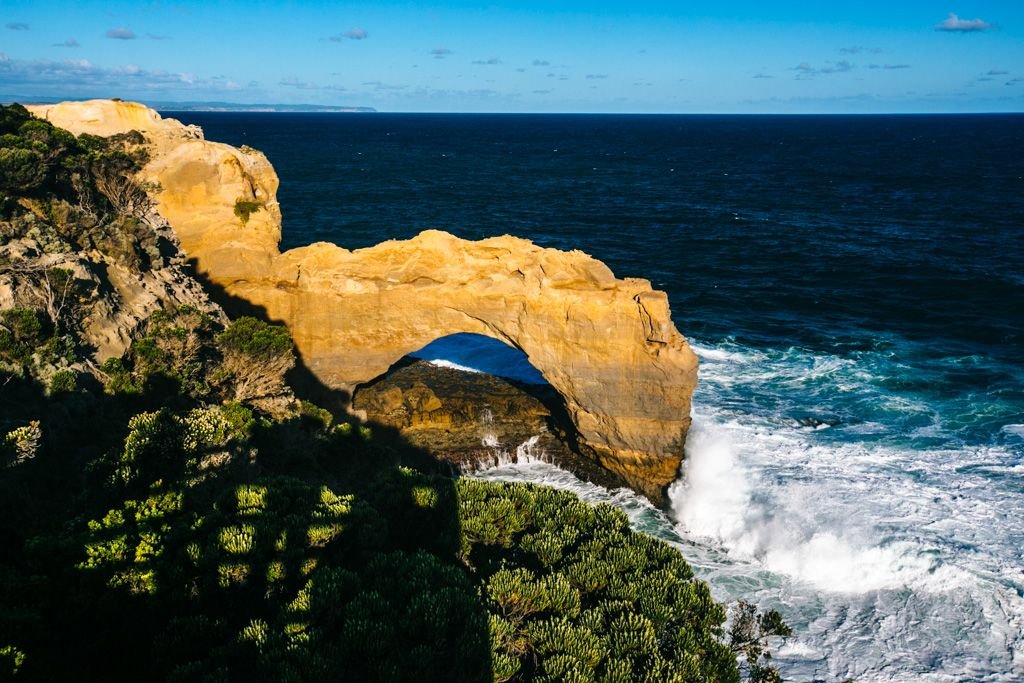 London Bridge
It used to be a bridge, until part of it collapsed and left a couple people marooned on the arch. I guess now it's called London Arch?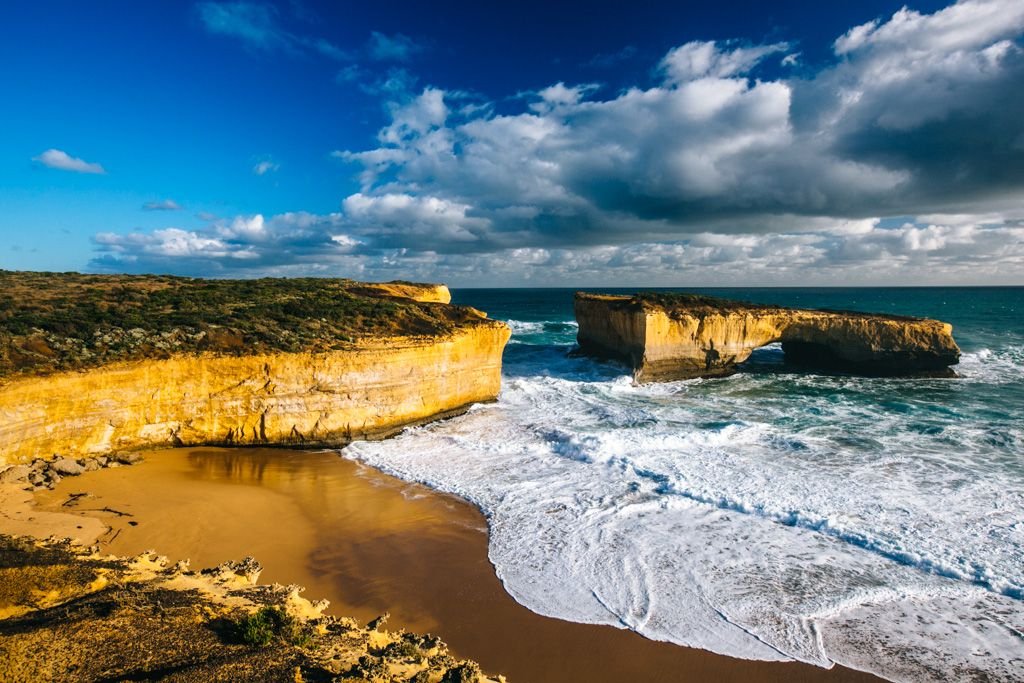 The Grotto
I'd recommend hitting this spot earlier in the day, otherwise it'll be covered in shadows. Still, it's pretty cool walking down to watch the water in this little nook.
Bay of Islands Coastal Park
The sights and stop-offs after Port Campbell taper off abruptly, but there's still plenty more coastline to see along the Bay of Islands if you're not too jaded.
Bay of Martyrs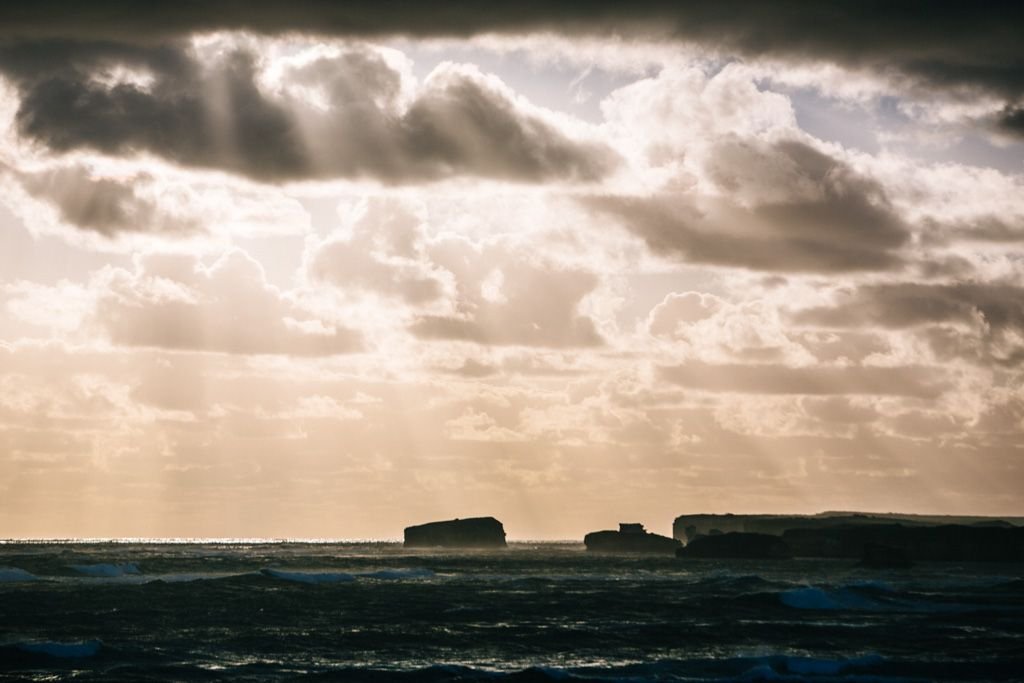 Bay of Islands
I'd have liked to have seen this during daylight, but it was still gorgeous at dusk. Highly recommend making a stop here if you can!
Frugal Facts
As of January 2015 —
A 4 day car rental cost us AU$272 (US$208) including insurance through Redspot.
Driving from Melbourne to Portland and back, we spent about AU$90 (US$69) total on petrol.
A double room in a house on airbnb can be had for as low as AU$44-54 (US$34-41).