READ THE OTHER CARAVAN LIFE DIARIES MONTHLY RECAPS HERE.
April was the month I hit my stride, in terms of this whole caravan life thing.
We traversed South Australia from southeast to north, bingeing on beaches and wine the whole way, and it was absolutely glorious. I tried to imagine myself living here and having so much amazing natural goodness in my backyard, but I'm not sure if I'm up for enduring winter. Then again, I usually escape winter anyway and travel overseas during this time of year (or I did, pre-COVID), so maybe it could work?
Either way, South Australia is one of my favorite states in Australia (I think
Western Australia
is my #1, but SA may just be #2). Its natural beauty combined with the lack of tourists and crowds just makes it feel so special, so untouched. Life is just breezy here, ya know?
And this month, I really allowed myself to enjoy it.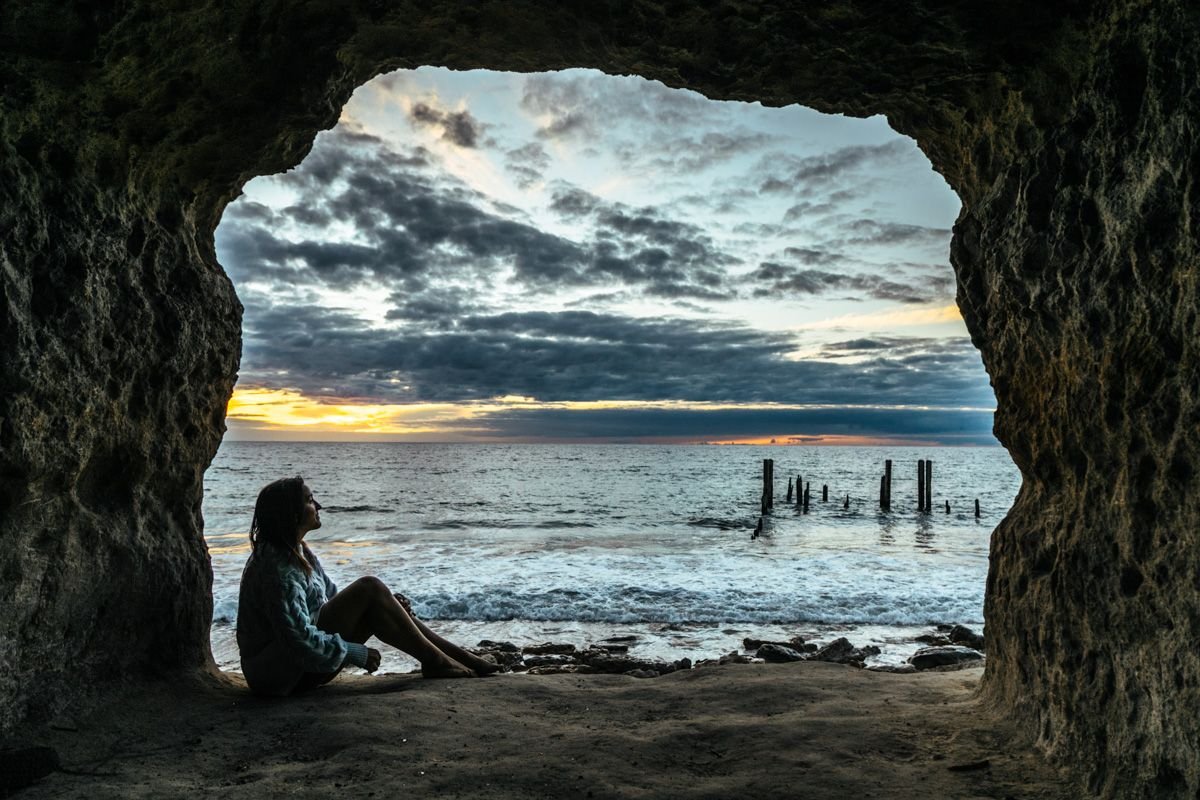 One of the caves on Port Willunga Beach.
I unintentionally ignored obligations like daily workouts, posting on instagram, responding to messages, and diligently using my planner, and you know what? I feel great about it.
One of the recurring themes of my life is learning to let go of all the "have to's" and "should's" and to not force myself to do things that I don't want to do. To listen to my gut and roll with it, even when it defies reason and logic. To follow what lights me up and drop what doesn't.
It's a practice for sure, but man have I come far with it since my childhood years. The fact that I straight-up stopped doing these things and felt close to zero guilt about it is CRAZY to me (it's probably also crazy to anyone who isn't normally super strict and disciplined with themselves, hah).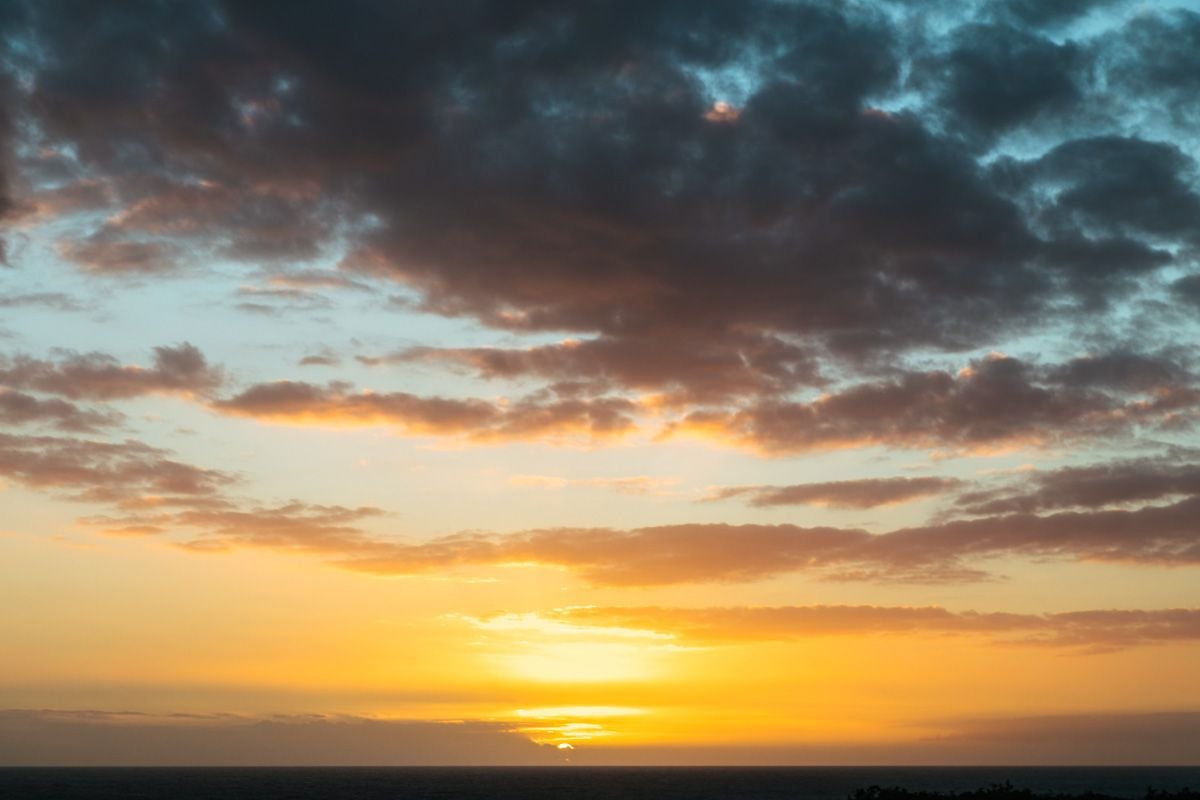 Anyway, our travels took us from the Limestone Coast to Coonawarra, to the Fleurieu Peninsula, Barossa Valley, and the Yorke Peninsula. I got to cross off some long standing items on my Aussie bucket list, as well as some things I didn't know I should've had on the list.
We stayed the longest we ever have in one location, the Fleurieu Peninsula, for a full two weeks – not because we loved the caravan park we were staying in (defffffinitely not), but because the location was so ideal.
Mostly we wanted to take advantage of being near a major city (Adelaide) to take care of some admin and personal care things before heading north. Of note: our car has been serviced and re-registered (though not without some hiccups, more deets in The Worst Bits section below), and we're feeling good about taking on the Outback next month.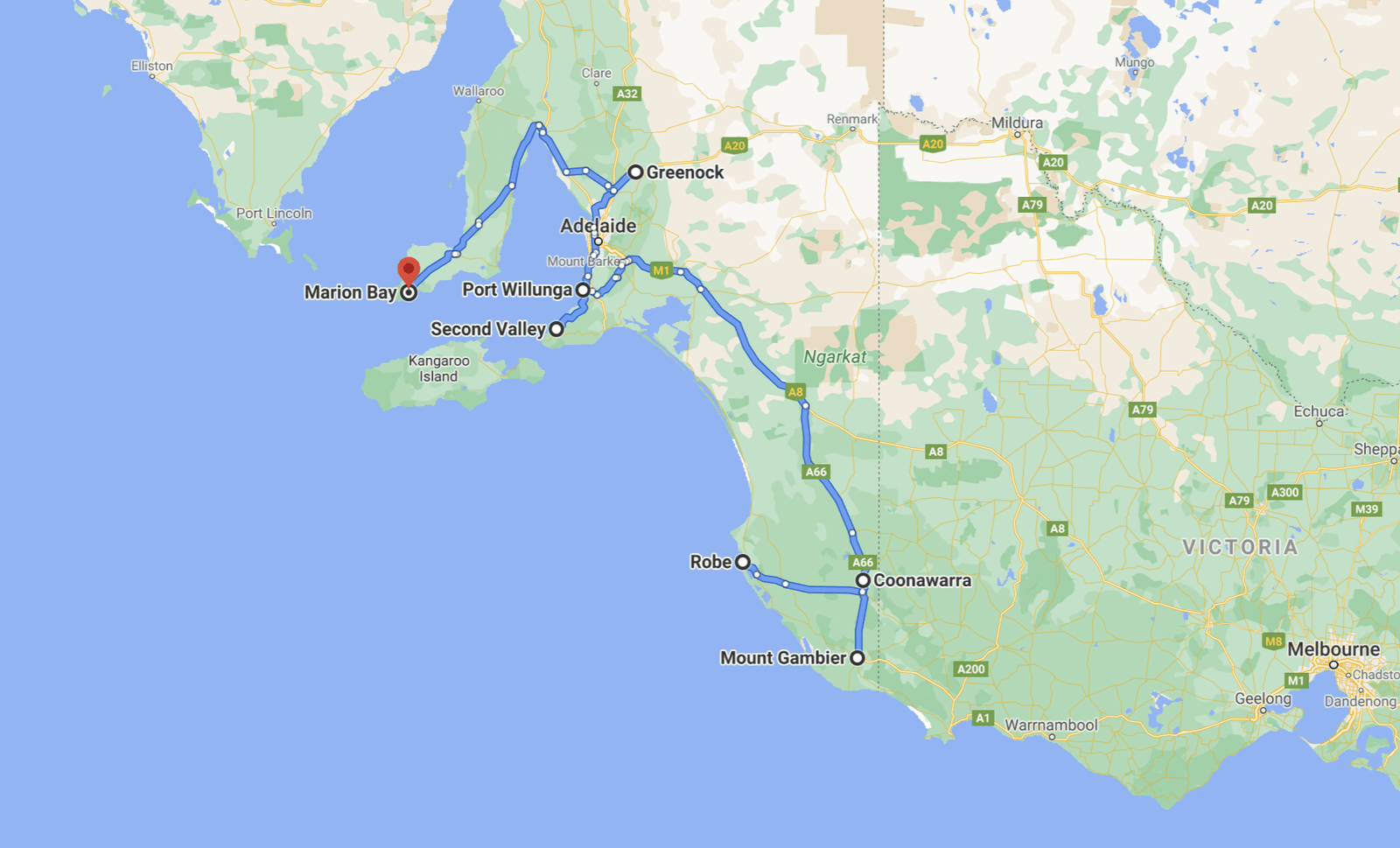 Where We Went This Month
TRAVEL BY STATE: 30 days in SA

ACCOMMODATION COSTS: AU$745 (US$580) on campsites
April 1-6: Coonawarra, SA
We were originally planning to stay in Mt. Gambier, but everything was all booked out over Easter weekend so instead we found ourselves at Coonawarra Bush Holiday Park just a bit north.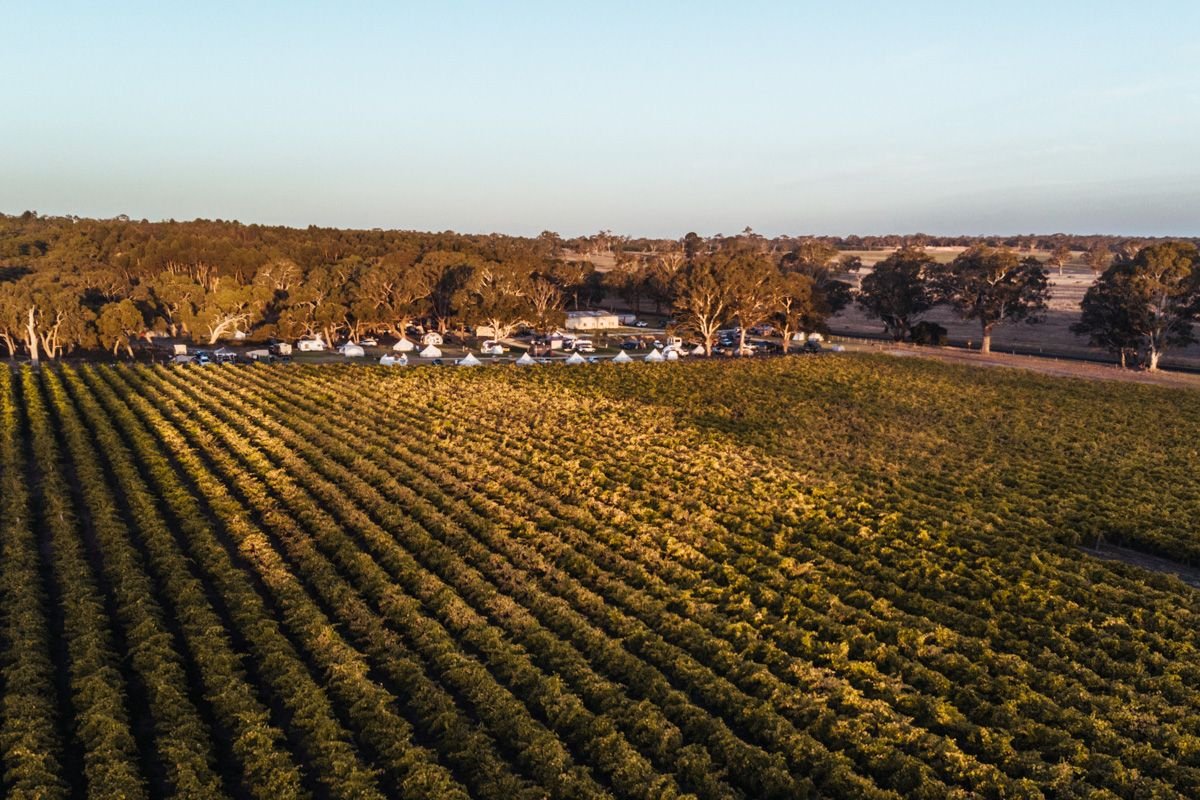 Our campground, nestled right next to a vineyard in Coonawarra.
And what a happy little accident that was! I'd never even heard of Coonawarra before but apparently it's one of the top wine regions in Australia. I can confirm their red wines are delightful.
The Coonawarra wineries we visited:
Patrick of Coonawarra – Highly recommend ordering their massive cheese platter and enjoying it with a glass of wine out on the front lawn (they've got lots of lounge pillows you can get cozy with). We LOVED their 2014 Home Block Cab Sauv.
Bellwether Wines – The coziest tasting room in an old shearing shed, and some really *unique* wines (most of which I didn't quite love). Such friendly staff, too! They also have some campsites available (yep, fully booked when we were there, of course).
Apart from wine tastings, we also drove down to Mt. Gambier a couple times for some adventures. This part of the country is littered with sinkholes, or underground limestone caves (not unlike the cenotes in Mexico) that formed thousands of years ago from volcanic activity.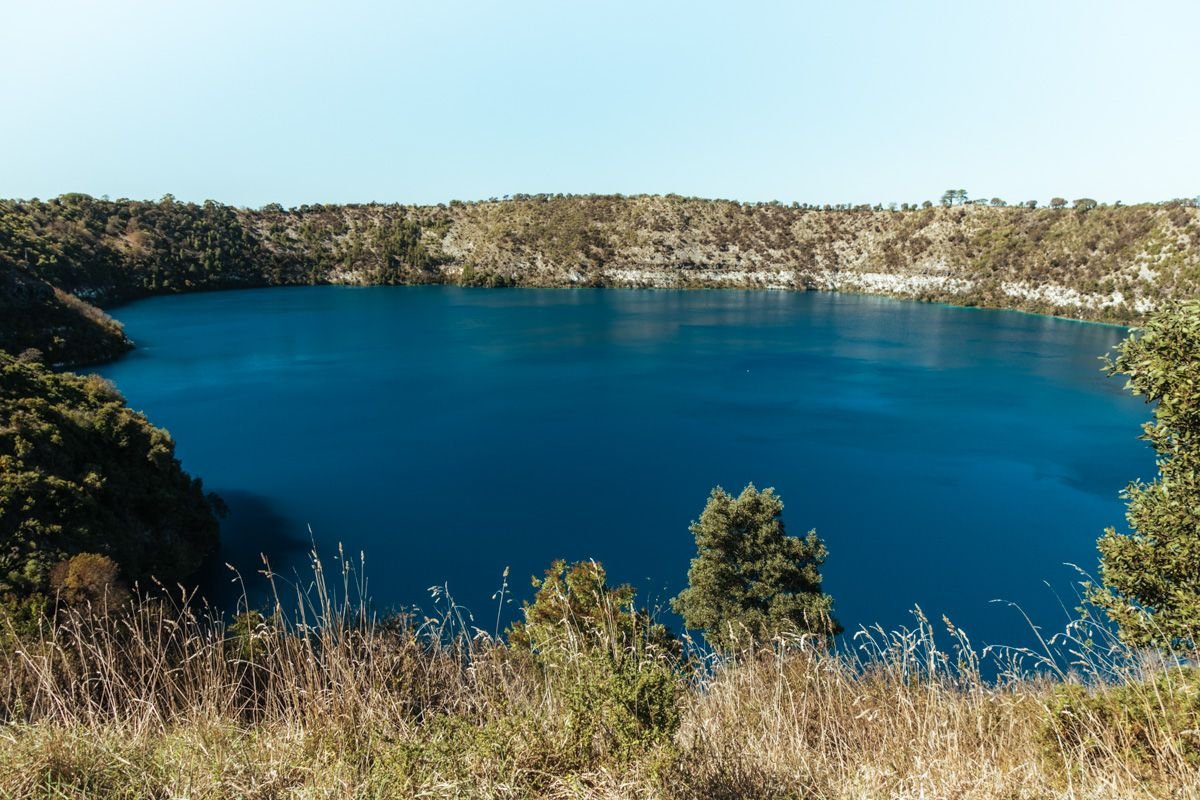 Blue Lake.
The Limestone Coast sinkholes we visited:
Umpherston Sinkhole – A sinkhole garden in the middle of Mt. Gambier town. It's so lush and green, and apparently full of colorful flowers in spring and summer. When we visited, it was full of families over Easter weekend… ugh.
Blue Lake – A massive lake near Mt. Gambier that could be Crater Lake's twin. During summer months, it takes on a bright blue color; otherwise, it's a dull gray. We visited right on the cusp of the color change (early April) and mercifully it was still vibrant blue. We spent a few hours walking around part of the lake and having a picnic lunch on the hillside across the street. Absolutely GORGEOUS if you can catch it blue!
Little Blue Lake – A smaller blue lake that's nowhere near as colorful as Blue Lake, but you're allowed to swim and dive in this one. We floated around on our floaties for awhile and watched people jumping off the edges (about 8m high). Apparently the lake is 47m deep at its deepest!
Kilsby Sinkhole – It costs about $100 for a guided snorkeling session here, which I personally think is a bit much for what you get. It was nice, but not that nice. But dang, the water here is SO clear!

Kilsby Sinkhole.
Oh and shout out to Bricks & Mortar Coffee Co., a delightful find in Mt. Gambier – they serve up some of the best coffee I've had in all of South Australia!
April 6-20: Fleurieu Peninsula, SA
Next, we spent two weeks at Port Willunga Tourist Park on the Fleurieu Peninsula. I booked it purely based on its proximity to two of the best beaches in the area: Maslin Beach and Port Willunga Beach (both of which I walked to from the caravan park).
We had a couple of sunny summery beach days that I am SO grateful for, and took full advantage of. There's nothing like those vibrant cliffs next to some clear turquoise water on a sunny day – it's such a uniquely South Australian landscape.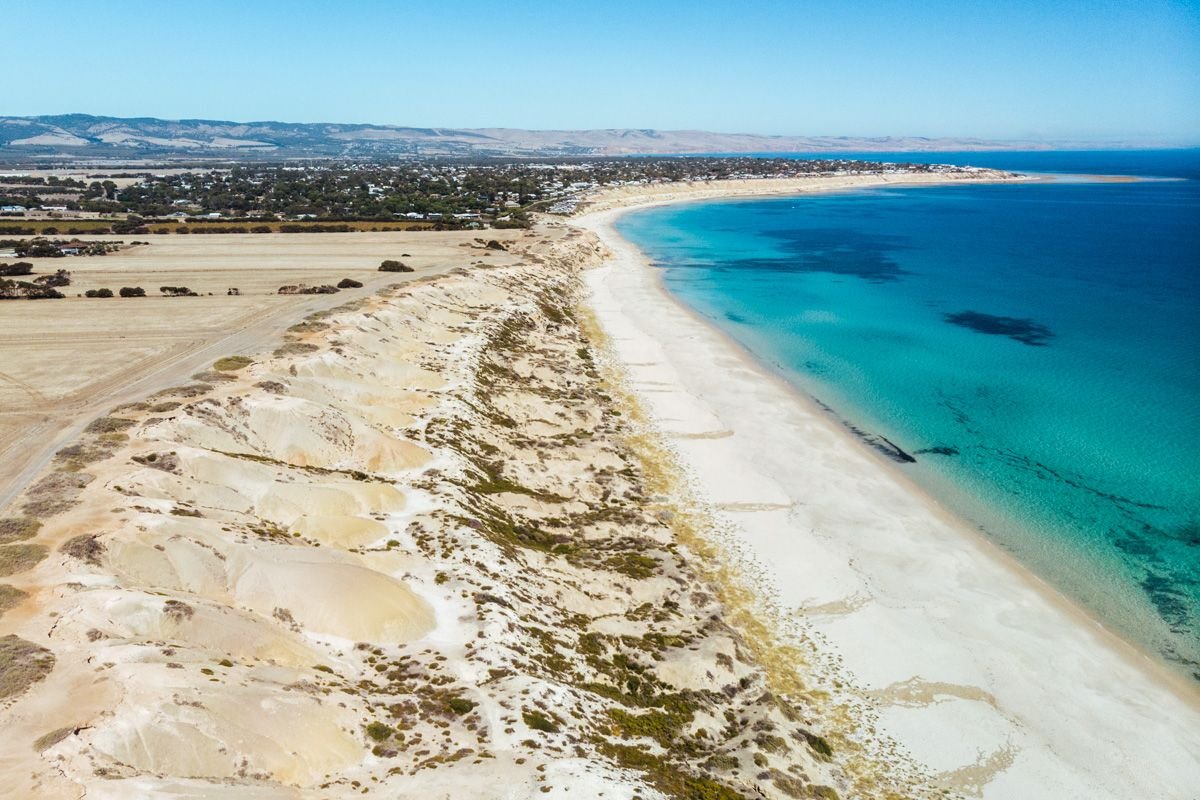 For the most part it was cool and cloudy most days, and I didn't quite get all the photos I wanted to because of it. But that's ok, because who needs sun and warmth to go wine tasting and errand running? Of note: I got a long overdue massage and tried a sensory deprivation float tank for the first time (more on this in The Best Bits section below!).
I also spent several days working and overcaffeinating at Goodness Coffee Co. in Aldinga, which I discovered on my last trip to SA. It's not only a cute cafe, but also serves up some of the BEST COFFEE IN ALL OF AUSTRALIA (yes caps lock!). That's not an honor I throw around lightly, mind you, so know how serious I am about the caliber of coffee here.

Cheesin' at DTRH.
And of course, a trip to the Fleurieu wouldn't be complete without sampling some McLaren Vale wines. To be honest, I didn't love anything I tried here. There were plenty of decent wines, but nothing I felt compelled to buy.
My wine tolerance is so pathetic these days that I'm extremely tipsy after just one wine tasting. One time, we went grocery shopping immediately afterwards to buy some cheese and crackers to soak up the alcohol and ended up with two logs of goats cheese, while the cheddar cheese I distinctly remember picking up was nowhere to be found in our shopping bag once we got home. HOW?!
These are the McLaren Vale wineries we visited:
Down The Rabbit Hole – Insta-famous and I aint mad about it. They have alpacas and a double decker bus for tastings, too! Everything here is just so dang pretty, it's the stuff of boho dreams.
Samuel's Gorge – A rustic tasting room on the edge of a national park. I wish we'd gone here on a nicer day so we could have enjoyed the setting more. The staff here was so friendly!
Alpha Box & Dice – Their whole thing is the "Alphabet of Wine", i.e. they're developing wines with names that start with each letter of the alphabet. I wanted to love this one, but didn't care for any of the wines we tasted.
d'Arenberg – This place is more about the experience than the wines, I'd say. You get to do the tasting on the top floor of the famous d'Arenberg cube, and then you're free to roam the other floors to check out the quirky art displays. We ended up watching a trippy short film in the theater room downstairs on our way out… what a strange place!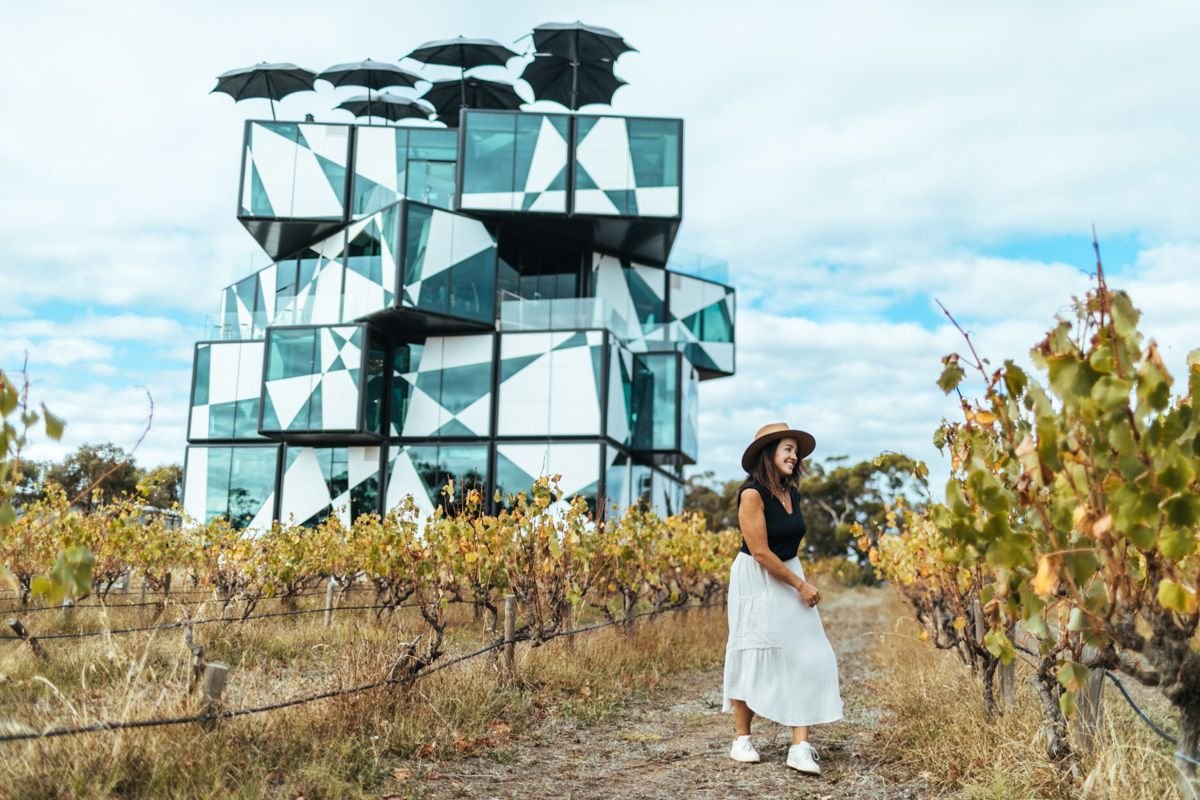 The famous d'Arenberg cube.
April 20-27: Barossa Valley, SA
Next up on our little SA wine tour: the Barossa Valley!
We camped at a cricket oval at Greenock Centenary Park, where they ask for a $5/night donation from campers. I loved the location: we were just a few minutes' walk from a handful of wineries in town, and a 10 minute drive from most of the other Barossa cellar doors.
These are the Barossa Valley wineries we visited:
Murray Street Vineyards – I didn't realize that I'd actually been here before a few years ago, when I did a Barossa Valley wine tour – oops! But we loved it here! We shared a cheese platter and did a tasting and enjoyed nearly every wine we tried. Nothing really stood out as being amazing, but everything was good.
Barossa Valley Estate – Don't let the generic name fool you – this place is an absolute gem! The grounds are stunning and the tasting room is all shiny and modern. We did a tasting and then had a glass of wine to enjoy in the gardens. Their black pepper shiraz is SO GOOD (and so $$$).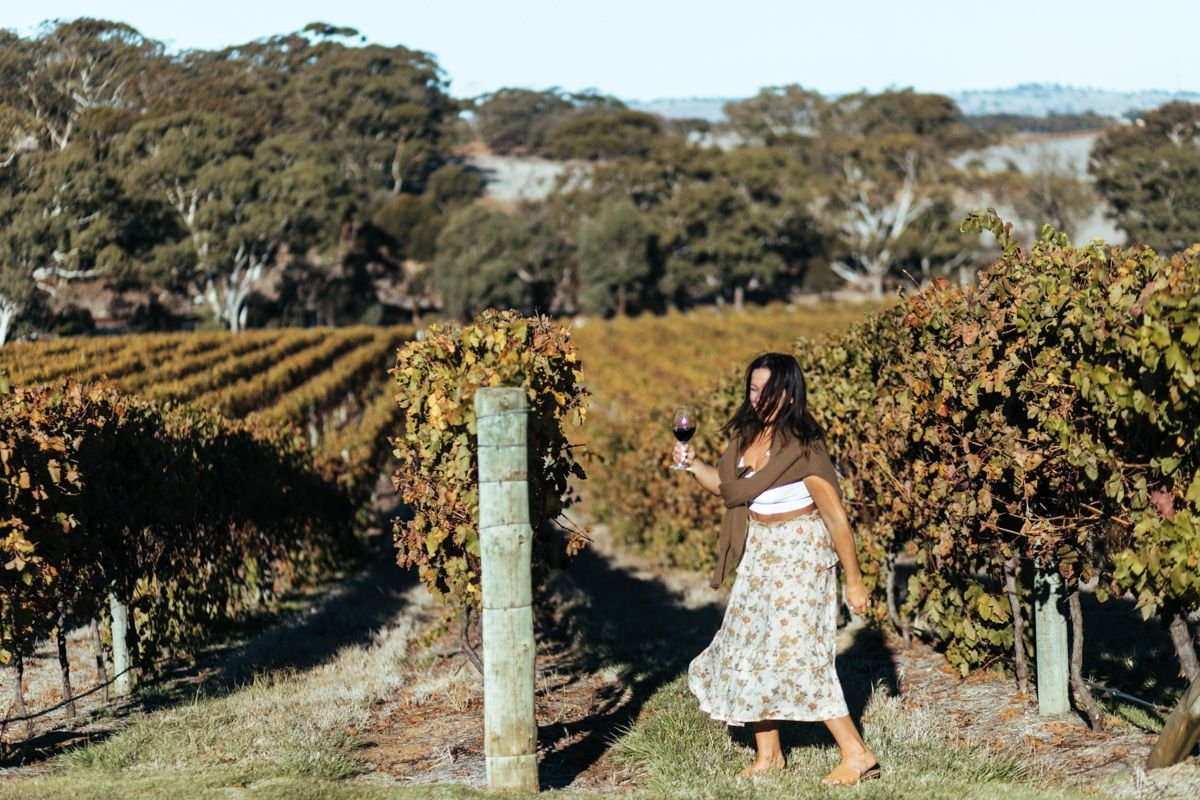 I think we both sort of hit a wall while we were in the Barossa after one too many cloudy days and cold nights. The only thing I could think to do was hit the reset button with a little staycation getaway in Adelaide. I booked us into the Majestic Roof Garden Hotel for a night and we did little more than lap up the luxuries of a king bed, cable TV, and a bath tub during our stay. We pretty much only left the hotel room to get coffee and food and it was glorious.
I feel like these random hotel stays are going to be so necessary as we continue living in our tiny old caravan, so this likely won't be a one time thing!
April 27-30: Yorke Peninsula, SA
And finally, the place I've been wanting to visit for a very long time: the Yorke Peninsula!
We stayed at Hillocks Drive bush camp at the very bottom of the peninsula. It's a private property along the coast boasting several beaches and some of the best fishing around. There are campsites carved out along the dirt road that runs through the property, most of which are just steps away from a beach.
We spent one day at nearby Innes National Park, but unfortunately it was really windy with rough surf and I couldn't access the rock pools that I really wanted to see at Shell Beach, which was a bit of a bummer. However, I quickly got over it with an impromptu swim at nearby Dolphin Beach, followed by a golden hour photo shoot at Ethel Beach (known for its shipwreck remnants and stunning cliff backdrop).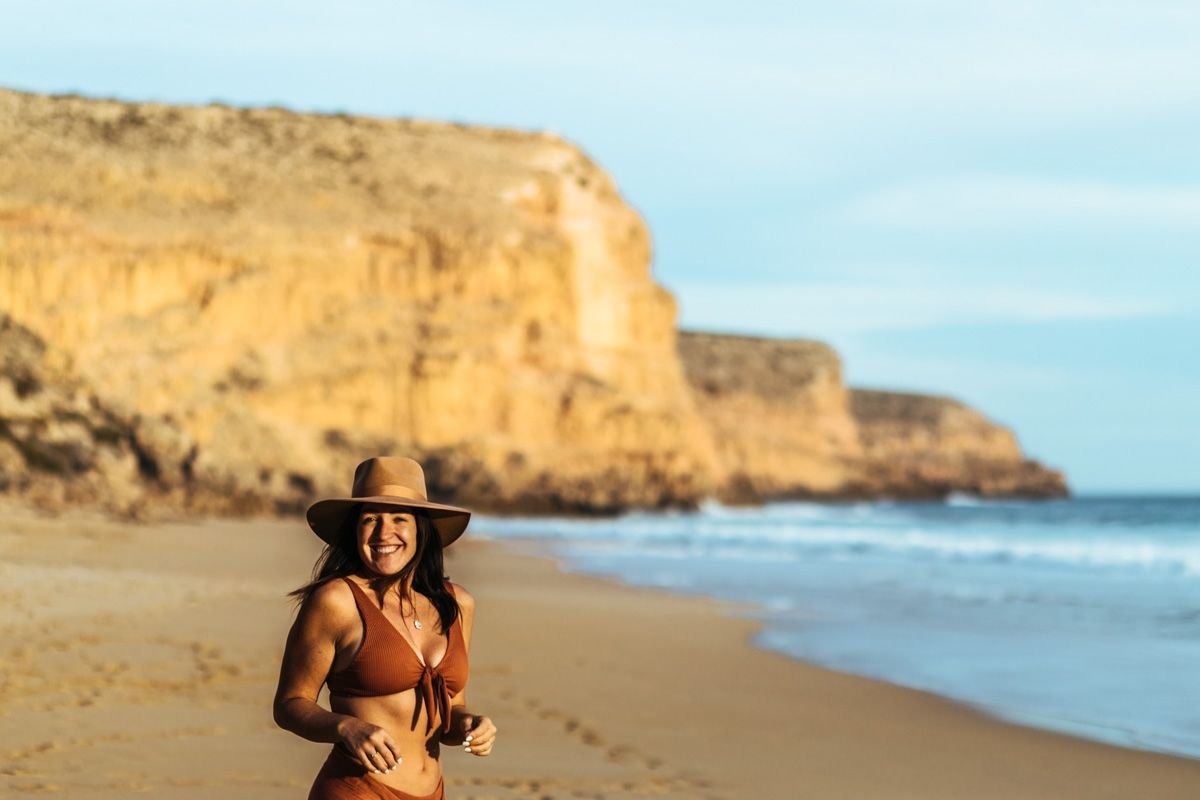 Derping around on Ethel Beach.
Beaches, rock pools, skinny dips, and campfires – that about sums up our time on the Yorke. All I wanted was to get in as much quality beach time as I could before heading north and away from the coast for a few months. Mission accomplished, I'd say!
The Best Bits
Wine Tastings + Cheese Platters
I surprised myself with how much I enjoyed our wine tastings throughout South Australia. I barely drink as it is (I think I only had a couple of drinks total last year), but there's something about being able to have just a few sips of several different wines that just works for me. Plus, throw in a gorgeous setting and a cheese platter and it's like a next level experience.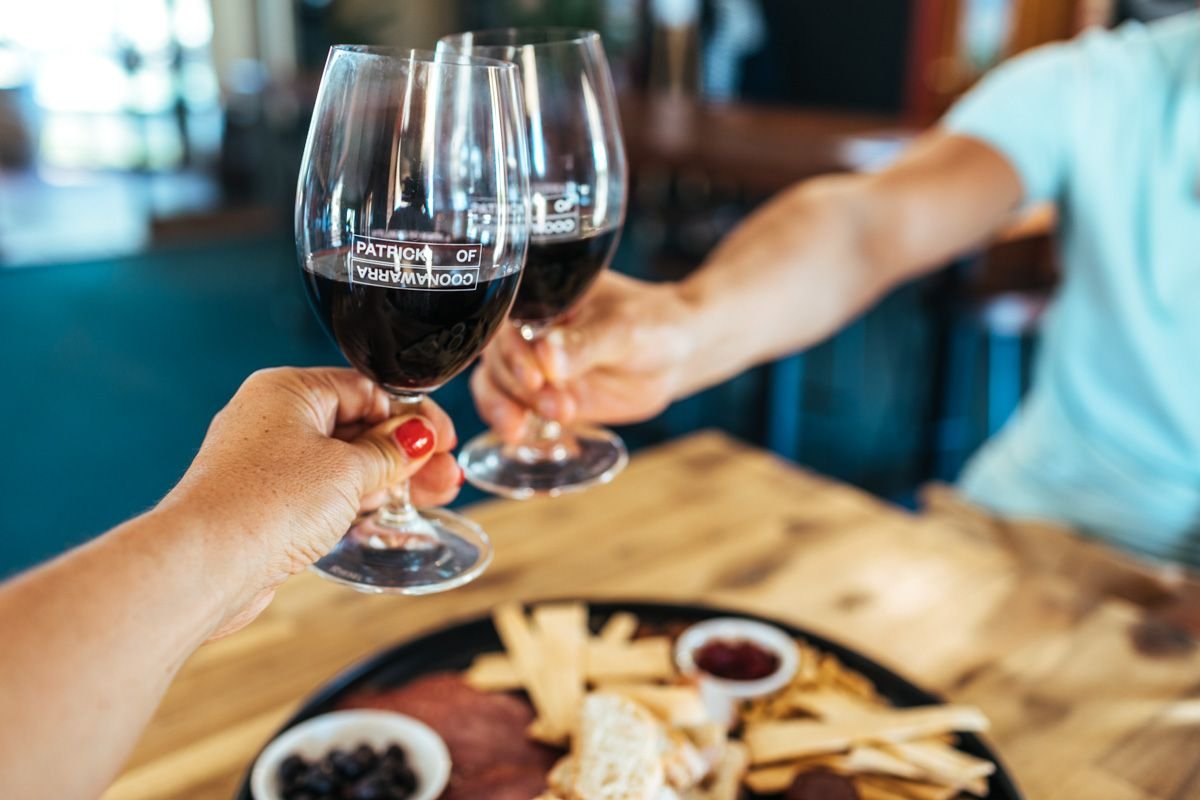 Cheese platters are LIIIIIIIIFE.
Actually I think part of it, for me, is that it feels like a proper date situation. Pete and I have never really gotten to go on dates, since we met just before COVID and then moved in with his parents for a bit and then took off on this big road trip. These wine tastings are like the dates we never had!
We've determined that cabernet sauvignon and shiraz are our two faves and have amassed a modest collection of Aussie wines on our travels thusfar. Lucky our wine palettes are pretty similar!
OH YEAH, and while we were lounging on the lawn outside Patrick of Coonawarra, someone else's dog randomly ran over to us and peed on Pete FOR NO DAMN REASON. Completely unprovoked and out of the blue! His owners were mortified and apologetic. I thought it was hilarious (though I'm sure I'd feel differently if he had peed on me).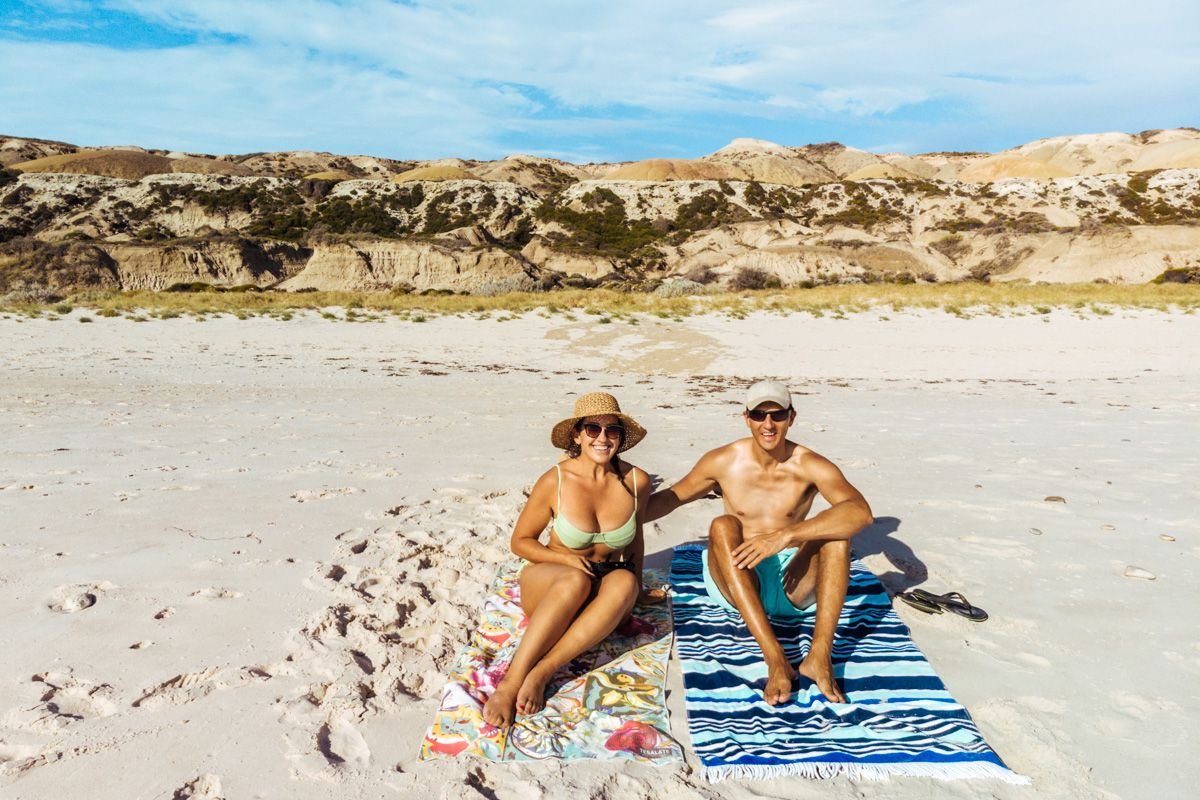 Fleurieu Peninsula Beaches
I love the beaches on the Fleurieu so much I wrote a blog post on them!
But seriously, there are these colorful cliffs all around Maslin Beach, Port Willunga, Aldinga, and Sellicks Beach that you won't find anywhere else in Australia. Combine that with some of the clearest, turquoise-iest waters around and my goodness, what a landscape. The water at these beaches is super calm too, as they're on the gulf rather than the open ocean.
Second Valley
We did an excursion to Second Valley, nearly an hour away from where we were staying on the peninsula, and it wound up being one of my favorite days this month. I got some epic drone shots of the beach and jetty, and we went on a walk around the picturesque cliffs and hills nearby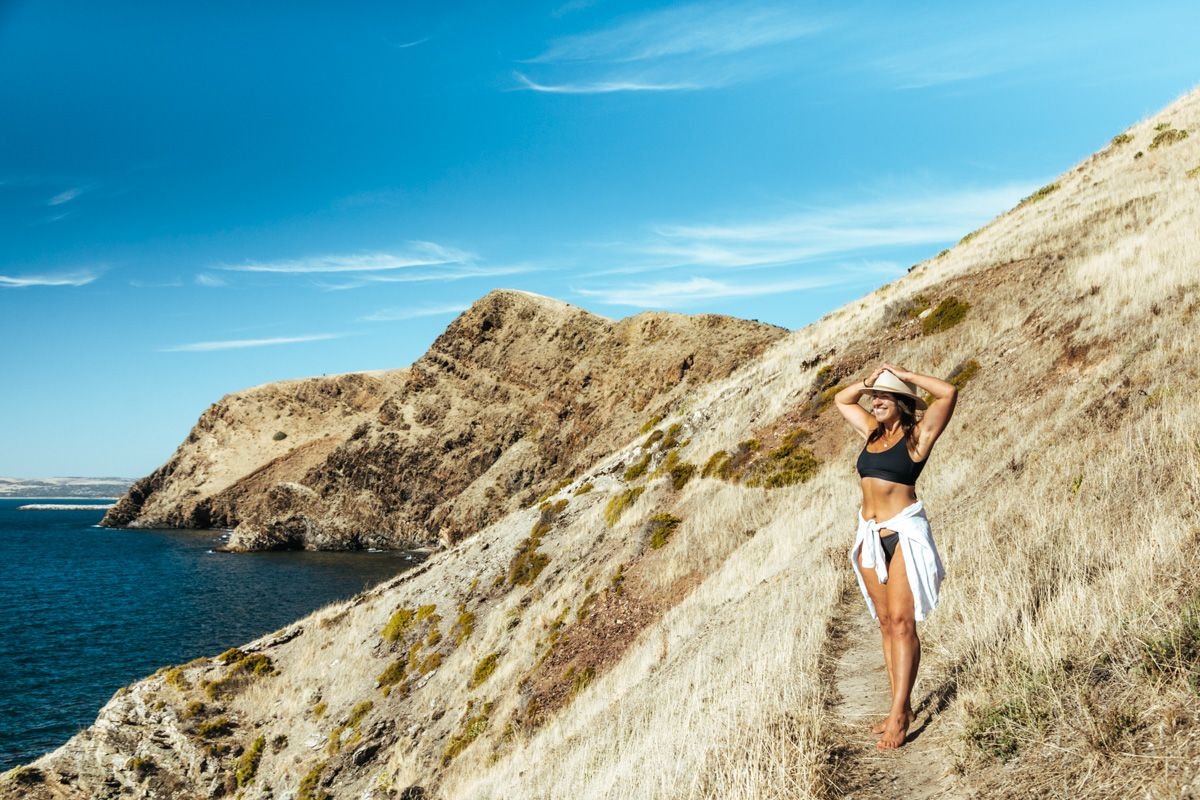 Some serious Sound of Music vibes.
Float Tank
I had my first-ever float tank session while near Adelaide at The Float Room and it was SUCH a relaxing experience! You float on your back in a tank full of warm epsom salt-filled water (it's more like a tanning bed than a hot tub, in terms of shape), with the lid closed and the lights off.
The idea is that it's easy to float with such a high concentration of salt, which allows your body to relax and your muscles to switch off that normally work to support your body weight. It's supposed to do wonders for aches and pains, which I was hoping would help my random arm and shoulder pain that I was having (and I think it did!). But beyond that, it's also a very meditative experience. It forces you to confront yourself in a way because there's nothing to distract yourself with in the tank.
For the first 20 minutes or so, I kept thinking UGH I AM SO BORED, WHAT DO I DOOOOOOOO. But then I did a little breathing meditation and the rest of the time flew by with little mental chatter.
Definitely going to incorporate regular sessions once I'm living somewhere more permanently again!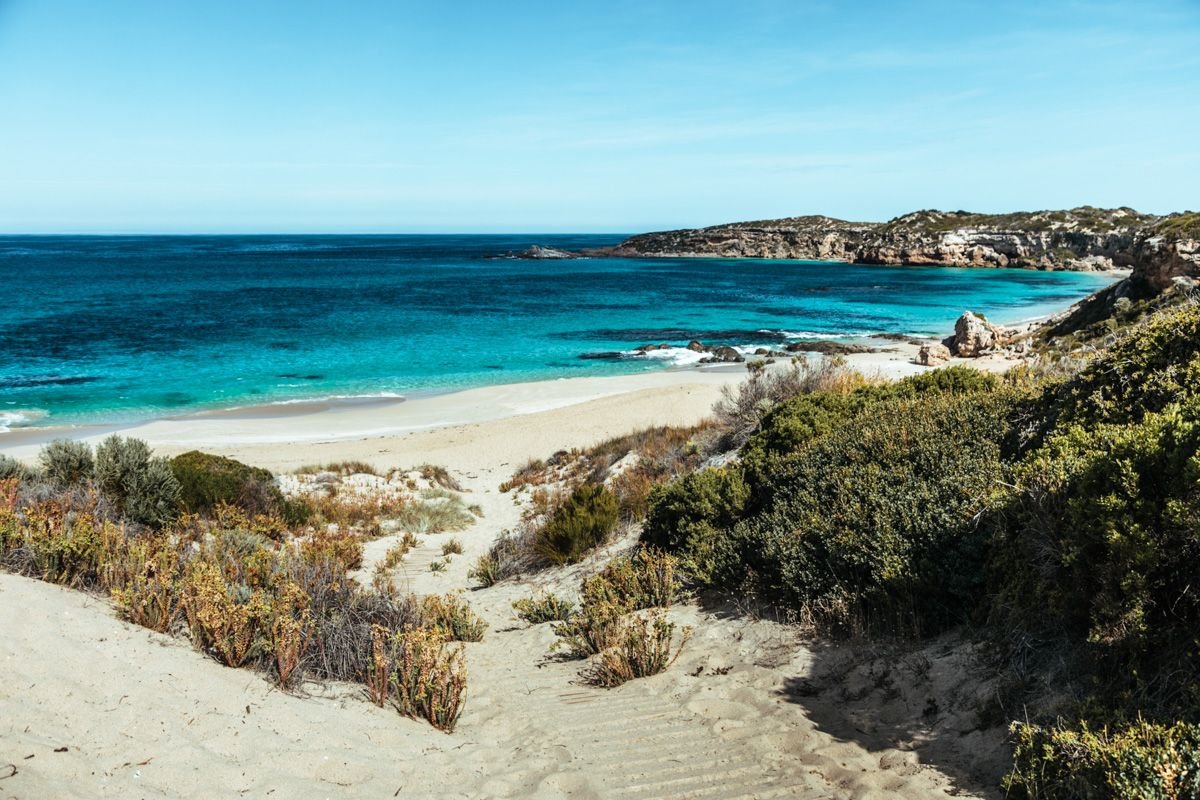 Hillocks Drive
The best thing about Hillocks Drive was being able to walk along cliffs from beach to beach, scaling steep sand dunes and boulders and stumbling across an epic view or rock pool that you had no idea was even there. Whenever the sun was out, I was in full blown adventure mode on a quest to see every inch of coast on the property, TOTALLY in my element.
Favorite finds included the rock pools on either side of Butler Beach (which is where we camped), inadvertently hiking part of the Walk The Yorke trail, and the Salmon Beach lookout.
Ethel Beach
I'd rate Ethel Beach in Innes National Park one of the best beaches in South Australia. Between the shipwreck on the beach and the receding cliffs in the distance as a backdrop, this one is a stunner.
Even better: our visit coincided with that glorious golden hour light, so we had ourselves a little photoshoot field day.
The Worst Bits
Arm & Shoulder Pain
I don't know how it happened, but I found myself waking up more and more sore each morning earlier this month. Was it our less-than-adequately-comfy caravan bed? My free weight workouts? Dehydration? I don't know, but at its worst, I couldn't lift my right arm without being in pain.
So I bought two mattress toppers, booked myself a 1.5 remedial massage, took a break from working out, and did a float tank session. I don't know if it was any or all of these things, or just the passing of time, but later in the month the pain went away and I've got full mobility in my shoulder again. YAY!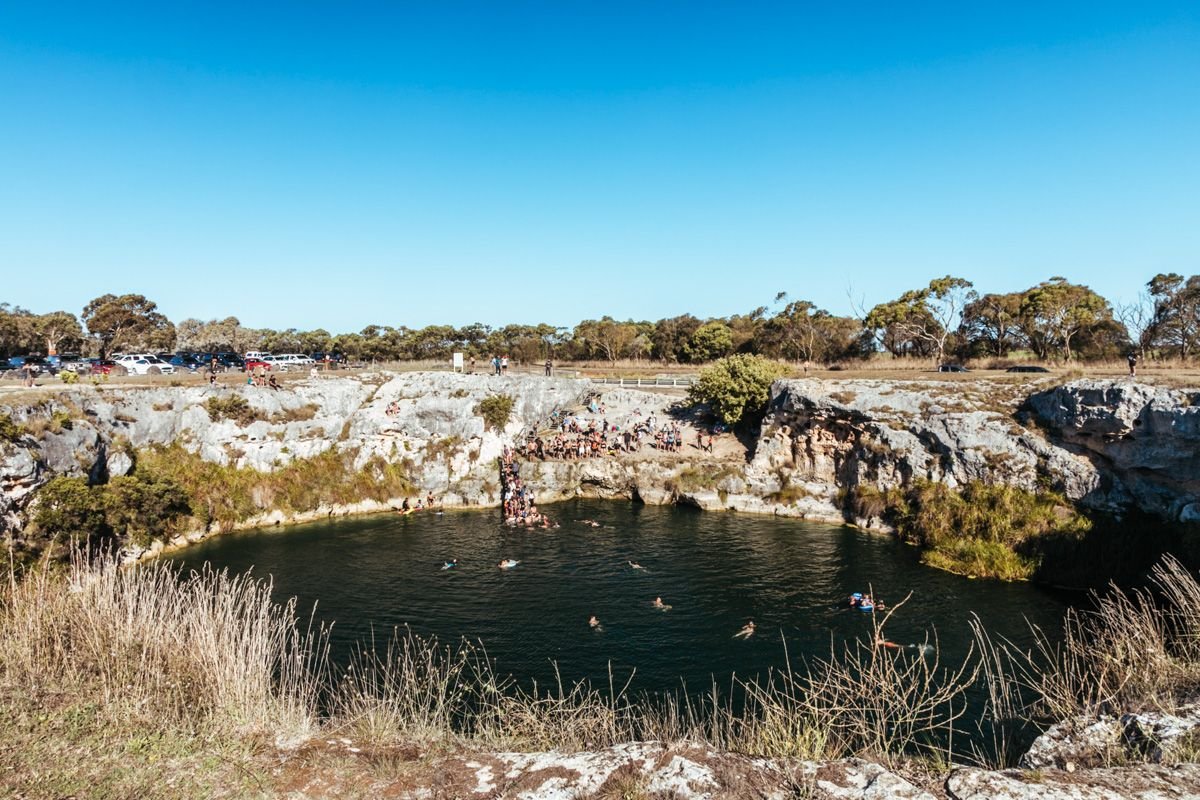 Little Blue Lake near Mount Gambier.
Nearly Missing Our Car Registration Renewal + Inspection
Here's a funny story! (but not really funny)
We were mid-drive from one campsite to another, stopped along the way for lunch, and as we were waiting for our food I go "you know, our Jeep rego is up for renewal sometime this month…". In my mind, it was sometime in late April.
So I log on to check our registration details and guess what? OUR REGISTRATION EXPIRES TOMORROW! Seriously?!! Ugh, so then I tried to renew it online, but apparently we were also due for an annual inspection (and they needed proof of the car being roadworthy before we'd be able to renew our rego). We weren't even aware of the inspection, as we only bought the car late last year and it hadn't needed to be inspected when we transferred the rego into our name.
Luckily we were already on our way towards Adelaide, where the inspection centers were, and miraculously scored an inspection for 4pm the next day. We passed it, sent our paperwork in, and were able to renew the car registration before it lapsed. Whew!

Umpherston Sinkhole, near Mount Gambier.
School Holiday Crowds
April is the worst month when it comes to school holidays. You've got the Easter long weekend, plus a week or two of mid-term school holidays, plus Anzac Day. Everywhere we camped seemed to be swarming with kids and families.
And guys? I don't know if you know this about me, but I kind of hate children. Particularly children who run amok around Australian campgrounds without ANY regard for other people's peace and boundaries. Was I a little shit like that when I was a kid camping with my family on summer weekends? (I highly doubt my mom would've let me run through other people's campsites or scream like an animal, so I think I can safely say the answer to this question is NO)
You know what should be a thing? Campgrounds with adults-only sections.
Next Month's Plans
We're finishing up our time on the Yorke Peninsula and bidding the beach farewell as we head north for winter! (I'm equal parts devastated and excited about this).
Next up, we'll head through the Clare Valley and on to Flinders Ranges, then head north to Coober Pedy and the Northern Territory border. We'll end the month of May at Uluru!