I'm not sure exactly what percentage of the articles on this blog have to do with the beach, but knowing my affinity for the sea and obsession with swimwear, I wouldn't be surprised if it were at least half of them.
Regardless, I feel like I'm pretty dang qualified to bring you this list of the best beaches in Western Australia. I've personally stepped foot on all but the first one on the list (it's pretty remote); in fact, many of these Western Australia beaches have already been mentioned in my articles on a Perth to Broome road trip, a Perth to Esperance road trip, and Esperance.
If you were to make a road trip out of it and drive along the coast of WA to each of these 20 Western Australia beaches, you'd cover 4000km (2500mi). Or you can opt to break it into a couple of shorter road trips over time like I did.
Either way, Western Australia is a really special place – and part of what makes it so special is that so few people make the effort to explore it. Which is sad, but also kind of a blessing because you often end up having beaches mostly to yourself.
From Broome to Esperance, these are what I consider to be the 20 best beaches in Western Australia:
---

Cape Leveque
KNOWN FOR: Red, white, and blue hues
Cape Leveque sits at the top of the Dampier Peninsula, which is situated just north of Broome. It's probably the most remote of the best beaches in Western Australia, but it's definitely one of those instances where big effort = big payoff.
Why? Well, what other beach do you know of where red rocks meet white sand meets turquoise water? And I'm talking real red, not orange rock like you'll see throughout the south coast of Australia.
Here's the kicker, though: the drive from Broome to Cape Leveque is 210km on mostly bumpy dirt road, so you really need to have a 4WD vehicle to get there (which is why I have yet to explore this region).
You could attempt it in a regular 2WD car and take it slow, maybe just go part way down the road and stop somewhere closer like James Price Point (which is only about 60km in). OR, for ease and peace of mind, you can just book a 4WD tour of the Dampier Peninsula.
CLICK TO BOOK A 4WD TOUR OF THE DAMPIER PENINSULA
---
I've been aching to return to Broome since my first visit back in 2006. Flights to this remote town are stupid-expensive though, and it almost always makes more sense to fly just about anywhere else in Australia for a holiday.
But you know what, maybe it's a good thing because those who are willing to spend a little more money to get there will get to enjoy Broome's #1 gem, Cable Beach, without any crowds.
In short, Cable Beach is the Aussie beach where you can ride a camel. It's kind of the thing to do there. But apart from camel rides, Cable Beach serves up 2.5 miles' worth of golden sand and a direct view of the sunset.
BOOK ACTIVITIES AT CABLE BEACH BELOW:
---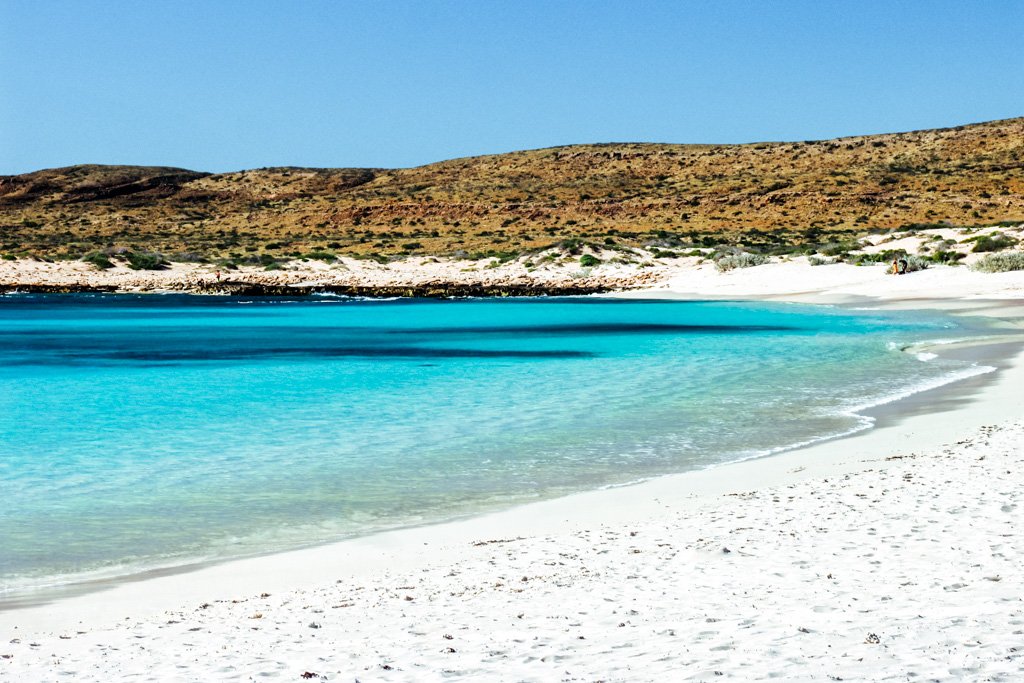 Turquoise Bay
KNOWN FOR: Having the bluest water in all the land
Cape Range National Park sits at the very top of Australia's west coast, about equal distance from both Perth and Broome (~1300km/800mi, or about 14 hours of nonstop driving).
In other words, getting here requires EFFORT. And most people don't want to make that effort, so you're not likely to see many other people around even during peak season (which is Australian winter).
Cape Range National Park is really beautiful and peaceful though. It's a place where emus cross the road on the regular, and where idyllic untouched turquoise beaches exist.
If names are to trust, then Turquoise Bay might just be the best of the bunch.
---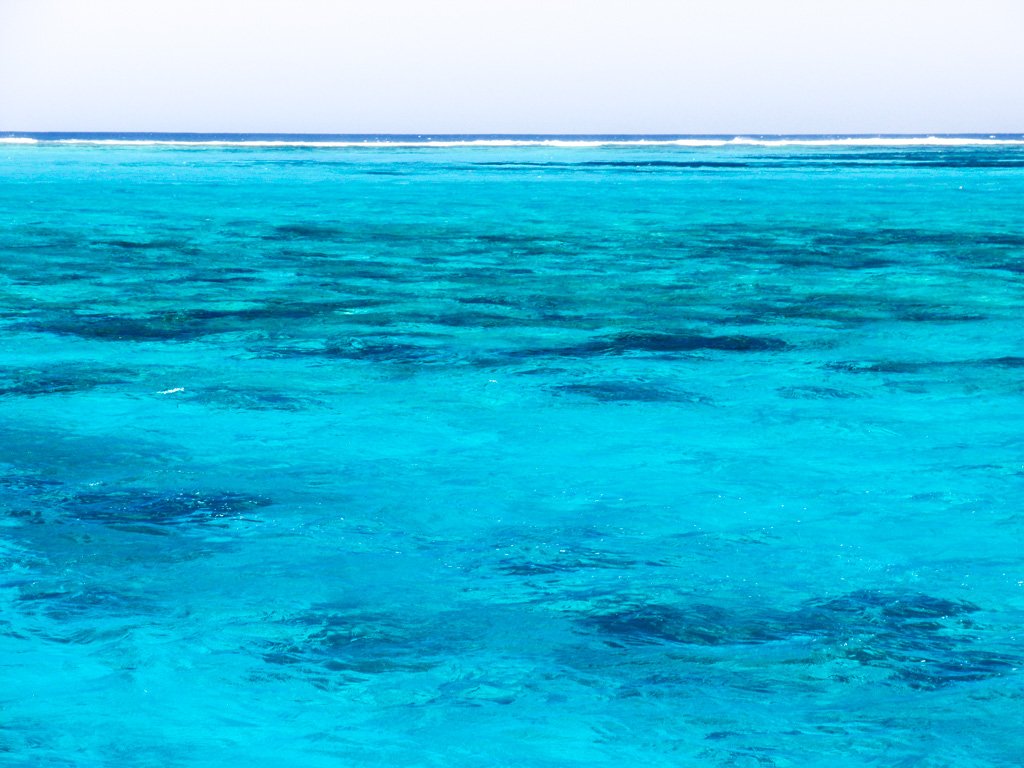 Coral Bay
KNOWN FOR: Ningaloo Reef, where you can snorkel, dive, and swim with whale sharks and manta rays
Two hours south of Cape Range National Park is Coral Bay, which doubles as one of the best beaches in Western Australia AND as an access point for Ningaloo Reef.
Ningaloo Reef is the world's largest fringing reef, has not experienced bleaching the way the Great Barrier Reef has, and is one of the few places in the world where you can swim with whale sharks. And like most every other location and beach mentioned in this article, it doesn't feel the slightest bit touristy.
You can book yourself onto a tour that will take you out to view the reef and its marine life, either through a glass-bottomed boat or by snorkeling. But honestly, the beauty of Ningaloo Reef is that you can just walk off the beach at Coral Bay and into the reef that's just offshore, no boat needed.
If you want to see the bigger creatures, a boat tour is the way to go. You can typically swim with whale sharks from March-July and watch for humpback whales from June-November. Manta rays and turtles may be spotted closer to shore, depending on the time of year.
BOOK BOAT TOURS AND BUS TOURS TO NINGALOO REEF BELOW:
---
Shell Beach
KNOWN FOR: Being one of the only beaches in the world comprised entirely of seashells
Shell Beach is about 500km (300mi) or a 5 hour drive south of Coral Bay, and sits within Francois Peron National Park.
Truthfully, I don't find Shell Beach to be one of the prettier WA beaches, but I had to include it on this list because it's one of the only beaches in the world comprised entirely of seashells.
Instead of sand, you'll find hundreds of thousands of tiny white cockle shells – how cool is that? Just be sure to wear your shoes when stepping onto the beach, as it's not soft like typical sand beaches are.
---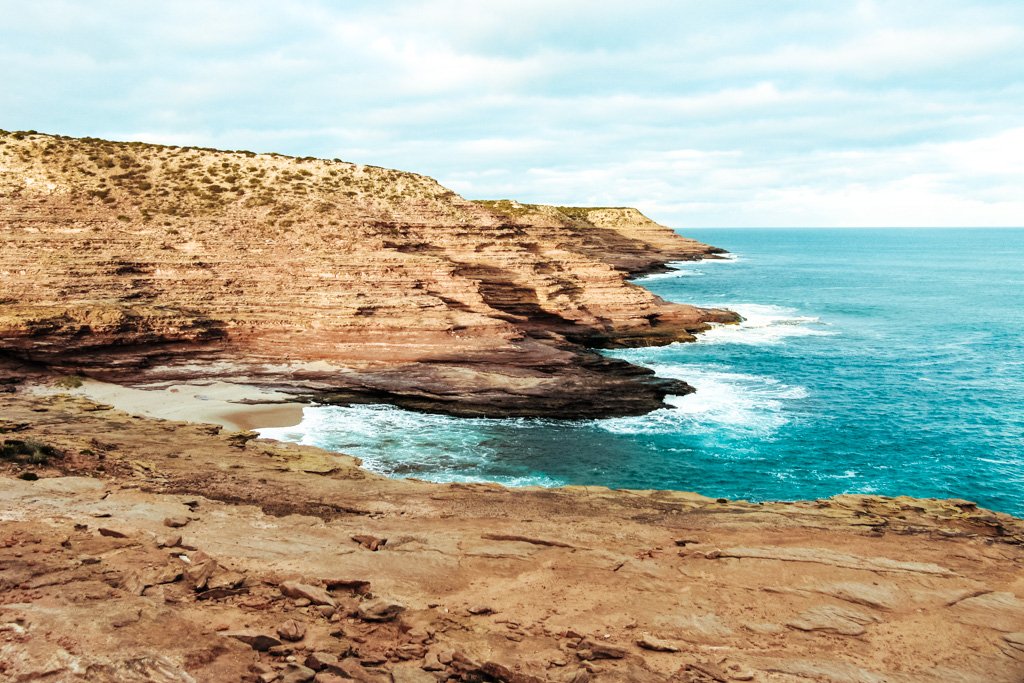 Red Bluff Beach
KNOWN FOR: Its red cliffs
Just outside of Kalbarri National Park is Red Bluff Beach, which is framed by some seriously gorgeous red cliffs. It's well worth stopping here to view the intricate rock formations, walk all over the smooth rock platforms, and take in the views from above at the Red Bluff Lookout.
You can opt to walk the Beach to Bluff trail, which runs from the sand to the Red Bluff Lookout and is 1.7km return.
As you might be able to tell from the photos, this is a different kind of red rock from what's found on the Dampier Peninsula and Cape Leveque. Red Bluff Beach's color contrasts are much more subtle, and the red rock is lighter in color than its northern counterpart.
---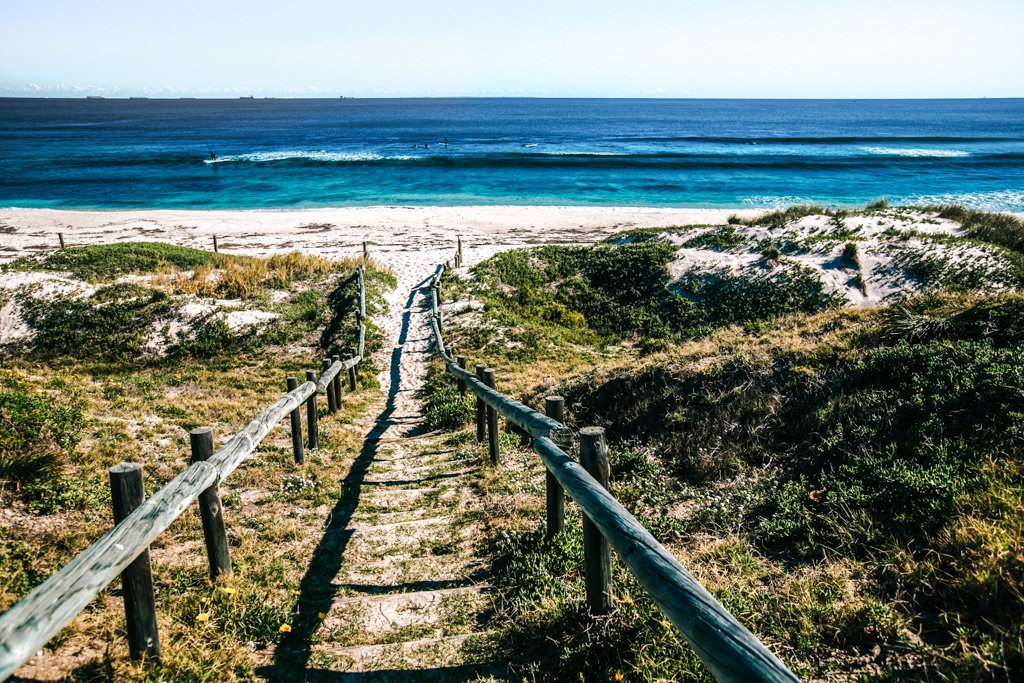 My favorite thing about the beaches in Perth? They're all lined with sand dunes!
Cottesloe Beach
KNOWN FOR: Being Perth's most popular beach
Truthfully, all of Perth's beaches kinda feel "samey" to me, so feel free to sub out Cottesloe for most any other beach in Perth. It's all basically one really long stretch of sand broken up by names for convenience. And it's all GORGEOUS, particularly under the late day sun and during sunset.
Cottesloe Beach is great for swimming, snorkeling at either end, and surfing on the south end. There are some trendy cafes and restaurants just off the beach, and a pathway along the coast that's made for walking and cycling (the views!!).
---
Little Salmon Bay
KNOWN FOR: Rottnest Island's best snorkeling
Just a 30 minute ferry ride from Perth is Rottnest Island, a glorious car-free oasis with over 63 beaches. It is well worth the journey if you're already traveling Western Australia or visiting its capital city.
My new favorite beach on Rotto is Little Salmon Bay, which is a popular spot for swimming and snorkeling. The reef and clear blue turquoise water make it especially photogenic.
While most beach-goers will station themselves on the smooth white sand (can you blame them?), I prefer to walk down the rocks and jump in at the little cove just to the right of it. I had it alllllll to myself.
---
BOOK A ROTTNEST ISLAND TOUR OR TRANSFER BELOW: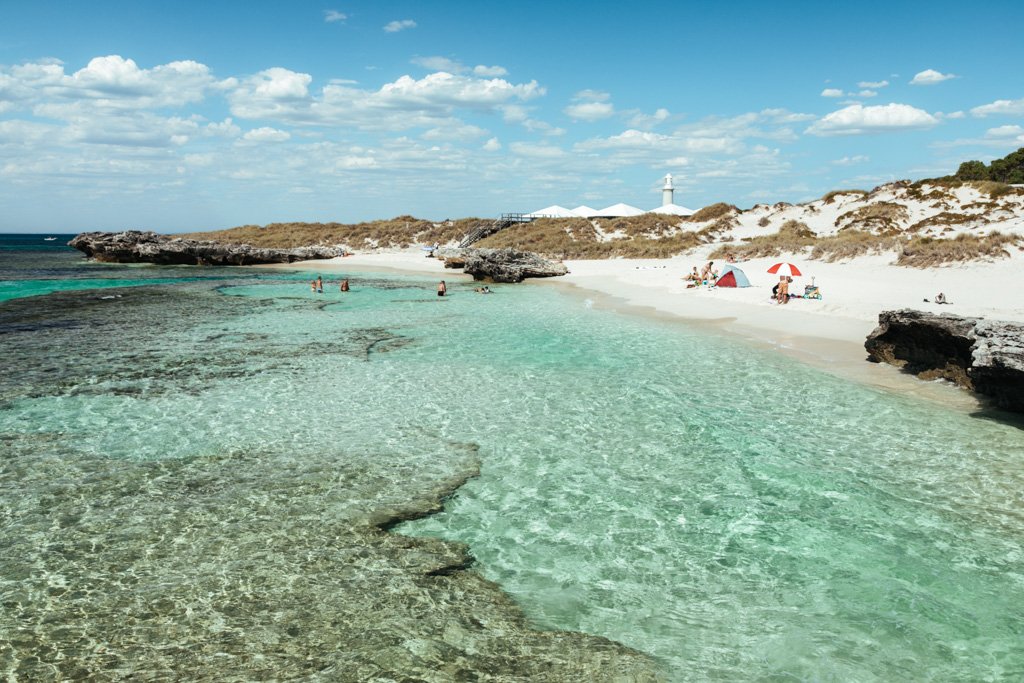 The Basin
KNOWN FOR: Being Rottnest Island's most picturesque beach
A visit to Rottnest Island would be incomplete without a stop at The Basin, which I suspect is the island's most photographed beach. It's ridiculously picturesque, what with the sand dunes, lighthouse, and shallow reef shelf.
---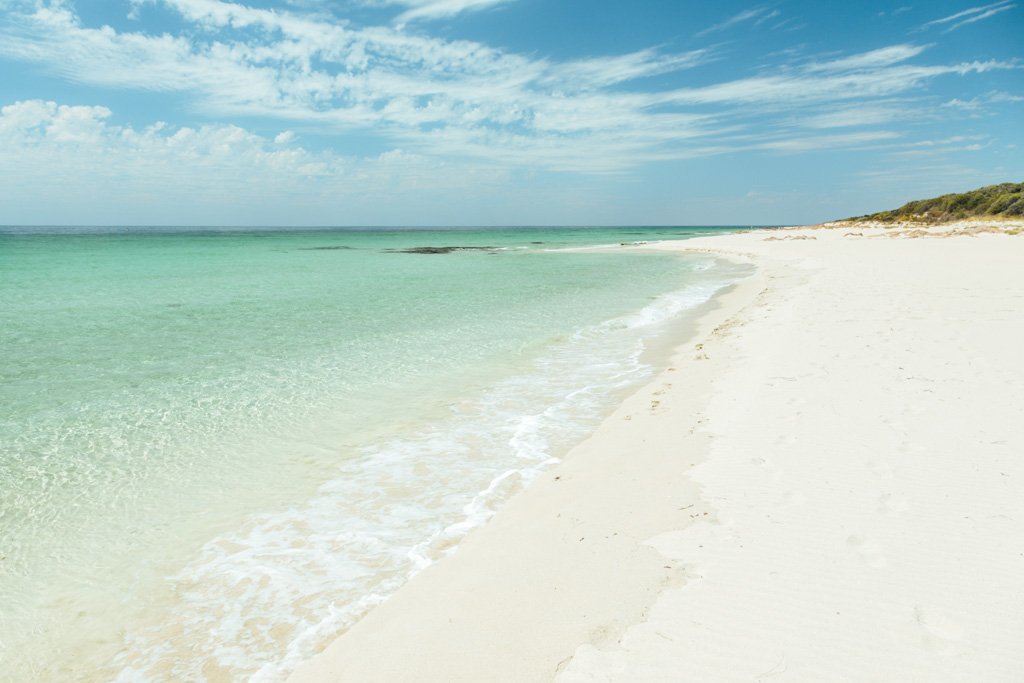 Eagle Bay Beach
KNOWN FOR: Being a local beach
If you've never heard of an Aussie town called Dunsborough, allow me to clue you in:
Dunsborough serves as a hub for some of the most stunning beaches in Southwest Australia. I'd venture to guess that most travelers bypass it and head straight to Margaret River.
PLEASE don't do that, that's a very silly move. Instead, allot a day of your Western Australia travels to Dunsborough and Cape Naturaliste. This whole area feels very local, very Australian, and zero touristy. It's so refreshing.
There are a few beaches on Geographe Bay that are all very similar: Bunker Bay Beach, Eagle Bay Beach, and Meelup Beach. Feel free to visit any or all of them.
My favorite was Eagle Bay, which on a clear sunny day could be mistaken for a Caribbean island thanks to its white sand and clear blue water. At Bunker Bay, I spotted some dolphins swimming not even 20m offshore – I still can't believe how close they came!
---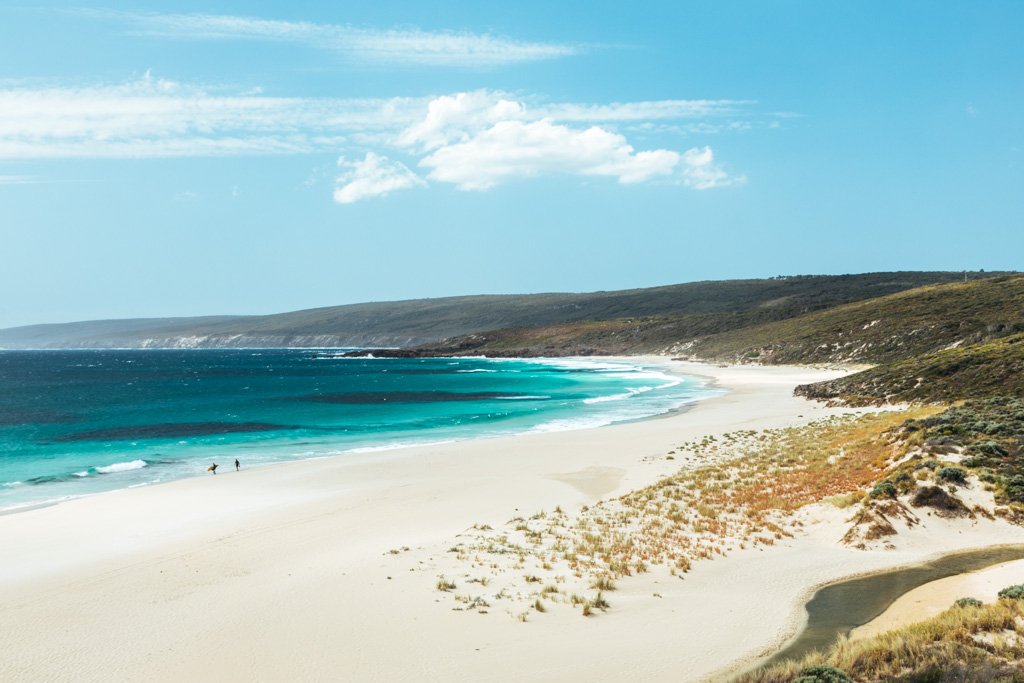 Smiths Beach
KNOWN FOR: Surf and sand dunes
Another beach close to Dunsborough, but on the ocean side rather than the bay, is the picturesque Smiths Beach. It's actually closer to Yallingup (which is the quintessential Aussie surf town).
Smiths Beach is another local haunt. It's popular amongst the local surfing community, but it also suits anyone who likes to sunbathe, swim, or go for beach walks. There are a couple of walking trails around the beach, which are mapped out in a sign at the car park.
The view of the beach from the wooden stairs as you walk down to the sand is sensational. You have a long stretch of sand dunes spotted with vegetation, as well as a little creek that flows in toward the ocean.
CLICK TO BOOK ACCOMMODATION IN DUNSBOROUGH
---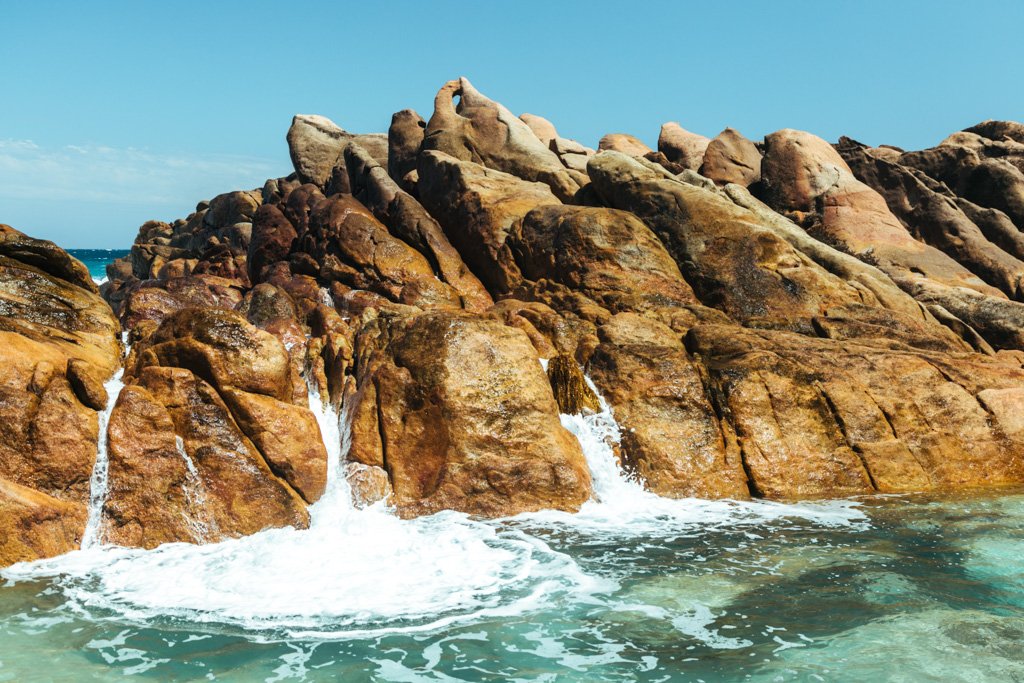 Injidup Natural Spa
KNOWN FOR: Being nature's jacuzzi
This one might be a bit of a stretch, as it's more of a rock pool than a beach – but since there's a beach and some sandy bits very closeby, I think it counts.
Injidup Natural Spa is exactly what it sounds like, though I had a hard time envisioning what this looked like before I visited. Basically it's a rock pool where the surf pounds over the rocks and pours into the pool with the pressure of a jacuzzi jet.
If you perch on the rocks right where the water surges in, it really does feel like you're in a hot tub with the jets on. Or if you don't want to be pounded by surf, you can just hang out on the other side of the pool in relatively calm water.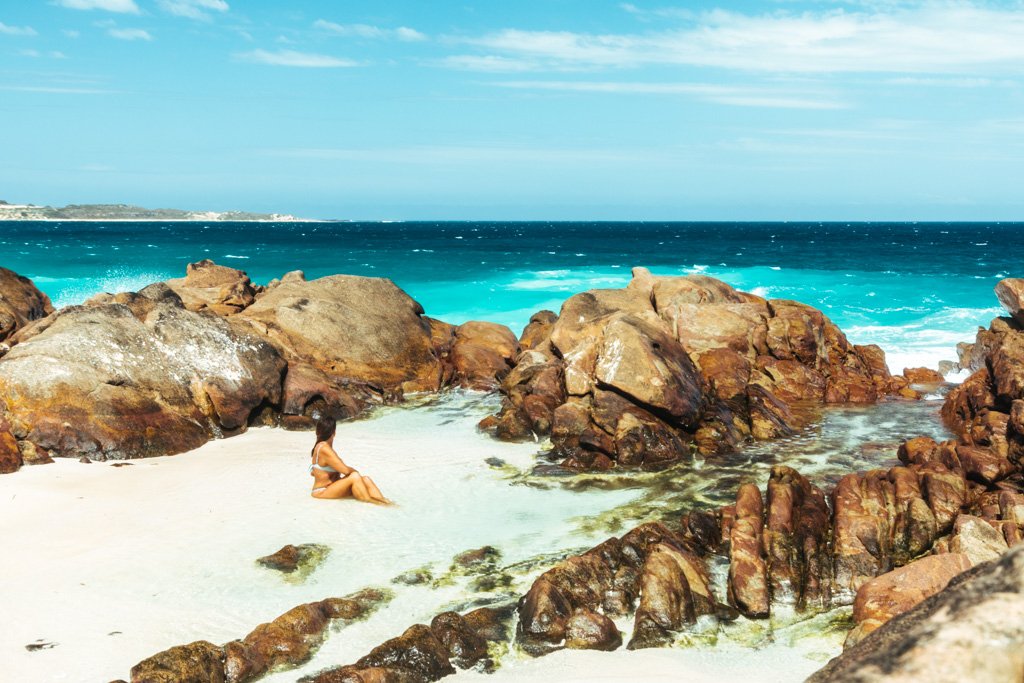 I think the modest crowd I encountered at Injidup (at 9am on a weekday, mind you) was probably the most highly concentrated crowd I experienced in all of WA, which really says something. For my fellow solitude seekers, all you need to do is walk around the corner and you'll find a much smaller rock pool with a small plot of sand, and a proper beach just beyond it. It's all so beautiful.
---
Hamelin Bay
KNOWN FOR: The sting rays that swim right up to shore
Sitting between Margaret River and Augusta is Hamelin Bay, a very pretty beach where sting rays swim right up to shore, sometimes close enough to touch (though I don't condone touching wildlife!).
Your best bet is to park in the car park that's closer to the boat ramp and walk down to the beach from there. The rays tend to swim back and forth around the ramp area, hoping for some scraps to be left by the fishermen.
Even without the sting rays, Hamelin Bay is a real stunner. Be sure to allot some time for swim, or for a walk on the boardwalk that runs through the dunes on the south end.
---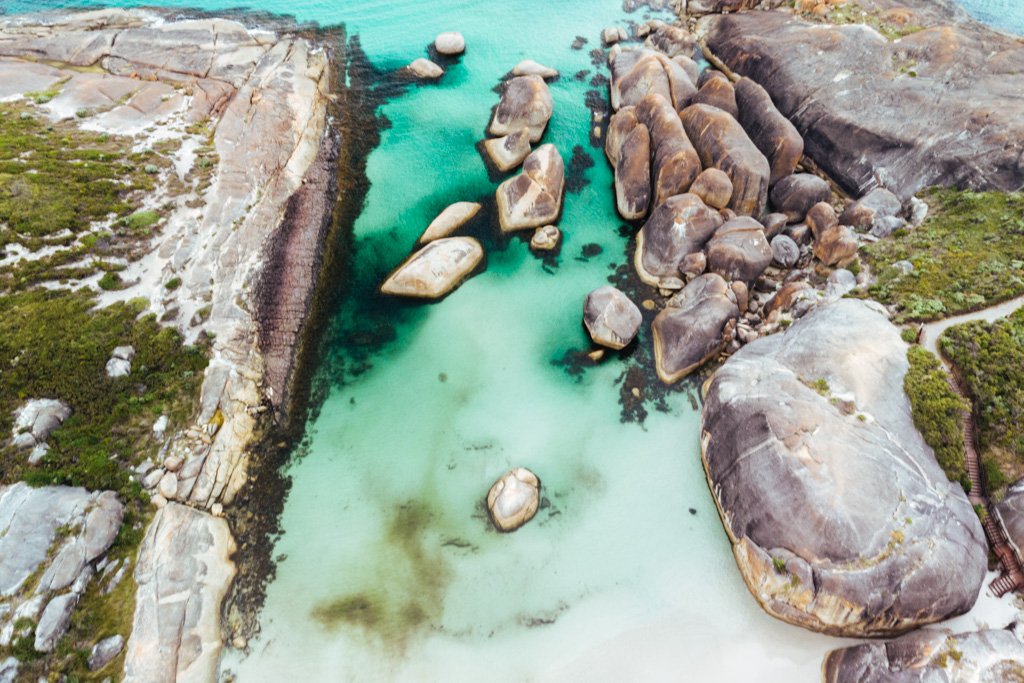 Elephant Rocks
KNOWN FOR: Dozens of boulders scattered amidst a turquoise ocean pool
This little gem is found in William Bay National Park near Denmark (the town, not the country). Elephant Rocks (and nearby Greens Pool) are sheltered coves dotted with dozens of boulders – it's such a unique swimming spot.
Both times I've visited, it's been overcast and sans the vibrant teal colored water this beach is famed for. But if you luck out with the weather, it makes for the most PERFECT day out.
Note that William Bay National Park is CLOSED until July 2020 or so. If you want to access it as badly as I did, the only way in is by walking from Perrys Beach, which takes 2 hours each way.
CLICK TO BOOK ACCOMMODATION IN DENMARK, WA
---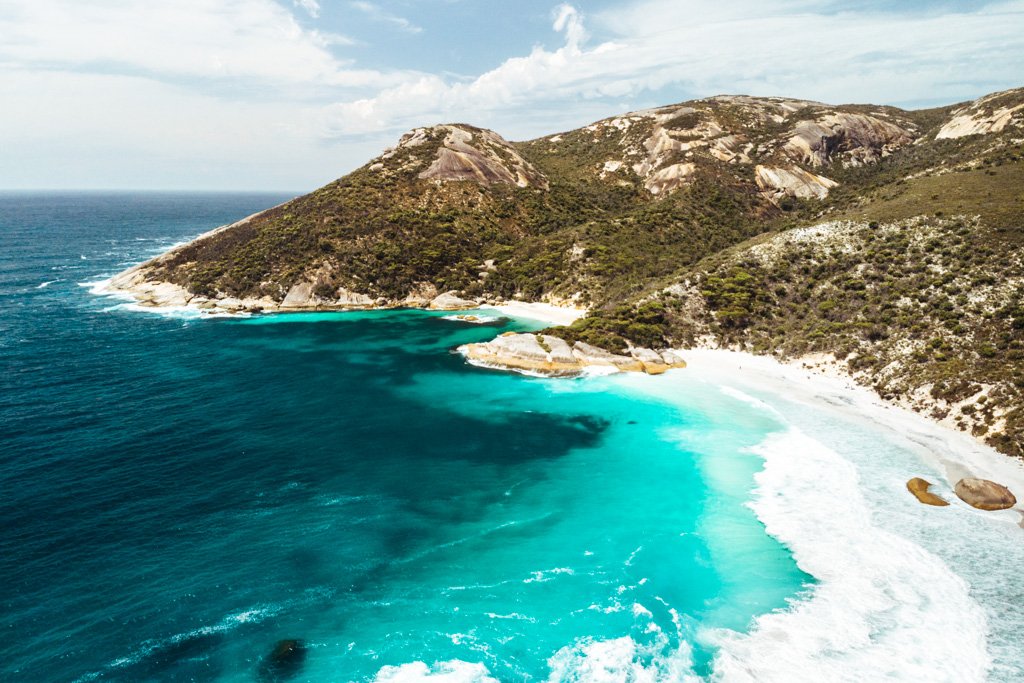 Little Beach
KNOWN FOR: Being ridiculously beautiful
Little Beach is the kind of beach that comes to mind when someone asks me to describe what my ideal beach looks like. It's got all the key ingredients: clear turquoise water, white sand, granite headlands and boulders. Yep, it's about as picture-perfect as they come.
When I visited this time, the surf was exceptionally rough which is not the norm here – but it was much calmer over at Waterfall Beach, the tiny cove just beyond Little Beach (there's a trail between the two).
You can find Little Beach about a 40 minute drive east of Albany, in Two Peoples Bay Nature Reserve.
---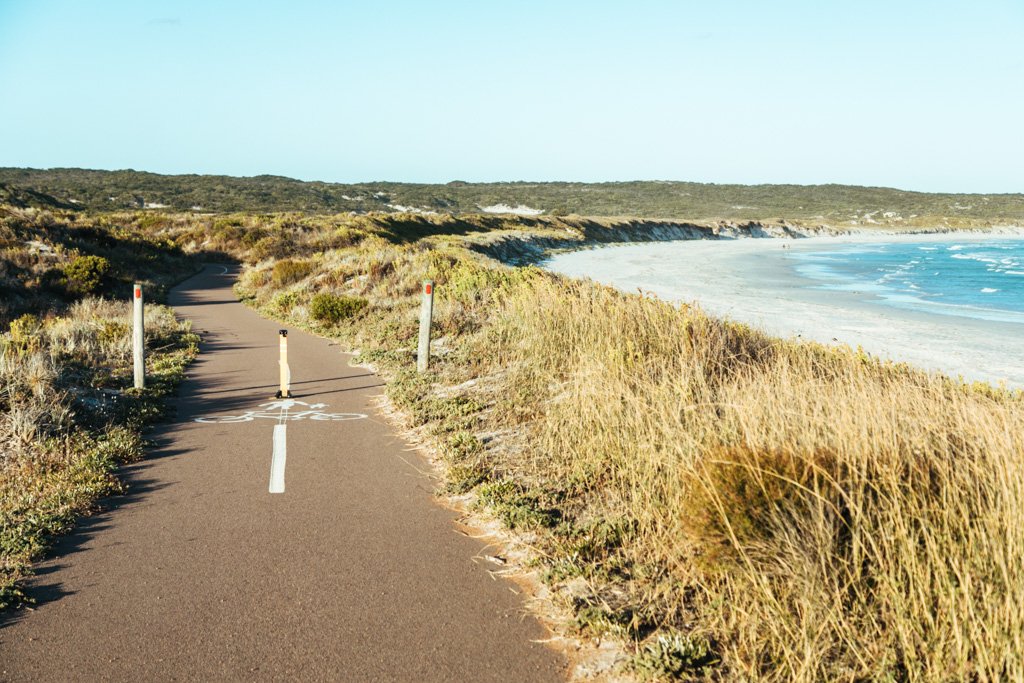 Twilight Beach
KNOWN FOR: Being Esperance's best beach
If you're looking for the best beach in Esperance proper, look no further than Twilight Beach.
This beach has the magical white sand and clear turquoise water that's typical in this part of Australia, complete with granite cliffs and boulders fit for jumping off of. And it's the safest beach for swimming in Esperance.
Buuuuut, if you're sick of swimming (What! Never!), the Great Ocean Trail runs by Twilight Beach, and you can opt to walk or cycle along the beach and take in the gorgeous views from above instead.
CLICK TO BOOK ACCOMMODATION IN ESPERANCE
---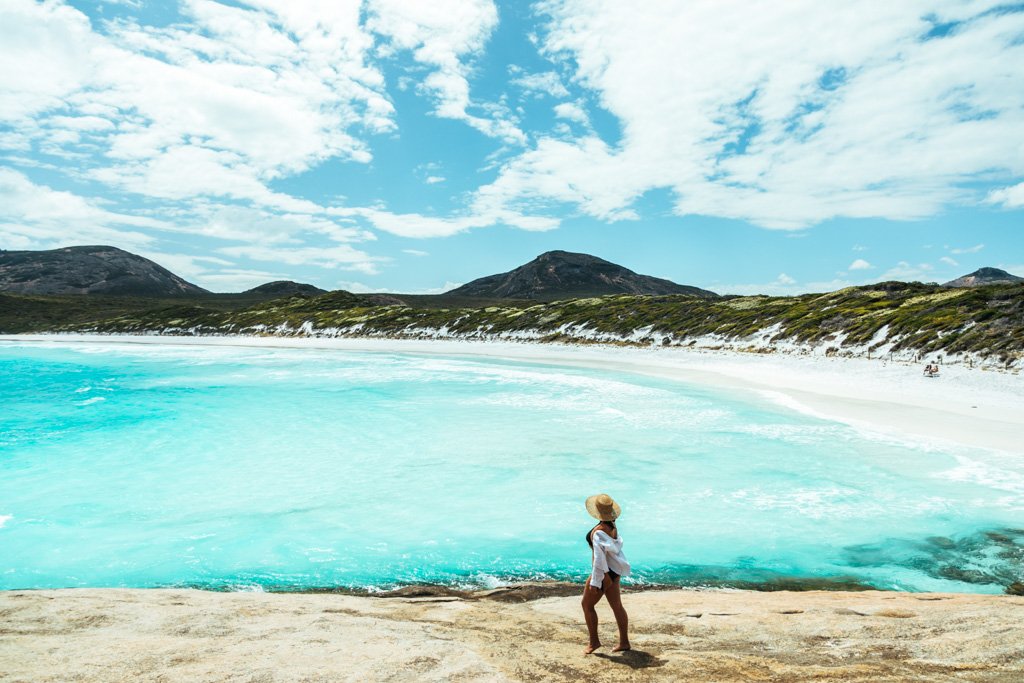 Hellfire Bay
KNOWN FOR: Its clear blue water and surrounding granite outcrops
All of the beaches in Cape Le Grand National Park are blessed with the whitest sand in all the land, and any one beach on its own could be called the best beach in Western Australia. However, I'm going to practice self-restraint here and only include two of the beaches in this blog post, in no particular order.
First up: Hellfire Bay, a gorgeous little cove with the clearest water I've seen in Western Australia. The headland there is a top sunbathing spot, with widespread flat rock to lay on and a fabulous view of the nearby granite outcrops in the park.
From the beach at Hellfire Bay, you can walk along the coastal trail to Le Grand Beach (3 hrs one way) or Thistle Cove (2-3 hrs one way) to soak up even more amazing views.
---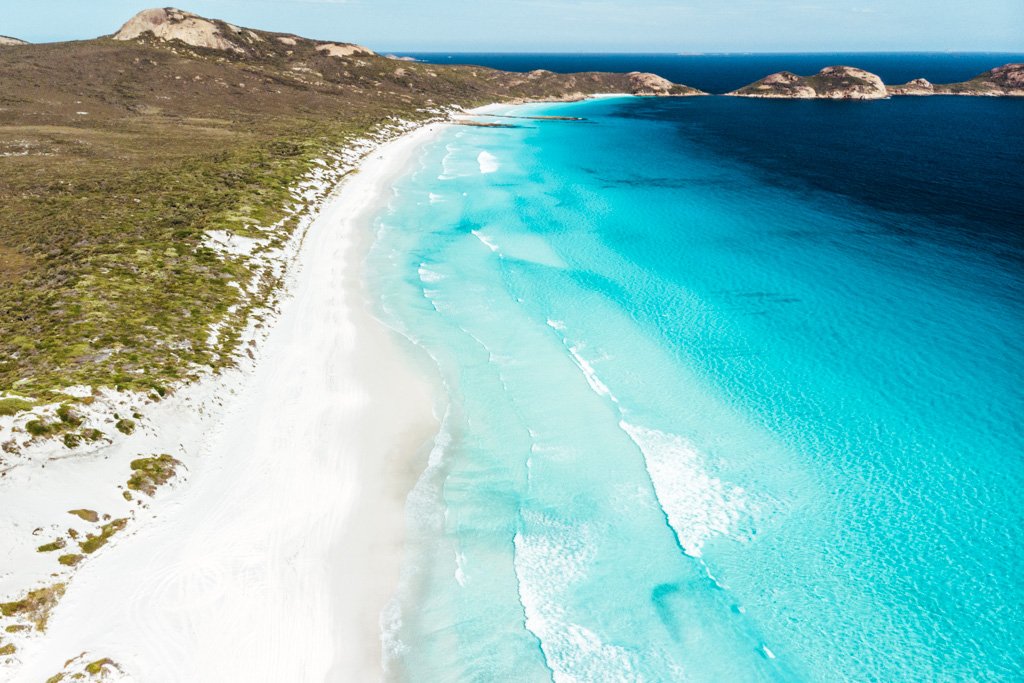 Lucky Bay
KNOWN FOR: Kangaroos on the beach
If you've ever wanted to hang out with kangaroos on a tropical-looking beach, Lucky Bay is where you need to go.
Lucky Bay's resident roos are usually around and ready for a close-up (please don't touch or feed them though!); most of them congregate around Lucky Bay Campground.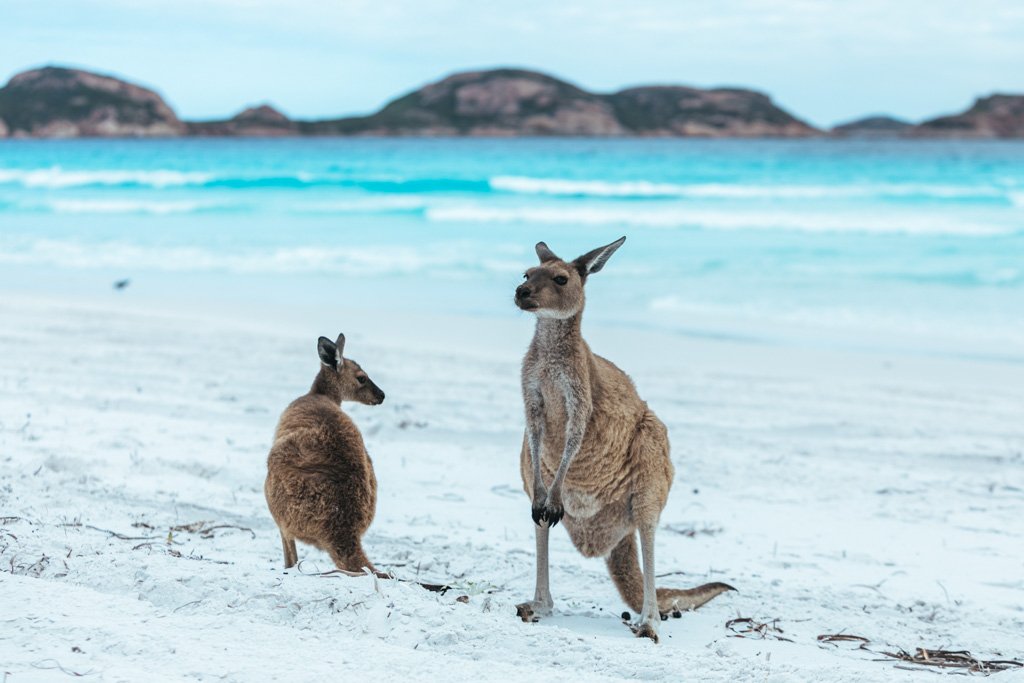 Wildlife aside, Lucky Bay is not only one of the best beaches in Western Australia, but in ALL of Australia. I've never seen a beach look so radiant even on an overcast day: I swear, the water still glows turquoise and the sand is white enough to blind you if you're not wearing sunglasses.
The sand at Lucky Bay is packed so flat that you can drive all the way down it and have a sizable plot of beach all to yourself. Whether you drive or walk, definitely make a point to head to the other end of the beach where the viewing platform and a couple of small coves are located. You can't actually see them from the campground end of the beach, so most visitors probably don't even know they exist!
---
Wharton Beach
KNOWN FOR: Being the closest thing to heaven
I don't really have words for Wharton Beach. All I can say is that it might be THE best beach in WA.
Like Lucky Bay, Wharton Beach is another long beach with sand packed flat enough that you can safely drive on it. But unlike Lucky Bay's gradient of blues, Wharton Beach is all about the turquoise water. And it is STUNNING.
Whatever you do, if you make it to Esperance, be SURE to drive further east to Duke of Orleans Bay so you can visit Wharton Beach. You will not regret it, I can promise you that.
---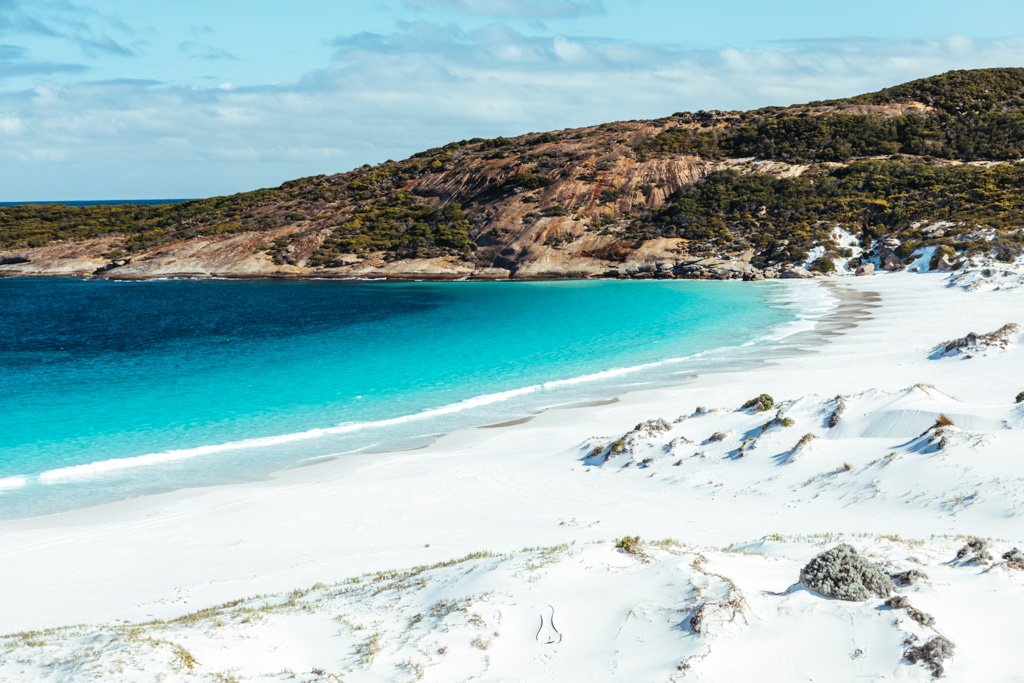 Unnamed Beach at Duke of Orleans Bay
KNOWN FOR: It's not really known at all, but that's the beauty of it!
I don't know the actual name of this secret beach, but it's somewhere between Duke of Orleans Bay and Little Wharton Beach and reaching it involves trekking through 4WD sand tracks, scaling a headland, and sliding down a steep sand dune. (Check out this blog post for more details on how to find it).
Truthfully, I only stumbled upon this glorious white sand beach because I was adventuring without any goal or destination in mind. Discovering it was such a thrill! And honestly, just knowing how few people will ever step foot on this beach (compared to the thousands of other beaches in Australia) makes it even more special.
But seriously, those white sand dunes coupled with that turquoise water? COME. ON.
---
Pin it!
Pin it!