Esperance is known and beloved for its idyllic white sand beaches and crystal-clear turquoise waters. If you didn't know better, you might look at photos of beaches in Esperance and swear they were taken in the Caribbean or in the South Pacific.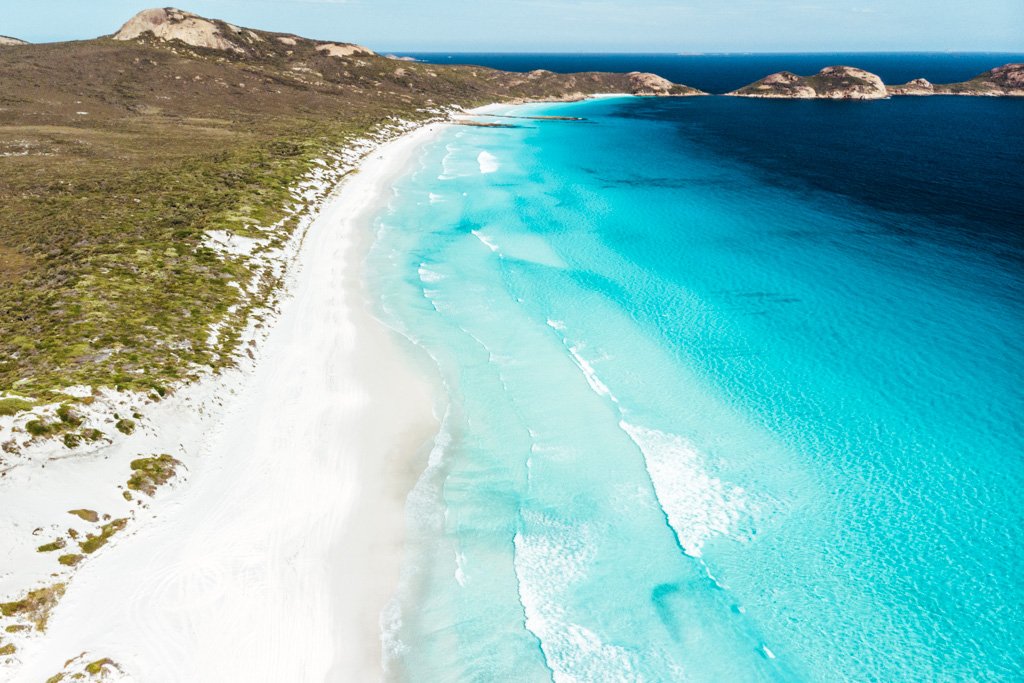 Nope, this is actually South West Australia.
It's absolutely bonkers that this paradise exists in a small town in Western Australia that's neither tropical nor touristy. In winter, the temperature typically gets down to about 50F. In summer, you can easily find a stretch of sand empty enough to sunbathe topless without anyone seeing you (hell yes, I did this).
Simply put, Esperance is MAGICAL. It's easily one of my favorite places in the world.
Enchanted after two visits, I feel personally obligated to share everything I know about this Aussie paradise with you in hopes that you put it on your bucket list.
Read on to learn all about the incredible walks, sights, and beaches in Esperance!
READ MORE IN THIS POST: Things to do on the Perth to Esperance Drive

Sunset over Lucky Bay.
Things to do in Esperance
First, let's clarify upfront that nearly all of these paradisiacal beaches are located well outside of Esperance; most of them can be found an hour's drive east, within Cape Le Grand NP or at Duke of Orleans Bay. Esperance gets all the glory just because it's the closest town to them.
For this reason, I would recommend basing yourself at a Cape Le Grand campground so that you're not having to commute an hour each day most days to hit up the beaches.
Nevertheless, there are a few worthwhile things to do in Esperance, should you spend prolonged time in town:
Twilight Beach Esperance
Twilight Beach in Esperance is widely considered to be the best beach in town. On a sunny, calm day, you'll catch the water looking all sorts of turquoise and clear, in a way that the other beaches in town can't quite compare.
I didn't get to enjoy the beach at its best when I visited on a windy day, but I still found it to be beautiful.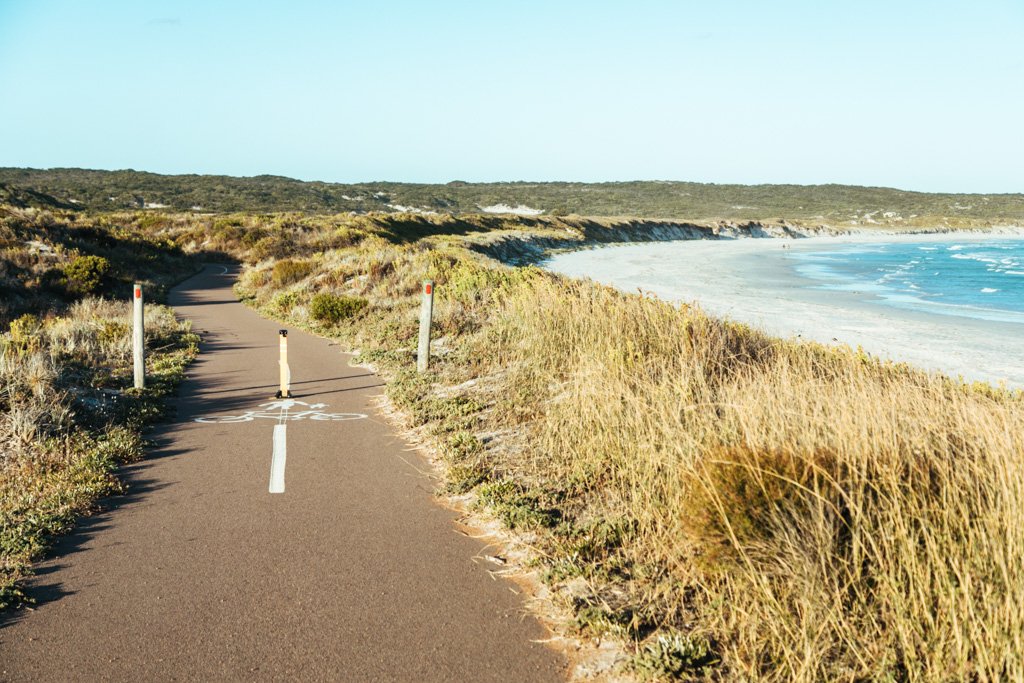 Great Ocean Trail
Stretching for 17km from Castletown Beach to Twilight Beach, the Great Ocean Trail runs along Esperance's beach-studded coastline and into the bush. It makes for a fantastically scenic walk, run, or bike ride, but you could also drive on the road that runs alongside it and stop off along the way in one of the many car parks.
Esperance Stonehenge
Did you know that Esperance has its own Stonehenge?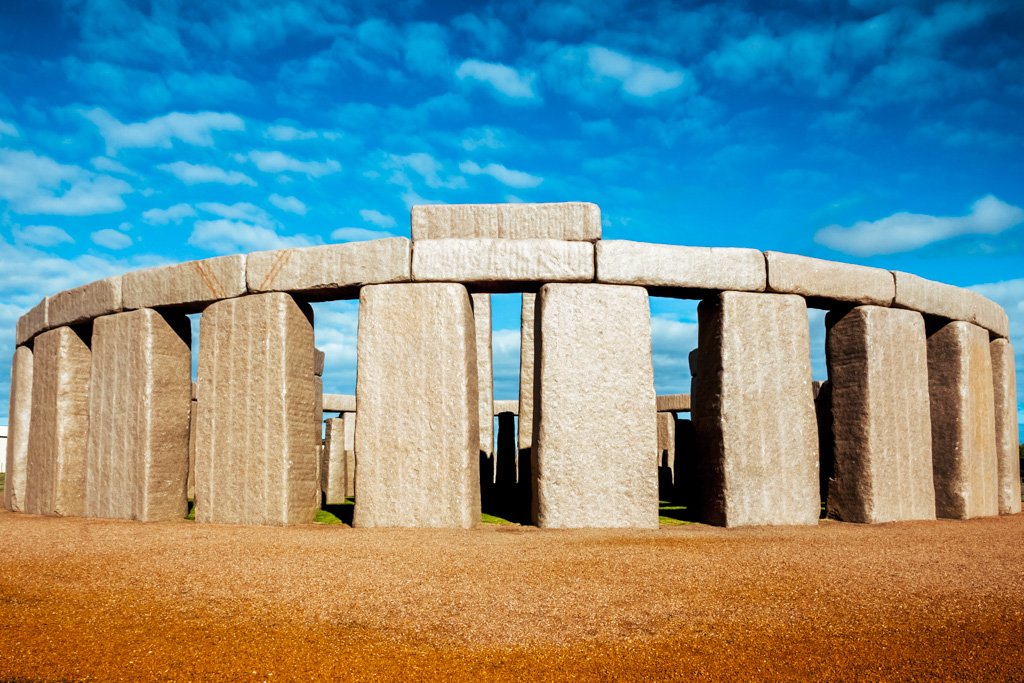 Just a 15 minute drive from town and on the way to Cape Le Grand sits the only full-size replica of the original Stonehenge. Pretty cool, right?
I may have been a bit too preoccupied with all the beaches in Esperance to make this stop a priority, but a $10 ticket will give you access to the grounds at Esperance Stonehenge.
Esperance Pink Lake
If you follow any of the Australian tourism board accounts on Instagram, you've likely seen jaw-dropping photos of bright pink lakes Down Under. A couple of them happen to be near Esperance!
Don't get too excited, though: the Esperance pink lake that's just outside of town is no longer pink and hasn't been for quite some time.
There IS another pink lake near Esperance called Lake Hillier, which is located on an island. You can only glimpse it by scenic flight, which costs $385 and does not depart regularly… so you'll have to do some advance planning/saving for this one.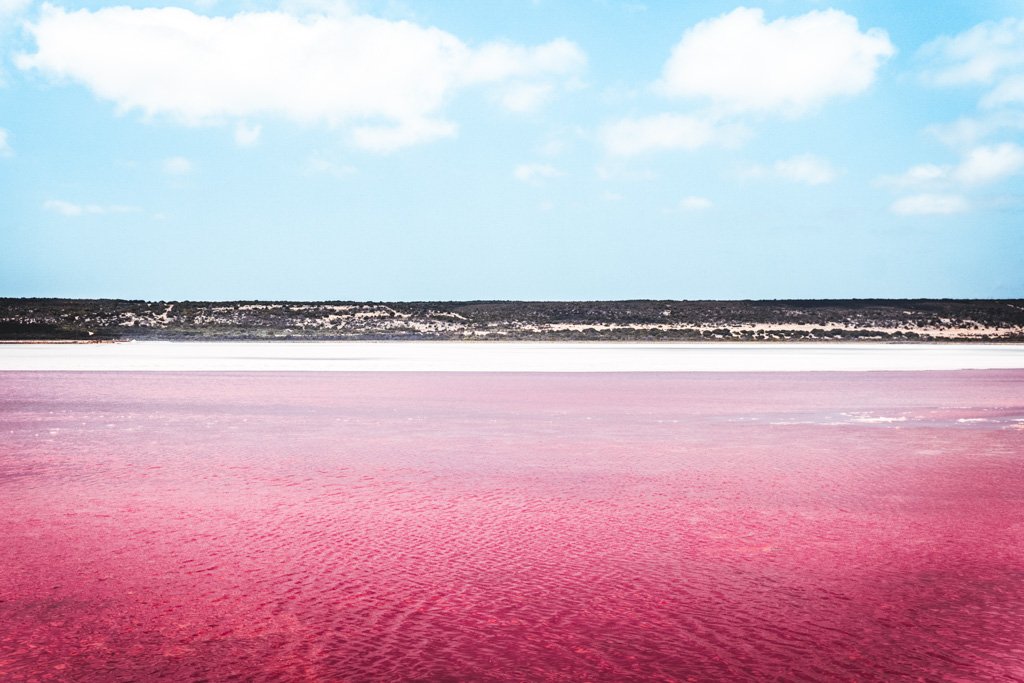 Another Aussie pink lake. Photo by Gyorgy Bakos via Unsplash (edited by me).
Best Coffee in Esperance: Downtown Espresso Bar
You should know that the best coffee in Esperance can be found at Downtown Espresso Bar. Nothing else remotely compares until you reach Albany.
READ MORE IN THIS POST: Perth to Esperance Road Trip
Cape Le Grand National Park
50km east of Esperance is where the real party is.
Cape Le Grand National Park is where you'll find most of those stunning beaches in Esperance. It's famed for its white sand bays and granite outcrops, the latter of which distinguishes it from other tropical-looking locales.
My best advice is to base yourself in Cape Le Grand camping at Lucky Bay campground. You will NOT regret it once you see what your front yard looks like!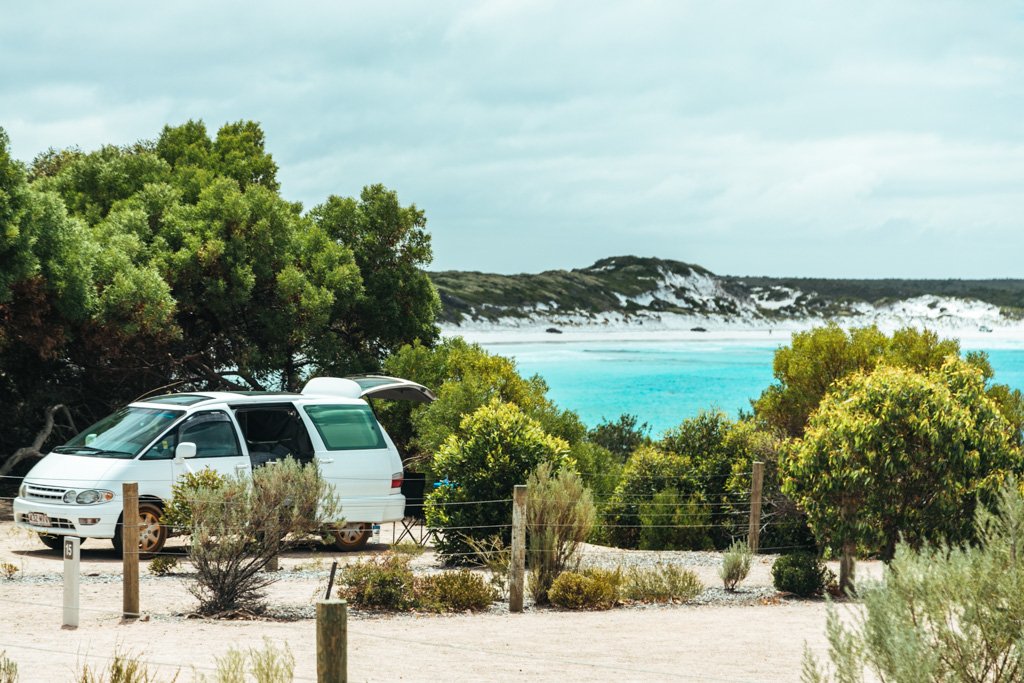 This is what Lucky Bay camping looks like.
Cape Le Grand Camping
There are two campgrounds in Cape Le Grand National Park. Campsites cost $15/person per night, and must be booked online in advance.
Note that there's barely any phone reception in the national park until you reach the entry booth, and there's some spotty wifi at the entrance to Lucky Bay, so don't count on being able to book upon arrival (especially during summer!).
Lucky Bay campground
If you've dreamed of sharing your campsite with friendly (and hungry) kangaroos, Lucky Bay is where that dream will come to life. I had the same 3 roos take up permanent residence on my site the week I was there (a mama and her joey, and another roo with white spots on his head). This may or may not have had to do with me throwing strawberry butts and stale bread in their general direction.
I saw several other kangaroos making the rounds throughout the campground and even on the beach – so basically, you're guaranteed a daily sighting if you're at Lucky Bay camping.
Most of the campsites at Lucky Bay have a view of the beach, as the sites are somewhat tiered on a hill. The bathroom and (hot water!) shower facilities are modern and clean. Between this and the million dollar view on my doorstep, I felt like I'd snagged the deal of the decade at just $15/night.
Le Grand campground
Le Grand campground is the other Cape Le Grand campground, with sites nestled behind the sand dunes. I personally find Lucky Bay to be much more beautiful than Le Grand Beach, so for me the obvious choice was Lucky Bay camping.
One pro to Le Grand campground is that it's smaller than Lucky Bay campground and doesn't get the tour buses that Lucky Bay does, so if you want to be around fewer people then perhaps this is a good option for you.
Beaches in Cape Le Grand National Park
Le Grand Beach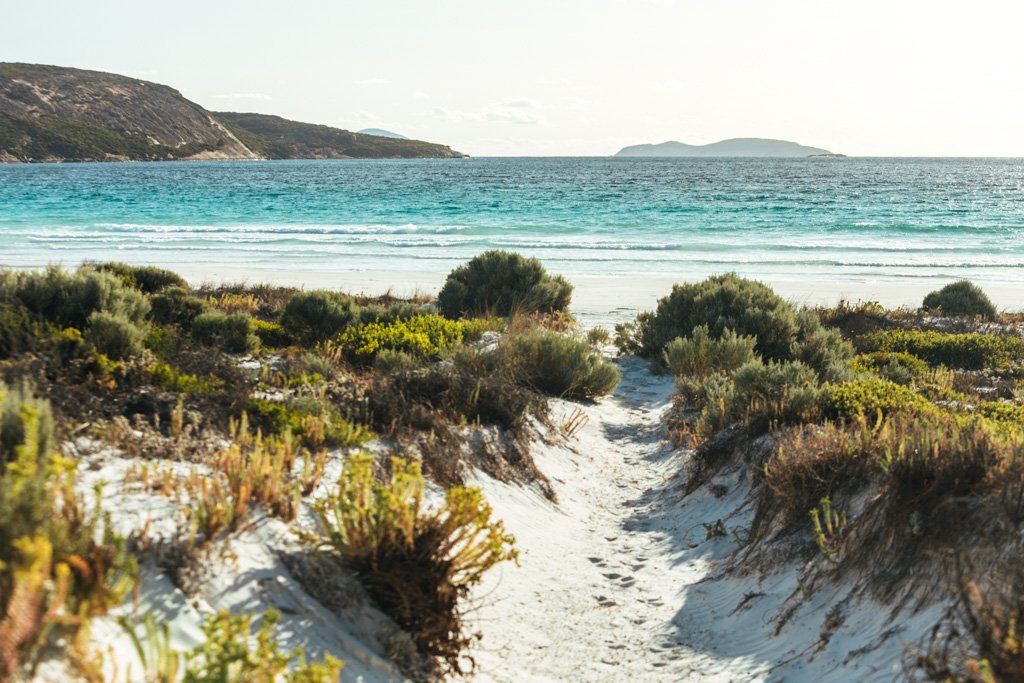 The first beach you'll reach upon entering the national park is Le Grand Beach, offering a very lengthy stretch of sand bordered by dunes and featuring a pretty headland on one end.
It's a nice place to take a very long beach walk, but I wouldn't call it one of the best beaches in Esperance by any means.
Hellfire Bay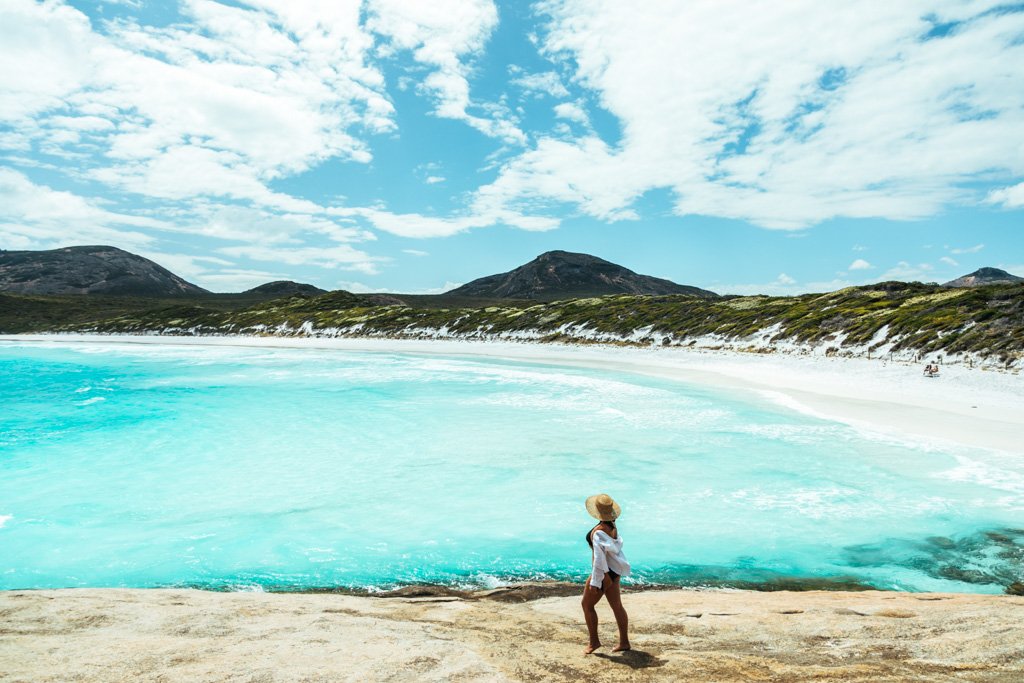 Hellfire Bay is definitely one of the best beaches in Esperance. I found the water at this beach to be the clearest of all of the beaches in Cape Le Grand. And being a sheltered cove, you don't have to worry about big waves – the ones here were tiny, rolling waves where you could float without being pummeled around.
In addition to having the ideal turquoise water / white sand combo, the headland at Hellfire Beach offers a widespread flat rock that's PERFECT for sunbathing. This is where I spent one afternoon reading, dozing, and staring off into the stunning scene before me.
Little Hellfire Bay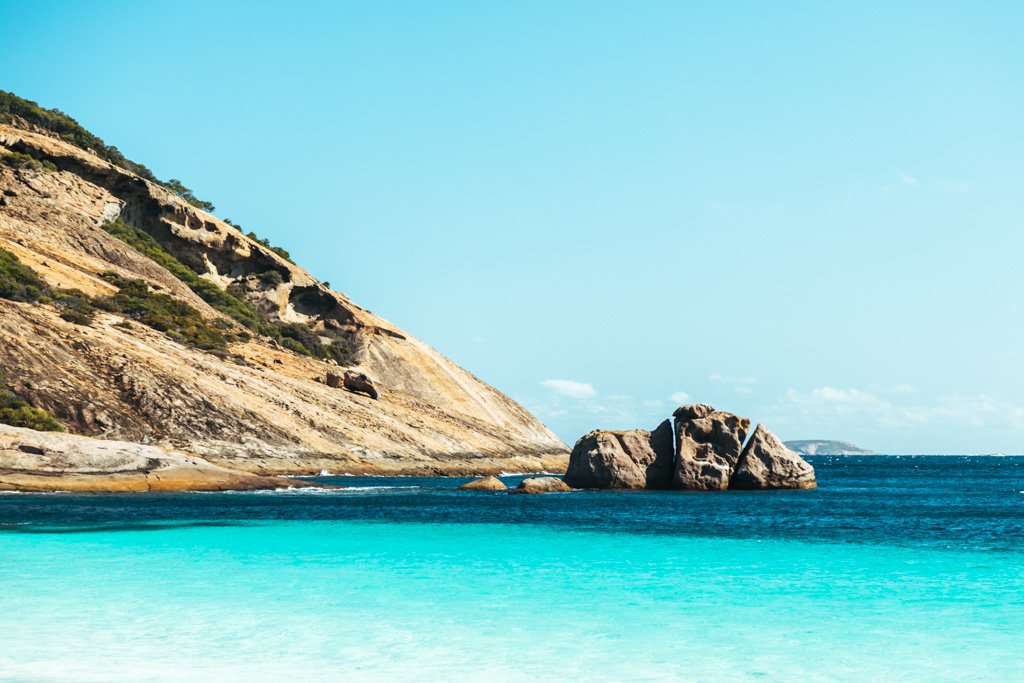 I didn't realize until the end of my time there that there's another little beach adjacent to Hellfire, aptly named Little Hellfire Bay.
It's an easy 15-20 minute walk from the car park, so you'd be silly not to check it out while you're there. Look out for the split rock just offshore!
Thistle Cove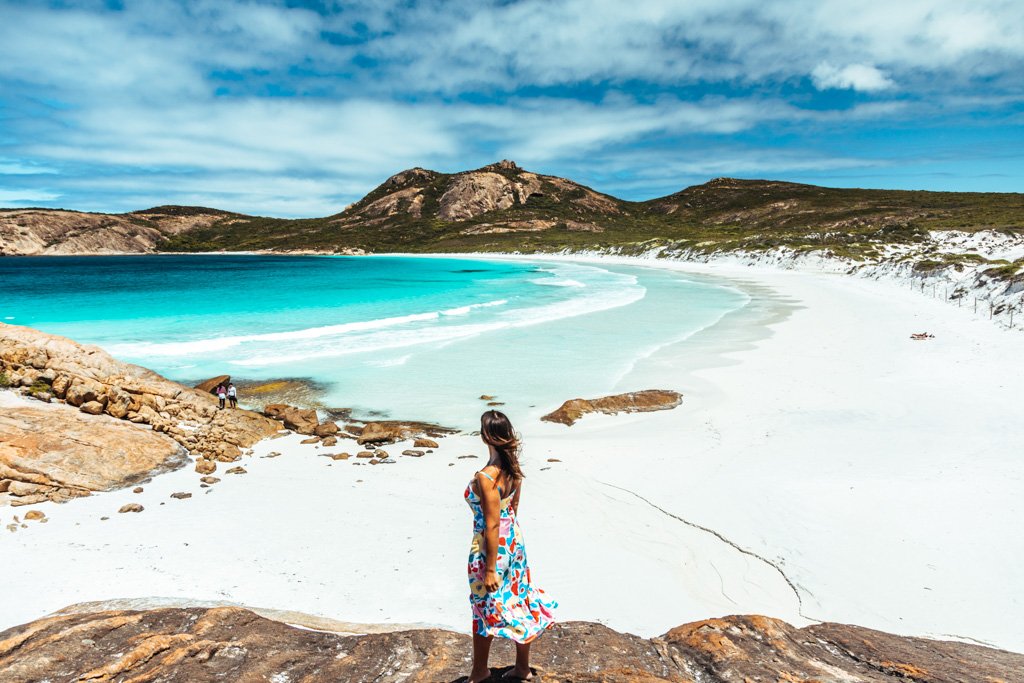 I feel like Thistle Cove is an underrated beach in Esperance. You don't hear much about it, and yet… it's THIS freakin' gorgeous:
The surrounding landscape is similar to that of Hellfire's, and apparently there's some good snorkeling around the rocks. It was quite windy both times I visited though, so I didn't linger.
Lucky Bay
Oh my sweet lord, if heaven is a place on earth it might as well be Lucky Bay.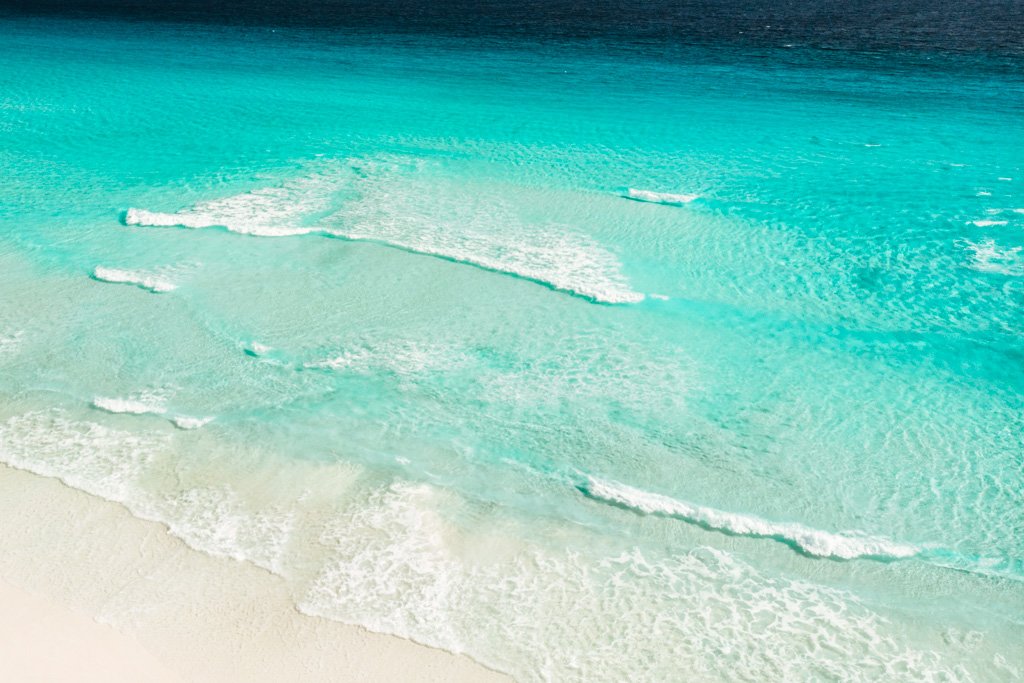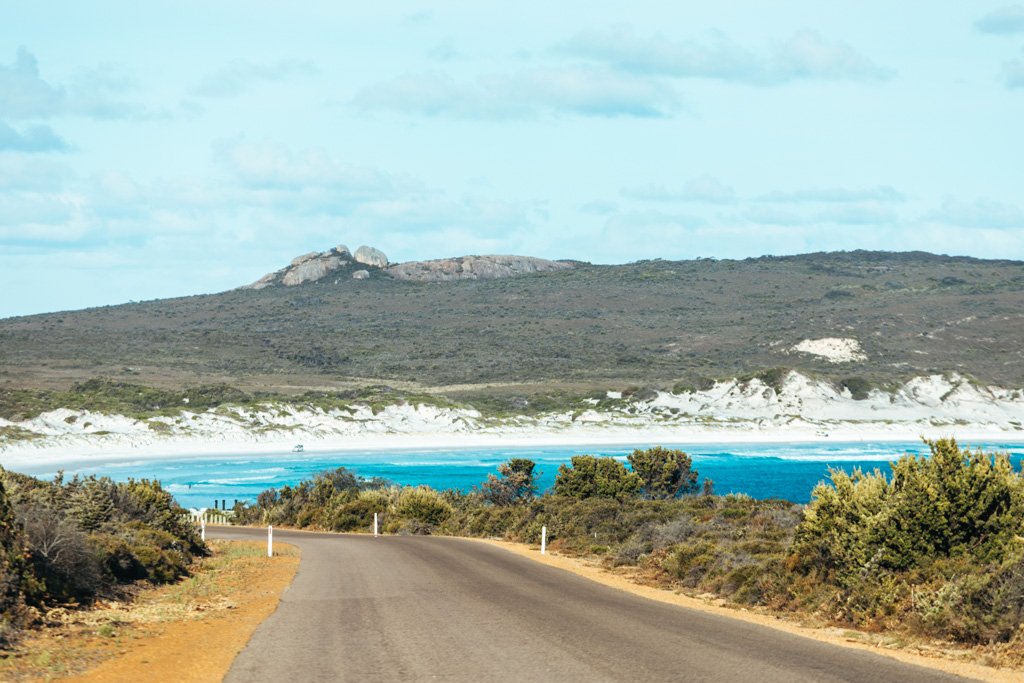 First glimpse of Lucky Bay.
Yes, this is the most popular and busiest beach in Cape Le Grand (and one of the BEST things to do in Esperance) – but "busy" is relative, and there's a very good reason why lots of people visit this beach: IT IS THE BESTTTTTT.
With water every shade of blue, sand so white it's been voted Australia's Whitest Beach, picturesque dunes and plentiful granite outcrops dotting the horizon, it's easy to see why Lucky Bay is not just one of the best beaches in Esperance, but in the WORLD.
The sand here is just so fascinating to me: there are parts of the beach (away from the water) where the sand feels crunchy, kind of like snow. But then if you gently rub the sand grains laying on top of the crunchy bits, the sand feels velvety. I've never felt sand like this before, not on a single one of the thousands of beaches I've step foot on before.
Oh and by the way, you know those photos of kangaroos hanging out on a tropical beach? Yep, they were probably taken at Lucky Bay. Selfies with kangaroos on the beach here are kiiiiiiind of a thing. They mostly hang out by the trees and dunes, and I'm fairly certain people lure them toward the water with food just so that can get their selfie.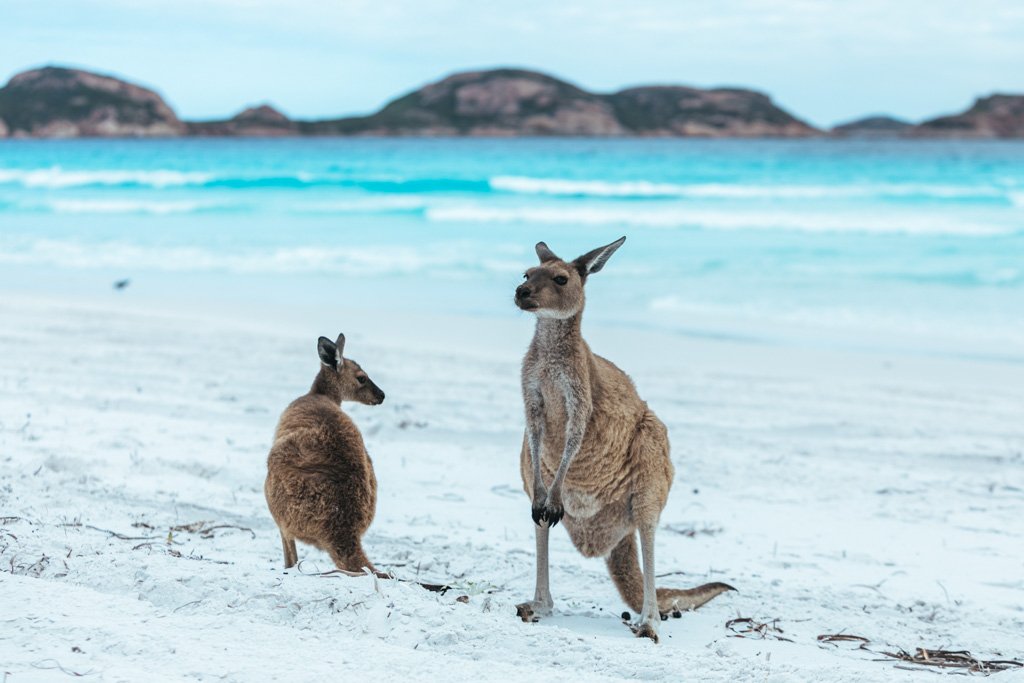 The beach at Lucky Bay is 5km long. Most of its visitors congregate on one end, where Lucky Bay campground and car park are. All you need to do is walk 10 minutes down the beach to find a strip of sand to have to yourself. Walk 20 minutes and it'll feel like you have the whole beach to yourself.
If you have a 4WD vehicle (or even if you don't, and aren't a nervous driver), you can drive the length of the beach. The sand is compacted enough that for most of the drive, it'll feel like driving on a flat surface. A 4WD vehicle is better if you plan to spend the day out on the beach because you'll be able to park away from the water, where the sand is more sand-like than flat.
One other reason to walk or drive the length of the beach is that there's a viewing platform on the other end of Lucky Bay, PLUS two small, picturesque coves. You can't see any of these from the other end of the beach, so most people don't know about them.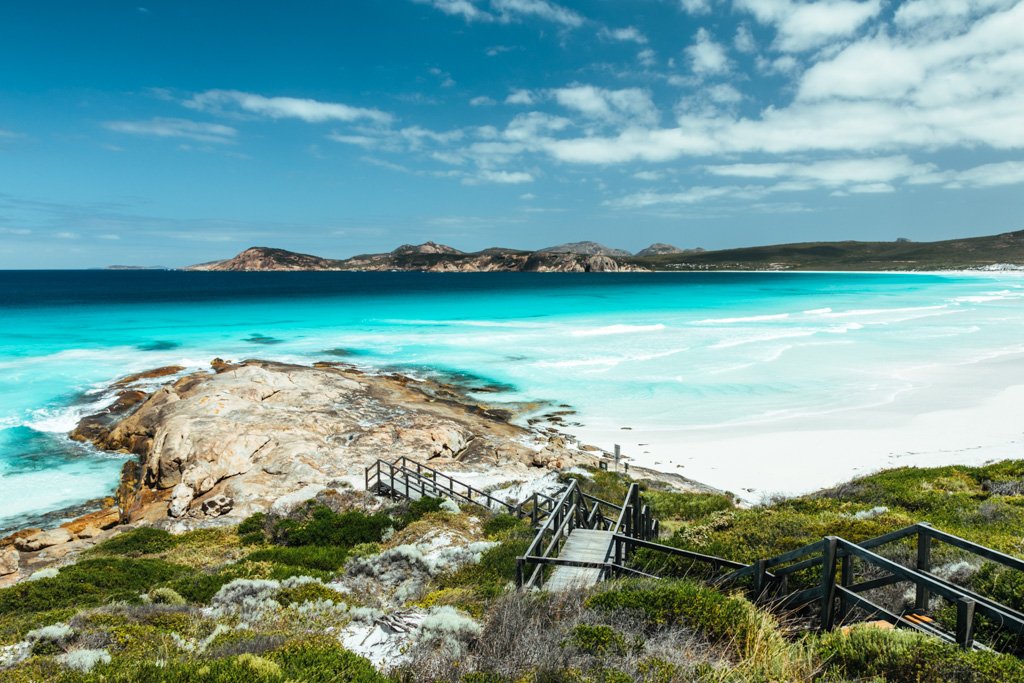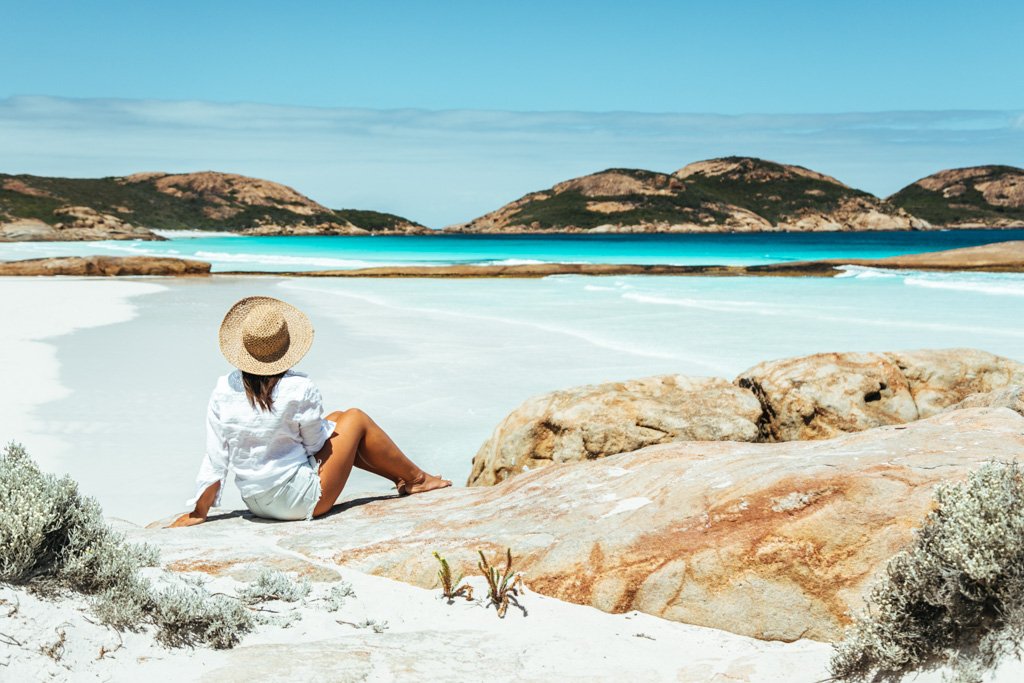 Oh, and a new addition to Lucky Bay beach that's popped up since I last visited 5 years ago: a coffee van known as the Lucky Bean Cafe which serves up the only coffee in the national park (with prices to reflect the supply/demand, *ahem* $6 for a mediocre flat white). I think the inflated prices are totally justified though, given the effort required to commute and set up the outpost every day.
READ MORE IN THIS POST: The Luckiest Bay in Australia
Rossiter Bay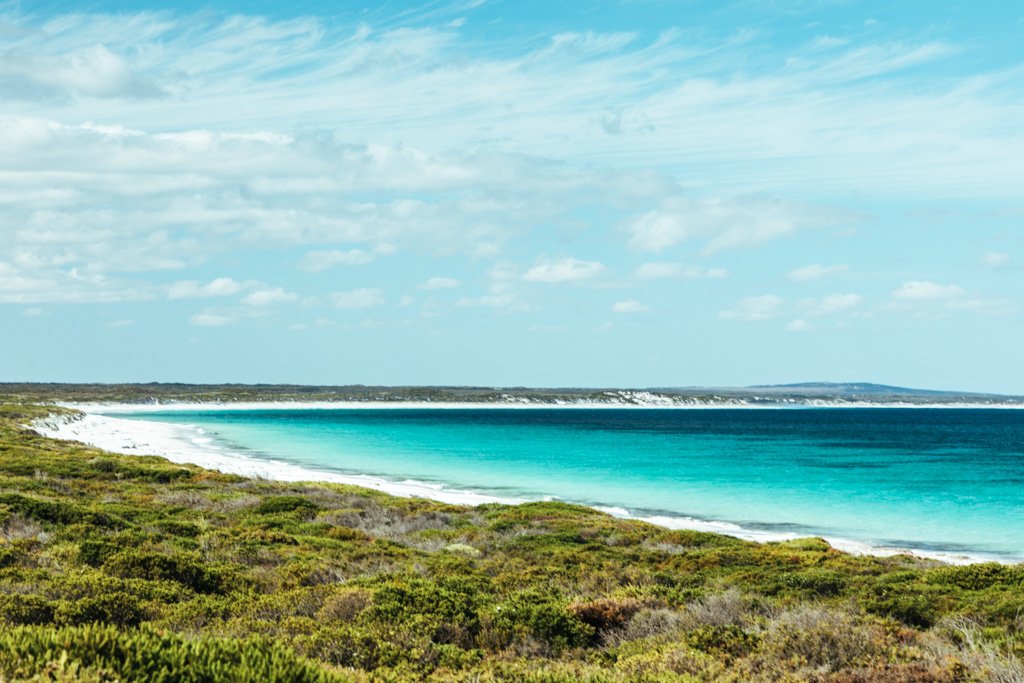 Of all the Cape Le Grand beaches, I'd say give Rossiter Bay a miss. It's the furthest beach into the park, reached by a very bumpy dirt road after Lucky Bay (aka horrendous driving). But more than that, it lacks the wow-factor of the other beaches in the park.
Hikes in in Cape Le Grand National Park
Frenchman Peak
One thing you MUST do while in Cape Le Grand National Park is hike up Frenchman Peak. It's a steep climb up and down (3km return / ~1.5 hrs), but VERY worth the effort for the incredible views at the summit.
From the top, you can glimpse the nearby beaches and several granite outcrops around the park. Beware of the wind, though, and definitely bring a jacket to wear up there even if it's hot when you start hiking.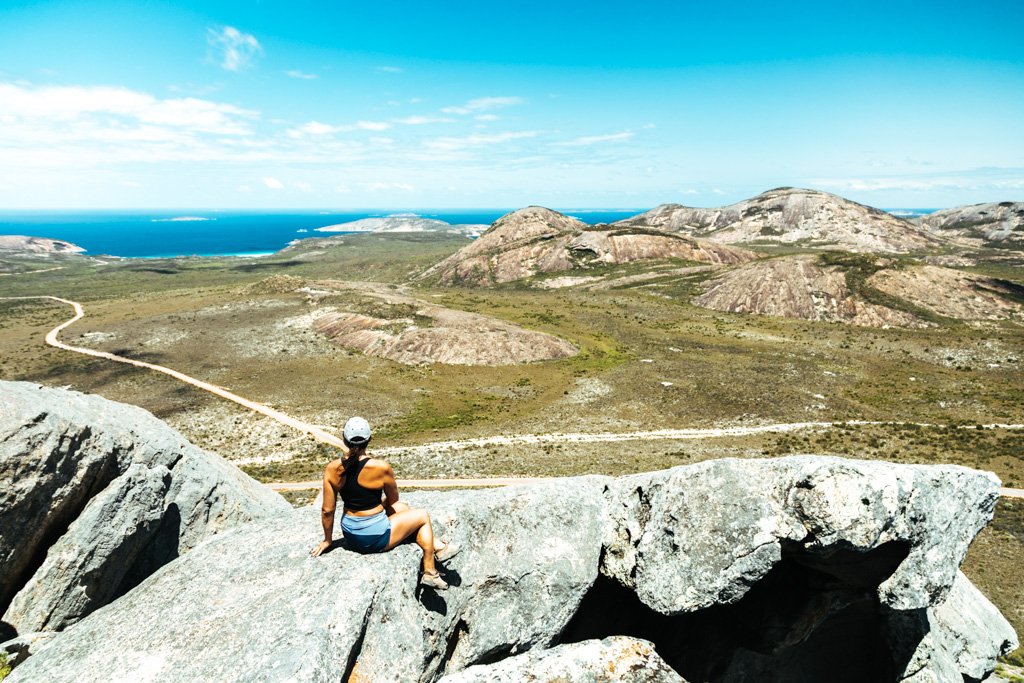 Cape Le Grand Coastal Track
All of the beaches in Cape Le Grand National Park are connected by a 17km walking trail, so you can hike to every beach in the park if you fancy it:
Rossiter Bay to Lucky Bay (2-3hrs / moderate)
Lucky Bay to Thistle Cove (1 hr / easy)
Thistle Cove to Hellfire Bay (2 hrs / moderate)
Hellfire Bay to Le Grand Beach (3 hrs / hard)
I think the Coastal Track would be a great option in winter or spring, when it's not really beach weather and you can hike comfortably without the heat. I don't know about you, but during summer all I wanna do is be AT the beach, cooling off in the water; not hiking TO the beach.
I think a better option would be to hike to one beach and back, e.g. Lucky Bay to Thistle Cove and back.
Duke of Orleans Bay
Just east of Cape Le Grand National Park and 85km from Esperance is another white sand beach mecca that fewer people know about: Duke of Orleans Bay, which I wrote all about in this blog post.
You can visit Duke of Orleans in a day trip from Esperance or Cape Le Grand (it's about an hour one way from both places), or you can camp there.
Camping at Duke of Orleans Bay
If you want to spend extended time at Duke of Orleans Bay (I'd say you can easily spend 2 days here and not get bored), you can camp at the Orleans Bay Caravan Park.
Campsites start at $30/night, and prices depend on the time of year, number of campers, and amenities. They do have chalets as well, for those who aren't into camping!
Beaches at Duke of Orleans Bay
Wharton Beach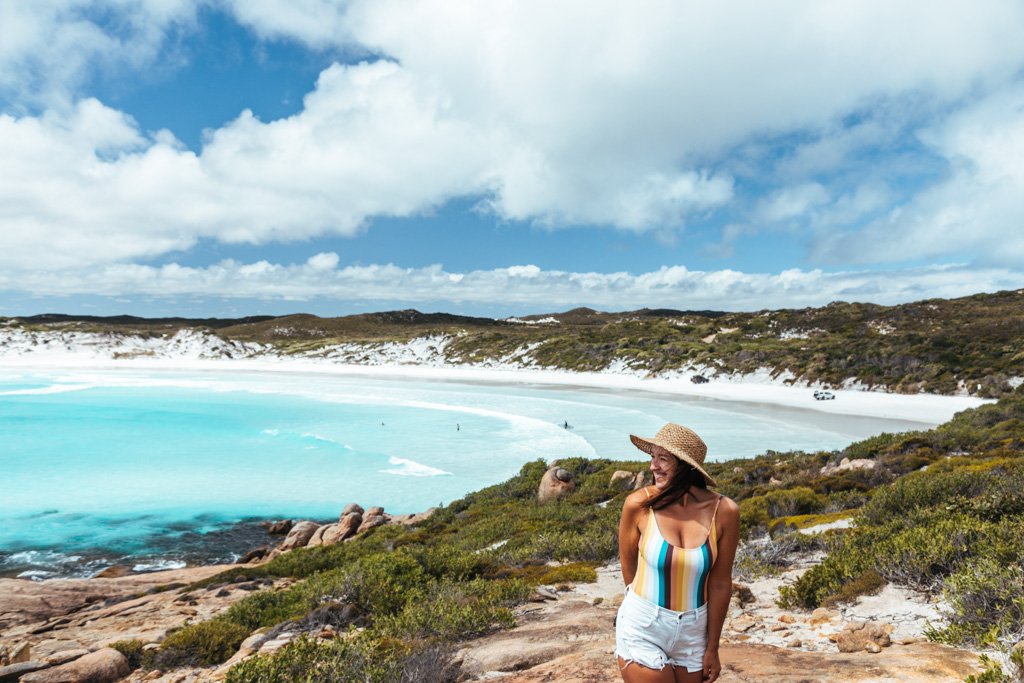 Wharton Beach is the showstopper in this region: it's definitely a contender for the best beach in Esperance.
It's a long beach lined with dunes and framed by granite headlands. Basically, it's the kind of beach you might picture in your mind if someone asked you to think of the most gorgeous, idyllic, white sand beach that could possibly exist.
Little Wharton Beach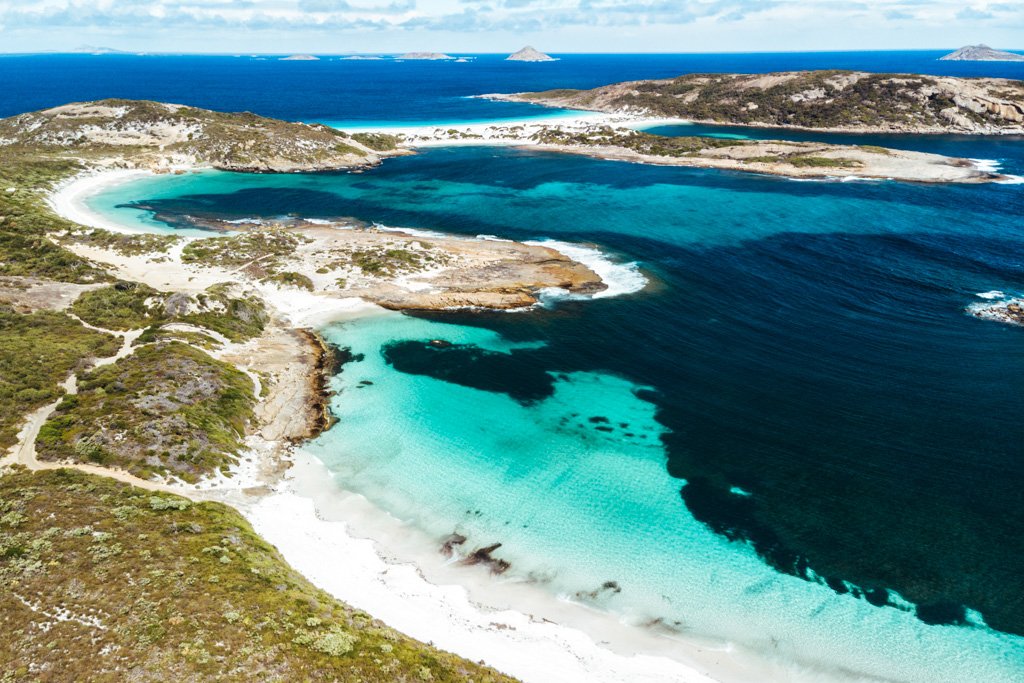 If you can pry yourself away from Wharton Beach, it's worth walking over to Little Wharton Beach and exploring the 4WD tracks on foot to discover the little coves in the area. You will likely have them all to yourself at any given time (except for Little Wharton itself, which people can more easily drive to).
My best find was an unnamed beach on the far side of the peninsula, which I reached by hiking up a little mountain of sorts and sliding down a steep sand dune. Check out my Duke of Orleans Bay post for more details on how to find it!
READ MORE IN THIS POST: Duke of Orleans Bay: My 35th Birthday Adventure!
Pin it!