If there's anything I've learned in my 5+ years exploring Australia, it's that places are SPREAD. OUT.
My friends and I routinely go on weekend trips that require a 2-3 hour drive to reach. To get from the northernmost point to the southernmost point of Sydney, it's nearly a 2 hour drive.
Basically, long distance drives are the norm in this country.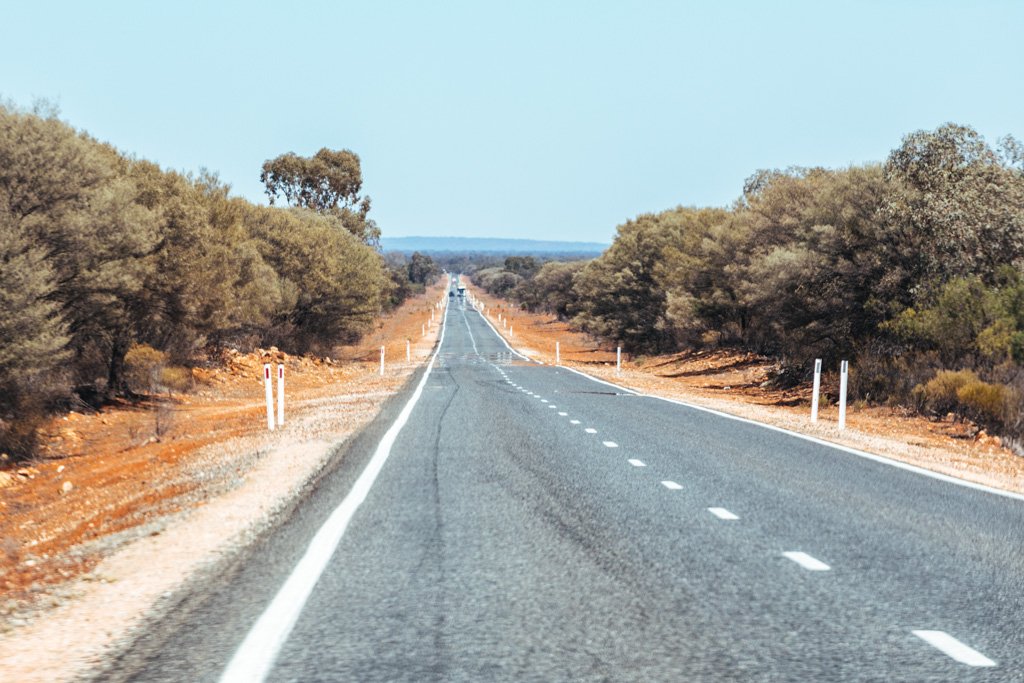 The Esperance to Perth drive is no exception. The two cities look fairly close together on a map, nestled in the southwestern most pocket of Australia. But in reality, it's a 7-10 hour drive to get from one to the other, depending on which route you take (unless you want to take the very long route along the coast on the ultimate Perth to Esperance road trip).
The way I see it, you have 2 options:
Take the 7 hour route, which is more direct but doesn't pass by many places worth stopping for… making it an extremely dull drive.
Tack on a couple hours and go the indirect route, which passes through several interesting (read: quirky) spots
If you aren't in a rush, I recommend taking your time and incorporating a few interesting *only in Australia* attractions. Maybe none of them are worth going out of your way for… but if you're passing by them anyway, you may as well stop and take a look. Then before you know it, you've had a pretty interesting day driving after all.

Silo art in Newdegate, WA.
Featuring public artworks, granite outcrops, and natural salt lakes, here's how to turn a boring drive from Esperance to Perth into an adventure:
Public Silo Trail
Southwest Australia recently hopped on the silo art bandwagon with its Public Silo Trail, which was completed in 2018 and features expansive murals painted on silos in 7 towns from Northam to Albany. If you're a big fan of street art, you'll LOVE seeking out these colorful silos.
The full map and ALL of the information you could possibly want to know about the Public Silo Trail project can be found here.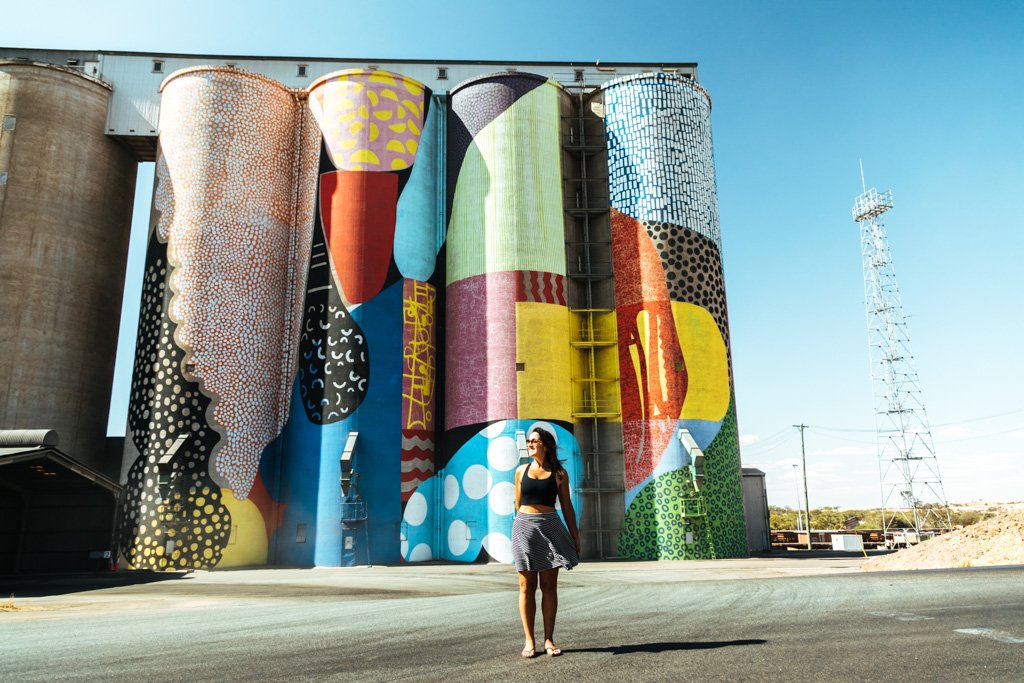 Silo art in Northam, WA.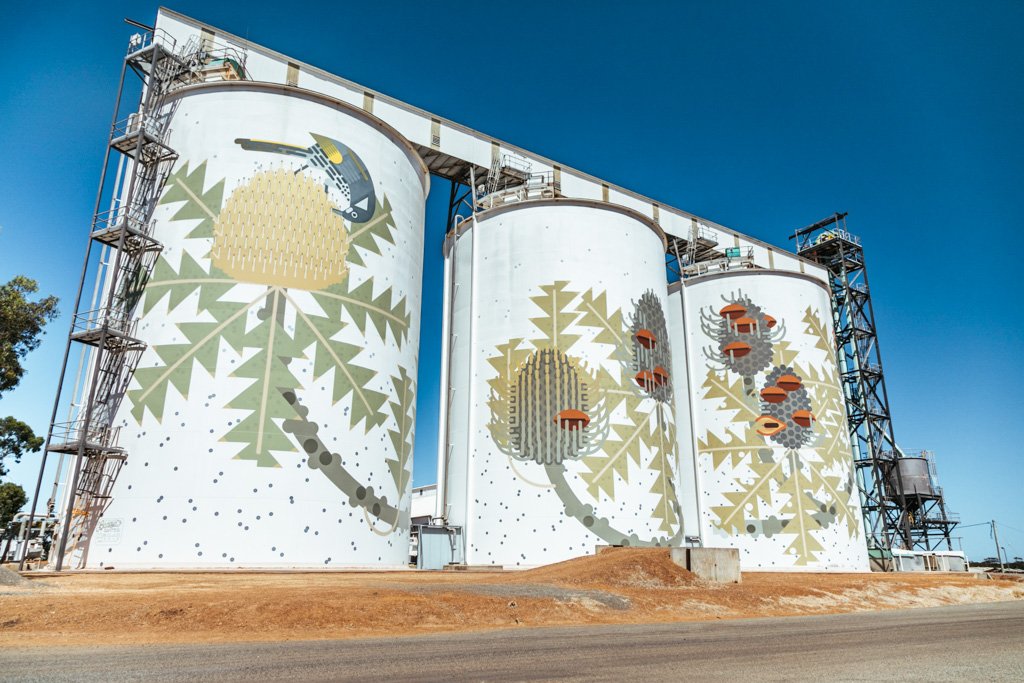 Silo art in Ravensthorpe, WA.
Unless you have tons of time to kill and/or are particularly into silo art, it probably doesn't make sense to hit all of them en route to Esperance.
I recommend stopping at Northam, Newdegate, and Ravensthorpe on the drive to Esperance. The first two are outstanding, while the last one is in a town you'd likely be driving through anyway to reach Esperance.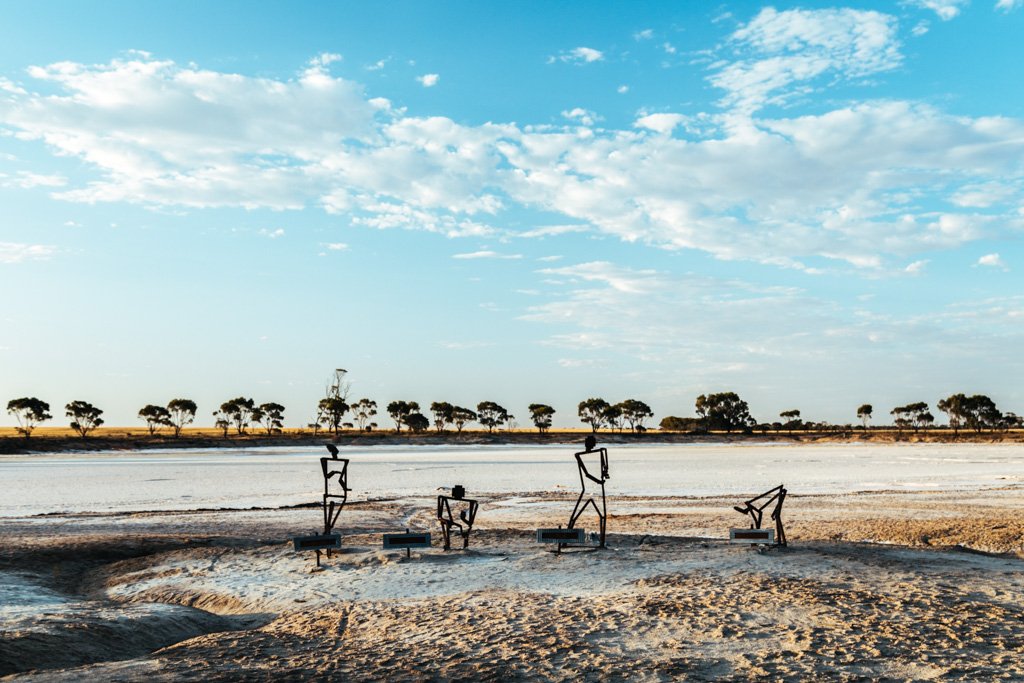 Statues Lake
Australia's got heaps of dried up salt lakes – but how many of them are adorned with metal statues? And do any of them have a super-creative name like Statues Lake?
Jokes aside, Statues Lake is a quirky stop on the drive to Esperance. The statues all depict farming activities, relevant to the Wheatbelt region in which they stand.
If you miss Statues Lake, worry not – there are plenty of other dried up salt lakes along the route from Esperance to Perth that you can stop at, including Lake Grace.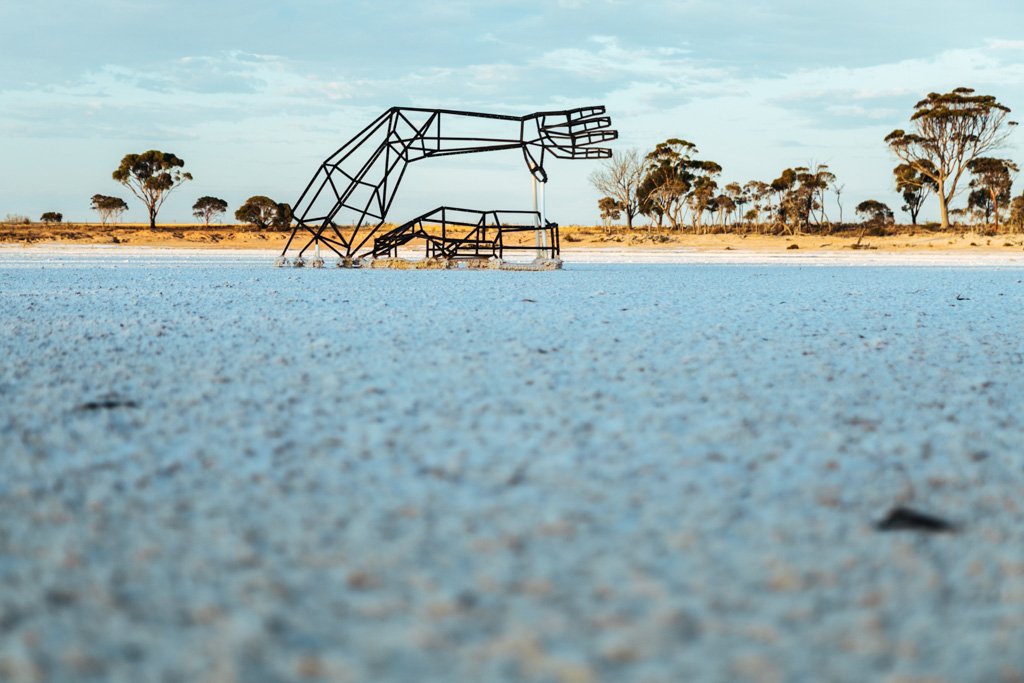 Kulin
Kulin is about halfway-ish between Esperance and Perth and deserves a mention for two reasons:
1 – There's a great free campsite behind the visitor's centre with a toilet block that has FREE HOT SHOWERS. I broke up my little Pert-Esperance road trip with an overnight here and would highly recommend.
2 – The drive in is often referred to as Tin Horse Highway because it's lined with tin statues created by the community. You can't miss 'em!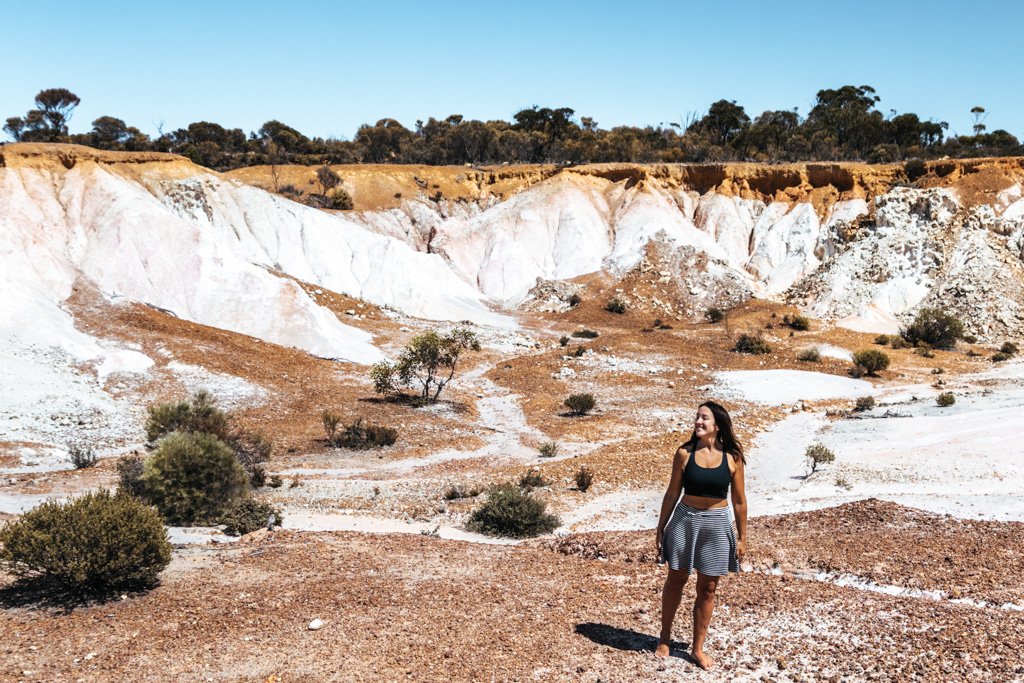 Buckley's Breakaway
I'll admit, I was initially drawn to this one because we share the same name. BUT – Buckley's Breakaway is actually a really cool spot, and it's just 70km east of Kulin. Think white cliffs and colorful layered rocks in the middle of nowhere. It reminded me of the Artist's Palette in Death Valley.
I had it allllllllllll to myself when I visited and it was GLORIOUS. This is definitely a great place to take out your drone, if you have one – but even if you don't, definitely stop and have a little wander through the gully.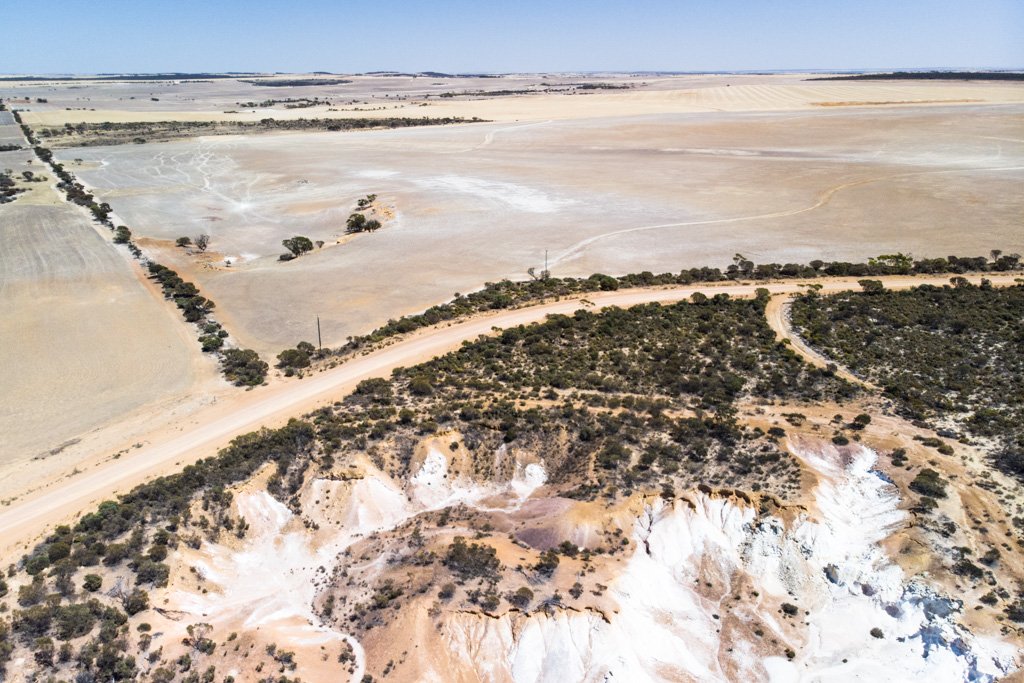 Wave Rock
Of all of the stops to make when driving between Esperance and Perth, Wave Rock in Hyden is the most popular. You've likely seen photos of it in guidebooks and brochures: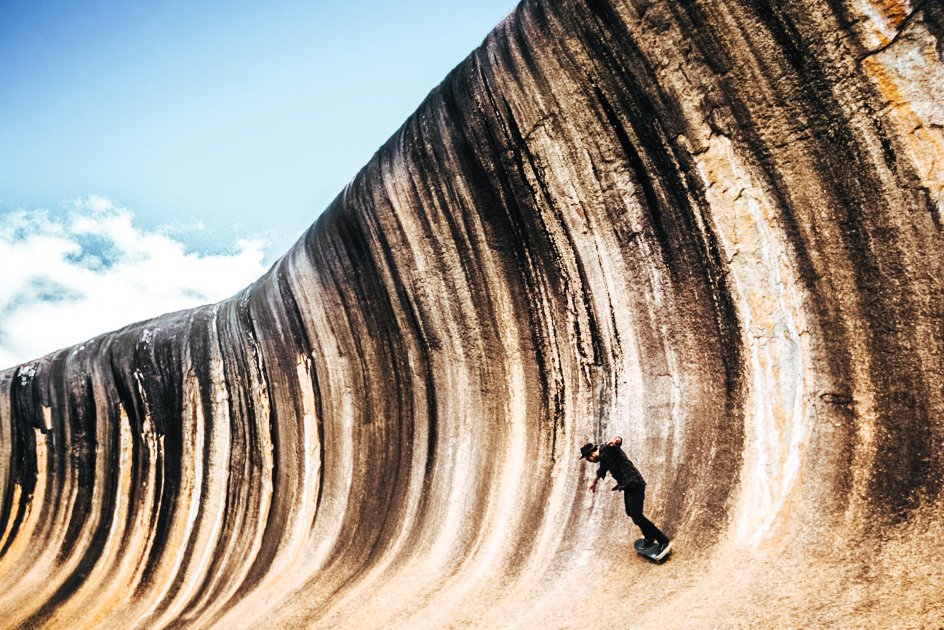 Basically, it's rock that's eroded over the course of 2700 million years and now looks like a wave you'd surf. The whole thing is 110m long and 14m high.
Touristy? Yes. Cheesy? Maybe a little. Worth a stop? Well you might as well if you're in the area – it's pretty cool to see.
Pin it!