Having spent a cumulative 6.5 years living in and traveling around Australia, I can say with conviction that one of the best things I've done in this country is the Perth to Esperance road trip (in fact, I've done it twice!).
Despite being the largest state, Western Australia is undertouristed compared to the rest of the country. It is remote, rugged, and rife with diverse landscapes that you'll often be able to enjoy without another person in sight. And honestly, that's a large part of its appeal (and not just because I'm an introvert!).
South West Western Australia is where this epic road trip takes place. If you love beautiful beaches, mountain hikes, tall tree forests, unique-colored lakes, and a Mediterranean climate, this trip is for you.
I've divided the Perth to Esperance road trip route into 5 segments, going in a counter-clockwise direction:
All you have to do is fly into Perth, rent a car or campervan, and drive south!
You can pick and choose how far you go on your South Western Australia road trip, depending on how much time you have. Only have one week? Stick to just 1 or 2 of the segments and then drive back to Perth.
A few useful tips before we dive into the ultimate South West Australia road trip guide:
If doing the entire Perth to Esperance road trip, plan for 16 days minimum and ideally 25 days if you want to take your time doing ALL of the things (I had 3 weeks for my February 2020 trip and for me that was perfect).
A South West Australia road trip can be done at any time of year! I've been in both winter and summer and both were glorious. If beach time is a top priority though, aim for December-April. Winter tends to be more rainy than any other time of year.
Want to rent a campervan? In Perth, budget options are limited to Lucky and Wicked Campers. I hired a Rookie campervan from Lucky and paid AU$783 for a 22-day rental (excluding insurance and gear hire).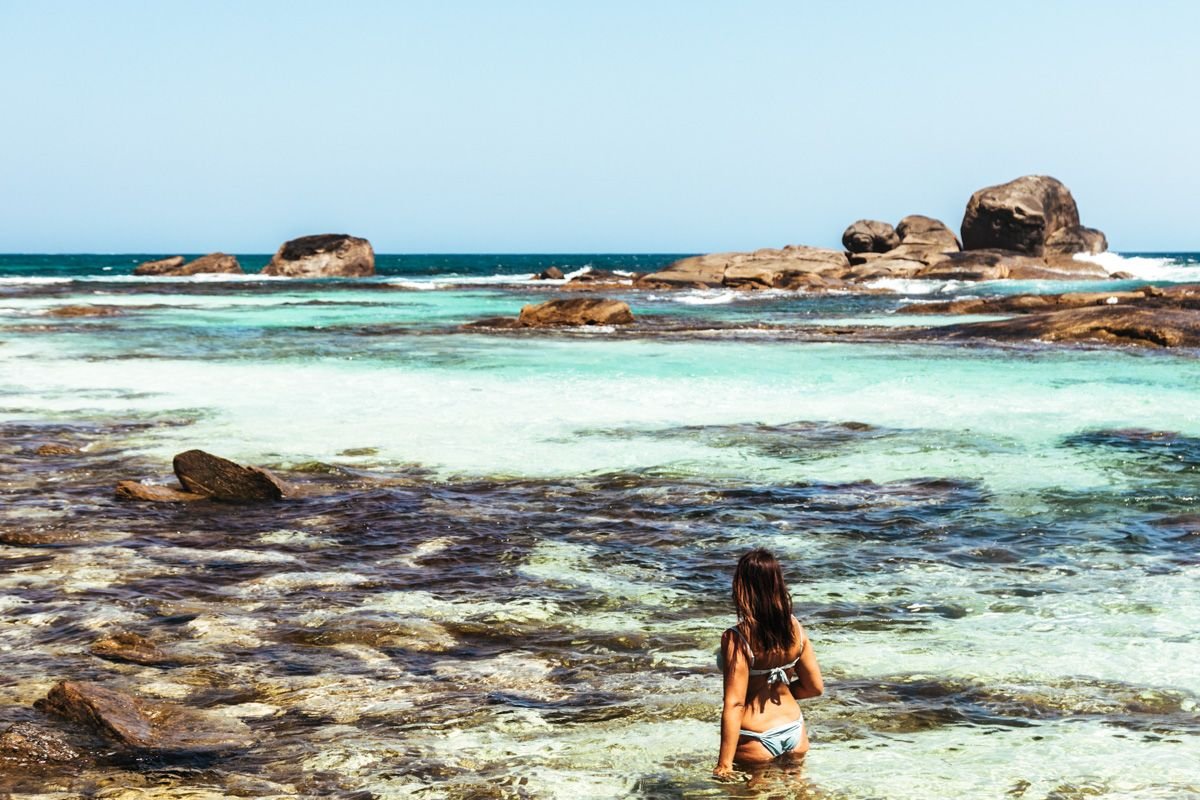 Swimming in Margaret River.
Perth to Margaret River (5-7 days)
I've already written a very detailed article about things to do on the drive from Perth to Margaret River, so if you want the nitty gritty on this region, click the link below. Otherwise, here's an overview of what you can see and do on your trip to Margaret River.
In short, you're probably here for beaches, wine, and food – and I can assure you this little slice of heaven delivers 100x over. And it's not just Margaret River town: the entire region packs a punch. You could very easily spend your entire trip exploring and relaxing around here and be content for weeks on end (in which case, feel free to ignore the rest of this Perth to Esperance road trip itinerary).
READ MORE IN THIS POST: From Bunbury to Margaret River, Here's What Not to Miss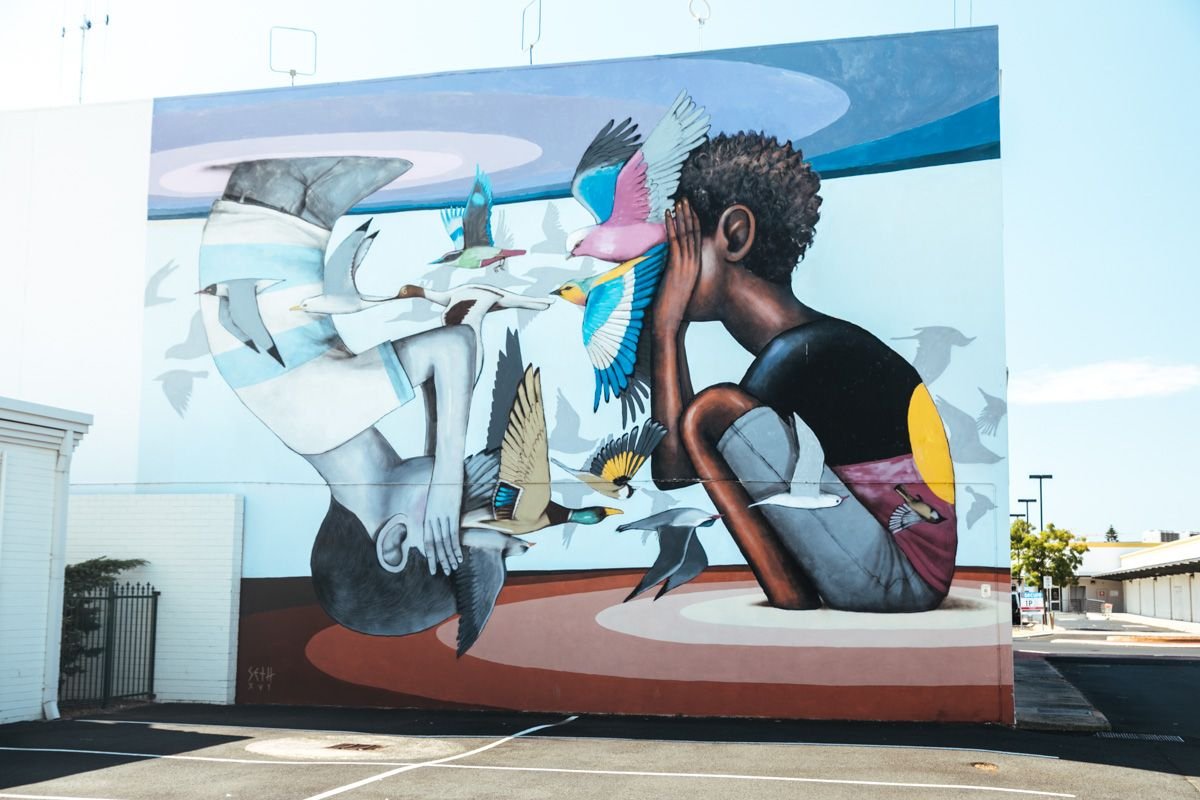 Bunbury
Bunbury is unofficially the "second capital city of Western Australia" (after Perth) and one of the larger cities you'll drive through on the Perth to Esperance road trip (which is saying a lot, because it feels more town-like than urban). I'd recommend stopping for a half day or so to have a wander around town; here are a few things to check out in Bunbury:
Victoria Street – cute shops, bars, and cafes galore.
Dolphins at Koombana Bay – if you stand outside the Dolphin Discovery Centre in the morning, there's a very good chance you'll catch the dolphins in the wild, swimming in to shore in Koombana Bay.
Street art – this map outlines where to find various murals around Bunbury (of which there are dozens!). Most can be found on or right off of Victoria Street.
Collie River Valley
This region, just east of Bunbury, is full of lakes, rivers, and forests to explore. It's unlike anywhere else on this Perth to Esperance road trip, yet so often overlooked.
You'll want to check out my other blog post for more photos and deets, but here are the top sights to see in the Collie River Valley (all of which you can fit into one day of exploring):
Honeymoon Pool – highly recommend camping right on the river here
Black Diamond Lake
Stockton Lake – neon blue water, need I say more?
Gnomesville – hundreds (thousands?) of gnome statues lining a path on the side of the road

Stockton Lake.
Busselton
Another of the larger cities on this South West Australia road trip, Busselton is known for one thing: having "the longest timber-piled jetty in the southern hemisphere". Unless you're particularly interested in that, feel free to give Busselton a miss.
Busselton Jetty – You can walk (or take a train) out to the end of this 1.8m-long jetty, which has an underwater observatory at the end of it.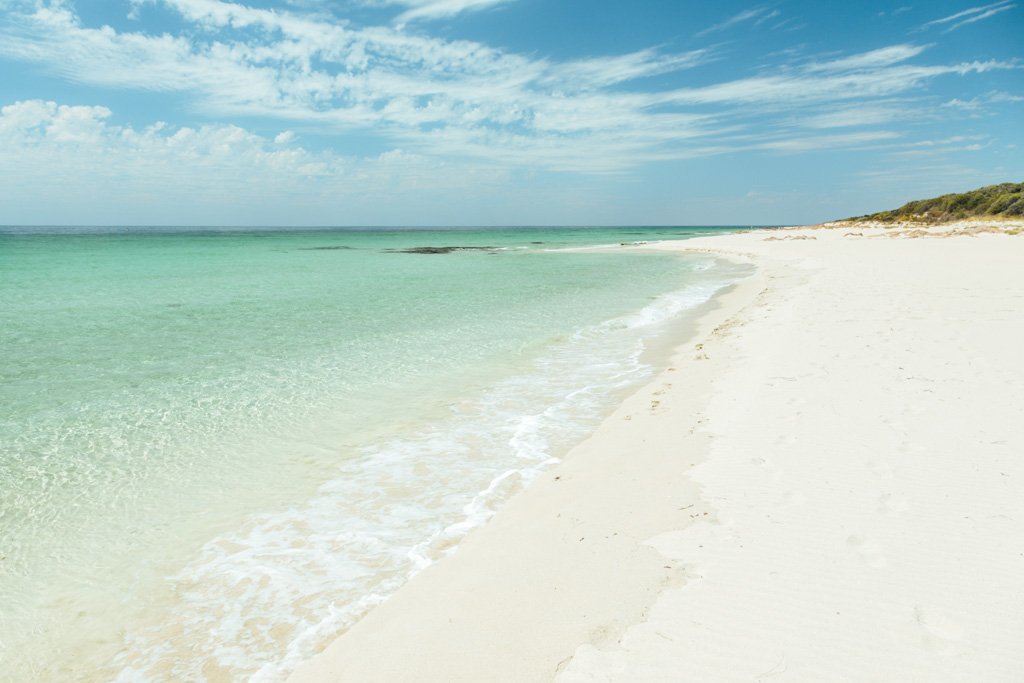 Eagle Bay.
Dunsborough
Dunsborough is a laidback Aussie beach town and one of my absolute favorite spots on this South West Australia road trip.
You must visit at least one (and preferably all) of the town's magnificent beaches:
Meelup Beach – the most popular and facilities-laden of the beaches
Eagle Bay – the most Caribbean-esque of the beaches
Bunker Bay – The quietest of the beaches (there were dolphins swimming close to shore when I visited in February!)

Secret rock pools in Dunsborough ;)
Cape Naturaliste
Just west of Dunsborough is Cape Naturaliste, a scenic spot and the endpoint of the famous Cape to Cape Track. Feel free to skip if you're short on time, otherwise here's what to see here:
Cape Naturaliste Lighthouse – costs $4 just to glimpse this lighthouse (you can also walk around the grounds with your admission ticket)
Cape to Cape Track – the full track runs all the way south to Cape Leeuwin, but there are shorter walking trails around Cape Naturaliste that offer stellar coastal views
Sugarloaf Rock – 2km south of the lighthouse, a very cool rock island that's also a top sunset spot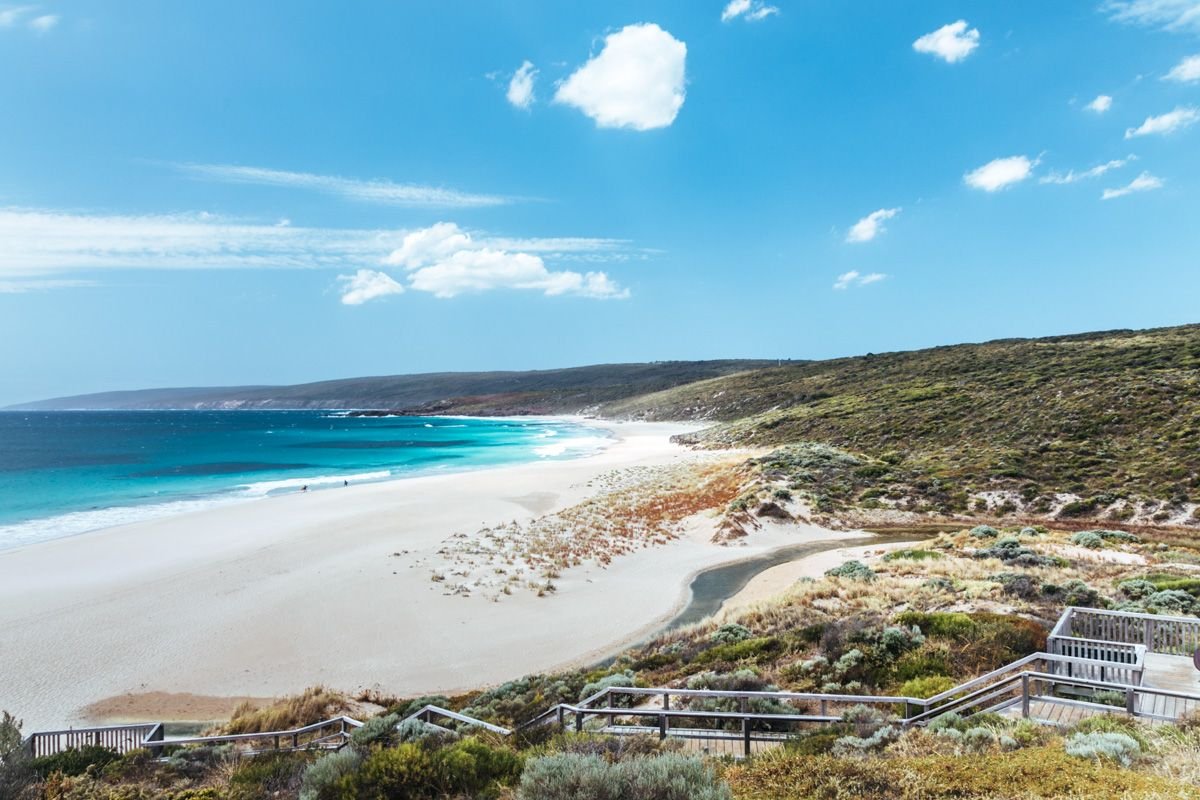 Smiths Beach.
Yallingup
Yallingup is a chilled out Aussie surf town with gorgeous landscapes galore. DO NOT MISS IT!
Cape Lavender – old time-y cafe with all things lavender! (definitely try the lavender ice cream and scones!)
Smiths Beach – a great surf beach that also happens to be picturesque AF
Injidup Natural Spa – Ever sat in a natural rock pool with waves crashing over (and through the cracks of) its wall? No matter your answer to this question, get thee to Injidup Natural Spa (and preferably early in the morning, before the "crowds" arrive).
Canal Rocks – Follow the boardwalk that runs across channels and around the cool-looking rock islands offshore. Another great sunset spot.
Ngilgi Cave – One of the few limestone caves in the Margaret River region open to the public. Admission is $22.50 and includes a cave tour.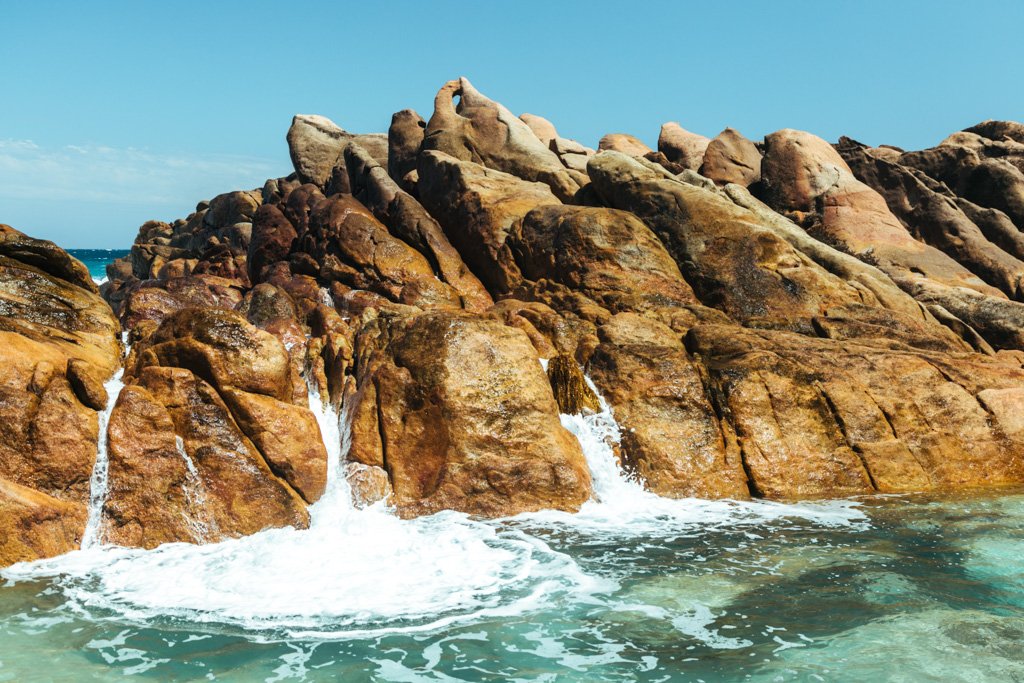 Injidup Natural Spa.
Margaret River
Ahhh, good ol' Margs. This slice of the world is blessed with so much goodness, from food and wine to beaches and cool rock formations.
It's also somewhat of a spiritual enclave these days, with no shortage of hippie shops, healers, and yoga and meditation classes (which we won't cover here, but you need only walk through town to find).
Wine – Above all else, you MUST sample the wine in the Margaret River region. There are heaps of award-winning wineries here where you can stop in for a tasting; I'd recommend trying the oaked Chardonnay. Stella Bella Wines, Leeuwin Estate, and Watershed Wines are the ones I've visited myself and enjoyed tastings at.
Food – I'm no foodie, but Margs is said to have some incredible food and produce. Here's a list of some of the top restaurants in town and here's a list of the best things to eat in Margaret River.
Beaches – Redgate Beach is probably my favorite beach near Margaret River, due to its rock pools and plentiful boulders for sunbathing. Margaret River Mouth is a great place to hire a kayak or stand-up paddleboard, or you can opt to relax on its sandy banks or nearby beach.

Redgate Beach.
Caves – Mammoth Cave and Lake Cave are two limestone caves open to the public. Admission is $22.50 per cave. Note: I've not visited any of the caves in this region, but Lake Cave would be my first choice because it has a lake inside, with gorgeous reflections of the rock ceiling.
Cycling – The Wadandi Track (formerly known as Rails to Trails when I biked it back in 2015) runs for 23km from Cowaramup south to Witchcliffe, through forest, farmland, and vineyards. Highly recommend doing your own little wine tasting tour of the wineries around Margaret River!
Witchcliffe – a small town just south of Margaret River with preserved old timber buildings, a handful of cute shops, and a modest population of creative hippie-types. If you're a fellow coffee snob, YARDBYRD has the best coffee in Margaret River and surrounds (I'm still not over it!).
READ MORE IN THIS POST: All My Favorite 'C' Things in Margaret River
Hamelin Bay
A half hour drive south of Margaret River and 100% worth the trip is Hamelin Bay, a gorgeous beach known for its friendly sting ray population. Head down to the boat ramp on the south end of the beach and you're bound to spot a few swimming back and forth along the shore.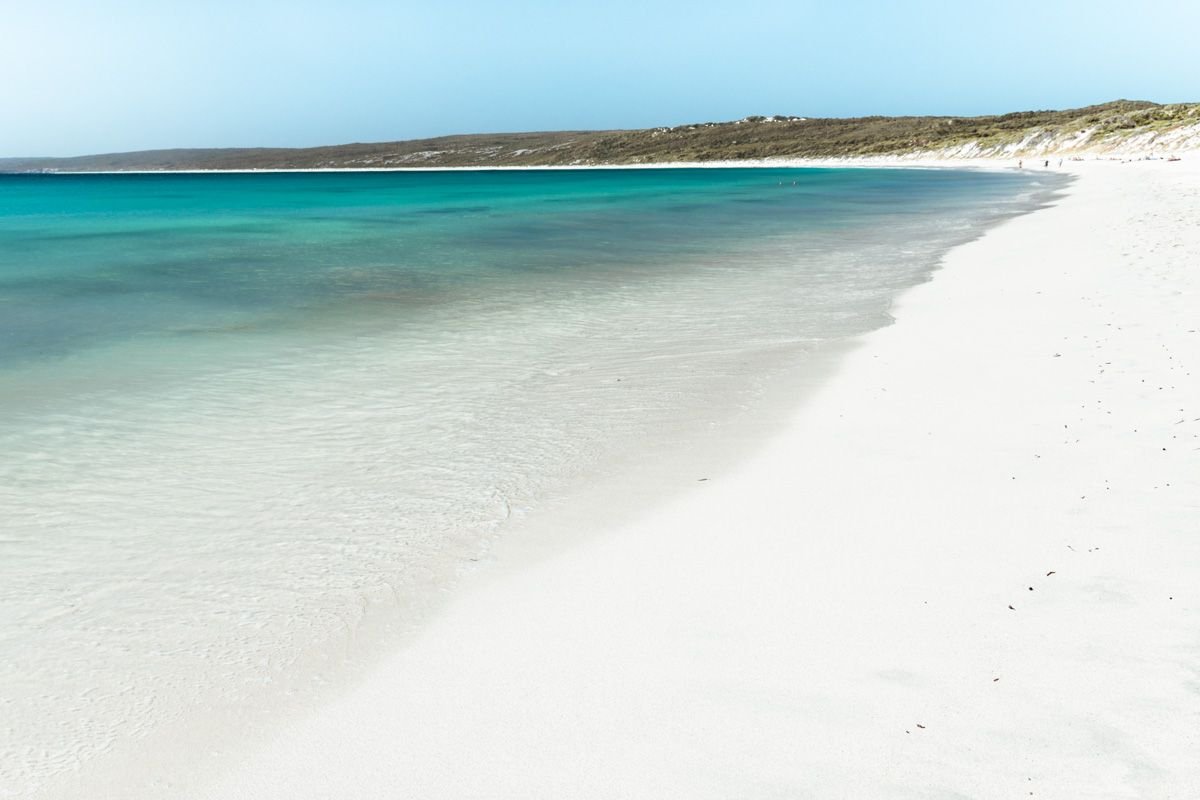 Cape Leeuwin
If you love a good lighthouse and don't mind heavy winds, you might want to drive all the way down to see the Cape Leeuwin Lighthouse. (If you're short of time I'd say don't bother)
It marks Australia's most south westerly point and is mainland Australia's tallest lighthouse. Lighthouse tours are $20, or you can opt to view the structure from down the road (there are great views of it from along the rugged coast).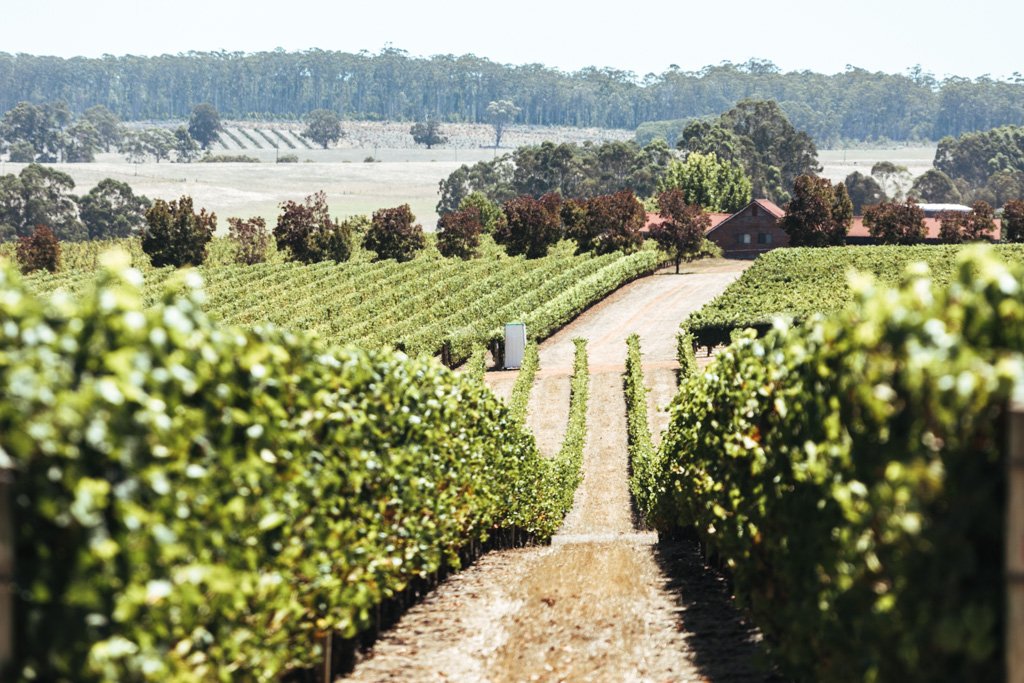 Margaret River to Walpole (2 days)
If you've got a couple extras days to spare, you can continue driving south to Augusta and then east to Pemberton and Walpole, returning to Perth via Highway 1 (or continuing on with the rest of the Perth to Esperance road trip itinerary!).
This segment of the South West Australia road trip is all about TALL TREES. If you need your forest fix, definitely allow for this add-on to your Margaret River trip!
Pemberton
Halfway between Margaret River and Walpole you'll reach Pemberton, where you can relax or go mountain biking amongst the karri forest (FYI karris are the third-tallest tree species in the world!).
Pemberton Swimming Pool – A natural pool constructed in Lefroy Brook, originally built for the families of timber workers in the 1920's. It's now open to the public for free swimming and picnicking.
Climb Some Tall Trees – Ever wanted to climb a tree? In and around Pemberton, you can climb up the pegs on a few tall trees that were once used as lookouts for spotting fires in the karri forest. The Gloucester Tree is 61m tall and free to climb, and the Dave Evans Bicentennial Tree is 75m tall.
Valley of the Giants Treetop Walk
Just outside of Walpole is the famous Valley of the Giants Treetop Walk. Yes, it's very touristy – but I think it's well worth doing.
With your $21 admission ticket, you get unlimited walks on the treetop boardwalk during your visit. You'll be walking 40 meters above a tingle forest, close to treetop level – definitely not for those with a fear of heights.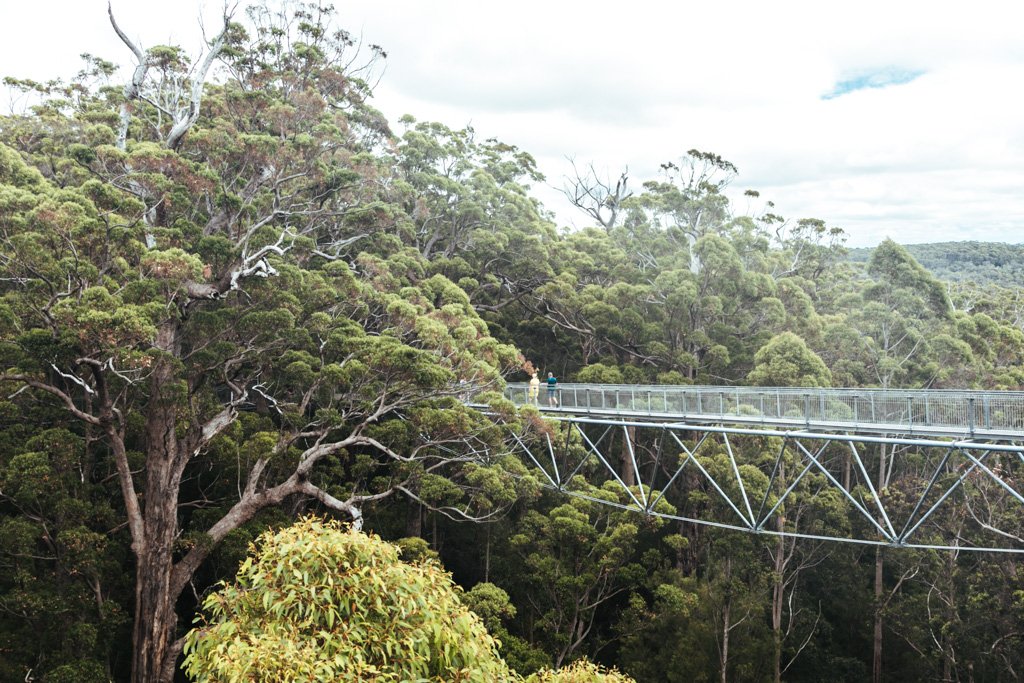 Walpole to Albany (4-7 days)
This segment of the South West Australia road trip covers about two hours' worth of driving along South Coast WA. Some of Western Australia's best beaches can be found here, along with two of its coolest towns, lots of wineries, and some great hikes.
There's so much to see in Denmark, Albany, and surrounds that you should ideally give yourself a week in this area. 3 days would be the absolute minimum to do it any justice.
If you don't want the hassle of moving around too much, you'd be fine basing yourself in Albany for this stretch of the road trip. Otherwise, you might want to spend a night or two in Denmark.
READ MORE IN THIS POST: 30 Things to do in Albany, Western Australia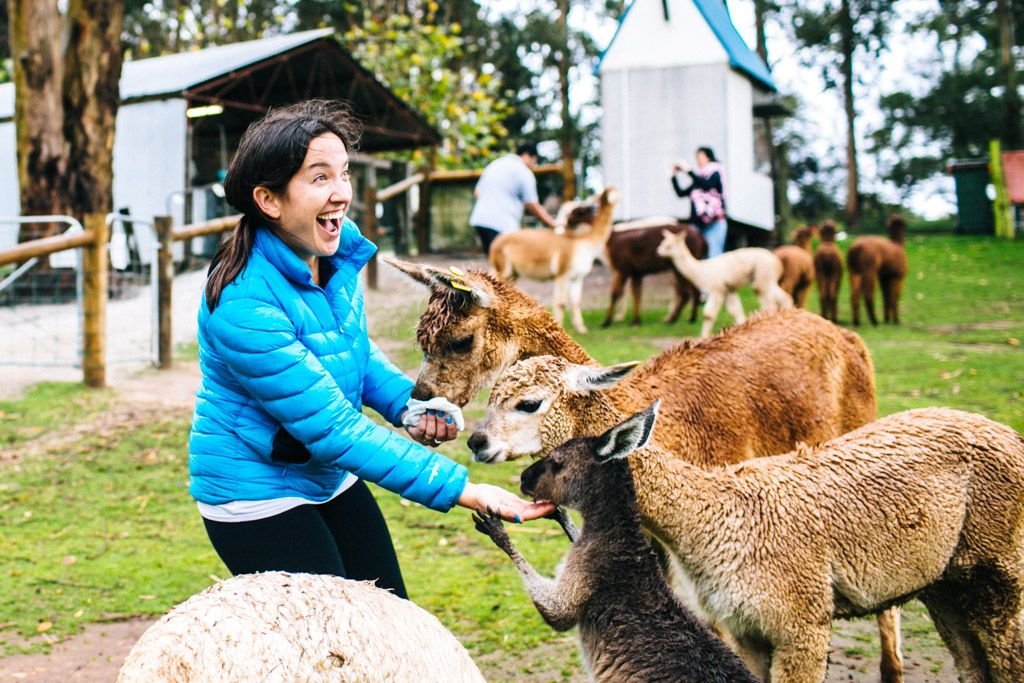 Making friends at the Pentland Alpaca Farm in Denmark.
Denmark
Denmark is an artsy town about halfway between Walpole and Denmark. If you're into wine and art, you won't want to miss this stop.
Pro tip: if the weather is overcast or rainy, spend the day in Denmark – lots of indoor activities on offer here!
Scottsdale Tourist Drive – Take a scenic drive through Denmark's countryside and along its coastline.
Denmark Animal Farm & Pentland Alpaca Stud – If you've been dying to get an alpaca selfie or see koalas close-up, this is where you need to go to realize those dreams.
Wine – Denmark is part of the Great Southern wine region, which churns out some excellent Riesling, Chardonnay, and Cabernet Sauvignon.
Art – Denmark tends to attract artists of all kinds. If you're an art fan, there are plenty of galleries, exhibitions, and events on that might be of interest.
READ MORE IN THIS POST: Dancing With Kangaroos & Hanging With Alpacas in Australia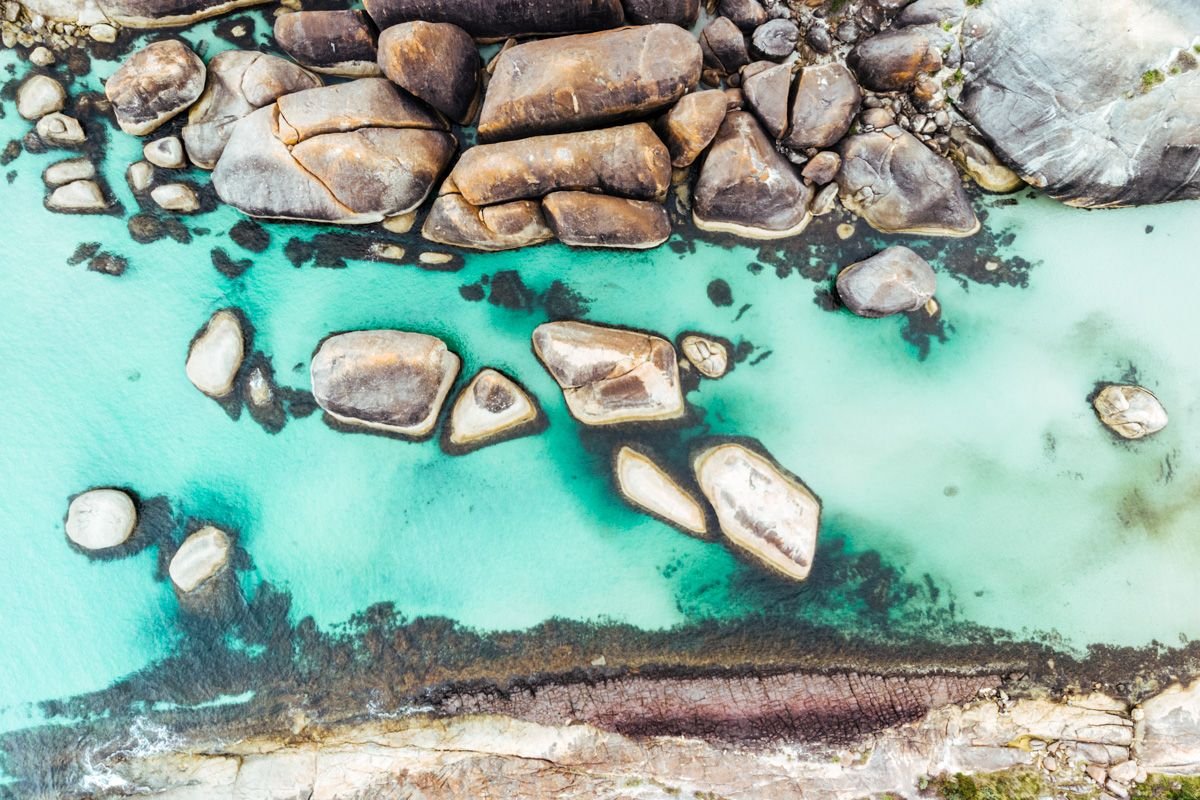 Greens Pool & Elephant Rocks
Very close to Denmark is William Bay National Park. You might know it for Elephant Rocks or Greens Pool, two very picturesque swimming spots that you MUST visit on your South West Australia road trip.
This stretch of coastline is dotted with lots of big boulders and calm waters – and if you're lucky enough to catch it on a sunny day, the water will be a bright turquoise color.
Albany
Albany is one of WA's major cities, as well as its oldest European settlement. There's so much history to soak up just by strolling the streets and admiring the plentiful colonial buildings. But there's also heaps to do in and around town, from walks and hikes to beaches and mountains.
Fair warning, Albany is often windy and rainy – for this reason, I'd recommend allotting extra days in your road trip itinerary to ensure you get some decent weather days for the beaches and hikes in the area.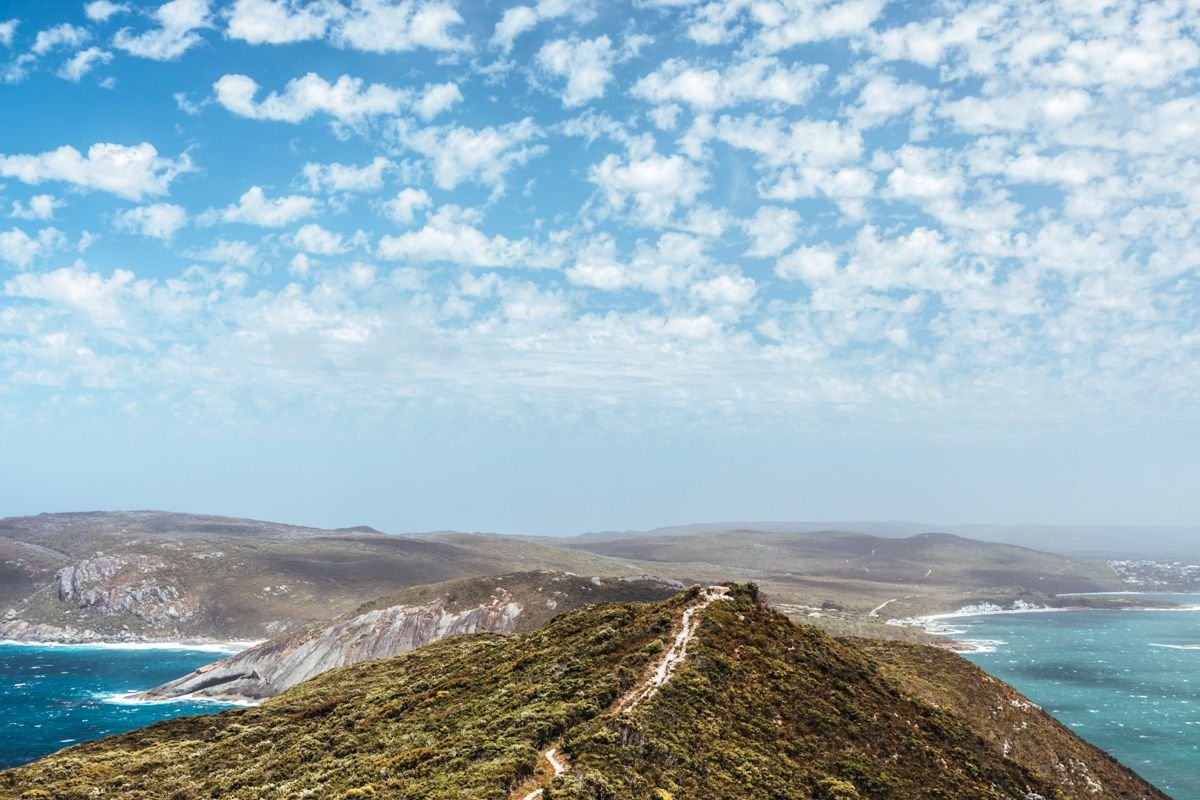 Bald Head Walk Trail.
Below are a few must-do's in and around Albany, but be sure to check out this post for 30+ ideas.
Camp at Shelley Beach – Shelley Beach itself is nothing spectacular, but the fact that you can camp literally right next to the sand makes it well worth the very bumpy drive in. You can't book a campsite in advance, so get there early for a spot.
Torndirrup National Park – Comprising most of the peninsula south of Albany, Torndirrup is full of natural attractions including The Gap & Natural Bridge and Frenchman Bay Beach, as well as the Historic Whaling Station.
Bald Head Walk Trail – Also in Torndirrup National Park but worthy of a separate bullet point, this 12.5km return hike on the Flinders Peninsula is AWESOME. So scenic! And a very good workout, but not overly challenging.
Cafes – The best coffee in Albany is at Vancouver Street Cafe. The best vegan eats anywhere on South Coast WA are at The Alkaline Cafe. Some of the best fish and chips in Australia are at Ocean & Paddock.
Whale watching – If you're in Albany from July-October, you can spot southern right whales and humpback whales from the town shores or book onto a whale watching cruise.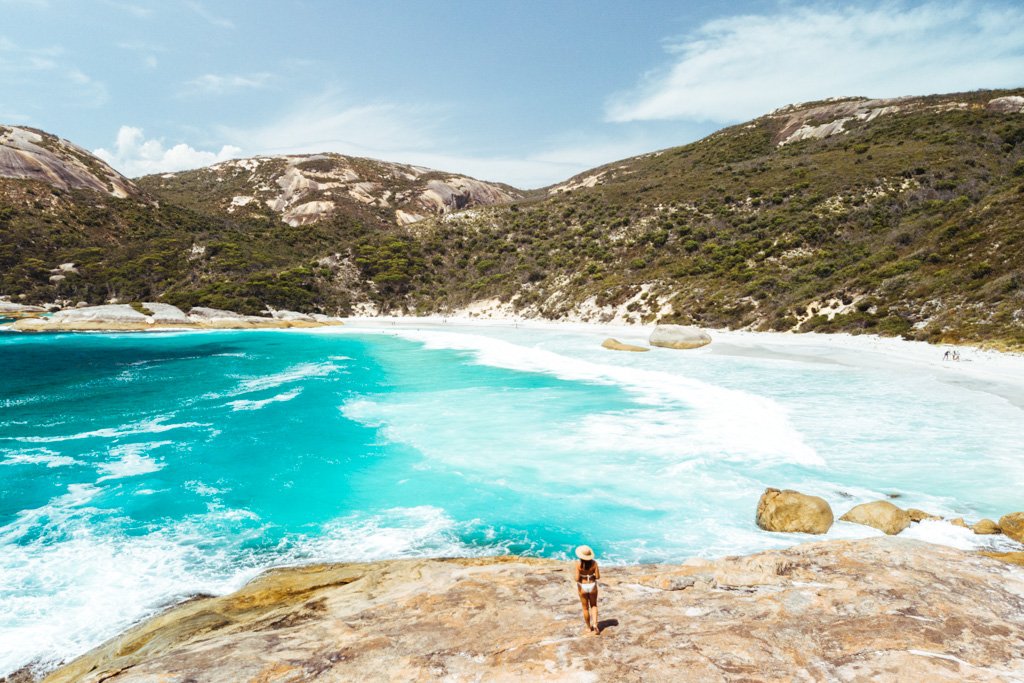 Little Beach.
Little Beach
Hopefully you're not beached out by this stage of your Perth to Esperance road trip, because Little Beach is one of the most beautiful beaches in all of Australia!
You'll find it at Two Peoples Bay Nature Reserve, a 40 minute drive east of Albany. Little Beach is similar to what you'll find in Esperance: think impossibly turquoise water, granite headlands and boulders, and white sand.
READ MORE IN THIS POST: The 20 Best Beaches in Western Australia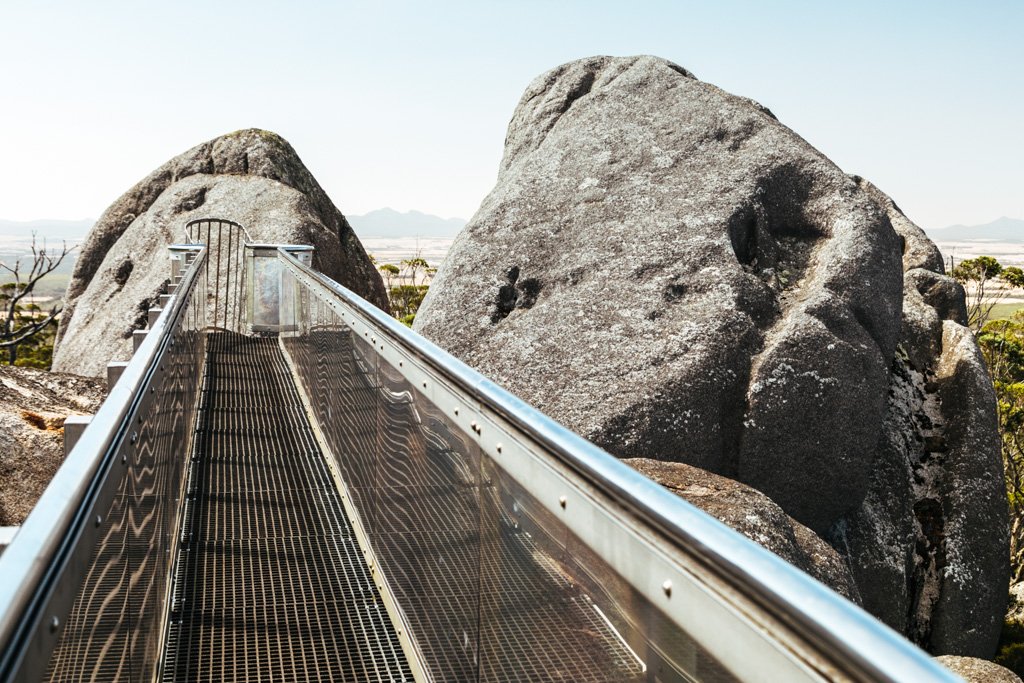 Castle Rock Granite Skywalk.
The Porongurups
The Porongurups are a small mountain range (and also apparently THE OLDEST mountain range in the world?!) about 35min north of Albany and worth visiting for two things:
Castle Rock Granite Skywalk – A popular walk in the Porongurups involving a slightly nerve-wracking climb through and up boulders to reach a viewing platform that looks out over the countryside. The national park has some lovely walks through the karri forest as well.
Wine – Porongurup is one of the subregions in the Great Southern wine region, so be sure to stop at a winery while you're in the area (I enjoyed Duke's).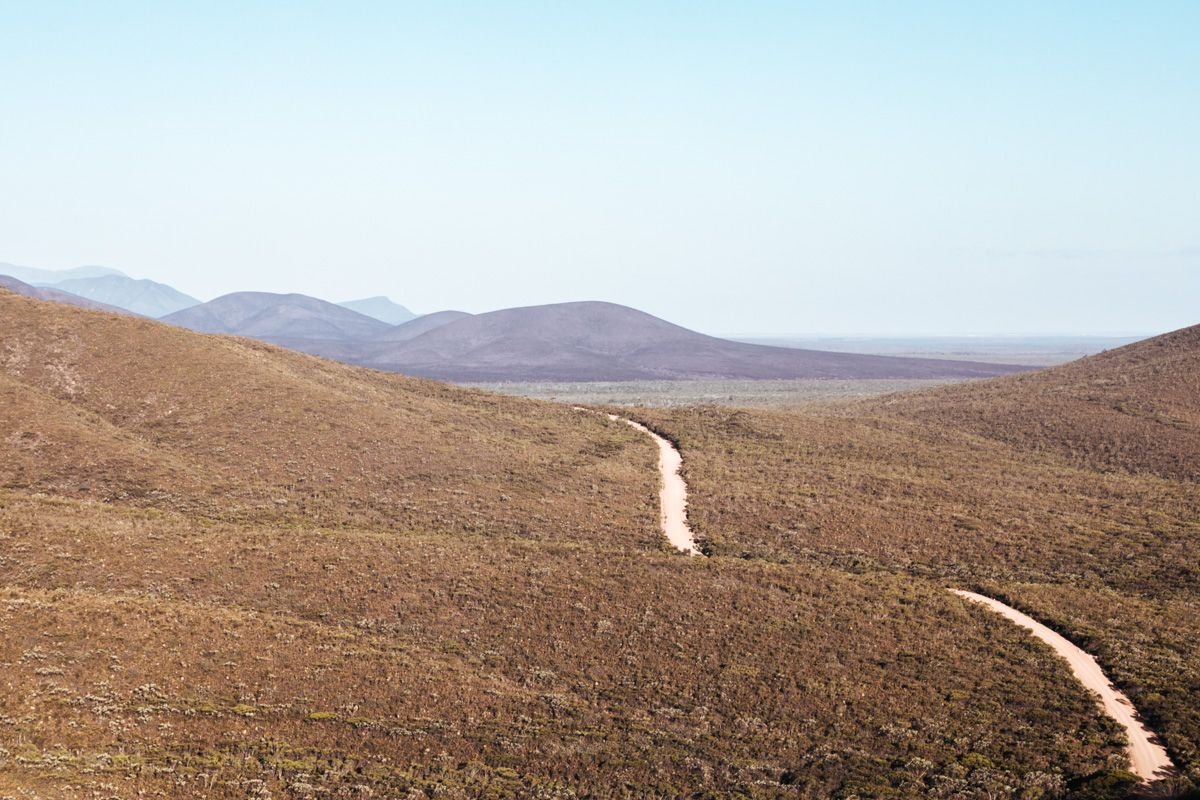 Stirling Ranges
Want to summit the highest peak in South West Australia? Take on the Bluff Knoll hike, which is 6km return and takes 3-4 hours to complete.
Otherwise, the drive through Stirling Range National Park is worth doing even if you don't do any hiking: there are some lookouts you can stop at along the way, or you can just sit back and admire the mountainous scenery from your vehicle.
Albany to Esperance (4-7 days)
From Albany, it's a 5 hour drive north back to Perth on State Route 30, so it's easy to end your South West Australia road trip here if you choose to.
Alternatively, it's also a 5 hour drive east to Esperance. If you're here for the full Perth to Esperance road trip experience, read on to find out what adventures await as you head further east!
Bremer Canyon Orca Experience
There are only a handful of places where you're able to spot orcas (killer whales) in the wild. Lucky for you, Bremer Bay (2 hours east of Albany) is one of them.
The Bremer Canyon Orca Experience is a full day affair (8am-3pm), as it takes quite a while to sail out to Bremer Canyon where the orcas are. Tours cost AU$385 and run from January until April – and on the off chance that you don't spot any orcas, you can join the tour again for free another day.
CLICK TO BOOK THE ORCA EXPERIENCE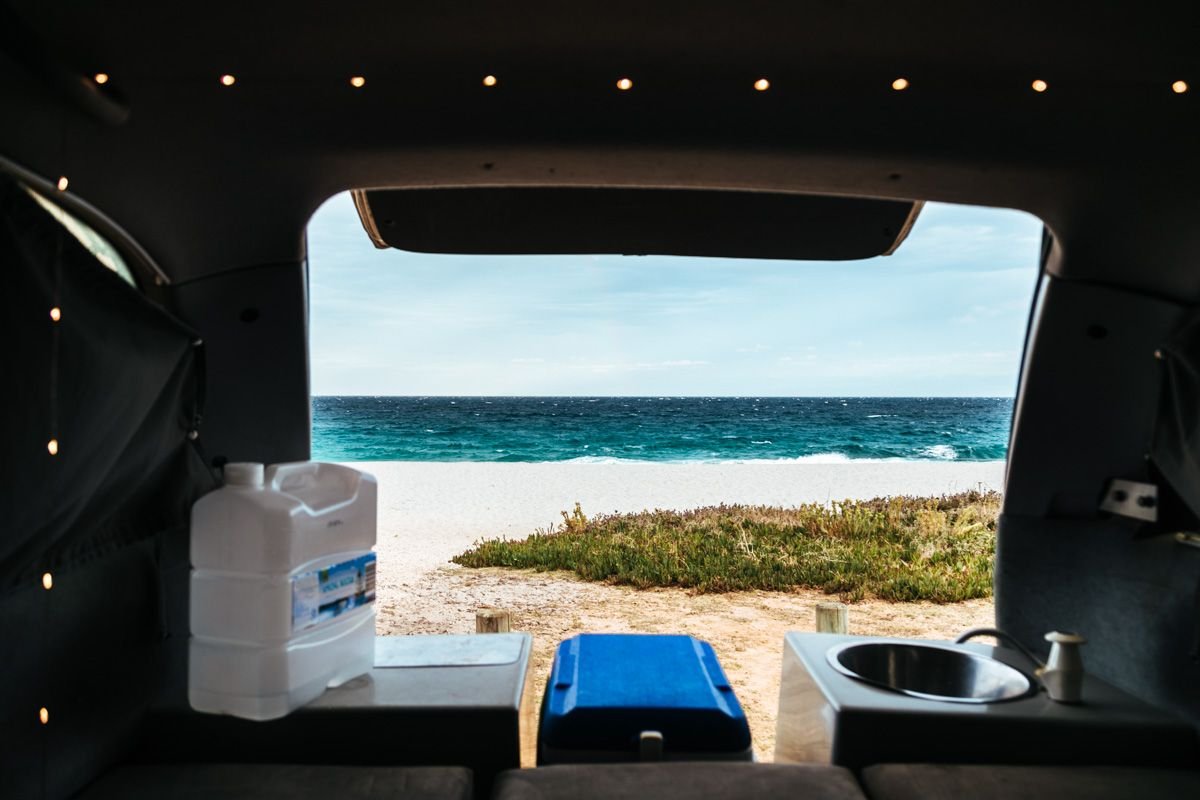 Esperance
Ahh Esperance – you've reached the promised land!
In and around this town, you'll find some of the best beaches in the country: I'm talking the whitest sand and the brightest turquoise water. Yes, there are beaches in Esperance itself – but for the best of the best, be sure to head further east to Cape Le Grand and Duke of Orleans Bay (more on these shortly!).
Twilight Beach – Twilight Beach is widely considered to be the best beach in Esperance proper. On a sunny, calm day, you'll catch the water looking all sorts of turquoise and clear, in a way that the other beaches in town can't quite compare.
Esperance Stonehenge – Just outside of Esperance is the only full-size replica of the original Stonehenge. Admission is AU$10.
Pink Lake (Lake Hillier) – Australia's got a thing with pink lakes, but sadly most of them only look pink under certain conditions – and even then, they look their pinkest from above. Want to cross this off your bucket list? Book a scenic flight over Lake Hillier from Esperance and you're guaranteed to see a bright pink-colored lake.
READ MORE IN THIS POST: Things to do in Esperance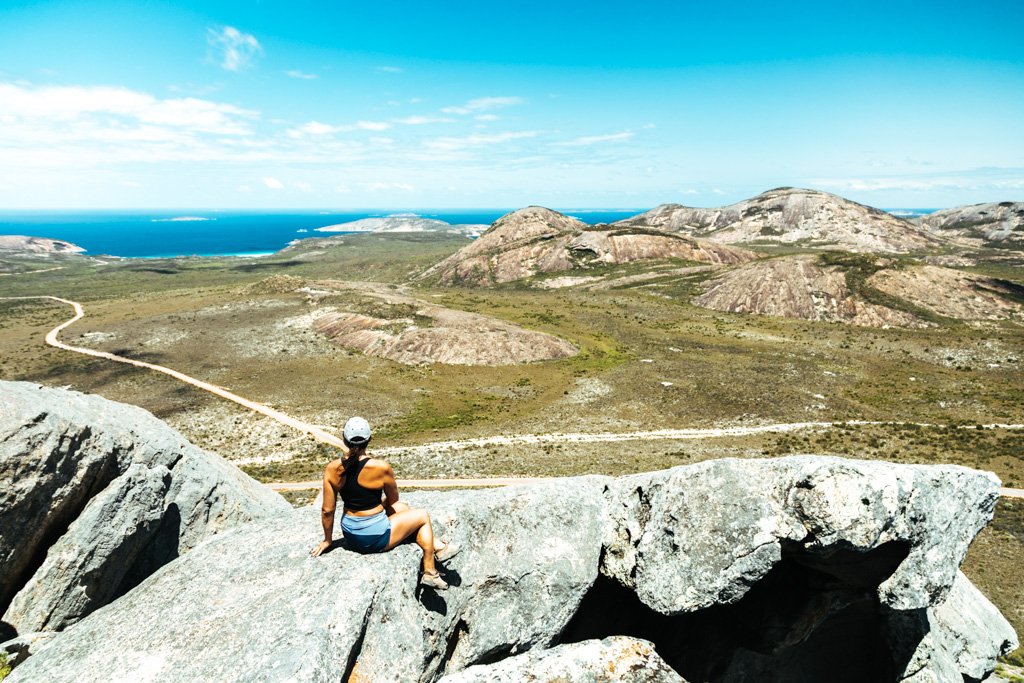 Frenchman Peak at Cape Le Grand NP.
Cape Le Grand National Park
About an hour drive east of Esperance, you'll find yourself in an oasis of white sand bays and granite outcrops.
Cape Le Grand National Park is a magical place indeed. Do yourself a favor and allot as many days as possible from your Perth to Esperance road trip to enjoy it. TRUST ME ON THIS.
Camp at Lucky Bay Campground – Book a campsite at Lucky Bay well in advance and don't even question it. This is the best place to base yourself while in the Esperance area because I guarantee you'll want to spend the bulk of your time here.
Hike up to Frenchman Peak – It's a steep climb up and down (3km return / ~1.5 hrs), but VERY worth the effort for the incredible views at the summit.
Lucky Bay & Hellfire Bay – These are the two prettiest beaches in the park. Lucky Bay beach is where the kangaroos hang out on the sand, while Hellfire Bay is much smaller and more quiet/secluded.
READ MORE IN THIS POST: The Luckiest Bay in Australia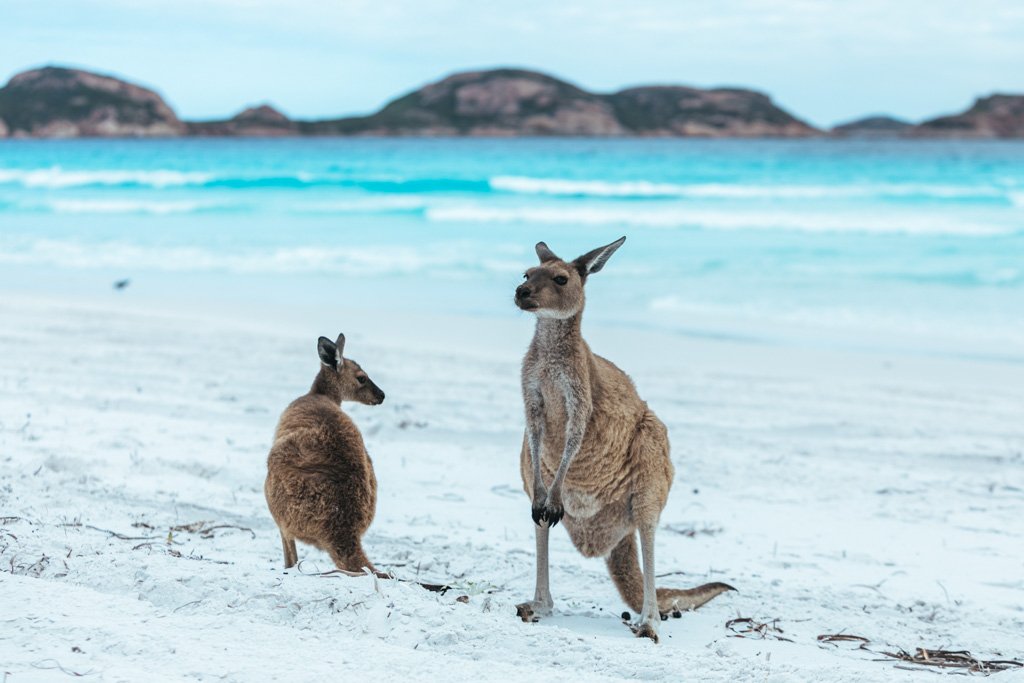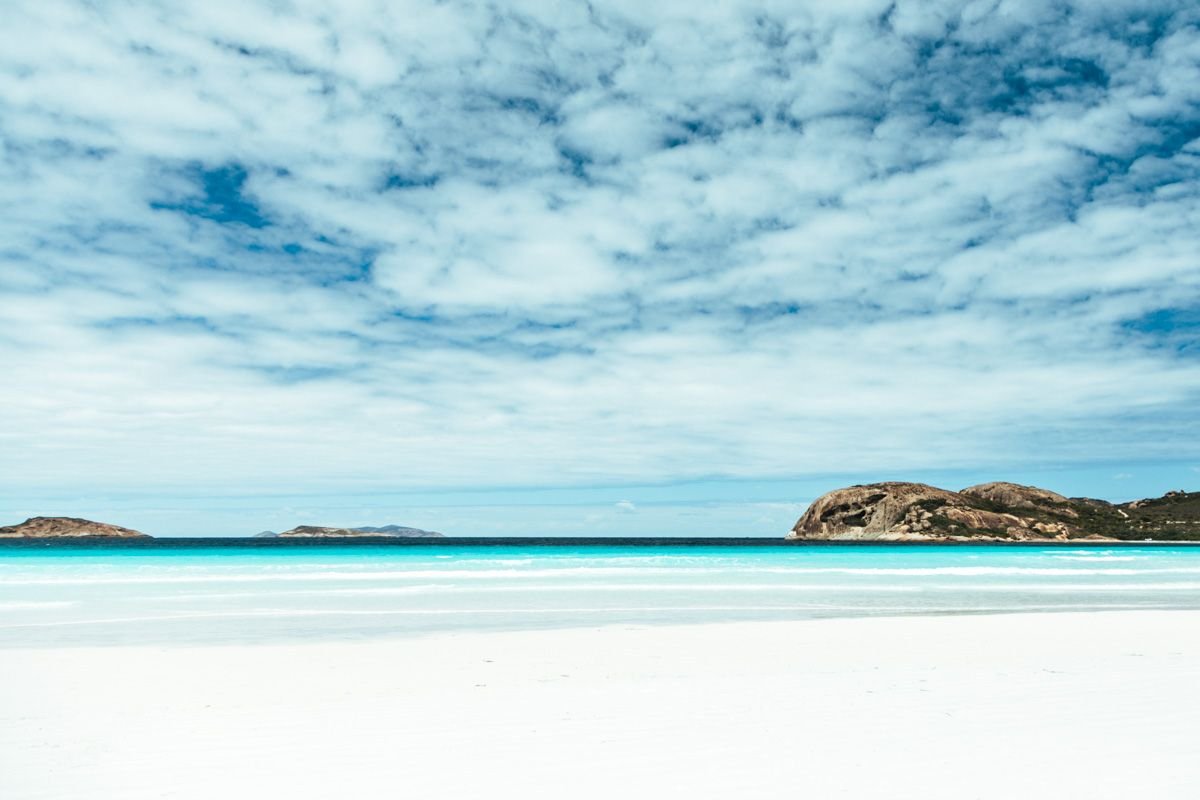 Lucky Bay.
Duke of Orleans Bay
Just east of Cape Le Grand National Park and 85km from Esperance is another white sand beach mecca that fewer people know about: Duke of Orleans Bay.
Wharton Beach is one of the most beautiful beaches in all of Australia, so DO NOT miss it!
While you're at Duke of Orleans, be sure to walk over to Little Wharton Beach and explore the sand tracks leading to other small beaches around the bay. More details can be found at my other blog post, linked below:
READ MORE IN THIS POST: Duke of Orleans Bay: My 35th Birthday Adventure!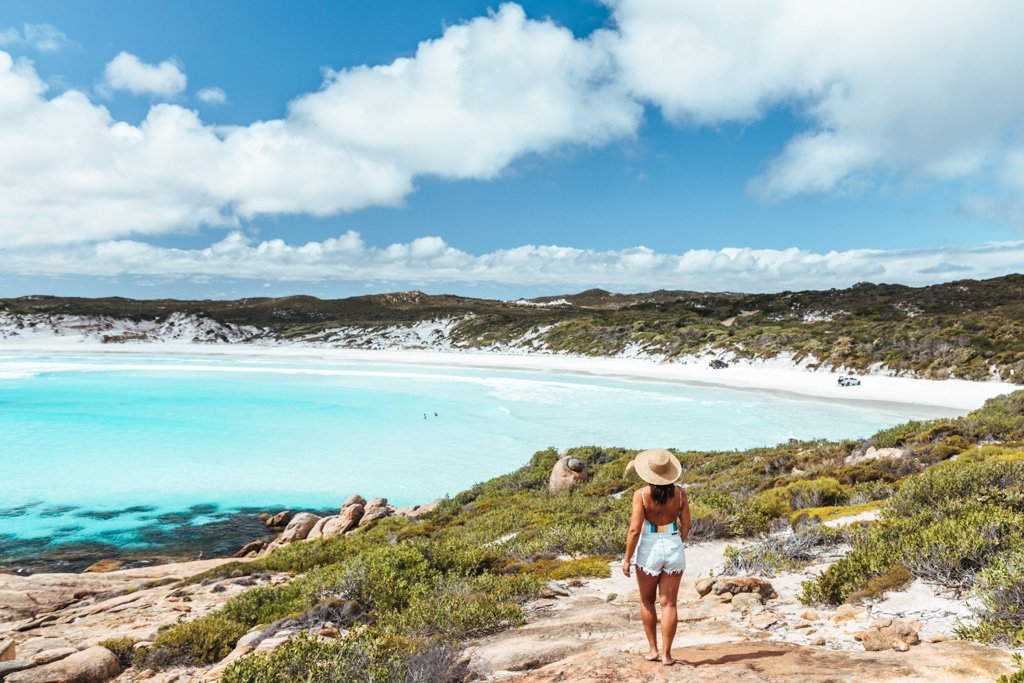 Wharton Beach.
Esperance to Perth (1-2 days)
The one downfall to driving all the way out to Esperance is having to endure the long drive back to Perth. It's about 7.5 hours without stopping, which you could do in one long day.
OR you could do what I did and break it up into two shorter days of driving, stopping along the way to see some random-ass landscapes and art.
Full details on all of the stops can be found in the blog post linked directly below, but here are a couple of them:
READ MORE IN THIS POST: Things to do on the Perth to Esperance Drive
Silo Art
The Public Silo Trail was completed in 2018 and features expansive murals painted on silos in 7 towns from Northam to Albany. If you're a big fan of street art, you'll LOVE seeking out these colorful silos like I did.
I recommend stopping at Northam, Newdegate, and Ravensthorpe while you're driving from Esperance to Perth. The full map and details can be found here.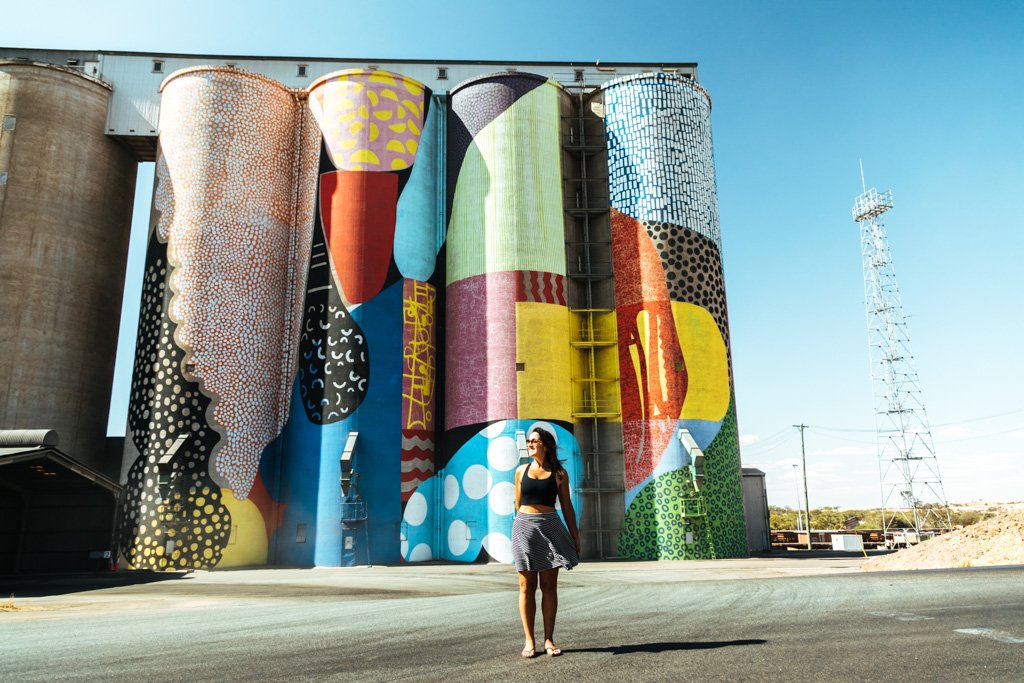 Wave Rock
Wave Rock in Hyden is the most popular stop to make in middle-of-nowhere, South West Australia.
In short, it's rock that's eroded over the course of 2700 million years and now looks like a wave you'd surf (*cue the Instagram photoshoot*). Touristy, 100% – but still worth a look if you're remotely in the area.
Buckley's Breakaway
The white cliffs and multi-colored layered rocks here reminded me of the Artist's Palette in Death Valley. Definitely an ideal place to fly your drone if you have one!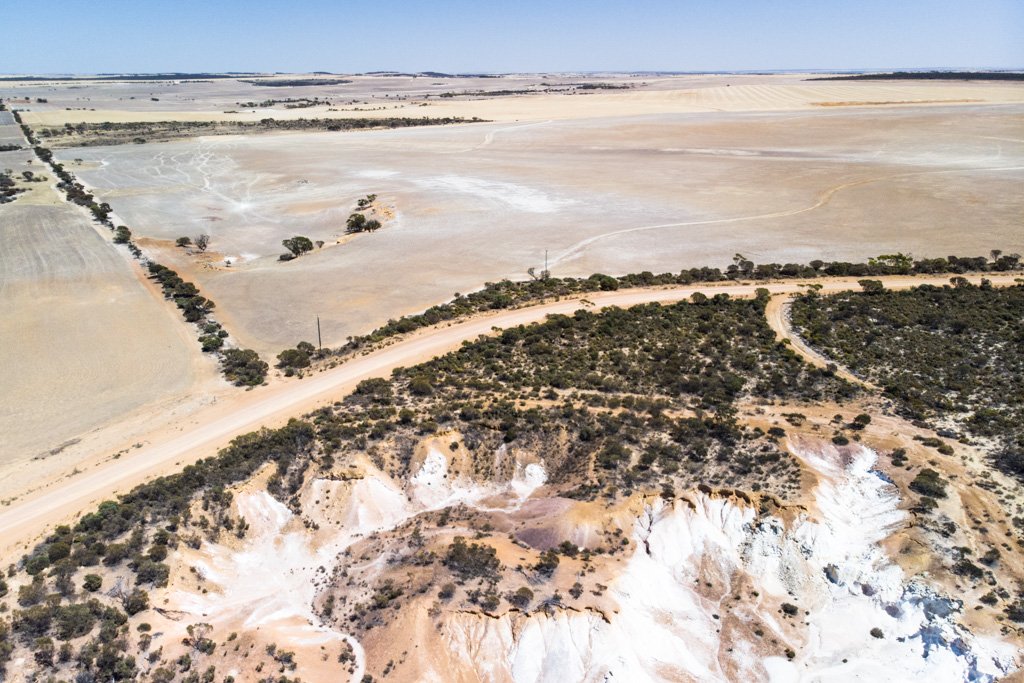 Pin it!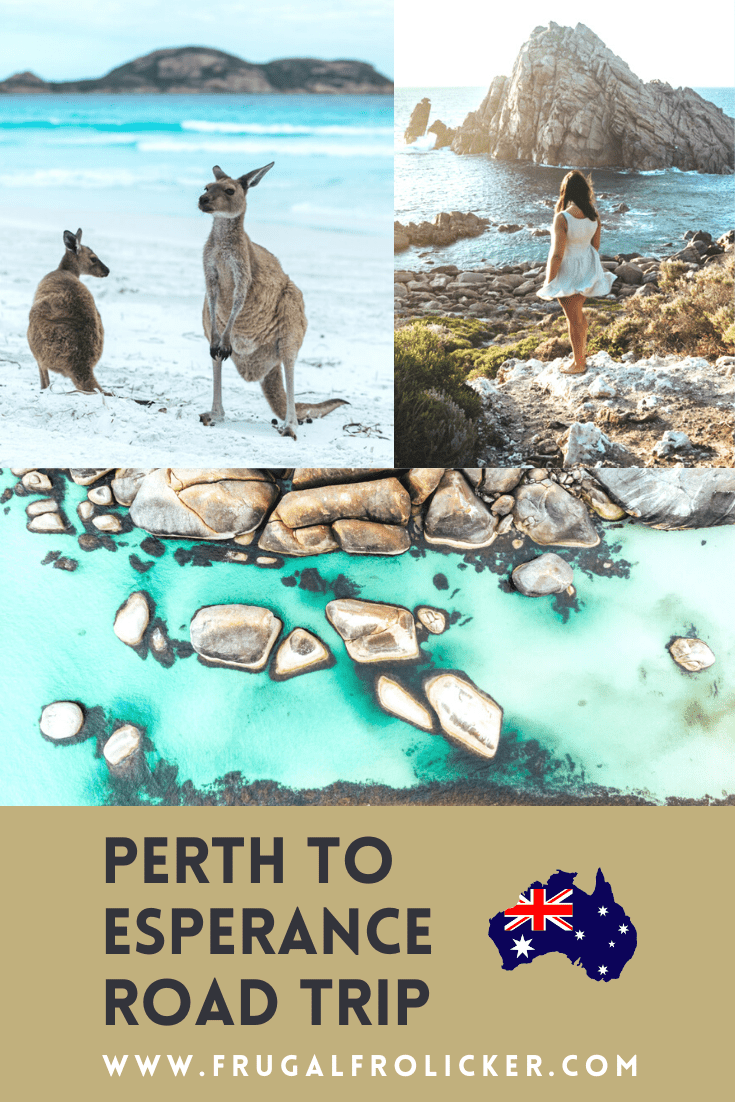 Pin it!