You guys, I think I've started this thing where I use my birthday as an occasion to discover somewhere exceedingly cool and off the radar. Y'know… like exploring amazing places in nature that SHOULD be all over instagram but mercifully are not, due to the effort required to reach them.
Last year for my 34th birthday, I coaxed my friends into navigating through a maze of dirt tracks to find River Caves Canyon, a few hours west of Sydney. None of us knew exactly how to get there, but some sketchy directions we found online combined with some notes from a book lent to us by some fellow canyoners got us there in the end.
This year, for my 35th birthday, I had what I thought was a simple, straight-forward plan to celebrate: a day at Duke of Orleans Bay, supposedly one of the best beaches in Southwest Australia, located about 1h15m east of Esperance.
But what happened in actuality was another thrilling adventure through dirt tracks, where I had NO idea where I was going but got there in the end – and it was WAY better than I had imagined!
Here's the skinny on my adventure around Duke of Orleans Bay, which is an absolute MUST DO on any trip to Esperance!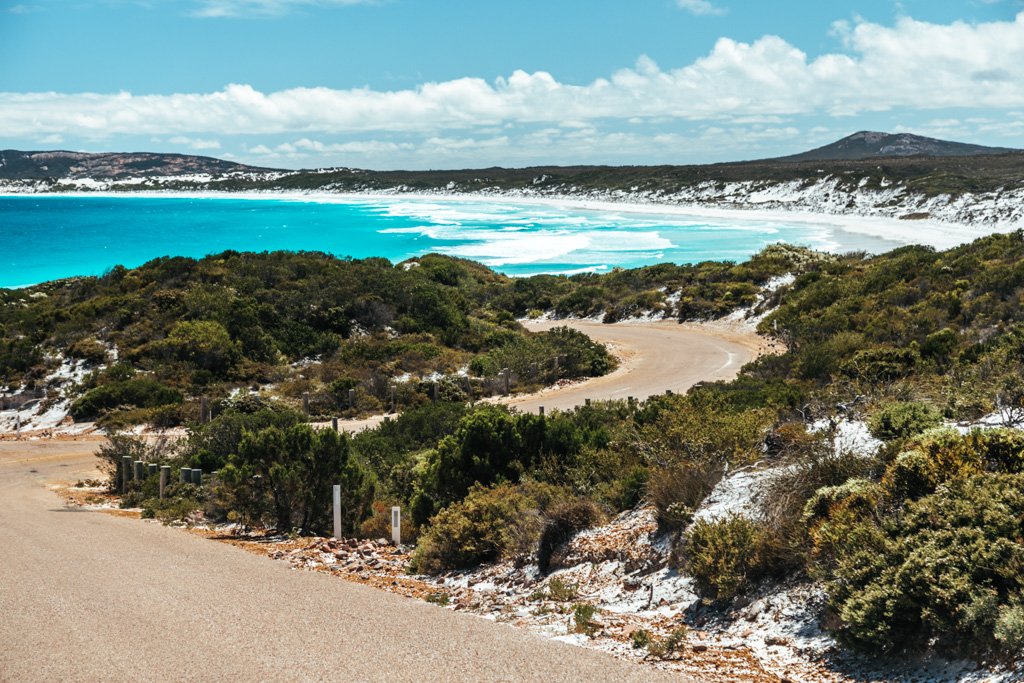 Wharton Beach
While I consider myself to be excellent with details, this is only the case if I'm conscious of them. It's like turning on the details switch: if I remember to switch it on, I will observe and recall EVERY LAST DETAIL. For example: I almost always remember where I've placed or stored things at home or in my bags. I remember birthdays of those close to me. I remember specific things my friends tell me when I can sense that they're important.
However, by default I'm more of a "main idea" kind of person. I prefer to synthesize information and data around me and remember just the few most important bits, while discarding the rest from my memory bank. It's like an energy-saving thing, or an efficiency thing. Also, I don't want to clutter my brain with useless facts!
Ok Lindsay, but why should we care that you're good with but also bad with details?, you might be wondering.
I just want you to know that this is how I am with all things travel. I remember all these places I want to visit, but not usually what specifically, or why. This lovely habit has caused me to miss out on some really epic sights in certain places I've traveled to because I didn't dig for more details on where exactly to go and how to get there.
But it's ALSO led to some crazy adventures that wouldn't have happened if I'd had the whole outing planned out in detail in advance.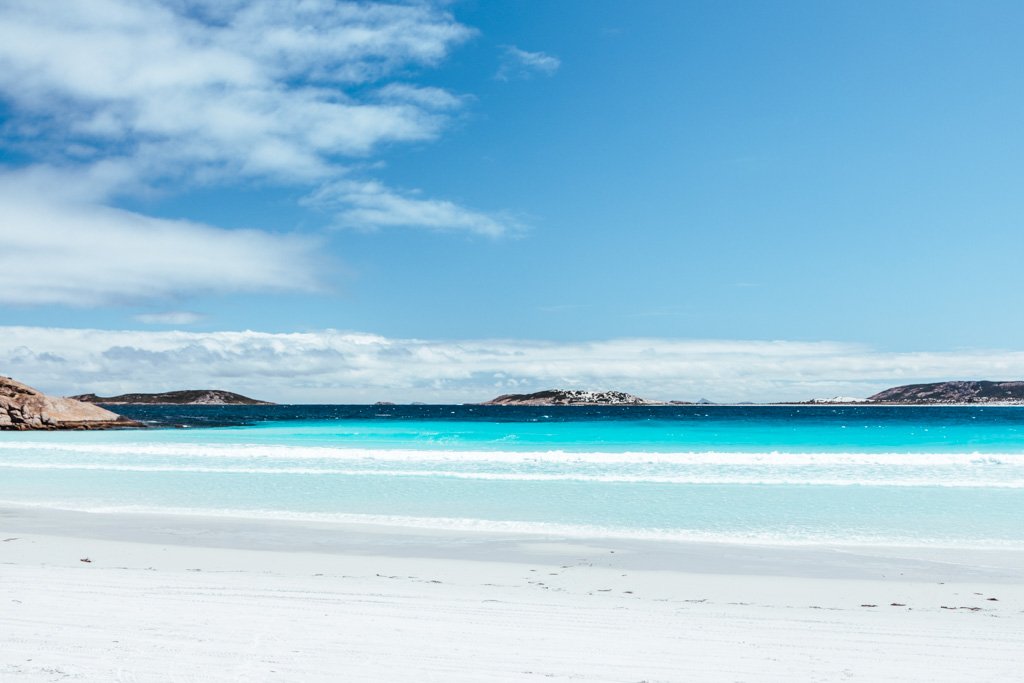 In this instance, I had "Duke of Orleans Bay = beach 😍" in the memory bank with no further details.
The night before my birthday, I got to Googling and discovered that the epic beach there is actually called Wharton Beach. The photos and reviews told me that this was definitely where I wanted to spend my first day of 35.
So the next day I drove there from Cape Le Grand National Park, where I was based for the week. Google Maps shows two parallel route options to Wharton Beach: though it seems silly to drive up to the northern route and then back down to reach the coast again, this is actually the better route to take. Fisheries Road in the north is paved, while Merivale Road in the south is mostly gravel (and partially closed off, as of February 2020). Trust me, don't take the deceptively-direct southern route to Duke of Orleans Bay; head north to Fisheries Road instead for an easier drive.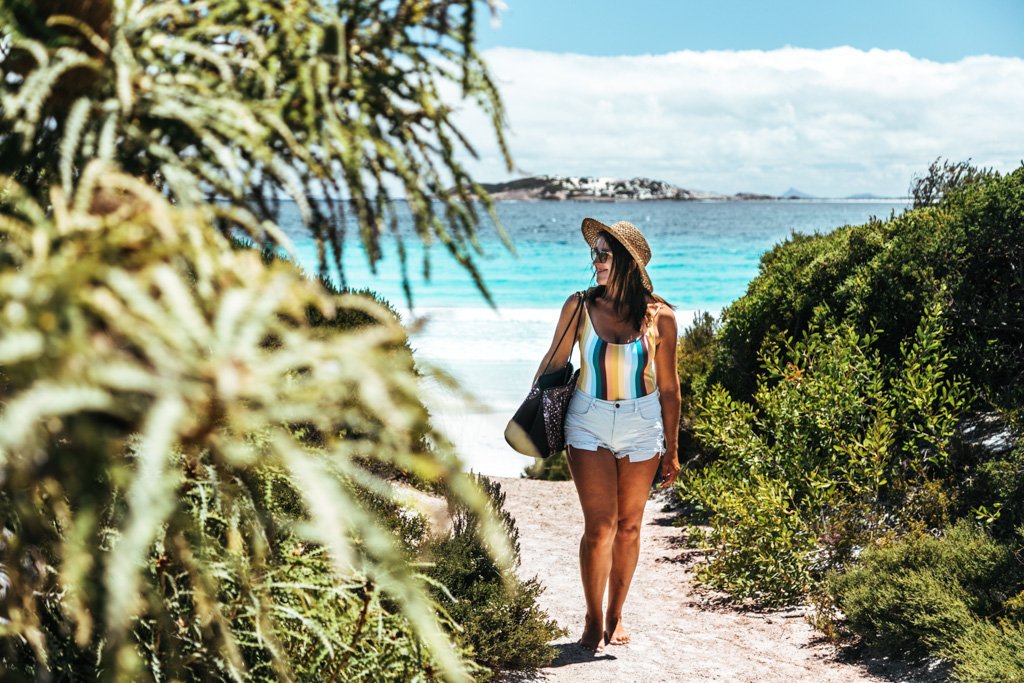 Wharton Beach is a stunner, no doubt. But after a few days of the gorgeous beaches at Cape Le Grand, I wasn't as wowed as I might have been otherwise. It looked pretty similar to what I'd already seen.
So I thought I'd try to walk around the headland and see if I could catch a view out towards Duke of Orleans Bay (which is actually on the other side of it). I'd also seen some aerial shots online of what looked like rock pools and granite outcrops – maybe these were just off the headland?
I walked as far as I could out on the headland, but the only view to be had there was of Wharton Beach from further out. GOSH IT'S SO UGLY right? (KIDDING, a million times kidding!)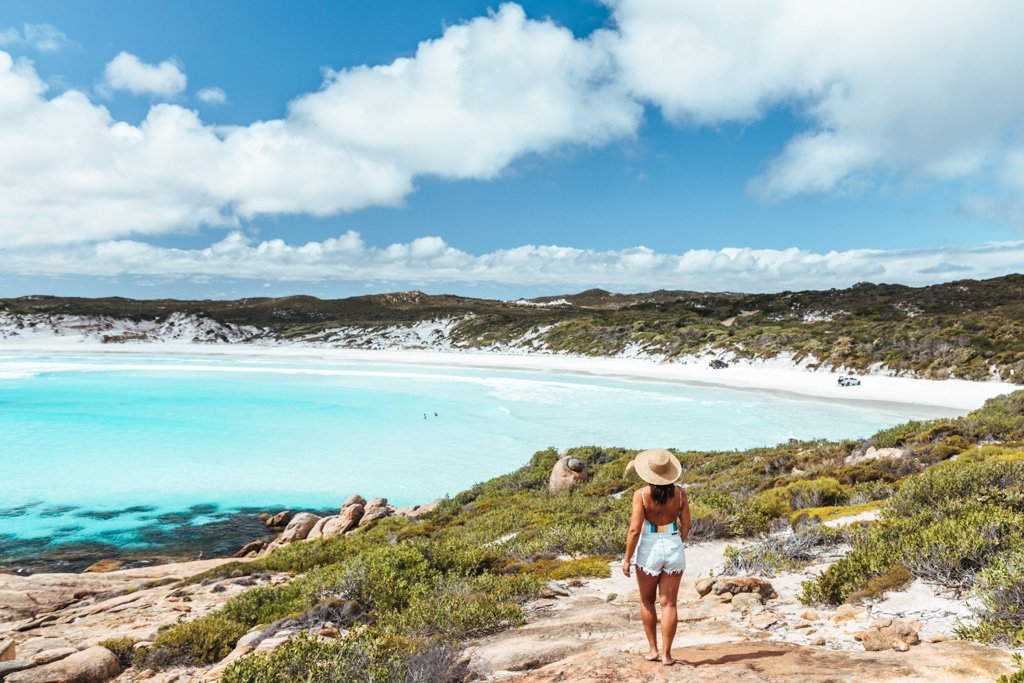 As I'm retracing my steps back to the car, where I planned to grab my beach bag and hit the beach for the afternoon, I realize that I inadvertently took a different footpath that led up to another road. I see a sign for Little Wharton Beach and a dirt road leading uphill. AHA, the way to the other side of the headland!
Like a moth to a flame, I found myself taking this road without actually having had any deliberation process in my head (i.e. there was no "hmm, should I or shouldn't I take this path?"… it was an automatic DUH).
I got to the top of the hill and OH MY SWEET BABY JESUS THIS VIEW.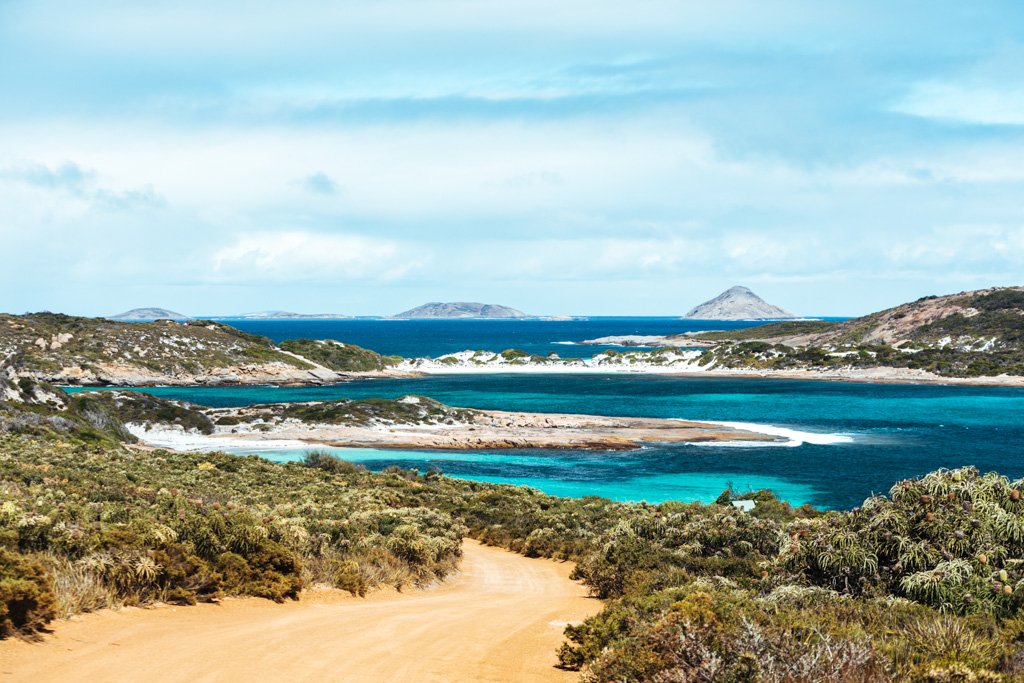 I walked all the way down the road snapping photos and flying my drone to capture the view from every-which angle. The aerial shots revealed several little beaches nestled on either side of some hills and sand dunes around Duke of Orleans Bay.
My interest was already piqued, but when I got to chatting to a couple that came over to talk to me about the drone, they told me it was possible to hike all the way around to the other side of the bay, where there was the most pristine white sand beach with the clearest water.
Ummm say no more. It's time to kick this birthday adventure up a notch!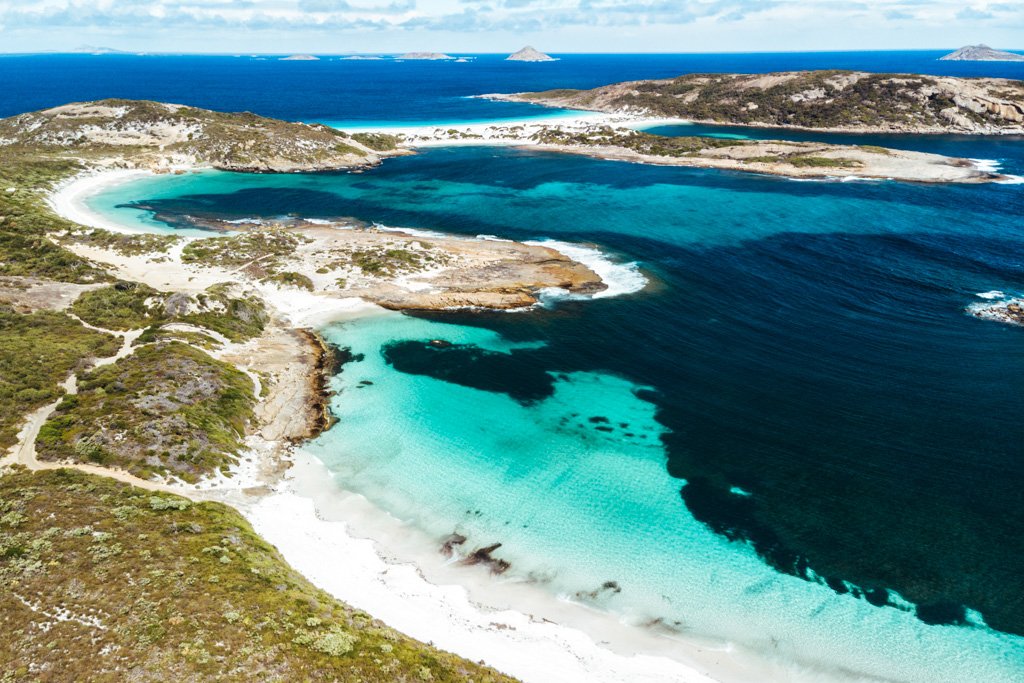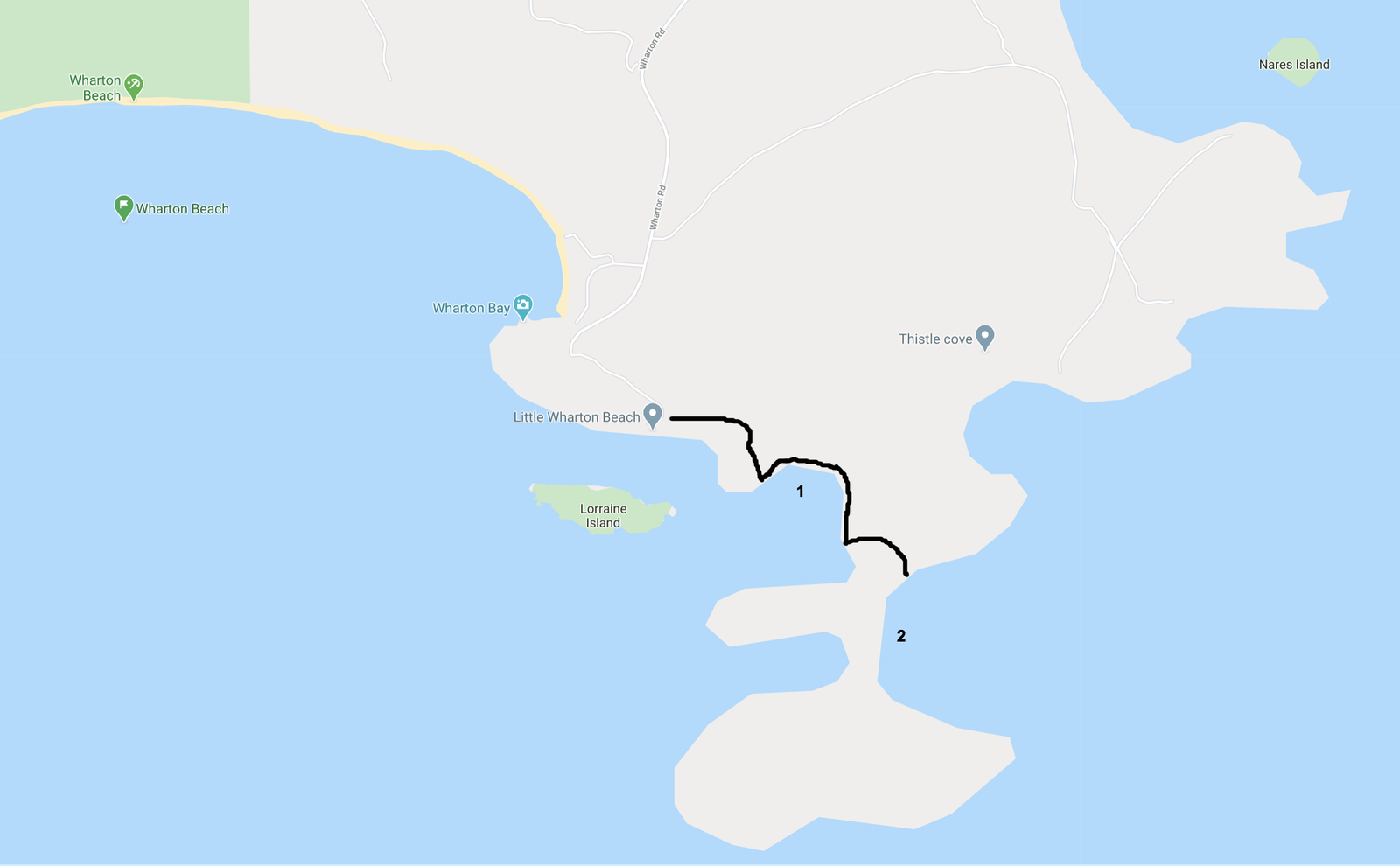 The approximate route I took to explore the beaches.
I'd already gone too far from the car to go back and grab my beach bag and water, so I carried on knowing it would be a skinny-dip and drip-dry situation if I was going to swim anywhere.
The first and I believe the only named beach I arrived at was Little Wharton Beach. This one's the least impressive of the beaches around the bay, so I carried on without stopping.
Now here's where it gets a little messy. From the far end of Little Wharton, there's a little road that leads up into the dunes to a maze of 4WD tracks. My rule of thumb when I'm hiking is to follow the most trodden path when you're presented with multiple path options, so that's what I did. It led me to a lengthy beach on the bay with super calm, clear water – aka skinny-dip location #1.
I had such a blast floating around in my birthday suit at this beach, but I wasn't sure if it was THE beach the couple had raved about. It was nice, but by no means amazeballs.
So I followed my curiosity and tried to find a way over the sand dunes to see if there was another beach there. It took me a few tries, but I finally ended up walking to the other end of the beach and finding a path up the dunes from there. Throw in another dead end path and the next thing I know, I'm scaling a tall rock face (it will be very obvious what I'm referring to when you see it in person).
At the top of this little mountain of sorts is – you guessed it! – another maze of tracks through the dunes. I don't even know how I navigated my way through – I think I might have looked at Google Maps to orient me, though I had no reception at this point. I headed toward what looked to be some beaches and coves on the map and soon found myself with the mother of all views: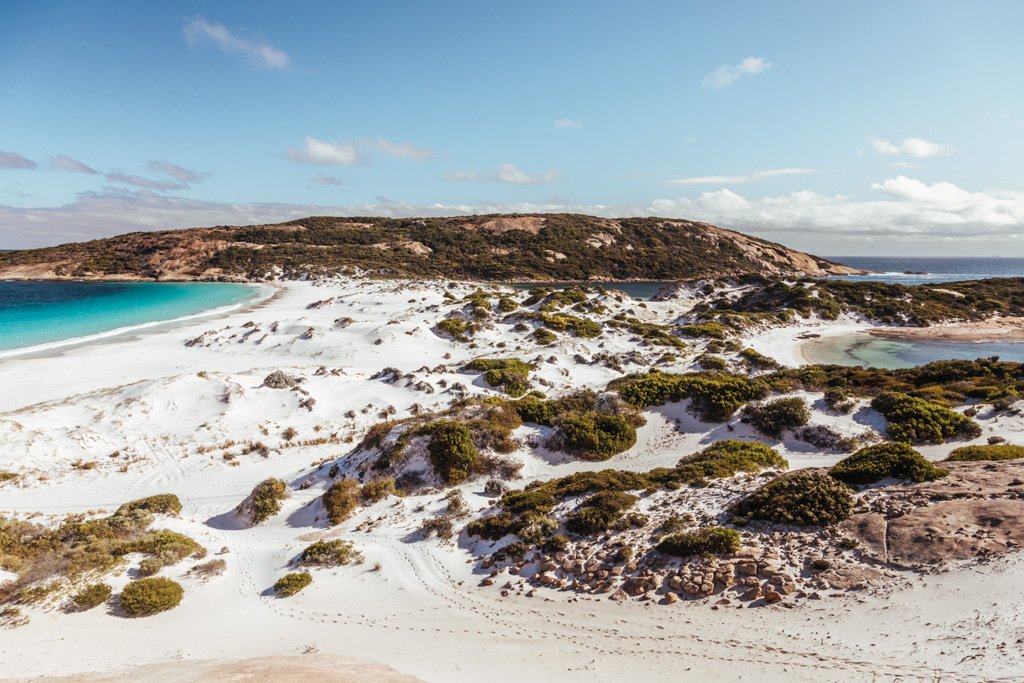 Sadly it was too windy/cloudy to fly Droney here!
With 3 beaches beckoning and not a whole lot of time left if I was to make it home before sunset (which is a VERY good idea when driving In rural Australia, where wildlife takes over the roads around dusk), I had to choose just one to frolic on. The choice was an obvious one for me. Take me to the whitest sand and turquoisiest water, please!
The final stretch of the journey to this last magical beach involved sliding down a very steep sand hill. I took a few steps down and then stopped to make sure I could climb back up before I proceeded with the descent.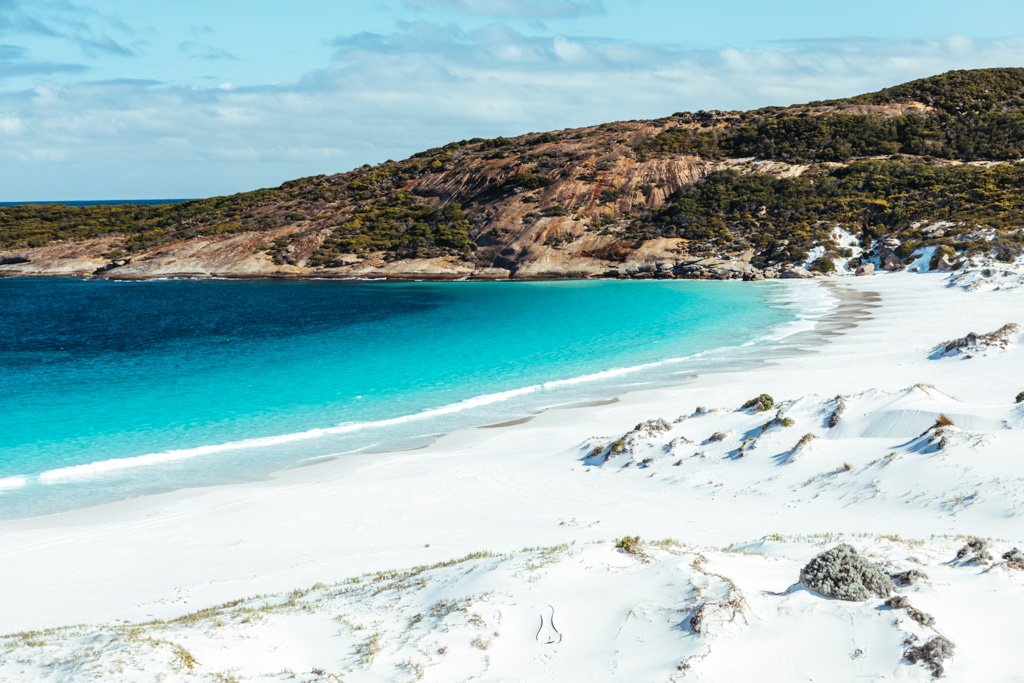 Skinny dip location #2 HAD to be the beach they were referring to. This beach damn near left me speechless. White sand, clear blue water, AND a smattering of white sand dunes all over the place? My god, what a place. What a DAY. What a way to kick off 35 :)
It only took me about 30 minutes to get back to my car from this last beach, but that's because I knew exactly where I was going and stopped for nothing along the way (unlike on the way out there!).
And yes, I did make it back before sunset! (I did brake for a few bunnies hopping across the road, though)
Traveling onwards? Check out my Perth to Esperance road trip post!
Pin it!