I don't know what or why it is, but for the past year I've had such terrible luck with weather on most of the weekend trips I had planned. Like, terrible to the point that I ended up pulling out of a few of them at the last minute due to a very-depressing weather forecast – including my own birthday camping trip last year!
So this year, I decided to plan a trip for my 34th birthday that wasn't so reliant on warm, sunny weather (i.e. no beaches). With that, I gathered my adventure babes and we set off for Wollemi National Park, close to the Blue Mountains, to explore some canyons.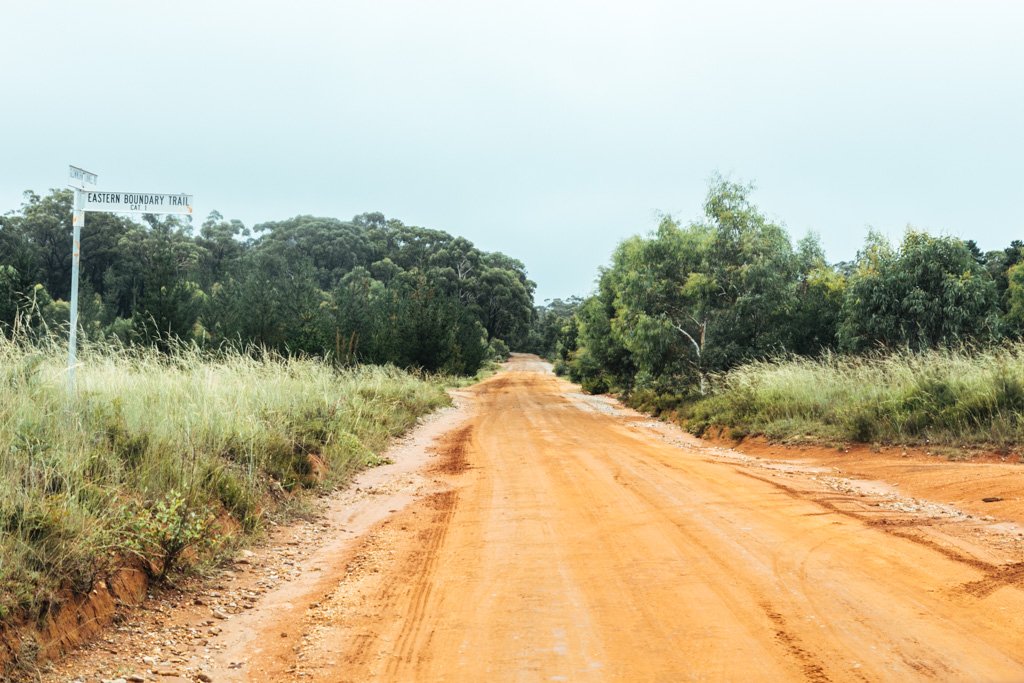 We camped at Deep Pass Campground on what turned out to be a very rainy day and night, and then the following day we set off to find River Caves Canyon on a hot sunny day.
Unbeknownst to me until, oh, the night before we left, these spots aren't so easy to find. Google Maps won't give you a route to follow because a lot of sketchy dirt roads are involved towards the end of the drive. We had to scramble at the last minute to try to find directions online, and then map it all out manually with pins. The GPS on our phones showed us when we were on vs when we were veering off this mapped track, which is all we had to go off of without Google Maps telling us where to turn.
All that to say: I will try my best to explain how to find these canyons, but you'll need to have a strong sense of adventure in order to fill in the gaps yourself once you're there. But you know, it's better this way: imprecise directions mean fewer people will venture out here, which makes it more special and hopefully better-preserved.
I promise you it's well worth it!
Deep Pass Campground & Canyon
How To Get To Deep Pass
First, drive to Zig Zag Railway – Google Maps should be able to get you here easily (it's about 2.5 hours from Sydney). You'll know you've arrived when you see a bunch of guys taking the air out of the tires of their 4WD vehicles.
From here, it's a maze of dirt tracks all through Wollemi National Park and Newnes Plateau. There are the main dirt roads, which are doable in "normal" cars (AWD or 4WD recommended though – or at least a vehicle with more clearance than a sedan); and there are the gnarly 4WD tracks just off these main roads which people on dirt bikes or in larger big-wheeled vehicles come to play (much like the time I went 4WD-ing here!).
We followed the directions from Oz Ultimate (see below), which looked super questionable but were actually quite accurate and easy to navigate. Due to our slow and cautious driving, it took us nearly an hour to get from Zig Zag to the Deep Pass car park.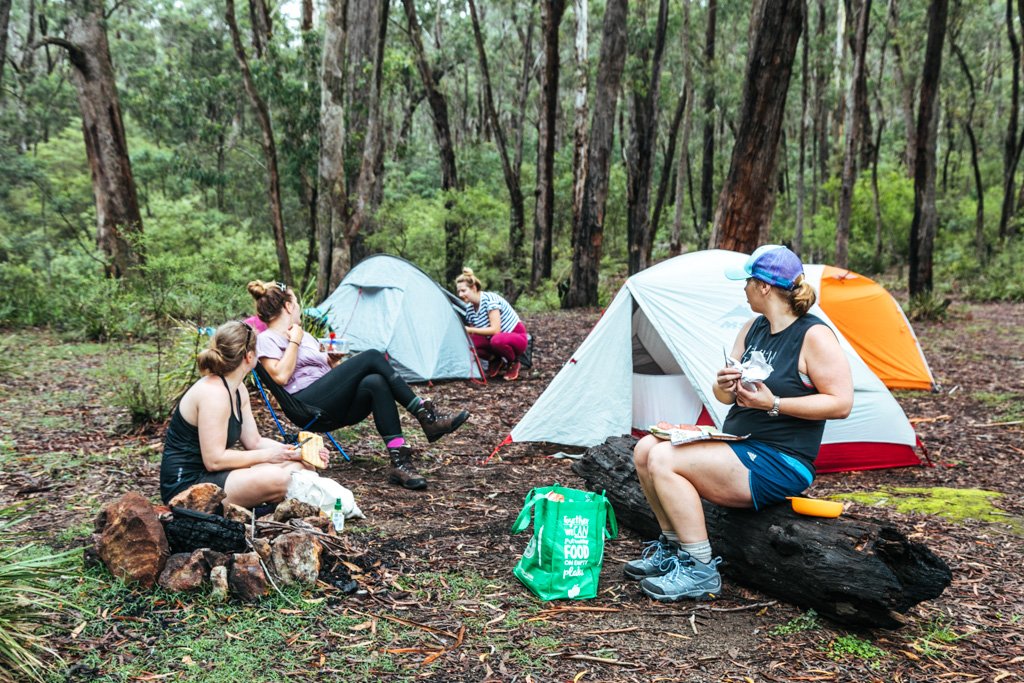 Camping at Deep Pass Campground
From the Deep Pass car park, you'll have to carry all of your food and camping gear down to the Deep Pass Campground. I was pleasantly surprised to find that it was only a 15 minute hike down (pretty sure a blog I'd read said it would take about an hour).
The campground is a widespread grassy clearing with some trees around the perimeter. There are a few trails leading into the bush to nowhere in particular, which we had fun slipping around on in the rain. Apparently there's a cave with aboriginal art on it 100m downstream, but we didn't see it.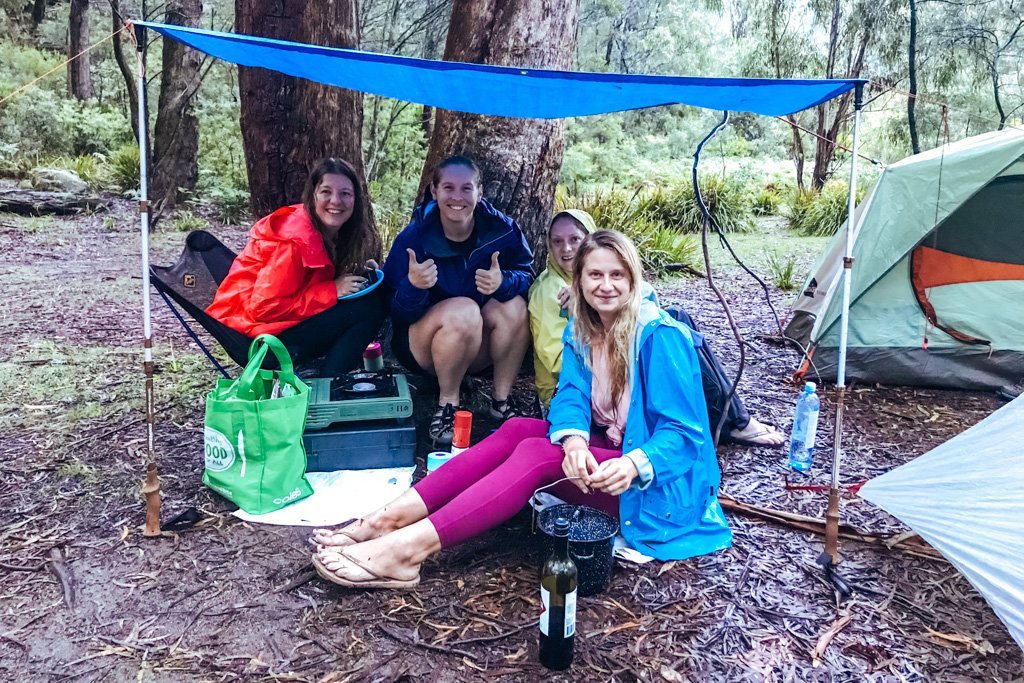 It may not look like it, but it was very wet out there!
Deep Pass Canyon
If you're going to leave the campsite for one thing, let it be to explore nearby Deep Pass Canyon.
There are no signs directing you there, but to find the trail just retrace your steps from the campground back the way you came from the car park. About a minute after you leave the campground, you cross the creek and then there is a trail on the left side (maybe ~10 steps from the creek crossing?). Follow this along the creek and you'll soon reach Deep Pass Canyon.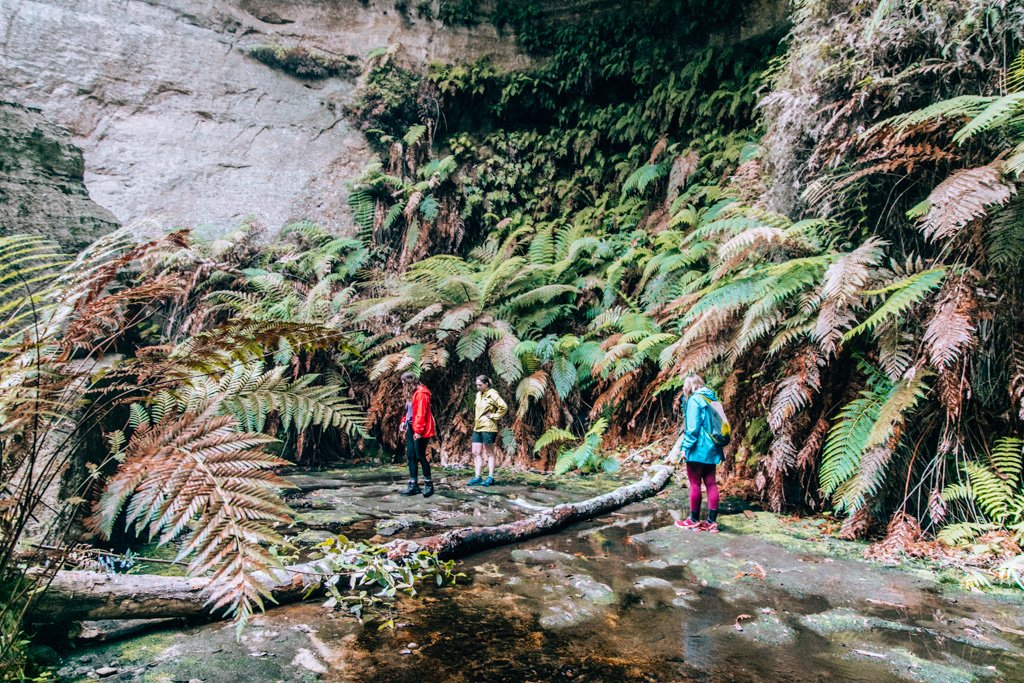 Not too far in, there is a picturesque swimming hole with a waterfall. The way forward is via the rope leading up and around the rock wall. We didn't go past this point because the rock was super-slippery in the rain and we were ill-equipped, but there are supposed to be heaps of other pools and canyon goodness further in.
From what I've gathered, you don't need any special equipment to hike further into the canyon, and there are ropes throughout that you can use to pull yourself up rock walls. I would definitely make sure you're wearing shoes with grippy soles to combat any slippery rocks you might have to climb on.
River Caves Canyon
How To Get To River Caves Canyon
From the Deep Pass Campground, there's meant to be a track that leads to River Caves Canyon that takes about an hour one-way. From what I've read, the track isn't always easy to follow – this, coupled with the fact that we couldn't even spot the start of it from the campsite, led us to find an alternate route.
Instead, we hiked out of Deep Pass with all our gear, packed it up, and drove closer to River Caves Canyon. There seemed to be two roads we could take that would lead us close to the car park at Natural Bridge, which is where the trail starts from. But because both were flooded in parts after the rain, we ended up parking our cars and walking a few extra km to the Natural Bridge car park. A proper 4WD vehicle should be fine driving through water, but we didn't want to risk it.
Thankfully we encountered someone on a dirt bike at one of these water crossings, and he offered to escort us down into the canyon. I doubt we would have known where to go without his help (though there exists a nifty book called Canyons Near Sydney that spells out the directions!).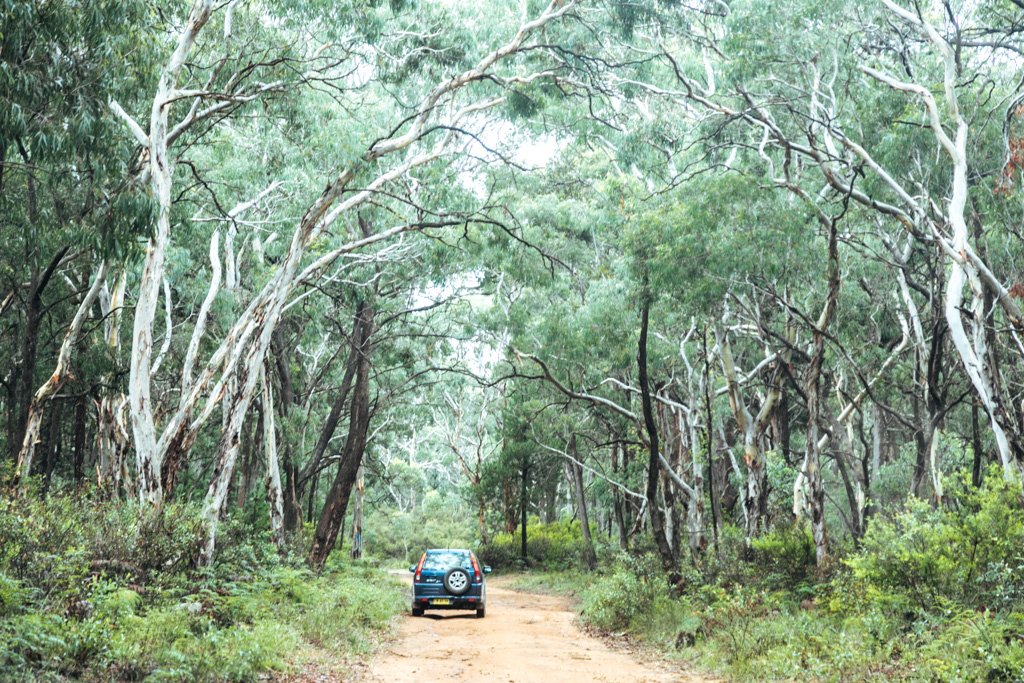 River Caves Canyon
My motivation behind this whole trip was to reach River Caves Canyon. I'd saved a bunch of images of this magical spot over the past couple years and knew that if we could manage to survive these bumpy, water-logged dirt tracks and somehow find the trail leading down, it would SO be worth it once we reached the canyon.
And boy was it ever!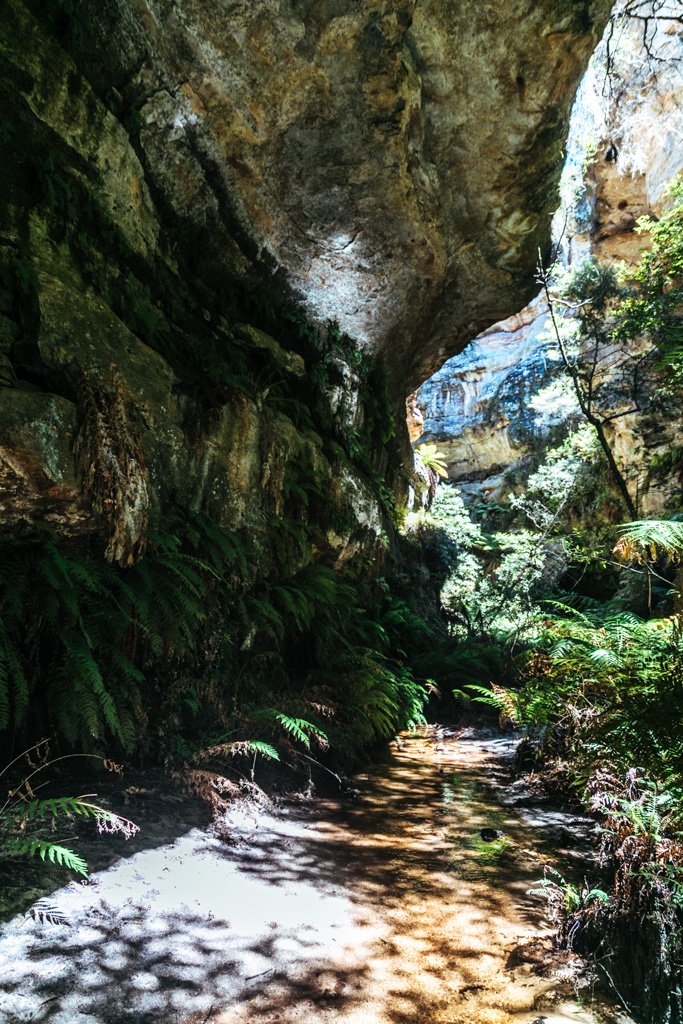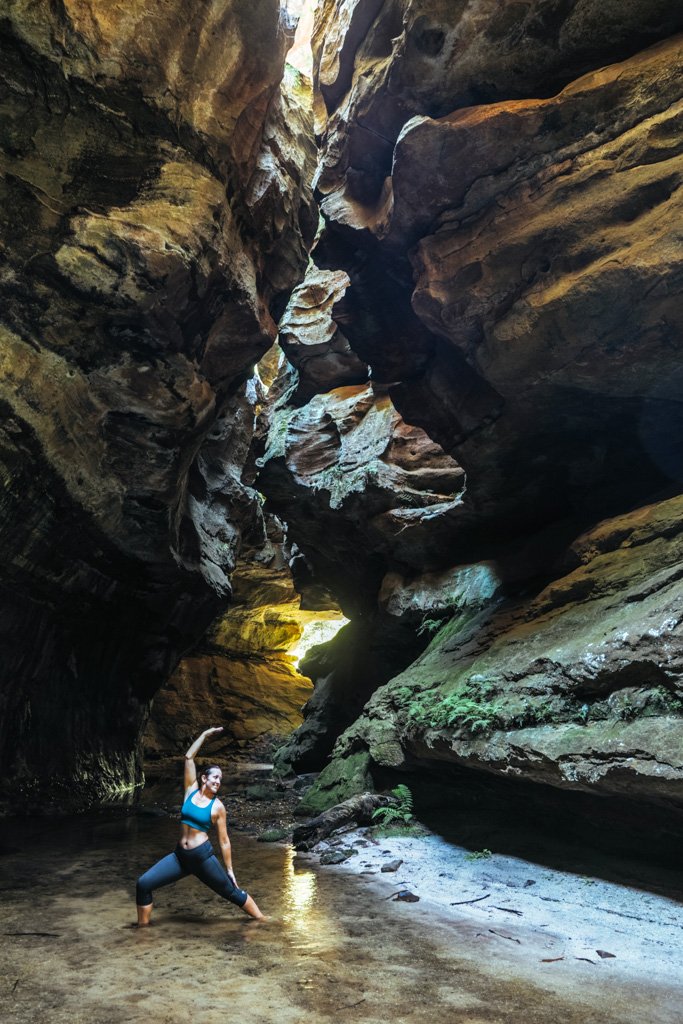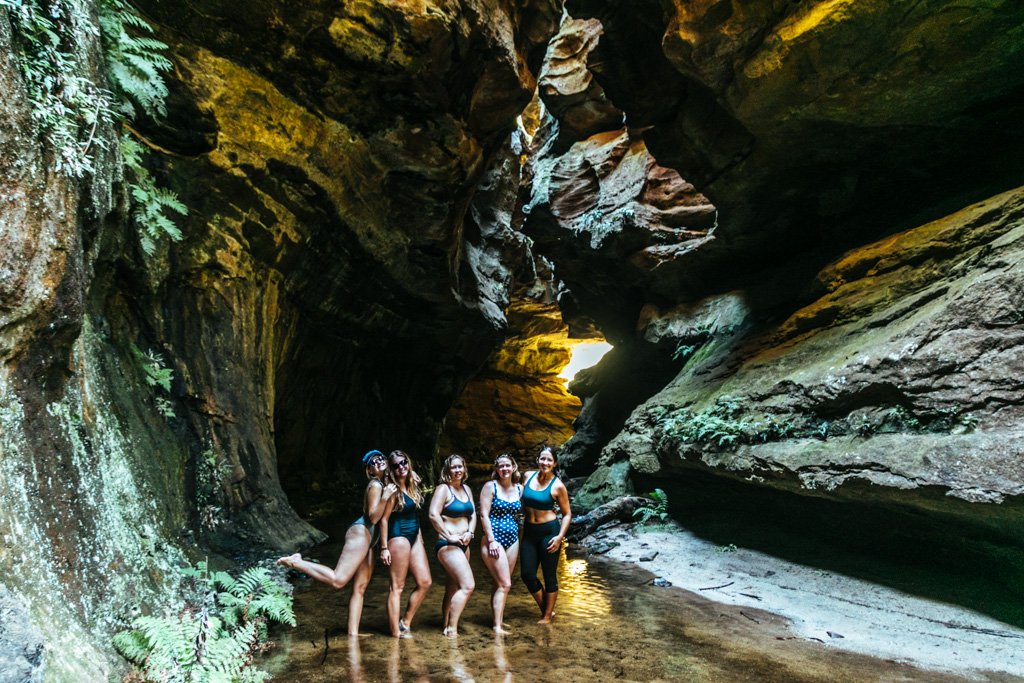 This is a very easy walk. We went the day after a rainstorm in February (summer) and the water wasn't very deep in the canyon, nor was it freezing cold, so no need for wetsuits, dry bags, or any special equipment. We were fine walking through the canyon barefoot (though for the bushwalk portion of the hike, you'll want running shoes or hiking boots).
The directions above from Canyons Near Sydney stated that the canyon walk-through is about 400m, and that you can hike down on one side and then take a trail back up from the other side. We stopped at the swimming hole with the big boulder on the right side and did not see a trail leading out, so I suspect the canyon goes a bit further beyond where we stopped. We didn't feel comfortable climbing up and around due to slippery rocks, so we just retraced our steps and left the same way we entered.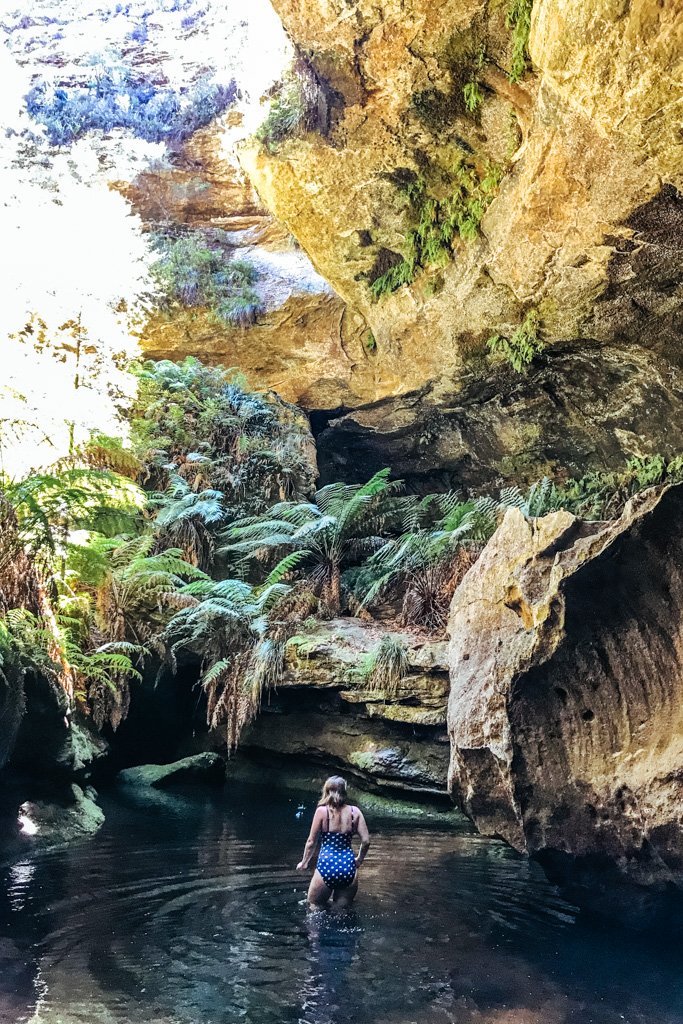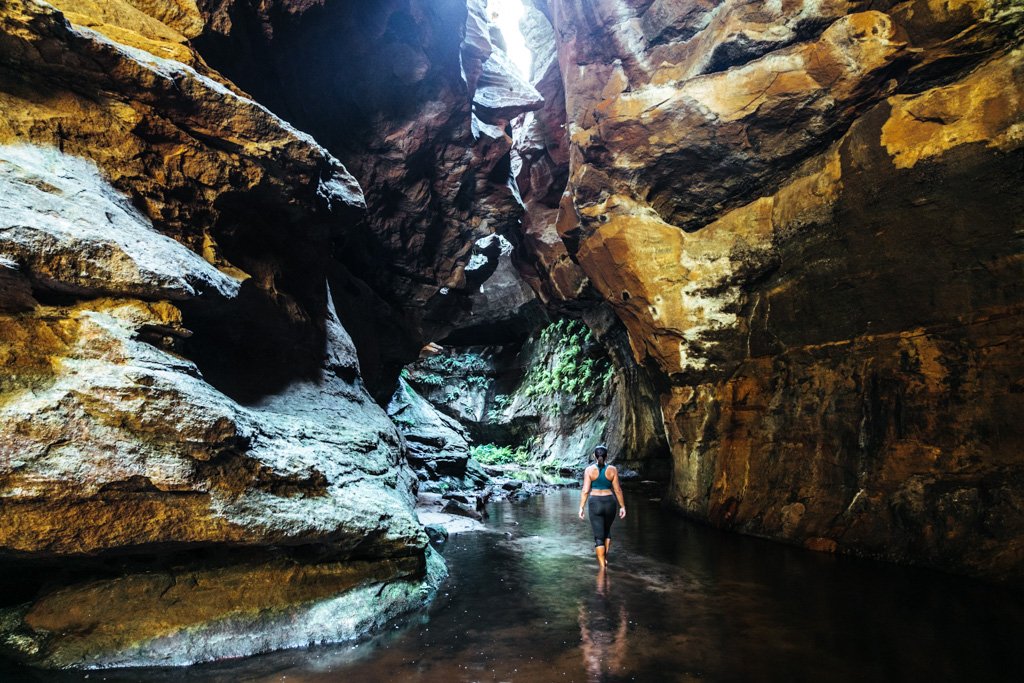 Pin it!