At a glance, Albany (in Western Australia) is a bit of a sleepy, dreary place. Known as a retirement town and plagued by frequent rain and wind, it doesn't always give off the best first impression for visitors. Plus, it's a 5 hour drive south from Perth, which is a *wee* bit out of the way – but such is life Down Under.
Albany is one of Western Australia's major cities – in fact, it's WA's oldest European settlement. There's so much history to soak up just by strolling the streets and admiring the plentiful colonial buildings, not to mention visiting the museums and galleries.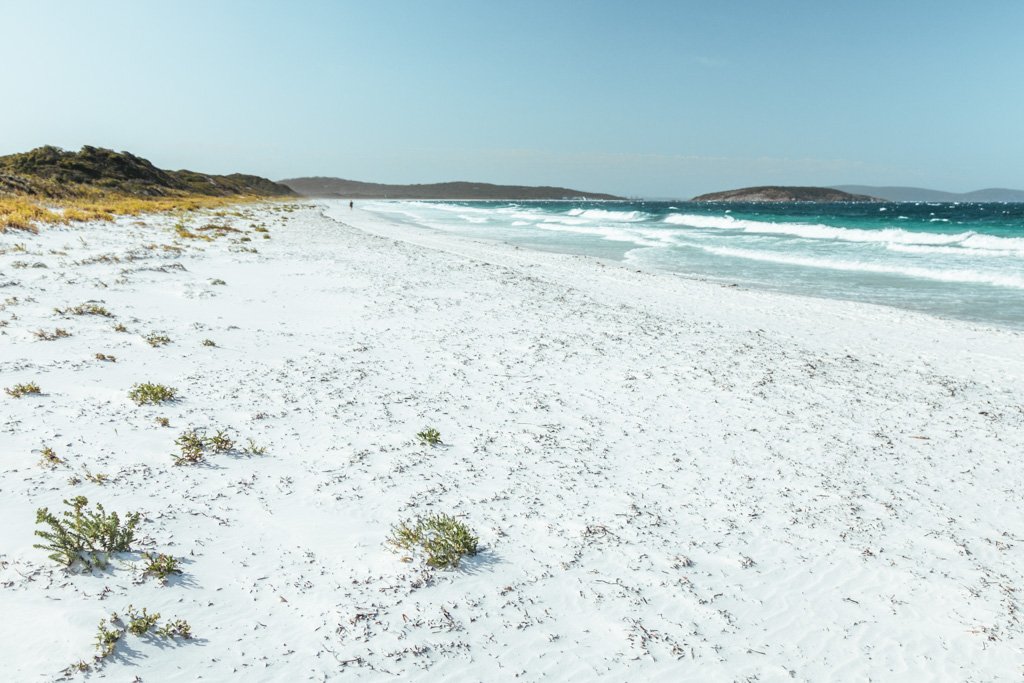 Goode Beach, near Albany.
But for me and my fellow outdoors lovers, the history is just an added bonus to all of the epic nature surrounding this city. From the dramatic windswept coastline to the 5 star beaches to the nearby mountain ranges, Albany's an ideal place from which to base yourself if you're traveling the south coast of Western Australia (also known as the Rainbow Coast, if the brochures I snagged from the tourism office are to be trusted).
In this post, I've compiled a list of things to do in Albany, which also includes sights within an hour's drive from town – perfect for half or full day trips from Albany.
With Albany as the base for your South Coast WA travels, here are a few dozen adventures to be had in and around town:
Things To Do In Albany
Historic Whaling Station
Once a whale processing factory, Albany's Historic Whaling Station is now a museum where you can tour the old factory and learn more about whales and the whaling industry. It's situated on Frenchman Bay, about a 20 minute drive from the town centre.
Australian Wildlife Park & Regional Wildlife Garden
Included with admission to the Whaling Station is access to the Australian Wildlife Park & Regional Wildlife Garden… so why not visit all 3 and make a day of it?
Oysters and Wine
Albany and its surrounds are known for their incredible oysters and wine. WA's only real rock oyster farm just happens to be in Albany, so this is the freshest you'll find oysters in the state. Try some from Oyster House on Emu Point.
As for wine, the south coast of WA produces some excellent wines in what's known as the Great Southern wine region (which, fun fact, is Australia's largest wine region!). It's known for its Riesling, Chardonnay, Cabernet Sauvignon, Pinot Noir, Shiraz, and Malbec. You can sample local wines at most restaurants in Albany, or visit some of the cellar doors just outside of town (e.g. Wignalls Wines) or further afield near Mount Barker and the Porongurups.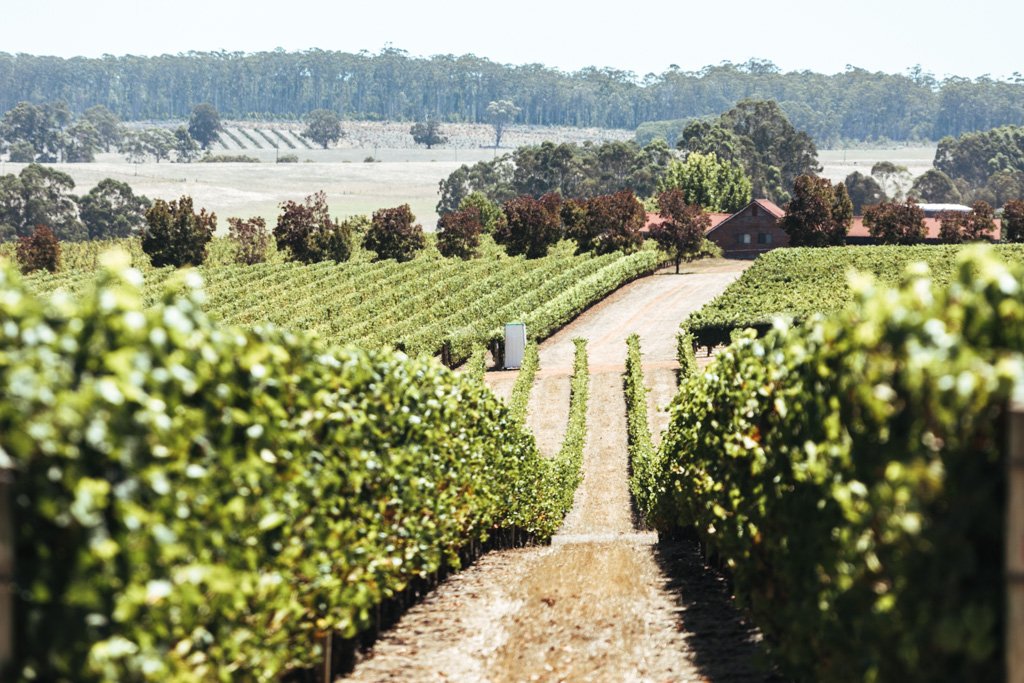 Award-Winning Fish & Chips
You know what else Albany does well? Fish and chips!
Sample some of the best fish and chips in Australia (really, they've won awards to prove it!) at Hooked on Middleton Beach or at Ocean & Paddock. I had fish and scallops from the latter and they were AMAZING.
Albany's Town Beaches
While some of the best beaches in Western Australia happen to be within an hour of Albany, the city has a few of its own beaches which, as far as city beaches go, are actually pretty impressive.
Middleton Beach and Emu Point Beach are both picturesque, well equipped with facilities and cafes, and sheltered from the surf as they are nestled along the bay rather than the open sea.

Emu Point Beach, Albany.
Coffee at Vancouver Street Cafe
Don't worry guys, I did copious field research to discover the best coffee in Albany WA – and boy did I hit a goldmine!
Vancouver Street Cafe is where you'll find the best cup of coffee in town. I loved it so much that I stopped in several times during my South Coast WA trip. I may have been half the age of the average patron, but nevermind that – it ended up being an ideal place to work and caffeinate.
Vegan Eats at The Alkaline Cafe
I'm not a vegan food snob like I am a coffee snob, but I do enjoy eating plant-based especially when I dine out.
Suffice it to say I was VERY excited to stumble upon Alkaline Cafe (which I swear I didn't find on Instagram, but is totally the sort of cafe that would be deemed "Instagrammable"). This cafe has all sorts of seating options, lots of plants, and retro decor – it's the kind of place you can easily wile away an entire afternoon.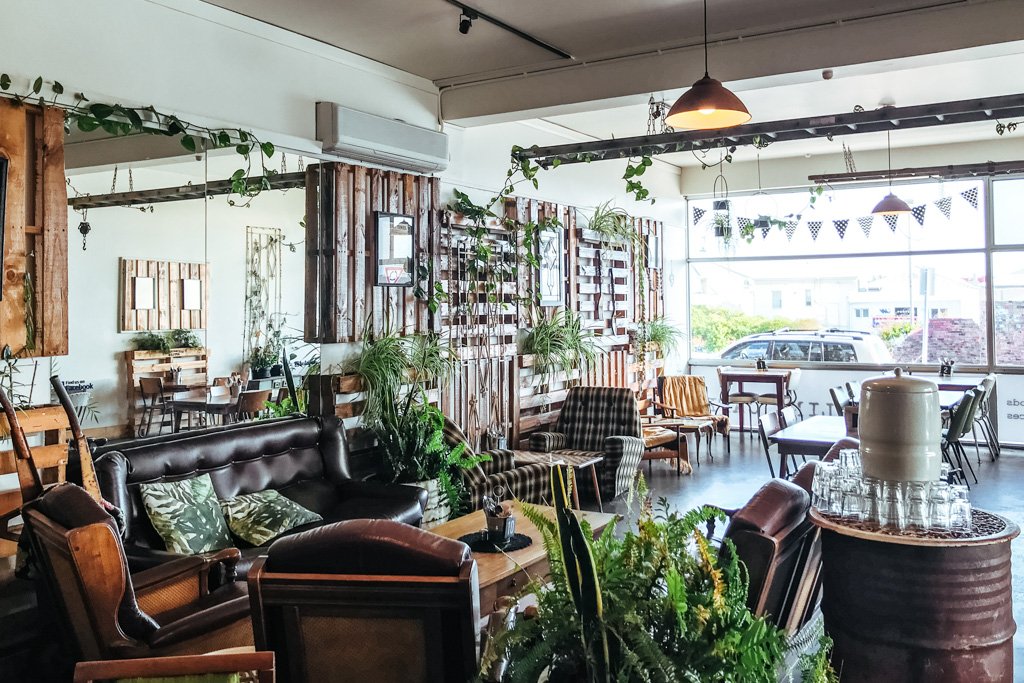 Alkaline Cafe.
And oh, in addition to being vegan, their menu is also gluten-free. And every single item sounds INCREDIBLE. I went with the jackfruit tacos and was not disappointed.
Street Art in Albany
If you go crazy over street art like I do, you'll be thrilled to know that there's plenty of street art in Albany, WA.
Firstly, one of the silos on WA's silo art trail is located in Albany, near the waterfront.
Additionally, the urban art project has injected a little color into the streets of Albany in recent years. Take a stroll in the city centre and you're bound to spot some of the murals, otherwise check out this map for specific locations.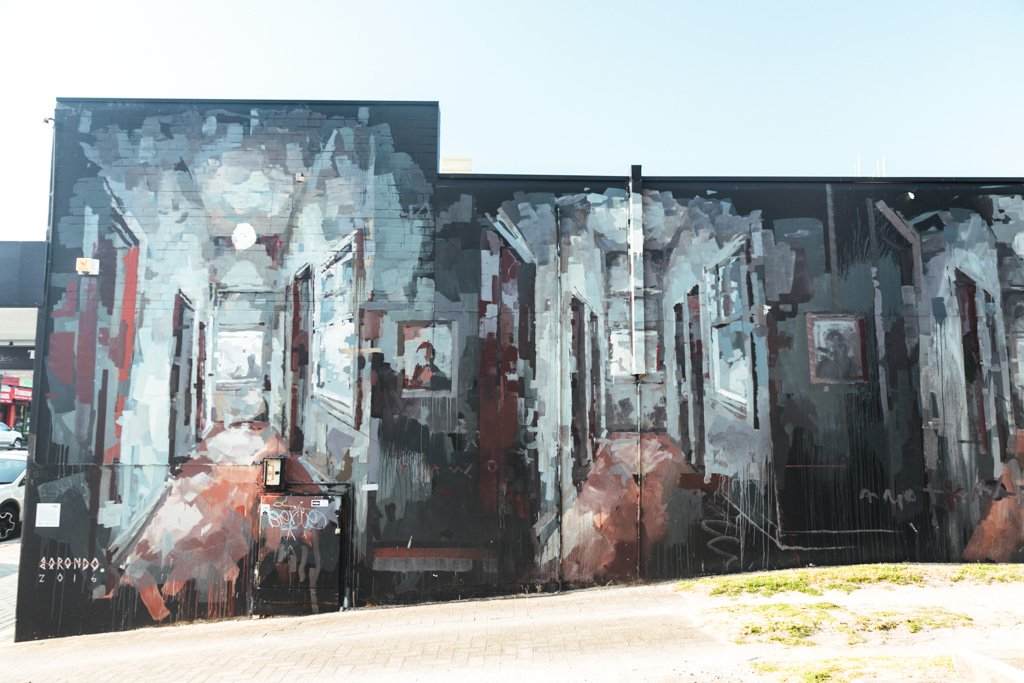 Weekend Markets in Albany
If you're in Albany on the weekend, be sure to check out one of their weekly markets:
Scuba Diving
The HMAS Perth II is considered one of the best wreck dives in Australia, and it sits just off the coast of Albany.
If you want to dive here, you must either obtain a permit or book onto a charter boat with Southeast Diving Supplies or Albany Dive.
Whale Watching
From July to October (that's winter and early spring in Australia), southern right whales and humpback whales can be spotted from the shores of Albany, or up close on a whale watching cruise.
Heritage Buildings
Albany was WA's first colonial settlement, and fortunately many of its old heritage buildings have been preserved. Many are now being used as hotels, pubs, and storefronts, which you'll easily spot if you spend any time exploring the city centre.
Just follow the Heritage Walk Trail, an easy loop walk around town that passes by the Old Gaol (jail), St. John's Church, and the old gold rush buildings.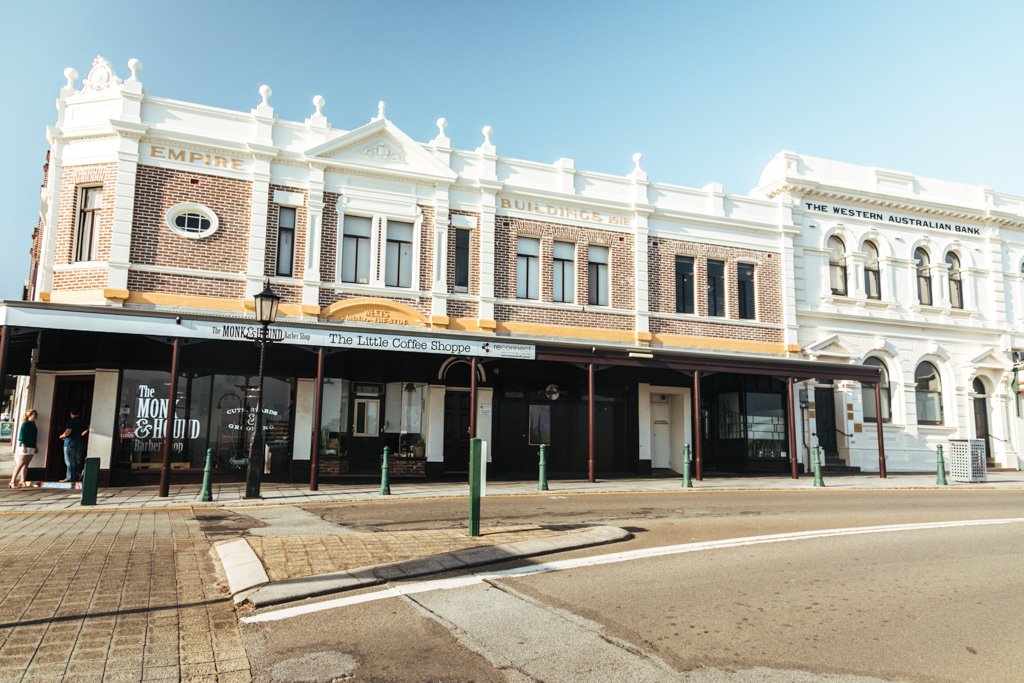 Albany Heritage Park
Want more history? Roam the grounds of beautiful Albany Heritage Park, featuring historical monuments, military installations, scenic lookouts, and walking trails.
National ANZAC Centre
Located in the Princess Royal Fortress within Albany Heritage Park is the top museum in Australia, the National ANZAC Centre, "an award-winning facility that uses multimedia, interactive technology and historical artefacts to create a deeply personal connection with the past, as well as pay tribute to those who served."
In short, the museum commemorates the war without propaganda, offering visitors an interactive experience within a beautiful modern building that has sensational views over King George Sound. Tickets are $25.
Mount Clarence Heritage Trail
Also contained within Albany Heritage Park is Mount Clarence, which you can summit via the Mount Clarence Heritage Trail, an easy 3.2km loop. Sweeping views of Albany and King George Sound (as well as the mountain ranges to the north, on a clear day) await from the top.
Limeburners Distillery
On the drive from Albany to Torndirrup National Park you'll pass by the award-winning Limeburners Distillery, which boasts world class whisky and offers tastings and gin blending classes for visitors.
(Note: Limeburners is part of the Great Southern Distilling Company, which has 3 locations in WA).
Albany Wind Farm
For sweeping views of the coastal cliffs of Torndirrup Peninsula, you MUST do the Albany Wind Farm walk. Yes, it'll be very windy – but it's SO worth enduring for the spectacular scenery and the chance to spot whales (during winter months). Seeing the turbines up close is pretty cool, too.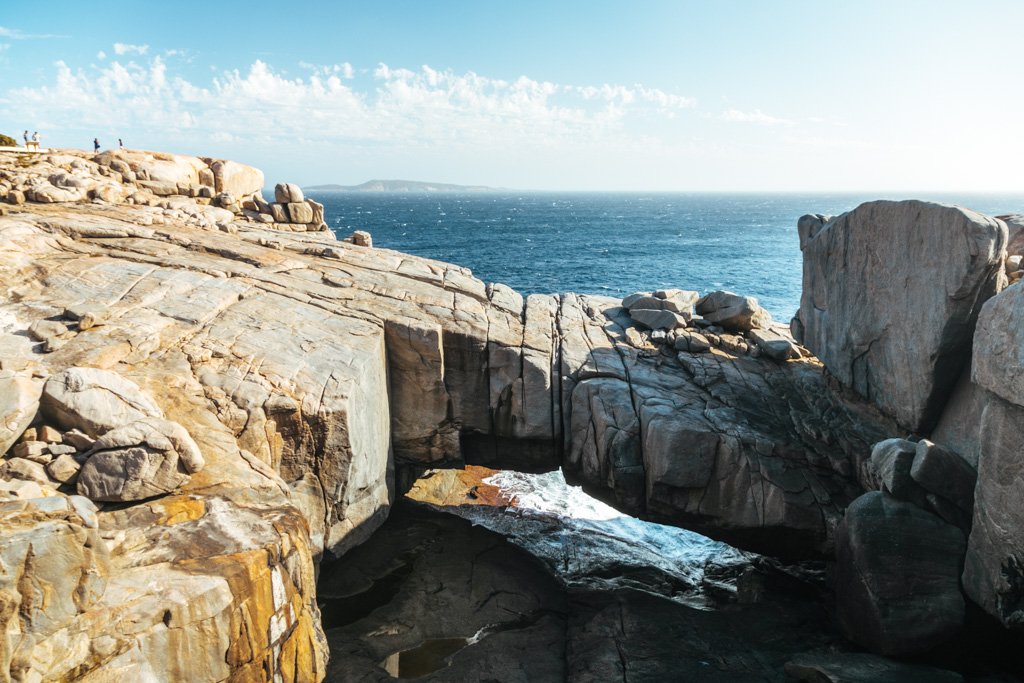 The Gap & Natural Bridge
Two of the major natural landmarks of Torndirrup National Park can be found in one spot on the peninsula. The Gap and the Natural Bridge are two dramatic rock formations that can be safely admired from behind a railing.
Frenchman Bay Beach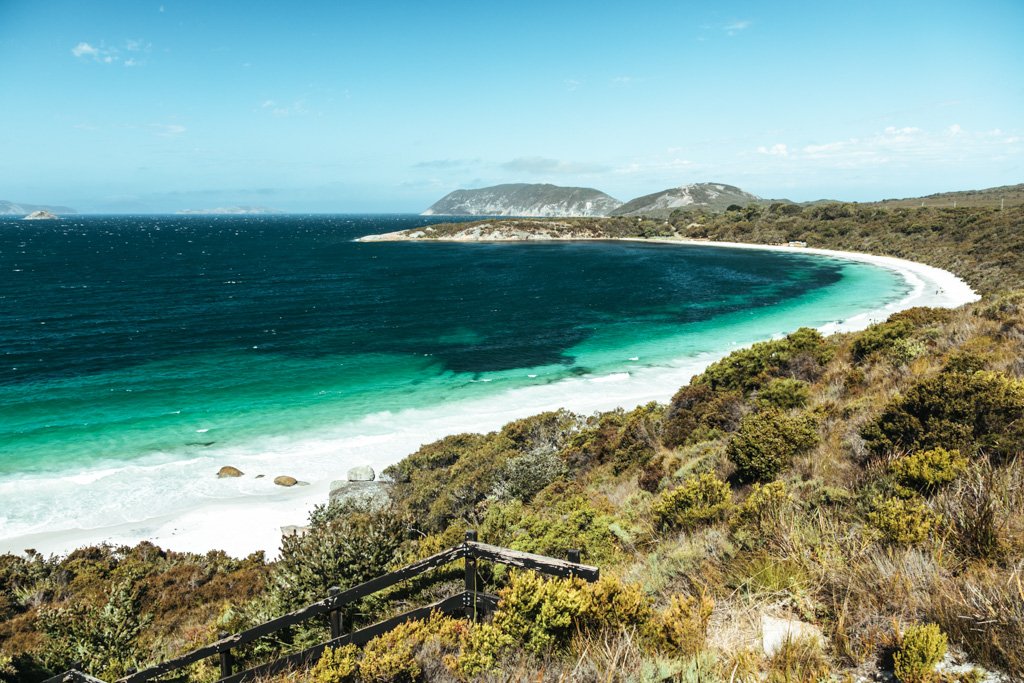 If you visit on a calm day, Frenchman Bay is up there with the best beaches in Western Australia (think: the WHITEST sand and the BLUEST water).
But if you're unlucky like I was and visit on a cloudy windy day, it looks a little drab… in which case I'd recommend heading to nearby Goode Beach instead, which has sand dunes that look pretty no matter the weather.
Bald Head Walk Trail
This one's an absolute must-do if you love outdoor adventure! It's one of the best things to do in Albany for SURE.
At the very end of Torndirrup National Park you'll find the trailhead for the Bald Head hike, which is 12.5km return and not too difficult (just watch out for the steep rocky bits!).
The trail runs part way out the Flinders Peninsula and back, serving up views of the beaches and calmer waters on the bay side and rugged granite cliffs and rough surf on the ocean side.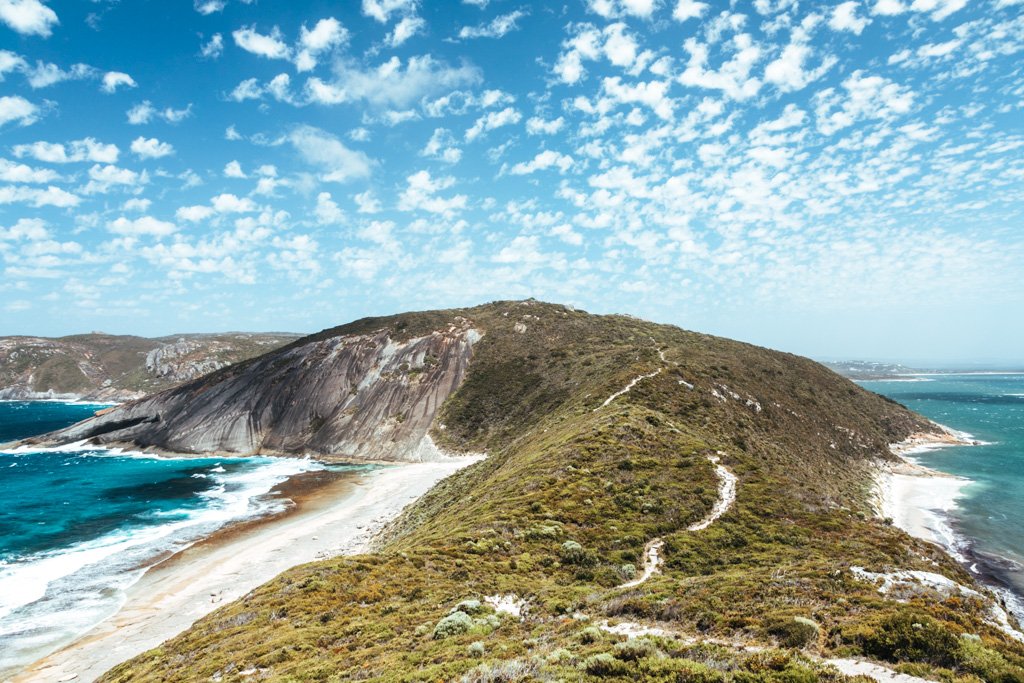 Stony Hill & Peak Head Hike
If you're not up for a big hike, you can always opt for the quick hike to Stony Hill and Peak Head
This may be an an easy .5km loop, but it still delivers incredible 360-degree views of the surrounding landscape.
Things To Do Just Outside Albany
I've separated these items from the rest of the list because they're technically not in Albany, but are only 30-45 minutes from it: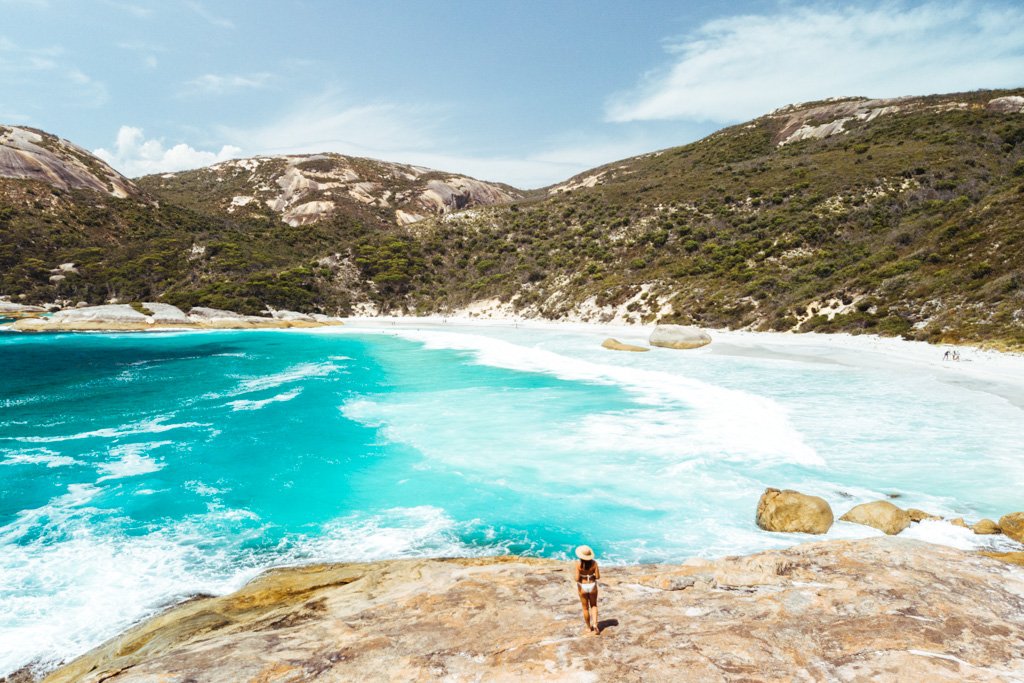 Little Beach
Little Beach is located inside Two Peoples Bay Nature Reserve, which is about a 40 minute drive from Albany. It is one of the best beaches in Western Australia, both in my books and most everyone else's.
If you can't make it all the way to Esperance, Little Beach is similar to the beaches out there: think impossibly turquoise water, granite headlands and boulders, and white sand.
Don't miss the neighboring Waterfall Beach, which you can access via a path from the far end of Little Beach. If the surf is rough like it was when I visited, you'll likely find calmer water at Waterfall Beach that's safer for swimming.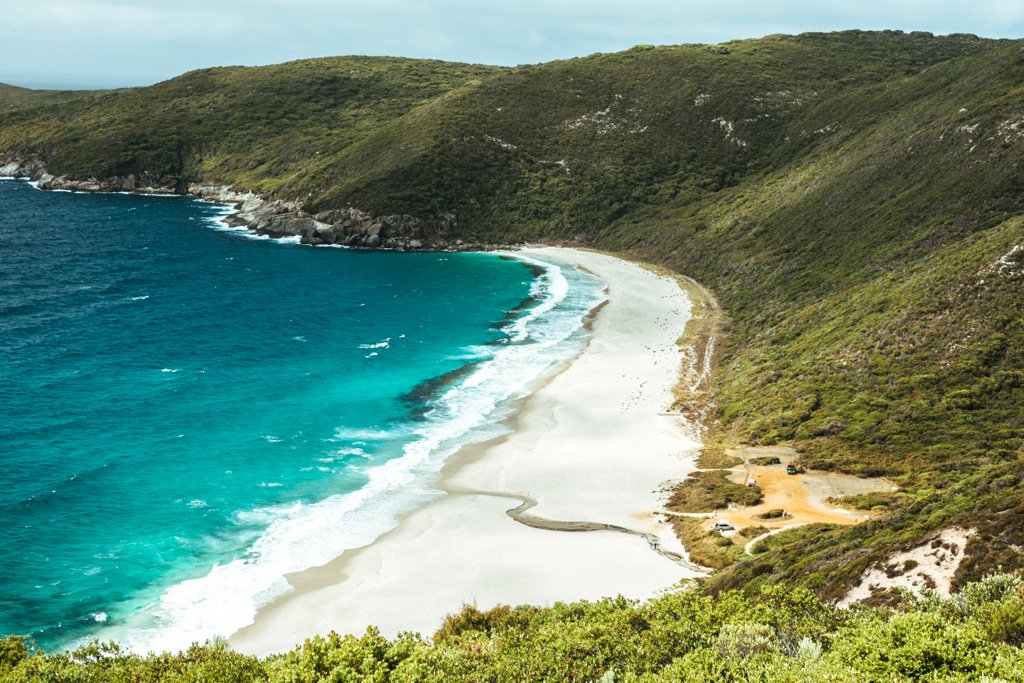 Shelley Beach
If you're camping, I highly recommend spending a night or two at Shelley Beach Campground in West Cape Howe National Park. The drive in gets VERY bumpy toward the end, but you'll soon be rewarded with a beachfront campsite. No exaggeration, the sand was literally right next to where I parked my van.
You can't pre-book a site, you just turn up and someone should come by in the morning to collect payment (though no one did the 2 nights I stayed here). It's $11/night per person.
Day Trips From Albany
In addition to the dozens of awesome things to do in Albany, there are also several worthwhile excursions nearby that are within 1.5 hours' drive from town. Here's what else you can do on your visit to South Coast WA: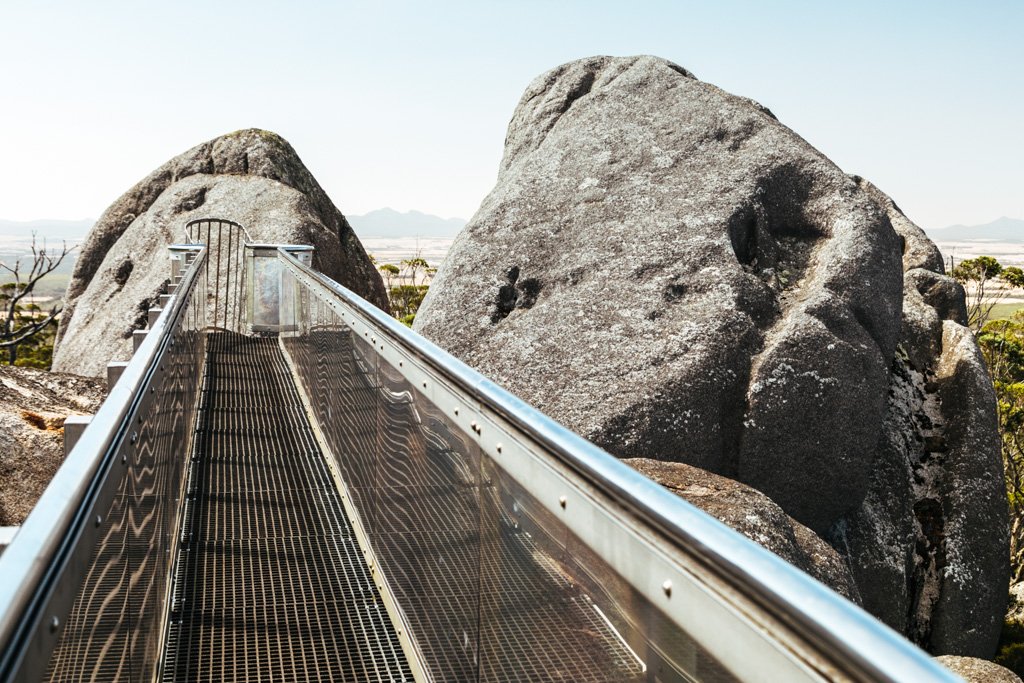 Porongurups
The Porongurups are about 35min north of Albany and worth visiting for two things in particular:
Castle Rock Granite Skywalk – A popular walk in the Porongurups involving a slightly nerve-wracking climb through and up boulders to reach a viewing platform that looks out over the countryside.
Wine – This is one of the subregions in the Great Southern wine region, so be sure to stop at a winery while you're in the Porongurups.
Stirling Ranges
Sadly I visited the Stirling Ranges shortly after the December 2019 bushfires so some of the park was closed off, including access to Bluff Knoll. If you're luckier, definitely prioritize this hike: It's 6km return, takes 3-4 hours, and is the highest peak in Southwest Australia (with epic views to match the effort).
The drive through the park is worth doing even if you can't/don't do any hiking: there are some lookouts you can stop at along the way, or you can just sit back and admire the scenery from your vehicle.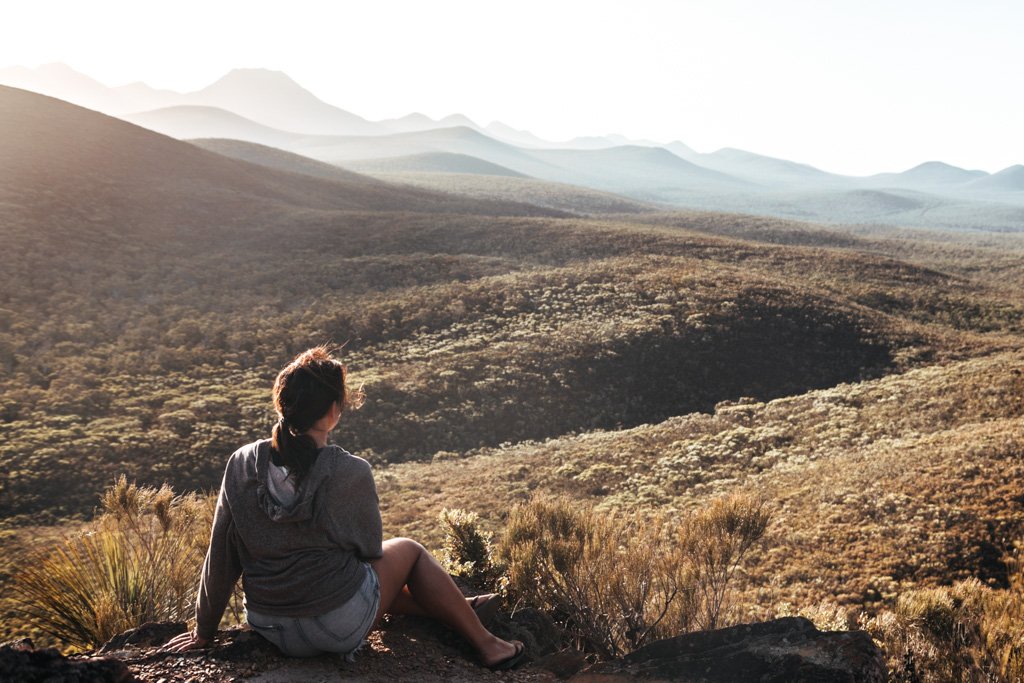 Mount Barker
Similar to Porongurup, Mount Barker is also about 35min north of Albany and known for two things:
Wine – Mount Barker is another subregion in the Great Southern wine region and has a handful of wineries to visit.
Wildflowers – Catch wildflowers (particularly orchids) from late August to December.
Denmark
Denmark is an artsy town just a 40min drive west of Albany and makes a great day trip or even a base for your South Coast WA travels. Here are a few Denmark WA must-dos:
Scottsdale Tourist Drive – Take a scenic drive through Denmark's countryside and along its coastline.
Denmark Animal Farm & Pentland Alpaca Stud – This is where you go to get an alpaca selfie and see koalas close-up. I like it as a dreary day activity.
Wine – Yep, Denmark is also one of the subregions in the Great Southern wine region.
Art – Denmark tends to attract artists of all kinds. If you're an art fan, there are plenty of galleries, exhibitions, and events on that might be of interest.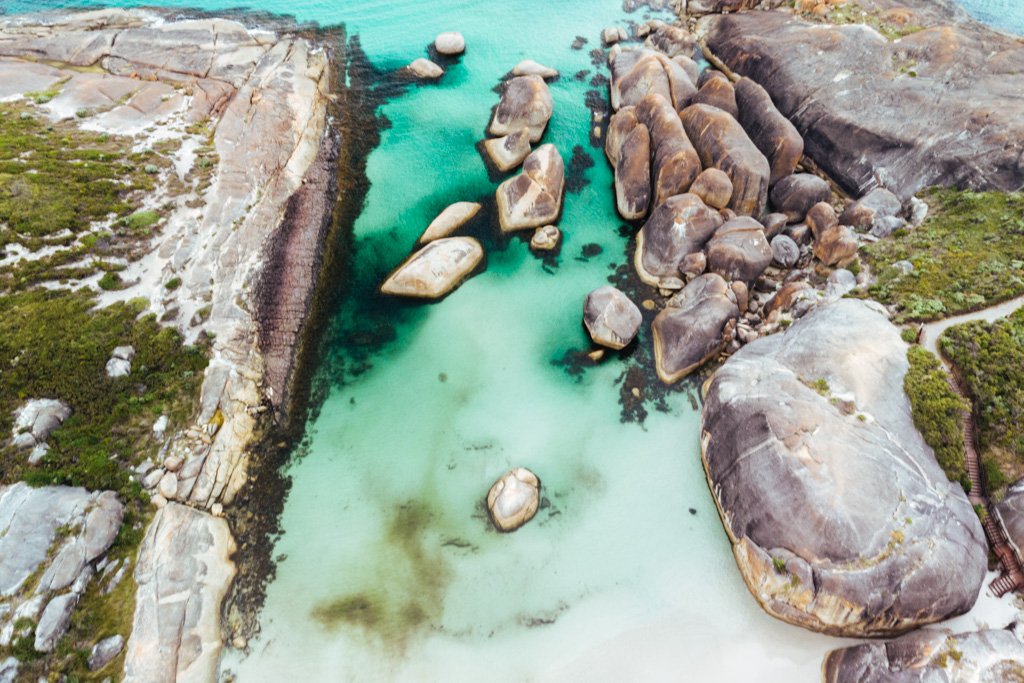 William Bay National Park
Very close to Denmark is one of its top highlights, William Bay National Park. You might know it for Elephant Rocks or Greens Pool, two exceedingly picturesque swimming spots in the park that you MUST visit on your South Coast WA trip.
This bit of coastline is dotted with lots of big boulders and calm waters – and if you're lucky enough to catch it on a sunny day, the water will be a bright turquoise color.
Valley of the Giants Treetop Walk
Near Walpole, about 1 hour and 15min west of Albany, is the very popular Valley of the Giants Treetop Walk. I was expecting it to be touristy and kinda lame if I'm honest, but it was anything but! I enjoyed the treetop walk so much that I did it twice on my visit.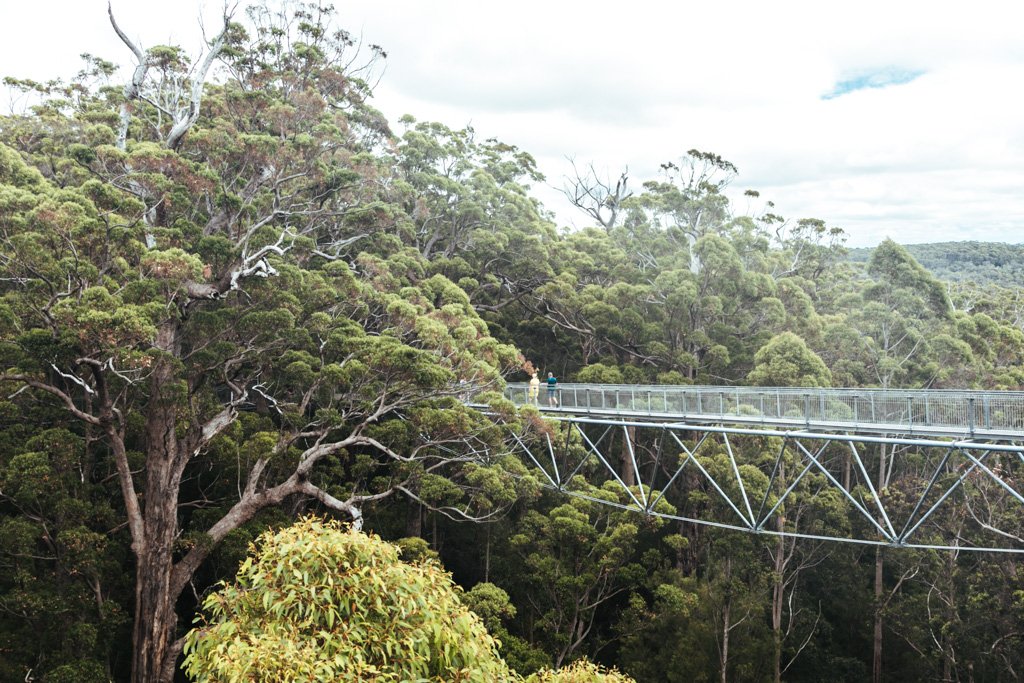 If you're scared of heights, this may not be the thing for you as you'll be traversing a boardwalk 40 meters above a tingle forest. But if you're not, you need to do it – it's the closest you'll get to feeling like a bird amongst the treetops.
Bremer Canyon Orca Experience
Last, I had to include the Bremer Canyon Orca Experience even though it's nearly 2 hours east of Albany.
Why? Well, their tours include return transport from Albany, so you won't have to drive yourself all that way in a day. And more than that, it's a rare experience of seeing killer whales up close in the wild. Where else are you able to do that?
Be warned: it's a very long day out, involves a full day out on a boat, and costs about AU$385. Tours run from January-April and on the off chance that you don't spot any orcas, you can join the tour again for free.
CLICK TO BOOK THE ORCA EXPERIENCE
Traveling onwards? Check out my Perth to Esperance road trip post!
Pin it!