I can't remember how Meteora first came onto my travel radar, but it only happened a couple months before I was due to start my trip to Greece last year (yes, I was just a tiiiiiiiny bit late to make the connection between the old Linkin Park album that I loved in high school and this famous world landmark).
If you don't know anything about visiting Meteora either, here's the gist: Meteora is a UNESCO World Heritage site in northern Greece comprised of 14th century Byzantine monasteries that sit precariously atop rock towers.
When I first saw a photo of it, my mind was instantly made up: I HAD to visit Meteora.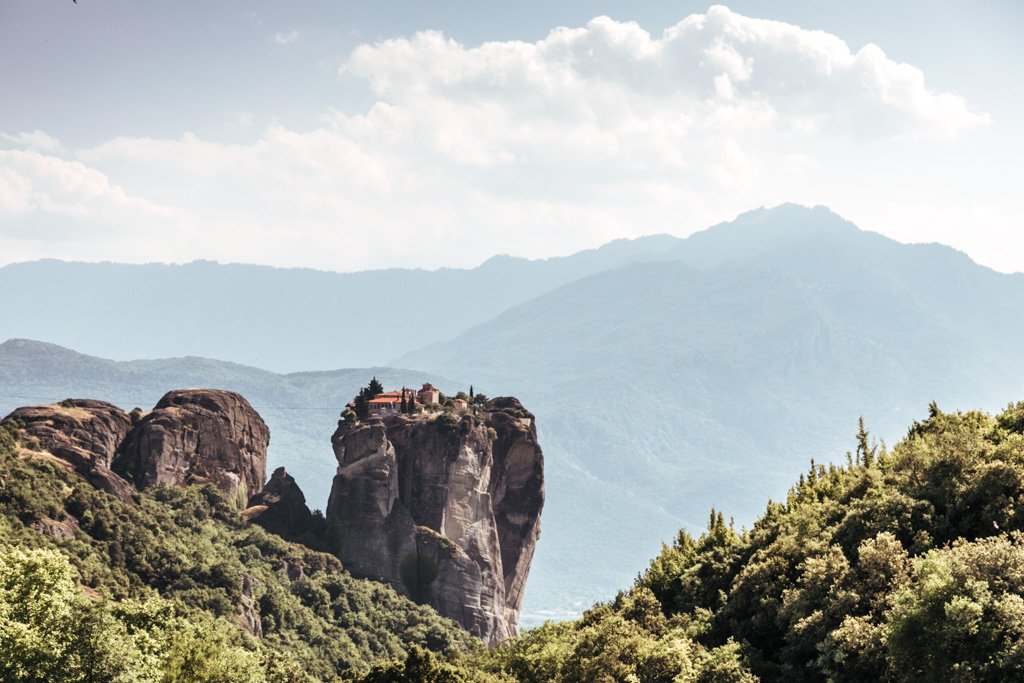 Today, there are 6 monasteries remaining that are still open to visitors. When you're visiting Meteora, you can tour the monasteries and enjoy the remarkable views and the artwork from each.
Beyond the monasteries, there are also Meteora hiking trails, rock climbing routes, and sunset viewpoints to enjoy if you're more of an outdoor adventurer than an art historian like I am.
Here's everything you need to know about visiting Meteora, Greece:
Visiting Meteora Monasteries
At one point there were 24 monasteries in Meteora. Today there are 6 left, which are still run by monks/nuns and welcome visitors daily.
Here are some important things to know about visiting the Meteora monasteries:
Be sure to check the Visit Meteora site for up-to-date visiting hours for each of the monasteries. Most are open approx. 9am-5pm daily, but each has one day of the week where it's closed to the public.
Admission to each monastery is €3. Some are more impressive than others, so you may not feel the need to pay to get inside every single one.
Great Meteoron (Gran Meteora) is the biggest, most popular, and most interesting monastery to tour in Meteora. Try to get there right before it opens to avoid the crowd.
No photos are allowed inside the monasteries, but you're free to take photos outside from the grounds.
Though there are videos and blog posts out there that include drone footage of Meteora, supposedly recent laws have made it so that drones are not allowed. I didn't see or hear any drones flying while I was visiting Meteora.
Visitors should dress modestly when touring the monasteries. Don't worry about bringing sweaters or wearing long skirts, as the monasteries provide you with shawls you can borrow to cover your arms and legs.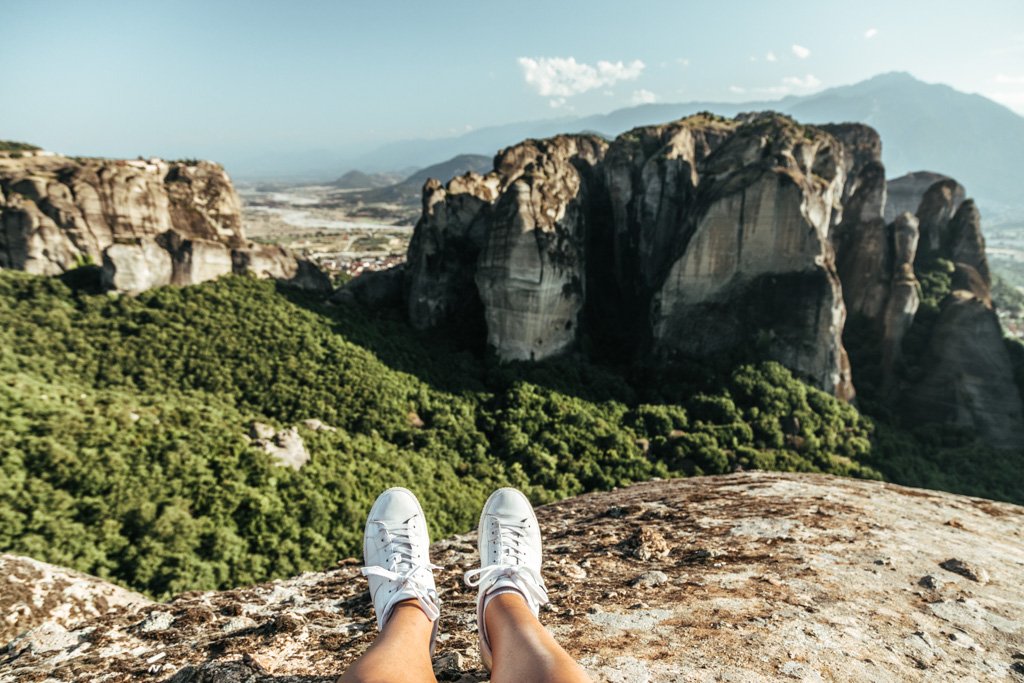 Hangin' out on the sunset rock.
Apart from the monasteries, you MUST check out the view from the sunset rock (it's marked as the Meteora Observation Deck on Google Maps, and is located between Rousanou Convent and Holy Trinity Monastery). There is a little parking lot on the side of the road next to it, so it should be pretty easy to spot.
Not surprisingly, the sunset rock is super popular at sunset so I'd advise getting there early to snag a good spot.
There's another similar rock formation very closeby (a few minutes walk down the road), which you can walk out on and catch the sunset from. I do prefer the other rock, but both are fab.
Meteora Hiking
Full disclosure: I did not do much hiking in Meteora when I visited. I WANTED to, but it was insanely hot there and the trails weren't easy to find (lack of signs + overgrown bush). If you want to hike while visiting Meteora, I recommend doing it outside of summer.
The one Meteora hike I did do was the trail leading from Holy Trinity Monastery to Kalambaka, which I describe in a little more detail in the 'Meteora On Foot' section below. Apart from that, I also walked between each monastery on the main road. Supposedly there's a trail that links them all, but it wasn't obvious to me.
I found a few websites with some information on Meteora hikes that might help with your planning: this one, this one, and this one.
Otherwise, consider booking an organized hiking tour that will take you around the monasteries efficiently and safely:
CLICK TO BOOK A METEORA HIKING TOUR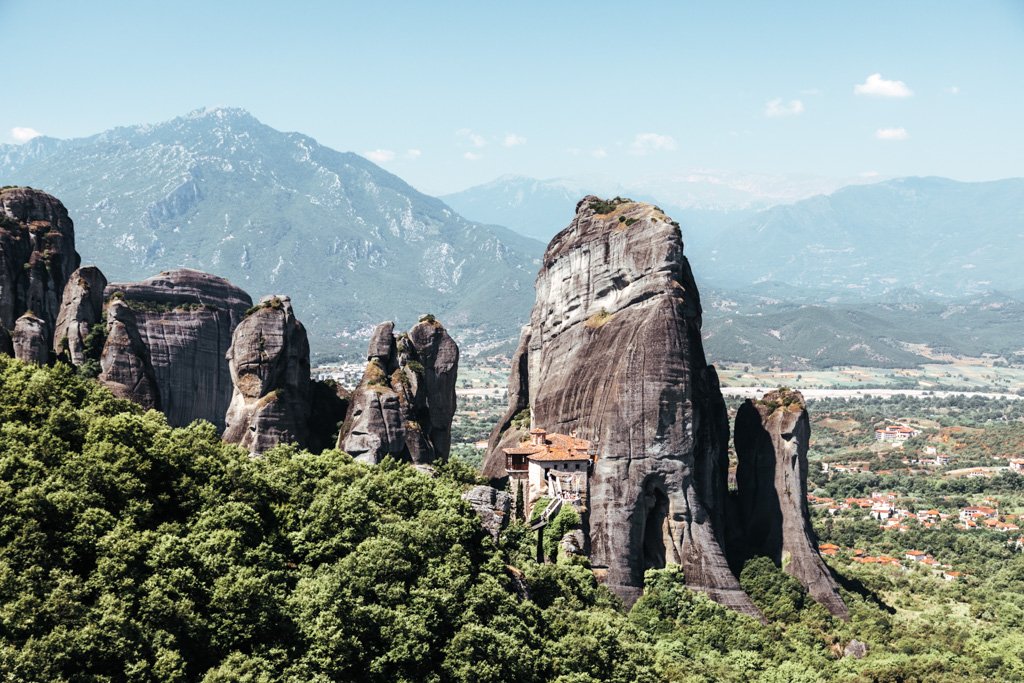 Rock Climbing in Meteora
One thing I really wish I'd done is go rock climbing in Meteora. It's supposedly one of the best places to climb in Greece.
To book a climbing trip in Meteora, you can pop into the Visit Meteora travel office in Kalambaka when you arrive. Their trips are 3 hours long and cost €60 for beginners and €75 for intermediate climbers.
CLICK TO READ MORE ABOUT METEORA ROCK CLIMBING TRIPS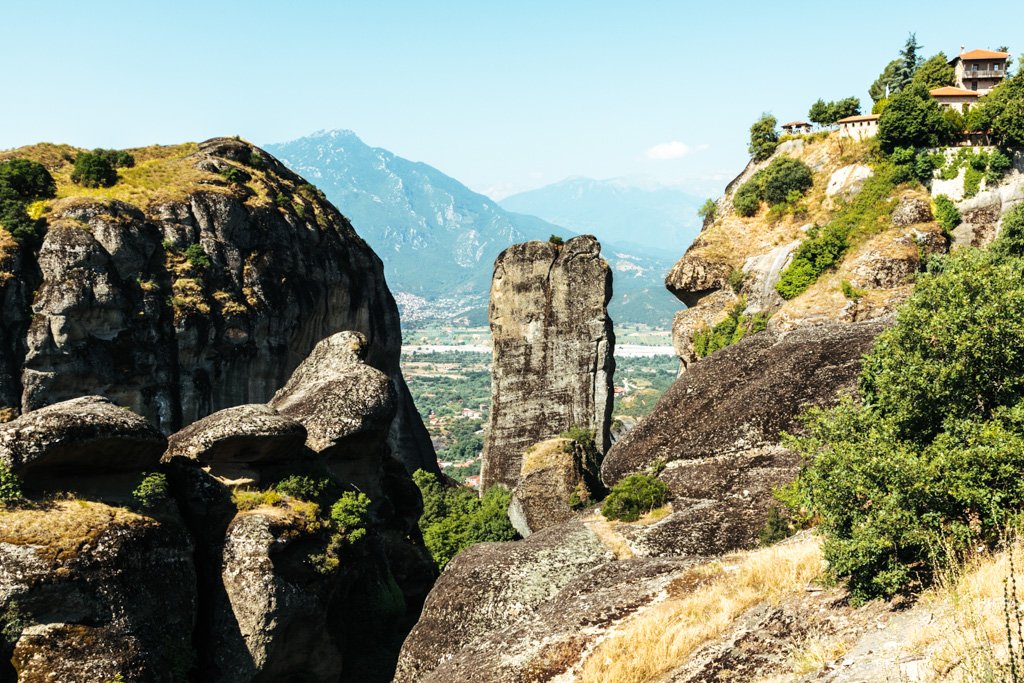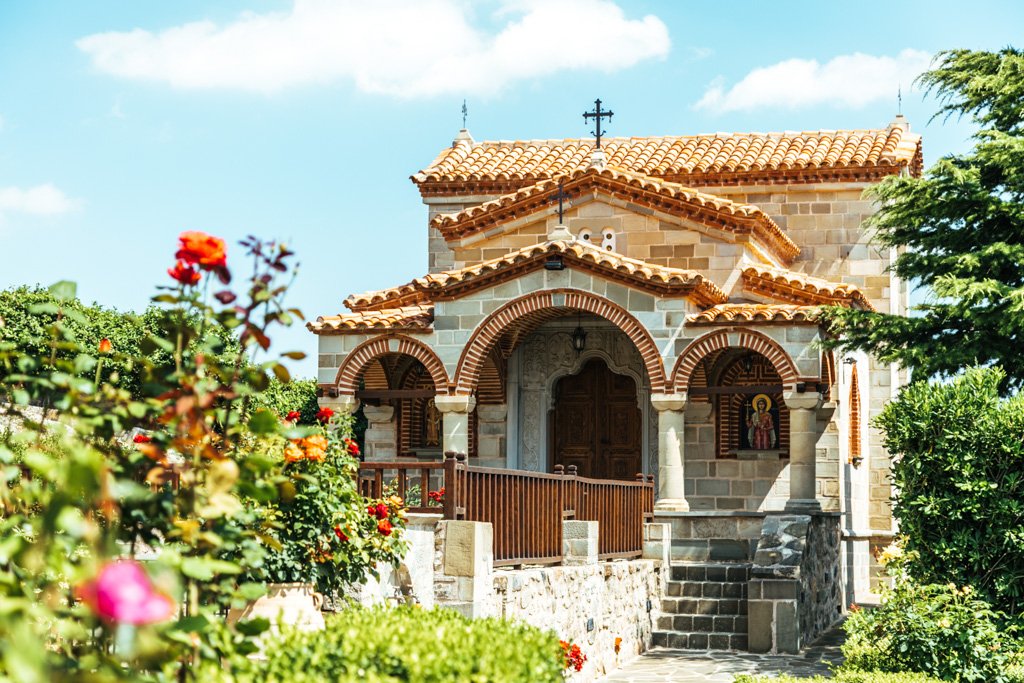 When Should You Be Visiting Meteora?
Meteora is a year-round destination, so if you're planning on visiting Meteora, you can work it into a Greece trip at any time of year.
HOWEVER: if you're sensitive to weather extremes, you might want to visit during fall or spring. Winter can see snow, while summer can be extremely hot and humid. I visited Meteora in late June and while I LIVE for summer's hot sunny days, I found wandering around Meteora to be exhausting in the heat. I probably would have fared much better touring Meteora in summer if I'd rented a car or booked onto a Meteora tour.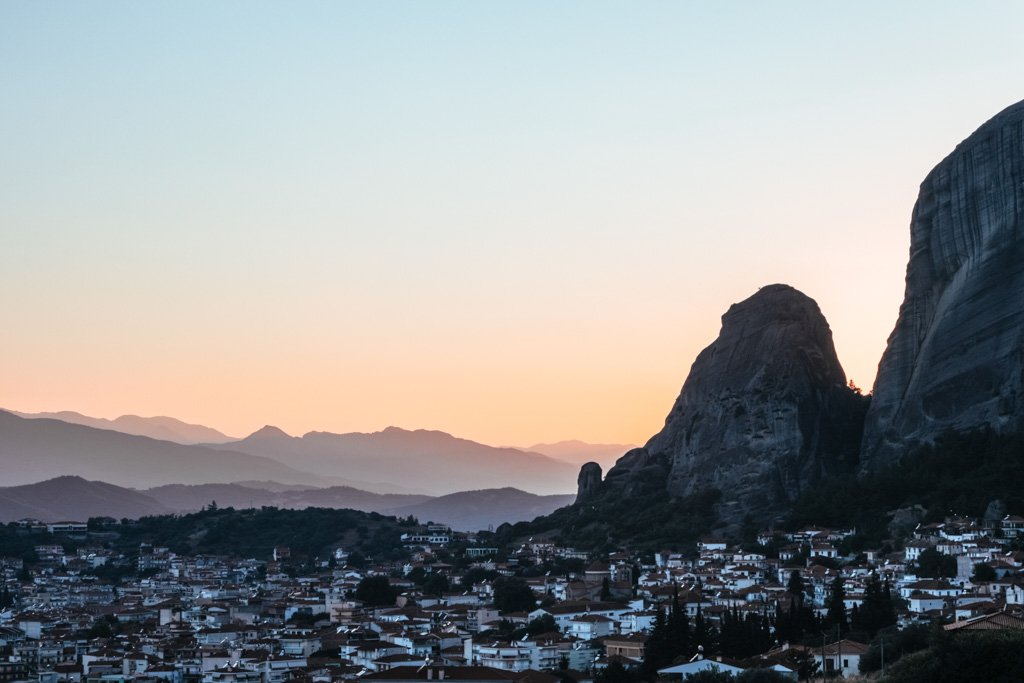 How To Get From Athens To Meteora
If you're not renting a car, the easiest way to reach Meteora without a tour bus is to take the train from Athens to Meteora.
I followed the instructions for doing this here, which can be summed up as follows:
Book train tickets online at tickets.trainose.gr. Definitely book in advance if traveling during summer!
Trains depart from Larissa Station in Athens and arrive in Kalambaka, near Meteora.
Your ticket will have a carriage number and seat number on it. This denotes your assigned seat, so make sure you sit in it!
There is one direct Athens-Meteora train daily in each direction, else you'll have to switch trains in Paleofarsalos. Doing so is easy, but there's not much signage at this station so it's best to ask the station attendants which platform your next train will depart from.
Kalambaka is the last stop on the train line, so don't worry about missing it!
The ride takes about 4 hours and the return trip cost me about €52.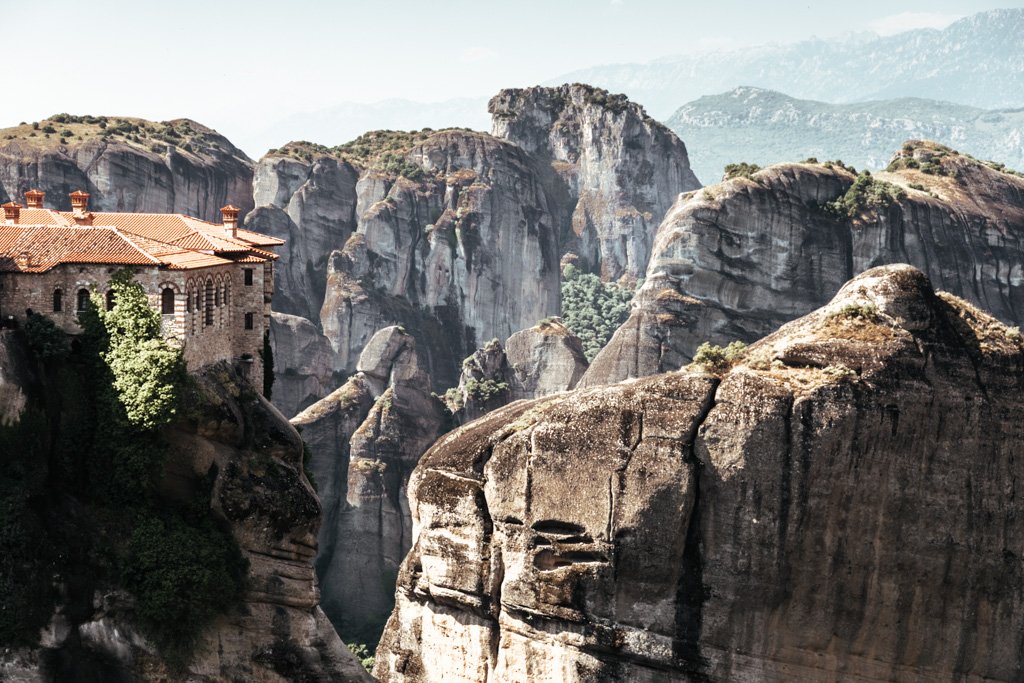 Where To Stay In Meteora
There are two towns at the foot of Meteora: Kalambaka and Kastraki.
Kastraki is smaller and slightly closer to the monasteries, while Kalambaka has more going on and is closer to the train station. Both towns offer accommodation in Meteora, so you can base yourself in either.
I opted to stay in Kalambaka for ease. I booked into Meteora Central Hostel, a highly rated and very affordable Meteora accommodation that I wholeheartedly recommend. Prices range from US$15-19/night for a bed in a dorm room, depending on the season.
CLICK TO BOOK YOUR STAY AT METEORA CENTRAL HOSTEL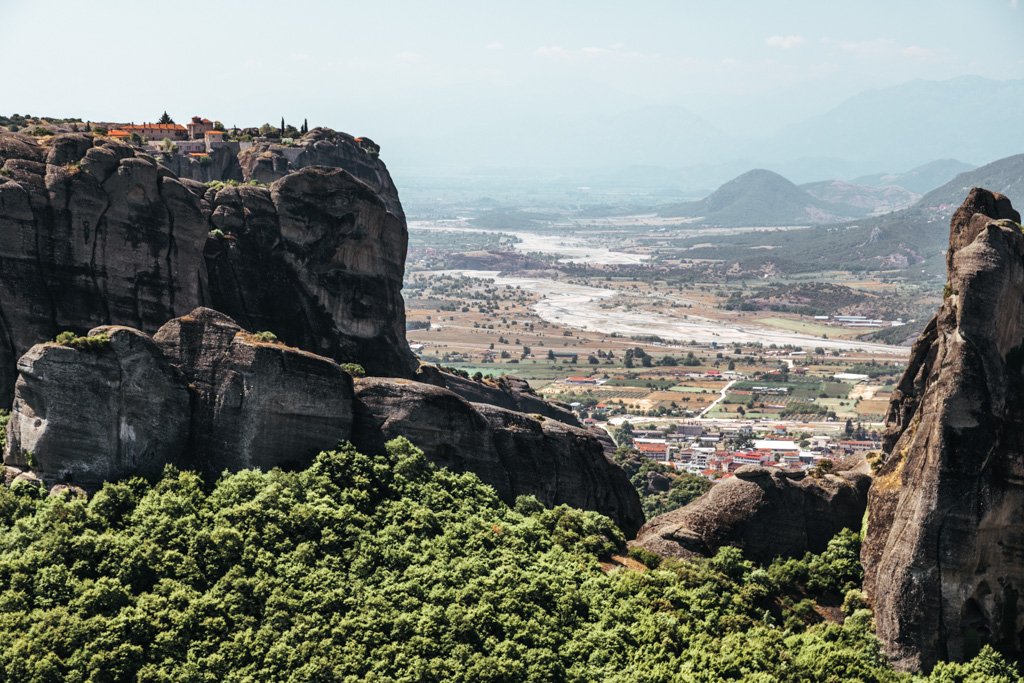 I enjoyed my stay and was already happy to recommend it to other travelers, but the friendly and helpful owner is what REALLY sold me in the end. On my last day, I managed to lose the key to my locker just minutes before I had to leave to catch my train back to Athens. The owner swiftly came to my aid and cut open my locker without making me feel like more of a sh*thead for it. I tried to tip him for helping me out but he'd have none of it. Now THAT's service.
Or if you're not into hostels, there are plenty of Airbnbs near Meteora you can book:
How To Get From Kalambaka To Meteora
If you're not renting a car, you can still reach the Meteora monasteries a few other ways.
My strategy was to catch the bus up to the Meteora monasteries, walk from monastery to monastery, and then hike back down into town. I had 3 days to explore and therefore had time to do lots of walking, but if you have limited time in Meteora I'd recommend some other options below: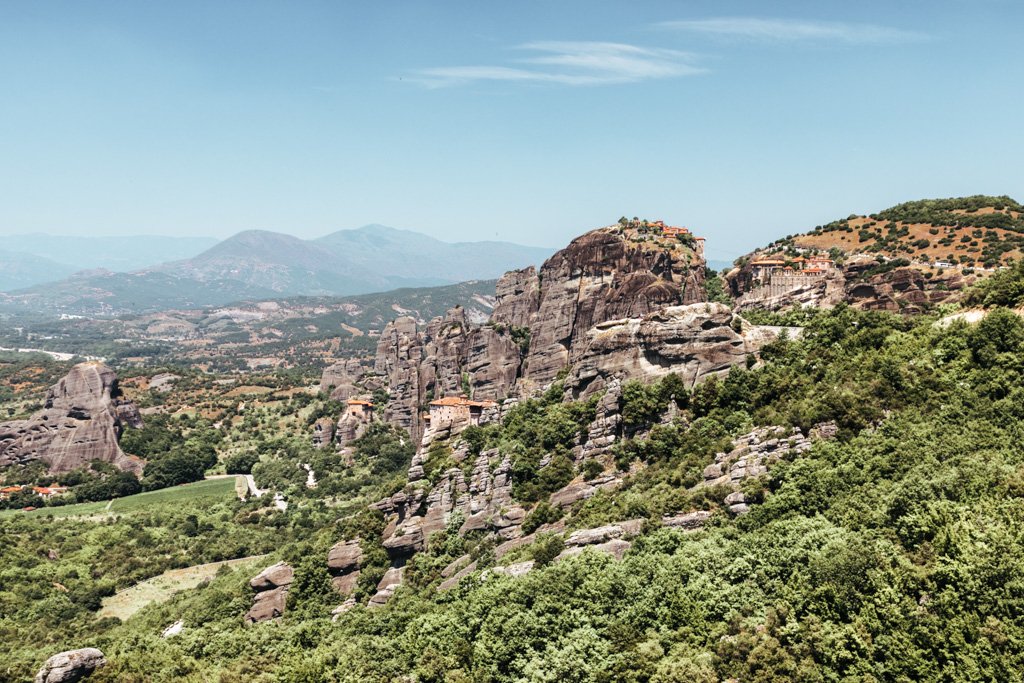 Meteora By Bus
There is a bus that runs from Kalambaka up to each of the Meteora monasteries. It costs €1.80 each way, but only operates from late morning to mid-afternoon, so isn't an option if you want to catch sunrise or sunset in Meteora or avoid the midday heat in summer.
Note that the bus runs hourly at its most frequent, so you might prefer not to wait for one and instead walk between the monasteries.
Click here to see a map of the bus route. You can ask at your accommodation in Kalambaka or Kastraki for an updated timetable.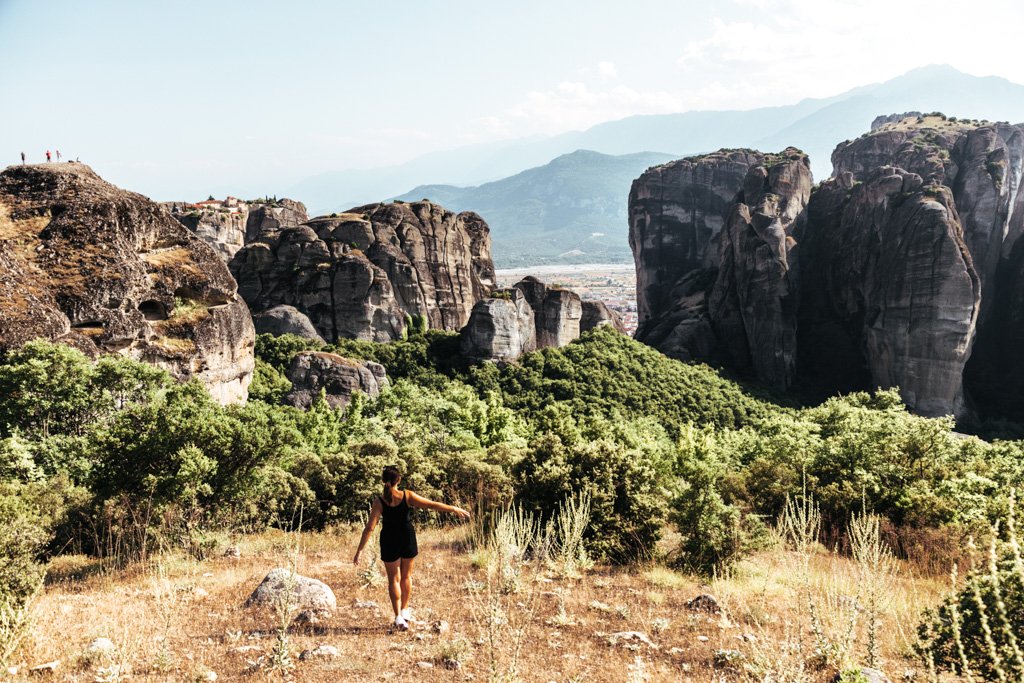 Meteora By Taxi
You can call a taxi to pick you up in town and drop you off at the monasteries. If you just want to do a quick trip up there, you might want to hire a private driver for €20 per hour. I think this option makes sense if you have a small group to travel with; if you're a solo traveler, it works out cheaper and easier to book a Meteora tour:
Meteora Tour
Meteora tours are surprisingly cheap and comprehensive. Half day tours and sunset tours of Meteora can be booked when you get to Kalambaka, but for peace of mind (and perhaps the best price) you can opt to book a Meteora tour online in advance for less than €20.
There are even tours you can book that operate as day trips from Athens, so you don't have to worry about booking the train from Athens to Meteora or getting around the monasteries. I found a Meteora tour while writing this article that was cheaper than my train tickets alone!
If you have limited time, definitely book a tour of Meteora. They will take you to a few of the monasteries and give you time to explore each (admission to the monasteries is not included in the price of the tour), and they take care of transporting you to, from, and between them.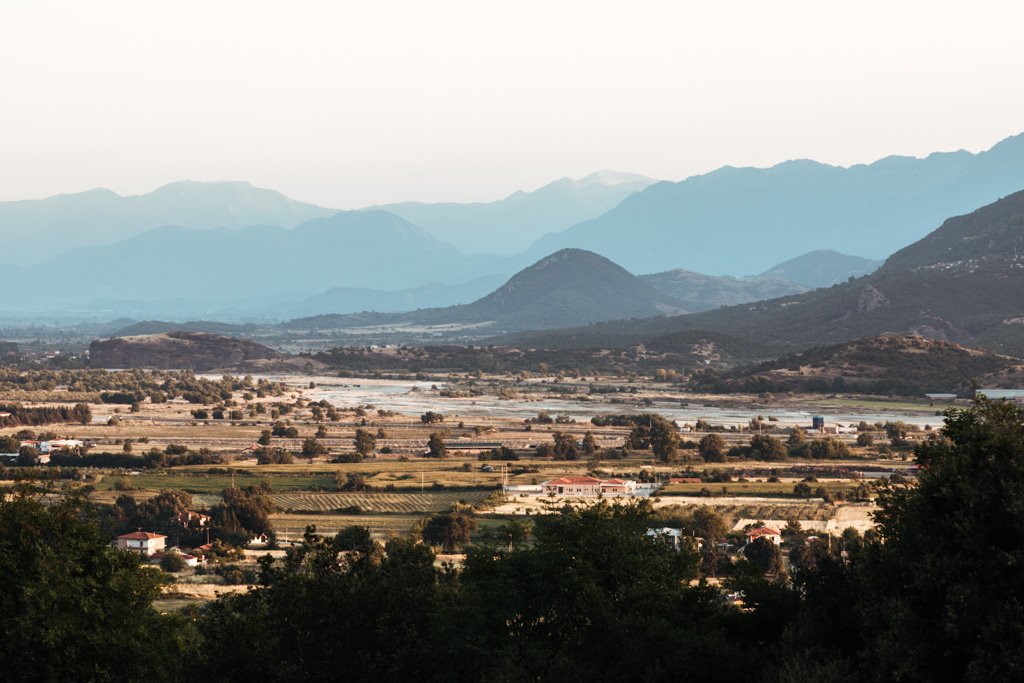 If you have at least a few days in Meteora and prefer to travel on your own like I did, you might prefer to explore Meteora on foot on your own time:
Meteora On Foot
If you'd rather explore Meteora independently and cheaply, it's very doable by walking. There is a walking trail that leads from Kalambaka to Holy Trinity Monastery – this trail is visible on Google Maps and is the most direct route (the dashed green line in the map below).
If you're hiking *down* from the monasteries, you will see a sign on the path to Holy Trinity that says Kalambaka – this is the trail down into town.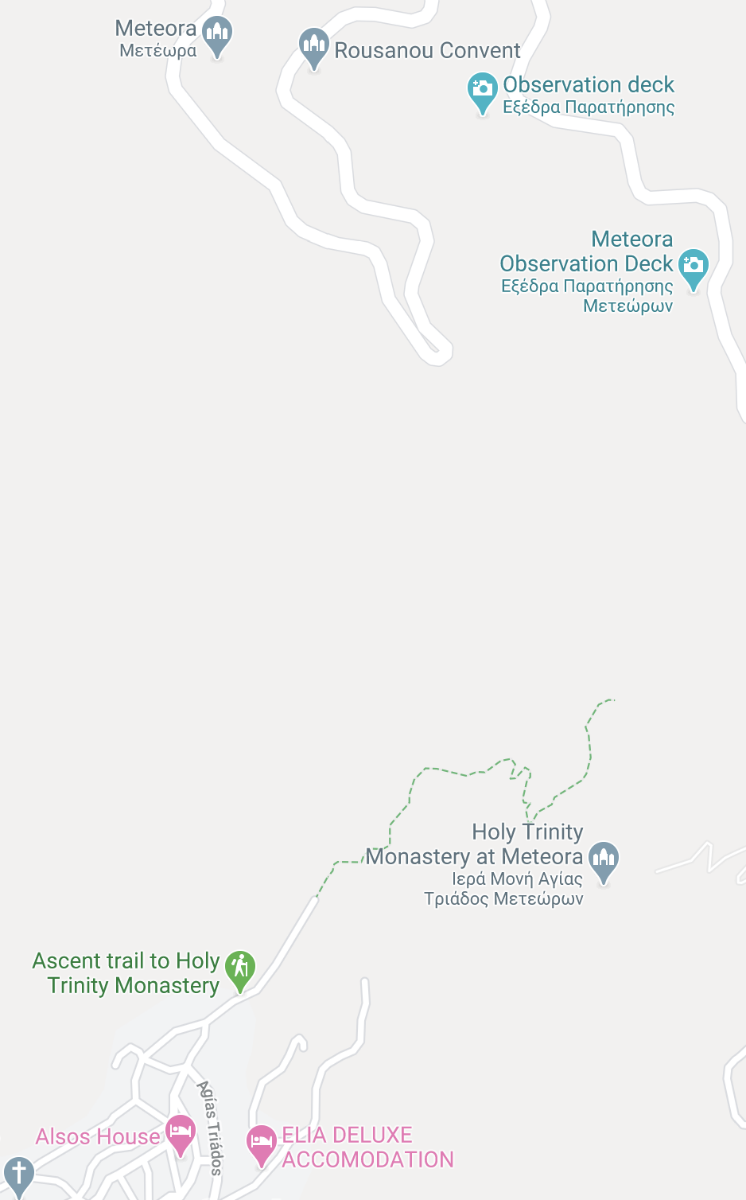 If you're not comfortable following the trail (it's not marked and not always clear), you can follow the road instead. This is the much longer route and will take about an hour going downhill (longer going up to the monasteries). You'll walk along this road to get from monastery to monastery as well.
As I mentioned earlier, walking to, from, and around Meteora during summer months is not the most comfortable experience and I wouldn't recommend it if you don't do super well in the heat.
Pin it!