Remember that time I took a roadtrip to Wilsons Promontory with 3 young European backpackers, ate nothing but ham and cheese sandwiches for 3 days, and helped them hand wash our rental car at the end because they were convinced we had to before returning it?
Well in addition to partaking in said ludicrous motions, I also hiked my ass off and accompanied the girls on nearly every walking trail that exists in the national park. Personally, I would have picked the few best Wilsons Prom walks and spent the rest of the time on the beach, but I wasn't calling the shots on this trip. It worked out well enough anyway because I got to see pretty much everything I'd wanted to, and then some.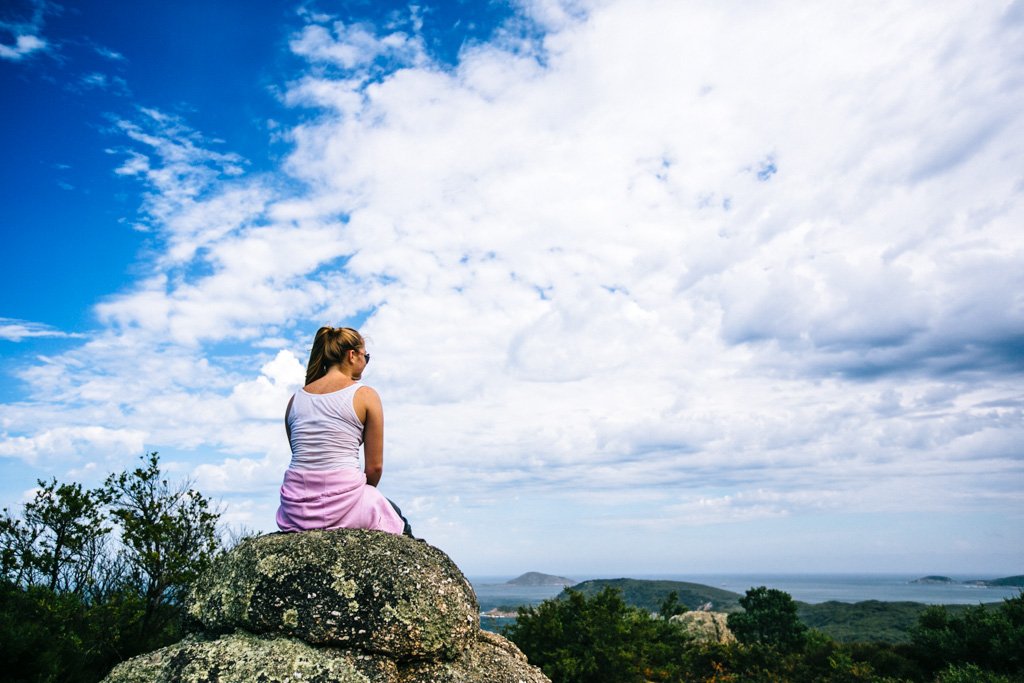 About Wilsons Prom
First off, let's get the name straight: This fab place is officially called Wilsons Promontory National Park. Tourists like to call it Wilsons Prom, while locals almost exclusively refer to it as The Prom. (You know, kind of like how tourists say San Fran, while locals say SF?). If we Americans didn't have that dreadful high school dance of the same name, I'd totally be on board with calling it The Prom – but it just feels weird to me, so I'll stick with the touristy name.
Wilsons Prom by Public Transport
It took me this long to explore the #1 thing on my Melbourne weekend trip bucket list because, sadly, getting to Wilsons Prom by public transport is a royal PITA. The only way I know of is to take a VLine bus from Melbourne to Foster, and then pay for a shuttle to/from the park with the Foster YHA (they require you to stay at their hostel at least one night, though). The shuttle should drop you off at Tidal River, which is where the main campground is located.
But then if you don't have a car, it's pretty difficult to get around the park. Most of the Wilsons Prom walks you have to drive to the trailheads and walk in from the car park; otherwise you'll be walking miles just to get to the trail, not mention to get back, which is just pointless. That said, I see two possible options if you take the bus to Wilsons Prom and don't have a car to get around:
Do a few easy Wilsons Prom walks that start near the Tidal River Campground and/or hang out at Squeaky Beach or Norman Beach. These are all quick to reach on foot.
Embark on the 2-3 day overnight trek around the southern part of the park, which starts at the Mt. Oberon carpark. There is sometimes a shuttle that runs to the carpark from the campground (likely during summer), otherwise you'll have to walk about an hour to get to the trailhead.
Honestly, those are pretty decent alternatives, so I'm inclined to say it's worth going to Wilsons Prom without a car if that's your only option. Obviously it'd be much, much better to be able to drive around to thoroughly explore the park.
Best Time To Visit Wilsons Promontory
And lastly, summer at Wilsons Promontory is an absolute madhouse. The campground is perpetually full around the December/January school holidays (you have to apply for a campsite well in advance by a ballot system). Unless you're cool with sharing peaceful beaches and trails with loads of other visitors, I'd aim to visit during shoulder season (Oct-Nov or Feb-Mar).
We went in early March and it was wonderful – a touch of rain and clouds at times, but very comfortable temperature-wise and people density-wise.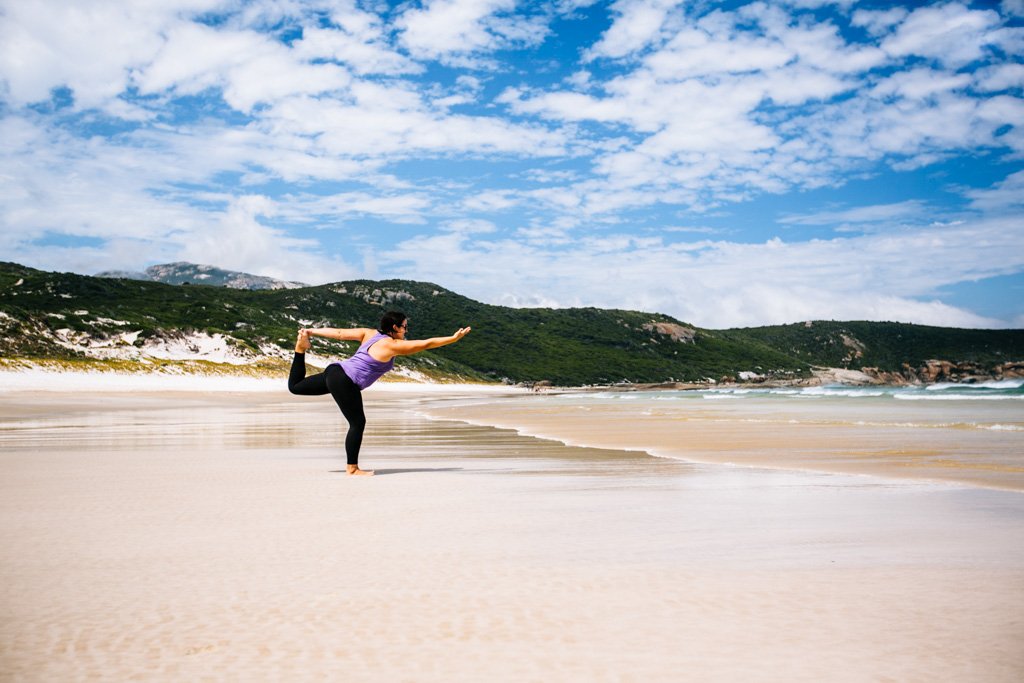 Yoga on Squeaky Beach.
Wilsons Prom Walks
Overnight Hikes
I haven't done any overnight hiking in Wilsons Promontory, so I don't have any photos to dazzle you or firsthand knowledge to impart. If this ever changes, I'll be sure to update this section accordingly.
From what I've gathered, Tidals River to Sealers Cove is one of the best Wilsons Prom hikes with a great mix of forest and coast – and it's your best bet to find some peace and quiet in the park, as most people opt to stay at Tidal River Campground and just do day hikes.
The popular overnight hiking circuit traverses the southern-most part of the park, beginning at the Mt. Oberon carpark and heading east toward Sealers Cove. From here, it heads south along the coast to Refuge Cove, and around to Waterloo Bay. The trail heads back inland, and at the Halfway Hut you can either go straight back to the carpark or take the longer route west to Oberon Bay and Norman Bay, ending up at Tidal River. The latter option probably makes more sense if you're camping at Tidal River without a car.
The circuit is typically done in 2-3 days, and you'll be bush camping for 2 nights at designated free campsites along the trail. While camping is free, you'll need to pay for an overnight hiking permit which ends up being about the same as what a Tidal River campsite costs. And of course, you'll be carrying a pack with your sleeping gear, tent, food, and layers.
Download a guide to Wilsons prom overnight hikes here.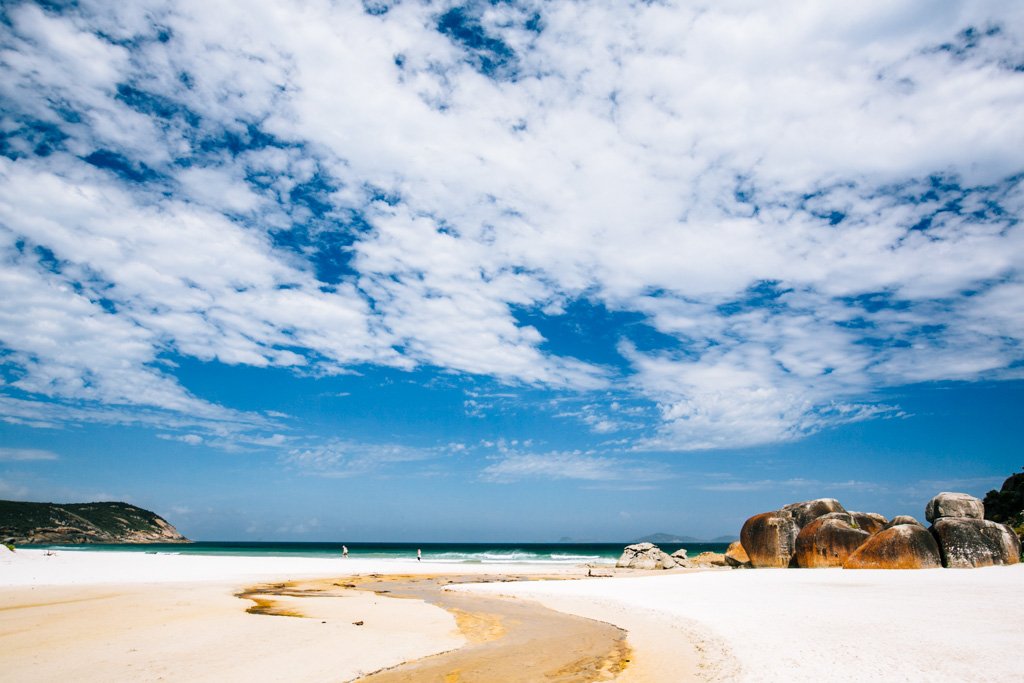 Squeaky Beach.
Day Hikes
Below is a photo montage of most of the shorter Wilsons Prom walks. The majority are quick and easy walks unless otherwise specified.
Lilly Pully Gully – An easy stroll through the rainforest with not much of a view, but some cool trees and plants along the way. You can either hike to the boardwalk and back along this easy trail, or continue in a circuit toward Mt. Bishop that also ends at the carpark.
If you're not summiting Mt. Bishop, I'd recommend going back the same way you came as the second half of the circuit is all uphill and not really worth the added effort.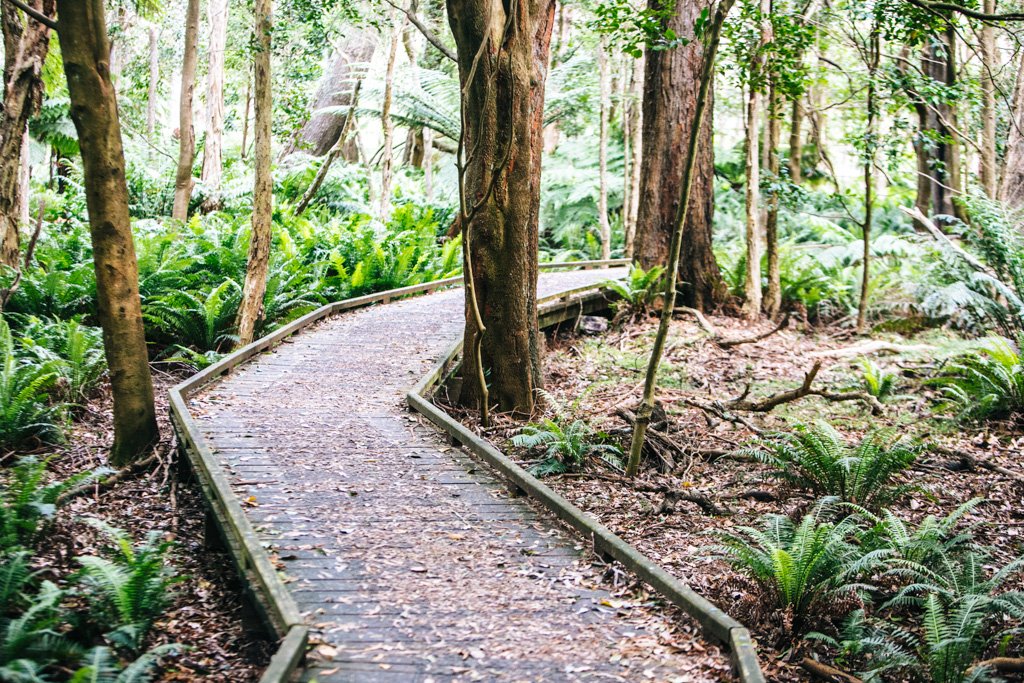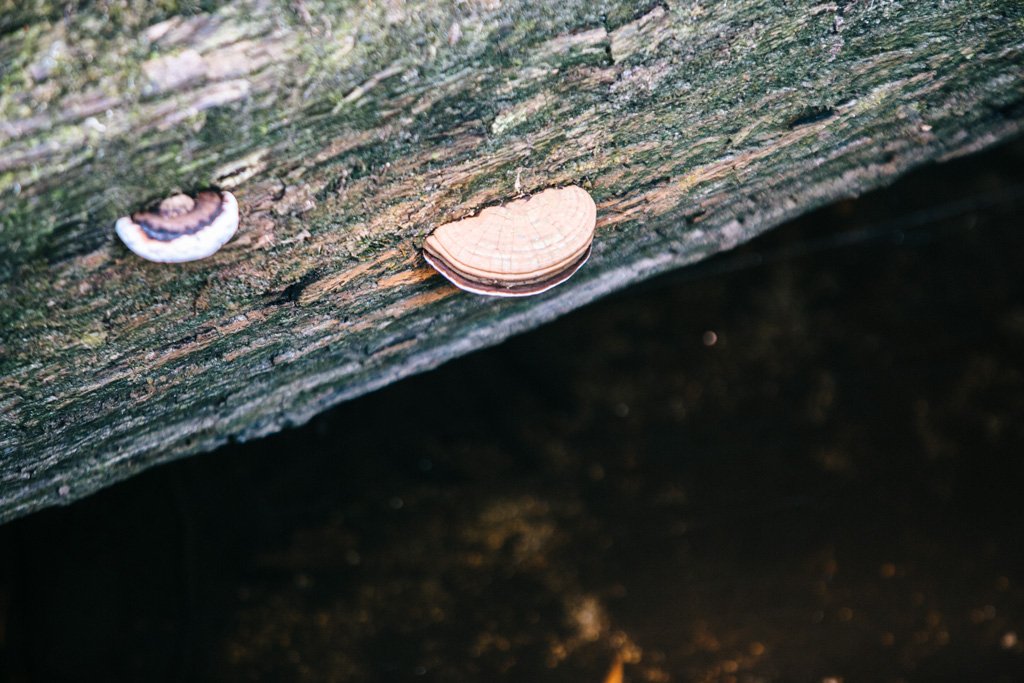 Mt. Oberon – This is one of the best walks in Wilsons Prom. About an hour walk uphill on a paved/closed-off road. If you summit for sunset, be sure to bring a torch or headlamp so you can find your way back down in the dark. A MUST-DO.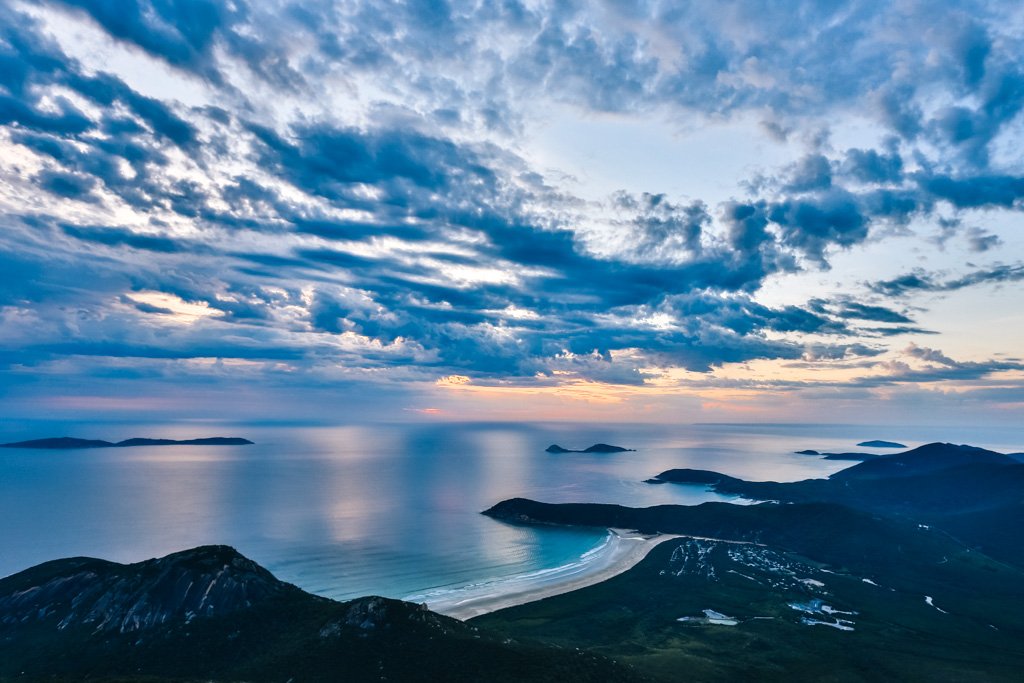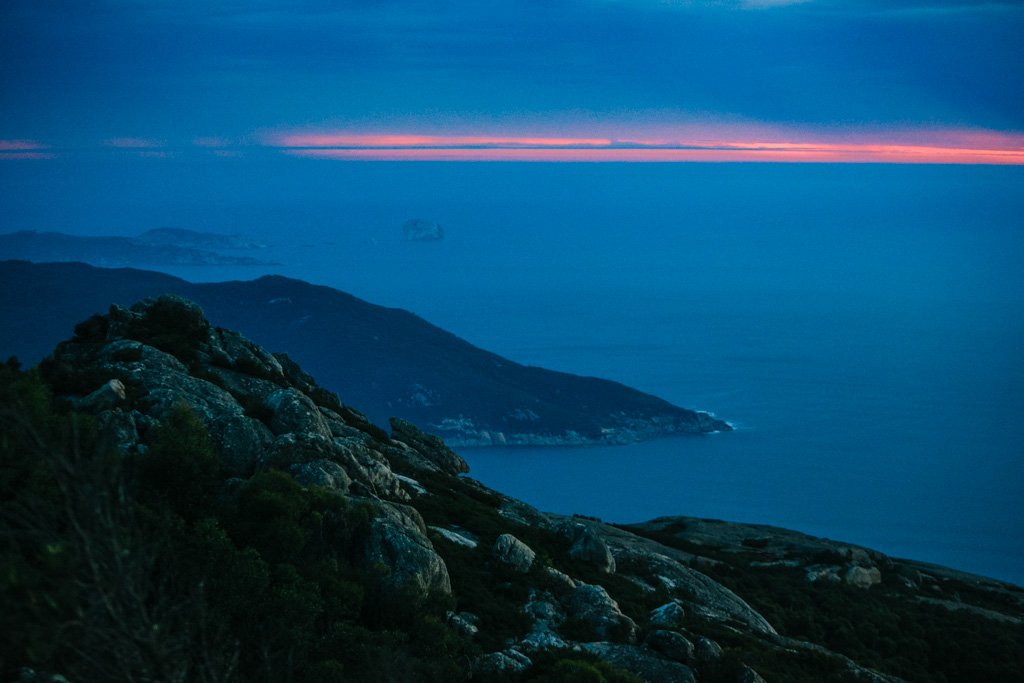 Tidal River Boardwalk – A very easy stroll along Tidal River, accessible from the campground. It's also a gateway to some other walks in the area.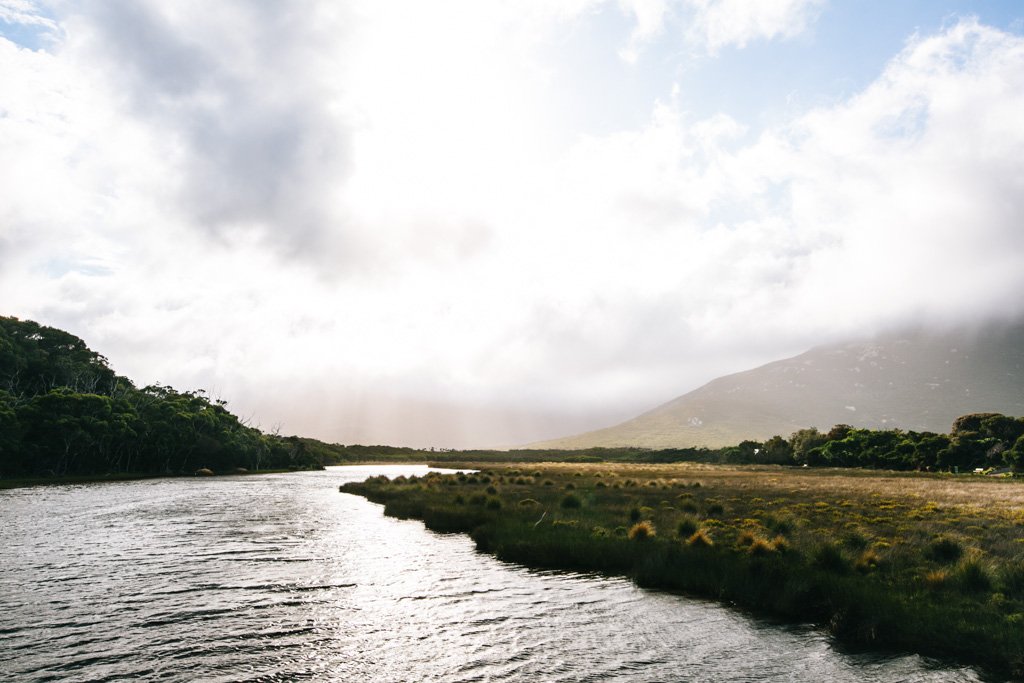 Norman Beach – The closest beach to the campground.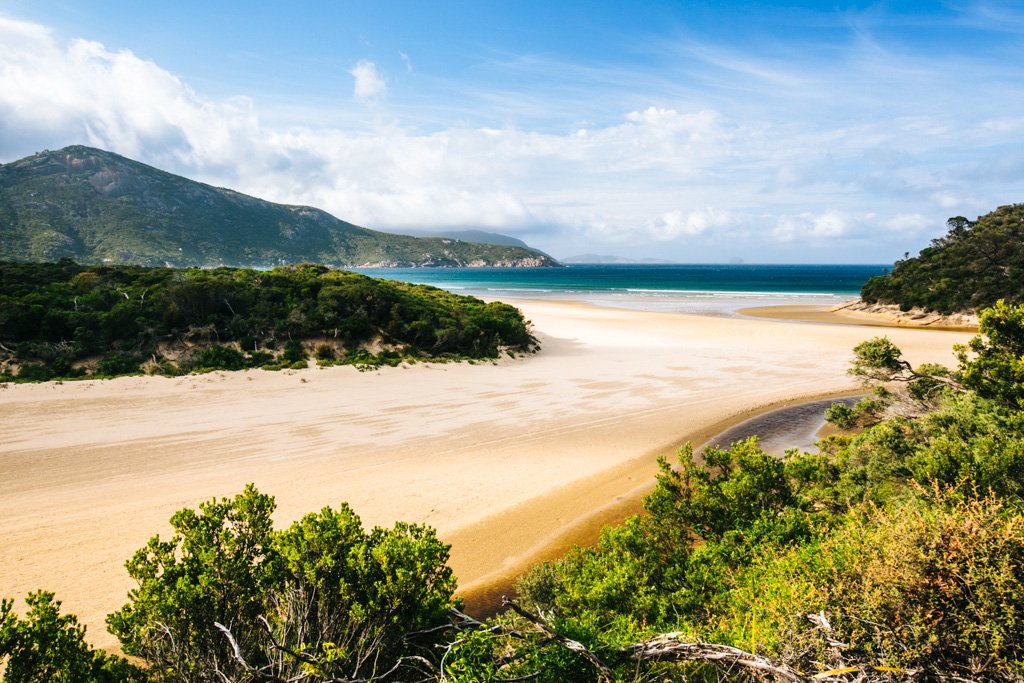 Pillar Point – There are a couple boulders near the end where you can sit and enjoy the views.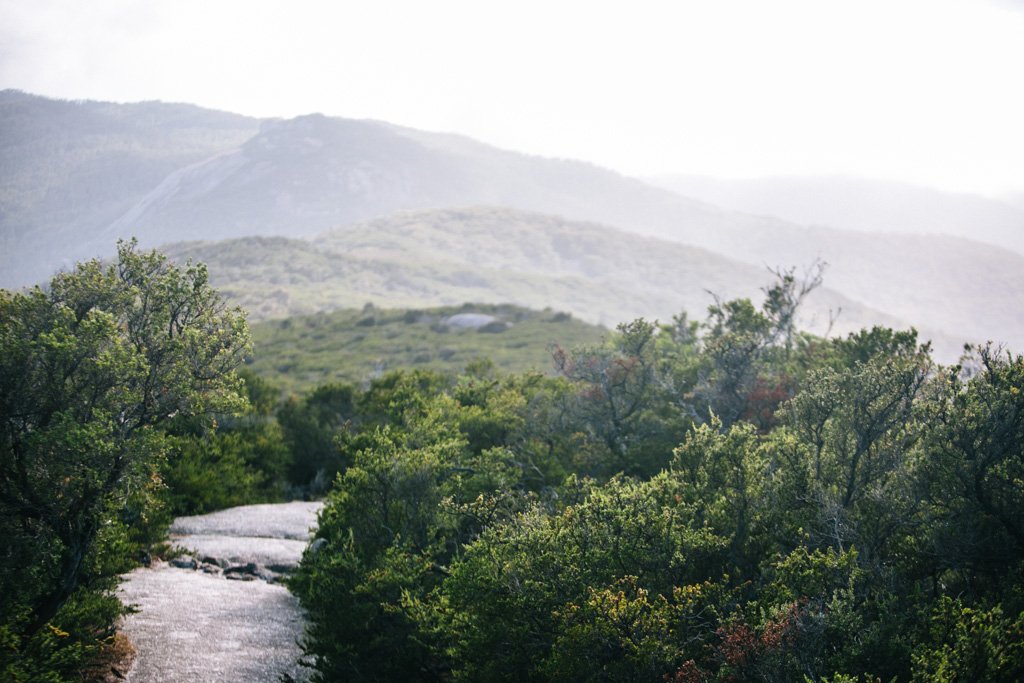 Tidal Overlook – Aim to do this walk on a clear day so you can admire the bright blue water at Squeaky Beach from above. You can return to Tidal River from the way you came, or continue on the circuit which will give you great views of Tidal River from above on the way back to the campground. A SHOULD-DO.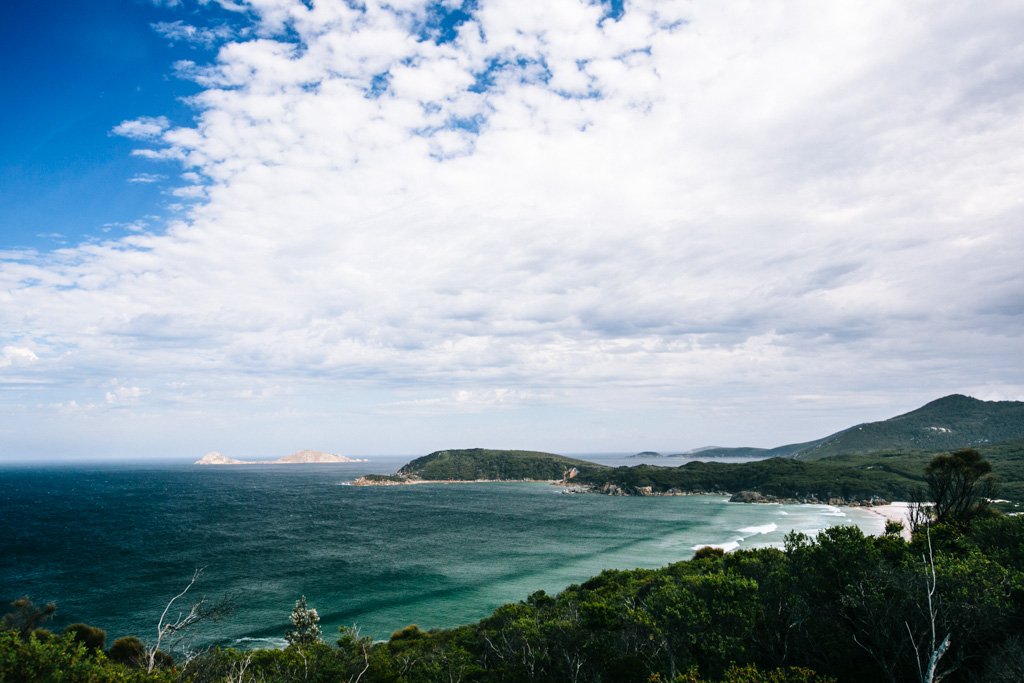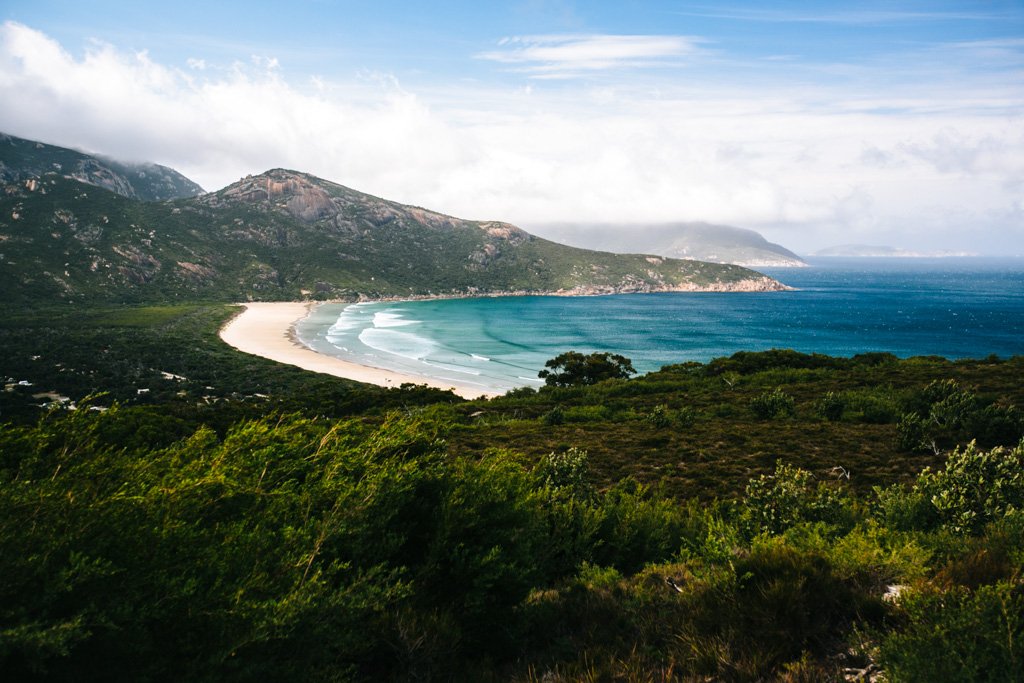 Squeaky Beach – This is THE most talked-about, photographed, hyped, and beloved beach in Wilsons Prom. The sand really does squeak as you walk on it. There are cool orange-stained boulders on the beach, very similar to what you'll find on Tasmania's east coast. A MUST-DO.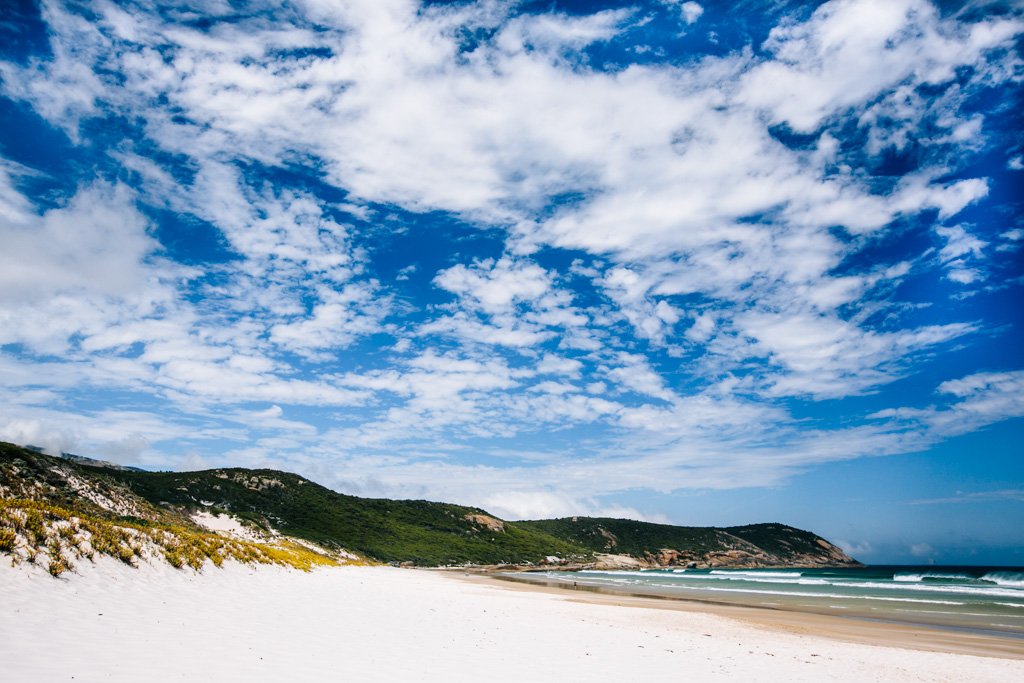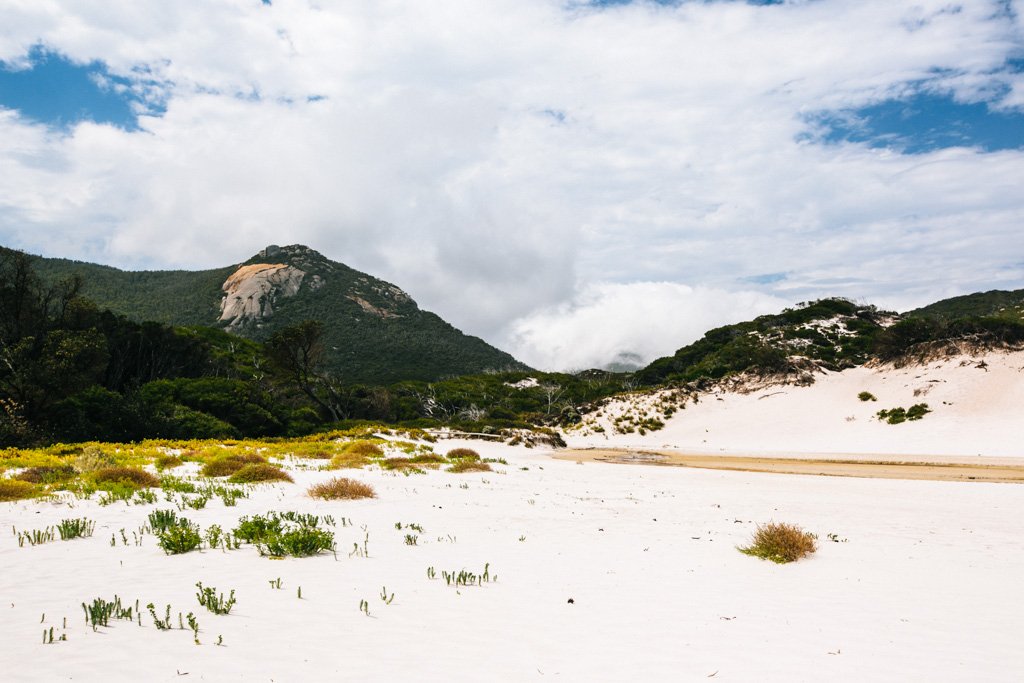 Darby Beach – If you want a private beach with virtually zero other visitors, check this one out. It's not as nice as the other beaches in Wilsons Prom, though.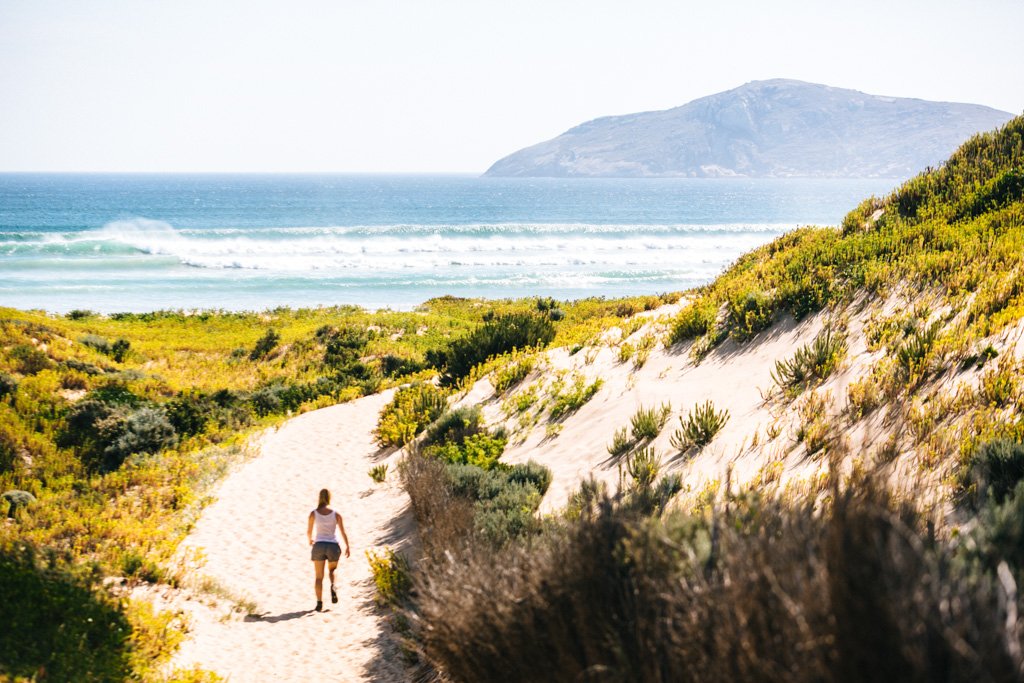 Whisky Bay – An absolutely glorious beach with soft, flat sand for days. The boulders on this Wilsons Prom beach are both picturesque and ideal for sunset spotting. A MUST-DO.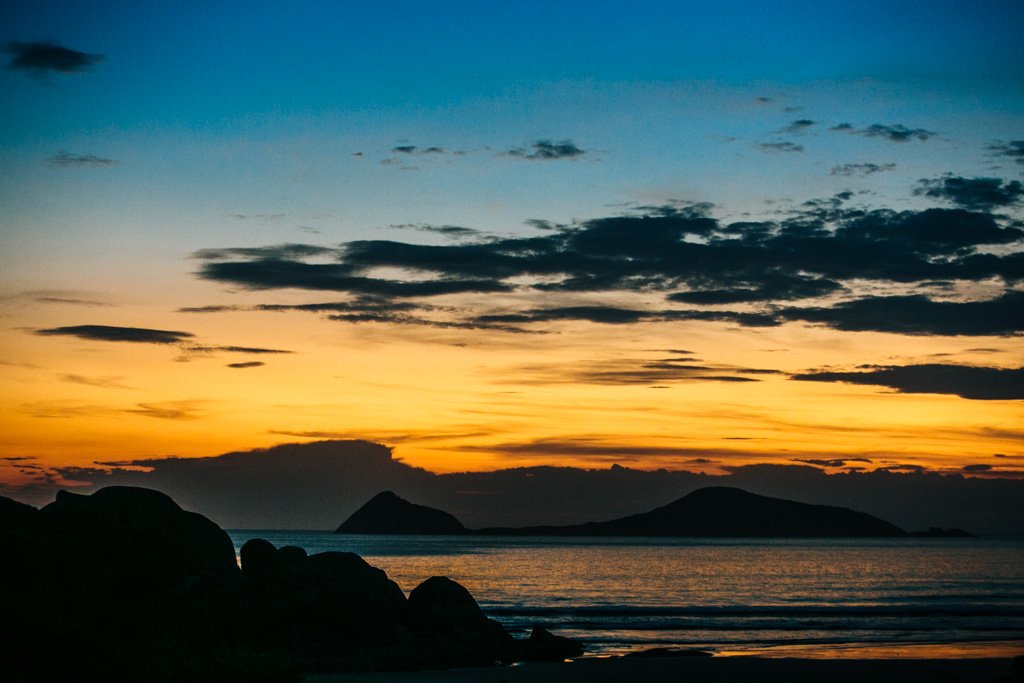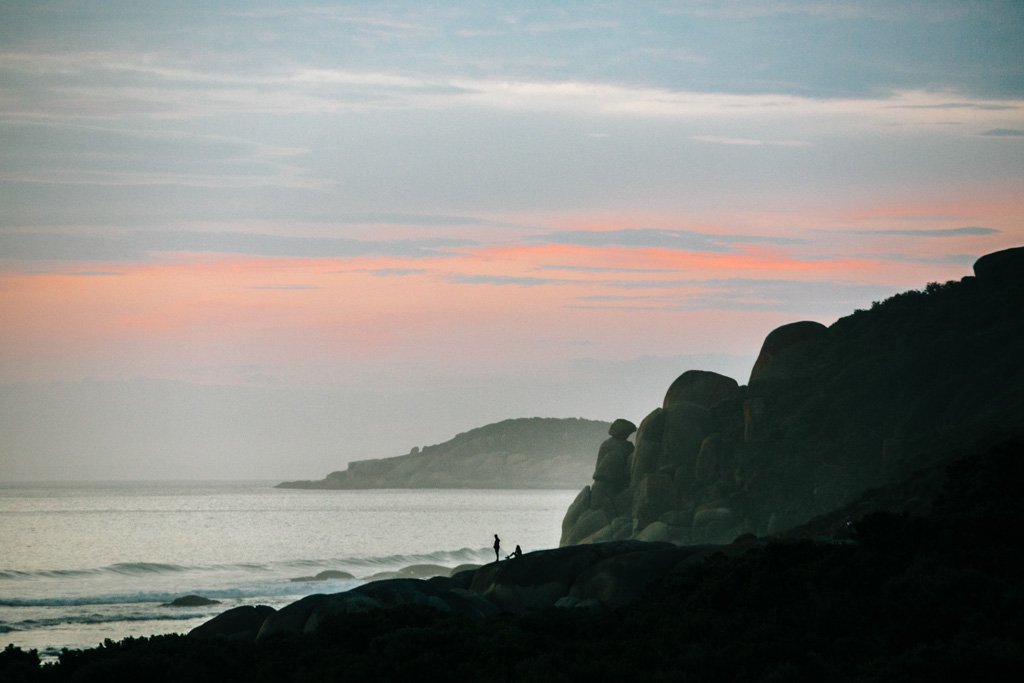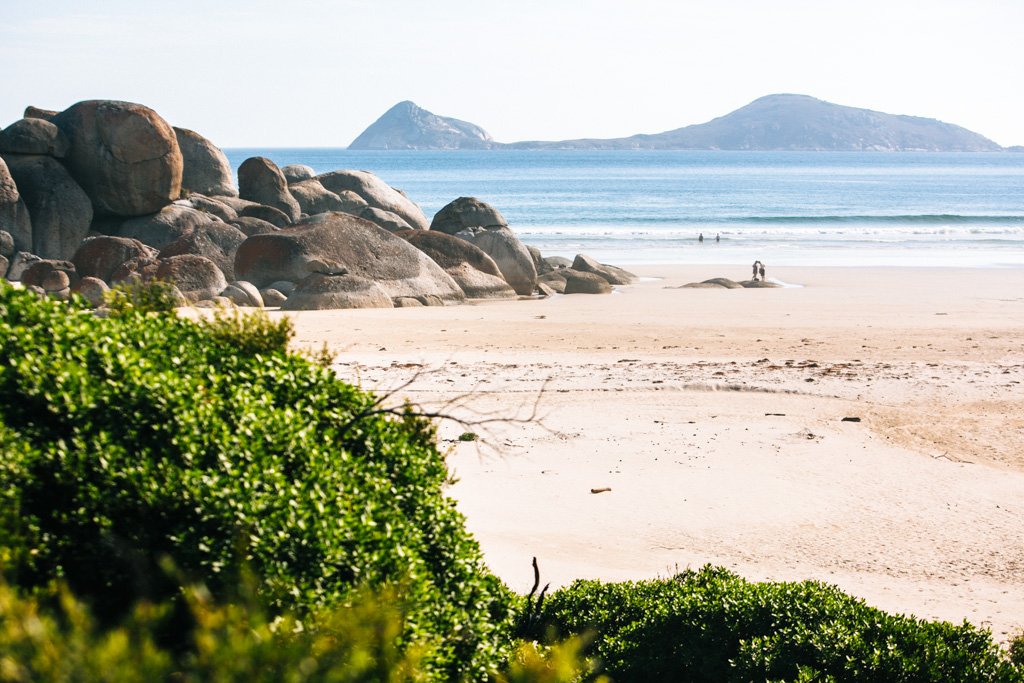 Tongue Point – This is marked as a long, moderate hike, but we found it easy and still worth doing even on a drizzly day – though the views up the coast would have been far more impressive on a clear day.
Be sure to go all the way to the end of the trail – it's worth it! And again, you'll find loads of those orange-streaked rocks here. A SHOULD-DO.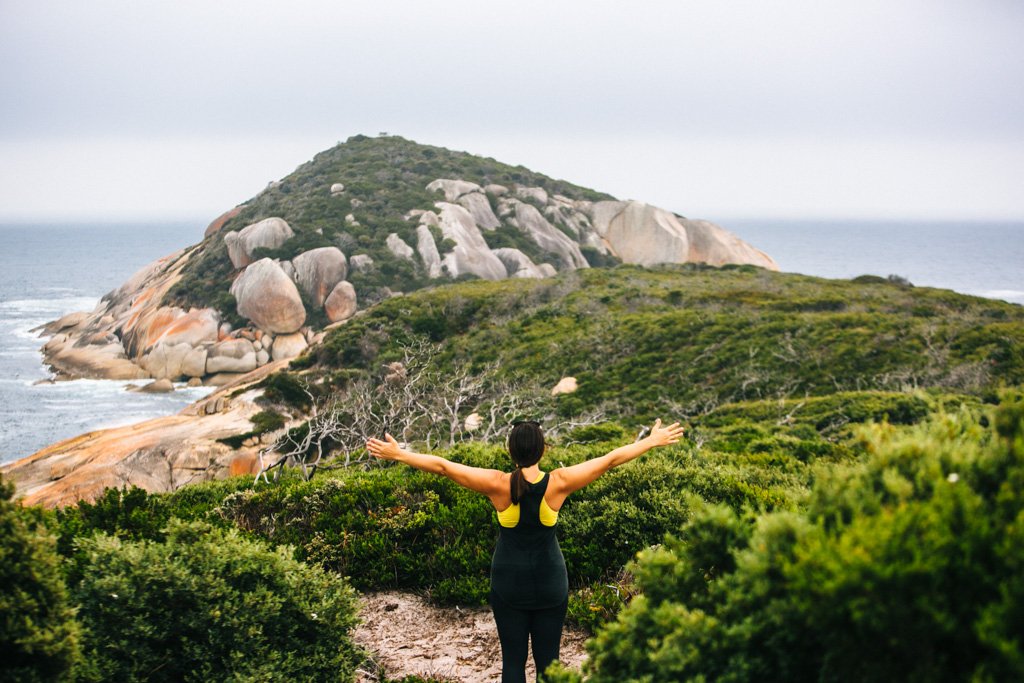 Big Drift – This is the most unique spot in the park, simply because it looks like it belongs somewhere in the Outback. Massive white sand dunes, plunked out of nowhere and fit for your frolicking pleasure.
Make sure you note where you entered from, as your tracks will be obliterated by the wind in no time. A MUST-DO.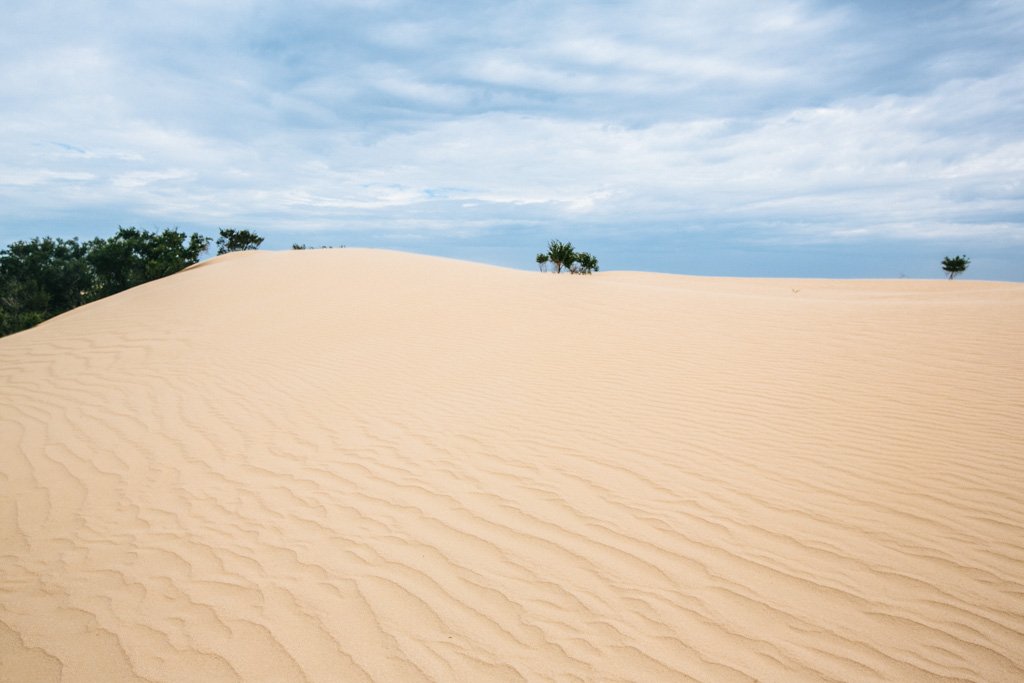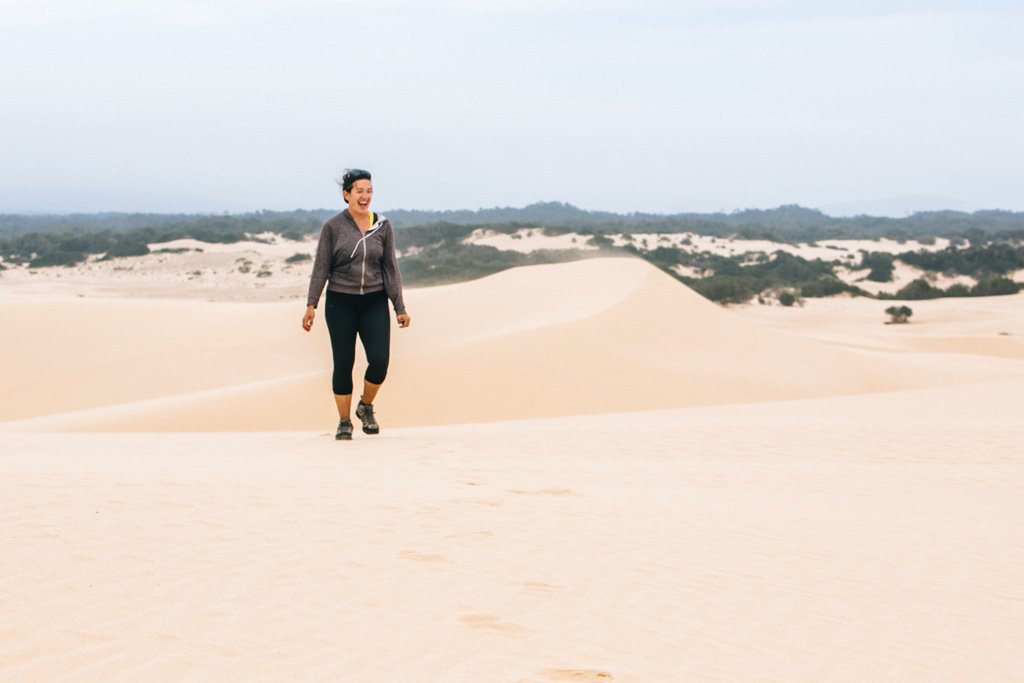 Frugal Facts
As of April 2016 —
Wilsons Promontory National Park is about a 3 hour drive from Melbourne. By public transport, you can take a VLine bus from Melbourne to Foster, stay at the Foster YHA, and have them shuttle you to/from the park (they charge $30 one way, but try to hook you up with other gusts who are driving into the park).
An unpowered campsite at Tidal River costs AU$60.80. There are cabins and lodge rooms available there as well. You must book far, far ahead to camp in December or January (peak holiday season), likely making use of the ballot system. More info on campsite bookings here. Tidal River is equipped with a cafe and general store, so if you run out of food or need to buy other supplies, you should be covered.
There is another campground up near the northern entrance of the park called the Stockyard, where unpowered campsites are $50. It's further away from the majority of the beaches and walks, so most people opt to stay at Tidal River instead.
You'll need an overnight hiking permit to camp anywhere else in the park, which costs $12.50/night per person.
More information + maps via Parks Victoria: Walking Guide // Overnight Hikes
Pin it!