I'm probably not supposed to say this as a resident of Bondi Beach, but: I really love Manly. In fact, I can definitely see it being the next place I live once I'm over Bondi (if that day ever comes!).
I'm still not over the LOL-worthy name of this Sydney suburb, nor the awesomeness of it – therefore I think it's time I tell you about what's fast become my favorite place to spend a day in Sydney.
Manly is the gateway to Sydney's Northern Beaches. It is the outermost suburb on Sydney Harbour and for some reason has a reputation of being "too far" from everything, despite being just a 20 minute fast ferry ride from the CBD. I mean, that's how long it takes me to go 2.5 miles by bus from my place in North Bondi to Bondi Junction to catch the train into the CBD. Clearly that logic is a wee bit flawed.
Maybe it's a good thing that people think Manly is "too far" – it keeps it from getting overcrowded like Bondi!

Where Manly is in relation to Sydney CBD. Looks far, but just 20-30 minutes away by ferry.
Manly is an outdoor adventure paradise, specifically of the aquatic variety. With over 10 beaches, heaps of walking trails, and a myriad of water activities on offer, it's definitely the kind of place you can spend an entire day and still yearn for more.
AND, here's the best part: you've got both the ocean and the harbour in Manly. You don't have to choose one or the other like you do when you trek to most other Sydney suburbs.
Want to surf or listen to the waves crash? That's what Manly Beach is for. Want to chill out in calmer waters, go snorkeling, take a boat out, or go cliff jumping? Well, you've got several other beaches and a sizable slice of Sydney Harbour at your disposal.
Yep, Manly's got it all. Here's the skinny on all the outdoor adventure goodness it offers:
Beaches in Manly
As a self-proclaimed beach bitch, it is both my duty and pleasure to introduce you to ALL of the beaches in Manly and vicinity. The majority of tourists never make it further than Manly Beach, which is such a bummer because there are other gorgeous (and maybe even better) beaches nearby. You definitely won't make that mistake after reading this post! ;)
Refer to the map above to match the beaches to their numbered locations.
Manly Ocean Side Beaches
Most visitors flock straight to (1) Manly Beach from the ferry. With perpetually glorious surf conditions and 1.4km of golden sand lined with a walkway fit for sand-free strolling and cycling, who can blame them?
Manly Beach is nice, but usually pretty crowded on weekends. Personally, I think it gets better as you walk along Marine Parade away from the main beach.
In fact, one of my favorite spots in Manly is at the rocks along (2) Fairy Bower Beach (about halfway between Manly Beach and Shelly Beach). I'm not entirely sure why they call it a beach because there's barely any sand, but there are plenty of rocks and a small ocean pool here. Sprawling out on one of the flat rocks, listening to soft waves lap against it while gazing out toward Shelly Beach is absolute bliss!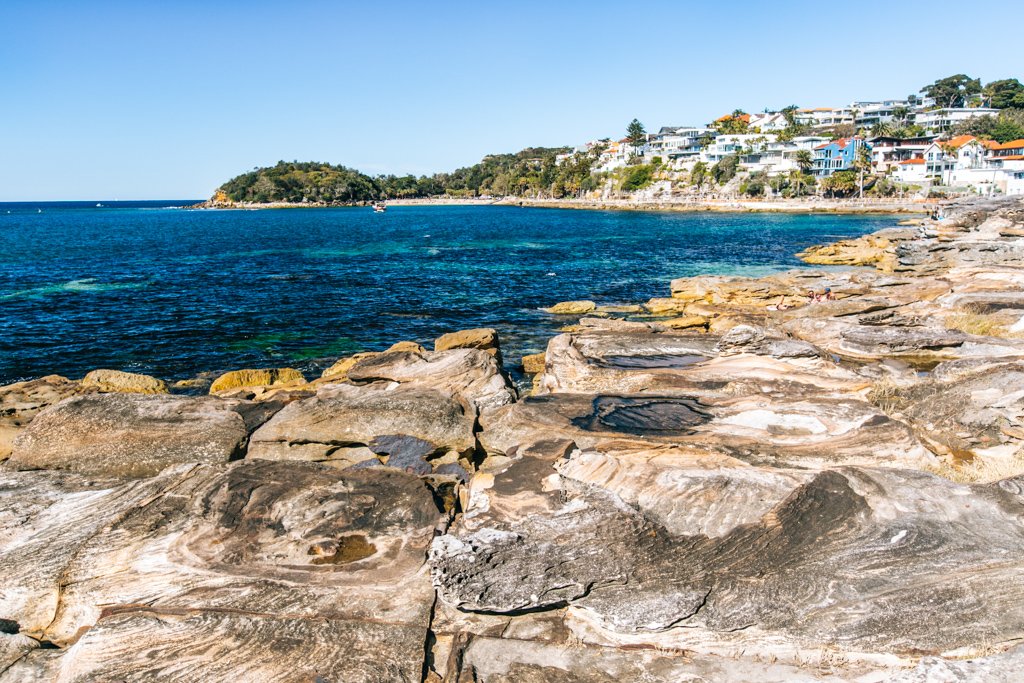 Fairy Bower.
(3) Shelly Beach is widely regarded as a real gem of a beach amongst Sydneysiders. It's got a more cozy feel to it and tends to attract slack liners, acro-yogis, and barbecuers. I love Shelly because it makes for an ideal escape from the crowds and offers pretty stellar views towards Manly.

Shelly Beach.
Both Fairy Bower and Shelly Beach are popular spots for snorkeling and diving (but more on that later!).
Beaches from Manly to North Head
The ocean's pretty rad and all, but in my semi-professional beach bum opinion, the secluded beaches on Manly's harbour side are just as fabulous and perhaps even better.
From Manly Wharf towards North Head, there are a handful of beaches worth exploring. In fact, most of them are accessible via a walking path (the gray trail on the map above) that hugs the waterfront all the way to Collins Flat Beach.
Just next to the wharf is (4) East Manly Cove Beach, a very popular spot for picnicking and drinking on the nearby grass. It's one of my favorite places to stand-up paddleboard.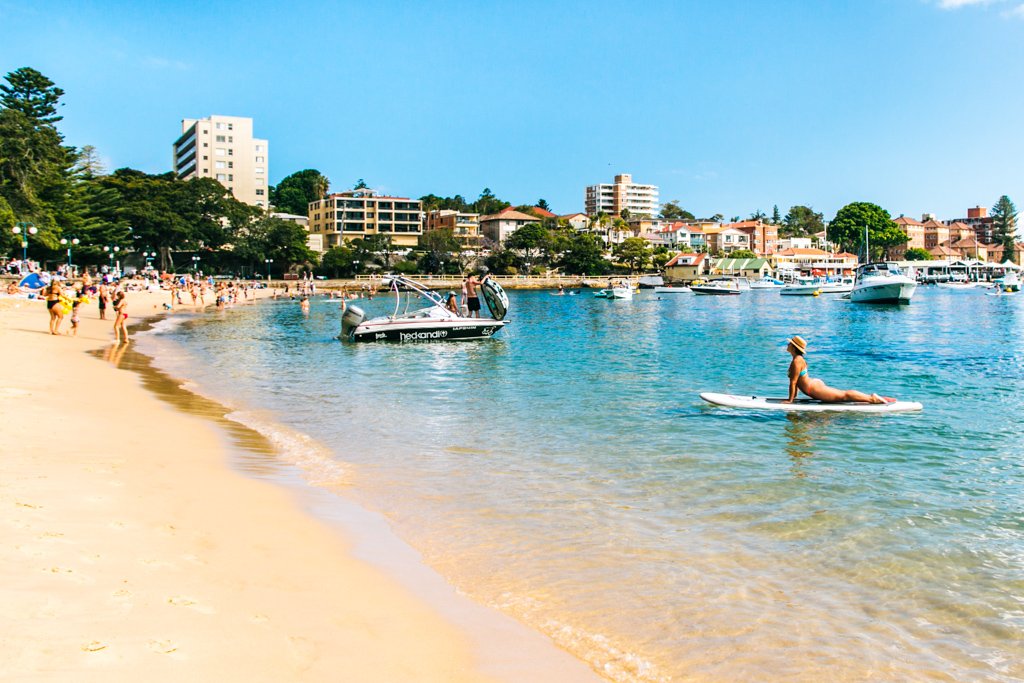 The next beach along the walking path is (5) Little Manly Beach, a popular spot amongst families thanks to the sheltered swimming area and beachfront facilities (there's a cafe and bathroom here).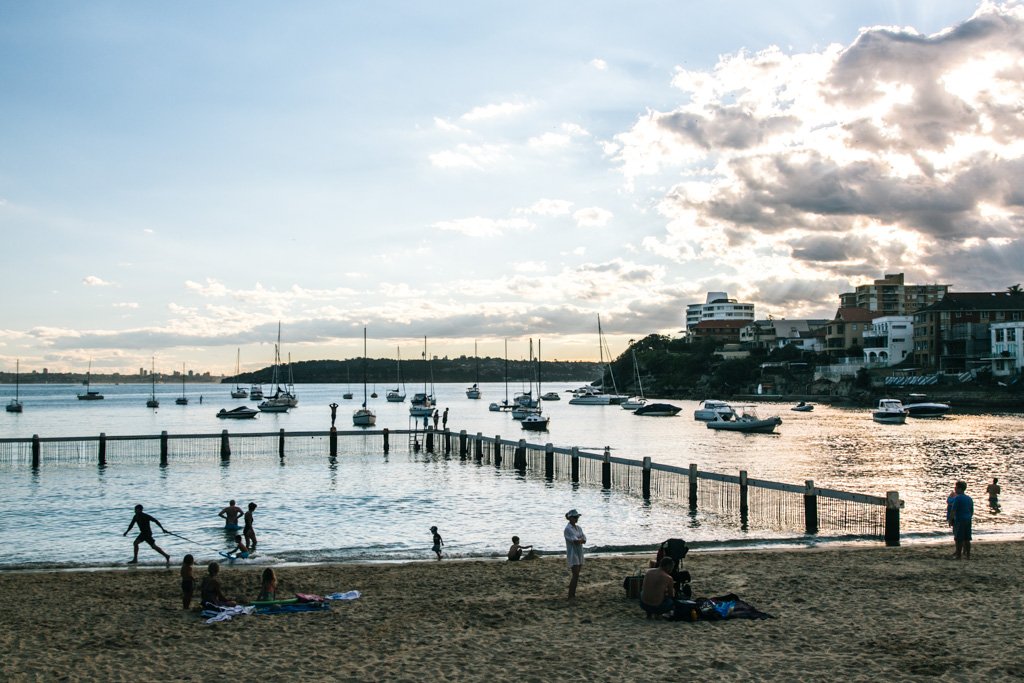 Little Manly Beach.
Just before the walking path ends at Collins Flat Beach, you'll notice a little clearing on the right side at Jump Rock. Not surprisingly, this is a popular spot for cliff jumping – just be mindful of the tides, as the water can get shallow here.
(6) Collins Flat Beach is another Manly gem, perfectly positioned to absorb the late afternoon sun. There's even a waterfall on the edge of this beach, but you'll probably only see it if there's been a lot of rain lately.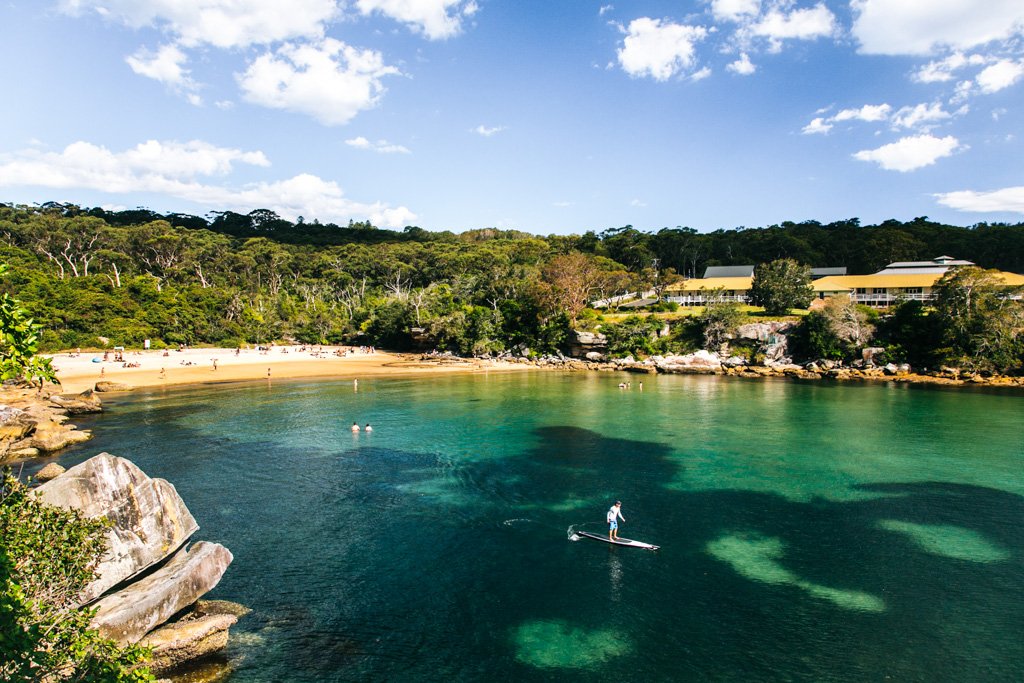 Collins Flat Beach, as seen from Jump Rock.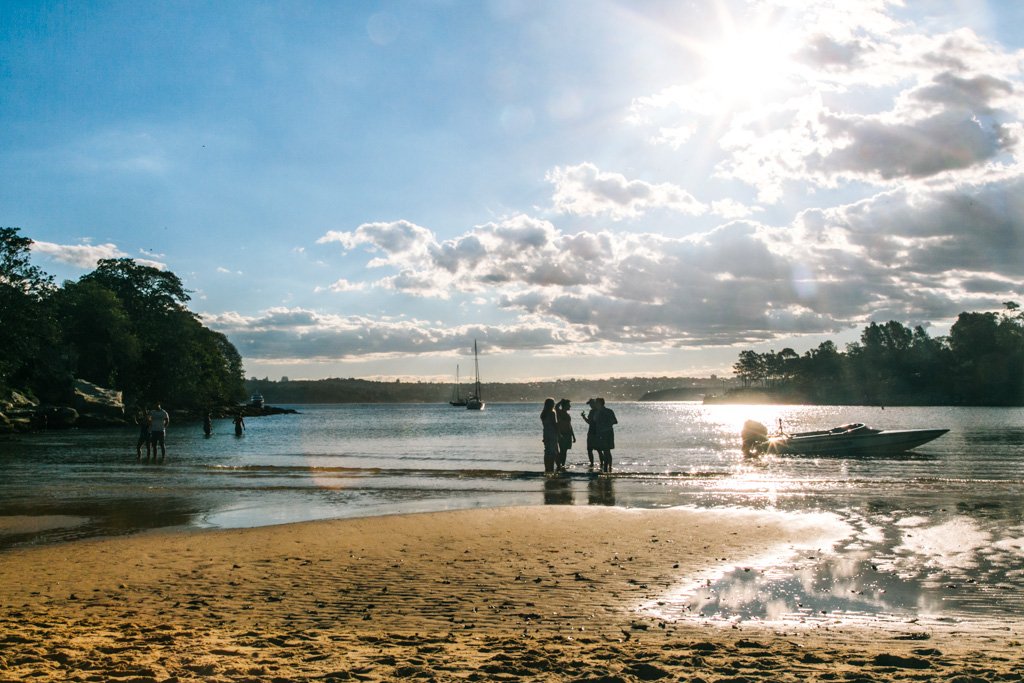 Collins Flat Beach.
(7) Store Beach and (8) Quarantine Beach are only accessible by boat, which makes them even more sweeter. I've hired a kayak before and paddled here from East Manly Cove Beach. While the beaches themselves might not be crowded, the bay does tend to jam up with party boats during summer months.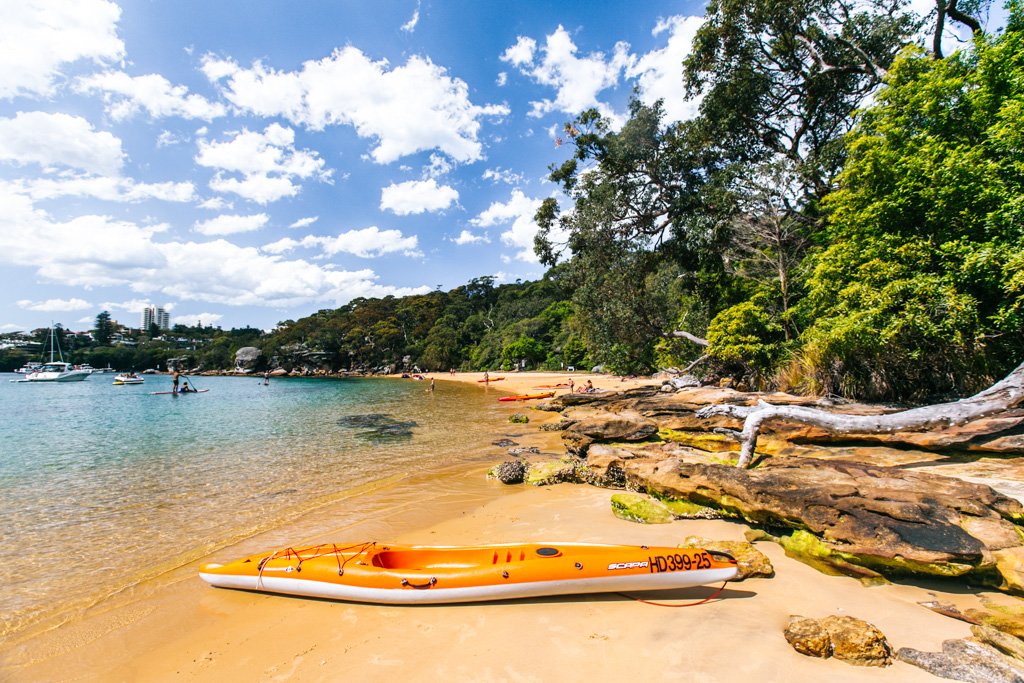 Store Beach.
Beaches from Fairlight to Balgowlah
There's another set of beaches on the other side of Manly Wharf, technically belonging to the suburbs of Fairlight and Balgowlah rather than Manly. Most of them sit along the Fairlight Walk (dashed black trail on the map at the top).

Manly Cove.
(9) Manly Cove is right next to the wharf. It's similar to East Manly Cove, but honestly with so many better beaches at your disposal nearby, I'd pass right by it and walk along the Fairlight Walk to (10) Delwood Beach. Delwood's got a nice mix of sand and rocks, as well as a shaded grassy knoll – it's definitely more of a local's spot (aka totally worth checking out).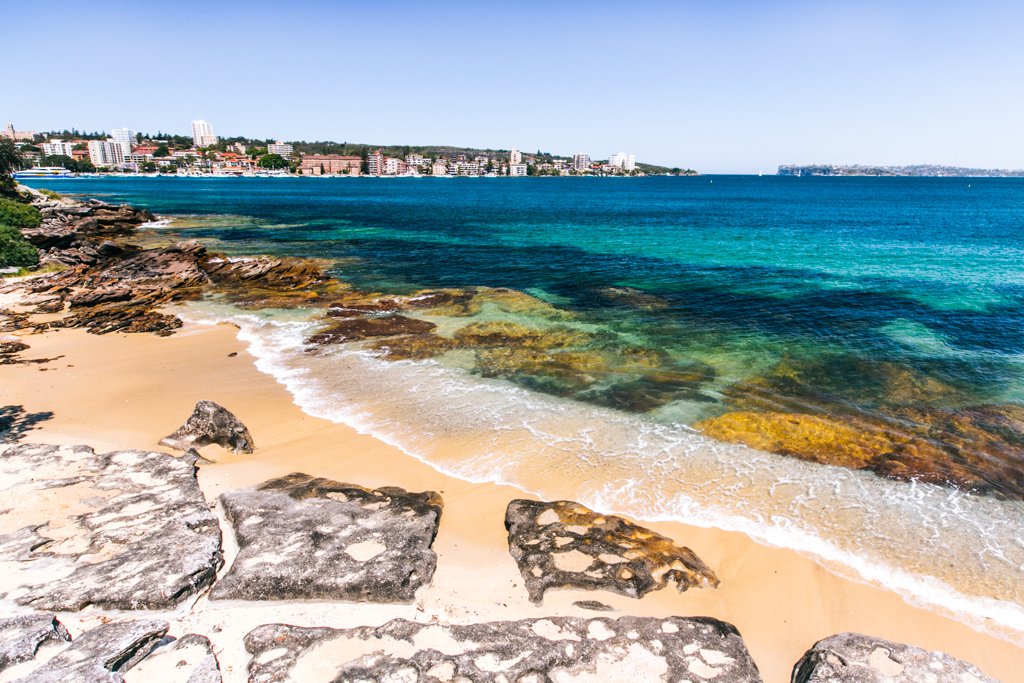 Delwood Beach.
Just around the corner from Delwood is (11) Fairlight Beach. It's not my favorite because it's small, often crowded, and feels a bit more exposed – BUT, it's also home to the Fairlight Tidal Swimming Pool, which boasts a pretty epic view of Sydney Harbour. It's also a big diving and snorkeling hotspot.

Fairlight Tidal Pool.
Just after Fairlight Beach, the Fairlight Walk turns into the North Harbour Walk and loops around North Harbour (gee, however were these walking paths named?!). The last beach on the track is another local favorite, (12) Forty Baskets Beach. I actually prefer hanging out on the rocks nearby rather than on the beach itself, but either way: this slice of Manly (technically Balgowlah, but for the purposes of this article let's say Manly) is GLORIOUS.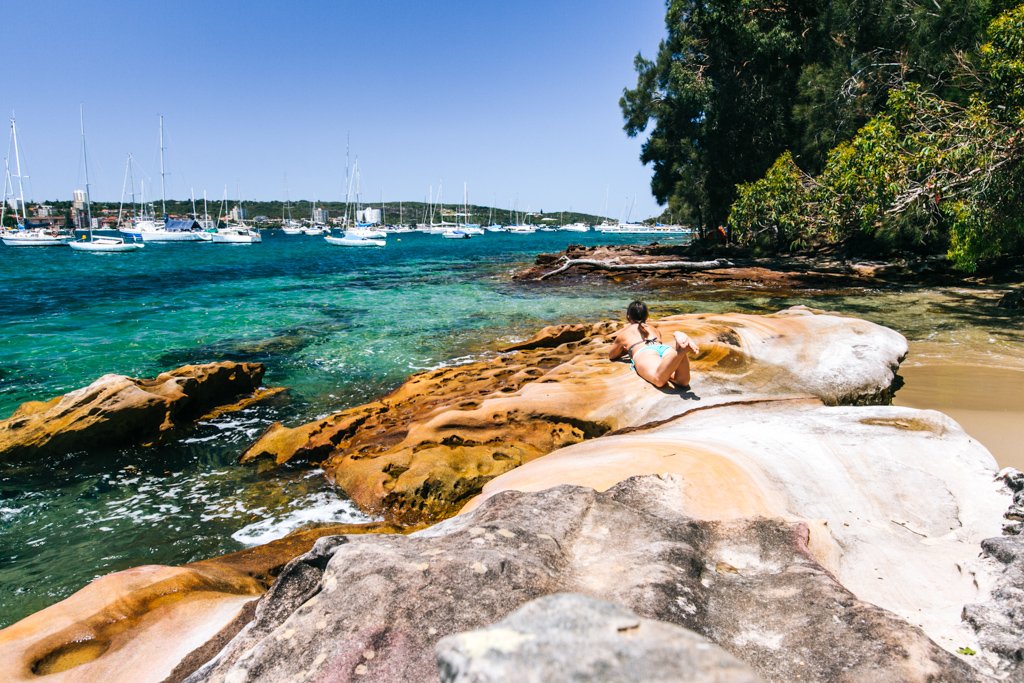 Rocks near Forty Baskets Beach.
Water Sports in Manly
Ok, so water sports are a thing all over Sydney. That's just what happens when a city has a harbour bisecting it, plus 188 miles of shoreline.
That said, there aren't that many places in Sydney that have a wide variety of aquatic activities on offer. Manly's unique in that it has both an ocean side and a harbour side, offering varying conditions and environments suitable for boats, boards, and underwater exploration:
Surfing – It kinda goes without saying that you can surf at Manly Beach. There's no shortage of surf shops along North Steyne (the road that runs along the beach). Manly Surf School is one of the more popular outlets: 1 lesson is $70, with the price decreasing if you book a package with them (e.g. 5 lessons is $240).
SUP (stand up paddleboarding) – SUP boards can be hired from Manly Kayak Centre ($25/hr) near Manly Wharf, for paddling around East Manly Cove Beach… or from Manly Surfboards ($30/hr) at 49 North Steyne, for paddling around Shelly Beach. You could also SUP around the other harbourside beaches, but you'd have to either paddle or walk your SUP board over to reach them, which maybe isn't worth it if you're hiring by the hour.

SUP and scuba off Shelly Beach.
Kayaking – Kayaks can be hired from Manly Kayak Centre ($25/hr). The best kayaking route is from East Manly Cove Beach over towards North Head via the beaches listed in the 'Beaches from Manly to North Head' section above. This is one of the only ways you can access Store Beach and Quarantine Beach. Be sure to hire your kayak for at least 2 hours if you plan on spending time at any of the beaches.
Diving – Dive Centre Manly offers shore dives around Manly at Fairy Bower, Shelly Beach, and Fairlight Beach (2 dives for $175). Sharks, rays, nudibranchs, and groupers can all be seen around Manly.
Snorkeling – You could opt to snorkel instead at the dive sites mentioned above. Snorkel sets are available for hire at some surf and dive shops in Manly, but it might actually be cheaper to buy your own from Aldi or a souvenir or discount store in the area.
Boating – Manly Kayak Centre and Manly Boat Hire have boats for hire, ideal for exploring the beaches and coves around Manly as well as further into Sydney Harbour.
Whale Watching – From approx. May to December, humpback whales can be spotted offshore from Sydney. Manly Ocean Adventures operates a whale watching tour ($90 for 1.5 hours) that runs from Manly down to Bondi and back, and they let you book onto another tour for free if you don't spot any whales.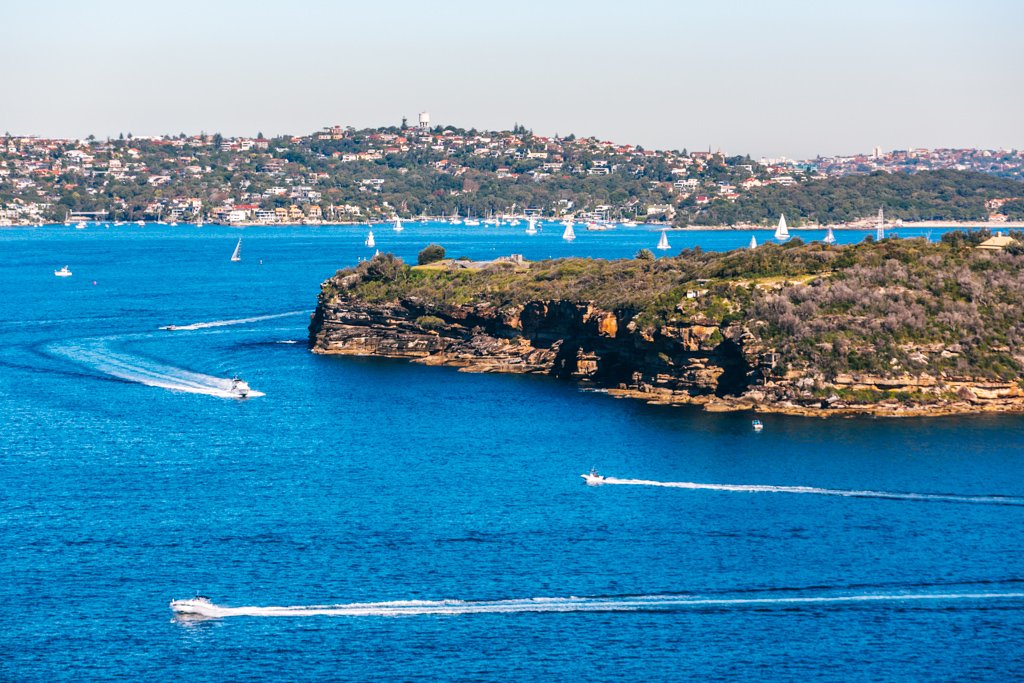 View from the Manly to Spit walk.
Walking & Hiking in Manly
In addition to all of the things to do in Manly *in the water*, there are a few walking trails in Manly that are well worth doing:
Manly Lagoon (13) – Here's a secret spot for ya: on the north side of Manly, separating it from Queenscliff, is the Manly Lagoon (or creek). It's most often frequented by locals going for walks or jogs, or walking their dogs.
Manly to North Head (yellow trail)- There isn't one walking track leading from Manly to the very tip of North Head, but you can walk up through North Head via a mix of roads and trails. The North Head Sanctuary Loop (1.5-2hrs) is a lesser known hike with heaps of plants, birds, and harbour views – highly recommend. The Fairfax Loop (1km, 20min) boasts killer views from the end of North Head over the outer harbour. Stay for sunset, if you can!
Manly to Spit (black trails) – This is one of the best walks in Sydney. Allot a half day for it and start in Spit, that way you can end in Manly and spend the remainder of the day hanging out there and/or getting dinner.
Fairlight & North Harbour Walk (dashed black trail) – If you don't have time, or don't want to do the full Manly to Spit walk, you can just do the easy segment from Manly to Balgowlah which passes by many of the beaches mentioned at the start of this article.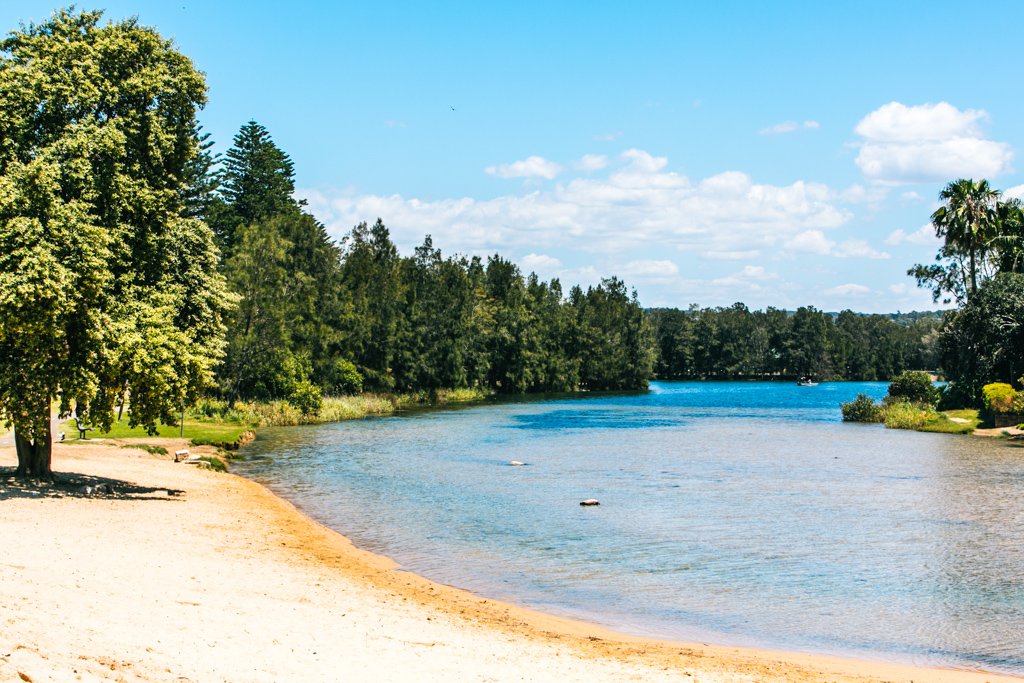 Manly Lagoon.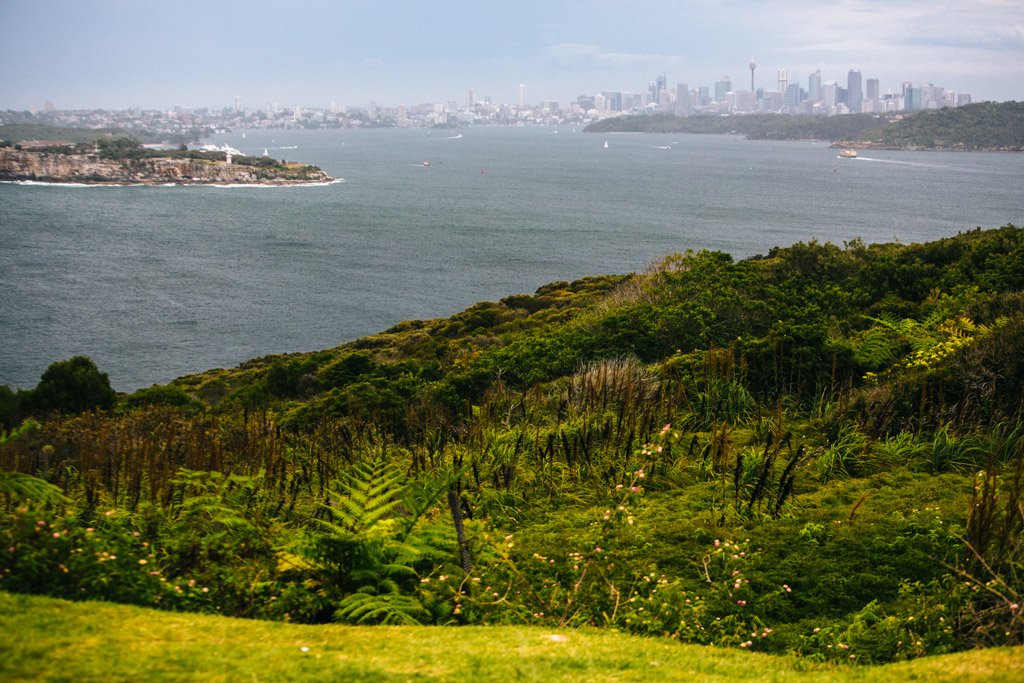 View from North Head.
Food & Drink in Manly
While this is an outdoor adventure guide to Manly, I thought I'd also throw in some of my favorite spots to grab food and drinks in the area: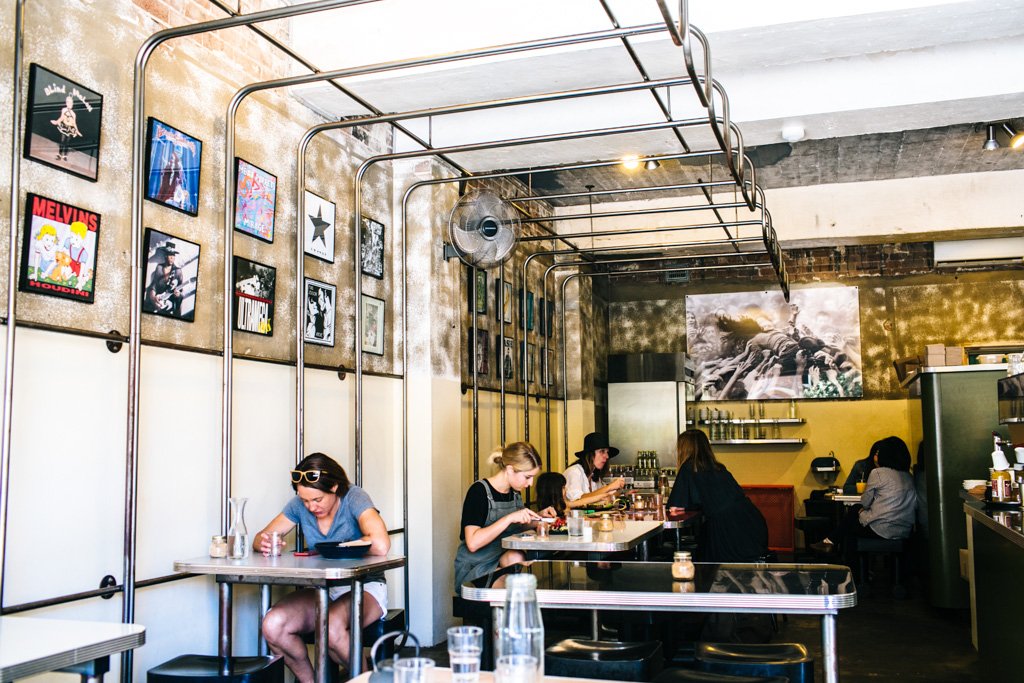 Showbox.
Pin it!
Frugal Facts
How to get to Manly
Manly is best reached by ferry. Sydney Ferries runs a public ferry from Circular Quay to Manly (30 minutes, $7.50 one way) which can be paid for via Opal card. Note that if you travel on a Sunday using your Opal card, there's a daily cap of $2.60 on all public transport which means you can save $12.40 on your ferry trip Manly.
There are also two private ferry companies that run faster boats to Manly, but are slightly more expensive than the Sydney Ferries and cannot be paid for with the Opal card:
In addition, there are buses that run from the city up through North Sydney and on to Manly, but I'd only recommend the bus if you're staying somewhere north of the harbour that's not near any ferry wharf.
Where to stay in Manly
I haven't ever booked accommodation in Manly so I can't recommend any specific place to stay. However, I think your best bet is searching for a room or flat on Airbnb. Sign up for Airbnb using this link and you'll save $38 off your first booking!