New York may be famed for its Broadway shows, world class shopping, and Michelin-starred restaurants, but it also offers a myriad of opportunities for affordable outdoor activities.
Here are 50 great outdoor activities in NYC, all located within the 5 boroughs and accessible by subway:
Free Outdoor Activities in NYC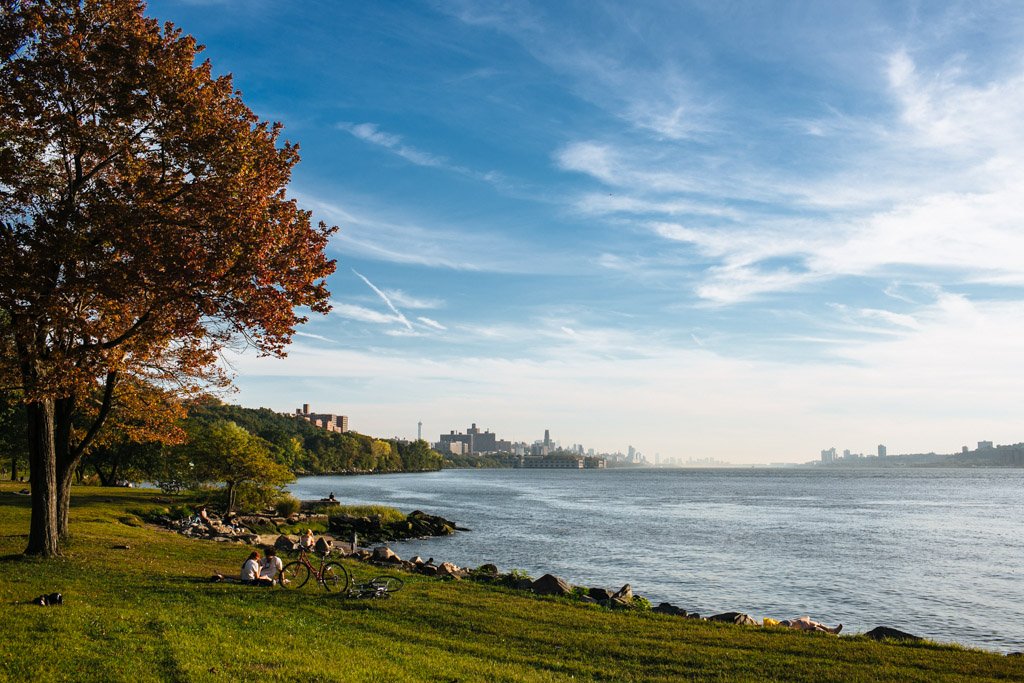 Cycling the Hudson River Greenway.
1. Cycle up the Hudson River Greenway
For an instant hit of happiness, hop on a bike and cycle up and down the west side of Manhattan on the Hudson River Greenway. This dedicated cycling and pedestrian path is completely free of traffic and runs right along the river with oh-so-scenic views of New Jersey. Pro tip: do this ride about 2 hours before sunset – that late afternoon sun feels incredible on your skin!
2. Cycle to Coney Island
One of my favorite summer activities in NYC is cycling to Coney Island via the Ocean Parkway bike path. It's completely separate from traffic and lined with trees, making for an enjoyable urban bike ride through not-oft-visited Brooklyn neighborhoods.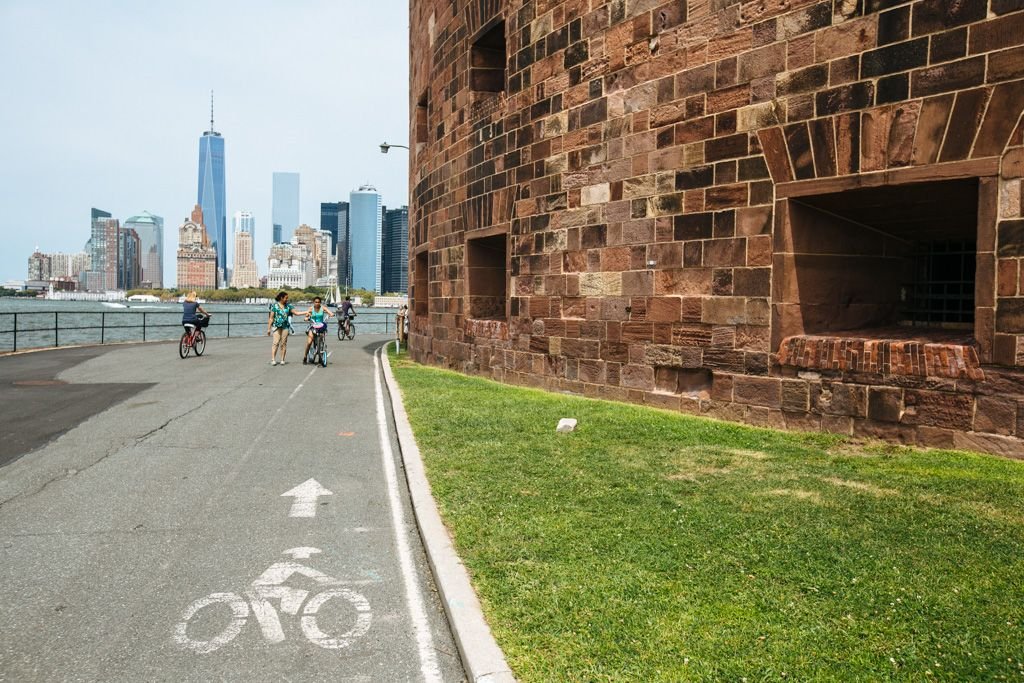 Governors Island, one of the best things to do outdoors in NYC.
3. Spend the day at Governors Island
Governors Island is a renovated plot of land, where historical forts and colonial buildings are juxtaposed with a hammock grove, ballparks, and a waterfront beach bar. You can catch a ferry from lower Manhattan or Brooklyn Heights and spend the day hanging out on the island, getting into all sorts of outdoor adventures in NYC.
4. Take the tram to Roosevelt Island
Roosevelt Island is more residential than touristic, but you've got to take the Roosevelt Island tram at least once while you're in New York. Be ready to snap some shots of East Midtown from above the streets!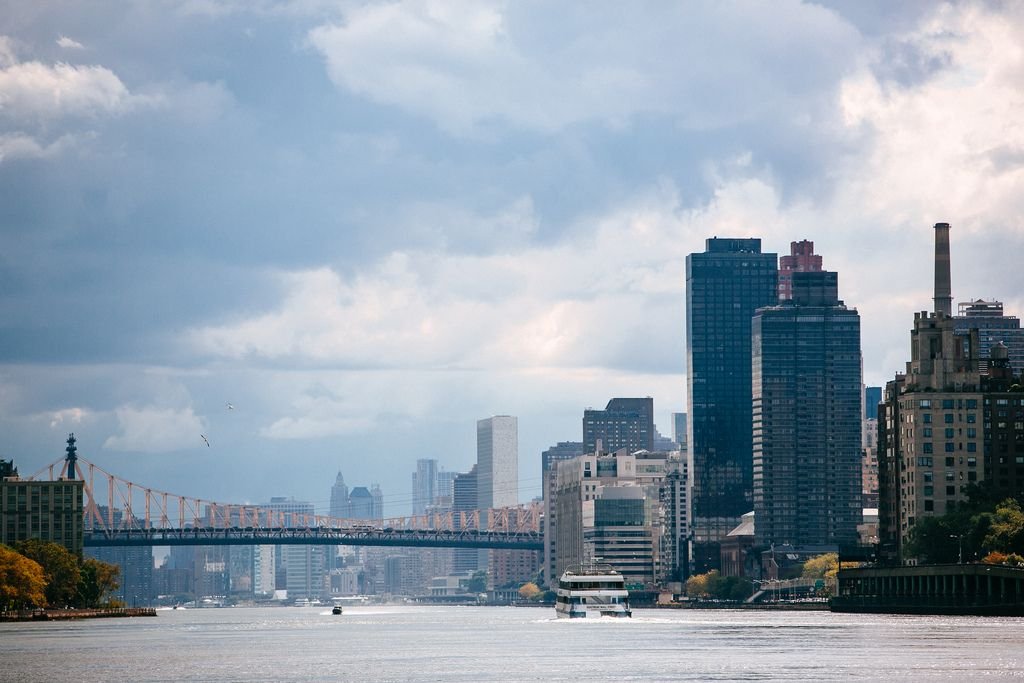 View of the Queensboro Bridge from Randalls Island
5. Take in the East River views from Randalls Island
There's not much on Randalls Island aside from ballparks and bike paths, but it's worth hanging out on the south side of the island to take in the views of Manhattan.
6. Walk across the Brooklyn Bridge
Walking across the Brooklyn Bridge on weekends is a borderline miserable experience with the masses of tourists and hoards of speeding cyclists, but this is a NYC must do. To ensure it's a fun time, tackle the bridge crossing on a weekday or stick to just the Brooklyn half of it on weekends.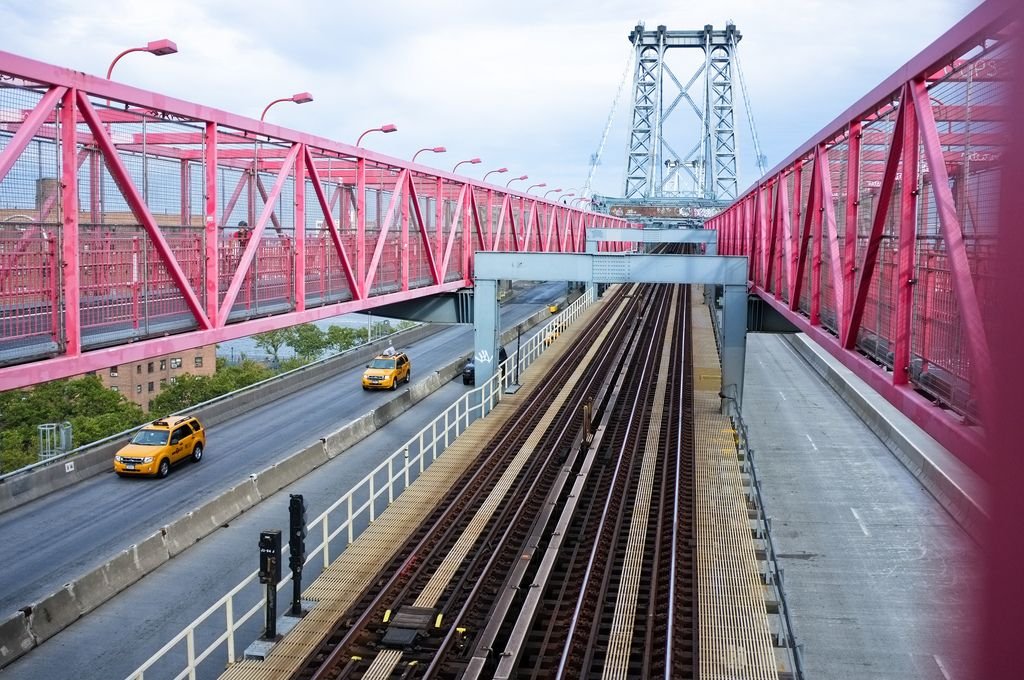 Williamsburg Bridge
7. Walk or cycle across the Williamsburg Bridge
You want to be a tourist? Cross the Brooklyn Bridge. Prefer the local experience? Cross the Williamsburg Bridge. With tons of graffiti and separate paths for cyclists and pedestrians, it's far more enjoyable.
8. Stroll the cobbled, graffitied streets of Dumbo
This artsy Brooklyn nabe's got so much to see: street art, artist warehouses, galleries, and fetching views of Manhattan (and the Manhattan Bridge!). It's fun to stroll the cobblestone streets, but you might want to head elsewhere for food and drink – there's not too much in the way of restaurants and bars in this area.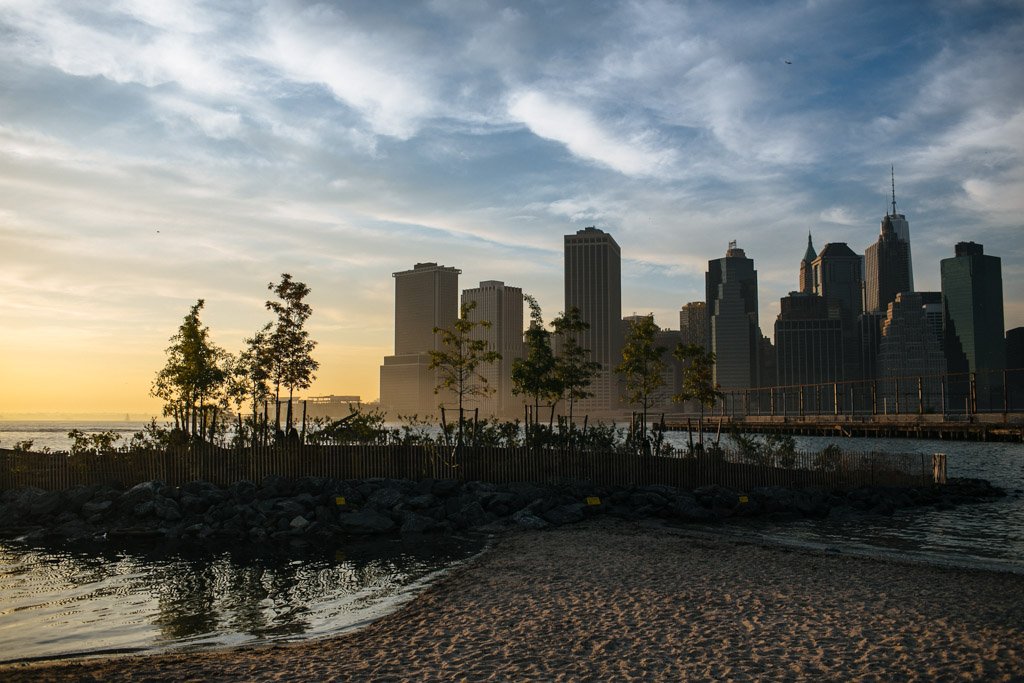 View from Brooklyn Bridge Park
9. Wander around Brooklyn Heights Promenade and the nearby brownstones
Brooklyn Heights is a beautiful, expensive neighborhood with gorgeous brownstones and a waterfront promenade fit for frolicking. Highly recommend spending a sunny afternoon exploring this area.
10. Stroll down Bedford Ave in Williamsburg
Bedford Avenue in Williamsburg, Brooklyn is good for many things. If you're a babe on a budget, you've got some quality hipster watching and window shopping to look forward to. And if you've got a little cash to spend, there are restaurants galore to sample.

View of NYC from Gantry
11. Sun yourself at Gantry Plaza State Park
Why the masses haven't made it over to up-and-coming Long Island City and Gantry Plaza State Park is a big fat mystery, but it makes a jaunt there that much more satisfying. There are few better ways to spend a sunny NYC summer day than laying out on a wooden reclining chair right on the waterfront smack dab across from Midtown. This was one of my favorite outdoor activities in NYC during summer when I lived just over the bridge in Williamsburg.
12. Central Park
This iconic site needs no explanation. You'll love getting lost in this massive park – it's everyone's favorite when it comes to outdoor activities in NYC.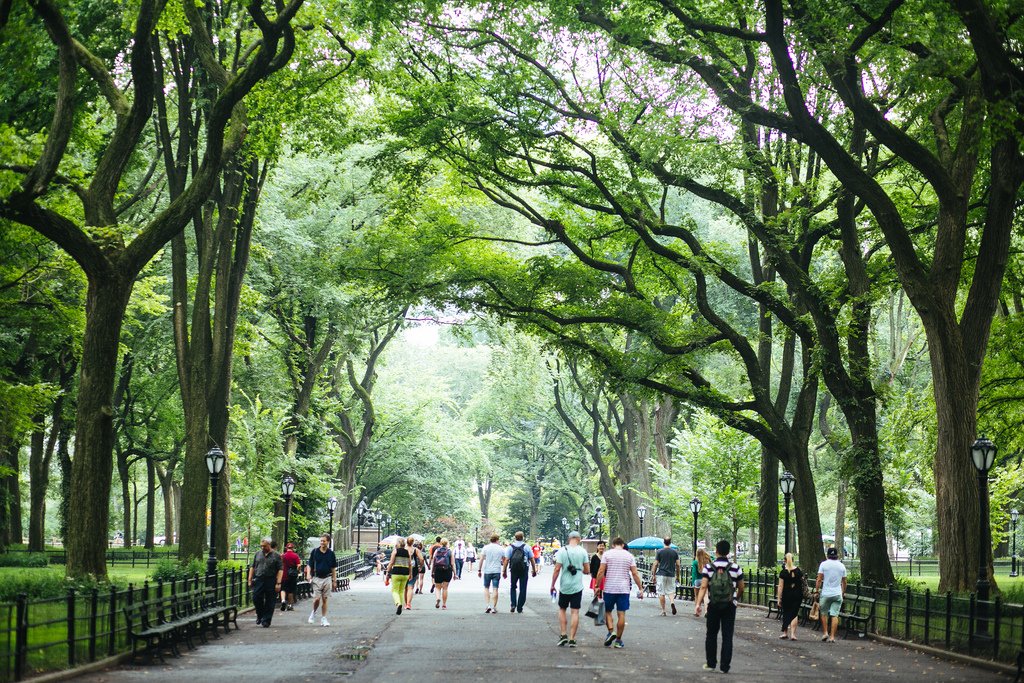 13. Picnic or BBQ in Prospect Park
For a quieter alternative to Central Park, head to Brooklyn's Prospect Park. You're far more likely to find locals rather than tourists enjoying this woodsy land. It's a popular BBQ spot for families during summer months.
14. Walk the High Line
On the west side of Manhattan, an elevated train track has been converted into an urban park and it is AWESOME. You can walk the High Line for 1.5 miles from Gansevoort Street in the West Village up to 34th Street, enjoying views of the streets from above, sitting in the plentiful open air seating, and sampling treats for sale along the way.

The High Line
15. Go bouldering in Central Park
Did you know you can go rock climbing outdoors in NYC? There are some boulders in the south end of the park that are popular with climbers.
16. Scour the street art in Williamsburg, Bushwick, or the Lower East Side
These gritty NYC neighborhoods are rife with colorful, creative street art. Murals are constantly changing, so there's always something new to see.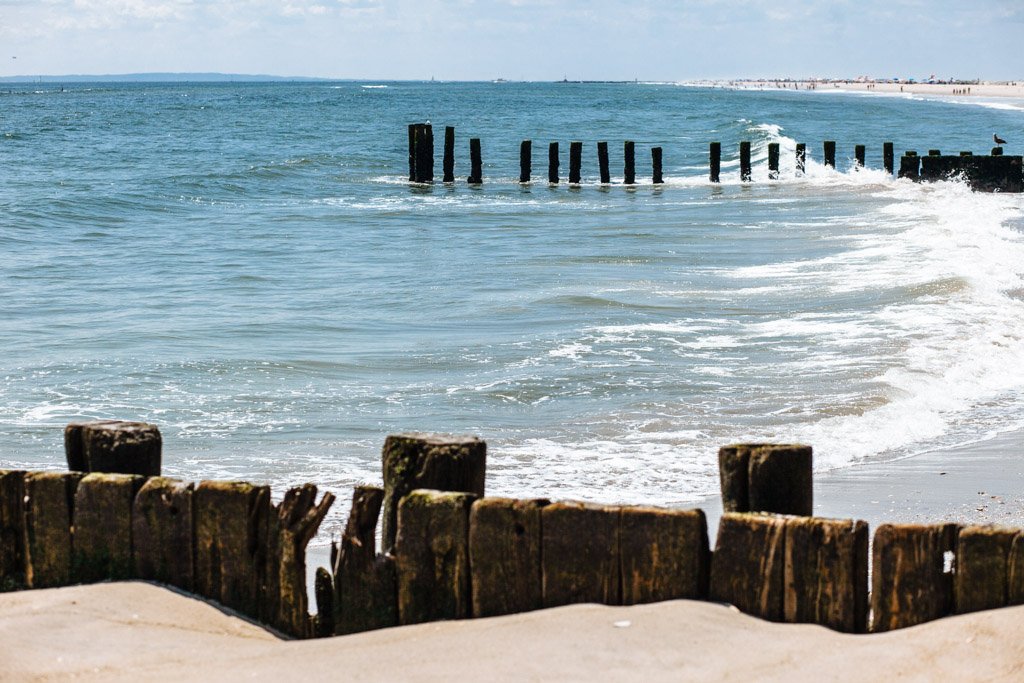 Fort Tilden Beach
17. Escape the crowds at Fort Tilden Beach
You could always spend a day at Coney Island or Rockaway Beach, the most popular beach options for New York City dwellers. But if you're up for going off the beaten path, head to Fort Tilden instead. In addition to less crowds, this beach has some modest sand dunes and is a bit more picturesque than the other NYC beaches. Getting there requires a lengthy subway journey, or if you're in Brooklyn you can hop on the Beach Bus or the Rockabus and get there in about 30 minutes.
18. Go for a run on the East Side of Manhattan
Below 14th Street, you can run through East River Park; above 14th Street, you have the East River Bikeway which typically hosts more pedestrians than cyclists and provides awesome views of the Empire State Building and the Queensboro Bridge as you approach 34th Street.

View from Brooklyn Bridge Park
19. Take in the views and myriad activities at Brooklyn Bridge Park
Spanning 1.3 miles of Brooklyn's newly-revitalized waterfront, Brooklyn Bridge Park has everything from iconic views to unique and plentiful outdoor sitting areas to playgrounds and ball courts.
20. Outdoor movies in the park during summer
During summer, several parks in NYC show free outdoor movies after sunset: Bryant Park, McCarren Park, Central Park, Tompkins Square Park, Riverside Park and Hudson River Park among others. Gather some friends or take a date, pack a picnic dinner (and maybe a flask!), and make an evening of it.

Coworkers out to see a movie in the park
21. Ride the Staten Island Ferry
Catch a glimpse of the State of Liberty and the Financial District skyline from the free 30-minute ferry ride to Staten Island. Note that you'll have to disembark and wait to board the ferry back to Manhattan.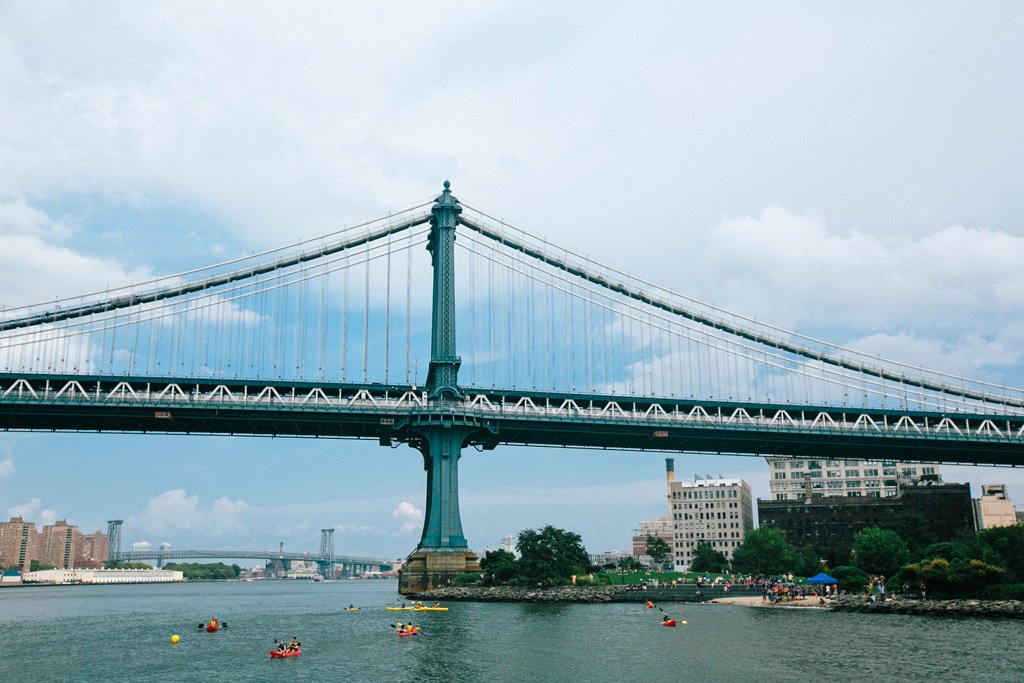 Free kayaking at Brooklyn Bridge Park
22. Free kayaking during summer
If you're in New York during summer, take advantage of the free kayaking offered on both the Hudson River and East River:
Outdoor Drinking, Dining, and Shopping in NYC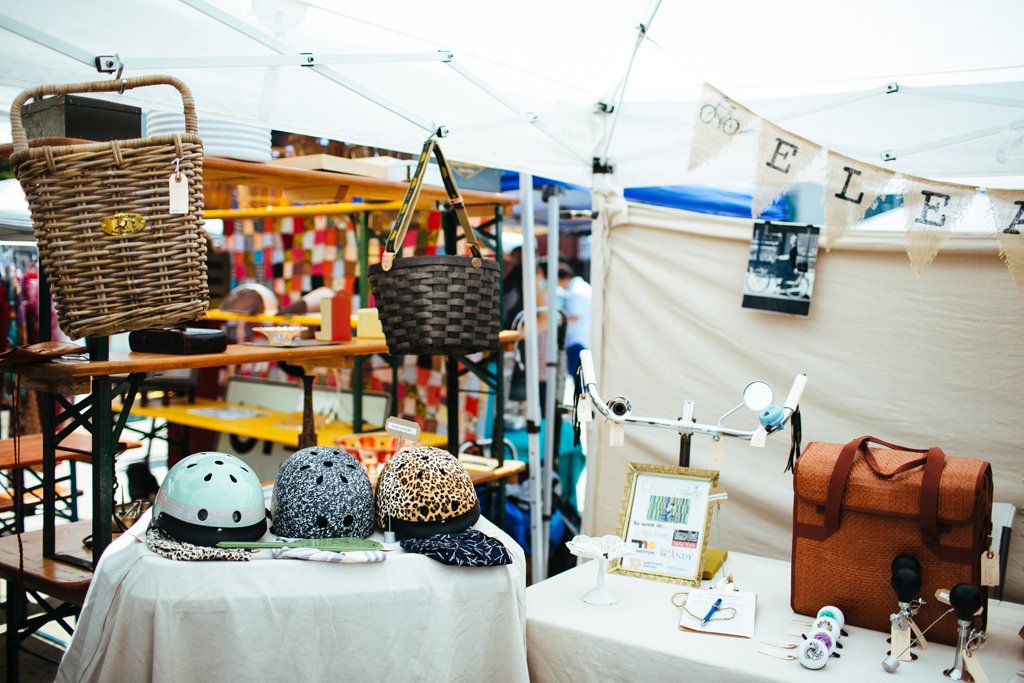 Brooklyn Flea Market
23. Shop for vintage items at the Brooklyn Flea
On Sundays during spring/summer/fall, NYC's beloved Brooklyn Flea market is held on the Williamsburg waterfront, where you can browse all sorts of vintage clothes, furniture, antiques, jewelry, handmade crafts, and more.
24. Sample food from around the world at Smorgasburg
Put on by Brooklyn Flea, the Smorgasburg food market is located in the same waterfront location as the Flea, but on Saturdays during spring/summer/fall. Crawl your way through the Smorgasburg vendors on a sunny day, then grab an iced coffee or ice cream and take it to the nearby pier or park.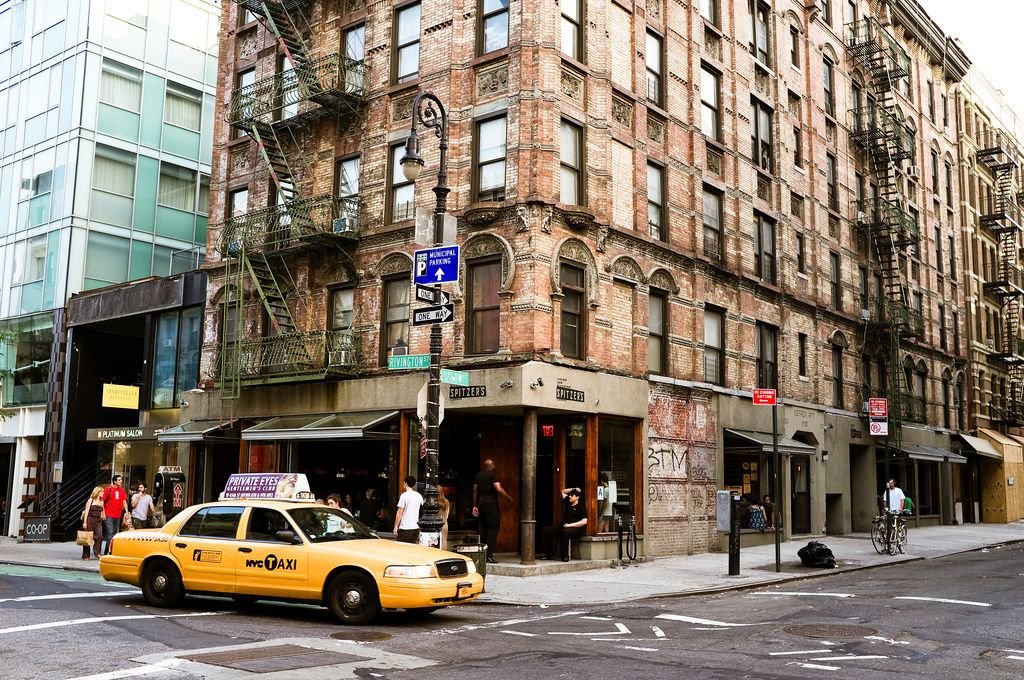 25. Burgers and drinks at Boat Basin Cafe
Perched above the Hudson River, this Upper West Side institution is the place to go on a summer evening when all you want to do is be outside drinking by the waterfront.
26. Happy hour at the Frying Pan
Does it get any better than drinking on a docked boat at sunset? Hit the Frying Pan after work and share a jug of sangria with your coworkers.

View from the Wythe Hotel rooftop in Williamsburg, Brooklyn
27. Enjoy fancy artisanal cocktails at the Wythe Hotel rooftop bar
This hip hotel in Williamsburg boasts fab city views from its rooftop bar, complete with fancy cocktails crafted by its hipster bartenders.
28. Dine alfresco at a sidewalk cafe in the West Village
The West Village was made for strolling. Get lost on its cobblestone streets, then plop yourself down at an outside table at one of its many restaurants.

View from South Street Seaport
29. Drinks at Watermark Bar in South Street Seaport
The area around South Street Seaport has been transformed into a magnificent outdoor space in recent years. At Watermark Bar, you can enjoy views of the Brooklyn Bridge and Manhattan Bridge while drinking underneath a park (yes, there's a park on top of the bar!).
30. Go cruising with the North River Lobster Co.
You've got to try the lobster rolls on this floating lobster shack, which periodically sails around the Hudson a couple times a day.

View of Manhattan from the water
31. Drinks at the Manhattan Yacht Club's floating clubhouse
If you're looking for an offbeat NYC adventure, this should fit the bill. Not many people know about this floating bar just north of Ellis Island which, despite its name, is not exclusive to Yacht Club members; non-members can book a return boat trip online for $20 for the privilege of savoring drinks at a floating clubhouse with views of Lower Manhattan.
32. Drinks at the Pod 39 rooftop bar
You don't have to stay at this trendy hotel to enjoy its rooftop bar with views of the Midtown skyline.
View from the Met Museum Rooftop
33. Drinks on the Met Museum Rooftop
Visiting the Met Museum's rooftop bar can be a pricey endeavor because you have to purchase a ticket to the Met just to access it, but it's worth doing if you're already planning on touring the museum. From the roof, you can see the south end of Central Park and the surrounding skyscrapers.
34. Take a street food tour
New York is a gloriously diverse city, home to people of all sorts of ethnic backgrounds as well as international cuisines. A fantastic way to sample the best NYC street food is by taking a food tour through one or several ethnic neighborhoods. Jeff Tastes' Midnight Street Food Tour through Queens comes highly recommended, though there are a plethora of others to choose from.

View from 230 Fifth rooftop bar
35. Winter drinks at 230 Fifth
While outdoor drinking is generally best suited for summertime, I'd argue that the 230 Fifth rooftop bar is best enjoyed on a cold winter evening. It's fun to throw on one of their oversized robes, order a seasonal warm cider, and sit by the heat lamps as you admire the Empire State Building from just a few blocks away.
Paid Outdoor Activities in NYC
36. Go flying at The Trapeze School
Sex and the City fans: remember when Carrie took trapeze lessons in NYC? You can actually do this in the city at the Trapeze School New York, overlooking the Hudson River on Pier 40. Good luck not getting distracted by the city view, though! A 2 hour lesson costs $70.
37. Take a ride on the East River Ferry
For just $6, you can cruise up and down the East River, passing beneath 3 bridges and taking in views of both the Lower Manhattan and Brooklyn skylines. Ferry stops include Long Island City in Queens; Greenpoint, Williamsburg, and Dumbo in Brooklyn; South Street Seaport and 34th Street in Manhattan.
38. Attend a summer event at Governors Island
Governors Island comes alive during summer, with events held every weekend from Memorial Day to Labor Day. Don't miss Figment, the Jazz Age Lawn Party, or the Full Moon Fest – they're such fun things to do outdoors in NYC.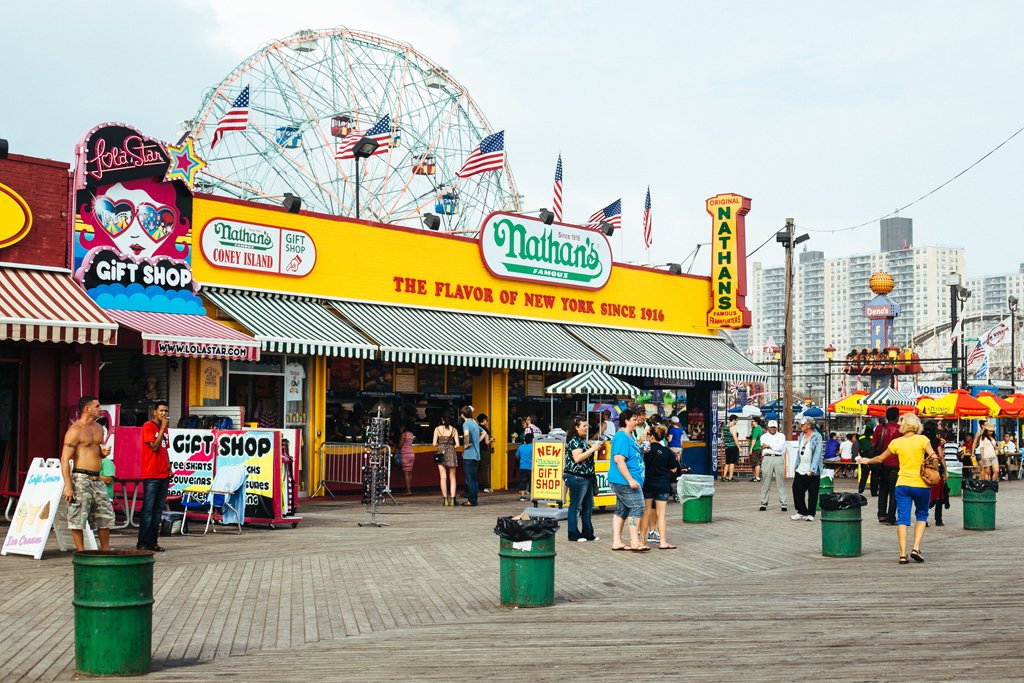 39. Go for a ride at Coney Island's Luna Park
For some overpriced thrills, you've gotta go on some rides at Luna Park in Coney Island. This old timey amusement park is still standing, a little worse for wear but still worth a do. The best ride in the whole damn park is the Cyclone. Is it worth the $9 ticket? The verdict's still out on that one (I loved it, though!).
40. View from Top of the Rock
If you're going to pay money to see NYC from a very high vantage point, my go-to is always Top of the Rock at Rockefeller Center. It's less crowded than the Empire State Building, has less obstructed views, and best of all: you can actually see the ESB from it. I also love that you can look straight down from the north side of the observation deck and see nothing but Central Park sprawling out for 60+ blocks ahead.
Alternatively, you can dodge the $32 admission fee by taking my friend Ashlea's advice and pop into Bar SixtyFive for drinks with a view on the 65th floor of the building!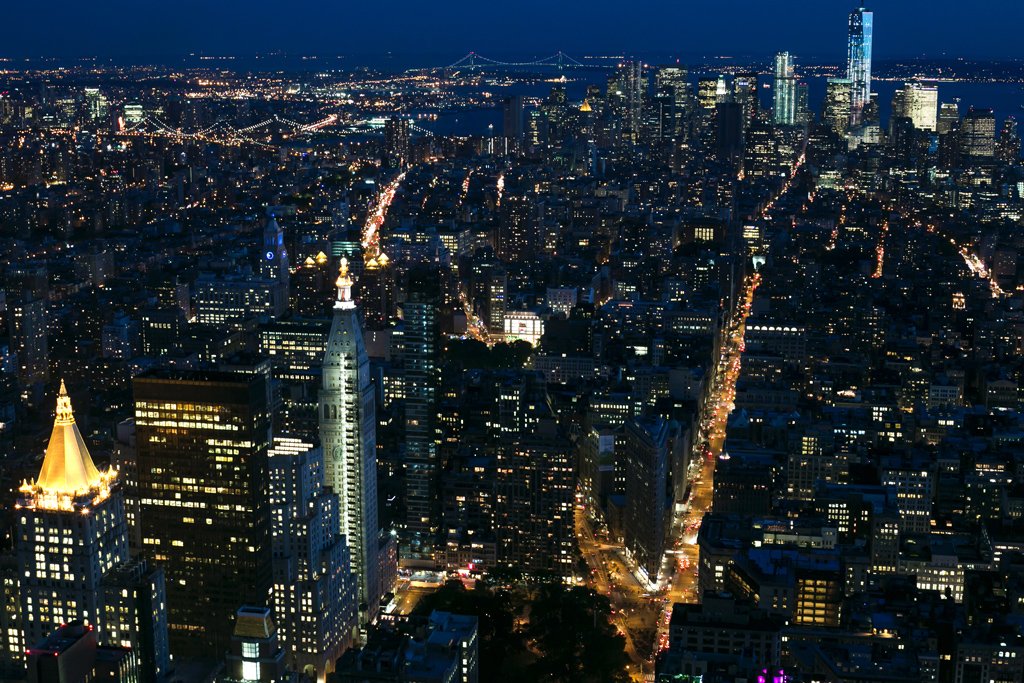 View from the Empire State Building
41. View from Empire State Building
What NYC tourist doesn't have the Empire State Building on their holiday to-do list? I did just talk it down in favor of TOTR, but know that it's still well worth doing despite the $32 ticket. You'll have a slightly better view of the bridges and Downtown Manhattan from 34th Street as well.
BOOK NOW: Empire State Building Tickets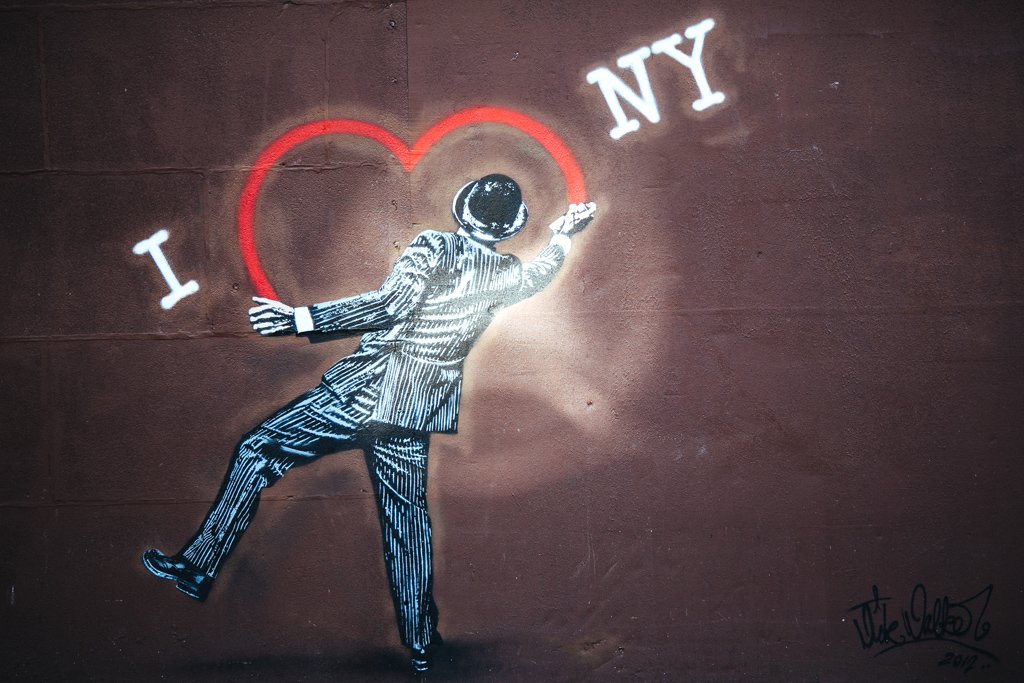 42. Explore the grounds of The Cloisters
This medieval art museum is actually part of the Met Museum family. Located way-the-hell uptown in Washington Heights, the grounds and surrounding Fort Tryon Park make for some lovely outdoor exploration.
43. Visit Ellis Island
Most of Ellis Island's attractions are indoors, but from the island grounds you can also check out the wall of names from the immigrants that came through Ellis Island in the early 1900's (my Lithuanian grandma's name is on it!). Plus, the view of Lower Manhattan aint too shabby.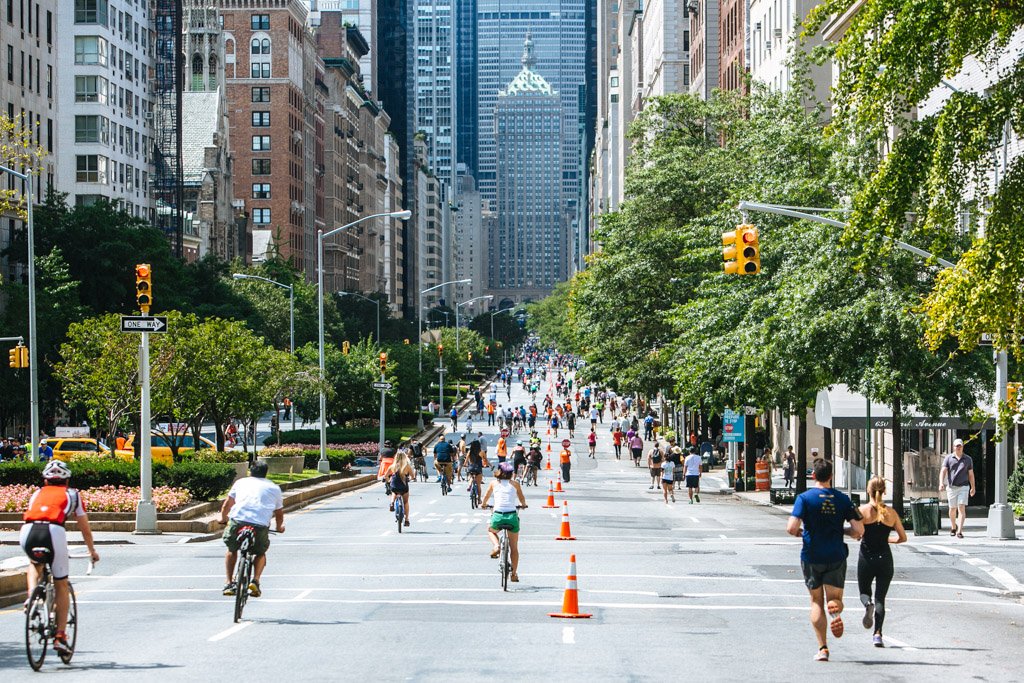 44. Take an outdoor yoga class
During warm weather months, many of the NYC parks offer free outdoor yoga classes – just be prepared to get your downward dog on in the company of wayyyyy too many people. For a more calming yoga experience, take a paid rooftop yoga class at Yo Yoga on the Upper East Side, or at Brooklyn Grange Farm at the Brooklyn Navy Yard.
45. Spend the day at the New York Botanical Garden
For a solid day out in nature without technically leaving New York City, you can't do much better than the New York Botanical Garden. NYBG's got plenty of wooded paths to wander and garden patches to ogle. Admission is $20-25 for adults.

Brooklyn Botanic Garden
46. Spend the day at the Brooklyn Botanic Garden
If trekking all the way up to the Bronx doesn't appeal, head out to Brooklyn instead to get your flower fix at the Brooklyn Botanic Garden. Don't miss the annual cherry blossom blooms during spring! Admission is normally $12, but entry is free on Tuesdays all day and on Saturdays from 10am-12pm.
47. Go ice skating in December
Between Thanksgiving and Christmas, ice skating in NYC is insanely popular – and rightfully so. It's one of those classic outdoor NYC winter activities, particularly during the holiday season. Rent some skates and hit the ice in Bryant Park, South Street Seaport, Rockefeller Center, or Central Park.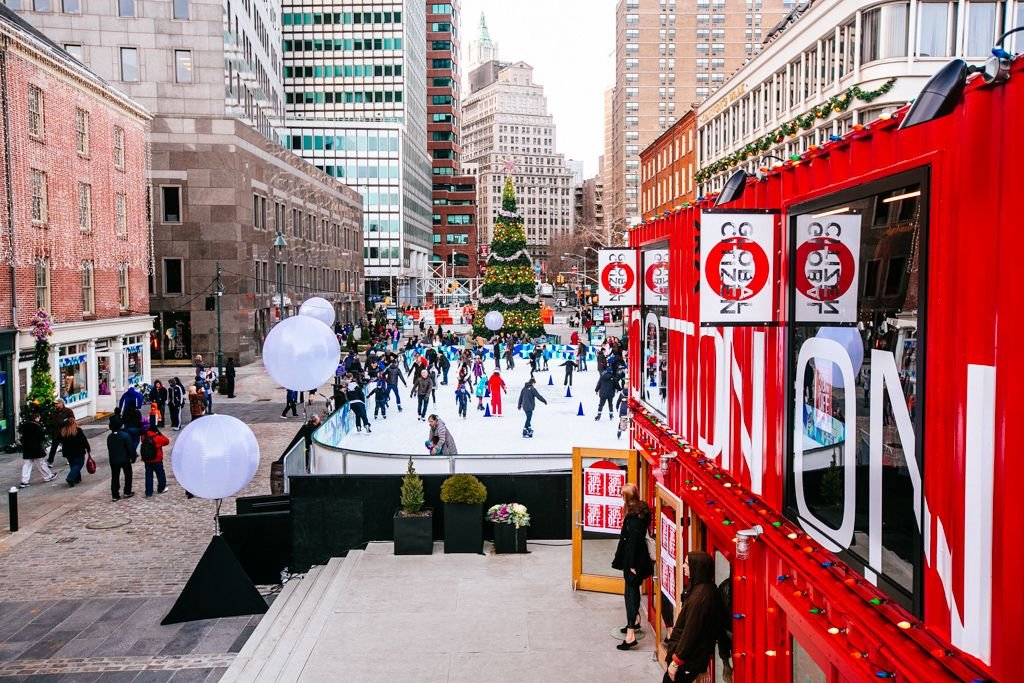 Ice skating at South Street Seaport
48. Take a helicopter ride over NYC
For a worthwhile spurge, admire NYC from the air on a helicopter ride over Manhattan.
49. Wander around Socrates Sculpture Park
Fancy some offbeat outdoor activities in NYC? Get your daily dose of art at this open air sculpture museum in Long Island City, Queens.
50. Go surfing at Rockaway Beach
This could be a free activity, providing you have your own surfboard and wetsuit. If you don't, you can rent gear or sign up for a surf lesson with Locals Surf School in the Rockaways. And while you're there, be sure to nab some tacos at the famously delicious Rockaway Taco!
Pin it!
Pin it!