Let's suppose you're visiting NYC from some faraway land, possibly for the first time. You've strategically based yourself in East Midtown at a hotel just a few blocks from Grand Central Terminal and all the Bucket List-worthy tourist attractions nearby. You spent the first few days of your trip running around like mad: exploring Central Park, oohing and ahhing over Times Square, catching a Broadway show, window shopping on 5th Avenue, hitting the Met Museum. And now you're exhausted, thinking you wouldn't mind a day off from being a tourist in frenetic Manhattan.
Enter Queens!
A laidback melting pot of cultural goodness, Queens is brimming with opportunities to get off the tourist track and experience a more authentic side to New York City. And it's so accessible: just hop on the 7 Train from Midtown, ride the subway across the East River, and you're there within 10 minutes.
Here are my best suggestions for things to do in Queens, New York, right off the 7 Train.
Gantry Plaza State Park
Long Island City | Vernon Blvd – Jackson Ave stop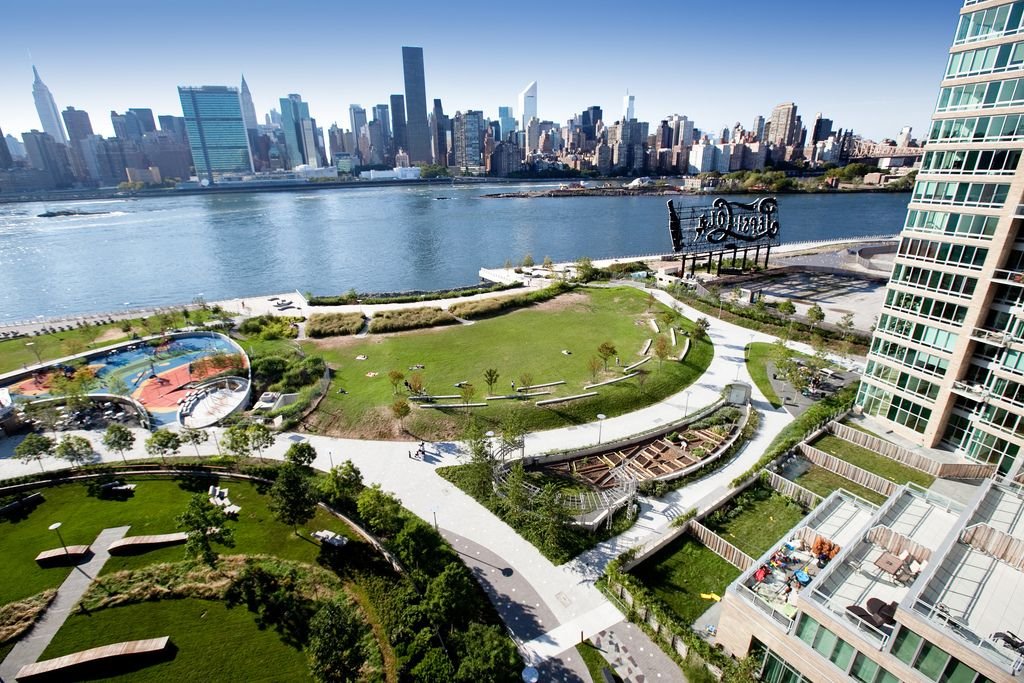 I have so much love for Gantry; in fact, I've already featured it multiple times on this blog, as one of the locations with The Best Views of NYC as well as one of My 12 Favorite Things About NYC. This waterfront park spans the length of Long Island City, one of Queens' westernmost neighborhoods. It's still relatively new, having first opened in 1998 and recently expanded in 2009. The massive Coca Cola sign and restored transfer bridge serve as industrial remnants from when the land was used for a Pepsi factory and a dock facility in the early 1900's. It's a great example of NYC's knack for juxtaposing grit with green.
When I lived in NYC, I adored Gantry because it inspired me to slow down and relax – something I, along with far too many New Yorkers, are terrible at. On summer weekends, I used to cycle over from Williamsburg and park myself on one of the permanent wooden lounge chairs right on the water. I'd strip down to my bikini, selectively slap on some sunscreen, and lay out with a book while enjoying the view.
Best of all, somehow it is never crowded here. There might be a few tourists who stop by the piers to snap some photos, but Gantry is largely a locals' park. Families picnic in the grass, friends play ball, mothers push strollers around – it's a place where New Yorkers hang out and enjoy the sun, and where tourists should make the effort to get to if only to enjoy the insane city views.
If you're in need of some time away from the city, I highly recommend checking Gantry Plaza State Park out.
MoMA PS1 Museum
Long Island City | Court Square stop

Photo Credit: Sunghwan Yoon via Flickr Creative Commons
As you may have astutely picked up from its name, PS1 is affiliated with MoMA (The Museum of Modern Art), which means buying a ticket to MoMA includes admission to PS1 as well (providing you present your MoMA ticket within 14 days of ticket date). Otherwise, a standalone ticket to PS1 is $10. Midtown's MoMA may be much larger and more famous, but Queens' PS1 won't have a queue to get in on Friday evenings – and believe me, that's a perk well worth considering.
The PS1 Museum houses solely contemporary art – which got me thinking, what's the difference between modern art and contemporary art? According to this source, modern art is art the impressionists created from ~1880-1970s, and contemporary art is created from the 1970s up until now. When I visited PS1 in my early New York years, I recall observing a lot of experimental projects, the kind that makes you wonder 'huh… so this is art?'. PS1's artists like to push boundaries and mix media, and the result is a unique collection of art you won't find elsewhere in the city.
Music fans, take note: from 3-9pm on Saturdays during the summer, PS1 hosts the Warm Up outdoor music series in its courtyard. You'd be strapped to find a cooler venue for a hipster dance party. Tickets are $18 in advance, $20 the day-of, and includes admission to the museum.
A Street Food Tour
Jackson Heights | 82nd St – Jackson Heights stop

Photo Credit: Evan Cordes via Flickr Creative Commons
I've long been wanting to delve deeper into Queens, specifically exploring its more ethnic neighborhoods. It's the kind of area where there isn't anything flashy or guidebook worthy to see – i.e. it's usually overlooked – yet it's rife with local color and just made for people watching and street photography.
As many of my travel blogger colleagues would argue, one of the best ways of exploring a new city or culture is through food. (Not that I disagree, but y'all know I'm no foodie – I prefer to explore through an outdoor adventure lens rather than a food-centric one). Jeff Tastes' Midnight Street Food Tour through the Spanish-speaking neighborhoods of Queens comes highly recommended from locals and travelers alike. For just $59, Jeff will take you on a 3 hour stroll to sample the Latin American street food along Roosevelt Ave – we're talking the real deal, often made in front of you with ingredients purchased locally that morning. From tacos to sweet treats, you'll taste street food typical of Mexico, the Dominican Republic, Ecuador, and Colombia. I really wish I'd known about this street food tour while I lived in NYC – it's now officially at the top of my list for whenever I eventually return to my former home!
Note: the tour starts at 8:30pm, not midnight. Also, if you've been on this tour, how was it? Share in the comments, por favor!
Flushing Meadows Corona Park
Flushing | Mets – Willets Point stop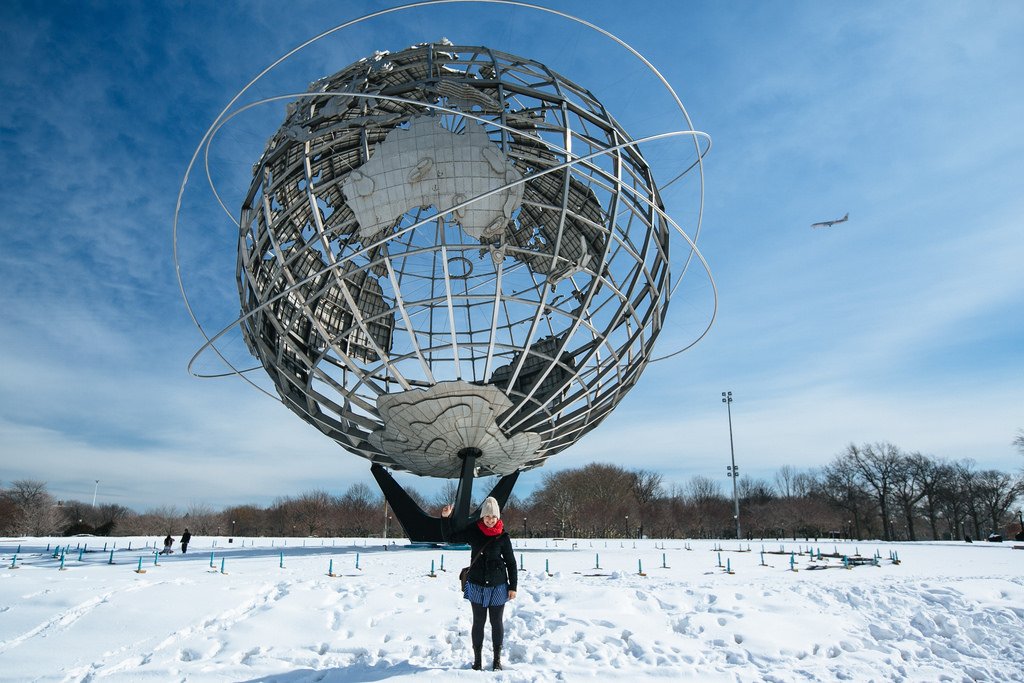 Exploring Flushing Meadows in February 2014. Who knew I'd be in Aussie just 10 months later? ;)
Manhattan has Central Park; Brooklyn has Prospect Park. You didn't think Queens would be left out of the massive park party, did you?
And so, Queens has Flushing Meadows Corona Park. Unlike the other boroughs' major parks, this one hosts a myriad of recreational facilities, museums, and stadiums. You could contentedly frolic around the park without visiting any of them, but at least you have the option of doing things if the mood strikes:
Catch a Mets baseball game at Citi Field (April-September)
Watch the US Open tennis matches at USTA Billie Jean King National Tennis Center (late summer)
Visit the Queens Zoo
Nerd out at the New York Hall of Science
Check out the famous Panorama of the City of New York on display at the Queens Museum
Amble through remnants of the World's Fair at the New York State Pavilion
Looking for more offbeat NYC adventures? Check out these posts, too:
This post was written as part of the #HipmunkCityLove campaign. Note that all opinions expressed here and elsewhere on this blog are my unbiased own, and are uninfluenced by any gifts or incentives I may receive.
Pin it!