Not too long ago, I admitted to falling into a travel routine which finds me doing predictable Lindsay-esque things whenever I explore a city, whether new or my own: seeking out the good coffee, walking as much as possible, and being frugal with food and accommodation costs. But one of the more challenging activities I task myself with is finding the best vantage points from which to photograph the city.
I typically look to the waterfront, to tall buildings, to bridges and boats to provide me with unique and photogenic vistas, but it's not always obvious exactly where to go to capture a killer shot.
Being both a travel photographer and New Yorker for over 6 years now, I've come to find many of the best views in New York City through trial, error, and plenty of exploring – some in the most unexpected, untouristy places. If you're visiting NYC or are a local photo enthusiast, be sure to check out some of the great spots I've found for photographing New York City from above and afar!
Best View of New York from Hoboken, NJ
I don't necessarily advocate spending an extended amount of time in New Jersey, but for prime views of Midtown and the Financial District, it's hard to beat the vantage points from the other side of the Hudson. The best stretch of waterfront is in Hoboken, where you can either hang out in Sinatra Park or walk along the extended path that lines the park and reaches the piers. Hoboken is also a great neighborhood for going out in with its younger crowd and lively bars, so you could definitely make a day of it.
Essential Info: To get to Hoboken, you can catch a PATH train from any of the stations along 6th Ave in Manhattan.
Alternate Views: Weehawken & Jersey City, NJ
Best View of Manhattan from Top of the Rock
Top of the Rock plays second fiddle to the Empire State Building, but whenever someone tells me they're planning on going to the top of ESB I immediately try to convince them to hit up TOTR instead. While you'll have some of the best views in New York City from both, I think Top of the Rock is better because a). You have a view of the iconic Empire State Building from it, and b). The wait to get to the top is always shorter than it is at ESB.
If you can swing it, I highly recommend visiting Top of the Rock at varying times of day because the city looks so different depending on when you go. My usual strategy is to show up about an hour before sunset and shoot the buildings as they're glowing from the golden hour light, then patiently wait for sunset and the transition from dusk to night.
Essential Info: The Top of the Rock observation deck is open daily from 8am-midnight. Daily passes cost $29, while an annual pass costs $125.
Alternate View: Empire State Building
Best Views in New York from the East River Ferry
One thing that makes me very happy is how connected Manhattan is becoming to the rest of NYC via boats. The most recent addition to its ferry fleet is the East River Ferry, which you can catch from Long Island City, Greenpoint, and Williamsburg and take to Midtown, South Street Seaport, or Brooklyn Bridge Park. In fact, most of these ferry stops yield some of the finest views of the city, as highlighted throughout this post.
The best thing about the ferry is that it takes you down the East River and under bridges, providing you with constantly-changing city views that you can't enjoy anywhere else.
Essential Info: A ride on the East River Ferry costs $4 on weekdays and $6 on weekends.
Alternate Views: Governor's Island ferry; NY Waterway (from NJ)
Best NYC View from Gantry State Park
Gantry Park is quite possibly my favorite NYC hangout spot. The most astounding thing is that no one seems to know about it! Or if they do, maybe they don't want to schlep out to Long Island City. Either way, Gantry Park is underrated.
My summer routine typically has me laying out in a sunchair by late-morning at least once a weekend – and there are always free seats, a rarity in a city where everything is perpetually overcrowded. Even if you're not into getting your tan on, it's still worth a visit to take a walk out onto the piers and along the boardwalk. Whether from a sunchair or the nearby piers, you'll get some of the best views in New York City from the lower Queens waterfront.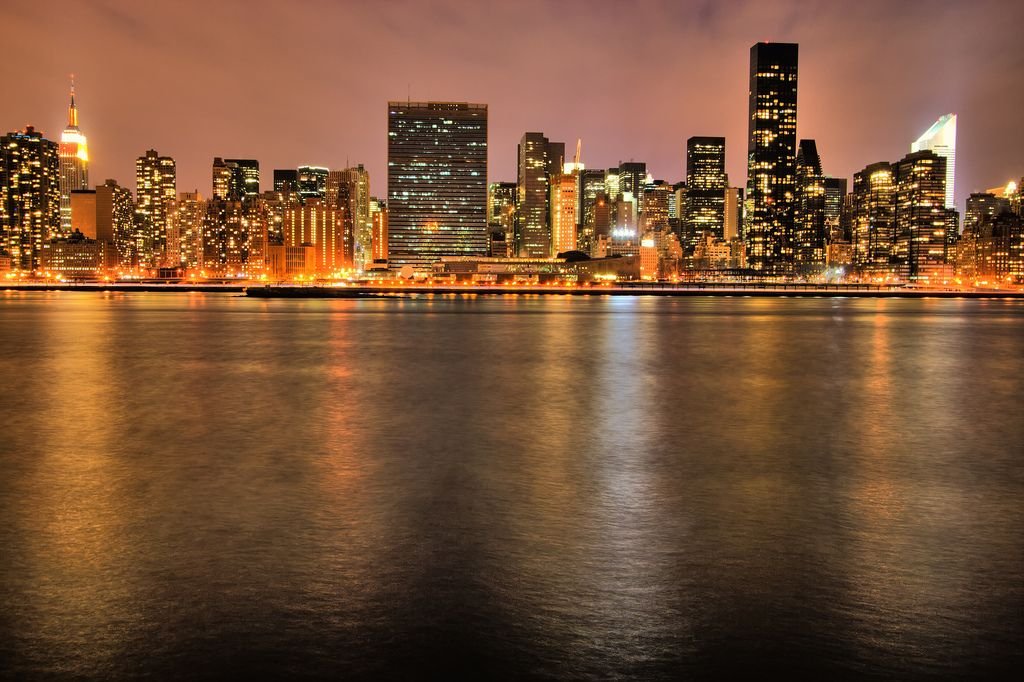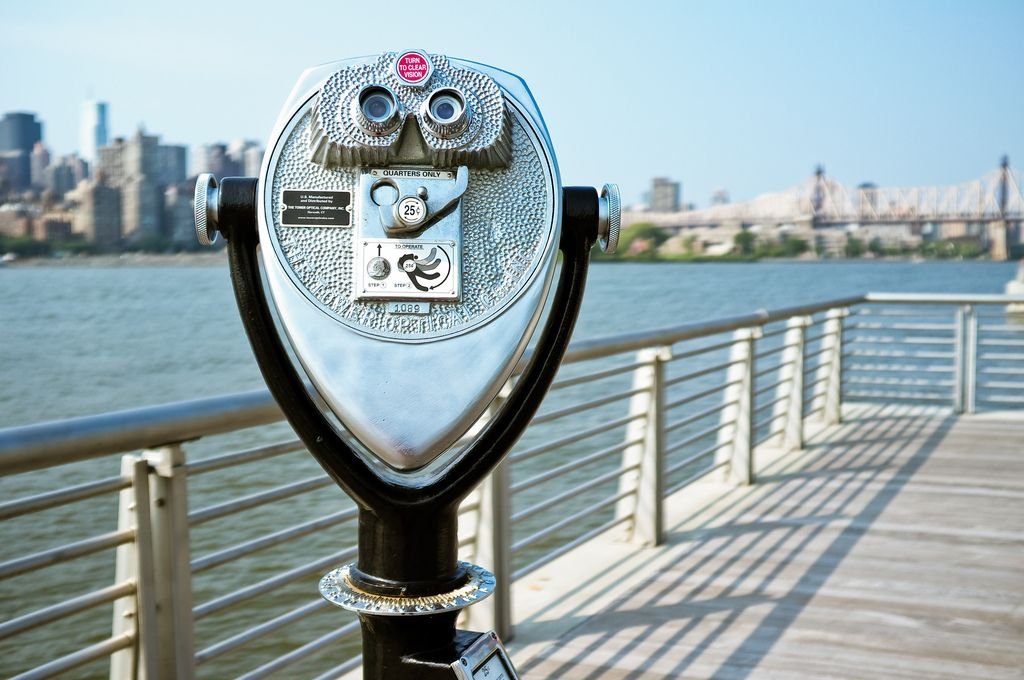 Alternate View: East River State Park in Williamsburg, Brooklyn
Best View of Manhattan from Randalls Island
Not oft-visited, Randalls Island is a peaceful retreat from NYC proper, nestled square between Manhattan, the Bronx, and Queens. About the only visitors you'll see are those that are there to play some kind of sport, as the island is home to more than half of the sports fields in all of Manhattan.
Even if you're not there to play, you can still cycle around the island's bike paths or take a walk along the road on the south side facing Manhattan. It's a great place to chill out with a book and watch the boats pass by – all with some of the best views in New York.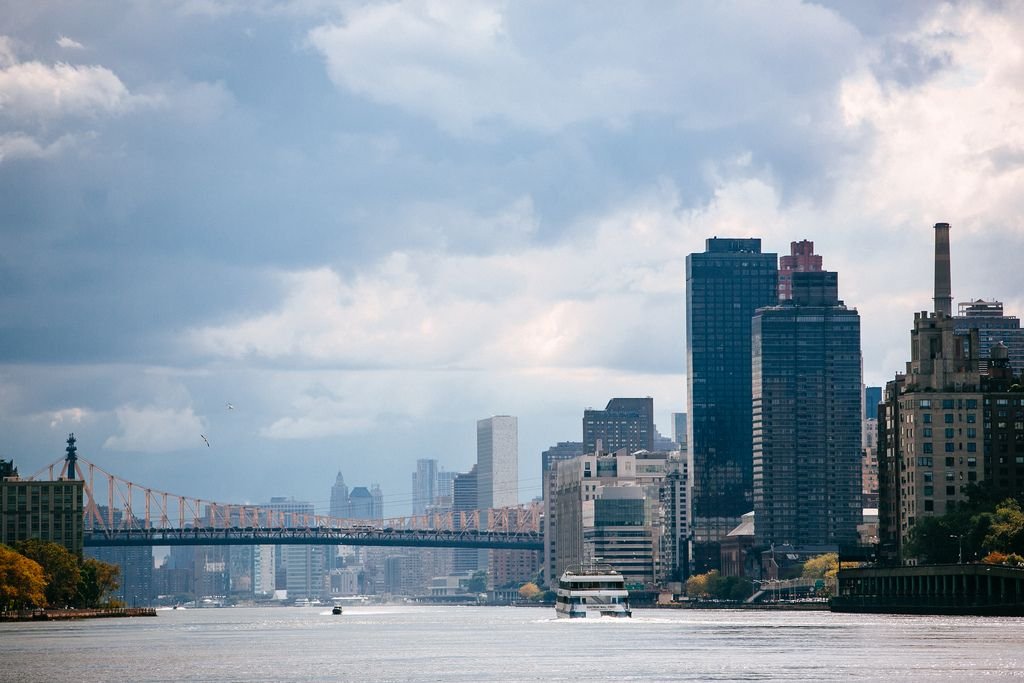 Essential Info: To get to Randalls Island, take the RFK (formerly known as Triborough) Bridge from Manhattan, Queens, or the Bronx; alternatively you can walk across the 103rd St footbridge from Manhattan.
Alternate View: Roosevelt Island
Best View of Manhattan from Brooklyn Bridge Park
If you check out just one of the views I mention here, make it Brooklyn Bridge Park. This is the place where you'll get the most dramatic, iconic views in New York of both the Brooklyn and Manhattan Bridges backed by the Manhattan skyline. What's more, the park is newly-expanded and spans 1.3 miles worth of Brooklyn waterfront – resulting in numerous different vantage points from which to photograph New York City.
And if taking pretty photos isn't enough, there are all sorts of activities you can take part in at the park. There are grills for BBQing, soccer fields and shuffleboard courts, volleyball nets, and more – not to mention all of the summertime activities on offer such as Syfy Movies With A View under the Brooklyn Bridge, yoga classes, and kayaking by the Manhattan Bridge. Simply put, there isn't anywhere better to be if you're visiting NYC during summer.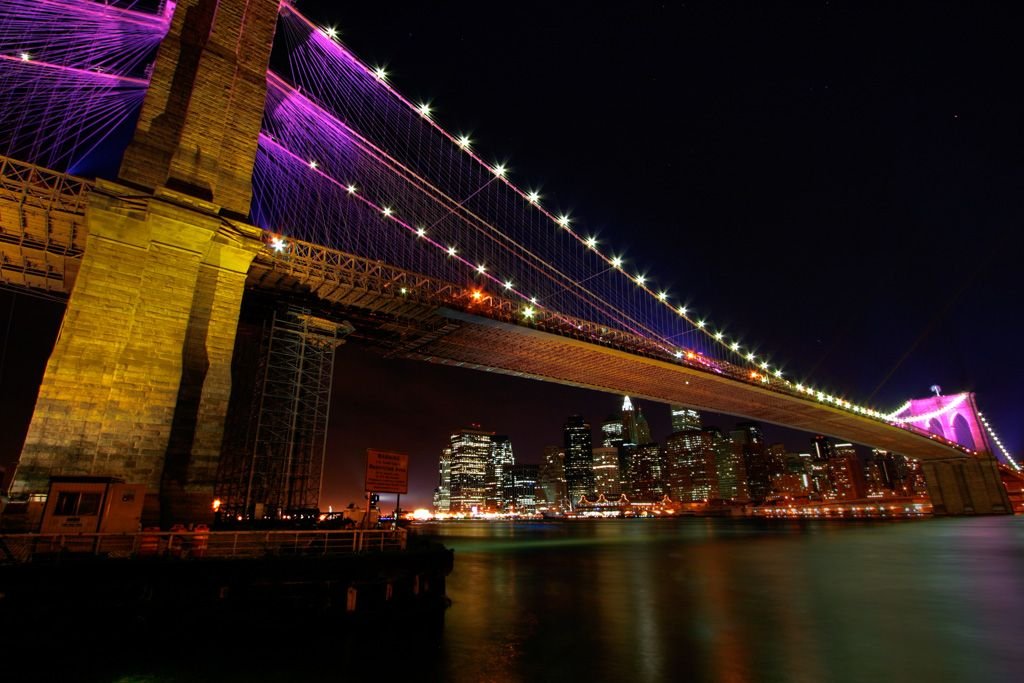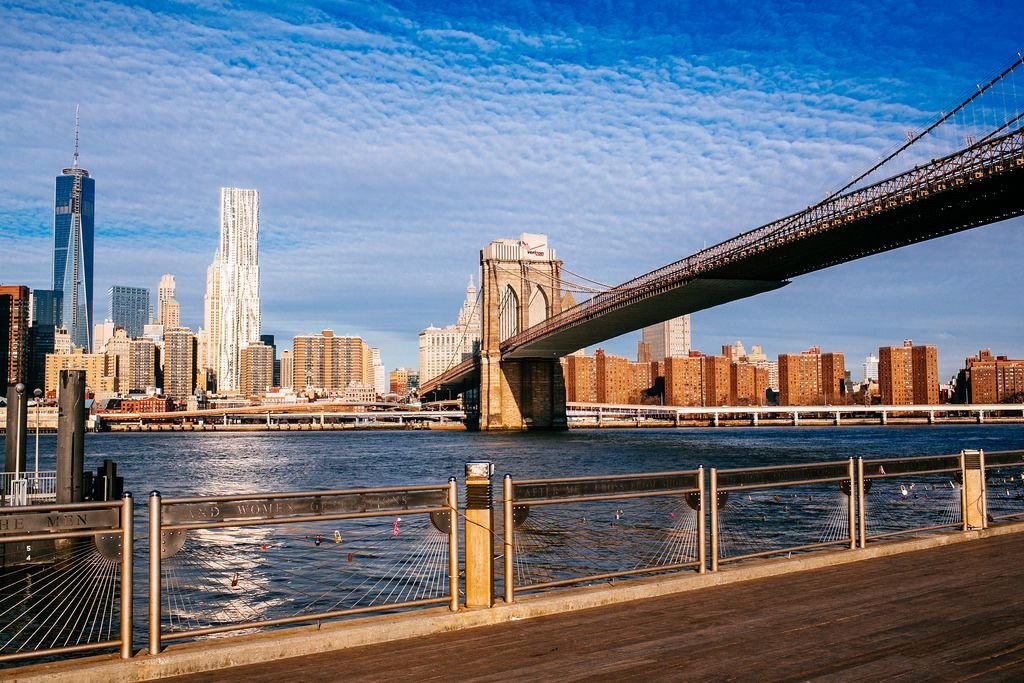 Alternate view: Brooklyn Heights Promenade
View from the Williamsburg Bridge
Aside from being aesthetically intriguing itself, the Williamsburg Bridge yields glorious views of the nearby bridges and city skyline. On the Brooklyn side ramp, you get bird's eye views of the gritty Williamsburg rooftops. Once you make it onto the bridge, you can see the Queensboro Bridge to the north and the Manhattan Bridge and Brooklyn Bridge to the south.
Finally, upon reaching the Manhattan side, you can see straight into the Lower East Side and down traffic-laden Delancey Street. In my informed opinion, there's no better bridge in NYC for photo ops than the Williamsburg Bridge. And, bonus: it's both pedestrian-friendly AND bike-friendly, providing separate paths for each.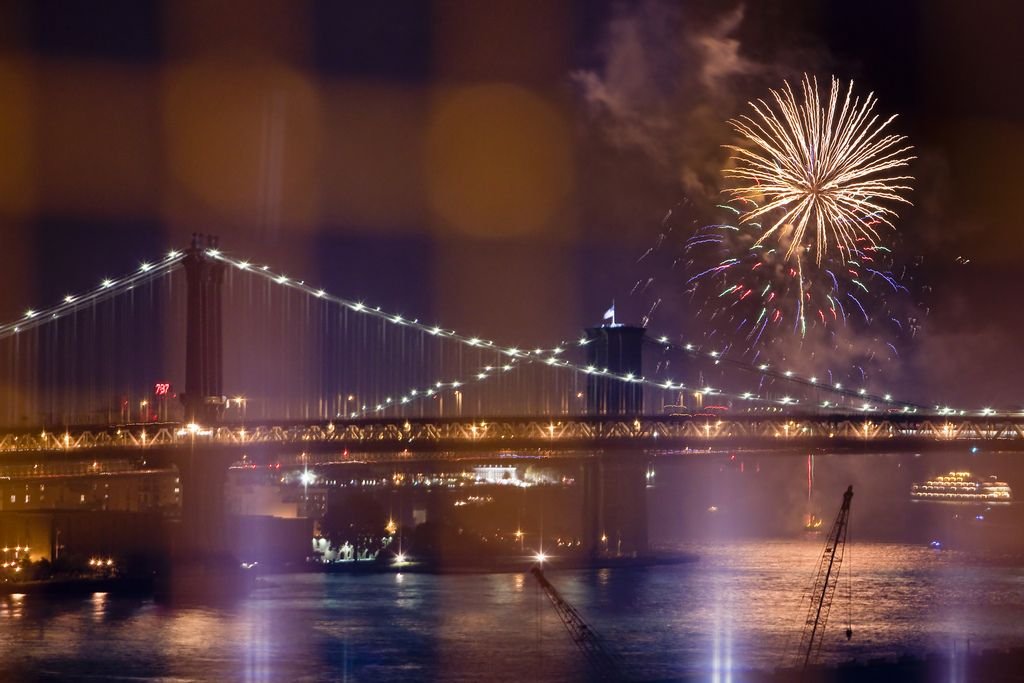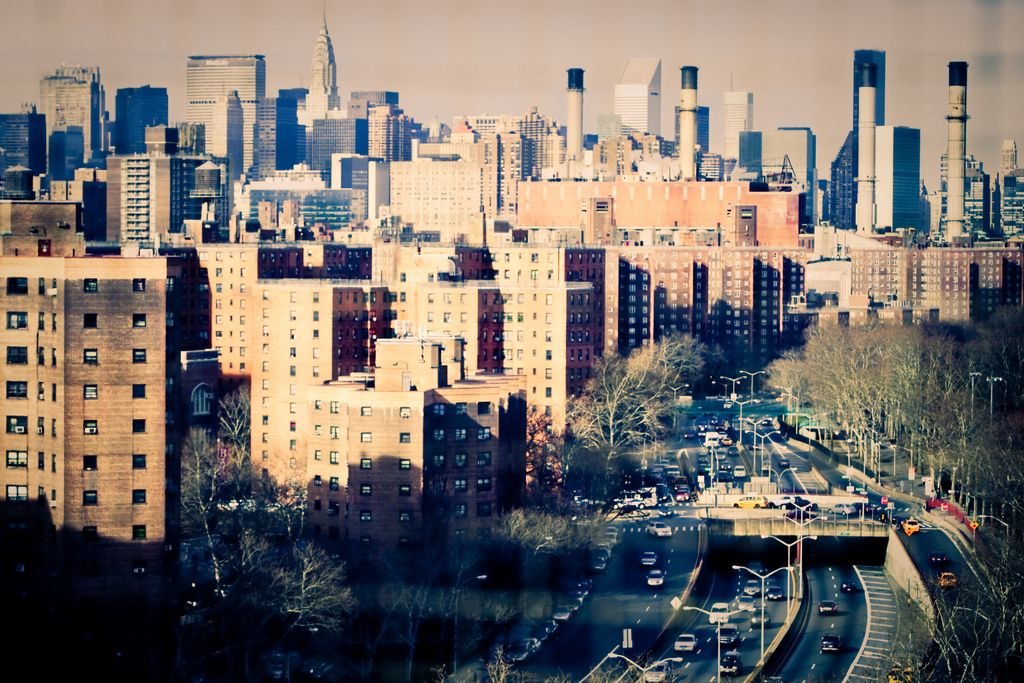 Alternate view: Queensboro Bridge, RFK Bridge
Best NYC View from South Street Seaport
While many visitors come to South Street Seaport to shop, drink, and take a historical tour of the area, photo enthusiasts should be sure to meander towards the waterfront and pass below the Brooklyn Bridge for fantastic wide angle views of it and the Manhattan Bridge. At the right angle, you can also make out the Williamsburg Bridge in the distance further north. For the perfect shot of all 3 of these NYC bridges, head to Pier 17 (near the big ships and former mall building) and shoot north.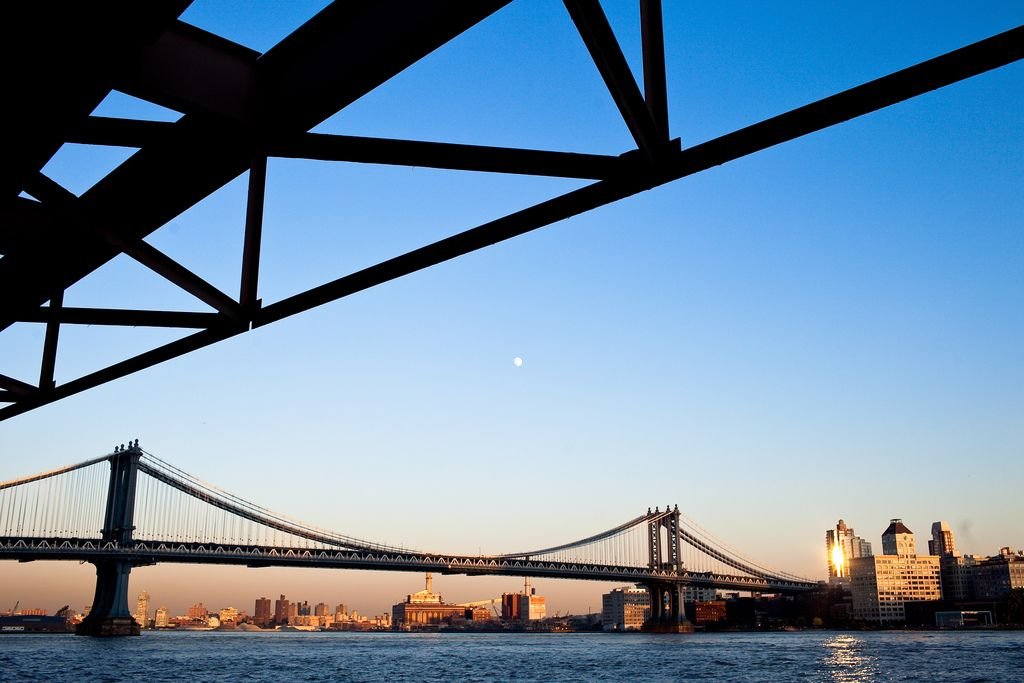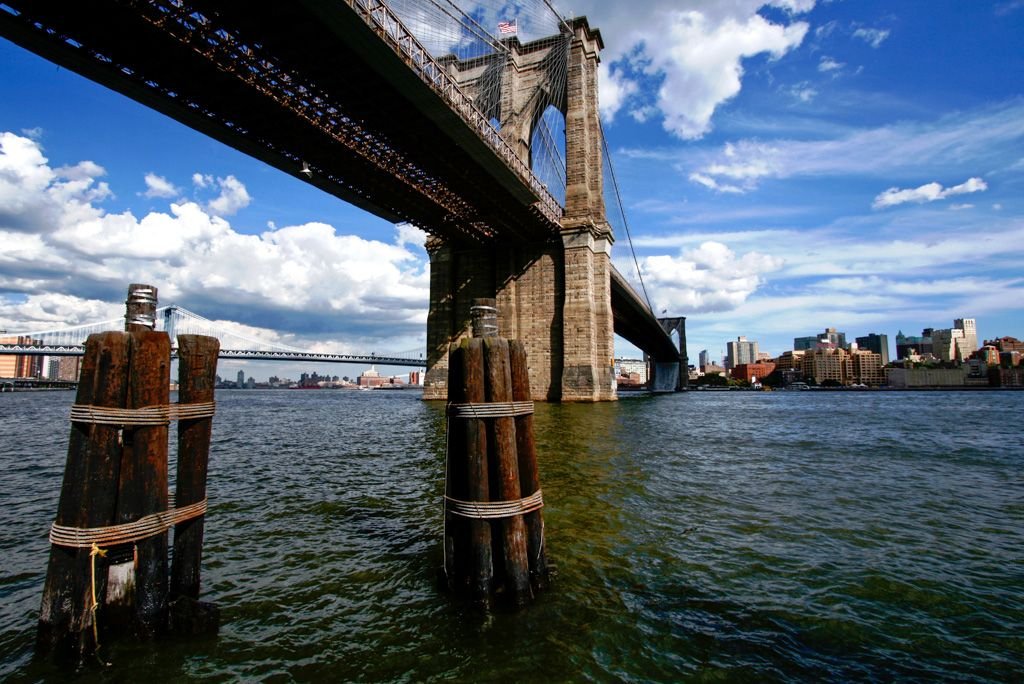 Alternate view: The waterfront in DUMBO, Brooklyn
Best Views in New York from Governors Island (and ferry)
Two months after publishing this post, I ventured out to Governors Island for the first time in several years and immediately decided it had to be added to this list. The view of Manhattan from the Governors Island ferry is spectacular. From the island itself, you can enjoy a superior panoramic view of the New Jersey skyline, lower Manhattan, and the bridges over the East River.
Essential Info: Governors Island is open from late May through late September each year. You can take the ferry from Brooklyn or Lower Manhattan for $2 roundtrip.
Alternate Views: Staten Island Ferry
Best View of Manhattan from One World Observatory
Newly opened in May 2015, this attraction at One World Trade Center is not to be missed. A high speed elevator whisks you up to the top, where the Manhattan skyline is revealed in grand fashion. Yes, tickets are a bit pricey, but the experience is well worth the splurge.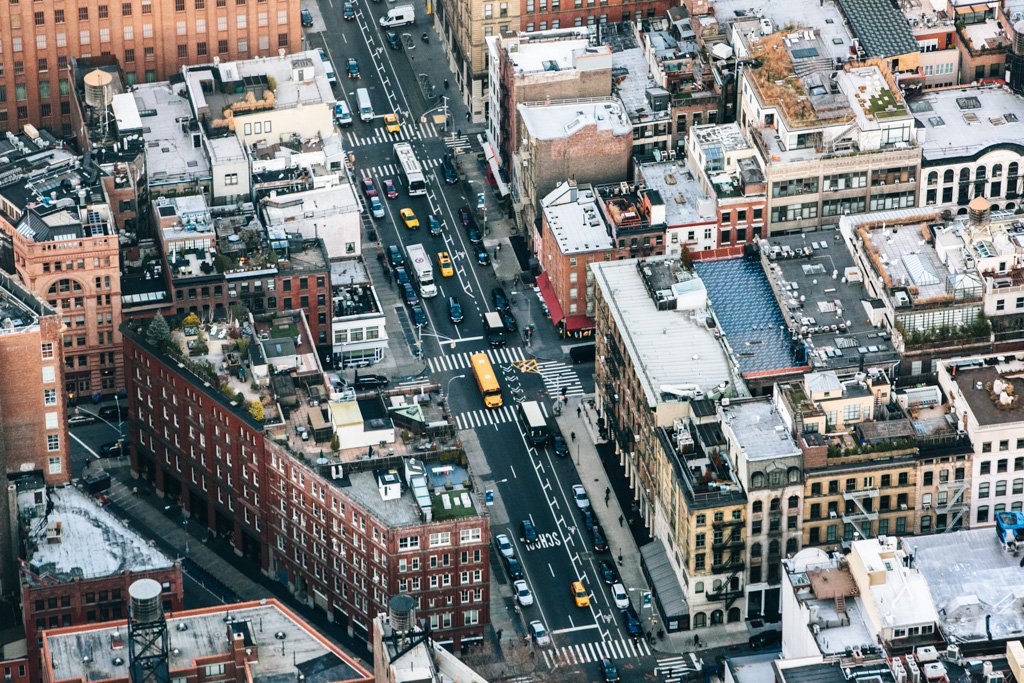 Essential Info: One World Observatory is open from 9am-8pm daily. Tickets cost $34 per adult (try Googling to see if you can find a promo code to lower the price a bit!).
Pin it!