In case you reside outside of Australia and haven't heard, let's just say we're on the stricter end of the scale when it comes to living during COVID times.
Strict as in, our borders are CLOSED in 2020. Hardly anyone is able to arrive in Australia, and few are allowed to leave the country. Not only that, but some state borders have been closed off as well, which has limited travel between states and territories in Australia. Living in Sydney, I've only been allowed to travel within New South Wales since March.
So when it came to planning a winter getaway, there was only really one viable option this year: Byron Bay.
READ MORE IN THIS BLOG POST: Beautiful Blissful Byron Bay
I'd been to Byron 3 times before and still, my arm needed no twisting when it came to visiting a 4th time this past August.
Byron Bay is a chilled out beach town in the far north of NSW, just below the Queensland border – and only an hour flight from Sydney. It's probably only a couple degrees warmer than Sydney on average, but somehow this makes all the difference in winter.
In fact, pro tip: a really great way to save money on your Byron Bay trip is to visit during winter. Accommodation prices in general tend to be at their lowest in June/July/August and spike during summer months. It's not uncommon for summer rates to be double what they are in winter (seriously!).
I've visited Byron in August on two occasions now and both times have enjoyed weather warm and sunny enough to walk around in a t-shirt and even sunbathe on some days. Temps were in the 18-22C range on average. Plus with fewer tourists and backpackers to contend with, Byron Bay during winter is pretty idyllic. I HIGHLY, highly recommend it!
READ MORE IN THIS BLOG POST: 13 Things To Do Near Byron Bay
This time around, I was in Byron with my bf Pete, and the trip was my gift to him for letting me stay with him rent-free for 6+ months. I was able to save a nice chunk of money from that, and I used a portion to fund the trip. I really wanted it to be an indulgent, luxurious trip because dammit, we deserve it after sharing a tiny old studio apartment all this time (seriously, how have I not lost my mind yet?).
When it came to luxury in Byron Bay, I couldn't look past Elements of Byron, a 5 star resort located just outside of town and right on Belongil Beach. I managed to snag an incredible deal (more on that below!), which saved us 40% off the normal rate.
And oh god, I don't think I can settle for anything less now. Elements of Byron was nothing short of magical – the service was fantastic, our villa was perfect, the property was stunning.
And yes, they are very COVID-conscious: staff wear masks at all times, dining tables are spread out, and guests are temperature checked and required to fill out a declaration form upon check in. We felt very safe there and did not contract the Coronavirus :)
CLICK TO READ REVIEWS & BOOK A STAY AT ELEMENTS OF BYRON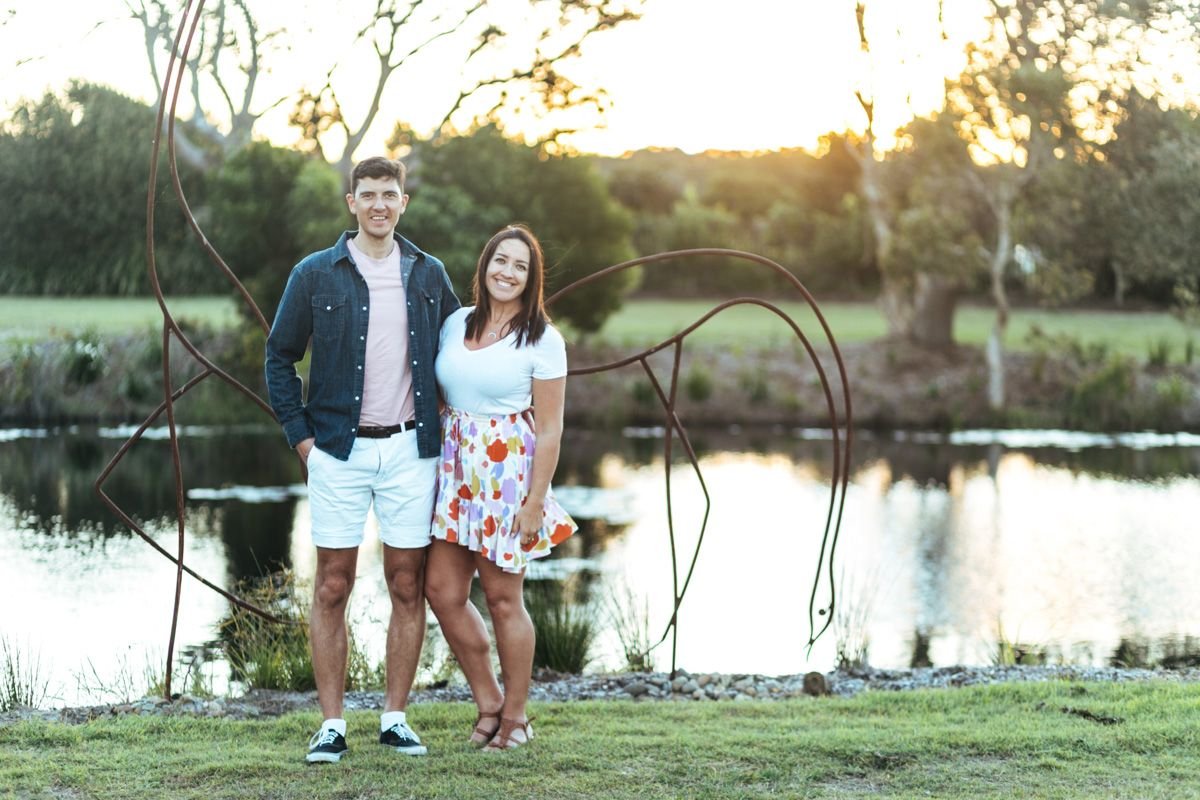 Here's what it was like to splash out and stay at Elements of Byron on our winter trip to Byron Bay.
READ MORE IN THIS BLOG POST: Byron Bay: A Guide To This Aussie Beach Town
Elements of Wellness Package
Elements of Byron made a winter trip this year an absolute no-brainer with their Elements of Wellness package. I'm not sure if they've ever offered it before or plan on offering it again next year, but they have this incredible deal on where you can book 5 nights (Sunday-Thursday only) starting at AU$1495. That's already a huge savings on the villa alone (the cheapest one starts at $410/night in winter and goes up to $655/night in summer), but they also throw in free breakfast daily ($60/day for 2 people), free yoga and fitness classes, and discounted massages at their onsite spa.
Even at regular rates, I think it's well worth staying at Elements of Byron… but saving what ends up being ~40% with the Elements of Wellness Package made it the best value stay EVER. I mean ever. Like, I was pretty much walking around the property at all times thinking 'OMG I CAN'T BELIEVE WE'RE ONLY PAYING $332/NIGHT FOR THIS MAGICAL EXPERIENCE'.
CLICK TO READ REVIEWS & BOOK A STAY AT ELEMENTS OF BYRON

The dunal villas are in blue in the map above.
Elements of Byron Villas
Though Elements feels like a resort, it's not set up like one. Instead of hotel rooms in high rise buildings, there are 192 standalone villas spread across the 50 acre property. Great for peace and privacy! Only a fraction of them were occupied during our August visit (thx COVID), so it was really quiet there most of the time.
There are 8 different types of villas on offer at Elements: the Studio, Botanica, Lagoon Edge, and Dunal villas are smaller, while the 2 Bedroom and Luxury villas come equipped with a kitchen, deck, and more space. They all have a different look and feel.
If you're booking a stay for 2, definitely book a dunal villa and request villa 33, 41, or 43 which boast a view of the beach (we were in 41, which had a partial view; I'd say 33/43 have a slightly better view). The dunal villas are the closest ones to the beach, which I loved for the obvious reason of quick and easy beach access. I loved being able to lay by the pool all afternoon, head back to the villa to shower and get dressed, and then quickly pop onto the beach to catch the sunset.
But also, you can hear the waves crashing at night from the dunal villas, which is pretty dang awesome in my book.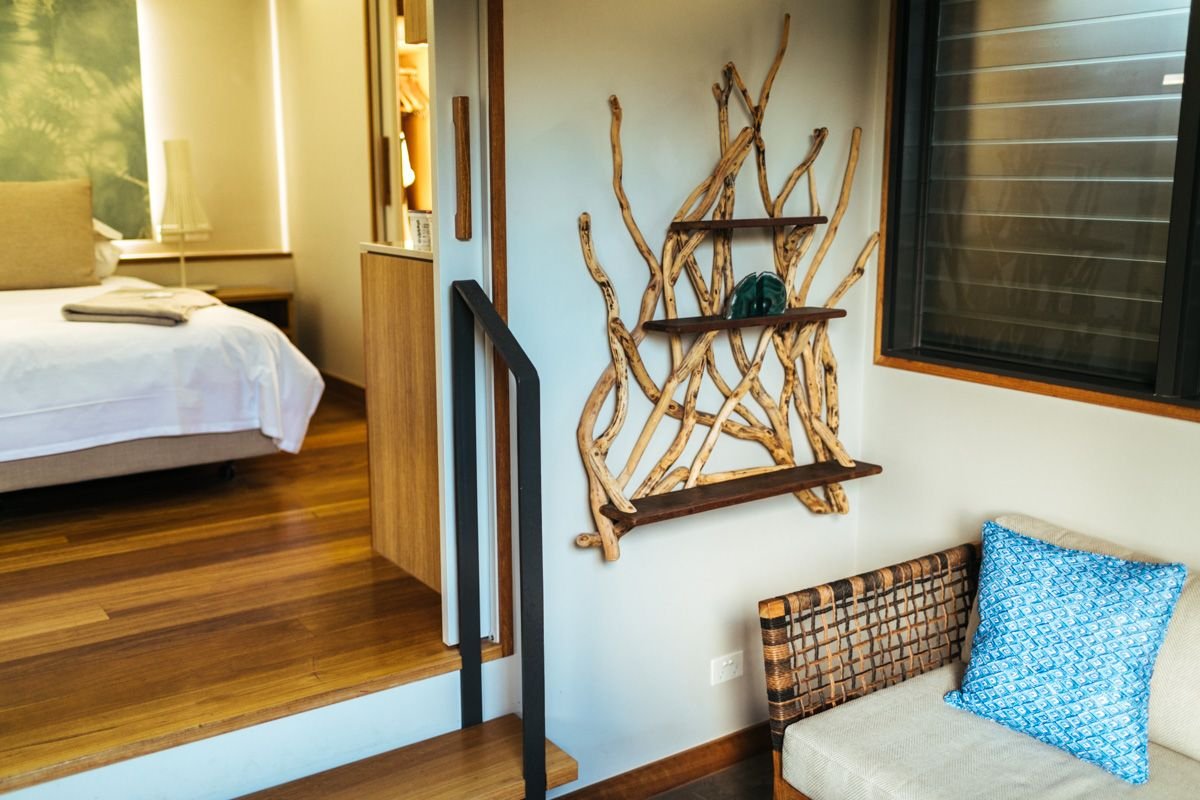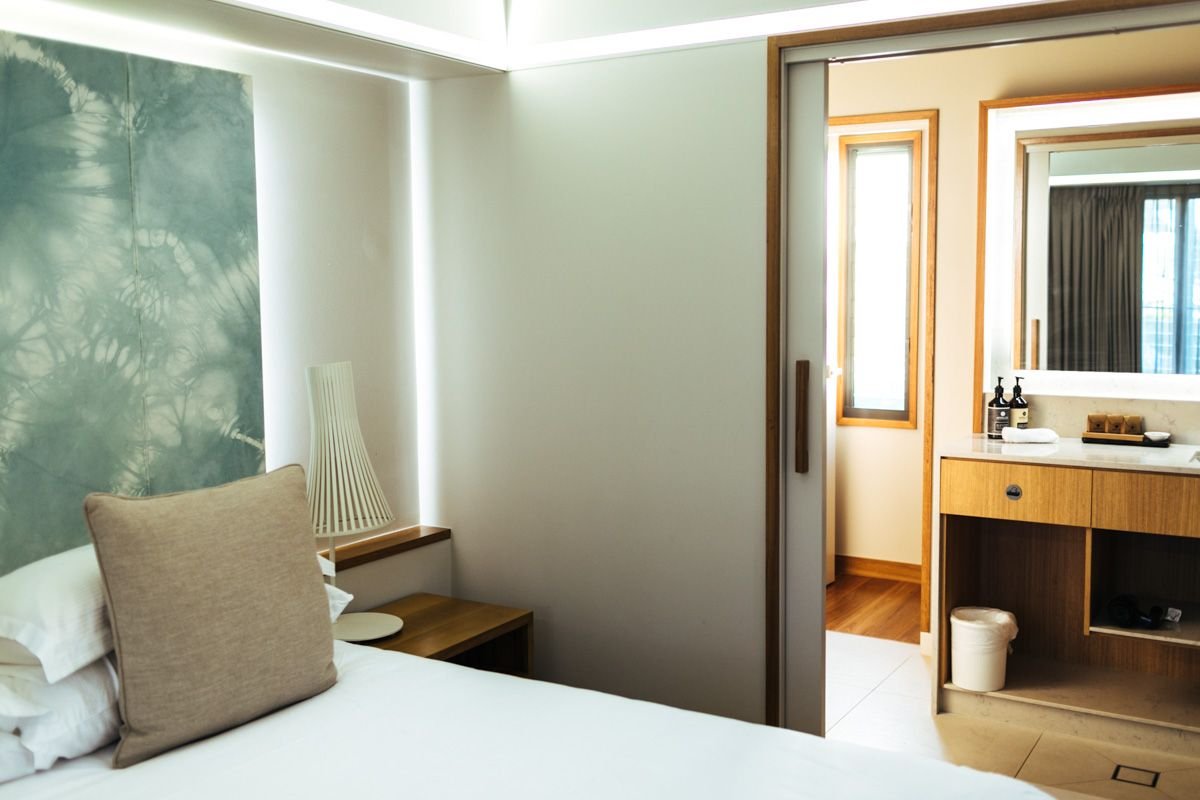 The dunal villas also come equipped with a king bed, gas fireplace, two TVs (one in the bedroom, one in the lounge room), portable bluetooth speaker, iPad for resort info and web browsing, and a dedicated bath house for the massive bath tub.
This is the tub of DREAMS, people. Comfortably fits two people, and comes equipped with a wooden tray that slides over the sides as well as some fancy bath salts (we got 5 bath bombs as well, courtesy of the wellness package). I will never forget the look on Pete's face when we walked in for the first time and laid eyes on the bath house – he's a huge fan of bath tubs and it was one of his two requests for this winter getaway (the other being warm weather). I don't think he expected such a luxurious bath situation!
And I won't lie, the blogger/photographer in me adored the boho beach accents in the dunal villa. Driftwood and teal blue everything, yes please! From what I could glean from photos, the other villa types don't quite have the same cool vibe.
From the dunal villas, it's just a couple minutes' walk to the Lagoon Pool, restaurant, spa, and reception. The Adults Only Pool sits on the other side of the property, so it's a bit of a longer walk to reach (but still 100% worth the trek).
Between its convenient location and beach access, I don't know why you'd book anything other than a dunal villa at Elements… unless you're wanting a kitchen and more space, in which case the luxury or two bedroom villas might be a better fit for your needs.
CLICK TO READ REVIEWS & BOOK A STAY AT ELEMENTS OF BYRON
Azure Bar & Grill
The onsite restaurant at Elements of Byron is the Azure Bar and Grill, which sits adjacent to the resort lobby and reception area. It's open daily for breakfast, lunch, and dinner, and they also serve a fancy three-course meal on some evenings in a separate dining area.
The Elements of Wellness Package includes daily buffet breakfast for two, but due to COVID restrictions they're not operating the buffet and instead have given guests a $30 credit each per day to use for ordering a la carte breakfast items off the menu.
I must say I LOVED their breakfast options! Everything we ordered was amazeballs. The nourish bowl felt like the most filling, healthy start to the day (it's essentially a big green salad), the bircher was great, the pancakes were delicious but a bit heavy. Coffee was average.
We had dinner at Azure on a few of the nights as well, since we didn't have a kitchen to cook in and didn't have a car to drive elsewhere. Their dinner menu is heavy on pasta and pizza, which isn't really my jam, but the specials were pretty good most nights. And they can make most dishes gluten free upon request (however, I wouldn't recommend the GF pizza – it wasn't the best).
Also of note: During COVID times, there are no walk-ins at the restaurant. You need to book a table in advance if you want to dine at Azure Bar & Grill.

Fire pit and Lagoon Pool right outside the restaurant.
The Beach
One of the perks to staying at Elements of Byron is being right on the beach! Byron itself is a beach town, but surprisingly there aren't a ton of beachfront accommodation options. Elements is one of the few.
The stretch of beach in front of Elements tends to be pretty quiet, as it's a 30 minute walk on the sand from Byron's Main Beach (where most beach-goers congregate). There's a short creek crossing right on the property border, which you'll need to cross if you want to walk to town. Aim to cross it at low tide, else it gets a little deep (the water came up just above the knees at low tide).
About 5 minutes beyond the creek crossing (as you head towards Byron) you'll pass by Treehouse on Belongil, one of my most cherished Byron establishments. It would be a sin not to visit during your stay at Elements (FYI the GF pizza here is TO DIE FOR, and they serve mulled wine during winter!).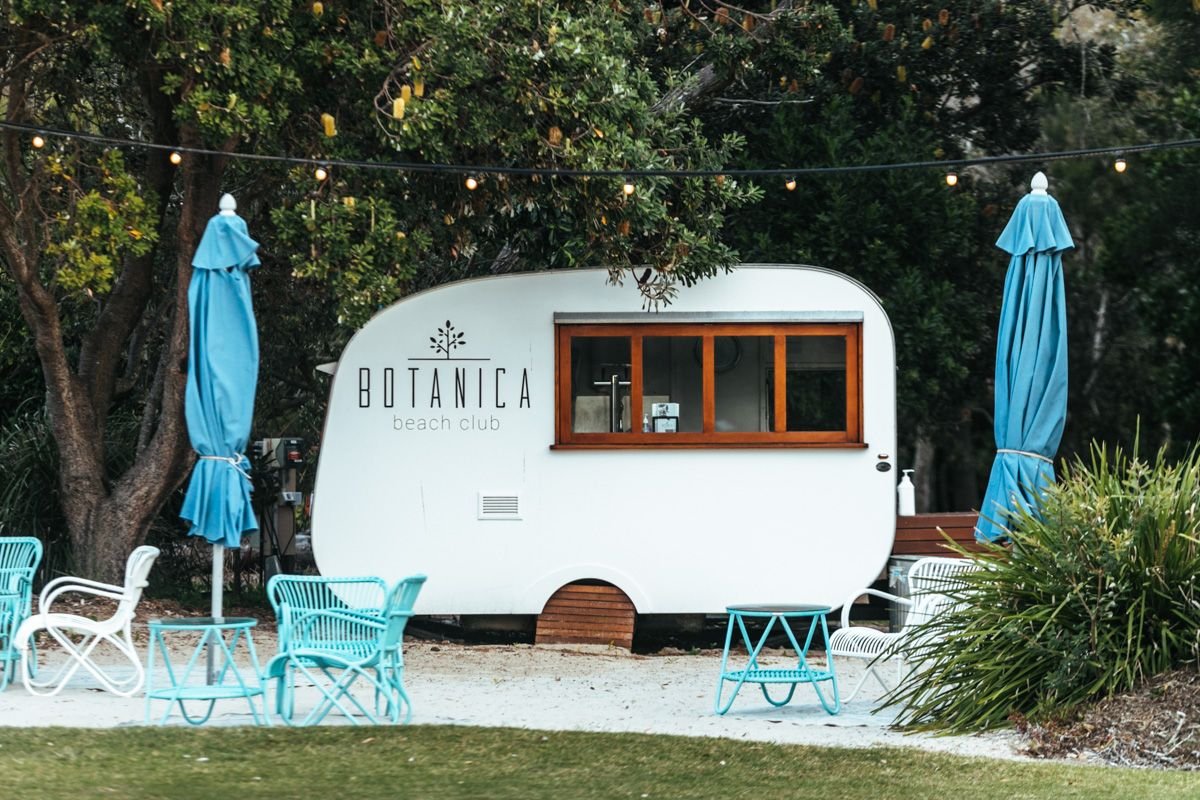 Elements' Botanica Bar is sadly closed during winter, but during warmer months it serves up drinks which you can sip from a beach lounger that overlooks the sea. It's a popular spot in the morning, with most lounge beds occupied by people wanting to soak up the first rays of the day. Being under 60 seconds from our villa's front door, I figured it would be blasphemous not to start each day lounging by the beach with a homemade coffee in hand – so that quickly became my morning routine.
The daily sunrise yoga class is held on a platform overlooking the beach, also very close to the dunal villas. However, I never made it out of bed in time for the 7am start, so I can't tell you anything about it.
I was, however, a very loyal sunset watcher – I swear, some of the best sunsets I've ever seen have been in Byron. And being north-facing, the beach is a great spot from which to catch both sunrise and sunset. You really have no excuse to miss 'em, as it's a quick stroll from villa to sand.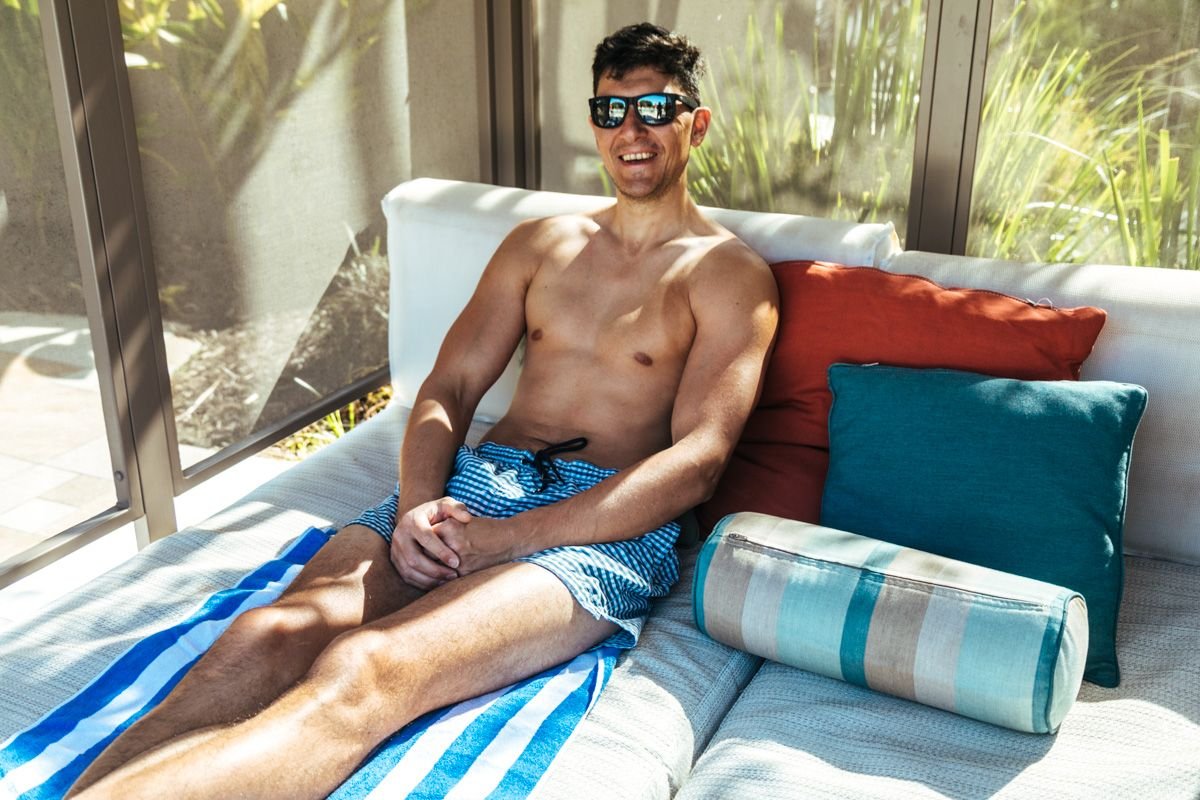 CLICK TO READ REVIEWS & BOOK A STAY AT ELEMENTS OF BYRON
Lagoon Pool & Adults Only Pool
And now, for the main event at Elements of Byron: the pools! You've got two to choose from, and both have their perks.
The main pool is the Lagoon Pool, which is huge and sits right outside the resort lobby and restaurant. It's the focal point of the property.
Surrounding the pool are cabanas and lounge chairs, some of which are positioned right over the pool edge. There's a small whirlpool with jets, but it's about the same temperature as the pool, which is heated to 26-27C year-round. I wouldn't say the water felt cold in winter, but it wasn't warm enough to tempt me to swim. I think it would be much better suited for warmer months, when you actually want to cool off from the sun.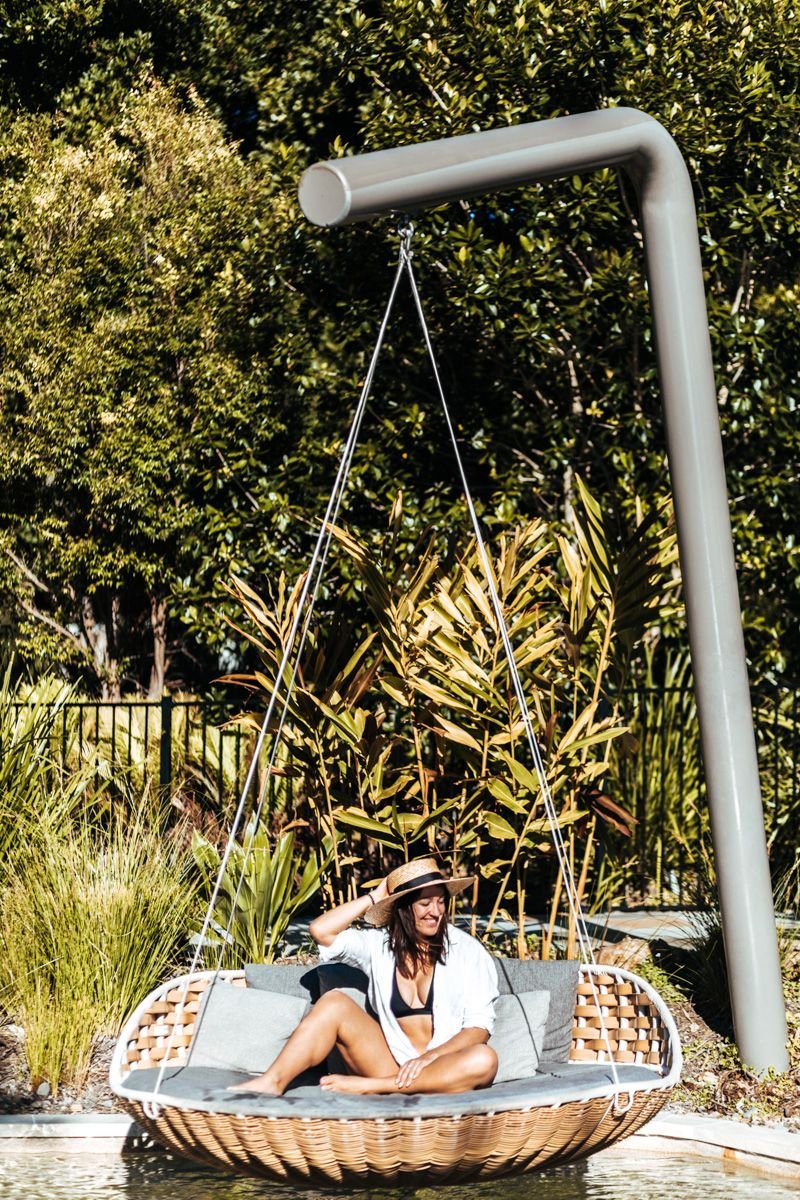 Off to the side of the Lagoon Pool, there's a little "stream" of sorts with a few fancy lounge bed swings hanging over it. These are so much fun, and they get some good sun during the day as well… definitely where you want to be on a sunny winter day.
There is a cafe at the Lagoon Pool that serves smoothies, drinks, pizza, burgers, and other snacks. You just place your order there and they'll deliver to your lounger or cabana. Too easy!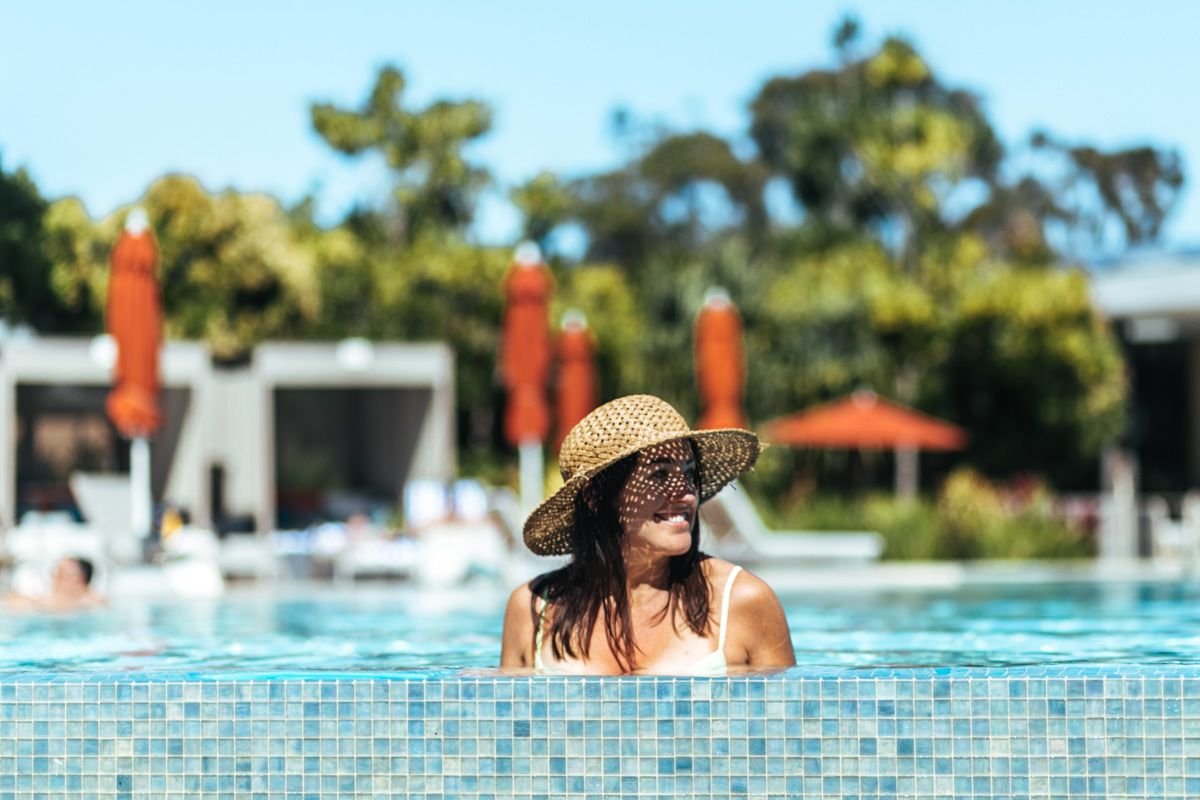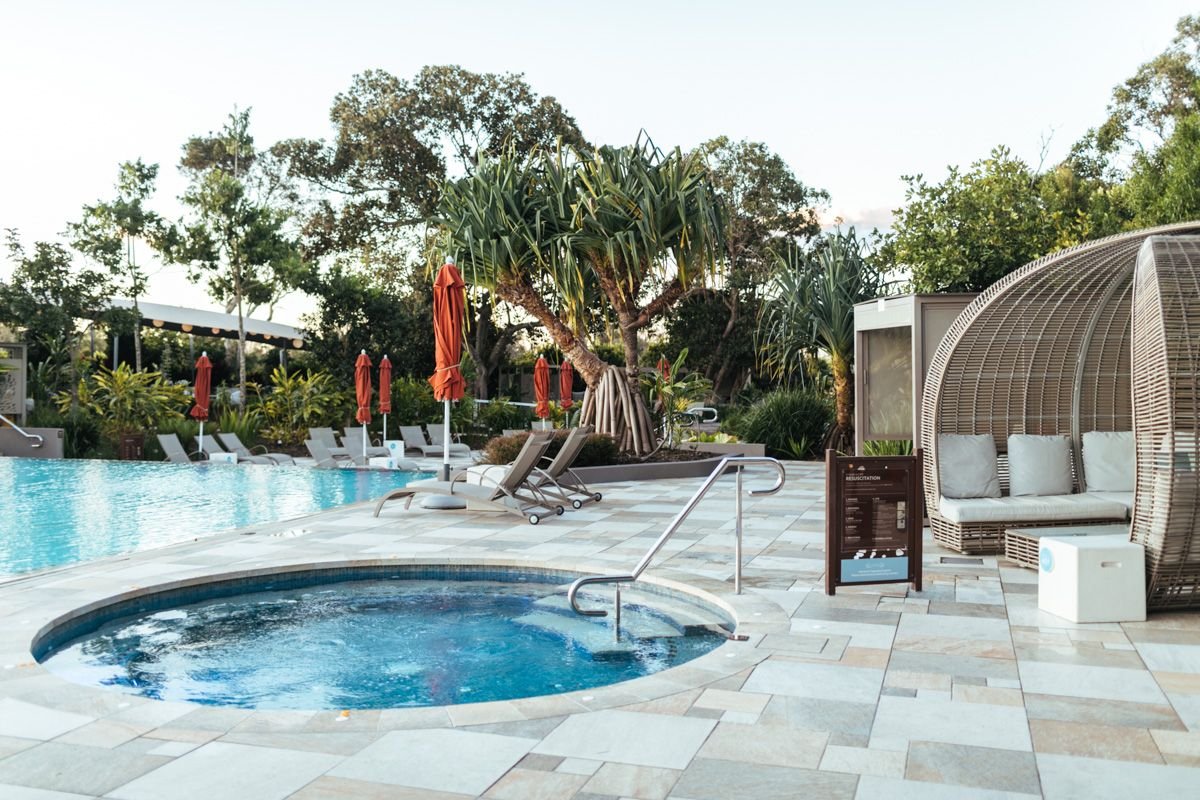 The other pool is the Adults Only Pool, which is a little removed from the other facilities but easily reachable on foot or by golf cart taxi (yes, you can call reception and have them pick you up at your villa in a golf cart). It's got a very luxe vibe, with chic white cabanas lining the pool on 3 sides and a swim-up bar on the other side. There are also numerous recliners all around the pool area for more lounging options.
We spent the bulk of our time here rotating between cabana and loungers, depending on what the sun was doing. I'd recommend hitting the Adults Only Pool before 2pm on winter days, as it gets covered in shade around this time.
The accompanying Summer Salt bar serves up all sorts of cocktails and Mexican bites (fish tacos OMG), and yes they serve you drinks while you're in the pool. I don't know about you, but for me, it doesn't get much better than Mexican food in a poolside cabana.
Ok I lied, it DOES get better: the pool is heated to 30C year-round! It feels noticeably warmer than the Lagoon Pool, and makes winter swims a whole lot more comfortable. It felt like bath water to me.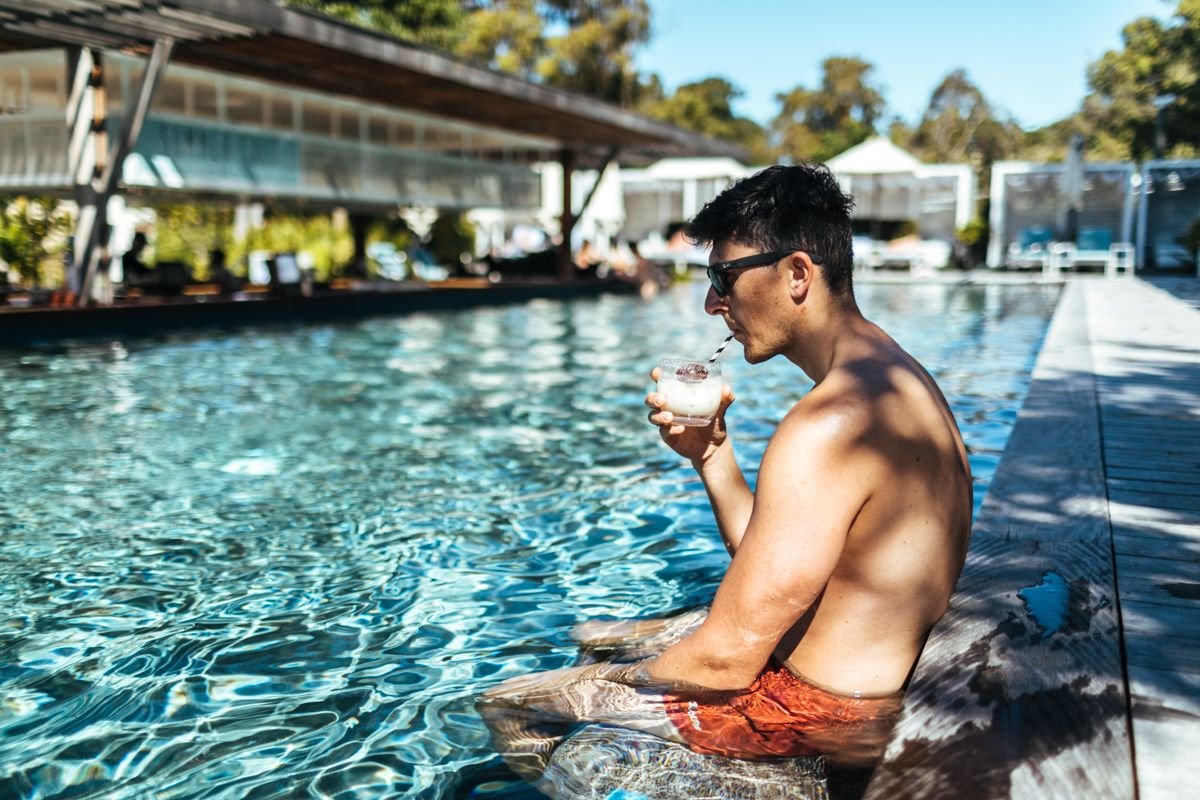 CLICK TO READ REVIEWS & BOOK A STAY AT ELEMENTS OF BYRON
The Rainforest
One of the things that makes Elements of Byron so unique is that it's nestled between rainforest and beach. The property itself includes 20 acres of rainforest, through which they've constructed 2km of walking trails. I speak from firsthand experience when I say there's far more than 2km if you (accidentally or not so accidentally) venture off onto side trails that lead absolutely nowhere. That's one of the best parts of hiking though, right?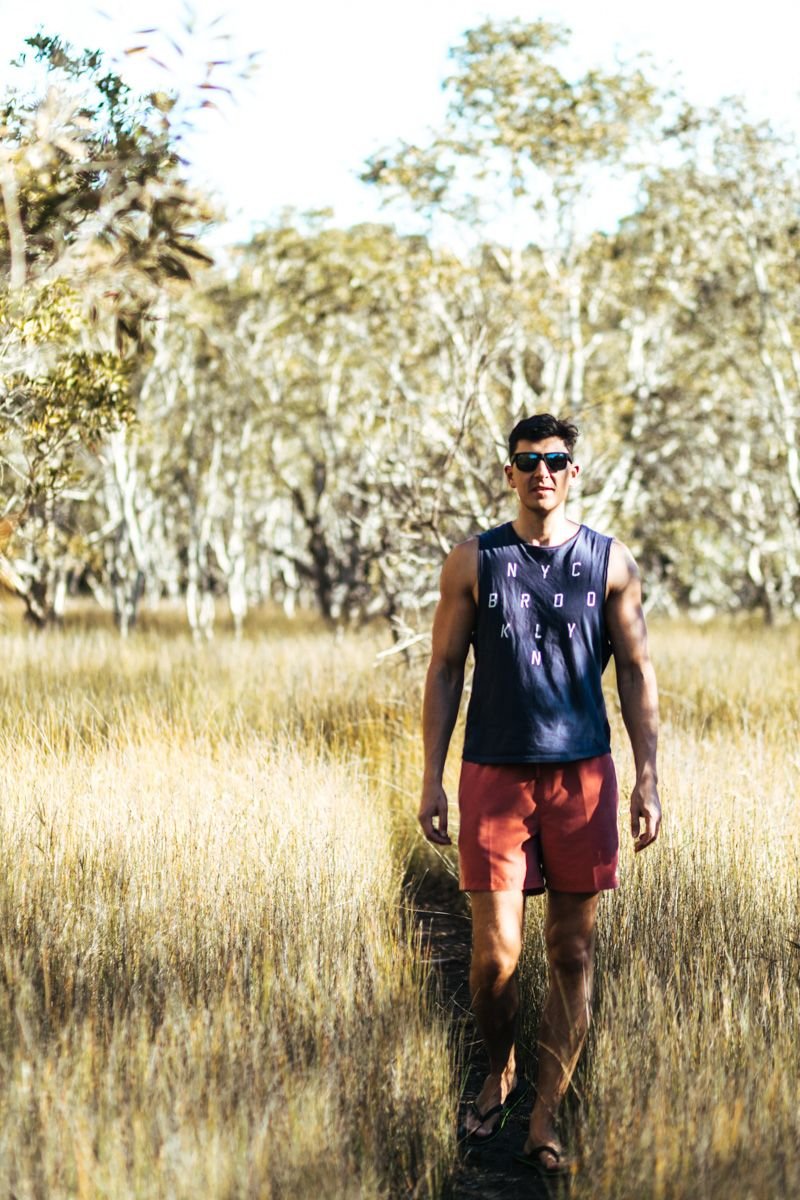 The main trails are pretty obvious to follow and are flat enough for most anyone to conquer. There are plaques lining them that highlight different flora and fauna you might observe while walking through. Elements also offers guided rainforest walks if you want to learn even more.
I loved the variation in landscape on such a short walk: you go from forest to grassland to water in a matter of minutes. It's well worth a jaunt in-between pool hangs.
Osprey Spa
Elements' onsite Osprey Spa is apparently very popular amongst the Byron locals, not just resort guests. In fact, when I booked our massages 7 weeks in advance, the day/time I'd wanted was already taken! (It had to be on Pete's birthday, so I settled for a later time slot that day)
Now, after experiencing the Elements of Byron spa for myself, I get it. By far the nicest spa I've ever been to (not that I've been to all that many!), their luxe-minimalist aesthetic makes you feel like you're in a high end spa. We were served some fancy prebiotic drink while waiting, and herbal tea afterwards.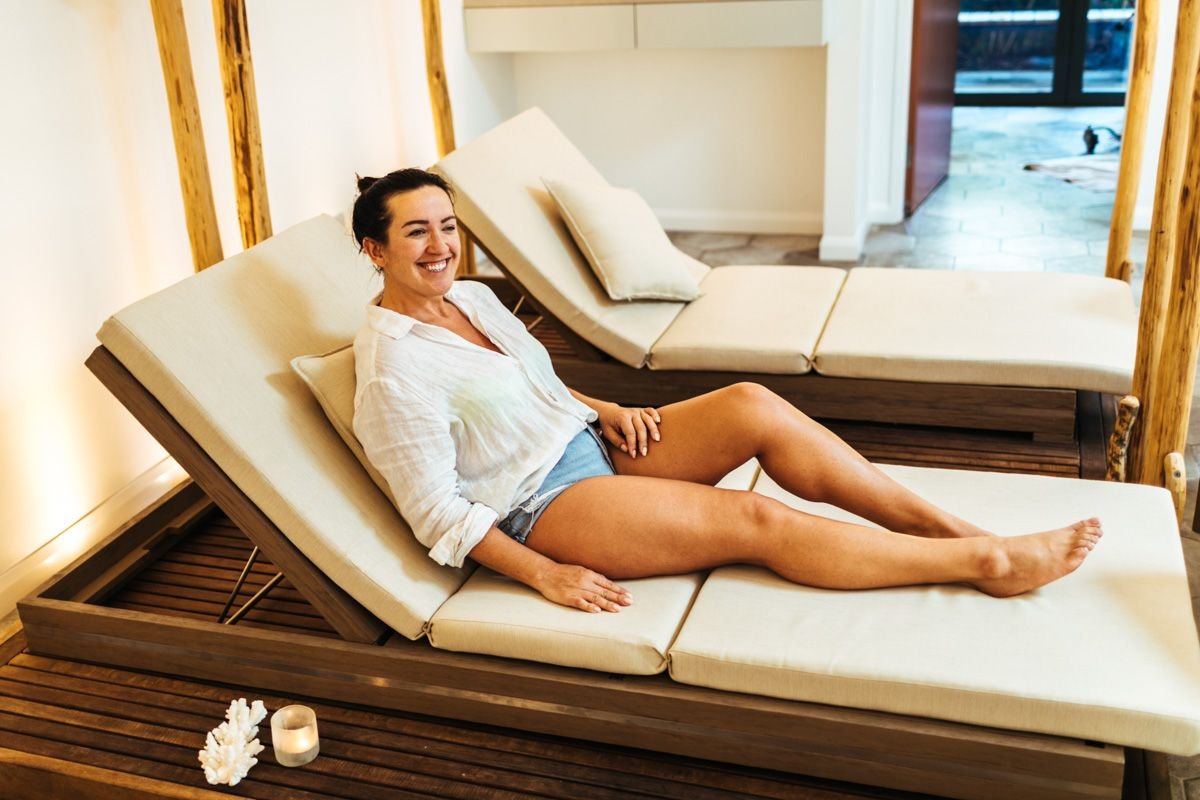 Post-massage bliss.
We booked the relaxing massage in the couples treatment room with a foot treatment add-on, at 90 minutes total. The hour-long relaxing massage was offered to us at a lower rate with the Elements of Wellness package ($120 instead of $145).
And oh my sweet goodness, was that one of the best massages of my LIFE. Not the typical hard pressure, get-all-the-knots-out, semi-painful in a hurt-so-good-kinda-way remedial massage I usually go for… but truly an enjoyable, relaxing, otherworldly experience. Between the constant whirl of massage strokes and the blend of earthy essential oils lingering around my body, I nearly drifted off into a blissful snooze on several occasions.
Yeah, I get it now. The Osprey Spa is popular for good reason! Now when can I return?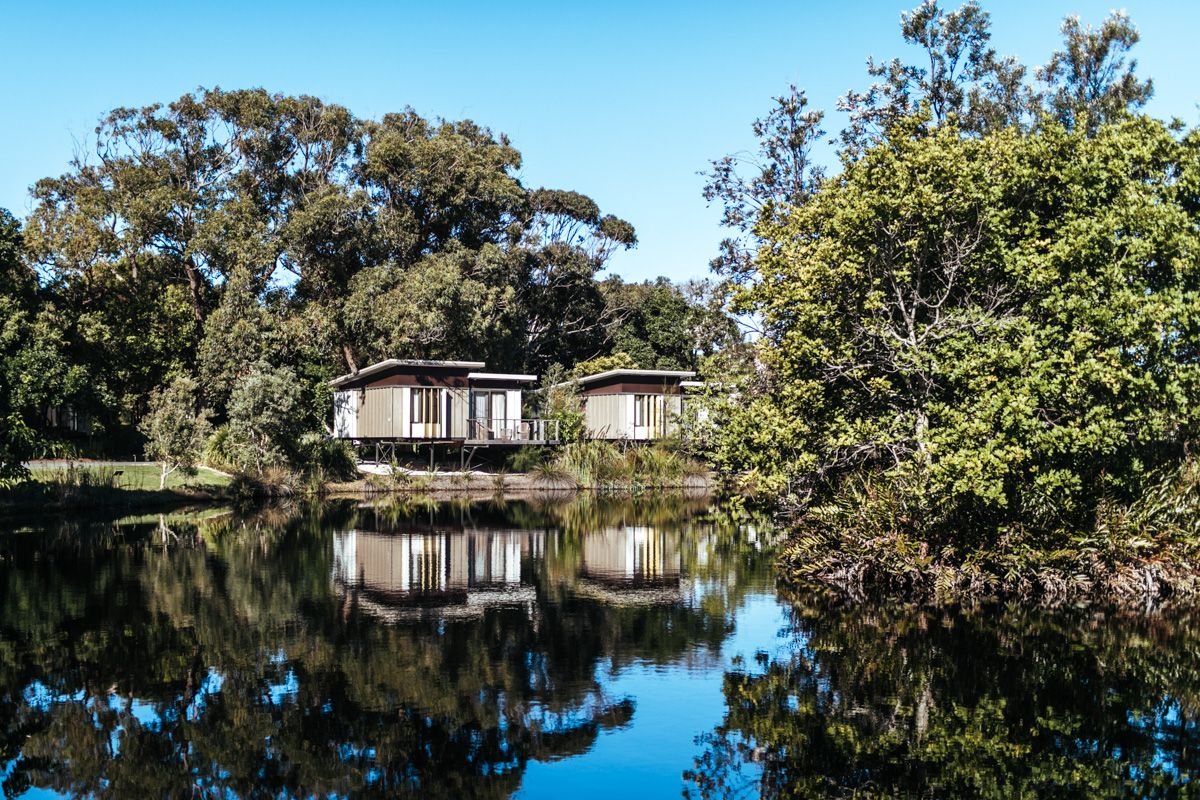 CLICK TO READ REVIEWS & BOOK A STAY AT ELEMENTS OF BYRON
Frugal Facts
As of September 2020 —
The Elements of Wellness package starts at $1495 for 5 nights (or $299/night). Normal winter rates start at $410/night and peak summer rates start at $655/night.
For a dunal villa, the package price is $1660, which comes out to $332/night. Subtracting the $60/day allowance for breakfast that's included in the package, it becomes $272/night for the villa alone. The normal winter rate is $455 for just the villa. This equates to a 40% savings when you book the Elements of Wellness package.
Pin it!
Pin it!