This blog post was originally published on 2 July 2015.
Perth is not what you'd call a city brimming with tourist attractions. It's definitely not the kind of place where you construct a list of must-dos to check off during your trip.
Well… maybe except for one thing: you MUST allow time for a day trip to Rottnest Island!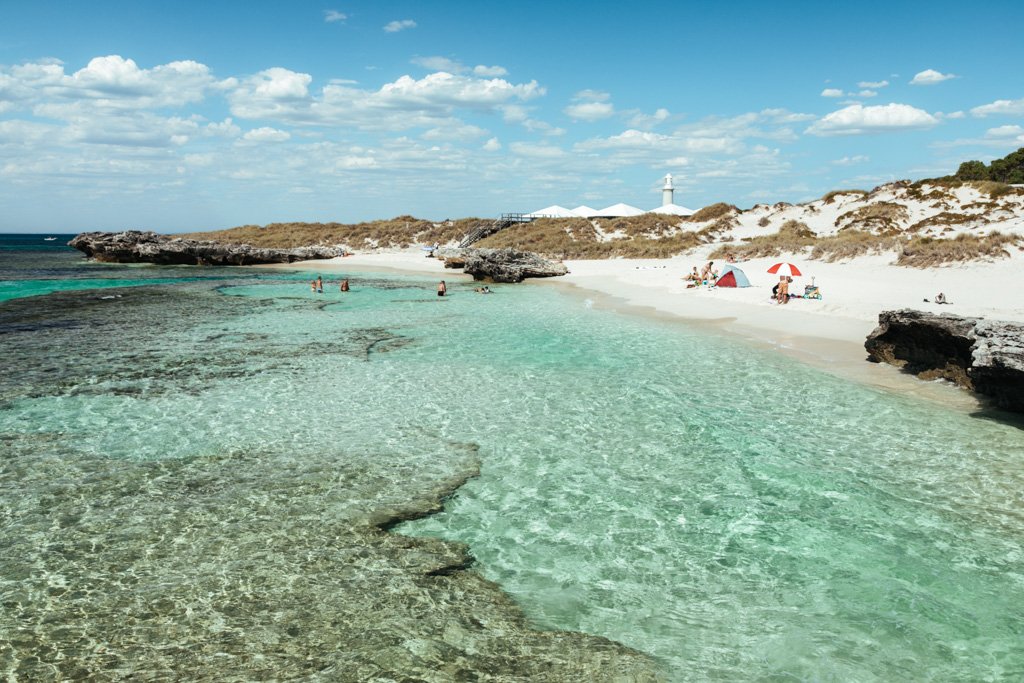 Rottnest Island (or Rotto, as the locals call it… because Aussies shorten the name of quite literally everything) sits 19km/12mi offshore from mainland Australia. It's a quick ferry ride from Perth and makes for the perfect day trip… though it's so good you'll want more than one day there, believe me!
There are 63 beaches on Rottnest Island, best explored on bike as no cars are allowed. The further you go from the ferry wharf, the more likely you are to find an empty beach to pounce on, especially if you're there outside of summer. I loved cycling to different beaches with views of sand dunes and salt lakes on either side of the car-free roads.
The delicate blend of woods and sand and the decidedly community vibe to the island reminded me so much of Fire Island in New York and Block Island in Rhode Island.
Having visited Rottnest Island twice now (June 2015 and February 2020), I've got several tips for future visitors to the island – will you be one of them? ;)
A Day Trip To Rottnest Island Is Great… But Staying Overnight Is Better
Having taken a day trip to Rottnest Island myself, not once but twice now… I can say with conviction that if you have the time/money, it is far better to stay overnight on Rotto.
You can see a fair bit of the island in a day, so don't worry if one day is all you have. But giving yourself extra days there will provide you with some insurance in case the weather isn't great all the time. The more days you have there, the better chance you have at scoring hot sunny weather at some stage.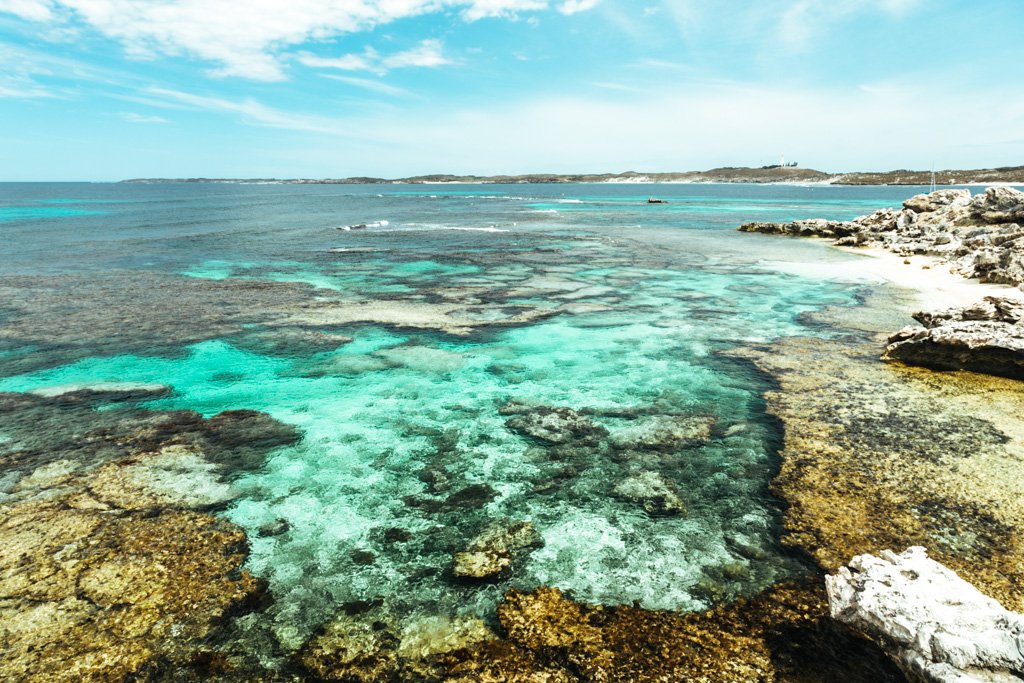 But more than that, Rottnest Island is a place to kick back, relax, and linger a little longer. A Rottnest Island day trip will allow you to tick off the main sights, but an overnight trip gives you time to really savor the experience. Instead of feeling like you have to see all of the beaches in a day and ending up dehydrated and sunburnt in vain (yep, I'm over here raising my hand right now), you can afford to take a break or head inside and take a nap during the hottest part of the day, and then head back outside later in the day once the day trippers have left (FYI that's 3/4 of the island's daily visitors).
Which by the way, the last ferry back to the mainland is around 4:30pm in summer – so you won't be able to catch the sunset from Rottnest Island unless you stay overnight. This killed me! Sunset wasn't til around 7:30 when I was last there, and I really wish there'd been a later ferry so I could've made the most of the whole day.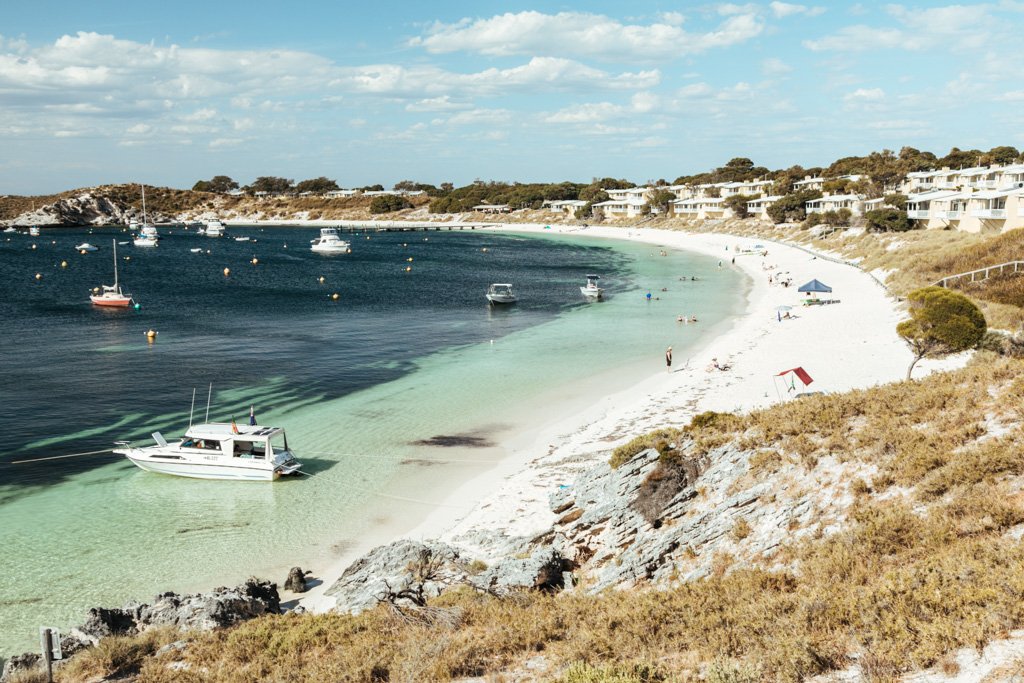 Accommodation on Rottnest Island For Solo Travelers is Expensive
If you heed my advice and stay overnight, you might want to invite a friend or three to join you because accommodation on Rottnest Island is exceptionally pricey if you're on your own. Below are the 3 most frugal options for accommodation for solo travelers to Rottnest Island:
Camping on Rottnest Island
As is the case with the majority of campgrounds in Australia, you pay per site rather than per person. Rottnest Island campsites are $39 for up to 6 people – and yep, you'll have to pay the entire $39 even if you're solo.
Between this, the higher baggage fees I'd have incurred had I flown to Perth with all my camping gear, plus having to shell out $8/day for locker storage to secure my valuables while I was out and about during the day, I didn't feel like camping by myself on Rottnest Island was a financially sensical decision. It seemed like more hassle than it was worth (though perhaps it would've been worth it if I'd been camping with others).
Hostels on Rottnest Island
The next viable option for accommodation on Rottnest Island as a solo traveler would be staying in a hostel.
Kingstown Dormitories offers dorm rooms for booking, rather than single beds, so there's no option to share a room (and the cost) with other travelers unless you book as a group. It's also only available for booking from mid-December to mid-February (as it's for under-18s only the rest of the year). If you're interested in booking a 2 bed dorm room for yourself, it's $84/night.
Rottnest Hostel offers single beds in a dorm room at $55/night. I don't believe they have lockers, so you might have to to hire a locker to store your valuables during the day.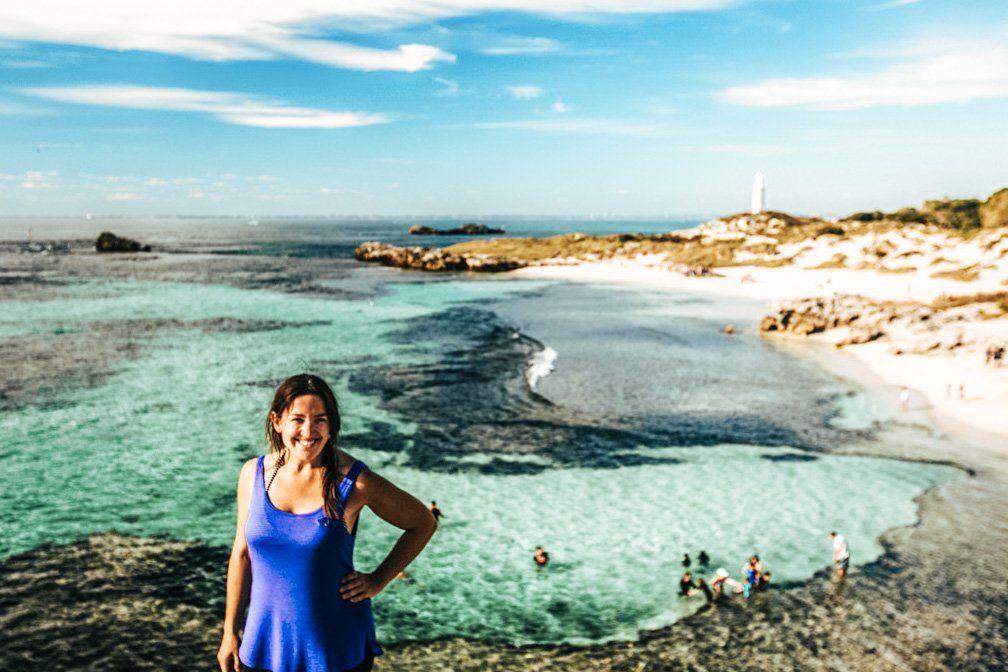 Cabins on Rottnest Island
The best value Rottnest Island accommodation option for solo travelers would be the Caroline Thomson Cabins. Prices range from $76-153/night, depending on the day of week and time of year. Each cabin fits 6 people and contains a kitchenette.
Considering the space and the fact that the cabin is equipped with a microwave, oven, and fridge, this is a pretty good deal… especially if you book a midweek stay outside of peak summer months. For me, the convenience is worth it vs having to deal with storing your valuables and eat out for every meal.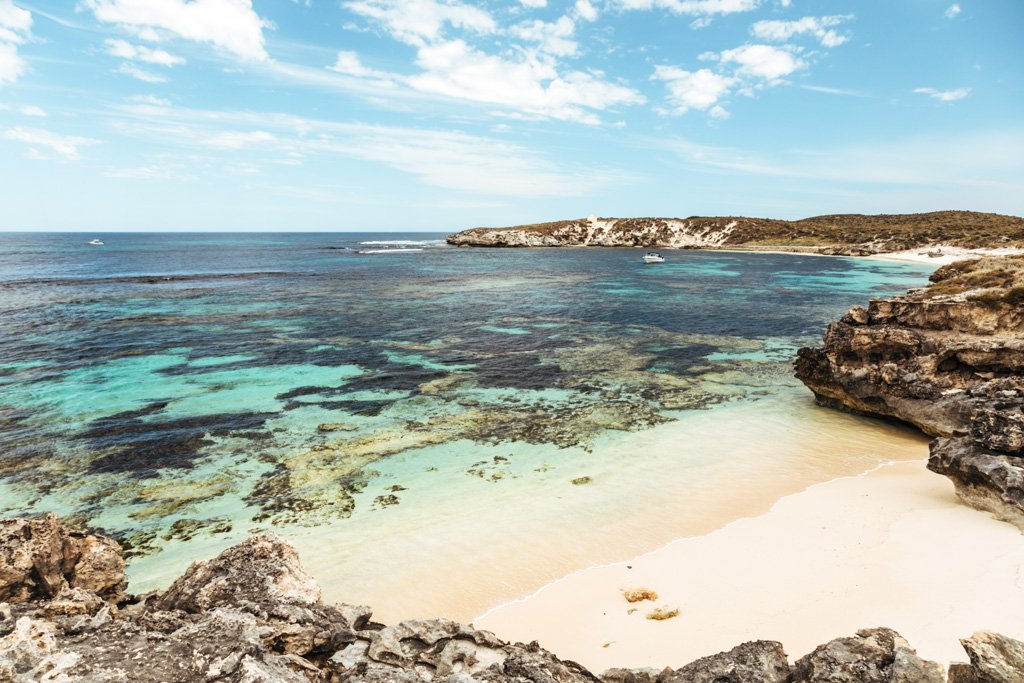 Bring Your Own Bedding, Or Hire In Advance
That all said, most of the Rottnest Island accommodation options do not include bedding (I KNOW, isn't that crazy?).
Of the options I listed above, only the Rottnest Hostel includes linens and pillows for their guests, so if you're staying in the Kingstown Dorms or the Caroline Thomson Cabins, you'll have to either bring your own or hire linens in advance of your stay. There's a form you can fill out to reserve pillows, sheets, blankets, and towels for your accommodation, should you need them.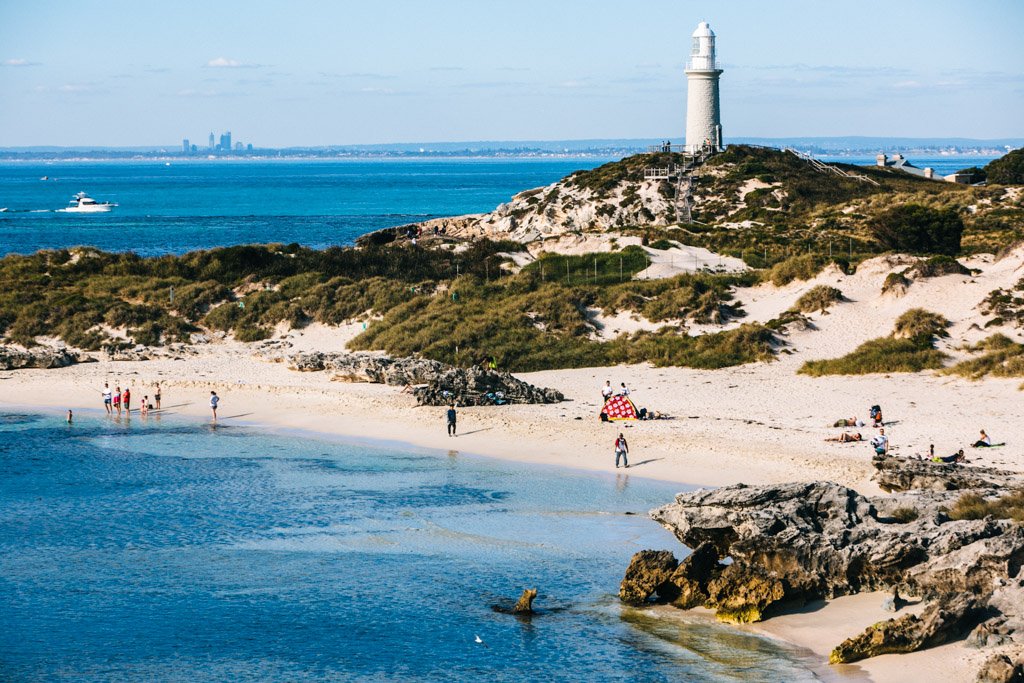 Prone To Seasickness? Take The Sealink Ferry From Fremantle to Rottnest Island
As you may have already gathered, you'll need to take the ferry to Rottnest Island. And often, the sea can be pretty choppy between Perth and Rotto.
So if you suffer from motion sickness as I do, you might want to do what you can to minimize the chances of suffering on the ride over. Here's what I recommend for the smoothest sailing:
There are two ferry operators: Sealink and Rottnest Express. Sealink ferries are larger (and more stable), so book with Sealink if possible.
The trip from Fremantle to Rottnest Island is 30 minutes, while the ride from Perth to Rottnest Island is 40-45 minutes (or longer, if it's not a direct ride). Aim to catch the ferry from Fremantle B-Shed so that you have a quicker (and cheaper) ride to the island.
The ferry from Fremantle to Rottnest Island costs $70 return, and from Perth to Rottnest Island is $109 return; both prices include the mandatory government admission fee to the island.
You Need A Bike (+ A Snorkel) On Rottnest Island
When you go to book the Rottnest Express ferry to Rottnest Island, you might notice the add-on options for hiring bikes and snorkel equipment (and balk at the inflated prices, as I once did). It's $30 for a bike and $20 for snorkel hire for the day, with the convenience of having the items ready to grab off the wharf right when you disembark. Prices are the same if you hire through Sealink, who partner with Pedal & Flipper, a bike shop on the island that's about a 5 minute walk from the wharf.
Yes, bike and snorkel hire on Rottnest Island is a bit overpriced (especially given how old and worn the equipment is), BUT – you will regret not having at least one of them to play with during your island time.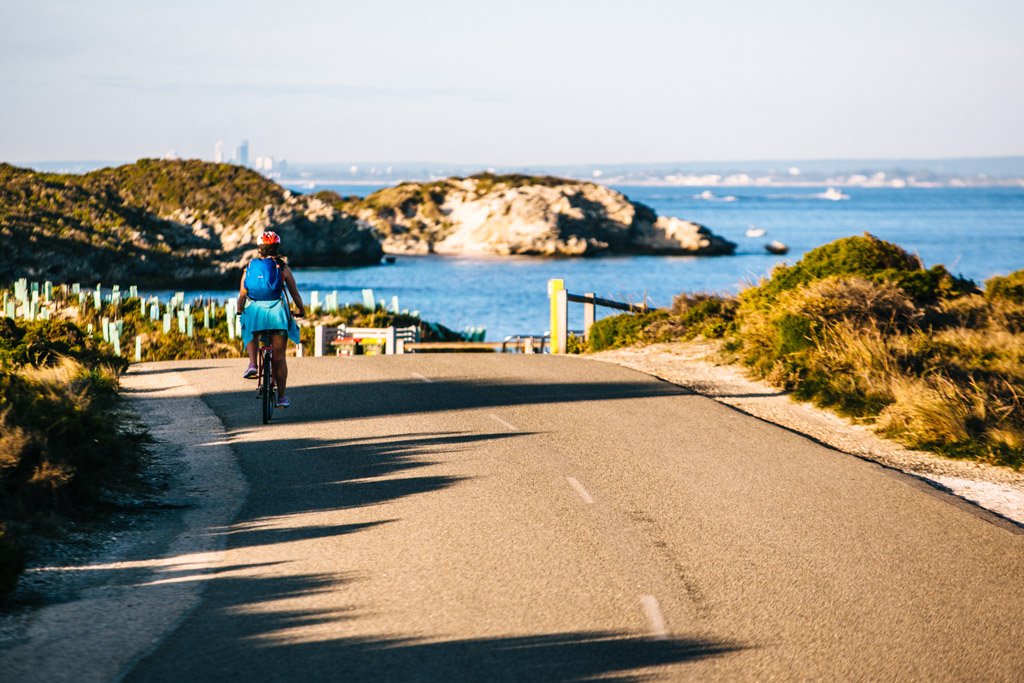 I think everyone should hire a bike on Rottnest Island, as it's the best way to get around and explore. The island is only 11km long, so cycling around the entire thing is very doable in a day. On both of my day trips, I ended up biking a smaller loop and stopping off at several of the beaches along the way. Staying overnight on the island, as I recommended earlier, would allow you more time to explore even more of Rotto by bike.
There are dirt paths off the main loop road that you can take to up the adventure ante, but they're better suited for a mountain bike. I speak from experience when I say that cruisers tend to eat the sand. Either way, it's pretty hard to get lost on the trails because they all eventually lead back to a main road.
Don't want to bike? There's a bus that runs regularly around the island and stops most anywhere you'd want to go. It runs less frequently outside of summer though, so you're at the mercy of the timetable which will limit how much you can see.
Rottnest Island is surrounded by hundreds of meters worth of reef, which makes it a fantastic place to snorkel. Some of the better beaches for snorkeling are Little Salmon Bay, Fish Hook Bay, Little Parakeet Bay, and Cathedral Rocks. You'll be able to see the reef around these bays from the main road, which makes the landscape much more picturesque in my humble opinion.
Want to explore the reef up close? Definitely hire or bring your own snorkel gear.
Quokka Selfies Are Harder Than They Look
Fun fact: The name Rottnest means "rat's nest", courtesy of an explorer who landed on the island and mistook the native quokkas for rats. These little marsupials aren't afraid of humans – in fact, you'll find loads of them hanging out just inland from the ferry, near some of the cottages and around the campground.
When I visited Rottnest Island in 2015, I had no idea that quokka selfies were a thing. But Instagram has blown up since my first visit, so I've seen PLENTY of quokka selfies in recent years – and I've been determined to return one day and snap my own.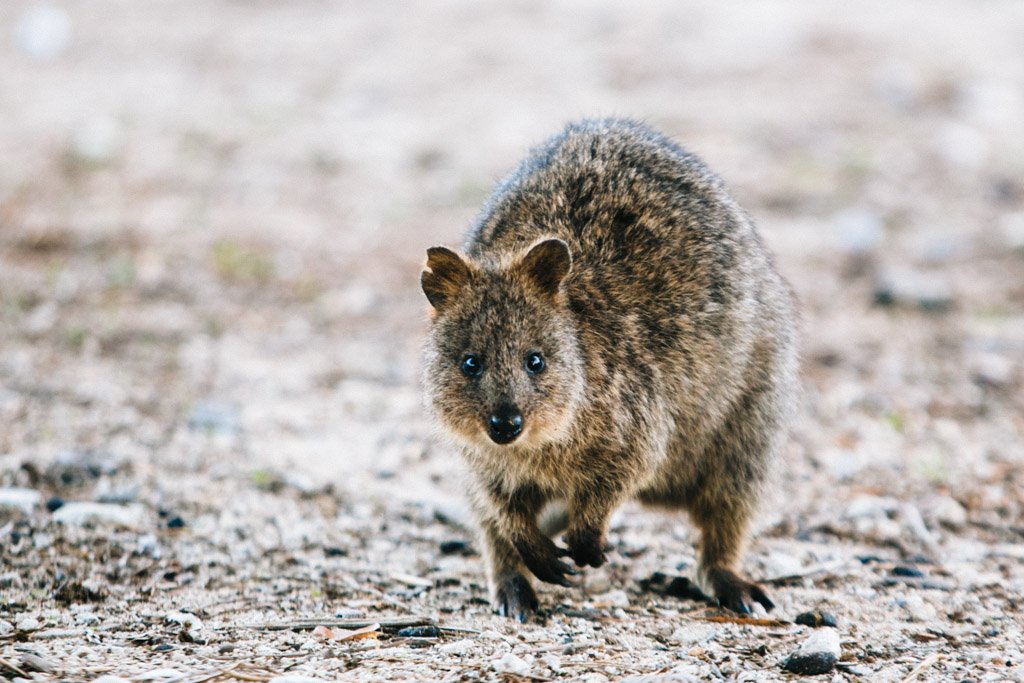 It may just be that I'm crap at taking normal selfies, but man – I found taking selfies with quokkas to be extremely challenging! The ones I befriended didn't seem to want to look straight at my phone or at me as I was snapping pictures. I think it would have been a bit more feasible if I'd had someone there to either take the photo or get the quokka to look a certain way.
So yeah, I walked away with a handful of quokka selfie derps, which are definitely not gonna win any awards but do make me LOL a little.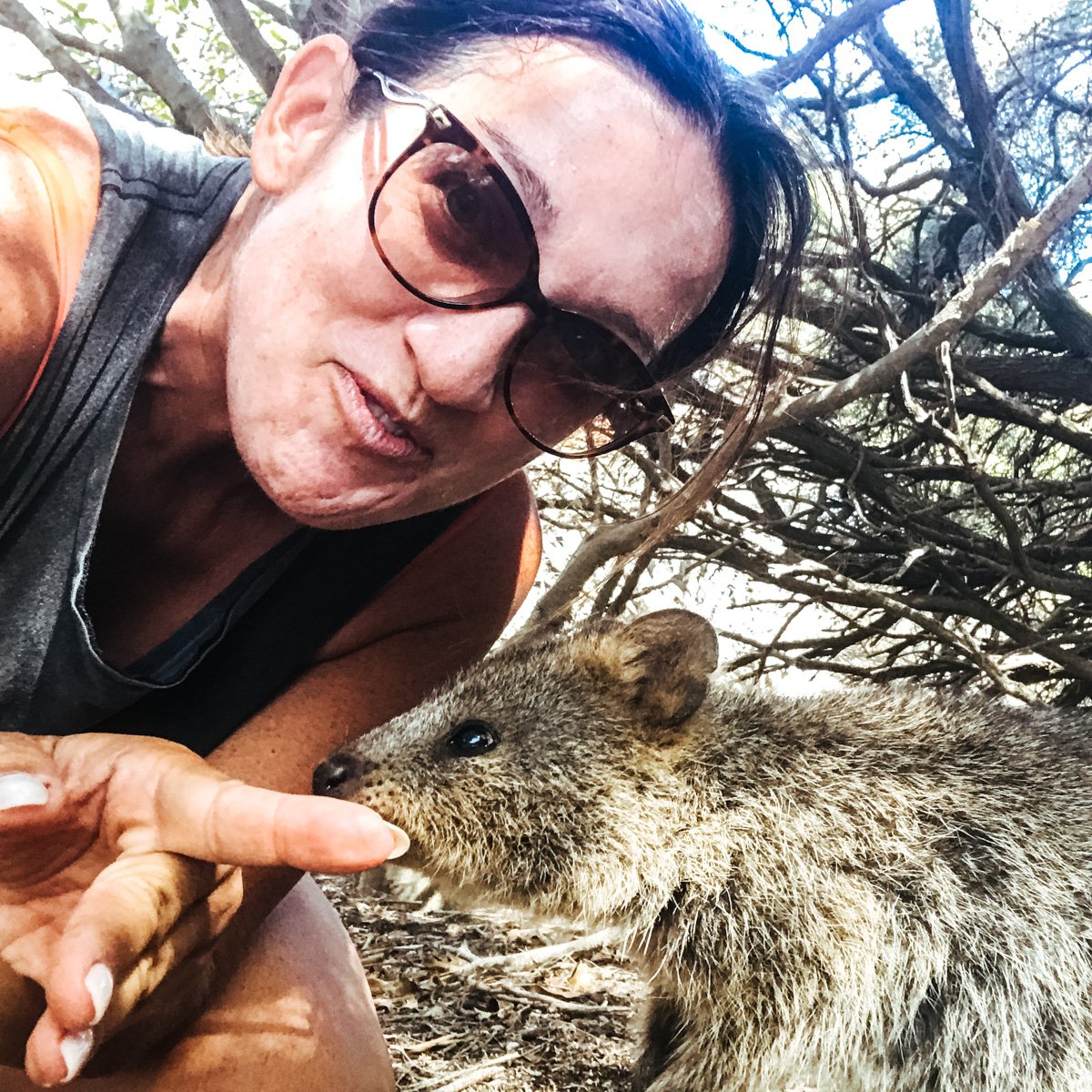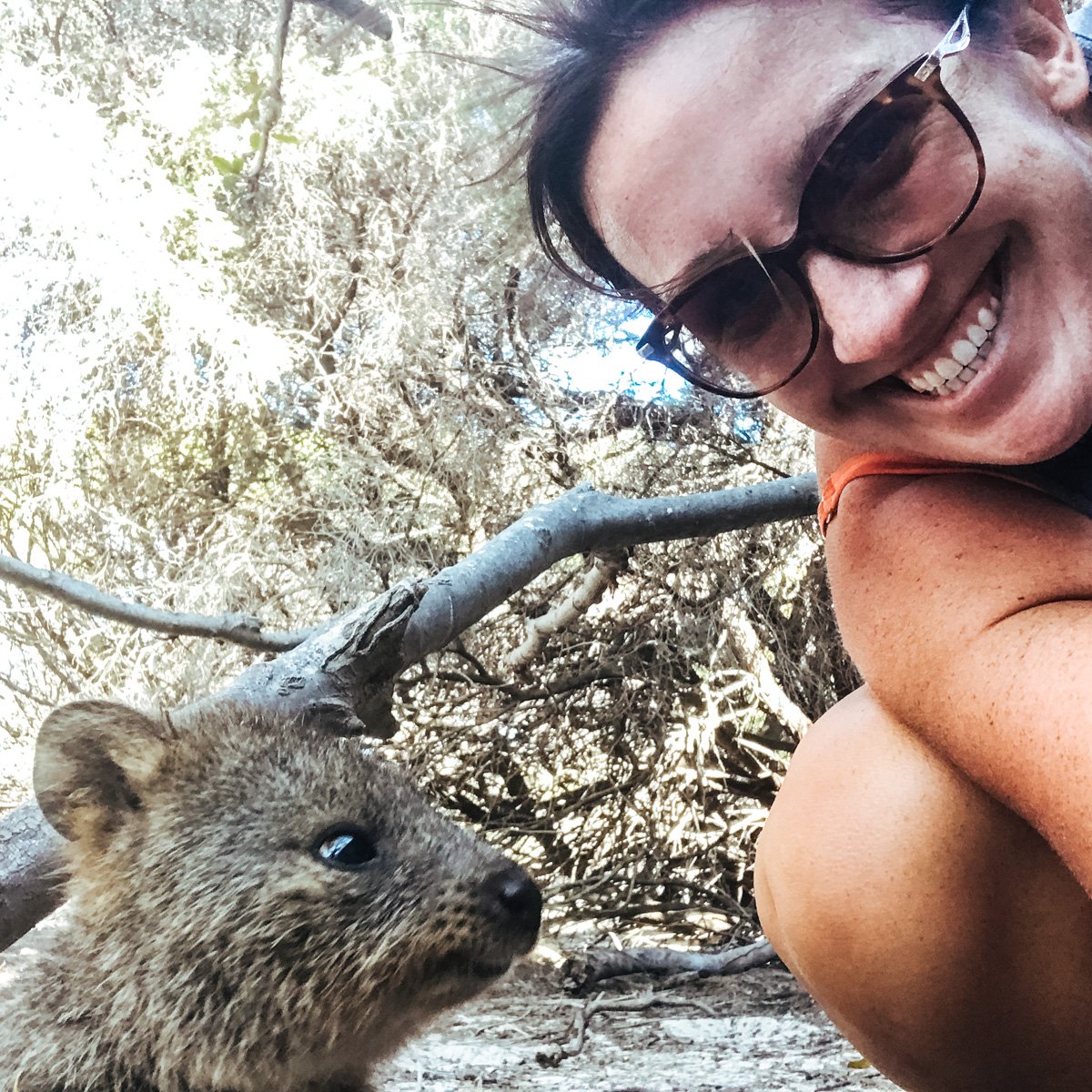 Visit in February or March, if Possible
Rottnest Island is primarily a summer holiday destination, with families vacationing there during school holiday season (December-January). This is peak season, meaning there will be more people on the island, higher prices to pay for accommodation, and the need to book your trip well in advance before options book out.
Not surprisingly, this frugal introvert is gonna go ahead and recommend that you visit Rottnest Island in February or March instead, which is late summer/early autumn in Australia. This time of year has hot sunny days and the warmest water temperatures of the year, with fewer crowds and lower prices than in peak summer season.
November's also a good time to visit Rottnest Island, but it probably won't be quite as warm (in both air and water) as it is in Feb/March.

Little Salmon Bay.
But what if I can only visit during winter?, I can hear some of you asking. Having been to Rotto in both summer and winter, I've experienced both sides of the weather spectrum and honestly, the island has a very different feel during winter.
It's more quiet and peaceful, absolutely – but it's not beach season, and beaches are what Rottnest Island does exceptionally well. You can bike around the island and check out the beaches any time of year, but it's SO MUCH BETTER if you do it during the warmer months when it's proper beach weather and you can hop off the bike for a quick dip at whatever beach you fancy in the moment.
Pin it!