I first visited Perth, Australia 12 years ago for just a few days before heading out on an epic road trip through Western Australia. My key takeaway then? Perth is boring. I remember shuffling through the pedestrian shopping area, visiting the Perth Mint out of boredom, and being underwhelmed by the modest city skyline from Kings Park. I found myself killing time rather than savoring it here, and as a result I was all too eager to leave and never return.
But you know what? That was my bad. I was naive and an ignorant traveller back in 2006 and it's my own fault for not making more of an effort to find things to love about Perth.
So the second time around I went there with a more open mind. Once I got out of the city centre and started chatting with the locals, I found myself gradually dropping my preconceptions about this city and started really enjoying my time there. Hey, I kind of like living in Perth! I was even sad to be leaving after my 3 weeks there were up.
Perth's actually an interesting and extremely underrated city. Though I'm of the opinion that it's better suited for living than visiting, it's definitely worth experiencing no matter what your agenda.
Here are some interesting things to note about visiting or living in Perth, Western Australia's capital city:
A City Of Superlatives
Perth, Australia holds the following worldwide titles:
most isolated continental capital city
sunniest capital city
third windiest city
I have a hard time wrapping my mind around the fact that Perth is closer to Jakarta than Canberra, but it's the truth.
Perth averages 8 hours of sun a day year-round. I didn't find it overly windy during my winter visit, but it's very normal for a cooling sea breeze to hit in summer afternoons, a phenomenon the locals have nicknamed the Fremantle Doctor.
If you're looking to visit soon and experience the glorious weather, book your Perth hotel today.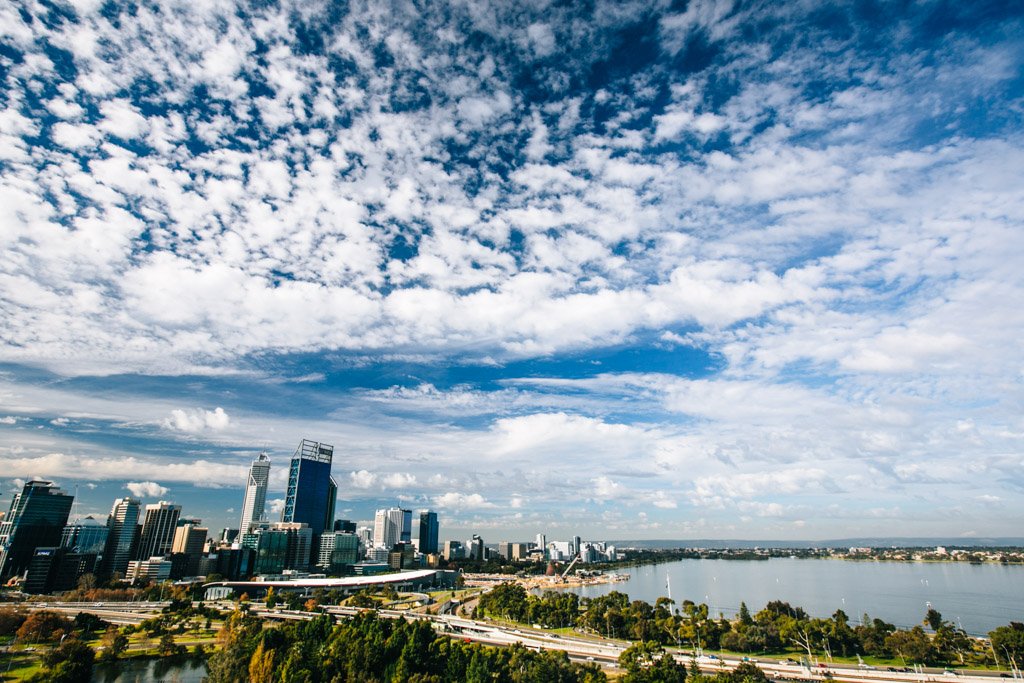 It's Ridiculously Spread Out
This isn't news to anyone, but I'm a girl who likes to move. I like to be able to walk out my door and get to wherever I'm going either on foot or on bike. In my world, cars are reserved exclusively for road trips, never for daily use.
On that note, Perth has one of the highest ratios of car ownership in the world. Seemingly everyone has a car – and that's because the Perth metro area is ridiculously spread out. It runs 130 kilometres north to south from Two Rocks to Singleton. There are a few train lines that span a good portion of this distance, but because houses are so spread out, odds are you won't be staying within reasonable walking distance from a train station in the suburbs, which automatically turns any commute into a bus + train ordeal. No wonder everyone living in Perth drives!
Needless to say, I've never been so frustrated with a city's frolicking potential. Of course I didn't let that stop me, but in retrospect I'd say it's an absolute MUST to base yourself in either Fremantle or the city center.
BEAUTIFUL BEACHES FOR DAYS
Excuse me while my eyes glaze over at the thought of frolicking on Perth's glorious white sand beaches again.
Most visitors have heard of the popular Cottesloe Beach, but did you know that there are 18 other beaches in Perth? Complete with white sand dunes and turquoise water, they are all gloriously undeveloped and near-empty in winter, even on a sunny 70F/20C day. Unlike in Sydney, where beaches are contained within bays or headlands, the beaches in Perth are mostly all connected with no clear boundaries between them. I walked 6 km straight from Leighton Beach in North Fremantle up to Cottesloe Beach and only diverted from the sand once.
I'm telling you, Perth's beaches are a frolicker's dream. And if you prefer your frolicking with a side of something else, you could surf at Scarborough Beach, BBQ at City Beach, or dine alfresco on the boulevard at Cottesloe Beach.
And if you have a day to spare while you're visiting Perth, definitely make your way out to Rottnest Island. Rotto boasts 63 secluded beaches, including the well known The Basin.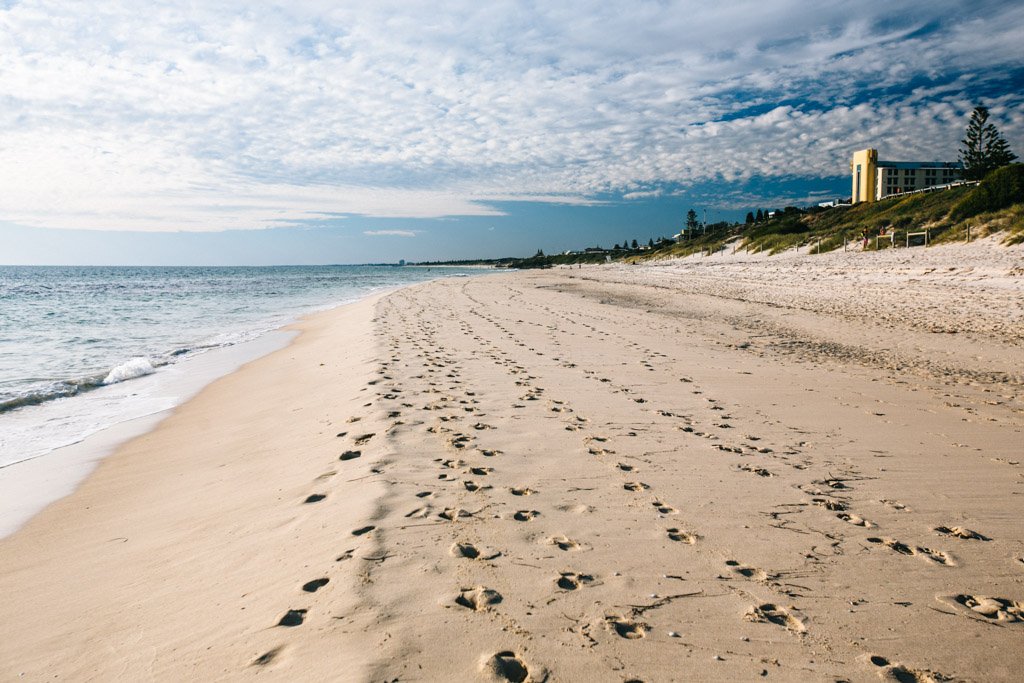 Higher Prices and Higher Wages
Being the most isolated continental capital city in the world brings with it slightly higher prices of goods in Perth. You're paying a bit more to cover the costs of freight and logistics in getting those goods delivered. Milk is about 15 cents more per liter in Perth than in Sydney and Melbourne. Beer can cost up to $3 more in Perth's restaurants than in Sydney's. And worst of all for me: coffee is so expensive it's actually on par with what the average cup of coffee in London goes for (AU$4.43 on average).
Even more discouraging for visitors is that both the average hotel room and the average three course meal are up to 25% more expensive in Perth than in Melbourne or Sydney. You can thank the mining boom for these price hikes: mine workers with inflated salaries can easily afford these things when they visit Perth, but tourists may need to budget a little better when travelling there.
It's a slightly different story if you're living in Perth, though. Perth locals enjoy higher wages on average than those in other Australian cities, which makes the higher cost of living slightly more tolerable.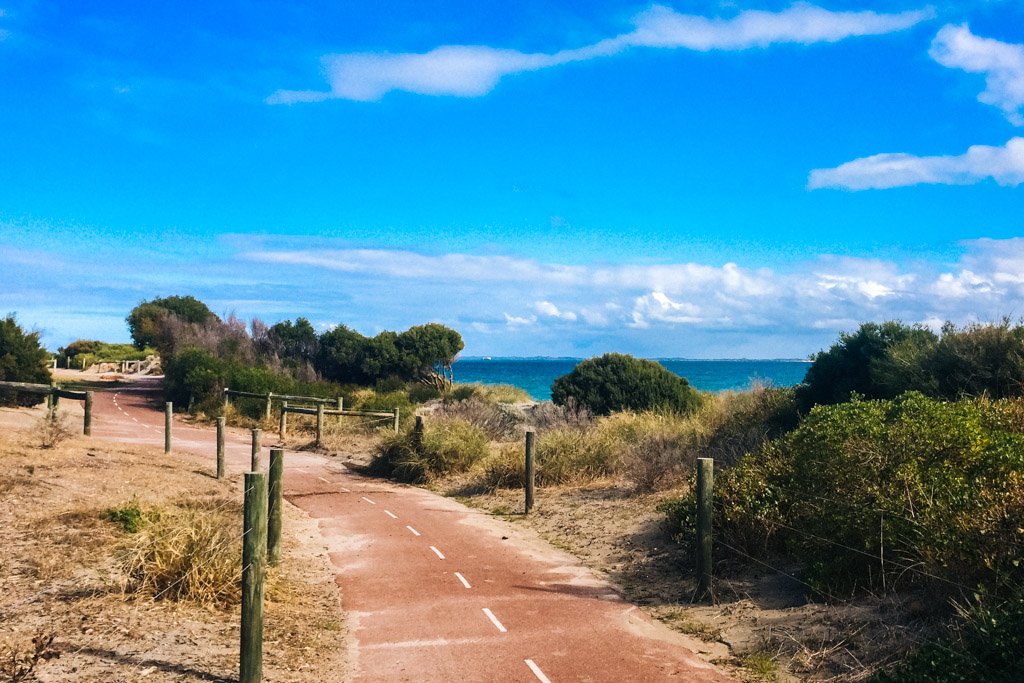 Lots of FIFO Workers
Mining is a massive industry in Western Australia, which hosts about half of the mine projects in the country. Because of the remote location of these mine sites, workers fly in and fly out (FIFO), usually from Perth or wherever they're from. Commonly they'll work 2 weeks straight in the mines, then fly home for 1 week off. And why, you might wonder, would anyone in the right mind subject themselves to such a heinous work schedule? It's simple: any job at the mines, even housekeeping, pays a ton of money.
So you'll find a plethora of single young men living in Perth who are FIFO workers with money to burn. Anna found a guy on Tinder who took her out on the Swan River to go jetskiing, and then for a nice dinner. If you're looking to meet generous, adventurous guys on your Australian travels, I'd say the FIFO workers living in Perth are a sure bet.
The NOR-SOR Rivalry
Intercity and intracity rivalries are rampant in Australia, often the result of allegiances to sports teams. Perthies are instead divided by geography: those living north of the river (NOR) vs south of the river (SOR). Historically, people in Perth would stay on whichever side of the river they lived on and rarely cross it: in part because of how sprawling the city is and the time required to get around, but moreso because there originally weren't many bridges that crossed the ultra-wide Swan River.
Nowadays, people tend to keep their families and circles of friends on the same side of the river and proudly state that they're from north or south of it. The rivalry is typically in good nature and more for banter's sake, but the divide still exists.
It's Very Multicultural
Here's a humdinger: nearly half of Perth's population was born overseas. Most of its migrants come from the UK and New Zealand, and in recent years its Asian population has been rapidly increasing.
Yet Perth isn't known as a multicultural city because historically there hasn't been much in the way of tangible culture, certainly not in comparison to Sydney or Melbourne. There aren't many ethnic enclaves, and there are few festivals on the docket – but what Perth does have is the highest ratio of restaurants per capita of any Australian city. How's that for culture? Unfortunately I was in hibernation mode and didn't want to spend any extra money until I found a job, so I hardly got to sample Perth's dining scene. But it's there, and it's abundant.
What's more, Perth is currently undergoing somewhat of a cultural revitalization. In an effort to drum up interest in sporting and musical events and get more people to go out on weekends, the government is offering various transit benefits: for example, free transport to football games included with every ticket, and free train rides on Friday and Saturday nights from 12:30am-3am. When I was temporarily living in Perth, most train cars I rode in were plastered with posters advertising upcoming events. With initiatives like this and continued growth of the migrant population, I wouldn't be surprised if Perth made it onto the map as a multicultural powerhouse.
Pin it!