It may not be near the top of most travelers' bucket lists (admittedly it wasn't on mine), but Sapphire Coast NSW is one of the most gorgeous stretches of coastline in all of Australia.
Spanning from Bermagui to Eden, the Sapphire Coast hugs the southernmost coastline of New South Wales and is a popular summer holiday destination for those living in Sydney, Canberra, and Melbourne (a 5, 3, and 6 hour drive, respectively).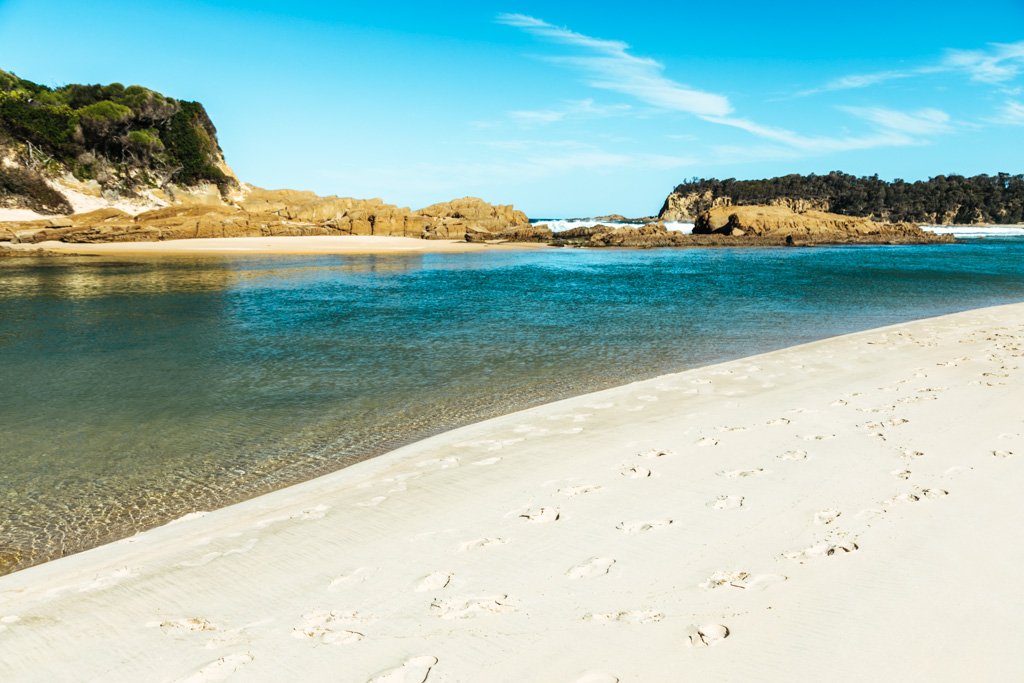 If you're wondering where Sapphire Coast NSW got its name, its plentiful sapphire blue skies might have something to do with it.
Oysters. Whales. Rolling green hills. Secluded beaches. Rivers running into the sea. The Sapphire Coast of NSW is known for all of these and more.
This article is your one-stop shop for planning a Sapphire Coast Australia road trip or holiday! (Be warned, it's a 3500-word doozy!)
Bermagui
Bermagui is the gateway to the Sapphire Coast, and a beloved fishing village and summer holiday hotspot in New South Wales. With river and sea views backed by Mount Gulaga in the distance, this town is definitely a beauty.
Ask a Sydney local about Bermagui and their eyes will glaze over as they recount summers spent at their parents' holiday home, or past weekend getaways to this idyllic beach town.
Aussies love Bermagui and it's easy to see why. Here's what not to miss:
Things to do in Bermagui
Bermagui Blue Pool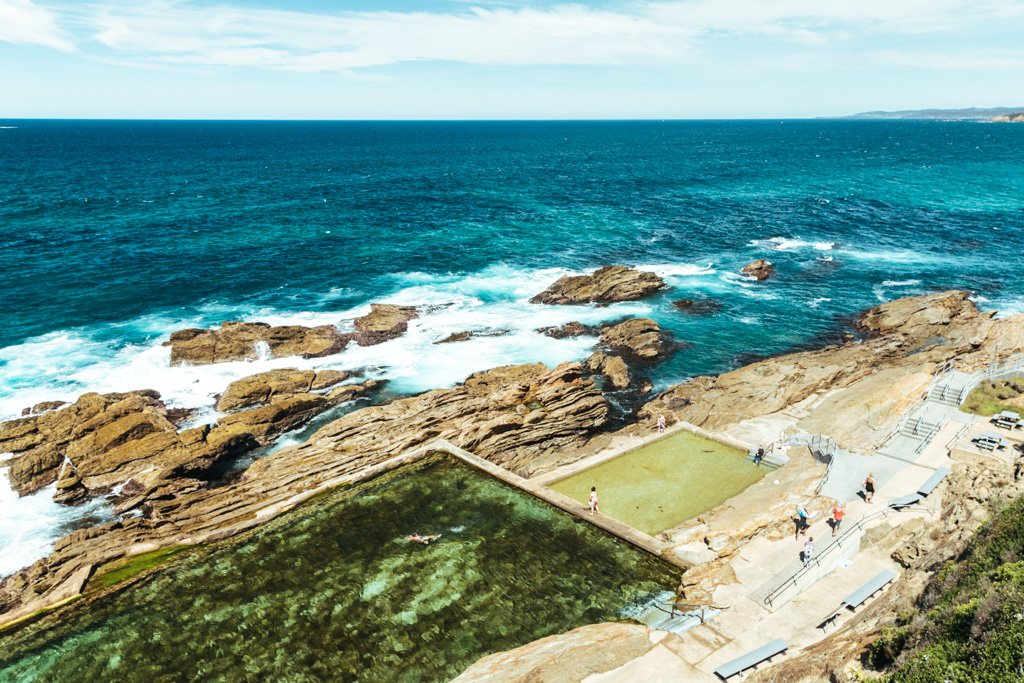 Ocean pools are a dime a dozen along the coast of NSW, but Bermagui's is particularly picturesque.
Beaches in Bermagui & Surrounds
Let's be honest, people come to Bermagui for the beaches. Horseshoe Bay is the main beach in town, but there are a few others both north and south of town (which personally, I find much nicer).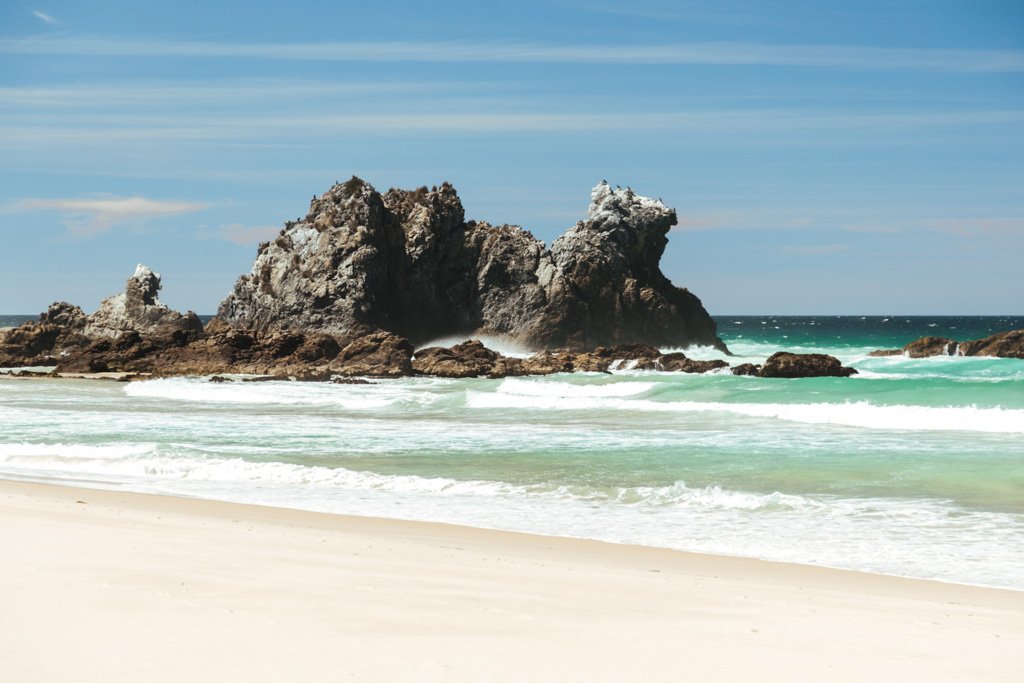 Camel Rock.
North of Bermagui, there's a very lengthy stretch of sand that's split between a few different beaches. The northernmost one is Camel Rock Beach, named for the dromedarian-shaped rock formation just offshore.
If you hike over the headland there, you can access Horse Head Rock at the next beach. This is said to be a great spot for photography, just be sure to plan your visit to coincide with low tide.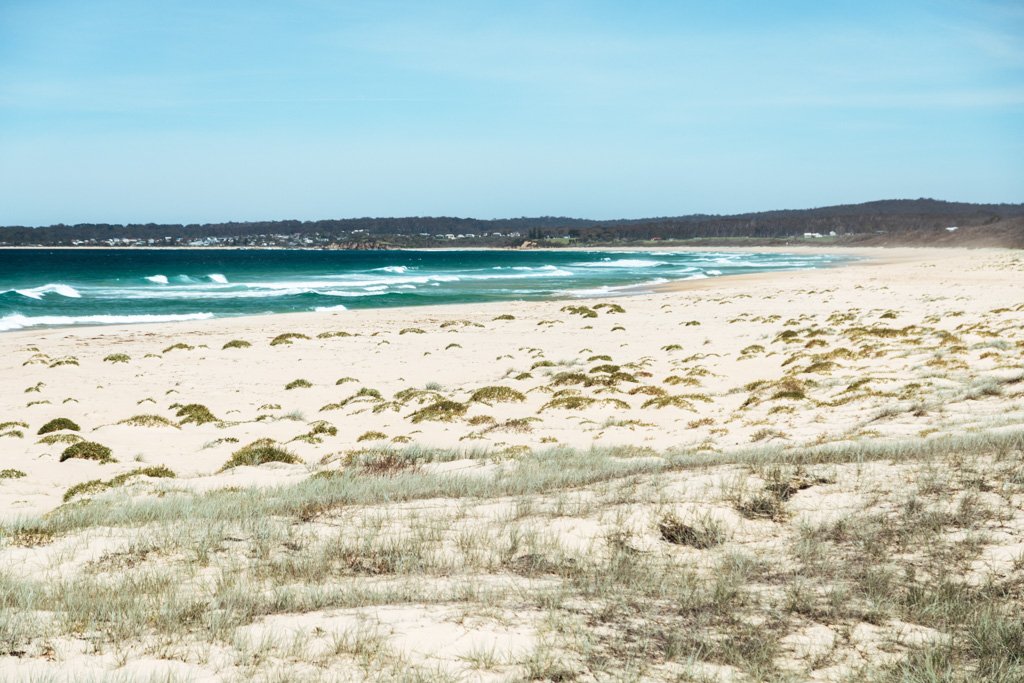 Cuttagee Beach.
South of Bermagui, there's Beares, Baragoot, and Cuttagee Beach, each with golden sand and fishing opportunities aplenty.
Fish, Boat, & Paddle On The River
Like several other towns in South Coast NSW, Bermagui has a river that flows through it and into the ocean, which makes for both gorgeous scenery and ample watersport opportunities.
Fishing is hugely popular in Bermagui, and you'll see people fishing along the river and off the rocks at the ocean. If you want to go further afield to fish, you can book a fishing charter in town.
Prefer to paddle? There are kayaks and paddleboards for hire from River Rock Cafe.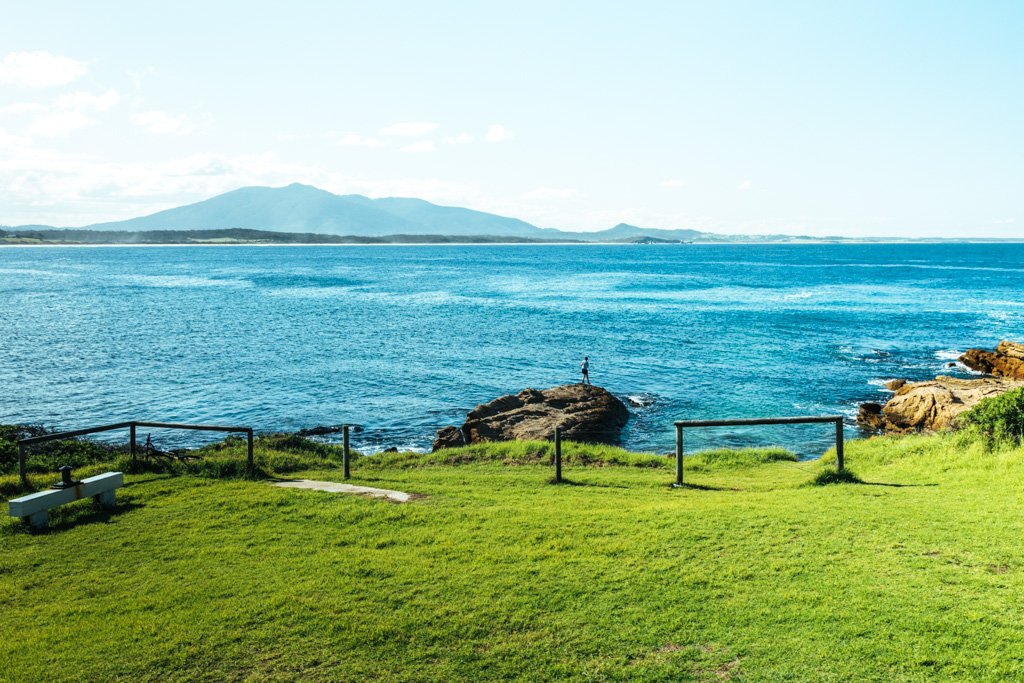 Coastal Walks
The 18km stretch from Wallaga Lake in the north to Cuttagee Beach in the south makes for a sensational coastal walk in Bermagui and surrounds.
The trail passes by several beaches and lookout points. Tackle all of it in a day, or just a segment of it at a time.
Shop, Drink, & Dine
The main street in Bermagui is lined with so many cute shops and restaurants! Even if you don't stop to shop or eat, it's fun just to stroll up and down the street – the area's got a really nice vibe.
Fellow health conscious folk should try Gulaga Organics and Boneless Vegetarian Cafe. The best coffee in Bermagui is at Beardhawk Cafe, which is actually a little kiosk just across the river (bring your reusable coffee cup for a discount!).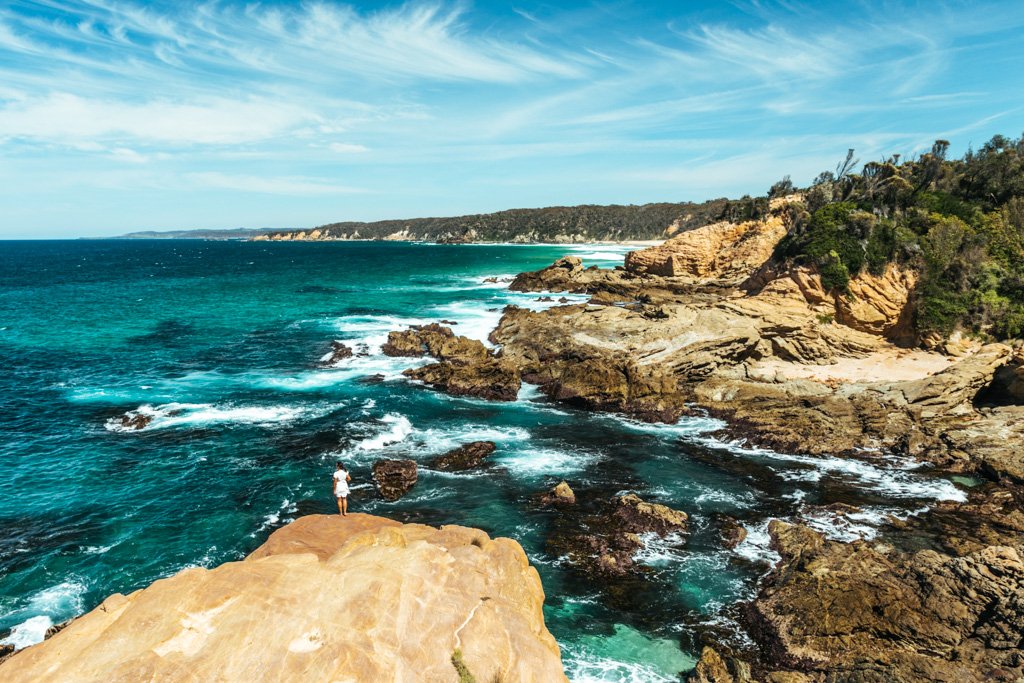 View from Bermagui Blue Pool.
---
Cobargo
Sadly I didn't get to visit Cobargo on my recent trip to the Sapphire Coast of NSW, but we did drive through on our way back to Sydney and it looked SO CUTE. If you can swing it, definitely make a stop at Cobargo on your travels – especially given it's still recovering from the bushfires of late 2019. The town could use all the support it can get from travelers like us!
Cobargo's main street is lined with colorful colonial buildings housing unique shops and cafes. Peruse them at your leisure, or follow the self-guided Cobargo Historic Village Walk (a brochure outlining all of the points of interest is sold for $2 at most shops in town).
Cobargo's quite an artsy town as well, as evidenced by its many galleries, antique shops, and craft stores. The Lazy Lizard Gallery is the stand-out, run by local artists showcasing quirky art pieces.
---
Bega
You might know of Bega thanks to Bega Cheese, which is sold in supermarkets across Australia. It's considered the unofficial cheese capital of NSW.
It also happens to be the urban center of the Sapphire Coast, despite being inland. It's the biggest town in the region and therefore your best bet if you're in need of any supplies for your Sapphire Coast trip beyond food.
Things to do in Bega
Visit the Bega Cheese Heritage Centre (museum + cafe + shop)
Browse the contemporary art at Bega Valley Regional Gallery
Picnic or walk around Kisses Lagoon
Follow the Bega Heritage Walk, which takes you on a self-guided tour past 17 historical landmarks
Explore picturesque, cliff-lined Brogo Dam, which is 19km north of town in Wadbilliga National Park (you can hire canoes here)
---
Mimosa Rocks National Park
Just south of Bermagui is Mimosa Rocks National Park, which spans about 16km of coastline and ended up being my FAVORITE spot on our Sapphire Coast NSW road trip.
Why? Two words: beachfront campgrounds.
Oh and also, the beaches in this national park are unspoilt and quiet, just the way I like 'em!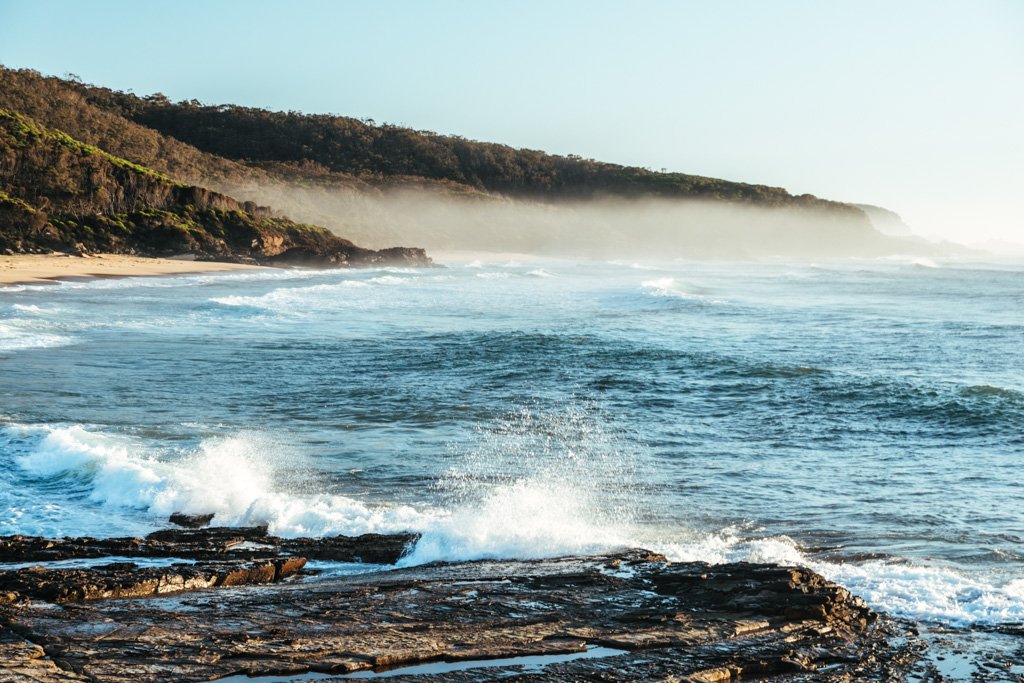 Picnic Point.
Things to do in Mimosa Rocks National Park
Camping in Mimosa Rocks National Park
In my humble opinion, the best camping on the Sapphire Coast is in Mimosa Rocks National Park.
The park boasts 4 campgrounds on the beach:
Aragunnu Campground
Picnic Point Campground
Middle Beach Campground (smallest + tent camping only)
Gillards Campground (biggest + most popular)
We camped for 2 nights each at Picnic Point and Gillards and absolutely LOVED them both. Picnic Point felt more peaceful and remote, while Gillards had the superior beach.
The surprising (and more than a little disappointing) thing was how someone stole our ladder and firewood from our campsite at Picnic Point when we went out one day with our campervan. With only a few other campers around, it seemed highly unlikely that anyone would take anything, so I felt comfortable leaving a few items to save our site. But then again, I tend to be more trusting and less paranoid than most, so it was a nice little wakeup call for me.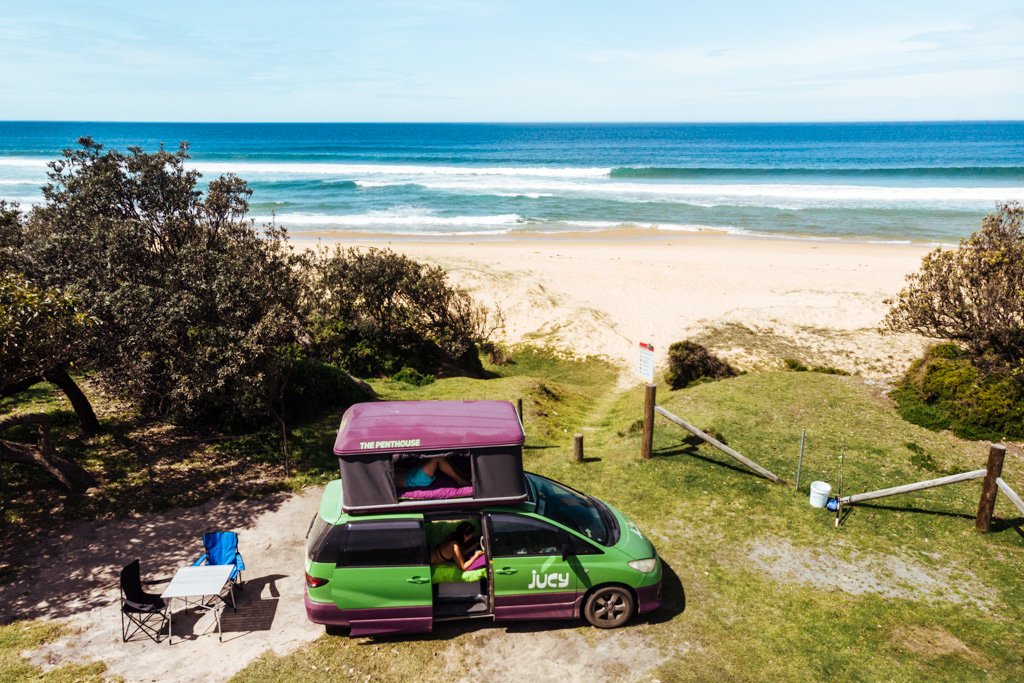 Camping at Gillards Beach.
You know how a lot of times, a campground is said be "on the beach" but in reality it's, like, across the street from the beach or a lengthy walk from the sand?
Not the case here! All of these campgrounds really are right next to the beach. If you get lucky like we did, you can snag a beachfront site and step right onto the sand from it, no exaggeration.
We prepped and ate all our meals with a view of the sea and fell asleep the sound of crashing waves each night. It was pure BLISS.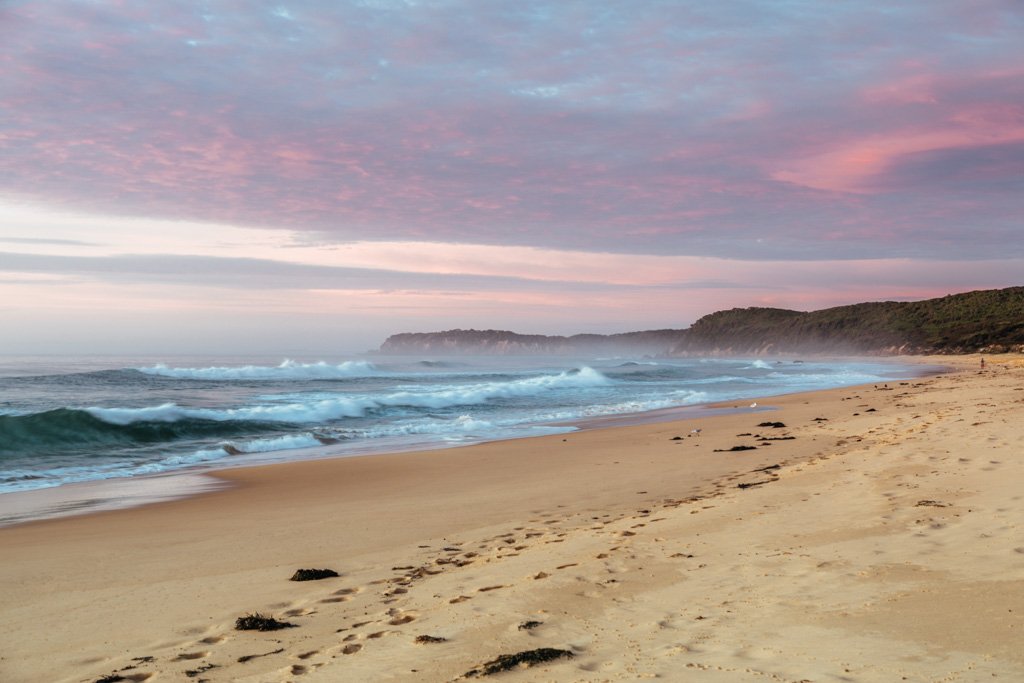 All campgrounds are first come first served (no bookings taken in advance). A park staff member will stop by in the morning to collect payment ($12/night per person, cash only).
In our experience camping on the Sapphire Coast in March, Picnic Point had plenty of available sites, while Gillards was packed on weekdays (I definitely advise getting here early to find a spot to camp). Payment was collected each morning of our stay, so park officials seem to be pretty consistent with that.
Beaches in Mimosa Rocks National Park
As for beaches in Mimosa Rocks National Park… well, you can't go wrong with the beaches at any of the campgrounds listed above!
But if you want to experience the best beaches, I suggest you make two stops: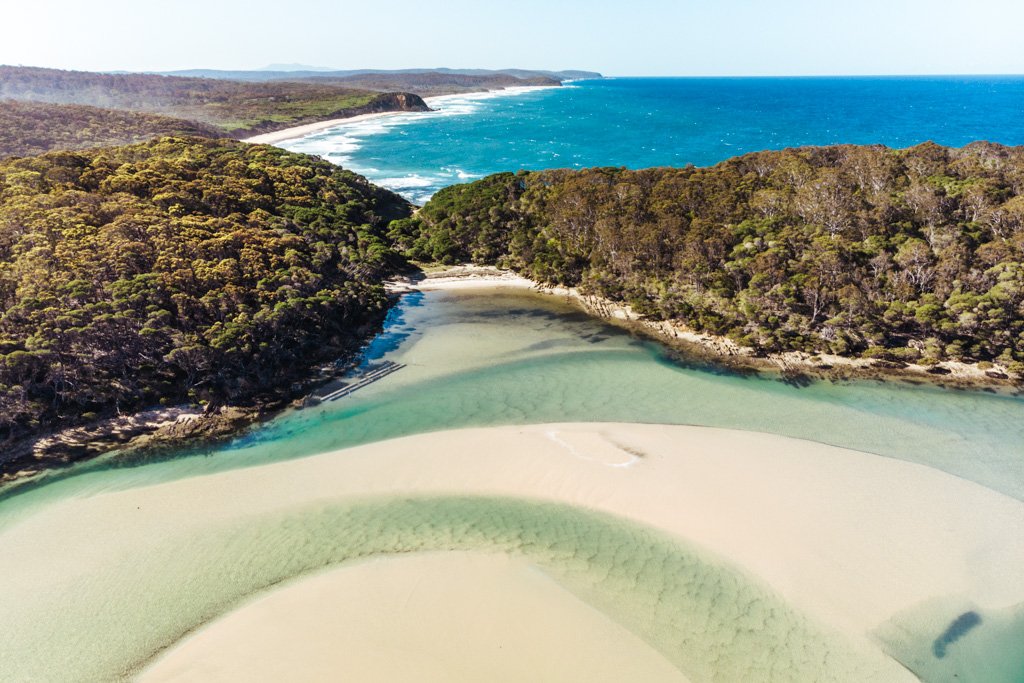 Nelson Beach (Lagoon).
Nelson Beach & Moon Bay
Both of these beaches are accessible via the same road, so they're easy to combine in one stop.
Moon Bay is a small, sheltered bay where you're unlikely to encounter many (if any) other beach goers.
Nelson Beach is larger and has a lagoon on the north end, which is SO MUCH FUN for paddling, floating, and drone-ing. We swam across the narrow (but deep) channel and explored the rocks around the headland, too.
Gillards Beach
Whether you camp here or not, you've GOT to stop at Gillards Beach. This is a long and gorgeous beach ideal for long walks. Be sure to walk all the way to the northern end and around the picturesque rocks (there's another beach beyond them that you can access!).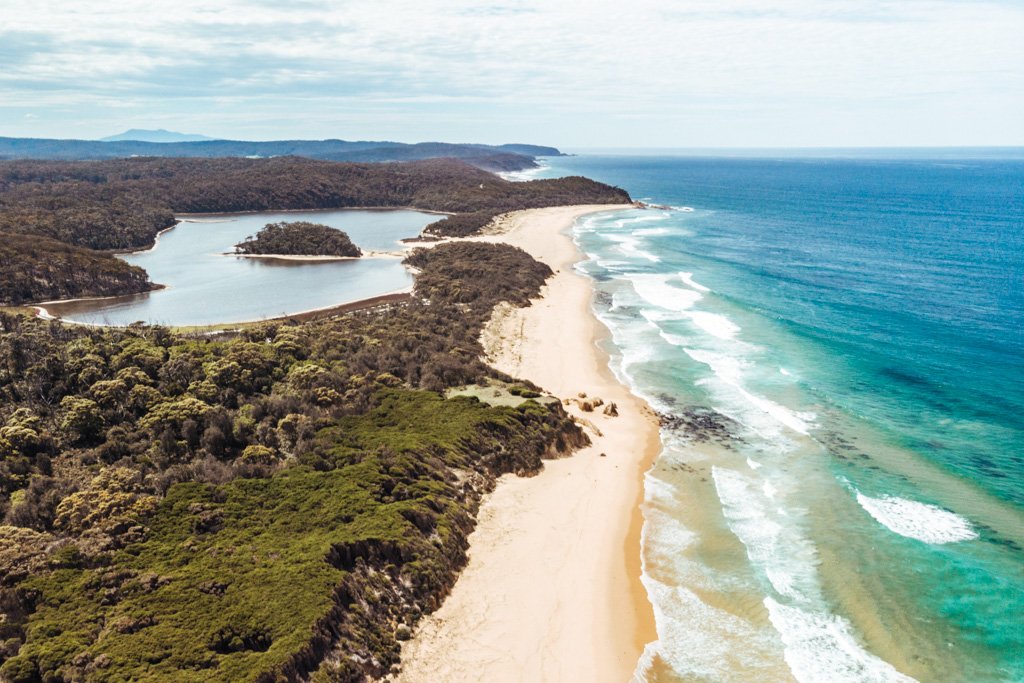 ---
Tathra
Tathra is a small town on the Sapphire Coast of NSW that's just a 20 minute drive north of Merimbula.
More than anywhere else on the Sapphire Coast, it felt like a very local and laidback kind of place: the kind of town that doesn't get highlighted in guidebooks or bucket lists, yet offers plenty to see and do.
Things to do in Tathra
Tathra Beach & Wharf
You can't go past Tathra without stopping in at the town beach and its heritage-listed wharf (unless you're me and only stopped for coffee, oops!).
Tathra Wharf is said to be the oldest deep-water timber wharf on the east coast. It was built in 1862 "for steam ships transporting people and goods along the south coast", and now serves as the focal point of the town.
Lookouts in Tathra
On Google Maps you'll notice two lookouts in town: Tathra Wharf Lookout and Chamberlain Lookout. Both offer excellent views of the rocky coastline.

Chamberlain Lookout.
Biking & Paddling in Tathra
The Bega River flows from Bega into the ocean at Tathra, providing several estuaries and calm waters for boating and paddling.
Apart from the water, there are 55km of biking trails to ride around Tathra.
Don't have your own gear? Tathra Beach & Bike is your one-stop shop in town for hiring bikes, paddle boards, and kayaks.
Food & Drink
I didn't thoroughly sample the dining scene in Tathra (though it's a small town with a modest number of options), but I CAN recommend Wild Orchid Cafe for the best coffee in Tathra.
Additionally, oysters are apparently a big deal in this town: sampling some award-winning oysters from Tathra Oysters is a must-do if you're into them (they're available Dec-June).
---
Bournda National Park
Just south of Tathra you'll find Bournda National Park, a rather underrated gem in NSW (translation: hardly anyone visits, yet it's so darn beautiful there).
This is the place to go to find secluded beaches and coves, walk through some rainforest, or go for a bushwalk.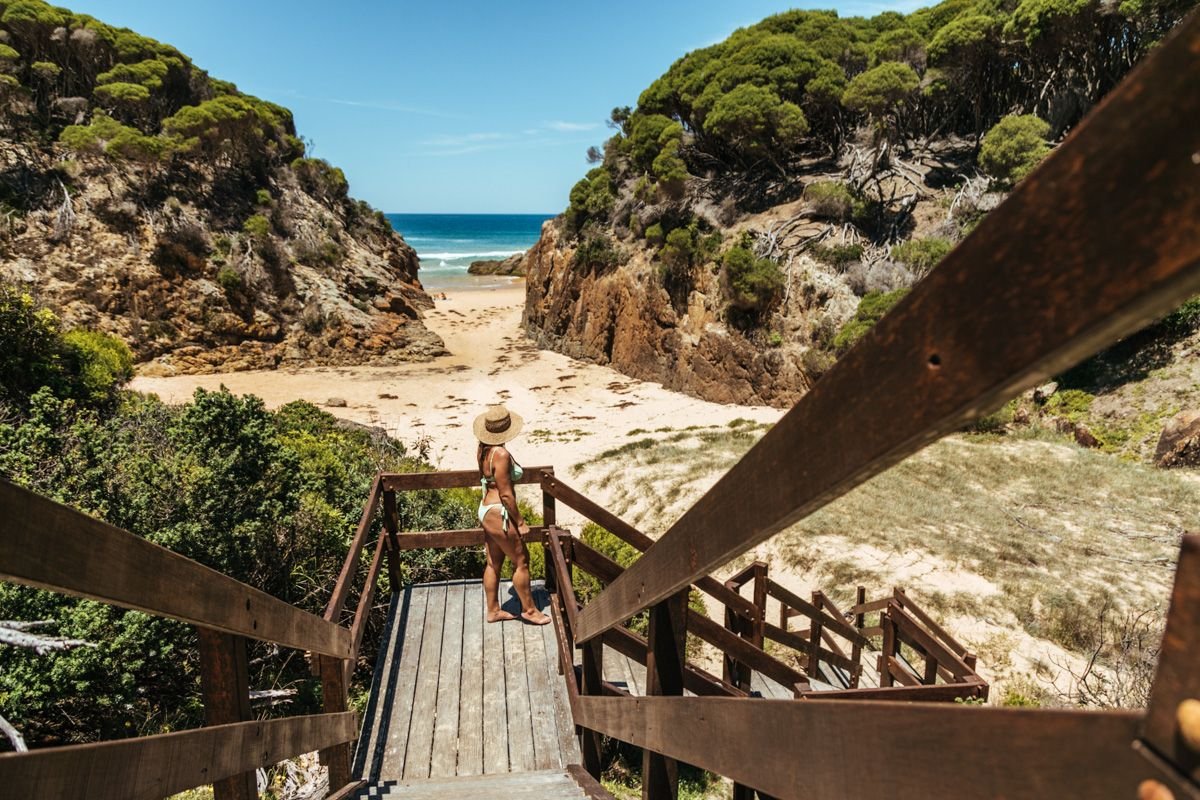 Things to do in Bournda
Hit the beach (Bournda Beach is 4km long, very easy to have a huge plot of sand to yourself!)
Paddle, swim, or float in Bournda Lagoon
Camp at Hobart Beach Campground (highly recommended!)
Walk the 9km Kangarutha Walking Track to Tathra
Walk to Wallagoot Gap, a semi-secret beach where the tide comes up between two cliffs (near the beginning of the Kangarutha Walking Track)
READ MORE IN THIS POST: Bournda National Park: South Coast NSW's Best Kept Secret
---
Merimbula
I remember earmarking the page with Merimbula on it when I was devouring my Australia guidebook back in 2005, the year before coming to Sydney for my study abroad program.
15 years later and I finally managed to make it to this gem of a seaside town – and yes, the ocean is just as sparkling turquoise as it looked in the photo I'd drooled over way back when.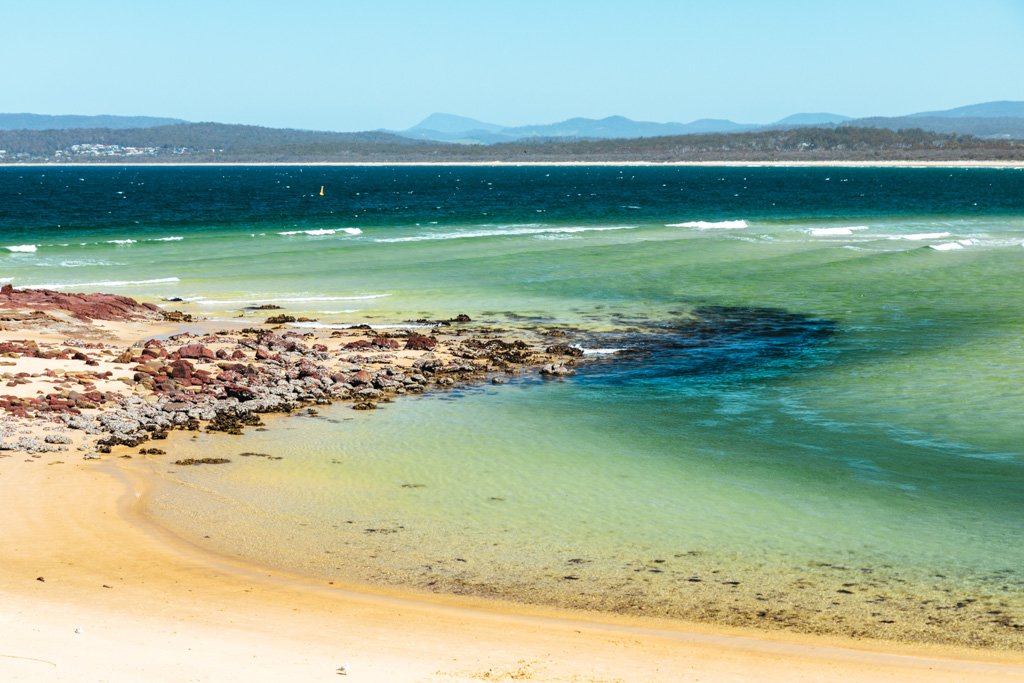 Things To Do In Merimbula
Merimbula is one of the larger towns in Sapphire Coast NSW, but it certainly doesn't seem that big.
Beaches and lakes are the main draws to the town, offering plentiful water sport and sunbathing opportunities, along with a handful of other attractions:
Lakes in Merimbula
Merimbula is derived from an Aboriginal word that means "two lakes". So yeah – there are two lakes in town: Back Lake to the north and the larger Merimbula Lake to the south (where most of the action is).
You can hire kayaks from Merimbula Top Lake Boat Hire & Sunsets Kiosk and book stand up paddleboarding lessons with Merimbula Stand Up Paddle, both on Merimbula Lake.
Fishpen Charters offers fishing charters, whale watching tours, and paddle board and sit-on-top kayak rentals
Beaches in Merimbula
If nothing else, you MUST spend some time at the beach in Merimbula. They are all so stunning! And they've got pale red rocks scattered around, which I've never seen anywhere else in Australia.
Merimbula Main Beach – the main beach in town, as you may have surmised from the name. 5km of white sand on the ocean, absolutely beautiful. This beach is also known for its fantastic surf conditions.
Bar Beach – This was where we spent one glorious afternoon. Bar Beach sits at the junction of Merimbula Lake and the ocean, offering sheltered swimming and sunbathing and access to sand bars at low tide.
Middle Beach – Probably the most secluded beach in Merimbula, with trees lining the sand and clear turquoise water you can snorkel in.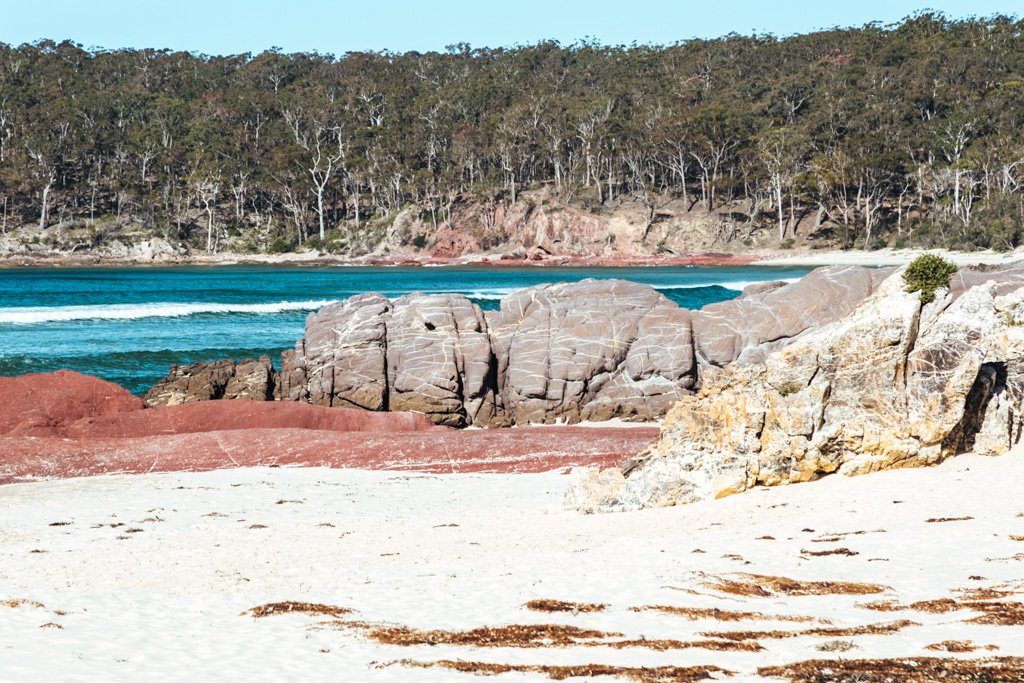 Sea Life & Wildlife
If you fancy seeing some native animals while on your Sapphire Coast NSW trip and haven't managed to spot much in the wild, you can make it happen while in Merimbula:
Merimbula Aquarium features 27 tanks of fish and sharks. Perhaps more exciting, though, is the onsite Wharf Restaurant, where you can dine on a balcony overlooking Merimbula Bay.
Potoroo Palace is a native animal sanctuary located just 10 minutes from town. This is where you'll find Australian wildlife, including some endangered species. They offer animal encounters for an additional $30, which give you some 1:1 time with a koala, dingo, echidna, or wombat.
Magic Mountain Merimbula
As you may have guessed from the name, Magic Mountain is an amusement park in Merimbula.
But what you may NOT have guessed is that it's home to the Tree Climb Challenge, a ropes course amongst the trees with a (very distracting) view over the peninsula.
Tickets for Magic Mountain are $45 for ages 13 and up and $38 for 5-12 year olds. Tickets for the tree Climb Challenge are $45 per person or $20 when you also purchase a Magic Mountain ticket.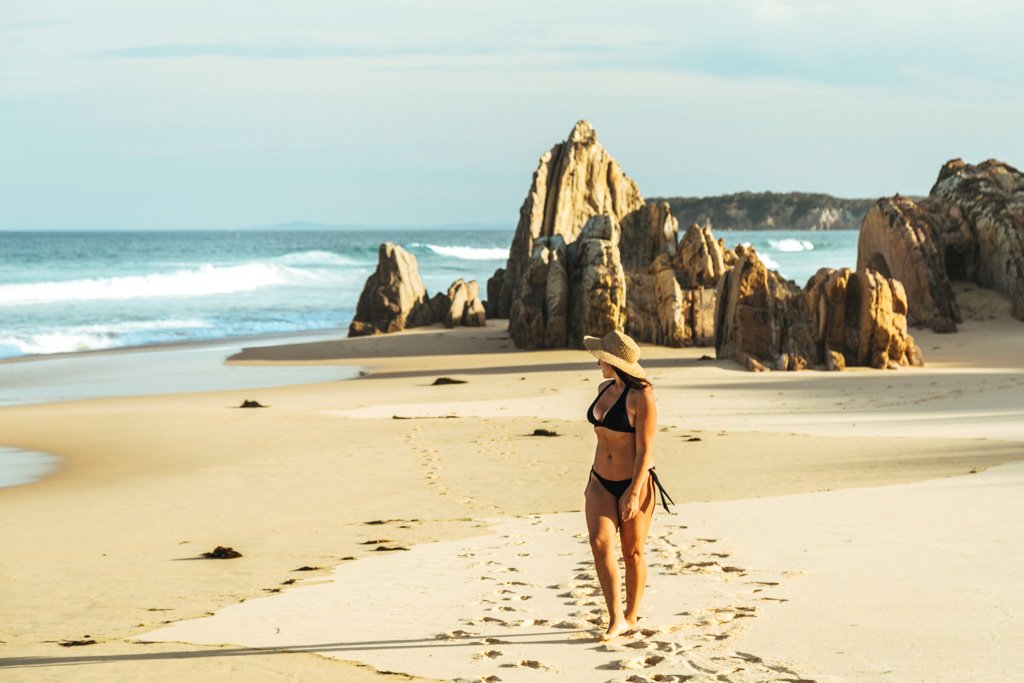 Drink & Dine
As with several other nearby towns, oysters are a must-try while in Merimbula.
Here are a few establishments you should put on your list for dining in Merimbula:
Dulcie's Cottage – an old cottage serving burgers, oysters, and cocktails
Backstreet Bakehouse – best pies on the Sapphire Coast (so they say!). I'm no pie snob, but I loved mine!
Bar Beach Kiosk – really good breakfast/lunch overlooking the beautiful Bar Beach
---
Pambula
Things To Do In Pambula
Pambula's a small village just south of Merimbula, with a name that means "twin waters". That should give you a pretty good idea of what this place is about.
Think river meets beach, with a side of oysters and birds.
The town of Pambula itself is lined with colonial buildings, old pubs, and cute shops, but you can see similar in other towns on the Sapphire Coast. In my humble opinion, Pambula's nature should be your top priority:
Pambula Beach
The main beach in town – 'nuff said.
Oh wait, one more thing: you can actually walk to Merimbula from this beach… just keep walking north for about 5km!
Pambula River Mouth & Walking Track
My favorite find in Pambula was the views around and over (hello, Droney!) the river mouth.
Yep, Pambula is yet another town on the Sapphire Coast with a river running into the ocean and water activities aplenty. I think the river mouth here is particularly picturesque.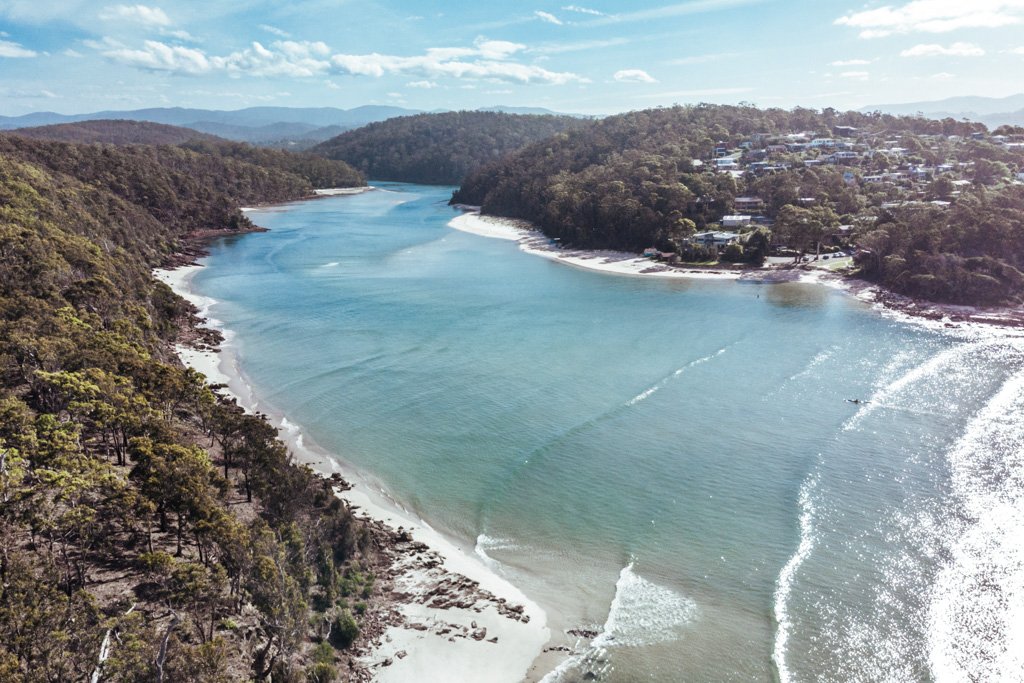 On one side you can follow the Pambula River Walking Track, a quick 1km return walk. Park at the Lions Park Lookout and you'll have easy access to the trail. We parked here, had a little picnic lunch, went for a walk, and popped out to have a look at Lions Beach – a recipe I can definitely recommend!
On the other side of the river mouth is the start of Ben Boyd National Park, which we'll get to in just a moment! ;)
Panboola Wetlands
I'm filing this one under Things I Wish I Knew About While On Our Road Trip. Sadly I only found out the Panboola Wetlands conservation project existed while doing research for this article.
This unique landscape consists of freshwater billabongs, a salt marsh, and mangroves, with heaps of walking and cycling trails throughout.
---
Eden
Eden is all about WHALES. It was named one of Australia's top whale watching spots by Australian Geographic, so you know it's a pretty big deal.
To that end, if you make it all the way to Eden, I recommend you do one or both of these two things: see some whales, and visit Ben Boyd National Park:
Things To Do In Eden
Killer Whale Museum
If you're eager to learn about the whaling industry in Australia, Eden's maritime history, or how killer whales interact with humans, the Eden Killer Whale Museum is worth a stop. Tickets are $12.
Whale Watching
If you happen to visit Eden from September-November, there's a good chance of spotting humpback whales on their southern migration. Freedom Charters and Cat Balou Cruises offer whale watching tours in Eden.
Alternatively, if you have the tragic tendency of getting seasick on nearly every boat you board like I do, you can still spot whales from shore. You'll know if one's around if you hear the sirens go off in town!
---
Ben Boyd National Park
If you want to see rugged, isolated, beautiful natural coastline, look no further than Ben Boyd National Park at the southern end of the Sapphire Coast.
The park spans 47km of the NSW coastline and is naturally divided into two parts:
The northern end is the region around Pambula and Eden, is free to enter, and is still accessible after the late-2019 bushfires.
The southern end, south of Eden, is known as the Green Cape area. Visitors will need a national parks pass to explore this part of Ben Boyd; however, note that as of February 2020, this whole side of the park is closed due to bushfire damage. Check this page for the updated status before you visit.
Sadly I was only able to access the northern part of Ben Boyd National Park on my trip, but it was still worth a visit even with restricted access.
Things To Do In Ben Boyd National Park – North Side (Pambula & Eden)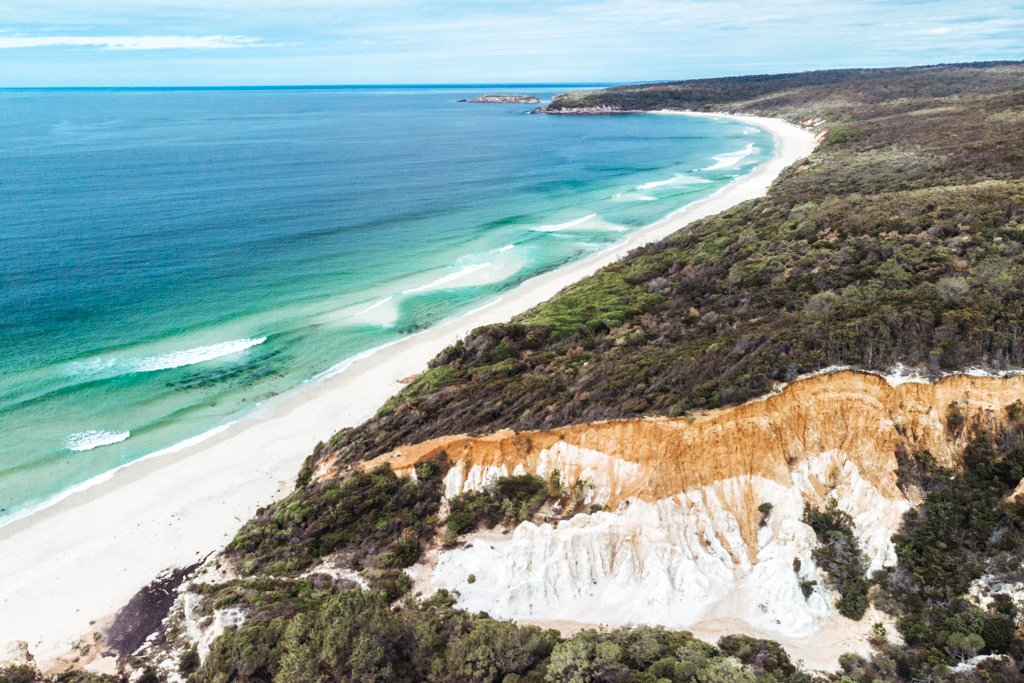 The Pinnacles
There's a 1.1km loop track you can hike with views of The Pinnacles, striking orange and white cliffs just off the beach. It's such a unique landscape, well worth a visit!
And bonus: if you want to access the beach just north of it, there is a boardwalk leading down from the loop trail.
Haycock Point to Barmouth Beach walking track
This easy walk is 3km one way and should take you about 2 hours return including photo stops. From rugged rocky coastline to woodlands to picturesque sand dunes, this track packs a punch in the scenery department.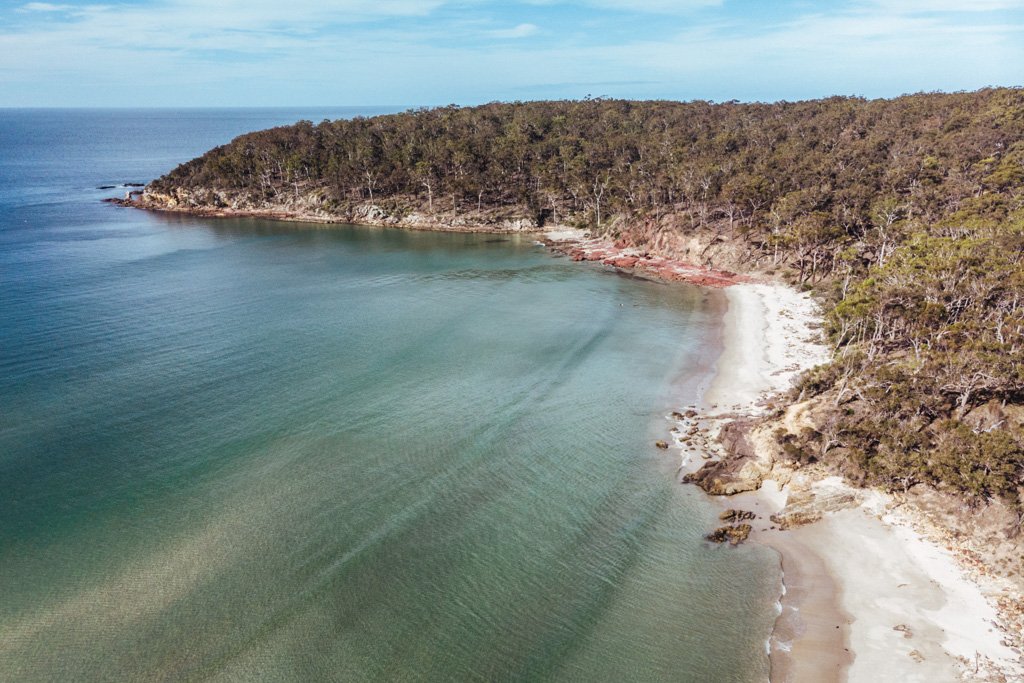 Barmouth Beach
If you visit Lions Park and Beach in Pambula, you'll see a few tiny beaches across the river mouth. The one all the way to the left is Barmouth Beach, which has the region's signature light red rocks scattered about.
Don't stop there though! Keep walking down the beach and over the rocks at the far end to reach the next little beach… and again to reach the next beach. Odds are you'll have a beach all to yourself here. Swimming is great, too – it's quite shallow and calm.
Things To Do In Ben Boyd National Park – South Side (Green Cape)
Light to Light Walk
The Light to Light Walk spans 30km of coastline from Boyds Tower to Green Cape Lightstation and it's said to be one of the best hikes in New South Wales. The scenery and views are so diverse here, from coastline to forest to brush.
You can opt to hike just a segment of it, or carry a big backpack and camp overnight at one of the campgrounds (listed below). You'll need 2-3 days to complete the whole track.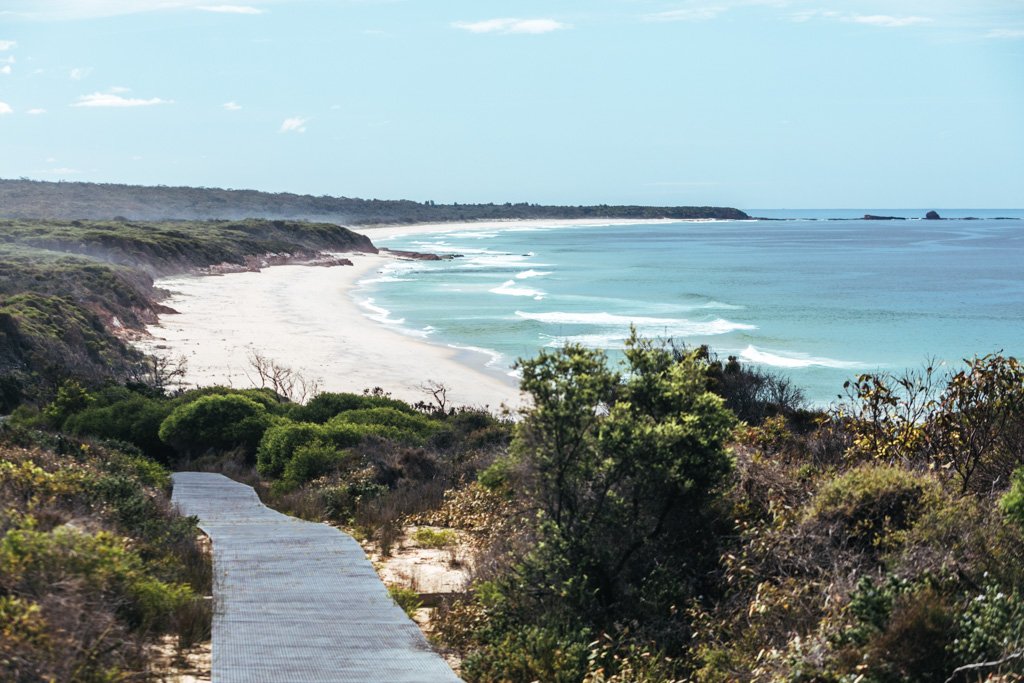 Bittangabee Bay
If you're staying at Bittangabee campground or doing the Light to Light walk, you'll get to swim at this secluded bay – and if you're doing neither, you should definitely make a point to stop at this beach!
Camping in Ben Boyd National Park
The Green Cape side of Ben Boyd is the only part where you can camp. There are two national park campgrounds here, which you can book in advance for $12/person per night:
Saltwater Creek campground
Bittangabee campground
Pin it!
Pin it!