Oh boy. 2019 was a bit of a doozy, let me just say.
I had every intention of living a balanced year in which I'd make new friends and strengthen my bonds with my existing friends, go on copious adventures with said friends, do a bit of traveling, do a bit of personal development work, and grow my blog. It should have been a cruisey year, really.
But 2019 did not quite unfold as intended. Though I did manage to explore 5 countries (3 new to me), the universe evidently decided I'd enjoyed enough cruisey years recently and that I was due for a challenge.
Now that 2019 is over, I look back at it with so much gratitude. I needed the challenge to prepare me for what's shaping up to be an incredibly epic year in 2020.
I also noticed how similar 2019 was to 2018, with the major themes being road trips and personal development… except 2019 was 10x more intense on both fronts. I think I spent about 6 weeks in total in rental cars. I also fell down the personal development podcast rabbit hole and even invested in some high ticket courses/events.
Here's a look back at the challenging year that was 2019:
January – May 2019
Sydney
The start of the year is always my favorite, just because summer in Sydney is my favorite. I usually fill these early months with endless hours of beach time and weekend adventures, and 2019 wasn't much different.
I swam with Australian fur seals, hiked through some canyons outside of Sydney for my 34th birthday, organized a group camping trip to Jervis Bay, went glamping on the Central Coast, and hiked the 27km Royal NP Coastal Track for the 3rd time.
I also managed to move house after 2 years in my old North Bondi apartment, relocating to central Bondi in a much bigger apartment with a deck and a slight view of the sea! The move itself was a bit of a nightmare, but I really enjoyed my new home for a good while (more on this later).
My sister Jamie came to visit me in Sydney again for a couple weeks in late March / early April. As usual, we had the best time frolicking and adventuring, and this trip we squeezed in a mini road trip down the South Coast of NSW. UGH SO MUCH FUN.
And then, I'm not quite sure why, but the winds started to change and I felt compelled to go inward more than ever before. I swapped out time with friends for time spent listening to personal development podcasts, reading, and journaling. It was still beach weather in May in Sydney, so much of this I did while sunbathing solo.
May – July 2019
Abu Dhabi
In late May, I kicked off my 9-week EuroTrip with a couple days in Abu Dhabi en route, my first foray into the Middle East!
In sum: it was extremely hot and dry, I stayed in a 5 star hotel for super cheap, I got to tour the famous mosque (v pretty), and I spent one full day at a beachfront resort enjoying the pool and spa.
Also…. I have to say, I'm a big fan of the extended layover to break up lengthy trips from Australia to the other side of the world. It gives me time to make up for lost sleep and combat jet lag before arriving at my destination. Anyone else a fan?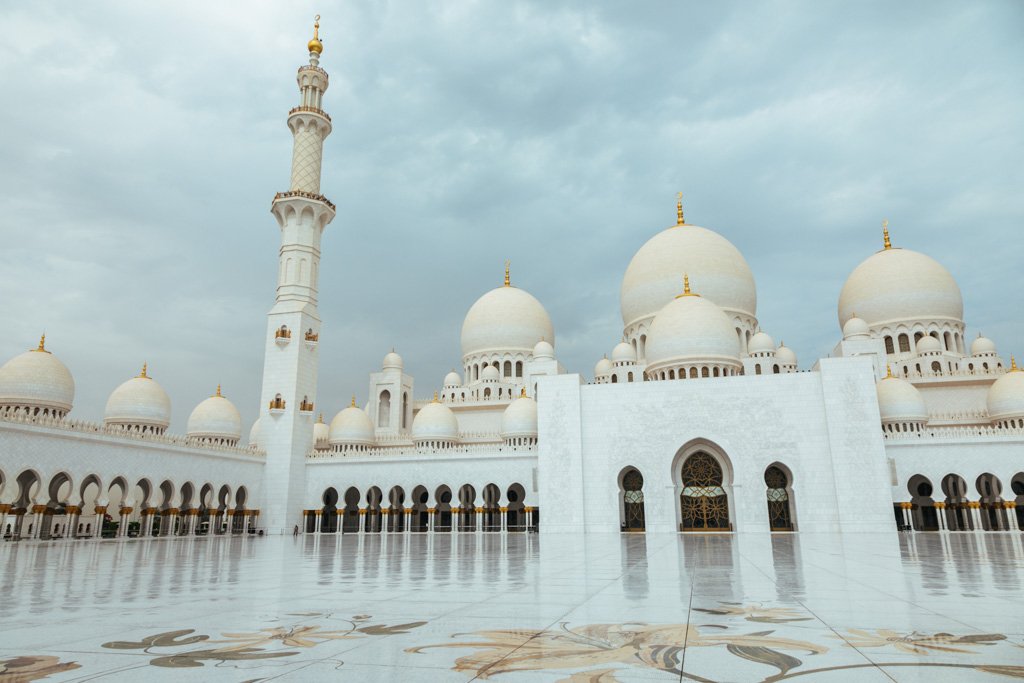 France
Next up: a few weeks in France, starting with a few days in Paris before the main event: a cycling trip around Provence with my friend Jojo. My visit overlapped with the end of his other friend's visit, and by the end of it I'd convinced him to join us in Provence (I'm pretttttty persuasive, I must say!).
I have not yet blogged about the Provence cycling trip, but it's definitely a priority as there's not much palatable information online about undertaking such an endeavor. We totally winged it and pieced together what we thought was a reasonable route and I am SO proud of us for completing those 350km. But man, knowing what I know now, I'd definitely make some tweaks to our itinerary if I ever do another similar trip. My poor crotch!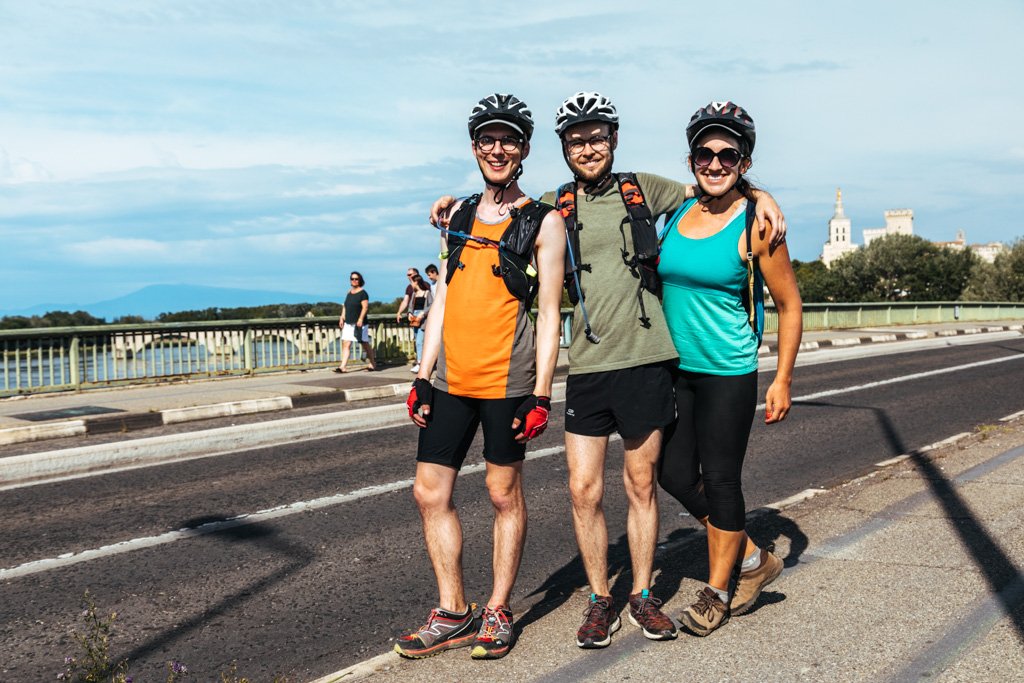 My tour de (south of) France included several Provençal villages, the Calanques (similar to fjords), and Verdon Gorge. It's safe to say I'm well over my French aversion after this magical trip – what a stunning country! I see myself returning many times in the future for more outdoor adventures.
Budapest
After France, I headed to Budapest for a couple weeks in which I envisioned I'd catch up on my work. I did that AND logged copious miles on foot exploring this cool city. The ornate thermal baths were an unsurprising highlight, but what really floored me was how much good coffee can be found in Budapest. And delicious cheap eats.
Greece
And now for the pièce de résistance: my big fat Greek adventure!
It kicked off with a few days in Meteora, where I walked from monastery to monastery in ridiculous heat and soaked up the mountainous landscape.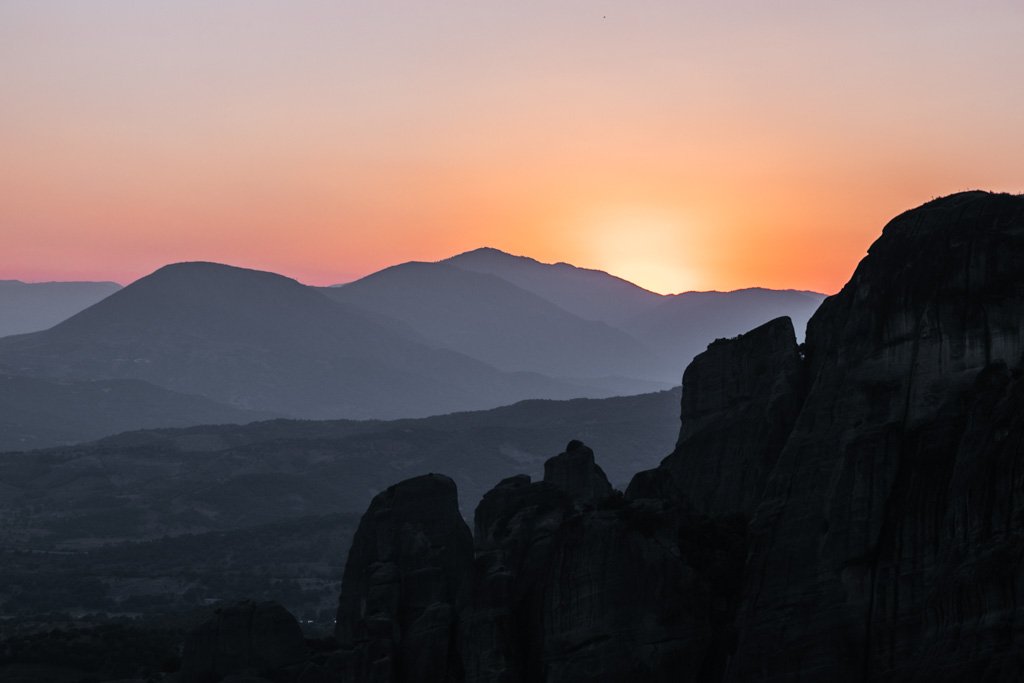 Then came 4 Greek islands in 4 weeks. I'd been dreaming of visiting the Greek islands for basically my entire life and finally getting there was such a thrill. To be honest, I'm still not over it 6 months later. It's the kind of place that really gets under your skin, in the best possible way (at least it is for me!).
I visited Santorini, Milos, Crete, and Kefalonia and rented a car on 3 of the 4 islands for maximum exploration options. I could honestly go on and on about how much I adored my Greek island adventures, but I won't in this post – just know that I looked like the heart-eyed emoji for the entire time.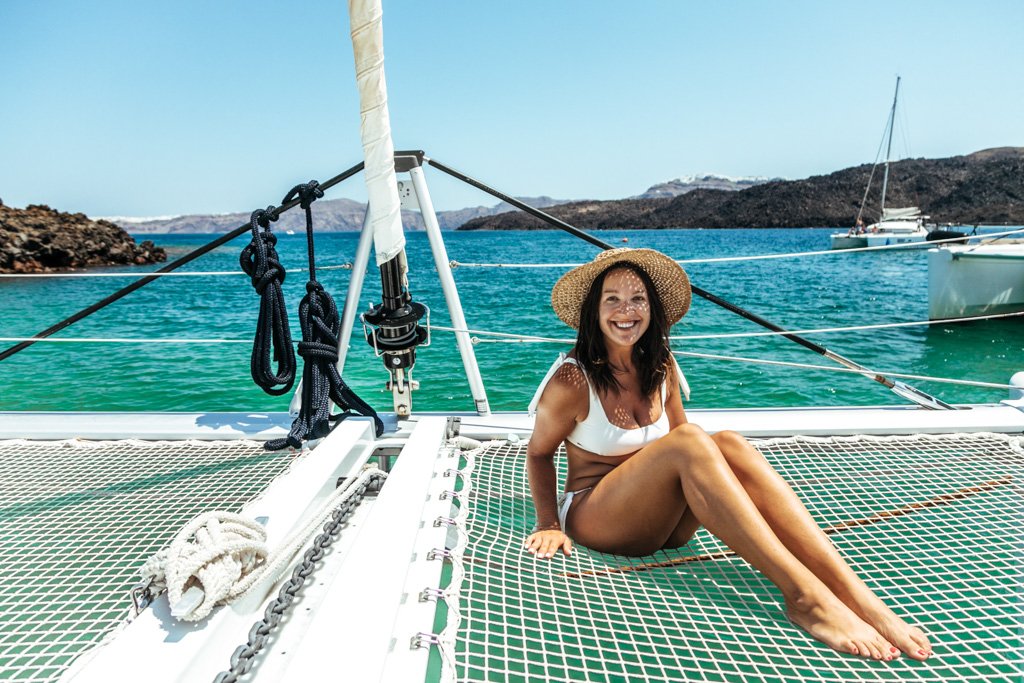 I logged a few days in Athens before/during/after the aforementioned locations and honestly, I didn't love the city. Maybe because it was uncomfortably hot and humid, maybe because I was burnt out on travel by this point in my trip – either way, I had more fun curled up in bed bingeing The Hills: New Beginnings.
August – December 2019
Business By Design
Ever heard the saying, "when the student is ready, the teacher will appear"? Well, that is the only way I can explain my enrolling in an online business development course called Business By Design by James Wedmore (who does one of my favorite podcasts, Mind Your Business… also, he's a fellow INTJ, so y'know… he speaks my language).
I remember falling down a rabbit hole and watching his videos, tuning into his live Q&A calls, and eating up all his launch promo material – and then I had this aha moment where I was like "OMG I want to create online courses!". Next thing I know, I've invested a few thousand dollars into his BBD program.
I then spent the entire month of August devouring the course material and figuring my shiz out. I did not leave Bondi once; heck, I didn't even pick up my camera all month. I barely saw any of my friends. Yeah, I was very much in the zone. I can't believe how drastically my life changed once I decided to invest in this course: I feel like I have more direction now. I have goals, I have drive, I have a road map. I've had so many mindset shifts it's unbelievable.
Moreover, I finally came to terms with the fact that if I want to live a life of freedom, I need to have my own business. Freelancing is not a long term strategy that will maximize my freedom (in terms of both time and money). I also want my work to have a real impact on people, which I don't feel like it currently does.
More to come on this! If you want too be the first to know when my new course, How To Quit Your Job To Travel, launches… sign up here.
Eyre Peninsula
In October/November, I flew to South Australia and spent 10 days on a solo Eyre Peninsula road trip. I'd been eager to explore this slice of Australia for years and I'm so happy I finally made it there.
You guys, I had THE BEST TIME EVER. Do I say that about every road trip? Probably. But I swear, this one had all the essential ingredients: plentiful free campsites, gorgeous empty beaches, rock pools, cool rock formations, and hardly any tourists! I got lucky with a few hot sunny days at the beginning of the trip, which allowed me to fully enjoy the beaches of Lincoln NP and Coffin Bay NP… before it went back to normal cool, cloudy shoulder season weather.
It ended up being a very expensive trip after I got hit with an inexplicable vehicle damage bill and had to pay to get my broken memory card's photos recovered. Having to deal with these expenses while continuing to pay off my BBD course put a lot of financial stress on me and I'd be lying if I said it didn't have an impact on my end-of-2019.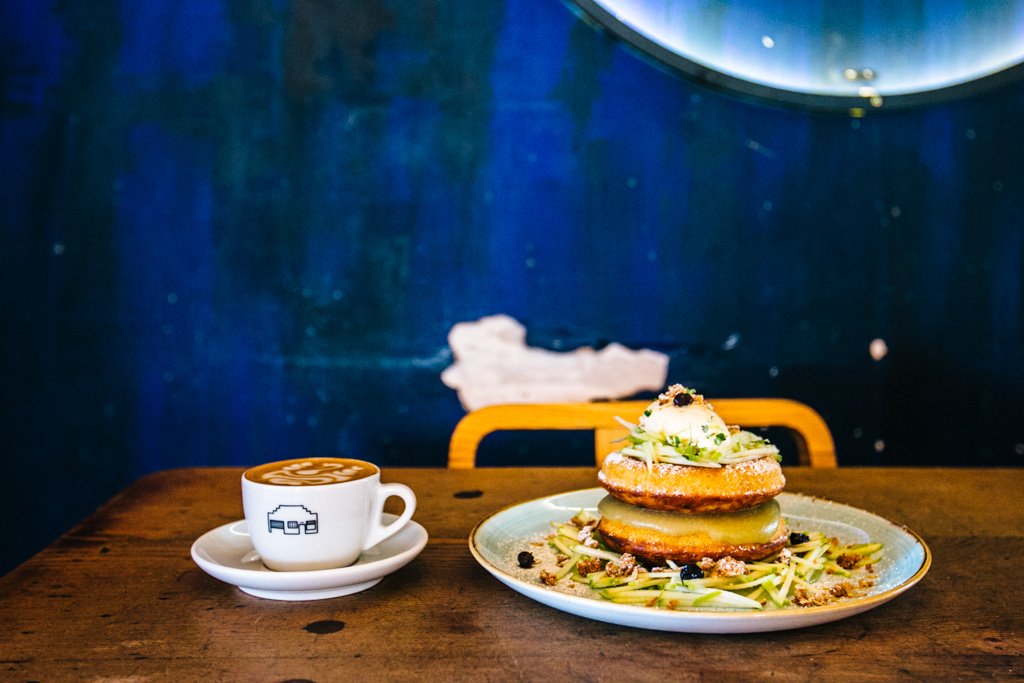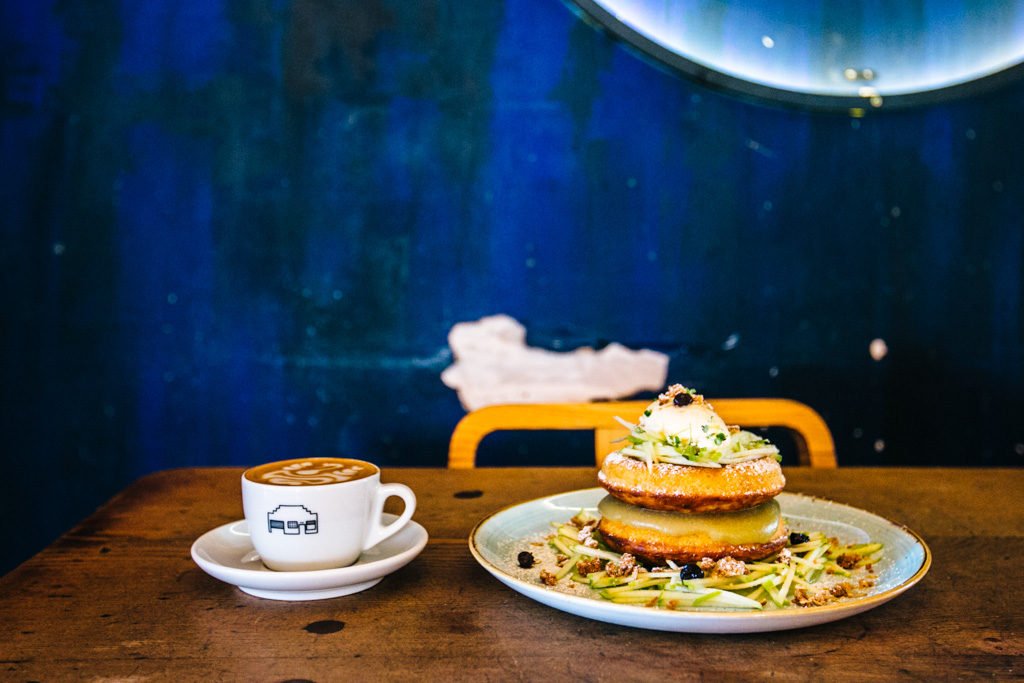 Melbourne
At the end of November I returned to Melbourne for the first time in 1.5 years for a little holiday gathering with the agency I freelance for. Aw, I missed this city! You KNOW I OD'd on coffee while there (Quite literally. Pro tip: maybe don't order the Barista Breakfast from Auction Rooms at 2:30pm?).
I also went back to see my psychic and whoa, so many new insights to process! It's actually astounding to watch my life unfold exactly as she said it would, not even 2 months later. This lady is the real deal – if you're ever in Melbourne and you're curious about the psychic thing, email me for her details and I'll share!
Oh, I also had a moment while in Melbs where I asked for a sign as to whether I should buy Tony Robbins tickets during the Black Friday sale and OMG did I ever get my sign. Again and again and again. I'm a little scared to ask for a sign again, since the last time I did it was so confronting… but I WILL try it again at some point.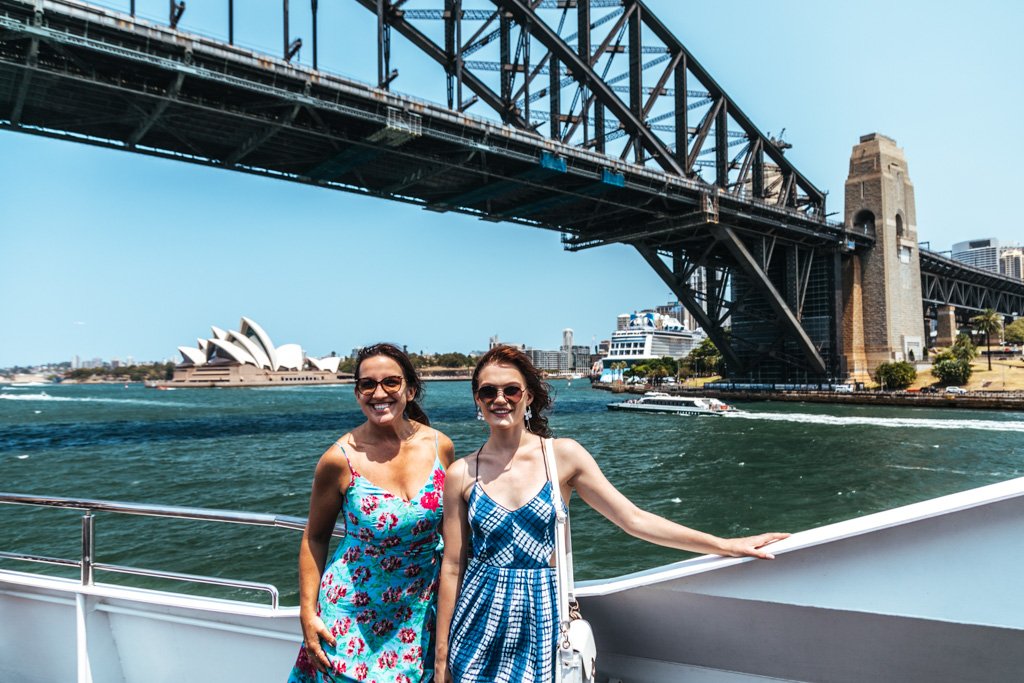 Sydney
I spent about 4 of the last 5 months of 2019 in Sydney, mostly doing my business development coursework and mindset work, and setting the foundation for the online course I'm building. I was a big ol' hermit as I worked through this stuff and only started to emerge as the year wrapped up.
Of note: I got to fly in a seaplane over Sydney Harbour, I passed my Aussie citizenship test, I went on a cruise around Sydney Harbour, I spent a lot of time at Mackenzies Bay, I did a weekend camping trip on the Central Coast of NSW, I explored Ku-ring-gai Chase NP.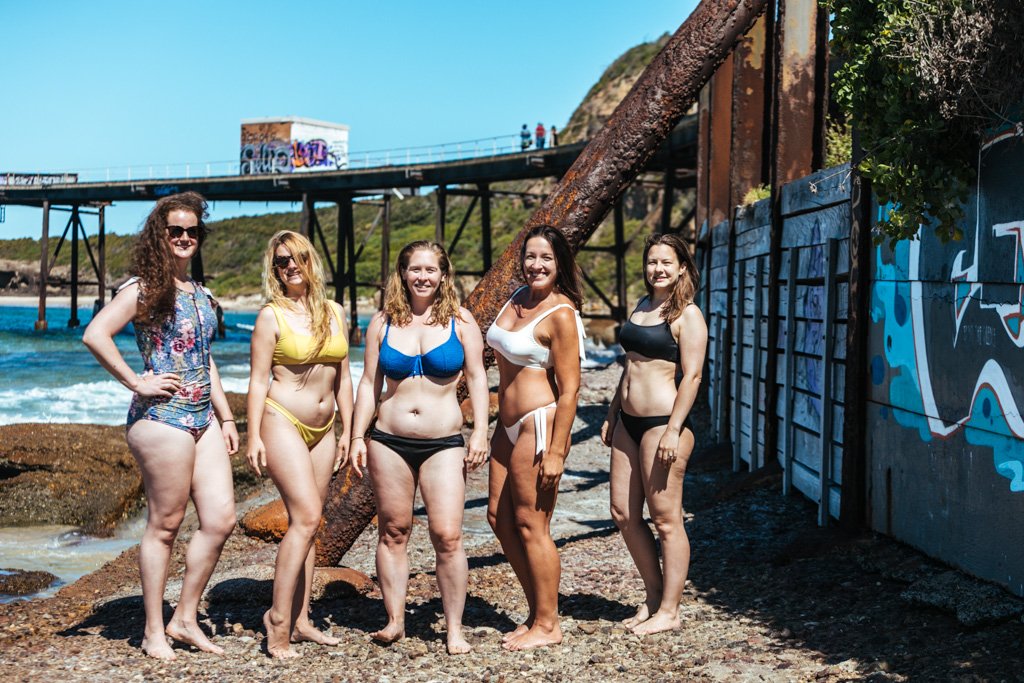 The end of 2019 felt heavy, though. My flatmate decided to move out in September (for very valid reasons, so I don't begrudge her)… and I took it harder than I thought I would (maybe because she took her cat with her?). We decided to move into this awesome new apartment together, and without her and the cat it's sort of lost its magic for me.
As I mentioned earlier, I felt a lot of financial stress these last few months due to my course payments and the unexpected charge for rental van damage that my insurance wouldn't cover (WHICH I STILL DON'T KNOW HOW IT EVEN HAPPENED). I have never lived paycheck to paycheck or gotten myself into credit card debt, but my goodness did I get dangerously close to the red zone. I am choosing to be grateful for it, as it's reinforced the need for me to build up my online business and generate more passive income. I feel like I got pushed to the edge, but not pushed off, which kinda lit a fire under my butt to make.shit.happen.
On another money-related note, in mid-November Google updated its algorithm and sent most of us travel bloggers into a tizzy because suddenly our traffic plummeted. All of the work I'd done earlier this year to increase blog traffic basically got cancelled out with this update and I'm now back to the same level of traffic I had a year ago. It's so discouraging! But again: more motivation to build up income streams apart from the blog.
And lastly, the Australian bushfires REALLY did a number on my morale. We were experiencing the effects of the fires well before news broke in early January around the world. There were so many days where the sky was white, so many mornings where I woke up to the smell of bushfire in my apartment. Laying out at the beach was suddenly not an option with the hazardous air around. I felt like all the joys of living in Sydney had been zapped from my life, leaving me questioning what my next move should be. MORE TO COME SOON.