So what else is there to see in Australia after you've done Sydney, the Great Barrier Reef, and the Outback?
LOTS of things. SO many things! Some more popular and touristed than others… others, more off the beaten path.
Falling squarely in the latter category, you have the Eyre Peninsula in South Australia – and I'm about to tell you alllllllll about it.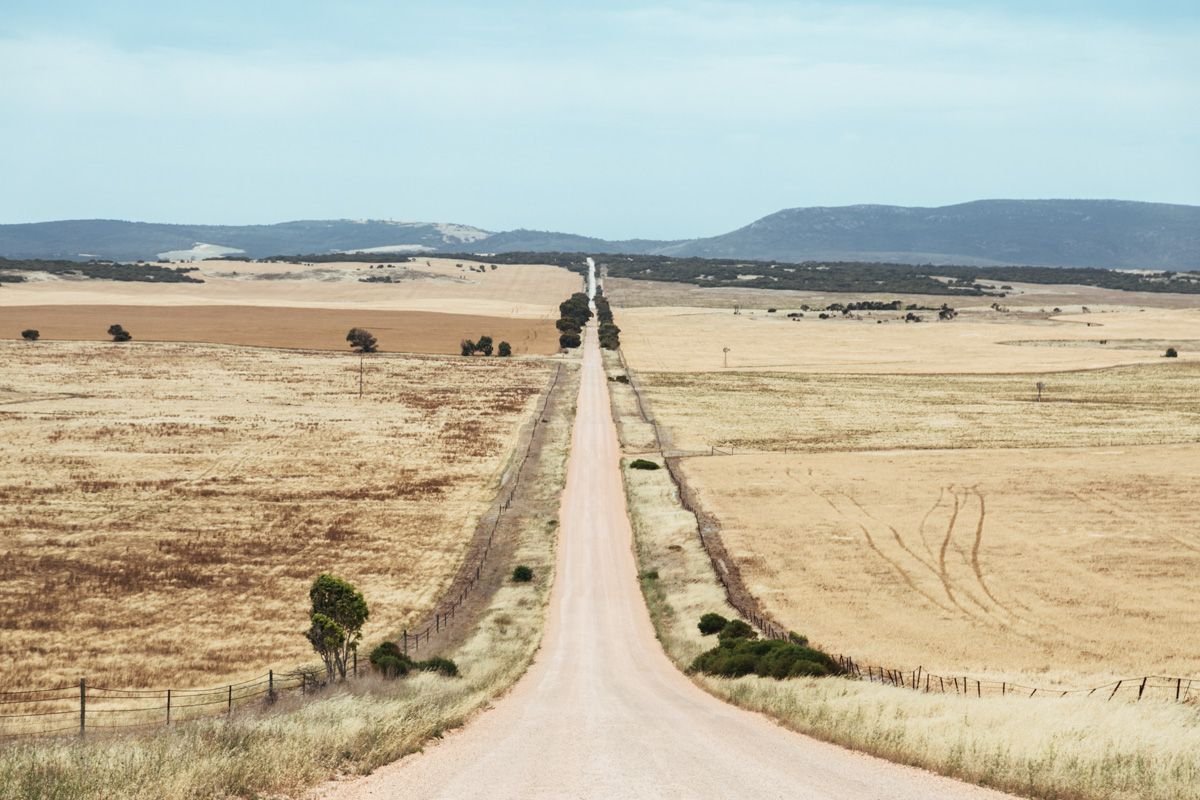 Word of warning, it does take a fair bit of effort to get to the Eyre Peninsula (from Adelaide, it's nearly 7 hours of driving to Port Lincoln). But as they say: the extra mile is never crowded. This is the kind of place where it's not uncommon to have a beach all to yourself, and where there's virtually no traffic to contend with.
If you do make the trek out to the Eyre Peninsula, you'll be rewarded with gorgeous landscapes, unique animal encounters, and some of the best seafood in all of Australia. I promise you it's worth it.
Here's everything you shouldn't miss on an Eyre Peninsula road trip: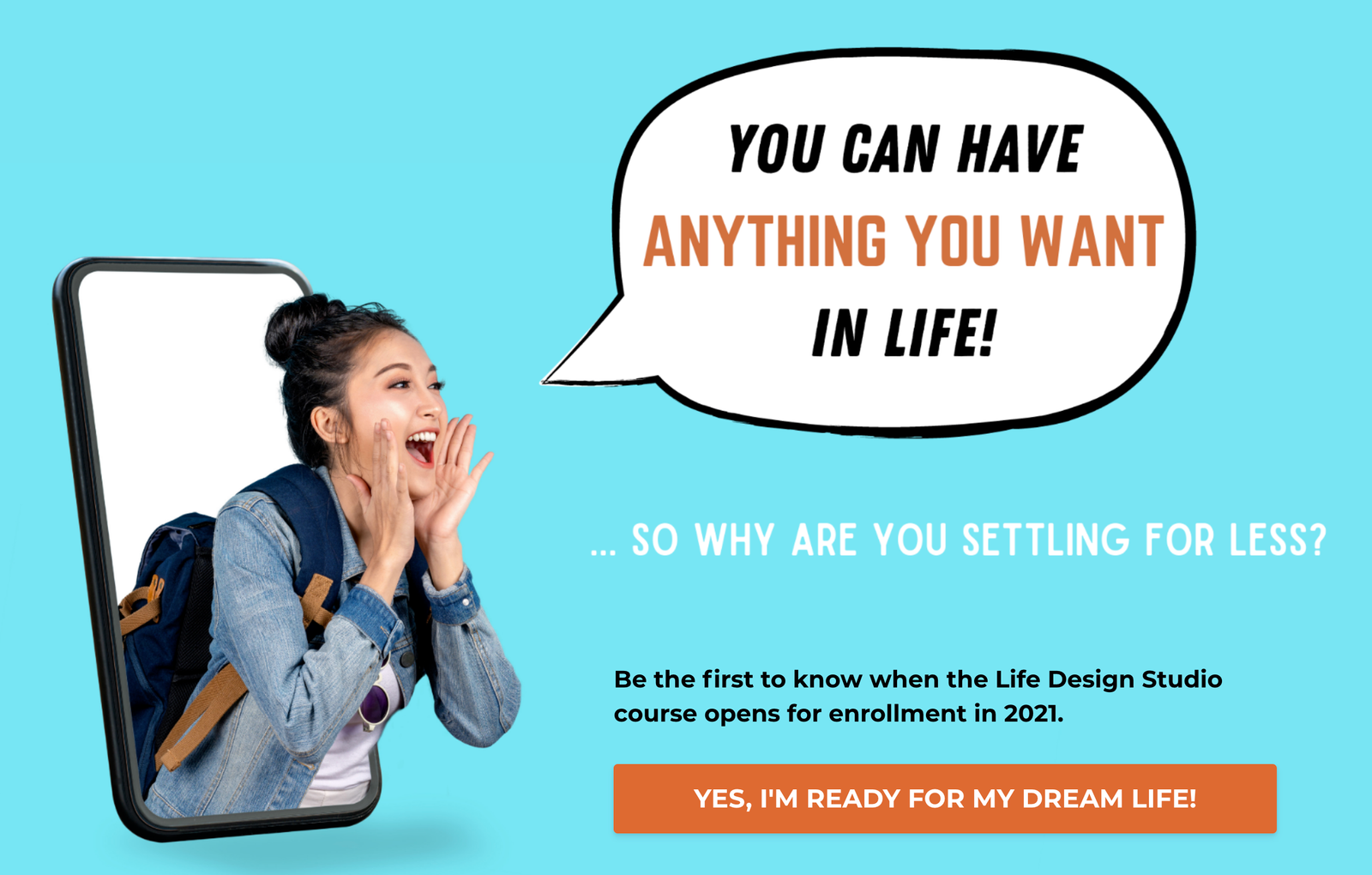 Silo Art
If you're doing this Eyre Peninsula road trip from Adelaide, stopping to check out some silo art is a great way to bookend your trip, as the silos are in the northeast part of the peninsula.
Either way, silo art is all the rage these days in Australia, with regional towns all over the country turning their old silos into colorful murals in hopes of attracting tourists.
Here's where to find silo art on the Eyre Peninsula:
Tumby Bay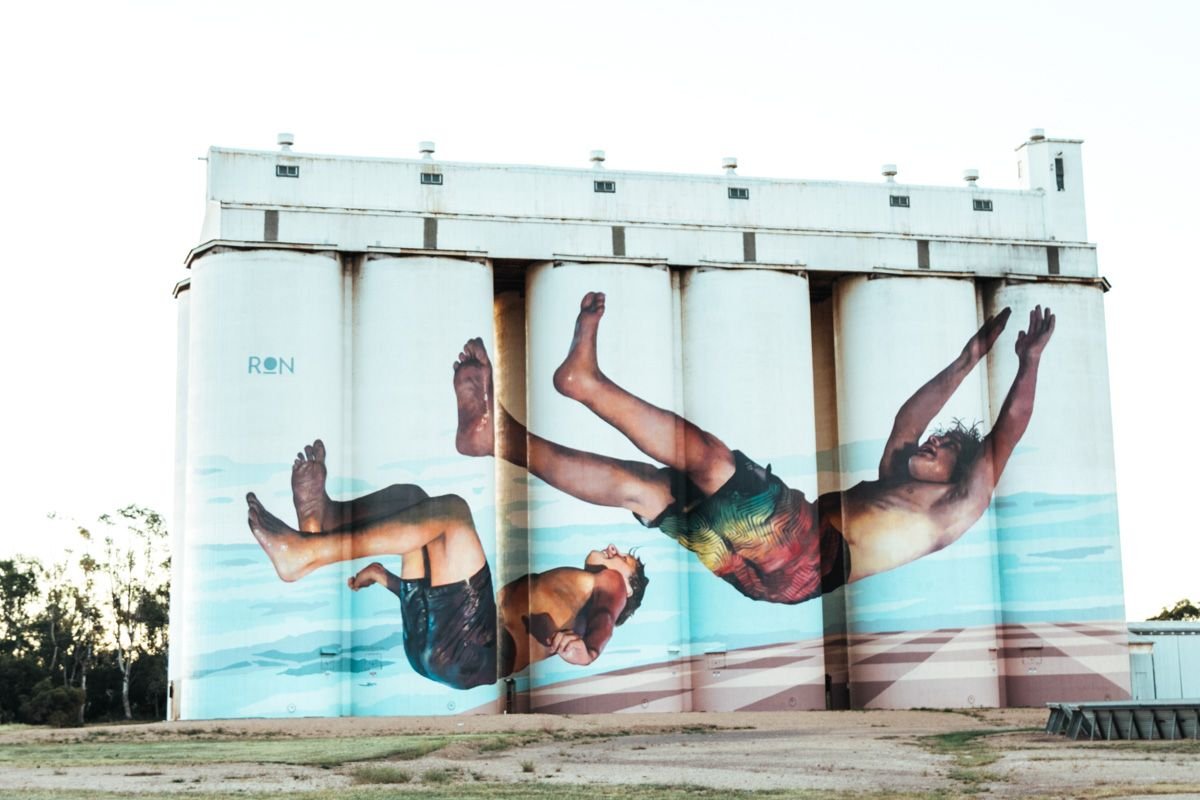 Cowell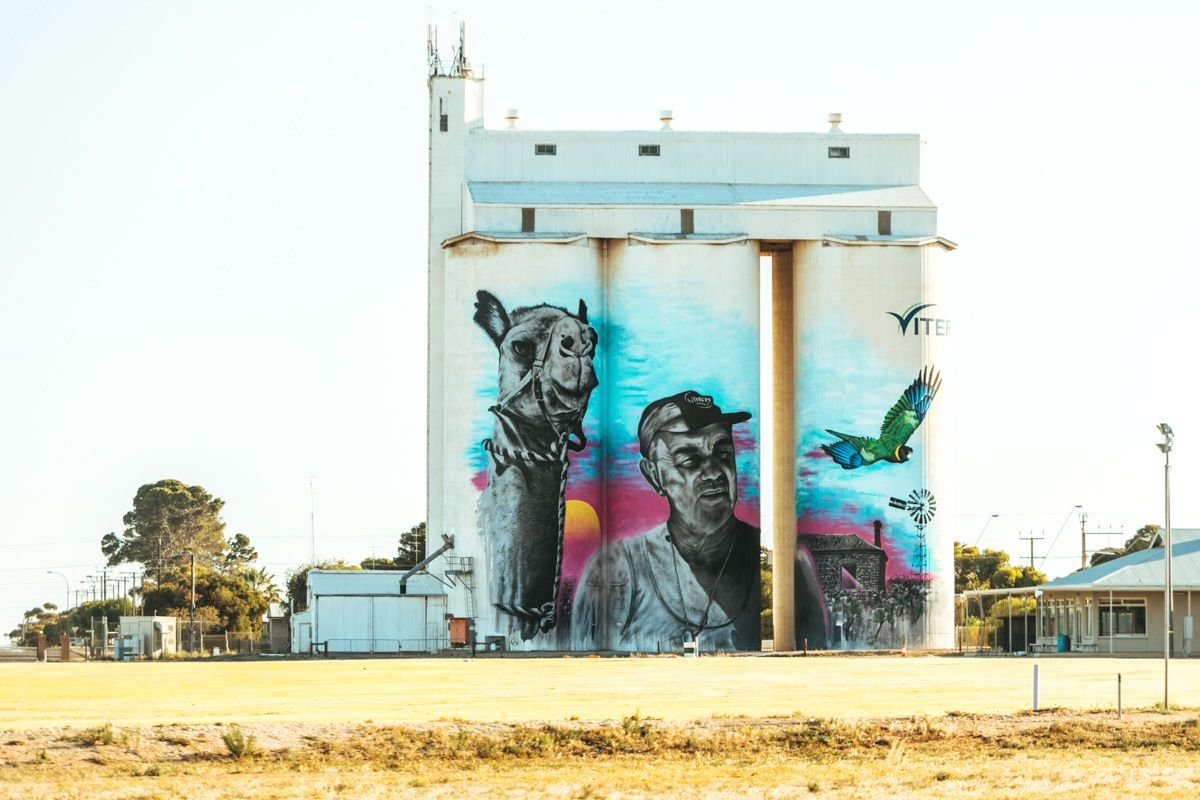 Kimba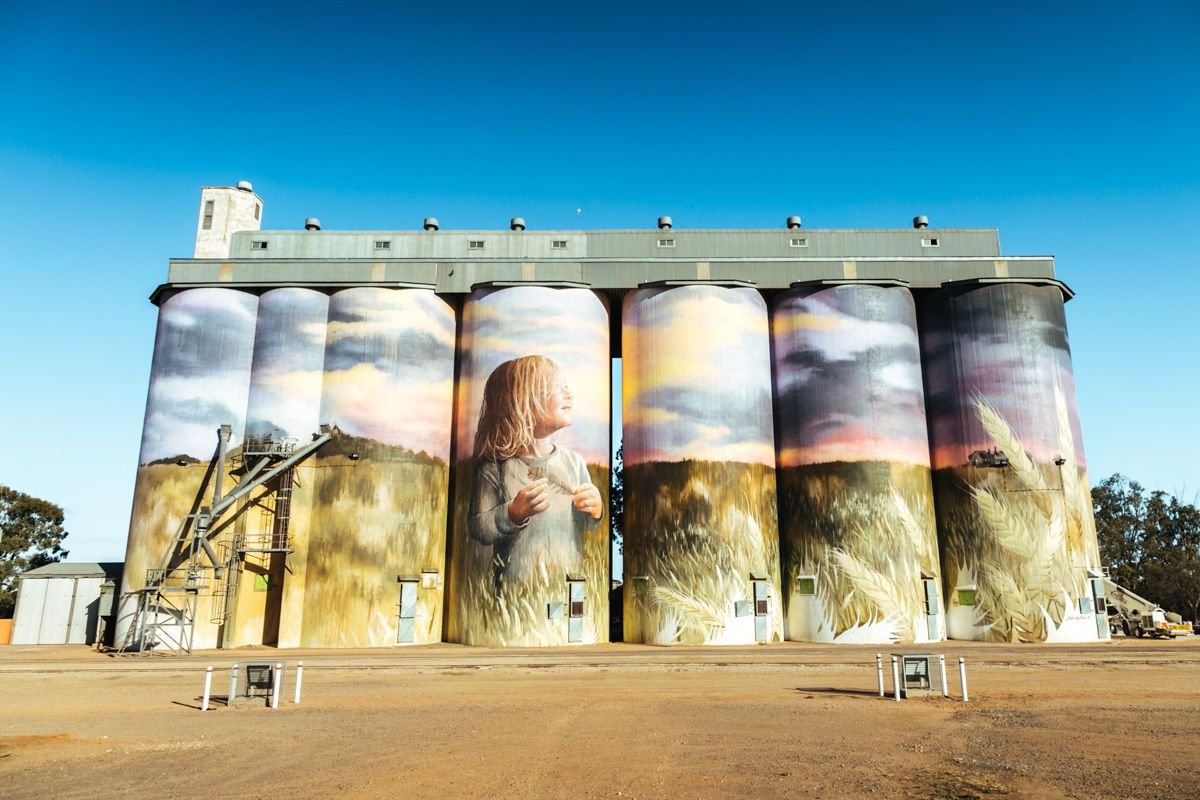 Port Lincoln
When you pass through Port Lincoln, there are two reasons to linger: 1). Seafood, and 2). Shark cage diving.
Port Lincoln is known as the seafood capital of Australia (whether officially or unofficially, I'm not sure). Whether you opt to book a seafood cruise around the bay or dine at a restaurant in town, be sure to sample some tuna, oysters, lobster, or mussels while in town.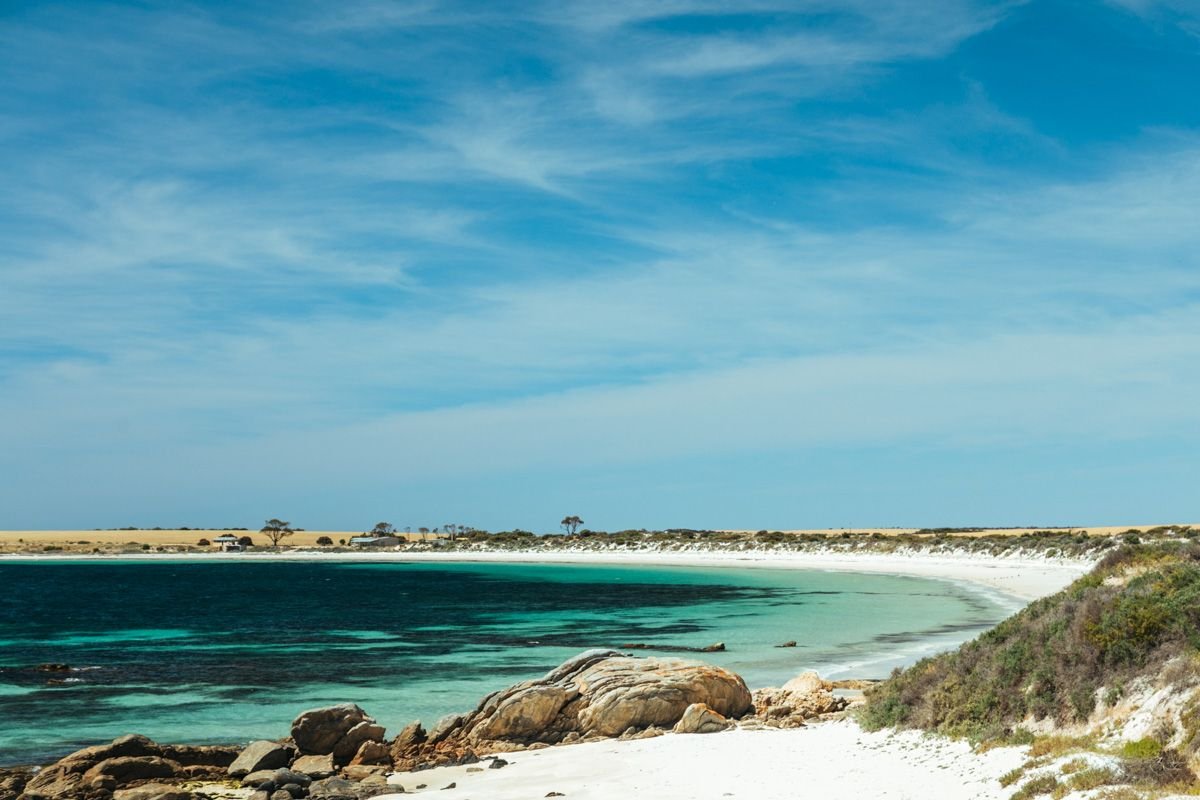 Port Lincoln is also the place to go if you want to get up close and semi-personal with some great white sharks. This is the only location these creatures can be found in Australia, and cage diving is the only way you can safely glimpse them beneath the surface.
A full day out on a boat, including a shark cage dive, will cost you around $500. Yep, it's pricey – but it's also a once-in-a-lifetime, very special experience. If you're prone to sea sickness, note that it's about a 3 hour journey out to the islands, and much of the time you'll be in open waters, so definitely take precautions to avoid getting sick. (Full disclosure, I skipped shark cage diving because I didn't want to deal with sea sickness, especially traveling on my own).
Adventure Bay Charters and Calypso Charters offer full-day shark cage diving trips (~$500) from Port Lincoln, as well as half-day trips to swim with sea lions (~$200).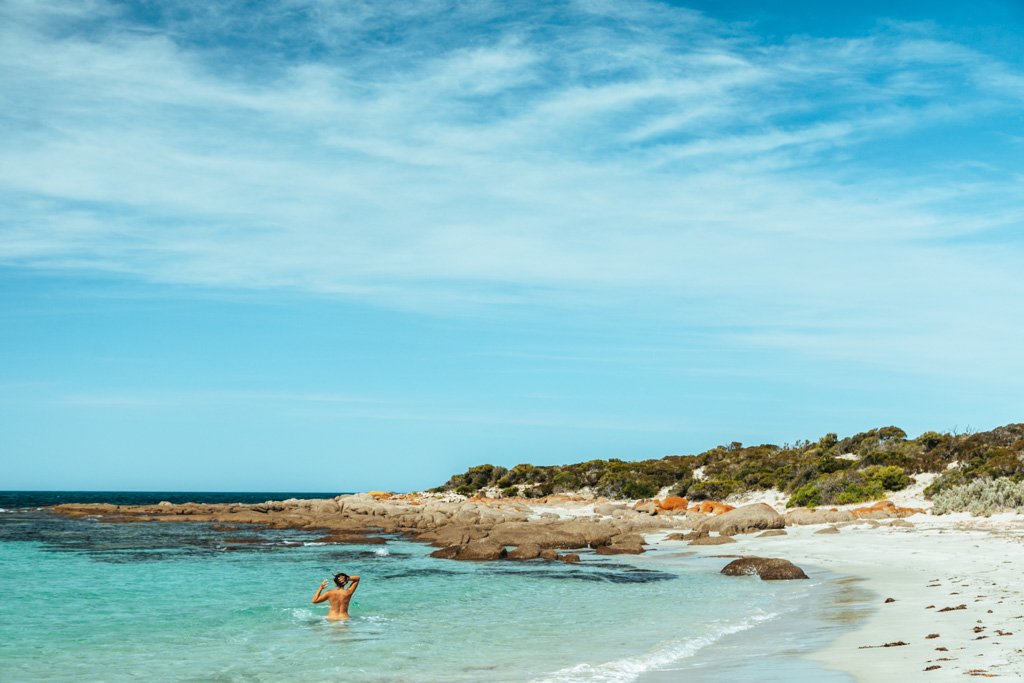 Lincoln National Park
Just south of Port Lincoln sits Lincoln National Park, which is well worth a day of exploration. The best thing to do is just drive around the park, taking in the sensational views of the sea from the road, and stopping off at some of the bays for a swim. September Beach was where I spent most of my time here. Watch out for emus crossing!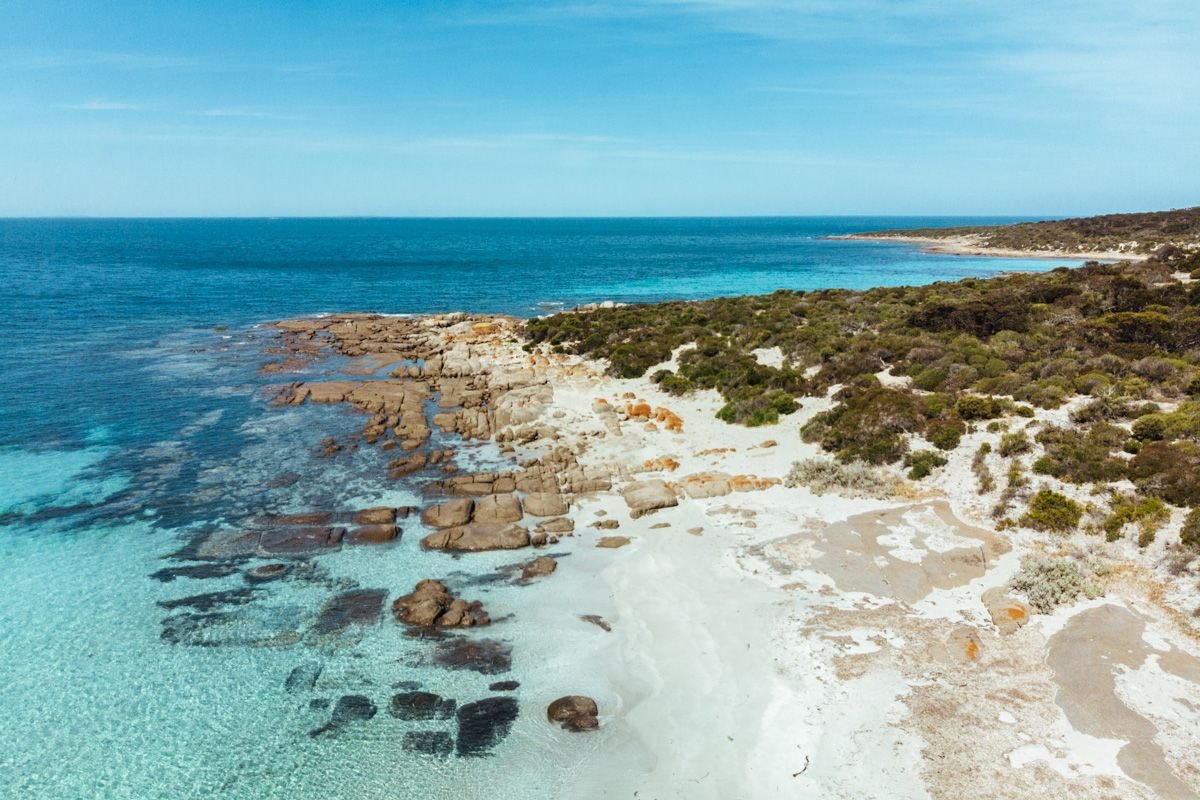 If you do have a 4WD, you must camp at Memory Cove! With only 5 campsites available and access only by 4WD and key (which you can pick up from the Port Lincoln visitor centre), it's quite a special and exclusive place to spend a night or two. Campsites are $22/night and can be booked online.
The south side of the park is home to the Sleaford-Wanna sand dunes, which can be accessed via 4WD tracks from the main road through the park. Alternatively, if you're not equipped with 4WD, you can leave the park, drive south down Proper Bay Road, park near Mary Ellis Wreck Beach, and walk in to the dunes. It was extremely windy when I was there, not sure if that's the norm or not!
Whalers Way
South of Lincoln National Park, there are two stops worth making.
First, check out the Sleaford Bay lookout, which offers incredible views of the SA coastline as well as some picturesque rock pools below.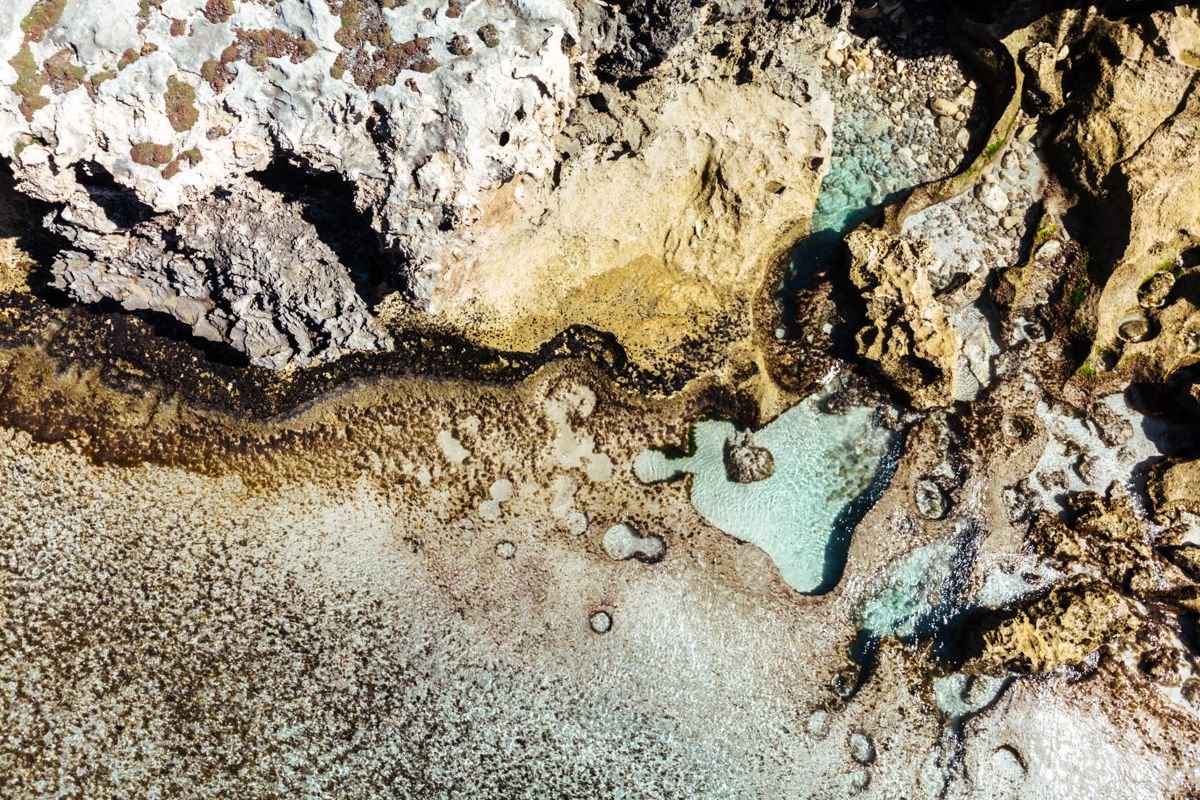 Next, take these coastal views to the next level by driving south to Whalers Way, which is known for its dramatic coastline. You need to purchase a permit and borrow a key from the visitor's centre in Port Lincoln before entry ($40 per car, includes one night camping), but it's SO worth it. The Port Lincoln tourism board website dubs Whalers Way "an explorer's wonderland of cliffs, blowholes, crevasses, caves and golden beaches".
Alternatively, if advanced planning aint your jam, you can drive to the end of Fishery Bay Road and wander the cliffs around Fishery Bay instead. There's a free campsite on the north end of the bay, at the end of Whaling Station Road (though it's more of a car park and less of a campsite, so it's for vehicle camping only).
READ MORE: The Best Spots For Eyre Peninsula Camping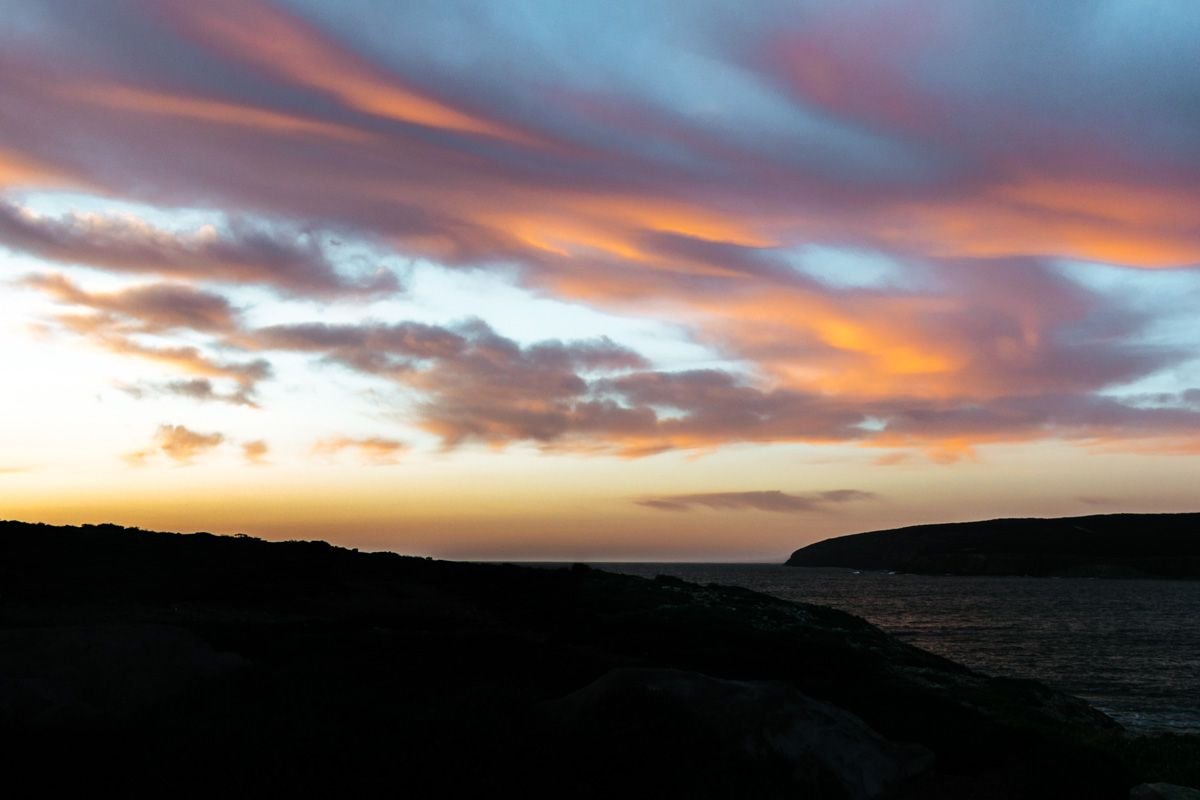 Coffin Bay National Park
Heading west from Port Lincoln, you should make a beeline for Coffin Bay National Park.
Now, by looking at a map of the park, you might think there's not much worth seeing if you don't have a 4WD. It's true – most of the campsites and epic beaches are only 4WD accessible. I very nearly turned around when I saw this.
But trust me, it's still worth visiting Coffin Bay National Park if you don't have a 4WD. Take a drive down Point Avoid Road and stop off at some of the lookouts along the way (Point Avoid, Point Perpendicular, Golden Island).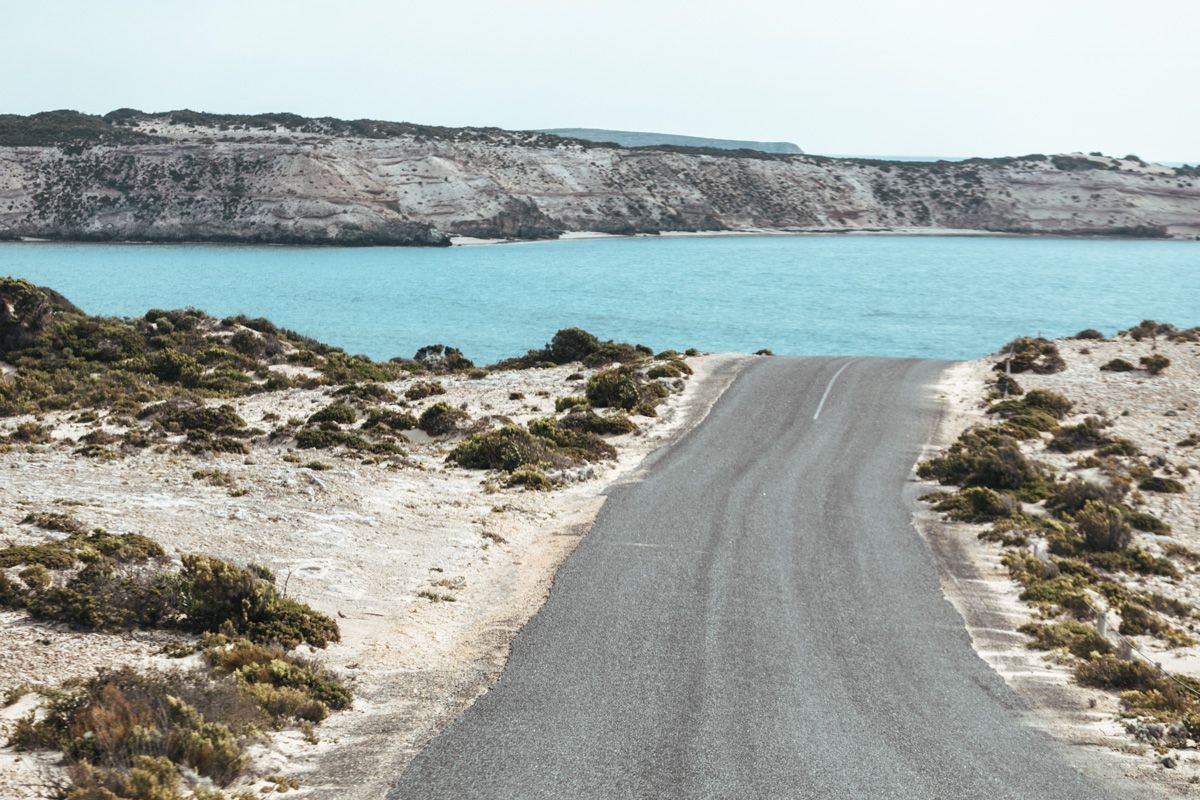 Brace yourself for Golden Island lookout: this is where you'll first glimpse Almonta Beach, a magnificent stretch of untouched white sand that meets the clear turquoise sea. I lost my damn mind over it… I mean, can you blame me?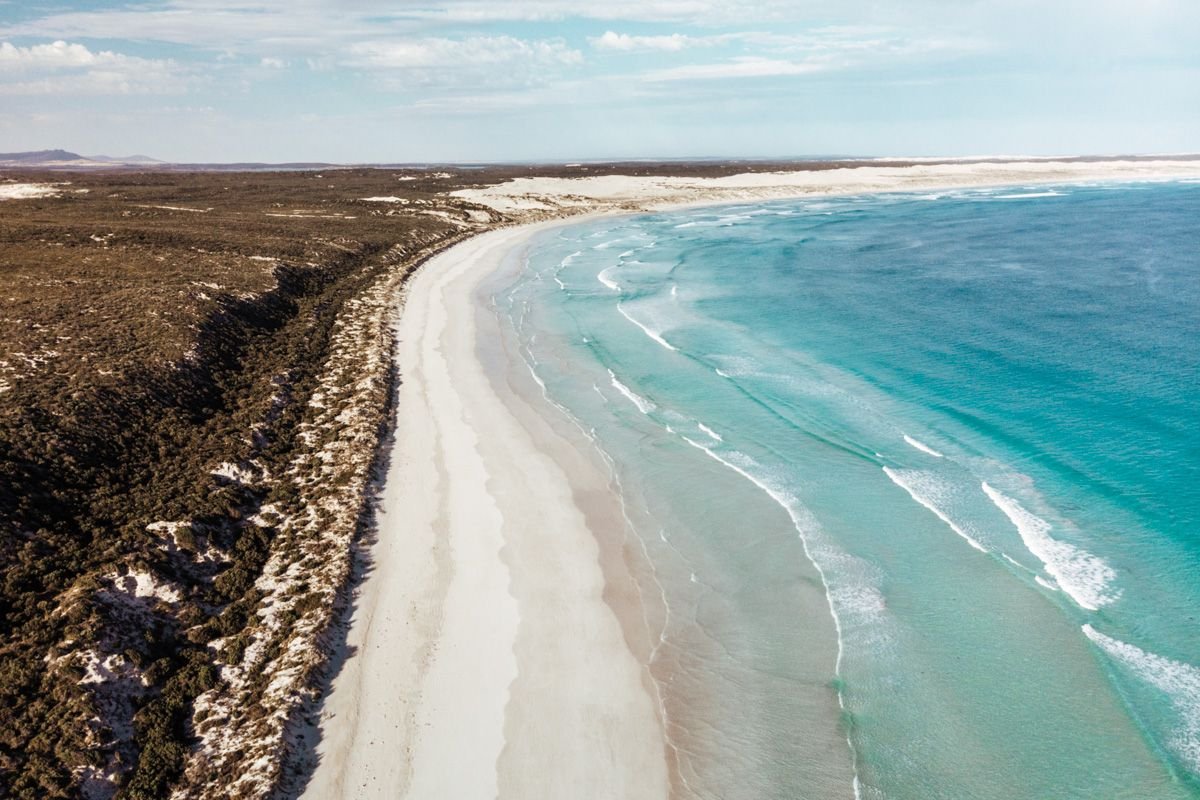 To get down onto the beach, drive to the end of Golden Island Road, park your car and follow the staircase down to the sand. I had the whole beach to myself and it was absolutely GLORIOUS. I still dream of this spot, a year after the fact. DO NOT MISS IT!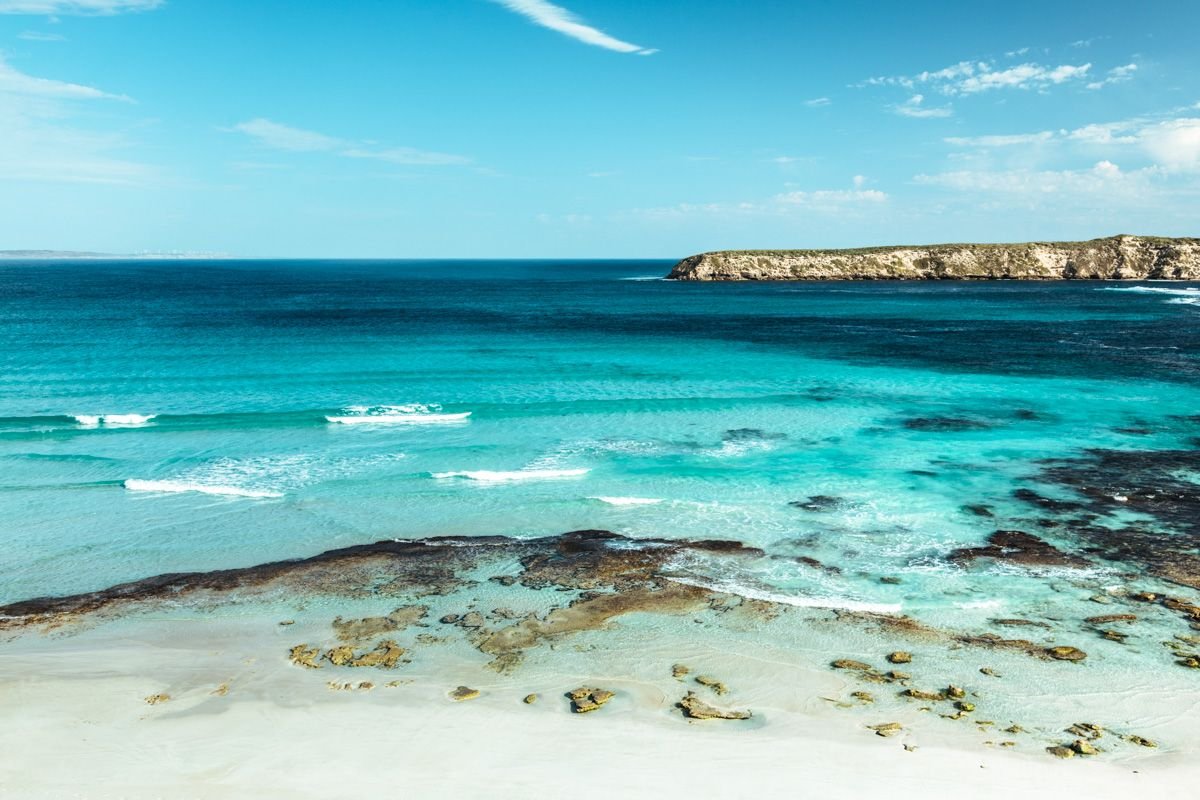 If you want to spend the night in Coffin Bay National Park and don't have a 4WD vehicle, you can camp at Yangie Bay Campground for $13/night. Yangie Bay is a great spot for kayaking and paddleboarding. There are also a few walks you can do from the campground (there is signage that will direct you there).
West Coast
The west coast of the Eyre Peninsula, from Coffin Bay to Streaky Bay, is where you'll find the highest concentration of beaches, rock pools, and stopworthy sights.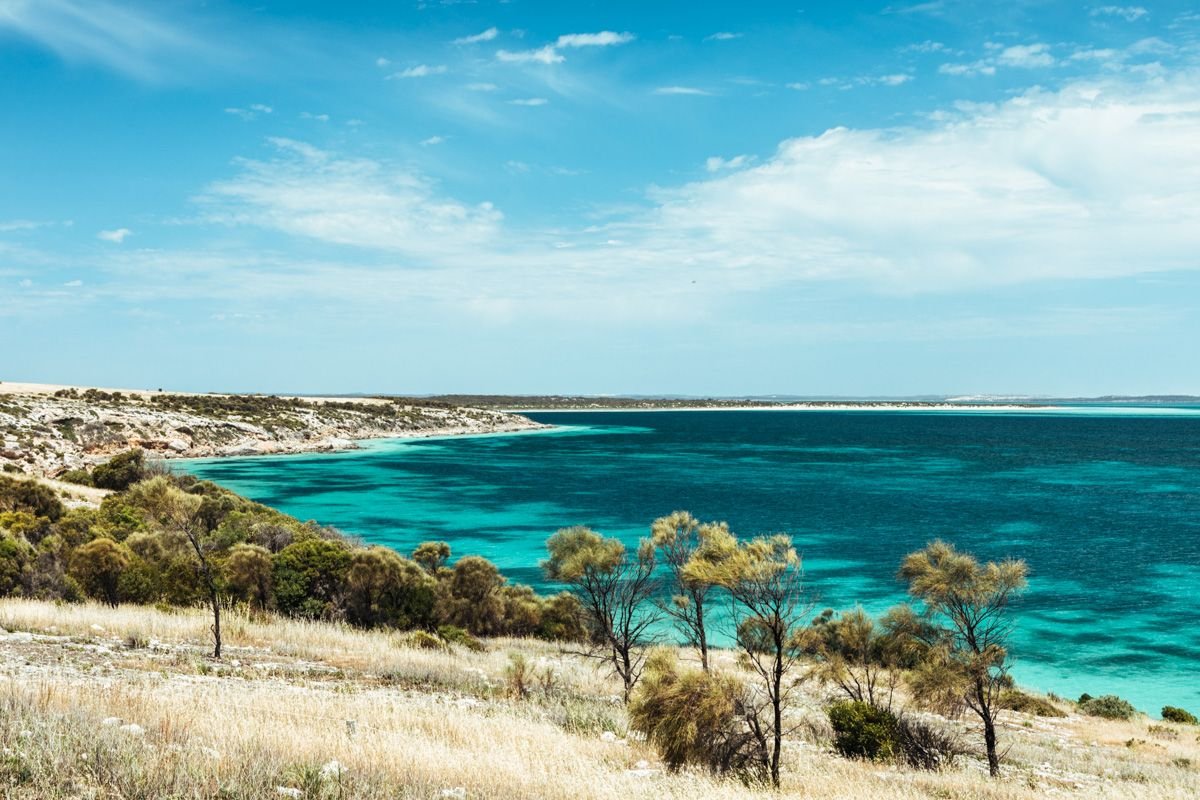 The best thing to do is just drive and stop off whenever you get the urge to, rather than follow a checklist of places to cross off. That said, I do have a few recommendations:
Greenly Beach
This Insta-famous beach is worth a visit for its picturesque rock pools – which, strangely, aren't immediately obvious when you first step foot there. What you should do is just go exploring on the rocks both south of and north of the beach and you're bound to spot some rock pools that way.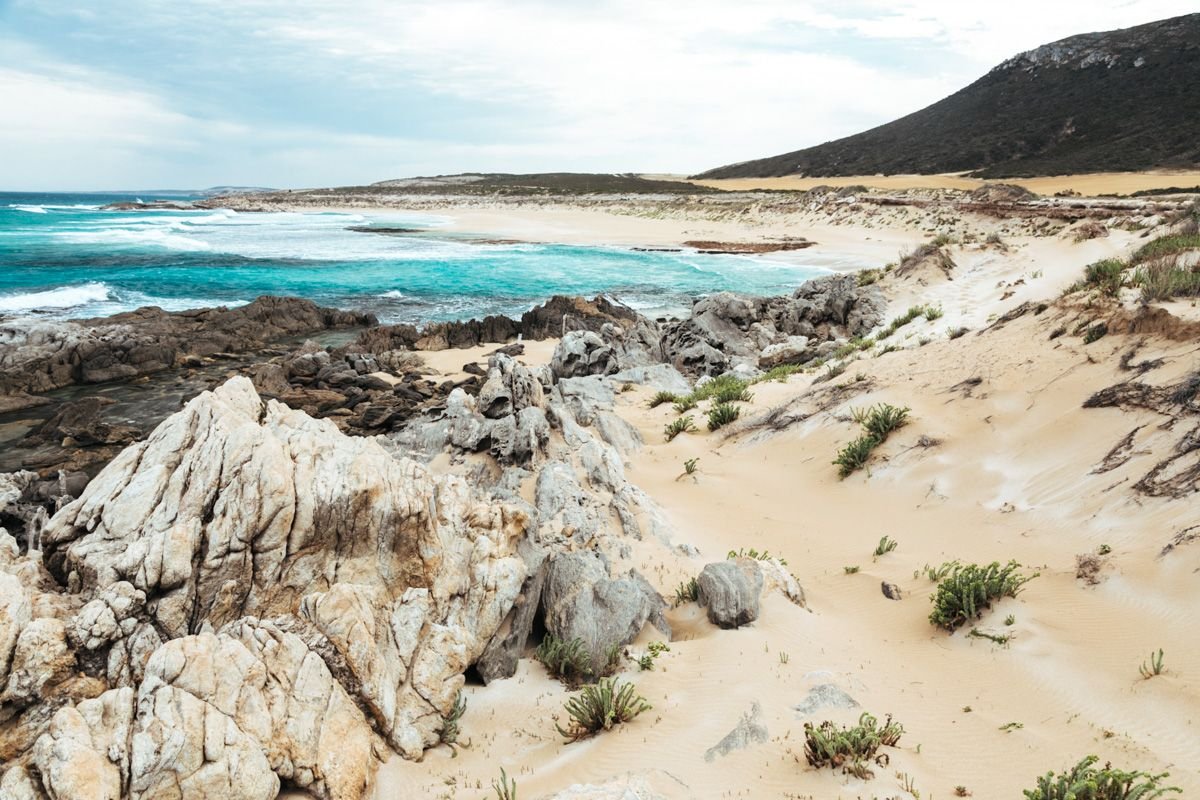 An even less-obvious find are the rock pools within the rock shelf just off of the beach. These you can only really spot at low tide, though.
Locks Well Beach
This is more of a "look, but don't touch" kind of beach. It's best enjoyed from above, on the photogenic walkway and 283-step staircase over the cliffs.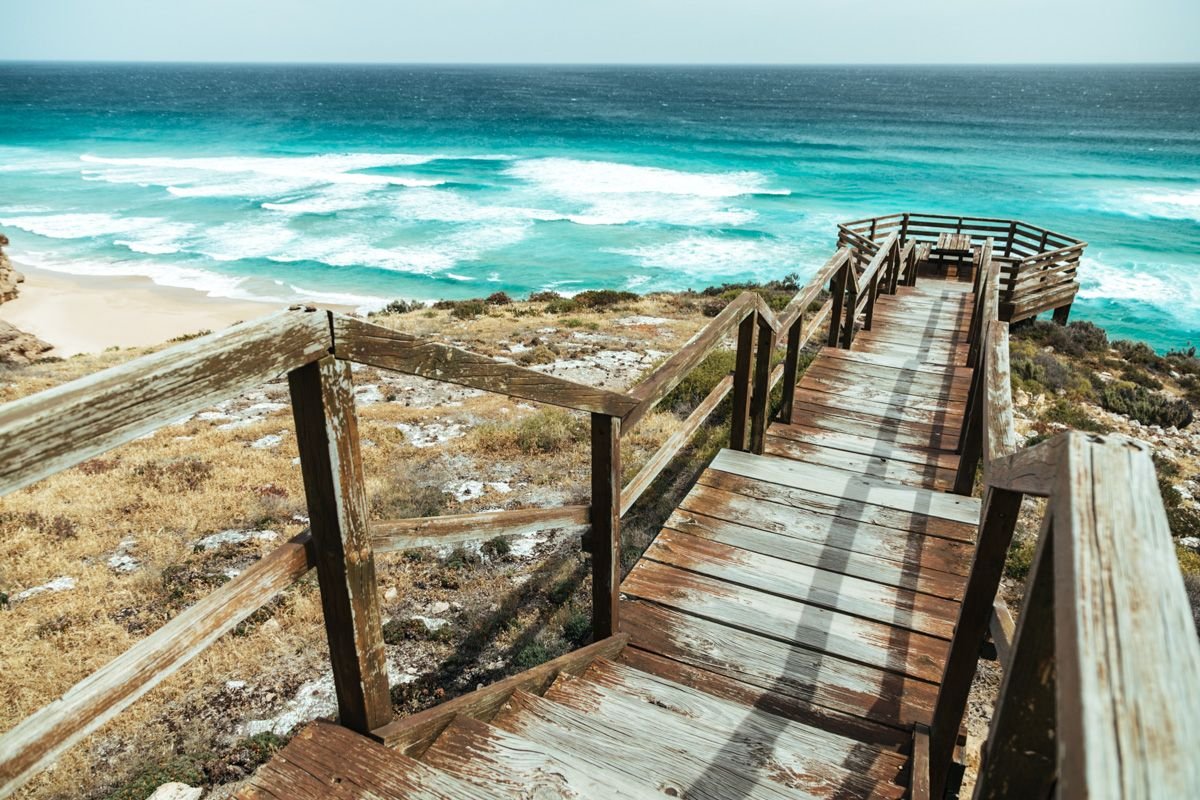 It's also known as one of the best spots to catch Australian salmon, if fishing's your jam.
Elliston Clifftop Drive
Now here's something you probably won't see on Instagram or read about on other blogs. The cute seaside town of Elliston hosts 13.6km worth of coastal trails, all of which are walkable and boast excellent coastal vistas.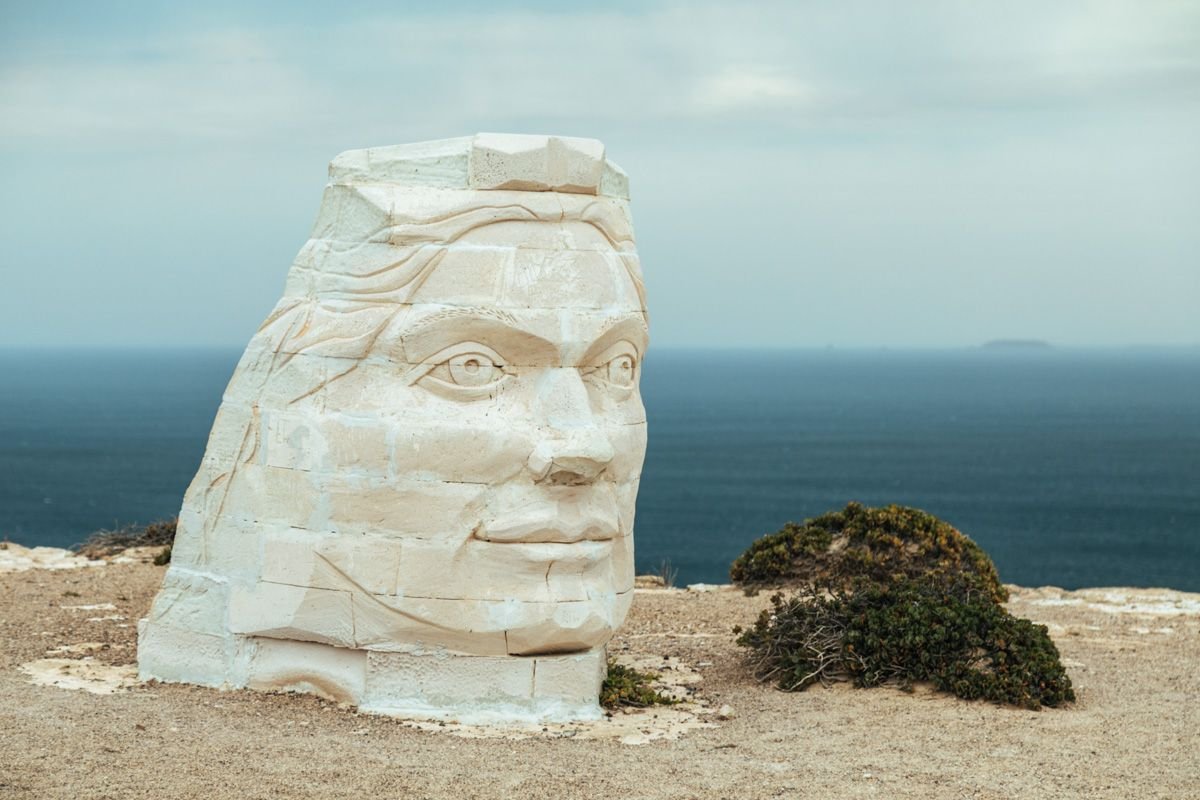 The crème de la crème, though, is the Clifftop Drive, which is dotted with random sculptures along the edge of the cliffs, just next to the road. A pair of flip flops and some Easter Island-esque statues are two of the more notable sculptures you'll glimpse along the drive.
Woolshed Cave
In Talia, there exists a sizable sea cave carved into a cliff, accessible on foot via a precarious path along one side of the cavern. The view from inside, with the ocean framed by the cave walls, is pretty sensational. While you're here, take some time to walk along the rocks outside of the cave and watch the tide come in and out through the channels.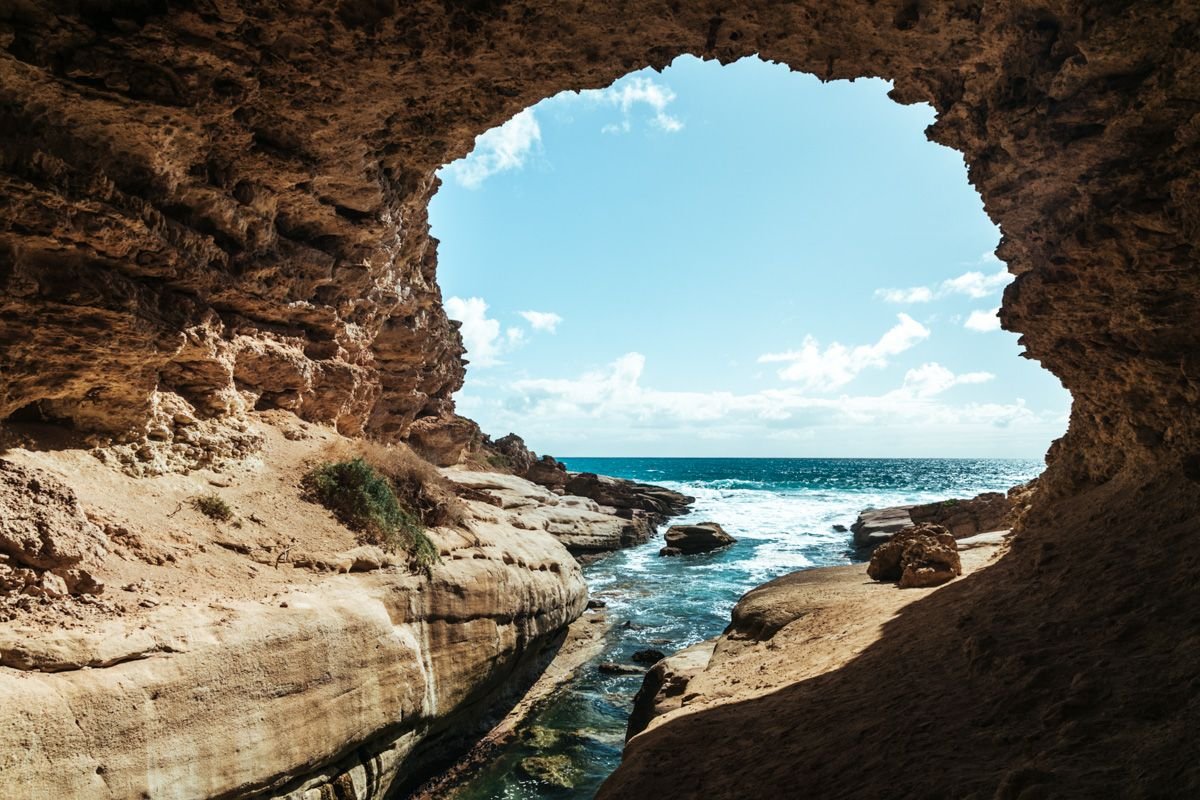 Oh, and be sure to visit at low tide – it's not safe to be down on the rocks or in the cave when the tide is in.
Murphys Haystacks
Not far from Streaky Bay, you'll find this baffling rock formation smack dab in the middle of absolutely nowhere. I have somehow visited this random site twice now (my first time seeing Murphys Haystacks was on a Melbourne to Perth road trip).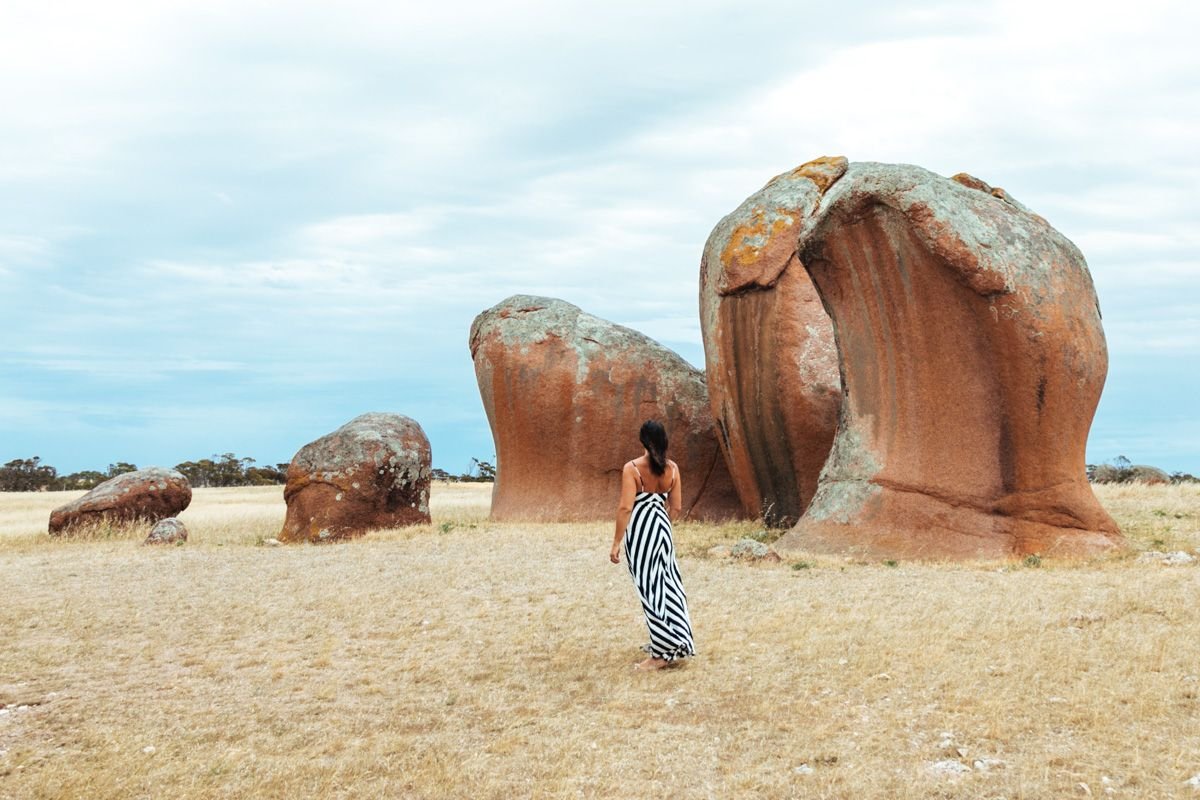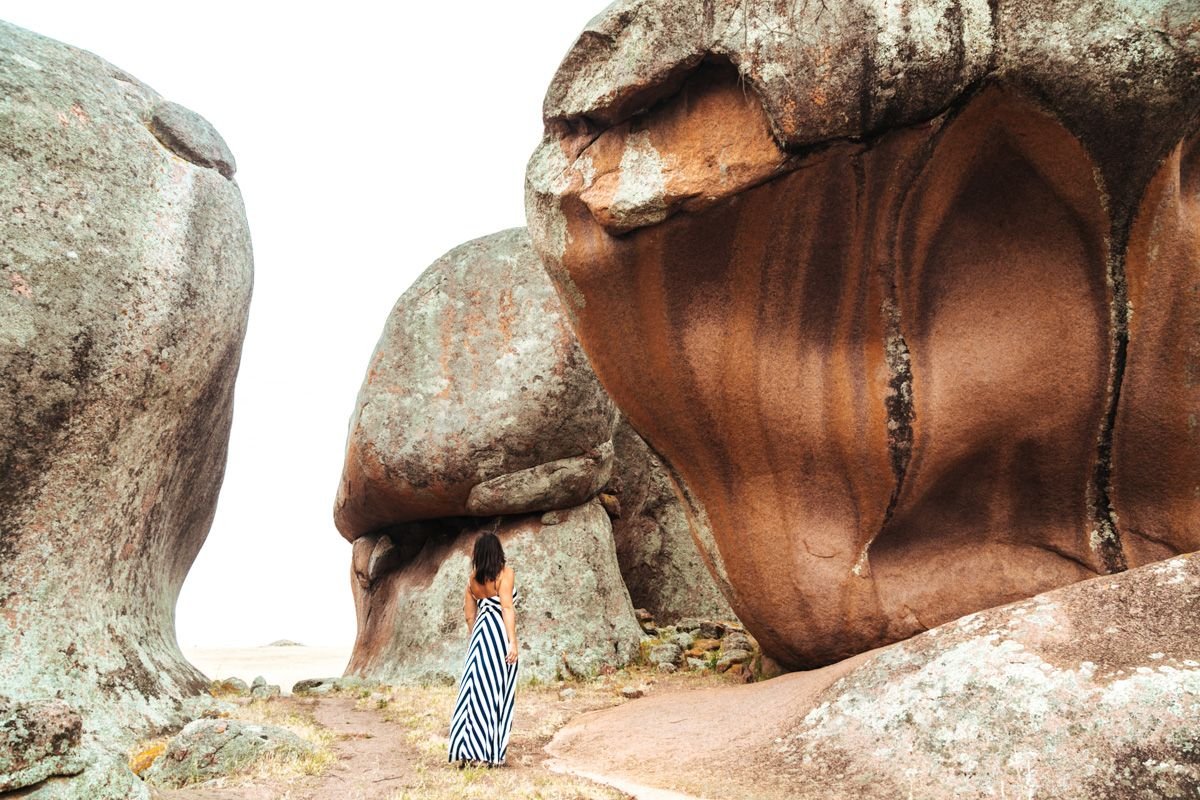 Would you believe that these granite rocks are 1.6 billion years old?! That alone makes them worthy of a stop, but beyond that: the orange-streaked rocks are pretty cool to look at and make for an interesting photo backdrop (or, you know, an album cover… yes, we did this on my first visit here!).
Streaky Bay
Streaky Bay is one of the main towns on the Eyre Peninsula, yet it's more on the sleepy side. I didn't find all that much to do there, which is just as well because let's be honest, I was here for the nature.
My one must-do for Streaky Bay is the Bayfunktion Cafe. They serve the best coffee in the Eyre Peninsula, and the cafe itself is super cute and has a variety of different seating areas. Plus, they're somewhat of an event hub in town (they had a movie screening on when I was in the area).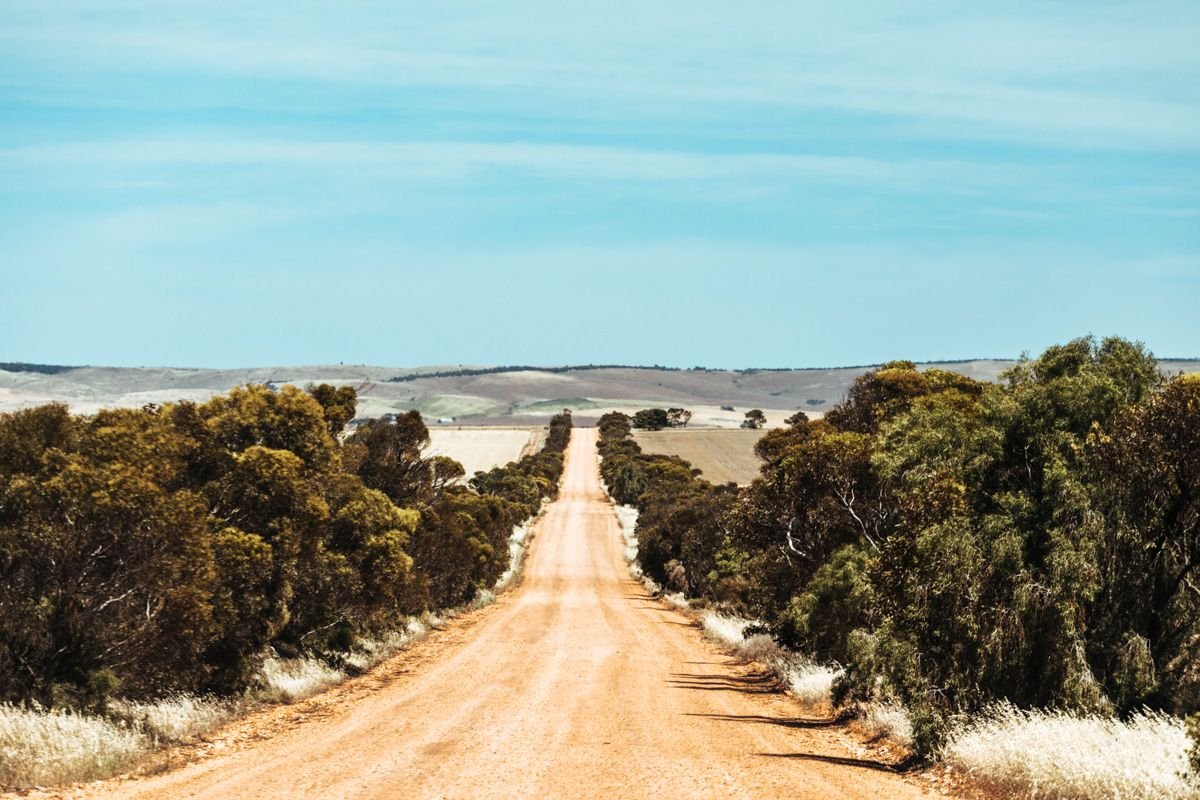 Point Labatt Sea Lions
One thing's for sure: a visit to the Eyre Peninsula isn't complete without a sea lion encounter. If you don't do the sea lion snorkeling down in Port Lincoln, you can opt to do it in Baird Bay instead with Baird Bay Ocean Eco Experience (AU$180). In fact, this would be my first choice because the boat ride out to the snorkeling spot is only 15 minutes, and you get to swim with sea lions AND dolphins. How's that for winning?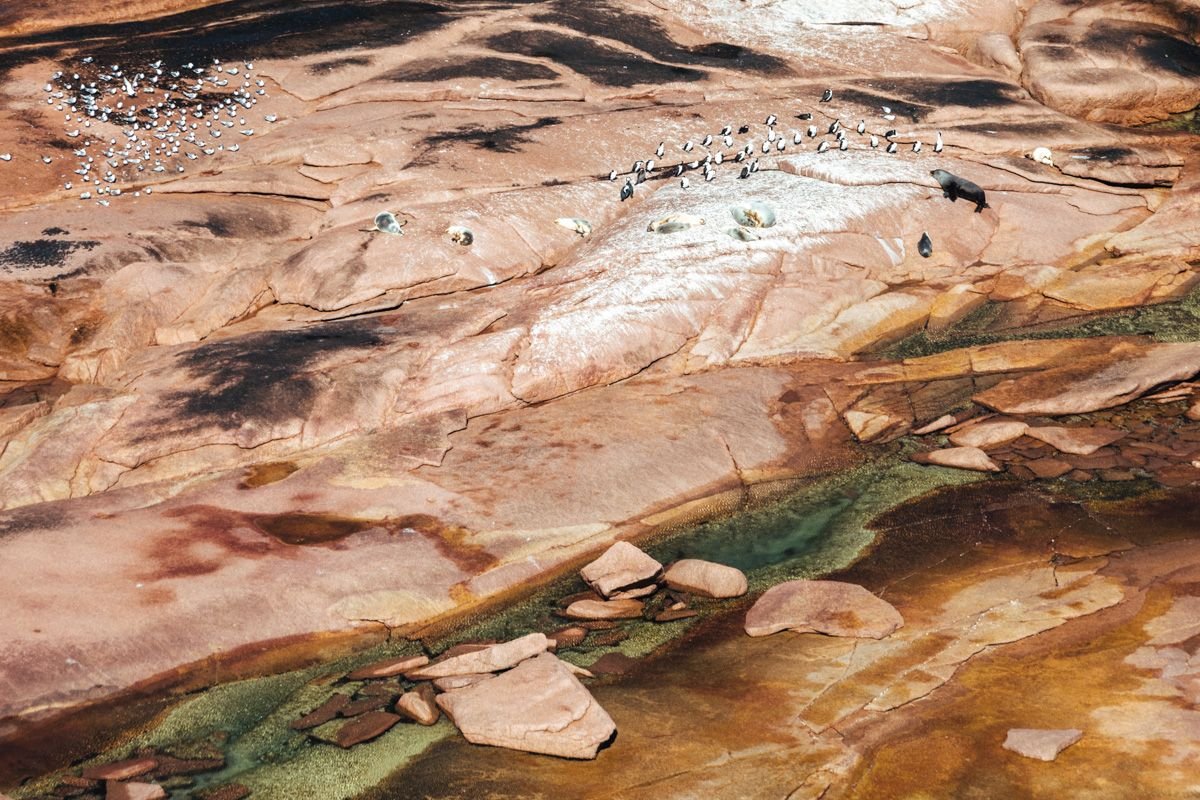 That said, sadly I didn't get to swim with sea lions on my Eyre Peninsula road trip. If you're silly like me, don't worry – you can still spot plenty of seals from the viewing point at Point Labatt.
Westall Way Loop Drive
The Westall Way Loop Drive is a must-do on the Eyre Peninsula, and has a few highlights:
Smooth Pool is a cool spot with hundreds (thousands?) of orangey rocks scattered along shore and some small rock pools.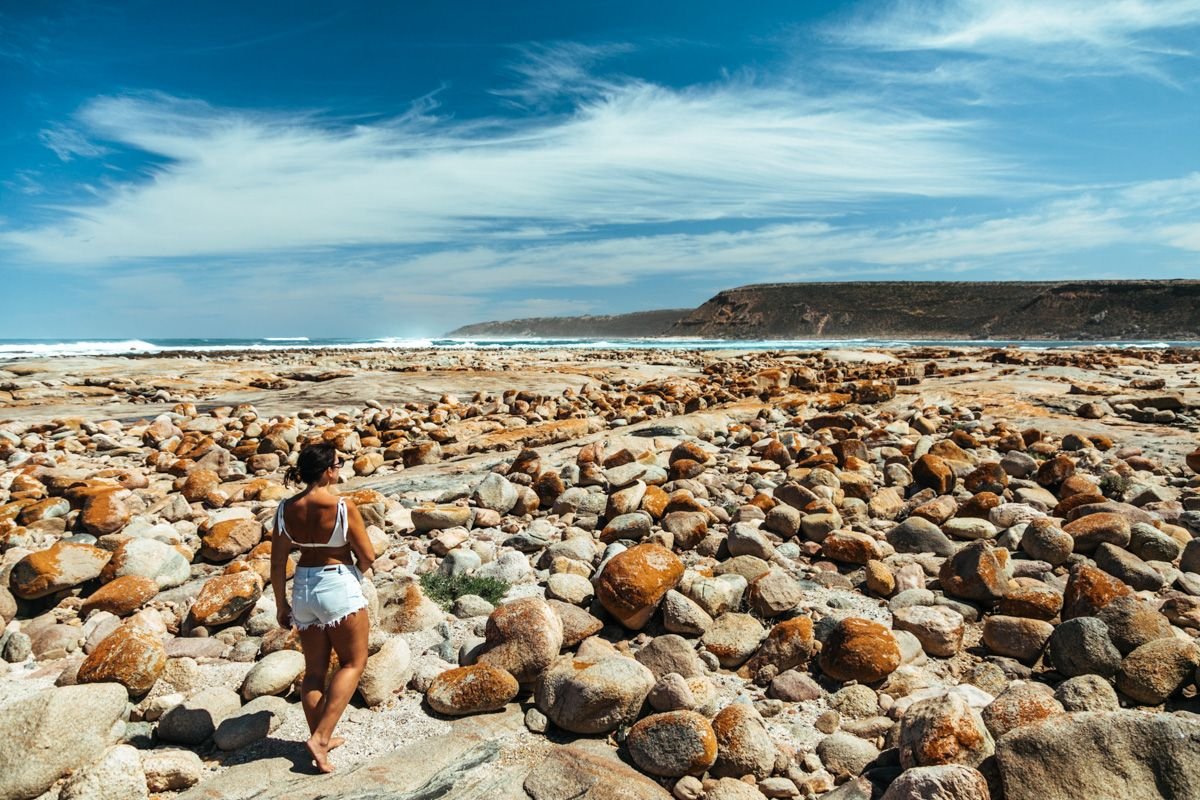 Even cooler is the Granites, which is a top surf beach with a huge natural swimming pool and lots of large orangey boulders lining the beach. You could easily spend a whole day hanging out here on the rocks and swimming in the rock pool and channels amongst the boulders. This was one of my favorite places on the Eyre Peninsula – I loved it so much I went back the next day!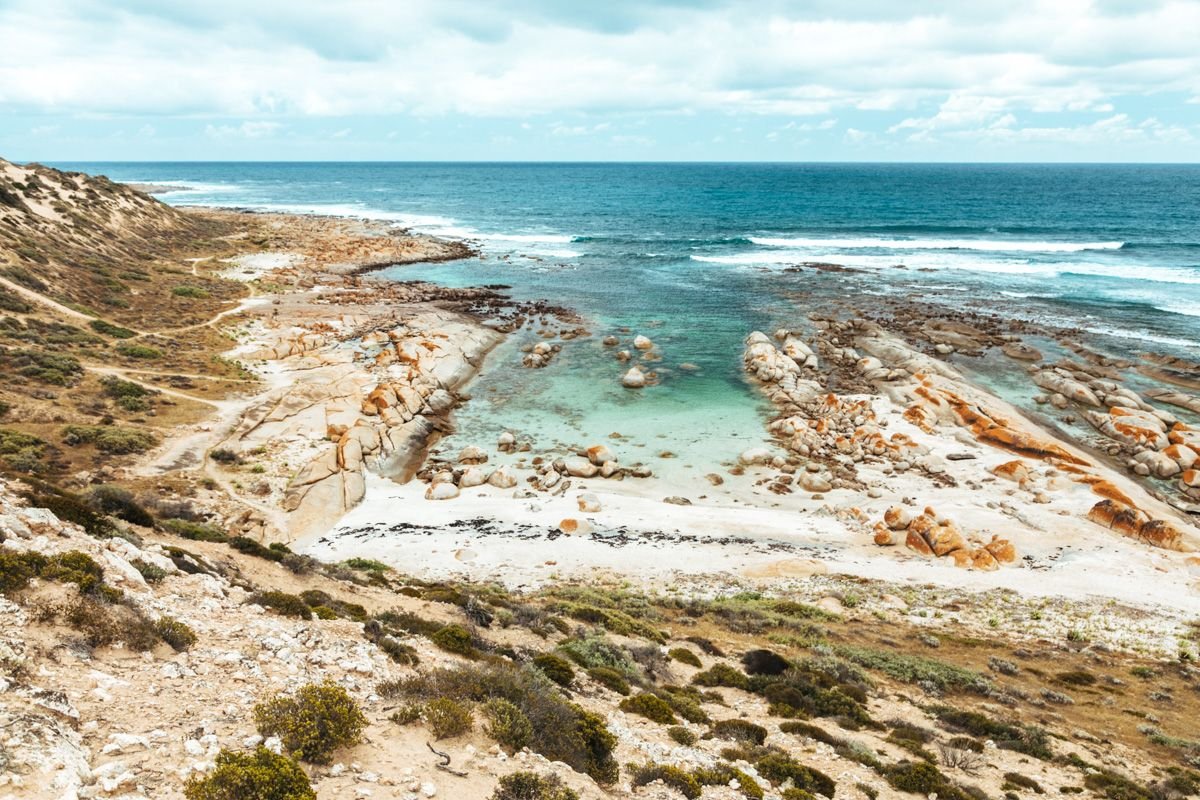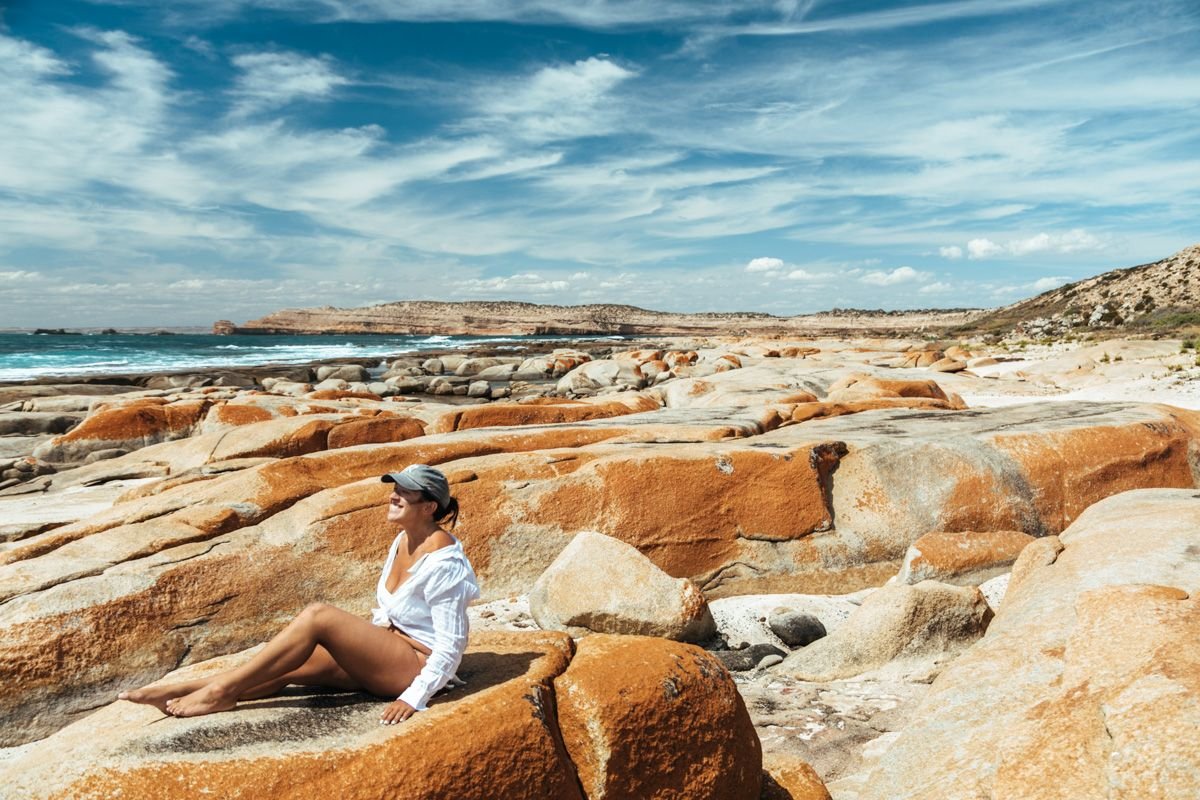 Just off of the loop, you can take the road to Yanerbie Beach, which has white sand packed flat enough to drive on. When I was here, the beach was mostly covered in seaweed.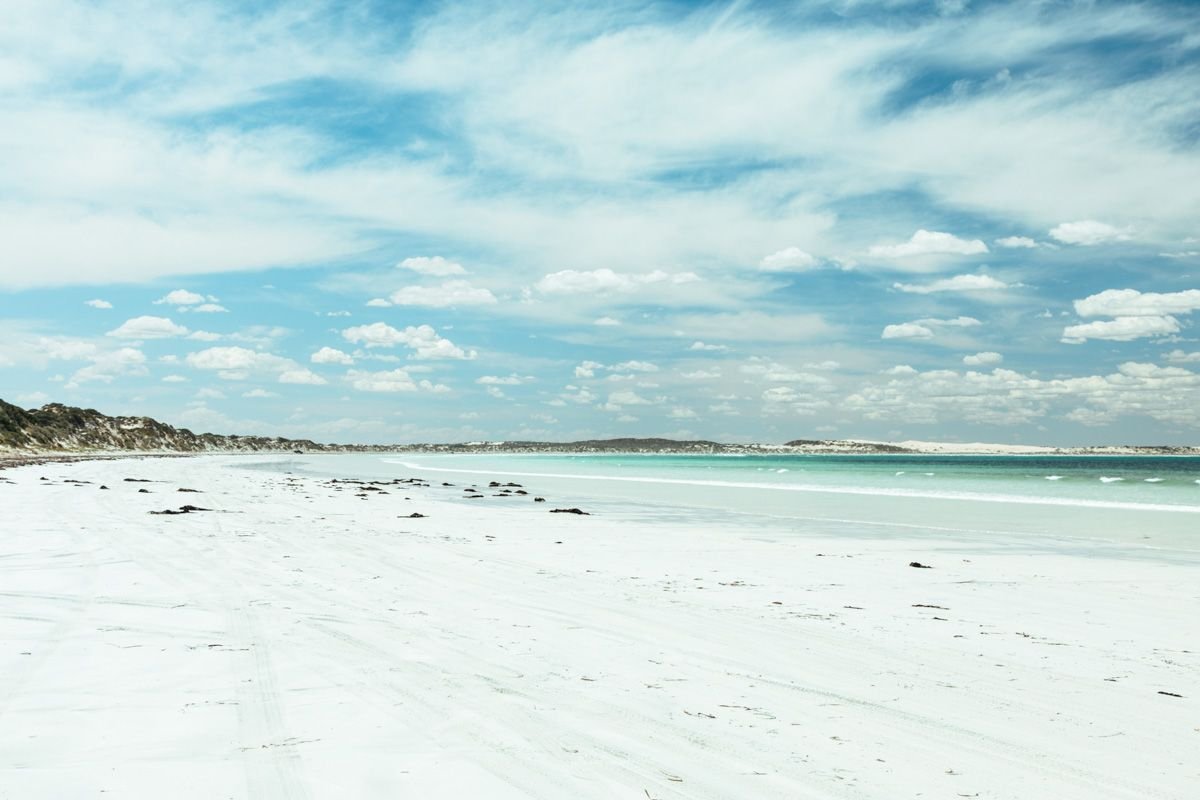 Cape Bauer Loop Drive
The Cape Bauer Loop Drive is a little less exciting, but it does have a couple of stops worth making: The Blowhole and Whistling Rocks, and Hallys Beach. For the most part, this is a clifftop drive and it tends to be quite windy.
The best part is the free campsite on Cape Bauer, where you can camp amongst the sand dunes on top of the cliff. Top sunset spot here, too!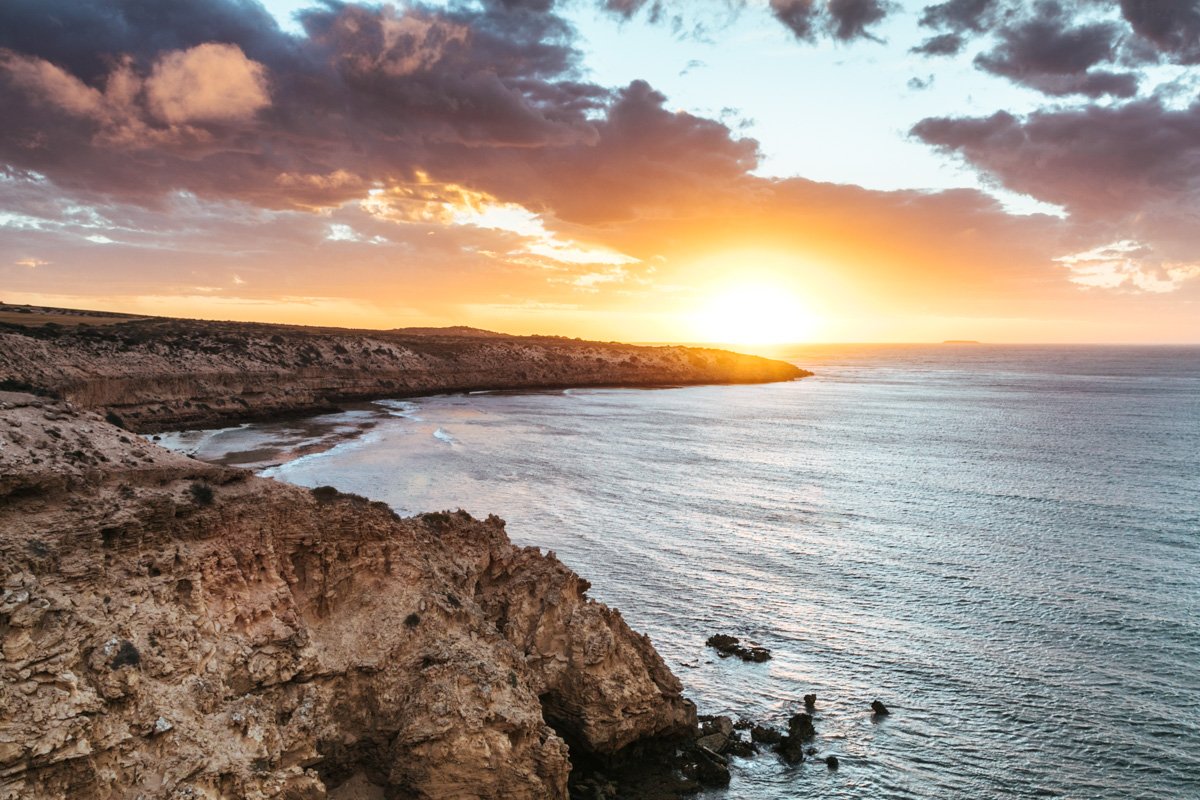 Cape Blanche
I wouldn't call it a must-do, but if you're jonesin' for something a little different, you could drive around Cape Blanche. There are white sand dunes on the side of the road, and a heart-shaped bay (named… Heart Bay).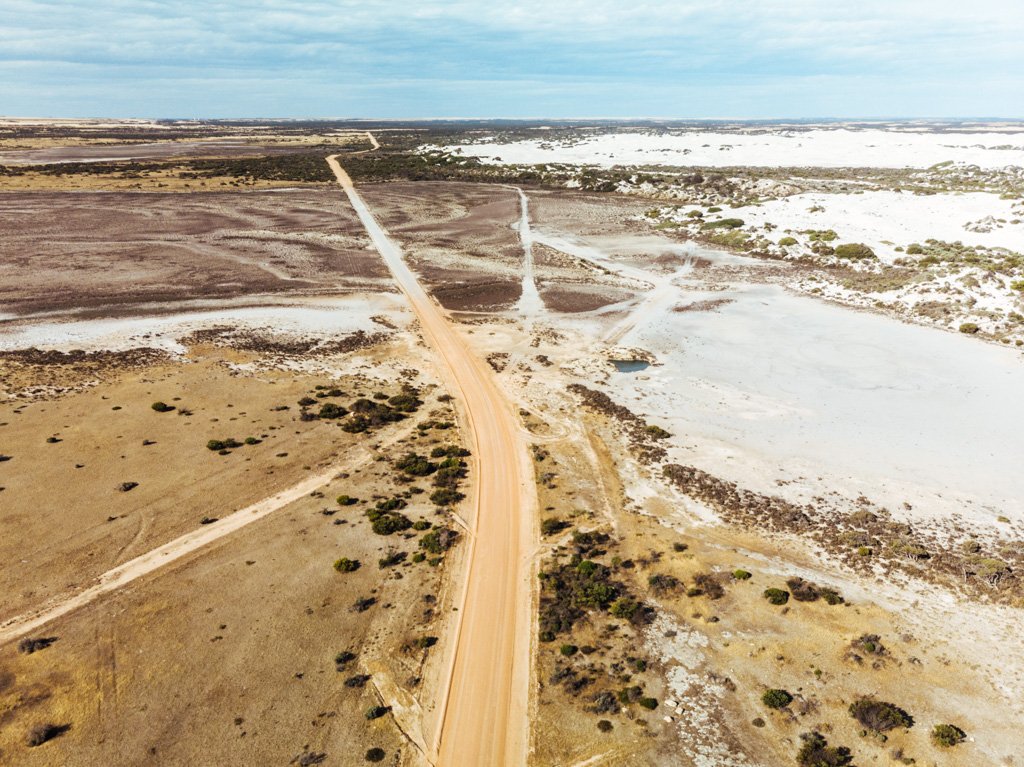 Gawler Ranges
Looking for something to break up the 4-hour drive from Streaky Bay back to Port Augusta?
The Gawler Ranges are like a slice of Outback, dropped at the top of the Eyre Peninsula. I'd never even heard of them before I started researching for my Eyre Peninsula road trip, and you know what – I don't think many other people have, either, because I hardly saw a single other person around during my visit.
There isn't a plethora of major sights or must-do activities in the national park, and most of the campgrounds are 4WD access only (I camped at Tcharkuldu Rock nearby, outside of the park). The one thing I'd deem a must-do is Organ Pipes, which they say is also a 4WD access only spot, but I can confirm the dirt road in is totally doable in a 2WD van (as long as the road isn't wet or slippery). It's a short walk from the car park to the Organ Pipes, which are a really cool rock formation not unlike the basalt columns in Iceland.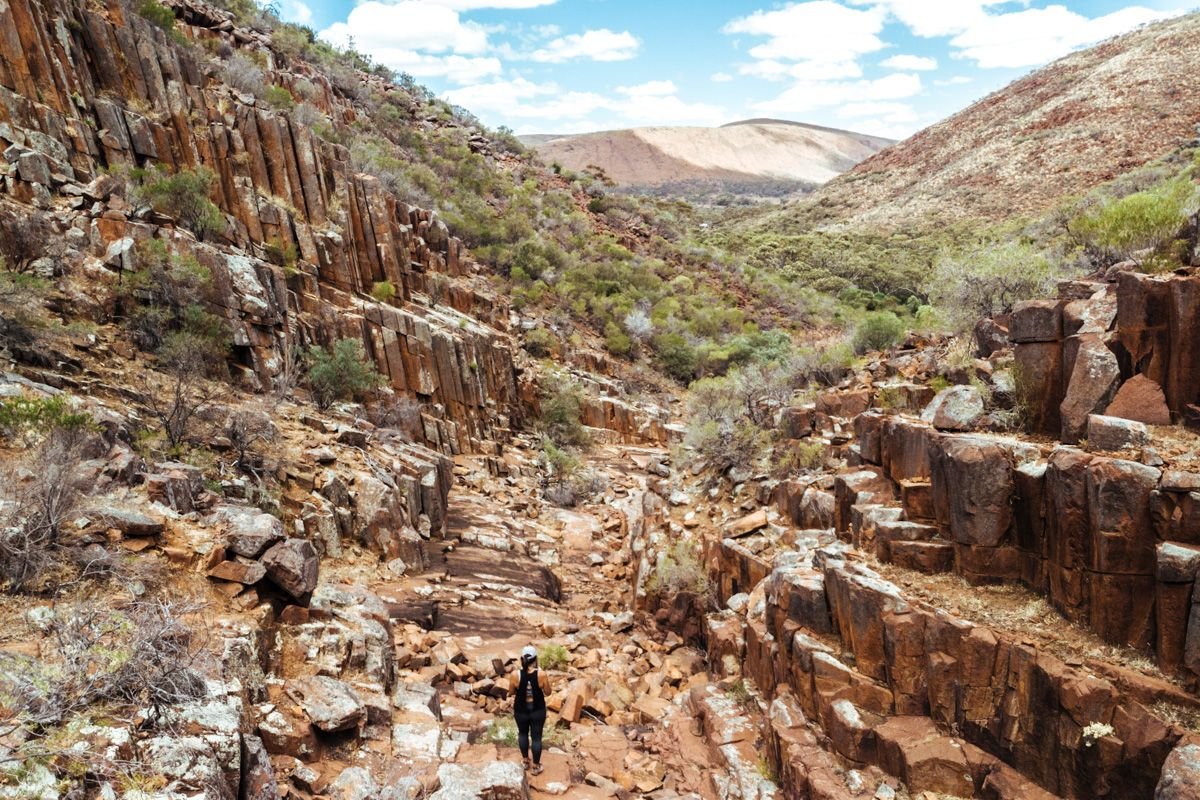 Apart from that, it's a joy just to drive through the park on the main road and take in the landscape. I'd recommend turning around and taking the same road to exit the park, rather than following it all the way through and out on the eastern end. As you leave the national park, it turns into a bumpy dirt road with nothing around, and GPS doesn't work, so you're sort of just driving and hoping the road will turn into pavement soon and that you haven't missed a turn-off.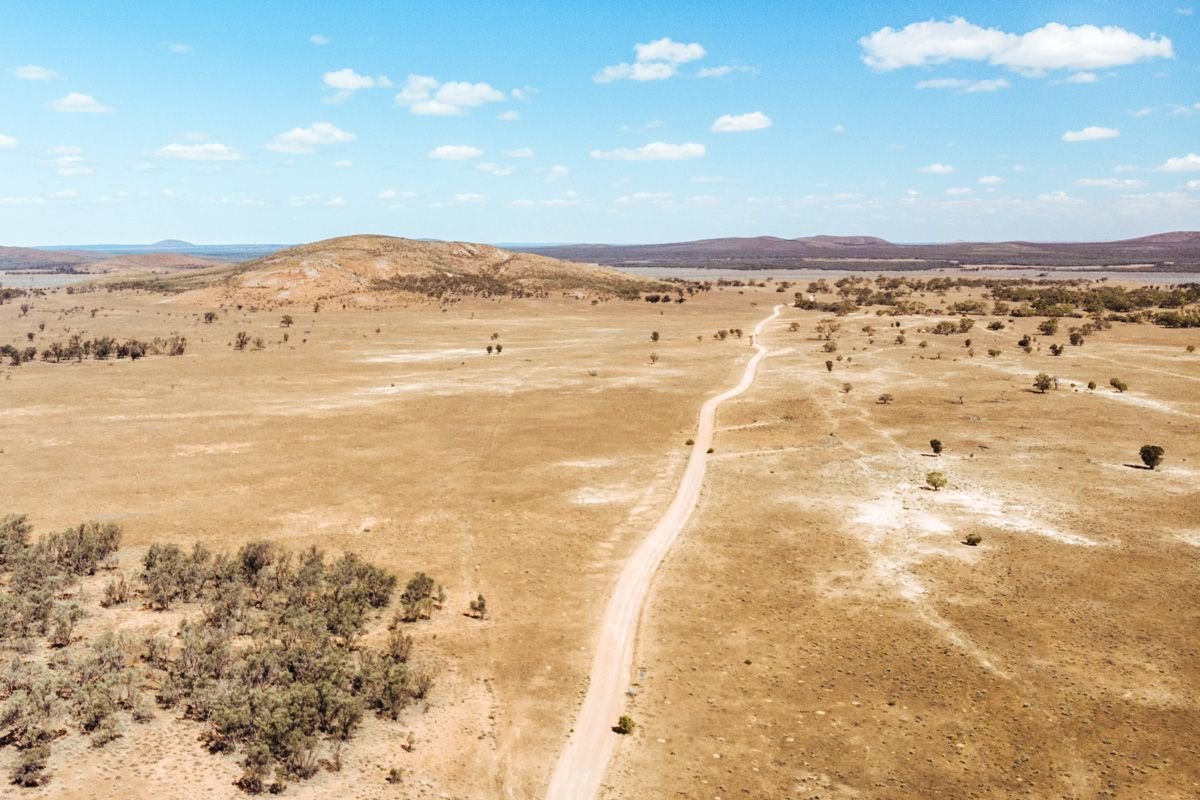 While you're there, it's worth stopping just outside the park at Pildappa Rock, which is kinda like a cross between Uluru and Wave Rock. Very cool rock formation, which you can walk on or have a BBQ or picnic next to (there's a proper picnic area).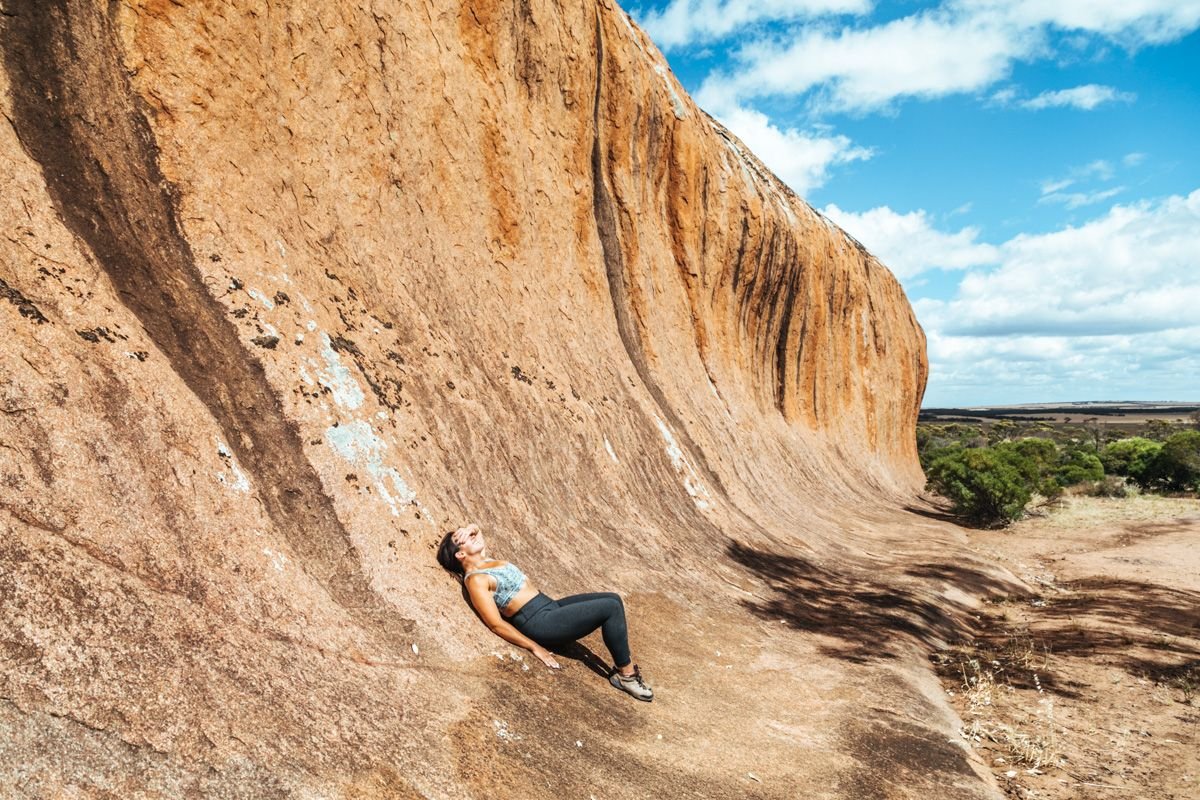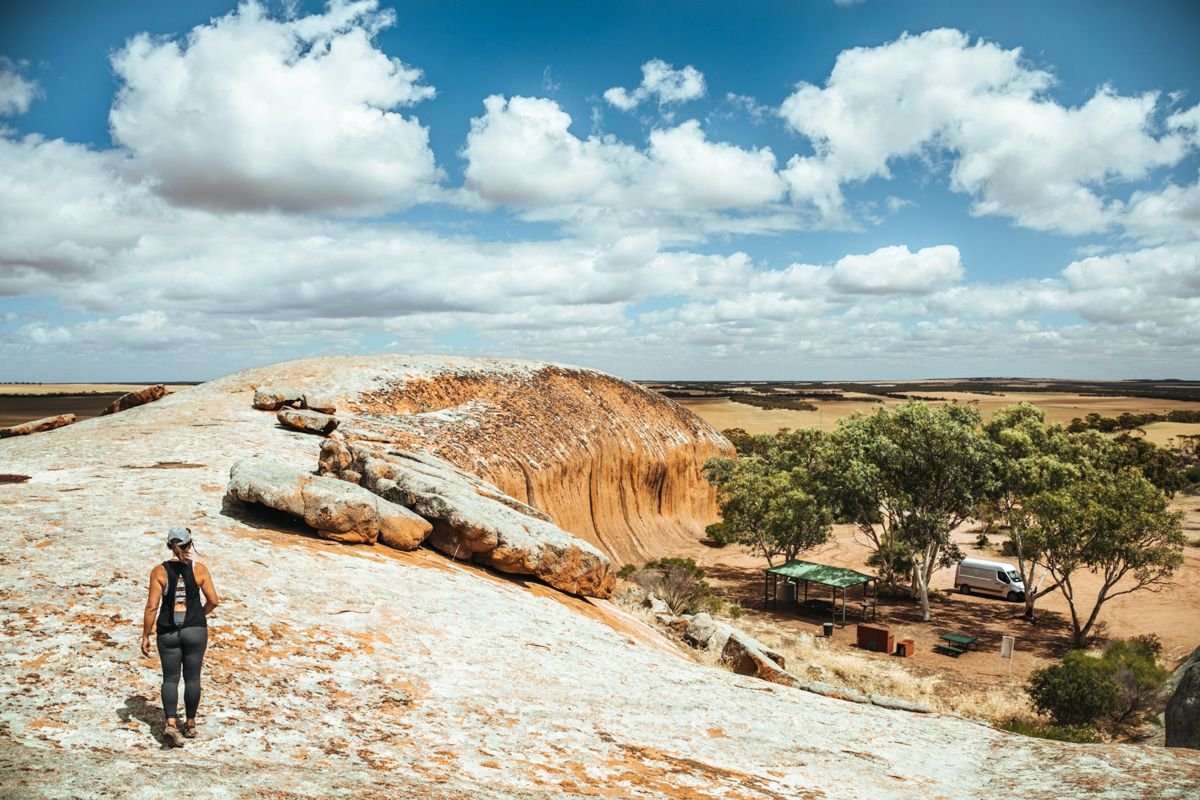 Pin it!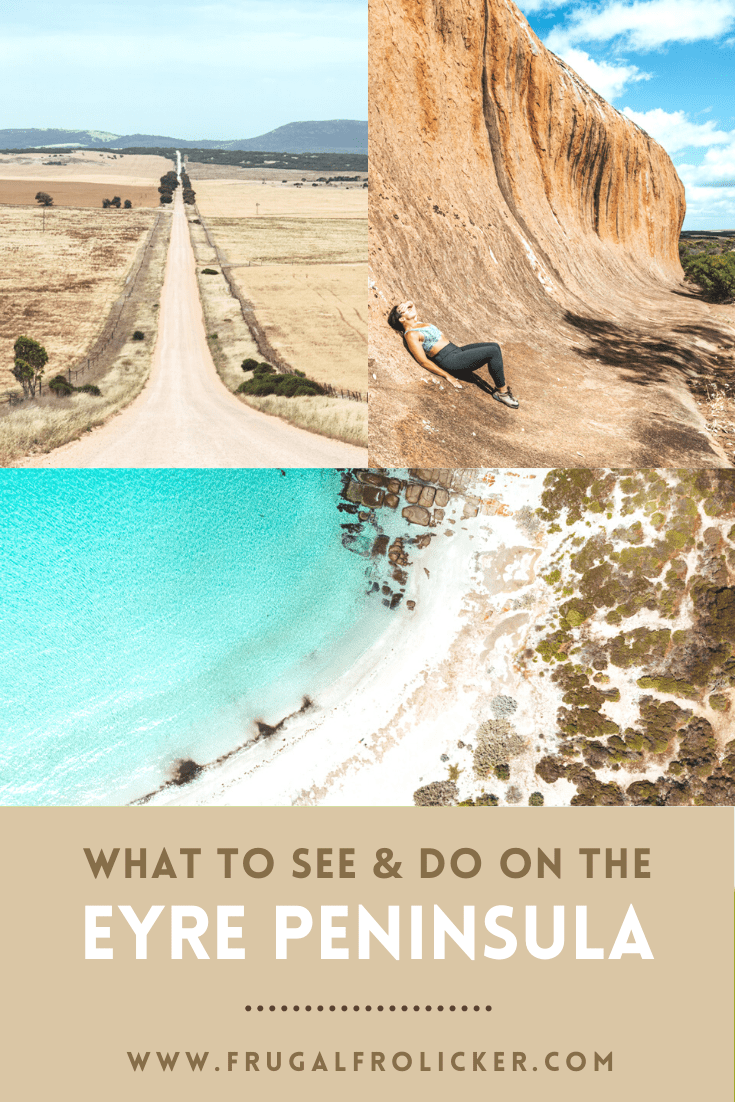 Pin it!