Filed under Travel Oopsies: That time I booked one (non-refundable) Airbnb for my entire stay in Crete without realizing it was a 3 hour drive from all of the things I most wanted to see on the island.
If I had properly done my research, I would have known that Crete is the largest Greek island and the 5th largest Mediterranean island (it takes about 5 hours to drive the length of it) – and that spending all 7 days of my trip based near the island's capital city would be about the dumbest thing I could do. D'oh!
But I made the most of the situation – I ended up adding a few extra days to my Crete trip so I could spend time on the west coast, and doing a lot more driving than I would've, had I done a better job with planning.
All that to say: Crete is a huge island just MADE for road tripping. Most of the other Greek islands you can get away with basing yourself in one location and driving around to various points of interest, but on Crete it just works better if you're constantly on the move because you'll be able to cover much more ground.
Crete is also SO diverse. It's not just about beaches and villas on this island; there are also gorgeous monasteries, beautiful mountains, elaborate caves, Minoan ruins and art, and charming towns to explore. Oh, and complimentary dessert and spirits after every dinner – believe me, Greek hospitality is an actual thing!
This blog post outlines the exact Crete road trip itinerary I would follow if I were to do it again. I did visit about 75% of the attractions listed below, but I got burnt out with all the driving back and forth to my accommodation. If you visit Crete and follow this itinerary, you'll make much better use of your time than I did.
Important Tips For Planning A Road Trip In Crete
Fly into Chania and out of Heraklion, if possible.
Rather than basing yourself in one location or accommodation, allow 2-3 nights in each place and then continue driving across the country to the next location. If you follow my Crete itinerary below, you'll be staying in 6 different accommodations over 2 weeks.
Beware of Google Maps! In the US it may be a driver's bible, but in other countries it's not quite as reliable. I'd say on a daily basis, Google Maps would get confused and not pick up on some roads in Crete, instead sending me on a less efficient route. Or it would keep re-routing me during what should have been a very straight-forward drive. One time, it didn't pick up on a major road closure and I had to take an hour detour. So I'd advise always checking Google Maps' proposed route and deciding whether it makes the most sense, rather than just blindly following it as you would back home.
Before you visit Crete, check to see if you'll need to obtain an international driver's permit (typically non-EU citizens will need one; if you're an American citizen YOU DO NEED THIS). If you do, you must carry your regular driver's license AND your international driver's permit at all times while driving in Greece.
As is typical of Europe, rental cars with an automatic transmission are limited in number and cost a lot more than a manual car. So if you only drive automatic, be sure to book your rental car well in advance to ensure there's one available for your trip (or better yet, learn how to drive a manual transmission car before you visit Crete!).
Be sure to purchase travel insurance before your trip to Greece. I always book mine through World Nomads.
Day 0-2: Stay in Falassarna
To kick off your Crete road trip, pick up your rental car from the airport (hopefully you flew into Chania, otherwise it's a 3 hour drive from Heraklion) and head to Falassarna (aka Falasarna or Phalasarna). We're calling this Day 0, as you probably won't have much time to sightsee or explore.

The drive to Elafonissi.
This west coach beach town is an absolute delight. The main road zig zags all the way down to the beach, which means you have several tiers of buildings with sea views. Every single restaurant I dined in, as well as my guesthouse, had views of the beach and were the perfect spots for watching the sunset every evening.
CLICK TO BOOK A HOTEL IN FALASSARNA
Day 1: Elafonissi Beach
I'd recommend allowing a full day to enjoy Elafonissi Beach – both because it's amazing, and because the drive there is 1.5 hours excluding stops. But I promise you you'll want to stop along the way because this drive is terrifically scenic, and there are several cute villages you'll drive through that you may want to explore.
Pro tip: Drive down to Elafonissi via the coastal route, and drive back via Topolia gorge (both options should come up on Google Maps). The scenery along both is spectacular.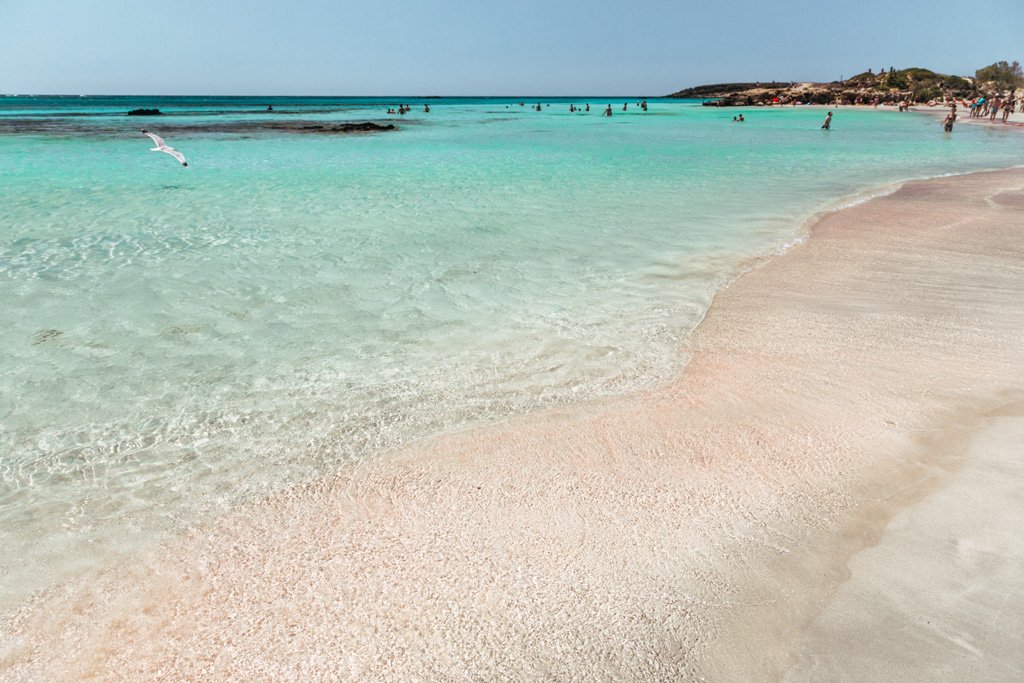 Elafonissi is a pink sand beach with a shallow lagoon that looks like the cousin of Aussie's famous Whitehaven Beach… except it's also backed by mountains, which makes for an exceedingly gorgeous landscape.
I've seen hundreds of beaches in my lifetime and as you know by now, I consider myself a semi-professional beach bum and snob. So believe me when I say that Elafoninssi ranks very high on my Best Beaches list and will be imprinted in my mind for decades to come. Don't miss it when you visit Crete!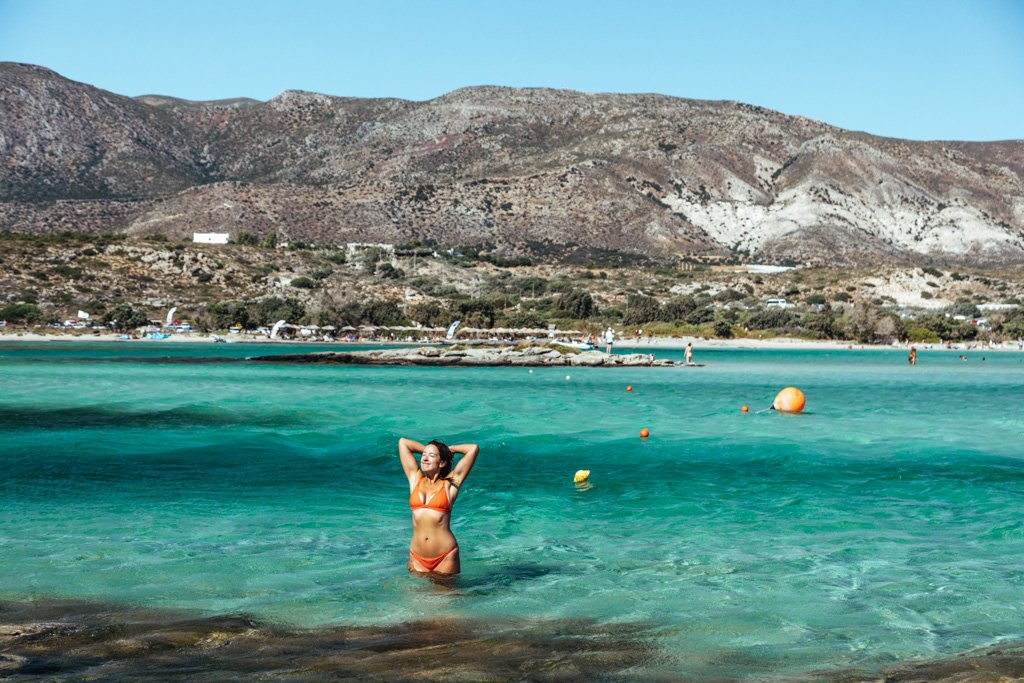 Day 2: Balos Lagoon, Falassarna Beach
Balos Beach
Get an early start to the day and head straight to Balos Beach. Ideally you'll want to arrive before 10am to avoid the crowds, which swell due to the 12pm and 2pm day tripper boats.
Balos Beach is about an hour's drive from Falassarna, with the last 30 minutes being along a very bumpy dirt road. Just take it slow and you'll be fine. There's a gate entry just before this rocky road begins, where an attendant will collect your €1 entry fee.
From the parking lot, follow the trail leading out to the sea (just look for the goats, they're bound to be milling around it!). Get ready to gasp at your first glimpse of the lagoon from above.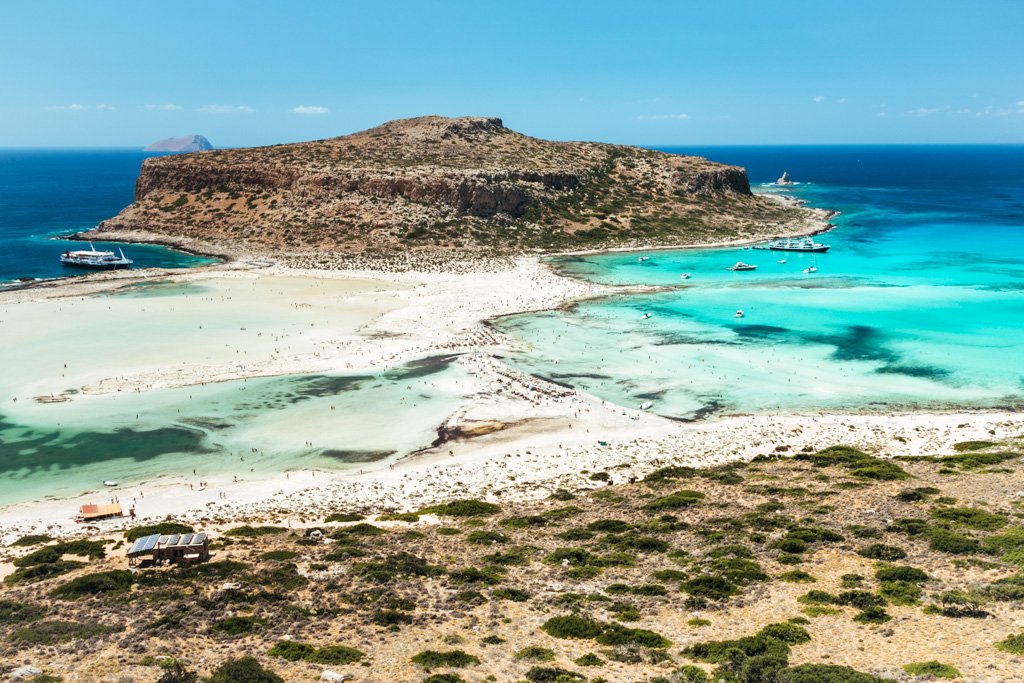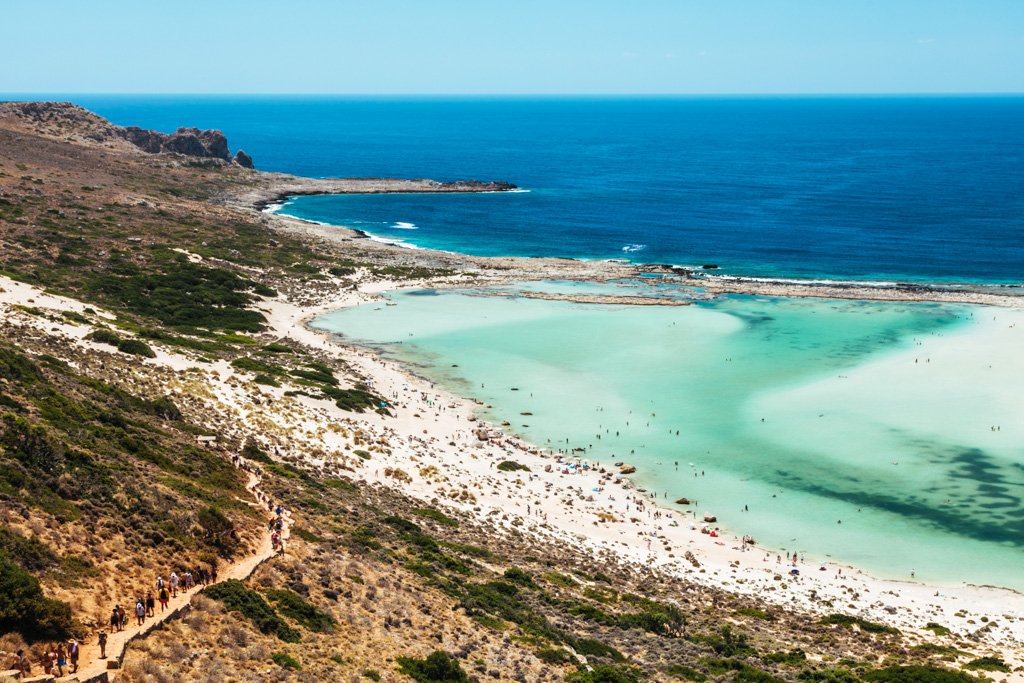 Pro tip: The hike down to the beach is pretty steep, so definitely make sure you're wearing sturdy shoes. Also, look out for the pink sand at this beach as well! (It's not quite as prominent as it is at Elafonissi, but it's there)
Falassarna Beach
Spend late afternoon back at Falassarna Beach, which is more of a local's beach. Thought it's not gasp-worthy like the previous two beaches, the water here is so unbelievably clear and it's just a nice beach to chill on.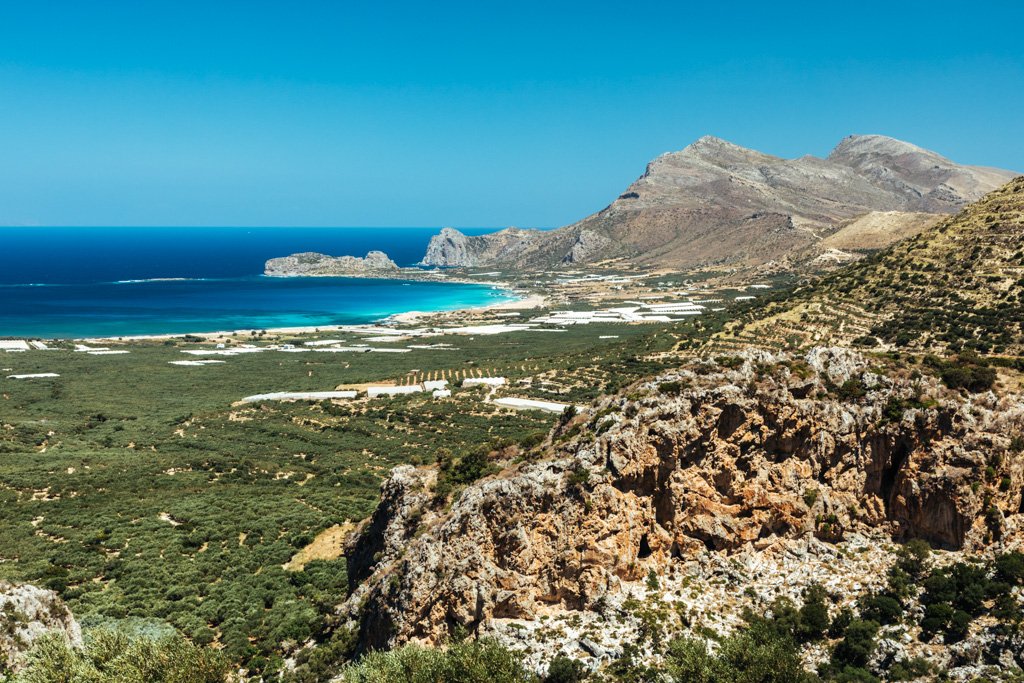 Day 3-4: Stay in Chania
After 3 nights in Falassarna, begin the long drive east and head for Chania, one of Crete's major cities (about an hour's drive).
CLICK TO BOOK A HOTEL IN CHANIA
Day 3: Seitan Limania Beach, Agia Triada Tzagaroli Monastery
Right outside of Chania, there's a little peninsula with a couple of sights worth seeing: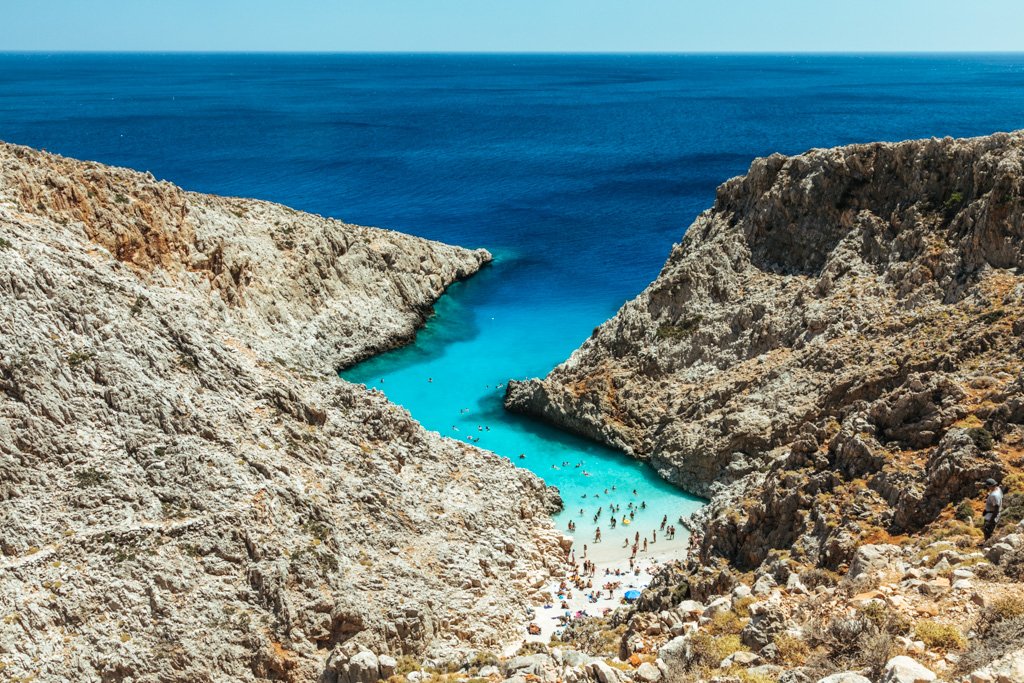 Seitan Limania Beach
Seitan Limania reminded me so much of the Calanques in the south of France. It's a fjord-like inlet with tropical-like water and large pebbles instead of sand. You'll want to wear sturdy shoes again for the steep and rocky hike down.
Agia Triada Tzagaroli Monastery
Not too far from the beach is the Agia Triada Tzagaroli Monastery, with its pretty orange and yellow architecture and mountain views in the distance.
Pro tip: Don't miss the popular wine cellar (access from the parking lot), said to have some of the best Cretan wines on offer.
Day 4: Samaria Gorge
The 15km Samaria Gorge hike is considered one of the best things to do in Crete. It is a full-day adventure, with tour departures starting very early in the morning from Chania and Rethymno and not returning until the evening.
And no, that wasn't a typo – I AM actually recommending that you book onto a Samaria Gorge tour (gasp!). Sorting out your own transport to and from the gorge is a tedious affair (especially at the crack of dawn), and with public bus connections being so infrequent it just makes more sense to leave the transport to the tour companies.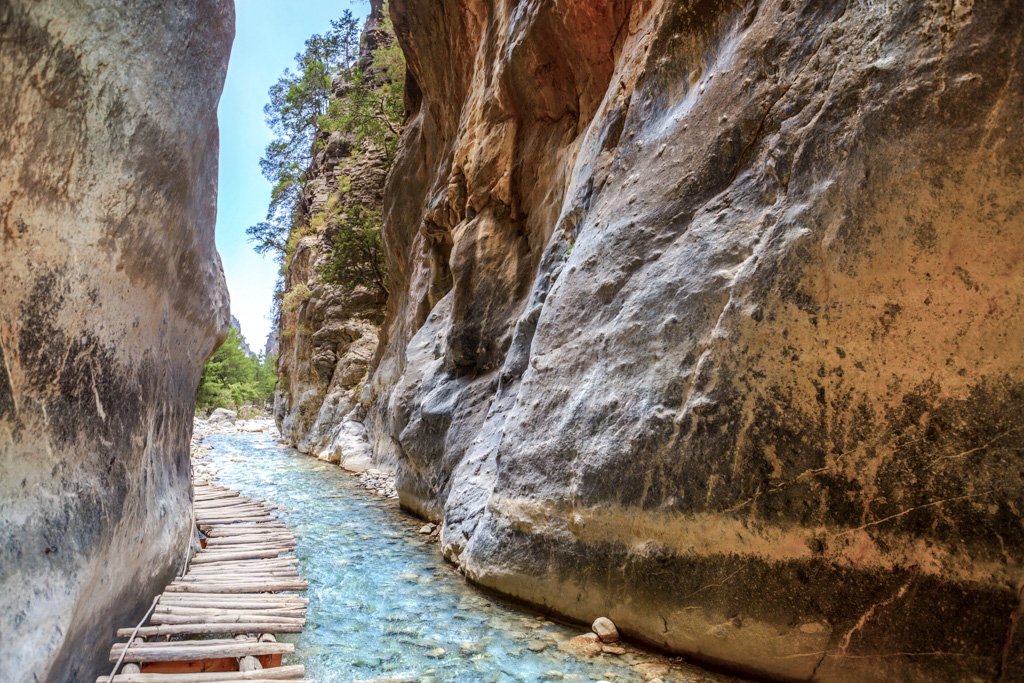 But don't worry, this isn't a proper tour of the gorge where you hike with a group of people. You're essentially just dropped off at the start of the hike and told to be at the end point to catch the ferry by a certain time.
CLICK TO BOOK A SAMARIA GORGE TOUR FROM CHANIA
CLICK TO BOOK A SAMARIA GORGE TOUR FROM RETHYMNO
If you're a reasonably fit hiker, you'll likely finish the Samaria Gorge hike with plenty of time to spare. Reward yourself with some downtime at the beach at Agia Roumeli before your designated ferry departs later in the afternoon.
Day 5-7: Stay in Rethymno
From Chania, it's about an hour drive to Rethymno, where you'll be based for the next few nights.
CLICK TO BOOK A HOTEL IN RETHYMNO
Day 5: Chania, Rethymno
You probably haven't seen much of Chania if you've followed this itinerary and done all the attractions near, but not in, this old Venetian port city. So have yourself a leisurely morning exploring Chania and then head off to Rethymno whenever you're ready – today's a pretty chilled day.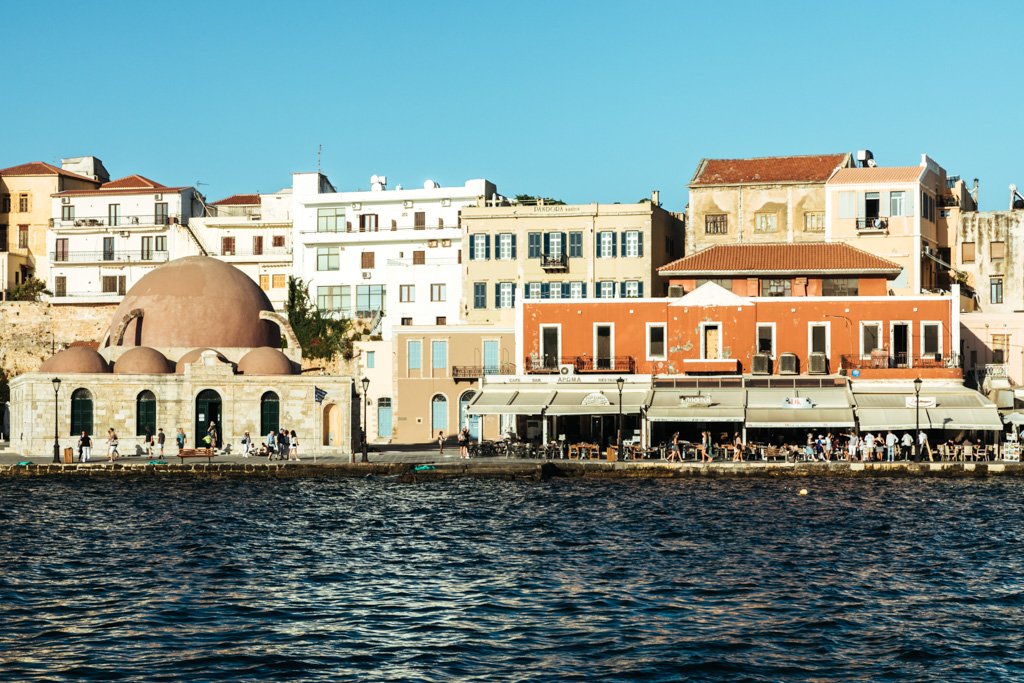 Chania
Chania is known for its picturesque Venetian port, which makes for a delightful stroll. There's a lighthouse, fortress, and mosque along the waterfront, which I found to be a bit on the touristy side.
Old Town Chania is also worth a wander. Explore its cobblestone lanes and old excavation sites, and be sure to stop for coffee at Monogram – easily the best coffee I found in all of Crete.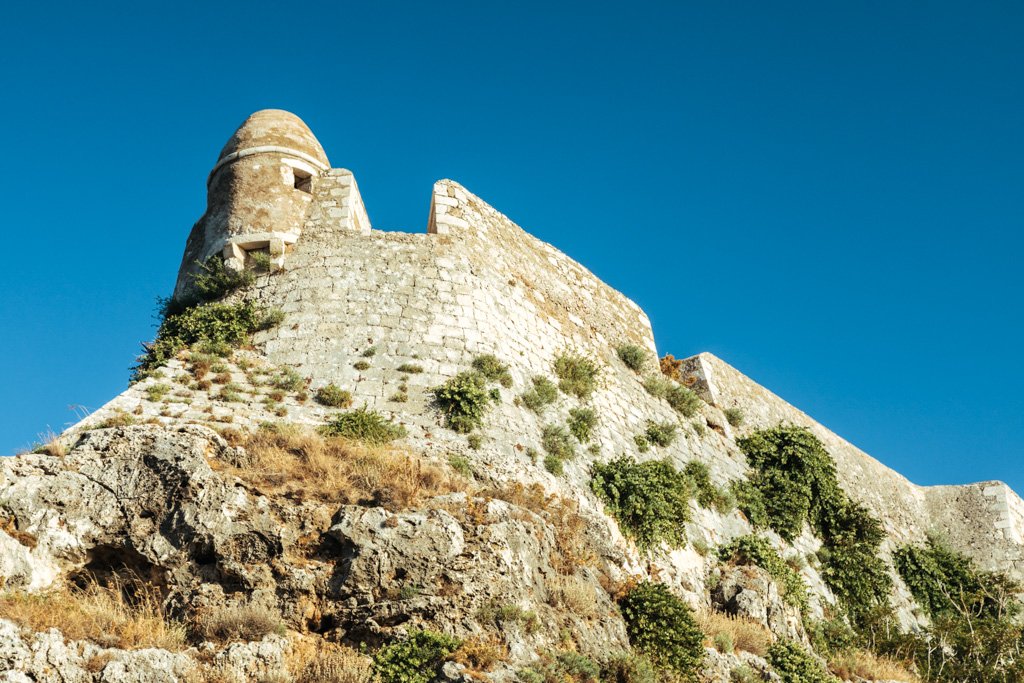 Rethymno
Rethymno (aka Rethimno or Rethimnon) is similar to Chania in that it's got a port, an old Venetian fortress, and a smattering of churches. However, I enjoyed frolicking around Rethymno SO much more. It felt much less touristy, and its streets are just so pretty. I really wish I'd had more than just a couple of evening hours to explore, but you won't make the same mistake since you've got 3 nights in this town.
Pro tip: Eat dinner at Nyn & Aei and order Grandma's Special (SO GOOD).
Day 6: Preveli Beach
Preveli Beach is one of two palm tree beaches on Crete and it's a beauty!
It's a 45 minute drive south from Rethymno and wow, the end of that drive through the gorge is absolutely gorge(ou)s.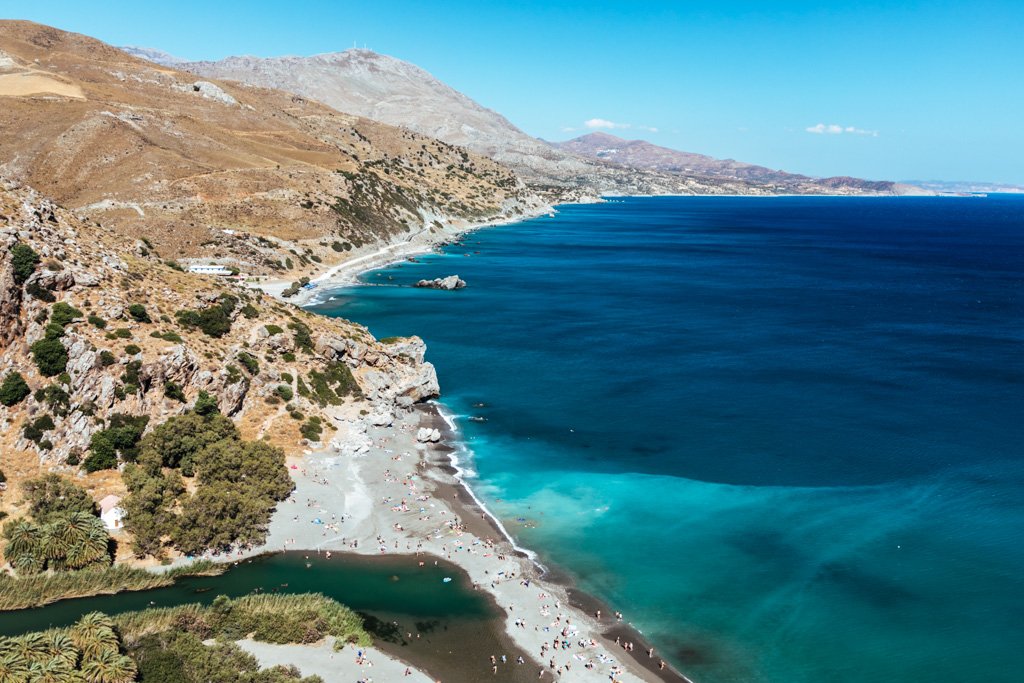 It costs €2 to park in the beach parking lot, which is more than worth it for the bird's eye view of the beach and coast from above. You can see the river flowing through the palm trees and into the sea, and the small strip of sand comprising the beach.
From the parking lot, you walk down a steep set of stairs to the beach (flip flops are fine). The main attraction here is definitely the palm river, which is where most of the beach-goers will be hanging out, swimming, and floating. You can also walk along the foot trail on either side of the river.
Day 7: Monastery of Arkadi, Margarites, Melidoni Cave
On this day, you'll hit a varied collection of sights and things to do in Crete Greece. Feel free to hit any or all of them, depending on your interests.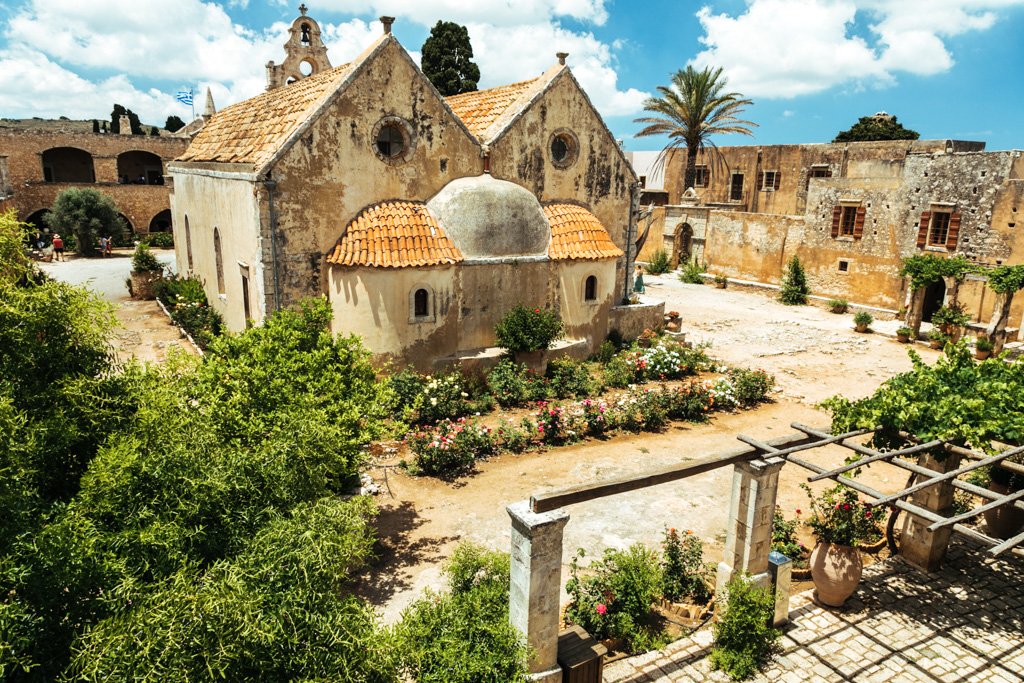 Monastery of Arkadi
Arkadi is one of Crete's more impressive monasteries (and not just because there are cats roaming around!). It's got serious Spanish vibes and is just so colorful and and plant-filled. Admission is €3, and it's well worth the price IMO.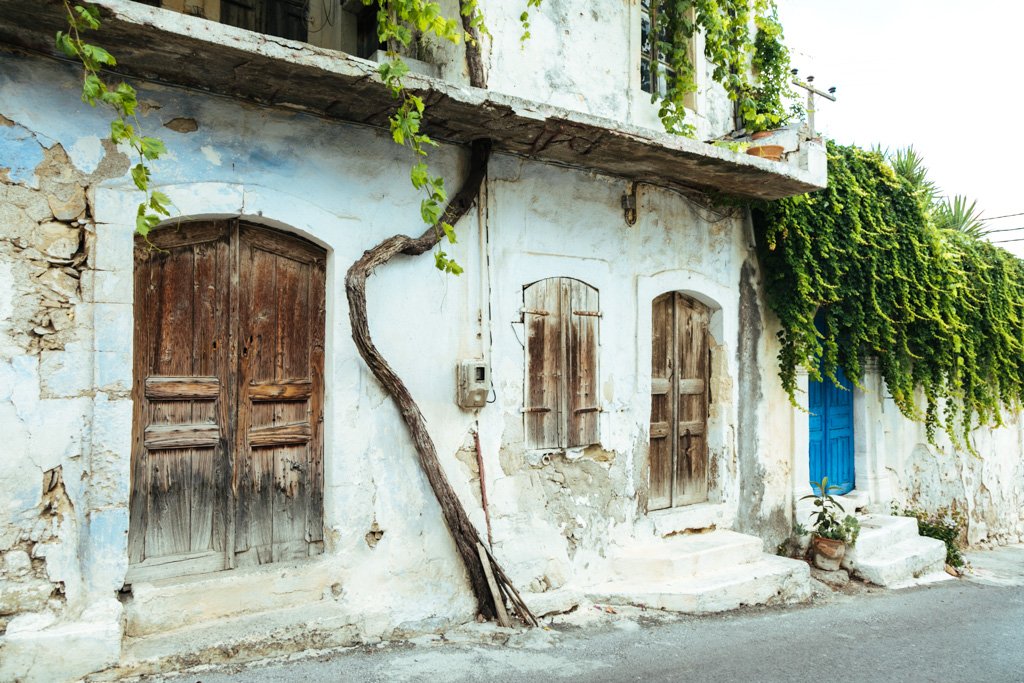 Margarites
Margarites is a village set in the mountains that's known for ceramics. Roaming its colorful narrow streets is such a joy – and you're likely to see ceramic items displayed outside most every building.
Try to arrive in the morning, though, as tour buses do stop here around lunch time. Without the tourists around, it really feels like an authentic Cretan village.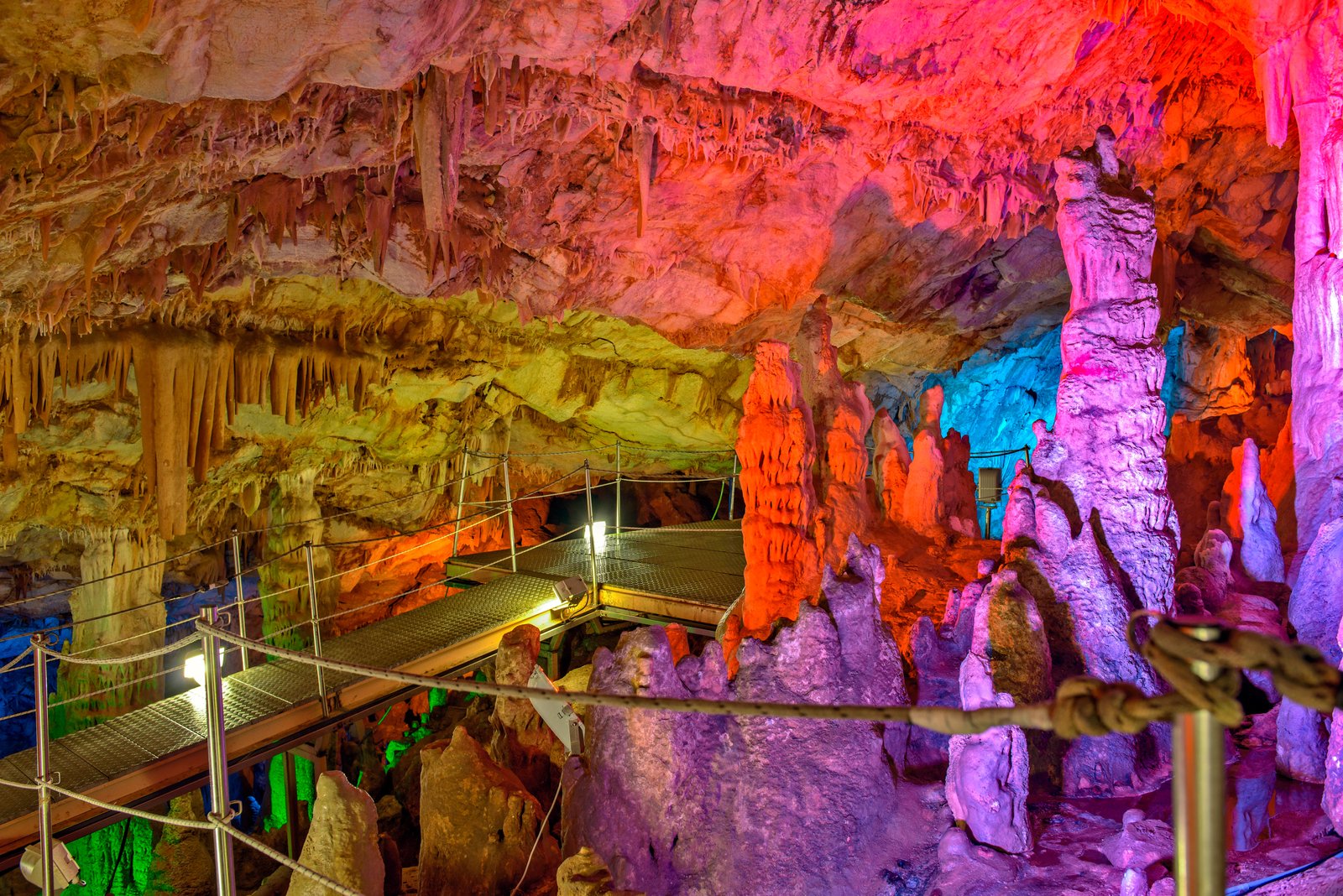 Melidoni Cave
Crete has a few cool caves you can visit; probably the least touristed one is Melidoni Cave, a 45 minute drive from Rethymno.
Melidoni Cave is infamous for the massacre that occurred here, where a few hundred villagers were trapped inside by the Turks and left to suffocate to death. Your €4 admission lets you tour the cave chambers and ogle the stalactites hanging from the ceiling.
Day 8-9: Stay in Matala
On Day 8 you'll be driving south to Matala, an old hippie beach town about 1.5 hours southeast of Rethymno. I enjoyed the hell out of my day here and wish I'd had more time to spend in Matala, hence why I've given it 2 days in this itinerary. You'll thank me later, promise!
CLICK TO BOOK A HOTEL IN MATALA
Day 8-9: Matala Beach, Red Beach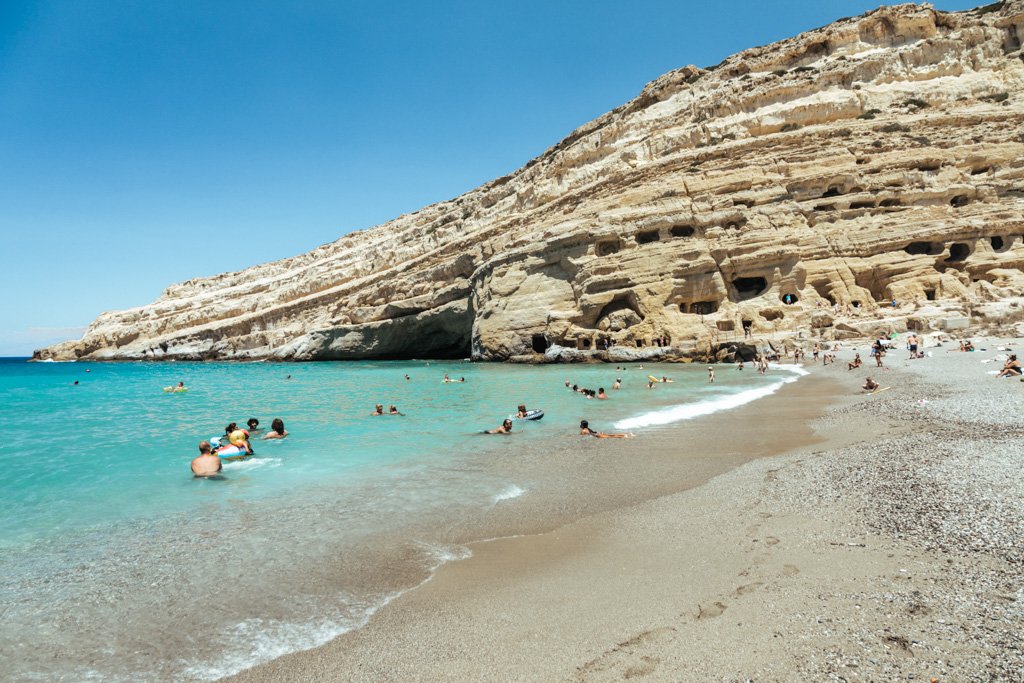 Matala Beach
Matala is known for the little caves carved into the rock on its southern headland. Originally used as graves, they were later turned into hippie dwellings in the 1960's. Today you can access these caves if you pay €3 to the locals manning it, or you can opt to swim out and climb up to them from the sea.
Matala Beach itself gave me some serious Thai vibes, particularly at the reggae bar and restaurant I lunched at. It's a great spot to just BE, you know? But if you get the itch to DO things, there are backstreets to explore and another beach to hike to…
Red Beach
Red Beach is accessible only by foot or by boat, which keeps it delightfully free of crowds. You can reach it within a half hour via two different hiking trails from Matala (just look out for signs in town pointing toward Red Beach). You'll definitely want to be wearing sturdy shoes for this.
Once you make it over the headland, be sure to stop to admire the fantastic view of the beach and coast.
Red Beach is more orange than red, but still very pretty. Also, this is where I lost my drone, so instead of relaxing on the beach, I was frantically sweating up a storm while hiking several headlands down to retrieve it. Ah well! Sunset from the trail was pretty stellar, at least.
Pro tip: Red Beach is clothing-optional, so be prepared to see a little more skin than you might be used to.
Day 10-11: Stay in Heraklion
After a week and a half of traversing the western half of the island, you've finally made it to the island's capital city. You could book a hotel in Heraklion, but personally I opted to stay in an Airbnb just outside of the city. I absolutely LOVED my Airbnb and would 100% recommend, but I believe the minimum booking is for 7 nights so it may not fit into your itinerary if you follow this guide.
I'd definitely advise staying outside of the city if possible, as the countryside here is SO pretty and dotted with vineyards and adorable villages.
CLICK TO BOOK AN AIRBNB AROUND HERAKLIONN & SAVE $40 ON YOUR FIRST BOOKING
Day 10: Phaistos Palace, Archaeological Site of Gortyna
Today you're driving from Matala to Heraklion, which is about an hour nonstop, but! You're probably gonna wanna stop to check out some Minoan ruins, so this drive should take you about half a day.
Phaistos Palace
I really enjoyed wandering the ruins of Phaistos Palace, which were actually more than just rubble. These ruins actually have more substantial remnants of the palace: with walls, columns, large staircases, and giant urns, I could actually imagine what the palace must have looked like.
Tickets for Phaistos are €8.
Archaeological Site of Gortyna
Gortyna (aka Gortys or Gortyn) is another archaeological site worth stopping for en route to Heraklion. It was once the capital of Crete, but today only a fraction of the old city has been excavated.
I did not visit Gortyna, but based on reviews I read, there wasn't as much preserved at this site as there was at Phaistos… which is why I opted to visit Phaistos instead. Tickets for Gortyna are €6.
Day 11: Heraklion, Knossos Palace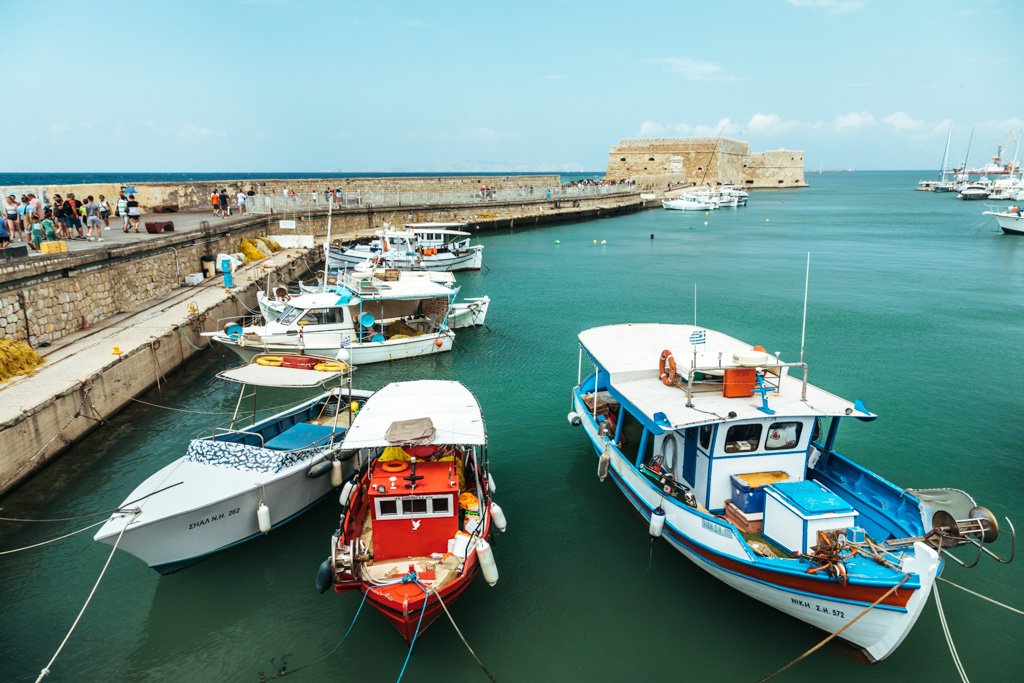 Heraklion
Heraklion (aka Iraklio) is the capital of Crete and yet another city on the island with a Venetian port and fortress. I'd say it's worth spending time in if shopping or clubbing are priorities for you; otherwise, just hit up the Archeological Museum. It's considered one of the most important museums in Europe and houses pretty much all of the art and artifacts that have been found at Crete's archaeological sites (e.g. Knossos, Phaistos, Gortyna).
Tickets are €10, or €16 for a combined ticket with Knossos.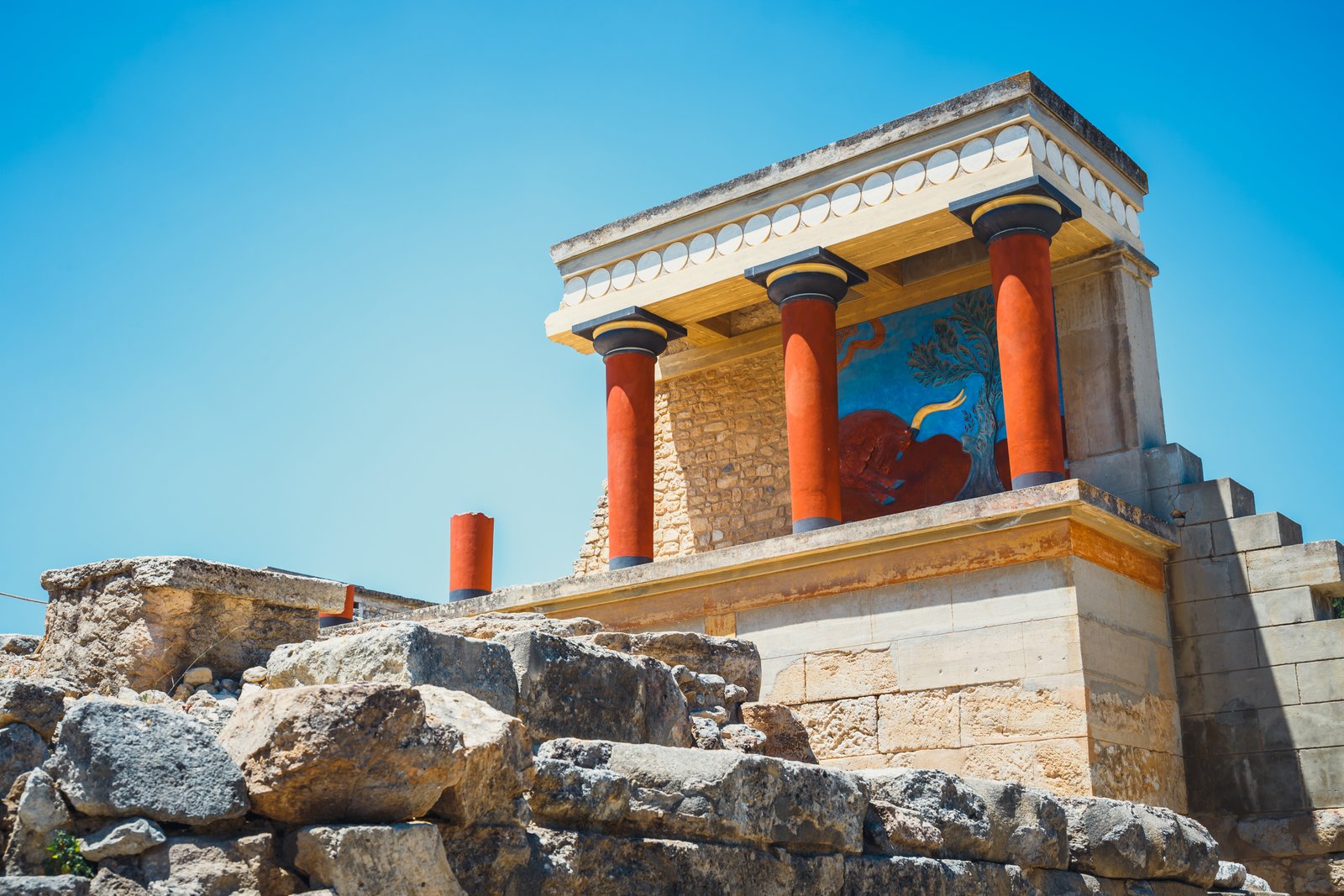 Knossos Palace
If you've seen photos of any of the ruins in Crete, then you've likely seen the one with some color – that's Knossos Palace.
And here's the thing: that color was added by the British well after the Minoans occupied the palace, in an attempt to restore the archaeological site in the early 1900's. These archaeologists basically made their best guess at what the palace must have looked like in its heyday and rebuilt some of it. So what you see today is NOT what Knossos Palace actually looked like originally.
I read a lot of reviews that lamented the lackluster restoration and the unrelenting crowds at this site, and ultimately decided I didn't want to visit. But SO many people do, and it's one of the top things to do in Crete, so definitely feel free to go and see it if you want to. Tickets are €15, or €16 for a combined ticket to the Archaeological Museum of Crete in Heraklion.
Pro tip: If you're not feeling Knossos, head to the nearby Douloufakis Winery instead to sample some top notch Cretan wines!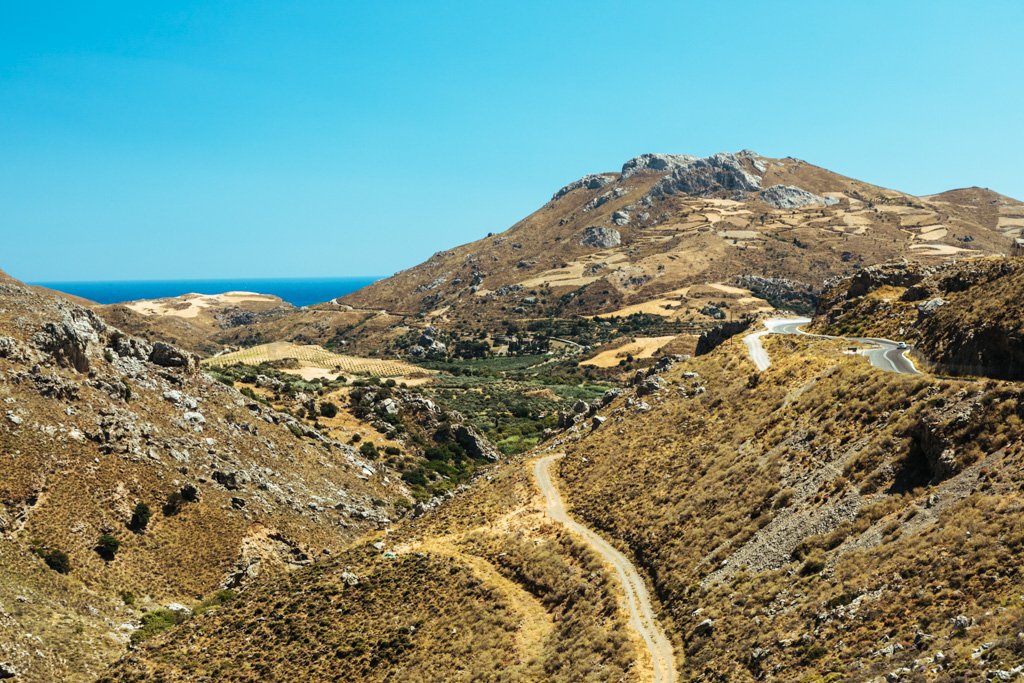 Day 12-14: Stay in Agios Nikolaos
I'd classify these last few days as optional. By this point, you've already seen amazing beaches, caves, and ruins – in my opinion, the ones on the eastern end of Crete aren't quite as impressive as the ones found elsewhere on the island.
But hey, if you've got the time and you're eager to see all of the things, then read on for some adventures in East Crete!
CLICK TO BOOK A HOTEL IN AGIOS NIKOLAOS
Day 12: Psychro Cave, Malia Palace
It's about a 50 minute drive from Heraklion to Agios Nikolaos, but it'll take you longer with a few stops:
Psychro Cave (Cave of Zeus)
Legend has it that Zeus was born in Psychro Cave, and for that reason it's become the most popular cave to visit in Crete. It requires an uphill walk and then a 200-stair descent to get into the cave.
Psychro Cave is about a 1.5 hour drive from both Heraklion and Agios Nikolaos and tickets cost €6.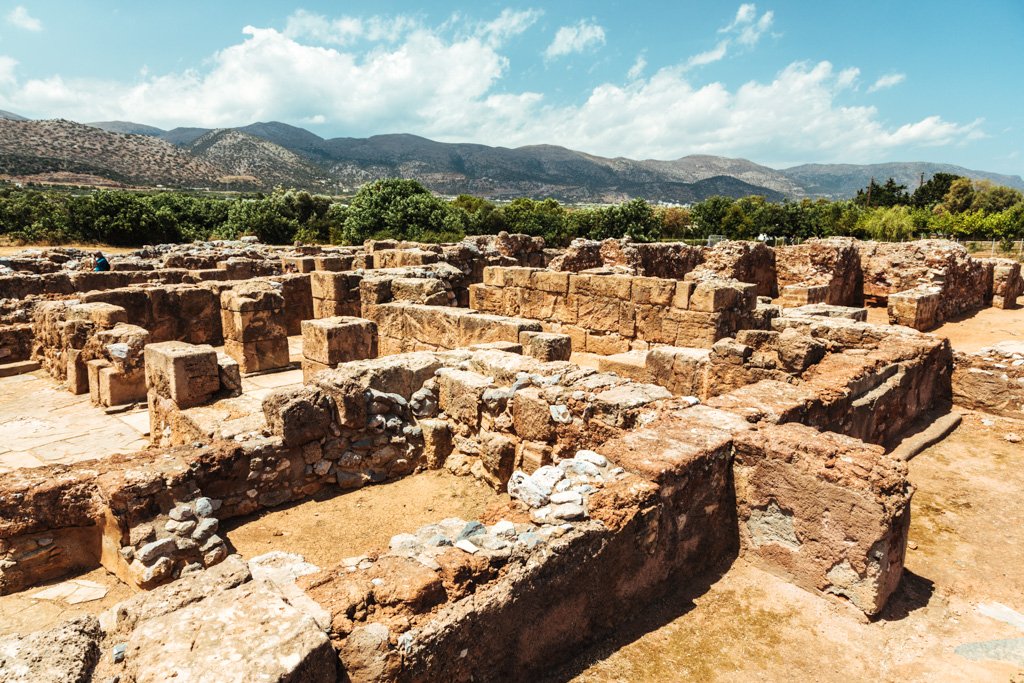 Malia Palace
Malia is yet another archeological site in Crete. All that remains of the palace today is a bunch of orange rock rubble, and for that reason I wouldn't really recommend visiting if your time is limited (but if you're all about the ruins, then by all means!).
Tickets to Malia cost €6.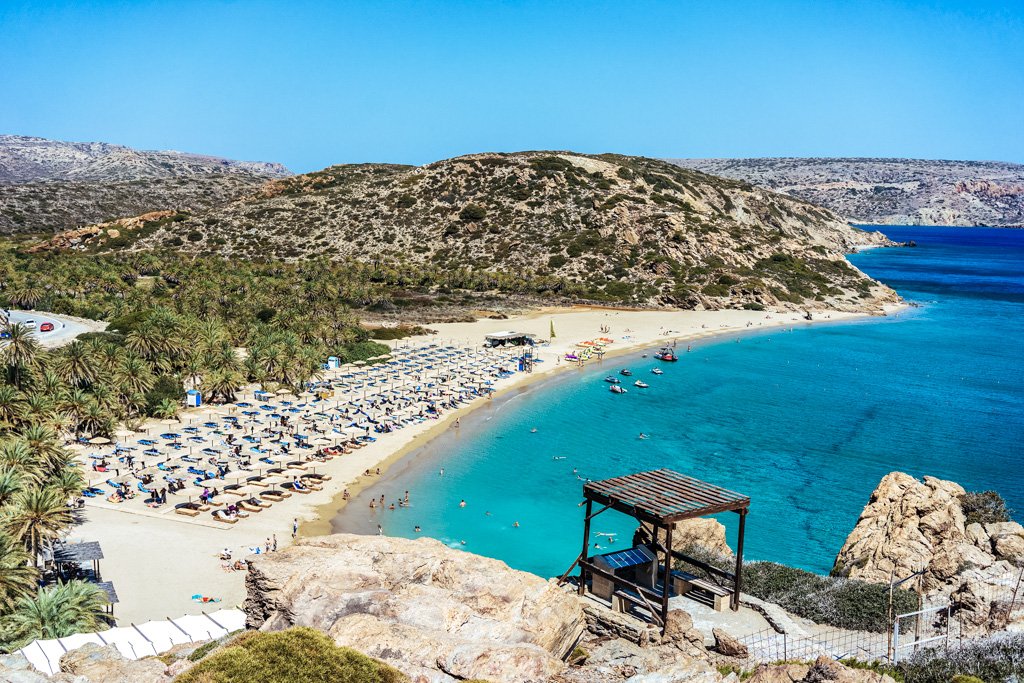 Day 13: Vai Beach
Vai Beach is the other palm tree beach on Crete, and since it's a 2 hour drive from Agios Nikolaos, you'll want to give it a full day.
Vai Beach is renowned for its palm tree forest, which is apparently the largest one in Europe. It's understandably popular, so you'll want to get here as early as possible if you're visiting in summer. It costs €2,50 to park in the beach parking lot.
Day 14: Agios Nikolaos, Gournia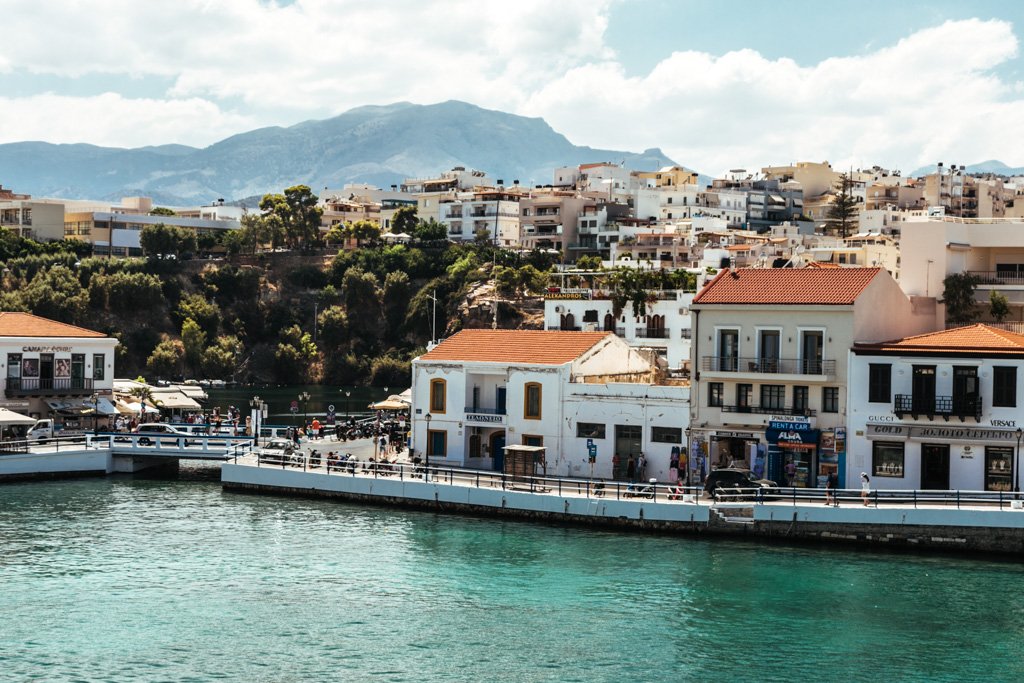 Agios Nikolaos
Agios Nikolaos was put on the map thanks to some 1960's Hollywood movies. Today, this cosmopolitan seaside town is somewhat of a tourist hub – but don't let that deter you, it's a pretty enjoyable place for a waterfront stroll. There are a couple of small beaches along the water where locals will likely be sunbathing.
You might also consider taking a boat trip out to Spinalonga, an island housing some of Crete's most-visited ruins.
Pro tip: Order some fish at the local restaurants (whatever is caught that day) – Agios Nikolaos is known for their delicious seafood. I made the mistake of ordering one of the catches of the day at a restaurant which wasn't listed on the menu and it ended up costing me €40 – oops! But it was easily some of the best fish I've EVER eaten in my life, so I'd say it was worth it.
Gournia
Here we have yet another Minoan town turned to ruins… and this one is well worth a visit (sadly it was closed the one day I was in the area, so I didn't get to see it).
Gournia is considered one of the best-preserved old settlements in all of Greece, and though all that remains of the old palace is its foundation, you can clearly make out where everything once stood. A few sources I found online noted that the site looks like a complete city plan from above.
So if your time or patience for ruins are limited, I'd go with Gournia as one of the few archeological sites you stop for when you visit Crete.
Pin it!