I'd be lying if I said I didn't spend 4 weeks traipsing around the Greek islands on a quest to find the most beautiful beaches Greece has to offer. However, Crete was the one island I visited where I didn't expect beaches to be a focal point of my experience.
What I learned was that Crete is somewhat of a renaissance man (y'know, if it were an actual human). It does so many things so well: palaces, monasteries, food, villages, wine, castles… and yes, beaches.
Crete beaches are absolutely stunning! And many of them are quite unique, as you're about to see.
Here are what I consider to be the 10 best beaches in Crete:
West Crete Beaches
Elafonissi Beach
I know it's usually better to save the best for last, but you know what? We're gonna kick this list off with a bang because Elafonissi Beach is one of the best beaches in Crete, possibly even THE best.
Why? 3 words: PINK SAND BEACH.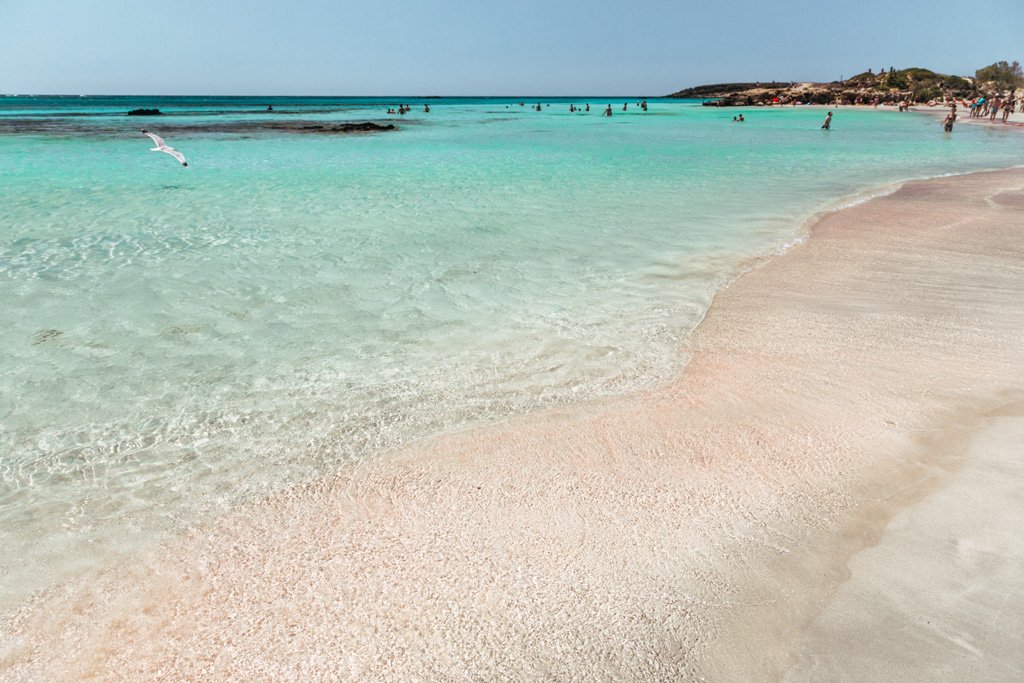 Oh my goodness, Elafonissi Beach is practically textbook paradise. You've got a tropical beach backed by mountains, with a side of a Whitsundays-esque lagoon, topped with specks of pink sand throughout.
Being a semi-professional beach bum, beaches in general tend to bring out the heart-eyed emoji in me. But I swear to you, this was a whole other level of beauty.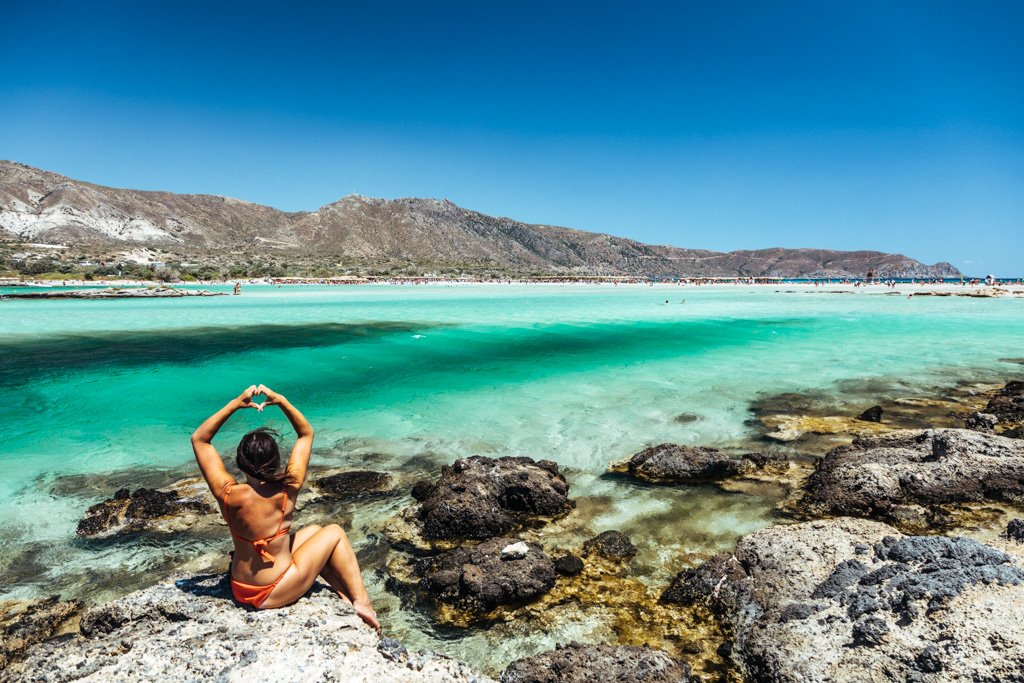 Elafonissi was SO incredibly crowded and windy when I visited, conditions which normally make me want to run away immediately. But I was so taken with the beauty of this place that it was effortless for me to drown all that out. I'm all about the pink, white, and blue – the brighter the better!
Fellow introverts, take note: all you have to do is start walking around the lagoon and you'll escape the other beach-goers in no time ;)
Falassarna Beach
Falassarna Beach isn't the most jaw-dropping beach in Crete, but it's solid. You can't go wrong with a long, golden-sand beach that has some of the clearest water imaginable. It sits on the west coast of Crete and is a popular spot for watersports like jet skiing and surfing. I also spotted someone paragliding off the mountains onto the sand – what a place for it!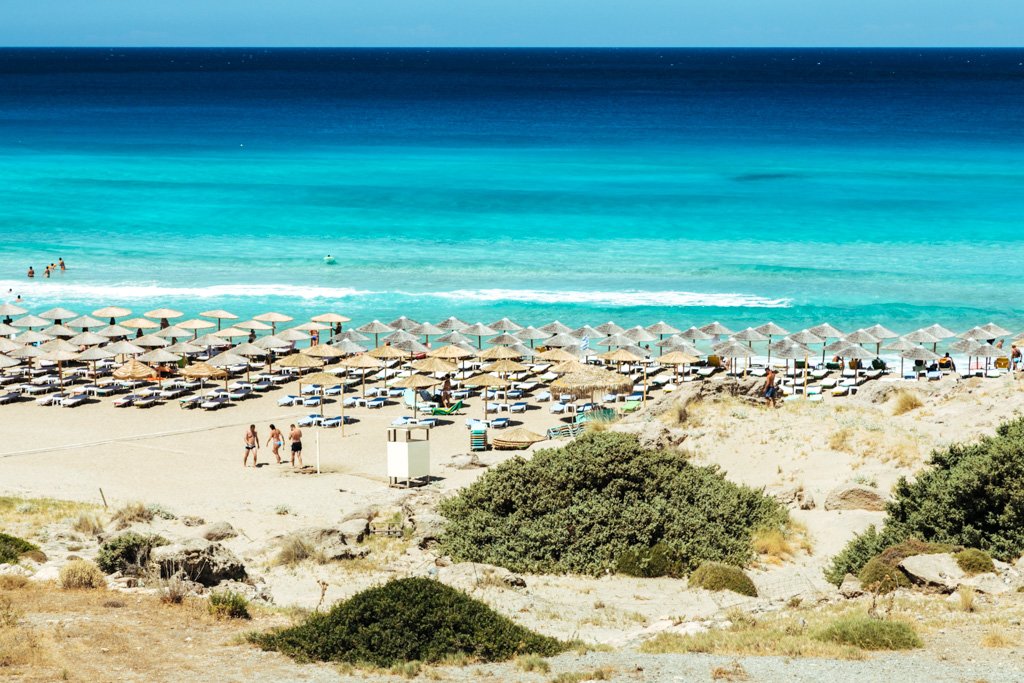 Falassarna is a popular local beach as it's not very touristy, has plenty of beach chairs and umbrellas for rent and cafes nearby, and isn't out of the way like many of Crete's other beaches are. I actually based myself in Falassarna for a few nights and explored the nearby west Crete beaches from there, which I'd definitely recommend doing.
Balos Beach
Balos Beach (or Balos Lagoon) is definitely one of the top beaches in Crete. It's highly recognizable from its epic view from above: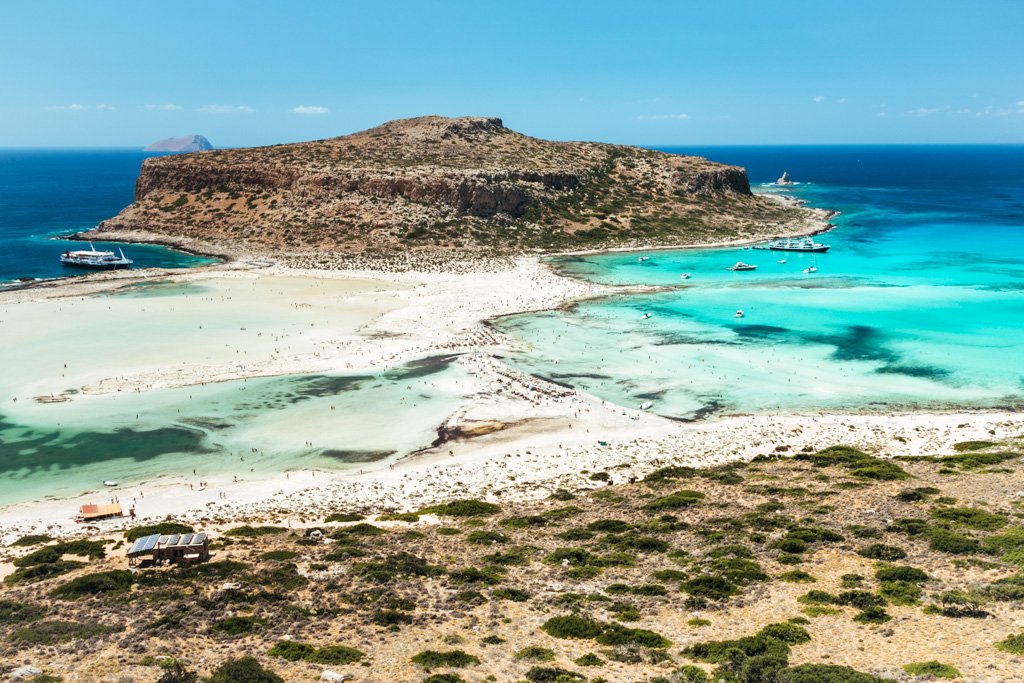 The picturesque lagoon is shallow throughout, generally at an ankle-to-knee deep level, and warm as bath water. Outside the lagoon there are beach chairs facing the sea, which is where you'll want to go if you want to do any substantial swimming.
Personally, I wouldn't lay out here, as the view is nowhere near as glorious as it is from the lagoon. I'd recommend laying out around the lagoon away from, but facing, the beach on the sea side. I parked myself on a little sandbar in the middle of the lagoon and it was glorious.
Oh, and did I mention that Balos Lagoon is another pink beach in Crete? It wasn't quite as pink as Elafonissi, but you can see some pink bits of shell mixed in with the white sand in some places.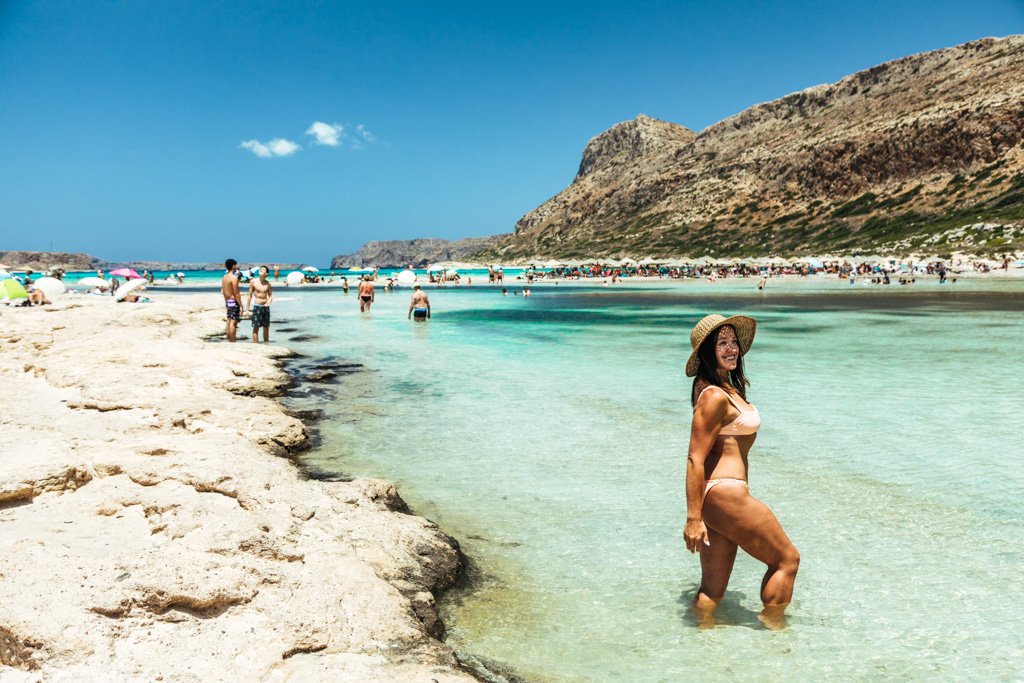 Note that there is a modest €1 fee payable at the gate entrance, and then it's a 30 minute slow drive down a very rocky road. Watch out for the goats in the parking lot!
If you visit Balos Lagoon, here are some tips I'd highly recommend following to maximize enjoyment:
Plan on taking it slow on the drive in. The road leading to the parking lot is rocky and a bit dodgy, but definitely doable in a small rental car. Count on a 30 minute drive from the entry gate.
Get there as early as possible (by 10am at the absolute latest). The ferries/boats drop off loads of people at 12pm and 2pm, at which point the crowd swells to an unbearable level.
Bring good walking shoes – you'll need the traction and support for the steep rocky hike down to the beach.
Seitan Limania Beach
Coming off the west coast and heading just past Chania, you'll find one of the best beaches in Crete: Seitan Limania Beach.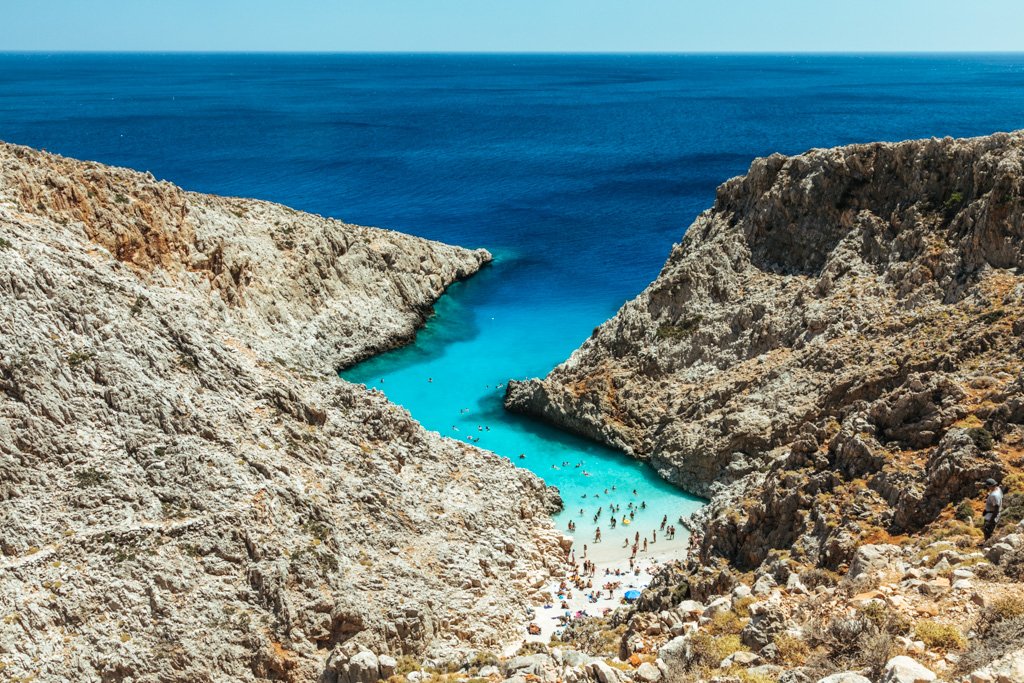 This one's another Crete beach famous for its aerial view. It reminded me a lot of the fjord-like Calanques in France.
It's a proper hike down to the beach, but well worth the effort to reach this beautiful little inlet with some of the clearest water around. The beach has white pebbles rather than sand, and plenty of cliff jumping opportunities from the surrounding craggy rocks.
If you visit Seitan Limania, here are some tips I'd highly recommend following to maximize enjoyment:
The road leading down to the beach parking lot is extremely steep and switchbacky, but paved – you'll be fine, just breathe and take it slow!
Aim to arrive as early in the day as possible to avoid the crowds. Not only that, but the parking lot is so tiny that if you arrive late you'll likely end up having to park on the very steep road leading down to it, which is a wee bit nerve-wracking. If you do have to do this, angle your tires away from the edge and stick rocks behind all of your car's tires in case it slides.
Bring good walking shoes – you'll need the traction and support for the steep rocky hike down to the beach.
South Crete Beaches
Frangokastelo Beach
Frangokastelo stands out from the other South Crete beaches for its well-preserved Venetian castle. How many beaches do you know that have an old castle sitting next to it?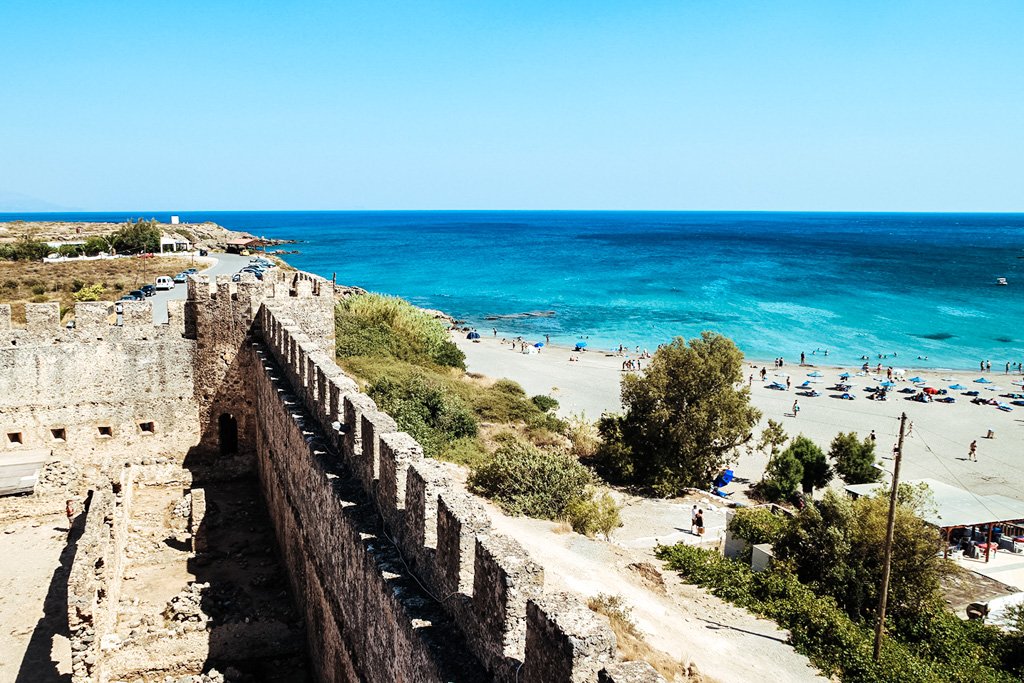 Photo credit: Elizabeth Estate Agency.
There's a lagoon on one side of the beach, ideal for sheltered swimming.
Next to Frangokastelo are two other beaches worth a visit: Orthi Ammos for its sand dunes, and Vatalos for its good snorkeling.
Preveli Beach
Preveli is one of two "palm tree beaches" in Crete. The drive in through the gorge is absolutely stunning, perhaps worth the drive even without stopping at the beach.
From the beach parking lot (which costs €2 to park in), walk around the fence on the beach side for the most stunning view of the coastline from above.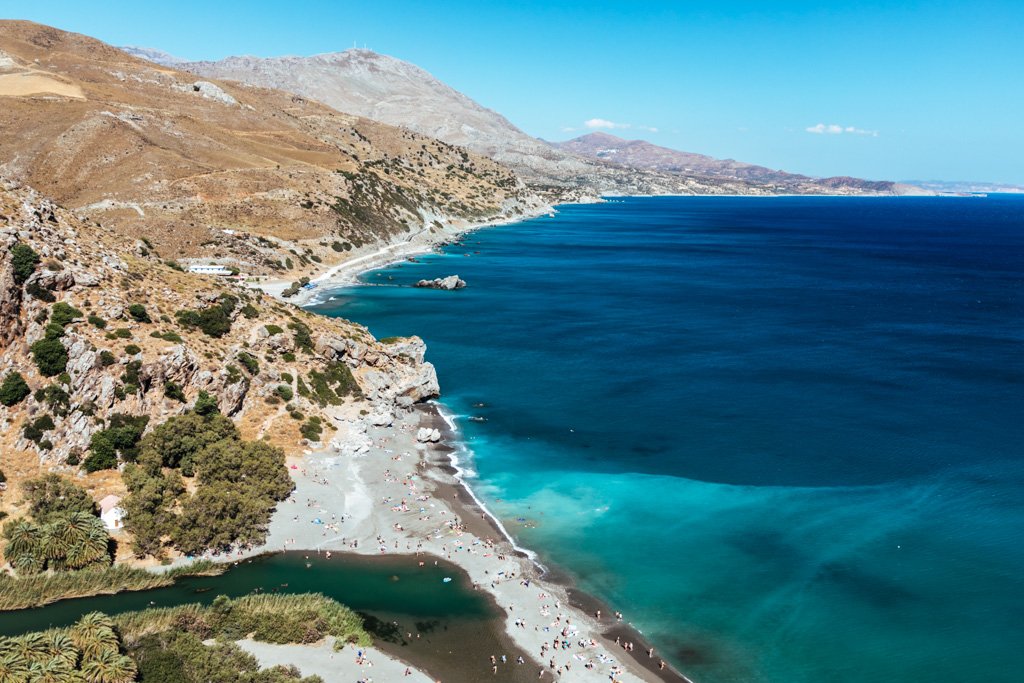 Preveli is a gray sand beach backed by mountains, with a palm tree-lined river flowing through it that feeds into the sea. It's easily accessible by a very-long set of stone stairs (i.e. you're fine to walk down wearing sandals)
The highlight here is definitely the river rather than the beach, which you can explore via the palm walk along either side of it, or by swimming or floating down it. There are small beaches and boulders on the sides of the river where you can sunbathe or enter the water.
Whichever way you choose to enjoy the river, be sure to look up and marvel at the fact that you're surrounded by mountains and palm trees simultaneously. It's such a cool and unique landscape!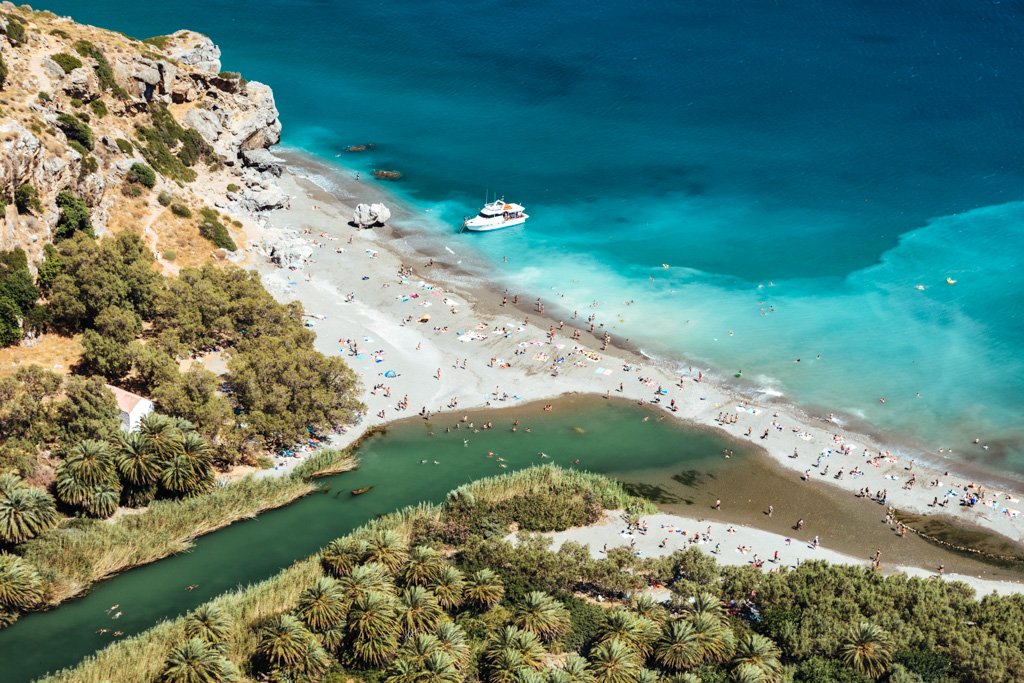 Matala Beach
I LOVED this little hippie beach town on the south coast of Crete. Legend has it that hippies used to live in the little rock caves that are dug into the headland. Today, you can either pay a modest fee to tour them, or you can swim out to them and climb up without paying.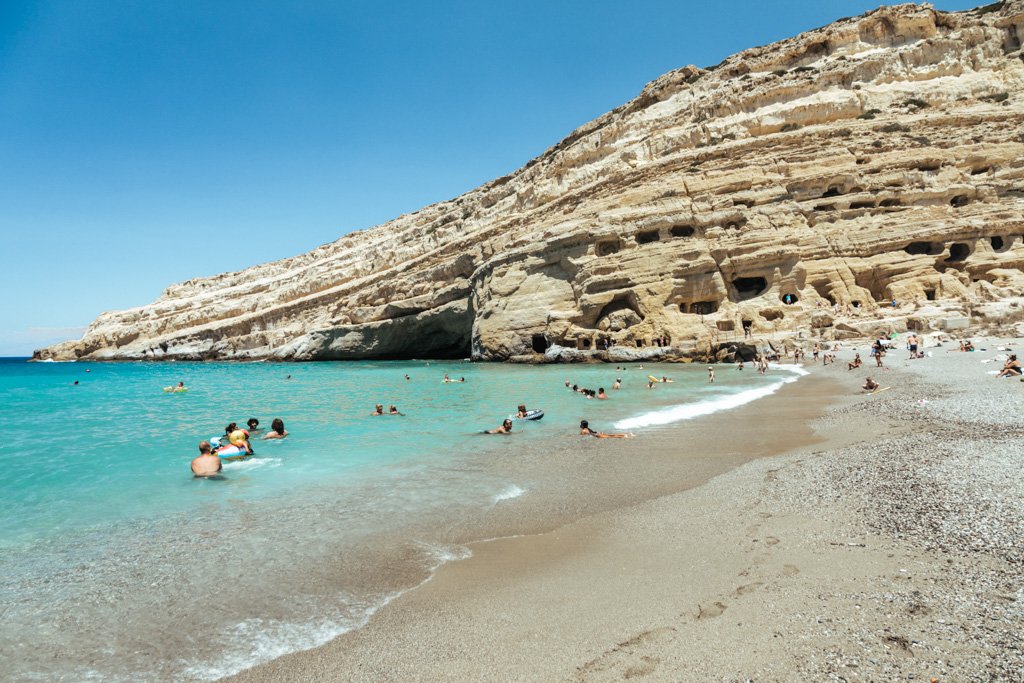 Matala Beach has some serious Thai vibes, with restaurants lining the sand and reggae music blasting. Away from the beach it feels much more Greek with its cobblestone side streets and souvenir shops.
Red Beach
In addition to pink sand beaches, there's also a red beach in Crete – very creatively named Red Beach. It's accessible on foot from Matala via a hiking trail (actually, there are two trails – both of which are signed and well-trodden, so you won't get lost; vague directions here).
Red Beach is more orange than red, and it's more known for being a nude beach than anything else. Since you can only reach it on foot or by boat, the beach is blissfully free of crowds.
Definitely pause at the top before you start walking down to the beach – the view of the coastline from the headland is so stunning. But maybe don't try to fly a drone from here (I lost mine to the wind but thankfully was able to recover it a mile away).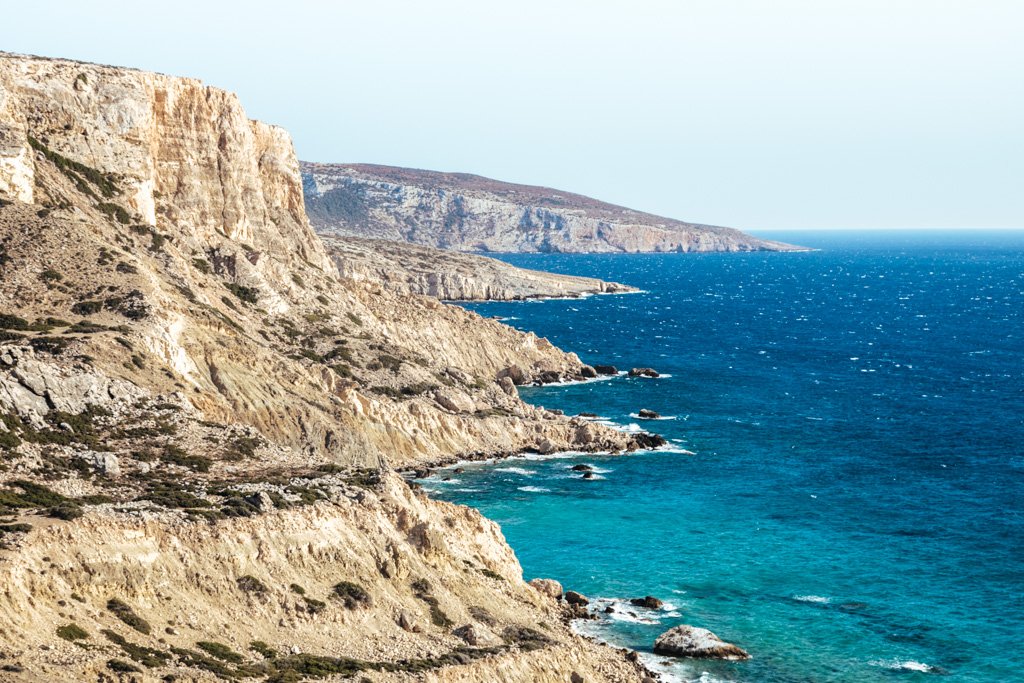 East Crete Beaches
Vai Beach
Vai Beach in Crete is the other "palm tree beach" on the island, apparently home to the largest natural palm forest in Europe. As it sits on the east coast, it's quite far away from the rest of the island and its other main attractions, so this beach isn't quite as busy as many others.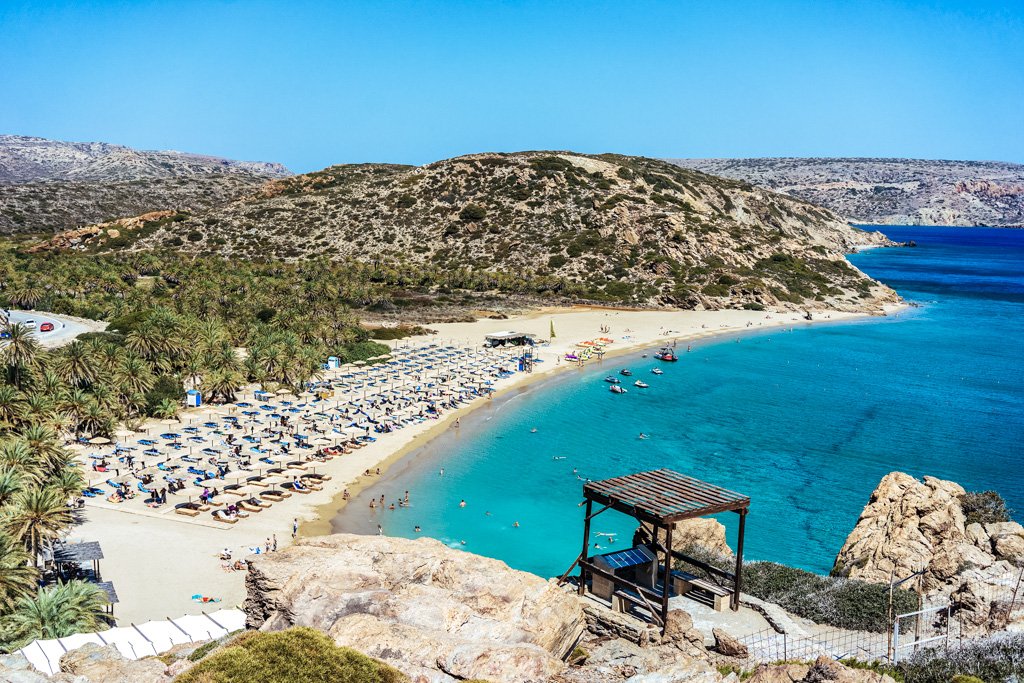 Apparently the hippies from Matala discovered Vai Beach in the early 1970's and turned it into a perma-campsite. Then in the 80's, Vai was made a protected area and cleaned up from the mess the hippies had left behind.
Voulisma Beach
Voulisma Beach isn't as well known as most of the others on this list, but of course that's part of its appeal 😉
There aren't many drool-worthy beaches on the north coast of Crete, but Voulisma is definitely the most beautiful beach near Agios Nikolaos, boasting some of the most turquoise water around. The main drawback, though, is the rubbish that sometimes gets swept in on a windy day.
Pin it!