READ THE OTHER CARAVAN LIFE DIARIES MONTHLY RECAPS HERE.
The monthly recaps are back!
I used to love recapping my months back when I did my year on the Australian working holiday visa, and then the following year doing visa runs while on the Australian tourist visa. Maybe that's just because I was busy moving around Australia and doing so many different things that made my life exceedingly exciting… but I have to admit I do enjoy looking back at these monthly posts and reliving those memories, too.
I'm also a fan of these posts because I get to update you on what I'm doing in real time (or close to it), rather than months later when I finally get around to blogging about a certain place or experience. Writing about things while my memory is still fresh is probbbbably a good idea as well.

Wilsons Promontory.
So here's the story:
In December 2019 I met Pete, moved in with him during COVID, and convinced him to quit his job and travel around Australia with me (ummmm can you say literal dream come true?).
We bought an old Jeep and a really old caravan (we spent AU$16k in total on both, plus a few grand more on getting them serviced, fixed up, and road trip ready… so let's call it $20k, which is about US$15k).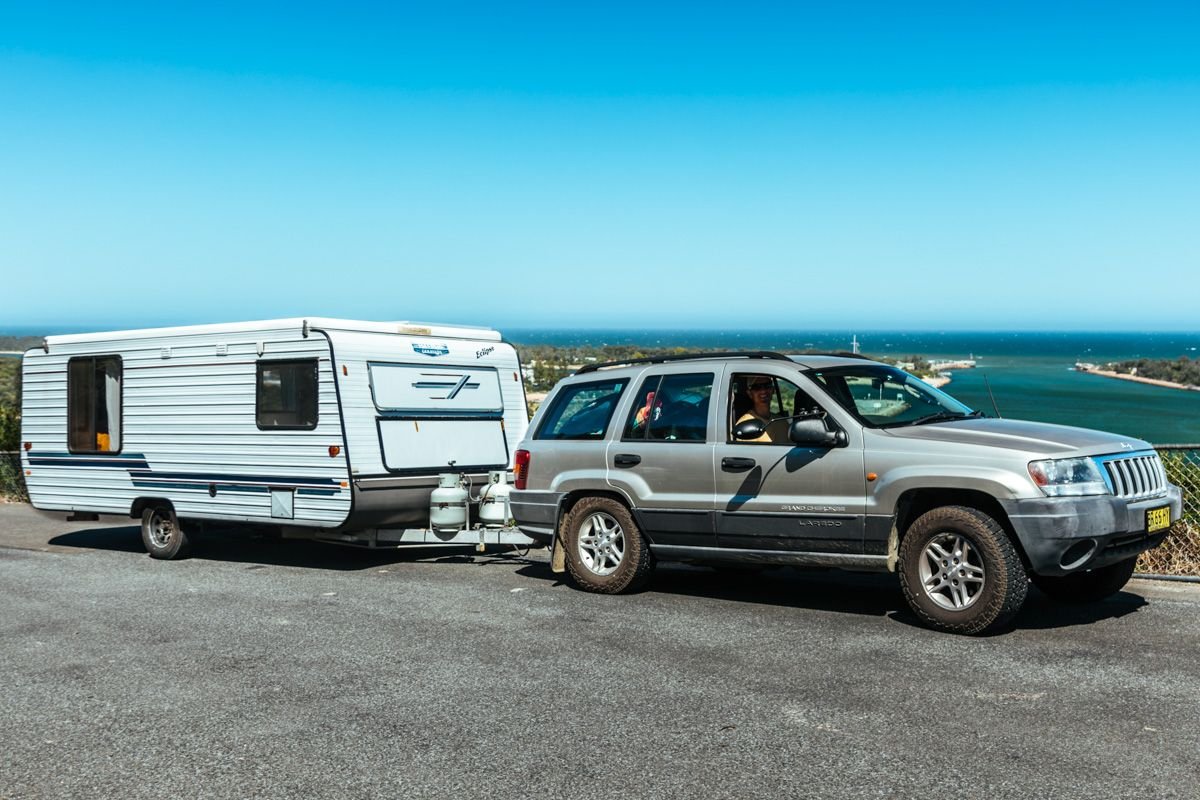 We left Sydney in October 2020 and temporarily moved in with Pete's parents in Canberra so that we could get everything ready for the trip. It took much longer than we expected, and one month turned into 3.5 months in the end.
We'd have started in January, but COVID outbreaks and border closures thwarted our plans, and we were also waiting on our caravan mattress to be delivered (apparently the warehouse shut down for like a month over the holidays, typical Australia!).
Finally I was like, enough is enough! We're never going to be 100% ready for this trip, our vehicles aren't going to be perfect, we can always buy more gear while on the road, COVID aint going anywhere so we're just gonna have to roll with the punches, and damnit all I want for my birthday on February 2 is to be at the beach.
So we committed to a February 1 start date. We're now one month in and approximately 700km (435mi) away from our starting point. The vehicles are still functioning without major issue (knock on all the wood). By all accounts, the road trip is off to a great start!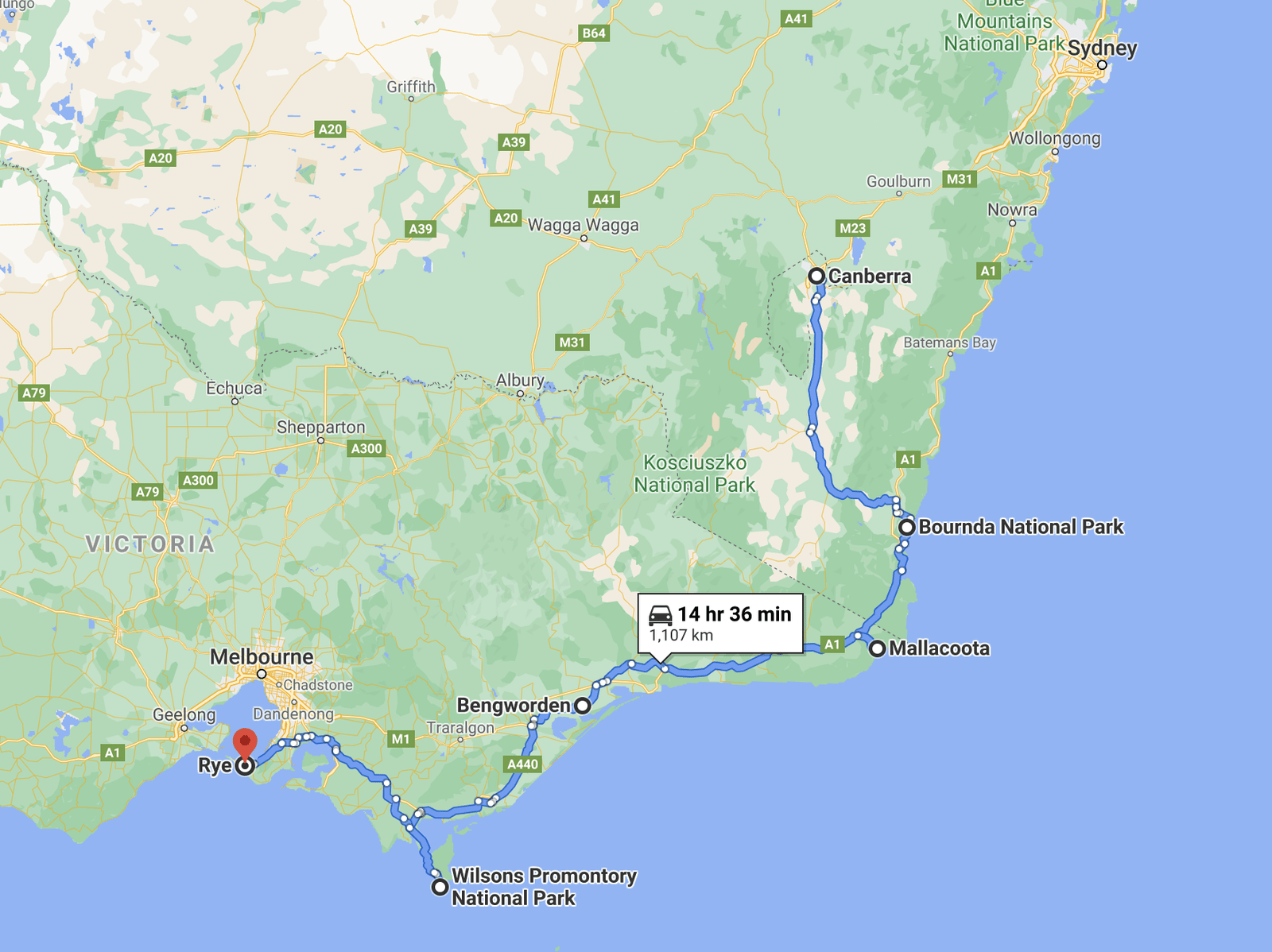 We have a general idea of where we want to go on this road trip, but we're not planning much too far in advance and we also don't know how long we're going to go for. We're planning to loop around the eastern half of Australia in a clockwise direction, and thinking it'll take 8-9 months or so to do it justice. But because we're working as we go, prefer to travel slowly, and like to linger in places we especially love, it could take longer. Who knows! Who cares!
Where We Went This Month
STATES TRAVELED: 8 days in NSW + 20 days in VIC
ACCOMMODATION COSTS: AU$900 (US$700) total on campsites
(I was going to include other expenditure, but it's too much hassle to keep track of what two people spend on groceries, fuel, etc).
Feb 1-8: Bournda National Park (NSW)
Kicking off on the NSW Sapphire Coast, we camped at Hobart Beach campground inside Bournda National Park (near Merimbula), one of my FAVORITE camps thusfar. First off, I'm still not over the fact that there are hot showers in a national park campground. Second, it was just a 5 minute walk to the beach from our site (and a 20 second walk to the lake), so close you can hear the waves crashing as you fall asleep at night. And third, this is one of those undertouristed gems you want to hold onto and hope that the crowds don't catch on (but at the same time you want to scream from the rooftops about how amazing it is).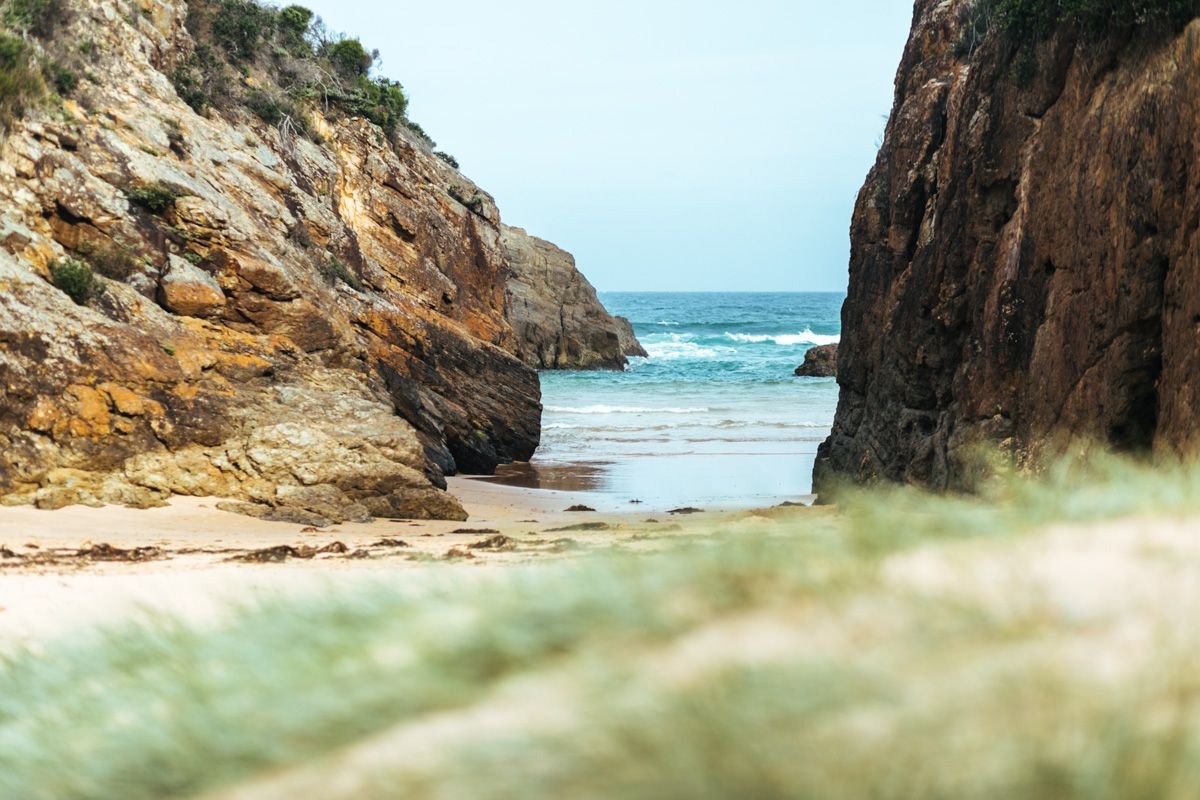 Wallagoot Gap.
We had a meter-long goanna (lizard) slithering around our campsite most days (one time I looked up from my hammock to find one directly underneath me!), and possums mounting our van most nights. I wish I had video documentation of both, but alas.
We walked part of the Kangarutha walking track (spans 9km from the north end of Bournda Beach to Tathra) before returning to Wallagoot Gap, a glorious secret beach wedged between cliffs that we happened upon on our last visit in January. We also walked from the campground to Bournda Lagoon and Pete got chased by psycho wasps the whole way home. The lagoon is so pretty though, it's tucked just behind the sand dunes and winds inland a bit – a great spot for sheltered swimming and paddling.
Feb 8-18: Mallacoota (VIC)
Mallacoota got hit really badly during last year's bushfires, so I was happy to pay a visit and support a town in need. Little did I know I'd be supporting it for 10 days, thanks to the 5-day lockdown that happened in Victoria shortly after we arrived.
I was surprised at how small Mallacoota actually is: the town is dominated by its lakefront caravan park (which apparently has around 700 campsites!), and the rest of it seems like an afterthought, really. There are two small overpriced grocery stores and just a handful of other establishments, many of which only open on weekends. In Victoria you have to wear a mask when in indoor public spaces, which means grocery shopping is a masked -up ordeal. I guess we've been lucky to not have ever had to wear a mask in our daily lives up until now!
My favorite find was Origami Coffee, a small hut just off one of the main streets serving up great coffee with really intricate foam art. I also loved buying from locals who set up shop on the street on certain days selling freshly caught fish. Oh and the Greek food truck! Definitely the most exciting thing happening in Mallacoota right now (and only open on Fri-Sun, of course).
We stayed at A'Wangralea Caravan Park just a few minutes' walk from the center of town, and I am SO glad we opted for this one rather than the ginormous foreshore holiday park. It's small and quiet and made for a nice little refuge during lockdown.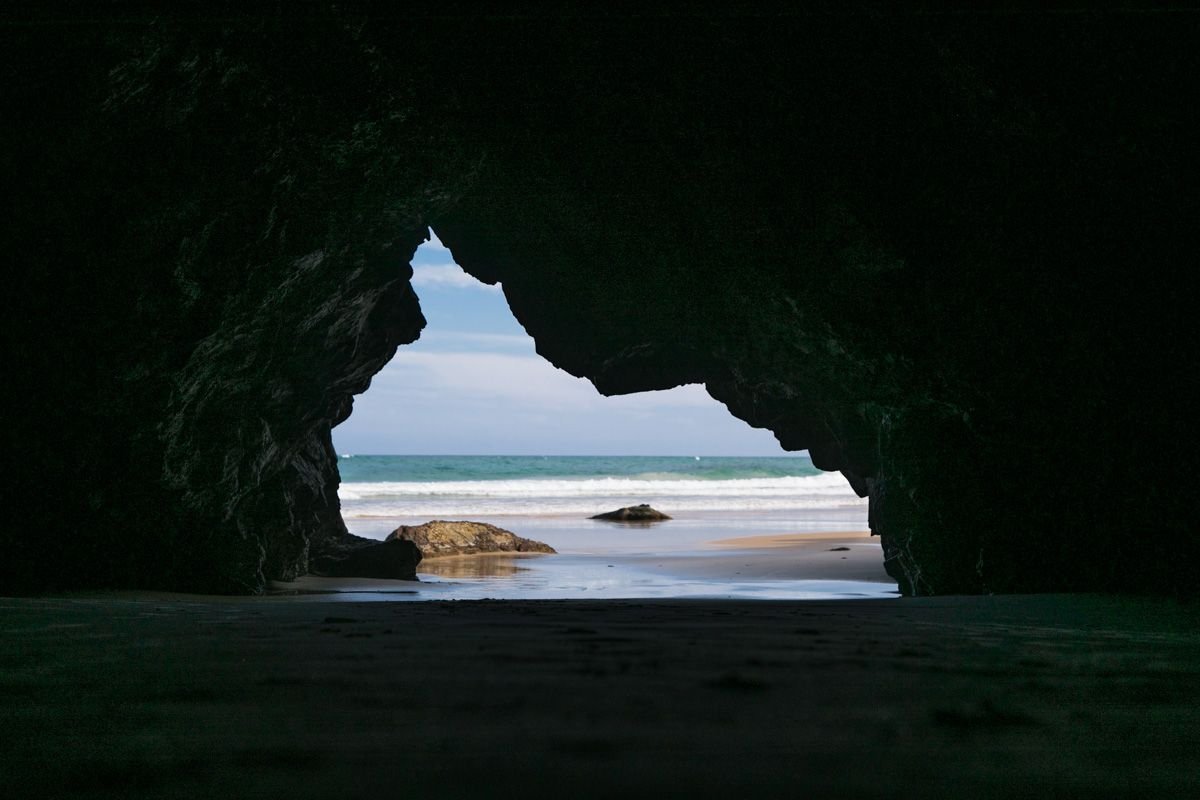 Secret Beach in Mallacoota.
Mallacoota's got a very picturesque waterfront with its maze of inlets and islands just offshore, and exploring them by boat is one of the top things to do here. As usual, I preferred to hit the beach, setting foot on several of them just south of town. Most of my time was spent at Quarry Beach, a very long stretch of beach with dozens of huge rocks just sitting in the middle of the sand at low tide. The only other people we encountered there were those walking their dog back and forth – mostly we had the beach alllll to ourselves.
Feb 19-20: Gippsland Lakes (VIC)
The lockdown stripped us of 5 extra days around Gippsland Lakes, but after spending a full day there I kind of don't mind that that's all we had to explore the region. Not that it isn't great… I just feel like there are far nicer beaches and lakes to see in this country.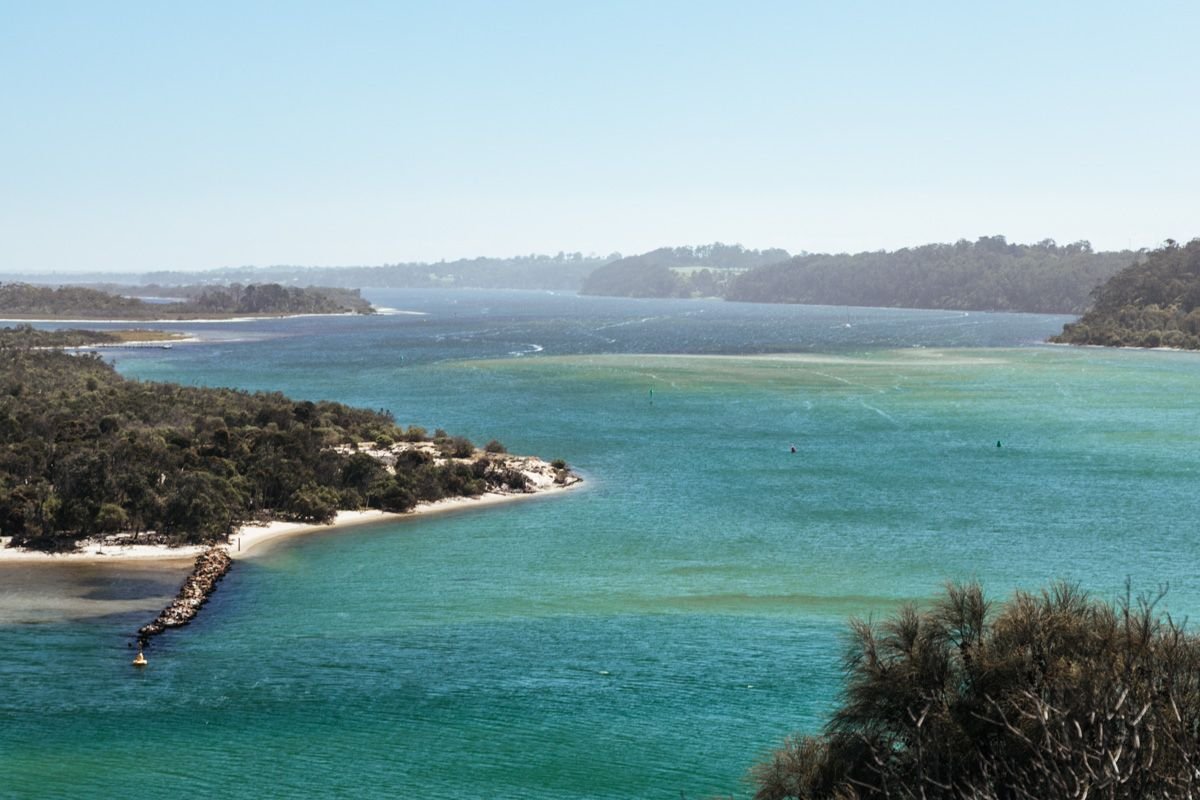 We lay out on 90 Mile Beach for a bit, then went to check out the lakes around Loch Sport. Both were nice, but slightly underwhelming. The best part of our time here was checking out the viewpoint at Lakes Entrance when we drove through town, which offers a stunning view of all the inlets nearby and the sea beyond.
We stayed at a Hipcamp property in Bengworden, in a horse paddock with a black-headed sheep that hung around our campsite (which we later learned isn't even part of the farm – they're not sure where he came from!). We got to have a campfire there both nights and had a wide open sky above us ideal for stargazing. I'm almost certain that this is where we started our collection of spiders that made themselves at home in our car (saw several of them hanging from the trees at night, just next to our vehicles!).
Click here to sign up to Hipcamp and get $10 off your first booking!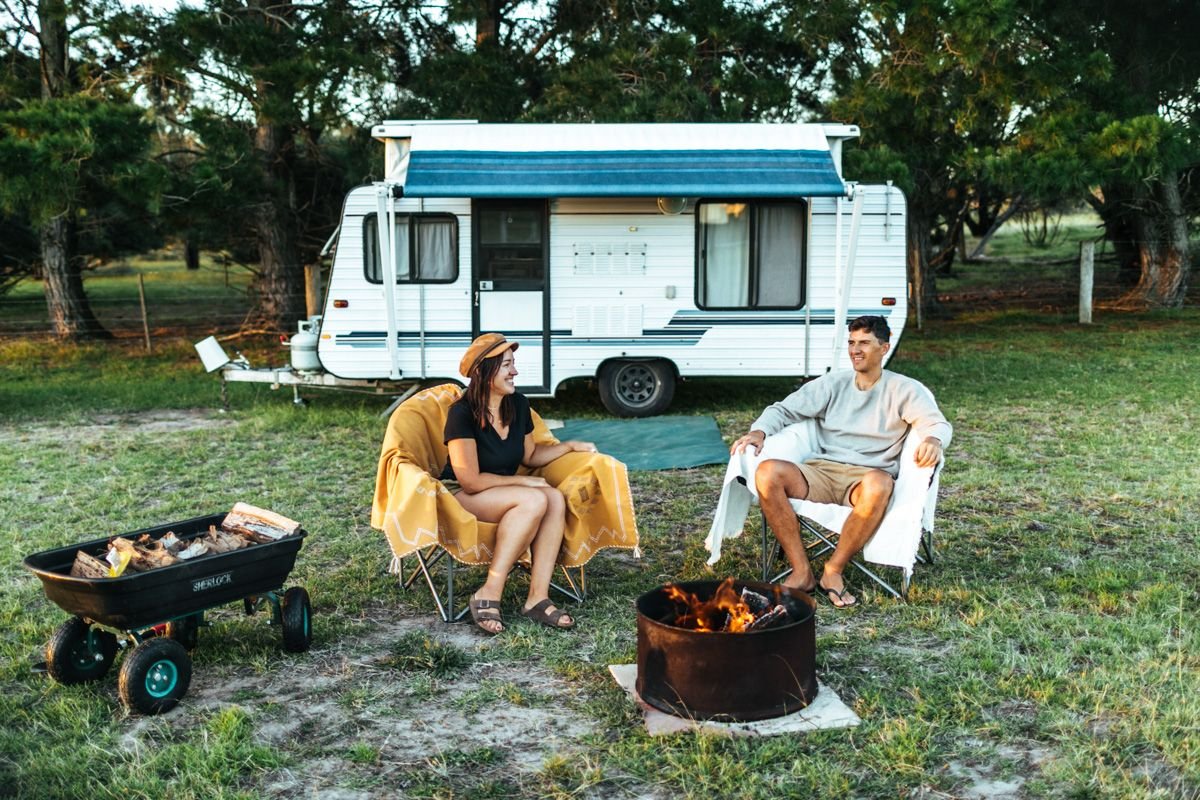 Feb 20-27: Mornington Peninsula (VIC)
I was especially excited to return to the Mornington Peninsula, my absolute favorite getaway from Melbourne when I lived there, and ooooh boy it did not disappoint. One week here was NOT enough, that's for sure – I SO didn't want to leave at the end of our stay!
For me, the peninsula felt like coming home a little. It's somewhere I could live, if not for the weather! I just love the vibe there, love the beach town feel, love the beautiful bay and proximity to nature, love the colorful bathing boxes on the beaches, love all the walking trails – I could go on and on. Funny thing is, we didn't really do a whole lot while we were here and I STILL loved the hell out of it.
We basically had the penthouse campsite (#37), perched on a hill with the BEST view of the bay at Whitecliffs Campground in Rye. Every day I'd sit at the table in our caravan, turn my head 90 degrees to the right, and gaze out at the water. It was seriously unreal. We had a path to the beach right next to our site, which made it easy to pop down with my paddleboard whenever I felt like it.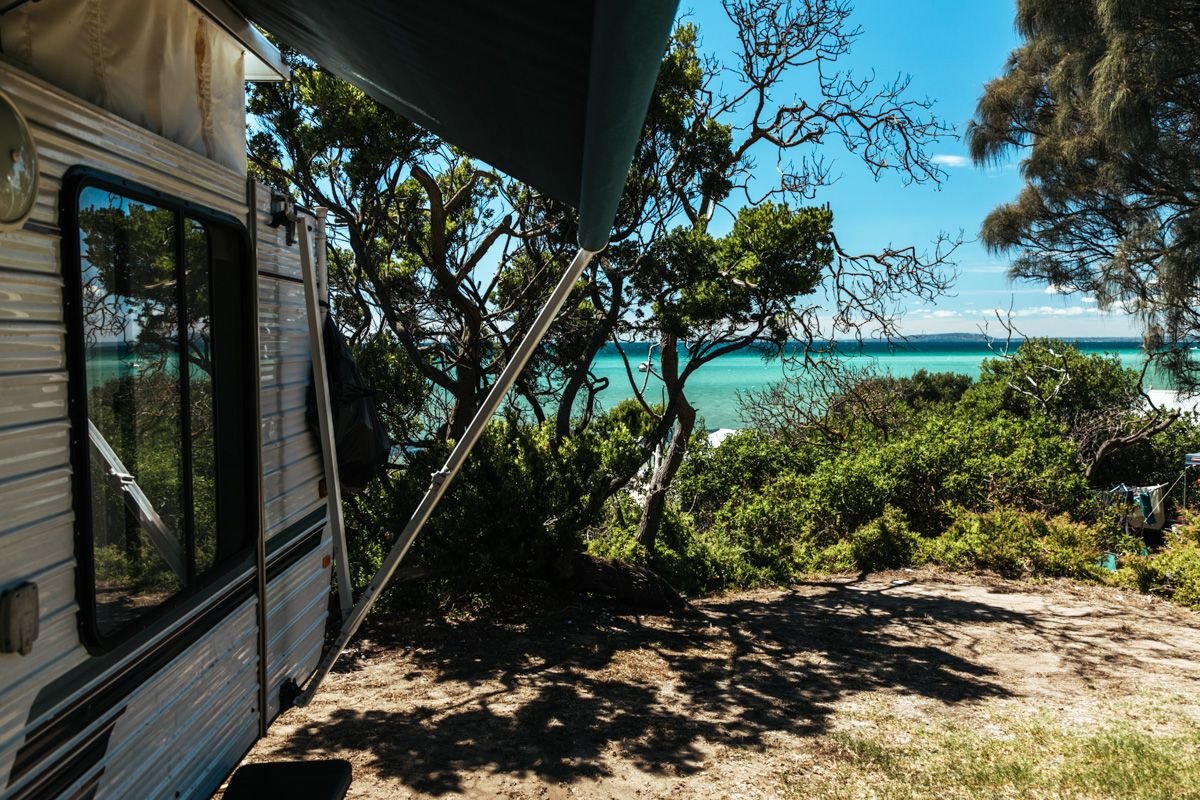 I took advantage of being close to civilization by taking care of some life admin stuff while here (nails, massage, dentist) – and whenever possible, I'd commute into town via 20 minute beach walk rather than 3 minute drive.
The other times I managed to pry myself away from camp were when we spent the day at the Peninsula Hot Springs (more on that later!) and when we went for a wine tasting at Red Hill Estate.
Feb 27-28: Wilsons Promontory (VIC)
We ended the month at Wilsons Promontory staying at Tidal River Campground, which I can say from experience that I DO NOT recommend on summer weekends. The whole 500-site campground was booked out on our first night (Saturday) and we had to camp right across from these families who had little kids that would run through our campsite and make all sorts of racket. Definitely not a peaceful camping experience. Thankfully it got better during the week as many folks went home for work and school.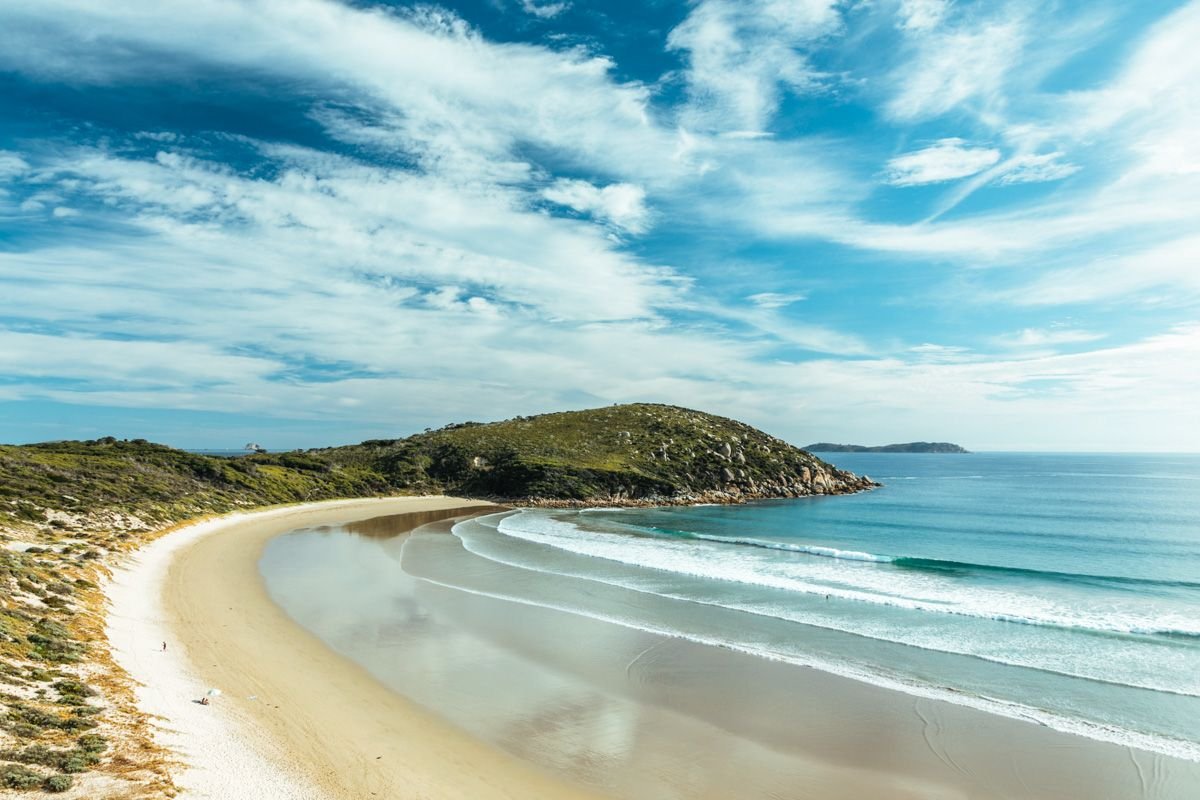 Our campsite was very close to the river, which had a lovely walking trail next to it and a boardwalk that passes through the surrounding wetlands. It's such a gorgeous landscape! I don't even remember seeing it the last time I was here.
I was particularly excited for beach walks and wombats, both of which we ticked off the list within 24 hours of arrival. We've had a wombat crawling around under our caravan, and another one that tried to get into our car when Pete opened the door.
The very last day of the month was a perfect weather day, and we spent it doing a bushwalk from the campground to three different beaches nearby (with plenty of sunbathing breaks thrown in). It was easily my favorite day of 2021 thusfar!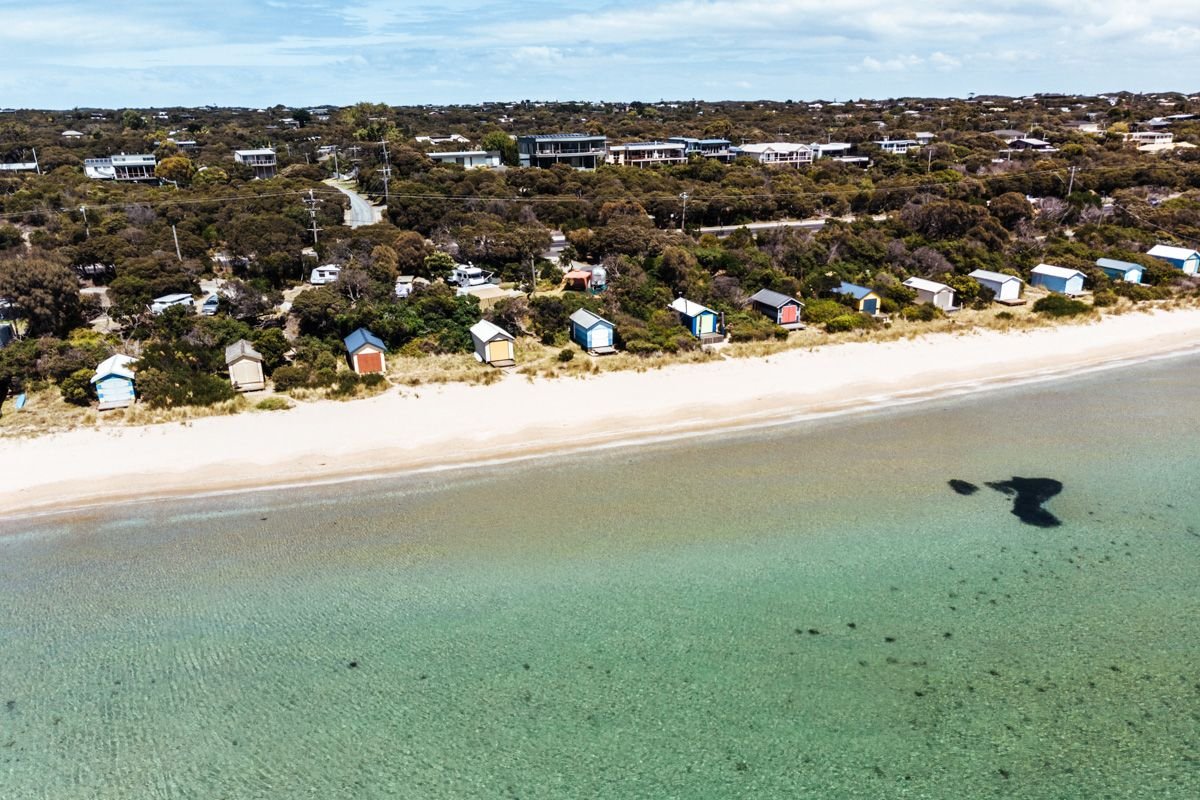 Mornington Peninsula <3
The Best Bits
My 36th Birthday in Merimbula
Some years I craft up a really epic birthday celebration. Other years, I keep it simple.
This year, it was the latter, but full of my favorite things: pancakes for breakfast, really good coffee in town at Mor Mor's, hanging out at Bar Beach in Merimbula (even though it was crazy-windy!), and roasting veggies and fish on the campfire. Here's to 36!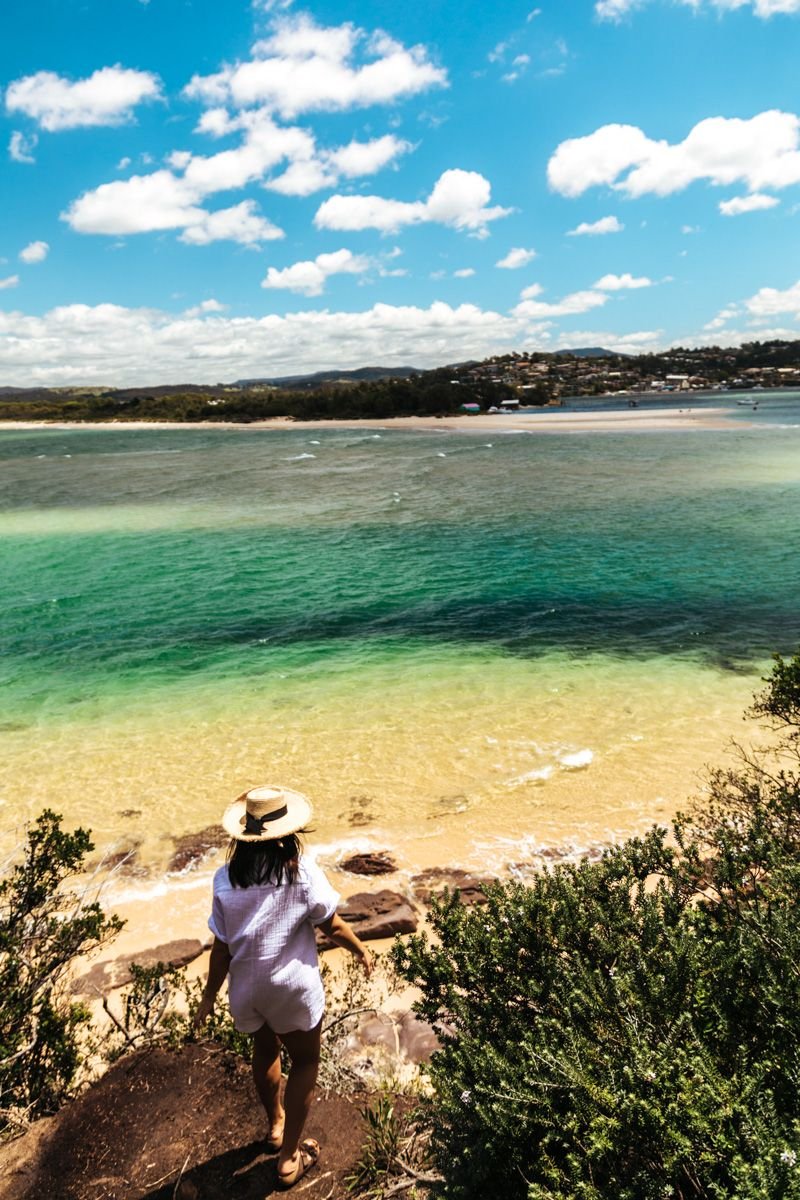 Discovering Secret Beach in Mallacoota
I spotted Secret Beach on Google Maps when researching what to do in Mallacoota and immediately bookmarked it. Turns out this beach, just 5km from town, is absolutely stunning with all sorts of colorful rock formations in the sand. I've never seen anything like it.
And that's not even the main highlight: the beach is known for its sea cave, accessible at low-to-mid tide when you can walk right through it and come out the other side on the beach. The rock inside the cave is also vibrant (as are the mosquitos… yuck).
Roasting veggies on the campfire
Yep this is worthy of a highlight because it makes me SO HAPPY when we get to make dinner over the campfire. My current fave is to chop up and marinate some veggies, wrap them in tin foil, and throw 'em in the hot coals to cook. Mmm smoky grilled veggies. The best!
Meeting up with Kirrily
Thanks to COVID and moving out of Sydney, I've seen so little of my friends over the past year and it makes me sad. So it was extra-exciting to cross paths with my friend Kirrily on the Mornington Peninsula while she's on the road with her van. We caught up, went out for lunch, and stand-up paddleboarded. Just what I needed!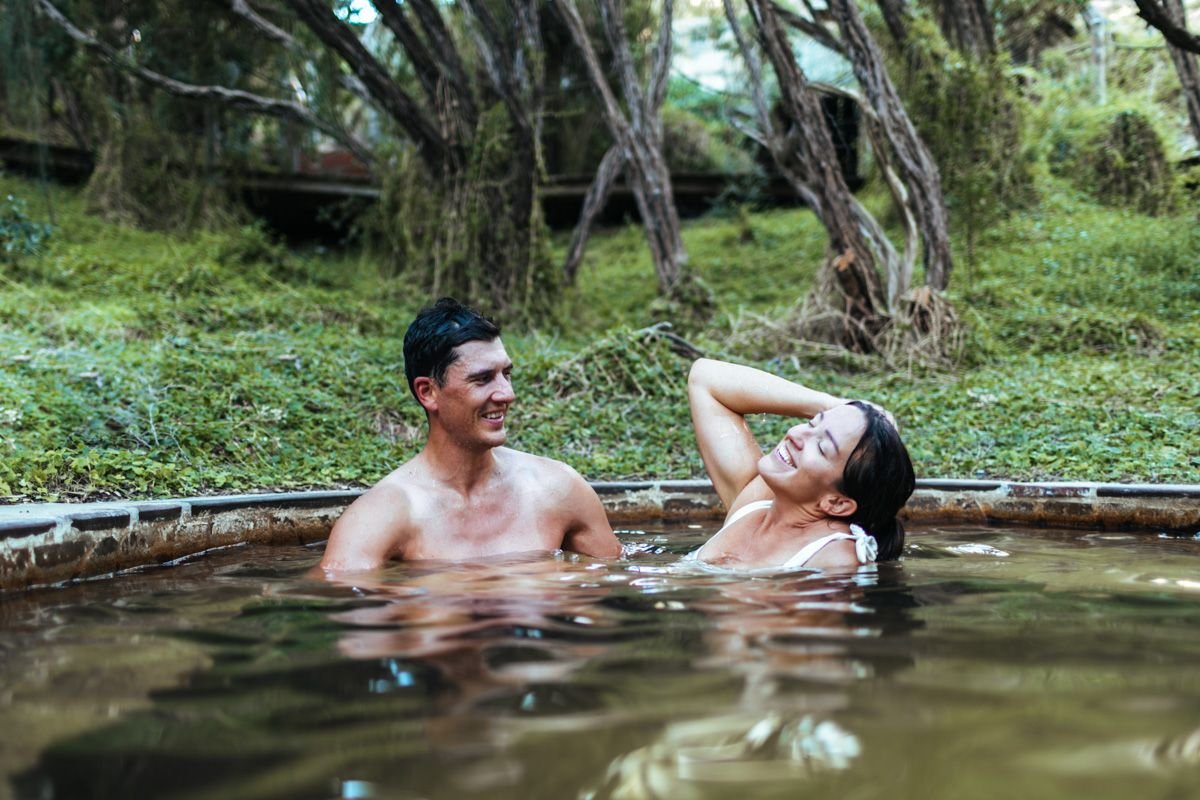 Peninsula Hot Springs
This was my third visit to the Peninsula Hot Springs on the Mornington Peninsula, and Pete's first. I knew he'd enjoy it since he's obsessed with baths, but I wasn't expecting him to love it as much as he did. In fact, I don't think I've ever seen him happier!
Turns out the Hot Springs have expanded significantly since my last visit and now there's a whole new adults-only section to explore. My curiosity got the best of me and I forked over a small fortune (nearly twice what the general admission costs) for the privilege of bathing in a more exclusive and peaceful part of the property. We actually booked the bathe and dine package at the Spa Dreaming Centre, which included a meal, a drink, and coffee in their restaurant. I felt like a mother-effin' QUEEN sipping on local wine and nibbling on fancy cheese while lounging in a bath robe.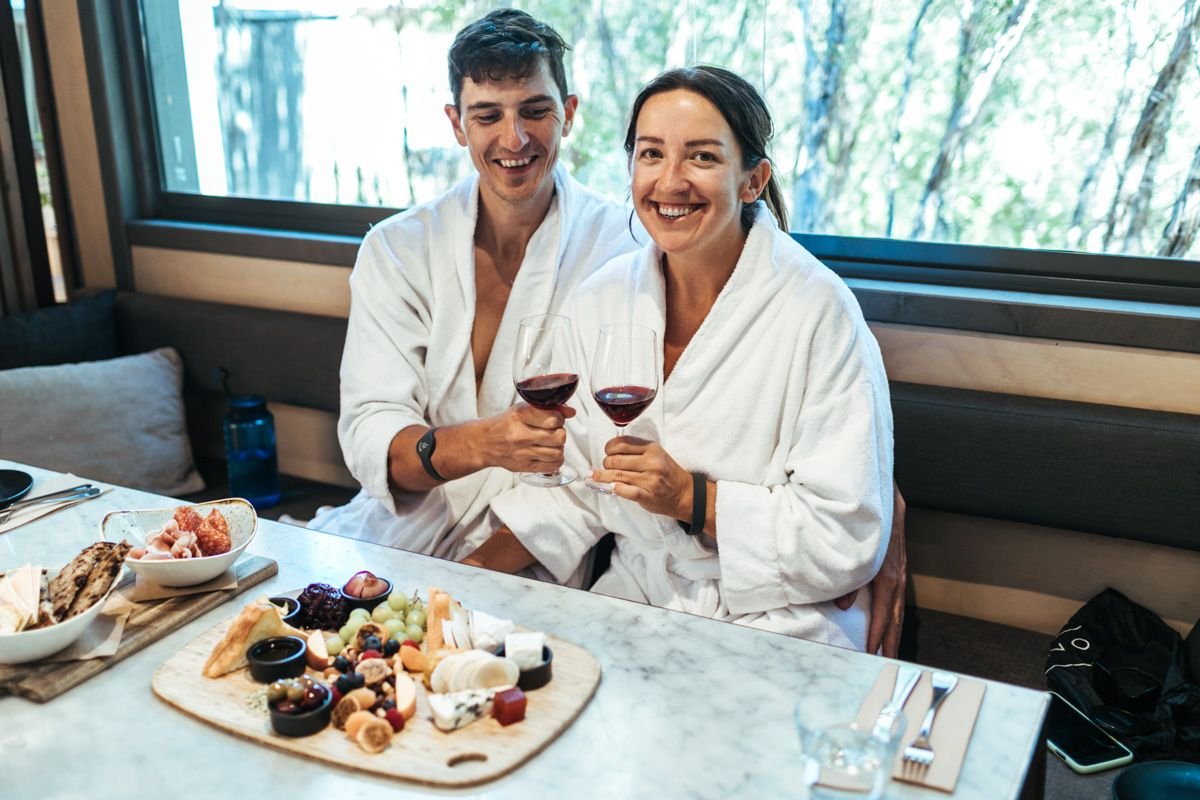 As for the Spa Dreaming Centre itself, it is absolutely worth the upgrade. We could hear plenty of ruckus over the walls coming from the main bathing area (ya know, hooting, hollering, jumping into baths). Meanwhile, our area was free of children and party people – it was such a zen zone! We bathed in wooden barrels, went sauna hopping, and got mildly hooked on the chi machine. I'm not sure how crowded the other area was, but at the Spa Dreaming Centre we rarely had to wait to sit in a pool or sauna (generally only 2 people are allowed in a bath at a time, due to COVID). We were there from 2-9pm and could have easily done a whole day there. Can't wait to return in a couple weeks!
Perfect Weather for a Beach Hike in Wilsons Promontory
Weather has the ability to make or break an experience (or even a day) for me. Yes I know it's silly to give something so much power over my state, but when it deals me the most perfect warm sunny day, I'm on SUCH a high.
The last day of February was one such epic weather day. We did the Three Bays Walk in Wilsons Promontory and stopped off for so many photos and swims (my god, the water was SO clear!). I walked around as the heart-eyed emoji incarnate all day and had the BEST TIME. Ugh, such a magical day. We ended up walking nearly 9 miles in total, too.
The Worst Bits
Lockdown in Victoria
Two weeks into our road trip, Victoria went into a "short and sharp" 5 day lockdown, due to a new COVID outbreak in the state (but nowhere near where we were). We had just crossed the border from New South Wales into Victoria and were due to move on to our next location in VIC the following day.
When lockdown was announced, we faced a big decision: do we wait it out in Mallacoota and hope it really does end in 5 days' time (the last one in Victoria ended up lasting 4 months, so if it were to get extended we'd be stuck at this one caravan park indefinitely)? Or do we turn around and head back into NSW where freedom is guaranteed?
In the end, we decided to stay put and spent our time hibernating in the caravan working furiously, or socially distancing at one of the nearby beaches (honestly the safest place to be, given it was easy to go to the beach and not even SEE anyone else). Not the worst place to be locked down! And thankfully it did end after 5 days, so we were able to continue on into Victoria as planned.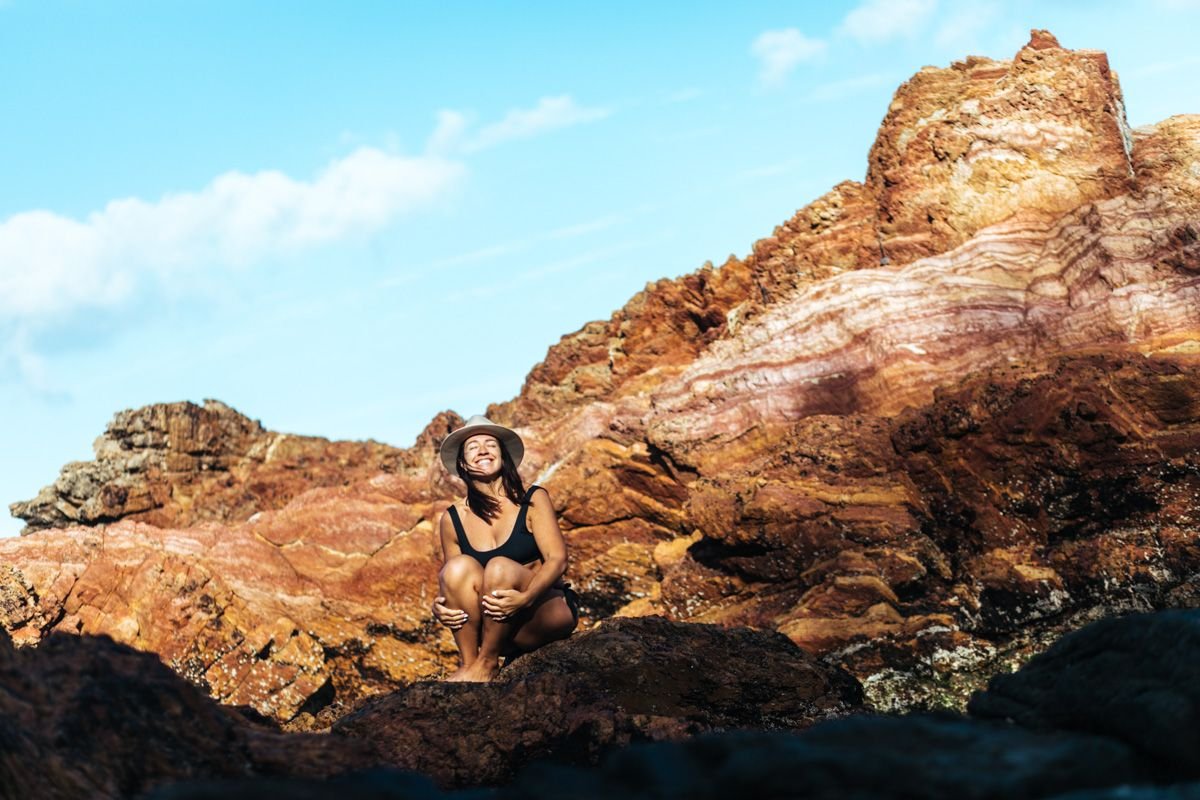 Technically in lockdown.
Our Semi-Broken Fridge
In caravanning school (just kidding, this isn't a thing), we learned that caravan fridges are typically called 3-way fridges. Why? Because they can be powered in 3 ways: by 240V electricity, by battery, or by gas. Generally you run it on 240V when you're hooked up to power at a caravan park, battery while driving, and gas when you aren't moving or hooked up to power.
Ours, as it seems, is just a 1-way fridge: it only runs properly via gas connection. Which is ok, except for having to keep buying/replacing our gas cylinder whenever it runs out (which seems to be every 10 days or so). We tried to book in for a repair, but there was no availability while we were in the area. Hopefully we can get it fixed further down the road somewhere!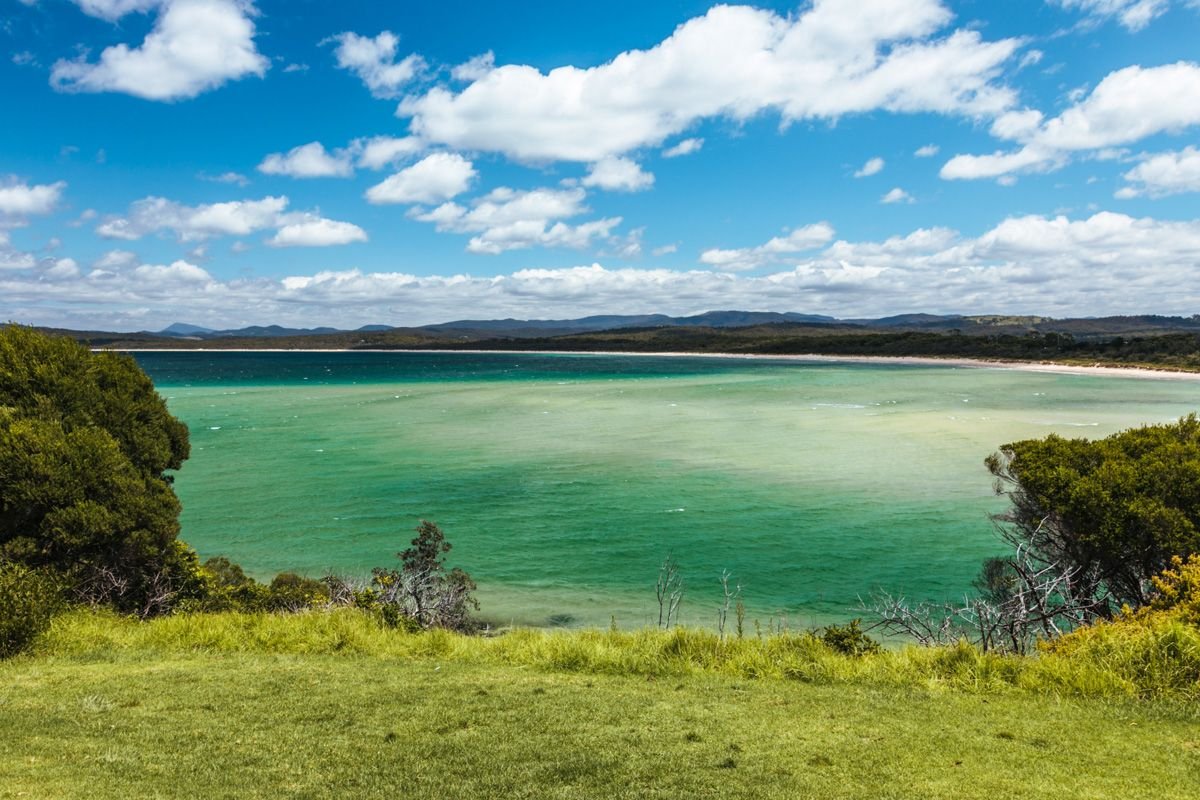 Merimbula.
Spider and Ant Invasions
Encounters with insects and other creatures is kind of inevitable when you're living in nature, but ideally we'd like to keep them out of our vehicles. So we were less than thrilled to find a massive spider making itself comfy inside of our Jeep, and an army of ants crawling both in and outside of the caravan. UGH SO GROSS.
We thoroughly sprayed the insides of both with RAID and vacuumed every inch of the car to ensure creepy crawlies were dead and gone. We still have some ants in the van, but it's much more manageable now at least.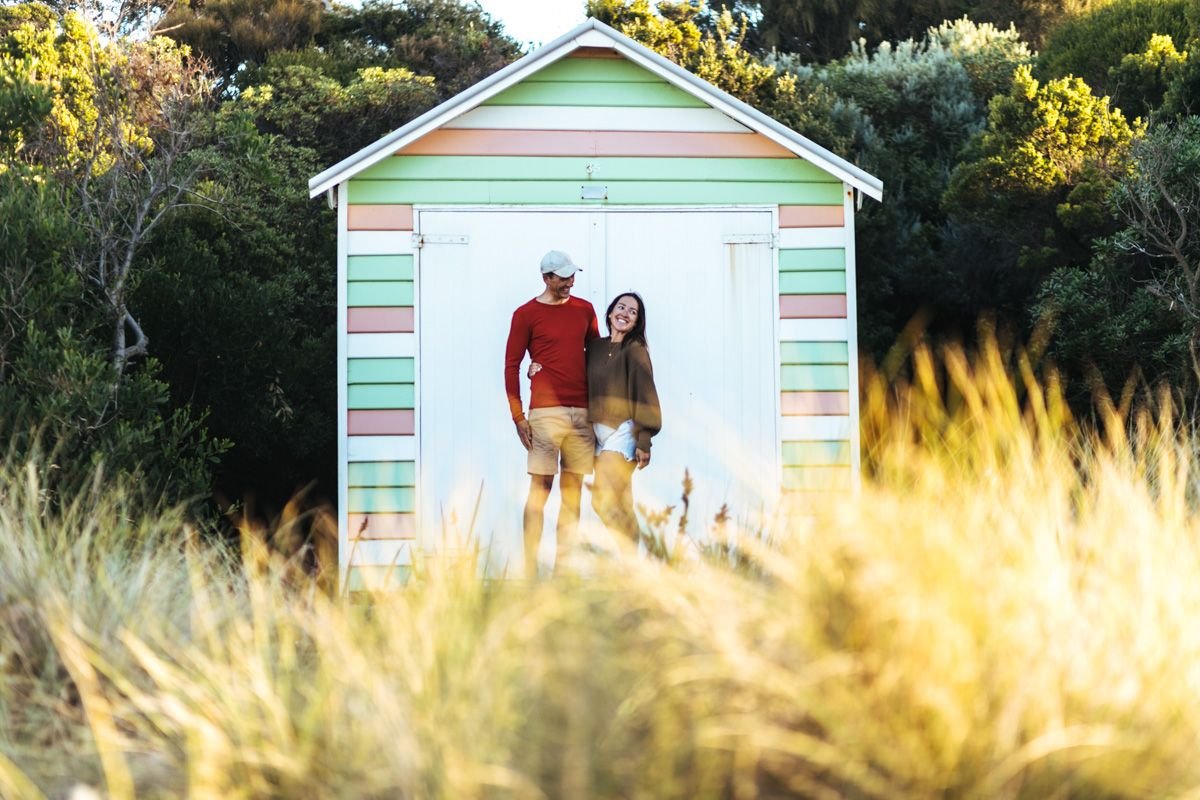 Wonky Weather in Mornington
I guess I shouldn't be surprised that the weather on the Mornington Peninsula had little resemblance to the forecast the week we were there (it's close to Melbourne, which is notorious for its 4-seasons-in-a-day kind of weather). But it made it very challenging to plan our days and I found myself often scrambling to change gears at the last minute (wait, it's sunny? I can't work today, I need to take advantage!).
For the most part, our indoor activities ended up being on nicer days (though the forecast said they would be cool and cloudy), while we bailed on the beach and walks when it got too cold and windy. Figures. But at least we'll be back in a couple weeks to try again!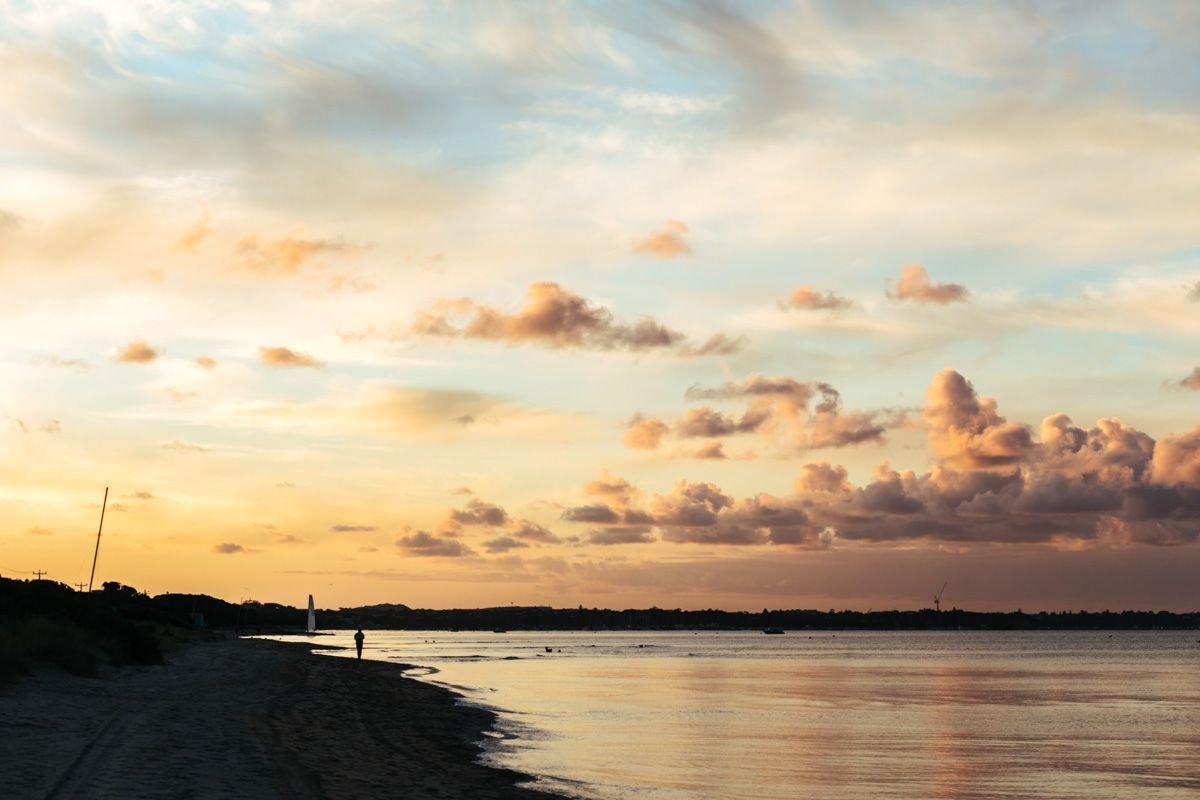 What I Read
1. Open Book – Jessica Simpson
I was never a big Jessica Simpson fan, so my knowledge of her was limited to whatever hit the gossip circuit (namely her dating history and her inappropriate father). And oh boy does she spill the tea on ALL of the men in her life, past and present. More than that, I realized how intelligent she actually is (despite what MTV made her look like), and how much she went through to get to where she is today. I devoured this book in a couple days, it's surprisingly fantastic.
2. Where The Crawdads Sing – Delia Owens
I could NOT put down this bestseller. It alternates between telling two stories (a present day murder mystery and a coming-of-age/love story) which eventually intersect in real time. Bloody brilliant, and so different from anything else I've read. It's the kind of book you're sad to have end.
3. This Is Going To Hurt – Adam Kay
An easy read, comprised of short diary entries written by a doctor throughout his career. It's funny, it's shocking, and it's put me off from ever wanting a career in medicine (not that I had the slightest interest before, but now I have, like, negative interest). This one wasn't quite as can't-put-down-able as the other two, so took me a bit longer to get through – but I did enjoy it.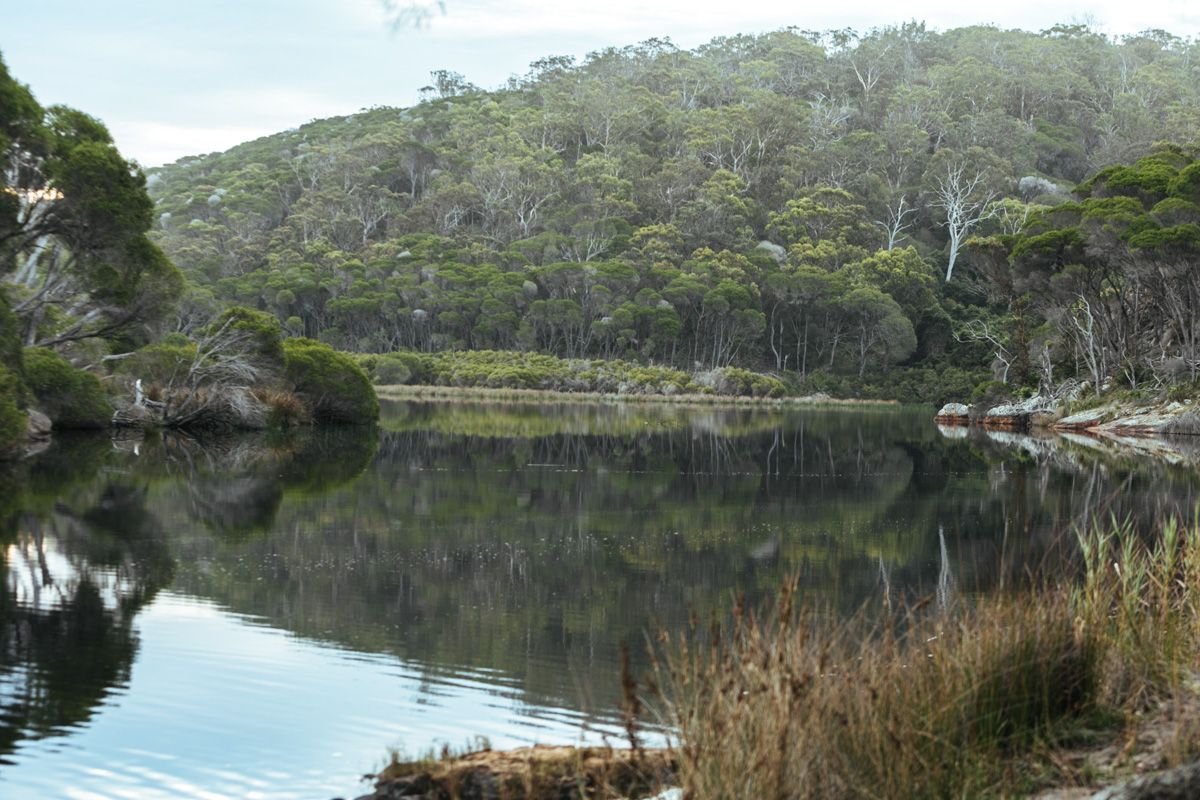 Bournda Lagoon.
Things I'm Loving
Wild Throw Co throws
Oops, I somehow became obsessed with the throws from Wild Throw Co and ended up ordering a few for our caravan. They are hand made in India and absolutely BEAUTIFUL. They're meant to be used both at home and in the wild, making them super versatile for road trip purposes. Can't wait to take more cool photos with them!
Nakie hammock
I blogged about my Nakie hammock not too long ago and let me tell you, I meant every word of the glowing review I gave it. I'm pretty much obsessed with hanging it up at our campsite (whenever there happen to be some trees closeby). It's my favorite place to get some reading done! And I looooooove the silky-smooth feel to it.
Alo Moves
I've been using the Alo Moves app for nearly a year now and I LOVE the variety of fitness classes they offer. From yoga to barre to strength training, I've got all my favorite instructors and classes on rotation. It was a staple in my morning routine back in Canberra and it's been working well while on the road.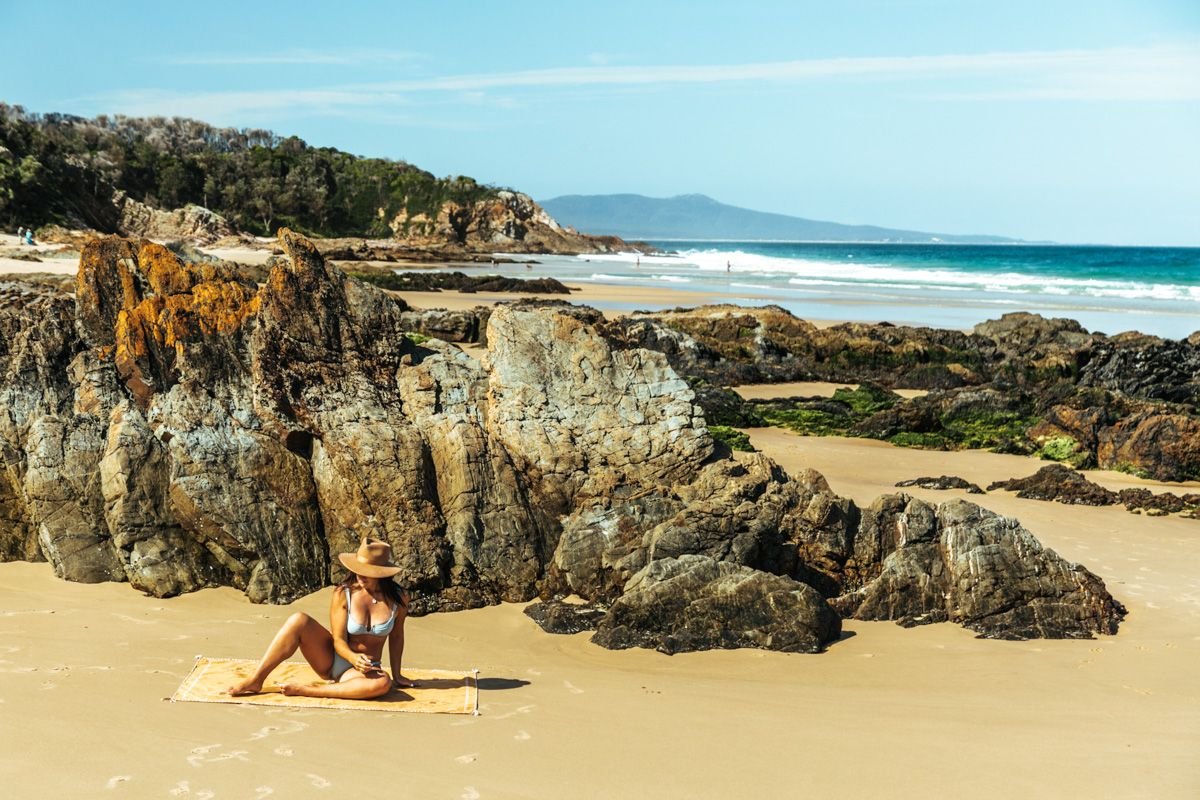 One of my new throws makes for a nice beach towel.
Habit Tracking
Trying something out here and tracking a few of my daily goals.
Last year I was pretty good at tracking my habits every day in a journal; this year, I'm working on getting into a routine while road tripping. It's a tricky dance to master, let me tell you!
Halfway through February, I decided I would start with two main goals every day: 1). work out and 2). do something fun. Working out is usually an Alo Moves workout video, but could also be a hike or a SUP session. And doing something fun is a good way to ensure I don't spent full days totally absorbed in work and admin stuff. It's basically giving myself permission to watch a movie or go take photos somewhere or do something else that makes me happy.
Aaaaand as usual (I've been doing this for 6+ years now!), I continue to track my daily steps. My goal right now is to walk 3 miles a day (same as it was in 2020).
Here's how I did this month:
Work out every day – 7/14 days — I was much better at this before we started our road trip, working on getting back into it more consistently
Do something fun every day – 10/14 days — I'm happy with this
Walk 3 miles every day – 17/28 days (averaged 3.5 miles/day) — happy with the average, but want to get more 3 mile days in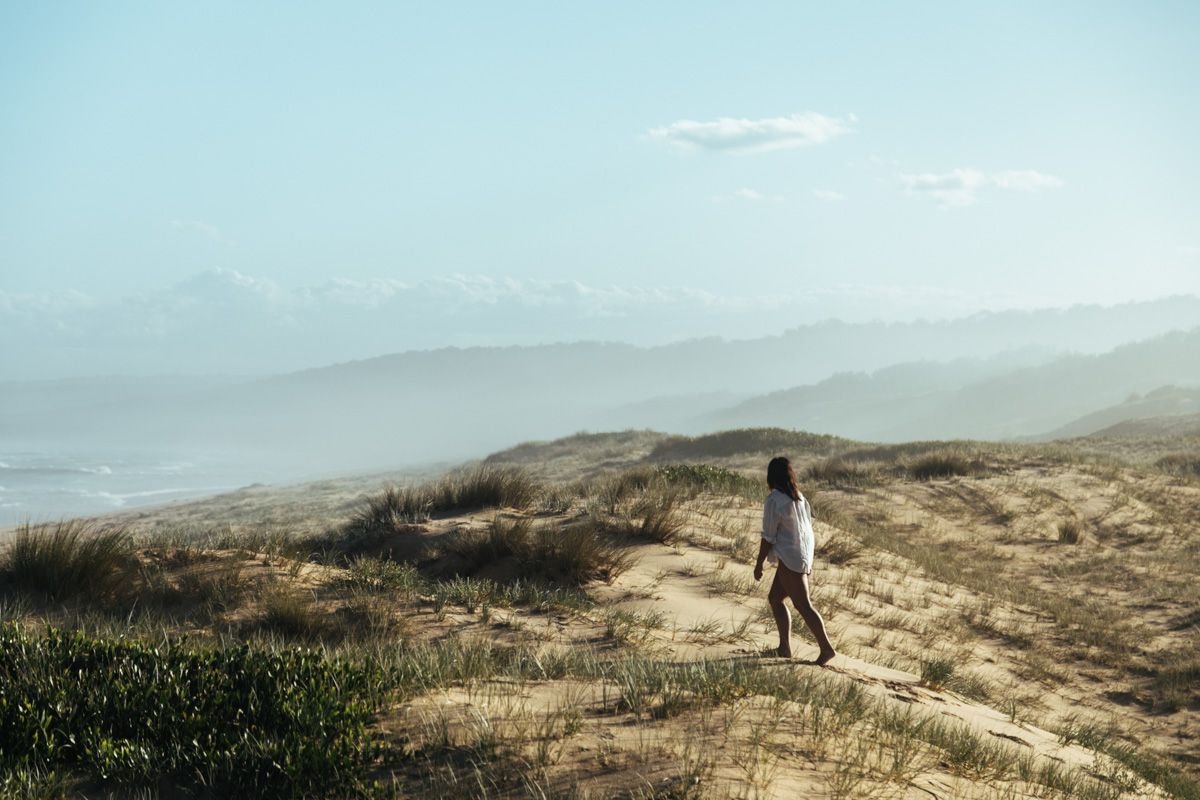 Bournda Beach.