I've visited a LOT of places in Australia in the cumulative 7 years I've lived in this country, but one that had eluded me up until late 2020 is the very-popular (particularly among snow sport enthusiasts) Kosciuszko National Park.
My excuse? Oh, the usual: a bit too far to do as a weekend getaway from Sydney (it's a 5 hour drive), and not spectacular enough (in my subjective opinion) to divert my time and attention from beach and Outback destinations.
Friends and long time readers know this a bout me: I much prefer beaches to mountains. Kozzie (as Aussies like to call Kosciuszko, and honestly I'm into it because I can't for the life of me seem to remember how to spell the actual name as I'm typing this!) is alllllllll about the mountains… or so I thought.
In reality, Kozzie has MUCH more to offer than just the snowy mountains around Jindabyne, Perisher, and Thredbo. And it's not just a winter destination fit for skiers and snowboarders: Kosciuszko also makes for a fantastic summer destination.
I spent 10 days over Christmas and New Years hiking and camping in Kosciuszko National Park, from lakes to gorges, rivers to mountains, and repeatedly saying to myself: I can't believe I didn't visit this place sooner!
Here's everything you should hit on your visit to Kosciuszko National Park in summer: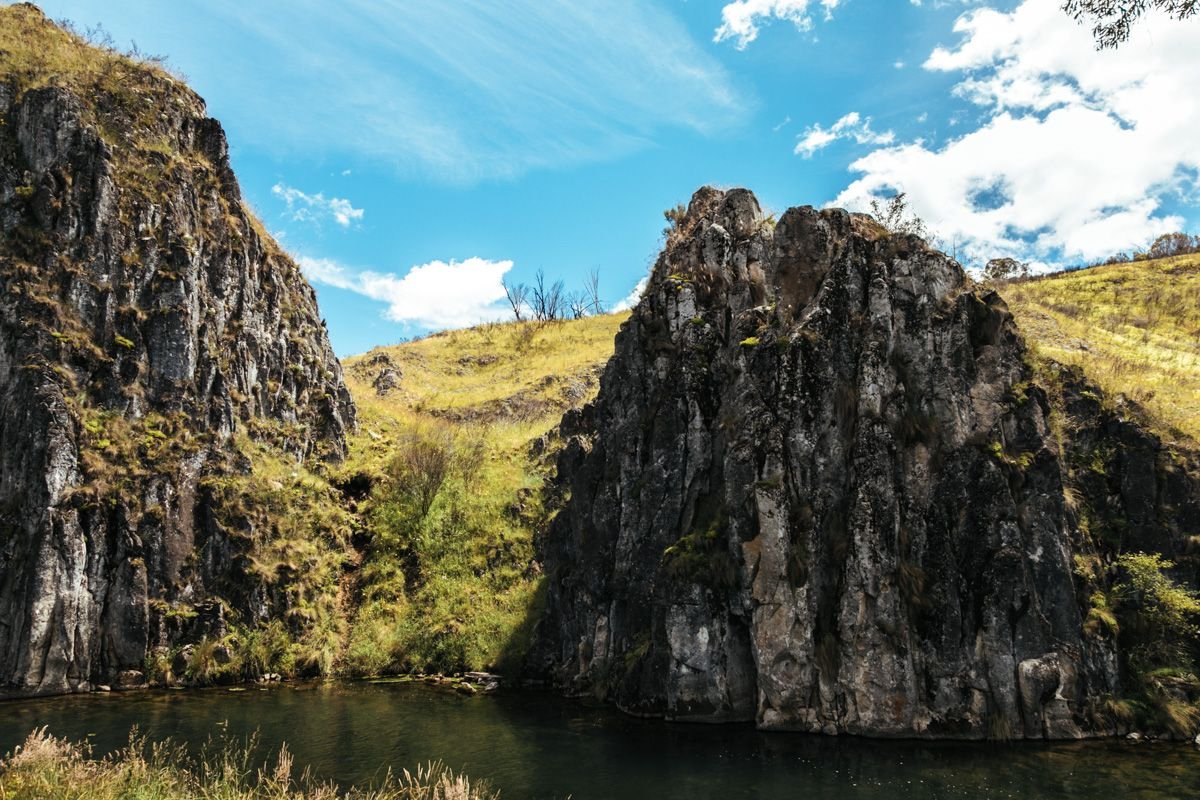 Clarke Gorge.
Blue Waterholes
The far north of Kosciuszko National Park is known as the High Plains region, and it's well off the beaten path. In particular, the Blue Waterholes area is so off-grid that you don't even get phone reception out there, and the closest supermarket is an hour away.
But man oh man is it worth the effort and the sacrifice. What a peaceful, magical place – and it happens to offer some of the best hiking and camping in Kosciuszko National Park.
There are 3 free campgrounds near the Blue Waterholes (you must book in advance, due to COVID):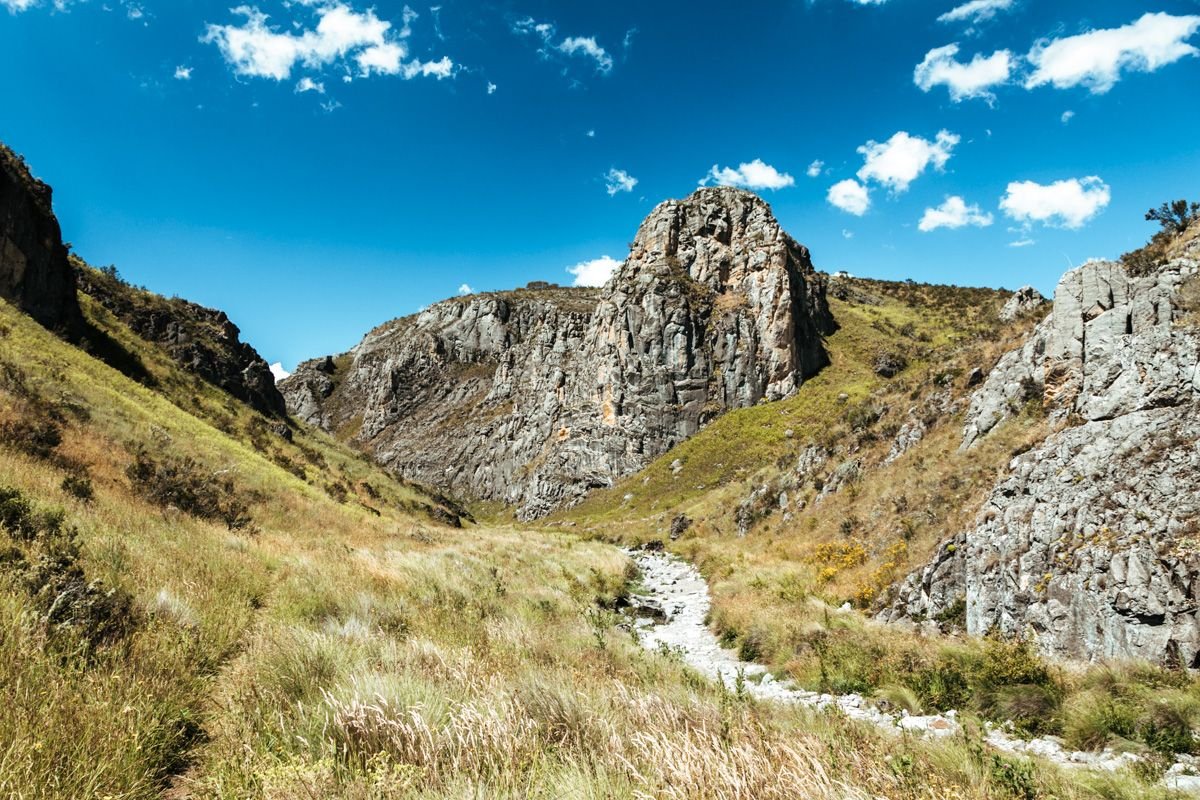 Nichols Gorge.
Despite the site being named for them, the Blue Waterholes aren't the star attraction here. Sure, they provide a refreshing dip on a hot day, but they're not particularly beautiful. Instead, there are two gorge walks you can do along either side of the Blue Waterholes:
Kosciuszko Walks at the Blue Waterholes
Clarke Gorge (5km return) – Follows the creek (and crosses it 8 times each way) through a stunning gorge and ends at a waterfall. Absolutely gorge(ou)s! Highly recommend bringing walking poles and flip flops (you'll grow tired of taking off and putting on your hiking boots for every creek crossing, trust me!).
Nichols Gorge (7km loop) – Follows the dry creek bed for the first half of the loop and has 2 caves alongside it which you can explore (bring at least 2 light sources!).
I cannot emphasize this enough: THE BLUE WATERHOLES GORGE HIKES ARE INCREDIBLE. Like truly mindblowing and bucket list-worthy, and even more amazing 'cause they're so off the radar. IMO they're two of the top Kosciuszko walks.
Just watch out for snakes during summer – we saw one on both of the hikes!
READ MORE: Blue Waterholes: An Off-The-Grid Gem In Kosciuszko National Park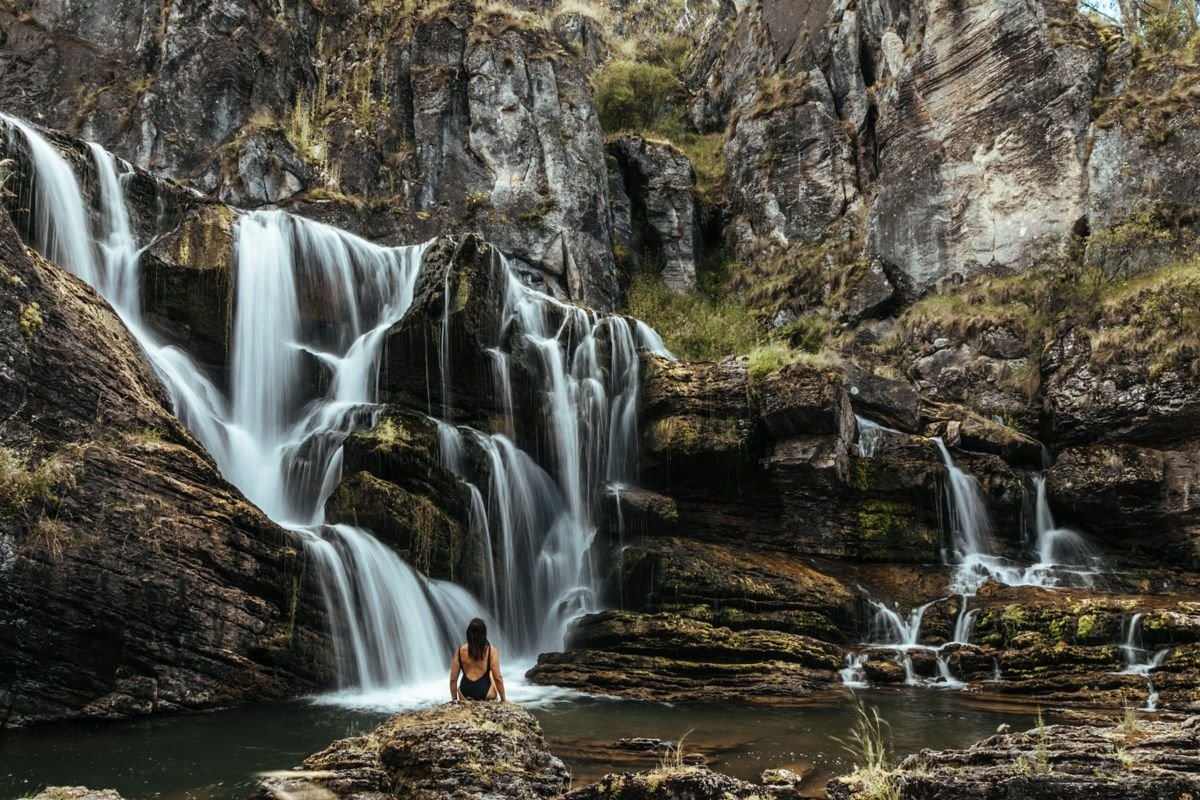 Waterfall at Clarke Gorge.
Coolamine Homestead
While at the Blue Waterholes, it's also worth stopping to see the nearby Coolamine Homestead. Here you can peek inside a handful of old buildings from the 1800's and stage a photo shoot on the grounds (not that we did that or anything… *cough*).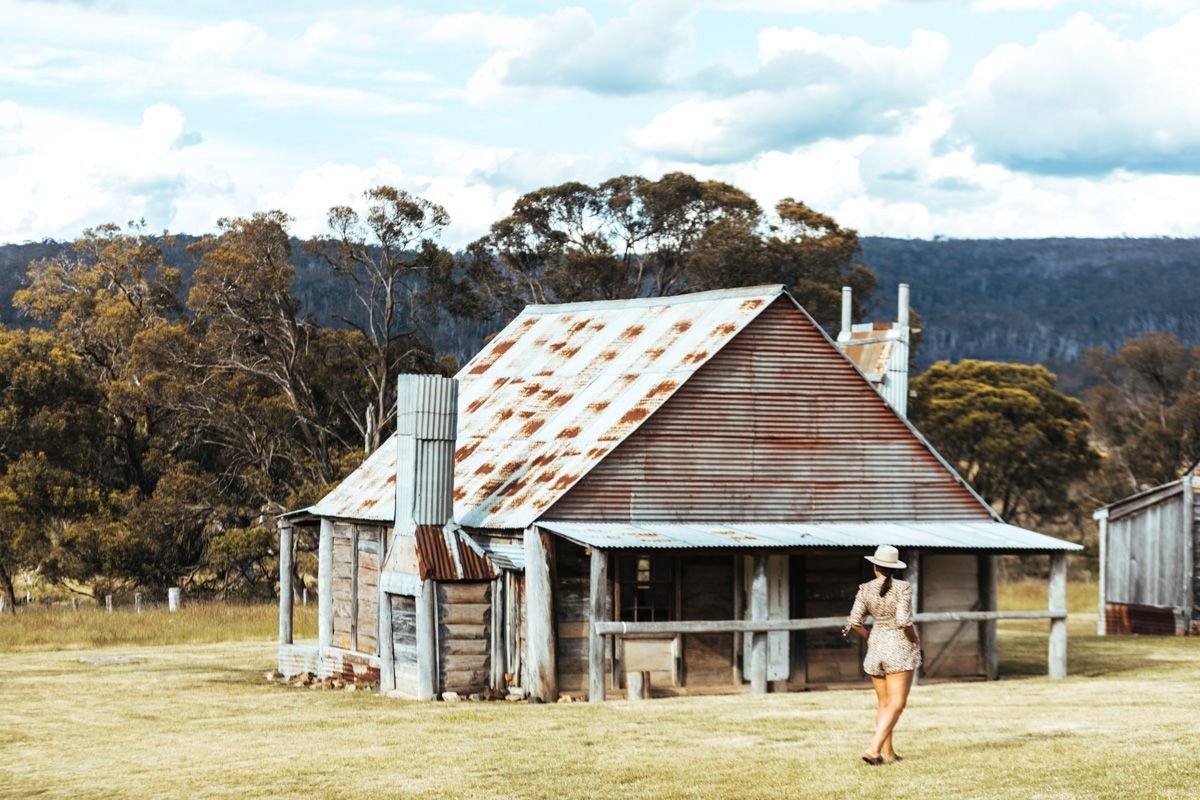 Yarrangobilly
Full disclosure, we skipped Yarrangobilly when we unexpectedly stumbled upon another place that appealed to us more in the moment (see below). However, I still consider it one of the best things to do in Kosciuszko National Park because it's just so cool.
So Yarrangobilly has two noteworthy attractions: a thermal pool and some caves.
The closest campground is… wait for it… Yarrangobilly Village campground. You'd think it would be onsite, but it's actually quite a ways down the main road. And it's literally right next to the road, along a river. Supposedly you can camp away from the road, further down the river, but I think you'd still be able to hear traffic at all hours.
Either way, this Kosciuszko National Park camping spot is free (but you do need to book in advance, due to COVID).
Yarrangobilly Thermal Pool
This spot is best visited outside of summer, because who wants to soak in a 27C pool on a hot day (another reason we skipped it)? But in cooler weather, bathing in a pool heated by a natural spring sounds like absolute BLISS.
Swimming aside, the Yarrangobilly Thermal Pool is worth a stop purely for the novelty factor. How often do you see a natural pool set in the mountainous middle of nowhere?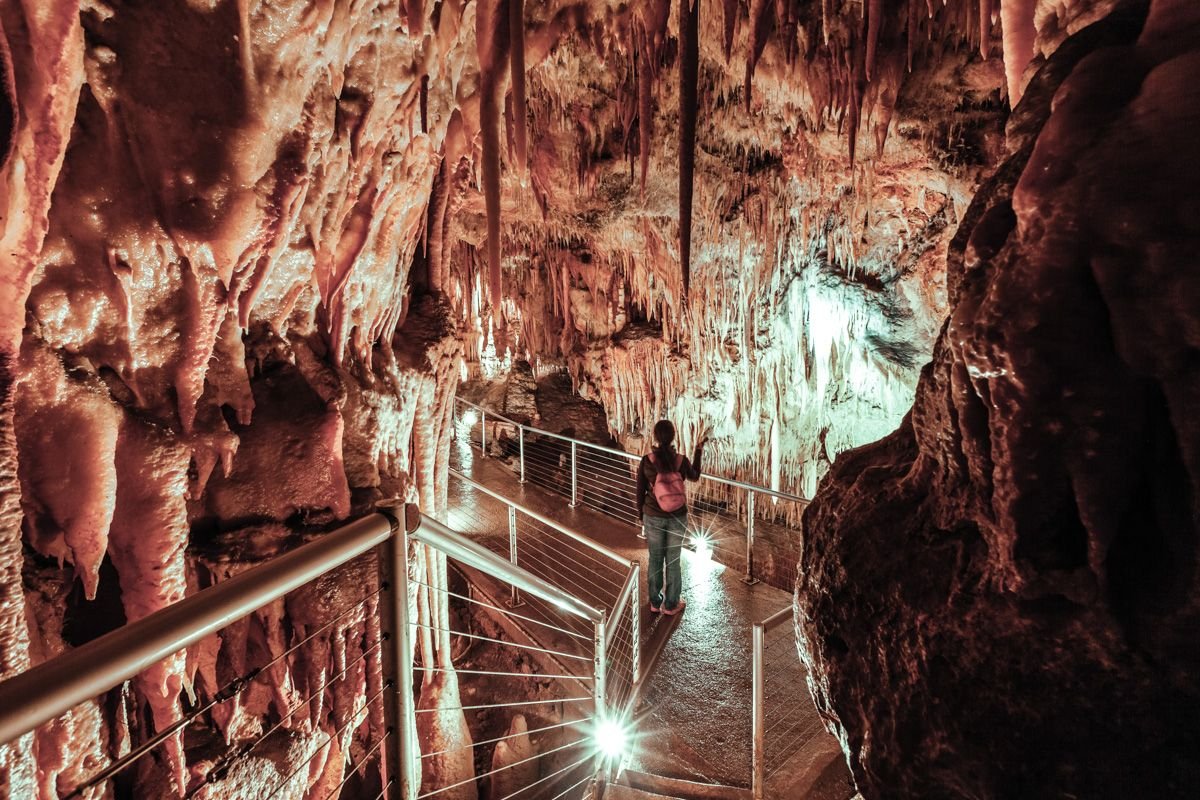 Yarrangobilly Caves
Also at Yarrangobilly are a handful of caves, 4 of which are normally open for admission:
South Glory Cave
Jillabenan Cave
Jersey Cave (closed as of February 2021 due to COVID)
North Glory Cave (closed as of February 2021 due to COVID)
South Glory permits self-guided tours, while the other caves offer admission by guided tour only. The upside to this commercialization is that the Yarrangobilly caves are illuminated and marked with informative plaques so that you can actually learn about what you're seeing (unlike the caves by the Blue Waterholes, where you're on your own in the dark).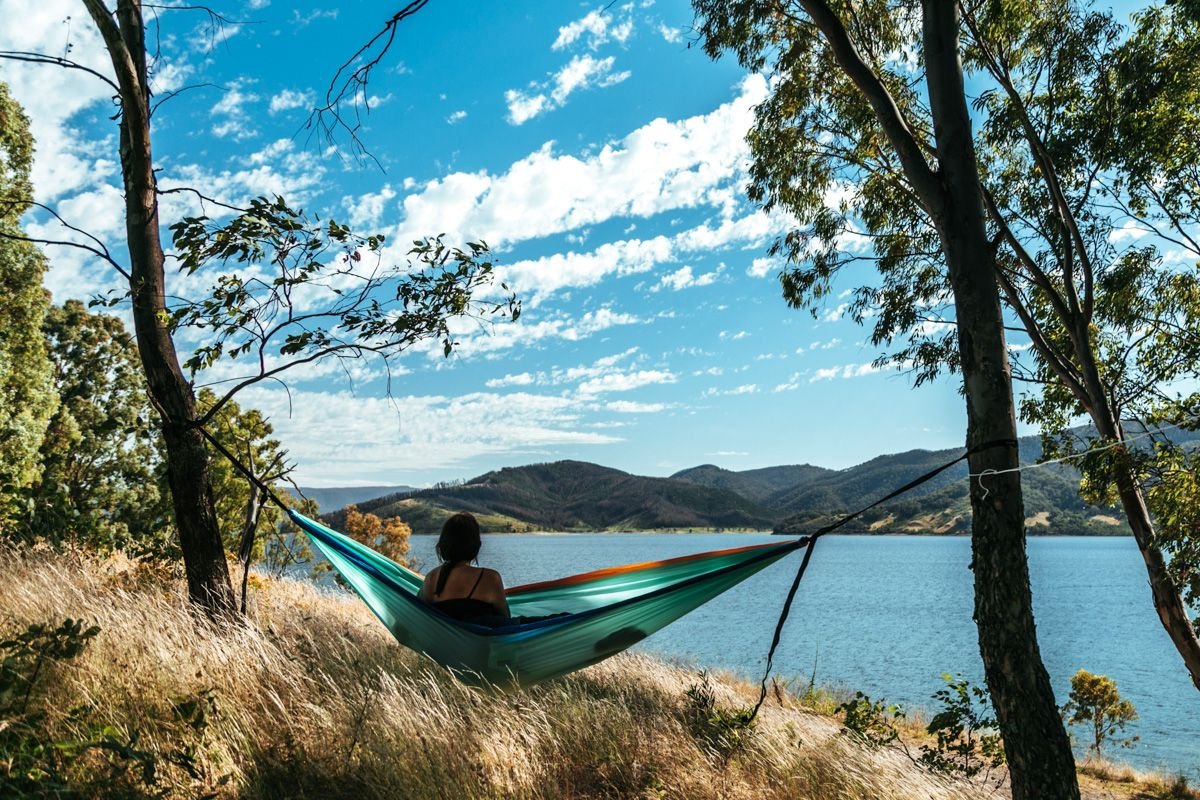 Blowering Reservoir
We discovered this area by complete accident when we were desperate for food after a few days at the very-remote Blue Waterholes and had to drive to the closest town, Tumut, which was nearly an hour away from where we were.
We had every intention of driving back up into the mountains to camp at Yarrangobilly, but once we saw the gorgeous lake down there and dozens of fellow campers with caravans and tents set up along the foreshore, we quickly changed our plan and found ourselves a free campsite with a view.
There are numerous free campgrounds along the eastern side of the lake, but we went with Log Bridge Creek because it was the least crowded and offered a few semi-shaded campsites on a hill, just above a boat ramp. The other lakefront campgrounds boast more lakefront real estate, but less elbow room.
This ended up being my favorite Kosciuszko National Park camping spot of the entire trip! Also, Log Creek is also closer to Tumut, the main town in the region, so it's quick and easy to pop up there to stock up on food and water when needed.
I had no idea this lake even existed, much less was a part of Kosciuszko National Park. It's a gorgeous place to relax and kick back for a few days: highly recommend you come equipped with a hammock and some kind of float or boat, because floating out on the lake in some form is definitely the thing to do at Blowering Reservoir.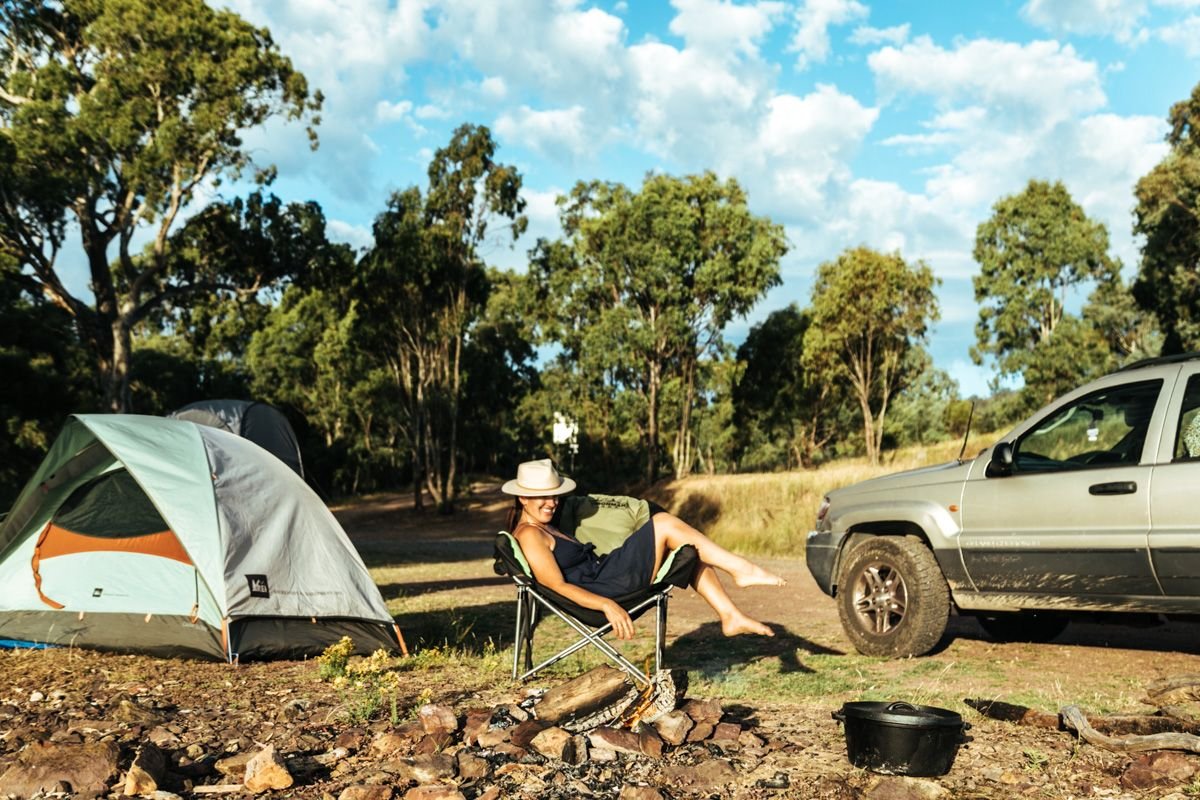 Jindabyne
Jindabyne is the hub of the Snowy Mountains: it's where everyone passes through (or bases themselves in) during ski season. Accordingly, the town is equipped with plenty of outdoor apparel shops, so if you end up needing a piece of gear on your Kozzie trip, you should be able to pick it up in Jindy.
I like Jindabyne just for the novelty factor, as it's unlike most anywhere else in Australia. I'm used to laidback beach towns and random-ass Outback road houses, so sometimes it's fun to change the channel to something a liiiiiiittle different.
Jindabyne's the sort of place where people walk down the street sporting thin puffer jackets, flannel shirts, and hiking boots as everyday wear. It is a very distinct vibe.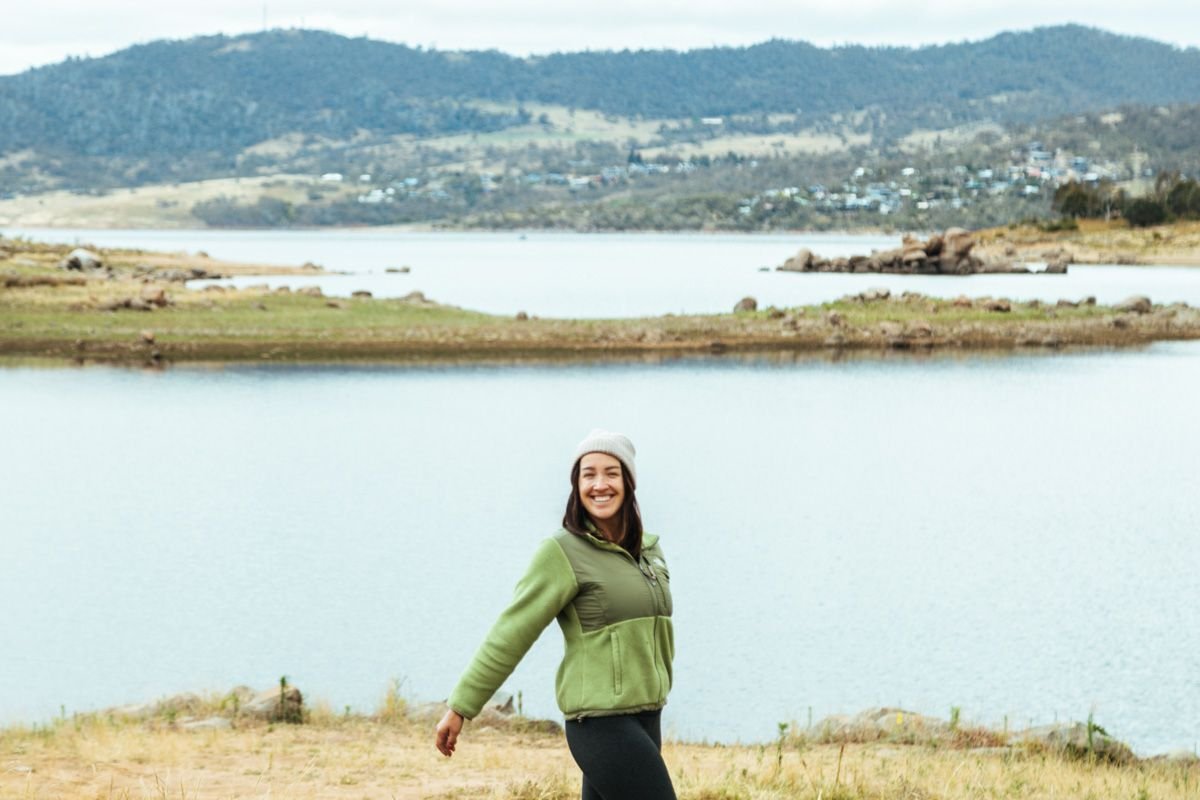 There are a handful of cafes and bars around town, but the one place we frequented was The Market Jindabyne, an organic shop and cafe that serves up the best coffee in Jindabyne. It's a cozy place to hang out for awhile and escape the weather.
Apart from shopping, eating, and drinking, Jindabyne also offers some outdoor adventure activities around its lake. You can go kayaking and stand-up paddleboarding on Lake Jindabyne, or ride a mountain bike on the lakeside trail (I really want to go back and try this next time!).
Jindabyne has a few lakefront caravan parks, but we ended up camping in Kosciuszko National Park (and thus needed to pay for a park pass just to access our campground, d'oh!) at Kosciuszko Tourist Park, just a 15 minute drive from town. This is a great option for those wanting to camp with a few luxuries (y'know, like flush toilets and showers) while still being immersed in nature (i.e. it doesn't feel like a typical crowded caravan park at all). There are also a couple of Kosciuszko walks that start from right outside the campground.

Charlotte Pass lookout.
Charlotte Pass
Charlotte Pass is home to Australia's highest snow resort (at 1765m in elevation). But this blog post is all about things to do in Kozzie in summer, so we'll just gloss over that fact for now.
Some of the best walks in Kosciuszko National Park start from Charlotte Pass, making it a fab summer adventure hub. Most of them involve summitting one or more mountains, but if you're not up for it it's still worth making the drive up here to enjoy the views from the lookout platforms.
Kosciuszko Walks from Charlottes Pass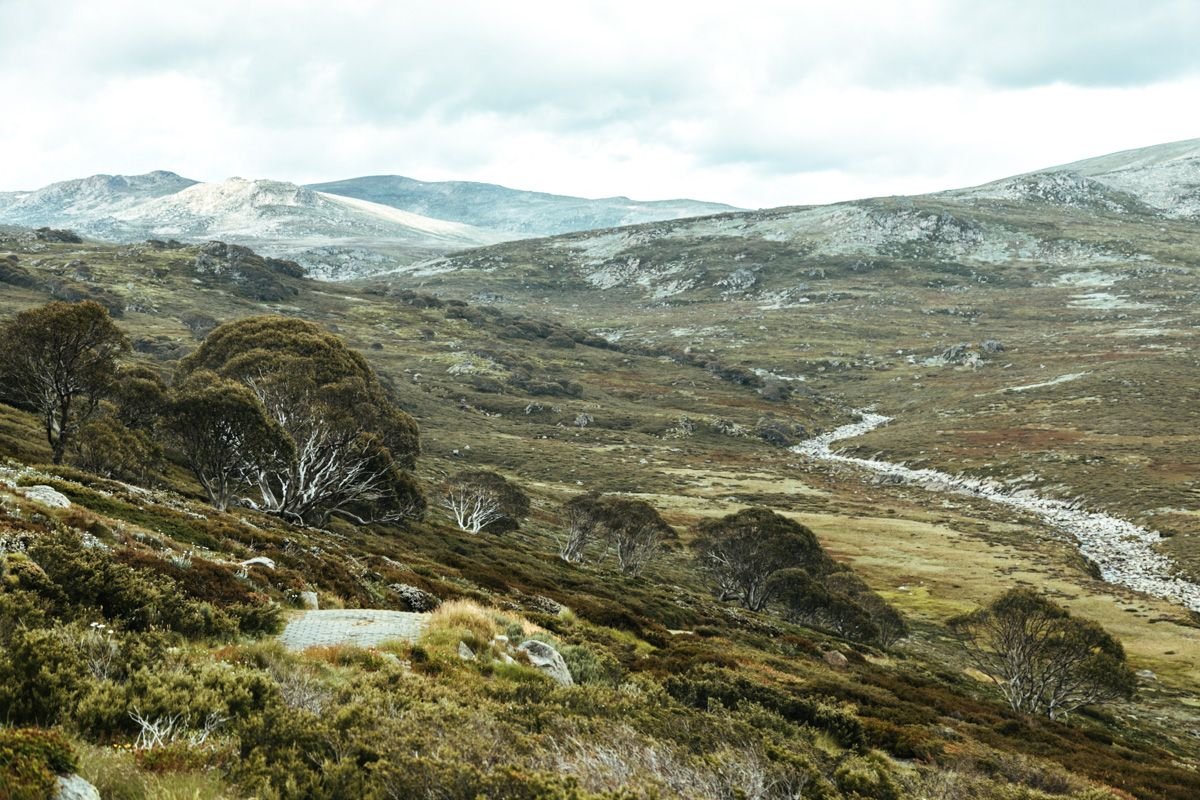 Main Range Walk
The granddaddy of all Kosciuszko walks is the Main Range walk, a 22km loop that starts and ends at Charlotte Pass. It can be done in one (long and exhausting) day, but is better completed as an overnight hike so you can take your time and do the side trips to Blue Lake lookout and the Mt. Townsend summit.
The Main Range walk is considered a classic walk in New South Wales, which I assume means it's one of the best in the entire state. From alpine lakes to mountain peaks, it sure does offer a picturesque landscape through which to hike. And yes, you will be summiting Mt. Kosciuszko while on the Main Range loop! Lots of hikers camp overnight at the bottom, wake up early, and summit for sunrise.
If you do this epic Kosciuszko walk in 2 days, you can camp at Wilkinsons Creek around the halfway point of the track. There's water available at the creek nearby if you need to refill your bottle/bladder.
READ MORE: What to pack for an overnight hike // The 5 Best Foods To Eat Before A Long Hike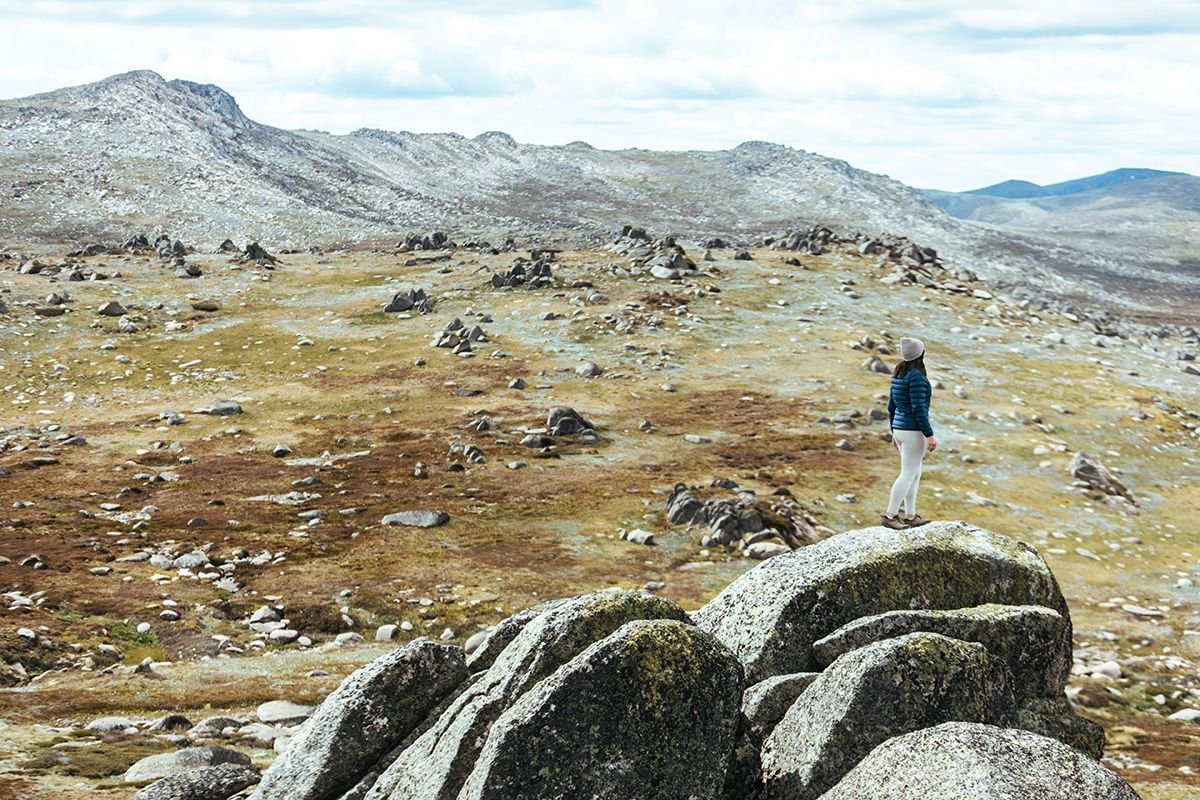 Even if you're doing this Kosciuszko walk during summer, be prepared for all sorts of weather! You're definitely not guaranteed hot sunny days in this neck of the woods. Sadly we axed our plan to do this hike on New Years Eve due to the forecasted rain (yes I'm a pansy when it comes to weather), and I am absolutely determined to return for another attempt later this year.
I also recommend taking a PLB with you on the hike – you can hire one from the visitors centre in Perisher or Jindabyne. It's free, and it's extra insurance in case anything happens to you while on the trail. You can never be too safe out there, after all.
Thredbo
A trip to Kosciuszko National Park isn't complete without a visit to Thredbo, another popular ski resort in Kozzie. Thredbo's a pretty and polished alpine village, with its scenic chairlift the centerpiece. It's well worth visiting outside of ski season just to ride the lift up into the mountains and take in the scenery from above.
At the top, you can wander around and either hike up to Mt. Kosciuszko with just a fraction of the effort of summiting from the bottom, or hike back down via the Dead Horse Gap trail (more on these below).
If you're into mountain biking, Thredbo is an excellent place to ride. There are numerous trails accessible from the top of the chairlift and there's gear for hire at the bottom.
It costs $45 for a scenic lift day pass and $85 for a MTB lift day pass – and you can save 15% if you buy your pass at least a week in advance.
Kosciuszko Walks from Thredbo
Pin it!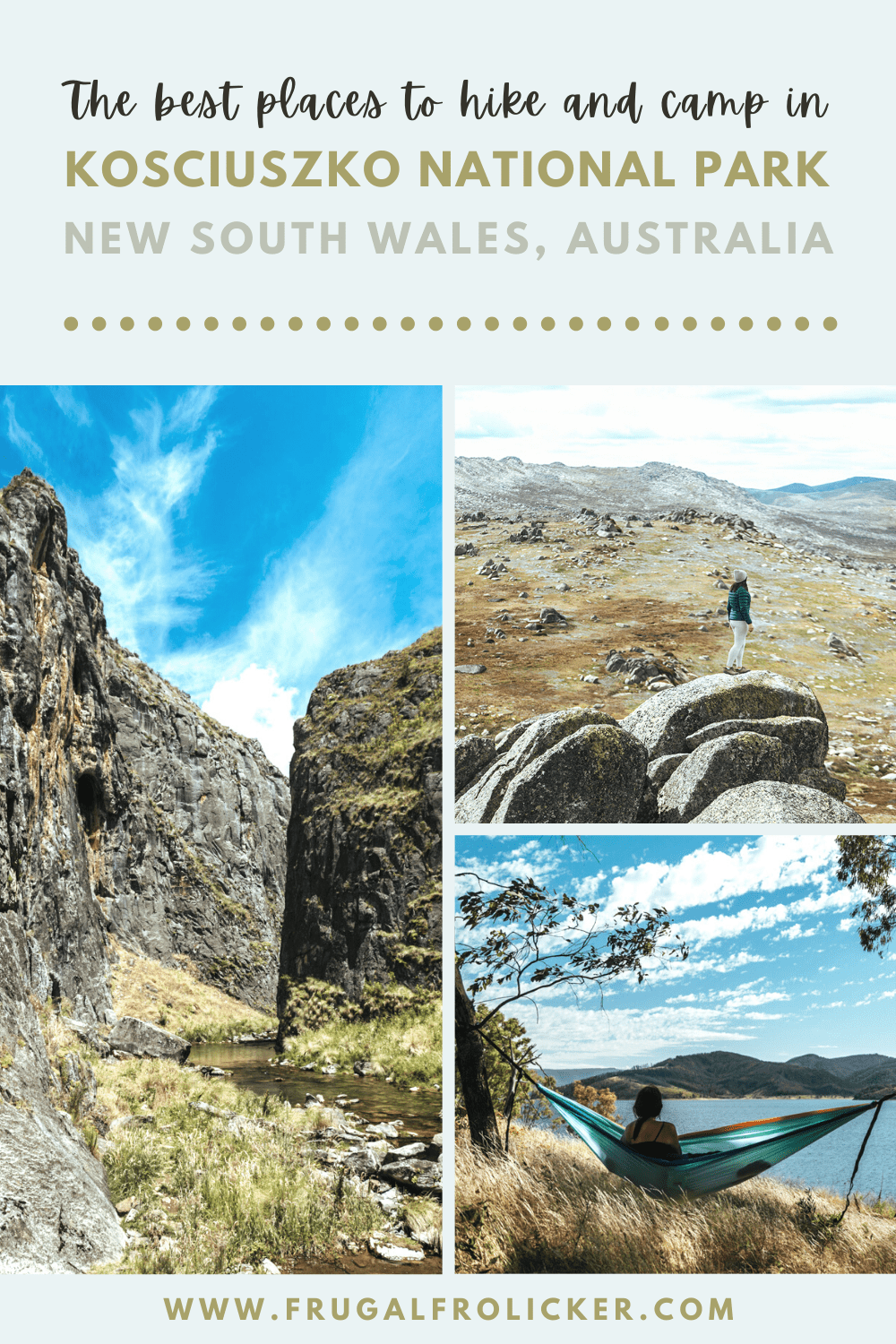 Frugal Facts
As of February 2021 —
A national parks pass that includes entry to Kosciuszko National Park is required for:
Yarrangobilly (if you don't have one, you can pay $4/day to access the attractions in the area)
Charlotte Pass
Main Range
Thredbo
A Kosciuszko National Park pass costs $17/vehicle per 24 hours (or $68 for 5 days), or if you plan on making several trips to Kozzie during the year you can purchase an annual parks pass (giving you access to all national parks in NSW including Kosciuszko) for $190.