This is a guest post written by Ilakkiya of Wander is Calling, and expanded upon by Lindsay.
—
Rain or shine, hiking is a great way to explore and enjoy nature. However, to truly enjoy the outdoors, you need to be prepared for whatever may come – and that means knowing how to pack for a day hike.
Whether you're a seasoned hiker or a newbie, speed hiking or taking your time on the trail, we've conjured up the ultimate day hike packing list for you:
Day Hike Essentials
Lightweight Backpack
First and foremost, you must get yourself a lightweight backpack for hiking. Aim for a pack that's in the 25L-35L range, which should be large enough to pack all of the items on this day hike packing list.
There's no shortage of brands out there that produce solid packs, but I recommend Osprey because of their lifetime warranty and high quality products. The Osprey Sirrus 24 (Womens) and the Osprey Stratos 34 (Mens) both have great back support and ventilation (aka less back sweat!).
READ MORE: Essential Hiking Gear For Beginners for more details on how to choose the best backpack for a day hike.
Hat
A hat is necessary no matter what the weather's like. If it's a sunny day, you'll want to pack a baseball cap or visor to keep the sun off of your face (and to keep you from having to squint to see in the bright light). And if it's cold out, you may want to hike with a beanie to keep your head warm.
Snacks
Whether you're going on a long or short hike, it's a great idea to pack some easy access snacks. Granola bars, rice crackers, nuts, and trail mix are some easy, energy-dense snacks to hike with.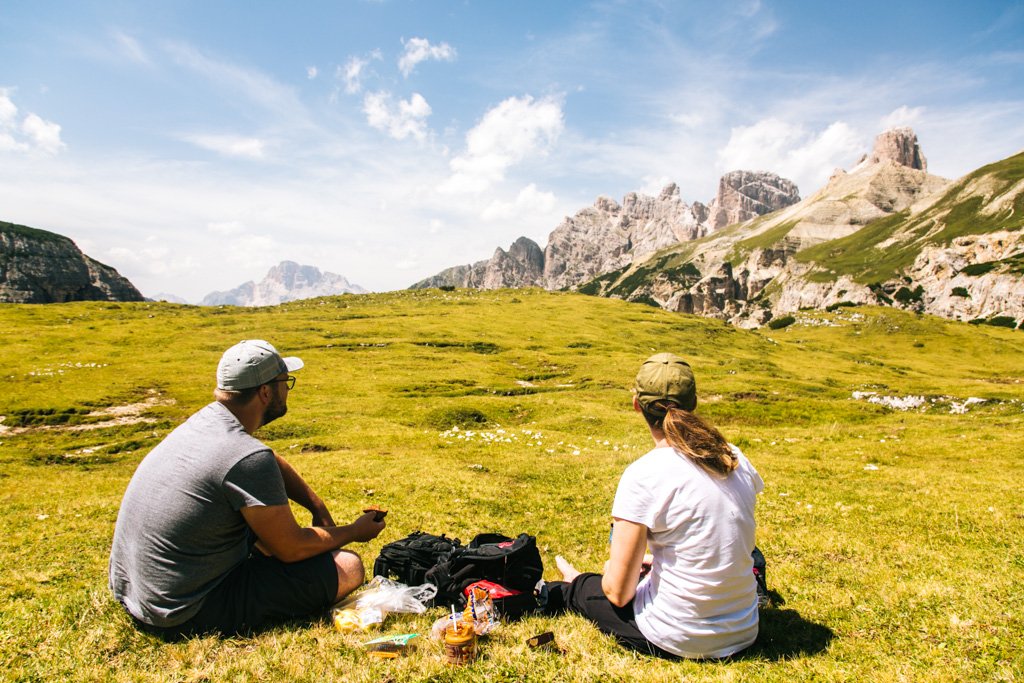 Sunscreen
It's a good idea to wear sunscreen every day, not just when you're on a day hike. But either way, be sure to pack sunscreen in your hiking pack.
I always advocate for natural, mineral, or zinc sunscreen, as these are better for both your skin and the environment. You'll want a minimum of SPF30 (preferably SPF50) to cover you on the trail for longer. The Sun Bum face stick and Raw Elements natural sunscreen tin are both travel and nature-friendly.
Bug Spray / Insect Repellant
You will NEVER regret throwing in some bug spray when you're packing for a day hike, trust me on this one.
Just like with sunscreen, I prefer my insect repellant natural – i.e. bug spray that's DEET-free. This All Terrain Herbal Armor swaps DEET for natural herbs and oils that repel bugs just as effectively.
Hiking Shoes / Hiking Boots
Depending on the terrain and length of your day hike, you could get by with regular sneakers or walking shoes. But for versatility and water proofing purposes, it's well worth investing in a quality pair of hiking shoes or boots.
The North Face Hedgehog Fastpack II is a great lightweight and waterproof shoe, while the Salomon X Ultra 3 Mid is a sturdy waterproof boot – both are excellent for a day hike and will keep your feet nice and dry.
READ MORE: Essential Hiking Gear For Beginners for more details on how to choose the best shoes or boots for a day hike.
Wool Socks
If there's one item on this day hike packing list that's changed the game for me, it's wool socks. I notice a massive difference between when I used to wear my normal cotton socks with my hiking boots, and when I switched to wearing wool socks. NO MORE BLISTERS! Socks that stayed up over my ankles! Socks that didn't entirely stink or end up saturated with sweat! Truly life changing.
Safety Whistle
Even if you're not hiking alone, make sure you're equipped with a safety whistle. You never know when you'll need to use it, and it could just save your life!
Flashlight / Headlamp
Although most phones come with a flashlight function, it's best to always carry a dedicated flashlight or headlamp when hiking. This will prove invaluable should you have to finish the day hike in the dark, which can happen if you underestimate your hiking time, take too many breaks, or take a wrong turn and lose time back tracking.
This LED flashlight attaches to your pack with a small carabiner, while a headlamp can be worn around your head while you hike.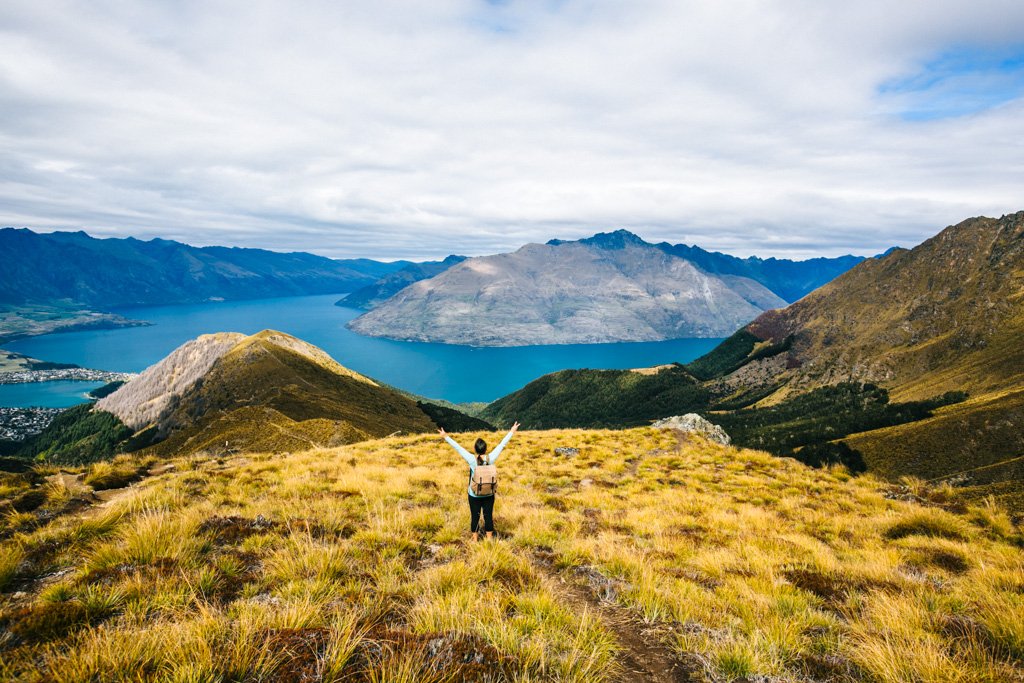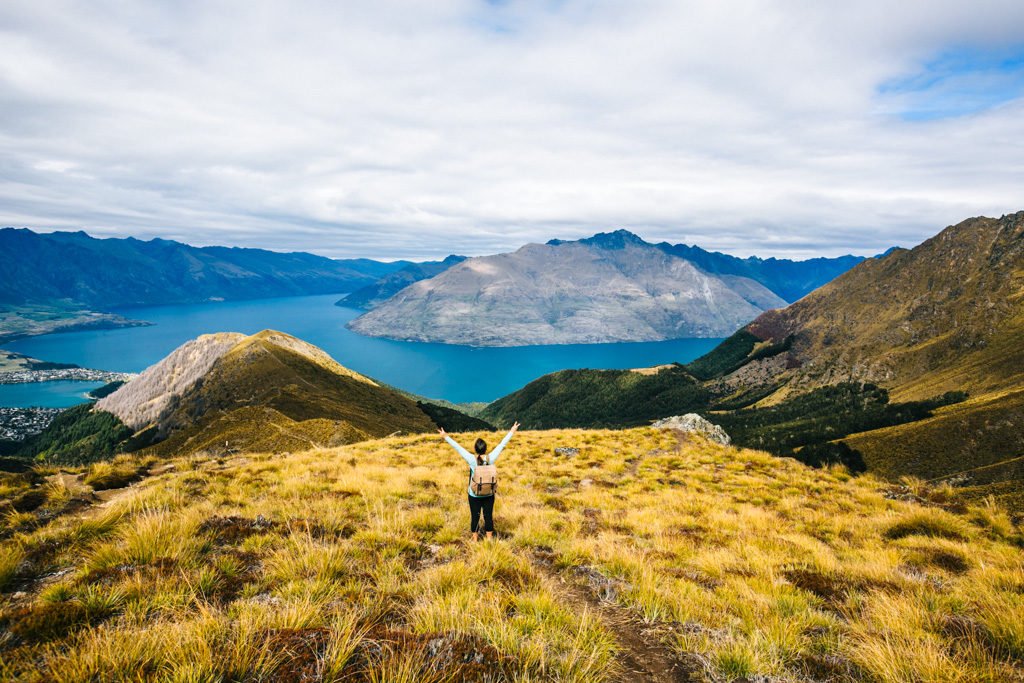 Water Bottle / Water Bladder
If you're still carrying around disposable plastic water bottles, it's time to ditch them in favor of a more sustainable option. When packing for a day hike, you'll be fine carrying either a water bottle or a water bladder.
I love Nalgene bottles because they're big, indestructible, easy to clean, and can be hooked onto your pack with a carabiner. However, my preference is definitely a 3L hydration bladder like the Osprey Hydraulics Reservoir or the Camelbak Crux Reservoir. These often fit into a dedicated pocket inside of your hiking pack that sits against your back, with a tube that feeds through a hole so that you can sip water while walking, without you having to stop.
Electrolyte Supplements
If you're prone to overheating when walking or exercising, electrolyte supplements will be your savior on any day hike. Pop an electrolyte tablet into your water before, during, and after so that you stay hydrated.
First Aid Kit
A first aid kit is something you never want to have to use, but are SO thankful to have on the odd chance that you do need it. Be sure to throw one in your back when you pack for a day hike!
Sunglasses
There are few things worse on a day hike than not having a pair of sunglasses on a bright sunny day. Don't forget 'em!
Swiss Army Knife
A Swiss army knife is good item to have for a myriad of reasons. From chopping up veggies for lunch, to tweezing out splinters and ticks, to protecting yourself, this thing is SO useful to have in your pack.
Hand Sanitizer
Given that COVID's still around, hand sanitizer should be a part of all your outdoor adventures. But even in non-COVID times, it's still a really good thing to have on hand both on the trail and off.
Sweat-Resistant Clothes
The first rule of packing for a hike? Never EVER wear cotton. Cotton clothing retains moisture, rather than wicking it away, which can make your body colder if it's not particularly warm out.
Instead, equip yourself with sweat-resistant layers: basically anything non-cotton is ok, but merino wool is ideal. Merino wool is sweat-wicking, lightweight, warming, quick drying, and odor resistant, which is exactly what you want when hiking all day. I love and swear by Icebreaker merino wool layers.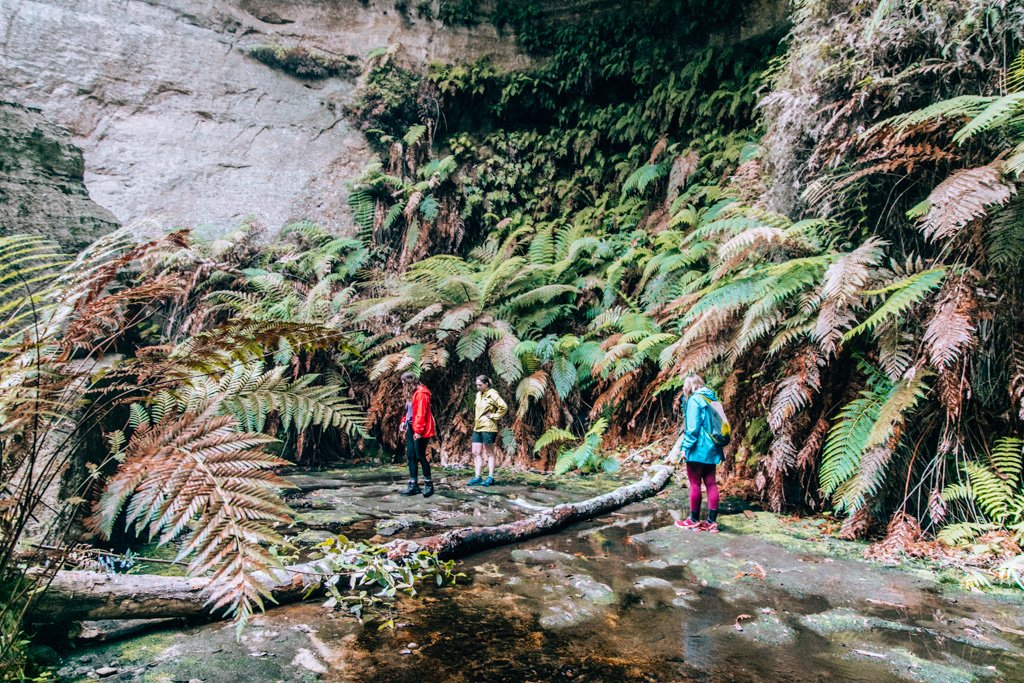 Rain Jacket
Unless the idea of being utterly drenched and lugging around wet gear appeals to you, you need to invest in a quality rain jacket. It doesn't necessarily need to be a Gore-Tex jacket, but it does need to be waterproof (not water resistant). The Marmot Minimalist Jacket is a universal favorite.
Pack Cover
Don't forget to keep your backpack dry with a pack cover! One of these is sure to keep all your belongings dry inside your pack.
Fully Charged Phone & Power Bank
Your phone is a no brainer, but a power bank is crucial to have on hand in case your battery runs out (which it can, especially if you're using your phone's GPS to navigate).
Bonus tip: Keep your phone on airplane mode if you're not using its GPS during your hike. This'll keep its battery from draining while you hike.
Map / Hand Written Directions
Even if you're relying on Google Maps to get you to the end of the hiking trail, you should really have a hard copy of the route ahead (whether it's a map or directions you've printed out or screenshotted). This will save your ass, should your phone die or lose signal during your day hike.
Bonus tip: Download the maps.me app on your phone and save a map of your area to use offline, in case you lose phone signal.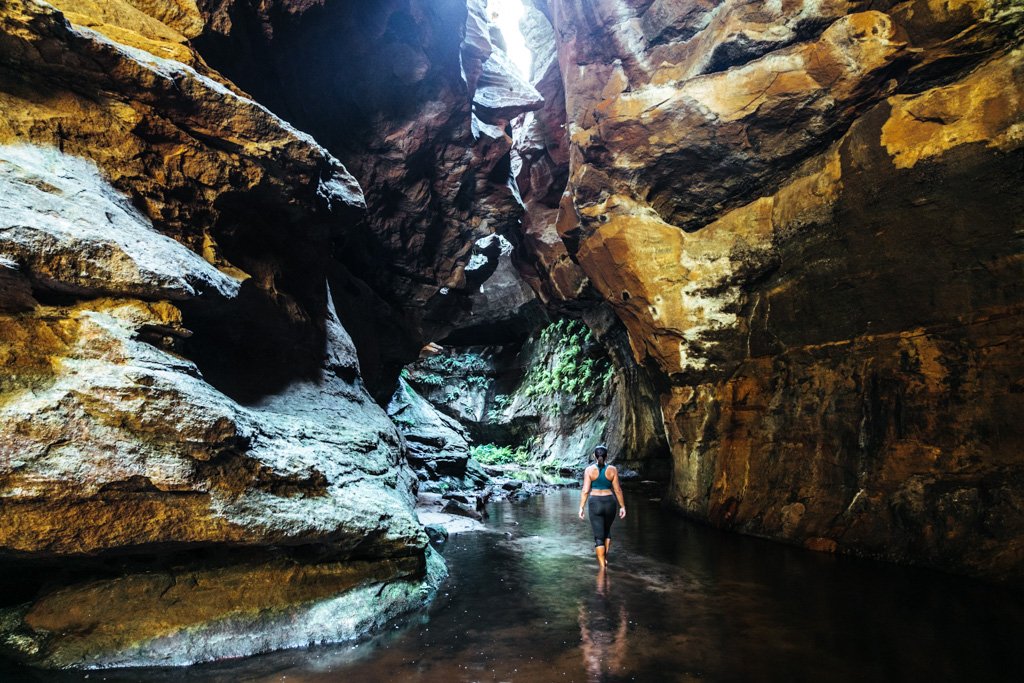 Day Hike Optionals
The items below aren't necessarily day hike essentials, but some of them might be a good idea to have on hand, depending on your situation:
LifeStraw or Water Purifying Tablets
In case you end up needing more water than you can carry on your hike, you may have to refill your bottle or bladder from a fresh water source along the trail. Whatever you do, don't drink the water without treating it first!
There are a few ways you can treat the water: we recommend using either a LifeStraw, a Steripen, or water purifying tablets.
Wet Wipes
Not that a hike is the time to be a neat freak, but if you're not fond of dirt, you might want to have some wet wipes on hand to keep yourself clean. I'm a big fan of them for cleaning up after making lunch on the trail (especially wraps and sandwiches), wiping off mud, and getting rid of body odor.
Bear Spray
You don't need to carry bear spray all the time, but it's a really good idea to have this on hand and easily accessible if you're going to be day hiking in North America or in a location that's known to have bears.
Drone
Definitely more of a luxury item, but nevertheless an awesome thing to have to capture incredible aerial shots of the landscape you're hiking through. The DJI Mavic Air is a great choice for a lightweight drone, which saves you space and weight in your pack without sacrificing image quality.
Camera
Depending on your skill, interest, and budget, there are plenty of options for cameras to take along with you on your hikes if you're yearning for something more than your phone's camera.
Are you a beginner, or just want to point and shoot without tweaking any settings? Go for the Sony Cybershot RX100 VII.
Are you a decently skilled photographer that doesn't want to carry around anything too bulky? A mirrorless camera is what you need. Check out the Canon EOS M100 or the Sony A7 III.
Are you a pro photographer, or someone who wants to capture the best photos possible without sacrificing on quality? You'll want a dSLR like the Canon 5d mark IV.
Spare Camera Batteries
I've toted my camera on more adventures than I'd like to admit where I turned the camera on to find the battery dead – and had no spare batteries on hand. THE WORST. Even if you think your camera battery is fully charged, cold weather and flying can zap them before you go to shoot again, so it never hurts to have spare batteries with you.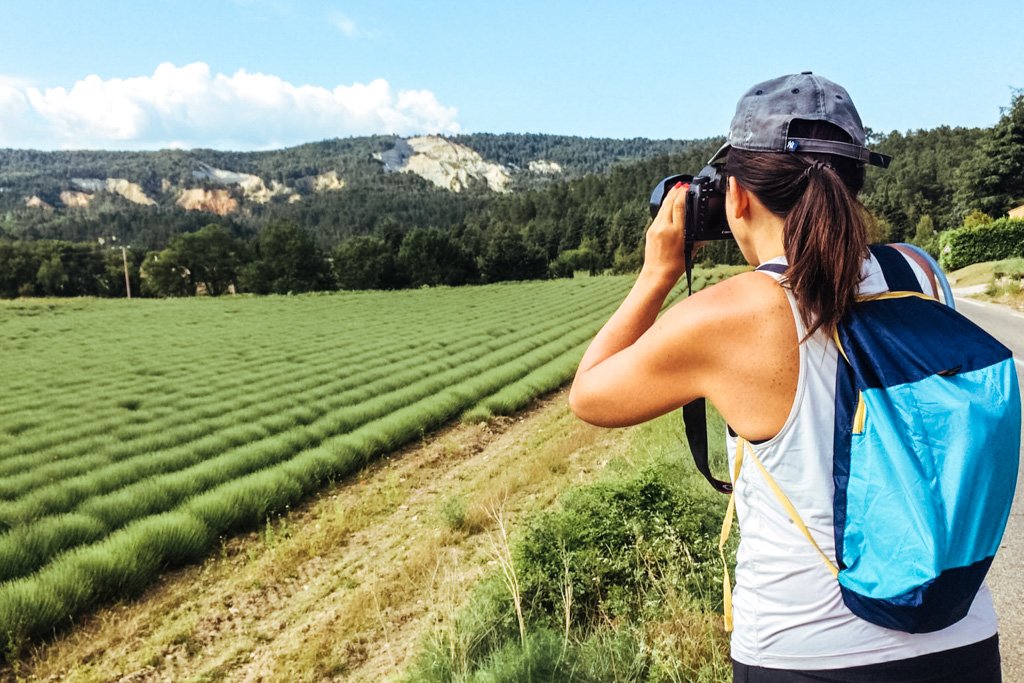 Garbage Bags
You know the rule – pack it in, pack it out. Make sure you carry out your trash when you leave the trail – and make it easier for you to do so by bringing some trash bags when you pack for a day hike.
And bonus!: you can also put your belongings inside trash bags if there's any risk of your pack getting wet on the trail (whether from rain or from creek crossings).
Emergency Blanket
Last but not least, packing an emergency blanket for extra warmth is never a bad idea (did you know it reflects up to 90% of your body's heat back to you?).
Pin it!