This is a guest post by Mikaela of Voyageur Tripper.
—
Going on your first hike can be intimidating. It might feel like there are a lot of things to worry about, including what gear you need, what specific item to choose and how much it's all going to cost.
The bottom line is that you actually need a lot less than you're probably thinking. And buying gear can be really straightforward if you know what you're looking for.
In this post, I'll walk you through 5 pieces of essential hiking gear you'll need to get started. I'll also provide some tips for hiking for beginners on a budget, helping you choose specific items that will save you money.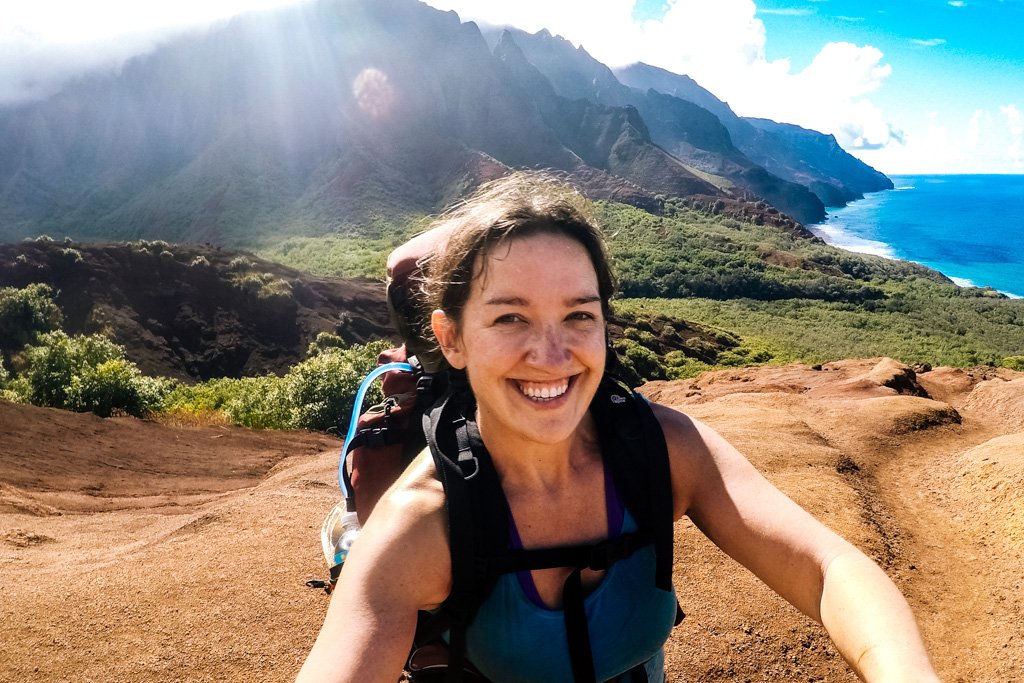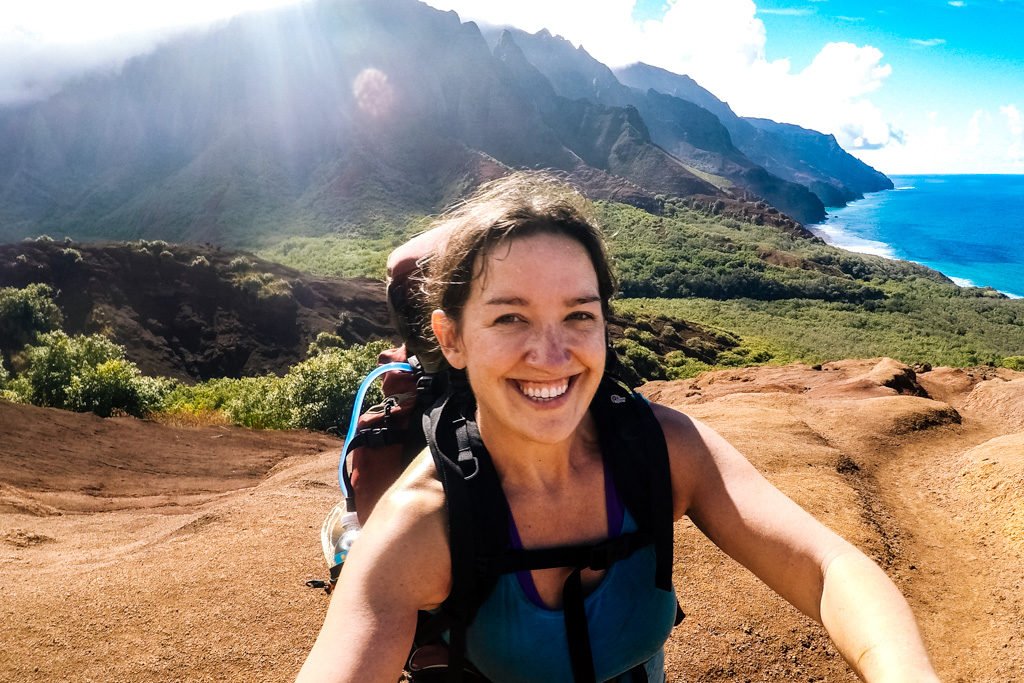 1. Hiking Boots
The very first piece of essential hiking gear I recommend is a pair of sturdy hiking boots for beginners.
Hiking boots come in three styles:
Hiking Shoes (low-cut and flexible soles)
Hiking Boots (mid- to high-cut, sturdy)
Backpacking Boots (high-cut, very sturdy with lots of ankle support)
If you're totally new to hiking and will mostly be taking day trips, you can go with a Hiking Shoe. They're lightweight, comfortable and require little time to break in. Plus they're less expensive than boots.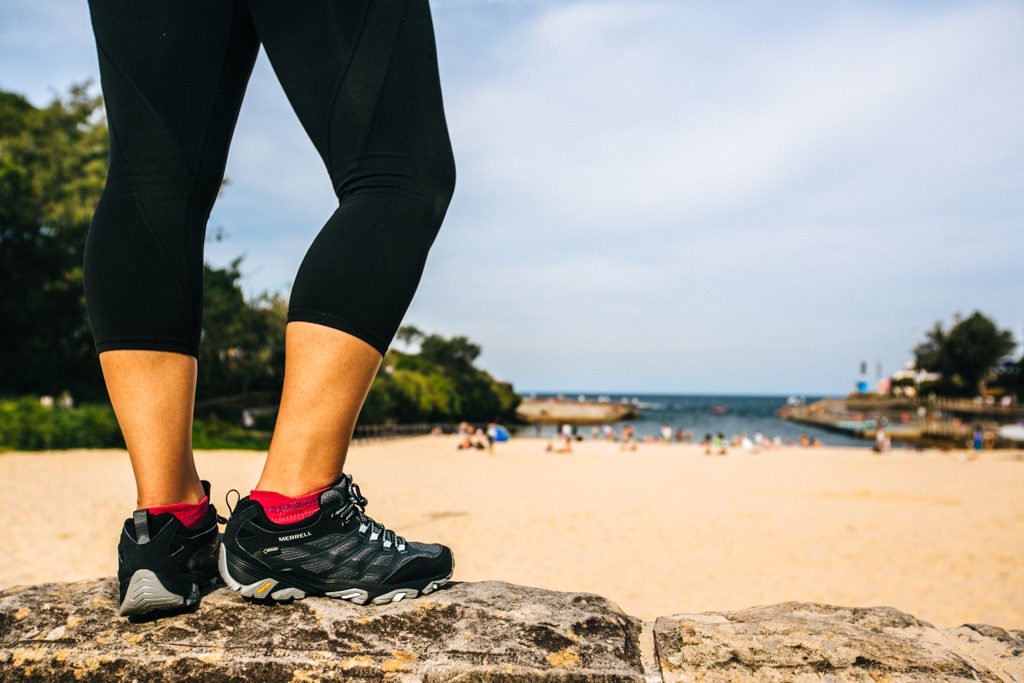 Hiking shoes: perfect for easy day hikes and walks on flat terrain.
That said, you also want to think long term. Do you eventually want to be doing long day hikes with a big backpack, or perhaps move onto multi-day hiking trips? In that case, I'd recommend a Hiking Boot or a Backpacking Boot.
Both of these options will be a little more expensive, and it'll take longer to break them in. Because boots provide so much support, they can feel heavy and bulky on your feet if you aren't used to wearing them.
The upside is that you'll grow familiar with a pair of hiking boots that will last you a really long time and will be suitable for any kind of trip. My first pair of hiking boots was Salomon X Ultra 3 Mid and after six years they are still going strong!
Choosing your first pair can be a little daunting, so I've written a post 5 Pro Tips for Buying Beginner Hiking Boots which should help you out.
Tip: After you've purchased your hiking shoes/boots, start breaking them in. Wear them while walking your dog or on a short trail near your house. Don't have your first hike be your first time wearing your hiking boots.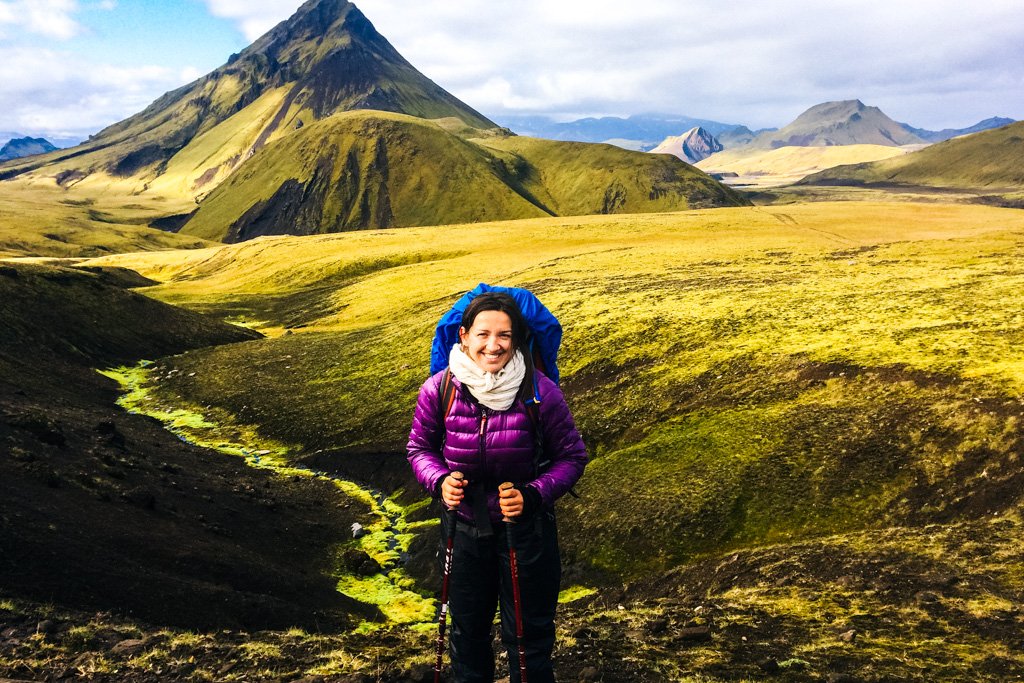 2. Rain Jacket
After hiking boots, the next piece of essential hiking gear I recommend for beginners is a decent raincoat. You don't need a fancy (or expensive) Gore-Tex raincoat, but you do want something well fitting and with good waterproofing.
Water-resistant vs. Waterproof: When looking for a rain jacket, you might see some labeled 'water-resistant' and others labeled as 'waterproof'. Both of these jackets are treated with a durable water repellent (DWR) finish, so water will bead on the surface of the jacket and roll off.
A water-resistant jacket, however, will only be able to withstand light rain before the water starts soaking through. A waterproof jacket will not let any water through, even in heavy downpours.
So when looking for a rain jacket, ensure the one you choose is waterproof.

Rain jackets in every color!
Do you need Gore-Tex? You want your rain jacket to be waterproof, yes, but does it need to be Gore-Tex? Not necessarily. While Gore-Tex is the gold standard for waterproof jackets, it can be quite expensive. There are plenty of dependable, high quality rain jackets that aren't made with Gore-Tex, so if that is a little out of your budget don't fret.
Here are a few options for buying high quality rain jackets:
Budget: Shop NorthFace, Columbia, or Kathmandu brands at outdoor sporting stores at the end of the season (they're often on clearance).
Mid Range: The Patagonia Torrentshell rain jacket is one of my favorite jackets and it goes on sale almost every year at the end of the season. If you want Gore-Tex without spending a fortune, I have the excellent Marmot Minimalist Jacket (it's super basic, but very waterproof and affordable).
High Range: If you have some extra money to invest, Arc'teryx sells the highest end rain jackets I've ever seen. The Arc'teryx Beta AR Jacket is very highly rated (and comes at a price point to match).
3. Backpack
Next on the list of essential hiking gear is a backpack. For short day hikes, honestly, any backpack will do. But if you will be hiking for a full day, and carrying a lot of items, a backpack with a hip belt and back support will be helpful.
I recommend a backpack in the 25 L to 35 L range. If you will be out for a few hours and hiking with friends (to split the gear amongst) you can get away with a smaller backpack. If you want to carry more gear (like cooking items, a camp chair or camera equipment) or will be hiking alone, you want the backpack to be closer to 35 L.

A backpack is essential hiking gear for any beginner.
The quality of hiking backpacks on the market is phenomenal, so it's hard to choose a bad backpack. A lot of it will come down to personal preference and your price range.
Some features to look for in a hiking backpack (or ask an employee about):
Do the back panel or straps offer ventilation? This will help cut down on back sweat.
Does the backpack have hip belts? You want a hip belt because it takes weight off of the shoulders and redistributes it to the hips.
Is there internal organization? Not mandatory, but helpful to avoid misplacing small items.
Is there a quick access pocket? Again, not mandatory, but helpful for storing a sweater or snacks.
Does the backpack come with a built in rain cover? Most backpacks aren't waterproof. Some come with a rain cover built into the backpack, while others need to be purchased separately.
Though they're a little pricey, I like Osprey backpacks, specifically the Osprey Sirrus 24 (Womens) and the Osprey Stratos 34 (Mens). They both have great back support and are designed to vent well (reducing back sweat). The backpacks have good organization too.
My all-time favorite day hiking backpack, however, is the Deuter Futura 28 SL. It has excellent back support and ventilation, and comes with a built-in rain cover.

A 65L backpack is ideal for overnight hikes where you can't share the gear load with others (and thus need more room!).
4. Mid Layer / Insulating Layer
A mid layer, or insulating layer, is meant to keep you warm. It goes over the base layer and under the shell (rain jacket). If you aren't familiar with clothing layers, take a moment to read up on the layering system.
A common mid layer is either a puffy jacket or a fleece sweater. For beginners, I recommend starting with a fleece sweater because puffy jackets can be expensive. Plus, most beginners start hiking in the summer months when a fleece sweater is definitely warm enough.
Fleece is one piece of gear you never need to spend full price on. At the end of the season, brands like NorthFace, Columbia and even Patagonia put their fleece on clearance. (Usually they aren't the most popular colors, but I've saved up to 70% on fleece simply because I was willing to have an orange sweater.)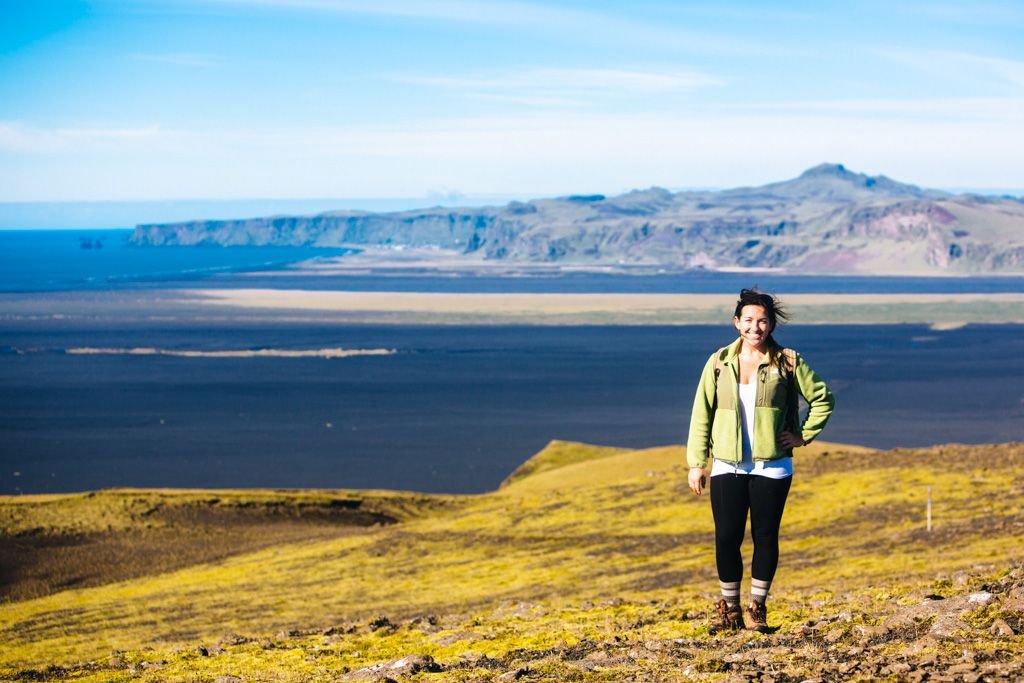 If you do want to spend a little money on a nice, technical fleece Patagonia Better Sweater is by far the best fleece sweater I've ever owned. I have both the 1/4 zip and the full zip and recommend the full zip because it has three zippered pockets (never lose anything again!).
Is a cotton sweatshirt fine for a mid layer? Cotton retains moisture when it gets wet and takes forever to dry. And considering water conducts heat away from your body 25 times faster than air, a wet cotton sweater will not keep you warm. So for that reason, you shouldn't use a cotton sweatshirt as a mid layer.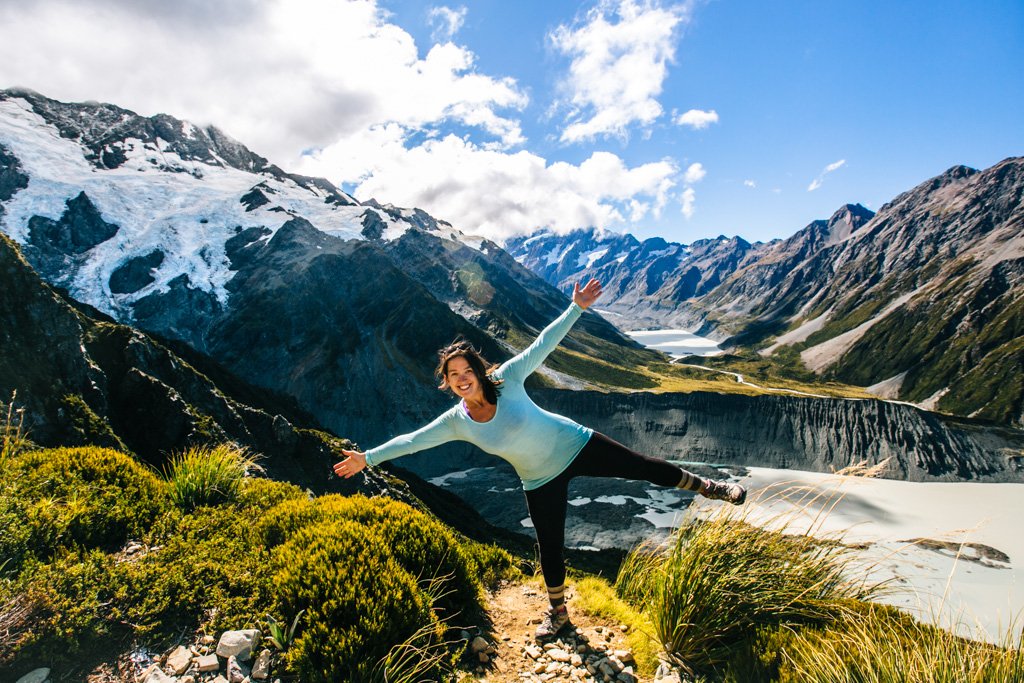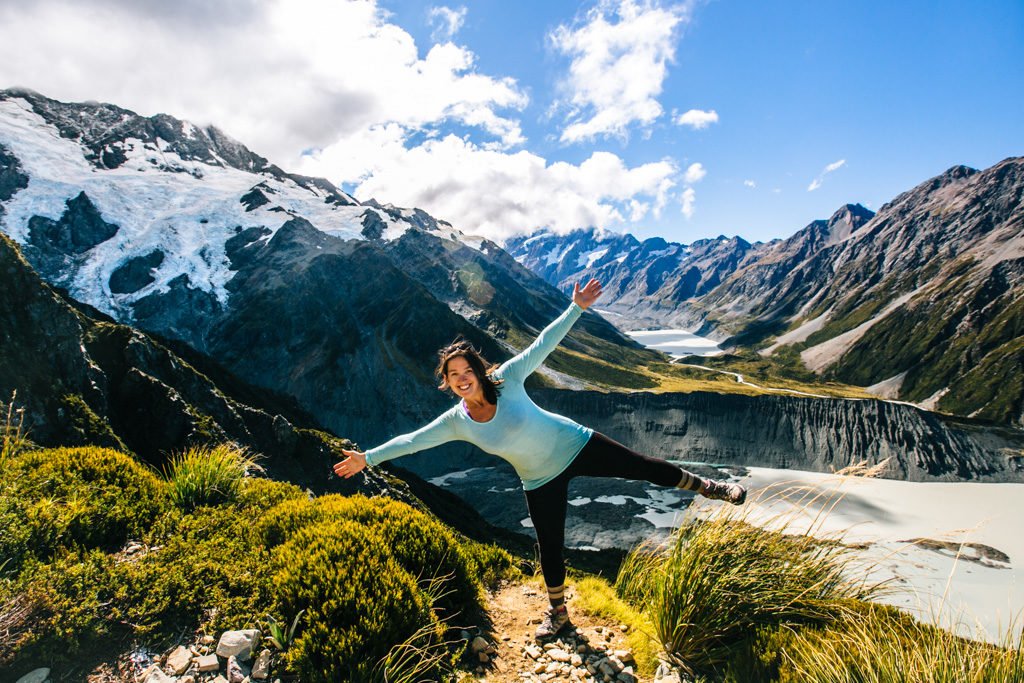 Merino wool layers and wool socks are must have hiking gear in New Zealand!
5. Hiking Shirt & Pants
You were probably expecting a hiking shirt and pants to be higher up on this list of essential hiking gear. However, you likely already own a shirt and pants that are suitable for hiking. A polyester t-shirt (one you could wear to the gym) is perfect for the top. A pair of track pants or leggings (or shorts if it is warm) will work on the bottom.
At least for a day hike, as long as the clothing isn't made of cotton, it'll work. For more than 5 years I hiked and camped in a high school track & field t-shirt and a pair of Nike shorts.
That said, if you want to splurge a little, gear stores like Backcountry and REI offer dozens of options for technical hiking shirts and hiking pants. These definitely aren't must have hiking gear, however.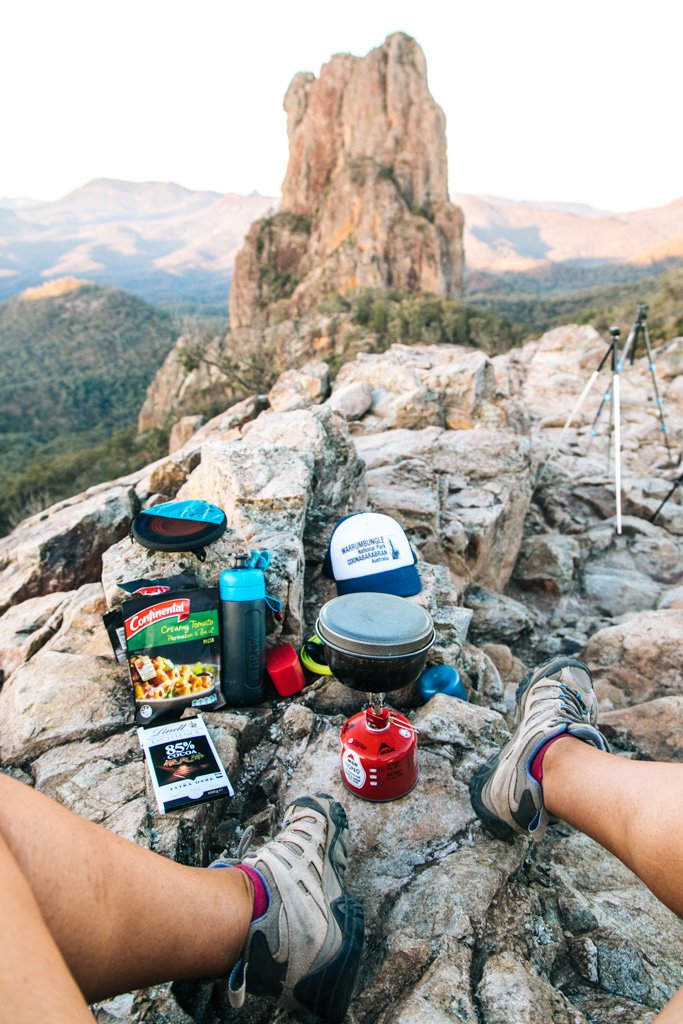 Other Items
Here are some other items to add to your hiking equipment list, which you'll want to wear or keep in your backpack when you're hiking:
Pin it!