I've had the pleasure and privilege of living in two of the most fantastic cities in the world: New York and Sydney. While the fast paced, cut throat NYC lifestyle contrasts sharply with the casual beach bum mantra of Sydney, I found myself drawn to certain things that both cities do super well: coffee (NYC / SYD), street art (NYC / SYD), and city views (NYC).
And just as I've documented the best views of NYC, I've done the same for Sydney. From beaches, bridges, and hilltop parks, here are the best views of Sydney (21, in fact!) —
---
FROM ABOVE
The Air
It's a thrill flying into most any major city, but the moment you spot the Sydney Opera House while circling around Sydney Harbour will trigger goosebumps. Tell me: is there a city that looks more stunning from the air?
---
Sydney Harbour Bridge
For a bird's eye view of Sydney, walk across the Sydney Harbour Bridge. What I love about crossing this bridge is that the city view is constantly changing as you approach the other side: from the tight-angle view of Circular Quay over Dawes Point to having ferries and waterways in the foreground as you're further out on the bridge.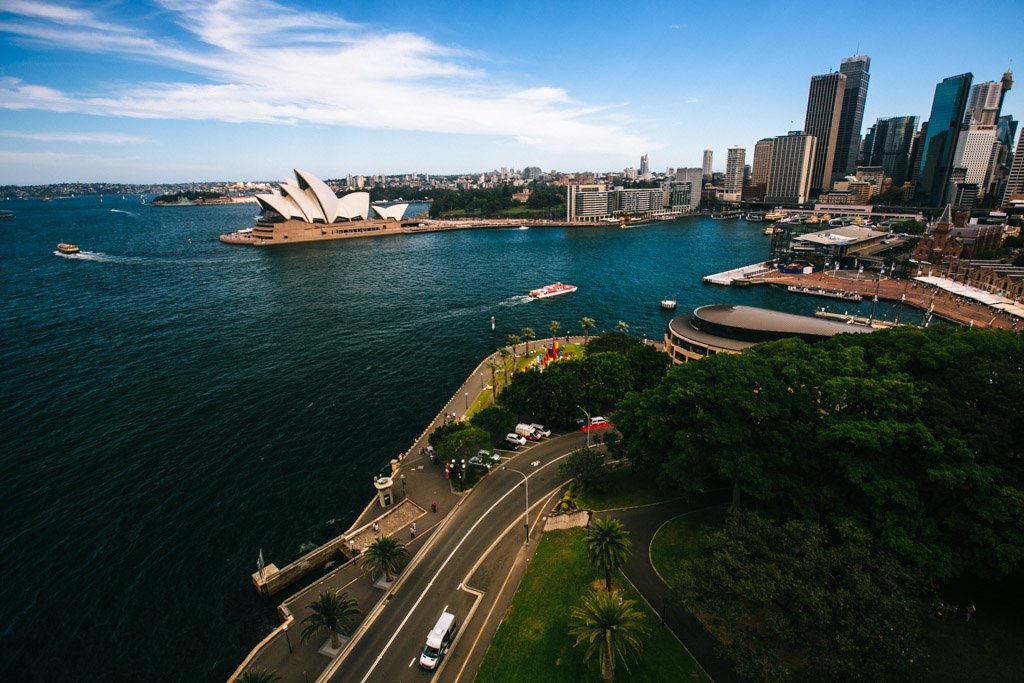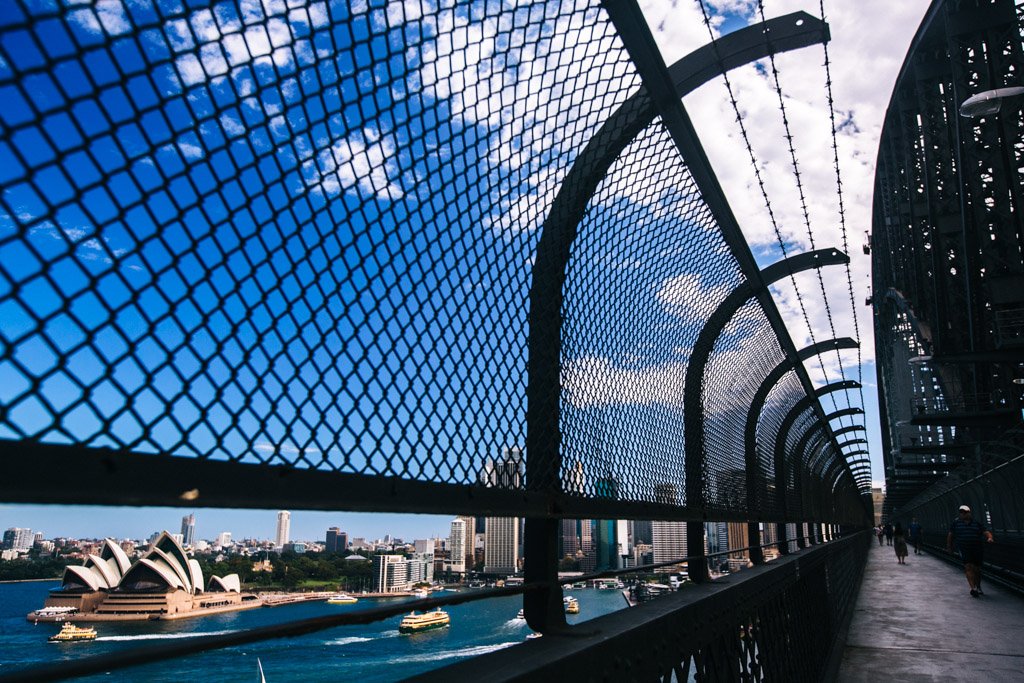 For bonus points, sign yourself up for BridgeClimb: an exhilarating (and pricey) adventure climbing the Sydney Harbour Bridge! I haven't done it (because *ahem*, frugal), but I imagine the views are very similar to those you get crossing on foot – just with an added dose or two of adrenaline.
---
FROM THE CITY
Circular Quay
If you want to see Sydney up close and personal, head straight to its heart and traipse around Circular Quay. You'll feel dwarfed by the Sydney Opera House as you stand on its steps, and by the massive cruise ship that's nearly always docked on the western side of the Quay.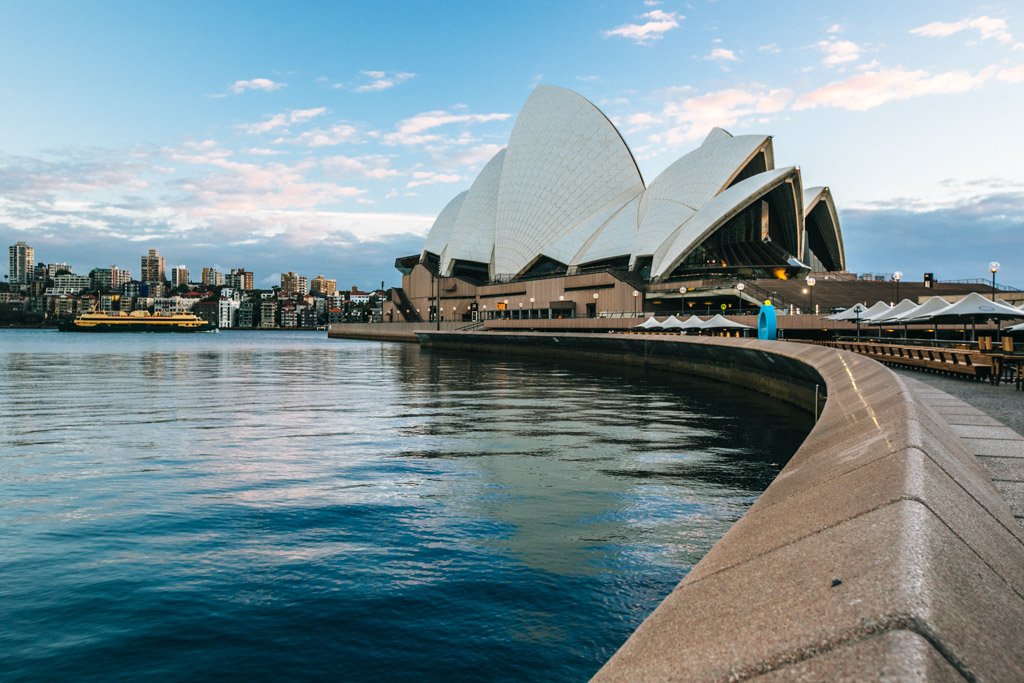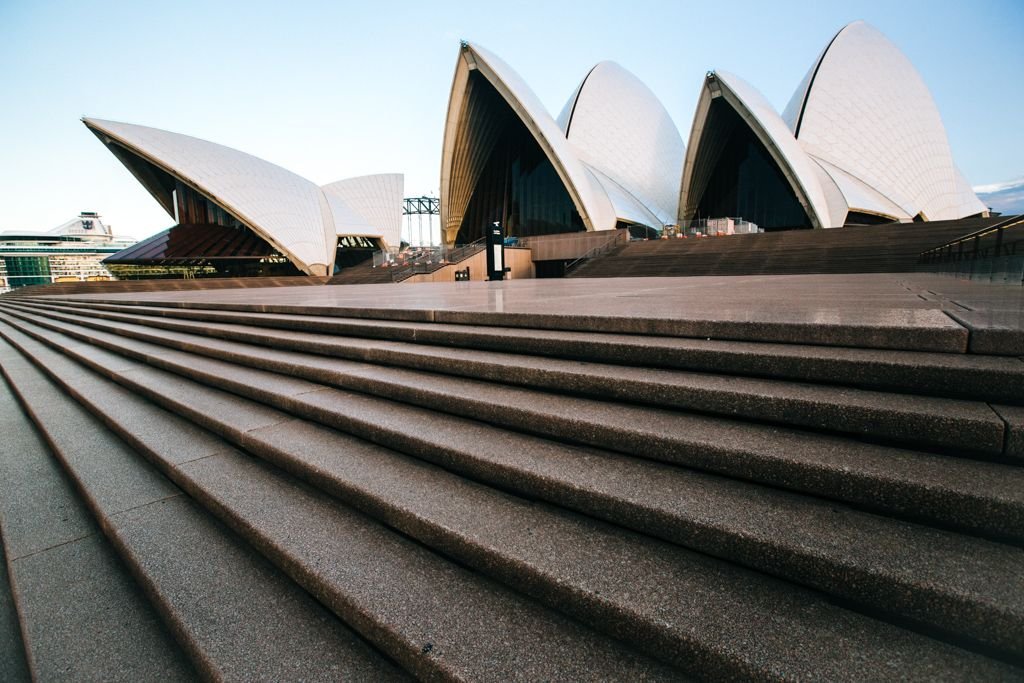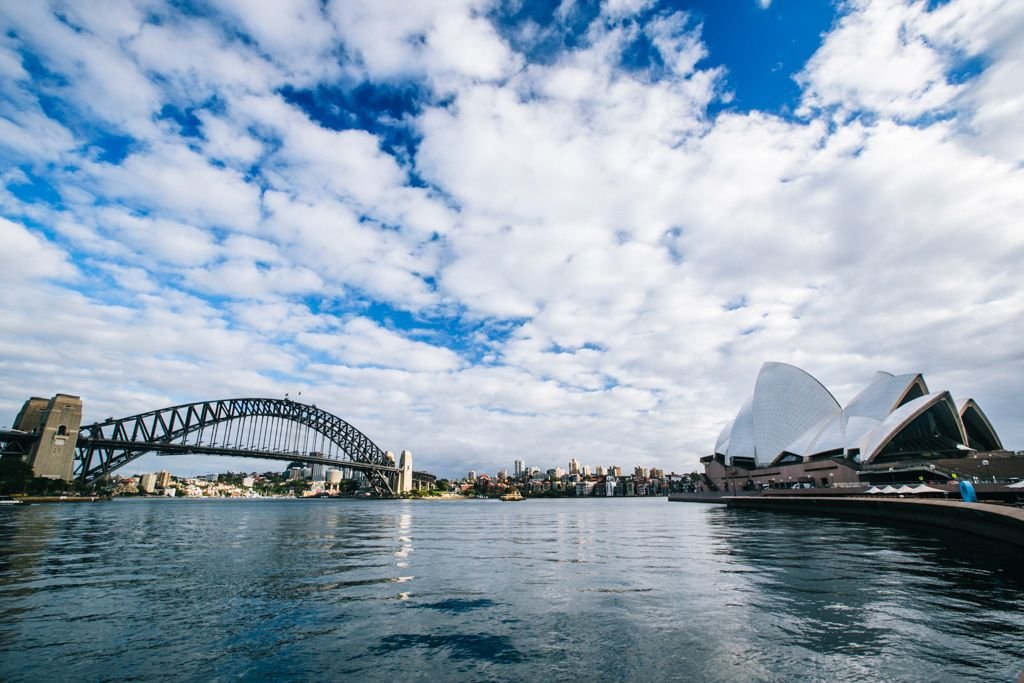 ---
The Royal Botanic Gardens
Sydney's Botanic Garden makes for a lovely frolic through the flowers and trees, but if it's city views you're after, head to the waterfront walkway on the northern end of the park. Here you can have the best of both worlds: views of the Sydney Opera House framed by local flora. The best view can be had at the outermost point of the park in front of Mrs. Macquarie's Chair.
If you're looking for the best view of the Sydney NYE Fireworks, snagging a ticket to one of the parties in the Botanic Garden will just about guarantee it for you. I did this in December 2014 and it was one of the best splurges I've ever had!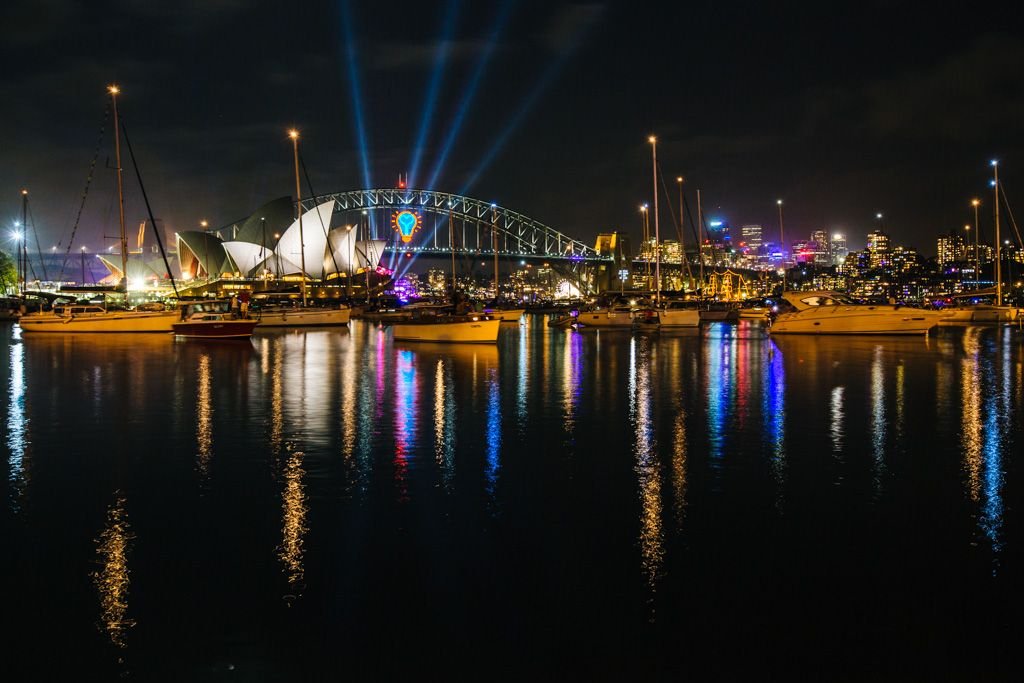 ---
The Observatory
I think Sydney's Observatory is one of its most underrated attractions, but even if you're not keen on learning about its astronomical history, it's well worth trekking up to Observatory Hill to enjoy a picnic with a view.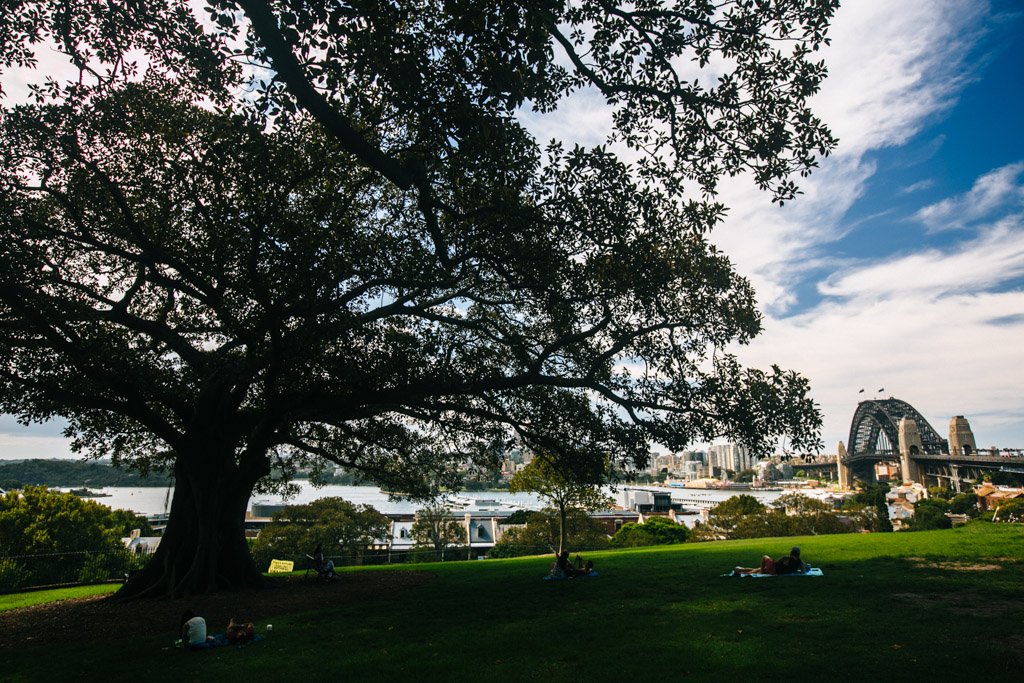 ---
FROM THE WATER
The Sydney Ferries
Sydney's ferries are pretty expensive for point-to-point transfers, but if you consider the fact that they're all scenic boat rides, it's money well spent. Depending on which way you head, you'll either pass beneath the Sydney Harbour Bridge or curve around the Sydney Opera House.
One of my absolute favorite Sydney Things to do is catch the ferry to Manly Beach on a Sunday, where transport costs are capped at AU$2.50 for the entire day. Given that the ferry to Manly normally costs about AU$7 one way, the Sunday trip to Manly is such good value.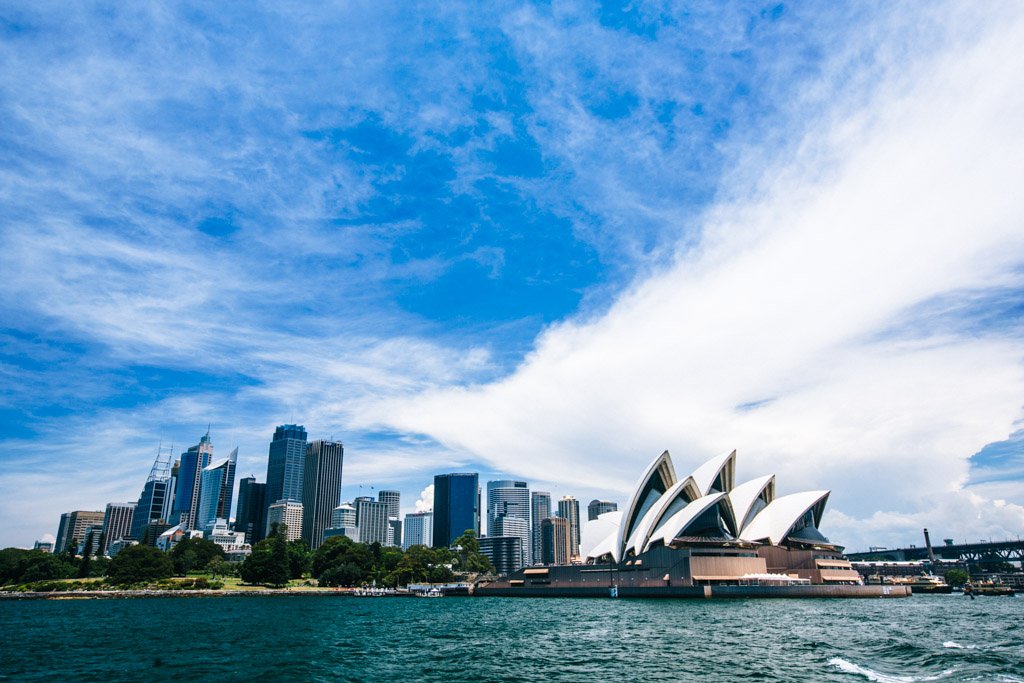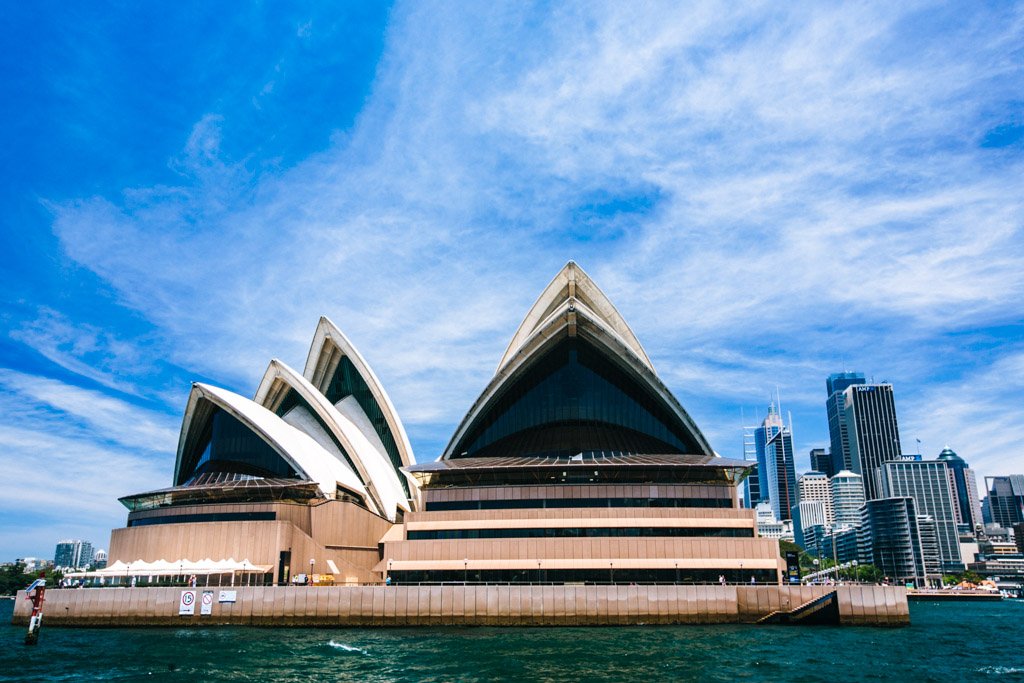 ---
Cockatoo Island
I don't know why I waited til my very last day in Sydney to visit Cockatoo Island, but I really wish I'd devoted a whole summer day to this former prison site / new UNESCO World Heritage site rather than just sunset drinks at Island Bar. You can tour the old convict buildings, play tennis, drink and dine, and even camp on this island – all with a distant view of the Sydney Harbour Bridge and city skyline.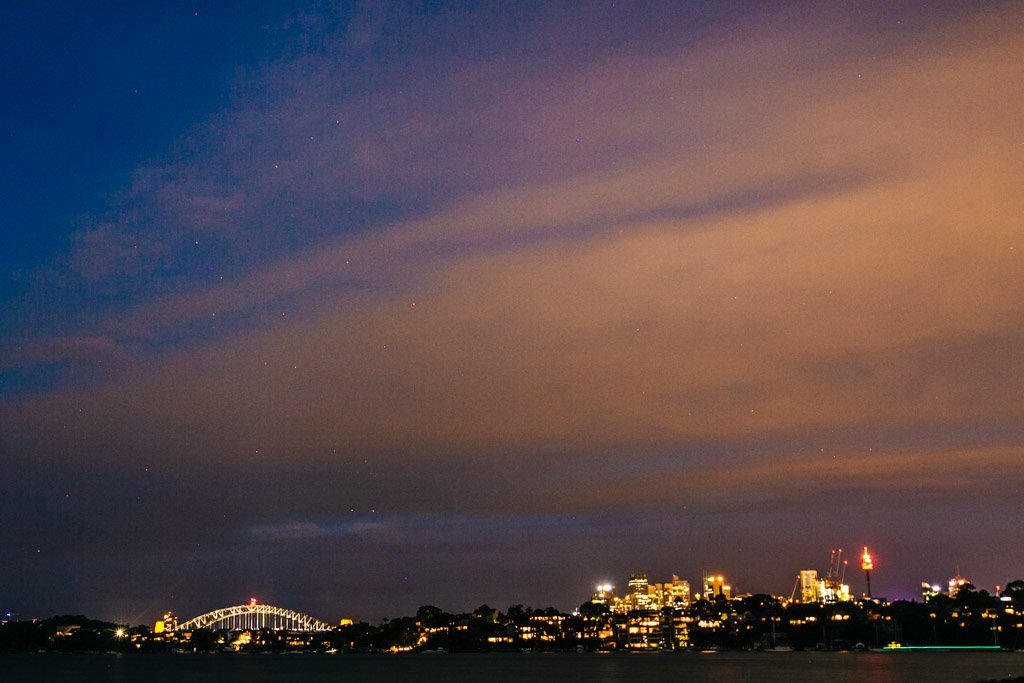 ---
Fort Denison
I haven't yet made it out to this island, but it's at the top of my to-do list upon my eventual return to Sydney. In former years, it was an old penal site and defense facility, but these days it functions as a museum, event venue, and popular tourist attraction in Sydney. It also boasts THE BEST view of the Sydney NYE Fireworks (and the most expensive, at AU$1250 for admission).
Being smack in the middle of Sydney Harbour, you'll take in a postcard-worthy panoramic view of the Sydney Harbour Bridge unobstructed by the Sydney Opera House. If you make it out to Fort Denison, try to time your visit with the daily 1pm cannon firing (or around it, if you hate loud noises like I do!).

I took this photo while on a ferry, but Fort Denison is *just* to my left here, so the view is almost the same.
---
FROM THE EASTERN SUBURBS
Gap Park
The walk from South Head to Watsons Bay is sensational because not only do you get to enjoy dramatic coastal views over Gap Bluff and toward North Head, but also – if you turn to look in nearly the opposite direction – you'll spot the Sydney skyline just beyond the harbour bays and the hilly landscape of the Eastern Suburbs.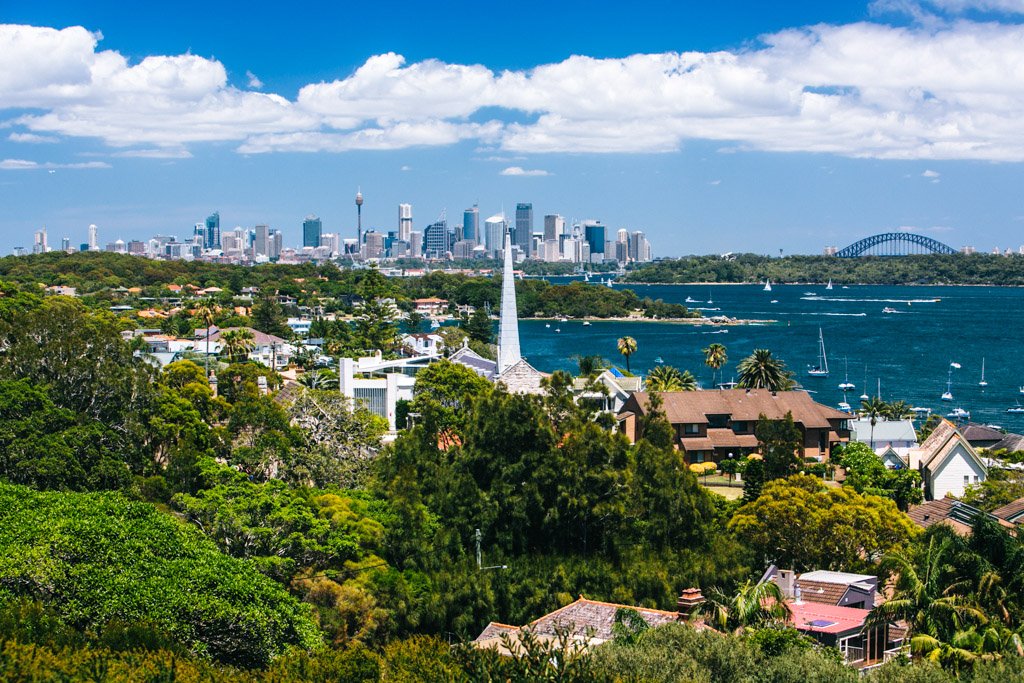 ---
Watsons Bay Beach
The Gap Bluff to Watsons Bay walk concludes at Watsons Bay Beach, but you can also easily access this beach via ferry or bus. It's not so much a beach meant for sunbathing or swimming, but you won't be out of place dining at Doyle's on the waterfront or taking a SUP lesson in Watsons Bay – both complete with a distant view of Sydney.
---
Camp Cove Beach
If you're embarking on the aforementioned Gap Bluff to Watsons Bay walk, you'll eventually hit the orange-sanded Camp Cove Beach. There's a partial view of the city from this beach, but if you climb up to the headland on the right side, you'll be rewarded with an even better one.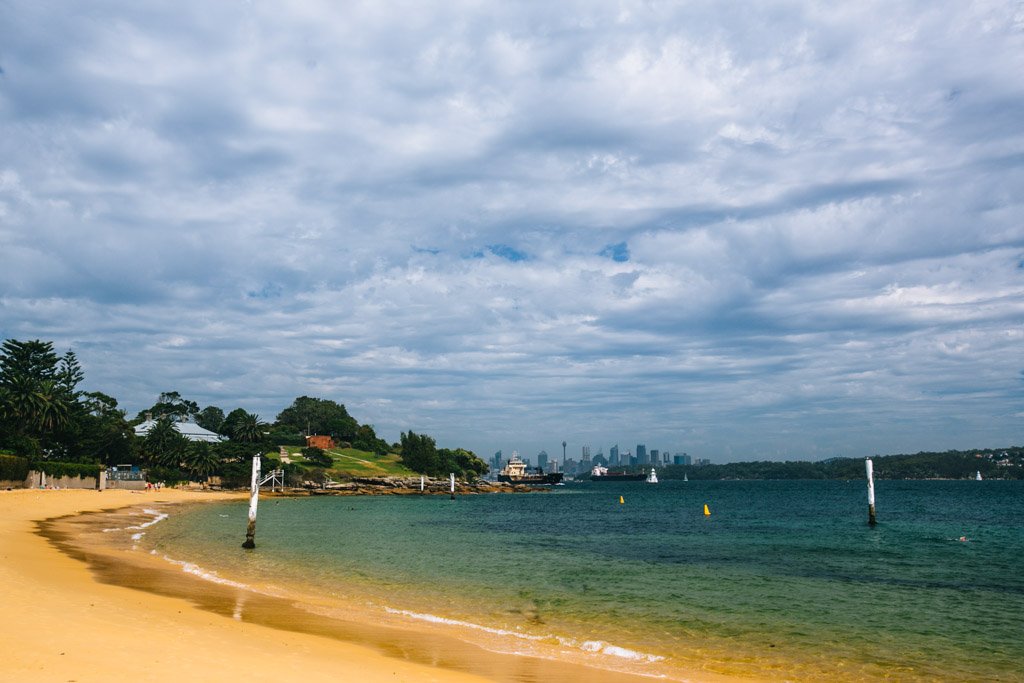 ---
Nielsen Park
Nielsen Park is highly popular amongst local families, due to its many picnic areas and sheltered swimming in Shark Bay. There's a partial city view from the beach that's very similar to the one afforded at Camp Cove, but you can do better by following the trail that hugs the harbour and leads west toward Rose Bay. Once you're up on the headland on the left side of the beach, look for a subtle path that leads off the trail and out to a big rock that overlooks the harbour. Here you'll find a clear view straight across to the Sydney Harbour Bridge and Sydney Opera House.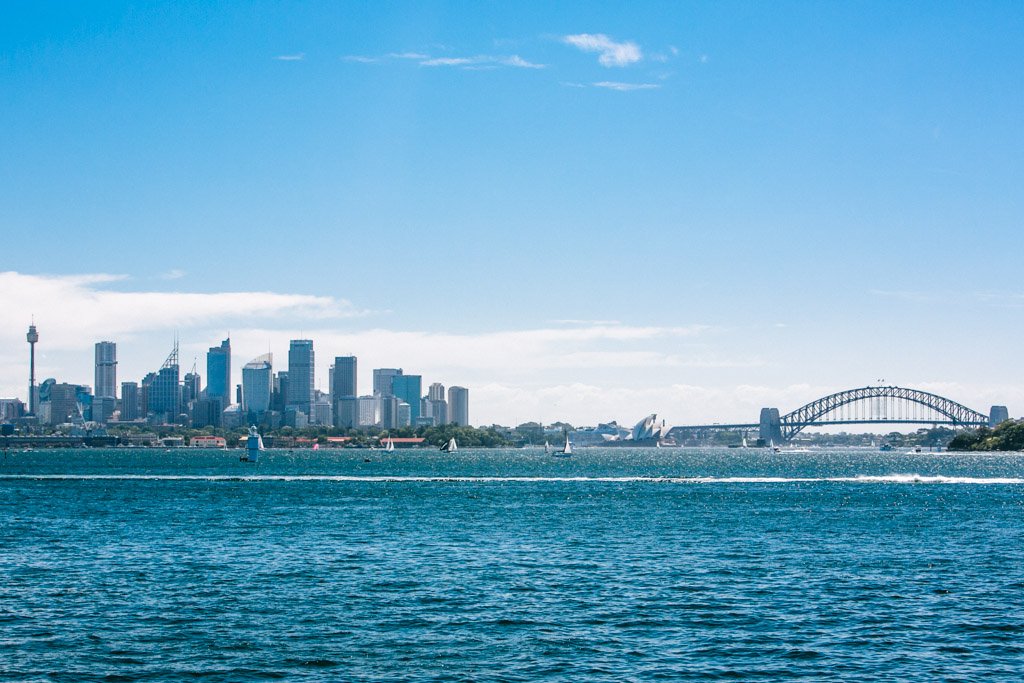 ---
Milk Beach
This semi-secret local's beach on Rose Bay boasts an uncrowded stretch of sand with a prime view of the Sydney Harbour Bridge. It's also one of the best beach spots for a chilled out swim.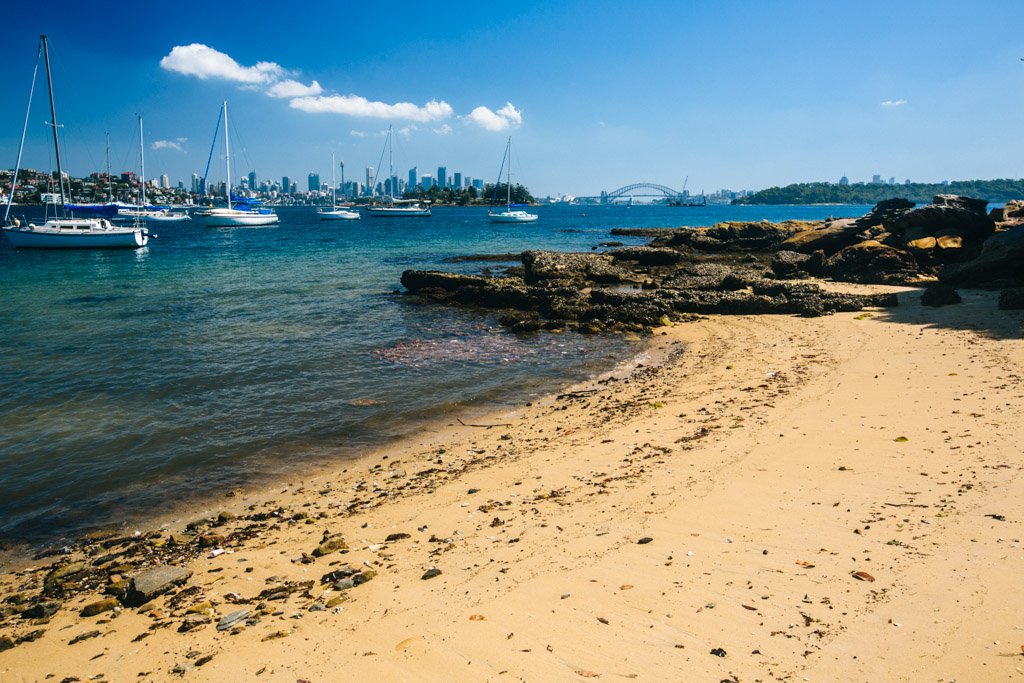 ---
Vaucluse
It's hardly surprising that one of Sydney's richest suburbs owns a million-dollar view of Sydney Harbour and the city skyline. Take a walk around this hilltop neighborhood and gawk at the impressive estates perched over the water. How lucky are the students at the clifftop Kincoppal-Rose Bay School who get to be distracted by play tennis with a view like this?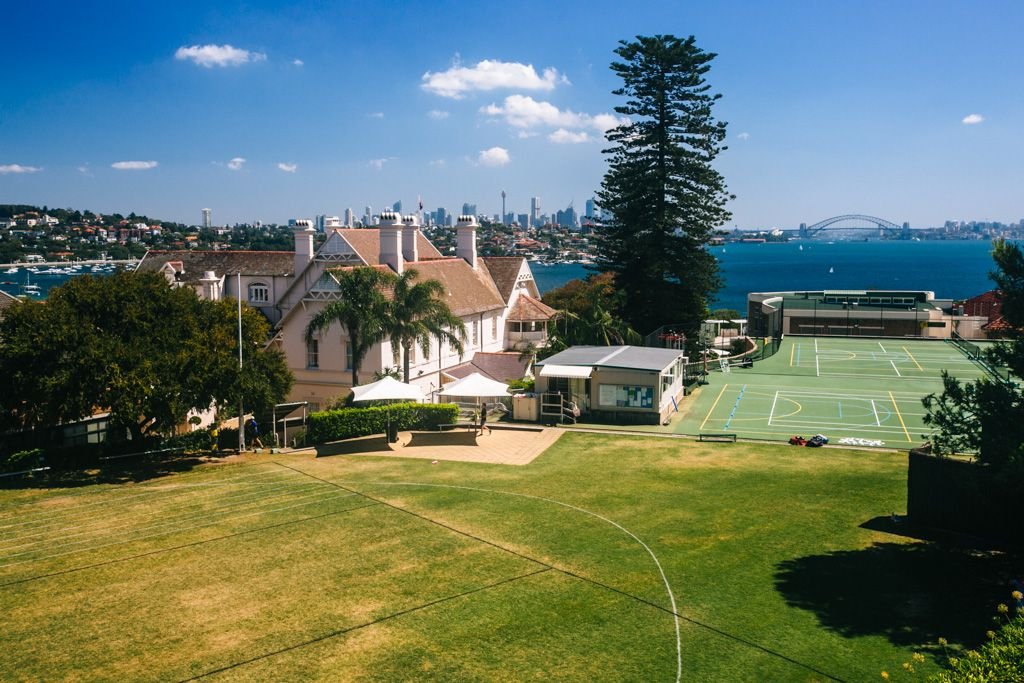 ---
Dudley Page Reserve
I don't reckon the average visitor or even local would likely find themselves wandering around the random neighborhood of Dover Heights, but just in case you happen to hit this eastern suburb square between North Bondi and Rose Bay: there's a big park on a hill overlooking Sydney Harbour that's just made for catching the sunset.
---
FROM NORTH SYDNEY
Luna Park
Possibly the most obvious (and popular, and awesome) spot for glimpsing the Sydney skyline, crossing to the other side of the Sydney Harbour Bridge doesn't ever disappoint. You can walk all along the waterfront from Luna Park around Milsons Point and catch the bridge, Sydney Opera House, and CBD skyline from myriad angles.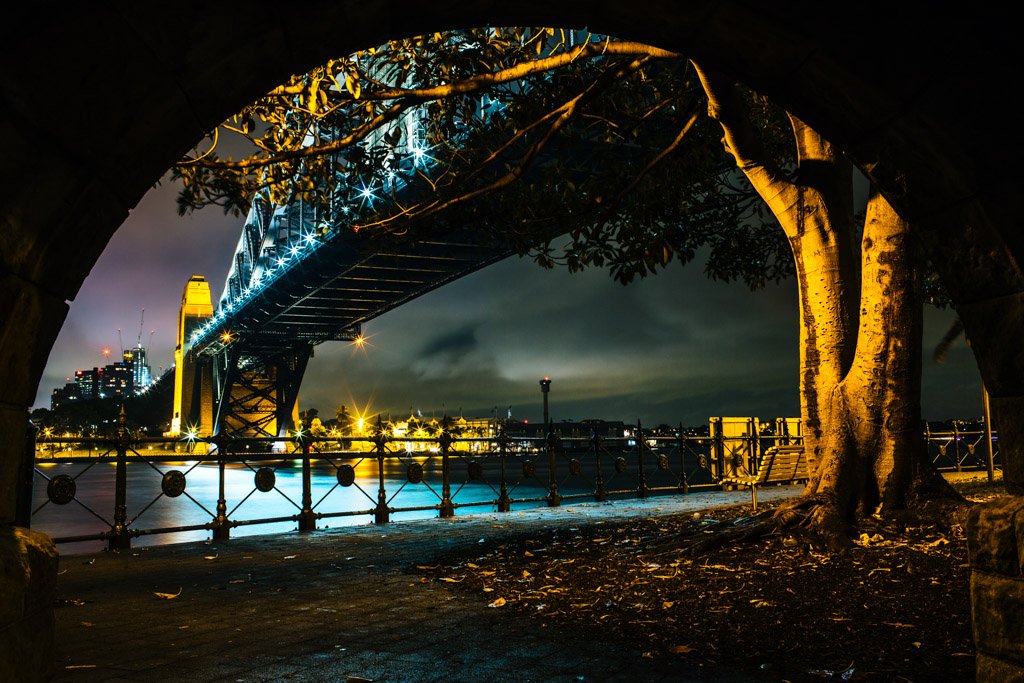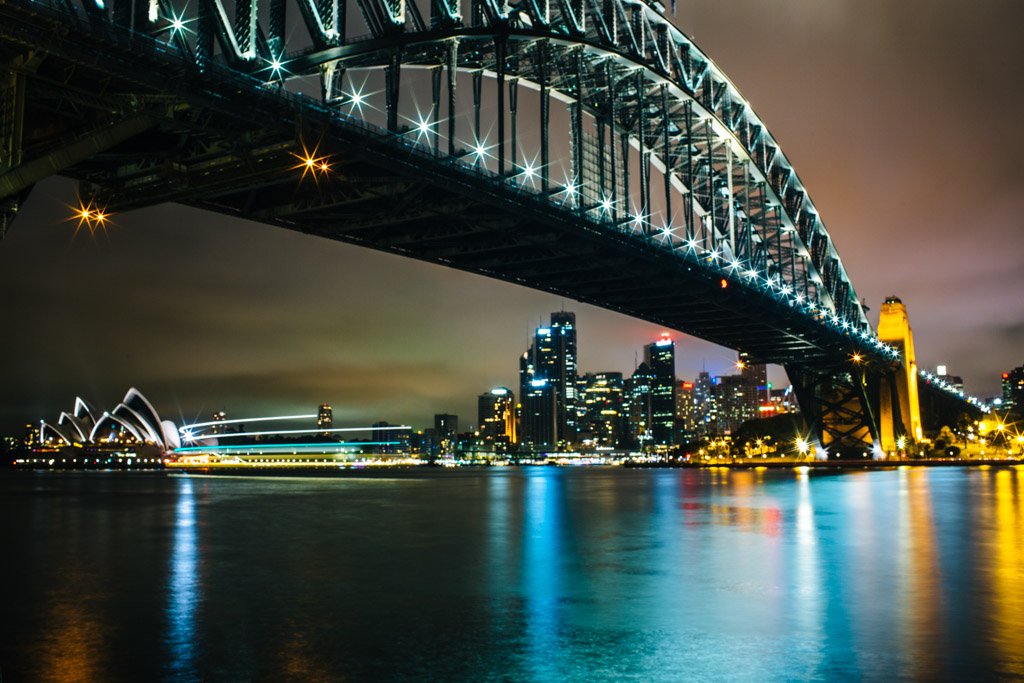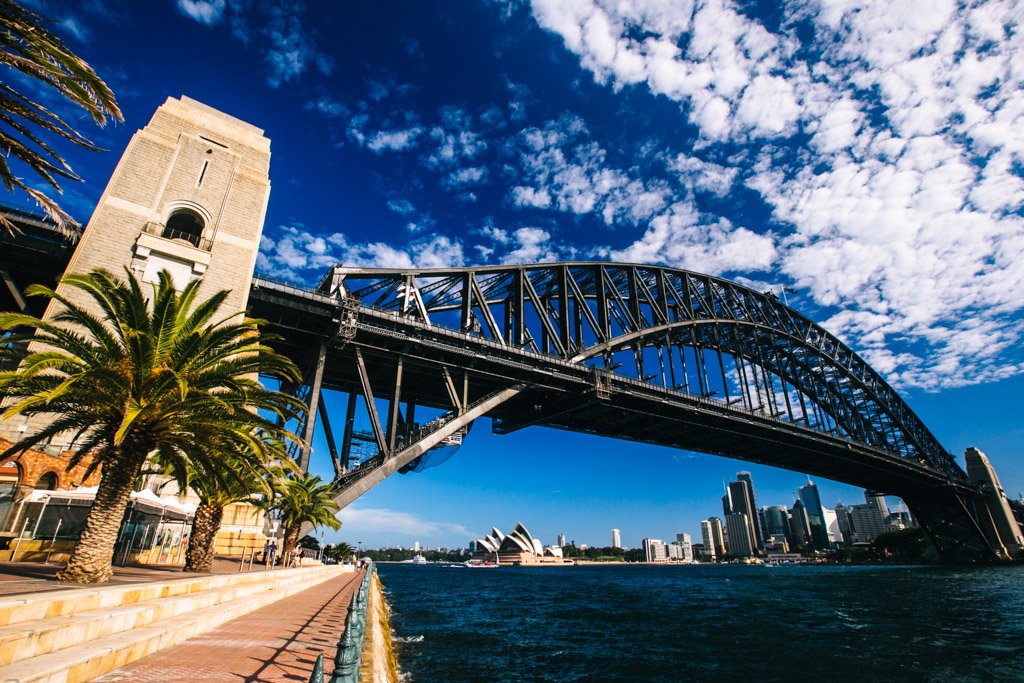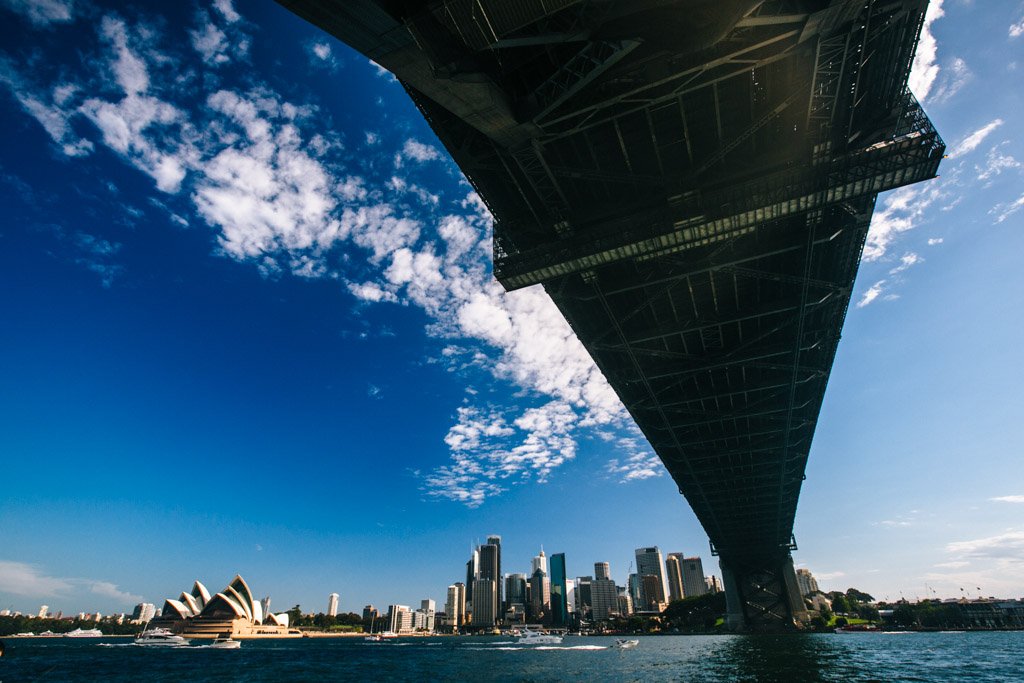 ---
McMahons Point
Slightly westward from Luna Park is McMahons Point, a semi-private neighborhood that looks straight out at the Sydney Harbour Bridge and Sydney Opera House. Best of all, it's not a popular tourist site like the area around Luna Park is, so you can enjoy the scene in near solitude.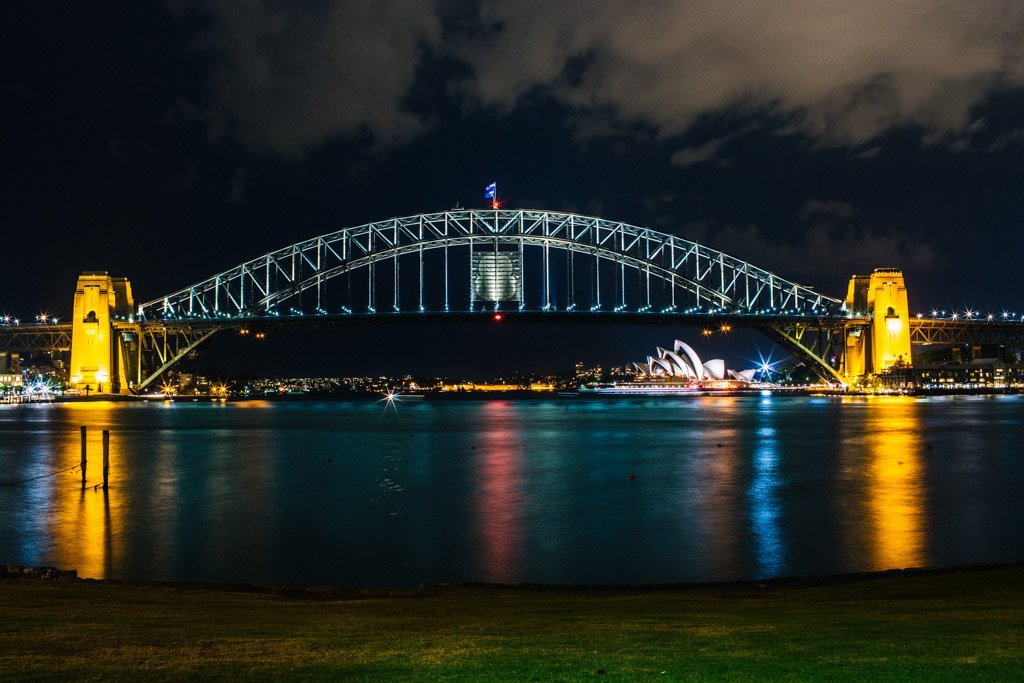 ---
FROM THE OUTER HARBOUR
Cremorne Point
Accessible via the Mosman to Cremorne harbour walk or by ferry from Circular Quay, Cremorne is a northern suburb nestled seemingly just around the corner from the city. The big flat rocks along the waterfront make for a fab picnic spot, but it's far more thrilling to enjoy the view from Maccallum Pool.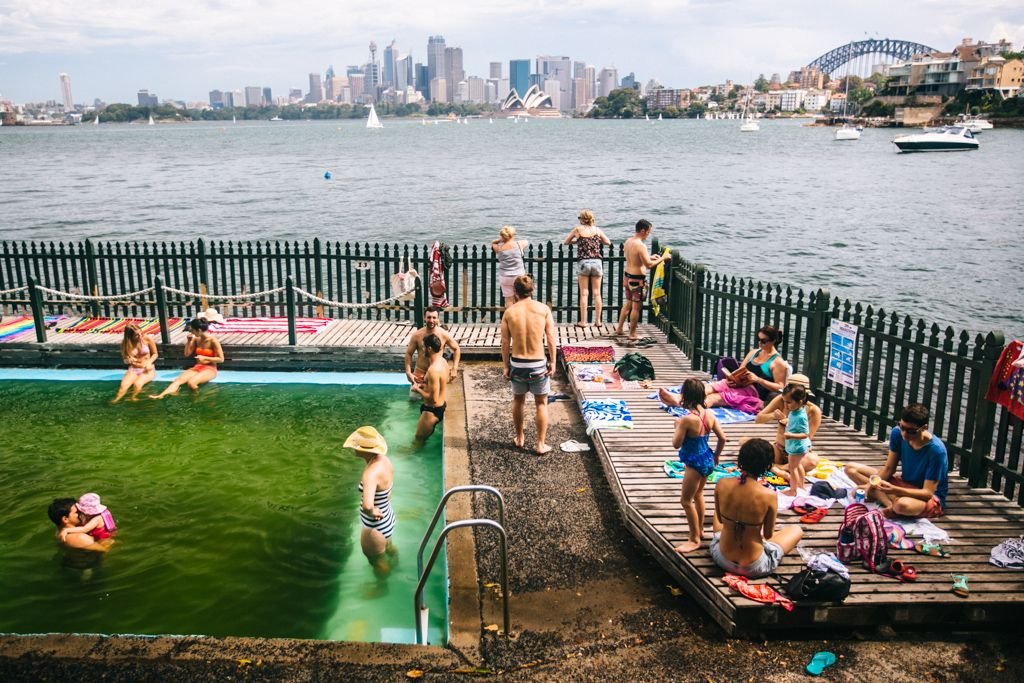 ---
Taronga
Sydney's Taronga Zoo has got to be one of the most scenic zoos there is, but even if you don't want to pay the hefty price of admission to gawk at various Aussie animals, you can still take the ferry to Taronga and walk along Sydney Harbour and see approximately the same city views (albeit sans giraffe heads in the way).
---
Georges Head
Georges Head is a popular venue for weddings and other events, and rightfully so: from it, you have a 180-degree view of the city skyline, several harbour beaches, and North Head.
---
North Head
For sweeping vistas of outer Sydney Harbour, get thyself to North Head, the outermost headland in the harbour. You can drive or catch the occasional bus from Manly, but it's more fun to cycle to North Head or walk there via the scenic trail. No matter your mode of transport, be sure to make a picnic out of it and catch the sun setting over Sydney.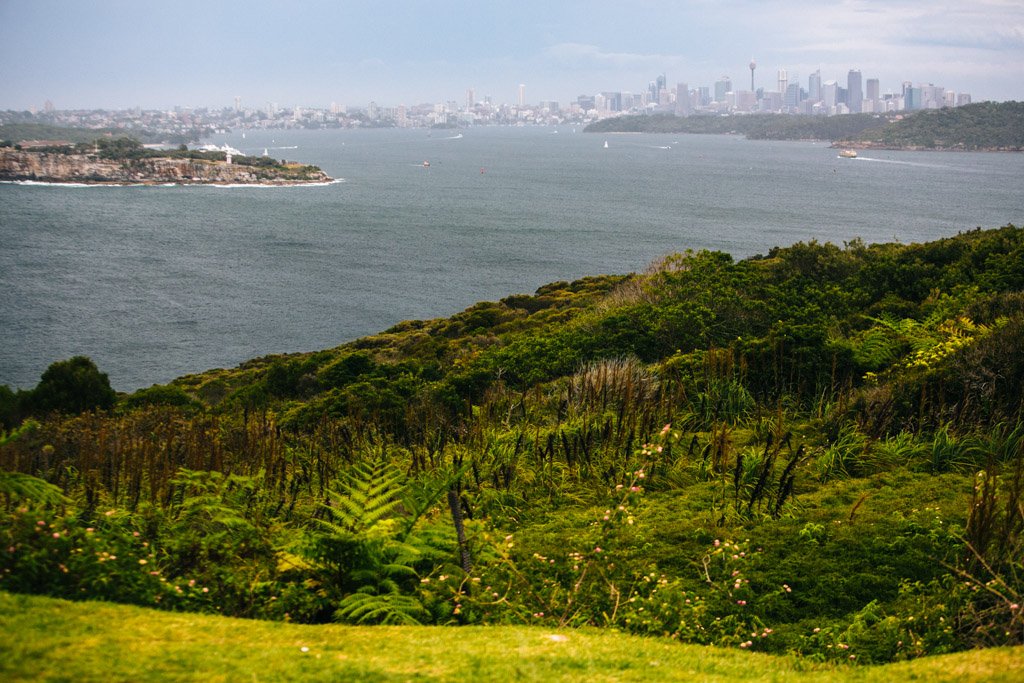 Which do you think are the best views of Sydney? Any to add to this list?
Pin it!