When you think of Vietnam, what comes to mind?
I always pictured colorful markets, women in conical hats, and people working and living on the river. So not surprisingly, spending time in the Mekong Delta region was an absolute must-do for me – and it ended up being one of the highlights of my entire 2013 Asia trip.
If you're heading to Vietnam, I have a 2-part recommendation for you: Be sure to visit the Mekong Delta area, but do NOT book a day trip from Saigon.
I have heard from multiple sources that these tours are not so great, that you are rushed through the highlights of the region, and that overall it feels too touristy. This isn't too surprising when you're stampeding through a region so rich in culture in such a short amount of time with a bunch of foreigners.
Instead, the best way to experience it is to do the Mekong Delta on your own, which will allow you to fully immerse yourself in Vietnamese culture without feeling rushed or like an outsider. The region merits at least a few days of exploration and is worth way more than just a daytrip from the city.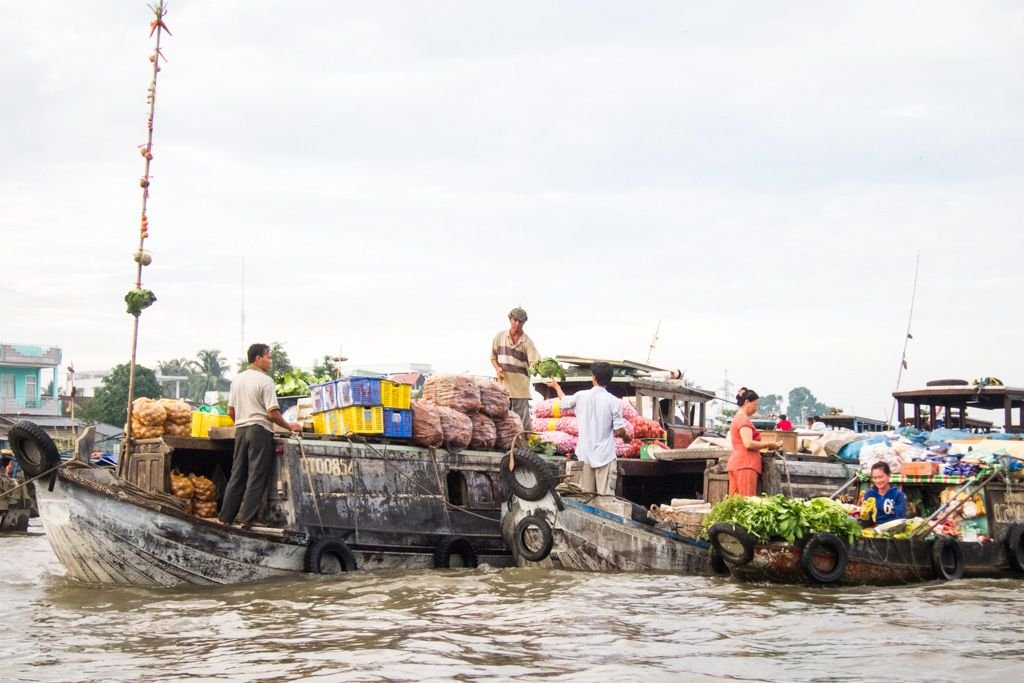 There is an unfortunate lack of resources on the internet that detail how to structure a Mekong Delta DIY tour, but this post on Travelfish provided enough inspiration for me to piece together my own journey. My main priorities were: 1). Experiencing a floating market, and 2). Doing a homestay.
There are several options for both of these throughout the many towns in the region, but my research told me that *the best* are the Cai Rang floating market in Can Tho, and homestays on An Binh island in Vinh Long. And with that, I had a loose structure on which to base my Mekong Delta DIY trip.
Floating Market in Can Tho
Getting to Can Tho
In Saigon, I got myself to the Futa bus ticket office, bought a ticket for the next available bus out, and was shuttled with other passengers to the Ben Thanh bus station to catch my bus. I actually made it in time to catch an earlier bus, but had been assigned to a specific seat on a specific bus, so I had to wait.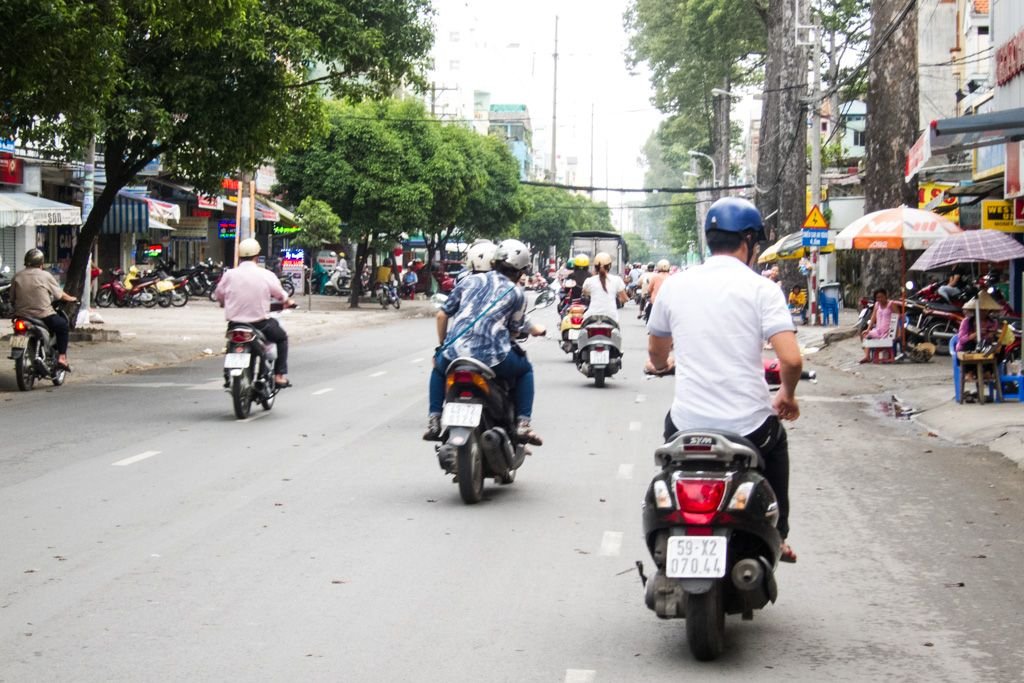 The bus from Saigon to Can Tho dropped us off at a bus station outside the center of town. I had planned on just wandering to a guesthouse nearby, but since we were far removed from town, I had to take a moto taxi to get anywhere. I gave the driver the name of the only hotel I knew of, Hotel Xoai, which itself is slightly removed from the town center, but had great reviews and was very affordable.
Upon arrival, I booked a floating market tour for the following morning. Hotel Xoai offers 2 boat trips: A short trip (3-4 hours), and a long trip (6-7 hours). The short trip essentially takes you to the Cai Rang floating market and back; since it takes nearly an hour to get there, most of the time is spent getting to and from the market so you don't get to see much of the surrounding canals. The long trip takes you to *2* markets and also stops along the way to see a rice factory, have lunch, and do a short hike along a canal.
Tours are priced per boat – not so beneficial to the solo traveler, as I had to pay for the entire boat myself! But for a 7-hour private tour, I felt justified in spending the money. It is definitely worth booking a longer tour to the Cai Rang floating market.
Most hotels can arrange a market tour for you, or alternatively you can just show up at the waterfront and wait for a local to approach and try to sell you one.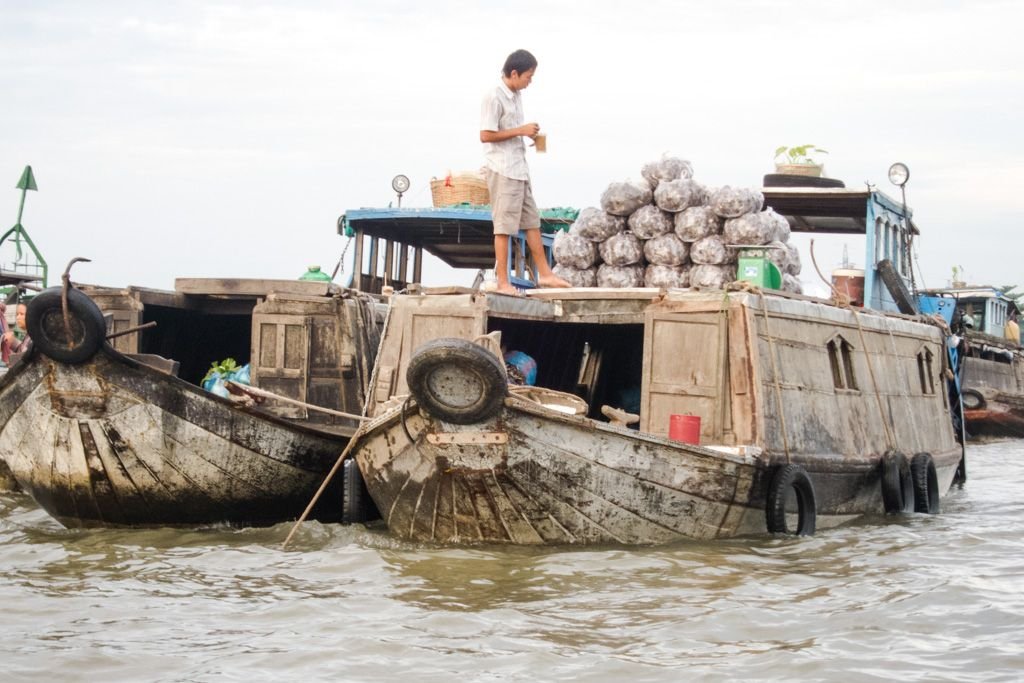 Cai Rang Floating Market
A taxi driver picked me up from the hotel at 5:30am and dropped me off at the waterfront. I handed my ticket to a lady there, and she motioned to a guy nearby who came and whisked me away to his boat down the way. I can't help but feel like they've got a system in place for these boat tours.
If I've learned anything about Vietnam, it's that the Vietnamese have very structured ways of doing things that aren't always obvious to you – even when it seems like you've been thrown into utter chaos, things always seem to work out seamlessly in the end.
My tour guide was older but vibrant and energetic, which made for a fun ride. He took me straight to the Cai Rang floating market, supposedly the biggest and best one in the area. I think we may have arrived a smidge too early, as boats seemed to be just setting up there.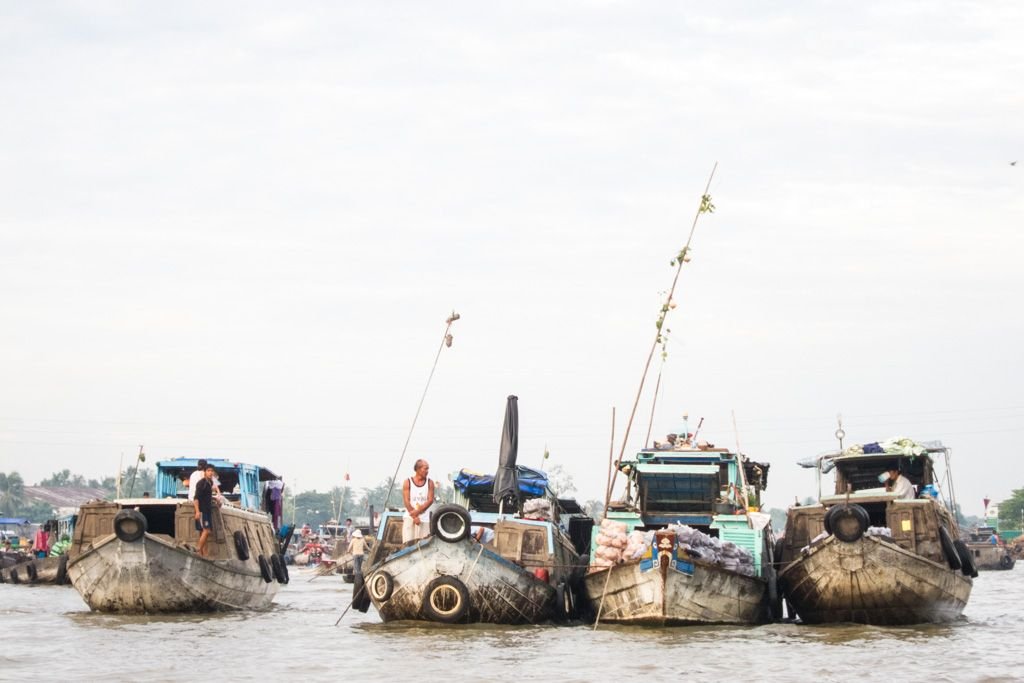 We proceeded further down the river to the Phong Dien floating market. We timed this one perfectly and nestled our boat smack in the middle of the action. I watched as tiny women paddled their boat up to another boat, set the anchor, and conducted transactions with other sellers. Cash and produce kept exchanging hands right before me. The market was quiet but full of color; I couldn't get enough of it. And best of all, it felt like I was the only one around – not another tourist in my line of sight!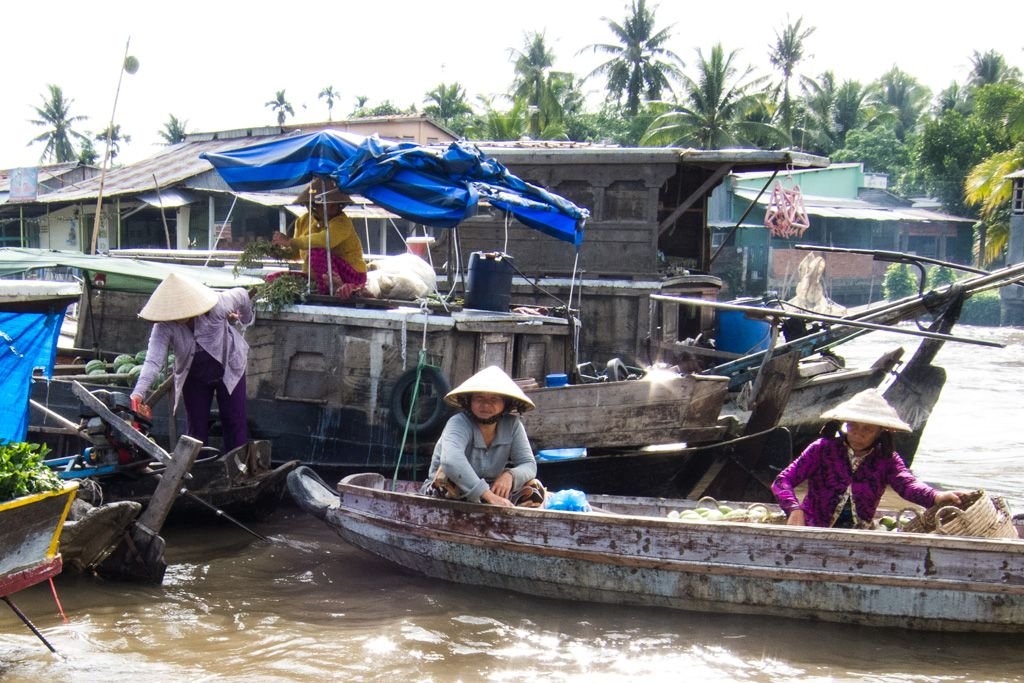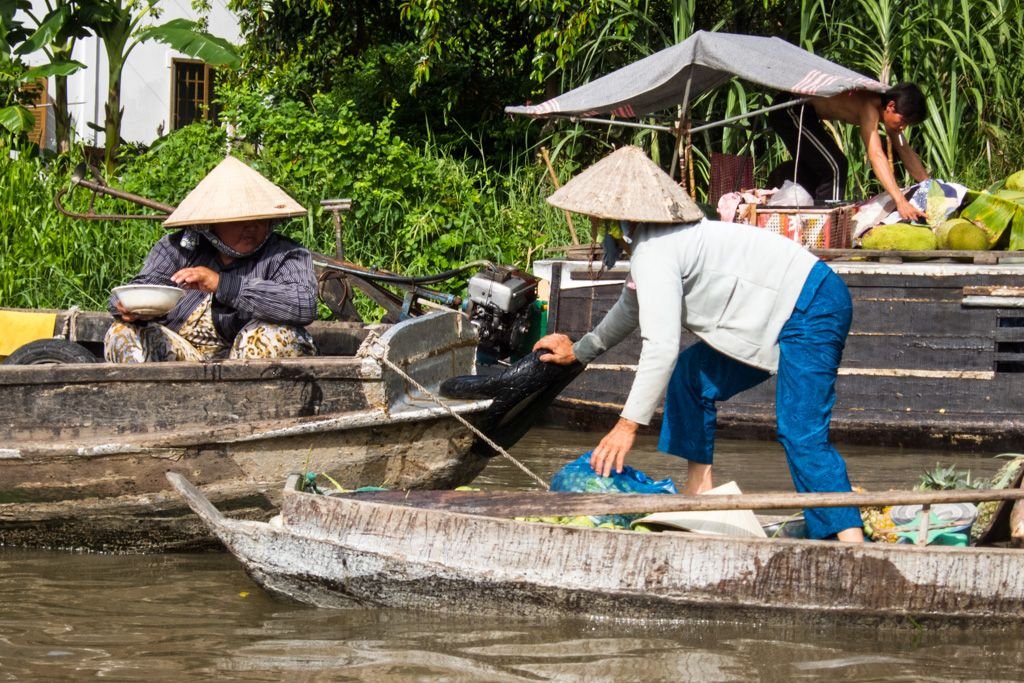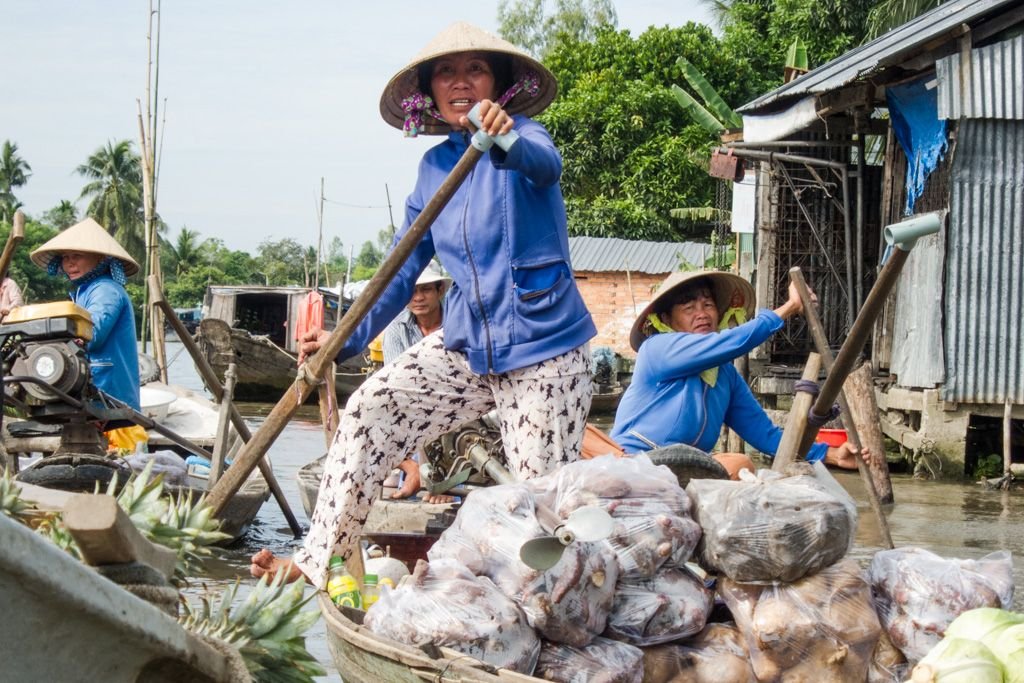 After the markets, we spent much of the journey meandering the canals, passing by docked wooden boats and huts, and ducking underneath low branches. It felt so other-worldly! We made a few stops along the way, where I got to tour a rice factory and see how rice paper is made, and go for a little hike along the canal past pineapple trees and coconut farms.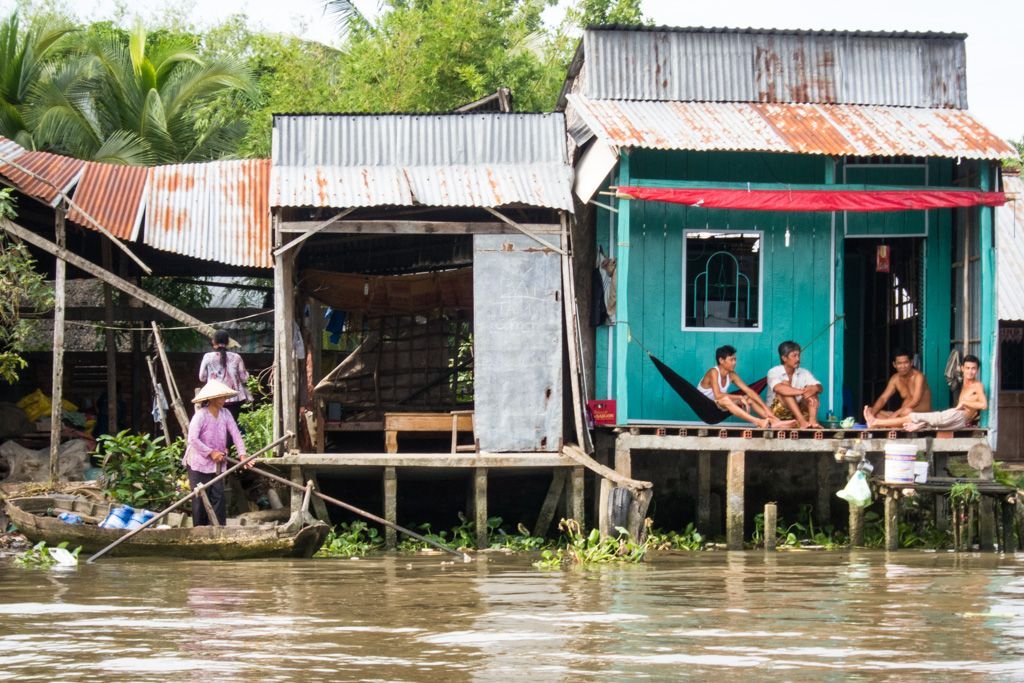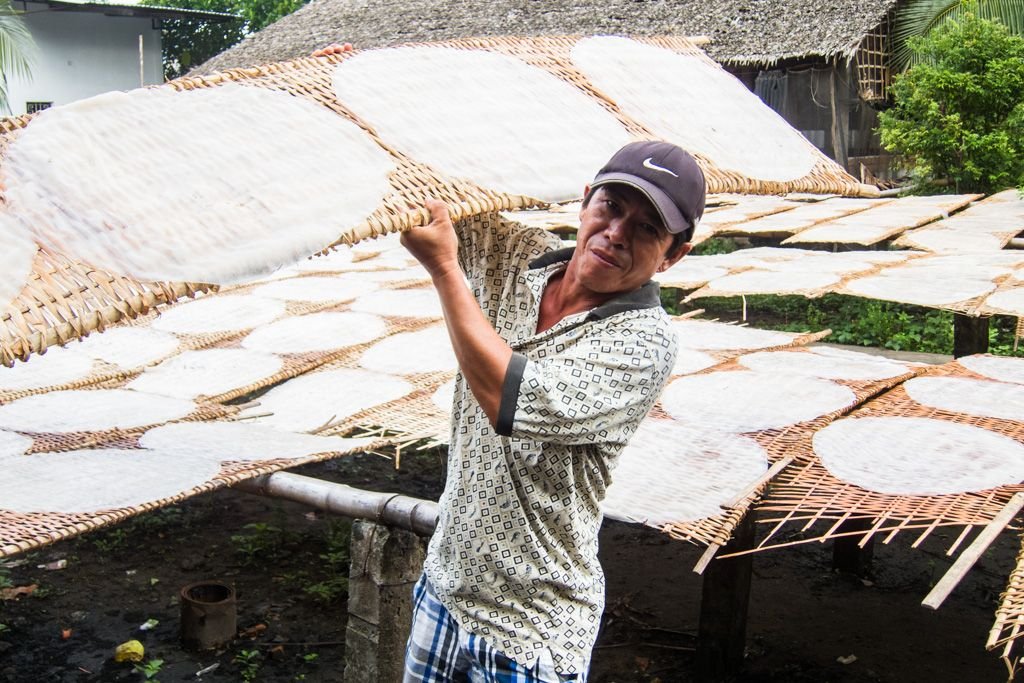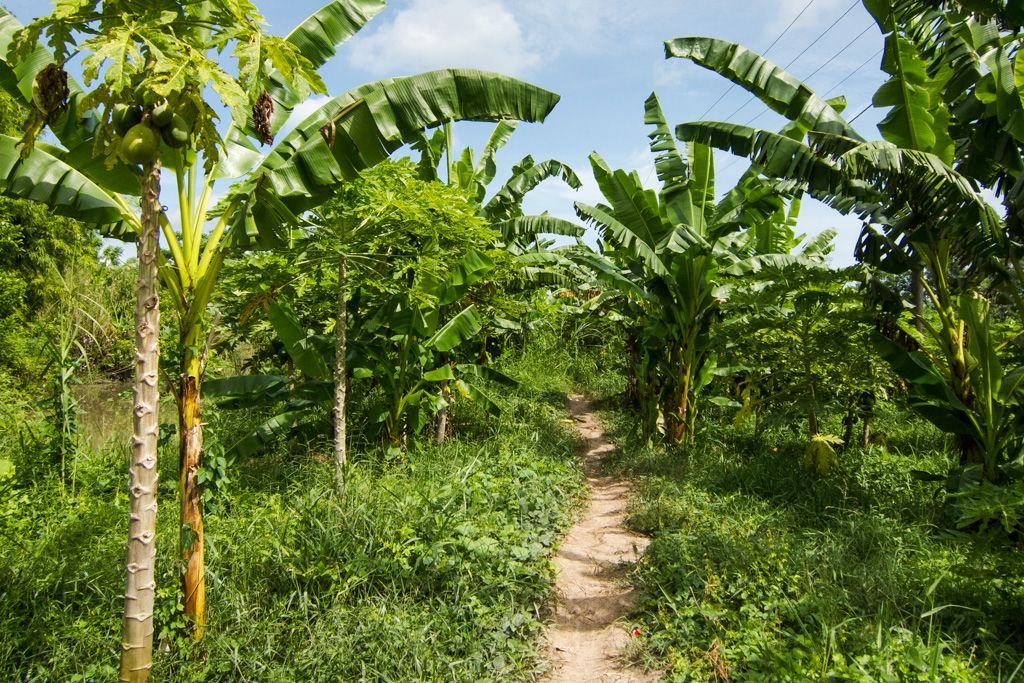 I loved every second of my Can Tho floating market boat trip and cannot recommend one highly enough! Remember to book the longer tour, and don't hold back even if you're traveling solo!
Homestay in Vinh Long
Getting to Vinh Long
There are 2 options for getting from Can Tho to Vinh Long by bus:
Take a moto/taxi to the bus station, then catch a local bus
Get picked up at hotel and taken to the bus station, then catch a VIP bus
The local bus is cheaper than the VIP bus, but when you factor in the money and hassle involved in getting to the bus station, the VIP bus may be a better option. The VIP bus is the main tourist bus that goes straight to Saigon, the same one that I took from Saigon to Can Tho; however, it doesn't stop at every town along the way, so if you want to get off before Saigon you'll likely be let off on the side of the road somewhere outside of town.
Note: The hotel receptionist told me that the local bus drops off outside of town in Vinh Long as well. If this is true, then you'd have to worry about getting into the town center either way.
I bought my VIP bus ticket to Vinh Long at the bus station and the price was slightly lower than the full fare to Saigon. For some reason, I was given a ticket that was essentially a handwritten note – in other words, not very legit looking. The bus driver asked me to pay after I boarded the bus, so I'm not sure if he understood that the piece of paper I'd handed him was an actual ticket.
Then midway through the ride, the bus attendant asked me where I was going. I told her Vinh Long. She asked me where again, so I said the Vinh Long tourist office. The bewildered look on her face told me she didn't quite understand, so she said something in Vietnamese to the gentleman sitting next to me, and he translated for me. We went back and forth several times via our translator, and finally he relayed to me that I'd be dropped off at a gas station in five minutes. Brilliant!
The bus pulled over off the highway and the attendant motioned for me to get off the bus. I'd assumed I'd be let off somewhere where I could sit for a minute, maybe grab a snack before plotting my next move. Instead, I found myself at an empty gas station. Like, literally empty – possibly even closed.
Before I even had five seconds to think, I saw someone motioning at me from across the road. A moto driver, excellent! I waved back, and he came galloping across the road to meet me. "Vinh Long tourist office?" I asked, hoping to god he would understand. He grinned and nodded, then took my hand and whisked me across the street to his bike.
My gameplan was to get to the tourist office and book a homestay for 2 nights. I didn't really care where, as long as it was on An Binh island. The moto driver dropped me off at the waterfront, where I was immediately approached by a Vietnamese lady. "Homestay?" she asked me. "Yes, please!" I told her. We chatted a bit, and soon she was all smiles. "I take you to meet my sister!" she insisted, leading me towards the ferry to An Binh. "Make sure you don't pay for ferry – my sister will pay!"
I boarded the ferry, clueless as usual. I imagine the lady had phoned her sister and told her to look out for the white girl getting off the next boat – how else would I be able to find her in a sea of locals? Sure enough, I saw a smiley woman waving vigorously at me as I disembarked. She handed me a note, which I used to pay for the ferry ticket. Once I was through, she scooped me up on her scooter and drove me down the road to her family's homestay, Ngoc Sang.
An Binh Homestay
My An Binh homestay was everything I'd hoped it would be: hammocks on the patio overlooking the canal, children running around the property, adults building, carrying, and cooking things. Unlike many of the homestays on the island, the family actually lived in the same building that they housed guests in. I immediately tucked into a hammock next to the only other person staying there, a young Swiss girl also traveling solo. We quickly bonded.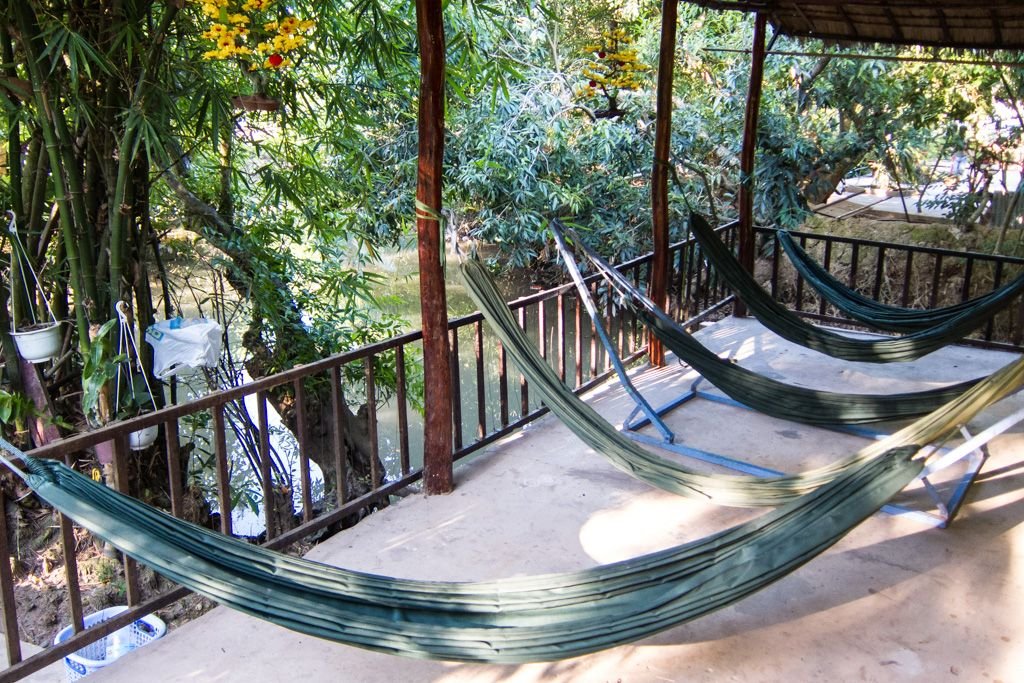 You can book a boat trip to the Cai Be floating market through the homestay, but I felt like I'd already had the perfect market tour in Can Tho and opted to just chill out on the island instead. It was unbearably hot and humid there, with no breeze and no air conditioned buildings to duck into to cool off. The best way to keep cool is to go for a bike ride and enjoy the slight bike-generated breeze. An Binh seems to be an island partially broken up by several canals and connected by bridges. I had absolutely no idea where I was going, but as always that's half of the fun!
I loved cycling past all the little kids playing on the streets and in yards in late afternoon. They all looked so happy and carefree. Even more remarkable, their parents never seemed to be too far away, in many cases even playing with their children. Sometimes I could see whole families indoors, sitting around a TV to escape the midday heat. That distance that seems to be in place between private and public life in the western world just doesn't exist in countries like Vietnam, where life is lived for all to see.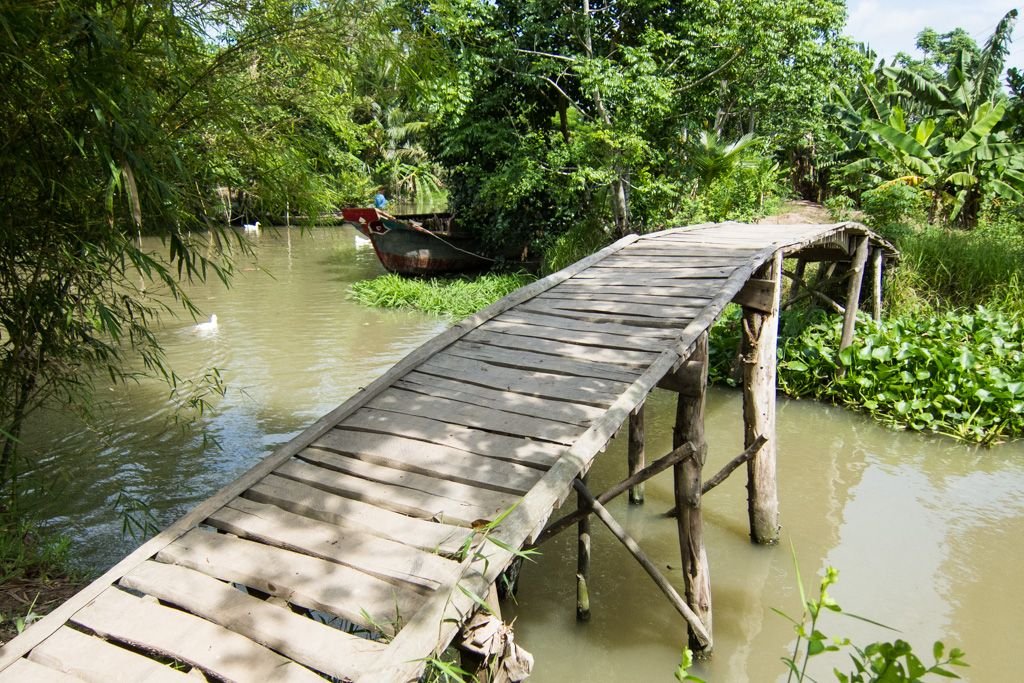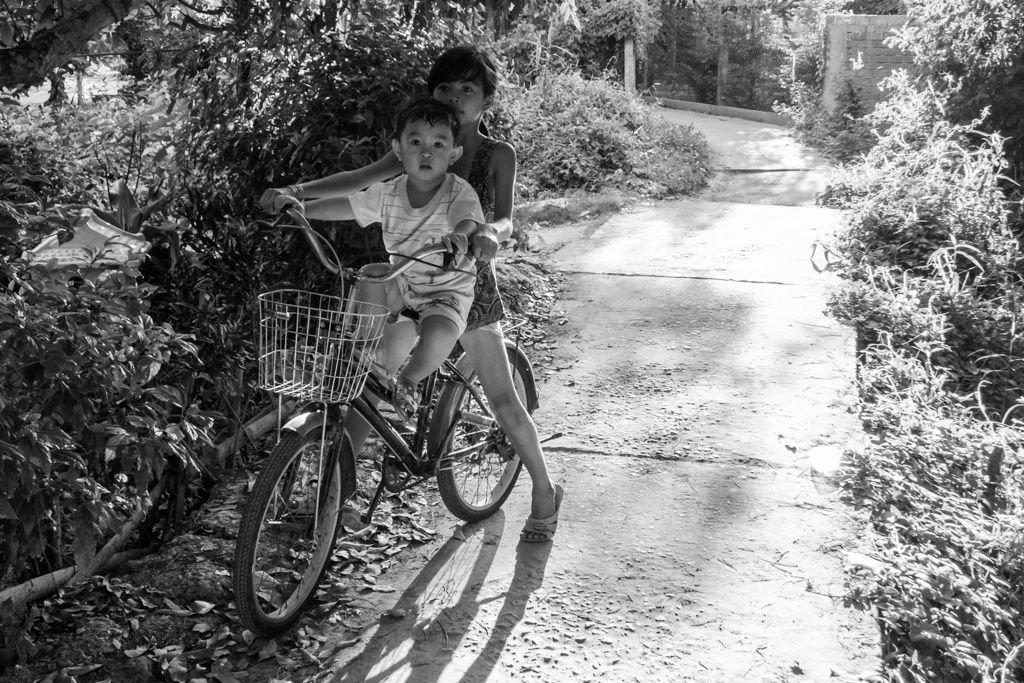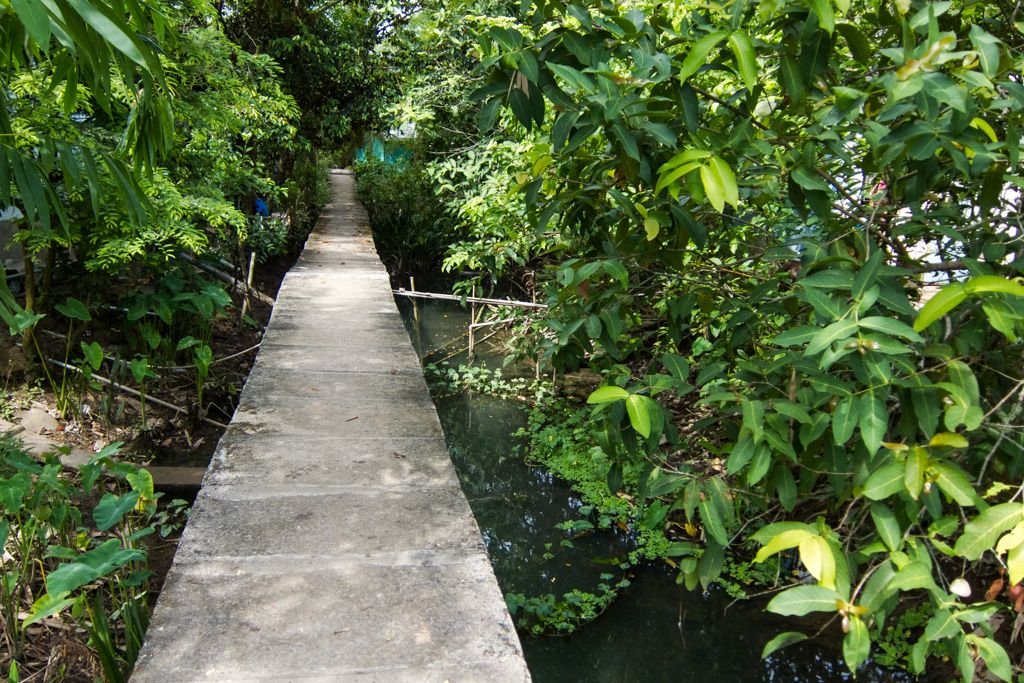 The dinners at this homestay were exceptional. On my first night, they fried me a fish and provided me with all ingredients needed to roll my own spring rolls. It was easy enough to wet the rice paper; fill it with fish bits, noodles, carrots, cucumbers, and herbs; and roll it up. This was one of the best meals I had in Vietnam.
I highly recommend the Ngoc Sang Homestay, but if you're not able to book ahead it should be easy to arrange a homestay upon arrival at the Vinh Long waterfront or at the tourist office. You could also take the ferry to An Binh island and just follow signs to a nearby homestay.
Heading to Vietnam?
If this article helped you, I'd greatly appreciate it if you'd consider making your Vietnam trip purchases through the following affiliate links. Any profits I make through your purchases go directly into covering the ever-increasing cost of running this site at no extra cost to you! :)
Use booking.com to find the best hotel deals
Use Airbnb to book an apartment for your Vietnam accommodation (use this link and get $25 off your first booking!)
Check out my other posts about Vietnam:
Pin it!
Frugal Facts
As of May 2013 —
Bus from Saigon to Can Tho: 110,000 VND ($5 US)
Small room at Hotel Xoai: 189,000 VND / night ($9 US)
Floating Market Boat Trip (7 hours): 630,000 VND per boat ($30 US)
Bus from Can Tho to Vinh Long: 60,000 VND ($3 US)
Ferry to An Binh island: 5,000 VND ($.25 US)
Homestay (includes breakfast, dinner, bike hire): 250,000 VND / night ($12 US)
Bus from Vinh Long to Saigon: 90,000 ($4 US)
Saigon city bus: 5,000 VND ($.25 US)