Ahh, Vietnam. Markets, conical hats, fish, coffee, and… sand dunes? What?!
That's right, there are sand dunes in Mui Ne, Vietnam. And not just your run of the mill dunes – I'm talking big-ass, bright red dunes that make you feel like you're crossing a desert. And you can even see the sea from them – so surreal!
There are actually 2 sets of dunes you can visit: one red, one white. They're both easy to get to on a motorbike; since I couldn't drive myself, I opted for a day tour from my hostel, Mui Ne Backpackers – which I'd highly recommend. I was driven around town in a jeep with 5 other backpackers. We jumped in the dunes, we ran down the dunes, we got pummeled by sand when the wind picked up – it was definitely the highlight of our day. There are swarms of local kids at the dunes renting out mats that you can use to go sandboarding if that strikes your fancy. We were all pretty content just chillin' at the dunes, so we opted not to.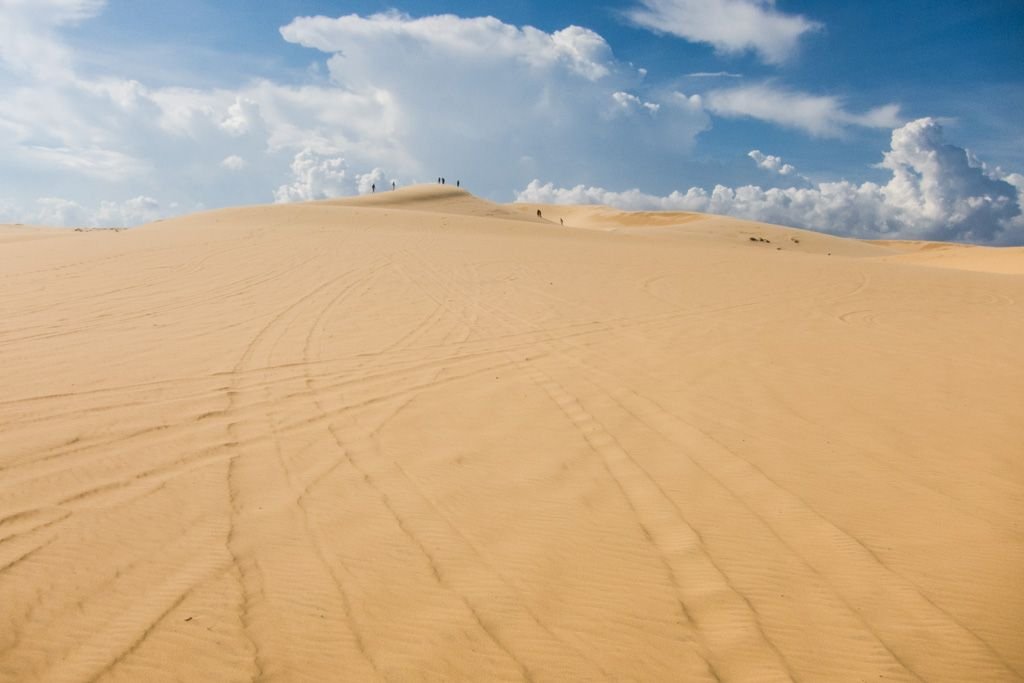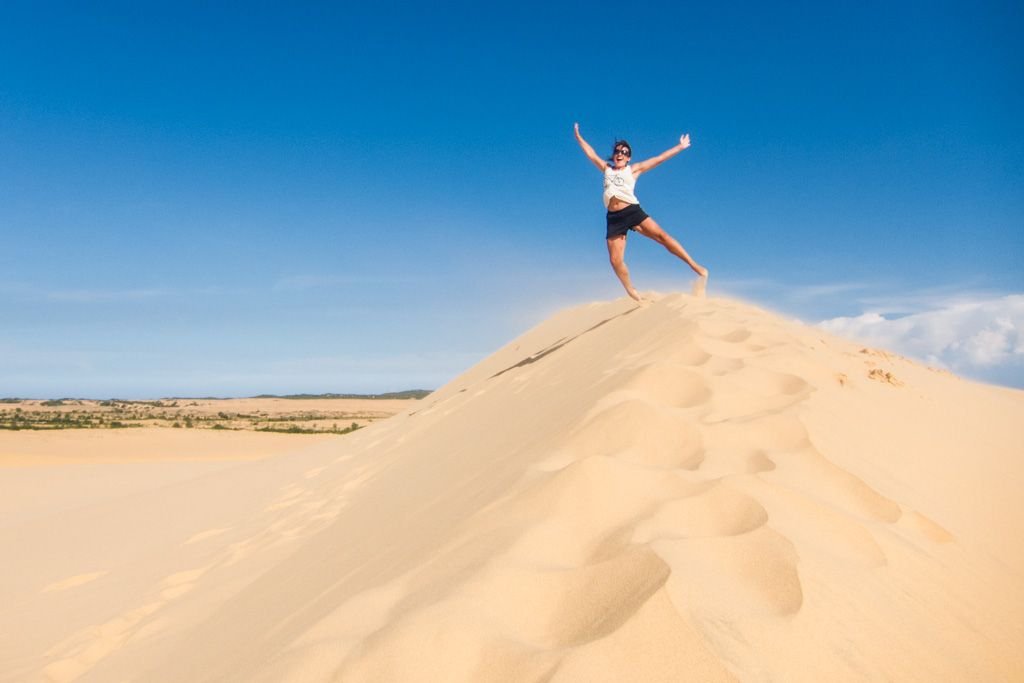 We also made a quick stop at the Fairy Stream, which none of us knew a thing about beforehand – but it actually ended up being pretty neat. We waded ankle-deep through a chocolate-colored stream in what felt like a jungle tunnel, which soon opened up to a blue sky.
The drive along the coastline was BEAUUUUUTIFUL! We had our driver pull over at one point so we could take photos of the fishing village, which we then drove down to. The fishermen had a bunch of eel out to dry in the sun and were still at it when we visited early-afternoon.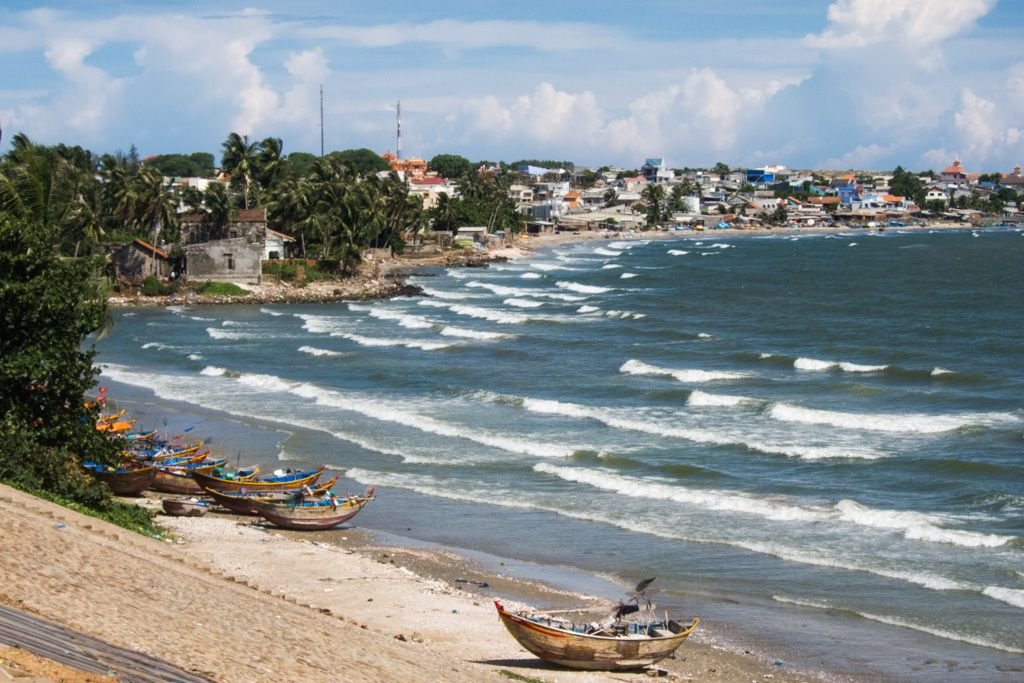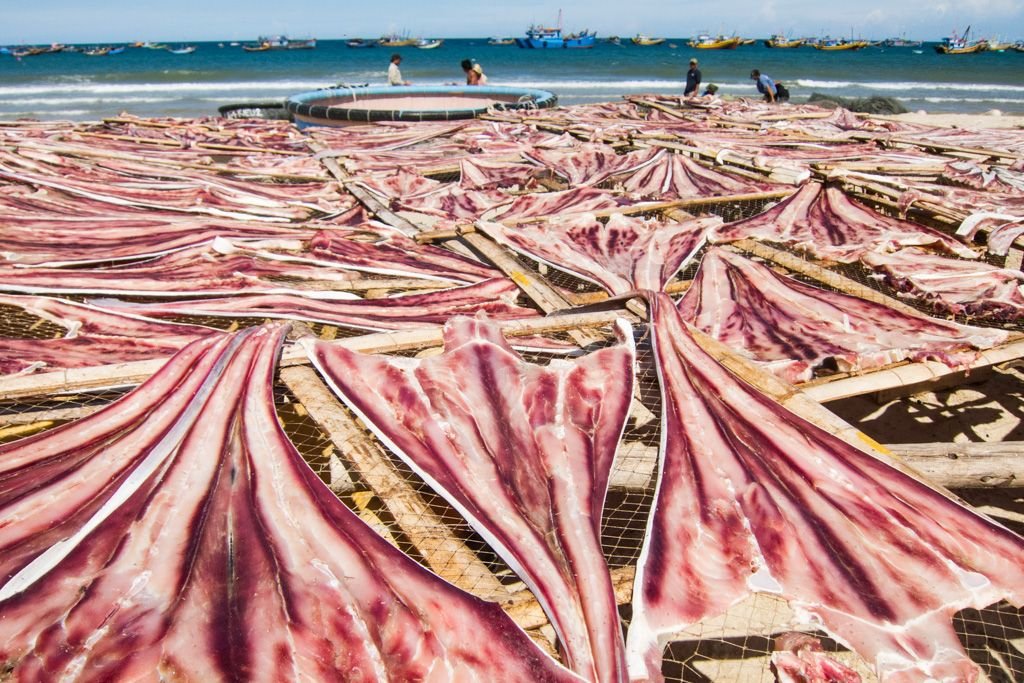 Mui Ne is a top kite surfing destination – on any given day, you'll see the beach dotted with kites. I would have LOVED to have tried it out, but I couldn't justify the price. Especially since you really need several lessons just to land a successful ride. If I'm going to spend a few hundred dollars on lessons, I at least want to walk away knowing how to kite surf. I definitely couldn't have said that after just one lesson. Still, it was really fun to watch the local instructors surfing – they were zipping across the water and doing flips in the air. Someday I'll learn how to surf for real!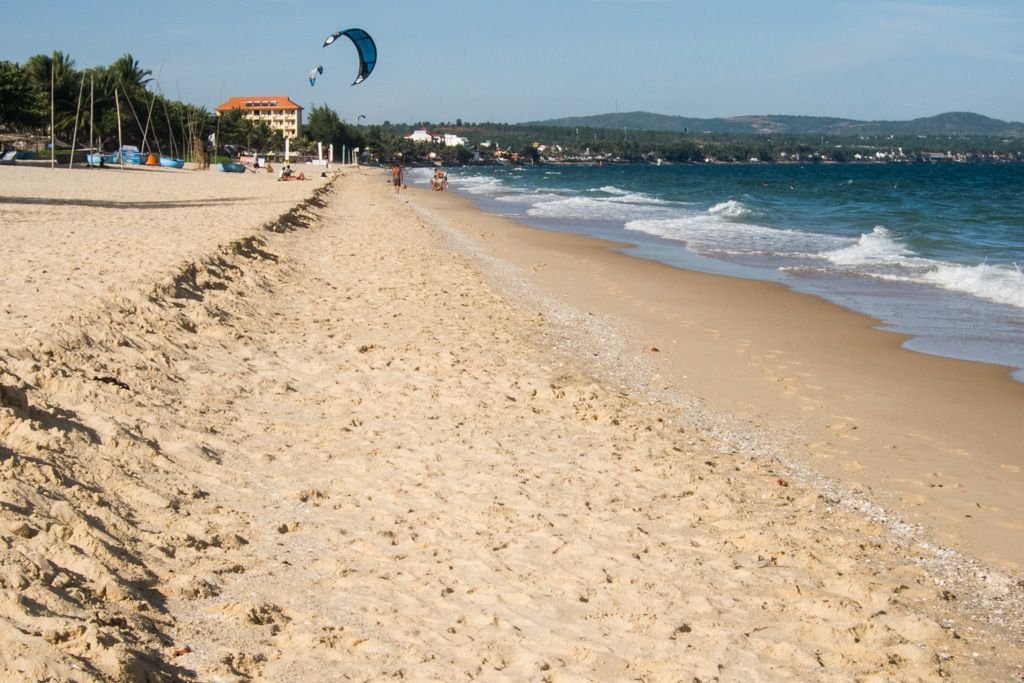 Mui Ne may be known for fishing, but the restaurants there have a lot of exotic meats on offer. My delicacy of choice? Frog legs! They were quite tasty – kind of like chicken (are you surprised?).
Sand dunes, kite surfing, frog legs – get yourself to Mui Ne! It is definitely one of the highlights of a trip to Vietnam.
Frugal Facts
As of May 2013 —
A day trip stopping at the Fairy Stream, fishing village, and sand dunes is 157,000 VND ($7.50 US) through Mui Ne Backpackers.
A bed in the dorm at Mui Ne Backpackers is $8 US per night. Private rooms are also available.