So hey, 2016 is off to a good start! Summer in Melbourne has been pleasantly lacking in rain, though the widely varying day-to-day temperature is mildly annoying. I worked a lot of freelance hours in January and beat my monthly income record, watched a lot of tv, and somehow managed to fit in a couple of city escapes for more scenic and beachy pastures.
Read on for more deets!
January 2016 Numbers
Days: 31
Total Spent: US$1017.80
+ $740 for student loans
+ $72 for web hosting
Average Spent Per Day: US$33/day
Total Earned: US$7028.66
While it might seem like this month was full of fun (see highlights below), I basically spent every other waking minute working hard on a project for my old boss back in NYC while juggling my ongoing SEO freelance work. I definitely worked more than full time and earned a couple of fat paychecks as a result. I need to remind myself (and anyone who sees this number and thinks I'm rolling in dough) that this is NOT the norm, and that making this much money in a month is both unlikely and unguaranteed.
And of course, my spend was significantly lower than it would have been because I spent half the month house sitting and didn't have to pay for accommodation.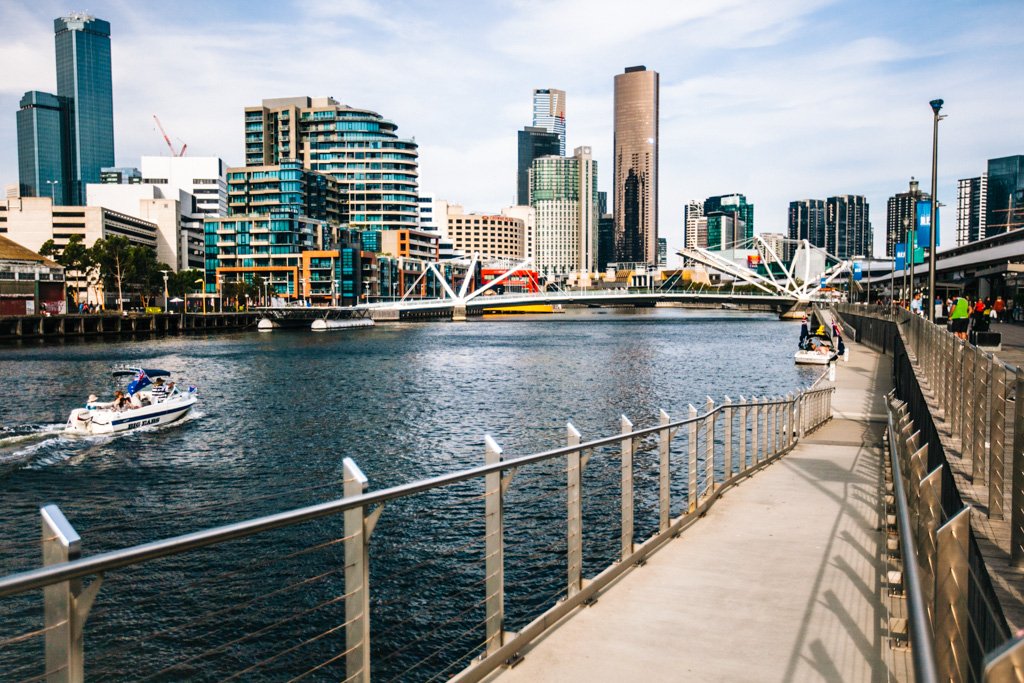 January 2016 Highlights
Chainwatching The Entire Glee Series
I tend to get overly emotionally attached to certain tv shows. Side effects include compulsively chainwatching the whole series with minimal interruptions, googling each of the main actors to see what the heck they're up to these days, downloading theme songs and other memorable tunes from certain episodes, and experiencing extreme sadness once I've made it to the series end.
When I began my 4 week house sit in Northcote last month, I uncovered the first 2 seasons of Glee on DVD in their TV cabinet – that was all I needed to trigger a Glee binge (my second time watching it all the way through). I don't really understand how a show (and such a cheesy one at that) can bring me so much joy (must be in the name, right?), but I rolled with it. Now, how soon is too soon to watch it all again? :P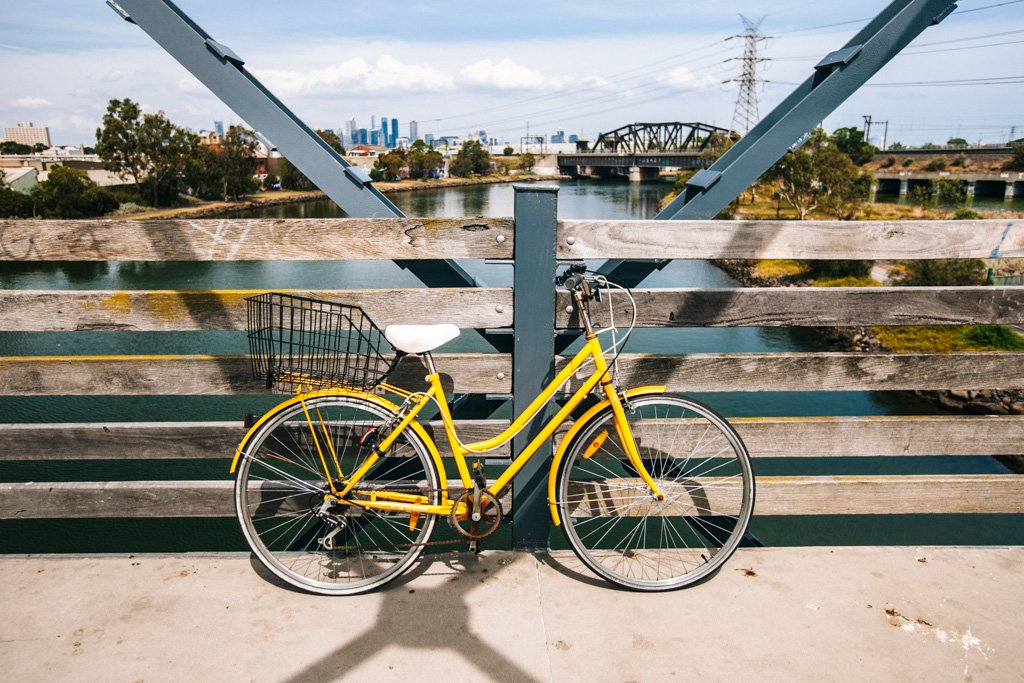 Buying A New Bike
My life in Melbourne took a turn for the way-better the day I finally bought a bike. I'd held off on buying one for so long because I was constantly moving house or leaving town and didn't want to worry about moving or storing my bike. But I missed cycling so much that I reached a point where I just didn't care anymore, and decided I'd deal with the consequences later. Really, how did I last 13 months without a bike? Never again!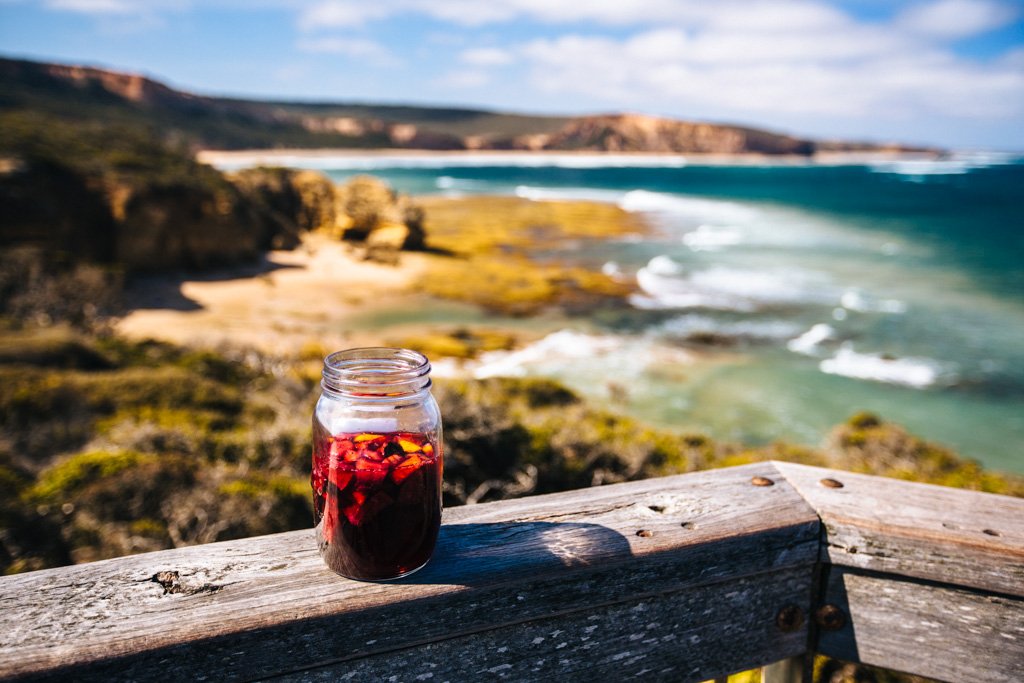 Day Trip to the Great Ocean Road
App Guy and I drove out to Torquay and surrounds on the eastern end of the Great Ocean Road and had ourselves a lovely day on the coast. It was too chilly to be a proper beach day, but sunny enough to frolic which you know I did. Our best find was the boardwalk at Point Addis, where we sat drinking my homemade sangria and gazing out at the stunning coastline. Bliss!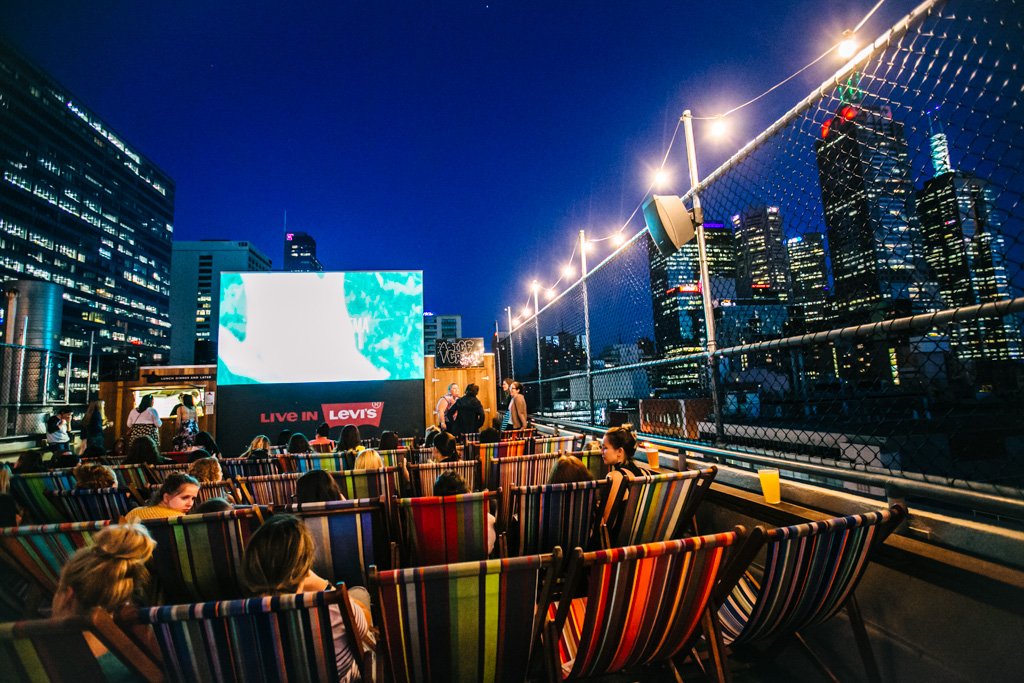 Watching Clueless at Rooftop Cinema
I love rooftops, I love outdoor movies, and big fat DUH I was pretty effing psyched to watch a movie on a Melbourne rooftop. Rooftop Cinema tickets aren't cheap, but you get a snazzy lawn chair to sit in and a magical view of the city from above. I felt like Clueless was a great choice because it's a movie I've seen numerous times, which meant I didn't miss anything when I got distracted by said surrounding views.
Watching The Hateful Eight in 70mm
For Christmas, I ordered App Guy tickets to see The Hateful Eight in 70mm. I didn't really get what it meant to be showing a movie in 70mm, but according to App Guy it was a pretty big deal. As someone who is decidedly NOT a movie person, nor a history buff, I went into the theater hoping that the beautiful camera work would keep me from falling completely asleep – basically, I was mentally prepared to throw the next 3 hours of my life away (I swear I'm normally quite optimistic – but I know myself, and the odds of me actually enjoying this experience seemed slimmer than slim).
You know what happened next. I LOVED THIS MOVIE. I still can't believe it! Yes, the film itself was aesthetically beautiful (NOW I understand why 70mm movies are so special – the quality and details are just unreal), but I was thoroughly captivated by the plot as well. I'm so glad I gave it a chance!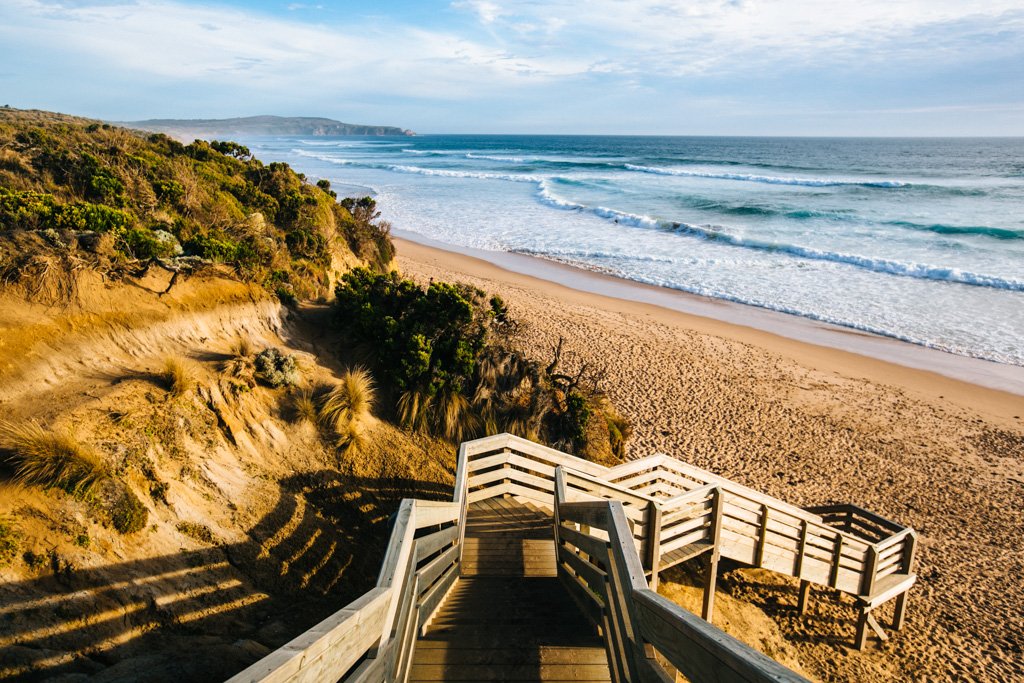 Visiting Phillip Island
With a few days to kill between house sit and sublet, I headed down to Phillip Island for the first time and unexpectedly had my mind blown. There really isn't enough praise for this Victorian isle on the internet and I very nearly skipped it for this reason. I had a fantastic few days exploring Cape Woolamai, hiking along the coast, and hanging out on various beaches, and vowed to return soon (spoiler alert: I went back the next month!).
Joining the Australian Yoga Academy
Countless people have told me that it's important to "find the right yoga studio", or the right yoga teachers, and I thought uh huh, sure. I'd been operating on more of a "price is right" philosophy when selecting my yoga studio: i.e. signing up for whichever one was relatively close to wherever I happened to be living at the time and was also offering some kind of new member special (e.g. two weeks for $25).
This was how I came to join the Australian Yoga Academy, which I faithfully attended near-daily while living in Northcote because I ended up loving it so much. I adored the way each instructor there spoke (both their voices and their inspirational words) and thoroughly enjoyed the flow-heavy class schedule – so much so that I even signed on for an additional month after the intro deal ended (yeah, I'm a sucker). If you ever find yourself living in or around Northcote, Prahran, or Seddon, give this yoga studio a try!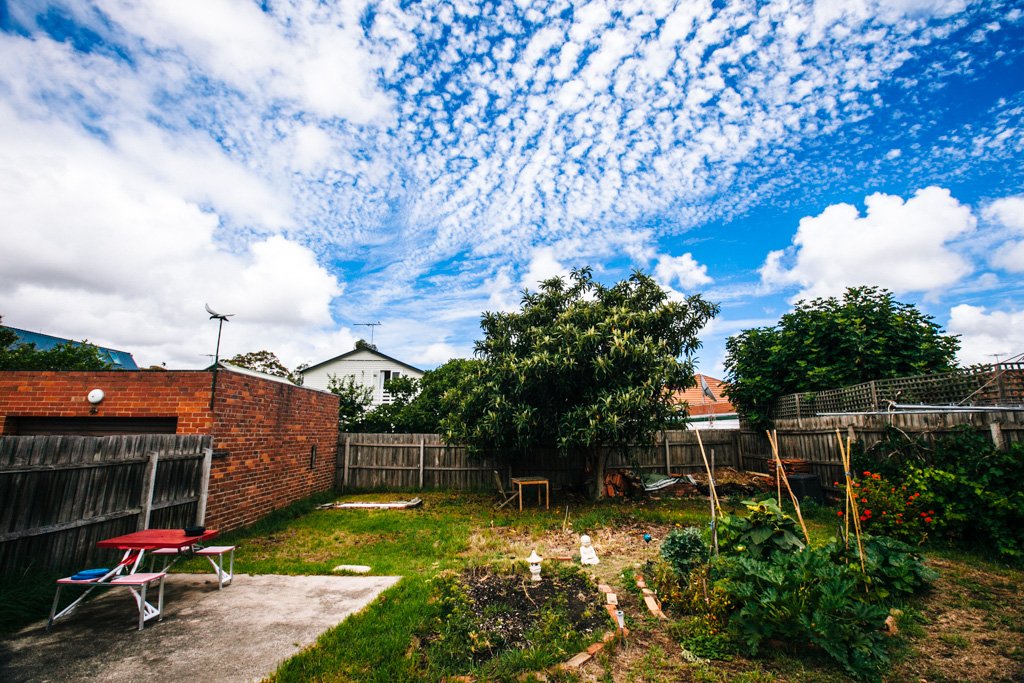 There's a bathtub in the back left corner my backyard!
Moving Back to Brunswick
After my Northcote house sit ended and I returned from Phillip Island, I moved straight into a house in nearby Brunswick East for a few weeks. I absolutely adored living here: the house was clean and blessed with lovely natural light during the day, had an expansive backyard with a bountiful garden from which I'd pick some kale to put in my daily smoothie, and had a large back patio with a couch and table that I turned into my part-time office. I loved sitting here after sunset, watching the bats swoop through the trees as soon as it got dark.
Cycling on Australia Day
As far as I could tell, Australians tend to spend Australia day drinking and listening to the Triple-J countdown. That sounded pretty boring to this restless occasional drinker, so instead I hopped on my bike and cycled down a new route along the Maribyrnong River Trail to Williamstown, back into the city and down to Albert Park Lake, and then home. 30 miles later and I was equal parts happy and sweaty. Such a lovely summer day!
Booking My Next Visa Run Trip – To New Zealand!
I'll never tire of that rush I get whenever I book a flight. (All the time I spend agonizing over it before this point, on the other hand…). I'm absurdly excited to return to New Zealand in March! In the name of slow travel, I've resolved to focus on just the central south island – and to make the most of my time, I'm actually planning out the whole 3 weeks. I forgot how time consuming it is to research and plan trips! (Which is probably why I've been winging my recent travels). It's helping me get even more pumped for my trip, though!
January 2016 Lowlights
The Lamest Brunch Ever
I was really psyched to try out the much-hyped Industry Beans for brunch. Set in Fitzroy on a street full of street art and guaranteed to serve a great cup of coffee (I'd sampled it a few times before), all signs pointed toward this being a phenomenal brunch experience.
And it probably would have been had I ordered anything other than the truffled egg dish. No exaggeration, my plate had *1* egg on it, a couple of green vegetable bits, and some breadcrumbs. I was just the saddest kid at brunch! Meanwhile, App Guy thoroughly enjoyed his burger, and literally every other dish I saw being served nearby looked 1000x more appealing than mine, so I'm pretty sure I just ordered the wrong thing. Hate when that happens!
A Relationship Downgrade
Soooooo, App Guy and I are no longer technically "in a relationship", but I know he still supports and reads this blog so I'm not going into too much detail here. I'm deeming this a lowlight because obviously it's a little sad, but right now it's for the best. We're still on excellent terms (he even joined me on my second jaunt to Phillip Island recently) – and being single gives me more freedom to move around (hence all my upcoming travel plans), so I'm feeling pretty good about things now. We'll see what happens!