You guys, I've found a remedy for Sydney winters without having to flee to the northern hemisphere!
Even after traveling to the US and Byron Bay this past winter, by mid-August I was still fed up with the cold weather. I was well over having to sleep with a hot water bottle under my sheets and desperately needed some beached whale-ing time (aka how I refer to my habit of sunbathing on the beach without swimming or doing a damned thing).
I don't know why it never dawned on me in previous years to just head north! Cairns in winter is absolutely glorious – think temps in the 80's (upper 20's for you Celsius folk) and low humidity. It does get a bit cooler overnight, but nothing a light jacket or jumper can't help with.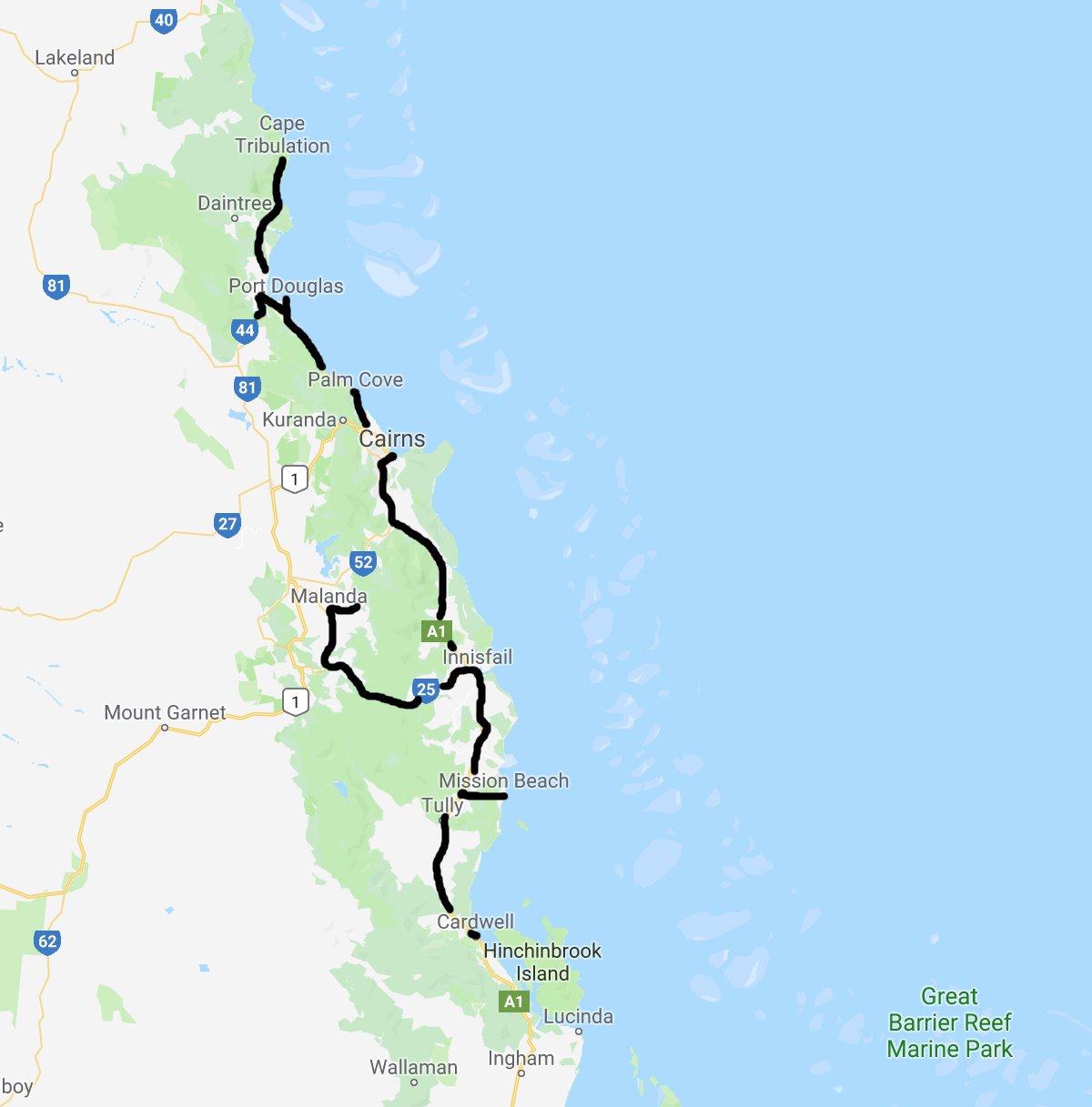 I flew from Sydney to Cairns and did a 5 day road trip around Far North Queensland during dry season (August). Most items in the below itinerary can be done any time of year, but there are a few that are markedly better during either the wet season or the dry season – for example, I'd only hike to Windin Falls during the dry, and I'd only visit the Cardwell Spa Pool during the wet.
If you travel to Australia, you can do this Queensland road trip in the vehicle of your choice – but my vote's for a campervan. I hired a campervan from Spaceships and it was absolutely perfect for this road trip from Cairns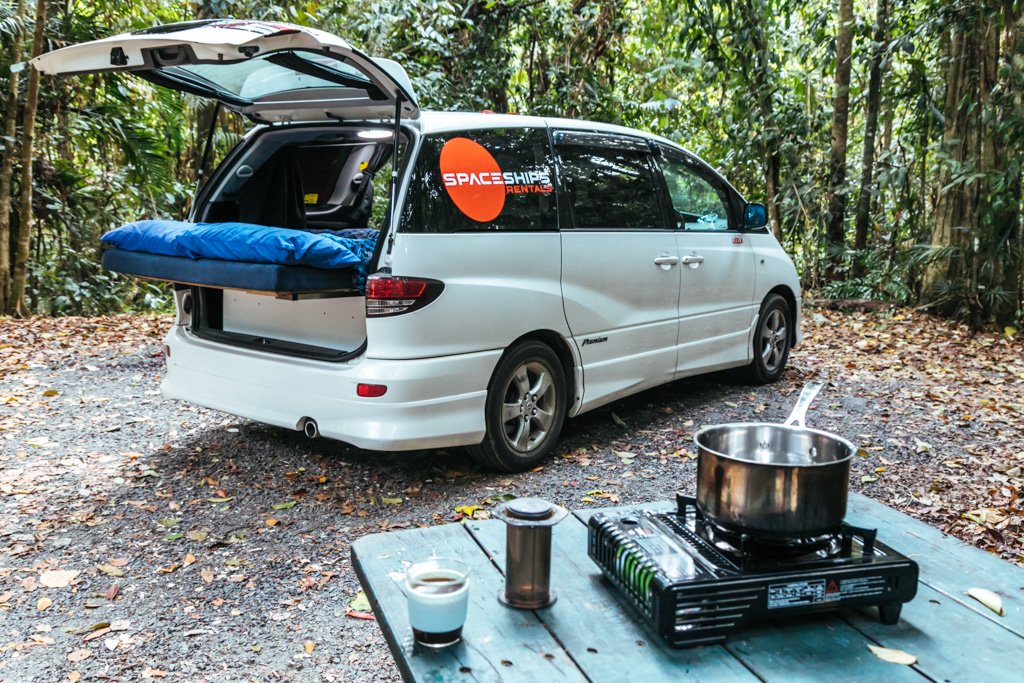 Here's my itinerary for a Queensland road trip from Cairns:
Day 1: Cairns to Port Douglas
Assuming you arrive in Cairns by late-morning and go straight to pick up your campervan, you'll have the afternoon to start exploring. Obviously if you get a later start, you might not have time for all of the things allotted for Day 1, so… pick and choose as you'd like.
Fairy Falls
There are a million and one waterfalls around Cairns, but most of them are south of the city. Since we're heading north on this road trip, we'll start with a waterfall that's somewhat on the way (or at least not too out of the way).
At the Crystal Cascades car park, there's an unmarked dirt trail that leads to Fairy Falls, which is more of a secret swimming hole sort of spot than the more easily accessible Crystal Cascades. So secret, in fact, that of the 30 or so cars parked here, I was the only one at Fairy Falls. SERIOUSLY.
To find the trailhead, imagine you're standing in the street looking straight at the car park. The trail should be directly in front of you at the other end of the lot. I got a little confused while on the trail because I noticed a worn path leading up the steep hill going away from the creek and thought that might be the way to go, but NO – it's not. Stay as close to the creek as you can, on the left-hand side of it, and walk on the rocks right at the edge once the path disappears. Before long you'll reach the promised land.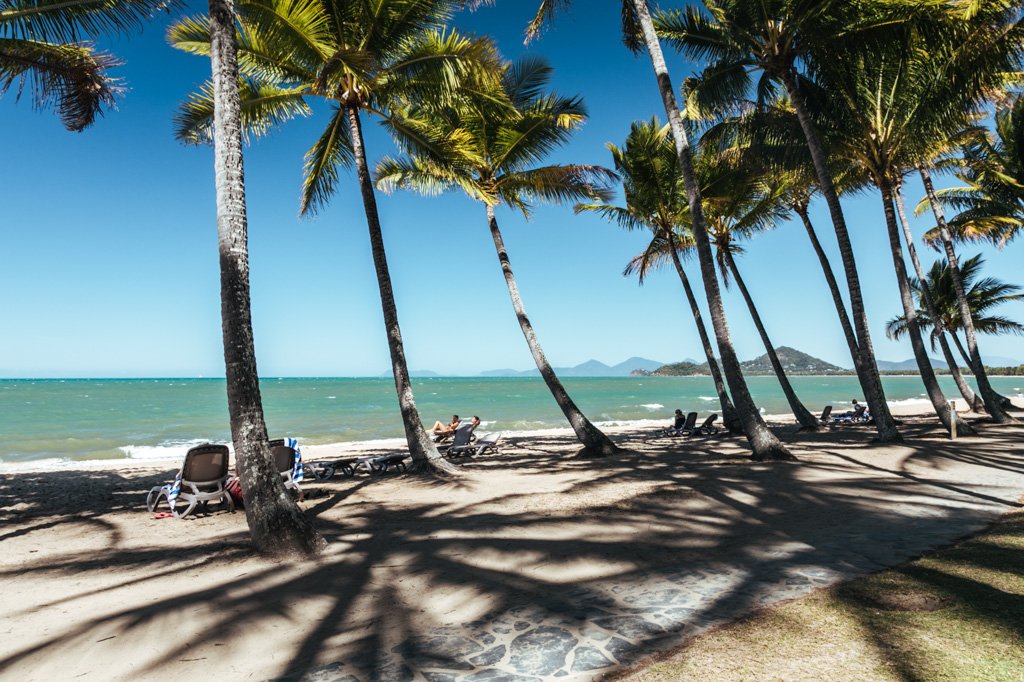 Palm Cove
After a few months of winter in Sydney, all I wanted was to plop myself on the beach and soak up some 85F/29C weather. I did exactly that at Palm Cove, a semi-bougie beach village with luxury accommodation and fine dining options lining the main street.
Port Douglas
Port Douglas is a popular luxury getaway destination in Australia, only about an hour north of Cairns. Unfortunately I didn't have time for anything other than sunset at Rex Smeal Park, but Four Mile Beach is definitely worth a stop.
Port's also a good place to book diving trips and sailing trips that are less likely to be full of backpackers. Check out this article for more things to do in Port Douglas.
Camp at: Feathers 'n Friends ($6 per person)
Day 2: Port Douglas to Cape Tribulation
Mossman Gorge
Mossman Gorge is one of those tourist hotspots that I kind of dreaded going to, but equally would've regretted skipping.
There's not a whole lot to do there apart from short rainforest walks and swimming in the gorge (and navigating past slow-moving tourists, of course), so you can make it a quick visit if you want. But WOW-ee, those boulders in that blindingly clear blue water – this sight is well worth the visit, I'd say.
From Mossman, head north to Cape Tribulation. There's a ferry that you can drive your vehicle right onto, which crosses the Daintree River and drops you off at the start of Cape Trib.
Cow Bay
Cape Tribulation is lined with several beaches that all make you feel like you're on a tropical island. I've checked out most of them and would recommend Cow Bay or Myall Beach (which is where you'll be if you camp at Cape Tribulation Camping).
Cow Bay is gorgeous, yet was damn near empty the afternoon I was there sunbathing. Welcome to Far North Queensland!
Mason's Swimming Hole
There's a glorious swimming hole on Cape Trib that's accessible through Mason's Cafe, which costs $1 per person to enter.
Putting aside the fact that it seems a little, um, wrong for a business to try to make money off of a natural attraction, once you walk down the steps and glimpse the majestic trees reflecting off the perfectly still water, all aglow from the late-afternoon golden light, you know you'd happily pay much more than a dollar to enjoy this little slice of the Daintree.
Camp at: Cape Tribulation Camping ($17/person for one unpowered campsite)

Yes, I did actually swim here! Thankfully it's free of crocs.
Day 3: Cape Tribulation to Atherton Tablelands
Myall Beach
If you stayed overnight at Cape Trib Camping, you'd be nuts not to crawl out of bed for sunrise. Even I, a self-proclaimed night owl, managed to rise early and walk two minutes from my campsite to the beach. Sunrise is always worth it!
I lingered for awhile after the sun came up and walked up and down the beach, soaking up that warm early morning light and really wishing I'd brought my hammock to hang amidst the palms here.
Daintree Ice Cream Co.
On your way out of the cape, make a quick stop for exotic fruit ice cream at the Daintree Ice Cream Co. They make their ice cream from fruit grown on their beautiful 22-acre property, and serve whatever happens to be in season in a sample cup with 4 scoops. When I visited, they had wattleseed, plum, coconut, and jackfruit scoops on offer.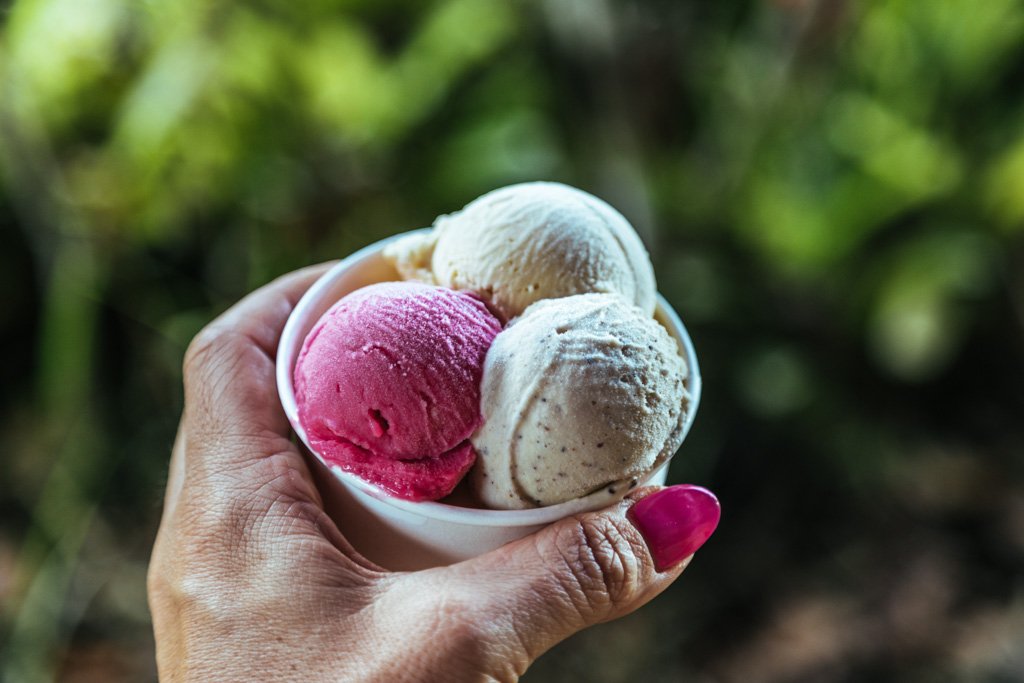 You'll spend the rest of the day mostly on the road, driving south toward waterfall country.
Babinda Boulders
By happy little accident I ended up at Babinda Boulders around sunset, and I'd actually recommend doing the same on this road trip. This is an excellent spot to float around in at dusk and beyond because you can look up at the stars while doing so.
You can either hang out in the main pool or wander downstream for more privacy; no matter which way you go, there will be plenty of boulders to sit on.
Ooh, and hot tip: there are picnic and BBQ facilities at the car park, some of which are lit up after dark. I knew that tonight's campground wouldn't have similar facilities, so I cooked my dinner at Babinda before heading there.
Camp at: Wooroonooran National Park – Henrietta Creek ($6.55 for one person)
Day 4: Atherton Tablelands to Cardwell
Far North Queensland is renowned for its plentiful waterfalls. You'll likely only see a fraction of them on a short road trip like this one, but that's ok – all the more reason to return someday.
Day 4 is all about dem waterfalls. This might be the most epic day of the whole road trip, so you'll want to wake up early in order to maximize the waterfall goodness!
Nandroya Falls
You can walk to Nandroya from the Henrietta Creek campground. A 30-minute jaunt leads you to this gem of a waterfall which, in the early morning, you're bound to have all to yourself.
Elinjaa Falls
Continuing west on the Palmerston Highway, there will be a turnoff on the right for the Waterfall Circuit Drive. The first of these falls is Elinjaa.
I'd seen photos beforehand of people posing at Elinjaa Falls by what looked like a tree stump jutting out of the creek. However, there was no such stump when I visited. Stump or no stump, Elinjaa's quite pretty, right?
Millaa Millaa Falls
Millaa Millaa is one of the most popular waterfalls in all of Queensland (possibly even Australia), which isn't surprising given how beautiful and accessible it is (as in, you can drive right up to the falls).
I have a tendency to turn my nose up at super touristy spots, but this one undoubtedly deserves its hype. Millaa Millaa Falls is an absolute STUNNER. Then again, I'm such a sucker for basalt columns (see: Reynisfjara Beach and Svartifoss in Iceland, Devils Postpile National Monument in California).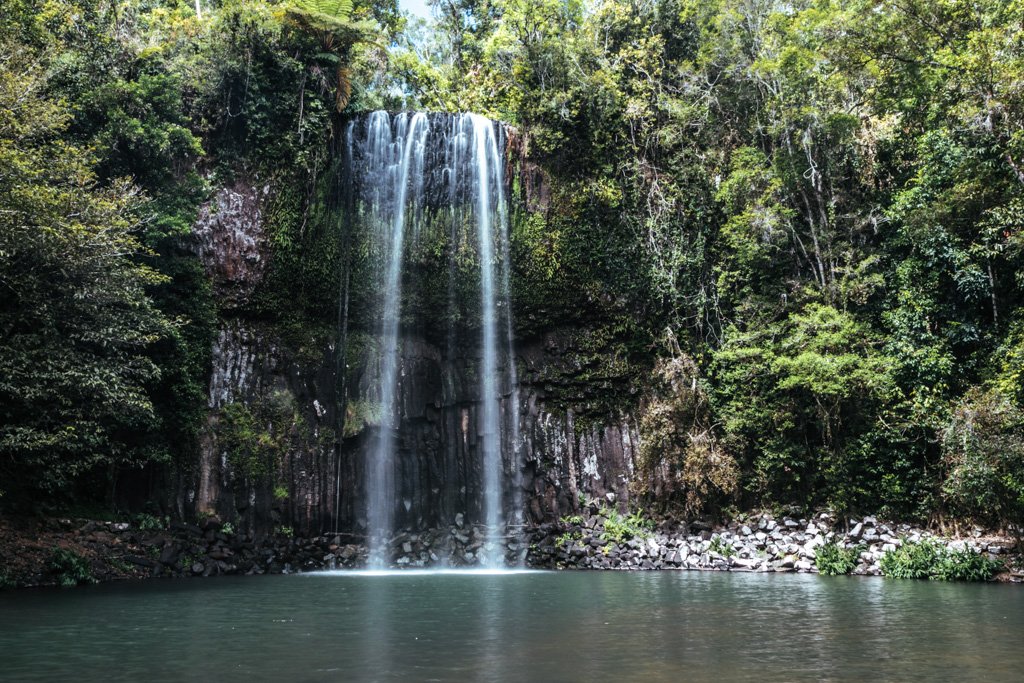 Windin Falls
Alright, now things are about to get real adventurous as you head north to Wooroonooran National Park.
Windin Falls is accessed via a dodgy dirt road and an even dodgier dirt track. The best instructions I found for finding the falls are here. A couple tips I'd like to add to that:
When driving down Old Cairns Track, go alllllll the way to the end. You'll know it's the end when you see two gates and can't go any further.
When hiking down the fire trail (through the gate on the right, not the gate that says DO NOT ENTER), keep going until you see a major fork in the trail. Go right at the fork, and shortly after (within 10 minutes) you'll see a tree on the right with an arrow carved into it that points to a path that leads downhill. This'll be after about 1.5 hours of hiking.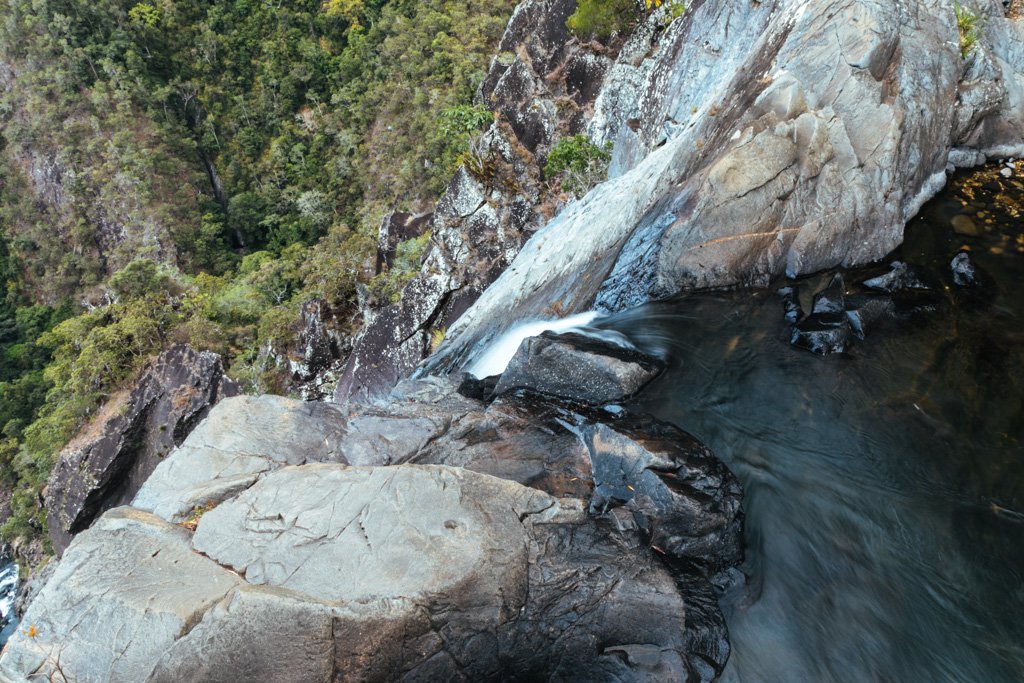 Now you might be wondering: is the waterfall even worth all this effort?
And to that I say, three words: NATURAL INFINITY POOL.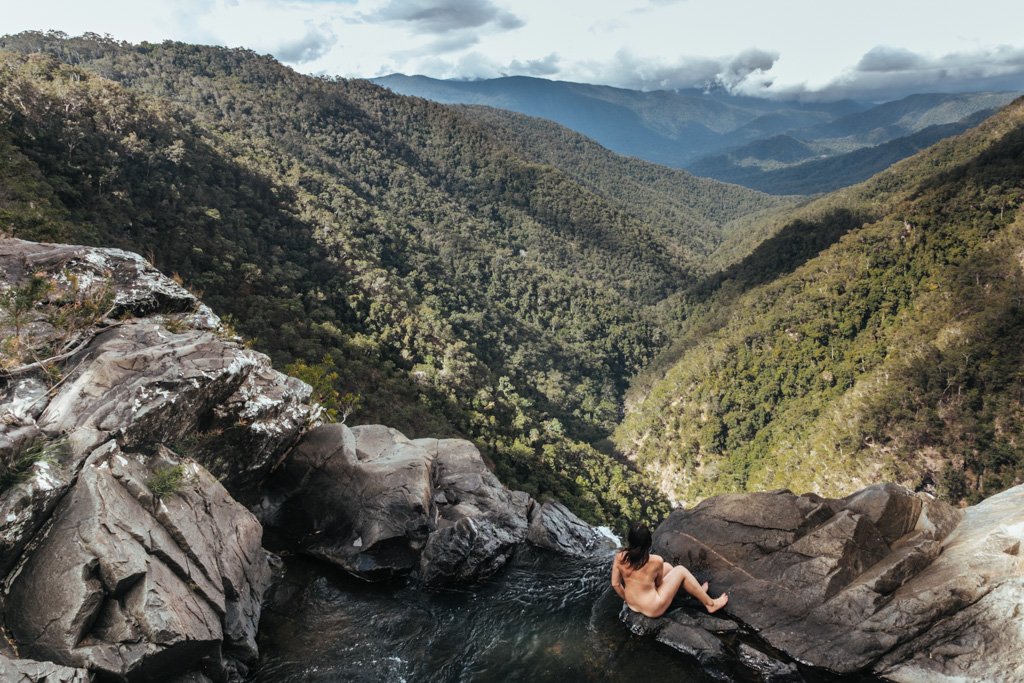 The view from atop the falls is incredible on its own, but somehow enjoying it from a natural infinity pool at least triples the wow factor.
I was there during dry season when the water levels were lower, and it was very safe to sit in the pool without fear of being swept over the edge. Your mileage may vary.
Note: If you hike to Windin Falls during the wet season, allow more time to make it down the road and trail – ideally a full day. The undulating, bumpy terrain will be super muddy and slippery and possibly a bad idea with a rental vehicle, not to mention even in hiking shoes. If you skip this hike, there are plenty of other waterfalls in the area that are easier to get to that you can check out instead.
Camp at: Bilyana Rest Area (free)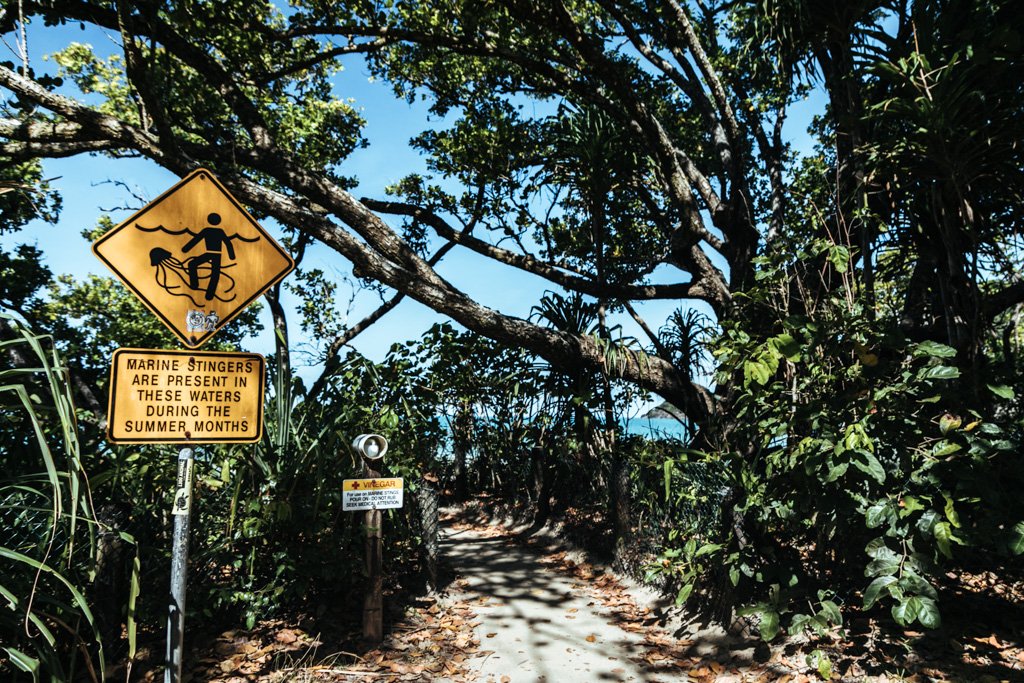 Day 5: Cardwell to Cairns
Note: If you're road tripping during the dry season, I say skip Cardwell altogether and only go as far south as Mission Beach. The glorious rock pools in Cardwell are best enjoyed during wet season, and not really worth a stop during dry season.
Cardwell
I'd previously drooled over some photos I'd seen of the Cardwell Spa Pool (think warm, milky blue water in rock pools), and thought I'd get an early start and drive straight there before breakfast so I'd have it to myself.
I did in fact have a private spa pool experience; however, it was zero appealing in the middle of the dry season. Water levels were low and stagnant, and the water color could barely be described as blue, much less milky blue. I took one look and one quick iPhone shot, then turned on my heels and headed back to my campervan.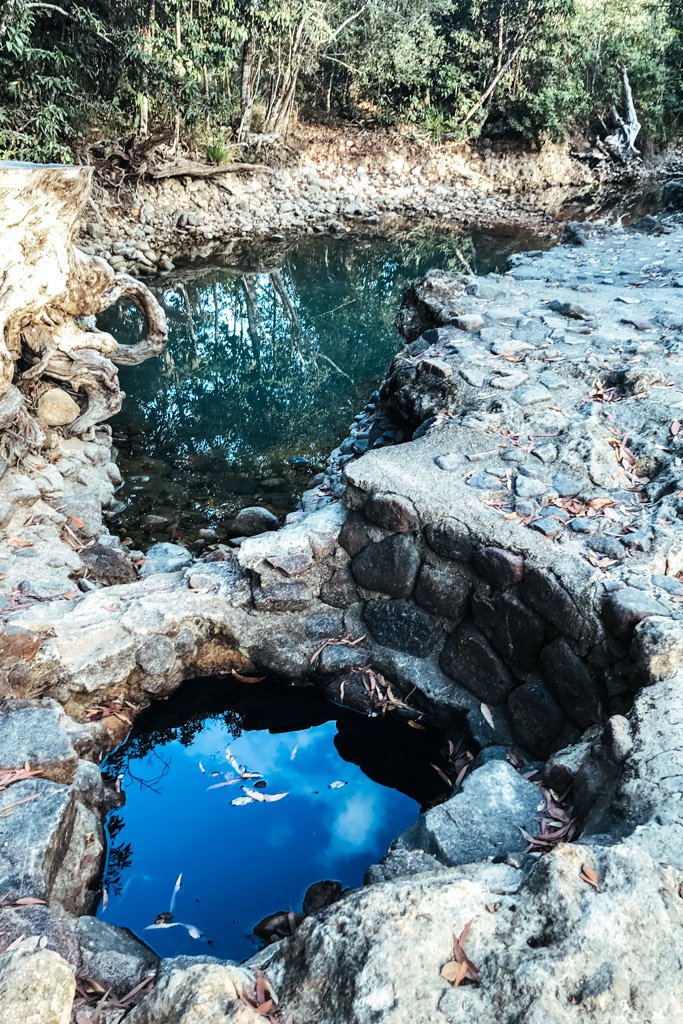 Cardwell Spa Pool's a bit underwhelming outside of wet season.
Since I'd driven all the way to Cardwell, I figured I might as well see what else was around the Cardwell Forest Reserve. There are a few creeks you can access off the dirt road that winds through the reserve, but again – not really worth a stop outside of the wet season.
The Cardwell Lookout, however, yields fetching views of the town, coastline, and Hinchinbrook Island from above. There are various short trails from the lookout car park that lead to different vantage points of the region.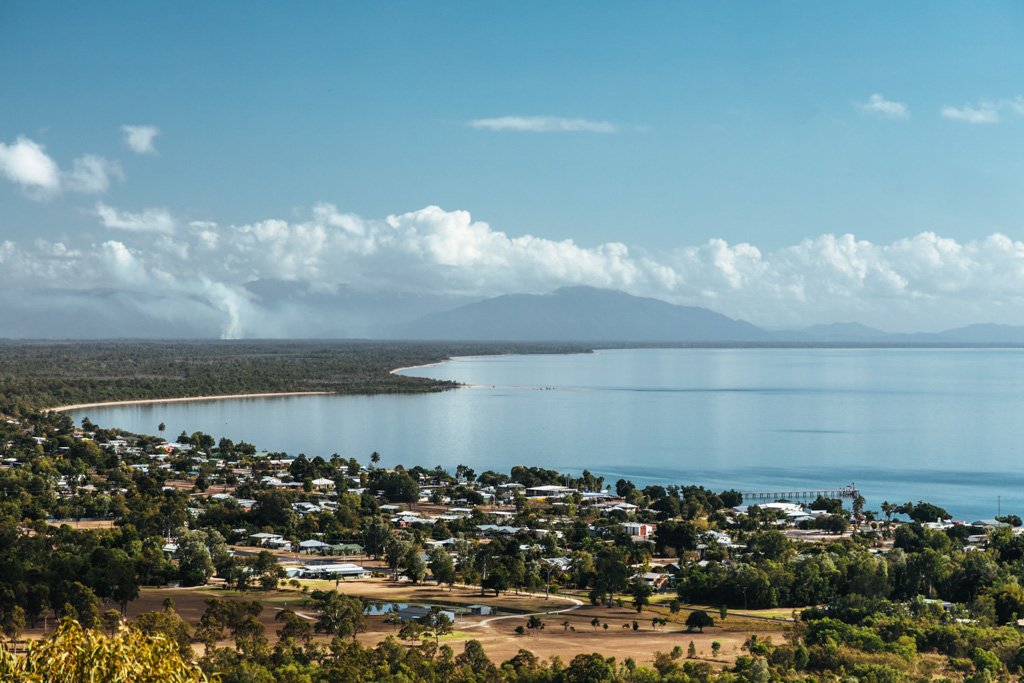 Mission Beach
I don't know about you, but for me Mission Beach conjures up images of sweeping palms lining miles of smooth sand. Thankfully the reality wasn't far off. Guys, this is the spot for anyone who enjoys the proverbial long walks on the beach. The sand is flat and widespread and spans an impressive 14km – in fact, it's quite popular for cycling at low tide.
Mission Beach is just one of a few different beaches in the Mission Beach area. Whichever beach you decide to check out, you can expect zero crowds, laidback vibes, and island-like vistas. It's absolutely glorious.
Highly recommend lunch at the Byron Bay-style Bingil Bay Cafe up in – you guessed it! – Bingil Bay, which is the northernmost town in the Mission Beach region.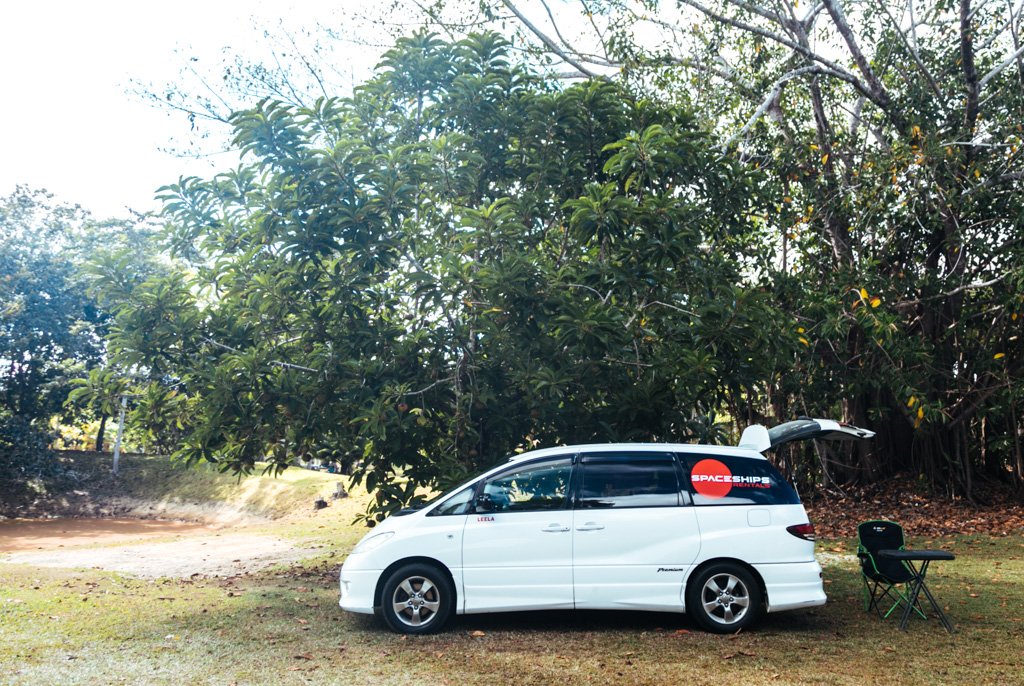 Etty Bay
If it's the dry season and you skip Cardwell, or if you limit your time spent in Cardwell and Mission Beach, you'll have time to stop at Etty Bay.
Etty Bay would be "just another beach" in Far North Queensland if not for its cassowary population. You'll pass by plenty of road signs warning you to watch out for cassowaries on your Queensland road trip, but if you actually DO want to see one in the flesh… Etty Bay is your best bet. There's apparently a family of cassowaries that live on the beach there.
If you're like I was and don't really know WTF a cassowary is, well: they're the third largest bird in the world, one of Australia's largest land animals, and kinda resemble a cross between an ostrich and a turkey. So if that's something on your *Must See In Australia* list, then definitely stop at Etty Bay.
HAVE MORE TIME IN CAIRNS? Book onto a Great Barrier Reef diving trip after you complete your Far North Queensland road trip!
Pin it!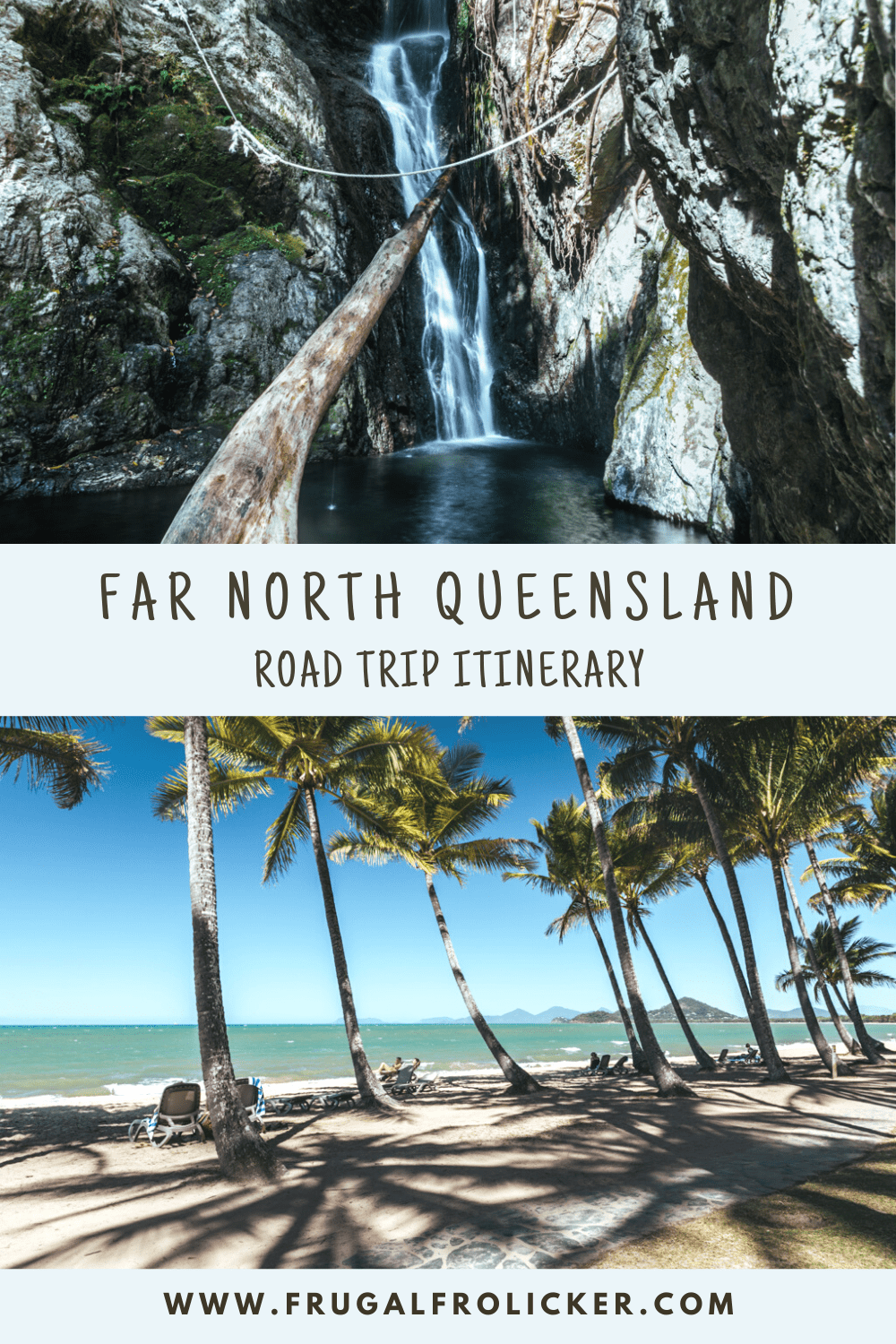 Frugal Facts
How to get to Cairns
There are direct flights from New Zealand and several Asian countries to Cairns. If you're traveling from another destination, you'll likely have to fly through Sydney first. It takes about 3 hours to fly from Sydney to Cairns.
It's a good idea to buy travel insurance, especially if you decide to go scuba diving, white water rafting, or bungee jumping during your trip to Cairns. I always use World Nomads.
Campervan Hire in Cairns
I hired the Beta campervan from Spaceships and absolutely LOVED it. It makes excellent use of space and has plenty of room for storage, and the bed can be pulled out the back a bit if you fancy an open-air slumber under the awning (this would be ace for hot summer nights). Their rates are super affordable and include all the gear you need for the perfect Queensland road trip.
To find free or cheap campsites while on the road, use the WikiCamps app.
Camping not for you? Hire a regular car and book private rooms or apartments on Airbnb for your road trip instead. Sign up for Airbnb using this link and get AU$55 (US$40) off your first booking!