We unexpectedly ended up staying in Port Douglas for 6 weeks during our big Aussie caravan trip, which was by far the most time we've spent in any one location. After a few months of hectic Outback travel, Port was such a lovely place to rest and catch up on all sorts of life things (work + fitness especially).
This laidback tropical town is an Aussie favorite, and many Aussies are choosing to holiday in Port Douglas while we're still unable to travel overseas (I read somewhere that it's now considered "the new Bali" – I'd say that's not far off).
It's the kind of place that's more about the vibe than about a specific attraction or drawcard, you've just got to experience it for yourself to see what I mean.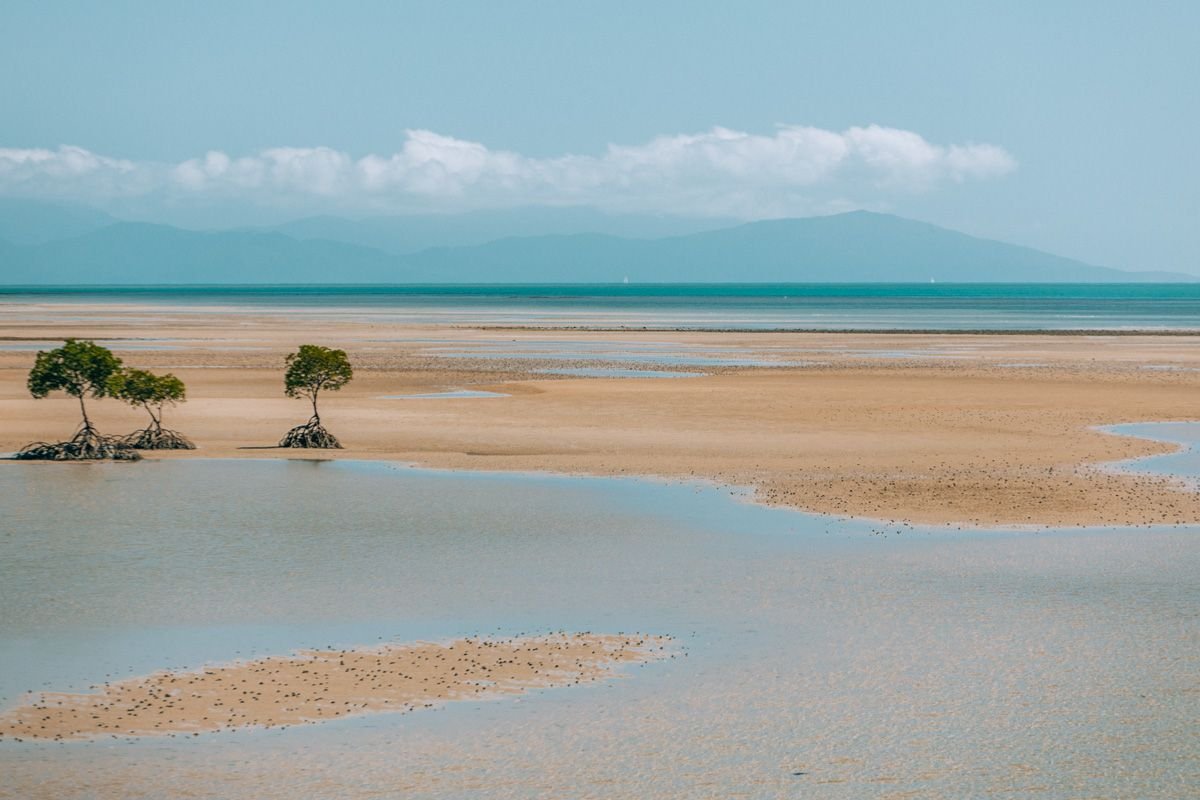 However, there are LOTS of things to do in Port Douglas while you're in town:
Things To Do In Port Douglas
Four Mile Beach
First and foremost on this list of things to do in Port Douglas is the famed Four Mile Beach (which, fun fact, is actually 4km long, not 4mi long!).
Four Mile Beach is the town beach and it's a beaut, particularly on a clear sunny day when it shimmers 50 shades of blue. It's especially popular for walking and biking at low-to-mid-tide because of how long and flat it is.
At the north end of the beach, you can hire umbrellas, lounge chairs, rubber tubes, and kayaks to use for the day. The water was 26C (79F) when I visited in September… perfect for swimming! Just be mindful of stinger season, which runs from approx. November to May in North Queensland.
READ MORE IN THIS POST: Far North Queensland Road Trip: A 5 Day Itinerary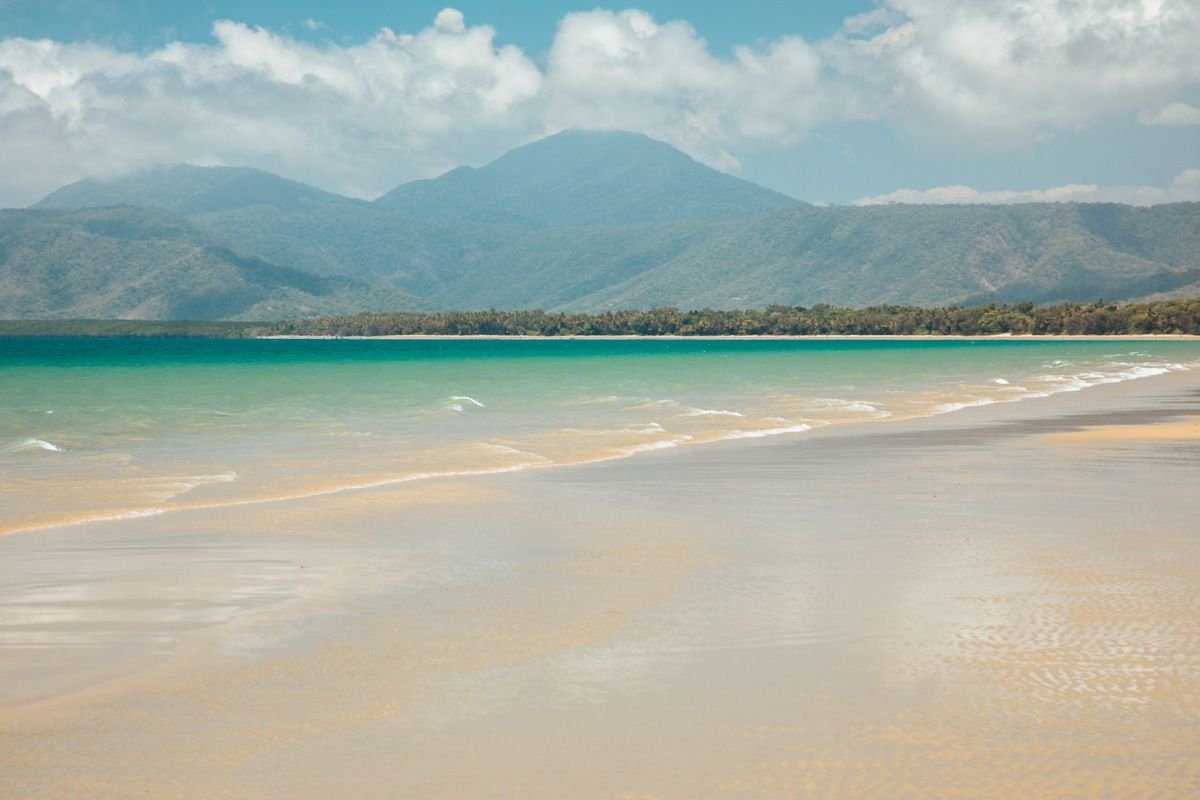 Rex Smeal Park
The perfect sunset picnic spot does exist, and you can find it at Port Douglas' Rex Smeal Park. Think: 180-degree views of the water, and tall palms lining the waterfront.
Whether you hang a hammock between the trees or set up a picnic blanket in the shade beneath the palms, you get to enjoy some glorious views of the mountains and the sea, people watch as boats pass by, and wile away the time before sunset.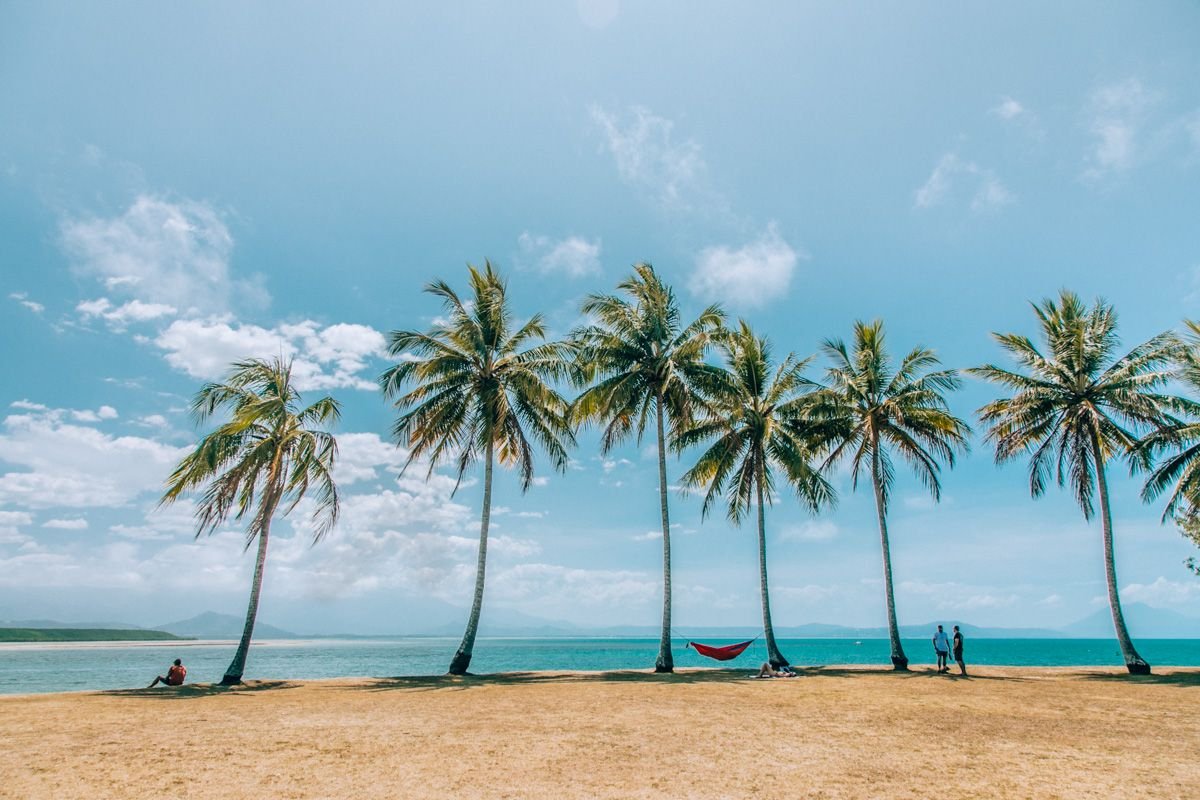 Origin Espresso
I have to give a mention to one of my favorite coffee shops from the whole of our big Aussie caravan trip: Origin Espresso. They definitely serve up the best coffee in Port Douglas.
They have consistently delicious (Melbourne-caliber) coffee and their staff is SO lovely, possibly the most genuinely friendly cafe workers I've encountered… ever? I just loved it here. They didn't mind me hogging a table with my laptop either, which always wins extra points from me.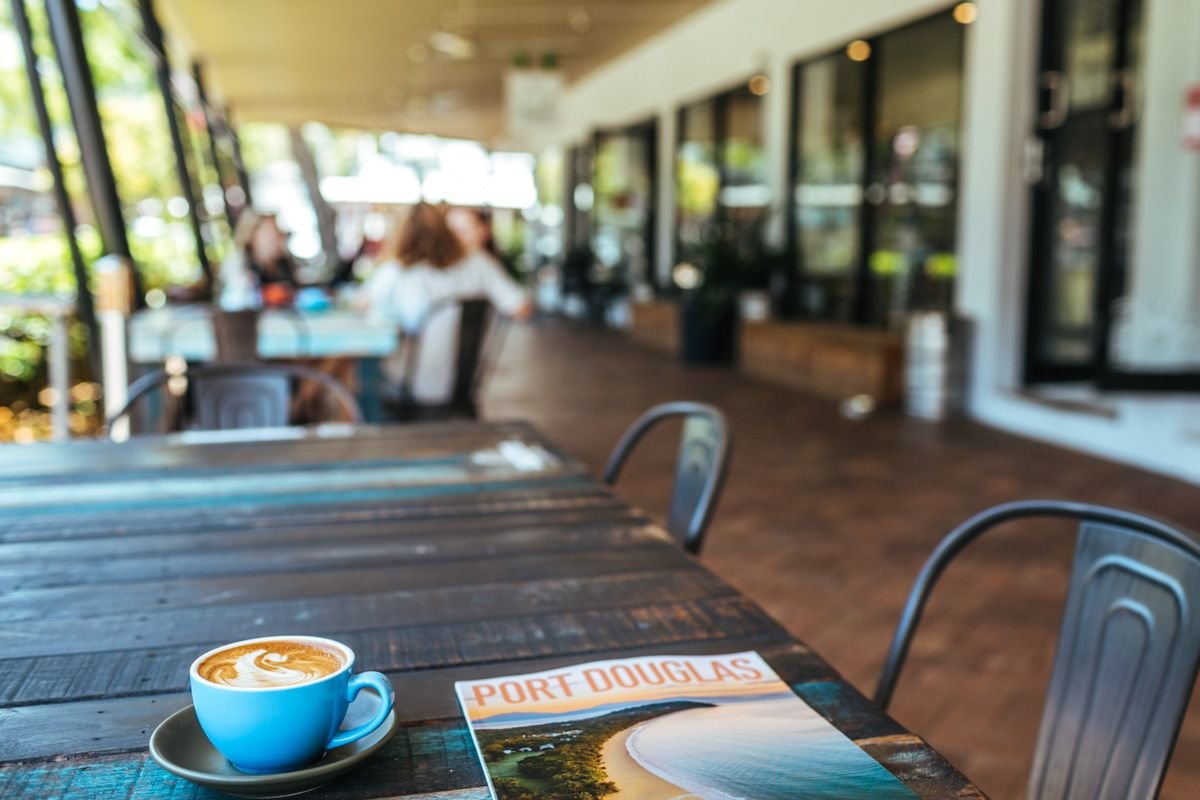 The Book Lounge
A fellow patron at the aforementioned cafe told me about this cool little bookstore just up the street, so I had to check it out for myself. What a treat! This is the kind of establishment where you're encouraged to stay awhile, from being offered tea upon walking in the door to having a myriad of seats scattered around the book aisles. There's a resident dog too who will likely come to greet you as well. Book lovers, this is a must-do in Port Douglas for you!
Hemingway's Brewery
One of the "things to do" in Port Douglas is dine at Hemingway's, a brewery perched over the town marina. It's got a buzzy vibe with sports playing on the big screen and plenty of outdoor seating fit for people (and boat) watching. Its a beer + burger kind of place, though there's plenty else on the menu if you're like me and don't care for either.
Trinity Bay Lookout
Perhaps the quickest and easiest thing to do in Port Douglas, the Trinity Bay Lookout is just a few minutes' drive up Flagstaff Hill. You can literally park the car and walk just a few steps to reach the railing at the lookout. The view from here is absolutely glorious! From through the trees, you can look out over Four Mile Beach and down the coastline.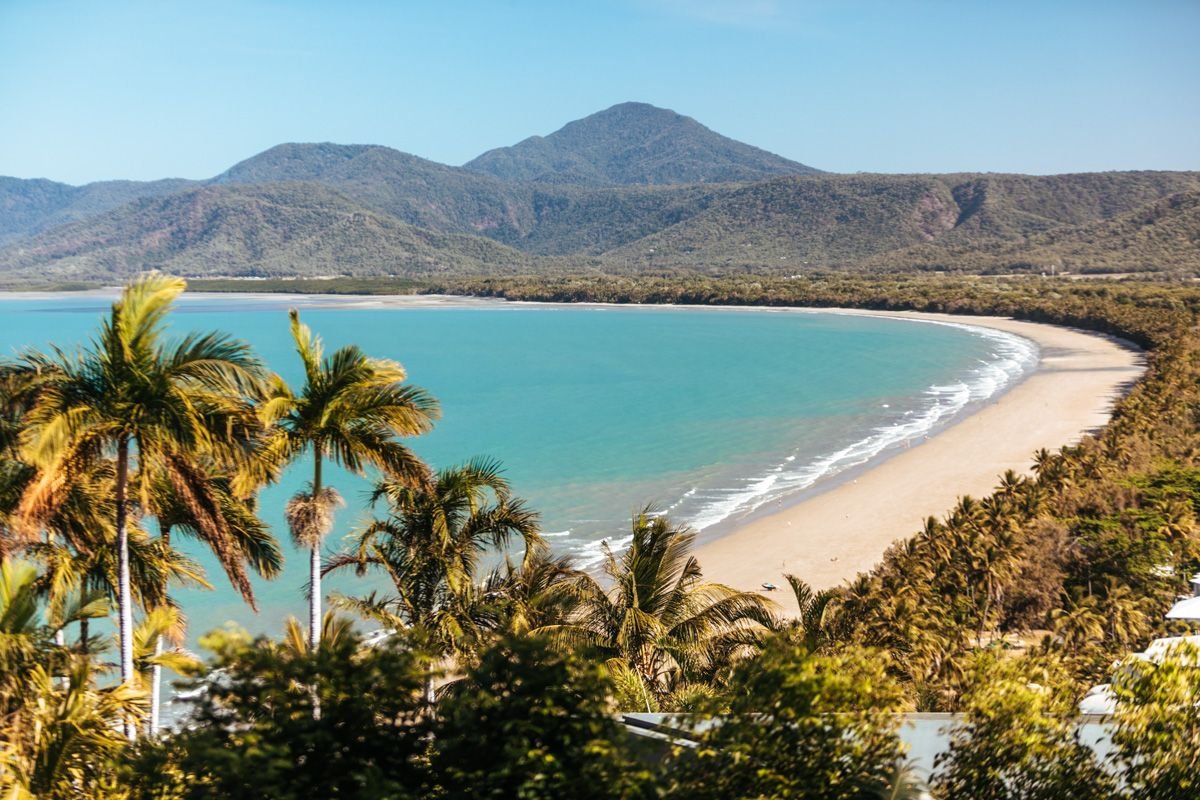 4 Mile Beach Lookout
The Flagstaff Hill Walking Trail runs for 1.2km from 4 Mile Beach to Rex Smeal Park and is relatively easy, minus the uphill walk in the inevitable heat.
Walking up from the beach, you'll reach the 4 Mile Beach lookout platform (which resembles a plank more than a platform), and shortly after you'll pass by Trinity Bay lookout. Both lookouts offer sensational views over the beach and out to nearby islands, but the 4 Mile Beach lookout has a clearer, less obstructed view compared to Trinity Bay lookout, which looks out over the beach through some trees.
Sunset Cruise
If you're going to splash out on just one Port Douglas attraction or activity, let it be a sunset cruise. I think it's the best bang for your buck: for as little as AU$50 you get an hour or two on a boat, looking at some glorious scenery as the sun sets for the day. Some cruises even include food and beverages. And plus, everyone always seems to be in a great mood on a sunset cruise, so it's just an all around good vibe.
We went with Shaolin for our Port Douglas sunset cruise, purely because you get to sail on a Chinese junk boat which makes for such a unique experience. Sunset was all but non-existent the evening we sailed (as in, the sky was overcast and 100% gray), but we still had SO MUCH FUN. 10/10 would sail again.
CLICK TO BOOK A PORT DOUGLAS SUNSET CRUISE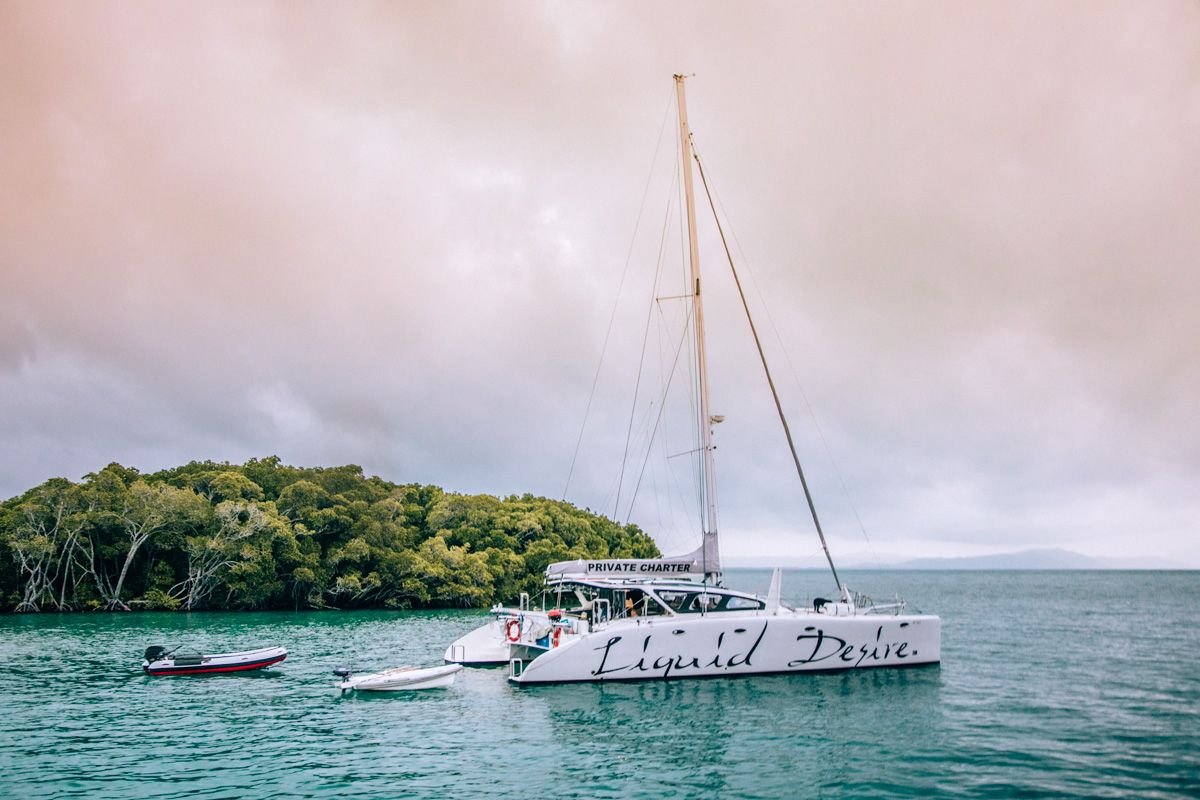 River Cruise
Eager to do more cruising? Hop on board the Lady Douglas and explore the mangrove channels around Port Douglas. You're guaranteed to spot plenty of wildlife (particularly birds), and chances are more than good that this'll include some crocs.
Port Douglas Markets
It's rare for me to be impressed by a market because so many of them look so same-y, ya know? Or they've got little more than tacky touristy crap on offer. But I'm here to tell you that the Port Douglas Markets are well worth a visit. I don't think I've EVER seen so many psychics and tarot card readers at a market before, not even in Byron! There are also some excellent food and produce vendors, and just lots of unique stalls all over the place.
FYI the Port Douglas Markets are on Sunday from 8-2. Don't miss it!
Cane Toad Racing
I did a double take when I saw a sign that said "cane toad racing tonight" while walking to my favorite cafe (you know the one now). WTF?!
So cane toads are an Aussie thing – an Aussie pest, to be more accurate. They're an invasive species that lives in the northern reaches of the country and they are extremely toxic to native species. Basically, they f up the local ecosystem, so we don't like them.
And apparently we show our dislike for these creatures by making them run (hop?) races for our entertainment? I don't know, but I kind of wish I'd called into Chilly's Pizza to witness the spectacle for myself. If you go, let me know how it is, will ya?
Smoothie Bowls at Nectar
The best acai bowl in Port Douglas can be found at Nectar. You're welcome. PS – the interior wall is trés instagrammable.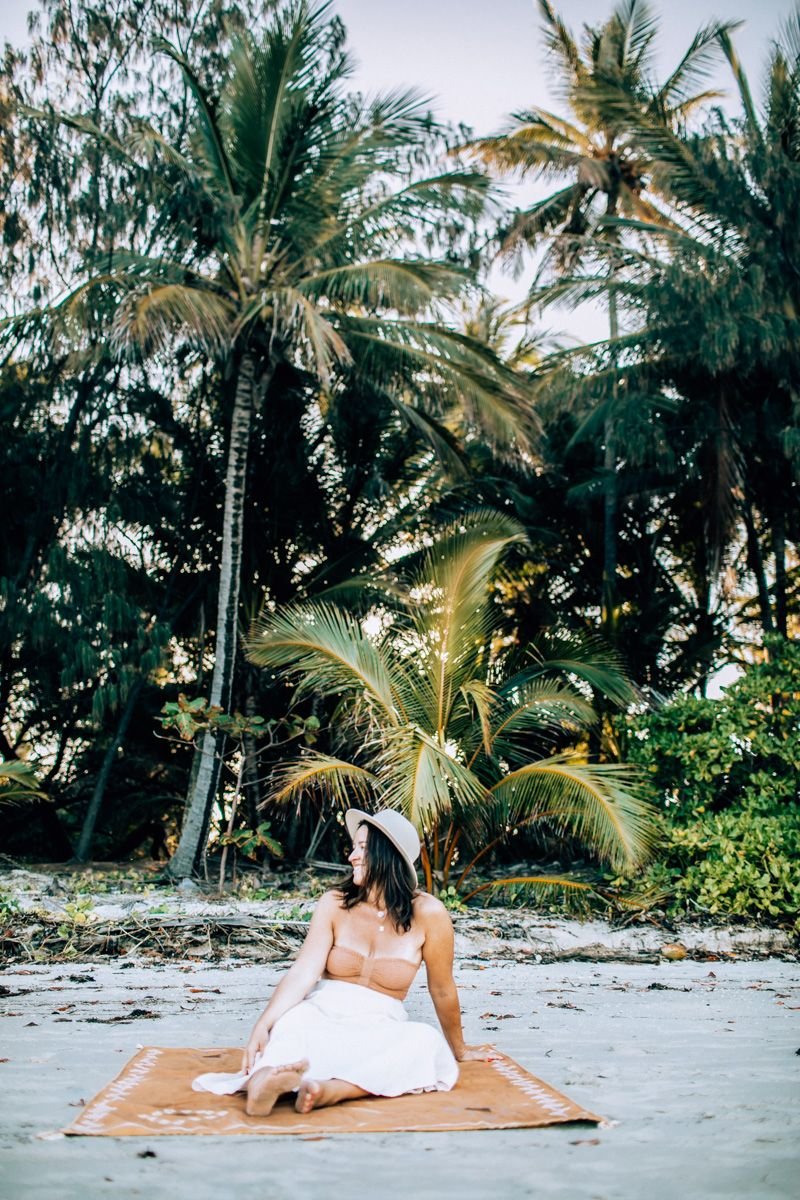 Biking
Bike riding is hugely popular in Port Douglas, whether it's riding up and down Four Mile Beach, cycling the bike paths that run through town, or taking to the main roads to explore outside of town. If you don't have your own bike with you on your Port Douglas holiday, you can hire one from Port Douglas Bike Hire (across the street from Coles).
If you're into mountain biking, the 6km Bump Track is a must-do in the foothills behind Port Douglas. There are several other trails from either end of the Bump Track if you want to extend your ride.
Stand-Up Paddleboarding
Most of the beaches in Queensland are calm and flat, as they're protected by the reef and don't generally have waves pummeling their shores. This makes them ideal for stand-up paddleboarding, and Port's Four Mile Beach happens to be an excellent spot for an ocean paddle.
Wind Swell runs SUP trips at the beach as well as down a river at nearby Mossman Gorge, which is such a fun way to immerse yourself in the Daintree Rainforest. These river SUP trips are $109/person and run for 3 hours.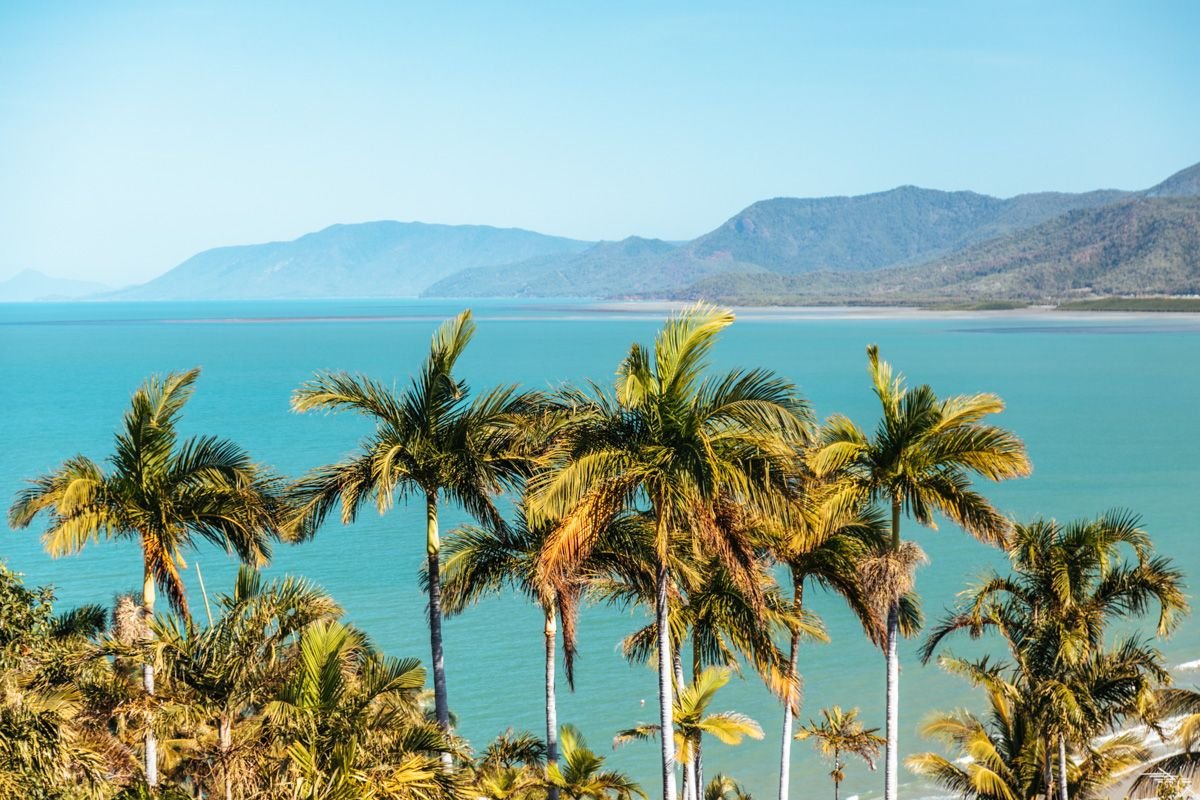 Wildlife Habitat
An award-winning eco wildlife sanctuary, Port Douglas' Wildlife Habitat is a must-do for any animal lover on holiday in Port Douglas. From hand-feeding kangaroos to holding a koala to swimming with saltwater crocodiles (!!), there's no shortage of Aussie animal adventures to be had here.
All the animals live in recreated natural habitats within the sanctuary, and there's also an onsite rehab centre for rescued animals. Love that!
CLICK TO BUY A WILDLIFE HABITAT TICKET
Things To Do Near Port Douglas
Scenic Flight
A scenic flight over the Great Barrier Reef should be on EVERYONE'S bucket list, IMO. And guess what? You can cross it off the list when you're on holiday in Port Douglas.
Nautilus Aviation offers 30, 45, and 60 minute helicopter scenic flights over the reef and/or the rainforest. Prices start at AU$399 per person.
Thala Beach Nature Reserve
Thala Beach is a beachfront eco retreat just a 10 minute drive south of Port Douglas. However, the resort itself is not one of my best things to do in Port Douglas (though it looks pretty epic!).
Nope, instead all I'm recommending you do is drive through the entrance and stop just inside the reserve (there's a little space just to the right where you can park, it'll fit a few cars). Here you'll find yourself smack in the middle of a coconut plantation full of picturesque palm trees. Non-guests are free to stop and have a look/frolic through the trees. Picnic in the palms, anyone? (Yep, we did this!)
The Thala Beach coconut plantation is also a popular drone spot, and it should be noted that there's a sign posted where you park that requests that you stop in and let them know that you want to fly your drone here. I'm not sure how many people actually do this, though.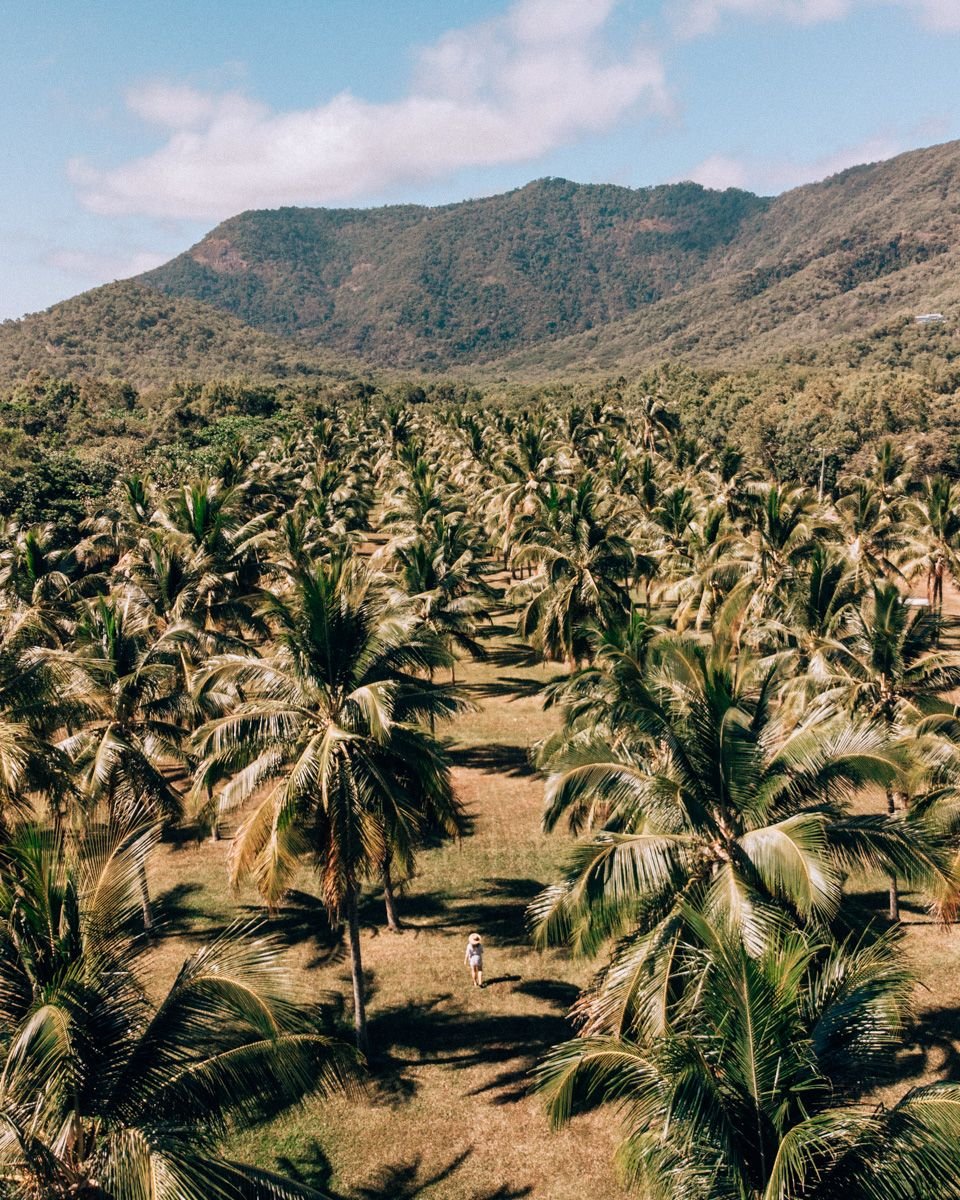 Great Barrier Reef Drive
If you made it to Port Douglas, you likely would have driven part of the Great Barrier Reef Drive (or Great Tropical Drive) to get there.
These are fun names for the segment of the Captain Cook Highway that runs for 140km from Cairns to Cape Tribulation. Much of it hugs the gorgeous coastline and passes by dozens of little beaches and viewpoints. Some of them, you can pull over and explore; others, it might be a bit unsafe to stop and ogle the views, as the road is often tight and winding.
Whatever you do, make sure you allow some time to ENJOY this scenic drive, rather than just blast from Cairns to Port Douglas and back. Rex Lookout is probably the most popular spot to pull over and soak up the coastline, though I personally think there are better views along the drive.
Crocodiles
If you've yet to see an Aussie crocodile up close (but not TOO up close, if ya know what I mean), you can make it happen on your holiday in Port Douglas!
For a guaranteed sighting, get yourself a ticket to Hartley's Crocodile Adventures 25 minutes south of town, where you can witness the jumping crocs (similar to the more famous ones up by Darwin) as well as hold a koala and glimpse other Aussie creatures.
Or for a more natural sighting, hop on a cruise with Solar Whisper, which operates zero-emissions crocodile spotting boat trips on the Daintree River. The one-hour tour costs $28/person, and the two-hour tour costs $56/person. And they boast a 99% success rate for spotting crocs, so that's a pretttttty good return on investment there.
Or for the budget option, just hang out for awhile at the Mowbray River Foot Bridge (5 minutes south of town) and you're likely to spot a crocodile in the wild – especially if you go at low tide.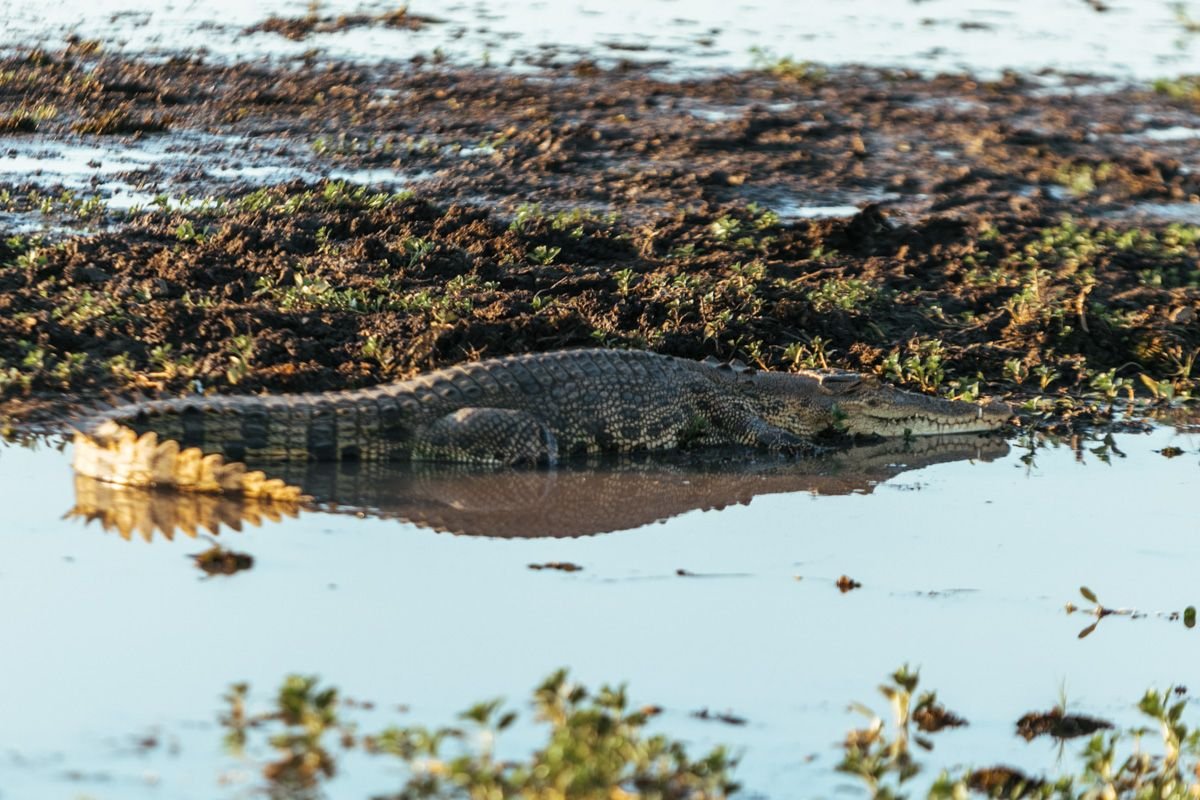 A crocodile (in the NT, not in Far North Queensland!).
Shannonvale Tropical Fruit Winery
Ever tasted wine made from tropical fruit? Me neither, but you can try it at Shannonvale Tropical Fruit Winery, 15 minutes north of Port Douglas (near Mossman).
They don't use ANY grapes in their wine making process, mostly mango with a handful of other tropical fruits. And surprisingly the wine isn't too sweet as you might expect it to be.
Stop by for a tasting, or to pick up a bottle of their unique wine!
Spring Creek Falls
If you're keen to escape the tourists and have yourself an adventure, the hike to Spring Creek Falls (or Black Rock Waterfall) is just what the doctor ordered.
The trailhead is about 10 minutes south of town, and the hike itself is 3-4 hours return (though you might want to allow more time to linger at the pools along the way and the waterfall at the end).
I personally have not done this hike, so I can't say this from experience; but based on my research, I didn't think it was quite worth the effort for me (especially in the heat!) when there are dozens of other waterfalls around Cairns that are more easily accessible and potentially more impressive.
However, if you won't be spending time waterfall hopping around Cairns and are strictly on holiday in Port Douglas only, I say it's worth doing this waterfall hike – it's a very local experience, perfect for visiting nature frothers as well!

Palm Cove.
Day Trips From Port Douglas
Mossman Gorge
You can't come all the way to Port Douglas and miss nearby Mossman Gorge! Just a 20 minute drive north, this is one of Far North Queensland's most epic spots, and it's known as the gateway to the Daintree Rainforest.
Just inside the entrance, you'll come to the main swimming hole – the one with all the big, smooth boulders in it that's far and away the most photographed spot in the entire park. They don't recommend swimming here, but lots of people do and it's safe unless the water levels are too high.
Whatever you do, you MUST walk the rainforest circuit track – it's an easy loop walk through the rainforest and an excellent way to escape the North Queensland heat for a day. There are a couple of side tracks you can follow that take you to some beautiful spots: one gets you very close to a small waterfall, and the other leads to a picturesque lagoon at Wurrumbu Creek (only the latter is signposted). I'm telling you, a dip in this lagoon feels absolutely AMAZING at the end of the walk!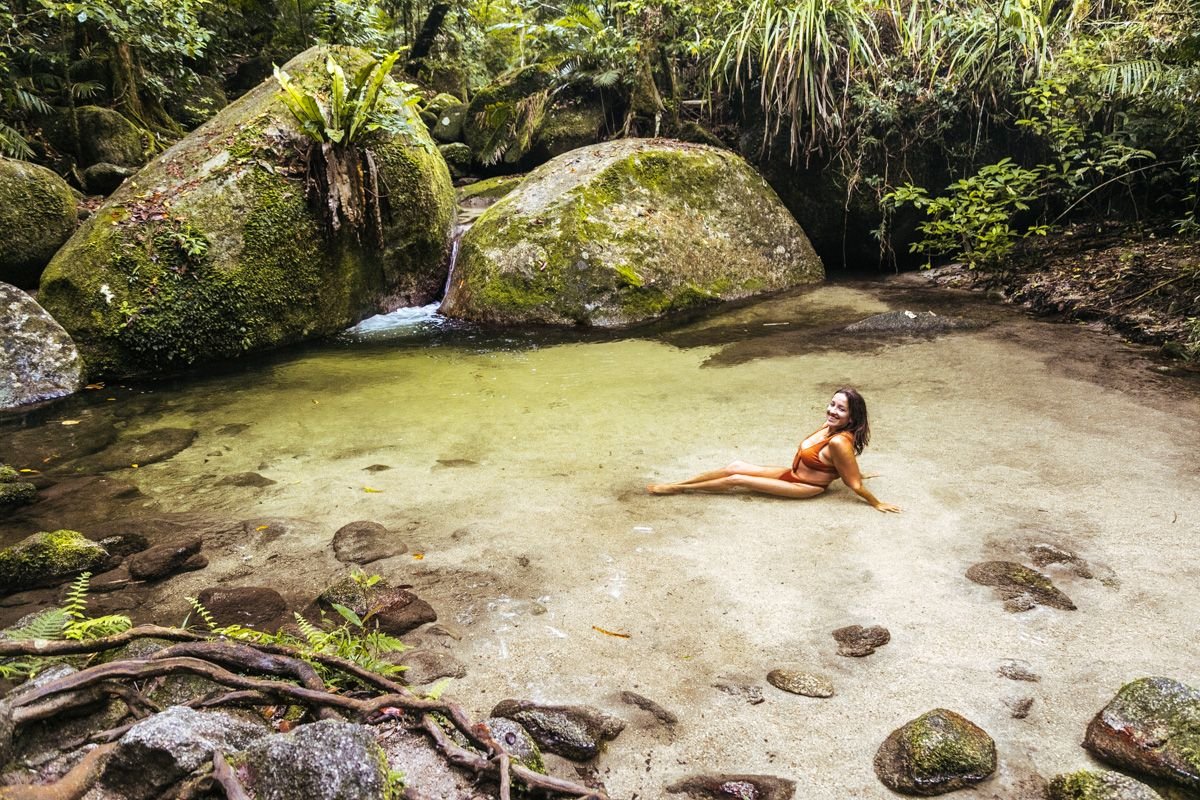 The guided Dreamtime Walks at Mossman Gorge are highly regarded and led by the local Indigenous people and is a fantastic opportunity to learn about Aboriginal culture and their relationship to the rainforest. The tour costs about $82/person.
Unless you're riding a bike, you'll need to pay $12.65/person for the mandatory shuttle bus up to the gorge and back (there's no pedestrian access). And don't be silly like us and miss the last bus of the day back to the car park – they don't always go by the 5pm end time listed on the map they give you, so be sure to ask to confirm!
Cape Tribulation
Cape Trib deserves its own dedicated trip, but if you only have a day to spare… get yourself on the ferry, cross the Daintree River, and explore the heck out of this tropical rainforest paradise. Beautiful palm-lined beaches, rainforest boardwalks, and lush swimming holes await!
Just don't forget to stop for a taste of the Daintree's exotic ice creams while you're there (there are a couple of ice cream shops and they are well signposted).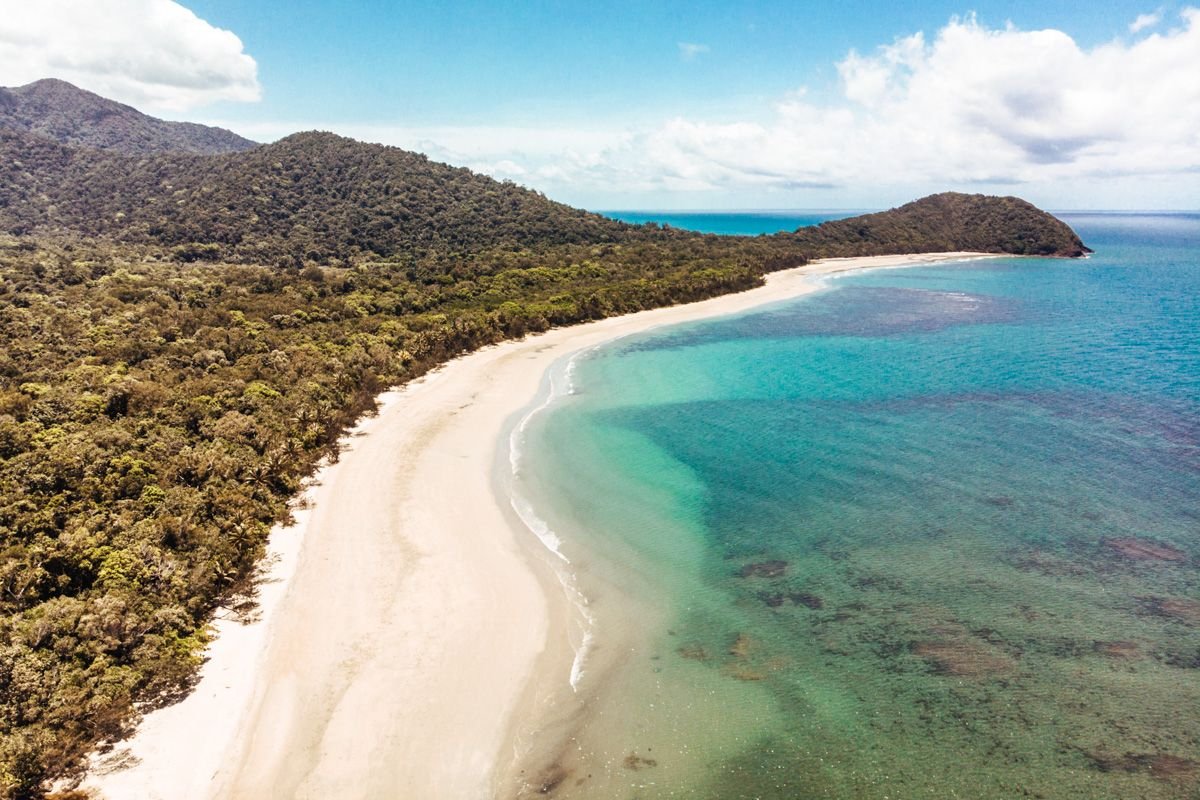 There's a bunch of paid touristy activities on offer around Cape Tribulation (e.g. jungle surfing, horse riding on the beach, fruit tasting), but if you only have a day to visit while on your Port Douglas holiday, I think it's best spent exploring on your own here. My best recs? Check out Cow Bay beach (there's a photo op-friendly rope swing!), Mason's swimming hole, and the Daintree Ice Cream Company.
Palm Cove
Palm Cove is my favorite day trip from Port Douglas, and it's also the easiest. Drive 30 minutes south and you'll reach what might be the most beautiful beach in Far North Queensland. The palm trees lining the sand provide ample shade throughout the afternoon, so no need to take a beach umbrella. And the views of the mountainous coastline to the south are exceptional.
Palm Cove itself is a delightful little village, with one main street lined with bars, cafes, and shops to tempt you. If you're a fan of acai bowls, you MUST try the peanut butter acai bowl at 27 Degrees. They make their own peanut butter and it's SO good.
I just loved the vibe of this town and every time I visited, I felt this pull to stay longer. Palm Cove is such a gem!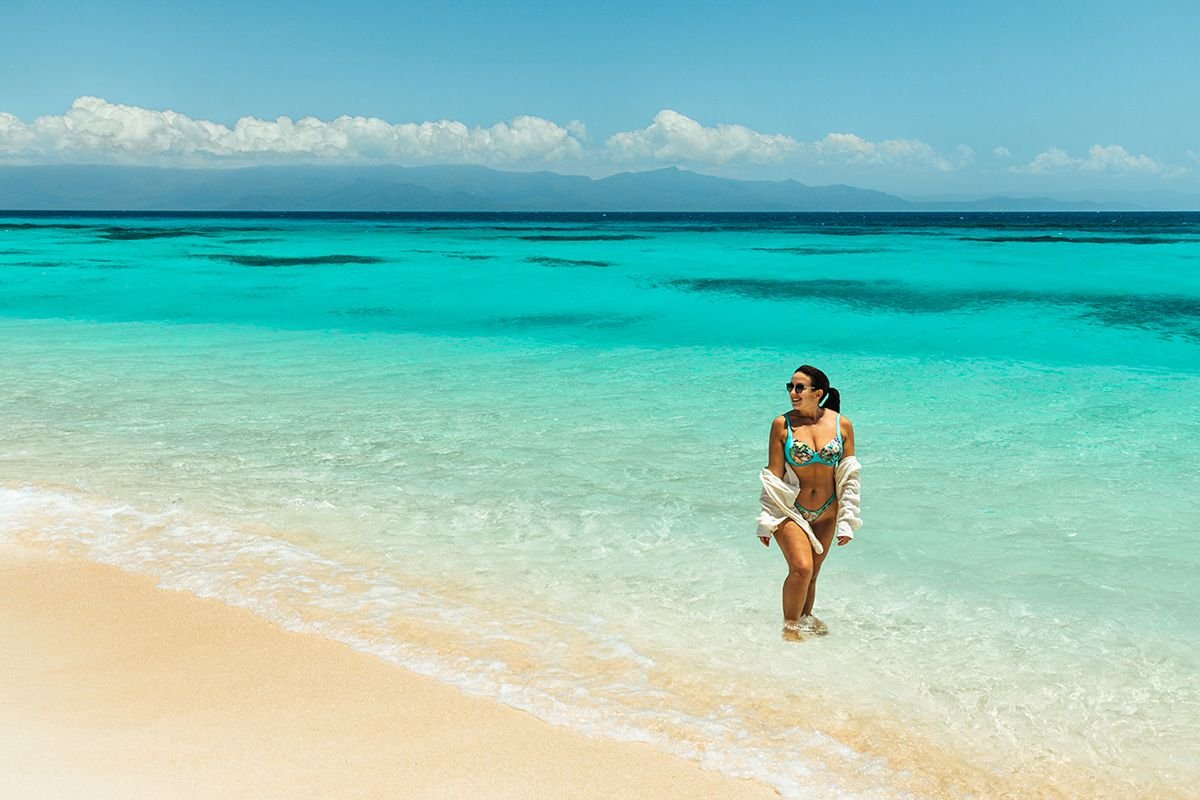 Outer Reef snorkeling trip to Mackay Cay, near Cape Tribulation.
Great Barrier Reef Snorkeling Trip
Heading out on a boat to the Great Barrier Reef is definitely one of the best things to do in Port Douglas. Sure, it's usually the thing to do when you're in Cairns… but I think it might actually be better to go on a reef trip from Port Douglas instead. For one thing, the reef is much less trafficked up here and a snorkeling trip doesn't feel super-touristy like it does out of Cairns.
And anyway, operators here visit a different part of the Great Barrier Reef than they do from Cairns, so you could do snorkeling trips from both places and have an entirely different experience.
From Port Douglas, Quicksilver does trips out to Agincourt Reef, Sailaway and Shaolin do trips out to the Low Isles, and Sailaway also does a trip to the outer reef at Mackay Cay.
Where To Stay In Port Douglas
If you've been reading this blog recently, you know what my pick is for the best accommodation in Port Douglas: The Sheraton Grand Mirage!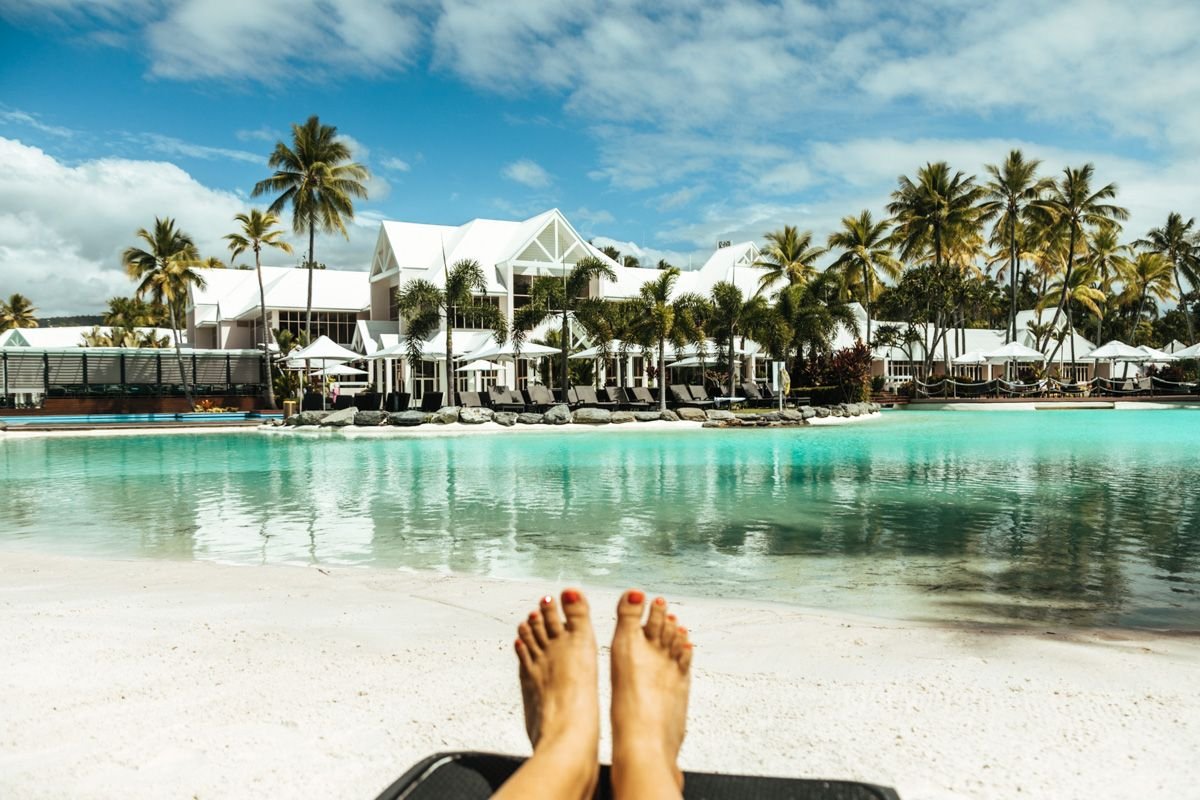 This is THE place to stay if you're not on a budget, or are looking for something special. Though be warned, you may not want to get up off your lounge chair and leave the beautiful lagoon pools to actually do some of the activities listed in this post!
READ MORE IN THIS POST: Livin' The Luxurious Lagoon Life at the Sheraton Grand Mirage Resort Port Douglas
CLICK TO BOOK THE SHERATON GRAND MIRAGE RESORT IN PORT DOUGLAS
Pin it!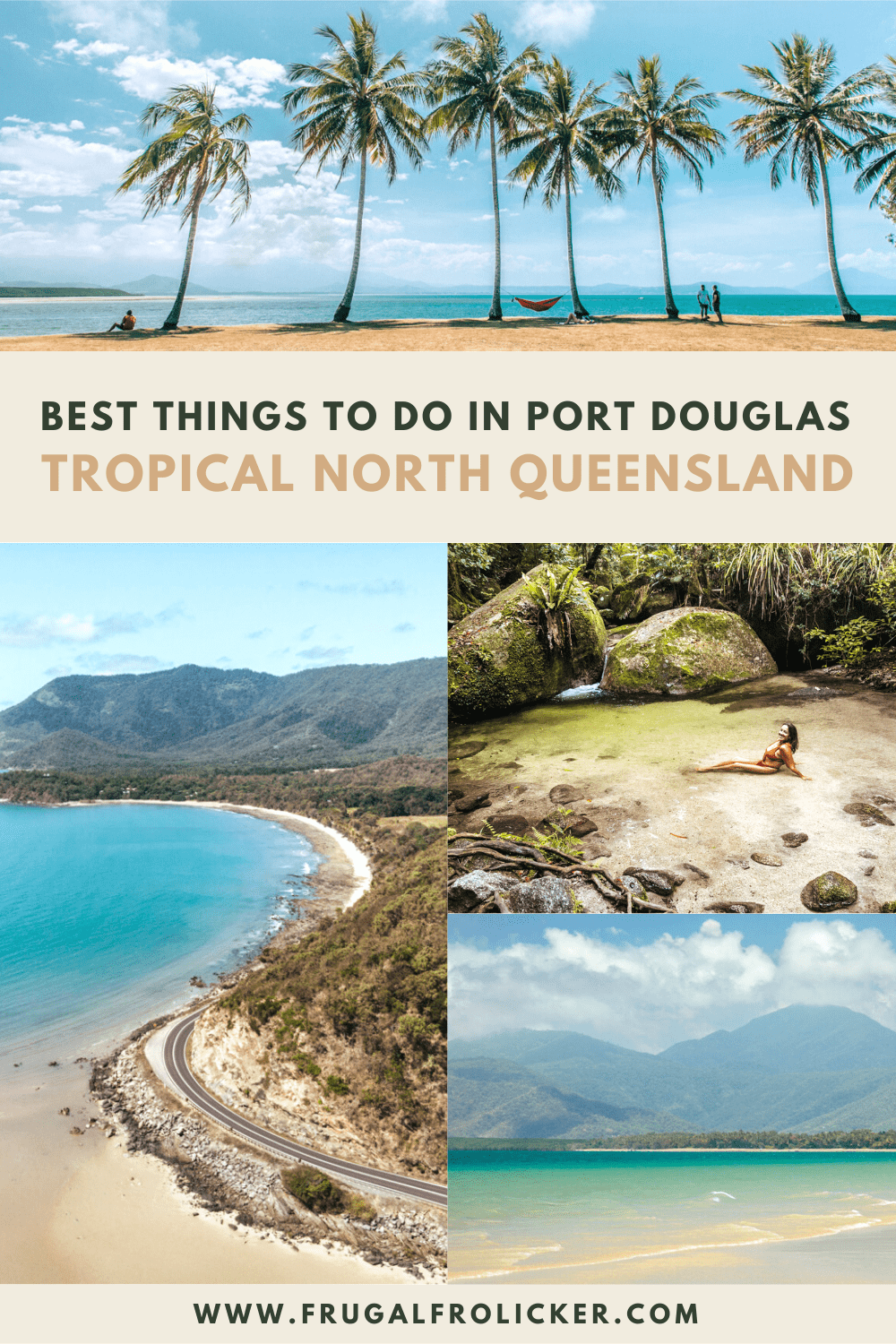 Pin it!