I knew it would be damn near impossible to top my birthday gift to Pete last year, which was a stay at the Elements of Byron. He still talks about it a year later, especially the free-standing bath tub our villa had.
This year, we were a bit limited in options due to our caravan trip route and the lack of funds. If we were going to stick to the route, we could either take our time driving from the Northern Territory to the Queensland coast and celebrate his 35th somewhere in the NT or QLD outback, or pick up the pace and make it to the coast before his birthday.
Both of us were severely missing the beach after 3 months of Outback travel, so the obvious choice was to high tail it to the coast. That meant several consecutive days of lengthy drives, through which I kept assuring Pete that it would all be worth it. Little did he know what I had planned for his birthday!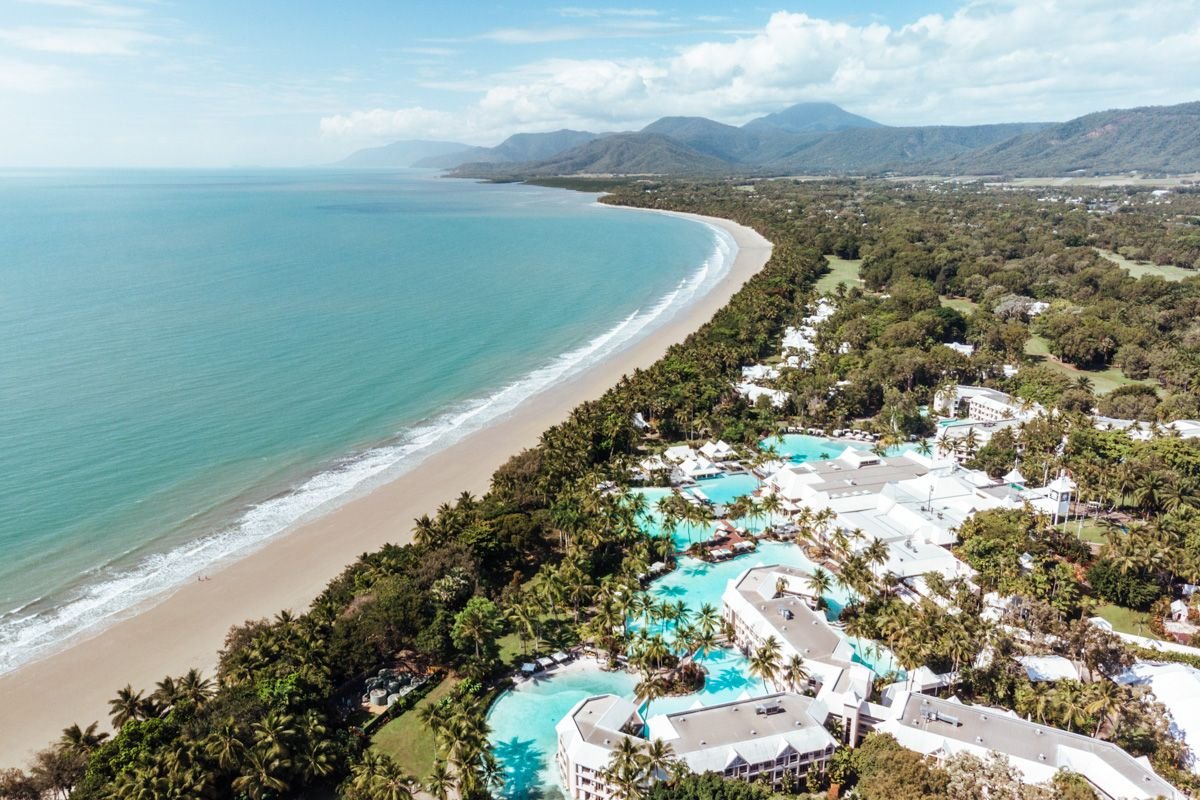 I threw Pete off the scent by hinting that we were heading for Cairns. Beyond that, he claims he had absolutely no idea what we were doing for his birthday.
In reality, we were destined for Port Douglas, a beachy resort town north of Cairns. I knew it was a popular holiday destination and had plentiful fancy hotels and villas on or very close to the beach, so I set out to find us a good deal on a resort stay.
It didn't take me long to find exactly what I was looking for in the Sheraton Grand Mirage Port Douglas. Not only did it look to be the perfect slice of Tropical North Queensland paradise, but it's also a Marriott property, which is a Chase Ultimate Rewards partner. What that means is that I could redeem some of my precious Ultimate Rewards points to book a couple nights at this hotel and save myself a ton of money.
Was it worth it? I'll give you a hint: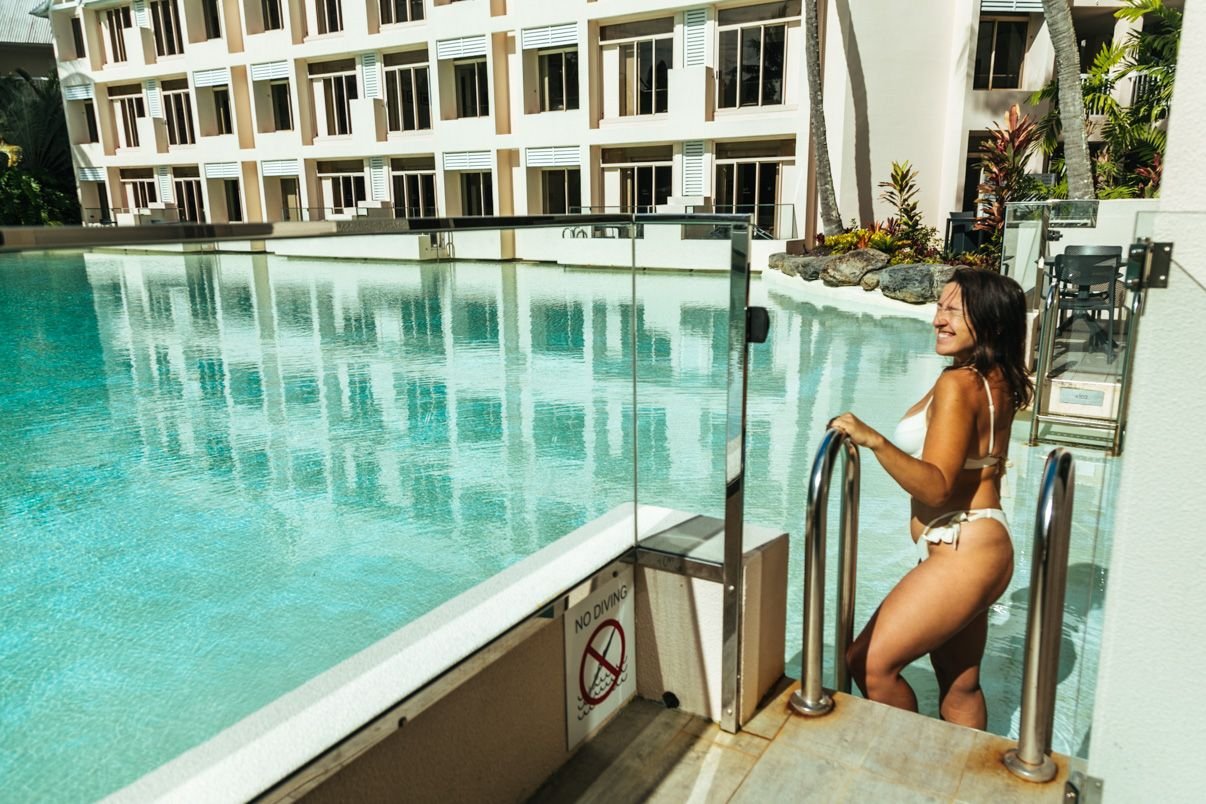 Checking into the Sheraton Mirage Port Douglas
I kept Pete guessing until the very end, when I told him to turn at the sign leading off the main road to the Sheraton Mirage Port Douglas.
Our experience here was magical from start to finish, beginning with the beautiful palm-lined drive to the resort. We navigated to the self-parking lot and found an area spacious enough to park the caravan and leave it hitched up to the Jeep. With just two days here, I knew we wouldn't want to waste a minute away from the resort, so we wouldn't be needing our car during this time. We were more than ready to ditch the van for a couple nights and lap up some luxury.
I would have found out beforehand about if and where we could park a caravan at the Sheraton Mirage Pt Douglas, but then I thought: this is a 5-star resort, and the unofficial rule at such luxury lodging is that there's no request too large, and no problem that can't be solved. So I reasoned that we'd simply show up and let them sort it out for us if we couldn't easily find somewhere to park.
Thankfully the resort was pretty empty thanks to the Queensland border closure and parking wasn't a problem, and staff confirmed that we were fine to park where we did – which ended up being right outside our building. Too convenient!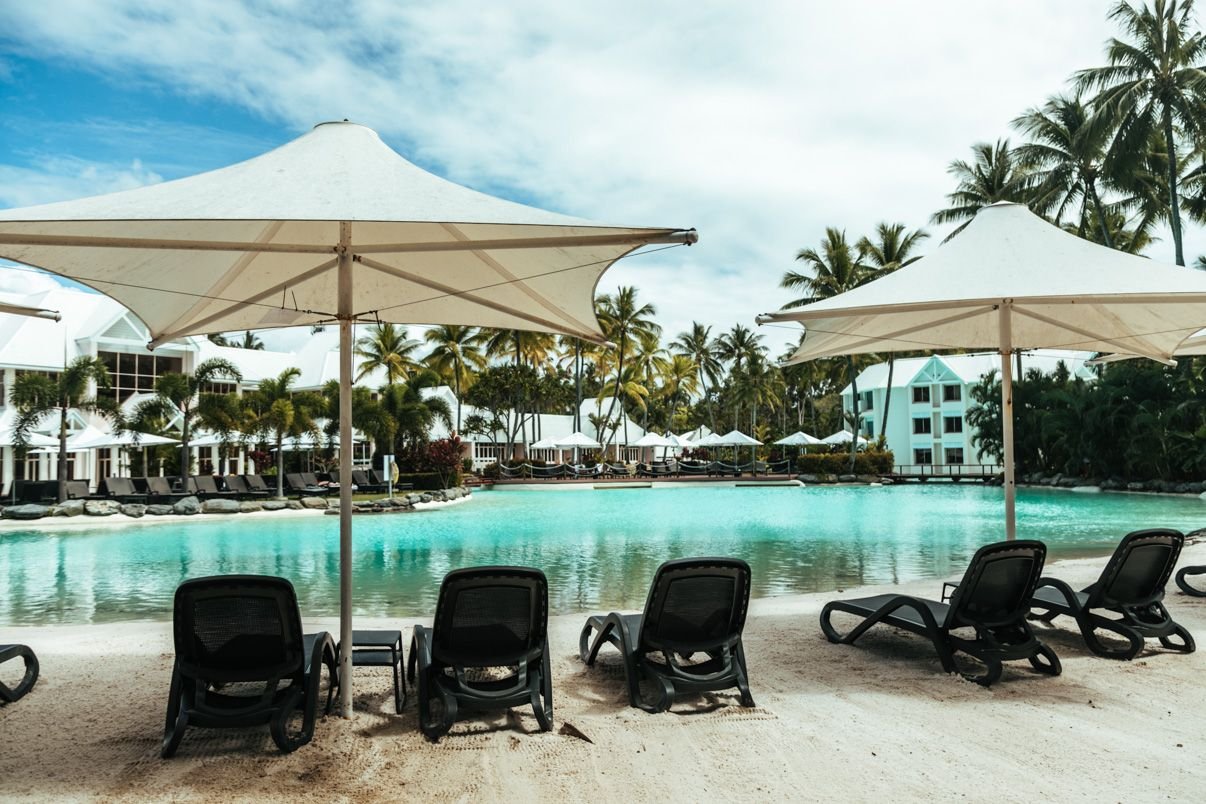 I had read some reviews that bemoaned the subpar service at the Sheraton Mirage Port Douglas, and had seen photos that made the main lobby look pretty average. Suffice it to say that I was shocked to be cheerfully greeted upon entry by the reception staff before I had even reached their desk. Check-in was a complete breeze. The woman that checked me in walked me back to the car to make sure we'd parked in the right area (we did) and offered to walk me to our room. We were also given a late 1pm checkout without any question.
If you happen to be browsing the Sheraton Mirage Port Douglas Reviews on TripAdvisor or Google, here is my advice: ignore the haters and complainers. I don't know what in the world they were talking about because I interacted with numerous staff during our stay and had a positive experience with every single one of them.
Oh, and the resort lobby was MUCH nicer than the photos had led me to believe. If we'd had more time there or if it had been rainy, I'd have loved to have spent an afternoon working on my laptop here. Or better yet, watch someone perform on the piano island (how cool is this?!).
Rooms at the Sheraton Mirage Port Douglas
The Sheraton Mirage Port Douglas boasts 295 rooms, including guest rooms, studios, and villas.
The villas offer the nicest digs, with sleek modern furnishings and plentiful space and privacy; however, they are away from the main building and lagoons, so I think you might lose a part of the magic of staying here if you're not right amongst it. Villas have a kitchen, laundry, patio, living, and dining area – they're ideal for families, groups, and anyone preferring a more home-like stay rather than a hotel stay.
CLICK TO BOOK THE SHERATON GRAND MIRAGE RESORT IN PORT DOUGLAS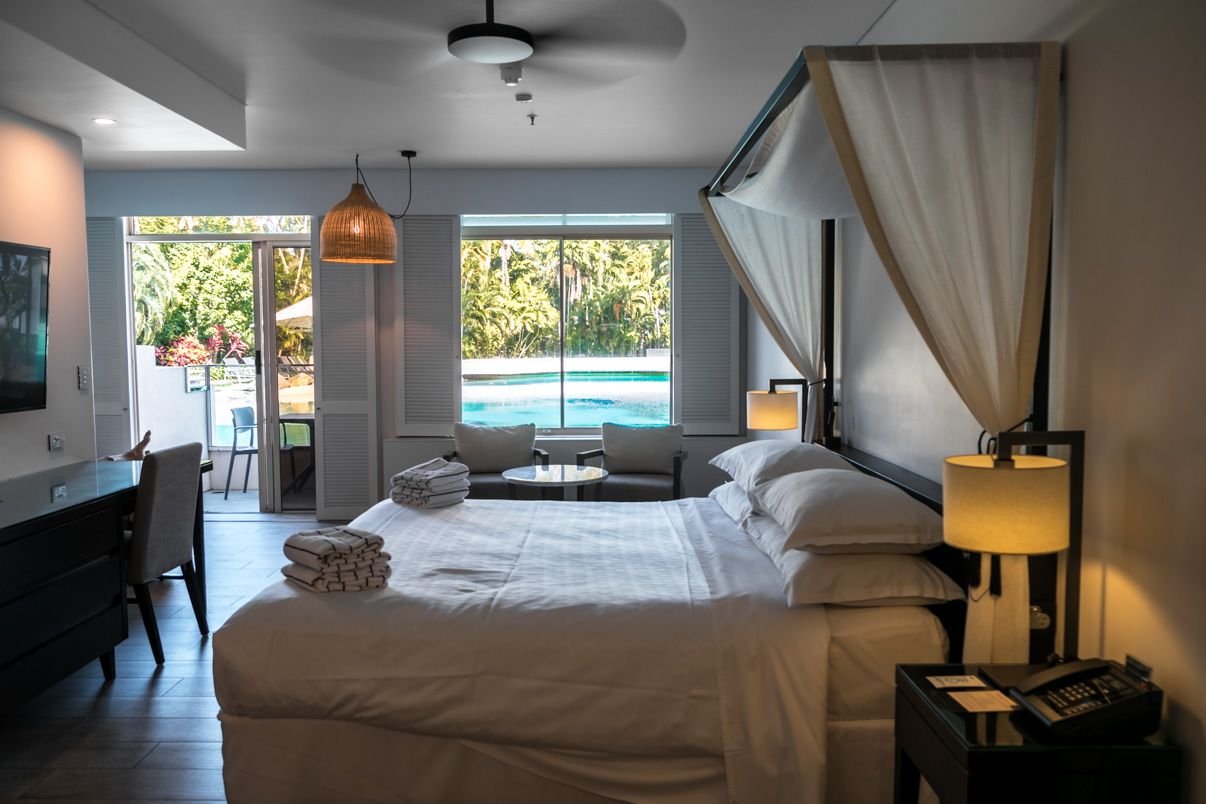 Guest rooms and studios are located in the main hotel buildings and have a minimalist beach vibe about them, which I loved. Though they aren't as nice as the villa interiors, I didn't find the rooms to look dated at all.
You have about a dozen permutations of room options at your disposal, depending on whether you want a view of the lagoons or the garden, a compact or spacious room, one king bed or two double beds, a walk-in shower or a shower-tub combo, and a balcony or not.
Top priority for Pete's birthday was a room with a bath tub, and top priority for me was a lagoon view. And because it was a special occasion, I paid extra to upgrade to a deluxe guest room with lagoon access.
In my mind, this one small detail is what took our experience from great to legendary. How often can you wake up, stroll over to your balcony, and walk down a step ladder into your own private pool for a swim? We felt like a billion bucks staying in this room!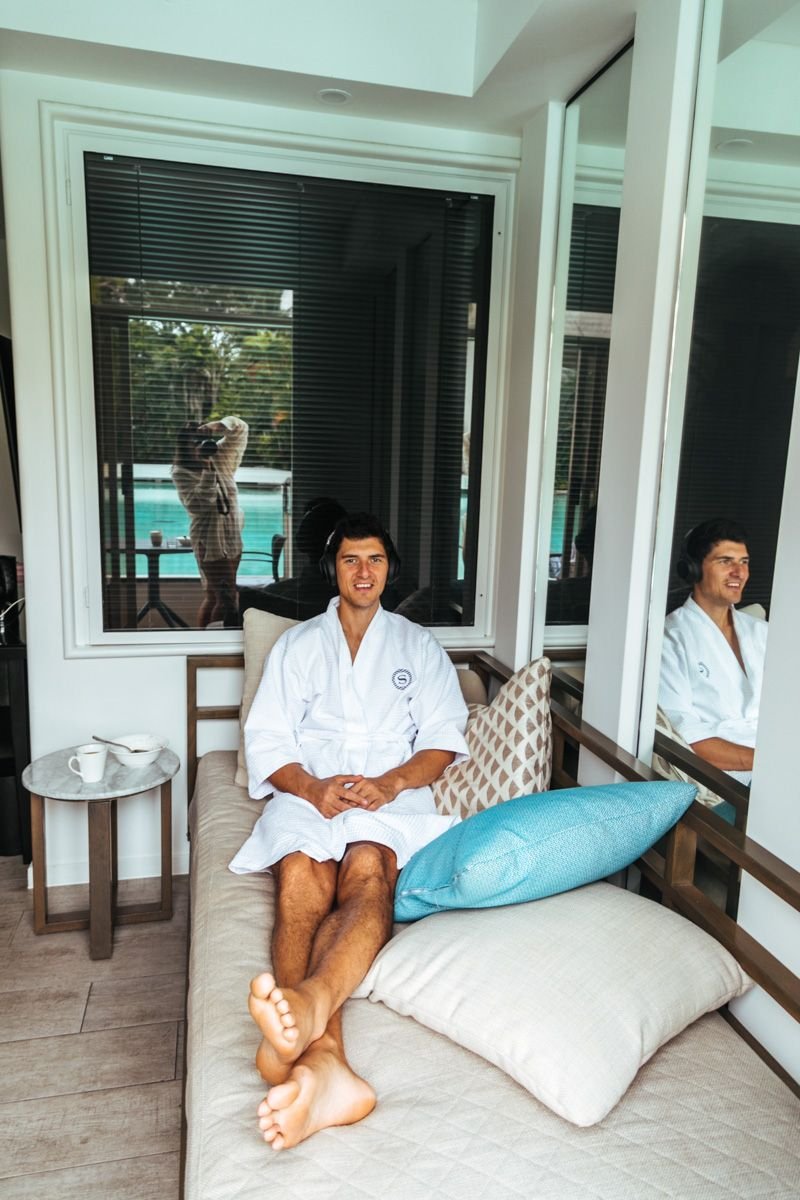 Technically it's not a private pool, but during our stay we never saw a single other person in it. We also never spotted anyone on any of the balconies around the lagoon. It truly felt like it was completely our own, and it was just so magical.
I made sure to make use of our lagoon access patio every day. I had my coffee and homemade breakfast at our patio table and enjoyed the resort ambiance before anyone else was up and about. I actually planned ahead and made myself some overnight oats and brought some berries and stashed it all in our bar fridge so that I wouldn't have to leave the room for breakfast. Like I said, we only had two nights at the Sheraton Grand Mirage Port Douglas, and I intended to make full use of our time there, especially our special lagoon access room. I mean, can you blame me?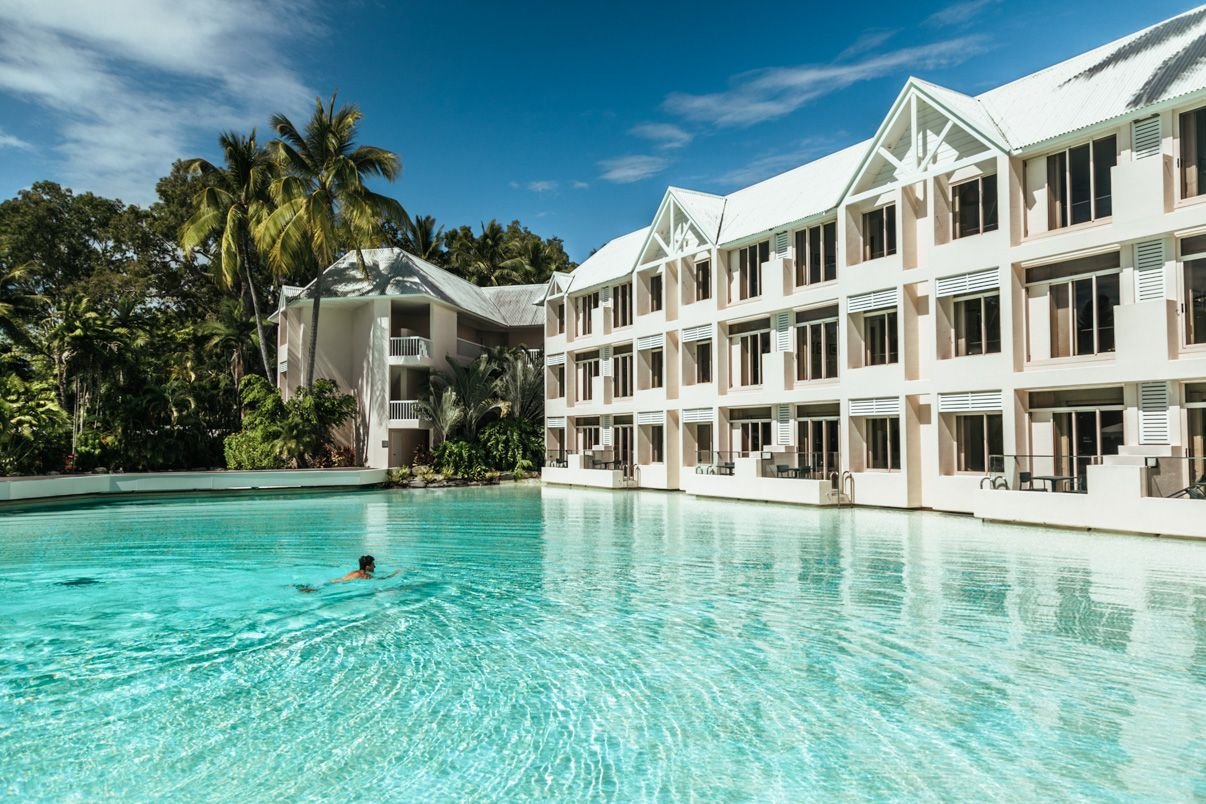 In sum: the lagoon access deluxe guest rooms at the Sheraton Mirage Port Douglas are definitely worth it if you take advantage of the lagoon access and actually enjoy time out on the patio. If you intend to spend more time at the main pool or exploring Port Douglas and surrounds, it's probably not worth it and you'd be better off with a regular lagoon view room (i.e. 2nd or 3rd floor) or garden view room.
Lagoon Pools at the Sheraton Mirage Port Douglas
One of the main appeals of the Sheraton Mirage Pt Douglas is its 9 saltwater lagoon pools.
The lagoons are like the jewels in the resort's crown – they make the resort exponentially more visually appealing. I mean, how good do the white buildings and walkways look against the turquoise water?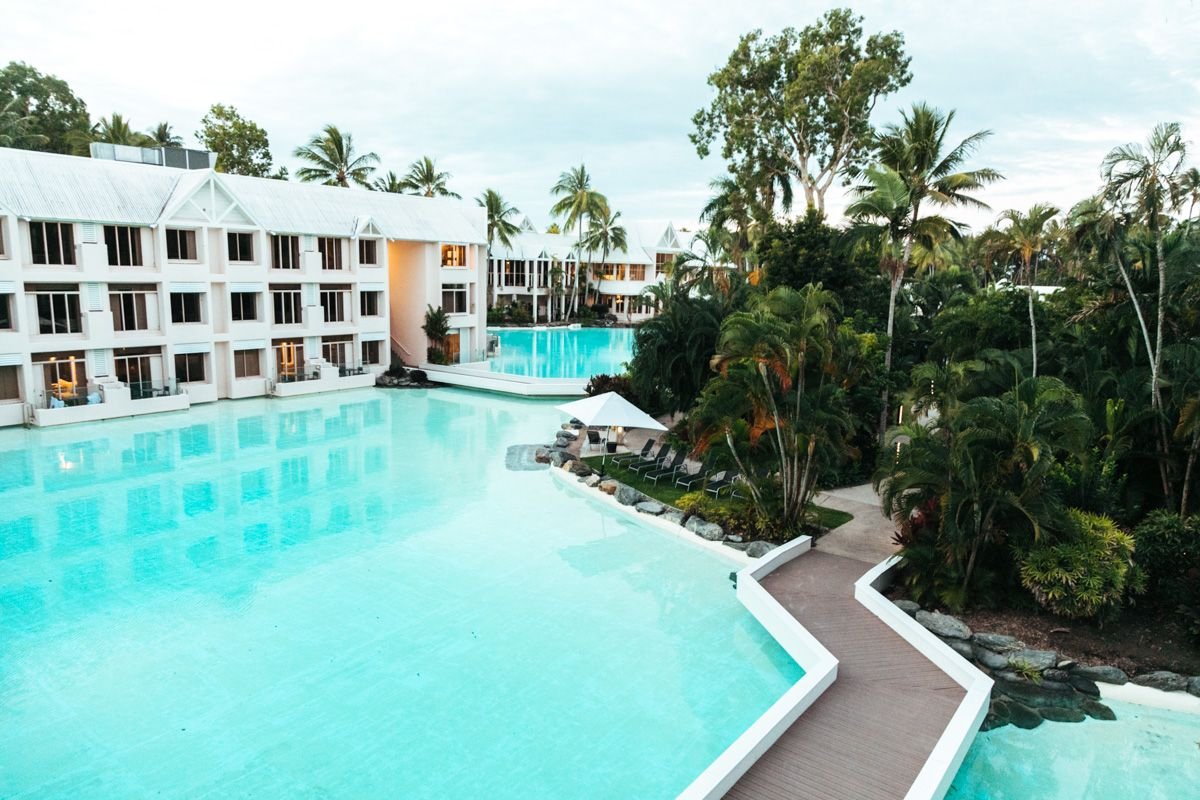 Some of the lagoons are lined with white sand and it makes you feel like you're actually at the beach. Interestingly the sand actually extends into the water, rather than stopping right where the pool water starts.
And some lagoons are lined with cabanas (25 in total) that have their own private ladders into the pool. These are available for hire (aka not free) and must be reserved in advance.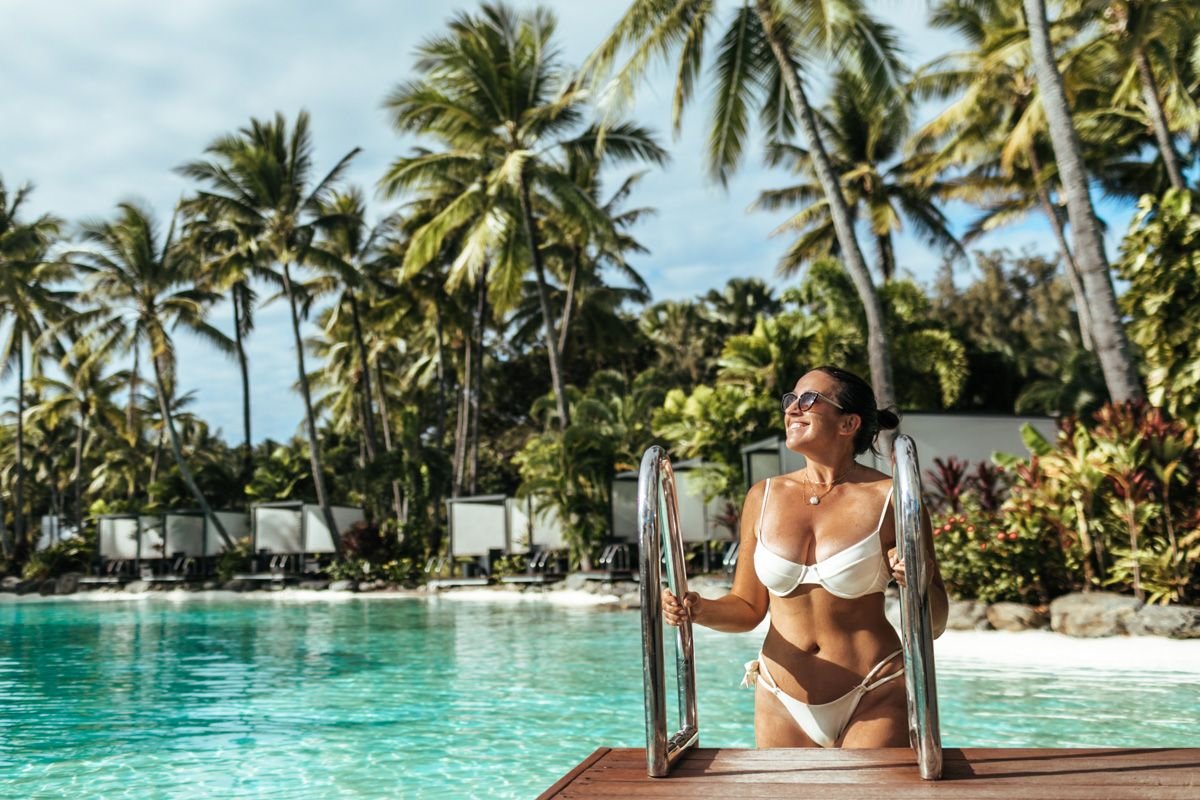 The 9 lagoons sit on either side of the resort buildings. The larger/deeper ones are located on the beach side, and they've all got recliner chairs scattered all around them. There are also a few small shallow pools on the opposite, car park side of the buildings. They're not really meant for swimming, but more for aesthetics. Some of the lagoon access rooms open up into these shallow lagoons, so just be aware when you're booking whether you're securing a large lagoon vs a small lagoon access pool.
CLICK TO BOOK THE SHERATON GRAND MIRAGE RESORT IN PORT DOUGLAS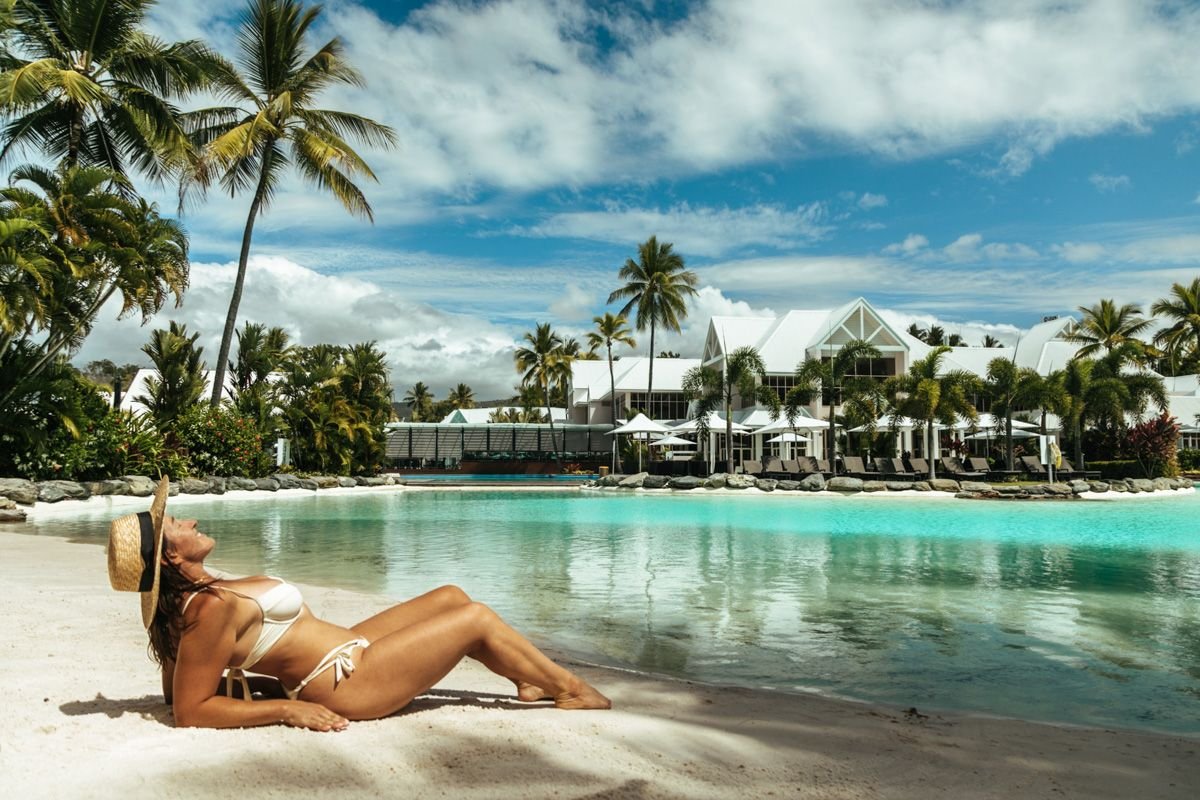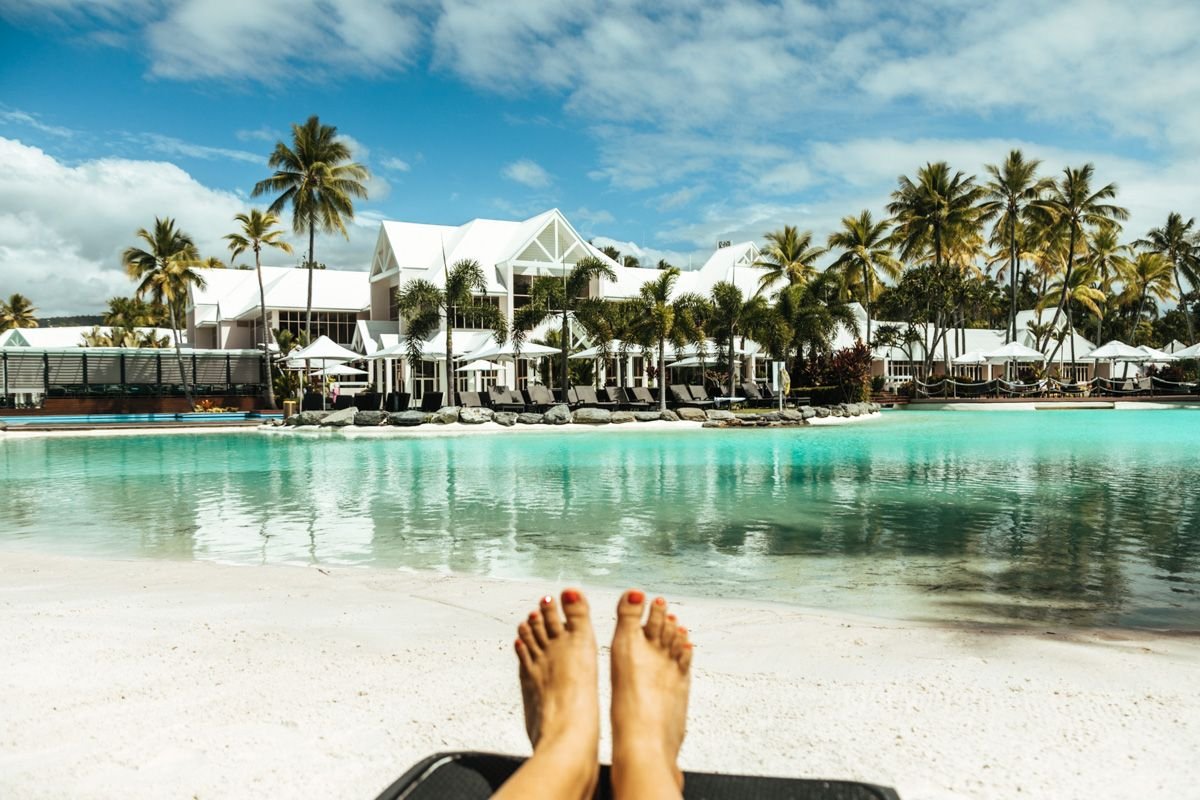 One other thing worth noting is that the lagoons at the Sheraton Mirage Pt Douglas are NOT connected, so you can't swim between them without getting out and walking over to the next pool. I get why they may have done this (accessibility reasons?), but I think it would have been so cool to swim from our room to the swim-up bar in the middle of the resort.
But who knows, maybe they opted for boardwalks over bridges for the aesthetics. Can't fault them there, as the boardwalks between the lagoons and hotel buildings are pretty damn photogenic.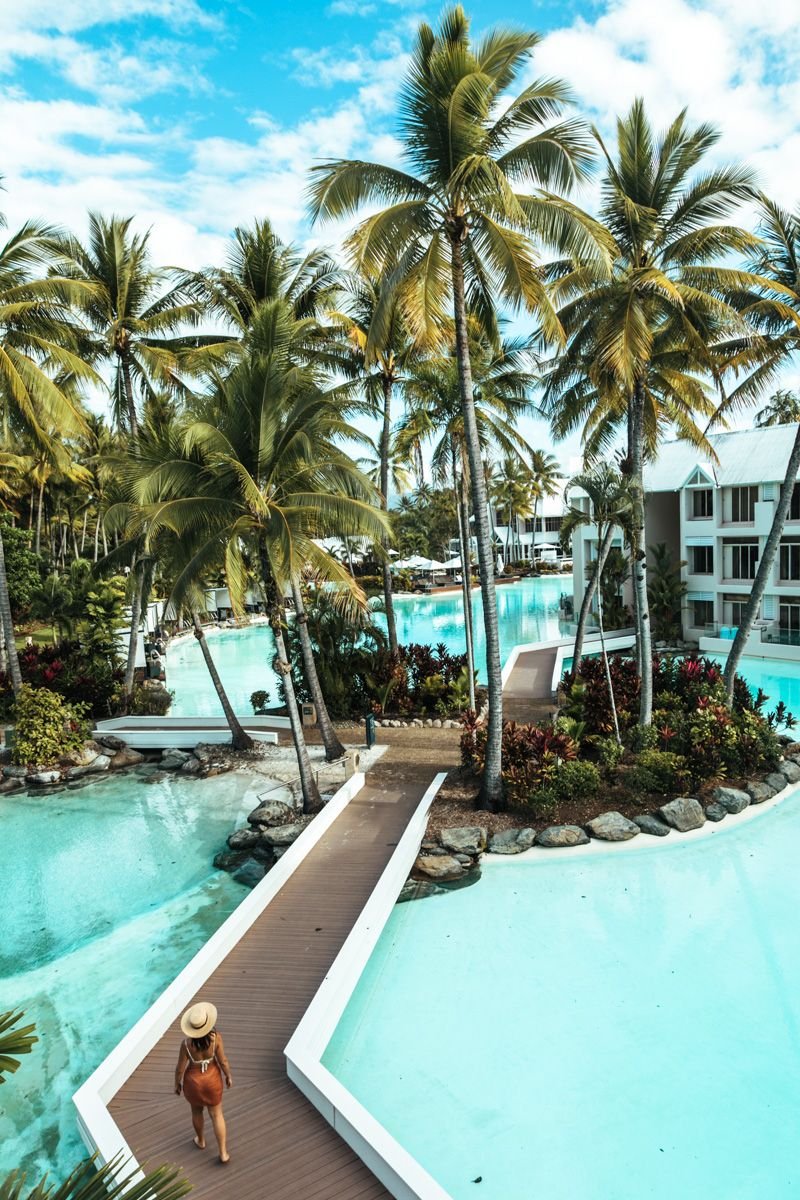 Food & Drink at the Sheraton Mirage Port Douglas
First, I need to mention that there are water taps outside of each of the hotel buildings for guests to fill up their glasses and water bottles and take back to their rooms.
And when I say water taps, I mean taps with 3 different types of water: sparkling, chilled, and ambient. I have never seen this anywhere else before and I just about lost my damn mind with excitement over it. The eco consciousness! The options! The taste! (seriously, best tasting water I've had outside of Icelandic glacier water).
Next, I'm not sure if they do this for all guests or at all times, but we had a chilled bottle of champagne waiting in our room upon arrival, complete with a personalized note (I may have been referred to as Mr. Buckley, but hey… it's fine). I'm not really a bubbly kinda girl, but I can make an exception when it's free and we're in fancytown.
Now, in terms of restaurants at the resort, there are 3 main options:
Lagoon House – this is the swim-up bar at the central lagoon, but you can also walk over to it or flag down a staff member from your pool recliner to place an order. They have an extensive drink menu as well as numerous options for lunch and snacks (definitely on the pricey side, a la $25 salads and burgers). We ordered the cheese platter to have with our free bottle of champagne and it was perfection.
Harrisons – a fancy Michelin star restaurant with dining right over one of the lagoons, the obvious choice to celebrate a birthday. Be sure to book in advance if you want to eat here! I mentioned that it would be Pete's birthday when I made the booking and the hostess wished him a happy birthday when arrived… AND they gave us both a free glass of bubbly! I ordered the kingfish which was delicious, but the chocolate pudding dessert we ordered to share was the show stopper (it was more like a cake with a gooey inside).
Feast – the main restaurant at the resort. They have a buffet breakfast and a seafood buffet dinner option, both of which have garnered rave reviews online (I didn't try either so can't confirm). Or you can order a la carte items for breakfast, lunch, and dinner. The restaurant also sits right on the lagoon edge, but it doesn't jut right out into it like Harrisons does.
There's also the Lobby Cafe right by hotel reception, which looked to be a minimalist setup due to COVID, and the Daintree Bar (which may have been closed due to COVID but I'm not 100% sure).
You can charge all of your food and beverage purchases to your room and pay for it all at the end of your stay, easy peasy. It's worth joining the Marriott Bonvoy membership program (it's FREE) to get 10% off your bill at Feast and Harrisons.
CLICK TO BOOK THE SHERATON GRAND MIRAGE RESORT IN PORT DOUGLAS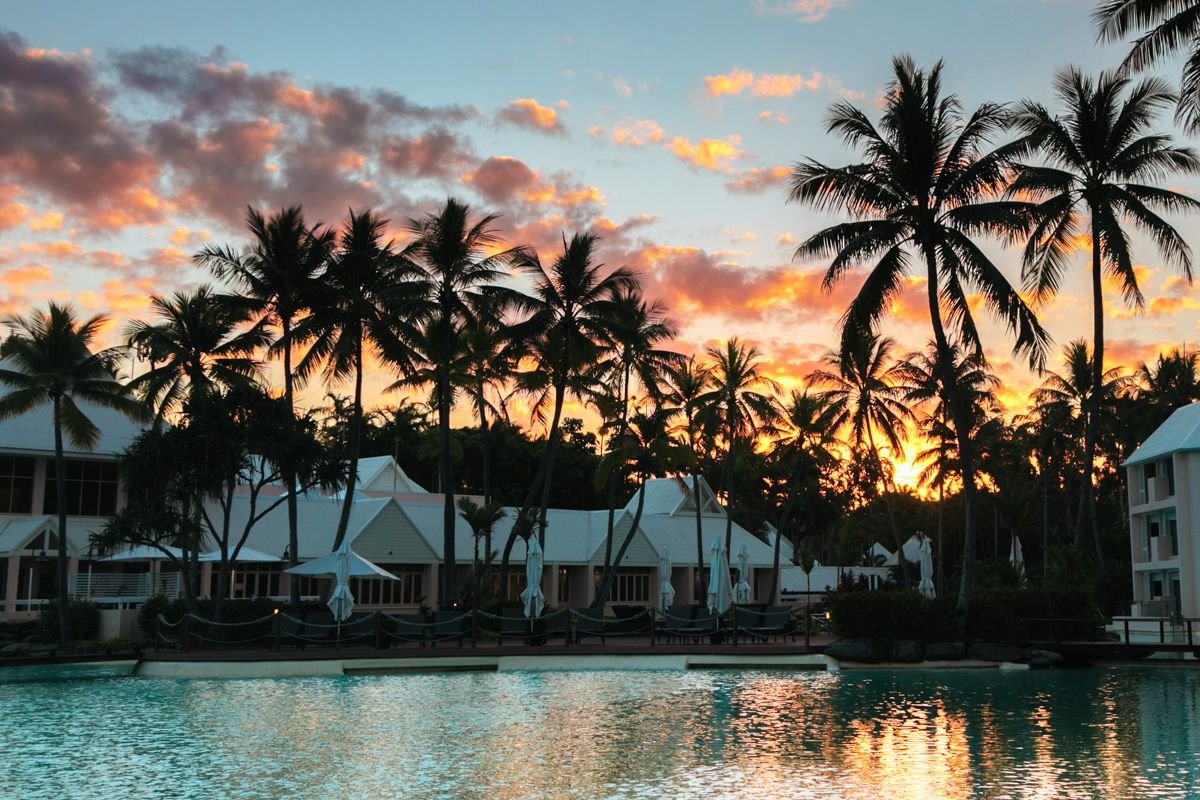 Other Things To Do At The Sheraton Mirage Pt Douglas
I honestly wouldn't blame you if you spent your entire stay at the Sheraton Grand Mirage Port Douglas poolside, lagoon hopping as we did. The gorgeous lagoons are what make this resort so magical!
But if you're one of those people who can't sit still and likes to do all of the things, there's plenty more to keep yourself occupied at the resort:
Beach – The Sheraton Port Douglas is a beachfront resort, so don't forget to step out onto the beach while you're there. There are multiple paths leading from the resort to the beach and some have outdoor showers so you can wash off the sand before you return to the pools. 4 Mile Beach is long and flat, ideal for morning yoga and sunset walks. Don't be tempted to swim right by the resort though, as the water here is known to have crocs and stingers! (Safe swimming can be done off the beach closer to town, i.e. take a left from the resort and walk all the way down the beach)
Golf – How many resorts have an 18-hole golf course onsite? I'm guessing not many, but this hotel happens to be one of them. The golf course is as expansive as you'd expect, and visible from the main road as you're driving into town.
Fitness Centre – Across the street you'll find the Mirage Country Club, where resort guests can utilize the tennis courts, lap pool, and 24/7 gym. Complimentary golf cart transfers are available to get there and back from the resort.
Spa – It wouldn't be a proper 5 star resort without a spa, now would it? The Kaia Day Spa offers an array of massage, facial, and body treatments
Gardens – You can't go far without being immersed in some of the resort's 147 hectares of tropical gardens. Every pathway seems to be lined with dozens of different plant species, none of which I'll pretend to know about, but many of which I was wowed by. They really do add to the ambience at the Sheraton Mirage Pt Douglas and give it that extra lush factor. I loved wandering around the property admiring the vibrant plants around me!
CLICK TO BOOK THE SHERATON GRAND MIRAGE RESORT IN PORT DOUGLAS
How To Book The Sheraton Mirage Pt Douglas With Points
As I mentioned, I booked our stay at the Sheraton Grand Mirage Port Douglas with Bonvoy points.
I joined Bonvoy, Marriott's membership program, for free years ago when I happened to stay in one of their properties. I don't often stay at the Marriott so I haven't accumulated anywhere near enough points to redeem.
Bonvoy is one of the hotel partners for Chase Ultimate Rewards, which is where I accumulate ALL of my points by using my Chase Sapphire Reserve credit card to pay for absolutely everything. What this means is that I can transfer my Chase Ultimate Rewards points to Bonvoy points and redeem them for free stays at Marriott properties.
Bonvoy points transfer at a 1:1 ratio and generally, it's not the best way to cash in on your Chase Ultimate Rewards points. HOWEVER, I transferred my points when there was a special promo on, where I got an extra 50% extra points for my transfer. So instead of two nights at the Sheraton Mirage Pt Douglas costing me 80,000 points, I only ended up redeeming 54,000 Chase Ultimate Rewards points to get the 80,000 Bonvoy points I needed to book our stay.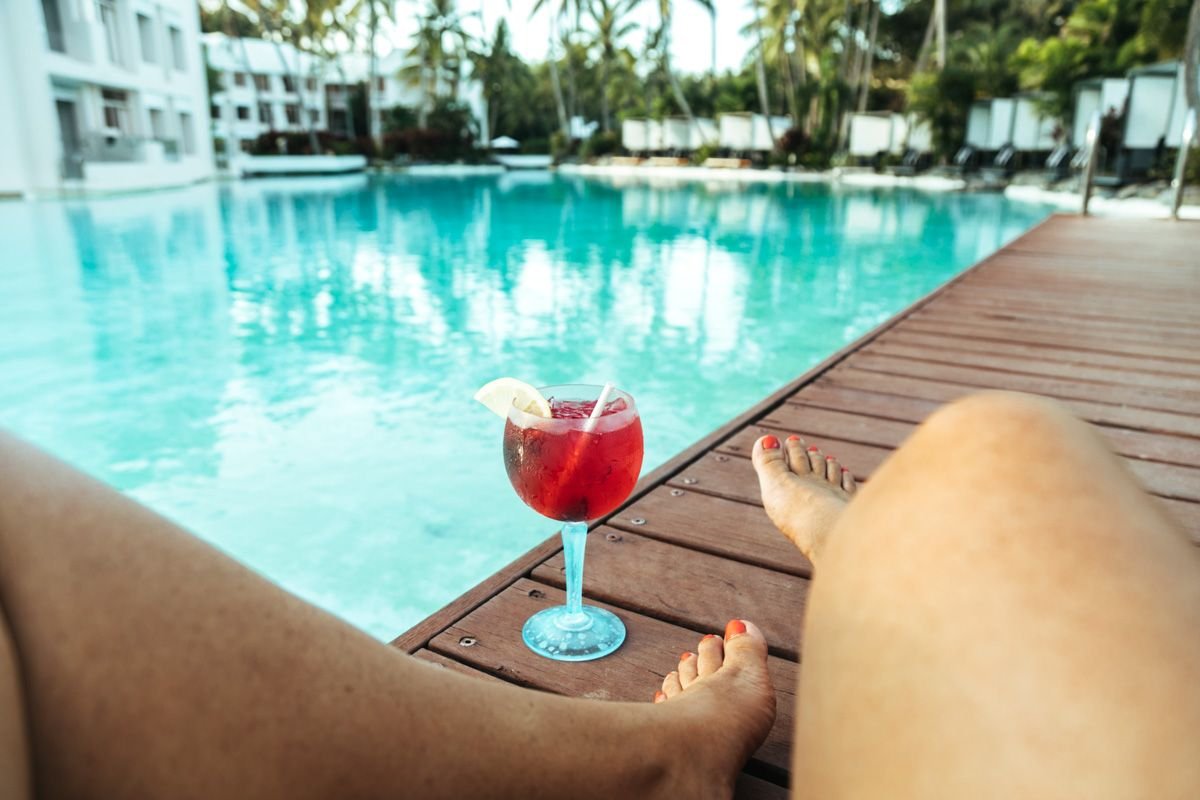 How many points you need depends on what type of room you're booking and when. Marriott also has the cash + points option, where you can pay for your stay in both cash and points, rather than just one or the other. This is the option I went for, because I didn't want to blow too many of my Chase Ultimate Rewards points (I prefer to hoard them and redeem them for long haul business class flights).
For our two night stay in late August (peak season), it cost me AU$500 + 80,000 points to book the lagoon edge deluxe guest room with pool access. A lagoon view guest room (i.e. a room on the 2nd or 3rd floor) would have cost me AU$100 + 80,000 points. The most affordable option would have been the garden view guest room at 70,000 points or AU$400 + 34,000 points.
Without Bonvoy points, the garden view guest room goes for about AU$400/night, the lagoon view guest room is about $450/night, and the lagoon edge deluxe guest room is about AU$750/night.
CLICK TO BOOK THE SHERATON GRAND MIRAGE RESORT IN PORT DOUGLAS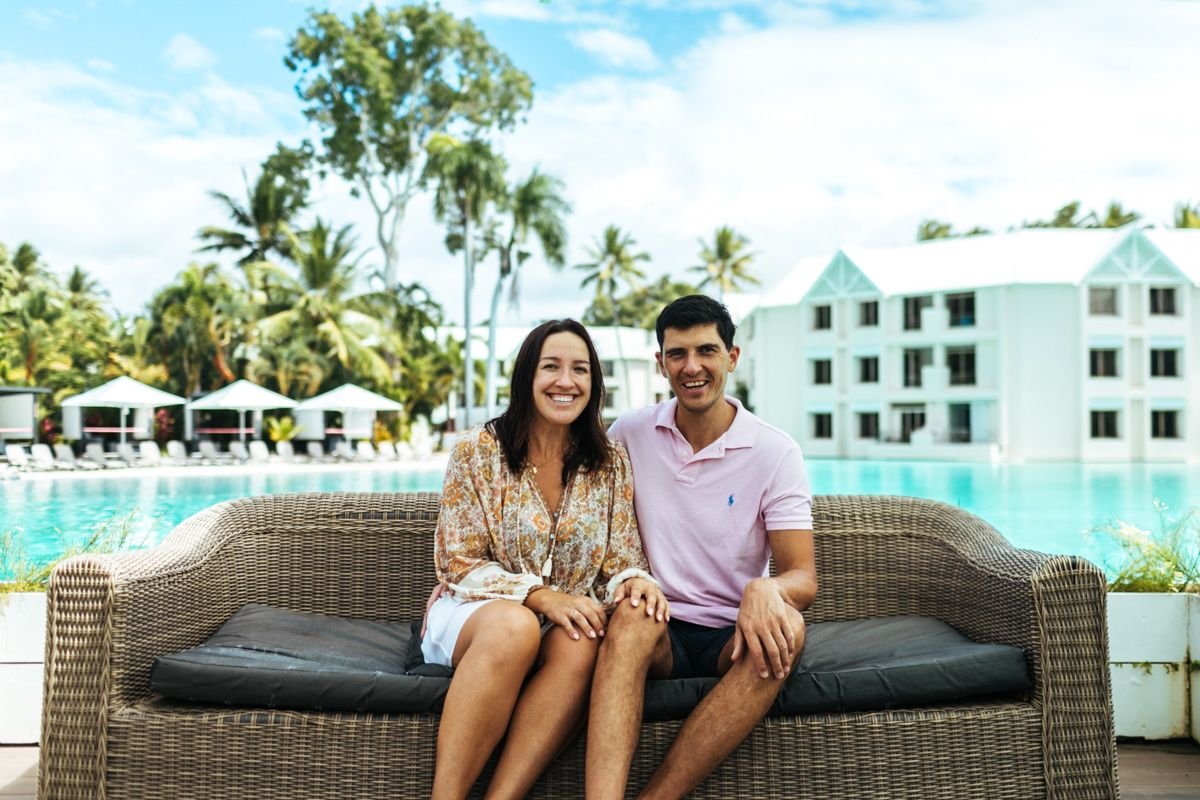 Pin it!
Pin it!